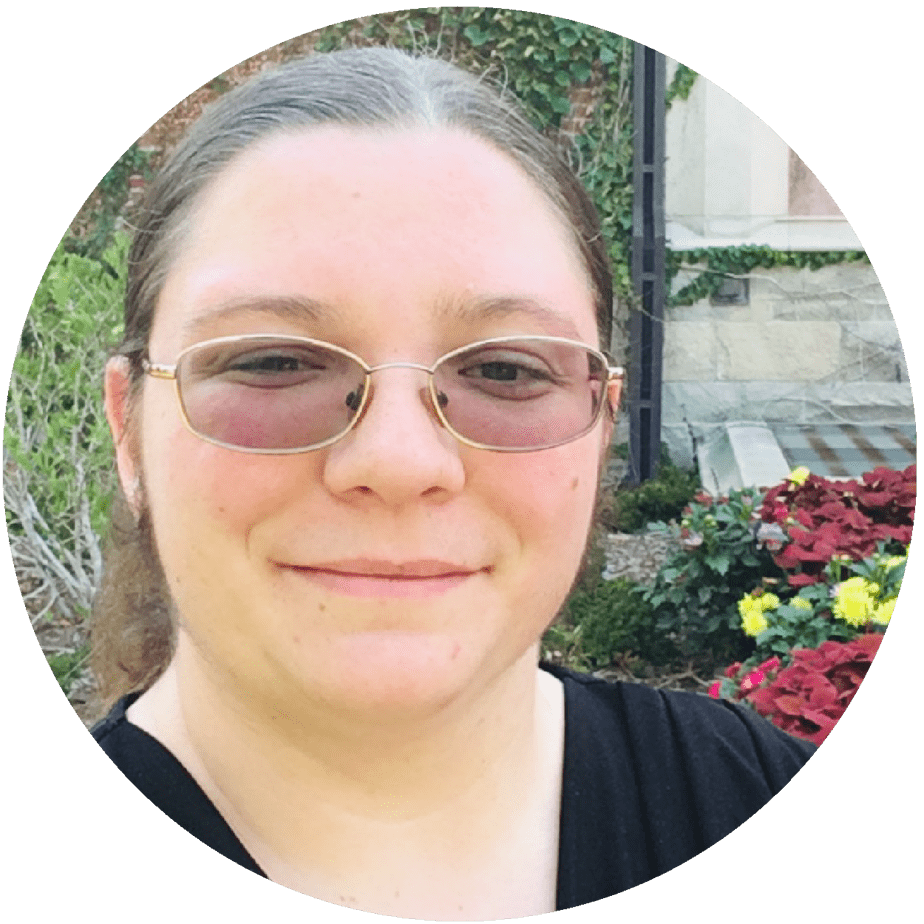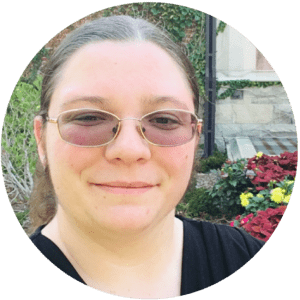 Latest posts by Nicole Taylor
(see all)
Finding good beef can be tough and as I go through the grocery store, I see nothing but the same old cuts, the same old frozen beef. I have been craving something new, something fresh, and something sustainable.
As usual, I took my quest to the internet trying to discover a new take on beef. One that does beef differently. After a few website deep dives, I came across Carne Collective. Carne Collective is a beef produced located in Argentina, run by a passionate, experienced group of meat lovers.
What immediately stuck out to me was that they sell to both restaurants and home-based consumers. This means that I can get the same fresh, high-quality beef that restaurants get. Unlike at the supermarket, where I get standard grain-fed beef.
Now interested to see what this company was all about; I could not help but deep dive into Carne Collective and how they operate as a beef producer. Join me as I talk about the products they offer and their goal to provide the best beef possible across the world.
Who is Carne Collective?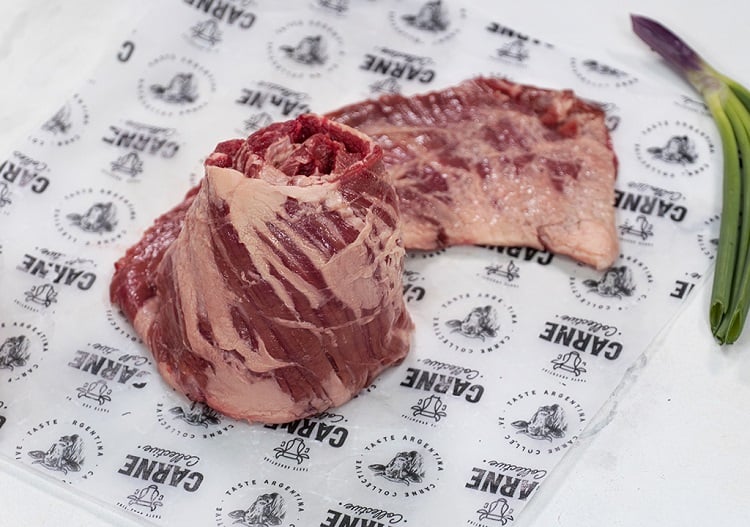 As I mentioned, Carne Collective is a beef producing company based out of Argentina. The founders Michael Javaherian and Fernando Cantini wanted to bring a new, higher standard of meat to the United States meat market.
Both have wide-ranging experience in the food industry, sales, and marketing. By combining their collective experience and utilizing their separate skill sets, they created Carne Collective to bring high-quality, locally produced (in Argentina) beef to households in the US.
On their team, they recruited Mike Denegri the Head of Operations, Santos Hirtz the Head of Cattle, and Italo German Ruberto the Head Chef to round out the expertise needed to deliver on the demanding task of producing high-grade beef.
This dream team of experts implement their knowledge in each of their respective fields to raise, produce, and ship 100% grass-fed beef.
Carne Collective's Values and Production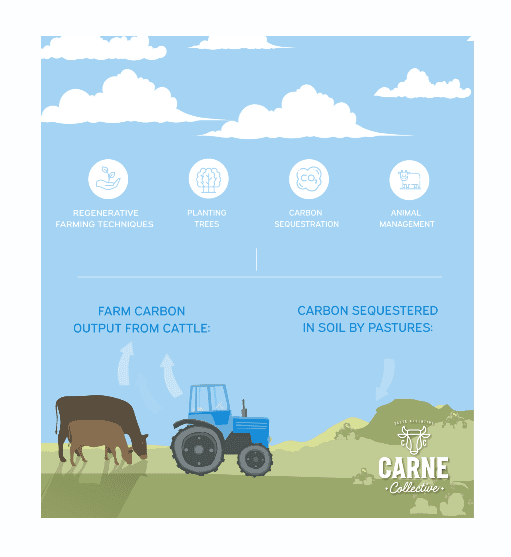 What drew me to Carne Collective is their commitment to delivering excellence in all aspects of their business. Of course, their first priority is their beef. Starting at the beginning, they only select grade-A certified Angus cattle and provide a 100% grass-fed diet.
This means no antibiotics or hormones are given to the cattle, so the meat is packed full of various vitamins like B6 and beta-carotene. Their farming practices are based on regenerative farming, which focuses on a healthy life for the animals while building soil for future generations. In addition to this, they raise the cattle with the gaucho tradition.
The gaucho tradition is an old one in Argentina, dating back to the mid-18th century. Essentially this is a long line of cowboys that utilize passed-down methods of farming to curate excellent herds. By using these older practices, there is no implementation of modern methods that damage the planet, like factory farming.
Once an animal reaches maturity, they slaughter and cut the beef to order making sure to freeze it at the prime of freshness, after it has wet-aged. From here it is delivered to your door.
The commitment to sustainability does not stop at delivery. Carbon-neutral boxes made from non-GMO cornstarch house the beef. While inside these sustainable boxes, it is surrounded by recyclable gel cold packs that can be used as plant food for your garden. This is a great opportunity to feed yourself and your plants.
Where Does Carne Collective Produce Meat?
If you have not gathered by now, Carne Collective is a beef producer who works in Argentina. They work with farmers in the area who have been farming for generations. Three of the four farms have been in family operations since or before 1930 and each of the farms is broken up into pastureland and natural grassland.
To clarify, pastureland is what is used for livestock grazing while natural grassland is naturally occurring areas of vegetation where at least 50% of the surface is covered in tall vegetation. Natural grassland can also contain some shrubs and trees as well.
If we combine the total acreage for the farms, there is a massive 242,600 acres available for the cattle. To make sure that their practice remains sustainable for the land, they only house 21,000 cattle between all the properties. Averaged out, this is about 0.55 cattle per hectare in the natural grassland and 3 cattle per hectare of pastureland.
A hectare is a square measure for acres and equals 2.471 acres or 10,000 square meters. This spaciousness guarantees that there is no overcrowding and allows for the cattle to spread out over the expansive area. As the cattle have such a large area, they are left to their own devices as they wander and eat the naturally occurring grass.
What Products Does Carne Collective Offer?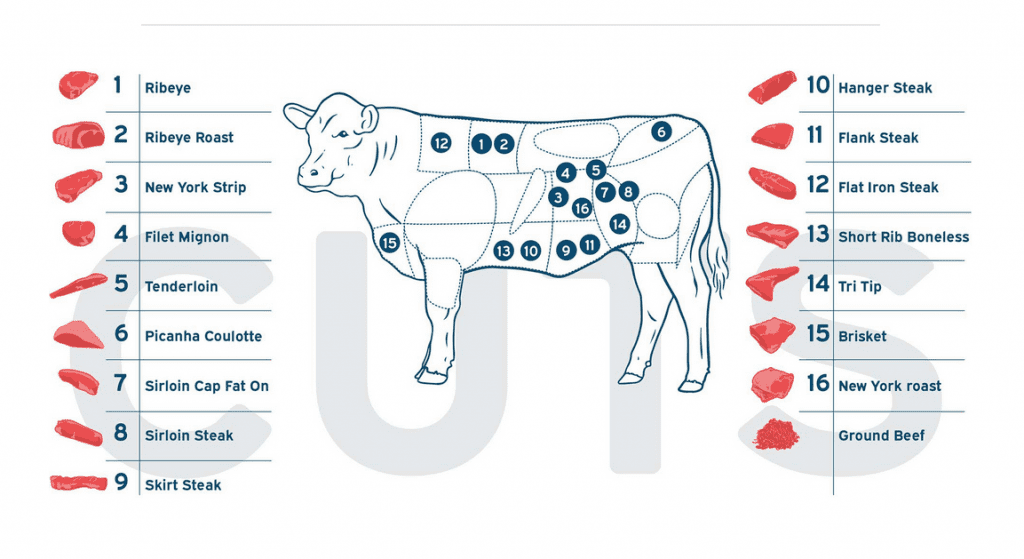 Carne Collective offers three different types of boxes to try: The Trial Campo Box, The Trial Gaucho Box, and The Trial Asado Box. All the boxes have a wide variety of wet-aged steaks. Wet aging is a newer technique that involves the steak age in its natural juices while contained in a vacuum-sealed bag in a refrigerator.
Since it is vacuum-sealed no oxygen gets into the bag during this process. It is refrigerated between 28-35 degrees Fahrenheit for maximum aging. Surprisingly, the beef can age using this method for four to six weeks.
Let us start with The Trial Campo Box. This is one of the smaller boxes and it contains seven different varieties of beef. In this box, you will find two wet-aged ribeye steaks, two wet-aged sirloin steaks, one wet-aged skirt steak, 1 pound of ground chuck, and a six-ounce filet mignon.
The next box is The Trial Asado Box which touts a spread of seven varieties of beef and includes two wet-aged ribeye steaks, two wet-aged New York strip steaks, two wet-aged filet mignons, one wet-aged skirt steak, one wet-aged flank steak, and one pound ground chuck.
Last but certainly not least is The Trial Gaucho Box which has a whooping eight types of beef. This box is the largest of the three containing two wet-aged ribeye steaks, two wet-aged New York strip steaks, two wet-aged filet mignons, two wet-aged sirloin steaks, one wet-aged skirt streak, one wet-aged flank steak, one pound of ground chuck, and one wet-aged whole picanha which is about three to four pounds.
What is the Cost of Carne Collective?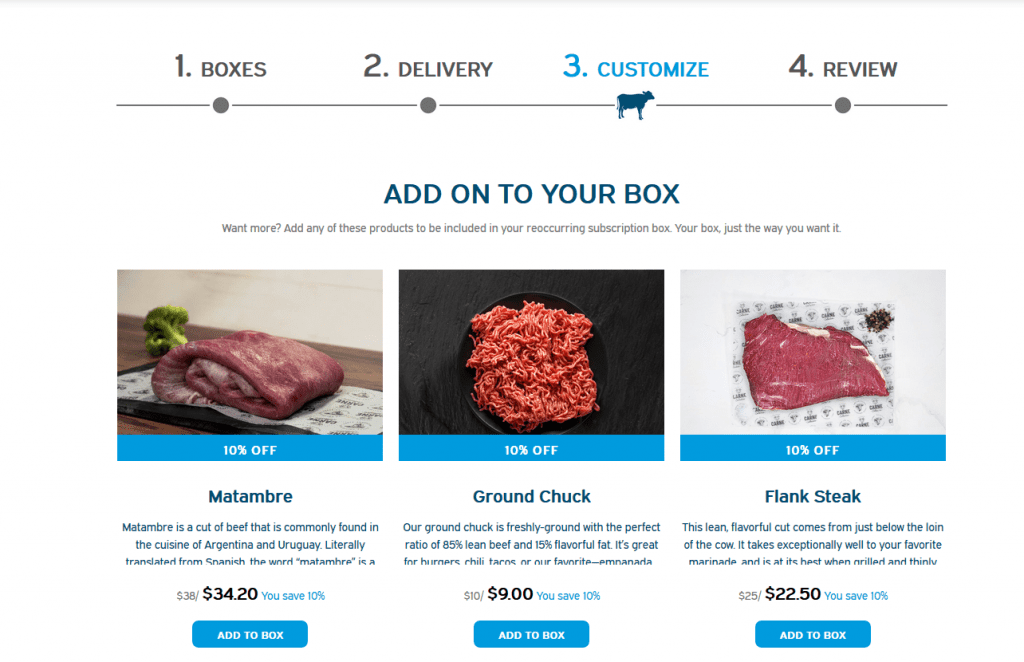 After exploring a large amount of steak that comes in each box, you may be wondering what all that beef will set you back. To my surprise, the prices are very reasonable for such a wide variety of products, especially considering the care behind the production.
The cheapest box, The Trial Campo Box is $154.50 while the middle-tier box, The Trail Asado Box is $178.50. The final box, The Trial Gaucho Box is the most expensive at $298.50. As I explored more, I also discovered that after you add a box to your cart and click "continue shopping" it opens up a marketplace where you can find single cuts as well.
It is here in this storefront where you will find cuts not included in the trial boxes like tenderloin, tri-tip, and matambre to name a few. These are additional products that they sell in their subscription boxes.
After clicking one of these smaller options, it redirects to their subscription box service. This service requires a three-month commitment. Despite the three-month commitment, this may be the best option for people looking to get the best value.
The Campo box is only $129, The Asado box $149, and The Gaucho box $249 under the subscription service. After selecting your preferred box, this is when you can add on the other cuts not included in the box, for an additional cost.
If you are a beef lover yourself, it would not cost much for you to get the cheapest box as a holiday treat or even a three-month subscription. However, if you are shopping for that special beef lover in your life, you have plenty of options to send to them without breaking the bank.
Exploring Carne Collective's Website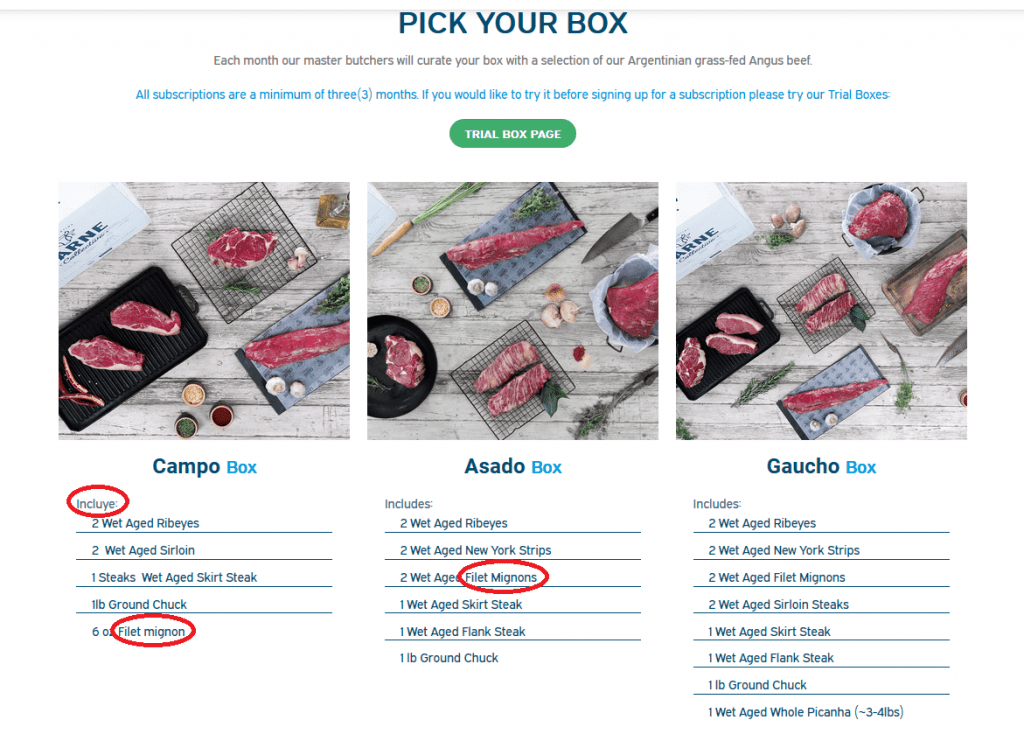 At first glance, the Carne Collectives website is professional, cohesive, and easy to navigate. However, once you start clicking around, you notice the flaws.
My biggest complaint is that in an effort to simplify their website, they made it more difficult to navigate for the customer. At the top they have only six tabs to select; shop, our values, about us, recipes, contact us, and get your box.
The "shop" tab leads to the trial boxes only. To access the subscription box service takes clicking the "continue shopping" button in the customer's shopping cart, then clicking one of the stand-alone products like tri-tip. From there you need to reselect the box you want, and only then can you customize.
It is a bit disappointing that it takes this much effort to find their other services, and I feel it may be damaging their sales.
In addition to this, there are typos throughout the website including words not translated from Spanish, incorrectly spelled words, and inconsistent capitalization.
To improve their website, they need to get a proofreader and add another button for their subscription box service. One of the aspects that I did enjoy about their layout was the inclusion of a recipes tab. This allows potential customers to browse cooking ideas for their steaks.
Delivery and Shipping
As mentioned previously, they pack their beef extremely well to ship it, with sustainable methods and plenty of cold packs to ensure freshness. For the shipping, it is very straightforward. No matter the type of box you select, you are presented with three different shipping options.
If you select standard three-day FedEx ground shipping, there is no additional cost. However, if you are on a time crunch the other shipping options are not outrageous. Perhaps you are late ordering holiday gifts, that is fine, they offer two-day and overnight shipping as well. The two-day air shipping is also by FedEx and will cost $25 while the overnight shipping only costs $35.
I always try to shop early, but it is good to know that they have options in case you get behind with holiday shopping.
One thing I would also like to note about their subscription box service is that you can select the frequency in which you receive your box. They offer three different delivery options: every two weeks, every four weeks, and every eight weeks.
This is a perfect customization option for people who are looking to eat a lot of beef in a month or spread out their consumption over a few months.
Pro and Cons of Carne Collective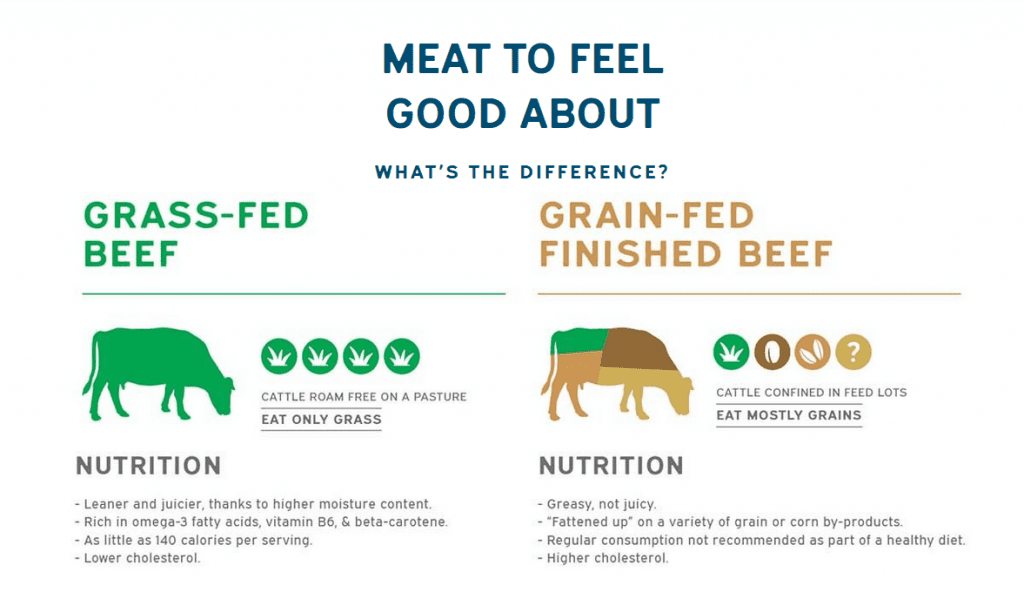 Now that we dove head-first into Carne Collective, here is a summarized version of all that we discovered.
Pros
Varying boxes for varying budgets.
Quick shipping with affordable, faster options.
Sustainability sourced beef.
Grass-fed beef.
Traditionally and locally produced in Argentina.
Eco-friendly packaging.
Affordable.
Can buy a trial box before committing to a subscription.
Cons
Hard to navigate the website.
Errors on the website.
Only offers beef products.
Some products are hidden on the website.
Focuses on steaks specifically, there are not a lot of variation in beef options.
Cannot purchase individual steaks.
Alternatives to Carne Collective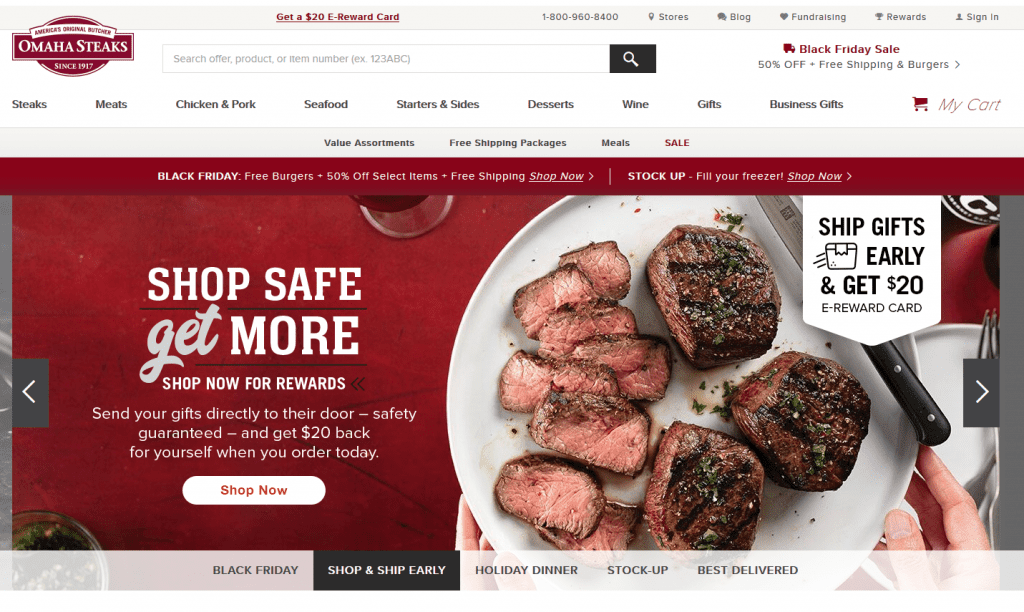 If after all this, you may be considering other mail order steak options, do not fret, there are a huge number of producers that provide beef services alongside Carne Collective.
Omaha Steaks is one of the other steak companies I am familiar with as I received a gift box a few years ago. From a brief glance, Omaha Steaks has a much wider variety of boxes to purchase, and they do also offer more than just steaks like seasonings, potatoes, and apple tartlets.
If you are looking for a more steak focused company, Kansas City Steaks offers many steak boxes that are relatively similar to those offered at Carne Collective. In addition, you can get barbeque, seafood, and even turkey options.
ButcherBox is a smaller scale compared to the two previous companies and offers steak samplers and mixed boxes that include chicken and pork. If you are not feeling traditional picks, they have a 10-pound salmon deal as well.
The final alternative I will mention is the Chicago Steak Company. This one stood out to me the most because you can select single steaks rather than a whole box of them. For those looking to splurge on the holidays but not bust the bank, this may be the best mail-order option for you.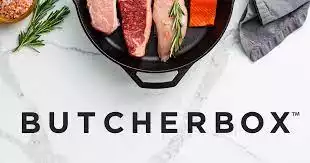 Meat Delivery Subscription | Butcherbox
ButcherBox delivers 100% grass-fed beef, free-range organic chicken, humanely raised pork, and wild-caught seafood directly to your door. Sign up today and get $20 off each box for your first 5 months.
Check Promos
We earn a commission if you click this link and make a purchase at no additional cost to you.
Here's a Full List of the Top Carne Collective Alternative:
FAQs
Question: What is the best steak delivery?
Answer: It depends on your preference and price range. You also need to prioritize what qualities and cuts you are looking for in your steak. This will help you find the best service for you!
Question: What are some companies that do mail order streaks?
Answer: Some different companies that offer mail order streaks are Carne Collective, Omaha steaks, Butcher Box, and the Chicago Steak Company to name a few.
Question: Can I order steaks online?
Answer: Yes! There are a plethora of beef producers that offer online ordering for ship-to-home consumers.
Question: What is the best way to order a steak?
Answer: Personally, I prefer to order online. This guarantees I get the cut I want as well as the quality I want. Plus, I can select a producer based on their own goals and values.
Question: Why do restaurant steaks taste better?
Answer: Restaurants are usually prioritized when ordering beef. This means they get better cuts, more aged beef, and generally higher quality than those that are ordered by supermarkets.
Question: Is grass-fed beef healthier than chicken?
Answer: It depends. If eaten in small quantities, then technically, yes, grass-fed beef can be healthier than chicken. This is because it is packed with nutrients like omega-3 fatty acids and leaner than grain-fed beef.
Question: Does grass-fed beef taste better?
Answer: It is higher in nutrients, but because it is leaner, it may be gamier to some. Especially those who are used to grain-fed beef which is fattier.
Question: Why is grass-fed beef so expensive?
Answer: Grass-fed beef is more expensive than grain-fed beef because grass-fed beef takes more time to raise to proper weight for slaughter. More time = more cost.
Conclusion: Should You Buy Carne Collective?
Whew, what an adventure! It is always fun to dive into a company and their service to see if it is worth buying, and after everything, I do believe this is a good option for all you steak-focused beef connoisseurs.
That said if you are the type of person only looking to try a few steaks, or maybe prefer a variety of meats to sample, Carne Collective may not be the best option for you.
Overall, this company's commitment to sustainability traditionally produced beef and affordability does put it on my radar for mail-order steaks and I would recommend you give it a try if you are looking to buy quality steaks this year.
Have you tried Carne Collective's beef? If so, let us know about your experience in the comments below! We would love to hear what you thought.
Further read: