Latest posts by Lauren Vigdor
(see all)
Some days I like to daydream about what my day-to-day life would be like if I could be the best version of myself. For example, the best version of me would only buy organic, locally grown vegetables and humanely raised high-quality meat. Of course, I am not the best version of myself (thankfully — that sounds exhausting), and I often find myself running to the closest market 20 minutes after I should have started cooking dinner.
Unfortunately, I live in a small resort town, and in the off-season, the prices are high, and the shelves are pretty bare. That "closest market" carries no more than two brands of each pantry staple, sometimes has baby spinach or arugula — but never both, and sells standard-quality meat at premium prices.
That's why I was excited to try Holy Grail Steaks. Best version of me ingredients meets regular-old version of me convenience? Sign me up!
Bottom Line Up Front
Holy Grail Steak Co is a premium steak delivery service that offers subscription boxes, gift boxes, and a la carte ordering. While prices do run high, for the most part, they're worth it for the quality of meat the company provides, and there are several cuts that aren't much pricier than I'm used to paying at a grocery store. While I probably won't be dropping four figures on a box of A5 Wagyu anytime soon, I will definitely order from Holy Grail again, especially during the holidays and for special occasions.
What is Holy Grail Steak Co?
Holy Grail is a premium, restaurant-quality meat delivery service specializing in steak. Though they do have a few pork options and some gift packs that include salmon, most of what they sell is beef. They focus on responsibly and humanely raised beef sourced from a curated selection of small, independent ranchers.
What's the Selection Like?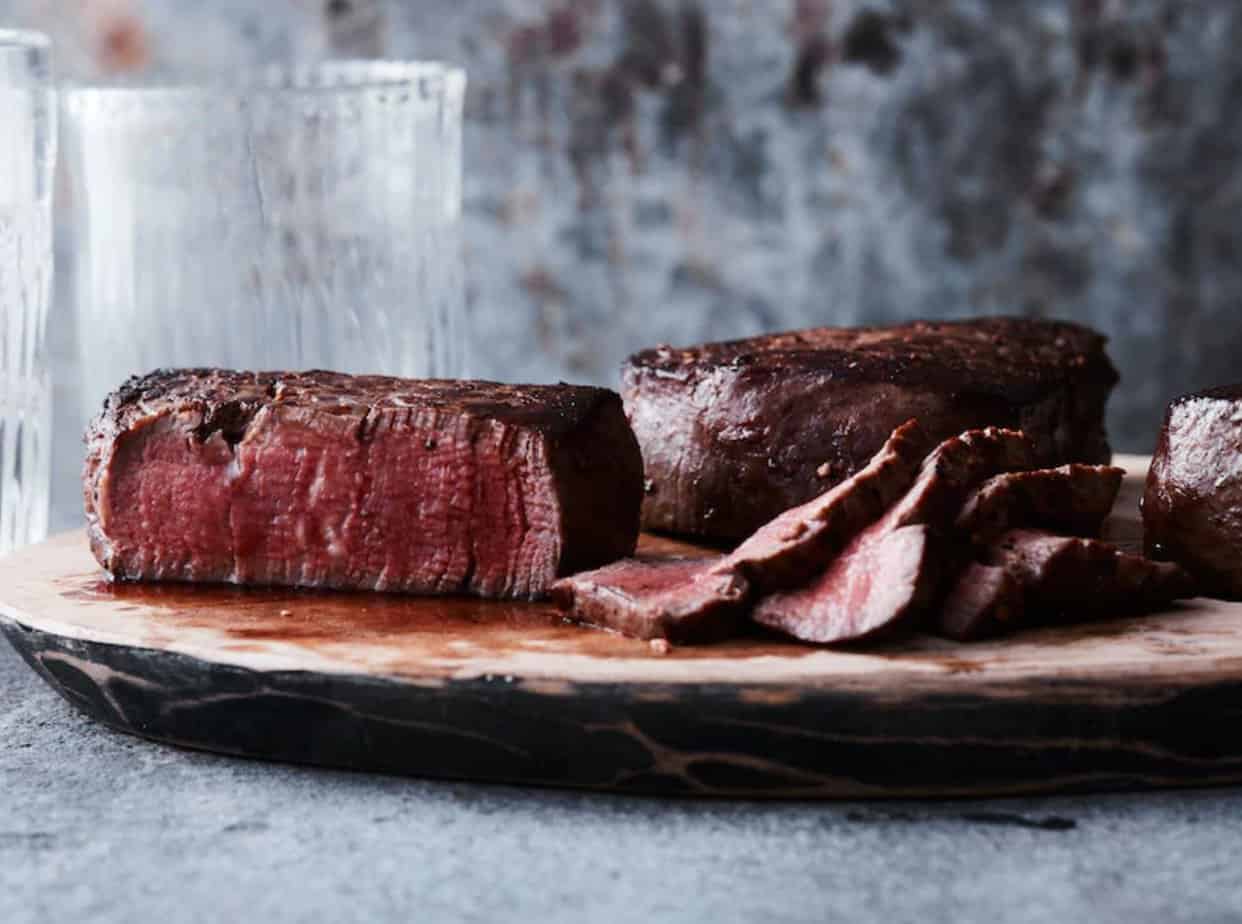 Most of what they sell falls under what I would consider to be "special occasion" cuts — ribeyes, filets, and a huge selection of Japanese Wagyu — but more affordable steaks and burgers are also available.
When you shop on Holy Grail's site, you'll be able to sort the beef by collection or cut, so if you're specifically looking for Wagyu or NY Strip, it's easy to narrow down your options.
Beef By Collection
Holy Grail's steaks can be sorted into the following collections:
Japanese Wagyu

– Japanese Wagyu is some of the finest steak in the world, and A5 Wagyu is as good as it gets.

American Wagyu

– A crossbreed of Japanese Wagyu and American black angus. It's not as rich as Japanese Wagyu.

Upper Prime Black Angus

– "Upper Prime" is the name Holy Grail gives its steaks that they consider to be in the top tier of all prime beef.

Holy Grail Burgers

– They have a selection of burgers, many of which contain a percentage of Wagyu beef. There are also pork and bacon burgers available.

Santa Carota Carrot Finished Beef

– From a farm in California. This pasture-raised beef is finished on a diet of 95% carrots, resulting in sweet-tasting, lean meat.

Dry-Aged Steaks

– All of Holy Grail's dry-aged steaks are aged for at least 30 days to intensify their flavor.

Kurobuta and Mangalitsa Pork

– These two types of pork are known for the deep, rich color of their meat and the quality of their fat marbling.

100% Grass Fed Prime

– This comprises a small selection of California-raised black and red Angus beef.
Beef By Cut
Holy Grail's cuts available for a la carte ordering include:
Ribeyes

Strip Steaks

Filet Mignon

Burgers

Butcher Cuts (these are cuts like steak tips, chuck, and skirt — the cuts the butcher would take home to their families rather than put on display)

Tomahawks

Roasts
Steak Flights and Gifts
Holy Grail sells a selection of gift boxes, most of which contain several different cuts of meat (though some are just a six-pack of burgers, for example.) Many of the gift boxes have themes like "surf and turf" or "tailgate."
Steak flights consist of either a few different cuts from the same ranch (all Santa Carota, for example) or a few of the same cut from different ranches (such as three different producers' A5 Wagyu ribeyes.)
Some of the gift boxes come with spice rubs or sauces, and the surf and turf gift boxes are currently the only way to order seafood through Holy Grail.
Holy Grail Subscriptions
Holy Grail offers a "subscribe and save" program on certain boxes, where you can pay a lower price per box when you sign up for recurring delivery (monthly or every three months.) However, when I tried to sign up for a subscription, most of them were sold out. Only four of the 16 subscriptions offered were currently available.
Ordering Holy Grail Steaks Online
Ordering online was very easy. I just added the steaks that I wanted to my cart and hit "Check Out." I didn't order enough to meet the $199 minimum for free shipping, so the standard ground shipping of $29 was added to my cart. There was a space to enter a promo code, which I'll most likely take advantage of in the future.
Checkout was super easy and done through Shop Pay. I also liked that I could choose my delivery date. I was given the option to choose delivery on any Wednesday, Thursday, or Friday between five and 37 business days in the future. That meant I could schedule delivery for almost two months in the future, which I could see coming in handy around the holidays or when purchasing a Holy Grail order as a gift.
After ordering, I received several emails regarding the status of my order. I was updated when my order shipped, was out for delivery, and when it was delivered. I thought this was a great touch for a food delivery service since it meant I wouldn't need to worry about my order being delivered and left sitting on my front step all day while I type away at my computer upstairs, completely oblivious.
Shipping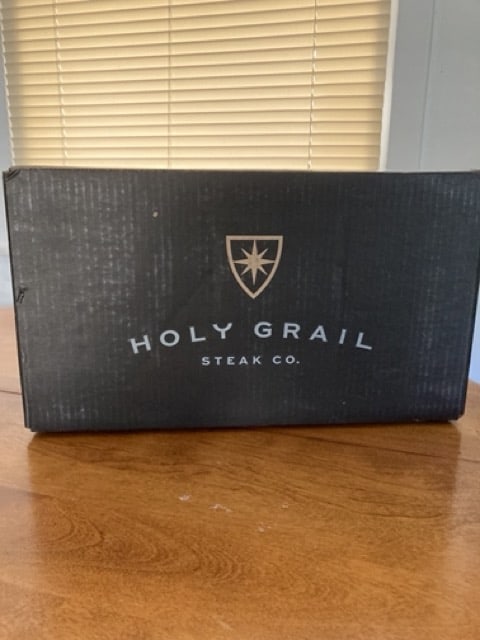 Holy Grail's products are vacuum sealed and immediately frozen to -30 degrees F to make sure that they stay fresh. They're shipped in a cardboard box that's insulated with a layer of "foam" made from recyclable paper and biodegradable cornstarch. You can actually dissolve the interior cornstarch layer right in your sink!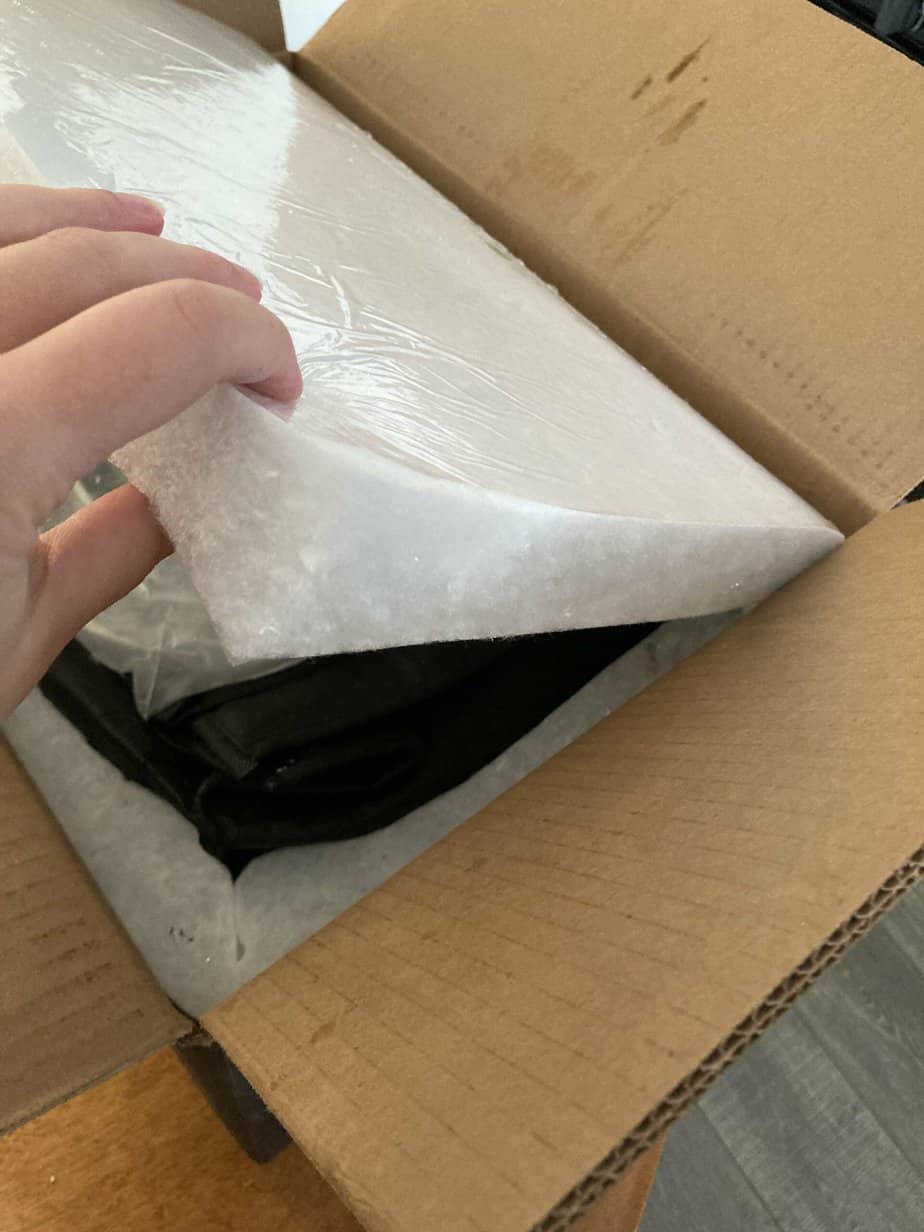 My order was packaged in one of these insulated boxes with dry ice, so it was still completely frozen by the time it arrived at my door. It came in a really nice insulated reusable tote with a zipper! I'll definitely use the tote again while grocery shopping, especially since I live in a town that has banned plastic bags in stores!
The vacuum-sealed steaks were individually wrapped in paper, but I found it strange that only some had identifying labels on them. It wasn't a massive deal for me since I ordered four different cuts of meat and could tell them apart from their shapes, but I wonder if I had ordered several different types of burger patties, for example, if there would be any way of distinguishing them. There was also no packing slip or any other identifying information to be found in the box. Again, this wasn't really an issue since I knew what I ordered, but had I been giving this as a gift, I would want the recipient to know what types of meat they were receiving.
My Experience with Holy Grail Steaks
Wagyu Brisket Short Rib Burgers: Brunch Style!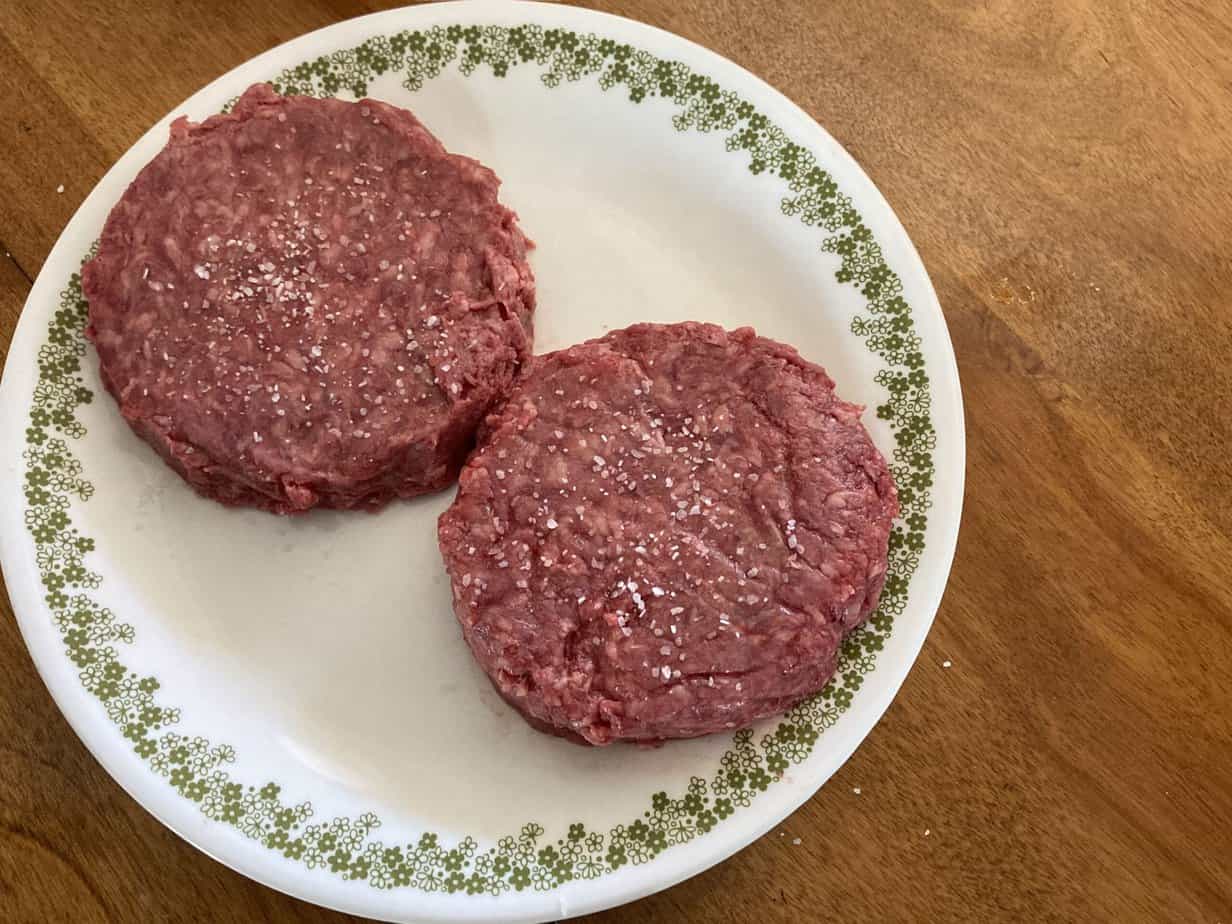 The first thing I tried from Holy Grail was the Wagyu Brisket Short Rib Burgers. The burgers are made from a combination of short rib, brisket, and sirloin, sourced from Tajima American Wagyu.
They came in a pack of two generously-sized half-pound patties separated by parchment paper. The patties were falling apart on the edges a bit, and there was some liquid in the package due to defrosting, but all in all, they held up pretty well. I just had to reform them slightly before seasoning them with a little bit of salt.
I decided to make brunch burgers with them, so I threw them on the grill on high heat for about 4-5 minutes per side. I probably should have done a bit less, as they ended up closer to medium, and I like my burgers medium rare, but I was worried they wouldn't cook as quickly since I kept opening the grill to watch them sizzle!
I topped them with a slice of sharp cheddar cheese and piled them onto toasted brioche buns with bacon, a chili crisp fried egg, and kewpie mayo, and, despite me slightly overcooking them, they were outstanding!
They were really meaty, savory burgers; not as fatty as I was expecting but still super tender and incredibly flavorful. They tasted like a really good steak ground into a burger patty. Despite the somewhat high fat content of the Wagyu, they tasted leaner and healthier than a lot of other store-bought ground beef. It was filling, but I was able to eat it without feeling like I needed a nap afterward, which was great, considering I had decided to start my day with a burger for breakfast!
The texture of the burger was great. It was tender but not too crumbly or greasy, and it held together really well. It definitely reminded me more of a steakhouse-style burger than a diner burger. At $9 a patty ($18 lb), I would definitely buy these again. They might not be an everyday grocery budget item, but I'd rather spend a little extra money for the quality.
Santa Carota Carrot Finished Hibachi Strip Steak: A Healthy Weeknight Meal
The next thing I tried was the Santa Carota Carrot Finished Hibachi Strip Steak. Santa Carota's grass-fed cattle are raised humanely in California, where they are able to roam free. The cattle are finished on a diet of 95% carrots, which results in juicy, succulent meat high in vitamins B12 and A.
There were two four-ounce pieces of steak in the pack. They were somewhat small and very thick, almost cube-shaped pieces. I decided to marinate them for a few hours in a combination of olive oil, red wine vinegar, garlic powder, onion powder, chili powder, soy sauce, salt, and pepper.
They didn't take long to cook. I seared them for a few minutes on each side in a hot cast iron pan. One of the pieces was much thicker than the other and took considerably longer to cook to medium rare, which was a little annoying.
I decided to forgo the website's suggestion of serving them with fried rice and veggies and instead served them alongside roasted baby potatoes, asparagus, and a chimichurri-esque green sauce.
The meat was super lean and flavorful. It wasn't tough or chewy, and there was absolutely no gristle or stringiness to it. It was very tender and cut like butter — I was able to cut it with the side of my fork, and it just melted in my mouth.
This definitely felt like a "healthy" steak option, and I think it would be great for a quick weeknight stir fry or steak salad. It tasted like restaurant-quality meat with almost no effort on my part.
Upper Prime Black Angus T-Bone Steak: Battle of the Steaks, Part One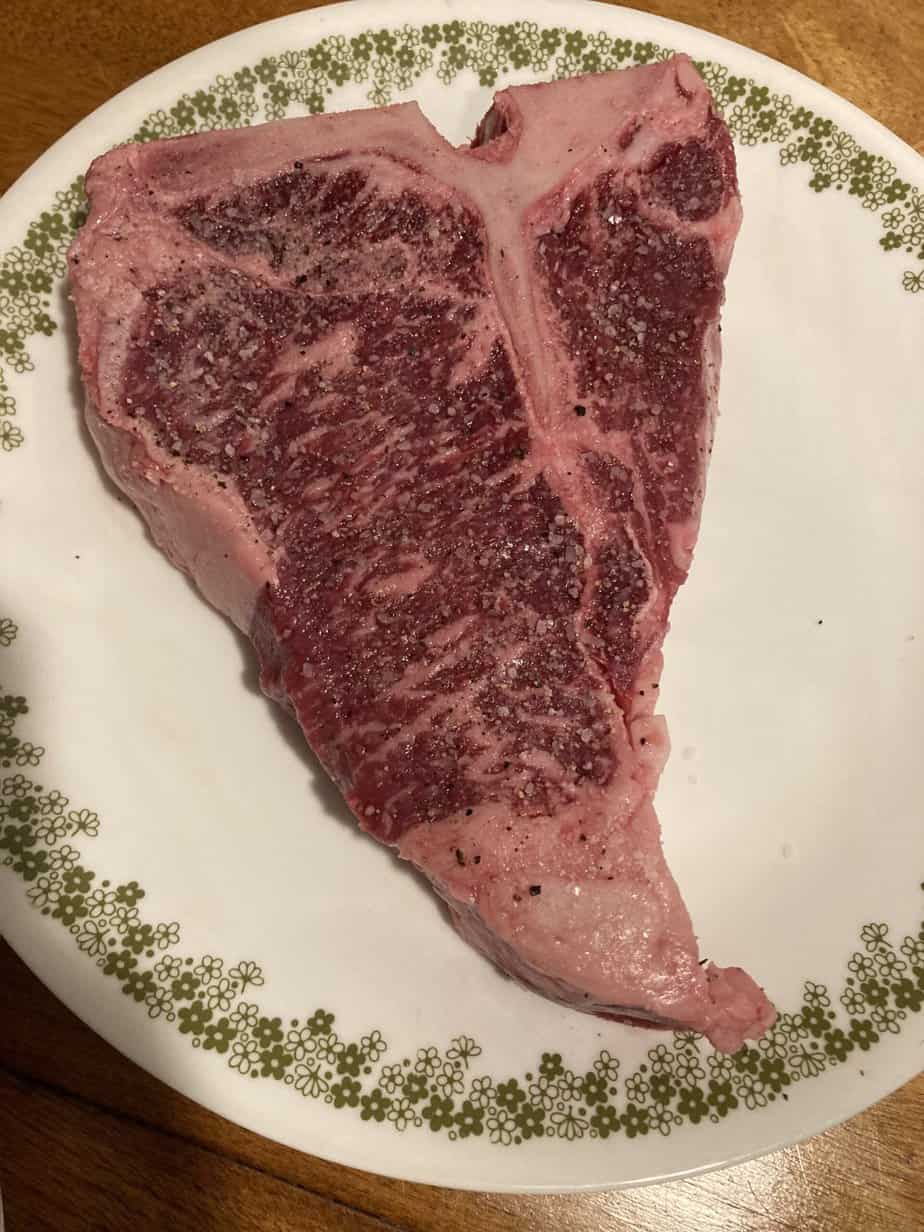 I decided to have a little steak-off with my last two cuts from Holy Grail. I had an Angus T-bone and an American Wagyu ribeye, so I decided to cook them both at the same time so that I could really taste the difference between the two types of meat and compare them.
First up was the Upper Prime Black Angus T-Bone. There's something so primal about a T-bone steak. It makes me want to cook over an open fire in the middle of the woods. Unfortunately, I live on an island and the closest thing we have to "woods" are a few scraggly pine trees and some dune grass, plus it starts to get dark and cold at like four thirty this time of year, so I settled for the comfort of my kitchen and my trusty cast iron skillet.
I wanted to keep it simple, so I seasoned the steak with salt and pepper and then seared it in my cast iron with butter, rosemary, and garlic. It cooked pretty quickly to medium rare, and after letting it rest for a few minutes, I was ready to try it.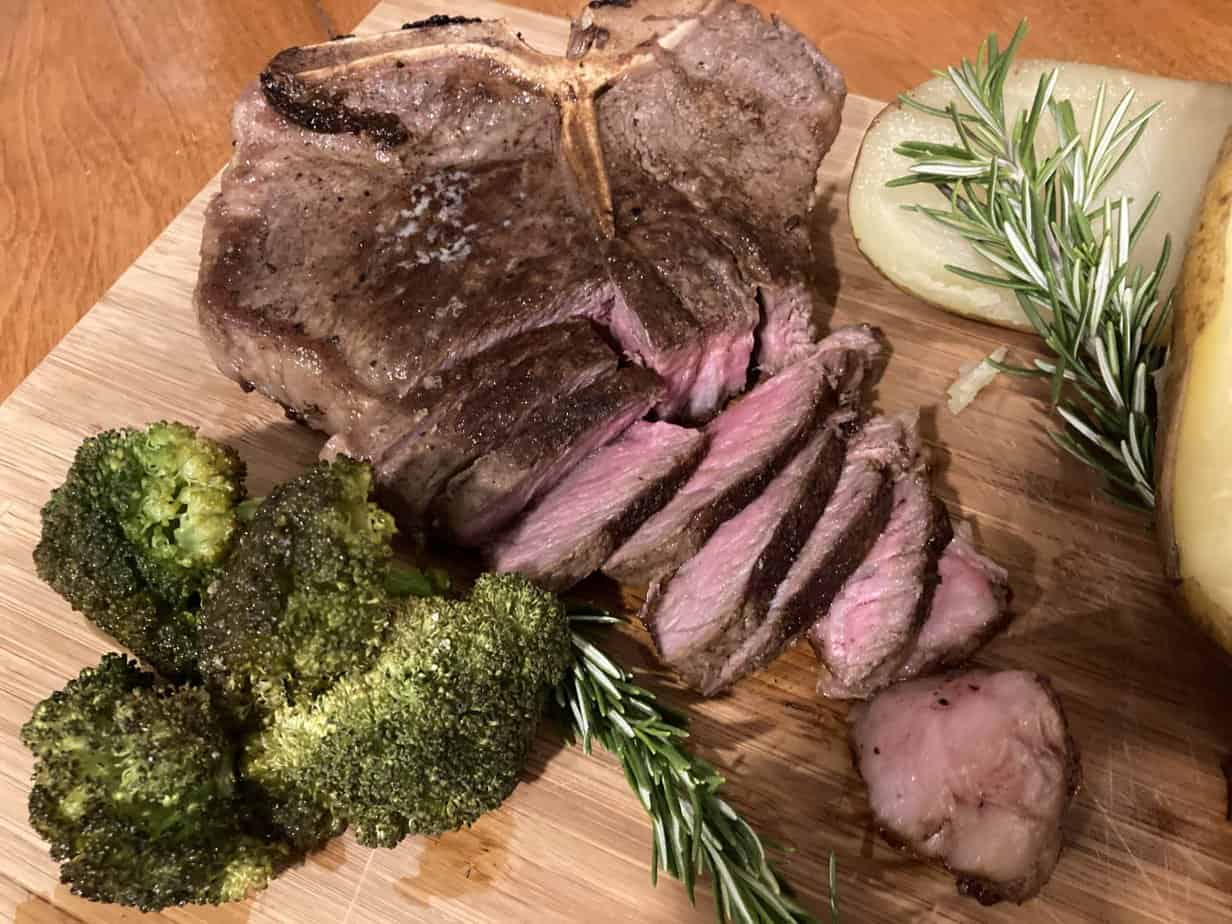 The T-bone was juicy, succulent, and meaty. It had a really nice savory umami flavor. It tasted a little wild but not gamey. The meat was lean but not at all dry. It was juicy without being too fatty or greasy and had a nutty flavor that was really pleasant.
Akaushi American Wagyu Ribeye: Battle of the Steaks, Part Two!
The challenger in my battle of the steaks: the Akaushi American Wagyu Ribeye. Ribeye is my favorite cut of steak. I'll take a juicy ribeye over filet mignon any day. I was curious to see how this American Wagyu would stand up next to the black angus.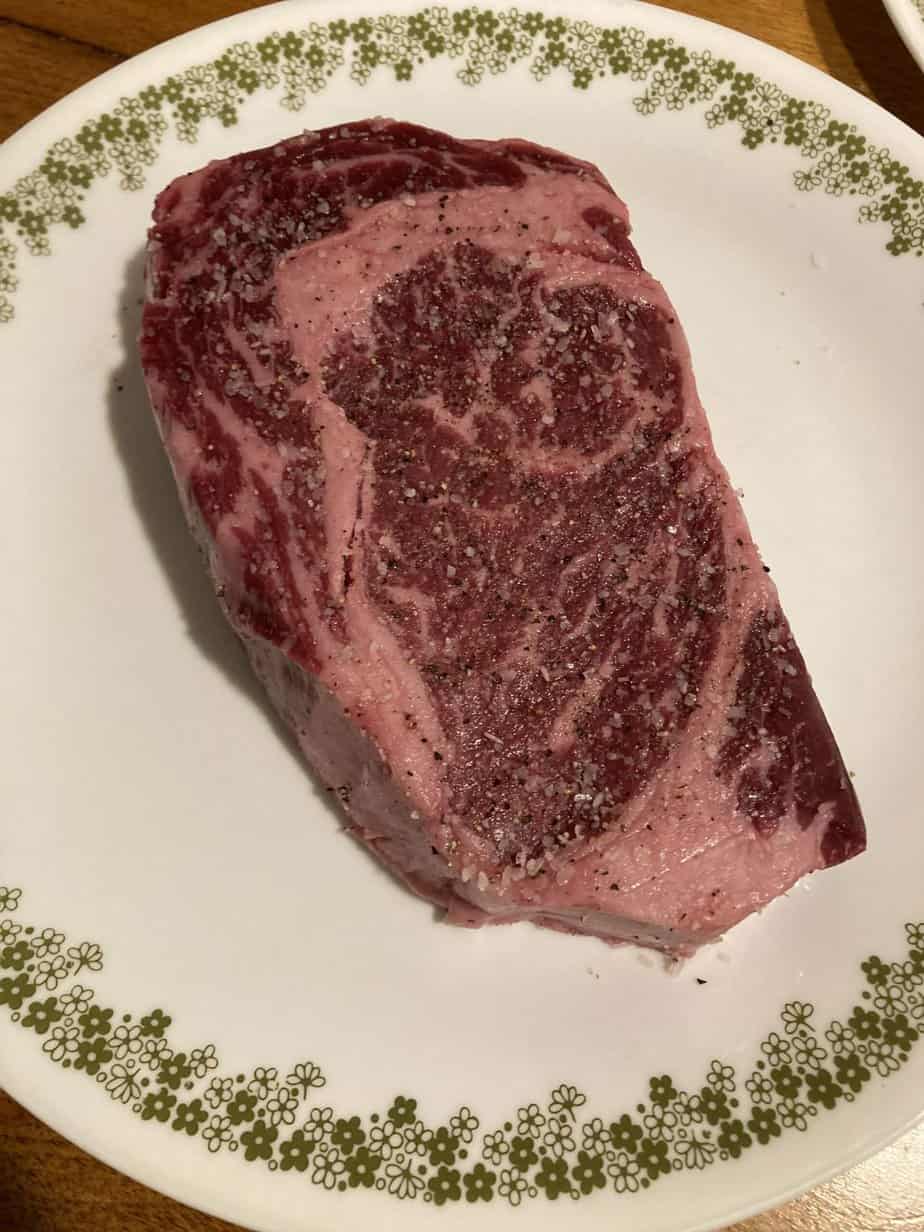 I seasoned this one the same as the T-bone. Just a simple mixture of kosher salt and fresh cracked black pepper. Just like I did with the T-bone, I threw the ribeye into a hot cast iron with some Irish butter, garlic, and fresh rosemary.
I let it sear for a few minutes on each side, occasionally basting it with the butter in the skillet. I cooked the steak to medium rare and let it rest before cutting into it.
This steak was very tender and fattier than the T-bone but not as fatty as I had anticipated. The texture wasn't at all what I expected. The grain of the meat almost reminded me of a slow-cooked brisket, despite the fact that I had only seared it for a few minutes on each side. It was as if it had been sitting in a smoker all day but without the smoky flavor.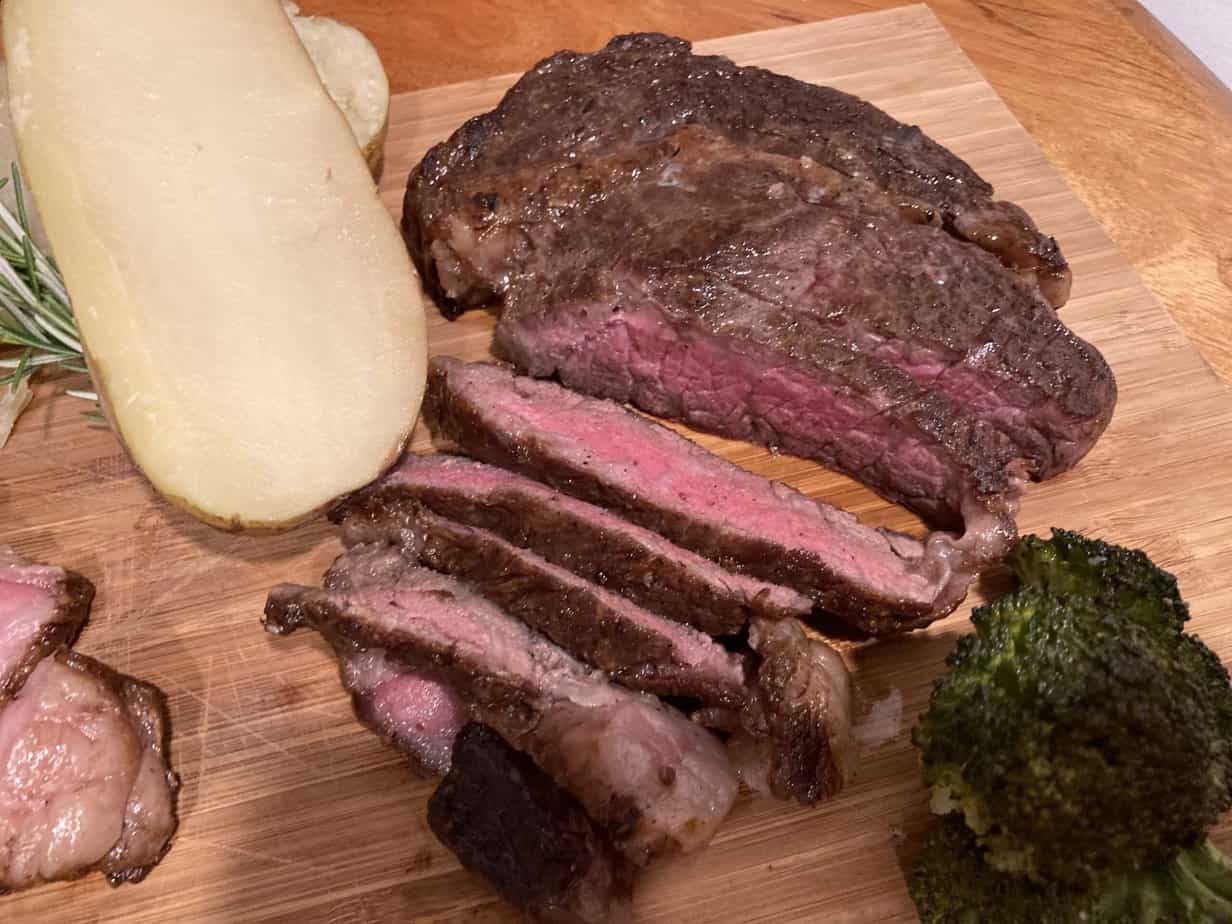 I really enjoyed this, though it was different from the ribeyes I usually get from my local store. The way the fat was marbled into the meat actually made it taste leaner than what I'm used to. Often when I pick up a ribeye from the grocery store, it has a larger fat cap, which can be rendered into deliciousness but also tends to be greasy and unappetizing if I'm impatient. The marbled fat in the American wagyu melted into the meat, leaving a ton of flavor and not a lot of grease.
Battle of the Steaks: The Champion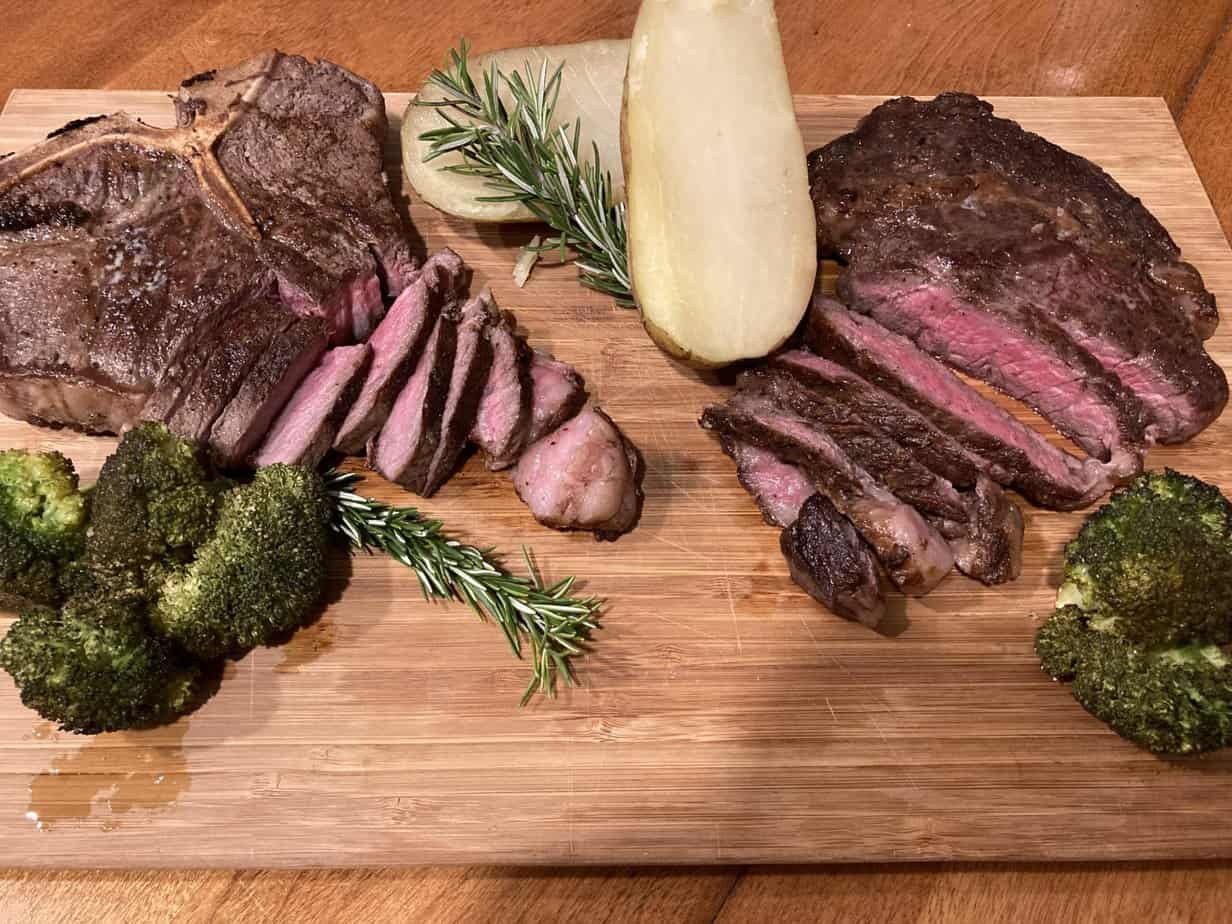 I served both steaks to my family steakhouse-style with baked potatoes, charred broccoli, and a salad. We all agreed that the ribeye had a slight edge over the T-bone, but both were fantastic. Both steaks were full of rich, meaty flavor, but the ribeye's texture was really what set it apart. I would order either steak again for a special occasion or a holiday meal.
The Holy Grail Steak Email List
When I placed my order with Holy Grail, I was added to their email list. Normally I try to immediately unsubscribe from promotional emails since my inbox is already out of control (I will never in my life experience a zeroed-out inbox), but as of yet, I still haven't clicked that "unsubscribe" link.
So far, I've received a few recipes that I'm interested in trying out, some information on different cuts of meat, and, most importantly, some great promo codes. A few days ago, I got a code for 20% off A5 Wagyu that doesn't expire, so I could save it to order something special for the holidays. If you're interested in Holy Grail, I would definitely sign up for their mailing list. The promotional offers seem to be sent regularly and will definitely save you some money.
Pros and Cons
Pros
I loved the use of recyclable/biodegradable packaging!

The reusable tote my order came in was a very nice touch. I've already used it several times!

Everything was very high-quality and delicious!

Delivery was fast and convenient, and I was updated via email every step of the way.
Cons
Most of the prices were beyond my budget for groceries, though I would order several of the more affordable options again.

Very few of the subscriptions were available at the time I placed my order.

There was no packing slip with my order, and some of the cuts didn't have any identifying labeling on them.
Alternatives to Holy Grail
If Holy Grail isn't right for you, you might want to try one of these instead:
Crowd Cow

– Crowd Cow offers a very similar service to Holy Grail. They have a huge selection of Wagyu and emphasize the connection between small, independent ranchers and consumers. Check out our full review

here

.

Butcher Box

– Butcher Box is a meat delivery service that sends you a custom or curated box of beef, chicken, pork, and seafood every four to eight weeks. This is a great option if you prefer a mixed meat subscription. Read our review

here

.
FAQ
Question: Where are Holy Grail steaks from?
Answer: The company is based in San Francisco, but Holy Grail sources their steaks from a selection of small, independent farmers, including ranches in Japan, California, Texas, and Australia. 
Question: What is the highest quality steak in the world?
Answer: Japanese A5 Kobe Wagyu is often considered to be the highest quality steak in the world. Kobe beef is a type of Wagyu, and A5 is the highest quality rating the beef can receive. 
Question: Does Holy Grail offer free delivery? 
Answer: Holy Grail offers free ground shipping on all orders over $199. Orders less than $199 are subject to a $29 standard shipping fee. Overnight shipping is also available for $99. 
Question: Is Holy Grail Steak Co worth it? 
Answer: Holy Grail doesn't charge weekday grocery prices, but if you're looking for super high-quality special occasion steaks, I think they're worth the price. If you have room in your budget for premium, restaurant-quality meat, you'll be happy with what you receive from Holy Grail. 
Final Thoughts
Would I order from Holy Grail again? Probably. In fact, I'm going to say "almost definitely," considering I'm already thinking about what I want to get for some special holiday meals. It definitely isn't cheap, but some of the cuts aren't really any more expensive than what I would pay in a market or grocery store, and the quality is better.
A good steak is one of my favorite meals, but it's not something I eat every week. I fall somewhere between a "special occasion" steak eater and an "every day ending in Y" steak eater. Holy Grail's selection is definitely tailored toward "special occasion" steak eating (unless you're one of those "money is no object" people). If you're an "every day" steak eater, it's probably not cost-effective to get your meat exclusively through Holy Grail, but regardless of your budget, the quality is worth the price you'll pay for it.
I stuck with some of the less expensive cuts that were more within my budget and shared them with some family members — we all agreed that they were worth the price and would be worth ordering again. I loved everything I tried, but I have to say the Santa Carota Hibachi Strip was kind of the underdog hero of the group. It was lean and flavorful and is probably the thing I'm most looking forward to ordering again!