Latest posts by Subscriboxerinchief
(see all)
When it comes to the world of beauty boxes, there are so many subscription services to choose from. Many of them offer a similar premise, so it can be tough to tell which one is best.
Two big names in the beauty box world are Ipsy and Allure. Both send you a selection of deluxe-sized makeup cosmetics and skincare samples each month. Ipsy is $10 per month, while Allure Sample Society will set you back $15.
This is an interesting comparison to make, as both are the products of very different kinds of beauty influencers—Ipsy being the brainchild of Michelle Phan, Youtube guru, while Allure Sample Society is the creation of Allure Magazine, a giant in the beauty world.
While the boxes have a few basic things in common, for the most part the two services are wildly different. Below is a breakdown of the two boxes and what you can expect from each.
Ipsy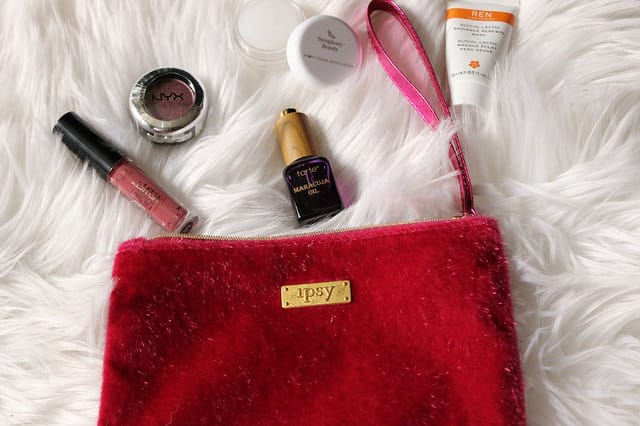 Ipsy was founded by Michelle Phan in 2011. Her dream was to make it easier for her subscribers to find new makeup and skincare products, and the Glam Bag is filled with a combination of deluxe samples and full-sized products from both high- and low-end brands.
The Ipsy stylists also create videos each month that show subscribers how to use the products included in each Glam Bag, which makes it ideal for those just getting started with makeup (eyeshadow, nail polish, liquid lipstick, skincare products, etc…) or looking to learn new techniques.
Ipsy mainly focuses on makeup products, although some skincare and nail polishes also make the cut.
They usually include one or two full-sized products each month, whether that be a tool such as a brush or a product such as a lipstick and lip balm.
The Glam Bag itself is an actual reusable makeup bag, always with a cute new design to go along with the theme of the month. For only $10 a month, this usually makes the bag well worth the price.
Part of their website is an online shop where you can purchase full-sized products for a discounted price. These deals arrive each weekday at 9 am PST. They sell out fast and there are only about ten to choose from. Still, you can score some great deals on things like makeup palettes and sets, often for as much as half their usual cost.
They also have a page for brand offers, which showcases discount codes from the brands included in that month's Ipsy Glam Bag. These are codes that you use to purchase products from the brand websites themselves. The codes range from about 15-20% off, which is pretty significant for some of the bigger brands.
Ipsy offers a points system where you can gain points on their site by following Ipsy on social media, reviewing their products, referring friends and family, and writing a review of the Glam Bag as a whole. These points go towards free items included in your next month's Glam Bag. However, it's pretty difficult to earn enough points to cash in.
One fun thing that Ipsy does is to host monthly giveaways. These can be for Glam Bags themselves or for generous prize packages of that month's brands, usually valued over $100.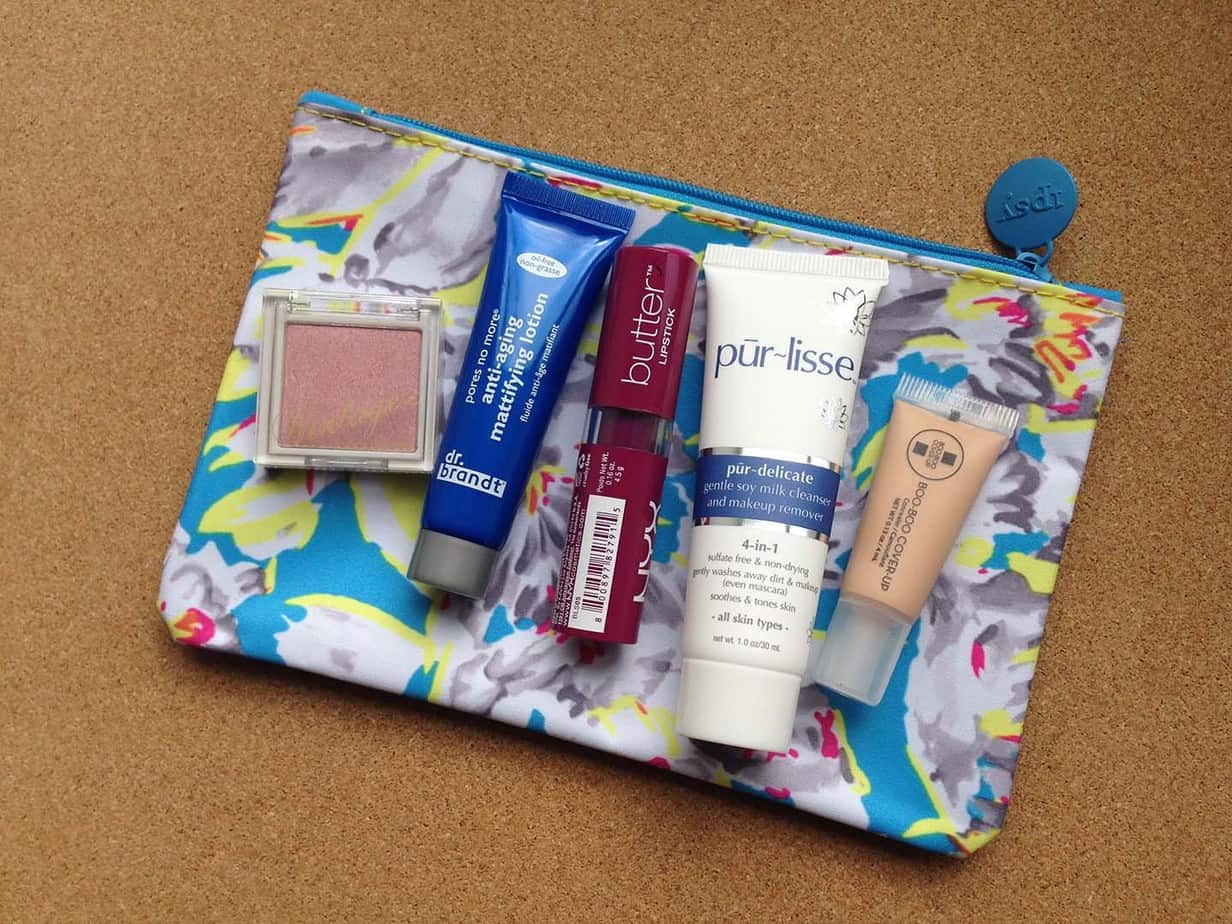 (Photo from Life Between Weekends)
Pros
The beauty samples come in cute packaging, a different makeup bag each month.

Videos show you how to use the products you receive.

You usually receive one or two full-sized products as well as samples.

Their online shop allows you to score discounts on popular brands.

You can earn rewards points towards free items through their points system.
Cons
A lot of the products are either drugstore or from little-known brands.

Many products I received were lower-end, which didn't make me feel like I was getting a great deal.

It's hard to earn enough points to actually score free items.
Allure Sample Society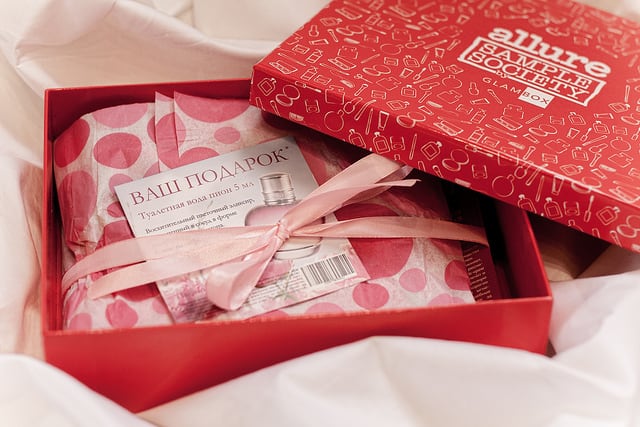 Allure magazine has been a mainstay of the beauty world since their launch. Their Best of Beauty awards annually launch products to superstardom, and after nearly three decades in the business, they've built a reputation for themselves as beauty experts.
It's no surprise that they would come out with a subscription box of their own, sharing the best in beauty with their subscribers on a whole new level.
The Allure beauty box, for $15 per month, includes six deluxe beauty samples of beauty products and tools from major brands and hot newcomers alike. While the majority of products tend to be makeup, they also include a variety of other samples such as perfumes, skincare, body care, and hair products for both beauty and hair care.
They also throw in a mini catalog containing reviews of the products, the reason each was included, and tips for how to use them. While each box contains a mix of brands, the majority of the samples are from well-known, higher-end beauty companies.
They don't include as many full-size products as Ipsy, but the overall price level of the brands included is definitely higher (although they definitely do include drugstore items sometimes, too.)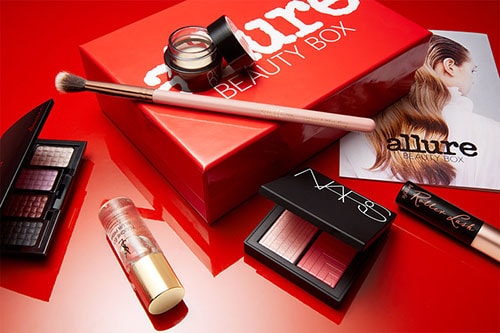 The products come in a sturdy red box each month with the Allure logo on it. Unlike Ipsy, this really isn't something you would want to re-use after you remove the products (unless you really, really love Allure.)
Also unlike Ipsy, Allure does not offer a quiz to customize your monthly beauty box sample selection. Instead, they allow you to update your profile so they can collect information on their membership base as a whole, and use that information to curate all of their boxes (a true curated box).
There is no points system with Allure, so you can't earn free items like you can with Ipsy. However, they do include generous coupons in their boxes for beauty brands and websites. This can be hit or miss, as the coupon won't necessarily be for a brand or item you love.
Allure also has a referral program in which you receive one free beauty box for every friend that successfully signs up with your code. You can only earn one of these boxes per month, so try to space out your referrals to get the most bang for your buck.
Still, if a lot of your friends are interested in subscribing, that's an easy way to score an entire free box every month.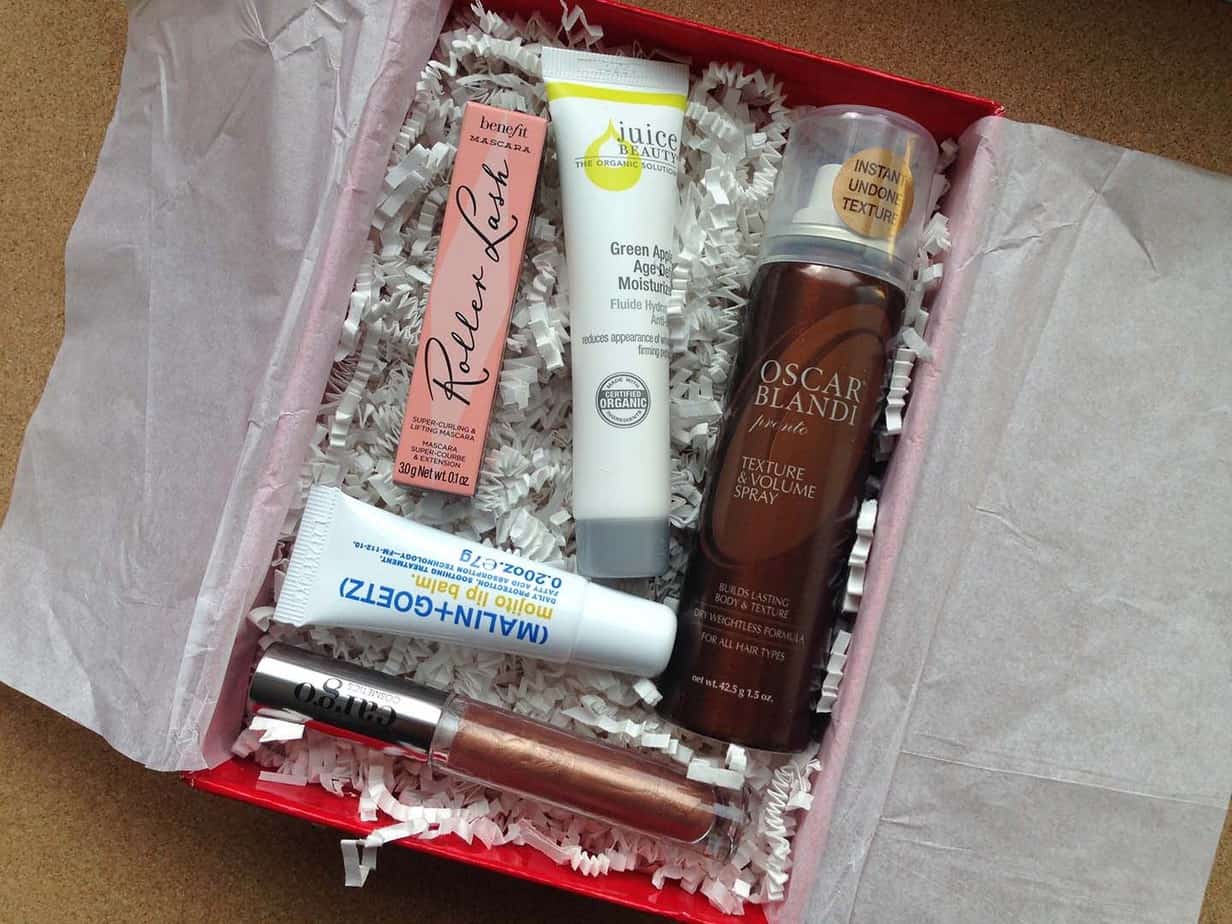 (Photo from Life Between Weekends)
Pros
Referral system allows you to earn one free box per month.

High-end brands allow you to try before you buy.

Wide variety of products, from makeup to body lotion.

Coupons included in each box allow you to score big brands for cheap.
Cons
The packaging isn't really something you'd want to keep after you open it.

There isn't a lot of customization available, so if you don't like a certain type of product, you might still get it.
No points system available to reward loyal subscribers.

No online shop.
Ipsy vs Allure Compared Head-to-Head (Summary)
Below is a breakdown of how the two boxes compare:
| | |
| --- | --- |
| Ipsy | Allure |
| Comes with a cute makeup bag | Comes in the same red box each month |
| $10 per month | $15 per month |
| Usually one or more full-size items per box | Generous samples of higher-end brands |
| Allows you to customize your samples by filling out an online profile | Limited option to customize your profile |
| Video tutorials to show you how to use the products | Mini catalog that contains information about each product |
| Has a shop, although only a few products | Does not have an online shop |
| Offers a variety of discount codes through their website | Sends a coupon in each box, but does not offer website coupon codes. |
| Mix of high- and low-end brands | Mostly high-end brands |
| Gain points towards free items by referring friends, reviewing products, etc. | No points system available. |
| Points go towards additional items in your next Glam Bag. | Referral program allows you to earn up to one free box per month. |
If you're a makeup lover who knows what they like and wants to try the big-name brands before you purchase them and you don't mind a few skin care and hair products thrown in, it's worth paying the extra $5 per month for the Allure Sample Society box.
The brands included there are usually found at Sephora and this box is a great way to experiment with more expensive products without the price tag.
If, however, you're a little more open to trying new and lesser-known brands, Ipsy is a great way to sample what's out there and snag a cute makeup bag each month in the process.
This is also a better box if you're purely in it for the makeup and aren't as big a fan of hair care or other items. Plus, with the full-size items thrown in, you know you're getting your money's worth each month.
Bottom Line: Overall, whether you choose Ipsy or Allure really comes down to what you're looking for in a subscription box. Both are a great way to get a sampling of what's on the beauty market for a pretty low price, and you can't really go wrong with either one.
No matter what you're looking for in a beauty subscription box, chances are one of these services will be just right for your needs.
Further Reading on Beauty Boxes