Latest posts by Daniel Medina
(see all)
If you're looking into Lobster Anywhere but need to figure out what it is and what it offers, then you came to the right place! In this Lobster Anywhere review and guide, I'll review my experience with the seafood delivery service!
Lobster Anywhere is a delivery seafood service where fresh Maine lobster is delivered straight to your door. Not only do they deliver freshly cooked Lobster, but they also have options featuring clam chowder, bisque, frozen lobster tails, and even live lobsters.
When you order Lobster at a restaurant, you expect some of the best seafood you've ever tasted. It's a special dish that some people cannot have too often. Everyone should hold ordering lobster for delivery to the same standard. It can be on the pricier side of things, so you need to be sure that what you're getting delivery is quality stuff.
Lobster is one of my go-to dishes when I want to spoil myself with a flavorful dish. It's hard to go wrong with Lobster at most places, but the biggest factor you need to watch out for is the quality of the Lobster prepared.
In this review, I'll break down the ordering process, the quality of the Lobster delivered, and how I felt about my overall experience using Lobster Anywhere.
You might also be interested in: Best Lobster Meat Delivery Services
Bottom Line Up Front
The bottom line is that Lobster Anywhere was a pleasant surprise into a market I didn't know I needed in my life. If you're a fan of seafood and have always wanted to try your hand at cooking lobster, then there is no better way to start than with Lobster Anywhere. They offer packages for all levels of enjoyment.
If you want to try cooking live lobster, there's an option for that. If you were thinking more along the lines of lobster rolls for the weekend, then there is something here for you as well.
Lobster Anywhere is a company that is passionate about its work, and it shows with its overall product and presentation. Not to mention their Chowder Soup is some of the best I've tried in a while!
What is Lobster Anywhere?
Lobster Anywhere is a food delivery service that provides live Maine lobster and other premium seafood products. It's one of the few places to taste the world-famous Maine lobster without taking a trip to the east coast.
It prides itself on quality, price, style, and service. The lobsters that Lobster Anywhere provides are hand-picked fresh from local lobster fishermen and then transferred to their live-holding systems. Once an order is placed, the Lobster chosen to be shipped out is carefully picked out by employees to ensure that every customer is getting the best of the best.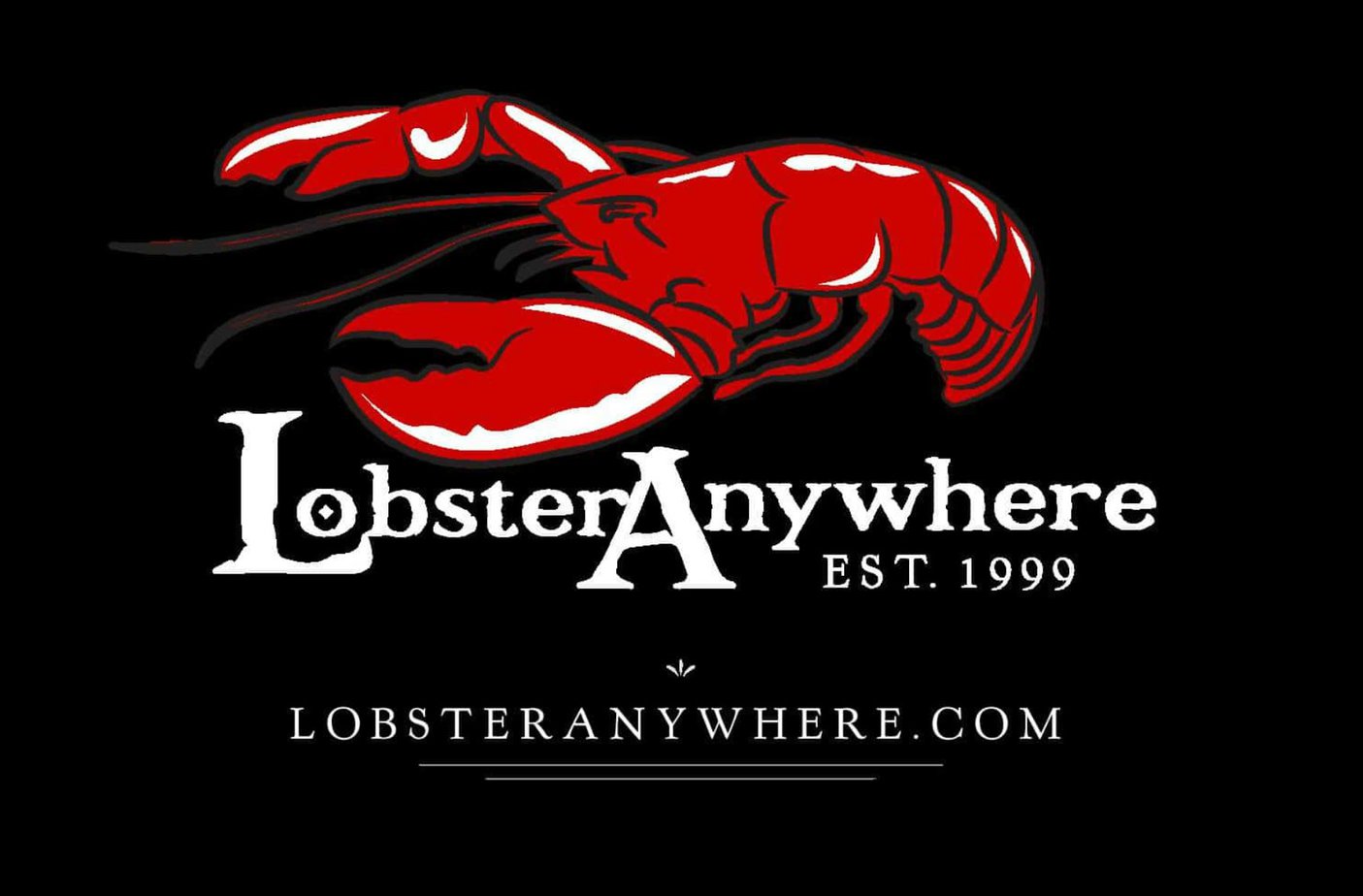 It is always great to see a company that upholds its values so strictly, and it shows itself in the final product. I was impressed by how easy it was to order and navigate from their site.
Delivery was swift, and the presentation was excellent. The customer service was immediate and offered a resolution to a small issue almost instantly. But none of it means anything if the product that you're purchasing isn't up to your standard.
Here is what I thought about Lobster Anywhere and their delivery service!
Placing My Lobster Anywhere Order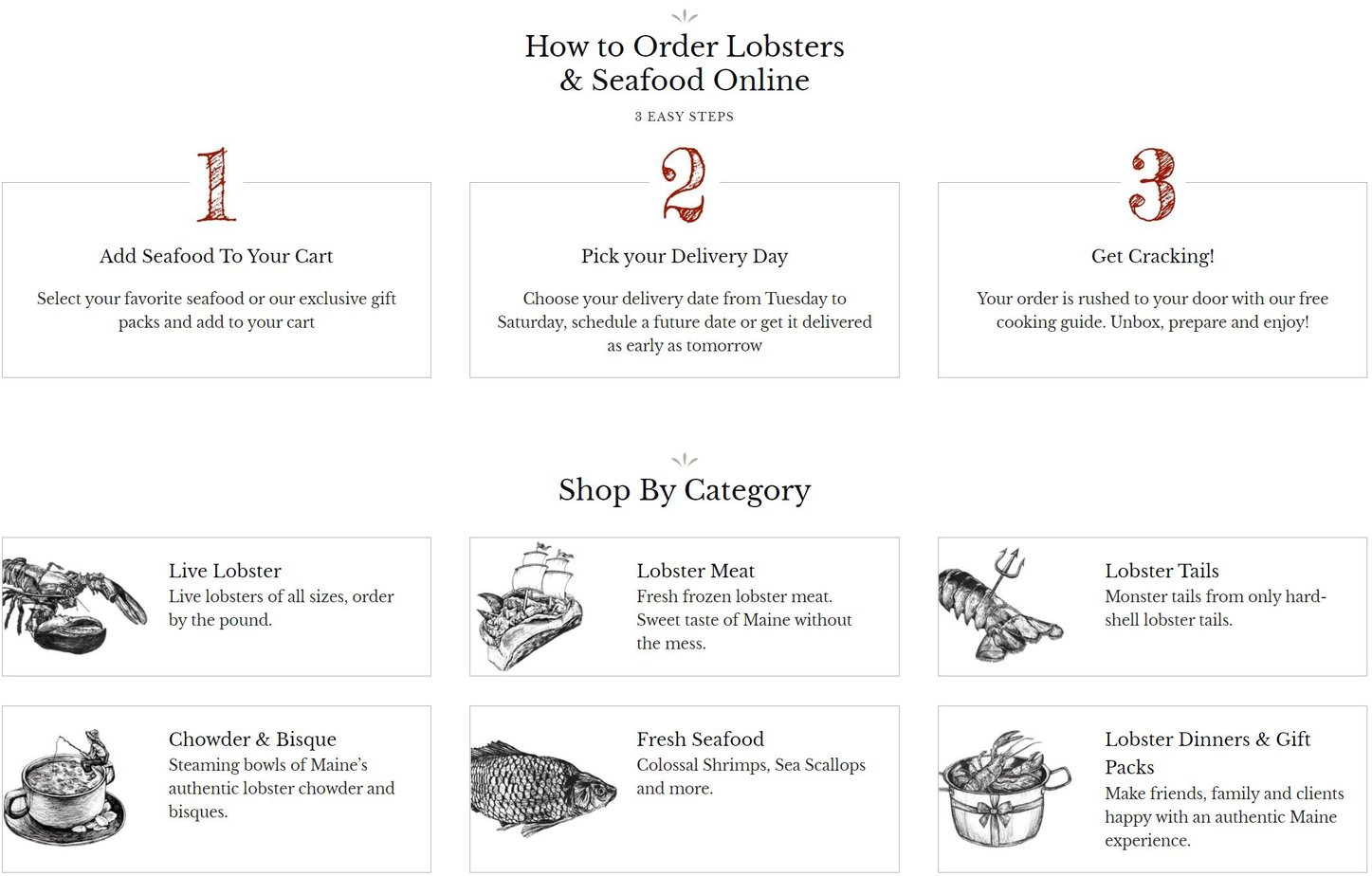 The first thing I noticed when I visited the Lobster Anywhere website was how sleek and inviting it was. It showcases their current promotion, and if you scroll down a little, you'll see a banner that gives you a short rundown of what to expect.
Scroll down further, and you'll be shown the different categories you can order from, including:
Live Lobster

This section features live lobsters of every size.

Chowder & Bisque

This section features authentic Maine lobster chowder and bisque options.

Lobster Meat

If you're looking for something a bit easier to prepare, this section features frozen lobster packages to get to cooking faster.

Fresh Seafood

This section has Colossal Shrimp and Sea Scallops to help round out all your seafood cravings.

Lobster Tails

If you're looking to impress with hard-shell lobster tails, this is your section!

Lobster Dinners & Gift Packs

This section features dinner packages around lobster and gift packs to send to your loved ones!
Once I was able to take everything in, I decided that what I wanted to try was a good old-fashioned lobster roll with a side of clam chowder. If you're going to sell Lobster, having a great clam chowder soup to accompany it is almost a must. Maybe that's just me, but it's what I thought would fit best with this review.
Delivery is incredibly fast and efficient. You're given a time frame to choose from when placing the order. This is to ensure that you are home when the order is delivered. You don't want to leave your food sitting outside for too long.
I ordered before noon EST, which meant my order arrived the next day. Sometimes places talk about having next-day shipping, but it turns out to be two or three days.
I was pleasantly surprised to see that my order arrived exactly as requested.
My Lobster Anywhere Box Arrives!
When my order arrived, the presentation was pretty typical for a food delivery service. There were a few bags of dry ice, and my food items were packaged neatly inside.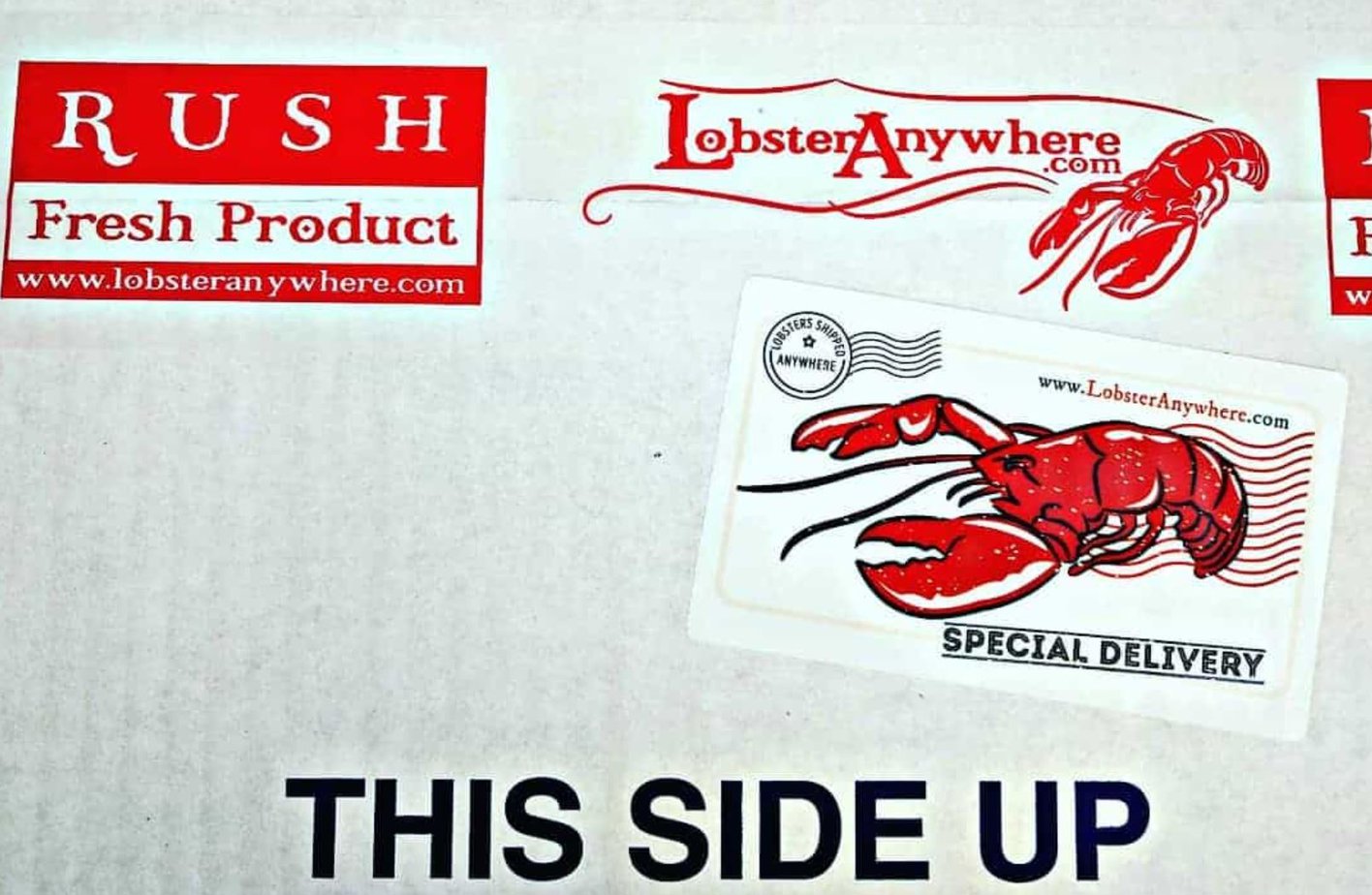 I ordered one order of frozen lobster meat and one of the clam chowder. Both items arrived frozen in neat rectangle-size packages. There were also plenty of oyster cracker packs included to accompany my soup, I assume.
The first thing I did when I received my order was run the frozen lobster meat and clam chowder under cold water. This helps with defrosting. You never want to use hot water because this could slightly cook your meat, leading to you overcooking it later.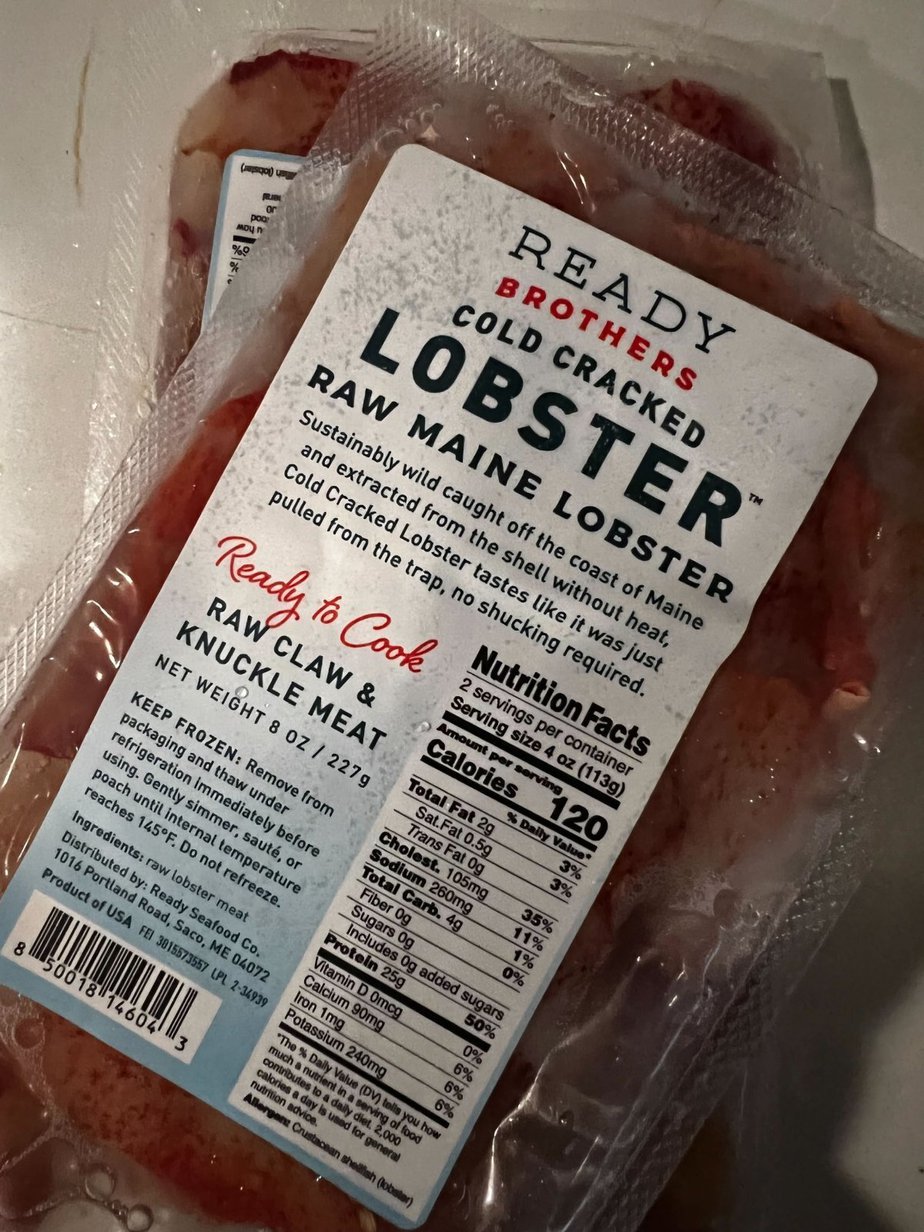 Another way to do this is simply placing the frozen items in the fridge. However, this could take up to an entire day. So if you receive your package and aren't going to cook it until tomorrow, then I'd recommend doing that instead.
I was impressed with how quickly my order was delivered. So far, my experience with Lobster Anywhere has been a pleasant one. The order had no issues, and my delivery arrived without fuss.
All that was left was for the actual lobster and clam chowder to deliver its flavor.
My Experience With Lobster Anywhere
The bottom line is that the Lobster Anywhere lobster and clam chowder was delicious and easy to prepare. Maybe it was because I chose two simple options, but the taste was still spectacular. The fact that it all felt very seamless and required almost no effort on my part made it even better.
My route was more of a stay-in Friday night, cooking an easy dinner and watching some of my favorite shows. It's meant to be cozy, and everything needs to be to your liking and push you to have a great send-off to your work week. Lobster Anywhere allowed me to have that without much hassle.
Let's start with the quality of the Lobster. I've had lobster tail plenty of times, but the one time I had a lobster roll was in Las Vegas. It was tasty, but I couldn't see the hype behind them. I melted some butter in the pan with garlic before throwing the lobster meat in there. While the lobster meat was cooking, I looked up a quick recipe for a sauce that looked appetizing.
I made the sauce, and I mixed it all once the Lobster was done. I already knew it was going to taste amazing. Before mixing it all, I had to try one piece of the lobster meat on its own. It was tender and flavorful. Definitely what I had always hoped a lobster roll would taste like. I don't know if it'll live up to finding a spot on the east coast and eating it there, but it tasted better than I had thus far.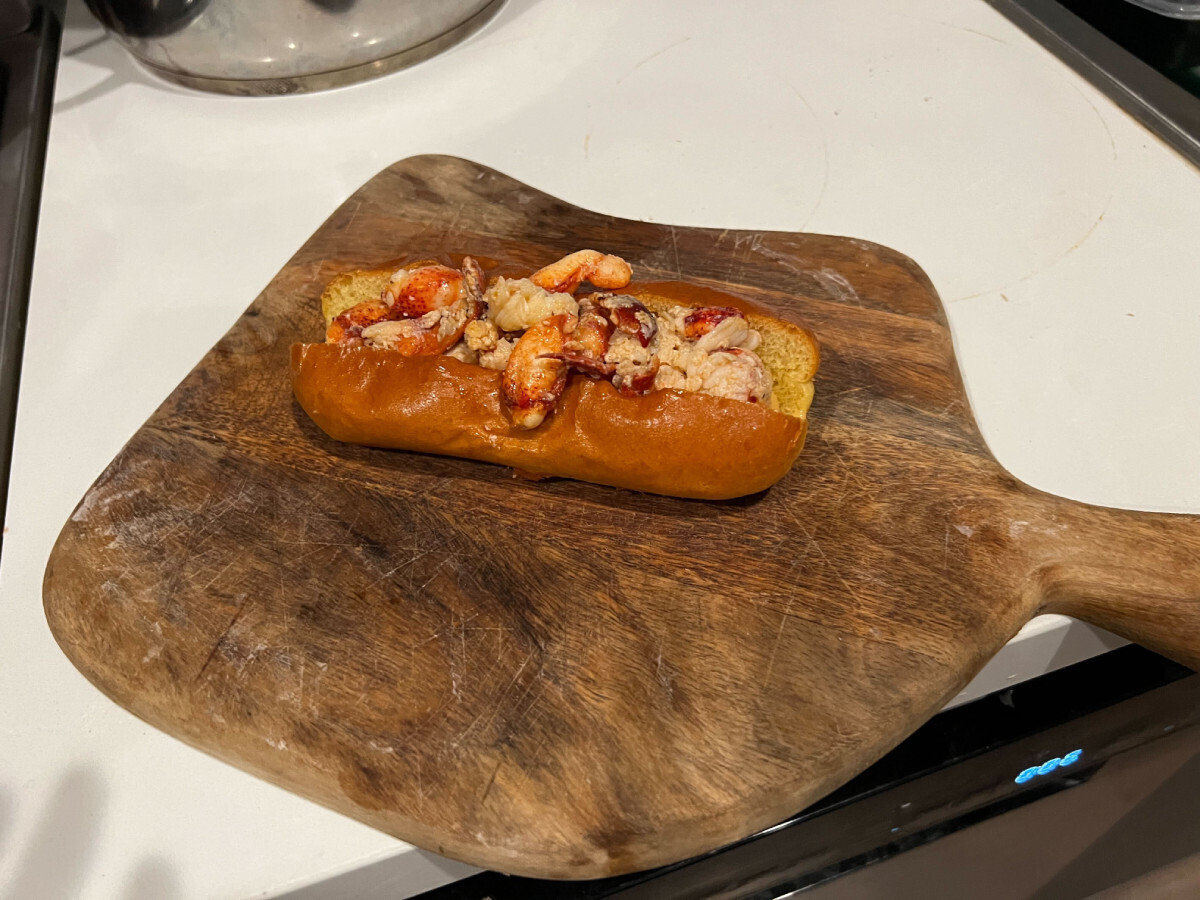 I made around 8 lobster rolls with one order of cooked lobster meat. It was a great evening of food, thanks to Lobster Anywhere.
The clam chowder was also a treat. I had more experience with clam chowder because I worked at a restaurant with a head chef from Georgia. He cooked a mean clam chowder and shrimp bisque. Nothing I had in Los Angeles could compare to what he made, but I'm happy to report that Lobster Anywhere was able to get close enough.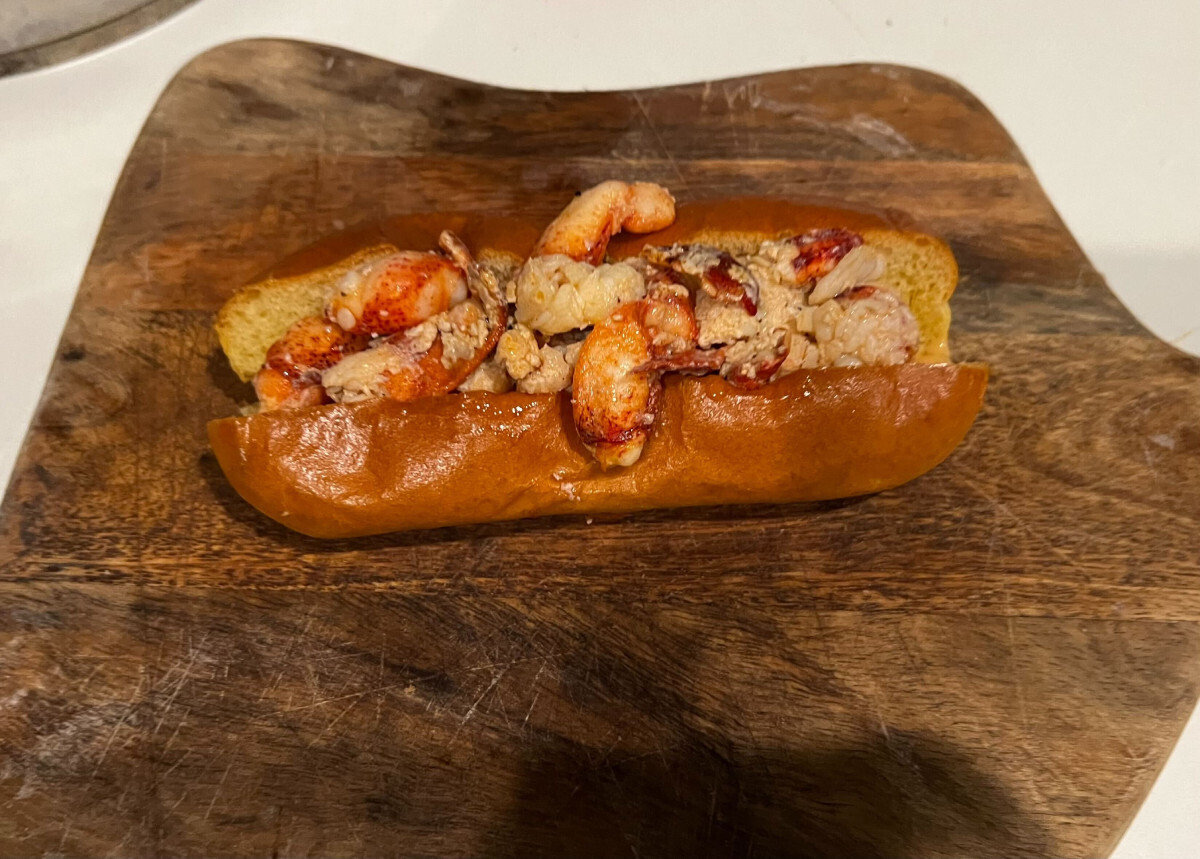 All it took to prepare was a warm pot on the stove and twenty short minutes. It tasted more in line with what I've had in Monterrey Bay. Monterrey Bay in California has a pier filled with seafood restaurants for those who don't know. Most of these places compete to have the best clam chowder around. You can walk and taste five different clam chowders in the span of ten minutes due to everyone trying to get patrons for their restaurant with free samples.
I don't think this clam chowder would win any awards, but it'll satisfy your craving.
Lobster Anywhere: Is It Worth The Price?
Yes, Lobster Anywhere is worth the price. It may be a bit expensive, but you're paying for some of the richest lobster meat available for delivery. I wasn't able to order any live lobster, but with how the company carries itself and its value, I know it'll uphold the same standards that its other products do.
I would recommend this to my friends and bring the lobster rolls I made to any potluck to prove that I could cook a flavorful meal. It's also a great way to cook a quick and easy dinner for a romantic date night.
It was a great experience, and I would order from Lobster Anywhere again.
Available Options & Pricing
Here are a few of the options available to order at Lobster Anywhere.
Live Lobster

1.25 Lbs – $38.00

1.5 Lbs – $48.95

2 Lbs – $64.00

3 Lbs – $79.95

5-6 Lbs – $129.50

Chowder, Bisque, & Soups

New England Clam Chowder – Starts at $12.95

Lobster Bisque – Starts at $15.95

New England Soup Sampler – $88.00

Frozen Lobster Meat (This is what I used for the Lobster Rolls!)

Lobster Meat – Starting at $62.00

Lobster Tail Meat – Starting at $119.95

Fresh Seafood

Colossal Shrimp – $39.89

Sea Scallops – $39.95

Lobster Tails

Jumbo Lobster Tails (8 to 10 oz) – $39.00

Medium Lobster Tails (6 to 7 oz) – $29.95

Colossal Lobster Tail (16 to 20 oz) – $79.00

Fresh Lobster Tail Meat – $119.95

Lobster Tail Special – $149.95
The final options feature different lobster dinner packs at various prices. This is where you'd find something if you're looking to cook a romantic dinner and have everything included in your delivery.
There are even options for Surf & Turf style dinners. If you're thinking of sending someone a gift, they also have gift packages available.
Lobster Anywhere Alternatives to Consider
Maine Lobster Now
Maine Lobster Now is your best bet if the theme of your dinner is Surf and Turf. Their main focus is their seafood and lobster options, but their steak options are nothing to laugh at.
You can order Prime Filet, Prime Ribeye, Prime Strip Steak, Heritage Pork Chop, and even their own package of Surf and Turf to make the decision easier for you.
You can check out all their options on their website here.
The Fresh Lobster Company
Live Main Lobsters offers a huge variety of fish and lobsters. They also offer sushi, which none of the competitors seem to do. If you're looking to grab some whole lobsters but don't want to deal with the lively ones, then they also ship out steamed cooked lobsters.
Their packages also seem to be a cut above the rest. I especially liked their Clambake for Two Gift Package, which included everything you'd need for a romantic night with your significant other. This package has lobsters, clams, chowder, and much more.
You can take a look at their menu here!
Lobster Guy
Thelobsterguy.com offers some incredible deals and the same overnight shipping that Lobster Anywhere does, but one thing they do offer that Lobster Anywhere doesn't is fresh shellfish.
As someone thinking about ordering lobster again soon, I might try out Lobster Guy to see how well the shellfish turns out.
Not to mention, it was voted the best lobster company of 2022! That is no small feat.
You can check out their website here.
FAQ
Question: What Areas is Lobster Anywhere Available In?
Answer: Lobster Anywhere delivers anywhere in the USA. The shipping is the same, no matter what state you are in. If you order before noon EST, then you'll have next-day shipping. I ordered to California and received it on time.
Unfortunately, they cannot ship outside the USA due to customs laws.
Question: Where Is Lobster Anywhere Headquarters Located?
Answer:Lobster Anywhere's physical address is 12 Oakland St., Amesbury, Massachusetts, 01913. So if you're in the area and want to visit them and speak more about their service, then you can!
Question: Is Lobster Anywhere Difficult To Prepare?
Answer:That depends on what you order. Frozen lobster meat is very easy to prepare since it has already been removed from the hard shell. All you need to do is find a recipe online or prepare it to your liking. I chose to make lobster rolls since I had seen them on shows and had been craving them.
If you order Live Lobster, that is completely different and can be difficult to prepare, depending on your cooking skills. I recommend watching a few videos on how to do it before deciding to order one.
Conclusion
To end things off, I want to reiterate how happy I was with the overall company and the ease of navigation on their website. I knew exactly what I was signing up for, and everything was easy to order. The fact that they have next-day delivery is a huge plus since it'll benefit anyone that randomly gets a lobster craving.
Why wake up early to hit the fish market if you can have experts who love their craft do it for you and deliver it to your door in no time? It would be the price if anything were stopping me from having lobster from Lobster Anywhere every weekend. It is quality stuff but comes at a hefty price tag.
It's also a product you'll have to cook yourself at times. If you're not too familiar with lobster, you could have a different experience. I'd strongly recommend going for the lobster tails or lobster meat if it's your first time cooking lobster. Jumping straight into live lobster might frighten you.
Lobster Anywhere is a great product if you're not too put off by its price. The food is high quality, and its next-day delivery is something I can't get enough of.
Related read