Latest posts by Erin Jamieson
(see all)
Subscription services like Blue Apron and Hello Fresh offer customers fresh meal kits shipped straight to their door, but now niche delivery services like Sizzlefish (affiliate link, we may receive compensation) are also making waves.
I was immediately drawn to the concept of fresh fish, year-round, without having to brave a crowded grocery store, especially during a time when many around the world are facing lockdown restrictions. Sizzlefish joins other niche fish and meat services like ButcherBox and Omaha Steaks.
But unlike Omaha Steaks and Butcherbox, Sizzlefish is just that: a delivery service dedicated to delivery fresh seafood across the United States. Even more intriguing? Sizzlefish recently made CNET's list of best places to buy fresh seafood online.
But I wanted to look into Sizzlefish for myself. In this review, I'll discuss my key criteria for deciding whether this seafood delivery service is worth your time and money, and give you a final recommendation so you can decide for yourself, along with a list of frequently asked questions you might have.

Why Try Sizzlefish?
Of all the fish delivery services, Sizzlefish has the widest SELECTION of fresh fish products, including shellfish. They offer easy shipping, smart packaging and transparent return policies. While it's a new company, I definitely think it's worth a try!
Check Sizzlefish Promos
We earn a commission if you click this link and make a purchase at no additional cost to you.
Sizzlefish Review: Is it Worth the Cost?
I was excited to dig into this review for Sizzlefish. As a lover of fresh seafood, I was curious to see if a company like Sizzlefish could really deliver on its promises. It's one thing to order seafood out or pick it up at a speciality store, but I wondered how good of quality the product and service would be from an online company like Sizzlefish.
In order to properly and fairly assess the company, I've taken a look into some key factors anyone needs to consider before ordering from Sizzlefish.
What is Sizzlefish?
Let's start with the basics. Sizzlefish is an e-commerce (online ) based company offering seafood shipped to your door. The company's goal is to provide "fresh" seafood, especially to those who may not have access to it for whatever reason.
The concept for Sizzlefish came from founder Rob Mayo's experience as a seafood supplier for natural and high-end grocery stores for three decades prior. Using his expertise, he applied the same model of sourcing, packaging and preparing seafood for the market, with a focus on fish and seafood that is fresh as possible.
How do Sizzlefish products arrive?
Something that was immediately important to me was how the seafood would be packaged. While not the first thing on customers' minds always, packaging can make a great difference when it comes to how your seafood tastes and the overall quality.
Whether you order salmon, scallops, lobster (lobster tails, etc…), shellfish, or any of their other products or subscriptions, the same principles apply. Sizzlefish starts by flash freezing their products, which is a common technique to retain freshness long term and also is helpful for shipping and store. After the seafood is flash frozen, it's vacuum sealed in individual portions and shipped in recyclable friendly containers with dry ice.
Not only does this ensure food safety, but I like how convenient the packaging is, especially if you want to have just one portion at a time. Not only that, but individual packing also means less chance for common issues, such as freezer burn later on.
How does shipping and handling work?
Another factor I always keep my eye out for is the little details, and that includes shipping and handling. Even if the packaging is adequate, a poor or unclear shipping policy could result in loss, spoiled food, and similar headaches.
Sizzlefish luckily has clear policies when it comes to shipping and handling:
All shipping is free
FedEx Ground is the standard, but FedEx Express is offered for those on the West Coast
Packages arrive within one to three days
Be aware that they do not ship on weekends
Sizzlefish only ships within the United States
Does Sizzlefish offer returns?
One of the biggest hesitations I have when looking into any meal or food delivery service is return policies. While returns and exchanges are commonly accepted for non food items, such as clothing or loot boxes, it's not as common with perishable items.
In the case of Sizzlefish, I was pleasantly surprised. If you receive fish or seafood of any kind that's somehow damaged or thawed or has other quality concerns, they do offer a free replacement shipping.
The process is simple: all you need to do is contact their support email within a week of receipt and with a photo if at all possible.
Do I have to buy a subscription to order from Sizzlefish?
First, it's important to note that to order from Sizzlefish, you do not have to opt for a subscription. I really liked the versatility to either shop a la carte or sign up for one of their three subscription options.
The "quick buy" feature allows you to peruse their catalog of seafood, sorted by type. You simply add your choices to your cart and check out. I should note that I noticed some items were currently out of stock. This could be due to a possible increase of demand right now, or maybe this is a natural and seasonal occurrence.
What are Sizzlefish's subscription options?
You have three options to select from, but what I appreciated most was that you can build your own box, with the exception of the Wild Fish Favorites box. That means you can select what seafood you'll receive. You also have the option to make changes to your box for the next order if you want to.
Wild Fish Favorites
This option includes twelve portions of wild caught seafood per month, a selection which changes each month. You can see the currently monthly features, and each shipment comes with recipes.
Price: $99 per month
Sizzlefish Prime Subscription
Rather than a curated box, the Sizzlefish Prime Subscription allows you to hand select what seafood you want included. You can create your own package of fourteen portions of Salmon, Trout, Catfish, Haddock, Atlantic Salmon, Wild Gulf Shrimp, Sea Scallops (and other Shellfish), and Crab Cakes.
Price: $97 per shipment (select from delivery every week, other week, or through every five weeks)
Sizzlefish Prime Subscription Plus
With the Prime Subscription Plus, you also get fourteen portions of your favorite seafood per order and, like, the regular Prime Subscription, can select how frequently you want shipments delivered. The main difference is the selection you're offered. In addition to what's offered for the Prime Subscription, you can also order Coho Salmon, Sockeye Salmon, Sablefish, Atlantic Cod (and other Cod varieties), Scallops, Halibut, Red Snapper, Black Sea Bass, and Black Cod
Price: $112 per order
What is the quality of their seafood like?

While I was pleased enough with the options for subscription plans, and the prices, while not cheap, seemed in line with some other competitors, what I wanted to know most was just how and where Sizzlefish sourced its seafood from, and if I really was getting high-quality products.
One thing I noticed right away is that there isn't one specific place they source their seafood from. Sizzlefish also does not mention working with local fishermen, the way a company like ButcherBox does. The best way to find out sourcing information is to look at each product separately in the browsing option. You won't find out specifics, but the general location is mentioned.
Here are some takeaways:
Most seafood is caught, but the following is farmed: Atlantic salmon, rainbow trout, and catfish.
In both their farmed and wild caught fish, Sizzlefish makes this claim: "top natural foods grocers today are sourcing farmed fish from suppliers who use no antibiotics, no farm chemicals or pesticides and are in fact environmentally-friendly".
What troubled me was they did not certify that they in fact were working with these suppliers, or definitively that their fish followed these standards. Sizzlefish, for whatever reason, seemed to be skirting around their standards.
Overall, I like the general ethos of Sizzlefish, but the way they define quality is ambiguous. I found myself longing for more information when it came to who they partner with, sustainability practices, and how their fish is sourced.
What Else Does Sizzlefish Offer?
Sizzlefish offers a fairly impressive selection even outside of the seafood you can get delivered with a subscription. Options include: Rockfish; Shrimp; Grouper; Mussels; Calamari; King Crab; Walleye and Rainbow Trout.
You can also shop from selections that adhere to specific diets, including:
Omega 3 Collection
High Protein Seafood
Paleo Friendly
Whole 30 Approved
General Healthy Eating
Overall, I found no reason to complain about the number of products offered. There are enough that most any seafood lover should be satisfied.

Why Try Sizzlefish?
Of all the fish delivery services, Sizzlefish has the widest SELECTION of fresh fish products, including shellfish. They offer easy shipping, smart packaging and transparent return policies. While it's a new company, I definitely think it's worth a try!
Check Sizzlefish Promos
We earn a commission if you click this link and make a purchase at no additional cost to you.
Does the seafood taste any good? And how reliable is delivery?
The final test? Just how well Sizzlefish tastes and delivers. Aside from my own impressions, I thought it would make sense to take a look at the company as a whole and its reputation and history of success (or lack thereof):
Sizzlefish does not appear to have a Better Business Bureau profile. While not unheard of for an e-commerce business, it doesn't make me feel as confident in my purchase.
Sizzlefish reviews are easy to find on their site, but most of the external reviews come from Shopper Approved:
Out of over 9,200 reviews the company averaged 4.9 out five stars, with over ninety percent giving the company five out of five stars
Customers were very pleased especially with delivery
One thing I found odd was how non-specific these reviews were. While customers praised
service, there was little detail about what they liked. It's also noteworthy that, while some mentioned the seafood tasted better than frozen supermarket food, there was not much specific praise about the taste itself, which is quite unusual.
Sizzlefish Alternatives to Try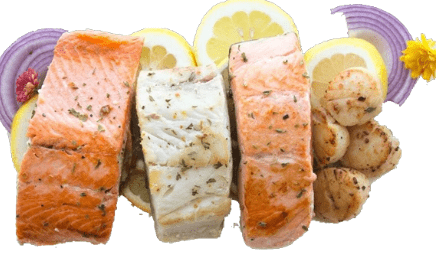 Wild Alaskan Company ships wild Alaskan salmon (wild salmon) and white fish to your door, with three box options and shipped in sustainable packaging. Read my full Wild Alaskan Company review OR Buy one of their three boxes here.
Maine Lobster Now offers delivery for Maine lobster, but also other seafood, including crab, fish, and shellfish, all with free overnight shipping.
Frequently Asked Questions
Who sells the best seafood online?
While this article does focus on my investigation into Sizzlefish, other online seafood places commonly are mentioned, including the Wild Alaskan Company; Lobster Anywhere; Sitka Salmon Shares, and more general delivery companies, such as Thrive Market.
How can I buy fresh, sustainable seafood?
For fresh and sustainable seafood, your best bet may be visiting a specialty seafood store. However, for many of us this is not doable, especially at the time of writing this review. I suggest looking into the company and seeing how they label their seafood.
The best online delivery services for seafood will provide sourcing information and will also mention that the seafood adheres to sustainable fishing practices. If this is not mentioned, or there is no explanation how the seafood is sustainable, I recommend that you assume it is not. As far as fresh, you want to look for seafood that is flash frozen.
Why is Sizzlefish seafood shipped frozen instead of fresh?
If you're like me, you may have originally seen the marketing of 'fresh seafood' and at first imagined something different, but in fact, Sizzlefish does ship their seafood frozen, and in many ways, this makes sense. Per their website, Sizzlefish ships seafood frozen in order to retain a fresh taste. Once seafood is caught, it can lose freshness within a matter of a day or two. Add in shipping time and the fact that Sizzlefish ships many locations, and frozen is the only way that makes sense.
Sizzlefish uses a Flash Frozen method, which is ideal for retaining freshness and a standard in the industry. This method freezes meat or seafood quickly, as opposed to over time, and helps retain the original texture, flavor and hue. Flash frozen also tends to result in more even and easier thawing.
Where is Sizzlefish located?
Sizzlefish headquarters is located in Ayden, North Carolina, a small town of around five thousand in Pitt County, which is part of the greater Greeneville Metropolitan area and one of the smallest towns in North Carolina.
Does Sizzlefish offer recipes?
If you love Sizzlefish but aren't much of a cook, or simply want some inspiration, you can find a plethora of recipes on the Sizzlefish blog. Sort by featured recipes or seafood type through an easy to use side menu. I was especially impressed by how welcoming the blog itself was, with high-quality photos, inviting recipe notes, and easy to follow directions. You can even sort by dietary needs, with recipes suited for those following Weight Watchers, Whole30, Gluten Free, and Ketogenic diets.
Does Sizzlefish have a phone number?
There are multiple ways to contact Sizzlefish, including a direct phone line. You can reach customer support at (800) 409-3074 during normal business hours (seven in the morning until four in the afternoon, EST). You can also email support at [email protected] or write to their mailing address. Many online companies don't have all of these options, which I greatly appreciated.
Does Sizzlefish fish contain bones?
Depending on what kind of fish you're eating may leave you more or less concerned about bones. The most worrisome fish when it comes to bones include shad, pike, carp, salmon, and trout. Sizzlefish does mostly come boneless. However, they do give a disclaimer that it's possible some fish may contain a few tiny bones that are edible.
Final Verdict: Is Sizzlefish Worth it?
I generally think Sizzlefish is worth trying here. I was pleased with the freshness and quality.
I wanted to fully embrace Sizzlefish when I first found the company. The idea of fresh seafood delivered to your door, with high quality and a wide selection was certainly appealing. I also appreciated the packaging and fair return and shipping policies.
I can't say that it's your best option. The lack of sourcing information, the lack of reputable reviews, and nothing to truly set this company apart means that you may also want to consider some competitors like Wild Alaskan.
Where to Buy: That said, there certainly are worse options, and with the wide selection, you may want to give Sizzlefish a one time try. If you do, you can shop their subscription plans here. You can select how frequently you'd like to receive shipments for each one of the three plans.
You can buy individual products here. There's an easy browsing feature to select by product type.

Why Try Sizzlefish?
Of all the fish delivery services, Sizzlefish has the widest SELECTION of fresh fish products, including shellfish. They offer easy shipping, smart packaging and transparent return policies. While it's a new company, I definitely think it's worth a try!
Check Sizzlefish Promos
We earn a commission if you click this link and make a purchase at no additional cost to you.
Recommended Reads: