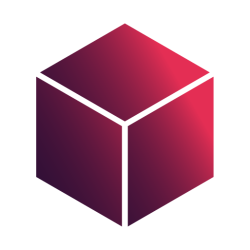 Latest posts by Subscriboxer Team
(see all)
Why am I doing this Foot Cardigan review? I love socks. I love my feet and I wanted to know if this subscription serviceis all that it's cracked up to be. Let's look inside my box, see what we get and see if this could possibly be for you!
Foot Cardigan is a monthly sock subscription service that feature fun designs for the whole family. They offer subscriptions for men, women, and children. Adult subscribers receive one pair of socks with each shipment, while kids get two pairs to enjoy.
All subscriptions are $12 per month with free shipping, except for the Premium subscription which includes socks made with a higher quality fabric blend and costs $14 per month.
The designs that you will receive when you subscribe are a surprise, but I took a look at the ones that are for sale on the Foot Cardigan website to see what I could expect to get.
They had everything from whimsical gnomes to rainbow mermaid scales to colorful abstract designs. I was excited to see that I liked most of what they had available in the retail section.
I was also psyched to learn that subscribers get an automatic 20% when they purchase individual socks from Foot Cardigan outside of what they get in the subscription shipment. I thought that this was a great membership benefit and I might just have to purchase those cute gnomes if I didn't find them in my package!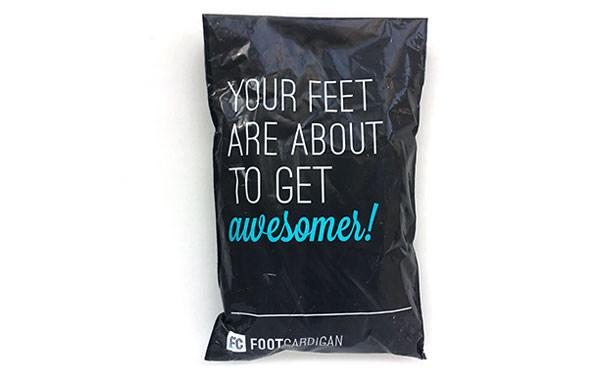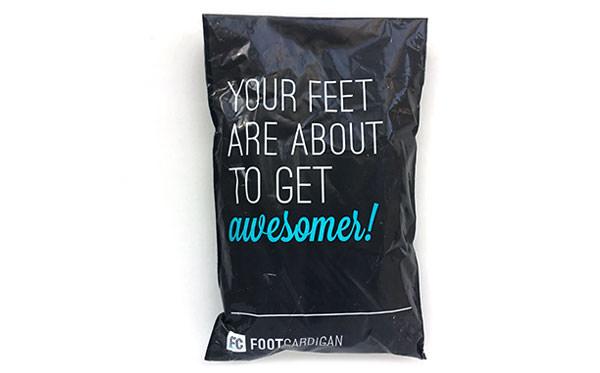 I decided to sign up for a regular subscription instead of the premium one. I was interested to see what the quality was like with the regular option. I was very happy to see that a No Show sock subscription was an option.
I have tried the wild and crazy sock trend in the past, and while it's fun, I thought that for the summer it would be cool to keep the pattern hidden rather than to rock them with shorts on!
I happily opted for No Show socks and subscribed to Foot Cardigan. I figured that they would be perfect to go along with my low top sneakers.
A few seconds after I placed my order I received my confirmation email and realized that I didn't pick the right size socks! I had signed up for men's large socks by accident.
I immediately emailed customer service, and they got back to me in a flash. Foot Cardigan fixed my mistake minutes later, and I could hardly wait to try out the no-show socks in my size!
I was glad to see that the company has fast and friendly customer service as well. I was very impressed with how quickly they got back to me and fixed the problem.
Soon after the day that I ordered, I found my Foot Cardigan package in the mailbox. I tore open the mailer, anxious to see what I would get. I didn't find the gnome socks that I had hoped for, but I was really into what I ended up with.
Surprise Socks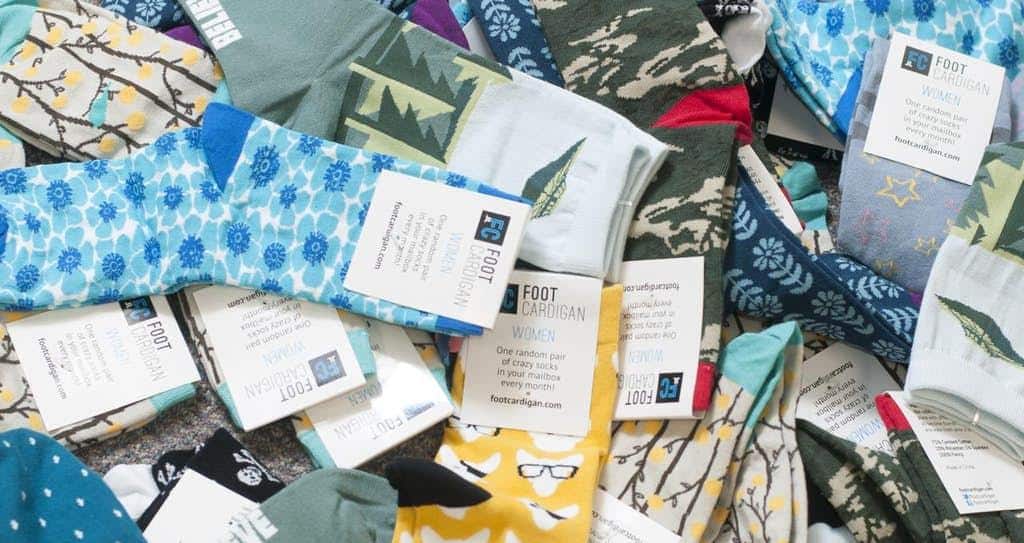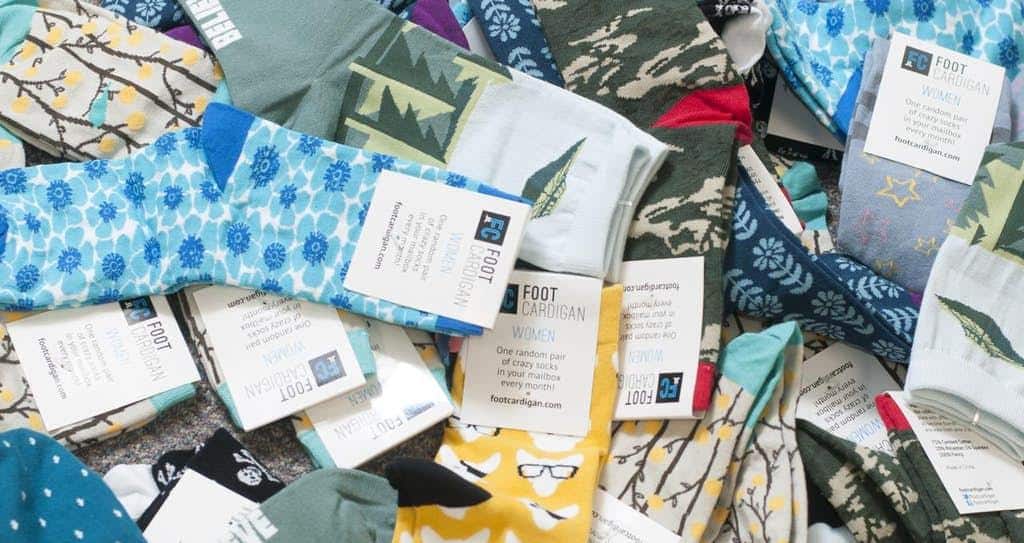 The socks that I received were a very cool pair with a geometric design on them. They were decorated with thin, grey stripes that crisscrossed in vertical, horizontal and diagonal directions in a way that they kind of were woven through each other.
The background color was a crisp white. A pretty, bold, blue served as a detail color at the toe and heel. The color was also at the rim along the top where the foot goes in.
The little pop of color looked perfect with the neutral geometric design. I liked the look so much that I was a little bit sad that it would be hidden away underneath my shoes! They were beautiful enough that I wanted to show them off, but it would be neat to have secret fun socks that I only I would know about.
I tried them on with shoes, and they didn't show at all. They were just right to go along with my sneakers, but they would show with something really low like a ballet flat. I was also impressed with the fit and with their ability to stay put. One of the worst things ever is when no-show socks slip off of your heel while you're walking.
I have small feet, so I have encountered this problem quite a few times before. It's always annoying when you have to try to adjust them in public as your sock is coming off of your foot, yet trapped inside of your shoe! Do you try to fish hook the sock out with your finger, or do you hide somewhere so you can take your shoe off entirely?
Luckily, the socks that I received from Foot Cardigan were snug enough to hug my foot. They had a lot of stretches so I think they would fit well for those with larger feet as well.
They also had a small rubberized rim inside to help them stay in place, but I couldn't feel the thing at all. I only realized that it was there when I inspected the socks later. The material that they were made out of was of high quality as well.
They were cozy, yet breathable enough for the summer months. I also liked that the pattern was woven into the socks, not printed on them. In fact, the material was such a nice quality that it made me wonder about how well made the premium must be. I was so happy with my Foot Cardigan No Show socks!
Pro– Beautiful, comfortable, well-designed socks.
Con– No gnomes, but I enjoyed my awesome surprise random pair of socks!
Overall Assessment of Foot Cardigan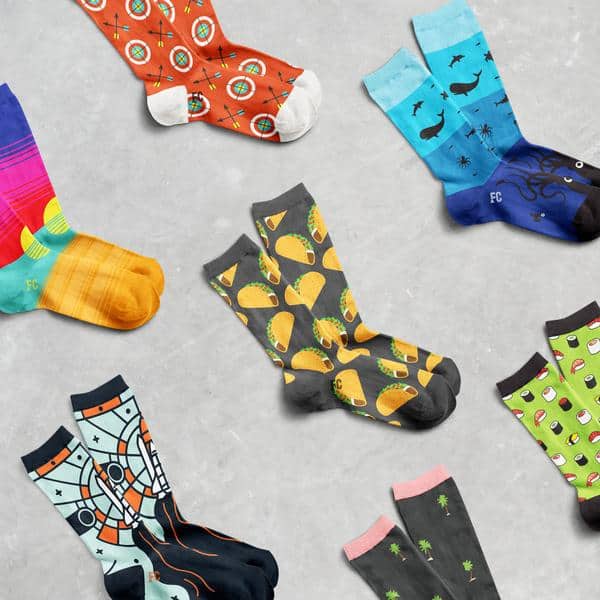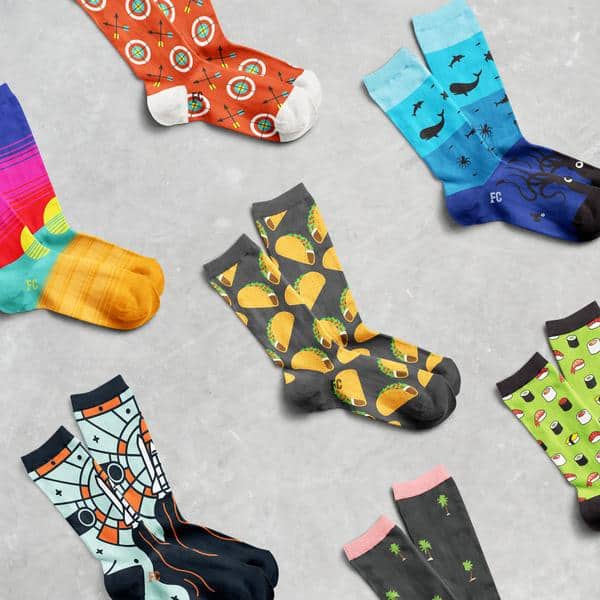 Pros
Excellent customer service
High-Quality materials
Super cute and fun designs
Great membership benefits, like the 20% off deal!
A fun way to make a boring outfit exciting if you opt for a subscription with tall socks!
Makes a nice gift
No Show subscription option
Options for kids as well.
Cons
I wish they had an option to receive more socks.
Some of the patterns might be too wild for your taste.
Foot Cardigan Alternatives To Consider – What Else Is Similar?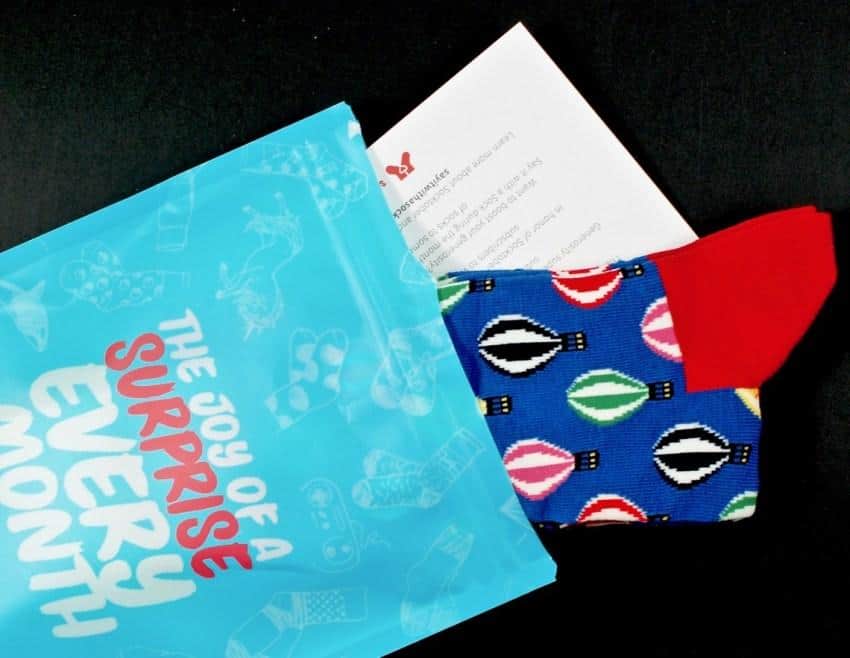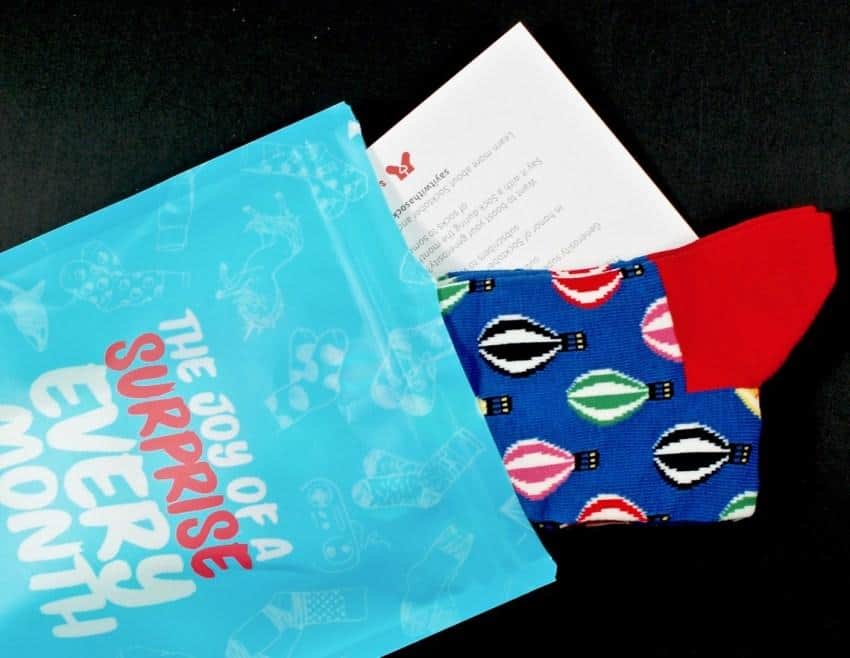 Sock subscription service is becoming very popular. I think that they're great because they can help you jazz up a dull outfit or work uniform so I can see why they're so many services like this one.
Say It With A Sock is another option that has subscriptions that start at $11.99. I like that Say It With A Sock gives subscribers the opportunity of receiving "Pattern Socks" which they say are more subdued or "Graphic Socks" which they describe as a "crazier style." It's convenient that they have a way to appeal to those of us that might want more subtle socks.
Sock Club is another similar subscription service. One thing that sets this company apart is that their socks are made in America. I think that this is a great detail. I also like that their socks come in an array of sizes so that you can be sure that yours will fit you just right. This service has a pay as you go option that is $12 for one pair.
Sock Fancy is another sock subscription service that I have tried, and I love that they have two socks per month subscription. I have received some great socks from this company. Everything I have from them is excellent quality and cute. At $19 per month for the two sock option, I think that it's a great value.
Frequently Asked Questions
How long does Foot Cardigan shipping take?
Cardigan process their orders immediately after they are made. Once Foot Cardigan ships the socks, the customer should receive their orders within four to eight days.
Does Foot Cardigan ship internationally?
Yes. They do offer international shipping to any country worldwide with no shipping fees with any subscription and they charge you only $3 per individual pair. However, the Cardigan international delivery times may vary and can take a bit longer, up to three weeks, sometimes even longer than that because it can rely on a lot of factors that's out of their control.
What are Foot Cardigan socks made of?
Their socks are made of 75% combed cotton, 22% polyester, and 3% elastane fabric. Their premium socks, however, are made of 80% modal, 17% polyester, and 3% elastane.
Final Word On Foot Cardigan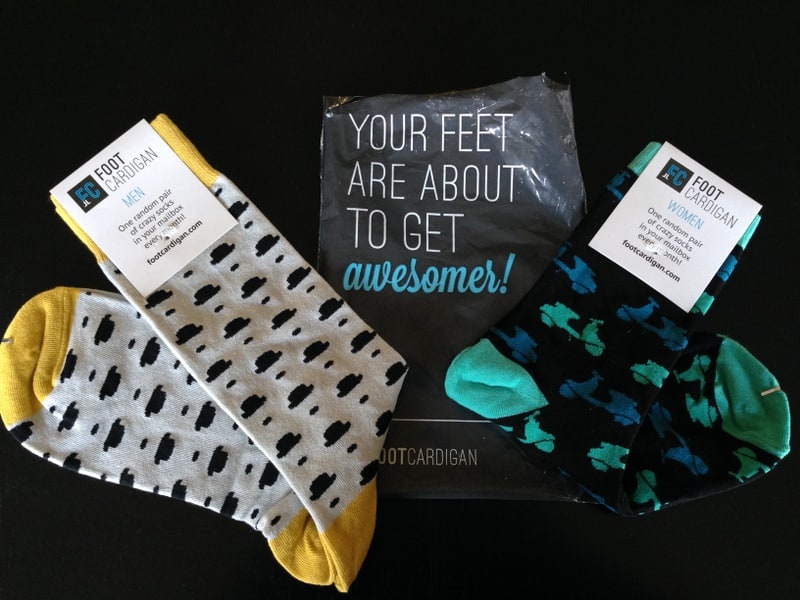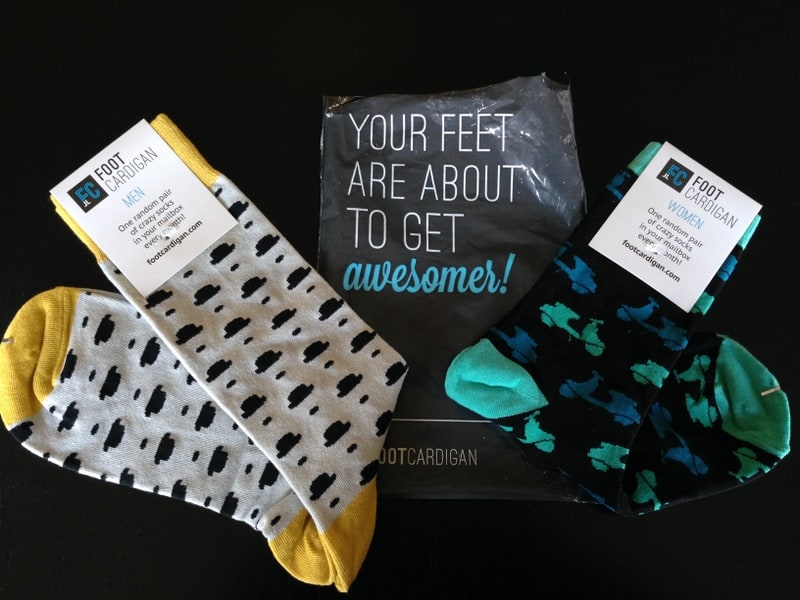 I was very happy with my experience with Foot Cardigan. I was glad that they had such a responsive customer service team when I ordered wrong in the very beginning. A lot of companies take their time in getting back to you, but not Foot Cardigan.
I think that this subscription would make a great gift for so many different people in my life. I mean, Foot Cardigan has the whole family covered because they even have subscriptions for kids! I think that they would be exceptionally giftable to anyone who wears a uniform or has a strict dress code at work, yet wants to show their fun side. Who would love the gift of bold socks?
I also really loved the socks that I ended up getting in my shipment. I am into the more subtle look when it comes to my fun socks, and these were just my style.
Though I did notice that even the wilder socks on the Foot Cardigan website were very cute. I think that the silly sock trend is a fun way to express yourself and take an outfit to the next level, and Foot Cardigan will absolutely help you to do that. I also think that the No-Show subscription option really sets Foot Cardigan apart.
I haven't found that option anywhere else. It's the perfect way to dip your toe into the silly sock trend, and yes, that pun was fully intended. If you're a little bit more hesitant when it comes to bright colors and character patterns, I think that the No Show subscription is the way to start. I'm sure that in no time at all, you'll want to wear gnome-print tall socks like the ones that I want to order from Foot Cardigan.