Latest posts by Alizabeth Swain
(see all)
Are you tired of wasting hours at the mall to try to find your man fashionable clothes for him to wear, only to be met with sizes that don't fit, prices that are too high, and items of clothing that you really just don't want to dress men? I totally understand.
Hi, my name is Alizabeth. My husband and I recently got married, but we've been together for three years. My husband, Jacob, is a really laid-back guy who doesn't really care too much about fashion. The only time that I've ever really gone successfully post-shopping with him was when we went to the mall, and he picked out a pair of Vans by himself. He's really into comfort, whereas I'm the one who's always concerned about looks.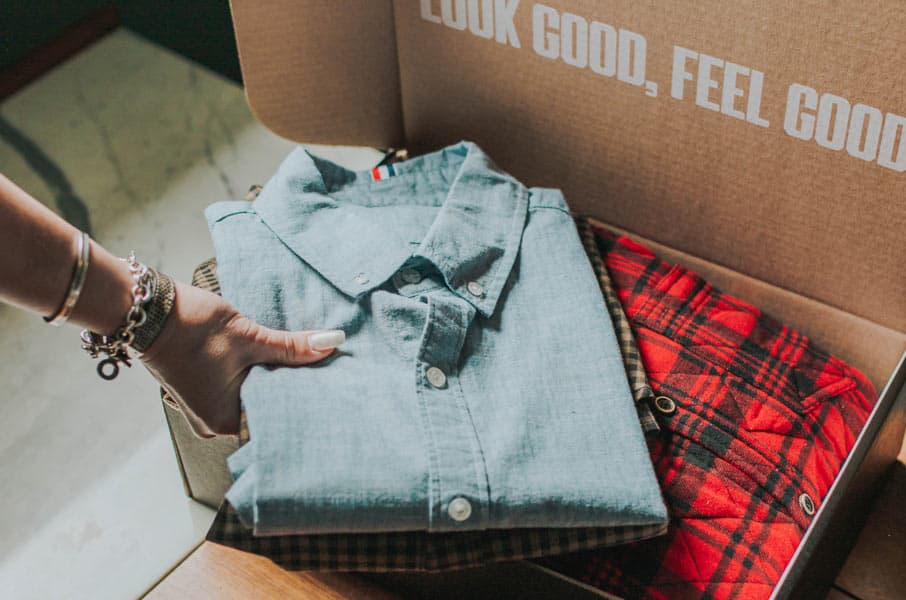 It can be challenging to go clothes shopping with him, especially with how busy our schedules are. And I know they're just going to keep getting busier because we've also found out that we're expecting our first child together. The last thing that I want to do is go clothes shopping for my husband and fight against the crowds at the mall, only to pick out pieces that he may not be entirely in love with.
That's what I love about these subscription boxes that cater to men. In the past, Jacob and I have tried Trendy Butler before. Now, we're going to try out Nordstrom's Trunk Club as well and compare it to Trendy Butler As well. So, buckle up; I'm going to break down the differences, similarities, and everything else in between that you need to know about Trendy Butler and Trunk Club.
Main differences between Trendy Butler vs Trunk Club
The main differences between Trendy Butler vs Trunk Club are:
Trendy Butler sends you clothes for you to keep, whereas Trunk Club sends you clothes that you have the option to send back

Trunk Club costs $25 a box, whereas Trendy Butler costs $65 a box

Trunk Club allows you to send back the clothing options that weren't the perfect match for you, whereas you have to keep the items you receive in your Trendy Butler box

Trunk Club sends you out a styling card, whereas Trendy Butler doesn't include a styling card in your subscription

Trunk Club allows you to view a digital version of your box before receiving it in the mail, whereas Trendy Butler doesn't provide this option

You can drop your Trunk Club off at Nordstorm, whereas you have to ship your Trendy Butler back in the mail

Trunk Club offers alternations at Nordstrom locations, whereas Trendy Butler doesn't provide this service to its subscribers
Trendy Butler
I was first introduced to Trendy Butler when I was going through Instagram one day, and I found an advertisement that introduced the subscription option to my life. I originally got this box as a way to surprise my then-fiance as a way for him and I to bond it together.
I'm a fashion blogger and Beauty YouTuber, so my husband is very familiar with all of the different subscription boxes that I'm always trying out. However, it was really lovely to spin it around and give him the option to try out clothes from of subscription option of 4 Once.
What is Trendy Butler?
Trendy Butler is a type of clothing subscription company that caters to men. In each box you receive, you'll get between two to three pieces of clothing with a retail value of at least $150. The sign up for Trendy Butler, you'll need to take an online Style Quiz.
It will ask about your sizing, your personal preferences, and everything else that normally comes with the signup process for a clothing subscription company. Also, someone in-house will be the person that is responsible for picking out all of the clothing items that you receive in your subscription.
What's signing up for Trendy Butler like?
I really enjoy the styling process that went into the Trendy Butler subscription service, mainly because it was so simple. There weren't a whole lot of questions that were required for the survey to be filled out. I thought this is a really great saying, especially for men who are just interested in getting some extra clothing in their wardrobe without going shopping for it.
There were only seven steps required for the Trendy Butler personal style survey to be filled out. I really enjoyed that there were pictures that went along with the questions asked in the style survey. For example, when I was filling out Jacobs's profile, he was asked how he would describe the style he's currently rocking.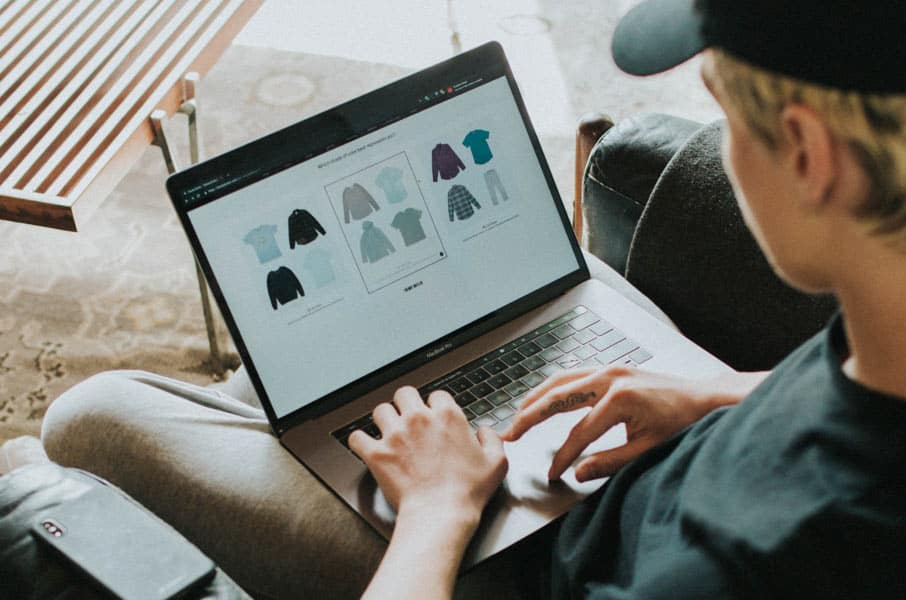 There were several different options to choose from, starting with casual and stylish, to a diverse taste, to work hard play hard, which was a mixture of casual and business wear.
If you want to see super fine details about how I feel. Jake's profile, I already have a review of Trendy Butler up. But in a short summary, I kept his clothing taste as casual. I chose solid and plaid patterns. After that, I also make sure to give all of the proper measurements for his sizing.
What was in Jake's Trendy Butler box
Jake received his first Trendy Butler box. The biggest complaint that I originally had was that there wasn't any sort of styling card inside his box. This means that I wasn't able to break down the retail value of each piece that he received. So, I was kind of just left assuming and trusting that I'd had received the $150 value that we were promised inside of the subscription box.
There are other subscription boxes out there that I've received, such a Stitch Fix, that'll literally send a whole card. The card breaks down at the brand name, the item name, and the retail value of every single piece of clothing that you received.
Not only was it disappointing because I couldn't figure out how much the boxes actually valued. But, I also wanted to buy Jake pieces of clothing from one of the companies featured on the side of the box because he enjoyed the quality and fit so much. However, I could do that because I'm not exactly sure who made the piece of clothing. That's because the company didn't have any tags on the item either.
Black t-shirt hoodie
The first second that Jake received in his Trendy Butler box was a black T-shirt hoodie with white trim. Has personally wasn't a piece that I would have picked out for my husband if I was out shopping for him, mainly because of the hoodie on the back. However, that really is my own personal styling preference and doesn't have anything to do with him.
Yet, this is an item that he continually reaches for in his closet. It's comfortable for him, it's easy to style, and it's breathable. Also, he likes the simplicity of the design, as it has a front pocket in the hoodie, which is large enough for him to throw all of the stuff that he needs to leave the house inside up. When we first received this hoodie, it was super soft.
Blue blouson jacket
When we pulled out the socket from the Trendy Butler box, it was really wrinkled. This is why the jacket looks so wrinkled in the pictures that are included in this review. I was very surprised at this blouson-style jacket included in my husband's subscription. It wasn't really something that I felt personally fit his styling profile.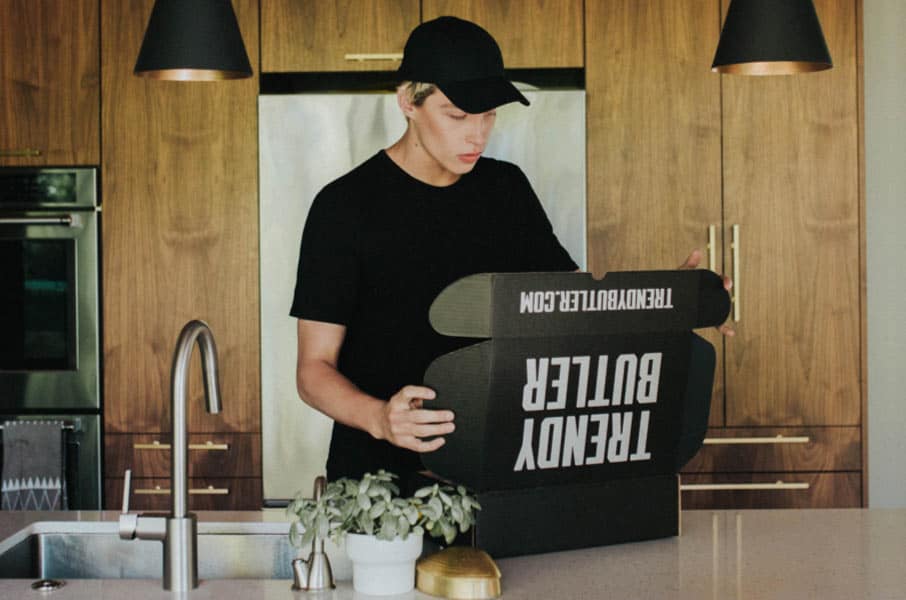 Also, I would like to mention that the shock it was sent to us in the first box that we received, which we bought in the middle of summer. This is a very heavy jacket, definitely appropriate for late fall or early winter weather. So, this is a piece that he's going to have to wait a while to get any use out of.
Trendy Butler – Final Thoughts
For $65, Jake received these two pieces in his box. There was only one item that Jake really liked, and we ended up not even keeping in the jacket. But, I will say that Jake was very happy with how comfortable both pieces were and how they both fit. Yet, for him only receiving one item in his subscription that he really liked, I don't feel like the subscription was worth the $65 at all.
Trunk Club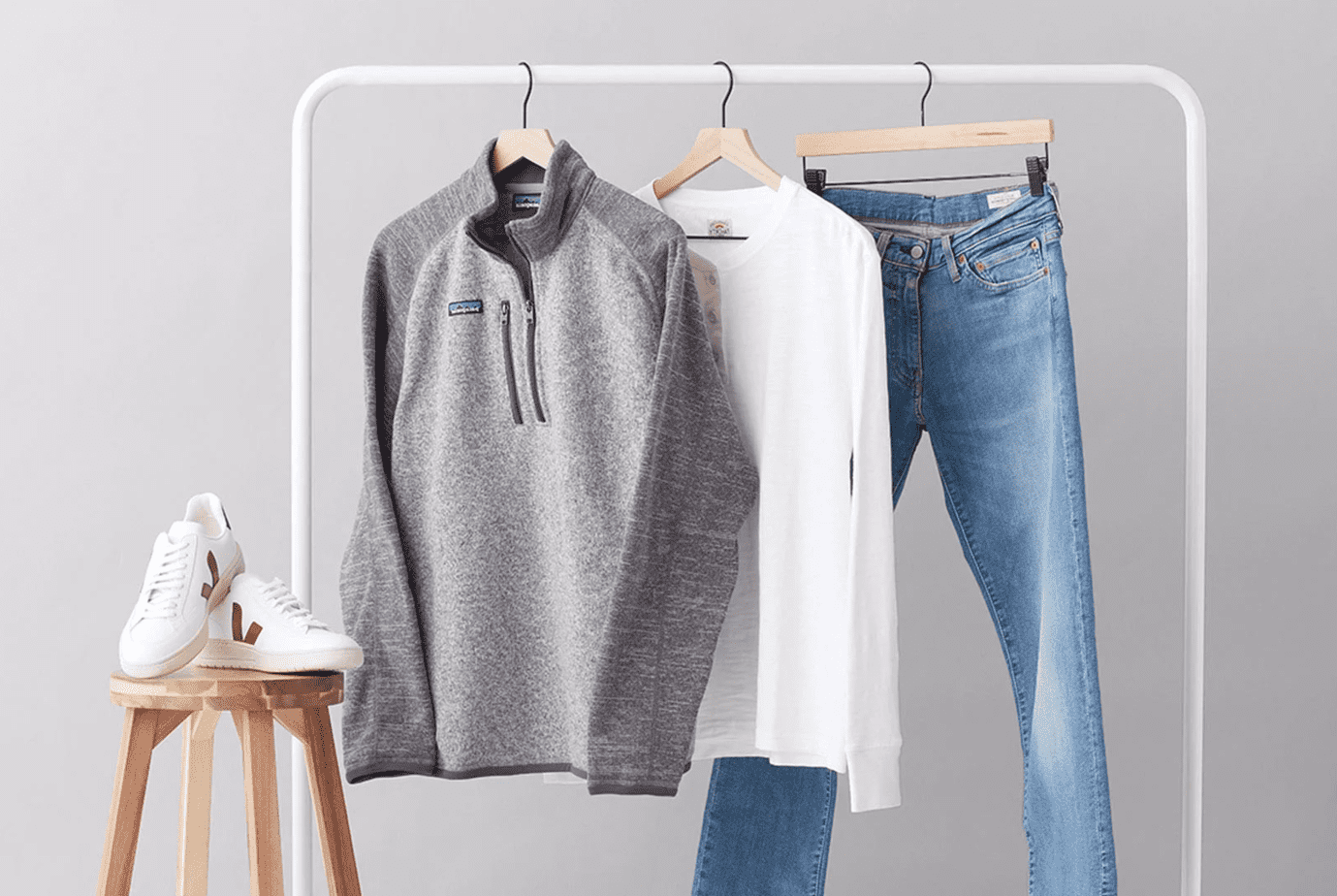 Up next, we have Nordstrom's Trunk Club. This is a Melia subscription box that caters to personal styling for men. First, I'm going to walk you through my ordering experience with Trunk Club so you can get a better idea of what you can expect when it comes time for you to order your own subscription.
Styling Quiz
The first step of signing up for Jake's at Nordstrom a Trunk Club subscription was to fill out a style profile. First, Nordstrom asked me if there were any colors that he despite wearing. There were blacks, grays, whites, beiges, browns, oranges, and a whole assortment of other colors in these options.
Next, they asked how he likes his shirts to fit. The two options were slim and classic. However, they also had an opportunity to select if he didn't know how he liked his shirts to fit. Then, they asked how he likes his pants to fit. The options were relaxed, straight, slim, and then the option for if he doesn't know.
After this, there's a whole selection of different brands to choose from that he enjoyed dressing in. Here are a few snapshots of the brands he had to choose from:
After choosing the brands that he likes to wear, Jake was asked how he likes to dress on his typical weekday. My husband is a truck driver for a living and has a uniform. However, Trunk Club asked if he likes to dress casual, business casual, our business formal.
One question I really like that they asked was about any fit challenges that he has. For example, they asked if my husband had a broad chest, short torso, or long arms. Then, they asked his age. With as many as subscription services I've tried out in my life, I've never had a subscription box ask me that. So, I thought this was a really thoughtful question to be asked for the subscription.
Next, they asked about all of his different sizes. They also asked about his height, his weight, and what his budget is for each type of clothing is. This was a very extensive styling quiz, but I didn't mind too much. After all this, Jake was ready to receive his first trunk.
Next, it was time for Trunk Club to ask you when Jake plans to receive his first trunk box. They asked what he wanted to focus on in his first shipment, so I selected the "weekend" option. I also really enjoyed how Jake was able to add a shopping list note for his stylist, which provided him with the option to ask for specific clothing items that he wanted to receive in his box.
Digital review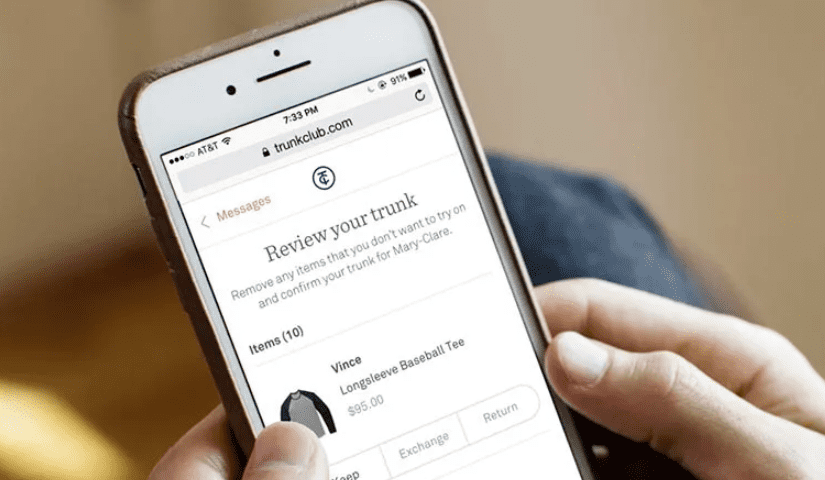 A few days after Jake sign up for Trunk Club, it was time for him to digitally review his subscription. He was given 48 hours to review a trunk and ensure that his payment information and shipment information was correct. Here's what his first digital box looked like:
The only piece I exchanged was the shoes. I changed out the brown low-top sneakers for the grey Brand Edge sneaker. I also asked Trunk Club to include other items he might like in his subscription. I got sent to a page that allowed me to choose different add ons, like sunglasses.
Trunk Club Shipping
I wanted to take a moment to bring up the shipping problem that I had with Trunk Club. Because of all of the problems caused by covid-19, shipping is taking a while. There are many packages that I order the don't end up showing up on time. Sadly, this is a difficult problem to run into when purchasing a subscription based on certain time frames.
I ended up not receiving up my Trunk Club in time to do try-ons with my husband. I even chose to have a three-day extension and hopes that my Trunk Club would get there in time. However, I received my Trunk Club on the last day of the 3-day extension that I received. I just really didn't want to be charged for the entirety of the box.
So, I did the best I could and grabbed pictures with just flat lays of all of the items he received. This is why you won't see any of the items in this box on my husband. This was really disappointing. However, I know that this isn't necessarily Trunk Club's fault.
What Jake received in his Trunk Club
Thankfully, Trunk Club gave a list of all of the items that Jake received in his subscription and prices. Here's what he got:
Garment Dyed Allday Crewneck Tshirt – $29.50

Flat front chino shorts – $78

OohCotton Tech floral knot button-up shirt – $149

Marco Burnished leather belt – $79.50

Trim fit Gingham linen and cotton button-down shirt – $69.50

Slim fit CoolMax flat-front performance Chino shorts – $49.50

Young American slim fit button a performance shirt – $99

Georgia crew neck t-shirt – $59.50

Icons retro sunglasses – $161

Sylas classic baseball cap – $29.99

Edge sneaker – $198

Slim straight-leg jeans – $178

Trebann regular set plaid button-down shirt – $168
Total value of Jake's first box: $1,348.49
Final thoughts on Trunk Club
Sadly, my husband didn't get to try on the items that he received in his box. He didn't even get to see what he received in his box because I had to ship it back out so quickly, so I didn't get charged for the full box. With that said, I showed him everything that he received the pictures.
So, I'm not able to speak on fit, sizing, or comfort. However, style-wise, I do feel like these stylists hit the nail right on the head with what my husband would typically wear. The only thing I was kind of out of his usual comfort zone is the pink and blue plaid shirt. Also, my husband doesn't wear baseball caps, but this is something that I would totally try to convince him to wear.
This isn't exactly what I would describe as casual or at least my husband's style of casual. However, I totally understand why these items are considered to be casual. My husband is deathly more of like jeans and a graphic t-shirt type of guy. However, I don't feel like the items he received this box outside are necessary comfort zones. I personally really like everything that he received.
Also, my husband really likes the items that he saw that he received in the Box. In terms of different styles and receiving more inside of his comfort zone, my husband didn't comment on that. The only thing that we were really both focused on is how upset that we both were that he couldn't try on any of the items.
Plus, that's an insane value for a box. However, there are many items in here, but I would never pay full price for a. The only item here that I feel might be worth the value is the sneakers he received in his box. Although, we normally shop at name brand or at the mall. When we do go clothes shopping, we go to discount stores, like Marshalls, so this isn't something that we usually spend a lot of money on or pay full price for anyway.
In addition, I really like that my husband received matching items for outfits in his box. He could choose to do so many different outfit options if he decided to keep the entire box. I really don't understand how somebody could go from affording the $25 box to affording the whole amount of this box. However, if this is like a once-a-year type of deal for you, I can totally understand why you would choose every single item that you get inside of this box.
If the items in this box were priced under $50, I would totally have purchased everything for my husband. Also, if these items are broken up into smaller chunks over several subscription boxes, there would definitely be some debating on whether or not we would buy the pieces.
But, everything looked and felt really high quality. If things were more affordable, which I understand that they're not going to be because they're coming from Nordstrom. It would have been hard for us to narrow down the options are four pieces that we loved. There were just so many quality picks in this box.
I was honestly surprised with how many different options there were to choose from inside of this box. Plus, I love how much variety there was inside of this box. Even if there was one item that I was disappointed in, there are so many other different options that could have been heavy hitters for us.
FAQs
Question: How much does Trendy Butler cost?
Answer: Trendy Butler will cost you $65 each month. Keep in mind that this fee is a reoccurring fee. However, they stated that the $65 that you are charged every month doesn't contain a styling fee because you get to keep all of the clothing options sent to you. Also, if any clothing items don't fit you, you do get to exchange them for a different size.
Question: What will I receive in a Trendy Butler box?
Answer: Trendy Butler states that each box that you received every month will contain 2 clothing items. You may obtain a combination of clothing items, such as bottoms and a top. Or, you can receive a different type of clothing combination, such as a T-shirt and a jacket.
I didn't like about Trendy Butler with the clothing options you do get and your box. You may not necessarily be a complete outfit. So, suppose you send me this looking for a subscription that will send you a completely new outfit each month. In that case, you may want to look into a different subscription option that isn't Trendy Butler.
Question: What sizes does Trendy Butler carry?
Answer: There is a variety of sizes that Trendy Butler scary. However, I really enjoy that their website says they can take requests to accommodate sizes that aren't included in their General sizing.
Trendy Butler says that they offer:
• Small to XXL
• 29-inch waist to 44-inch waist
• 30 to 36-inch inseams
Question: Can I cancel my Trendy Butler box at any time?
Answer: Yes, You can cancel your Trendy Butler box at any time you want. There aren't any strings attached to your cancellation. So, you are free to pause or cancel your subscription whenever you please.
For you to cancel your Trendy Butler box, you first need to sign in to your account. Then, you want to go over to your dashboard and click the profile icon. After this, be sure to click on the subscription option comment, allowing you to manage the current subscription you have with Trendy Butler.
Keep in mind that if you choose to cancel your Trendy Butler box after your box has been charged, which happens on the 1st of every month, your order will not be canceled. You'll have to reach out to their customer service to see if they're able to cancel that month's box for you. 
Question: How much does Trunk Club cost?
Answer: Every month, you will pay $25 for a styling fee. However, if you currently have a card with Nordstrom, you don't have to worry about paying anything. There isn't any type of fee for you to sign up. However, the $25 you pay for a styling fee is put towards any purchases you decide to make out of your box.
If you decide to keep an item that you receive in your Trunk Club box, you will have to pay for the item. For example, if you decided to buy a pair of pants that cost $200, you'll end up paying $175 for the pants. This is because the $25 that you had already paid towards the styling fee will be credited towards the cost of the pants. 
Question: What is the price range of the clothing that you will receive in Trunk Club?
Answer: The prices of the clothing that you're receiving your boxes cannot be as little as $50 and can range all the way up to $300 per item. However, you have the option to create a budget preference when that you are creating at your Trunk Club box. So, whoever is building your box will follow along with these price range options for items to be chosen for you. 
Question: Will you get the chance to look at your trunk before you receive it in the mail?
Answer: Yes, this is one of the most unique features that Trunk Clubs offers. It'll provide you the option to digitally preview the items that were selected by your stylist for each Trunk Club subscription that you receive. 
When viewing the digital breakdown, you'll get a list of what items are being included inside your subscription. In addition, it'll break down the pricing of each option.
If there are items in your digital preview that you don't like, you do have the option to ask for the product to be taken out. Keep in mind that you only have to keep the items you love in your box, so there aren't any obligations that you have to worry about if you find pieces in your Trunk Club that you aren't in love with. 
Trendy Butler vs Trunk Club – Are They Worth It?
So, now it's time to decide whether Trendy Butler or Trunk Club is the winner of this comparison. After you get the chance to look through everything Jacob received in both his Trendy Butler and his Trunk Club, you may already have an option for a winner chosen for yourself. However, for me personally, I wasn't completely in love with either option.
Yet, I would choose a Trunk Club over a Trendy Butler. Not only is Trunk Club a lot more affordable than Trendy Butler on a month-to-month basis. But, you really have the option to truly customize the subscription that you received to your personal tastes. Whereas with Trendy Butler, you do fill out a personal stop profile, but you don't get the option to say yes or no to pieces that are picked up by your personal stylist in a digital review like you do with Trunk Club.
The digital review is really what makes the difference between these two subscription options for me. Plus, I don't really love that if you don't like a piece that was chosen for you by your stylist from Trendy Butler, you're kind of stuck with it. While I do really like that you were able to keep the items that you get in your Trendy Butler subscription, this will only really work if you really enjoy what you're receiving.
Have you tried Trendy Butler or Trunk Club? We'd love to hear which subscription option is the winner in your book!