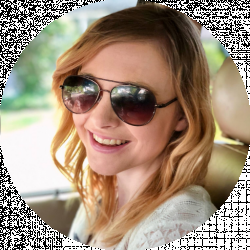 Latest posts by Erin Jamieson
(see all)
Main Differences Trendy Butler vs Five Four
The main differences between Trendy Butler vs Five Four are:
Trendy Butler focuses on professional clothes, whereas Five Four carries casual and athletic clothing
Trendy Butler offers one flat fee plan, whereas Five Four has a monthly and seasonal plan
Trendy Butler offers 32 brands, whereas Five Four offers 3 brands
There's a stereotype that women spend more time shopping than men, but a report published in New York Daily News found just the opposite–and may be just one sign that men can benefit from comparing clothing subscription services like Trendy Butler vs Five Four.
According to the report, men spend both more time and more money shopping than women. On average, the men surveyed spent 3 more hours shopping and $85/ month more than women. Another telling theme: they were more likely to shop for clothes online.
While Trendy Butler and Five Four may not save men money, it may very well save them time shopping. And a clothing subscription service can make coordinating looks and even discovering new styles all that much easier.
In this review, I look at Trendy Butler vs Five Four, compared, and tell you which one is better in terms of service, quality, selection, and overall value.
Who could benefit from a clothing subscription service?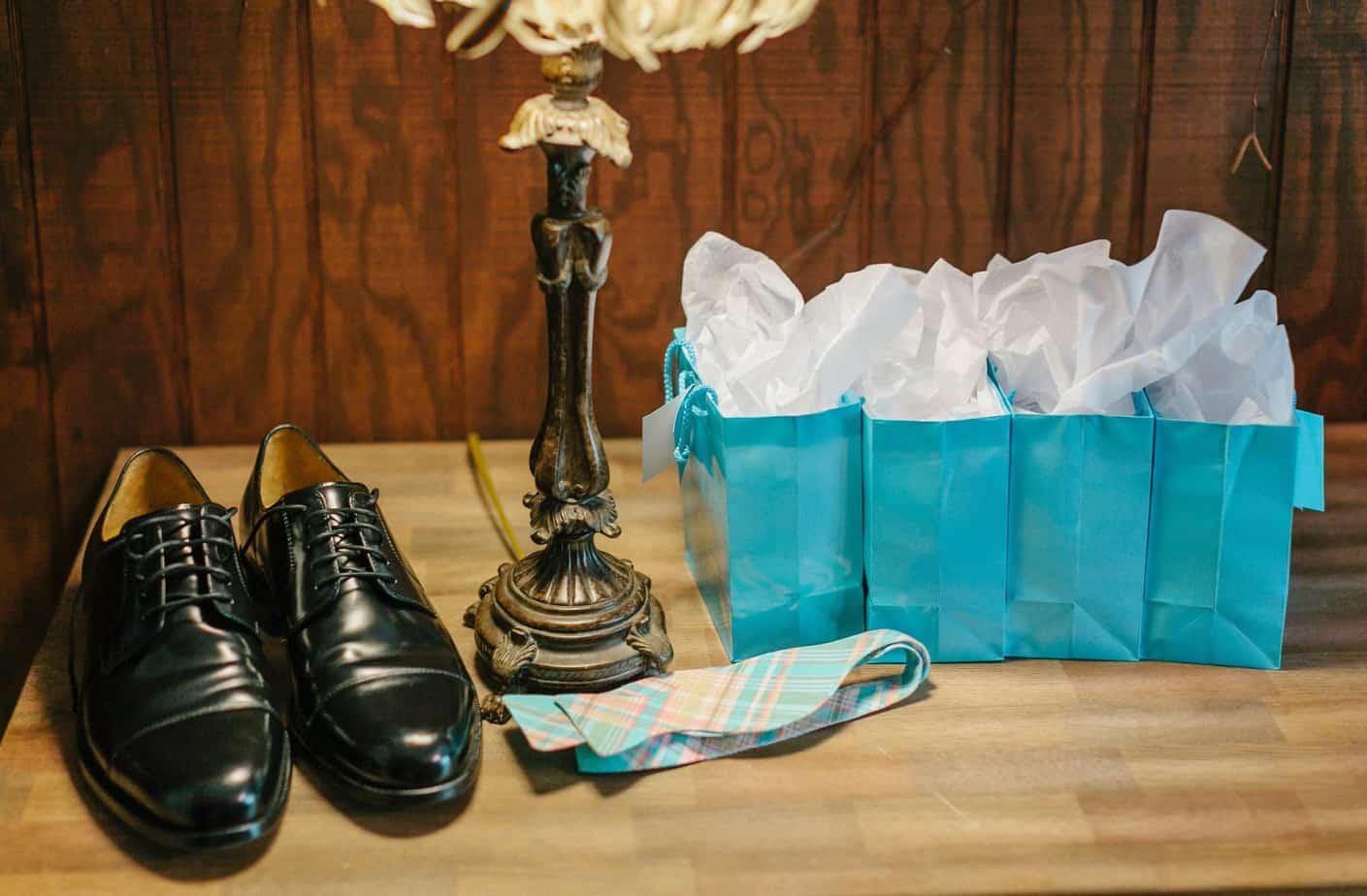 Even before 2022, clothing subscription boxes were becoming more and more popular. They hit the scene first and foremost with women's subscriptions, like The Trunk Club from Nordstrom and the plus-size Gwynnie Bee.
But who benefits most depends on lifestyle and budget.
Someone Who Needs to Look Professional
A big advantage of clothing subscription boxes like Trendy Butler and Five Four is they can help coordinate your look and pick off pieces of clothing that you might otherwise have trouble finding.
I especially recommend services for someone who has trouble deciding on clothes but is looking to improve their overall look. I love clothing subscription services that offer both flexibility in selection and some guidance for style choices.
Someone Looking to Save Time
While the initial work–looking into the subscription, signing up, and potentially taking a style quiz or even talking to a stylist–may take a bit of time, initially–the end result should be saving time. You'll likely have to spend less time hunting for clothes or coordinating them, and, depending on the service, you may save less time planning outfits too.
Someone Looking for a New Look
It's hard to get out of a style runt, especially if you're comfortable with what you're doing now, not interested in style in general, or being compelled to change your look for your work life.
No matter the reason, a fashion subscription box-like Trendy Butler and Five Four can offer a fresh look on style; clothing you wouldn't have otherwise considered, and give you a new perspective overall.
How do you compare clothing subscription boxes?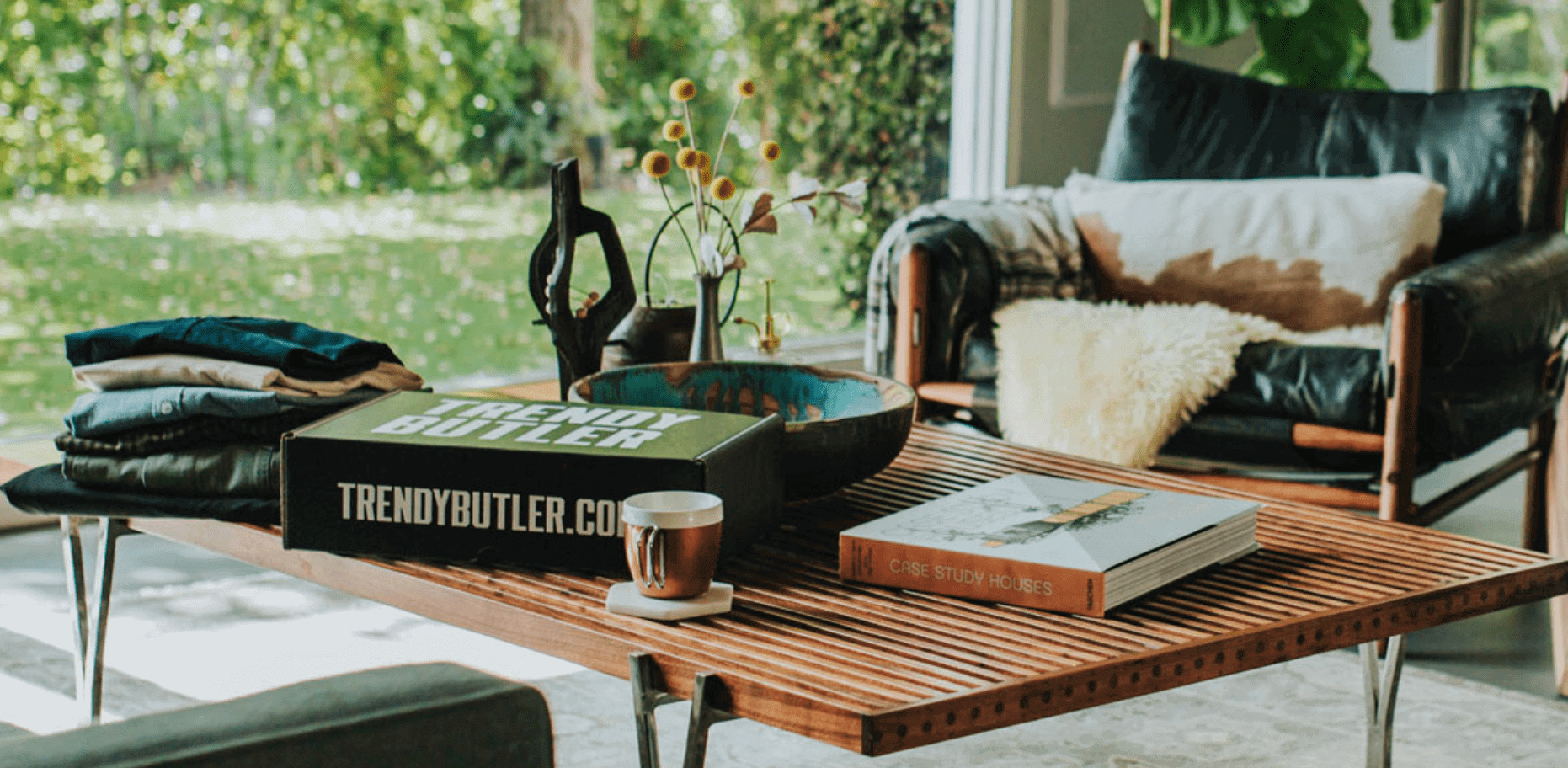 While the best subscription for you can be different from the best subscription for someone else, there are some key factors, as well as warning signs, that you'll need to consider.
Factors to Look For
Here's my must-haves for a clothing subscription service, and how I'll be judging Trendy Butler vs Five Four.
Good Service
In terms of good service, I always look for easy and flexible delivery options, with options to change orders (within reason); a clear refund policy, or a policy to address issues with missing or damaged packages. Another sign I look for is a direct way to contact customer service- the more options, and the more direct the better.
Great Selection
In terms of the great selection, I want to see a variety of styles, even if the clothing subscription is for something specific. Within that, I also want to see not only different designers/ brands, but ones I recognize, or ones that have either a good reputation or at least are something I can easily find more information about.
Transparent Plans
I want to be able to order from a clothing subscription service that not only offers different subscription plans, but ones at different price points. And within those price points, it's important to understand all service fees, additional costs, and exactly what comes with the subscription service.
Personalisation
One of the best aspects of ordering a clothing subscription service is feeling as if you're getting your own personal stylist. I look for a style finder or preferences quiz that's detailed in the information you're getting, and some direct sign that the clothes you order are actually related to those results.
Warning Signs
But just as there are clear things I look for, there are also clear warning signs that'll dissuade me from a delivery service, but especially clothing boxes like Trendy Butler and Five Four.
No Way to Contact
Scrolling up and down a page and can't find any real way to contact the company? It's always possible you're not looking in the right place but if there is no way to contact you or even if it's very hard to find, that may be a warning sign.
I am even a little hesitant about companies that only offer one way to contact, such as an email address, with no phone number or physical address.
Little Flexibility
From no options for different delivery to no say in the clothes you're getting, there's a degree of personal preference in this aspect, but the less flexibility customers have, the more worried I am about the overall quality of service.
No Refunds
If there are no refunds allowed it's a warning sign. But even when a company's entire refund policy is to contact a customer service email, I feel warier about ordering.
Bad Customer Ratings
When I say bad customer ratings I don't just mean that some customers reviewed the service poorly. I also look out for companies that don't have reviews outside their site; too perfect reviews without explanation, or a failing rating on Better Business Bureau.
Is Trendy Butler or Five Four the better service?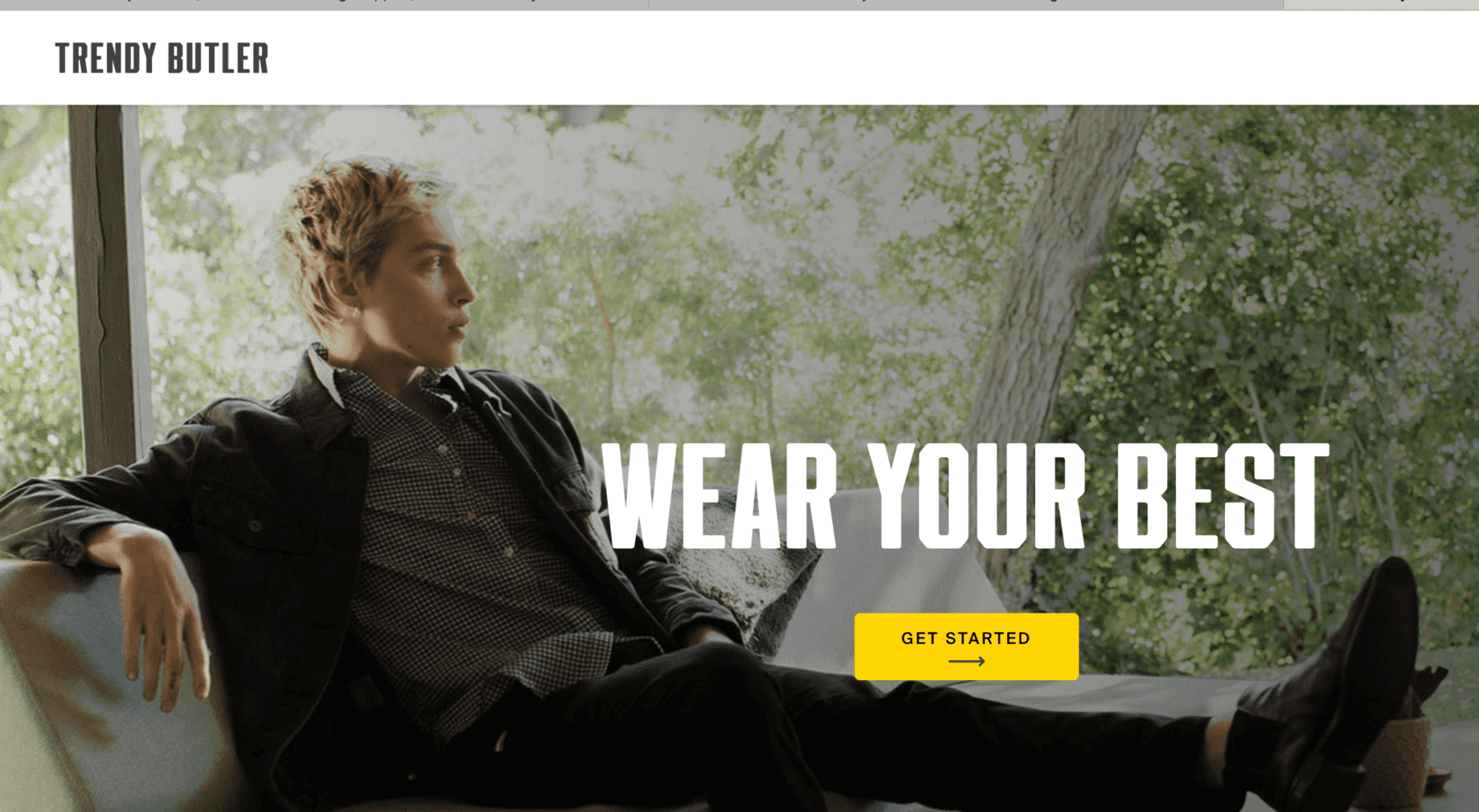 Trendy Butler and Five Four are two of the most well known men's clothing subscription services available, and, unlike a competitor like Stitch Fix, they're dedicated to men's clothing alone. For this reason, I was especially interested to see when Trendy Butler vs Five Four is compared, which would come out on top.
Who is Trendy Butler vs Five Four for?
While both Trendy Butler and Five Four are clothing subscription services for men, there are some differences I noticed in terms of sizing and purpose.
Trendy Butler
Trendy Butler offers clothing for men sizes small through XXL, or pant sizes 29 to 44. While there are some casual clothing options, most of their marketing and attire is aimed towards the professional, with professional work and casual professional attire from top to bottom.
Not quite formal wear, Trendy Butler caters towards standard size men who are looking for an updated wardrobe to wear to work.
Five Four
Five Four, the brand behind the Menlo Club subscription service, immediately strikes me as a different target audience.
Most of the clothes are contemporary casual or athletic wear, and little in the way of professional clothing. In terms of sizing, Five Four still caters to standard but with a few more options, with sizes ranging from small to XXXL, or waist sizes from 28 to 47 inches.
My Takeaway
Five Four is more size-inclusive, both both do not offer sizes, for instance, for taller men. Both have a nice range of sizes but the general audience is decisively different. If you want professional clothing, Trendy Butler is clearly going to be a better fit, while Five Four is suited to everyday life, or a job that doesn't require professional attire.
What styles/brands does Trendy Butler vs Five Four carry?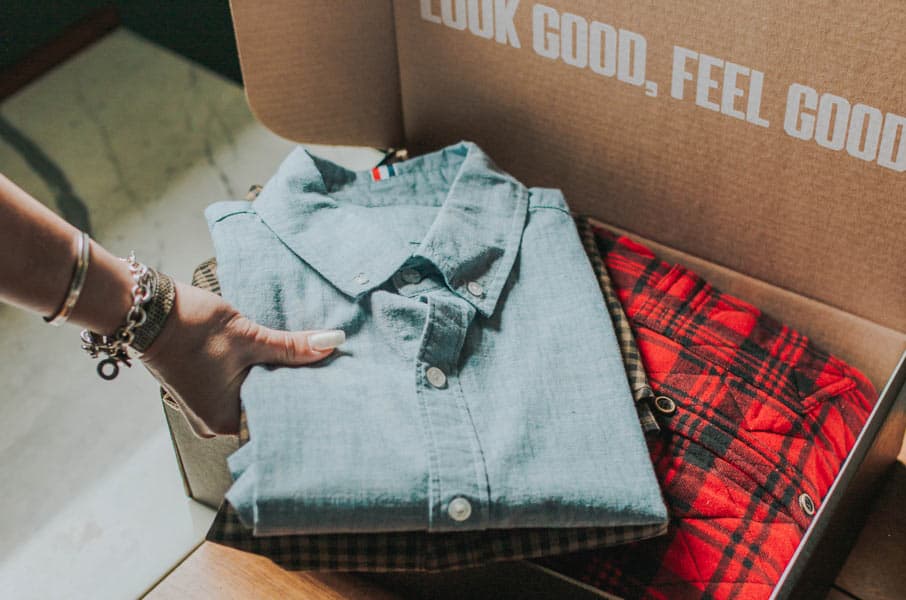 Styles and brands are a telling sign not only whether or not a clothing subscription service will be a good fit for you, but also in terms of overall transparency and what you can expect.
Trendy Butler
Trendy Butler offers around 32 brands, all centered around professional or professional casual wear. Anthony Morato, Jack Jones, Ben Sherman, Vestige, Eleven Paris, and ZaneRobe are a few examples. While I'd love to see more brands and some brands with more name recognition, I do appreciate that they list their brands.
In terms of styles and clothing types, you'll find button-ups, from dress shirts to flannel; khakis; dress pants; and other wear for professional to professional casual.
While there are some items for everyday wear, you'll mostly find traditional clothing to traditional modern. A very classic style overall, Trendy Butler caters to young professionals who aren't looking to make bold statements Casual but want to look polished.
Five Four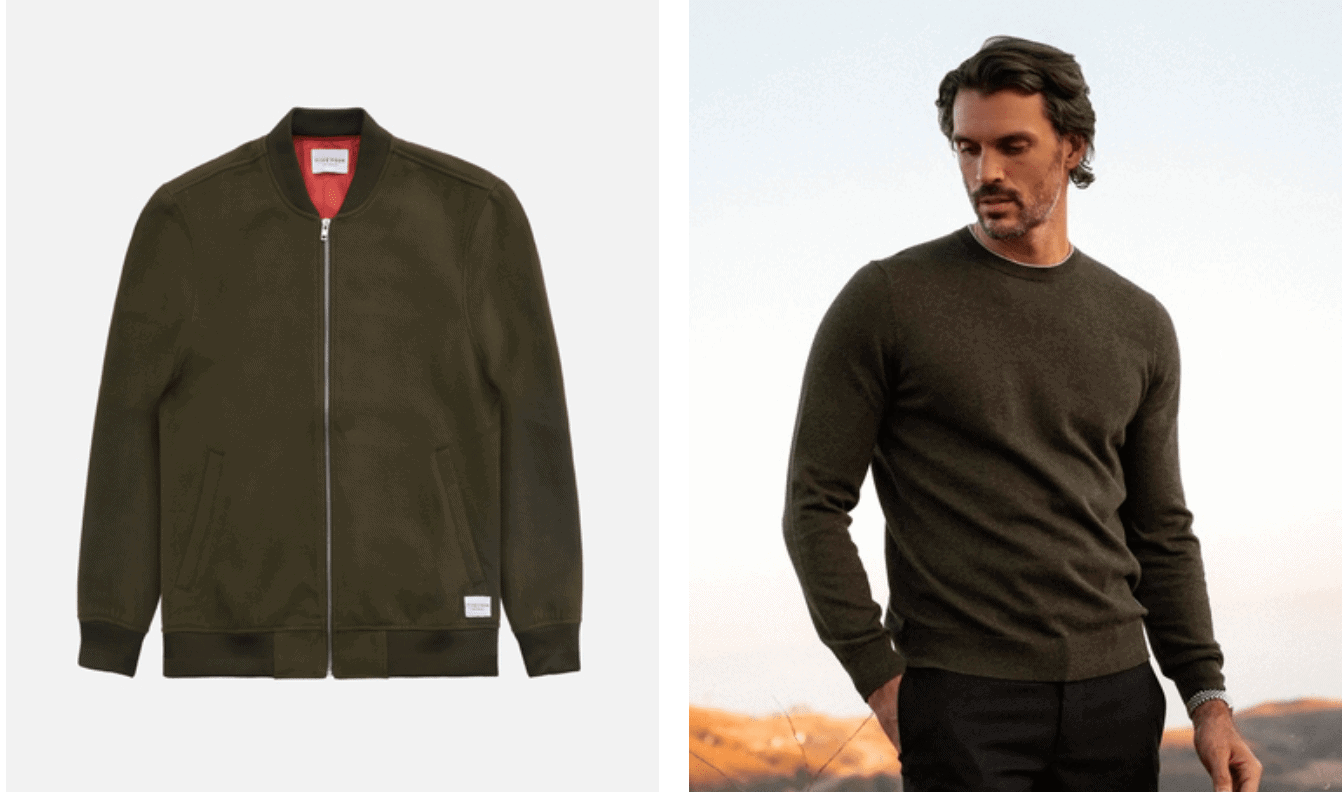 Five Four carries just three brands: Five Four, New Republic, and Grand AC. Five Four's own brand includes what they call contemporary menswear, while New Republic includes footwear and Grand AC includes athletic casual wear.
In terms of styles, contemporary meets offbeat, with options like bomber jackets; suede boots; classic sneakers; relaxed polos, and classic fit jeans. Earthy to dark tones are common, but you can also find some brighter hues when it comes to athletic and casual shorts.
My Takeaway
Both Five Four and Trendy Butler are a little limited compared with other clothing subscription services' brand offerings. I do love that both show you the brands they provide, as well as some sample styles. And despite the limit on brands, there's a decent variety in terms of colors and general aesthetics.
How do the subscription options compare?
For subscription options, there's not a clear distinction between Trendy Butler vs Five Four.
Trendy Butler
Trendy Butler allows just one subscription plan, which costs $65 a month. Unlike some clothing boxes that allow you to rent clothes, with this subscription, you're sent two articles of clothing with every shipment. Minus being able to cancel the plan, you must receive it every month. The cost does include not just the clothing, but also styling, returns, and exchanges.
Five Four
Five Four offers both a monthly and seasonal subscription service, with a monthly fee of $60 or $75 for a season. As is the case with Trendy Butler, an average of two articles of clothing come each month, and the price includes styling, exchanges, resizing, and shipping. You can pause your membership at any time, just as you can with Trendy Butler.
My Takeaway
Overall, Trendy Butler and Five Four work on the same subscription type, where you're essentially purchasing clothing every month. Price-wise, they are very similar, but also keep in mind that you're getting more professional vs casual clothing. I do like the Five Four and have two different options.
What say do you have in clothing selection?

One of my favorite features about a clothing subscription service is that it guides you through style choices; but I also like the flexibility to give my own feedback, too. I think of it this way: a clothing box should act as a stylist, but there should be a two way communication.
Trendy Butler
Trendy Butler makes you take a somewhat standard quiz to learn your style preferences, including questions about clothing sizes, colors, and preferred shirt and pant styles.
From this short quiz, you're assigned an online profile, which is used to select clothes for each box. You won't see any clothing before it's shipped, and while you can return items, there's no real consistent way to provide feedback to consistently improve their selections.
Five Four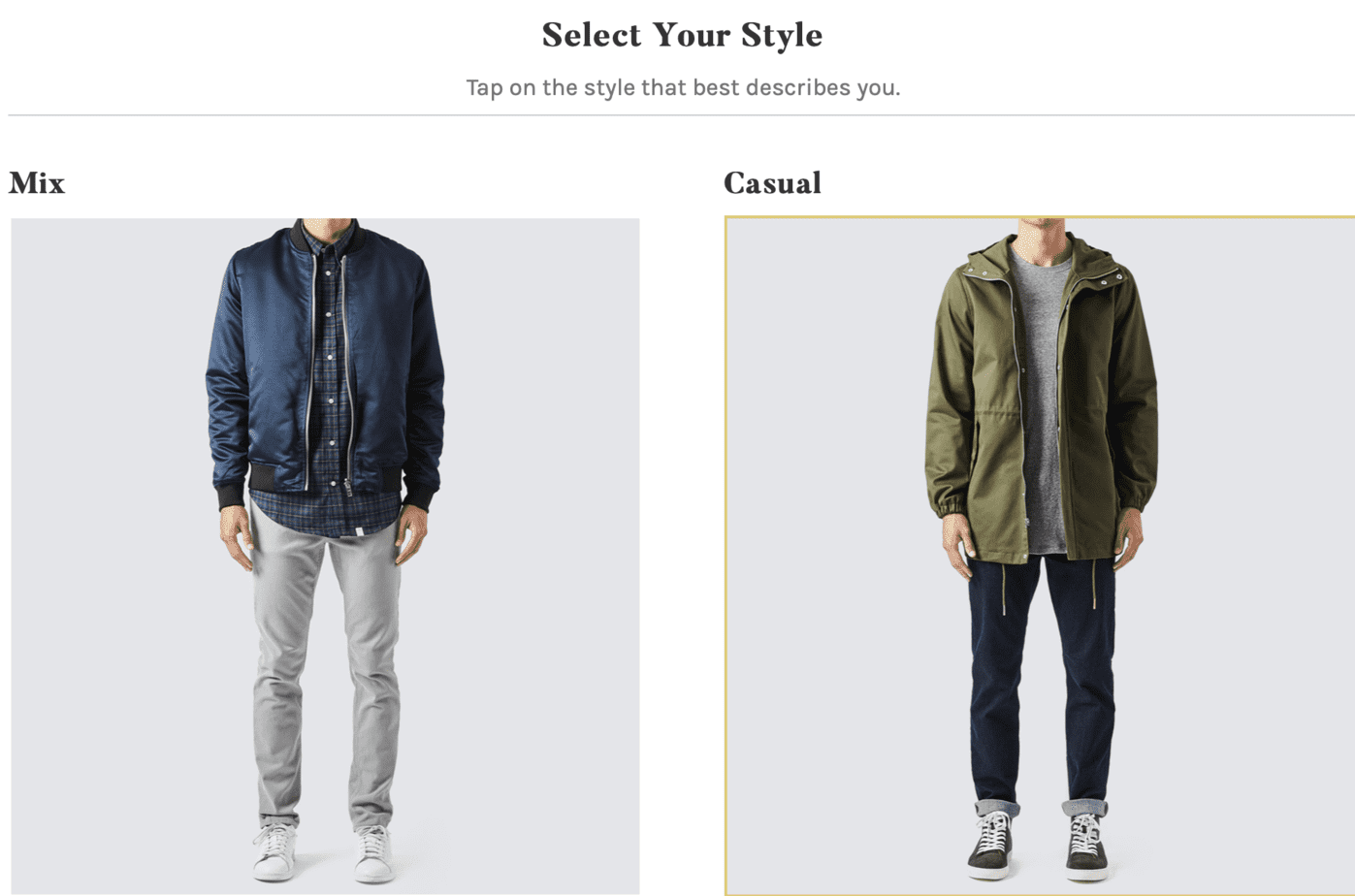 Five Four also provides a short styling quiz, where you'll indicate whether you prefer mixed, casual or classic clothing, and then your sizes. But in this way, it's pretty limited. You won't, for instance, be given the option to even discuss style preferences or colors, the way you can with Trendy Butler.
My Takeaway
While I'd like more transparency (see what items will ship) , more detailed quizzes and the option for more feedback, Trendy Butler has an edge because the style quiz at least provides a chance for you to leave more helpful and detailed feedback.
How do returns, exchanges, refunds, and shipping operate?
Returns, exchanges, and general shipping policies truly can make or break even clothing subscription services with the very best options.
Trendy Butler
Trendy Butler offers free returns and exchanges. Shipping and returns are technically free, as they are included with the cost of a membership or subscription service. Trendy Butler ships anywhere within the United States. There is no easy to find refund policy, but an email instead where you can contact with concerns.
Five Four
Five Four only allows exchanges for size issues, not style mishaps. All items being exchanged for sizes have a 30 day window and must be in their original condition. Shipping is free, but orders can't be cancelled after they've been processed.
My Takeaway
I honestly was not overly impressed with the return and exchange options, but I was most concerned about the lack of refund policies. I will, however, give an edge to Five Four, as they are transparent about their policies upfront.
How does their customer service compare?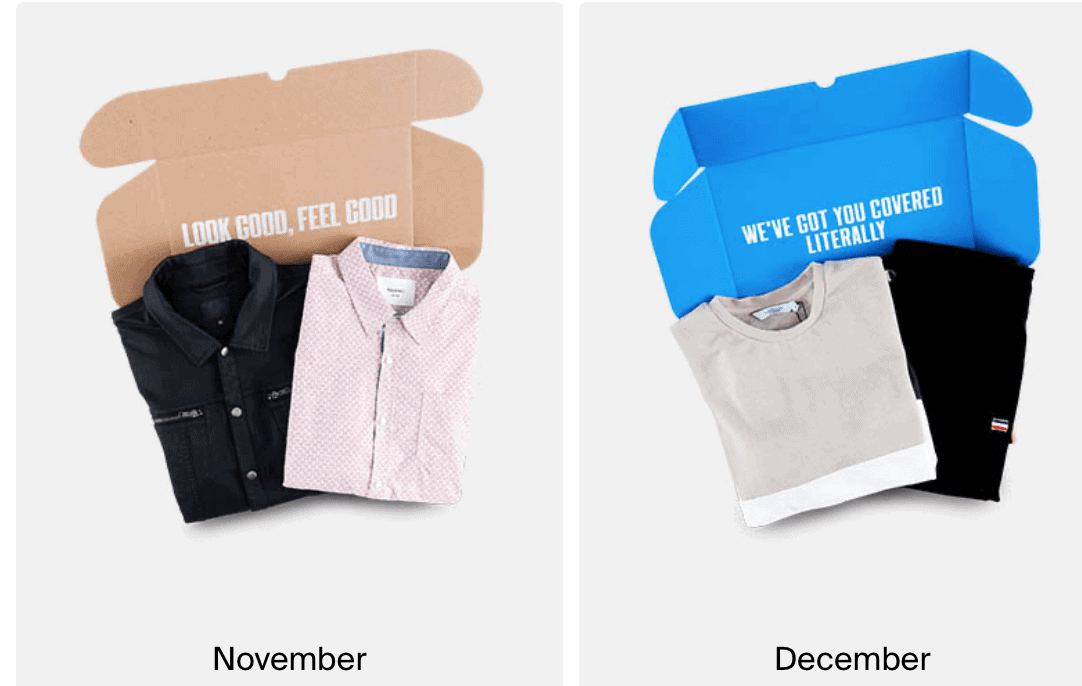 The best way to determine overall customer satisfaction, aside from personal experiences, is to look to other customers and professional accreditation or rating.
Trendy Butler
Trendy Butler has below average ratings on Trustpilot. Among customers, Trendy Butler earned under two and a half stars. It's not accredited with the Better Business Bureau.
Though not uncommon, the under two-star rating on BBB concerns me, as well as the themes of the complaints. Clothing quality was described as sub-par, and many were dissatisfied in terms of styles they received.
Five Four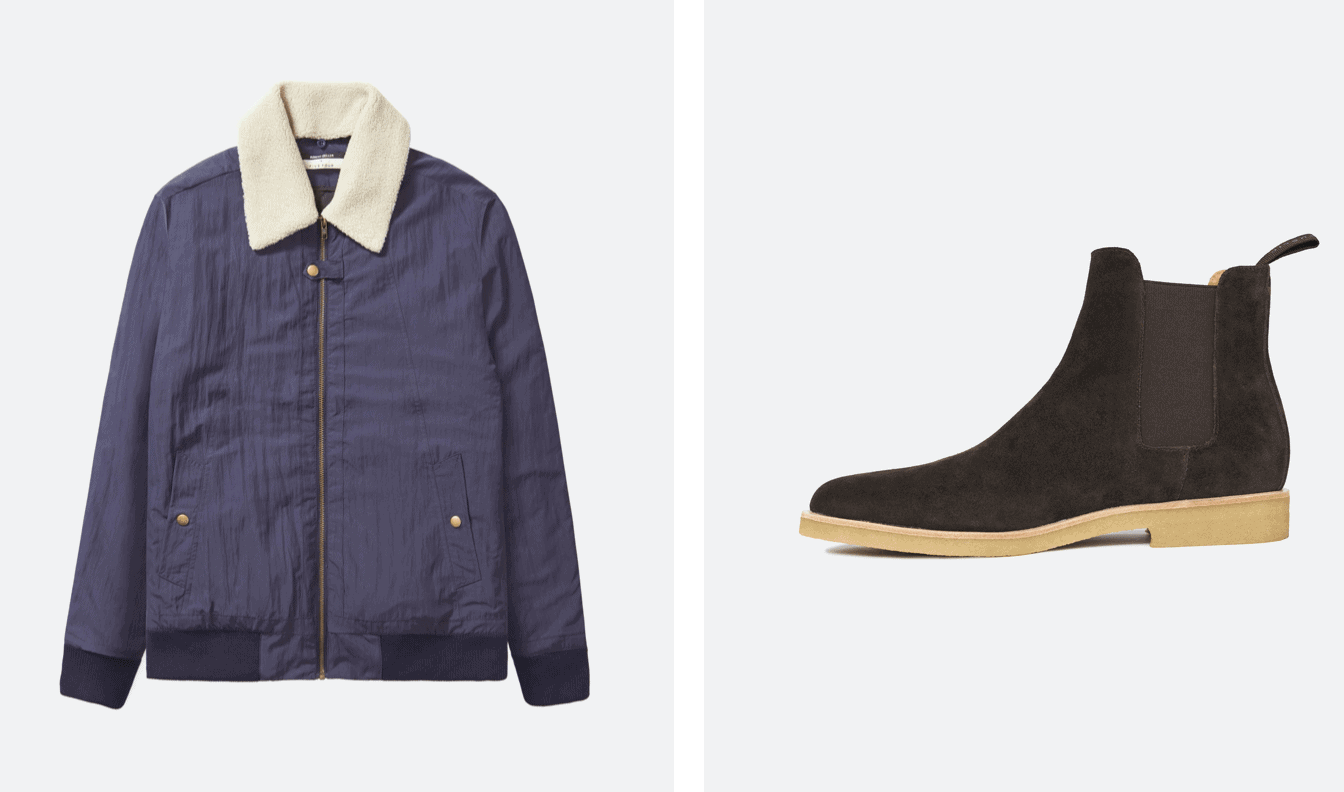 Five Four is also not accredited through the BBB but holds an unofficial D minus rating based upon complaints and reviews. On Yelp, the service received an average rating of just two stars. Customers cited issues with customer service, difficulty canceling subscriptions, low-quality clothing, and styles that didn't reflect their personality.
My Takeaway
Both Trendy Butler and Five Four have less stellar customer reviews than I'd like. While there were a few customers pleased, the experiences are both similarly aligned in terms of lack of true style matches, lower than expected quality, and troubles with customer service.
FAQs
Question: What is the best men's clothing subscription box?
Answer: Compared with women, who have options as diverse as plus size only to formal event subscriptions like Rent the way, men have fewer options. A few of the men's-only clothing boxes also are not as well known or reviewed. A service that offers both men's and women's clothes that does enjoy a reasonable reputation is Stitch Fix.
Question: Is ThreadBeast only for guys?
Answer: ThreadBeast is a clothing subscription box designated for men only. It specializes in streetwear, with a personalized styling algorithm.
Question: Are clothing subscription boxes worth it?
Answer: All in all, a clothing subscription is worth it if you find the very best one and are looking for both convenience and personal styling. That said, it may not save you money, or may even cost more than regular shopping. As is the case even with a food subscription service, you have to assess whether or not it suits your needs.
Final Thoughts & Buying Decision
There's a lot that I wanted to like about Trendy Butler and Five Four. I love that they are both for men only and offer fairly updated styles. Trendy Butler is more suited for professional clothing, while Five For is more suited to everyday contemporary. That said, there are better services out there.
If you do want to try, Subscribe to Trendy Butler Here, or Subscribe to Five Four Here.
Looking for a well-rated alternative? Stitch Fix is a good option.
Further read: