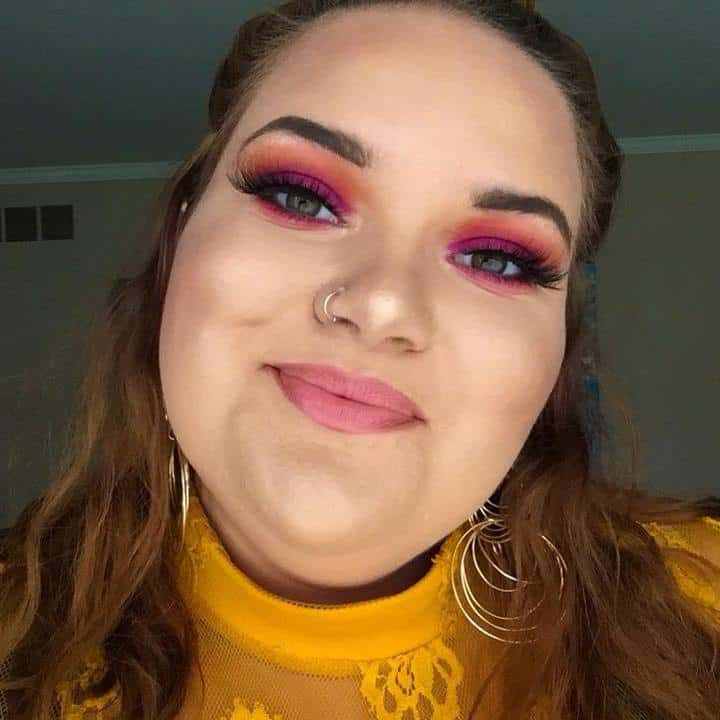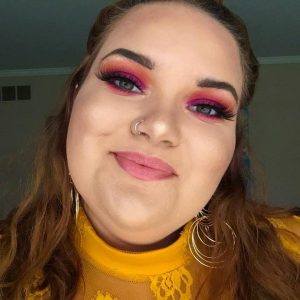 Latest posts by Alizabeth Swain
(see all)
Meet my fiance, Jacob.
Jacob and I met two years ago, with a love story that would make the perfect romantic-comedy hit. As long as I've known him, Jake has always been a really laid back guy. His typical outfit consists of a pair of vans, jeans, and a plain t-shirt. He doesn't really go clothes shopping for himself for two reasons:
He doesn't enjoy clothes shopping (joke's on him, he's engaged to a fashion blogger)
He doesn't feel comfortable going outside of his comfort zone in terms of style
As I was scrolling through Instagram, I saw an ad on my feed for Trendy Butler Subscription box. I decided to snag a month of this men's style subscription from this company as a little surprise for my fiance.
What did Jake get with this subscription service?
Did he like this subscription box service?
Was the monthly subscription box worth the $65?
I've got all of that for you in today's review!
What is Trendy Butler?
Trendy Butler is a men's clothing subscription service that'll run you $65 a month. However, in each box, you'll get two to three pieces of exclusive menswear clothing that have a retail value of over $150.
The entire process to sign up takes a couple of minutes for an online style quiz. Based on the answers that you provide Trendy Butler when you're signing up, their in-house stylist will pick clothing items that they believe would be a good fit for you.
Signing up for Trendy Butler
The signup process for the monthly subscription of Trendy Butler was super simple, which I think is great for guys that aren't interested in getting themselves tie-up in worrying about the little details that you can easily get sucked into when it comes to discussing your preferred style taste.
Filing out the entire profile only took seven steps, which took me less than five minutes to complete.
After you hit get started on their homepage, you're taken to the first part of the seven steps. What's really cool is that with all of the questions Trendy Butler asks (such as 'how would you describe your current style?') there are pictures that pair along with the different selections. Here's an example: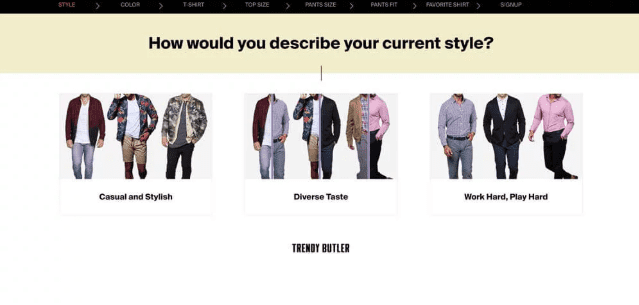 Before making your first month clothing subscription box purchase, Trendy Butler asks the following questions when you're filling out your style profile:
How would you describe your current style? Jake chose "casual and stylish clothing style"

Which shade of color best represents you? Jake chose "Mr. Nice Guy"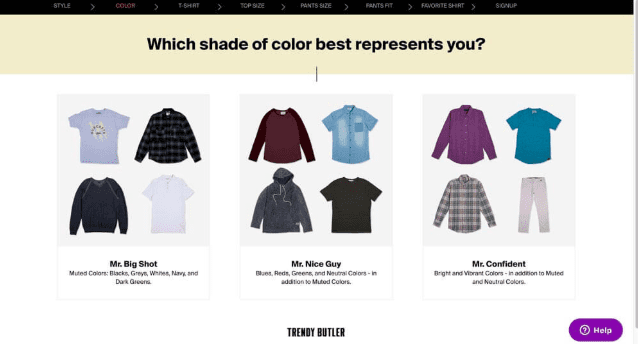 What is your t-shirt preference? Jake chose "plain"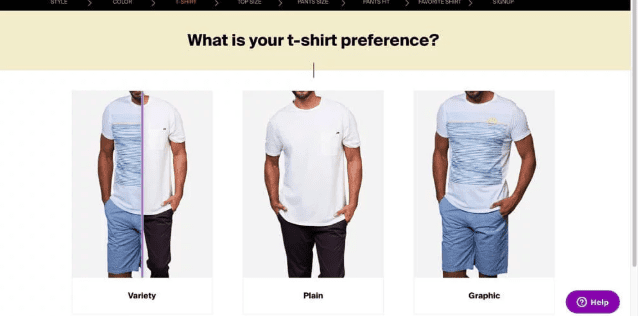 Pick your favorite shirt. Pick one or ALL. Jake chose 'solid and plaid'
They also asked his shirt size, his waist size, and his paint fit.
After you've filled out your style profile, Trendy Butler sets to work on building your first box!
What he received
Okay, before I show you what Jake received in his first Trendy Butler box, I do want to make a complaint. The box wasn't sent out with any sort of index card that lets us know what he received in his box, nor did we get anything that lets us know the total value of the men's clothing box.
So, we had to kind of just trust that we were receiving $150 worth of men's clothing in the box. Other subscription boxes like Stitch Fix that does cater to men send out cards to let you know the brand name and the name of the piece that you've received, as well as the retail value of the item you've received, and the total retail value of the box.
I wish that Trendy Butler had sent that out, as the black hoodie that you're about to receive is totally amazing, and I would have loved to purchase more pieces from this brand. The only trouble is, is that there isn't any sort of tag or brand name on the hoodie, so we're missing out on buying more from this brand.
For reference, Jake is:
6 foot
Size 32 jeans
Size large in tops
Piece #1: Black t-shirt hoodie
The first piece that Jake pulled out from this Trendy Butler box was the black t-shirt hoodie with white trim detailing.
If I were out shopping with Jake, this isn't a piece that I would've picked out for him, mainly because I really don't like t-shirt hoodies. However, this one totally worked on him!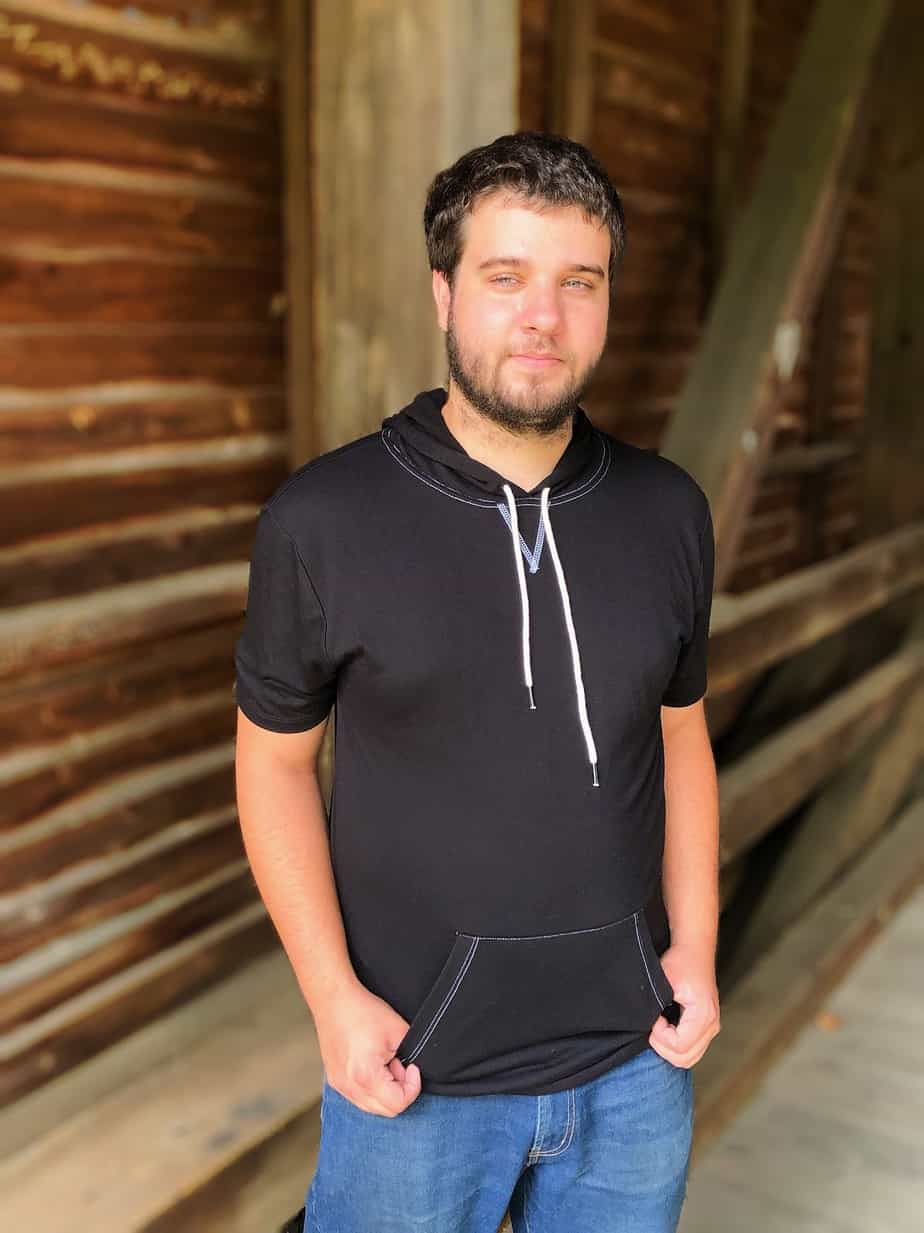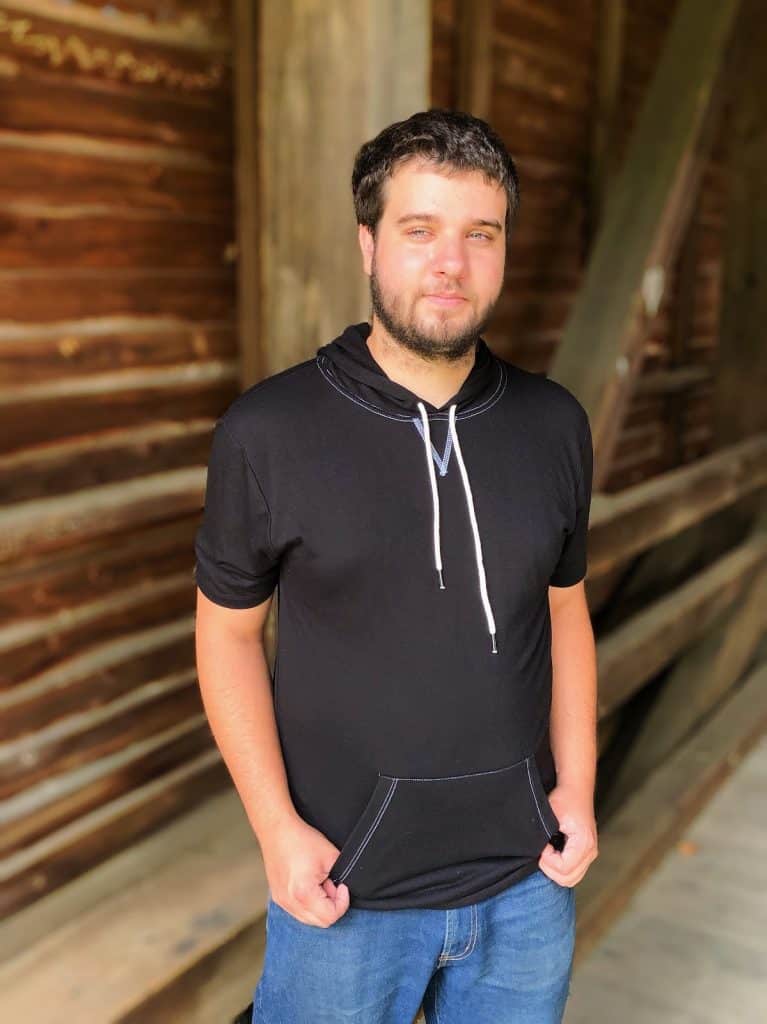 As a fashion blogger, I really enjoyed that the sleeves on this hoodie weren't cut off and were proportionally long enough. The white trim really helped to tie this whole piece together!
Jacob, on the other hand, really loved how comfy this too was. Out of the two pieces that he received, this black t-shirt hoodie was his favorite.
He said that he liked that the front pocket on this hoodie was large enough for him to throw his keys, wallet, and phone into. He also told me that he liked how soft it was (let me tell you, it was super soft, like a blanket).
He felt that this top was a two-in-one, because it looked like two different tops, with the hoodie up vs down. He also really enjoyed that it was versatile, because he could easily throw a long-sleeve black t-shirt on underneath of the hoodie in the winter.
I was very happy with the fit of the hoodie, especially because the online styling quiz wasn't invasive. I was worried that some of the pieces that were going to be picked out were going to be too short on his abdomen, but the length of this top has the perfect relaxed fit!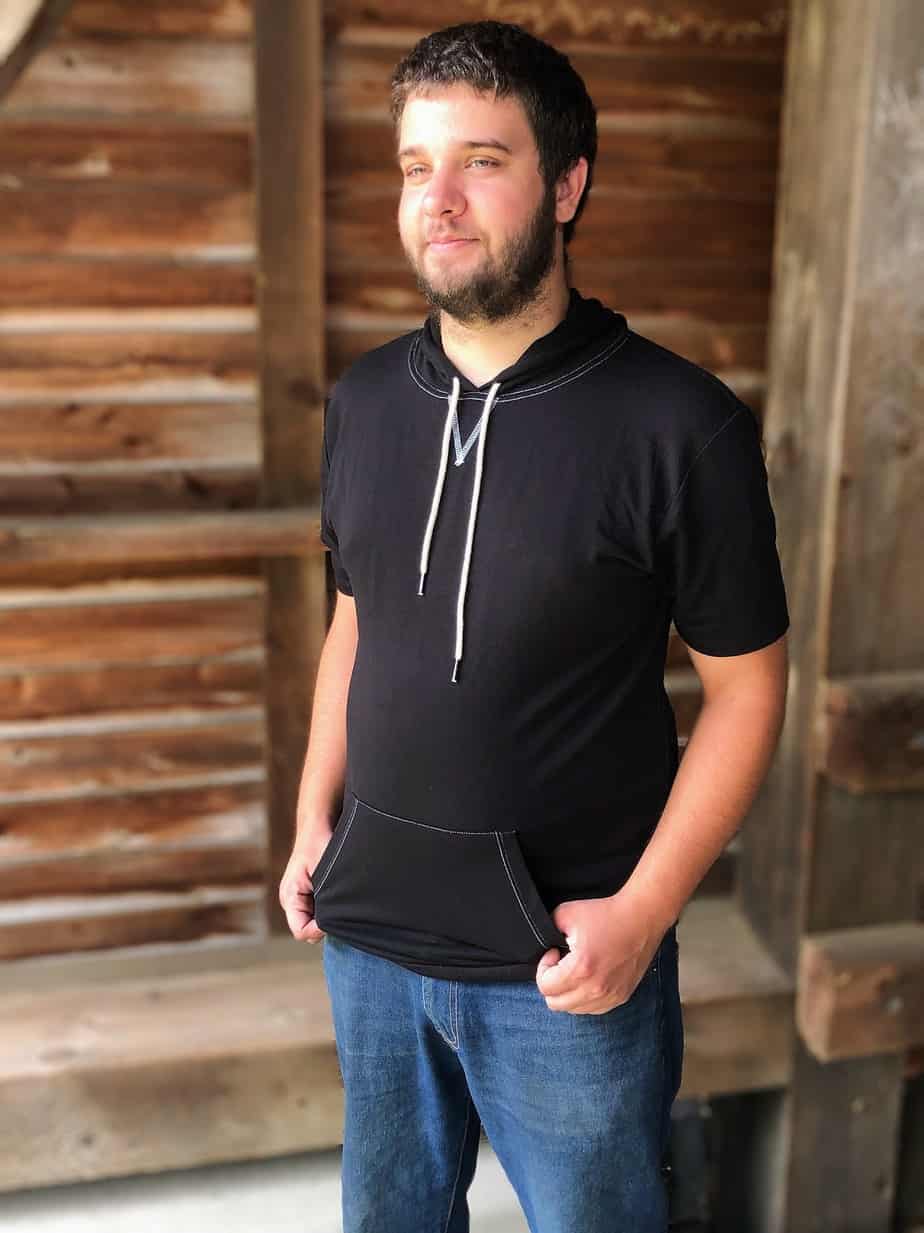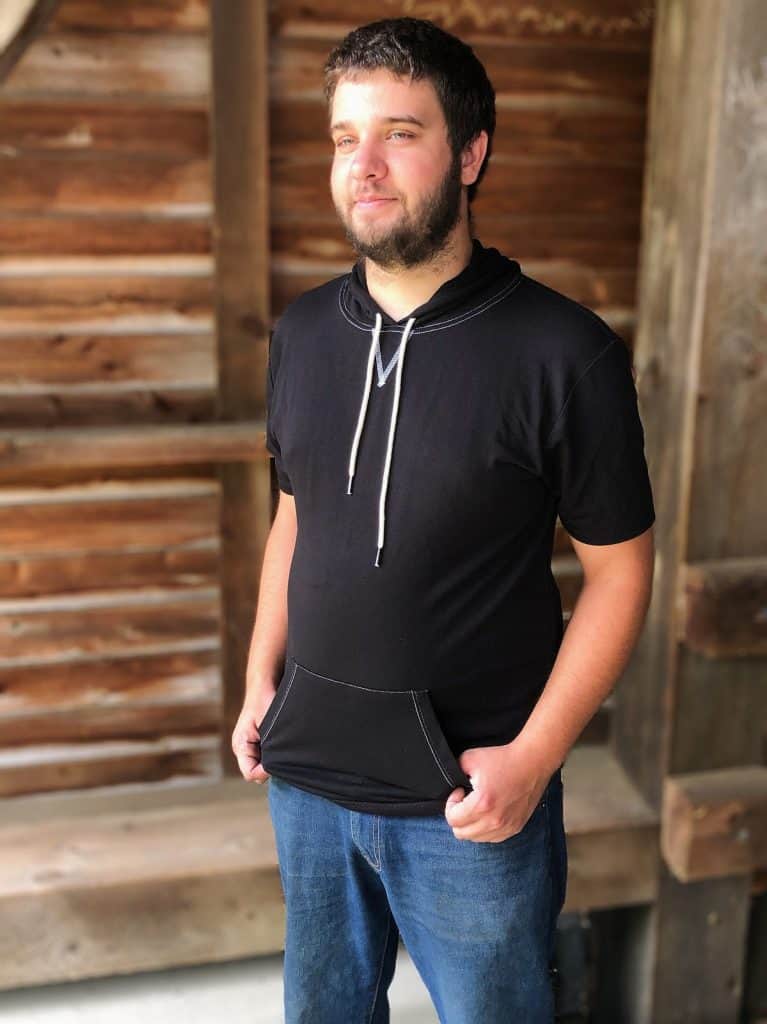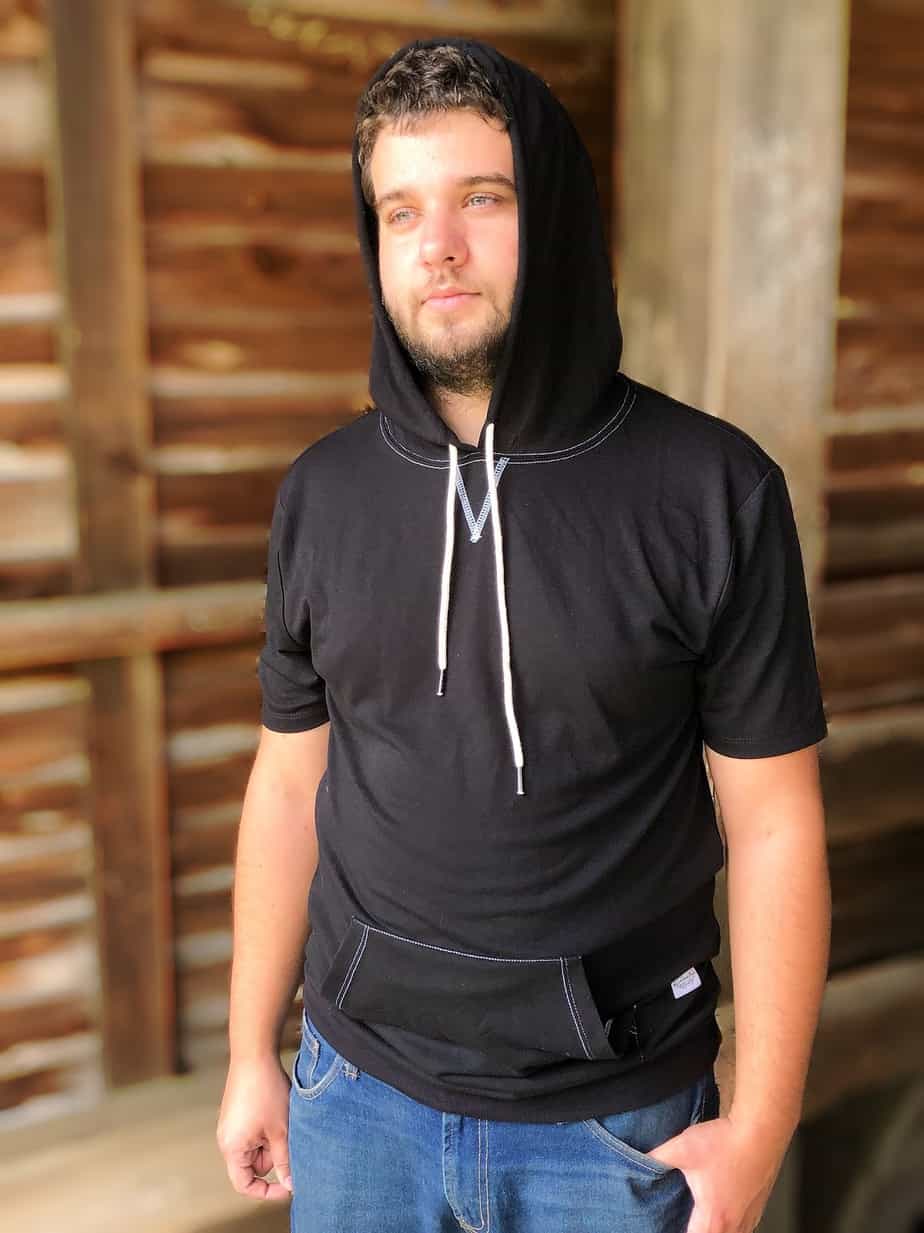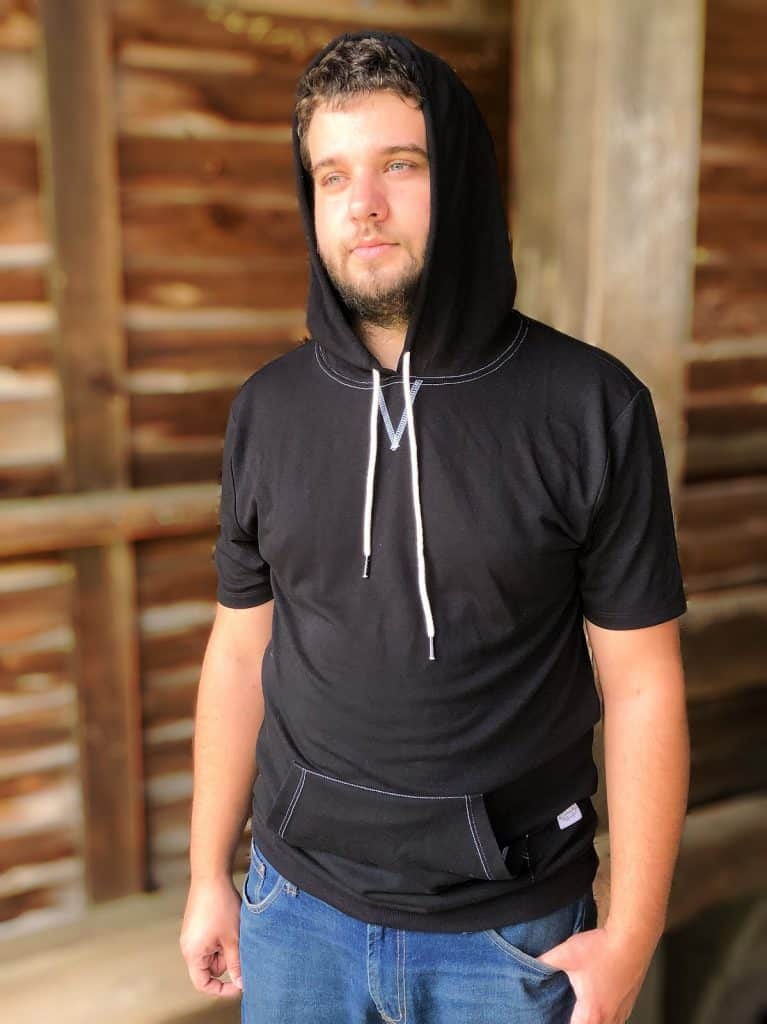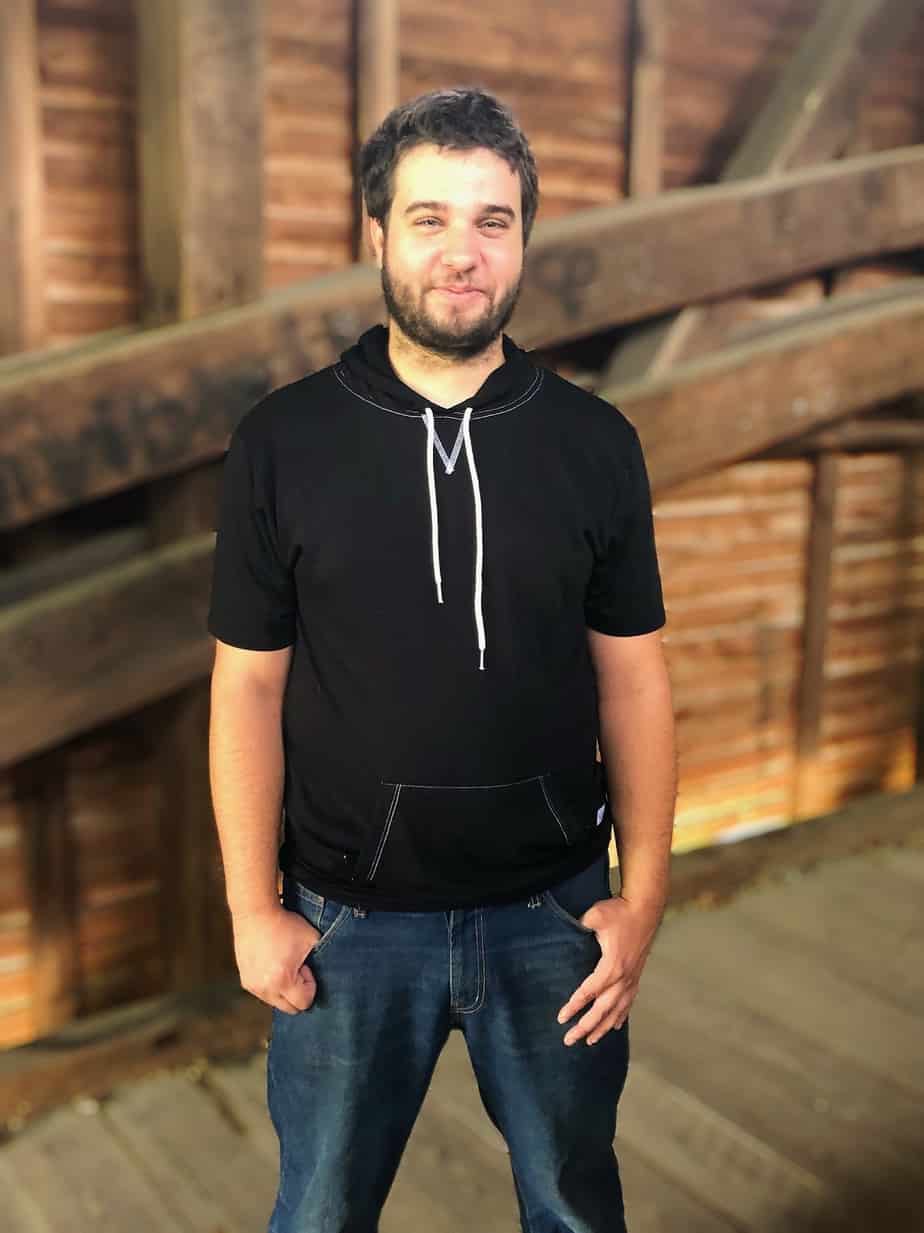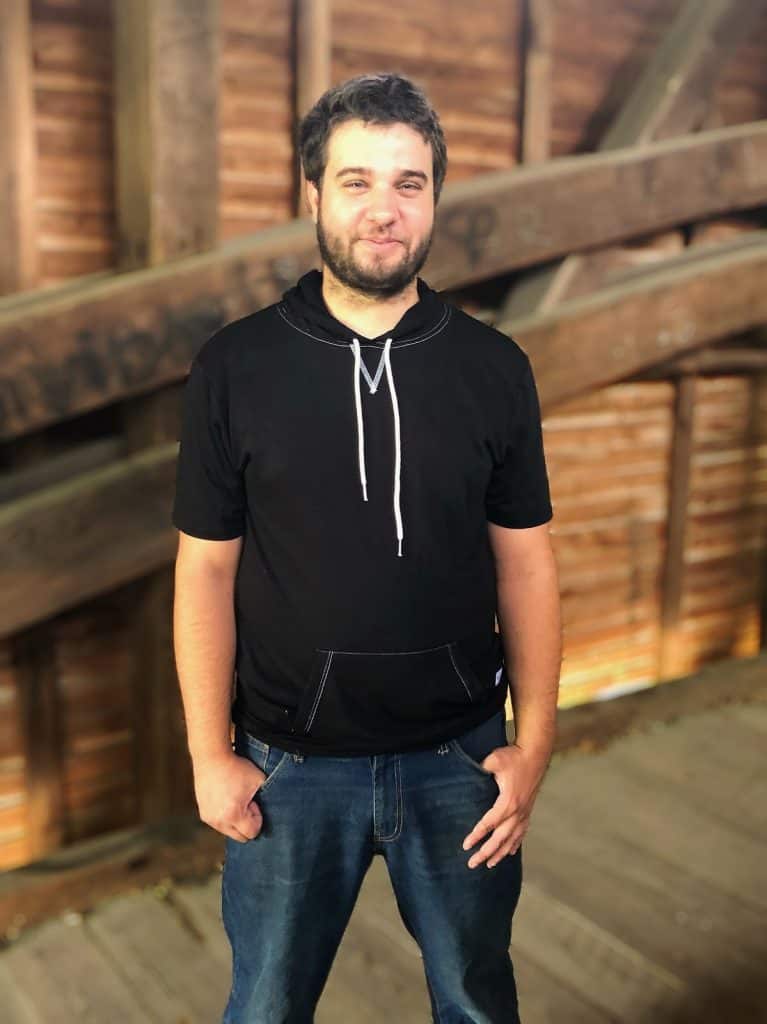 Piece #2: Blue blouson jacket
When we pulled this jacket out of the Trendy Butler box, it was pretty wrinkled, so sorry for the wrinkling shown in these photos! I was surprised at Trendy Butler for sending a blouson style jacket, as it wasn't something that I thought really fit with the style profile that was filled out when signing up for Trendy Butler.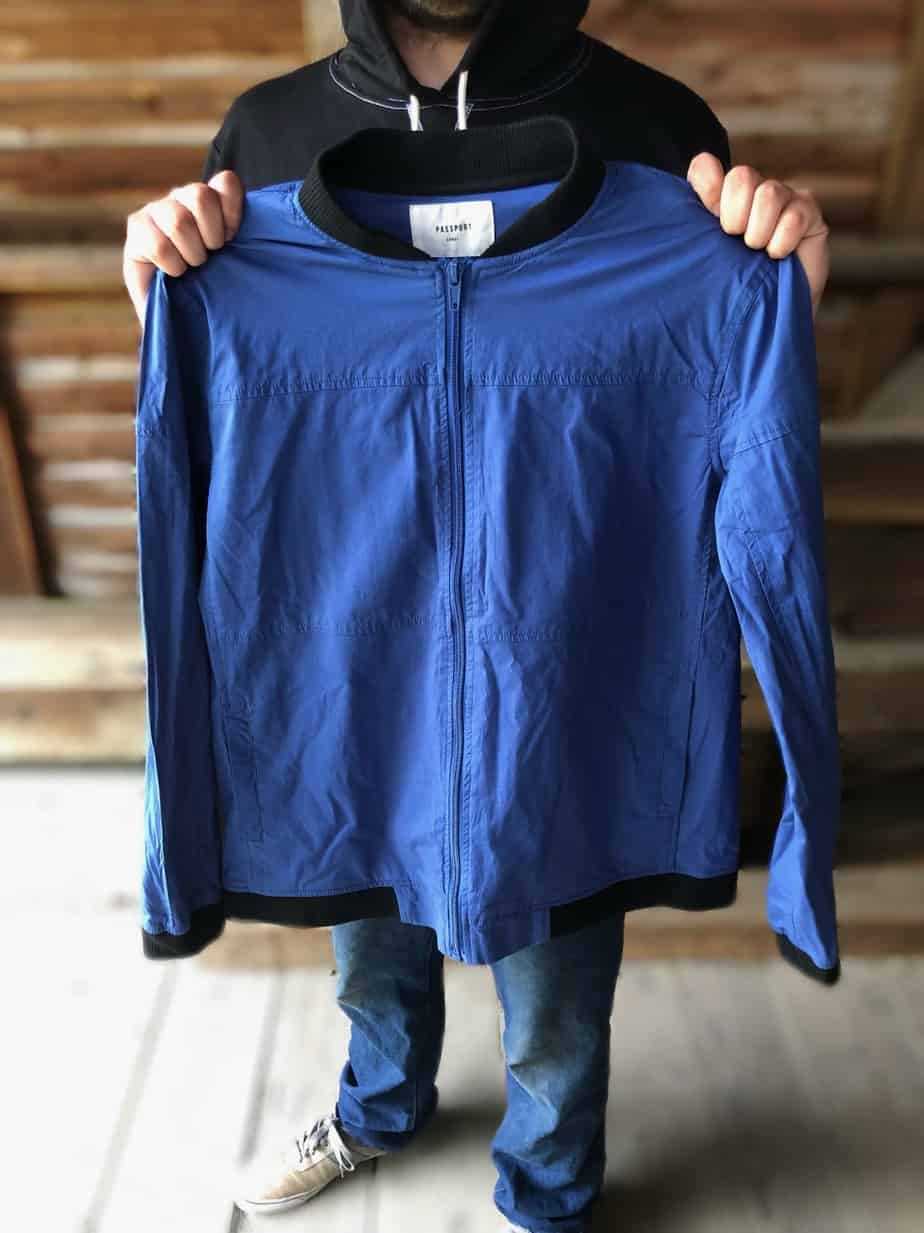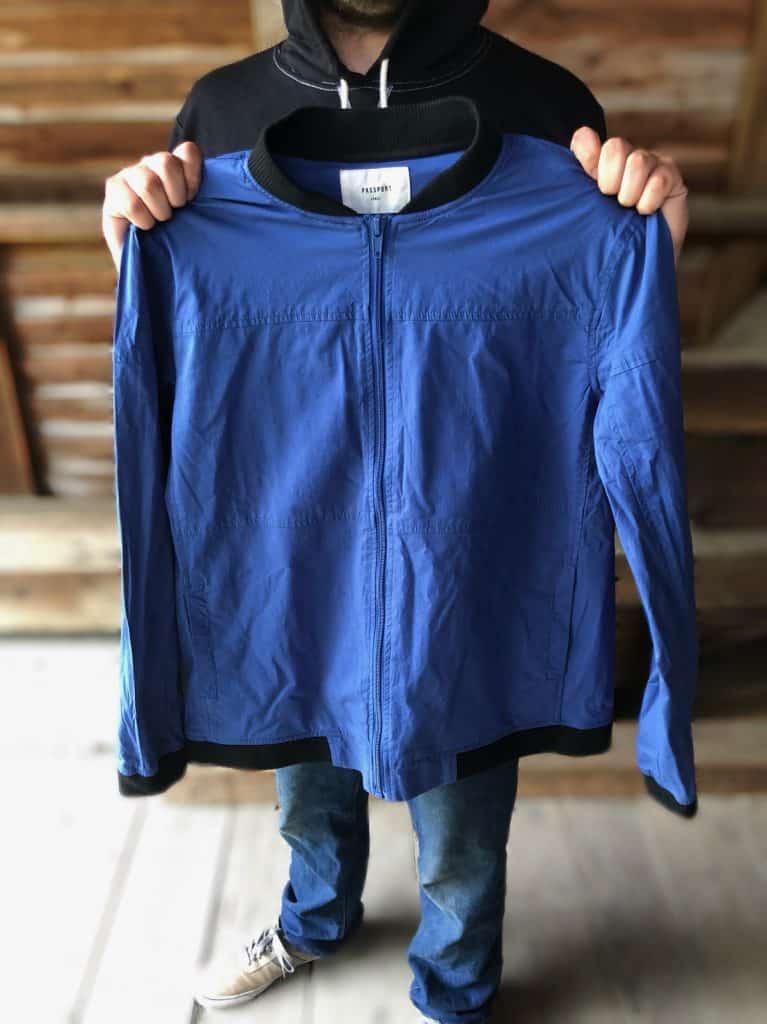 Also, this jacket was sent to us in the middle of summer, which I also feel like was an awkward time to send out this heavy jacket.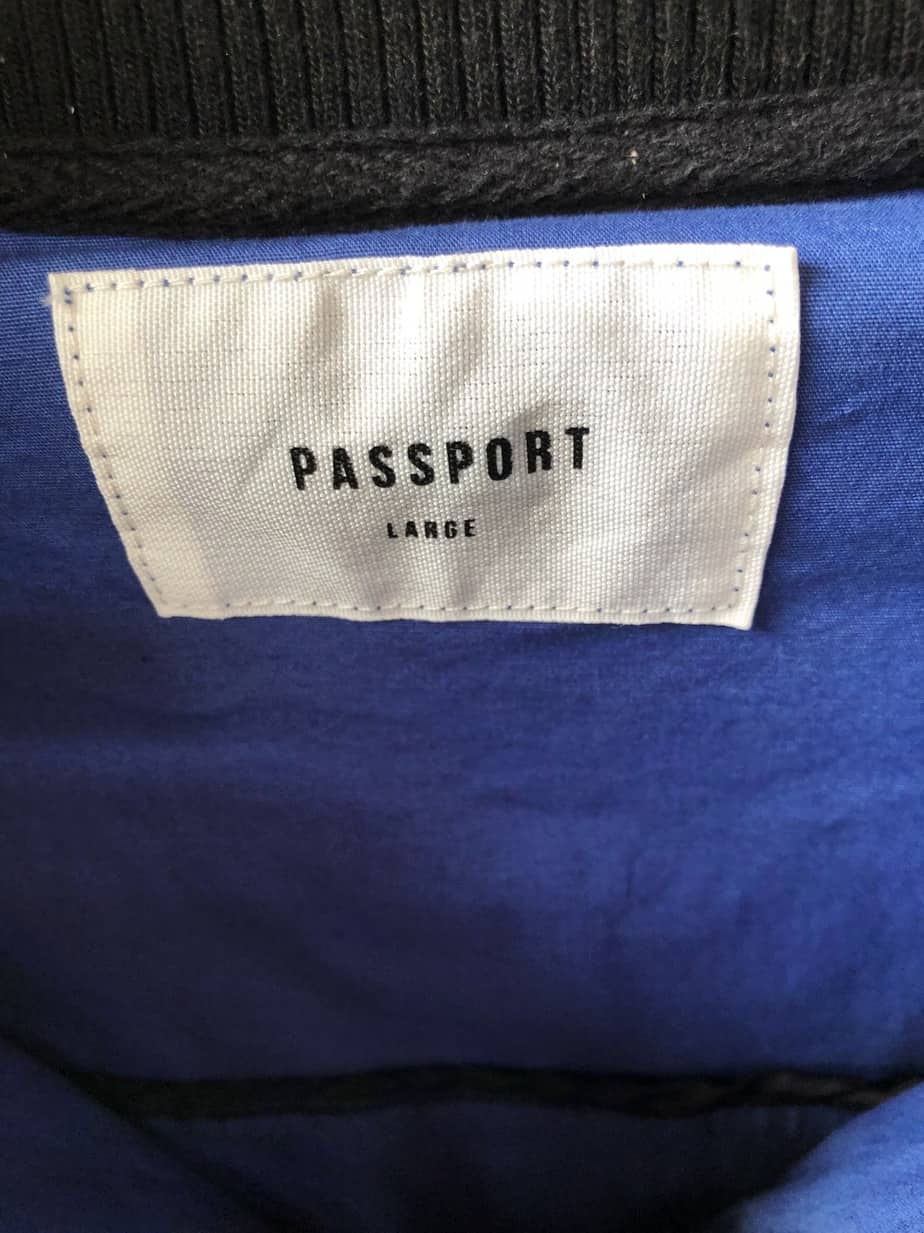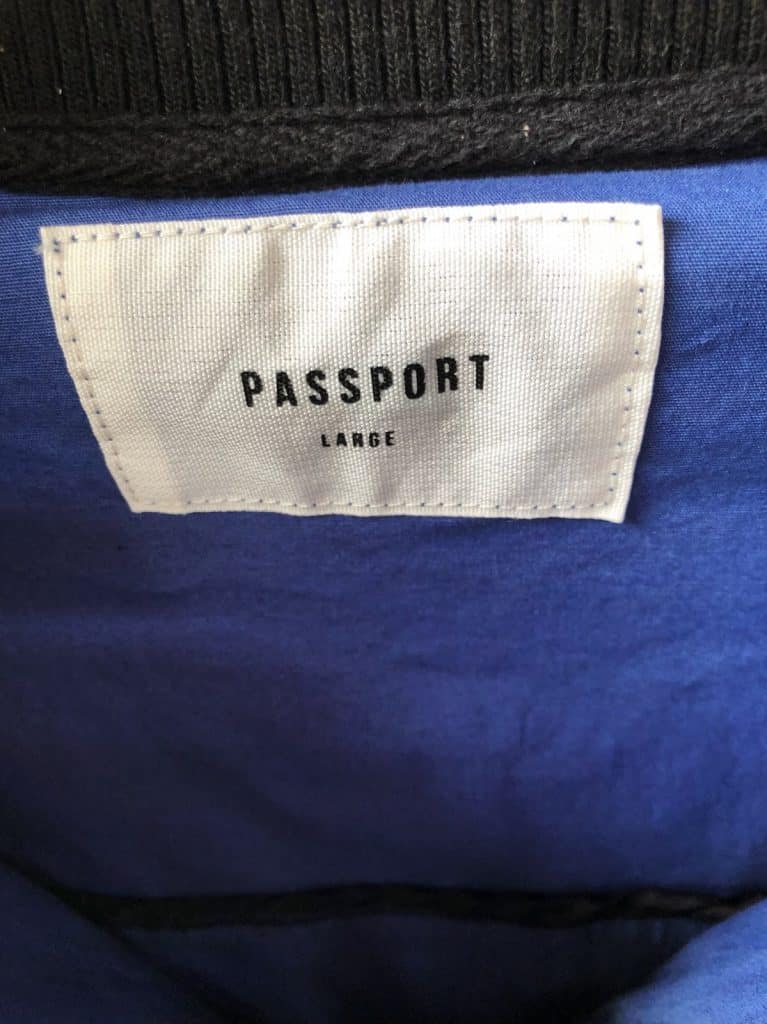 I really like the fit of this jacket, especially in the length of the sleeves and in the jacket itself. We're both happy that the jacket itself isn't too tight, but is loosely fitted enough to be comfortable and breathable.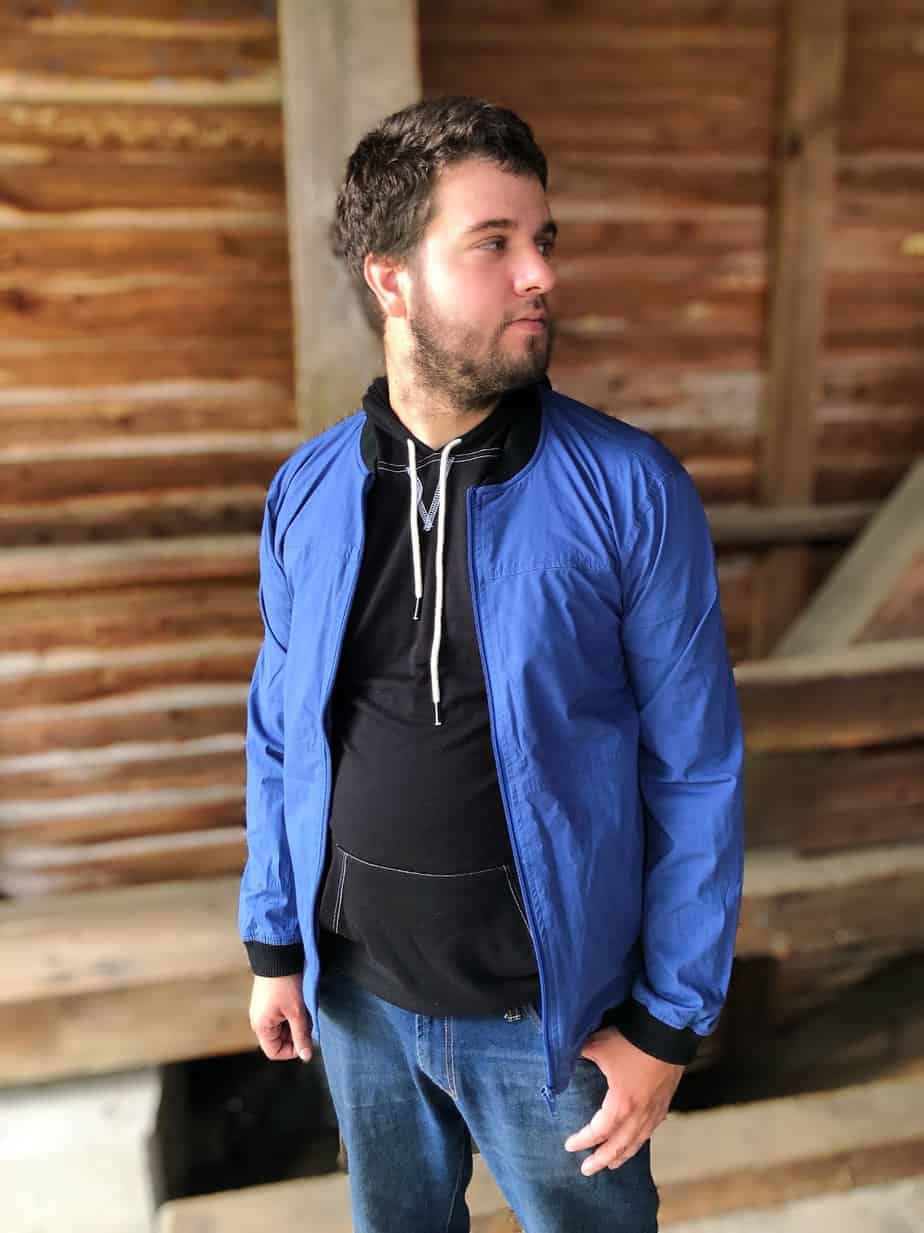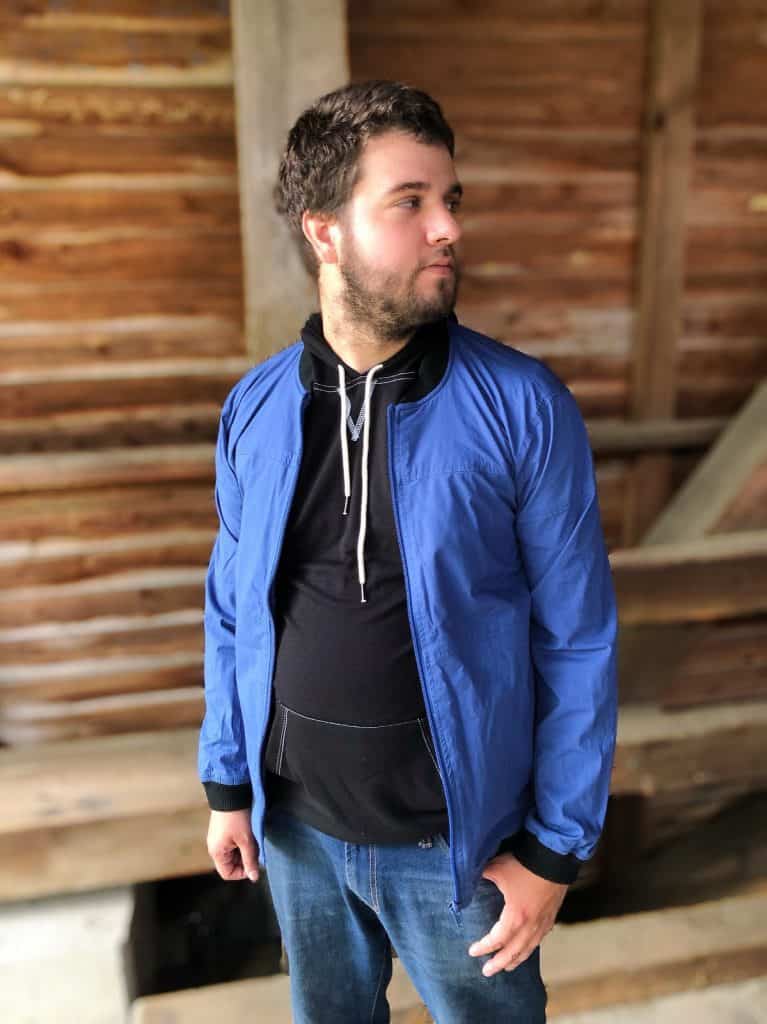 Thankfully, this jacket has functional pocket (which is only ever really a problem in women's fashion). For a complete look, Jake wanted to style the t-shirt hoodie underneath of the blouson jacket. I really loved these two pieces, it really felt like they worked together for a more casual street-style look.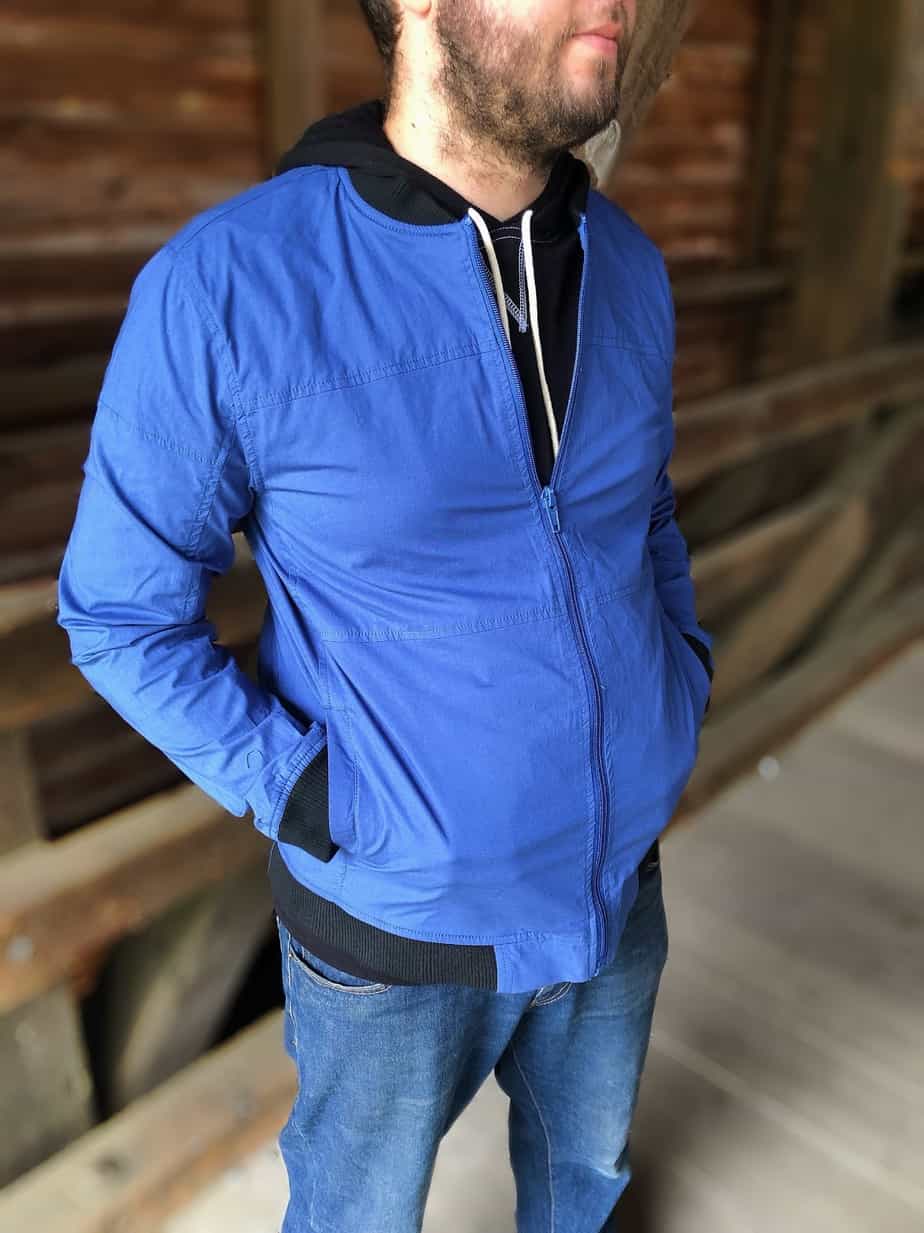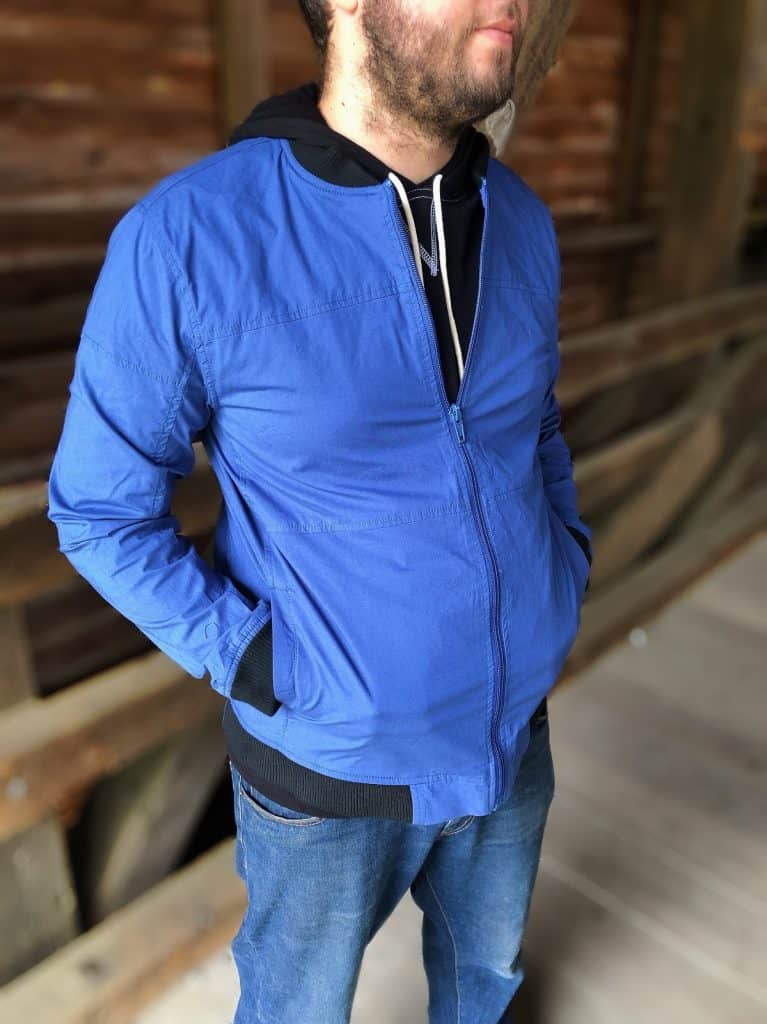 However, aside from the t-shirt hoodie, we both don't feel like this jacket goes with the rest of this wardrobe. Jake said that it's a piece outside of something that he would've ever picked for himself, but he did like that it was going to be a warm piece for when fall rolls around.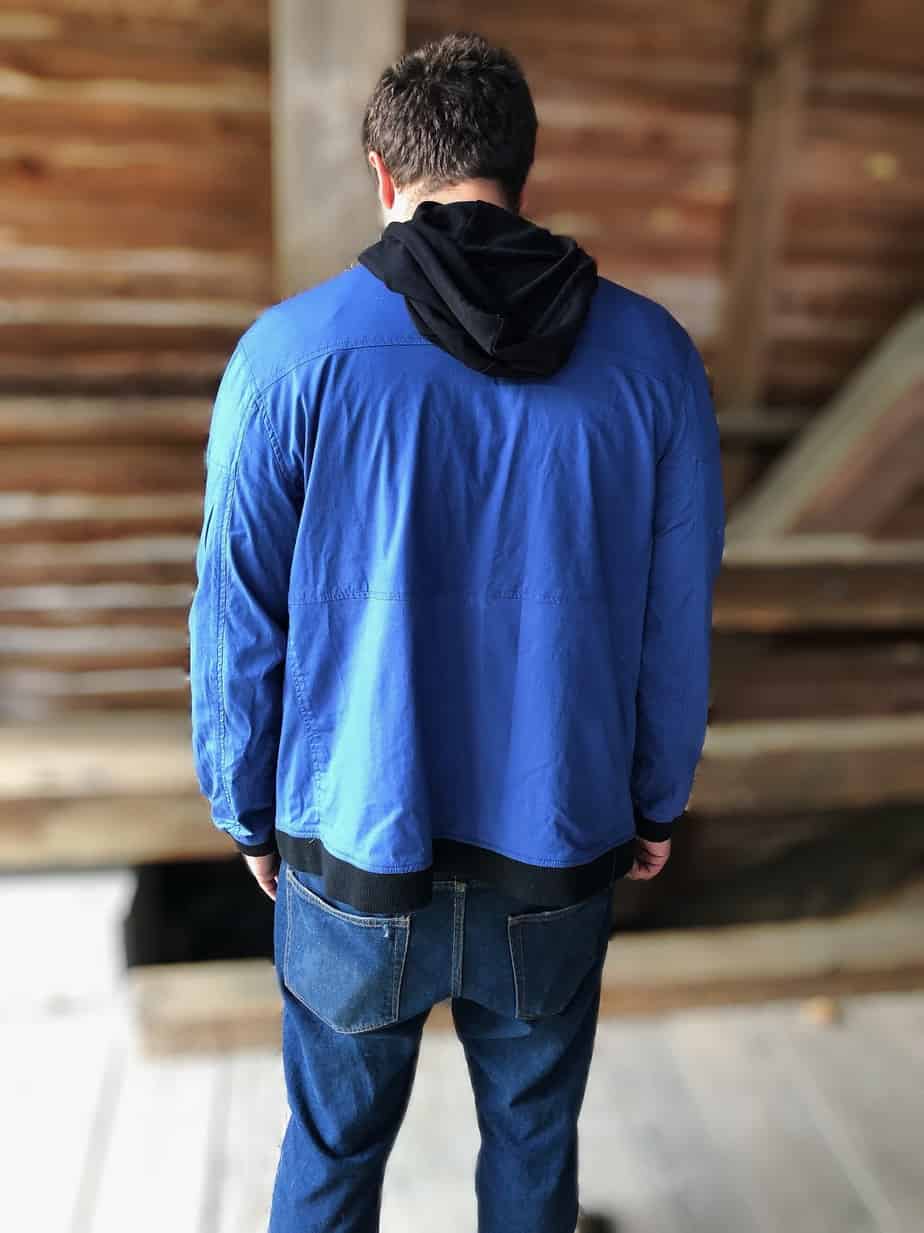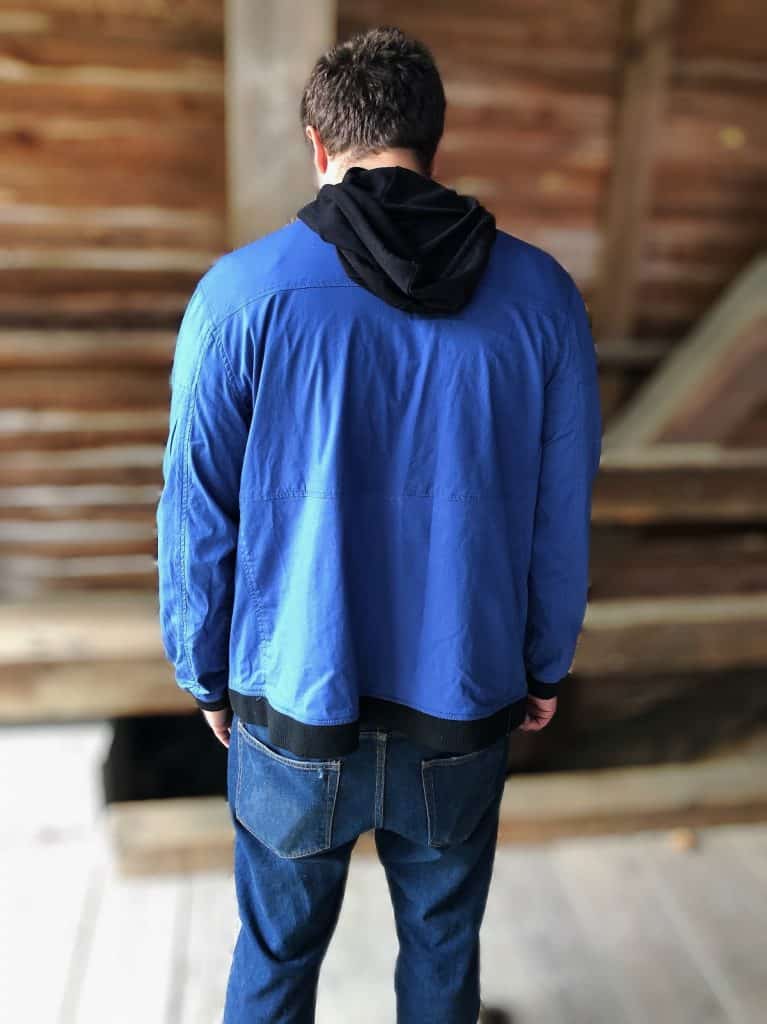 Thoughts on his first Trendy Butler box
Jake loved the black t-shirt hoodie (he's worn it a lot since then). Although he did say that he liked the blue jacket, I've noticed that it's in the back of his closet and that he's chosen to wear other jackets since then.
Being a guy that's really casual, I do feel like the blue jacket is outside of anything that he'd normally wear. However, I think it's something that he could 'dress up' with, so it's always nice to have clothing to lean to for daytime casual special occasions.
He also really loved how comfort both pieces were. He felt that for $65, it's way more than anything that he would pay for if he were out shopping for myself for two pieces. However, as someone with more experience in the fashion industry, I can tell by the feel of the jacket that it's quality and would probably cost somewhere around $60 if we were to buy it in-store.
However, considering that he isn't 100% in-love with the jacket and that it doesn't really fit in with his personal style, I don't feel like the $65 was worth it. He really only got one piece out of the box that he really loved and that we both really feel fit within his style profile.
What sizes does Trendy Butler carry?
Trendy Butler offers a wide variety of sizes and let us know on their website that they were open to inquiries and requests to accommodate any additional sizes as best as they could.
The current sizes that Trendy Butler offers are:
Sizes small to XXL
29-inch waist to 44-inch waist
30 to 36 inseam length
Does Trendy Butler offer returns?
Trendy Butler does offer returns and exchanges. The $65 subscription box fee that you pay is a lot of money and Trendy Butler doesn't try to act like it isn't. Plus, other customers have said great things about their customer service.
Is Trendy Butler worth it?
This is the first box that Jake received and at $65 a month, this casual guy felt like this box was too pricey for him to feel comfortable to continue to keep receiving boxes. He felt that only half of the box really fit what he felt comfortable wearing and what he was looking for in a style subscription box. Even though it was a gift, he wasn't entirely impressed with.
Having been around to see me unbox tons of fashion subscription boxes, he wasn't impressed that Trendy Butler sent out the bare minimum in the box, considering that this was his first shipment. For example, some companies that promise to deliver 4-5 pieces in each shipment will send out five pieces in your first box to help 'woo' you into staying with their box.
Trendy Butler didn't do that with him, which is another reason why I feel like we weren't impressed. Plus, the jacket was wrinkled in the box, which made him and I both feel that extra care wasn't taken to preserve the clothing during shipment.
The pricing of this box is really the only thing scaring us off, especially because he isn't a male fashion expert, so he isn't super familiar with brands and how much they cost. A styling card sent out by Trendy Butler would've been extremely helpful and maybe would've made the $65 monthly gouge a little less scary.
Set the price aside and I feel pretty impressed with this box. I think that Trendy Butler is perfect for the men who:
Hate going shopping for clothes
Don't have the time to go shopping for clothes on the reg
Who are interested in playing with different styles that they wouldn't have picked out for themselves
However, I feel like the price of this box is what kept both of us from being forgiving and being won over by Trendy Butler.
Have you tried the Trendy Butler subscription? Let us know what your thoughts of this subscription are in the comments!
FAQs About Trendy Butler
Is Trendy Butler worth to try?
Yes and no. The men's subscription box is excellent if you want to experiment with new men's fashion and you don't want to shop for hours in the mall. However, if you are affraid of getting two products for $65 this might not be the best subscription for you.
Is it easy to return items from Trendy Butler box?
Yes. If you didn't like some of the items that you received you can conctact the support via email, and they will provide further instructions on how to return the items.
Can I have a direct contact with a Trendy Butler stylist?
No. Even though you fill a form about your preference, you don't have a direct conctact with a stylist in any way while receiving your subscription boxes.
Does Trendy Buttler charge for returns?
No. There are free returns for all items that you have purcased from them, which makes it a great subscription box to try.
Image Credits
All screenshots and images taken by author October 2019.