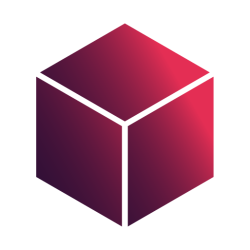 Latest posts by Subscriboxer Team
(see all)
With Meal kit delivery services blowing up in the United States, I decided to pit them against each other to see which service is truly the best. Meal Kit delivery services and subscription box services in general, have been massively increasing in popularity all around the world. In 2012 Blue Apron and HelloFresh brought their services to the United States and just 6 years later evolved into a $2.2 billion-dollar market.
According to Morning Consultant, by 2020 meal kit deliveries will make up 1.3% of the $1.3 trillion-dollar food market. That is $169 billion dollars annually just 8 years into existence. I think it's safe to say that Meal deliveries are slowly taking over the food market and there's no stopping it any time soon
What is Veestro?
Veestro was created by Mark Fachler who was working in the banking business and found himself in the same daily dilemma. Hungry for something healthy and vegan but not near enough time to prepare such a meal. People all over the world go through this same daily dilemma and deal with it but Mark was different. Instead of complaining about the problem he decided to do something about it.
Mark left the corporate banking world and dedicated his time to creating the first 100% plant-based meal plan service. But Mark knew he needed help and convinced his sister Monica to help him in this new business venture and together they created Veestro.
The brother-sister duo grew up in Costa Rica where fresh vegan meals are the daily normal. After moving to the United States for college, the two were shocked that fresh plant-based meals were few and far between let alone the norm. Now they are delivering more than 40,000 meals a month to customers all over the U.S and are quickly becoming one of the most popular prepared meal plan services in the country.
Meal Delivery Plans and Pricing
Veestro has one of the more interesting ordering procedures as you can order A la carte or have 10 random professional chefs "chef's choice" dishes sent to your door. They have 3 simple prepared meal plans with 10, 20, or 30 meals with options such as customers favorites, high protein, or gluten free. Of course, you can always pick your own meals but these simple meal options are a nice touch for people that don't have a preference.
Since the meals are hand-picked by some of the best chefs in the world and come fully prepared and frozen, Veestro is one of the pricier meal plan services. They also have discounts for subscribing to regular delivery of meal packs and charge a bit more for one-time delivery. Here is the pricing breakdown:
$117 + free shipping for the weekly or bi-weekly delivery
$130 + $10 shipping for one-time delivery
$216 + free shipping for the weekly or bi-weekly delivery
$240 + shipping for one-time delivery
$297 + free shipping for the weekly or bi-weekly delivery
$330 + shipping for one-time delivery
As you can see there is quite a pricing difference between one-time delivery and a regular subscription. All meal services have deals like this but Veestro's is a bit higher than most to convince customers to subscribe. The pricing is also higher than most because these delicious meals take little to no time to prepare. Simply pop them in the microwave, oven, or stove and you'll have a fresh plant-based meal in minutes.
Ordering, Shipping, and Delivery
The ordering process for Veestro is quick and easy. Either have random meals sent to you or choose between 50 a la carte meals that are always changing to keep things fresh for returning customers. The option for weekly or one time deliveries are clearly showcased, unlike some other services who try to "trick" you into subscribing. I've tested and reviewed many meal delivery services and most of them have the weekly or monthly delivery option pre-checked and it's a bit of a hassle to choose one-time delivery.
Something that makes Veestro different than others is that they only prep enough food to meet their weekly order. That means you'll never get a meal that has been sitting in the back of a freezer for months. Veestro's prep days are on Tuesday and Wednesday with Thursday and Friday focused on packaging. Meals are shipped on Monday's and generally arrive on Wednesday. This set schedule every week makes planning your meals even easier as you know exactly when your food will arrive.
The meals come in standard cardboard boxes packed with dry ice and lined with a denim-based biodegradable liner to keep the food cold for hours. So if your meals arrive on Wednesday afternoon you don't have to worry about getting home quickly to freeze your meals. They will stay frozen for hours even in hot weather!
Once you've unpacked your food you need to immediately get them in the freezer and hopefully, you have enough room because some of the meals come in bulky packaging. Once you are ready to eat simply take one of the meals and prepare according to the packaging. Make sure you read carefully because each meal has a different recommended way to prepare such as on the stove or in the oven.
What I Got
I chose the 10 meal a la carte plan since I've only had fully plant-based meals a handful of times. I chose the red curry with tofu, country fried chick'n, Thai chick'n stew, mushroom risotto, veggie pesto pizza, baked mac & cheez, Latin stew, tortilla chili, and pad Thai. Every meal was fantastic but I won't be going over every one since there's so many. Instead, I have chosen my top 5 to review a little deeper.
Soba Noodles with Peanut Sauce
This was a stovetop or microwave meal that takes less than 10 minutes to prepare. For all of the stovetop recommended meals, I still put it in the microwave for a minute or so to thaw before throwing it on the skillet. Once on the skillet, it takes just 3 minutes to fully cook and another minute to simmer with the peanut sauce.
This was the first meal I tried and it ended up being one of my favorites. The soba noodles crisped up just a bit on the skillet and gave it a nice crunch and the tofu pieces were perfectly tender. The sauce oddly had a bit of a fish taste but the touch of maple syrup made and ginger made it perfect. This was definitely my favorite of the noodle-based meals and I will definitely be ordering it again.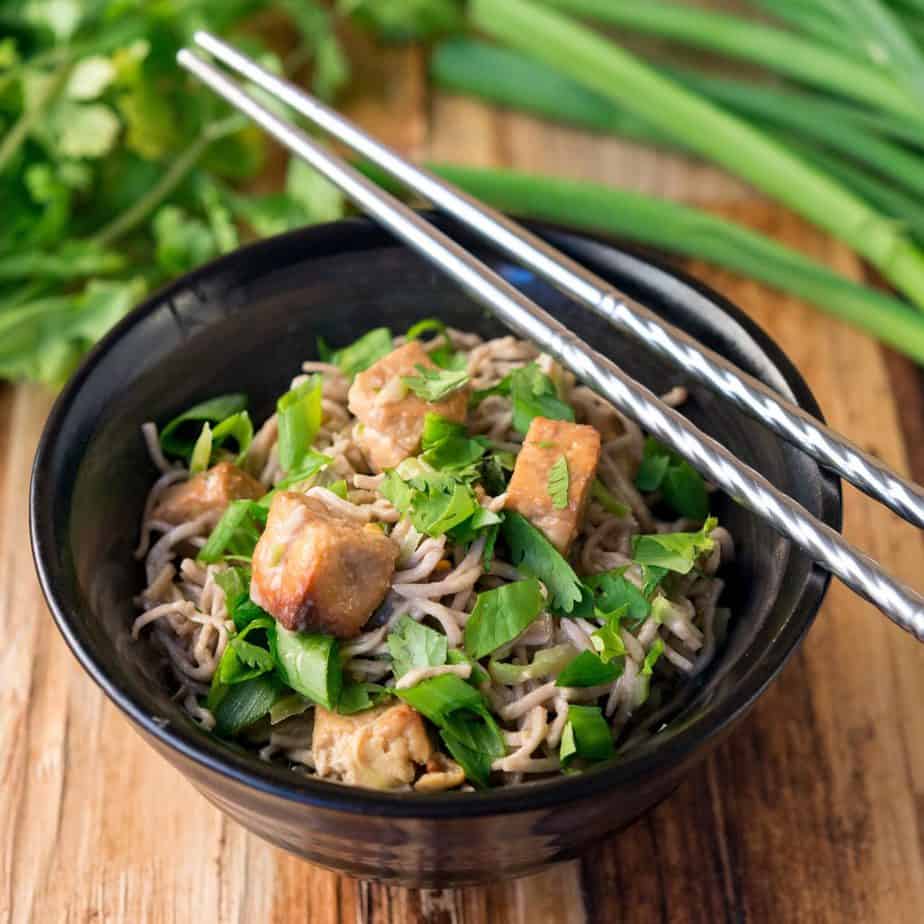 Thai Chick'n Stew
This was another stovetop or microwave recommended meal and again I thawed it out in the microwave first before putting it on the stove. I wasn't sure how I would like the imitation chicken or chick'n, but it was amazing and tasted just like chicken but with a better texture.
The brown rice and veggies were the perfect side dish and the tomato-based sauce was a great mix of spices without being too spicy. This was probably the biggest and most filling meal so if you're concerned about small portions during your transition to healthier eating, this stew will leave you feeling full for under 500 calories!
I'm a big fan of any type of curry so this was an easy pick. With this one, I tried to cook it directly on the stovetop without microwaving it first and it took a long time to defrost in the pan and made the sauce a bit watery. But even with the watered down sauce this was still one of my favorite meals and is currently the highest rated meal by customers.
The coconut curry sauce had lots of bold flavors like lemongrass, Thai ginger, and galangal that really made the tofu pop. The tofu was perfectly tender and not the least bit mushy like it is often served. This was a bit sweeter than I usually like my curry but it was fantastic nonetheless and I can see why this is Veestro's most beloved meal.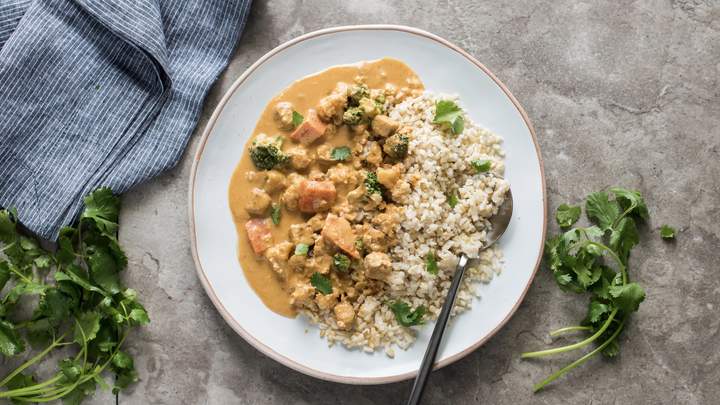 Baked Mac & Cheez Dinner
I've had homemade vegan cheese before and I wasn't impressed so I made sure to get the baked mac and cheez to compare. This was the first oven recommended meal I had and it came out much better than the stovetop meals and wasn't watered down at all like some of the others.
The cheez is made from cashews, coconut oil, and modified food starch. In a weird way, it was almost better than real cheese, especially in small portions. I did eventually get sick of it since this was a big meal but it would make the perfect vegan side dish (great for Vegan diet restrictions). This meal also came with a side of Brussel sprouts and cauliflower that complemented the mac and cheez beautifully.
Veggie Pesto Pizza
The veggie pesto pizza was by far my favorite meal and it was legitimately one of the best frozen pizzas I've ever had. The crust was light and fluffy and the pesto sauce was perfect on the vegan dough. The pizza was also topped with grilled peppers, potatoes, and onions and only took 15 minutes to cook in the oven.
After eating the veggie pesto pizza I was upset I didn't order one of the other pizzas Veestro offers. They also have a classic pepp'roni pizza and a pizza napolitana that I will definitely be trying next. I was shocked at how good the crust was and the vegan mozzarella cheez was perfect with the pesto and veggies.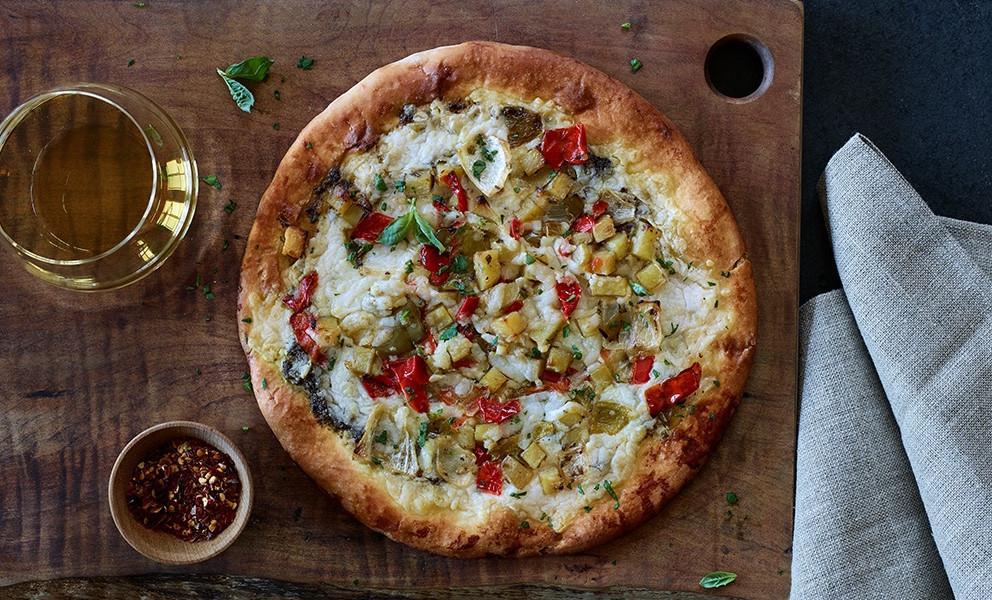 Veestro Pros and Cons
Veestro Advantages
The only 100% plant-based meal delivery service on the market
Delicious and healthy meals with plenty of options and types of cuisines
Set schedule every week with meals coming on the same day so you can plan ahead
Almost no preparation required and most meals can be cooked in a microwave
easy storage and the meals stay good in the freezer for months
ingredients are hand-picked by a vegan chef with 30 years of experience (true vegan meal delivery option)
Clear nutritional label with most meals being under 500 calories
Fast shipping and free with subscription
Recyclable packaging
The choice between a la carte meals and chef picked favorites for easy ordering
Gluten free and protein packed options
Big portions
Veestro Disadvantages
One of the most expensive meal delivery services but you get what you pay for!
Stovetop meals get watery
Cooking time on the packaging is almost always wrong
Not all meals can be cooked in the microwave
No shipping to Hawaii or Alaska (although this is standard with most meal delivery services)
Much more expensive for one time deliveries
No free shipping for one time deliveries
Some meals have bulky packaging and come in all different sizes making storage a bit difficult
Limited breakfast options (not 100% solution for breakfast lunch and dinner)
Final Thoughts on Veestro
Overall I had a great experience with Veestro and will definitely order from them in the future. The ordering process is easy and there is no better feeling than coming home from a long day of work to some fresh and healthy meals delivered on your porch that are ready in minutes.
Every meal was healthy and delicious and even as a lifelong meat eater I thoroughly enjoyed every meal and even forgot they were eating in line with a vegan lifestyle.
Bottom Line: The cost is on the higher end, but if you're looking for precooked 100% plant-based meals or a healthier lifestyle, Veestro should be your only choice. Remember, you can pick and choose which meals you want from this list.
Further Reading on Meal Subscription Services