Latest posts by Alizabeth Swain
(see all)
It always breaks my heart to get notifications on my phone about another baby food recall. Every other day, I hear about baby food brands recalled for heavy metals, arsenic, chemicals, or carcinogens.
Being a parent is already scary enough. As soon as you welcome your new baby into the world, you suddenly become aware of all the dangers this world holds. I hate that feeling.
As a parent, I know you want nothing more than to keep your precious child safe. What I hate even more is that even things that are supposed to be safe for our babies can't be trusted anymore. Baby food, formula, diapers, and car seats pose some risks and dangers.
When I heard about Yumi and their response to heavy metals in baby food, I felt a glimmer of hope cut through my fear. Was there a brand out there that wasn't slacking off on its responsibility to provide healthy and safe meals for babies? Is there a brand out there that cares about the well-being of its customers?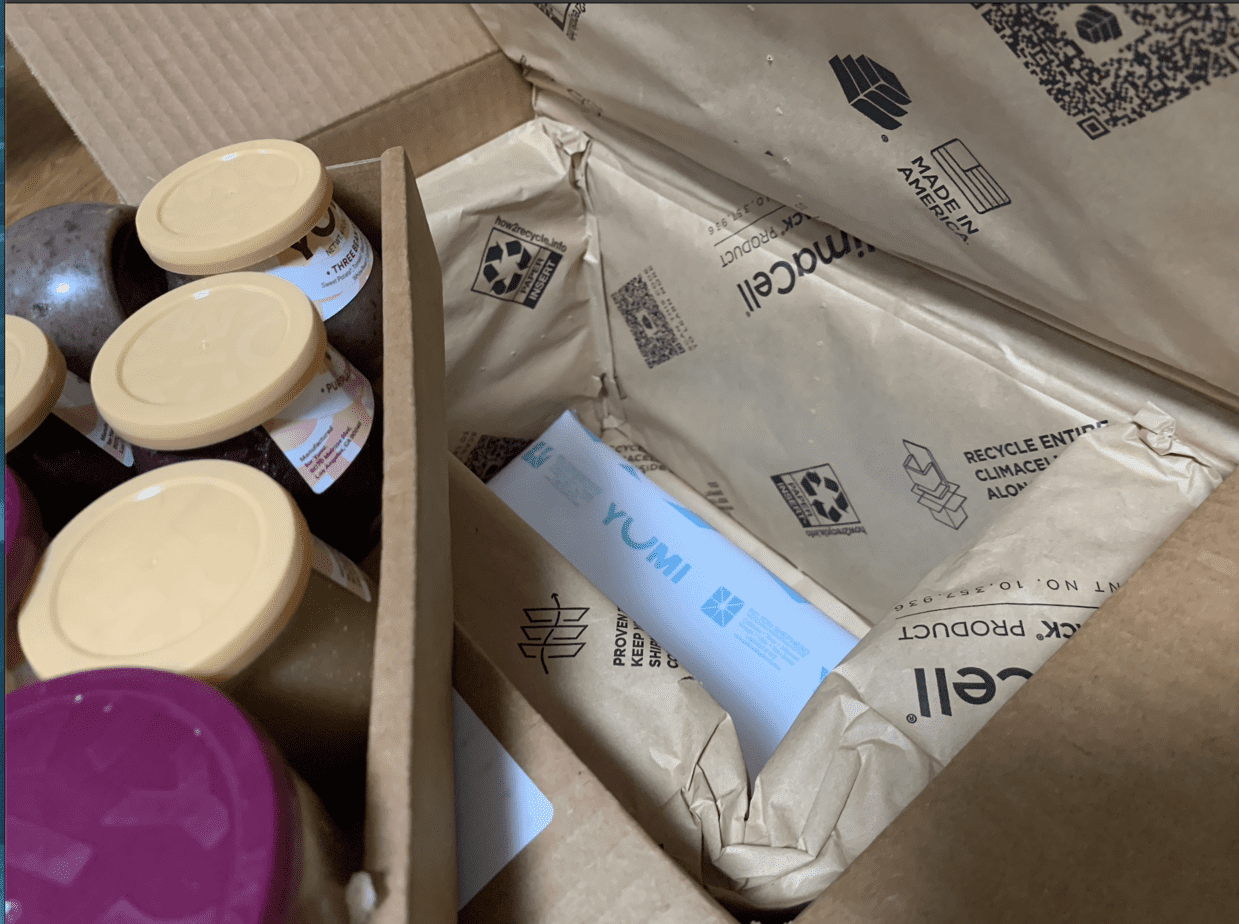 Yumi markets itself to be that brand. I take that very seriously. My son, Nathanael, was born with a severe bleeding disorder and requires weekly injections to manage his disease. I feed him a special diet to reduce his potential exposure to heavy metals to ensure his liver isn't getting bogged down. If his liver gets bogged down, his medication won't work. That means it's a potential life-and-death situation for my baby. That's how seriously I take this.
Let's dive deeper into Yumi and find out what this brand offers you and your babe.
My thoughts: Yumi baby food is a good option if you can afford it, but I wasn't overly impressed. The cost per jar is pretty high, which makes me sad. There are many other great options on the market if you need something cheaper.
You might also be interested in:
What is Yumi Baby Food?
Yumi is a brand that provides organic, no added sugar, dairy-free baby food. You can get your orders delivered straight to your doorstep weekly. In addition, Yumi touts that they don't include the nine common allergens in any of their foods. I disagree with what Yumi is doing here. However, I can explain more about that later.
If you're highly passionate about clean eating, this is the baby food-friendly version of a meal kit. The meals for this brand are developed by a team of professional chefs, pediatricians, and pediatric nutritionists. They offered different stage foods, just like Gerber does, to ensure that your baby's developmental milestones are met with the food they're offering.
All of their jars are jam-packed with a bunch of superfoods. A few of the jars that I ordered from my son included things like cauliflower, sweet potatoes, flaxseed, and quinoa. If you look into other baby food subscription options, most brands offer customizable options to have in your box. However, Yumi does not offer any customization. You're stuck with what they offer.
Here are the ages Yumi baby food caters to:
Stage 1 (thinner purees, safe for 6 months)

Stage 2 (single ingredient thick purees, for 6+ months)

Stage 3 (two-ingredient purees, safe for 7+ months)

Stage 4 (multi-ingredient purees, thicker/creamier. 8+ months)

Stage 5 (several ingredients and seeds/grains, 9+ months)

Stage 6 (pin cable food, 10+ months)

Stage 7 (bite-size pieces, 11+ months)
Yumi sources all its ingredients from USDA-certified Organic Farms and participates in the Non-GMO Project Verified to prepare healthy meals for your babe. I also love how they do regular testing to ensure that there are no heavy metals in their ingredients. While I know nothing is 100%, this did make me feel a lot better about trusting a brand to feed my baby with.
Where I Disagree with Yumi Baby Food
I think there are a lot of great things about Yumi and the food they offer. Not all parents are comfortable with baby-led weaning or have babies that can do BLW, so I think Yumi offering pureed foods is good.
However, I'm afraid I have to disagree with Yumi keeping the nine common allergens out of their food. It makes sense to me why they may offer some gluten-free options. It's important to introduce young babies to the nine common allergens while they're starting to eat real food. According to the American Academy of Allergy and Immunology, introducing children to the nine common allergens while babies are young helps significantly reduce the likelihood of them developing an allergy later in life.
Pricing
The pricing for Yumi is a little expensive. However, I understand why their jars are pricier than other brands. Yumi has incredibly high standards of what goes into their food, and they don't feel they're purees with a bunch of filler ingredients. So whenever your baby eats, they get whole, clean, and nutritionally dense ingredients.
You can spend as little as $3 to get yourself started on the Yumi subscription. How much you pay each month depends on how many jars you want to order. Also, Yumi provides a discount if you're paying monthly.
Yumi offers eight meals, 16 meals, and 24 meals a week options. You'll be spending around $35 per week at eight meals a week. With 16 meals, you can expect to spend $65 a week, and 24 meals a week will run $90 a week. Another perk I liked about Yumi is the offer of free shipping.
The coolest thing about Yumi is that with every order, you get points added to your account; you can redeem these points for discounts, up to $50 off of an order. This lowers the cost of baby food, which is an added perk.
My Ordering Experience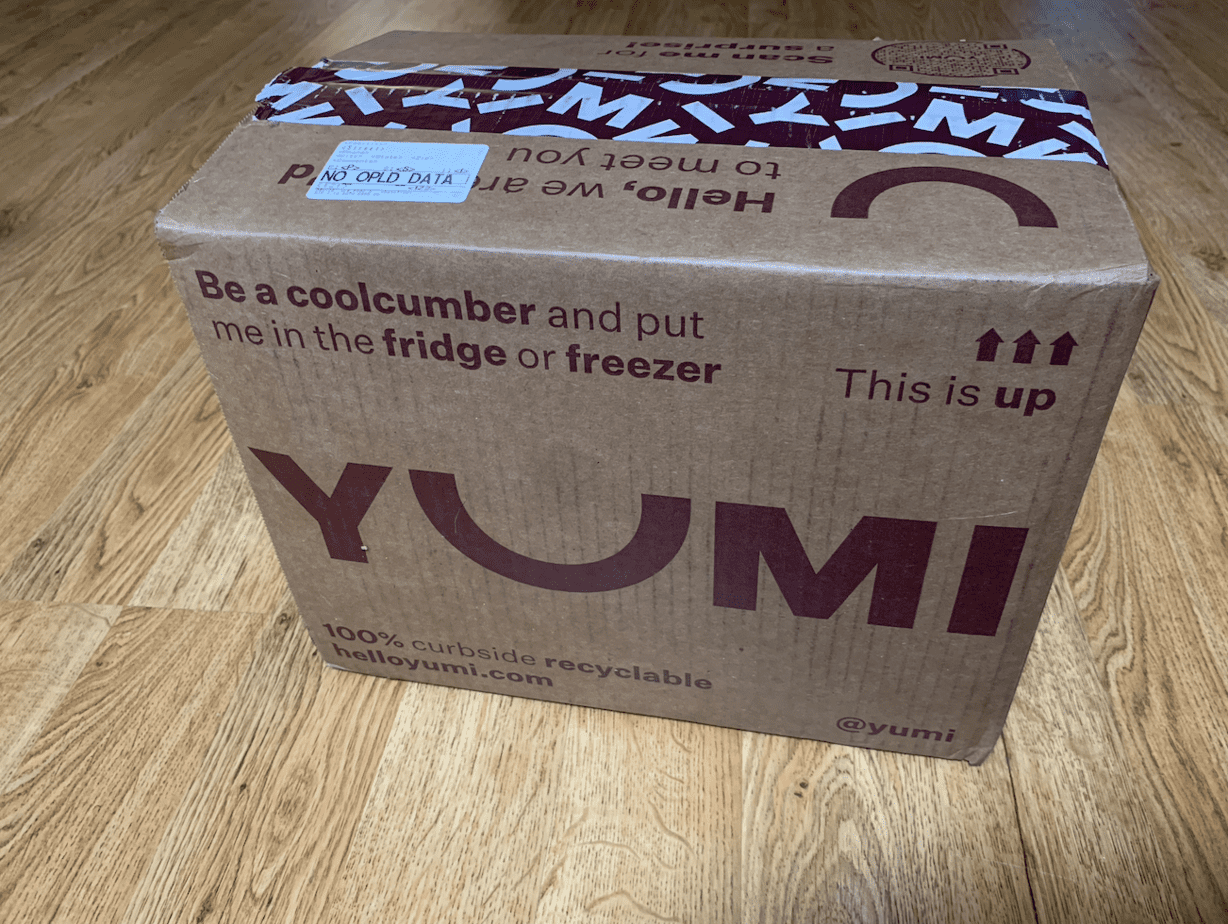 The ordering experience was really easy. I filled out some information about my son, and they matched me with the "best" plan for his developmental milestones. There were a few flavors to choose from, especially when I compared it to other baby-friendly meal plans I've tried.
When I ordered the products for this review, my son was 11 months old. I practiced baby-led weaning with my son. That is different from giving him these blended purees, so it was a little challenging for him. I'm not exactly sure why Yumi didn't give us more finely chopped food in their jars.
According to the website, my son would be on Stage 6, the "pinchable" stage. For this stage, the food prepared in the jars is small pieces that babes can grab with their fingers (working on developing their pincer grasp). Yumi has stage 7, which gives nutrient-dense bites. The only thing offered to use from this category was the cauliflower puffs. I didn't get to choose any of the foods from Stage 6. I was only given a choice to choose from stage 2 (recommended for six months).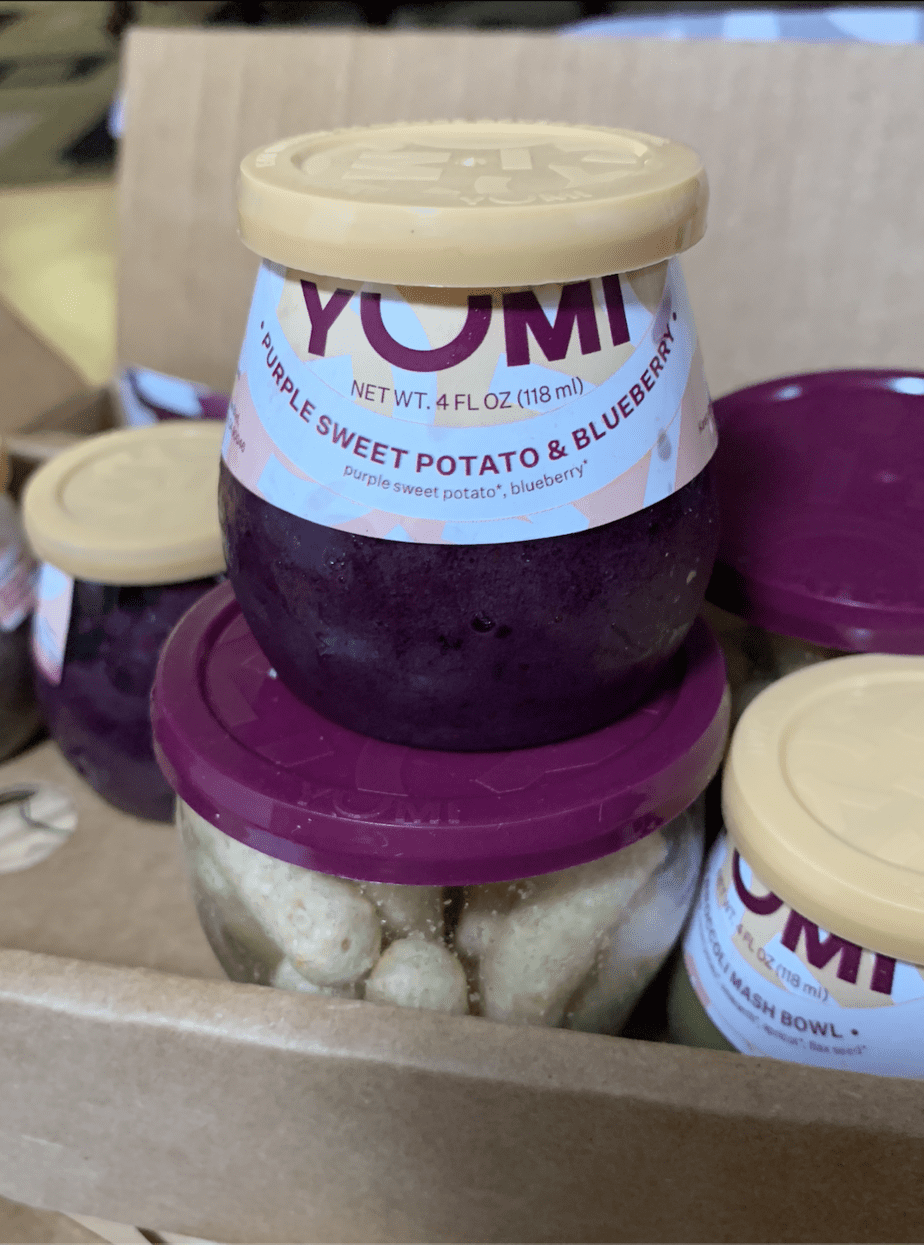 As I was trying to go through it and read the ingredient list and nutrition information for each of the foods offered, it was really frustrating to do so. I would click on one of the foods and have a few seconds to look over the ingredients and nutrition list, and the page would be redirected to the main dashboard.
I made my selections, entered my shipping information, and I was all done. A couple of days later, my Yumi package showed up on my front porch.
I have to say, the entire ordering experience was so easy. I didn't have to put that much effort; the communication on where my package was in the shipment process was amazing, and the package showed up in great condition. This was so easy.
Inside of my order:
Butternut squash bite

Broccoli mashed bowl

Beet chickpea combo

Three bean soup

Purple sweet potato and blueberry

Caulifower puffs
Unboxing
The package itself was super cute. On the outside of the package, I was told to put the order in the fridge or the freezer. I think the packaging was super simplistic, but I adored it. I love how they use purple ink on the exterior box.
Here's what I received:
Two broccoli mash bowls

Two three-bean soups

Two purple sweet potatoes and blueberry

Two cauliflower puffs
My order was missing the beet and chickpea combo and the butternut squash bites. I was missing both jars. I reached out to Yumi's customer service to see why I am missing these jars (see my order sheet for confirmation).
The cauliflower puffs didn't count toward the eight meals I ordered (per the order sheet). After I received my first box from Yumi, I canceled my subscription because I wasn't sure if I wanted to continue receiving boxes. I still haven't heard back from Yumi, and I believe it may be because I'm no longer a paying subscriber.
Despite missing these items, everything was packaged up very well. The inside of the padded box was still super cold, even though I got this box on a warmer day.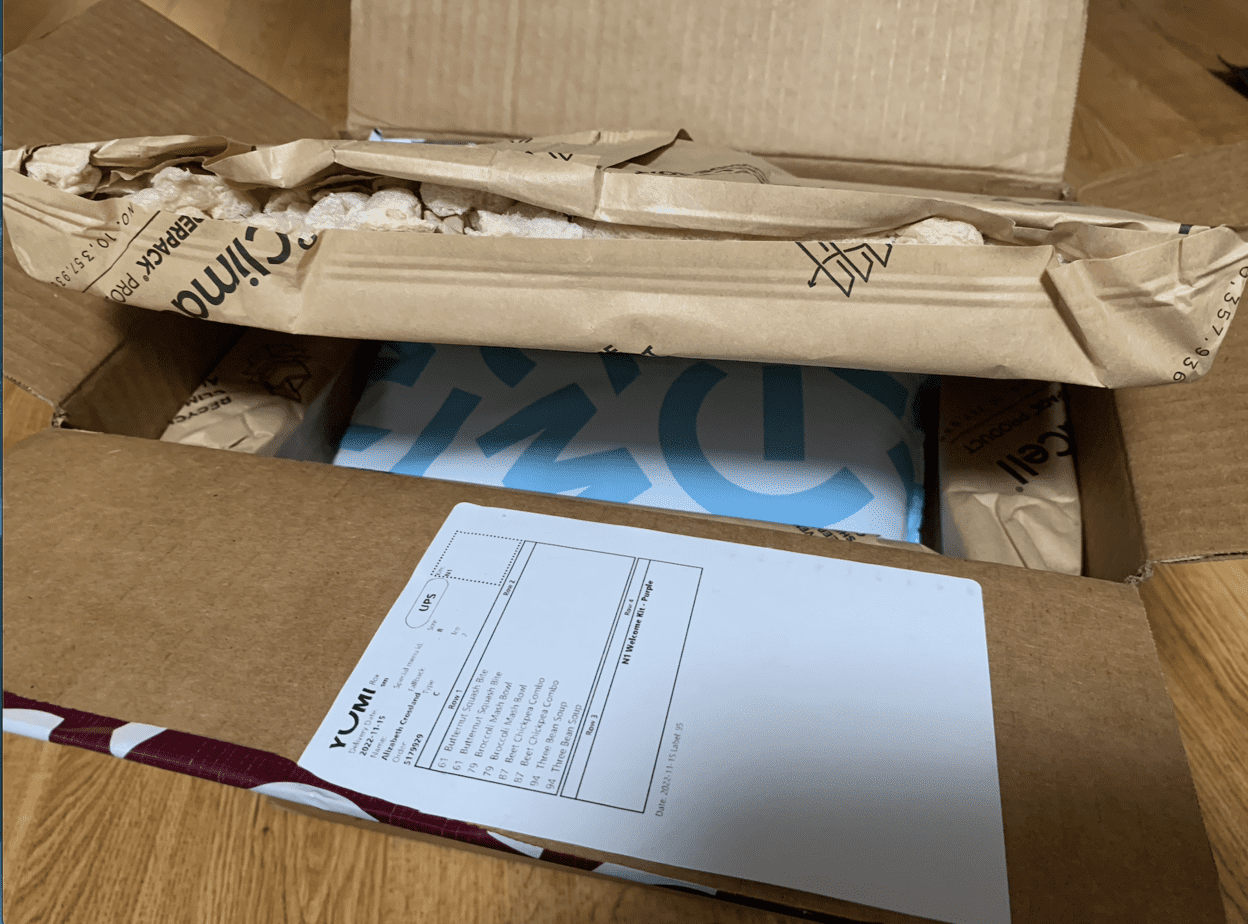 I love how all of the ingredients were included on the front label of the purees. I was excited for my son to try some of these foods, but I was apprehensive about a few others. I know that he isn't a huge fan of beets (which he gets from my husband), but I was so excited to see if the different flavor profiles would make the Beats more appealing to him.
Nate's Thoughts
Considering we did baby-led weaning, this changed Nate's experience; I wish he would've gotten to try some of the foods that were closer in age-appropriateness to his development. I never fed him purees. I would occasionally feed him applesauce, but I would usually put that in his bottle for him to drink with some water.
Unfortunately, that's what I had to do with these purees because they want the appropriate food for where he is developmental. He got frustrated when he couldn't pick up the food with his hands (as I hadn't given him utensils yet), so one of the jars ended up on the floor.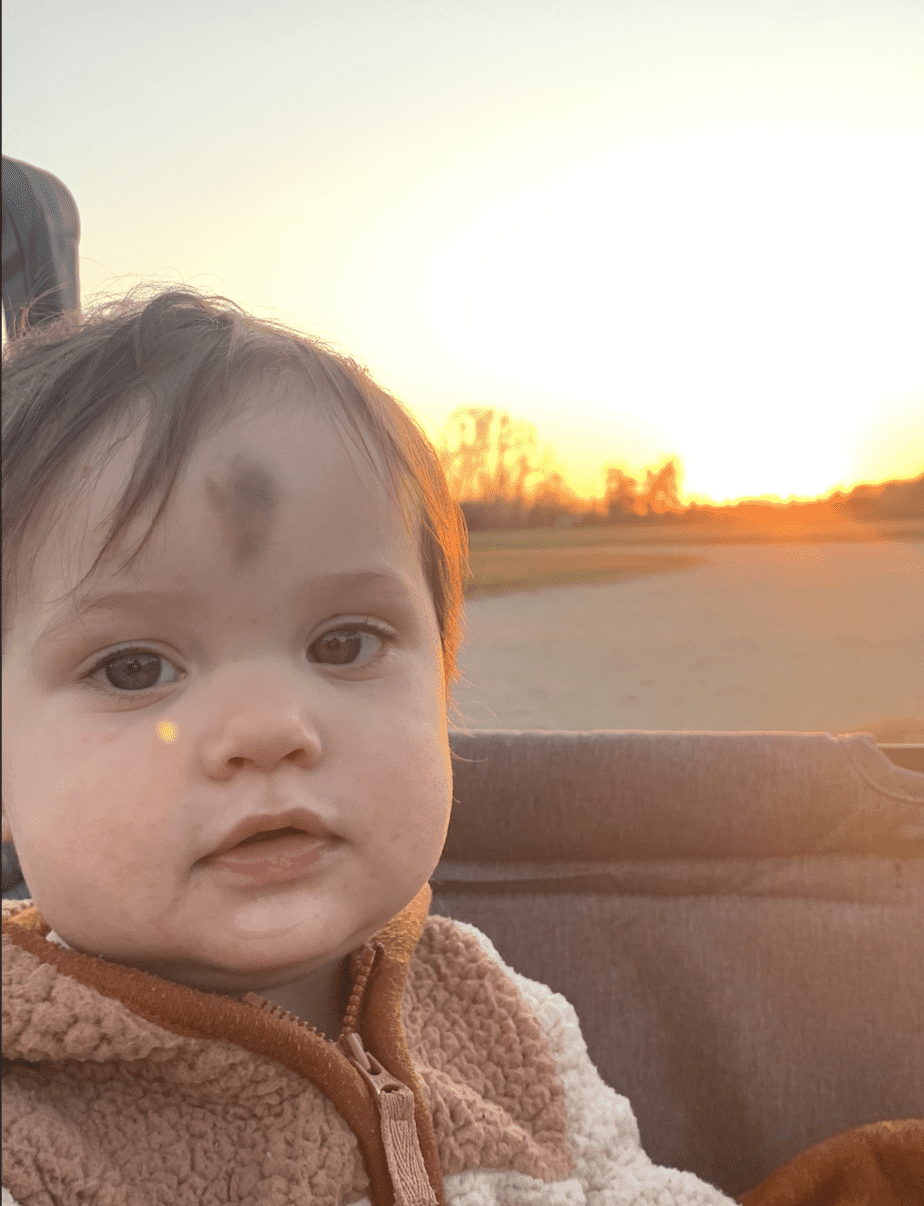 Broccoli Mashed Bowl
Inside the broccoli mashed bold, there was organic broccoli, organic sweet potato, organic amaranth, organic apricot, and organic flaxseed.
This blend's made to support heart health and immunity. I was excited to try this bowl with Nate because of how much iron was inside it. It didn't look at all like what's pictured on the website. The website features a huge portion of sweet potato taking over most of the bowl, with mashed broccoli covering the bottom.
However, it was the reverse in the drawer that I received; there was way more broccoli than a mashed sweet potato. Nate is a huge fan of broccoli, so I didn't have any problems feeding this to him. He didn't get a chance to taste the mashed sweet potato because it was such a small dollop in the bottom of the jar. It mixed in with everything, and I don't think he got the opportunity to taste the sweet potato by itself.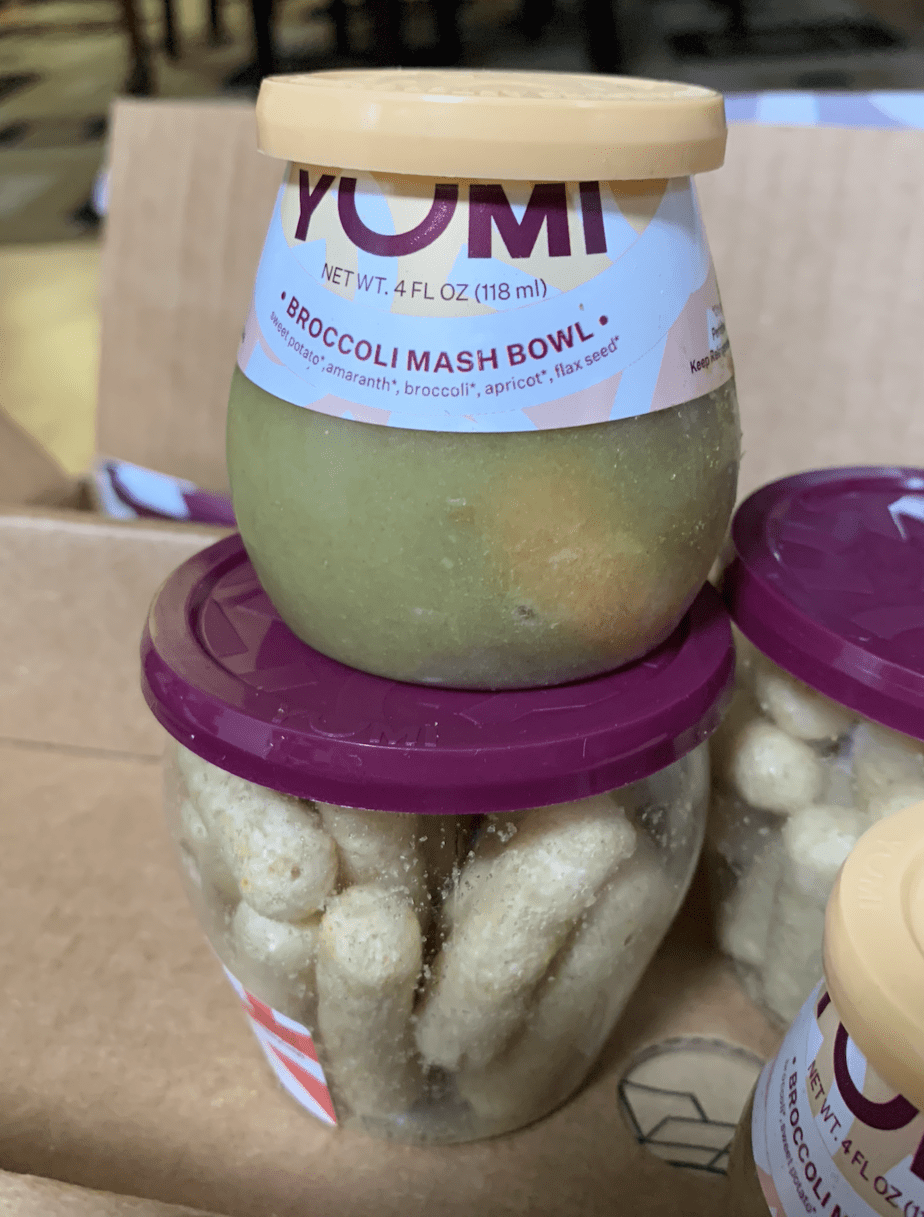 Three Bean Soup
Beans are one of Nate's favorite foods. He could eat black beans all day, every day, if I let him. This soup was made to support the baby's gut health. This soup has a blend of black beans, kidney beans, sweet potato, cumin, white bean, and tomato.
I couldn't get Nate to eat this by himself, so I did end up putting it in his bottle. He didn't seem to be a huge fan of it. I wonder if it's not because he's used to more flavor and seasonings when I prepare his meals.
Be careful; this meal gained Nate pretty gassy. I wish there was more texture available in this soup because that is something that babies should be getting used to as well while they're eating. I hated the soup's smell and was really glad when it was all gone.
Purple Sweet Potato and Blueberry
I knew that this food would be a little bit of a gamble with Nate because he's not a big fan of blueberries. He doesn't like their tartness, which I think is so weird. My son will suck on lemon slices but doesn't eat blueberries. I Can't win them all, I guess.
This blend benefits the development of your baby's bones, but I don't think it will do much for Nate. He did not enjoy this way at all. I tasted it, and it was a bit on the bitter/tart side. I'm all about introducing babies to bitter and tart foods because they help develop their palate. This just wasn't a huge hit for Nate.
Cauliflower Puffs
These were Nate's favorite things out of everything that we tried from Yumi foods. It makes sense to me that he loved these so much because he could grab them and feed himself.
These puffs are baby-led weaning friendly. I loved watching Nate pick them up with his hands and play around with their texture. They are crunchy, kind of like cheese puffs. They had no flavor. If you can imagine chewing on cardboard with the same texture as cheese puffs, you can imagine what it's like to eat these cauliflower puffs. I'm not complaining because they aren't a snack for me. I love that Nate enjoyed them. They were great to throw into the bag and get to Nate as a snack on the go, which is part of why these cauliflower puffs won me so much.
Other Alternatives to Consider
If you don't feel like Yumi is the best option for you and your babe, don't worry. I've got a few other options that I think would be great alternatives for you:
Little Spoon makes nutritious meals, but I wish there was more variety in their sides. I like Little Spoon because they offer friendly options for babies and toddlers familiar with baby-led weaning. I wouldn't say all of the meals offered by Little Spoon are necessarily safe for babies or toddlers due to how the food's cut. I recommend that you thoroughly look at each meal before placing an order to ensure the food's prepared in a way that significantly reduces the choking hazard for your little one. Other than that, I think there's a lot of potential and deliciousness offered by little spoon.
Tiny Organics
Tiny Organics offers 100% organic food. Most of the foods they offer are plant-based, which is a good option if you want your baby to follow a vegan or vegetarian lifestyle. Tiny Organics offers many puree options, too, so feel included if you aren't into BLW! All the food Tiny Organics offers is baby-led weaning friendly, but the food is softer (which will reduce choking hazards).
Nurture Life
This is a great option if you're looking for a meal delivery service that will give you options for your baby and the rest of your family. I like that you don't have to worry about buying several meal plans to get everybody the food they need to eat throughout the week.
All of the meals are prepared to end completely organic. they offer meals for kids divided into different stages depending on the age of your baby. I love that they offer proteins free of antibiotics and filler chemicals. Plus, all they produce is organic, so it's great if you're looking to reduce feeding your babe all of the artificial crap that's in a lot of baby food nowadays.
FAQs
Question: Is Yumi Brand Baby Food Safe? 
Answer: Yes! So far, Yumi hasn't had any recalls on any of its food. All of their foods come from USDA-certified Organic Farms, so there is a level of government regulation in preparing their meals. 
Question: Is Yumi FDA Approved?
Answer: The Yumi bread itself is not technically FDA-approved. However, they use an FDA-approved certified facility to prepare their meals. In addition to being FDA-approved, the facility prepares its meals. Also, it has a hazard analysis critical control point system to ensure no potential contaminants are added to the meals. 
Question: Does Yumi Baby Food Have Heavy Metals? 
Answer: No, Yumi baby foods do not contain any heavy metals. They test for potential heavy metals in all of their ingredients regularly. 
Final Thoughts
I think it's frustrating that I haven't heard back from you about the products that I didn't receive in my order. I don't think the foods they offered for Nate's age were appropriate or supported him developmentally. I also wish there was a better match for my son's developmental age and the food they offered.
Also, the website is not super user-friendly as well. I got frustrated while trying to learn more about each food I was considering buying for Nate, but I had no problem with the checkout process.
Yumi is a good option for moms that can afford it. However, there are better options for moms who can afford it and choose not to or who can't afford it. I understand why the subscription is more expensive because of the lengthy testing process all ingredients must go through before they're made into food. I like the rewards option Yumi offers because this makes their subscription a little bit more feasible for parents. Overall, I'm not impressed with the Yumi, and there are better market options. If you've been eyeing up Yumi and want to try it, there's no harm in trying it to see if it's a better fit for your family than mine.
Related read