Latest posts by Lauren Vigdor
(see all)
I love to try new things, especially when it comes to food; it's one of the reasons why I love subscription boxes so much! I'm also trying to eat healthier, and although I feel like healthy options are taking over the snack aisles in a lot of my local grocery stores, I sometimes don't know where to begin, which is why I decided to do this Delicious Door snack box review.
I figured a healthy snack box would be the best way to try some of these snacks each month without having a pantry full of family-sized bags of lentil chips or, worse, "healthy" snacks that aren't even remotely health-conscious. I used to see the occasional bag of Terra Chips or "healthy" popcorn whenever I walked down the snack aisle, and now there are dozens of brands of chickpea puffs and veggie straws.
So, unless I wanted to stand there and read every label (and Google a lot of terms I'm unfamiliar with), I was going to have to find someone reputable to make healthy snack recommendations to me—enter Delicious Door.
Bottom Line Up Front
I really enjoyed Delicious Door! I thought it was excellent value for the price, and I liked that I received a variety of flavors and types of snacks in my order. However, I do wish they had some more customization options or different types of snack boxes to choose from.
What Makes Delicious Door Different From Other Snack Boxes?
There are so many different snack boxes available to choose from, and most of them cater to a specific niche. Delicious Door is specifically a healthy snack box. All of the snacks they include in their monthly box are plant-based, gluten-free, and free of GMOs. According to their website, only 3% of snacks make their cut—there's no explanation for how they arrived at that number, but I'm guessing it's their way of saying that they're selective about what they put in their boxes.
How Much Does Delicious Door Cost?
Delicious Door has a few pricing tiers available for their subscriptions, depending on how many months you commit to prepaying for. Regardless of which plan you choose, you won't spend more than $36/month. I feel like Delicious Door is refreshingly affordable compared to many of their competitors. The most expensive plan only costs $3 per snack. I also found a promo code online and got my first box for just $18—that's only $1.50 per item!
The different payment tiers are as follows:
Monthly subscription:

$36/month

3-Month prepay:

$102 ($34/month)

6-Month prepay:

$198 ($33/month)

12-Month prepay:

$384 ($32/month)
What Kind of Snacks Will I Get in a Delicious Door Snack Box?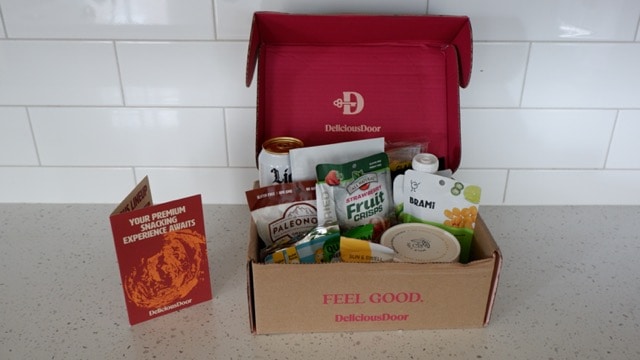 Each box contains 12 healthy snacks, most of which are single-serve. Six items are recurring "fan favorites," while the other six are "new discovery" items that haven't been featured by Delicious Door before. Of all of the products I received, I had only heard of one before. In my box, there were three breakfast items, three drinks (one of which was also a breakfast item), and seven snacks, but the breakdown seems to vary from box to box.
Some of the items you may receive include:
Salty snacks like popcorn or kale chips

Sweet treats like date and nut balls or chocolate

Dried fruit and nuts

Protein or granola bars

Beverages

Quick breakfasts

Pantry staples like chickpea pasta or chocolate tahini spread
The Gift Shop
It's not live yet, but Delicious Door is working on a marketplace feature where you'll be able to shop some of their favorite snack items and essentially build your own box. I'm mentioning it here because I think that once this feature launches, it will be an excellent way to put together a personalized healthy snack gift for a friend or loved one. Many other snack boxes offer features like this, so I'm happy to see that Delicious Door is adding this.
My Experience Ordering a Delicious Door Snack Box
I decided to order a Delicious Door subscription box to test it out.
Ordering Delicious Door
Ordering Delicious Door was super easy. They only have one snack box available each month, and when you sign up for a subscription, they'll ship you a new box around the 20th of each month. I chose the pay-as-you-go monthly membership for $36, and as I said above, I used the promo code "HELLO" and got half off my first box. (I'm not sure if that's a continuously running promotion, but it's worth a shot!)
Delicious Door Unboxing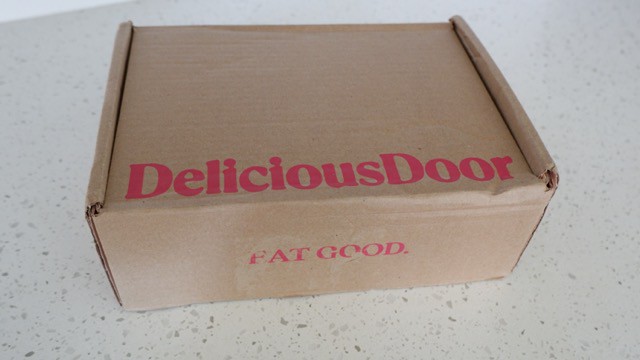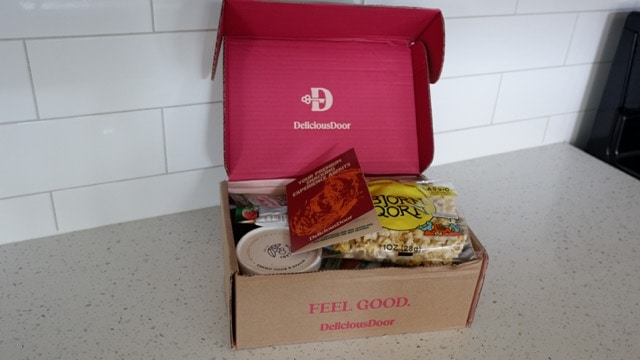 Depending on when you order your first box, you might have to wait a week or two for delivery. If you order your first box in the first two weeks of the month, it will ship out with all of the recurring subscriptions around the 20th. If you order a box within the last two weeks of the month, it will ship within two or three days.
I ordered my box toward the end of the month, so I didn't have to wait too long for my snacks to arrive!
I expected the snack box to arrive inside a larger shipping box, but it was shipped right in the box shown in all of the website photos—no extra padding or anything. I'm a packaging minimalist, so I loved this, but I do wonder if they've ever had issues with anything arriving crushed or damaged.
That being said, the box was sturdy, and all of my snacks arrived undamaged. Though there wasn't even a layer of paper padding or anything inside the snack box—I opened it up, and all of my snacks were just hanging out together with a little pamphlet and nothing more.
The pamphlet went into a little bit of detail about the 12 snacks in my box, including highlighting key ingredients and why they promote health and wellness. It was a nice touch that helped me understand why these snacks are healthy choices.
What I Got in My Delicious Door Snack Box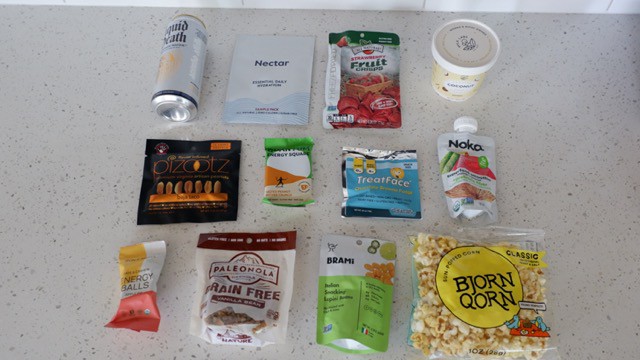 I was pretty amazed at how many snacks they packed into a somewhat compact box. I really appreciated the variety of snacks I received as well. Below is everything I found in my first Delicious Door snack box.
Bjorn Qorn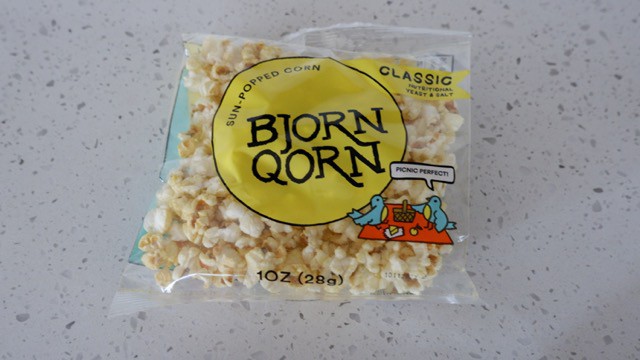 This was one of the first things I tried, and it ended up being one of my favorite snacks in the box! It's sun-popped popcorn tossed with nutritional yeast and salt. It was simple and savory—my fiance and I finished the bag right away.
Strawberry Fruit Crisps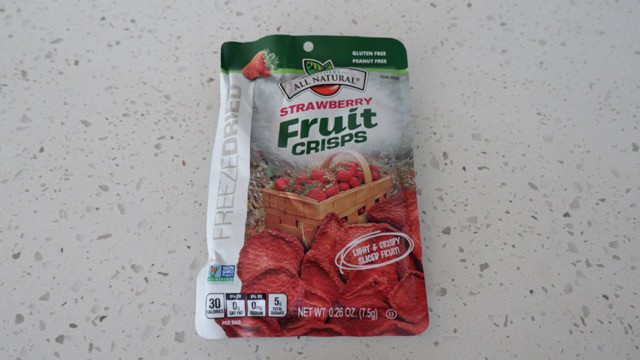 This was an interesting addition to the snack box. It was just a little pouch of freeze-dried strawberries, which I've had as an ingredient in things before, but I wouldn't normally choose on their own as a snack (I don't know why—I snack on dried fruit all the time). They were sweet and tart and would be perfect in cereal or on top of yogurt and granola.
Pizootz: Baja Taco-Flavored Peanuts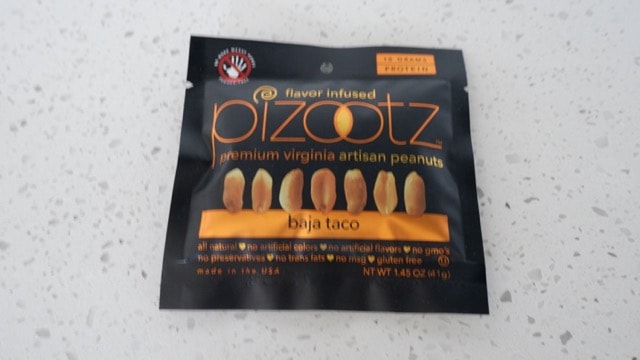 This was a fun one! They were flavored peanuts with some intense cumin and chili spice flavors—not exactly what I would think of when I think "Baja tacos," but they were unexpected and entertaining in their uniqueness. I shared these with some family members, and while I probably wouldn't go out of my way to eat these again, they were fun to try.
Apple Pie-Flavored Date and Cashew Energy Balls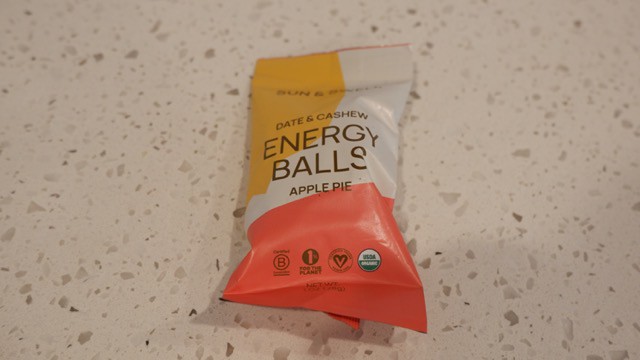 These were really good! They tasted exactly how I expected based on the ingredients and the way they looked—sort of like ball-shaped Lara Bars. They tasted like apple pie and were soft and sweet thanks to the dates, with added crunch from large cashew pieces. There were two energy balls in the pouch—the perfect amount for a slightly sweet, satisfying snack.
TreatFace Chocolate Brownie Fudgy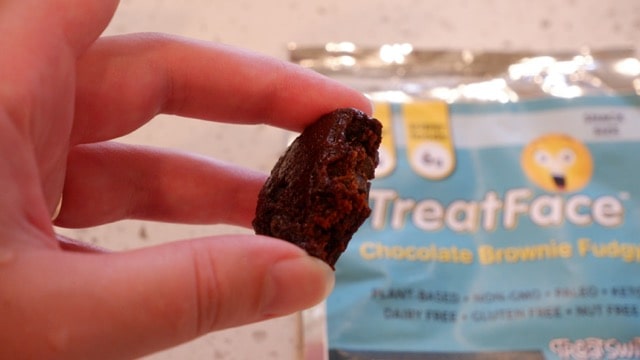 This was the only thing in the snack box that I really wasn't a fan of. It looked like a brownie but didn't taste like one. It tasted super bitter and more like dried fruit than a brownie—it honestly would have been better without the cocoa. I did have fun watching my fiance's face when he tried a bite, so it wasn't all bad.
Brami Italian Snacking Lupini Beans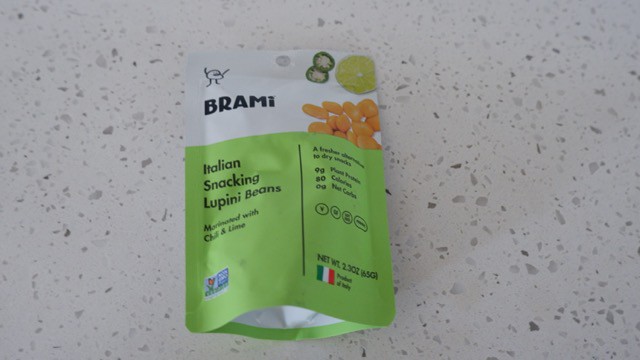 These were not something I would even consider snacking on, but I enjoyed them. At first, I expected them to be crispy and baked or fried, but they were actually pickled. There was way more lime flavor than chili, but I thought they were tasty. The texture was firm and a little wet—it reminded me of edamame. I had never heard of lupini beans before, but apparently, they're a fairly common snack in Italy. I love trying new things and was happy to find this in my snack box.
Noka Superfood Smoothie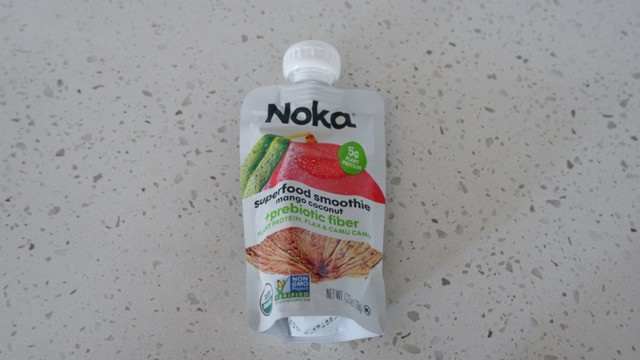 I'm not gonna lie, I kinda felt like my two-year-old niece drinking from a little pouch, but this smoothie was so convenient, and the flavor was actually really good—it was kind of a cross between banana and mango. The smoothie was just a tiny bit gritty, but it was worth it to me for how quick and easy this was for breakfast on a busy morning.
Toasted Coconut Cinnamon Oatmeal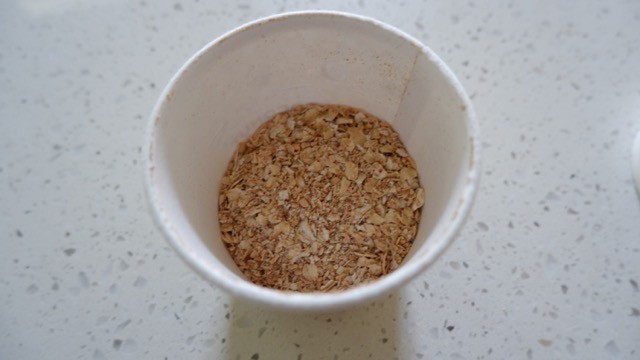 Like the smoothie, I was glad to find some quick breakfast options in my Delicious Door box. This oatmeal was not very sweet, but the flavor was good, and it was hearty and filling. The subtle pieces of coconut were nice, and it was super easy to make.
Liquid Death Mountain Water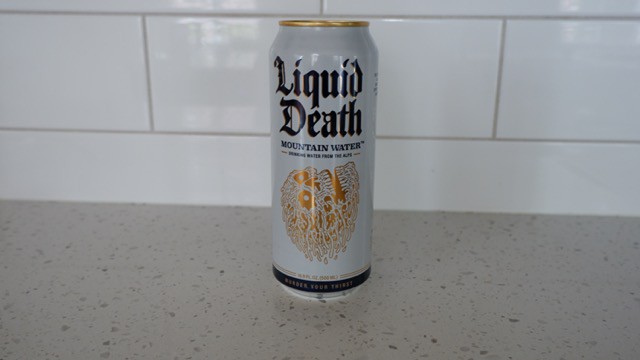 This was the only item in my snack box that I had ever seen before, and I must say, despite knowing that it's just canned water, I was curious—there has been so much hype around this product! I tried it, and it really was just canned water, but I guess it's a bit more eco-friendly than bottled. I wish they had included the sparkling water instead of the still since I feel like it would have been a little more interesting, but I have to say it was fun to try this since I see it everywhere and probably wouldn't have bought it otherwise.
Nectar Essential Daily Hydration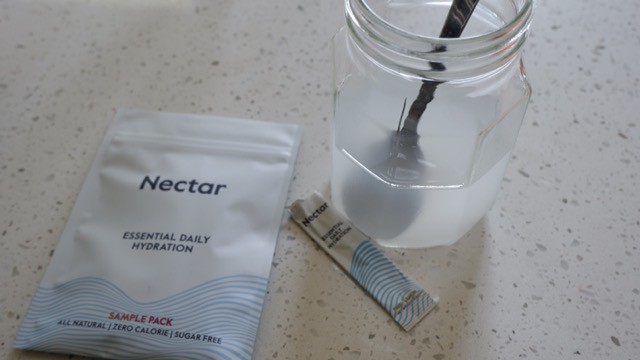 I've been a Liquid-IV brand loyalist for a few years now, ever since I was introduced to them when I was bartending on an island rooftop in the summertime. I've known that there were other hydration powder brands, but I didn't really bother to try many of them until now. These were really good! I'm not usually a fan of Stevia (I think it has a weird aftertaste), but I know many people swear by it as a sugar substitute. I got a sample pack of six flavors of this powder. It was easy to mix into a glass of water and tasted really good!
Quantum Energy Square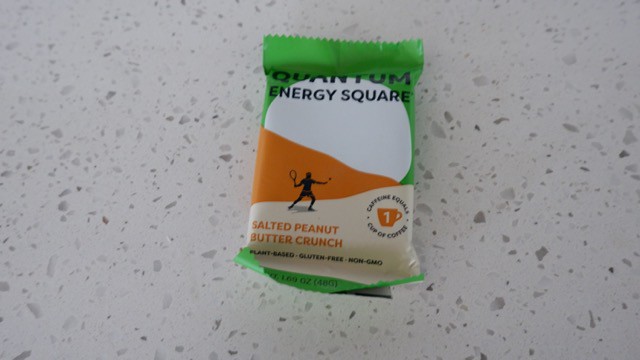 This one ended up being another of my favorite things in the box, and I never would have guessed it when I was initially going through everything. It was essentially a caffeinated protein bar, but it might have been one of the best protein bars I've ever had—it actually tasted like food, unlike a lot of the protein bars I've choked down while hiding in the kitchen between busy restaurant shifts. The square was salted peanut butter flavored and contained the same amount of caffeine as a cup of coffee—super efficient, and it mostly just tasted like crushed peanuts!
Paleonola Granola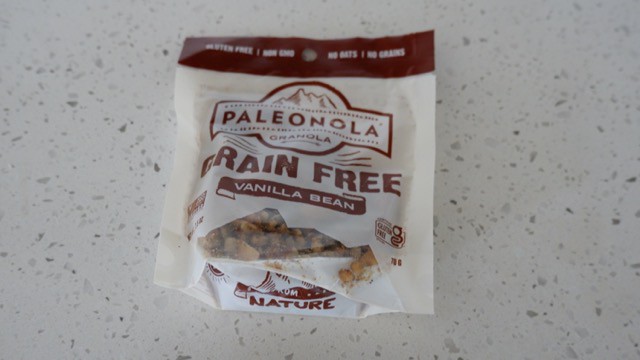 This was another absolutely delicious snack. After I opened the bag to taste it, I meant to save the rest to eat with yogurt for breakfast, but I ended up just eating it all straight out of the bag. It's oat and grain-free "granola"—essentially just nuts and seeds flavored with vanilla and maple syrup. I actually went on their site to buy a bag of it, and it and the vanilla bean flavor that I tried is currently sold out—bummer.
Canceling Delicious Door
Canceling my order was just as easy as signing up. All I had to do was go to "Manage Subscription" under "My Account" and hit cancel. Because I signed up for the monthly plan, my subscription was canceled immediately, and I wasn't charged for anything else. If you've prepaid for several months, your subscription will be canceled after those months are up.
Pros and Cons
Pros
There were a ton of products in this box!

With the half-off discount code I found, I only ended up paying about $1.50 per item.

Everything was healthy and made me feel good.

I enjoyed all but one of the snacks in my order.

I was happy with the variety of flavors and types of snacks I received in my order.

Ordering, canceling, and pausing your subscription are all very easy.
Cons
The snack box isn't customizable in any way.

While I loved the inclusion of breakfast items and beverages in my snack box, I felt like there could have been one or two more "volume" snacks.

I wish there were different types of boxes to choose from—either broken down by diet (Whole-30, paleo, etc.), by snack type (all sweet, fruit and nut, crunchy snacks, etc.), or by box size.

Although it is apparently in the works, I wish they had their "Gift Shop" marketplace up and running so that I could create custom gift boxes.

If you have specific food allergies, Delicious Door might not be for you (for example, my box included several items containing nuts).
Other Alternatives to Consider
If you don't think Delicious Door is right for you, I would recommend one of the following alternatives instead:
Urthbox

is very similar to Delicious Door, but I like that you can choose from different plans. They ship monthly healthy snack boxes, but you can choose from four different size boxes and select whether you want the classic, vegan, gluten-free, or keto box.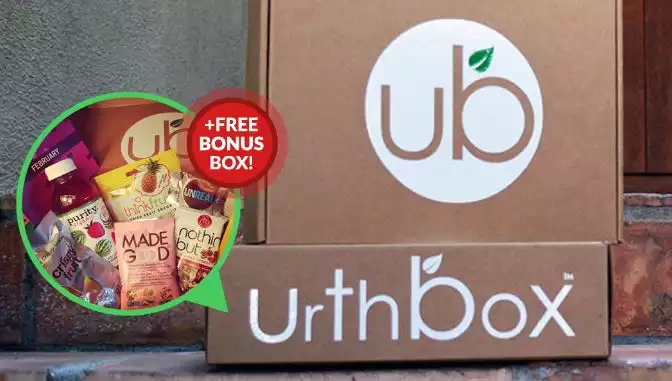 Healthy Snack Subscription Box | Urthbox
UrthBox is the best way to discover healthy new nongmo foods, beverages, snacks and more delivered to your door every month.
Check Prices
We earn a commission if you click this link and make a purchase at no additional cost to you.
Naturebox

is another healthy snack subscription box, but unlike Delicious Door, you can customize your order. They also have an extensive marketplace where you can shop for their products. Their snack boxes are considerably more expensive than Delicious Door's (starting around twice the price) and contain fewer snacks but more servings. You can read our

full Naturebox review here

.

Vegan Cuts

is a vegan snack box subscription that often features many of the same products as Delicious Door. They also ship a monthly vegan beauty box. You can read our

full Vegan Cuts review here

.

Universal Yums

is one of my go-to snack boxes for gifting, but they're not exclusively healthy snacks. Instead, they ship you a box of snacks from a different country each month. You can read our

full Universal Yums review here

.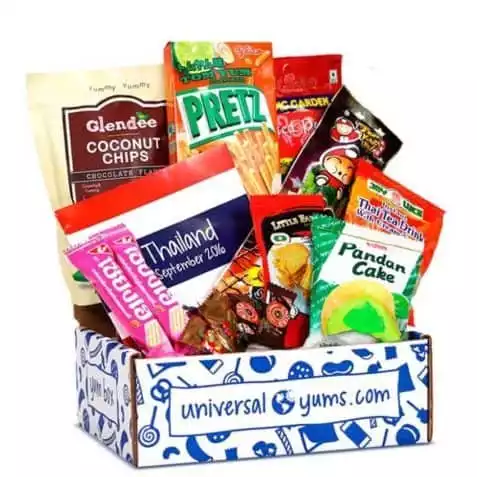 Is Universal Yum's Worth it?
I haven't been impressed with many snack boxes, but Universal Yums has cracked the code. Genuinely surprising snacks, new flavors, extremely high quality. No duds. The best snack box I've tried!
Check Prices
We earn a commission if you click this link and make a purchase at no additional cost to you.
FAQs
Question: Can I give a Delicious Door subscription as a gift?  
Answer: A Delicious Door subscription makes a great gift, but they don't currently offer plans that don't automatically renew. They do plan on adding a marketplace in the future where you can build custom boxes. 
Question: Are snack subscriptions worth it? 
Answer: If you like to try new things, snack subscriptions are definitely worth it. For a few dollars (or less) per snack, you'll get to try things you might not normally purchase in stores. If you're a high-volume snacker, getting all your snacks through a subscription might not be cost-effective. 
Question: How do I track my Delicious Door shipment? 
Answer: When your Delicious Door order ships, you'll receive an email with tracking information. Click the link in the email to track your order. 
My Verdict on Delicious Door
I really liked Delicious Door! I think it was great value for the price. If you want to discover more healthy snacks, I highly recommend this subscription. I do wish there were more "volume" snacks like the Bjorn Qorn in this particular box, but previous boxes have also included things like kale or chickpea chips. I really appreciated the quick breakfast options that were included—I wouldn't normally expect to find something like that in a snack-focused box. All in all, I'd say this box was a win!
Continue reading:
My Graze Box Review: Is This Weekly Snack Box Worth it?
Vegancuts Snack Box Review: A Satiating Vegan Subscription Box For Healthy Snacking!
Love with Food vs. Graze Box: Battle of the (Healthy) Snacks!