Latest posts by Alizabeth Swain
(see all)
I'm not one to get angry about things. It takes a lot to get me upset. But nothing angers me more than a company that promises to deliver high–quality service and fails to do so. I mean, how hard is it to include the total value that you promised you'd give your customers in a box?
It's a little hard for Breo Box. I think this box is a waste of your money, and you'd be much better shopping around for your own cool tech gadgets! I have another subscription box I would love to recommend to you if you're desperate for a box that'll cure your craving.
I first wanted to sign up for Breo Box because I love products that make my life easier. I'm always on TikTok looking through those #BestAmazonFinds and adding things to my cart. I was excited when I found Breo Box, as I was looking forward to getting gadgets that would change my life (or at least allow me to be lazy but look cool while I'm doing it).
My first box was the Summer 2022 Box. If only I had known how disappointed I was going to be.
Bottom line up front
I would recommend you stay away from Breo Box. They don't deliver the whole value that they promise (less than a $300 value), and the stuff they include in their box isn't that 'techy' anyway.
What is Breo Box?
The Breo Box is a quarterly subscription box that caters to both men and women. This tech-based subscription box delivers "unique" products to your doorstep. Breo Box claims all of their boxes contain between 5 to 9 lifestyle, home goods, and fitness items.
When signing up for Breo Box, you're probably anticipating a box filled with goodies that'll boost your productivity, creativity, and fitness levels and improve your overall quality of life. Right?
I'll admit that's what I was expecting. I'm sad to say that Breo Box missed that mark for me.
My Ordering Experience
I have to say, ordering the Breo box was a breeze. I ordered the Summer 2022 box online, and that was pretty much it. I waited about a month before it arrived at my doorstep.
I didn't really stay on top of the tracking information because I wasn't sure when it was going to arrive. I do feel like the entire shipping time for this box was a little long, but at the same time, I'm not exactly sure when the ship date was supposed to be.
Unboxing my Breo Box
The entire box arrived on my doorstep in pretty obvious packaging. It was a big box, but it wasn't heavy, thankfully. The outside of the shipping package was labeled with the Breo Box logo.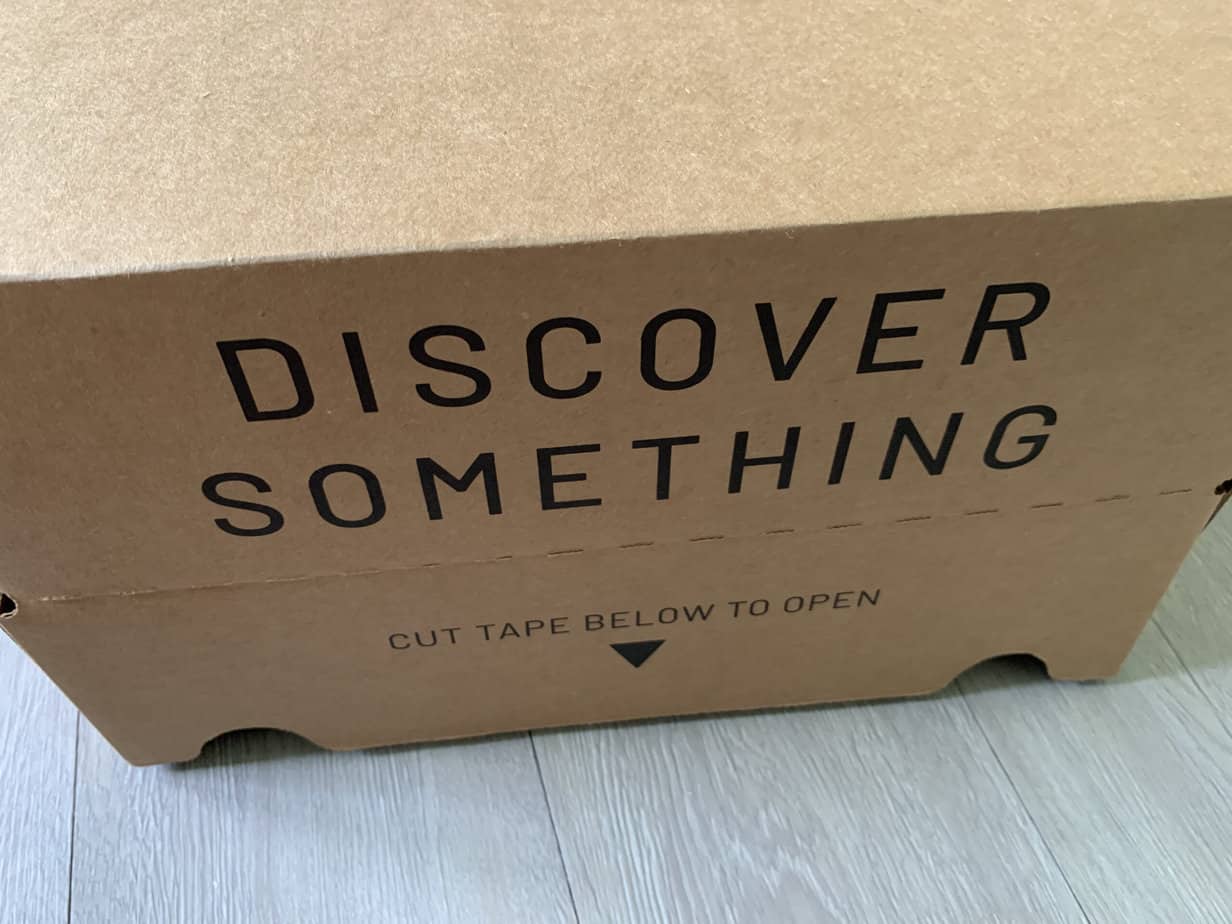 As I opened up the cardboard box, I found a white drawstring bag. Inside the drawstring bag was everything that came inside the box.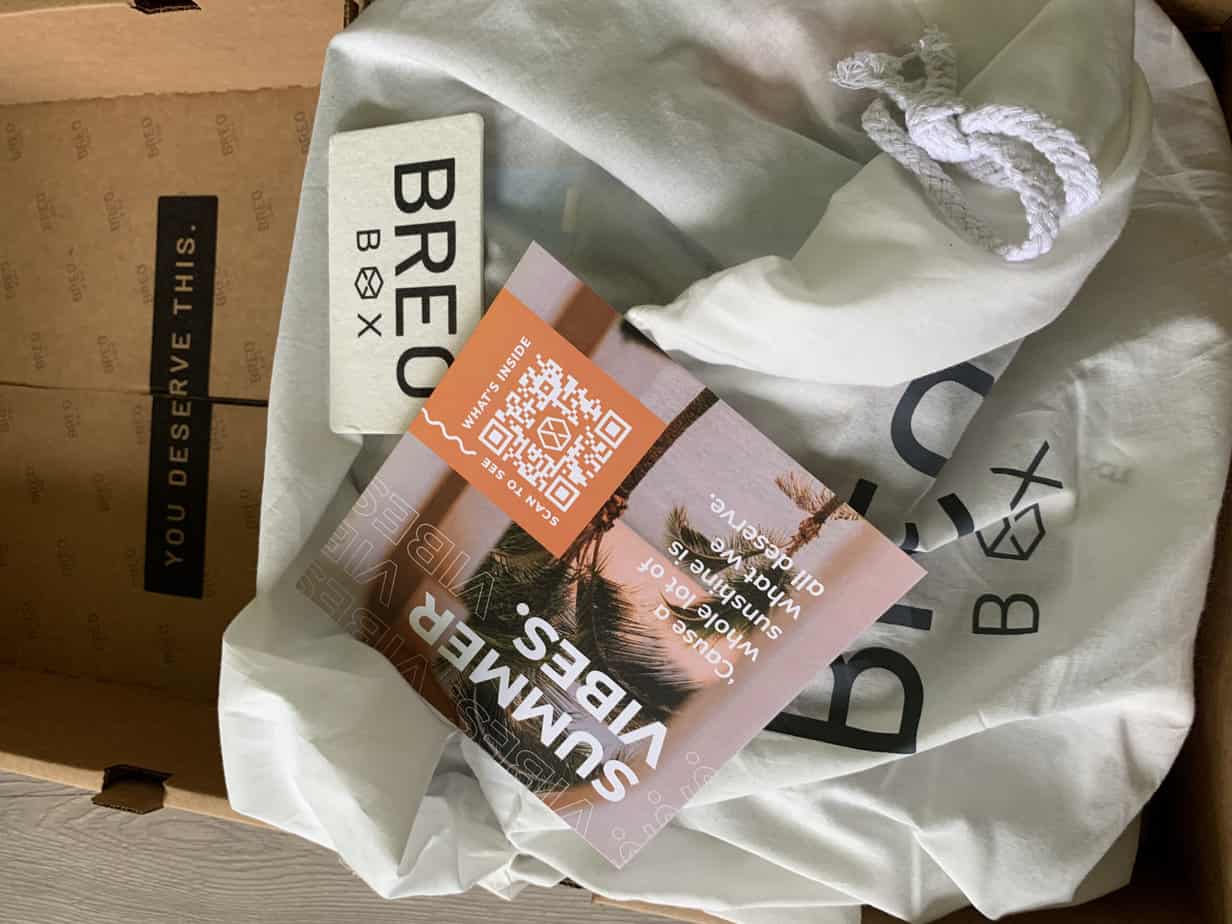 I liked the white drawstring bag because it was made from cotton. It's durable, and I've used it for random road trips with my baby. If it isn't too mean to say, this was probably my favorite part of this subscription box.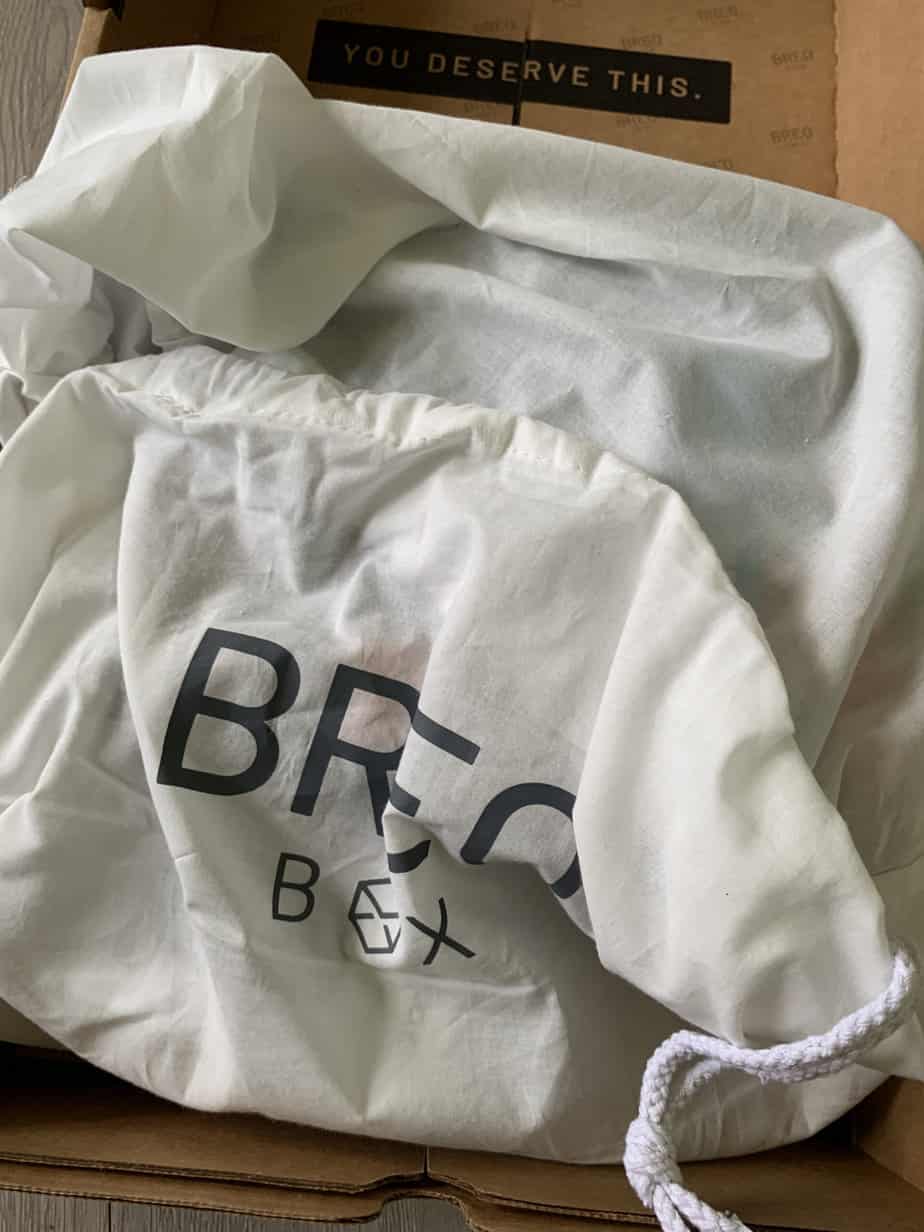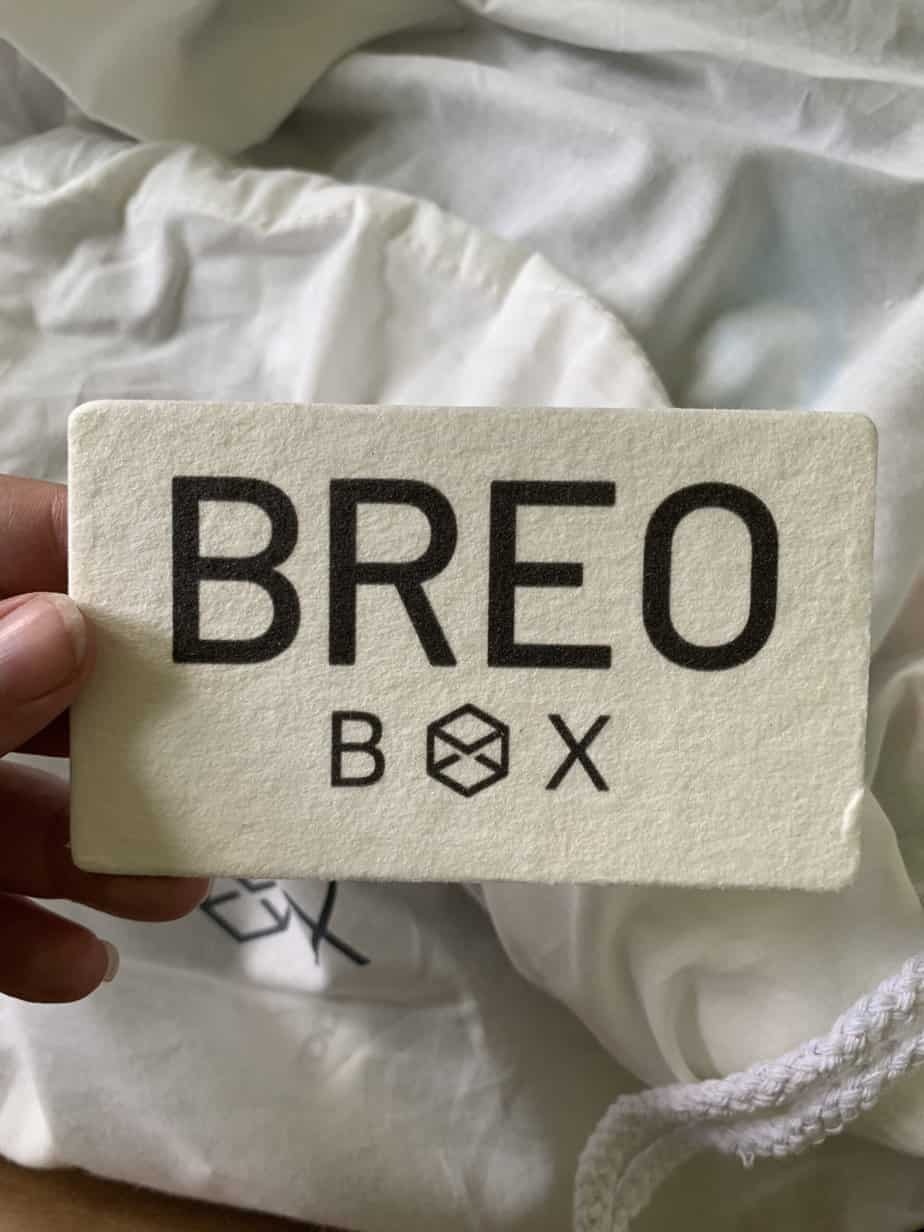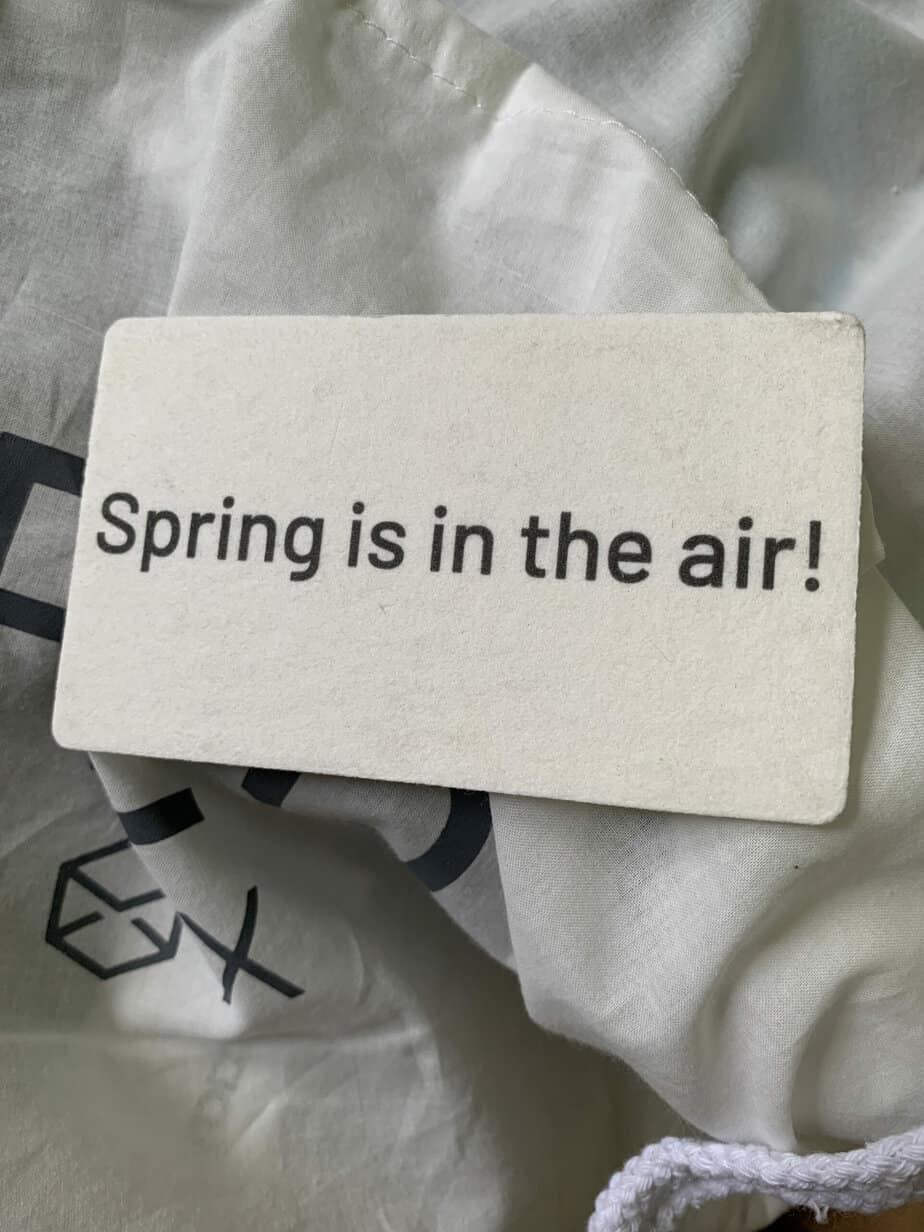 Also, I was surprised that there was no additional padding or packaging inside the box. Everything was packaged inside the drawstring bag and left to take any damage during shipping. While I'm very thankful that none of my items were broken or damaged during delivery, I think it would be a lot more responsible for the Breo Box to add some protective packaging to keep everything safe.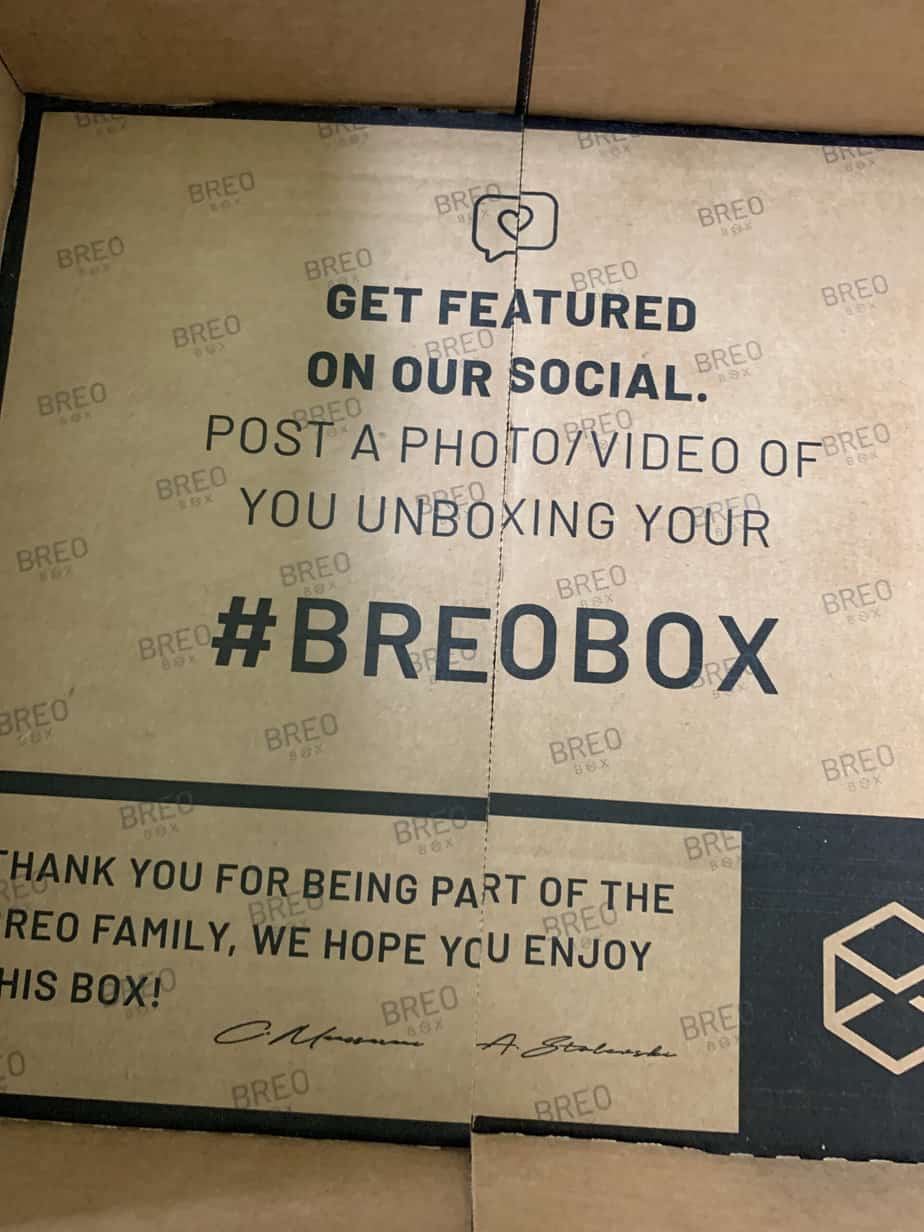 I do like that there wasn't a lot of plastic packaging used in the shipment of this box. But I had my order delivered while it was raining outside. Thankfully, I work from home, so I quickly got this box out from the rain. If I wasn't so lucky to work from home, I don't know if the items in my subscription box would have survived.
What I Got in My Summer 2022 Breo Box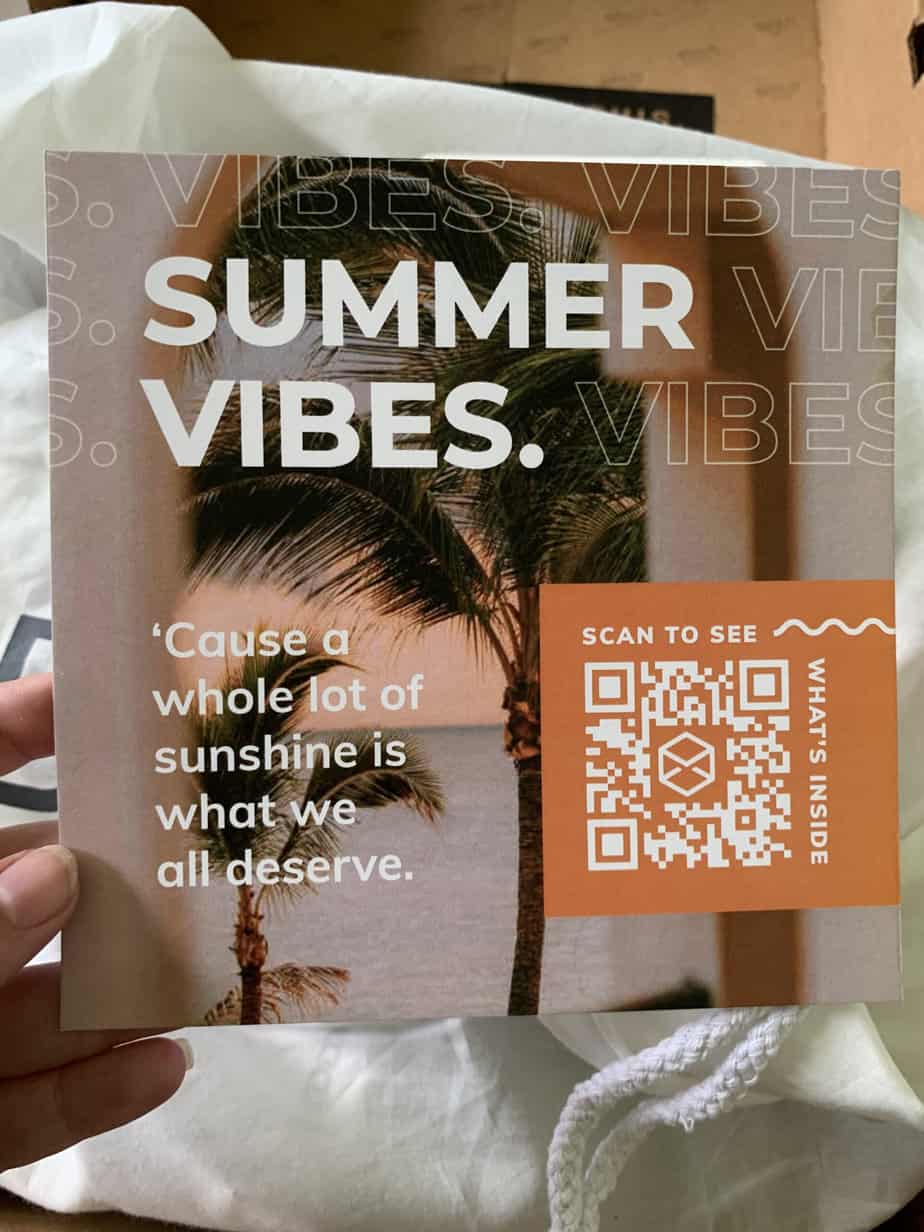 Inflate-R Portable Pump – $69

Proud Grill Wipes with Q-Swiper – $38

MeatStick Mini – $69

Corkcicle Decapitator – $23

Empower Three Speed Cool Breeze Neck Fan – $60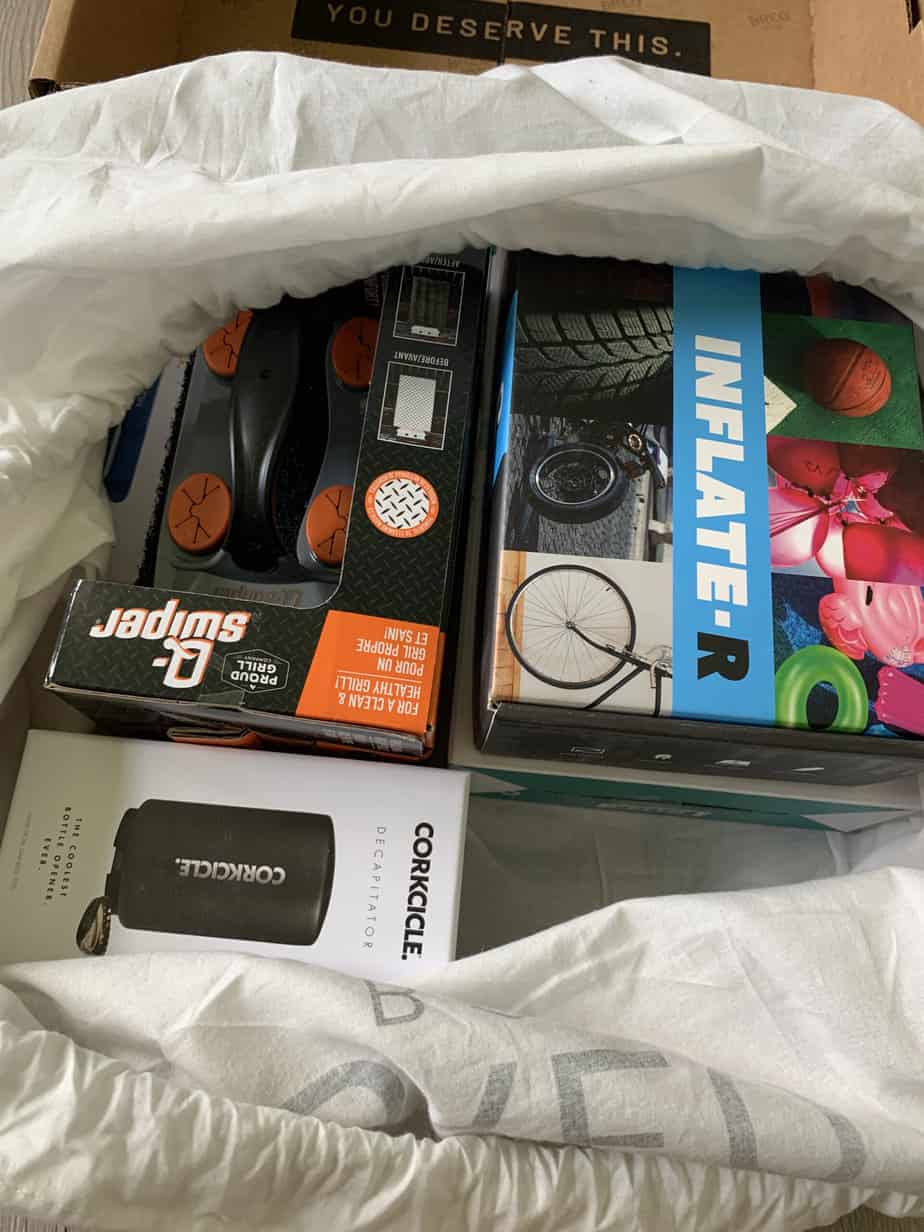 Inflate-R Portable Pump – $69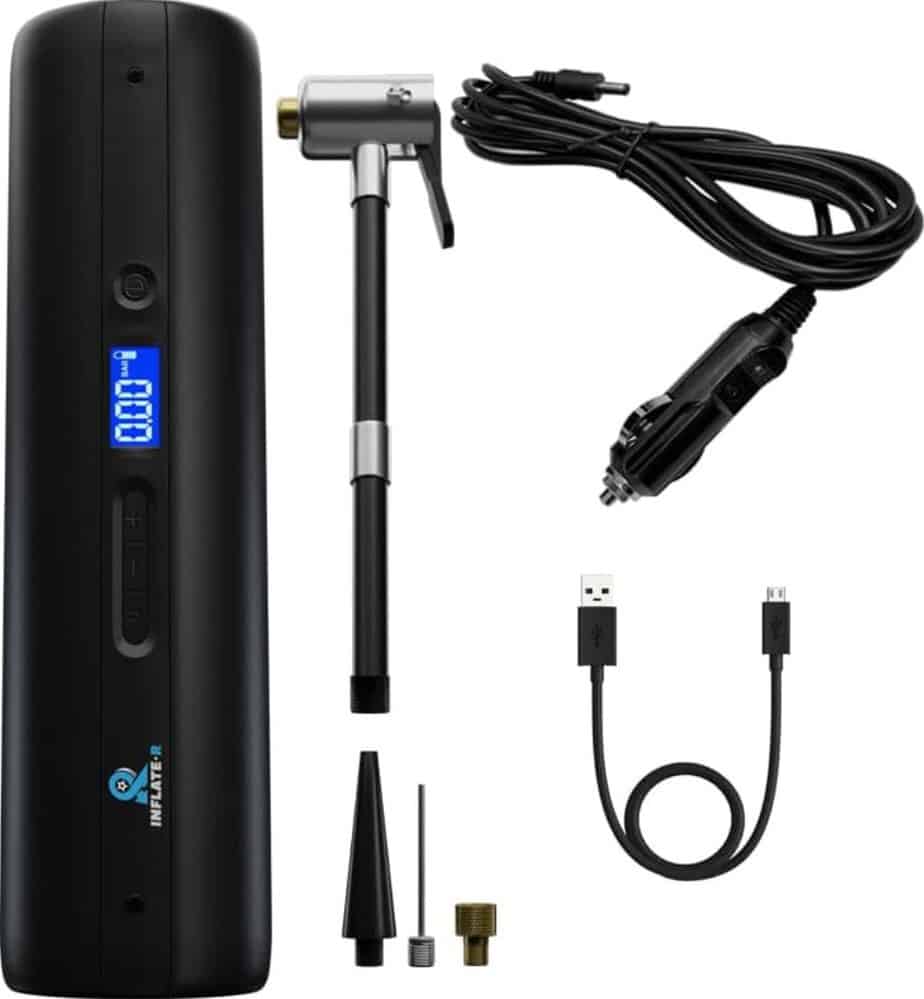 This was one of the first things I pulled out of my box. Out of all the items I received in my box, I think this one was the coolest. It's a tire pump you can charge with a USB cable.
I think this was a really cool addition because not only does it inflate bike tires, but you can also use it on your car. That's what my husband did, at least. It quickly filled up our car tire, and no time at all. My husband said he was worried that he would break the pump because it felt so flimsy in his hands.
I tried looking around online to see if we could find another pump to buy to keep in our other car. I feel like this is a good thing to have stashed in the back of your car for emergencies. However, when I tried to go to the Inflate-R website, it was inactive. So I couldn't find another pump.
I did see that they had this pump priced at $69. Since you can charge this with a USB port, it works very quickly to inflate tires, and it comes with a few different attachments; I feel like the price point is great. Not only can you use it for your car tire or your bike tire, but you can also use it for balls too. We will test it out on an outside ball for our son to see how it works. I don't think this will give us any problems, thankfully.
Proud Grill Wipes with Q-Swiper – $38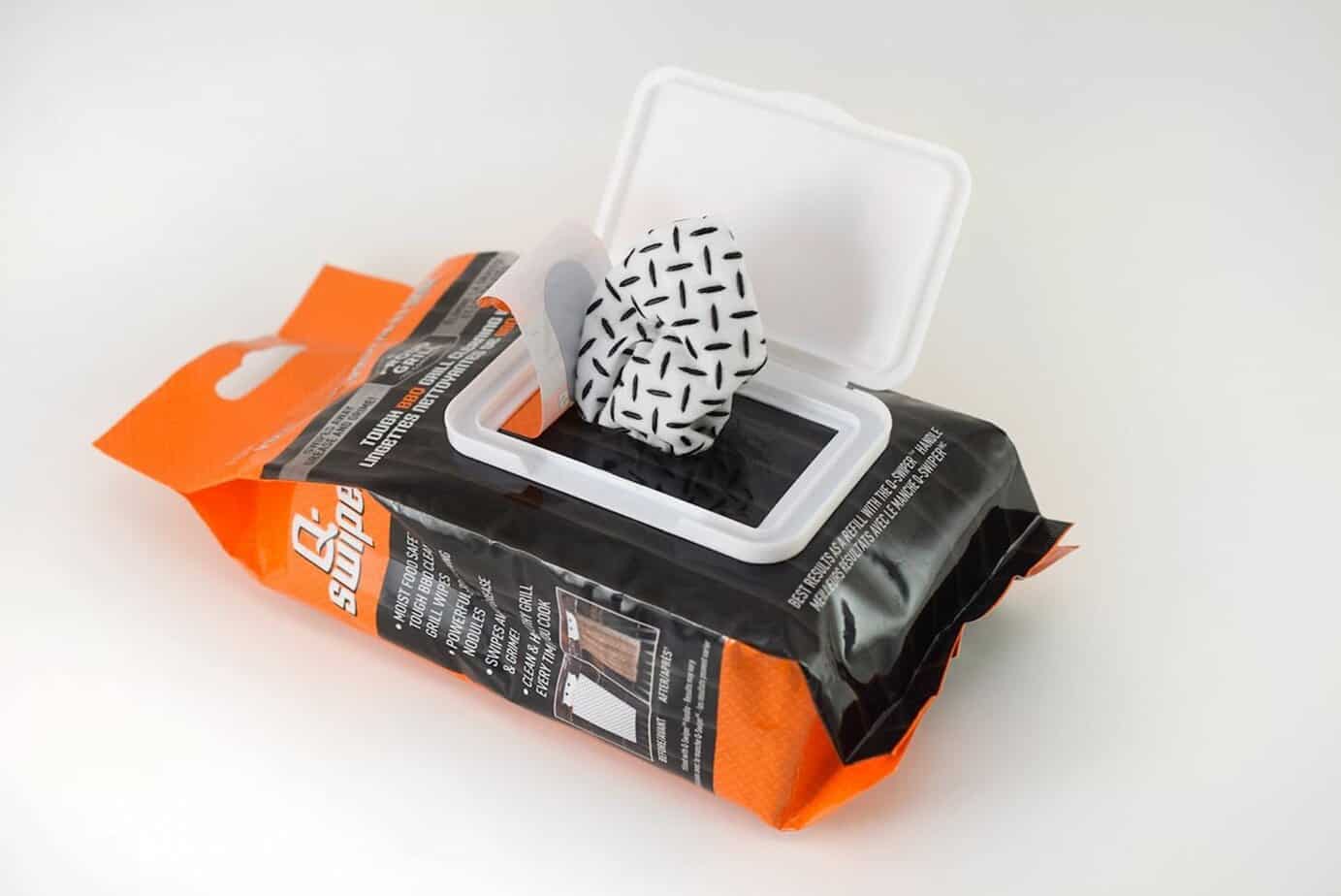 This was the last item that I pulled out of my box, and I'll have to admit, I really thought that this was such a stupid thing to include in a subscription box.
This is literally just a grill scraper. There isn't anything techy about it.
The bottom part of this grill scraper reminded me of coarse sandpaper. You stick the wipes inside of the holders on the bottom of the grill scraper. You can use this to wipe down the grill. On the end of the grill scraper, there is an attachment that looks like a razor blade. With this scraper, you're supposed to scrub vigorously at anything stuck on your grill.
I think the gadget was comfortable to hold. I do really like that it came with a handle. I understand the purpose of the grill wipes is to get grease off of the grill. However, this isn't something that I'm going to use to replace my regular grill brush or a grill cleaning.
I don't think that this was useful, especially if you were somebody that lived in an apartment. I know a lot of people don't have a grill, myself included. So, this was just a product that found itself to be useless to me.
I don't think that this is a bad product in general. I do think that it could be useful to some people. I don't think that this fit inside of a tech subscription box.
MeatStick Mini – $69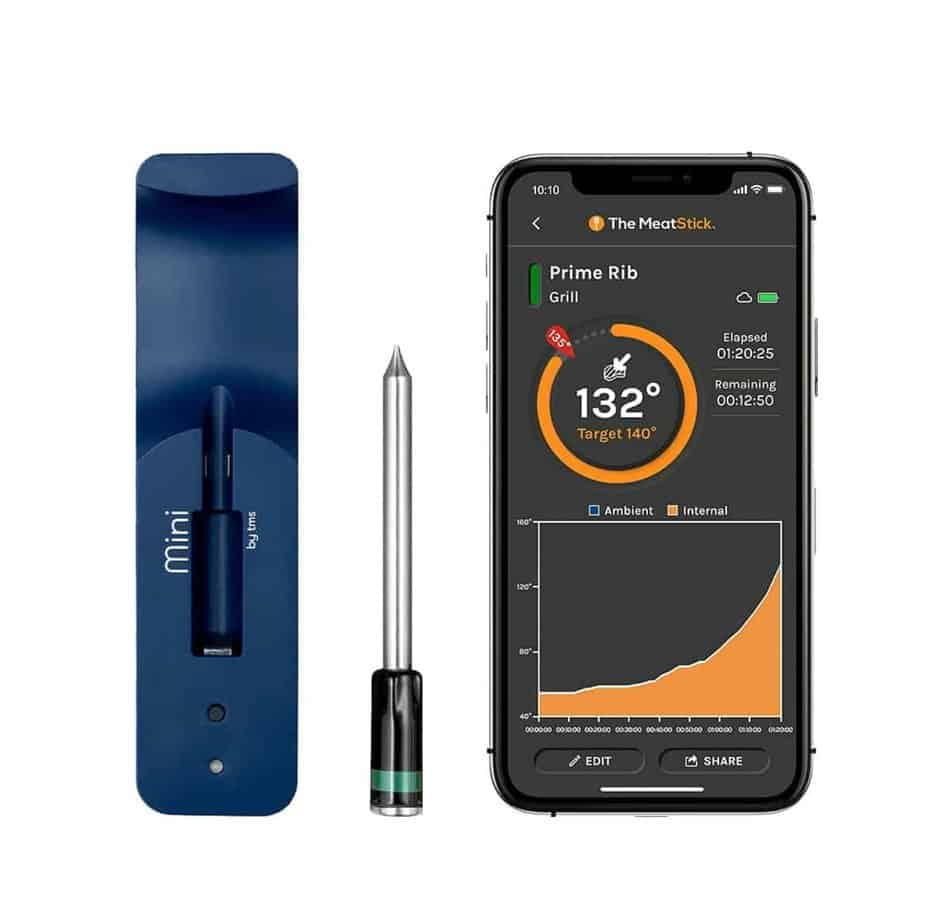 Now, a temperature probe wasn't something I already had in my kitchen. So, this was a brand new and needed item for me and my cooking adventures. I like this item, and I think it is handy because you can track the temperature of your food on your phone.
I love that you don't have to keep coming back to check on the temperature of your food. Having a toddler makes it difficult to get anything done. I like that I could just pop this temperature probe in, monitor my food, and I don't have to babysit the meals that I'm cooking like I would have to previously.
Plus, there's even an alarm setting on the probe that will notify you when you're getting close to the temperature you are looking to cook your meal too. However, I wouldn't say that this is something that I would use consistently.
Overall, I think that this was easy to use. I feel like this subscription box was more kitchen utensil-themed than tech products. Yet, I could totally see this as a great gift for a friend of mine who is much more passionate about grilling and barbecuing than I am.
Corkcicle Decapitator – $23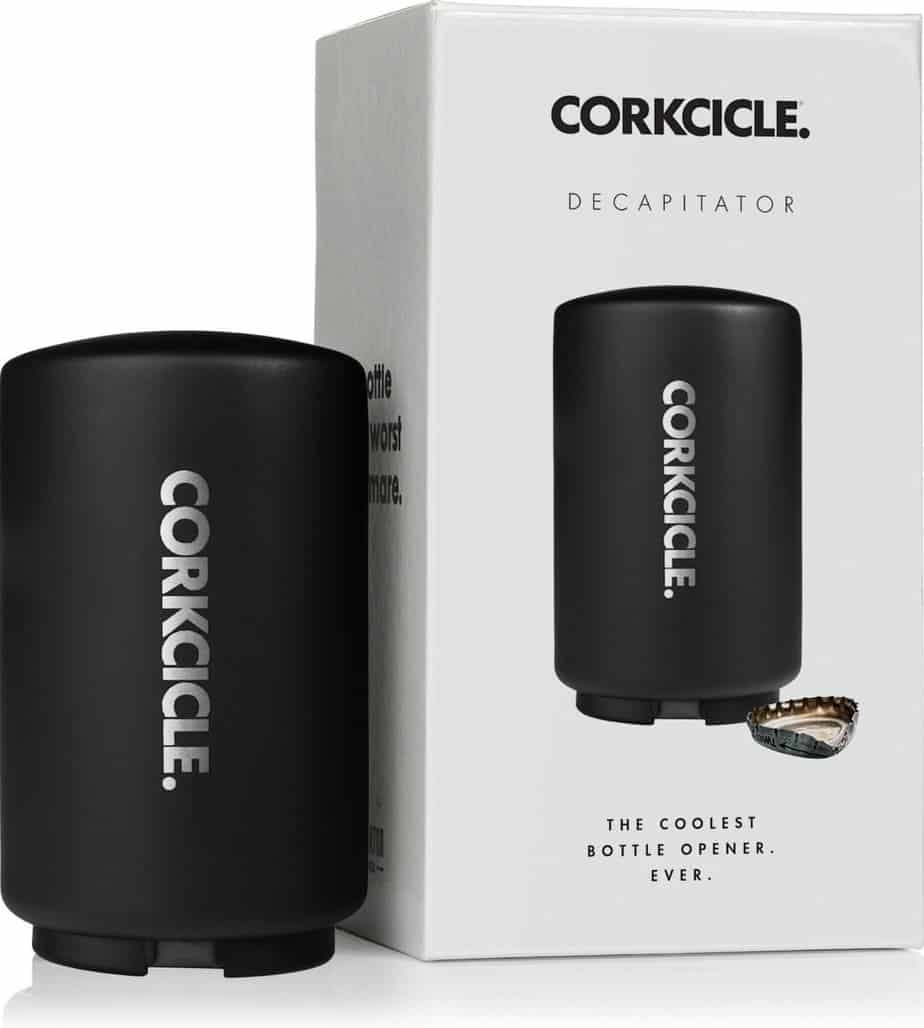 I love the name of this product is really interesting. I had never seen a decapitator before. I love wine, but when I looked at the price tag on this cork sickle decapitator online, I was shocked at how much it was listed for. I never want to spend more than $10 or $20 on gadgets like this. This is another item in the Breo box that doesn't make sense to have been included. I don't feel like there is a vital tech aspect to this decapitator.
I decided to try it to see if it was any more useful than my current wine-opening tools. I'll give you a hint; it wasn't. It was very frustrating to get the bottle of wine properly attached to the decapitator, which basically defeated the whole purpose of the Corkcicle.
Empower Three Speed Cool Breeze Neck Fan – $60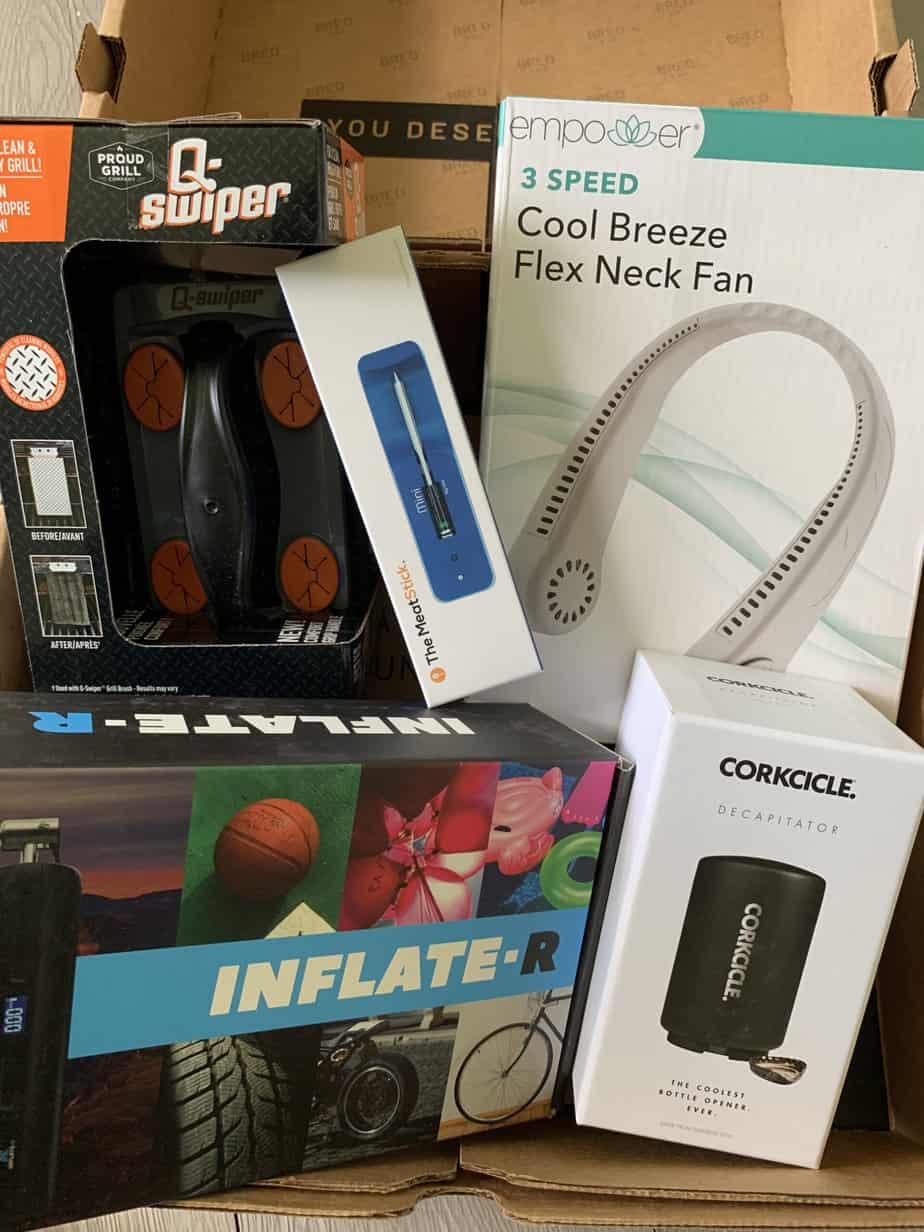 I think out of all of the items that were in this quarterly subscription box; this is the one that may be the angriest. I pulled this out of the box, and I was surprised at how cheap it felt.
I knew from the research I had done on the other products that I pulled out that we weren't too close to the total value of $300 that's supposed to be included in the subscription box. This neck fan felt surprisingly cheap. While it was lightweight, the plastic didn't feel like it was well-made.
This is a knockdown that has three different fan speed settings. You can charge it via a USB port, which is nice. I like that it didn't require a rechargeable battery!
I pulled this out of the box, charged it up, and tried it out. I liked how the part of this neck fan that drips around your neck was resizable. But, I felt like the fan blew more air out towards my shoulders rather than my neck. I didn't get much cooling from this when I had it on, and I used it on a 90° day. This isn't something I would pack in my travel bag if I was out at an amusement park or a ballpark looking desperately for a way to cool down.
Also, I think the brand name for this neck fan lied to us all a little bit. There is no way this fan is worth as much as they're trying to sell it for. I even went on Amazon, and I found the same exact fan from different brands listed for 50% to 75% cheaper than what the name brand is really trying to sell it for.
I think this product is one of the biggest examples of why Breo box needs to take a hard look at the products they're giving their customers. They need to make sure they're sending high-quality items that deliver the value they promised the customers.
Another Alternative to Consider
If you're like me and aren't completely satisfied with Breo Box, there are a few other alternative boxes I'd recommend you check out:
Bespoke Post
Bespoke Post is a monthly subscription box that'll run you $49. There are high-quality products in here with a cool tech twist. This is also a lifestyle box, so you'll get unique gadgets and tech items all over the board. My only complaint about this box is that it is targeted towards men and isn't unisex like Breo Box. However, some of the masculine products I've received in my Bespoke Post box I just re-gifted around Christmas time!
Unfortunately, this is really the only other subscription box on the market that's similar to Breo Box. There aren't many tech/lifestyle/gadget subscription boxes out there.
There are a few other tech subscription boxes, but they're more geared toward people looking to learn about tech or build their own gadgets.
FAQs
Question: Does Breo Box Offer Free Shipping?
Answer: Yes, Breo Box offers free shipping on all of its subscription boxes. If you want to buy something from their shop, you have to order $49 worth of items to get free shipping. 
Question: What's the Difference Between the Breo Box Seasonal Plan vs the Annual Plan? 
Answer: The annual plan is a one-time payment, so you're paying for all of the boxes you'll receive throughout the box at once. With the seasonal plan, you're paying every quarter.
Question: Can You Cancel or Return Your Breo Box? 
Answer: No, you can't. Unfortunately, Breo Box has a policy where all sales are final. 
My Final Thoughts
Overall, I think the value of this box isn't worth it compared to what I received. I think that you could go on Amazon and buy most of the items found in this box for a lot cheaper than what you spent on the actual box itself. Or you could buy better items that would better fit your needs compared to the random assortment you receive inside this box.
I'm also disappointed that this box didn't fulfill the $300 promised value. I personally won't be buying another Breo box in my lifetime and would strongly recommend my friends and family to stay away from this box too. I think there are a lot better alternative subscription boxes.
I'm really hoping the Summer 2022 box was just a one-off. I've seen the other boxes Breo Box has sent out, and they've always seemed cool. I'm sad this was my first experience with Breo Box, but I'm sure I won't be back for more.
What do you think about Breo Box? Have you had a different experience than I have?
Recommended Reads: