Latest posts by Trevor Abbott
(see all)
There are a lot of meal service kits available now due to the exploding trend of searching for convenient alternatives to the conventional way of shopping and preparing food.
Some stand out more than others with a more refined approach to wellness, and Sakara is a prime example of this. They are a plant-based organic service that strives to bring you a more luxurious experience with each savory bite, untainted by strange practices and harmful additives or chemicals of the modern world.
Sakara is a company that operates with integrity to bring you more advanced meals with a twist that nurtures both body and spirit. I have recently ordered a few meals from them to see what the deal was, and I was impressed with the unique practices that set them apart from others as a higher-end meal delivery service.
I'm sure you're curious as to what they're all about, as I was, and you can trust me to lay the features & details on the dinner table to gain perspective!
Together, we will explore the significant facets of Sakara so you can make an informed decision and potentially elevate your wellness to new heights. You'll find that they aren't your traditional company because some added flares make them popular among celebrities and those who take their health very seriously.
Let's ring the dinner bell to explore the features and my first-hand experience with this exciting meal kit service so you can develop your opinion and give it a shot!
Bottom Line Up Front
Sakara provides organic, healthy, balanced, plant-based meals with the right ingredients and portions. Their versatile programs help you meet personal goals with a tailored approach.
Sakara also carries some other products, such as supplements & unique powder blends, to give you an extra boost. The meals I got from them were healthy and delicious, but the asking price for the food received was rather steep. I sampled the Red Beet Burger, Barcelona Bowl, & the Radiant Raita Salad.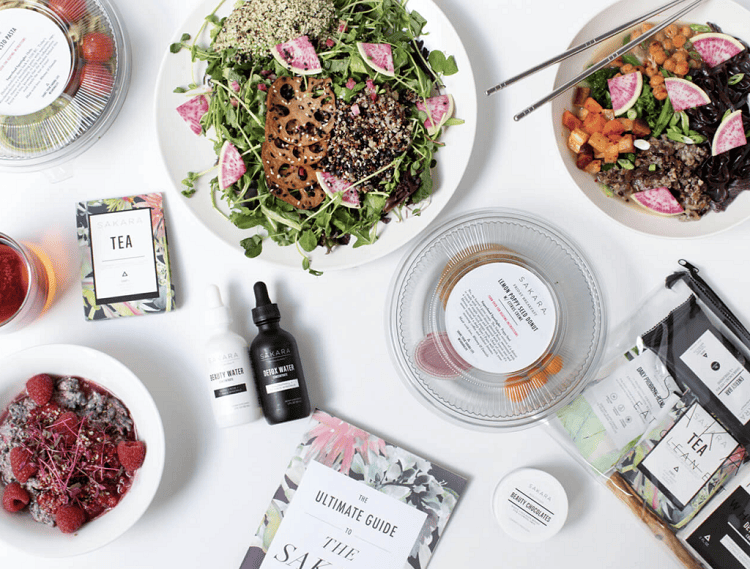 Sakara's Key Features
Targeted Nutritional Approach to Wellness
Sakara's meal system is more than about filling your belly with satiating and healthful ingredients. They get you on track with a targeted nutritional strategy designed to meet your needs.
If you have any health concerns, then they are there to act as wellness coaches with a more refined approach to the industry. Here, you will discover the resources needed to thrive and nourish your brain no matter what condition you suffer from or want to increase your overall wellness.
Sakara's programs are based on nutritional pillars that span multiple dietary needs. No matter what your diet is, it's universally crucial that you consume the right amount of greens daily to live optimally.
They ensure you get the perfect amount with the correct balance of fiber-to-carb ratios to balance blood sugar and reduce potential visits to the hospital due to a poor diet lacking these elements.
Supplements & Powders
In addition to their delicious meals, you can explore some excellent supplements and powders to uplift your health and take it to the next level. These include vitamins, probiotics, metabolism-boosting powders, and much more to consider on their website.
They have convenient powders to help you get in your greens on the go if you can't make it home to heat a meal.

Healthy Snacks on The Go
A meal service wouldn't be complete without the option to have healthy healthy snacks on the go, and Sakara understands this well with a variety of options to consider.
Nothing in their selection is ordinary, and you will find that even something familiar, like popcorn, is full of superfoods and more healthful elements. These snacks are great if you're leaving home for a while and need the extra energy for a hike while enjoying the great outdoors.
A Variety of Enriching Teas
You've probably heard that teas have the power to heal or alleviate various illnesses, and this is correct, but Sakara takes it to the next level with its selection of wellness teas that leave nothing to be desired.
Firstly, they have a viable detox tea that can effectively cleanse your system. It utilizes sweet citrus and rose to purge your body of harmful toxins and lift the weight of toxicity off your shoulders to live a better life.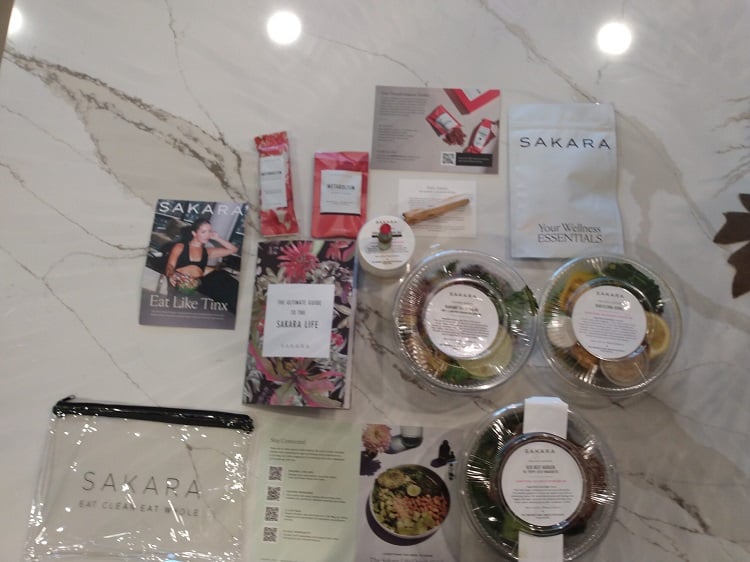 My Overall Experience with Sakara
After looking through Sakara's website and ordering from them, I was more intrigued than usual about this meal delivery service because of their professional approach to plant-based wellness with more calculated & scientific results.
Aside from the technical details, they also piqued my interest with their ambition to feed your spirit. I purchased three meals from them to test, with additional features and items I didn't expect.
Overall, I was delighted with the taste of each plant-based meal because they were satiating and flavorful without any meat or harmful ingredients.
Some things were questionable in appearance at first, but you can only maintain a certain level of freshness with pre-prepared meals. That said, this is as good without ordering from a company that sends you the ingredients to prepare yourself.
The flavors were unique, nourishing, & surprising to my palate with wide-eyed results, and the results were the same for my skeptical family, who got to sample them as well.
Sakara equipped me with everything needed to thrive and gave me a sense that they care much more professionally than other services. I was shocked at the level of detail and was very pleased with the taste and nutritional benefits of prominent greens and well-executed recipes.
The only thing that stood out to me that might be problematic for a long-term subscription to Sakara was the hefty price tag for so little sustenance, but it's no secret that you must pay more to get more.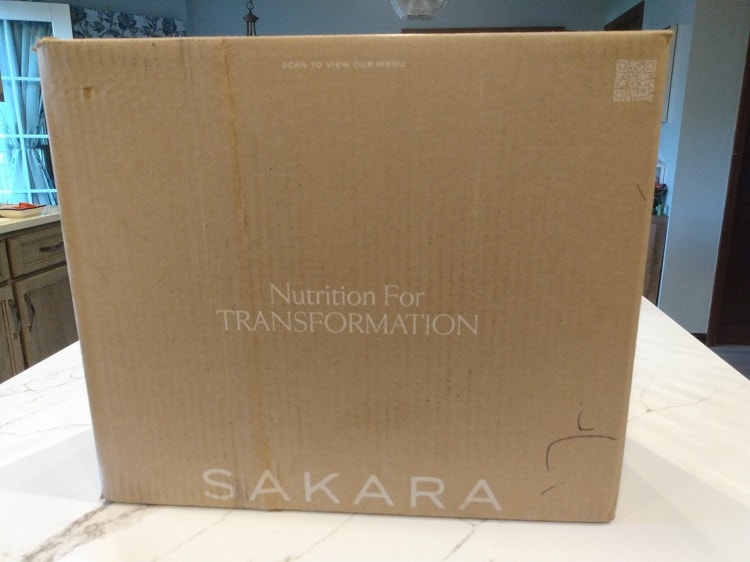 Shipping & Unboxing
I received my meals from Sakara within a few days after ordering, which was a plus. Everything was preserved with the proper ice packs to remain fresh and viable for transit. I was impressed at the level of precision when it came to shipping. If you get an order over $100, they will take care of it.
The box was easy to dismantle and get the meals out with everything packaged neatly and had an organized appeal. There were many unexpected bonuses, such as a handbag and a plethora of information about their brand and how to thrive through a better organic plant-based diet.
I could tell immediately that the items were packed with the care and precision you would expect for the hefty price range.
My Meals from Sakara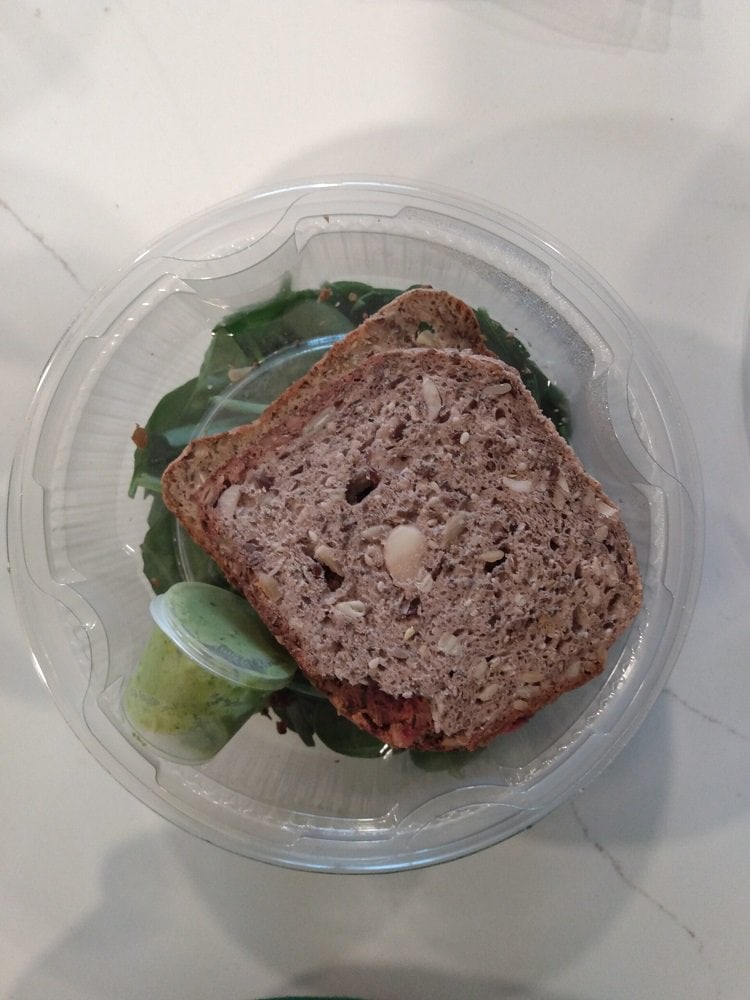 Red Beet Burger
I was a big fan of burgers, so I've had the best around when I was an avid meat eater. This made me the perfect candidate to test this red beet burger because I've also tried various meat replacement recipes. I've never had beets in patty form, but it worked remarkably well.
The flavor was savory, and I enjoyed the overall texture as it stood out to be very similar to the real thing, so I was pleased with this meal. It was my favorite of the three that arrived, and I was impressed that no grains were utilized, and it featured a bread substitute as well.

The poppy seed vinaigrette saved the day with this dish and made it delectable. I enjoyed the texture that simulated a real burger, and it had a nice little spice kick that livened things.
I could tell it wasn't real meat, but it was close enough for a viable substitute if you're looking to give up munching on cow flesh. I also took a couple of bites with ketchup & mustard to test, and it was surprisingly reminiscent of the real thing.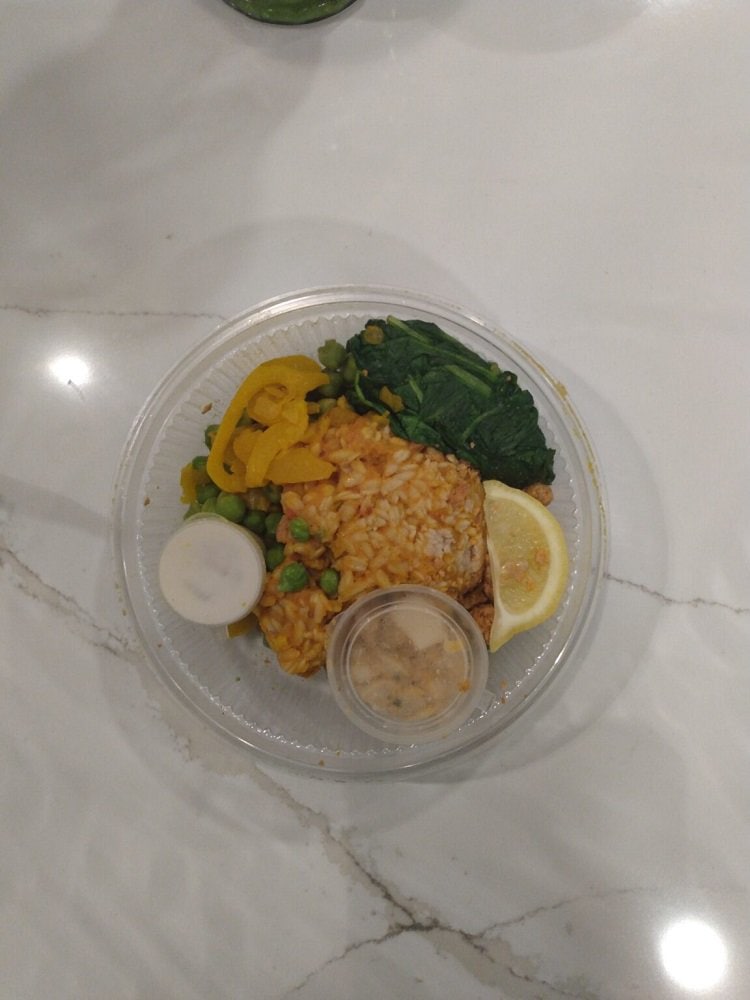 Barcelona Bowl
The superfood spotlight of this meal was cassava, and I was somewhat skeptical about the appearance at first. The colors were alright, but they didn't appeal to me entirely. Despite this, the taste was gratifying and erased all my feelings about the visual quality. This gluten-free, organic dinner can flush out harmful bacteria while replacing your stem with suitable types.
I could tell my body was happy consuming this meal as it settled well on my stomach. You can heat it or not, and I chose to try it both ways. I can say that heating activates the flavor more and gives a rewarding result compared to chilled. The Barcelona Bowl was surprisingly delicious and exquisite in taste, making it a meal I would purchase again.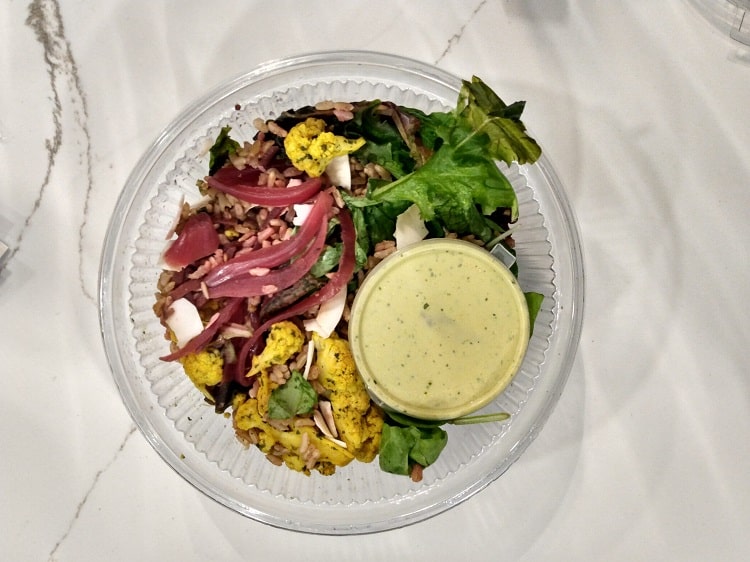 Radiant Raita Salad
The superfood spotlight of Radiant Raita Salad was white chia seeds, which contain many healthy benefits for anti-aging. I was pleased with this since I was not getting any younger, and my face looked more vibrant after consuming.
I'm a tad obsessive about how food impacts the face and skin, but that's okay because it helps me distinguish between harmful and helpful foods.
The omega-3s, high protein, and ceramides help increase your skin's radiance and strengthen your overall skin barrier through enhanced collagen production. The taste was refreshing, and I loved the appearance and remarkable health benefits without requiring any skin creams.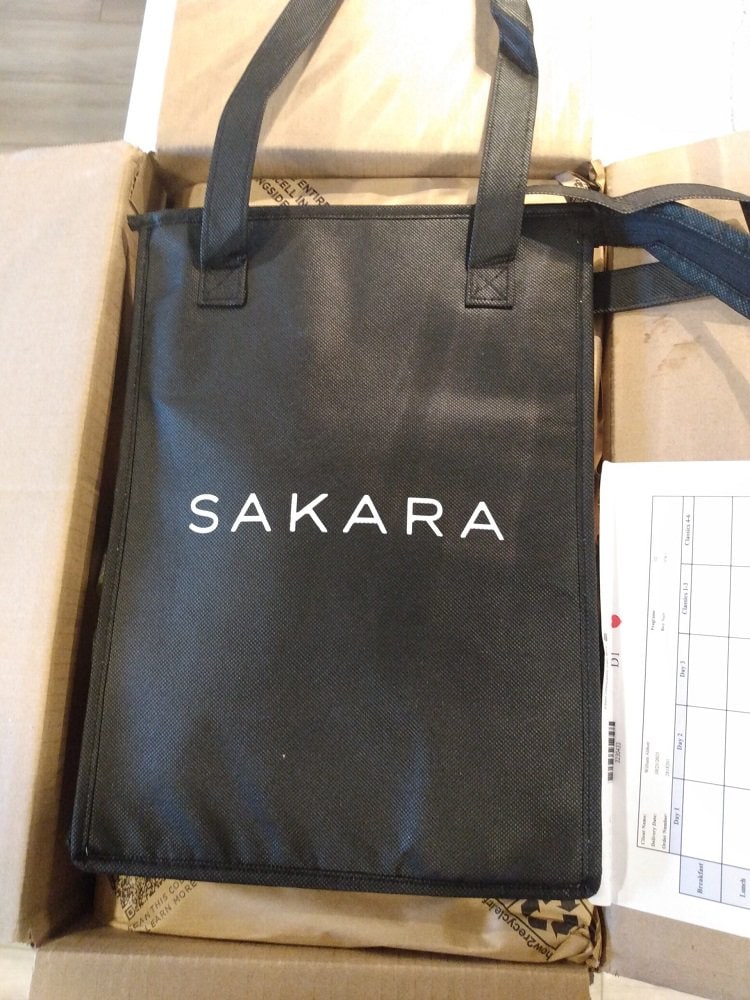 This meal taught me that you can nurture your skin with food alone. You don't need a face mask or collagen supplements when you can get the same benefits from a natural diet.
Sakara Pricing
Don't get me wrong, this is a fantastic service, but the pricing is rather overwhelming for the amount of food you get per week on their plans. The numbers speak for themselves, and here are the details.
It may be worth it to you if you have money to burn, but most typical consumers will find it a rather demanding purchase, in my opinion. Please reference the table below to gain insight.
| | | |
| --- | --- | --- |
| Days Per Week | Subscription | One -Time Purchase |
| Two days | $106 | $123 |
| Three days | $159 | $175 |
| Five days | $270 | $285 |
Sakara Pros & Cons
Pros
Extremely healthy with optimal plant-based nutrition
Goes above and beyond to meet your health needs
A targeted nutritional approach to wellness
Consult with professionals about your dietary needs
The sauces & dips are delicious and bring it all to life
Cons
Exceptionally costly for little reward
The inability to choose between meals
The meals aren't very filling and leave you desiring more
Appearance is lack-luster sometimes
Not suitable for long-term subscriptions if you're on a budget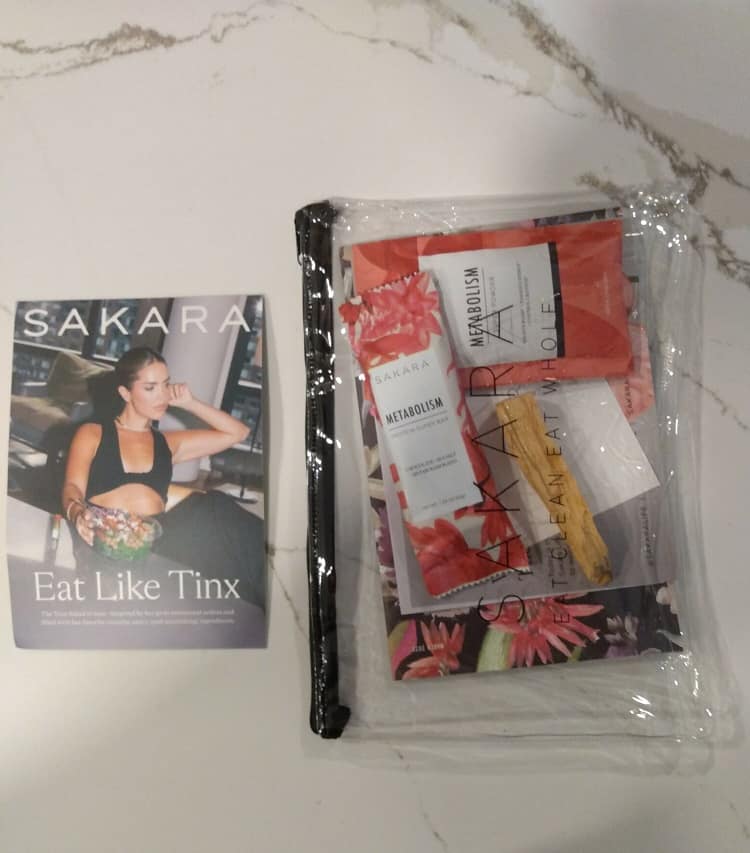 Sakara Final Verdict: 7/10
I wanted to give Sakara a higher rating, but the price bothers me significantly, and I know it will for others on a budget. I understand that you're paying for more precision and a different approach to wellness, but many other healthful services offer similar results with a much lower price tag.
I was still highly impressed with their ability to bring sustainable organic plant-based ingredients from the ground to life with incredible flavor profiles.
Some of their other meals on the website appear to be far more vibrant than the ones I received, and the results will vary because you have no idea what you'll get. I also had a rather irritating experience that reduced my rating for Sakara, and that was that they included a wooden incense stick you burn to "get in the zone" for eating their healthy meals.
All it did for me was irritate my sinus and hinder the experience. Overall, everything was different and memorable, but it felt like Sakara was overcompensating for the egregious pricing.
To end on a positive note, I can tell this is the highest organic quality you can get for vegan meals, and at least they do right by you with exquisite flavor and impressive freshness for pre-prepared plant-based meals.
Alternatives to Consider
If you don't find Sakara appealing, then you may like to consider these alternatives as a long-term replacement. Let's look at similar organic meal delivery services so you have more options to weigh instead of feeling trapped by a single one. These are all excellent to try; you may find your home with them instead.
Urban Remedy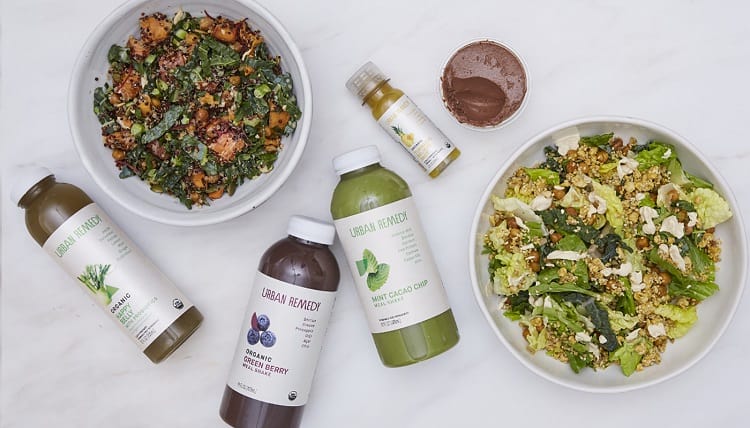 Urban Remedy is an excellent alternative because it provides food beneficial for healing your body while nurturing the planet back to health. They are committed to giving you ingredients grown with integrity and don't harm your body with shady, misleading practices.
Here, you will discover superfoods that can enhance your health with no-nonsense, like fillers, chemicals, or toxins.
Daily Harvest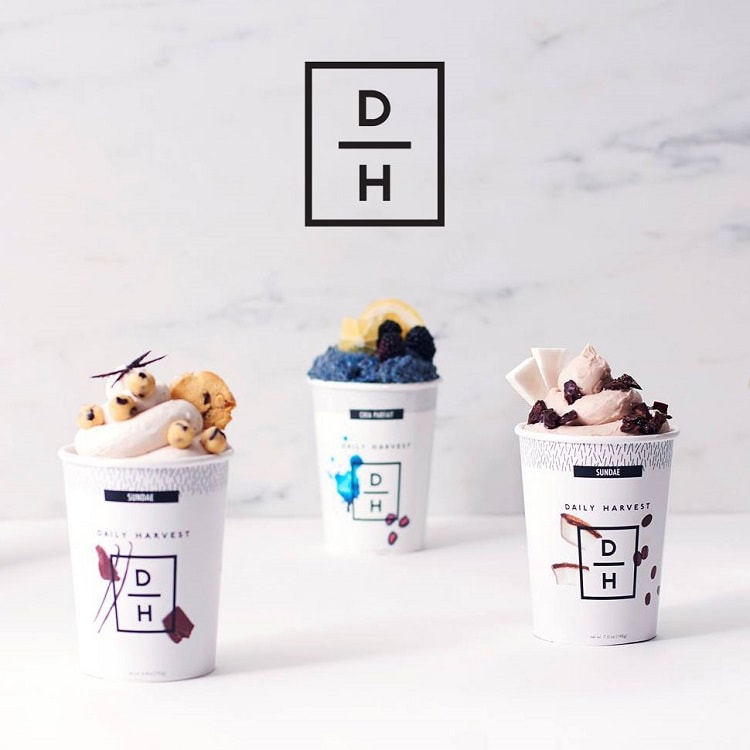 If you're looking for delicious and healthy chef-crafted foods, then Daily Harvest is another meal delivery service kit to ponder. The meals are easy to prep and are built on sustainably sourced fruits and vegetables for one of the purest results possible. Daily Harvest is committed to helping you increase your lifespan and reduce your carbon footprint on the earth.
Read our complete review here: My Daily Harvest Review and Unboxing
Veestro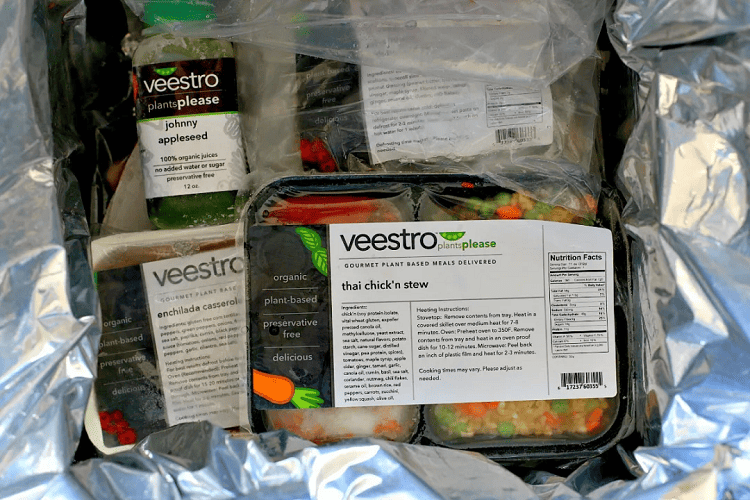 Veestro is another meal delivery service that's plant-based and offers you a fresh menu with various healthful options to consider. Nothing is ever frozen, and the meals are prepared by knowledgeable chefs who bring you something special that tastes great and keeps you healthy. It is designed for those with a fast-paced lifestyle who need fast and nutritious food.
Complete review: Ultimate Veestro Review: Is Veestro Worth it?
Frequently Asked Questions
Question: Is Sakara an Expensive Meal Service?
Answer: Indeed, you will be paying more than expected for a limited amount of meals with Sakara. However, you will also get a more elevated experience that stimulates the mind and senses more than a traditional meal delivery service.
They are more on the luxury level of quality, and so it's to be expected you'll be paying more for these benefits. It won't be worth the price for some, but if you have the money and take your wellness seriously, it's worth it to others.
Question: Are all of Sakara's Meals Certified Organic?
Answer: Most of their products are sourced from certified organic farms, but not all of them. Rest assured; they work closely with farmers to bring you quality meals made with organic plants from trusted individuals.
Even if they aren't all certified, they are still fully organic and operate with integrity so you can be at peace. They state on their website that it would be too expensive and challenging to make everything from 100% certified organic ingredients, but I assure you these are some extraordinarily healthy meals nonetheless.
Question: Does Sakara have Flexible Options Regarding Meal Plans?
Answer: Sakara has some interesting nutritional programs that will get you thinking on the right track to personal growth and a healthier future. For example, if your goal is to clean up the toxins in your body and start living your best life, they have a convenient detox program that will guide you through every step.
They believe food is a potent medicine when used correctly, so you should be able to correct your eating habits and get well with their five nutritional programs.
Conclusion: Sakara is a High-end Luxury, Plant-Rich Meal Delivery Service that's Worth Trying
Sakara may not be suitable for all regarding the prospect of a long-term subscription, but it's certainly worth trying and seeing if it's worth the investment. The awe-inspiring quality gives you a sense of luxury from unboxing to the first savory bite.
Everything is crafted with care, and the most beneficial reality to utilizing their service is you can take confidence that what you're eating is sustainably sourced and the best plants around.
The flavors are lively and leave you wanting to purchase more meals despite the expense. It's worth enjoying something unique at least once because it's beyond the traditional food experience.
There are elements with the meal kit that will be a pleasant surprise, and you can enjoy a fresh quality that's hard to match. This is the kind of meal service kit you would find a celebrity utilizing to preserve their looks and health without compromising on lesser quality plants.
Sakara is high-end and gives you foods well beyond standard plant-based meals. If you value your health and wish to try the purest ingredients the ground offers, then Sakara is worth gracing your dinner table at least once. There are some unique good vibes here, no doubt. I found it an unforgettable experience, and I believe you will, too!
Continue reading
Best Vegan Meal Delivery Services: Top Companies For Supreme Taste & Wellness!
Best Bodybuilding Meal Delivery Services