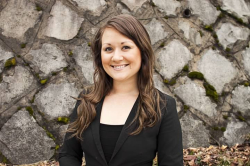 Latest posts by Lacey Jackson
(see all)
Is Daily Harvest worth it? I had my fingers crossed that it would be, and I was disappointed. The best part about the company is how gamified the ordering process is and how quickly the food gets to you, but unfortunately, the worth stops there.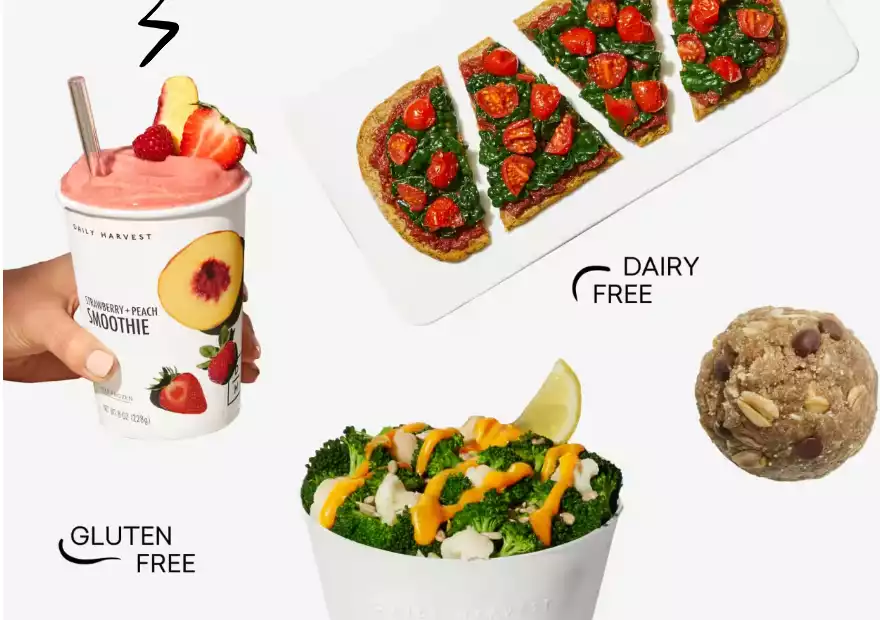 Daily Harvest has several options if you are looking for a vegan, vegetarian food delivery service. Their menu includes a list of smoothies, oat bowls, grain bowls, soups, desserts, drinks, and more, all of which are ready to eat after a quick reheating.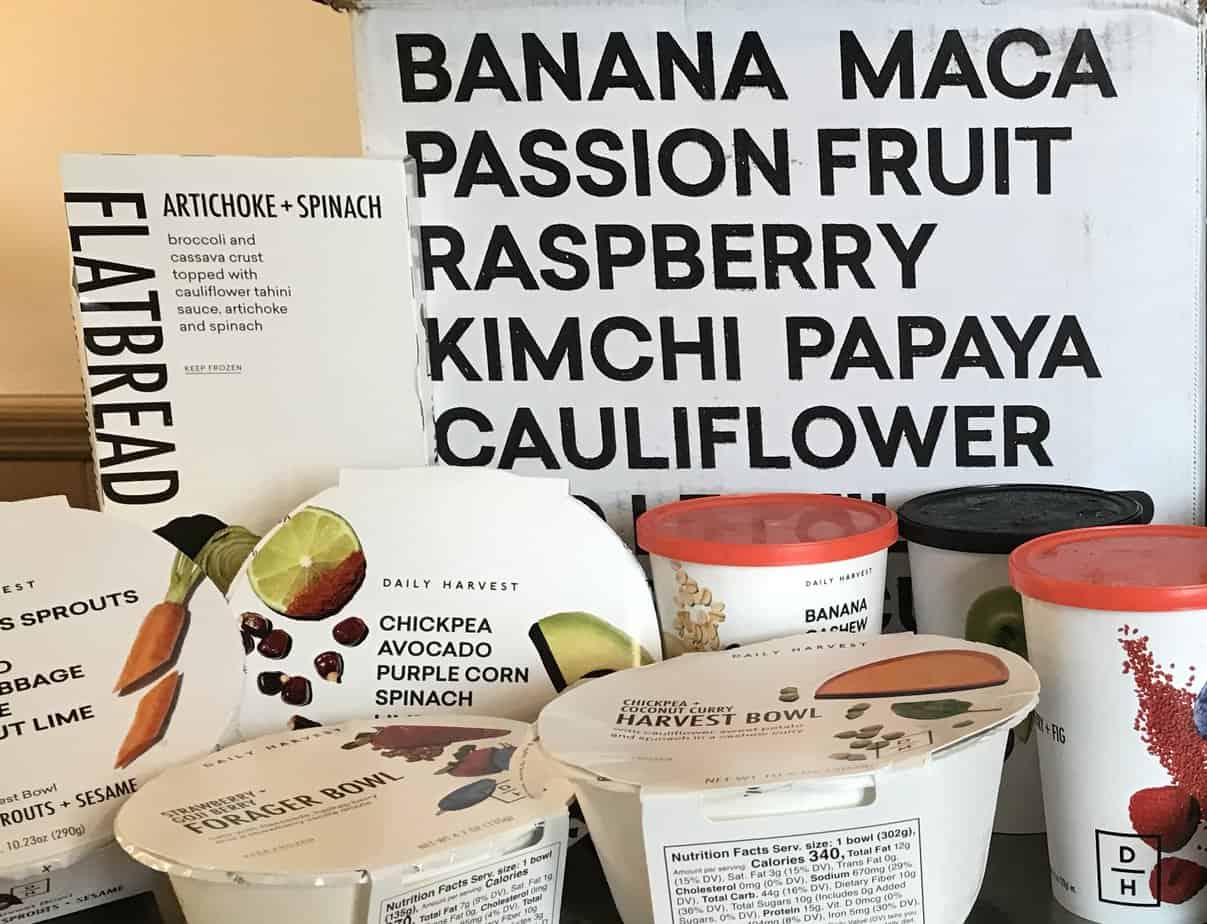 Our Rating
| | |
| --- | --- |
| Criteria | Score |
| Ordering process | 9/10 |
| Shipping | 8/10 |
| Variety of foods | 6/10 |
| Taste | 4/10 |
| Overall quality | 5/10 |
| Total | 6/10 |
Key Features
Fruit and vegetables are frozen on the day of harvest
Organic foods in each of the meals
Lots of variety in terms of organic, vegan foods (though, oddly, it doesn't brag about being vegan or plant-based)
Vegan food options without a lot of soy or filler
Pros
The smoothies are fantastic. You can really taste the quality of the fruits.
Breakfast oat bowls can be heated in the bowl and are done in 1 minute. Great for when you are in a hurry.
Daily Harvest had good quality in the ingredients. To be clear, I don't mean that the overall meals or snacks themselves were bursting with flavor; I mean that you could taste the quality of the individual ingredients as individuals. If you got a bite of something with tomato, basil, and chickpea, you tasted all three of those as unique flavors.
Cons
There isn't much variety in each category, so if you use this service as your primary food source, get ready to eat the same thing every three days.
I didn't care for their soups or their flatbreads, and I don't think I would repurchase their desserts, but I really enjoyed the small serving sizes of the oatmeal bowls and loved the smoothies.
The Ordering
For the 9-item box with Daily Harvest, I paid $52.61 after a small discount. You have the option of choosing between 6 and 26 items, and for some reason, my OCD doesn't appreciate that these aren't divisible by 3 (3 meals in a day, people). The more items you add, the more discounts you receive.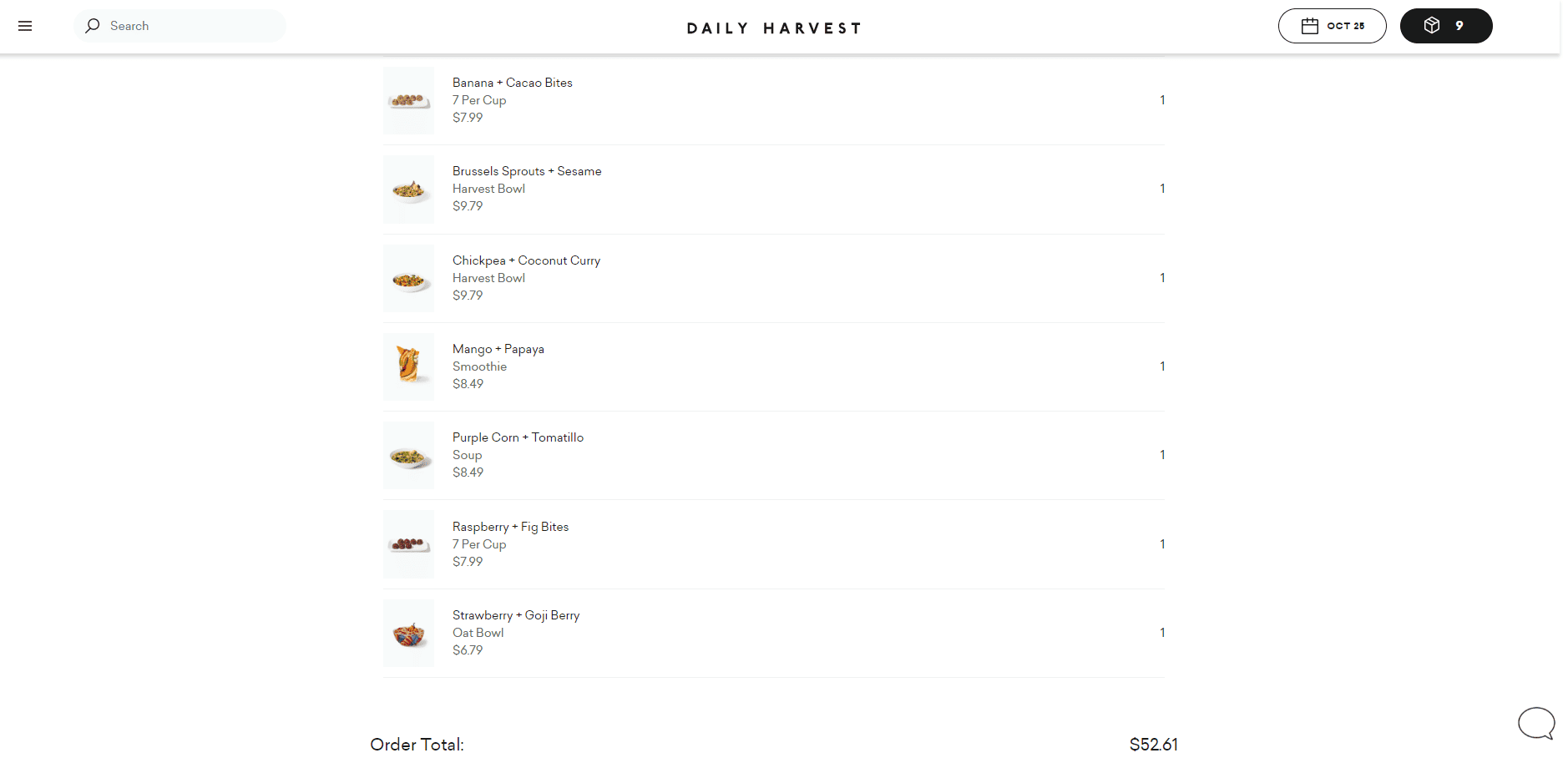 You can only pay with a credit card, although a debit card would work fine. There are several options, including:
Smoothies
Flatbreads
Harvest bowls
Grains
Soups
Forager bowls
Bites
Lattes
Milk
Variety
I was genuinely impressed with the variety they had. I was hesitant at first because I always feel like companies that offer much variety are focusing on too many things and, therefore, don't do any of those things really well.
But I was surprised.
I was astonished when it came to the smoothies. I have been making smoothies regularly for about 12 years. Every so often, I will harvest or purchase fruit and vegetables when they are on sale and put them in individual freezer bags for single or double serving sizes.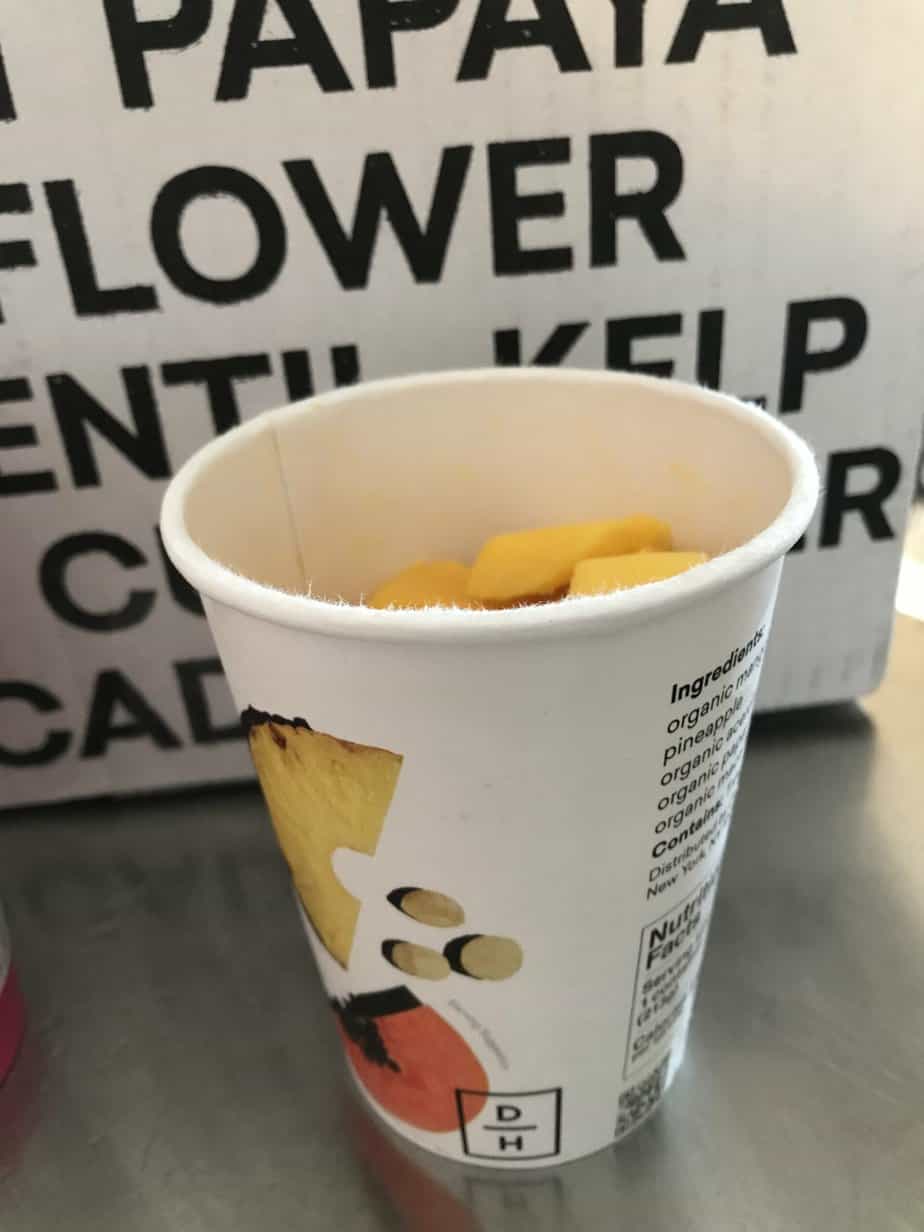 But most of the time, I freeze individual types of fruits or vegetables in bulk and then scoop out a handful from each of the leading bulk bags I have in the big freezer as necessary.
When I make my smoothies, it's a lot of frozen material, and I'll top it off with some simple flaxseed, almonds, or other protein.
I don't usually go crazy. I keep my ingredients to a minimum of four or five items per smoothie.
That's precisely what I experienced with the Daily Harvest smoothies. They were the same types of combinations that I would make. There were five ingredients total in the mango and papaya smoothie, for example, all of them organic.
The Arrival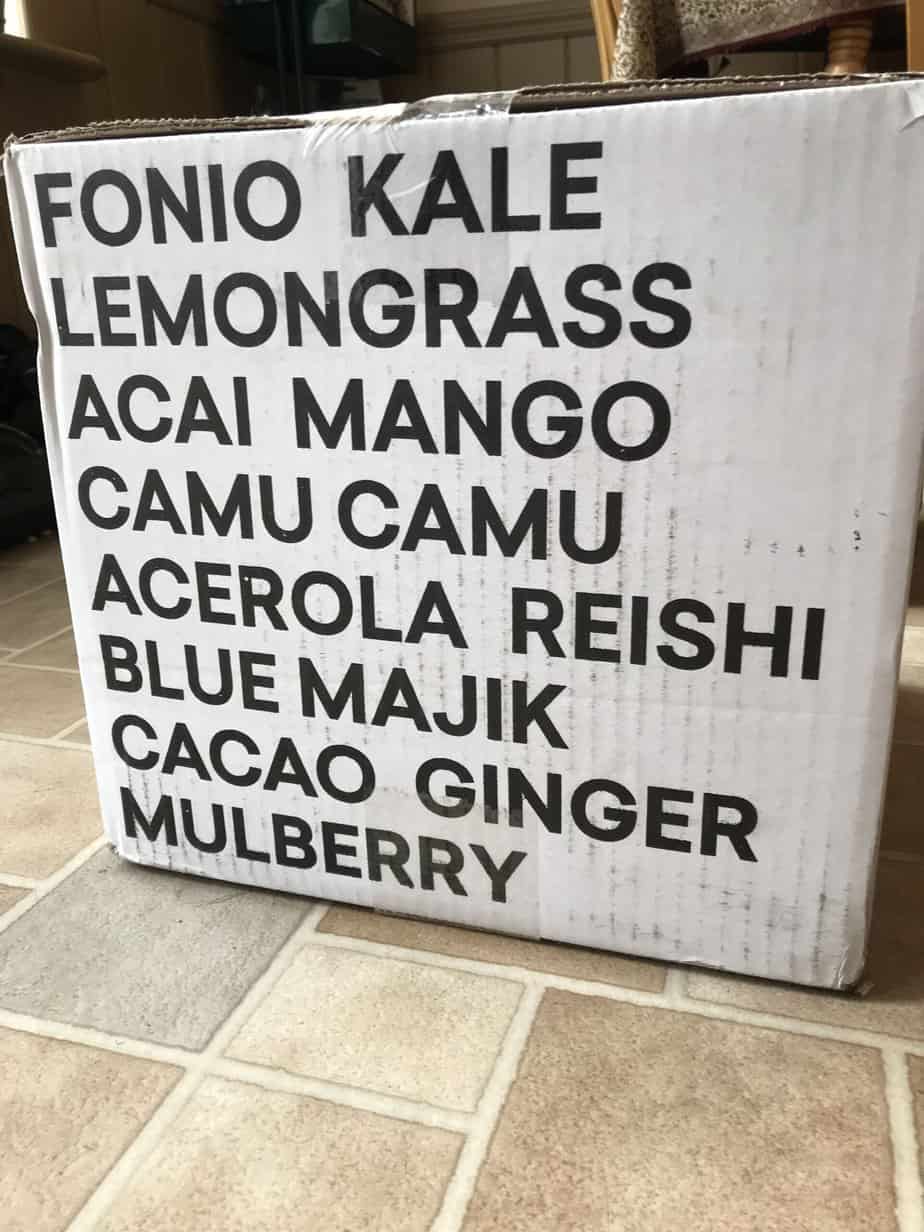 The box was smaller and lighter than expected. I thought that with so many meals, the containers would be uniform or something, and the standardization would make the box quite large.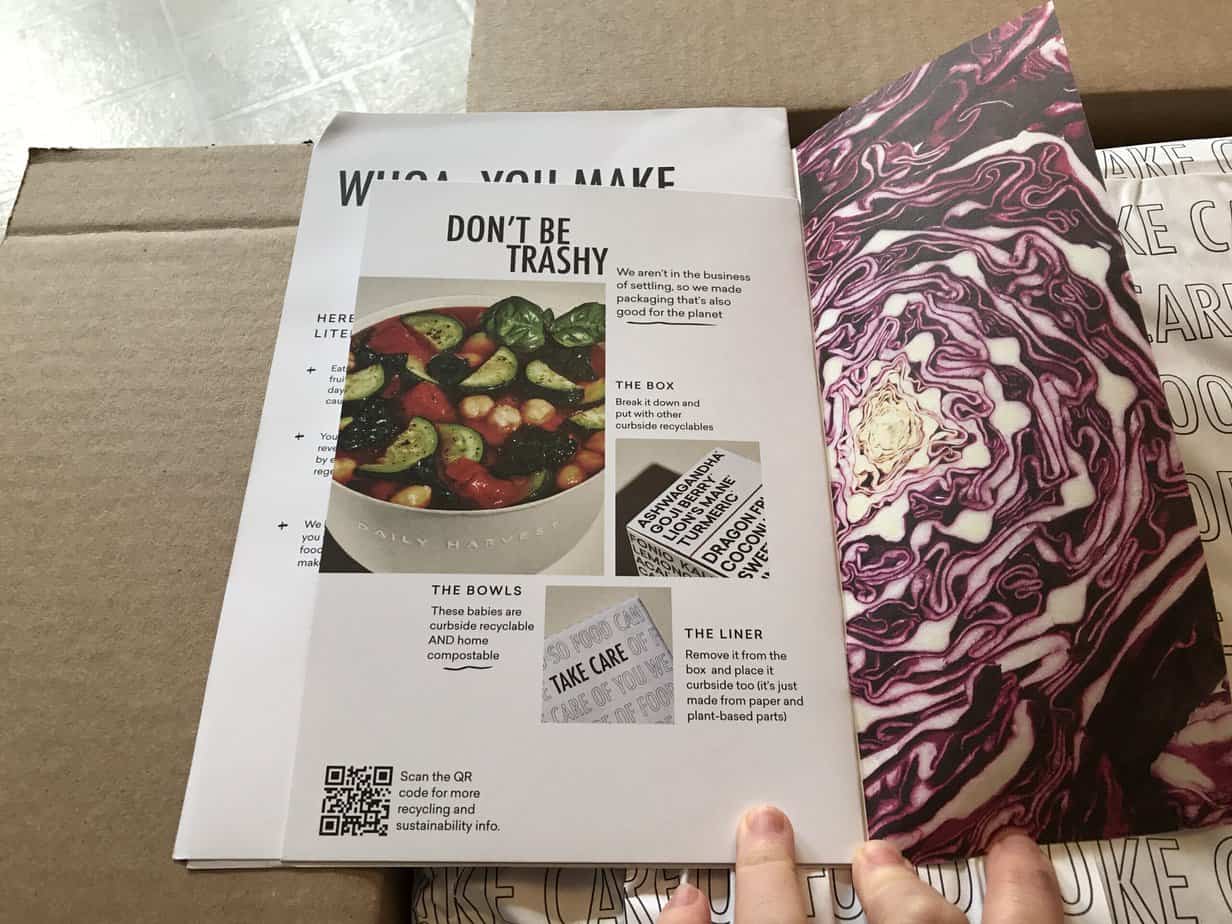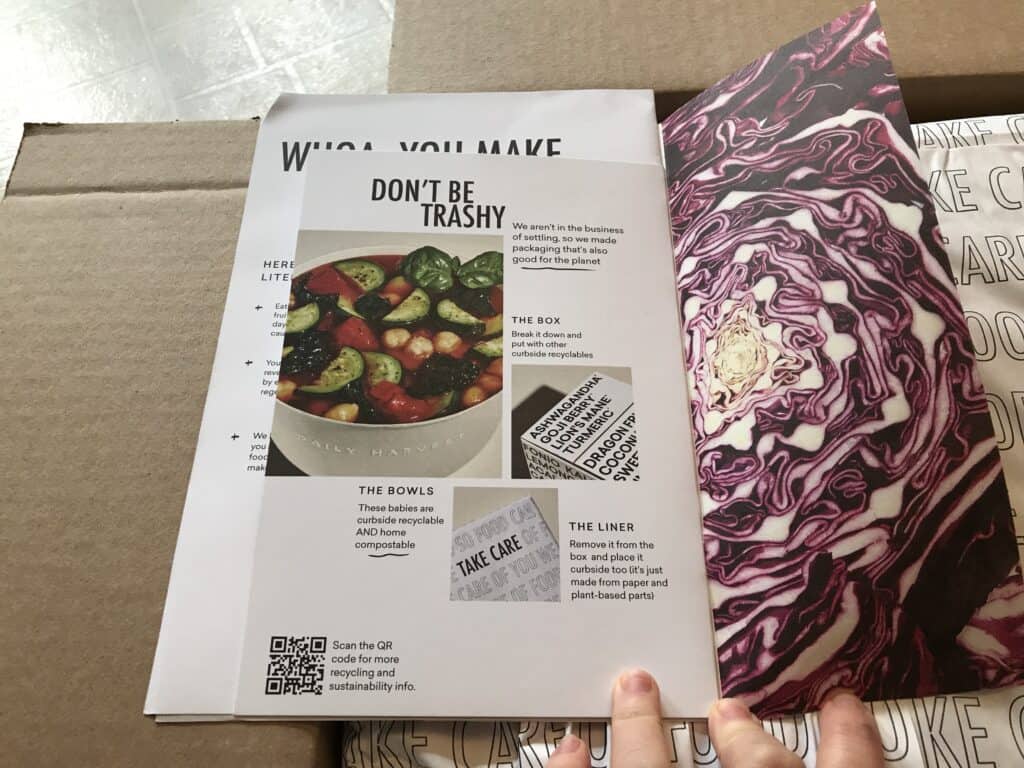 Instead, it was a modest box that anyone could carry. I loved the packaging, too; it had the design of a cold box with material that wraps around the entire bottom and perimeter, with a flap lid on top. There was a cardboard divider between the dry ice and the food.
I wouldn't say it was a lot of dry ice, and many of my items were beginning to thaw at the time of delivery, but at least they hadn't spoiled.
The packaging design kept all of the food containers firmly in place, and nothing got smooshed.
Ease of Use
All of the food options are very easy to use. They come with instructions printed directly on the container, and aside from the flatbread, which took 25 minutes, most things only take a few minutes to prepare.
Taste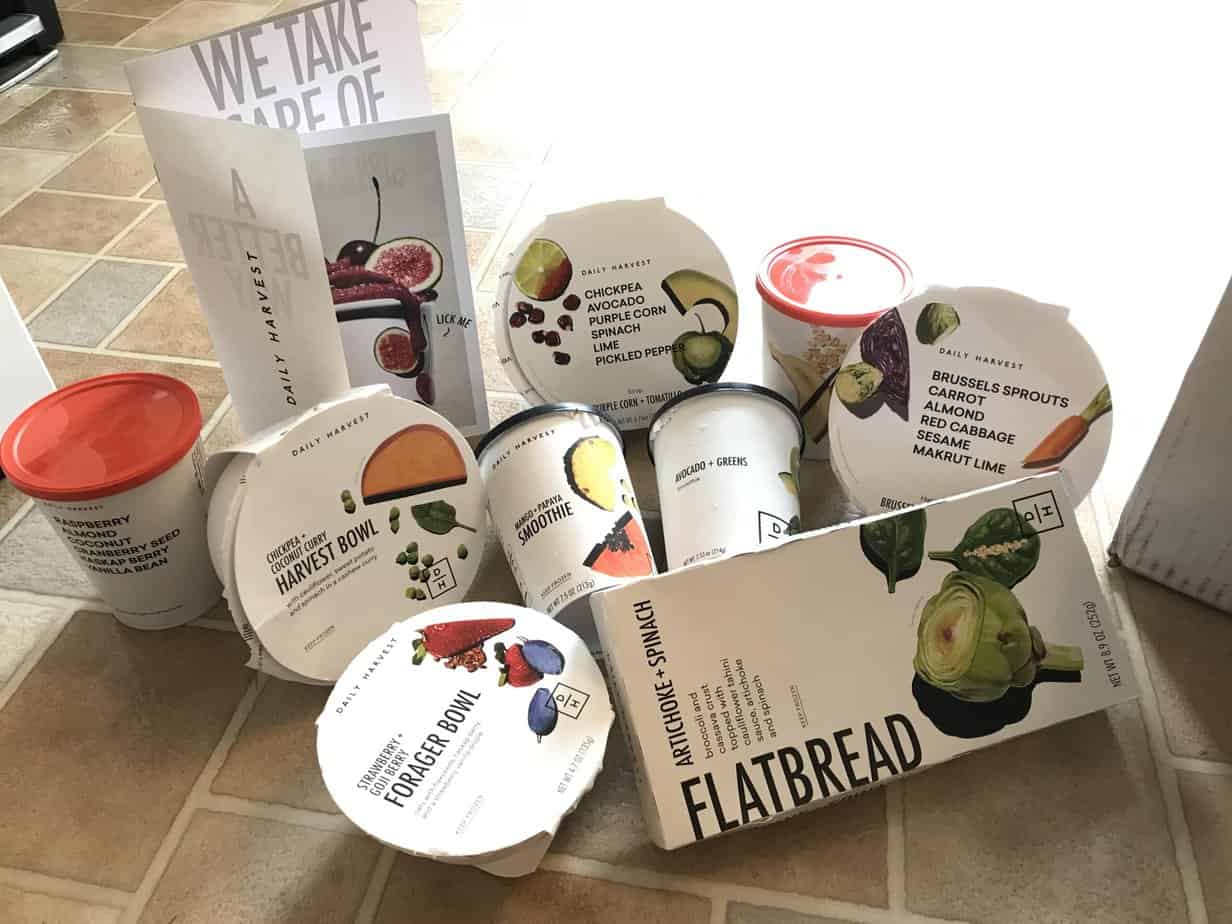 Breakfast
For breakfast, I started with the oat bowl that included some fresh berries and a frozen strawberry vanilla drizzle.
I always have oats for breakfast, but I don't usually throw fruit on top, so this was a new adventure for me. I was delighted that it could be heated up directly in the bowl, and it only took one minute.
Lunch
I had some of the frozen snack bites and the smoothies for lunch, and it was outstanding. I don't usually have a big lunch because it cuts into my work day, and I do not particularly appreciate feeling groggy after lunch. The smoothie was a great pick-me-up and the perfect size. It wasn't so much that I had a sugar rush and crash, and the taste was delightful.
I could really taste the quality behind each of the fruits that were in there, and I didn't really taste the nuts at all.
Smoothies
The quality was outstanding for every smoothie. You could truly taste the freshness in the fruit. I would not have known that the fruit wasn't picked from the tree that morning.
I loved the mango and papaya. No notes. Just applause.
The same held true for all of these subsequent smoothies: the taste was outstanding, minimal ingredients, easy to mix, with a sturdy cup from which to drink. I especially liked the avocado and greens smoothie because it's almost exactly what I would order from Jamba Juice or make at home, except they added almonds to it, which gave it a pleasant, nutty taste.
Dinner
I had the tomatillo soup with blue corn for dinner, but it wasn't enough, so I threw in one of the flatbreads to make it more substantial. I was really disappointed that when I emptied the contents into my pot, I could count the six individual purple corn kernels that rose to the top. The tomatillo salsa was frozen in small cubes so that when it was heated, it blended with the water.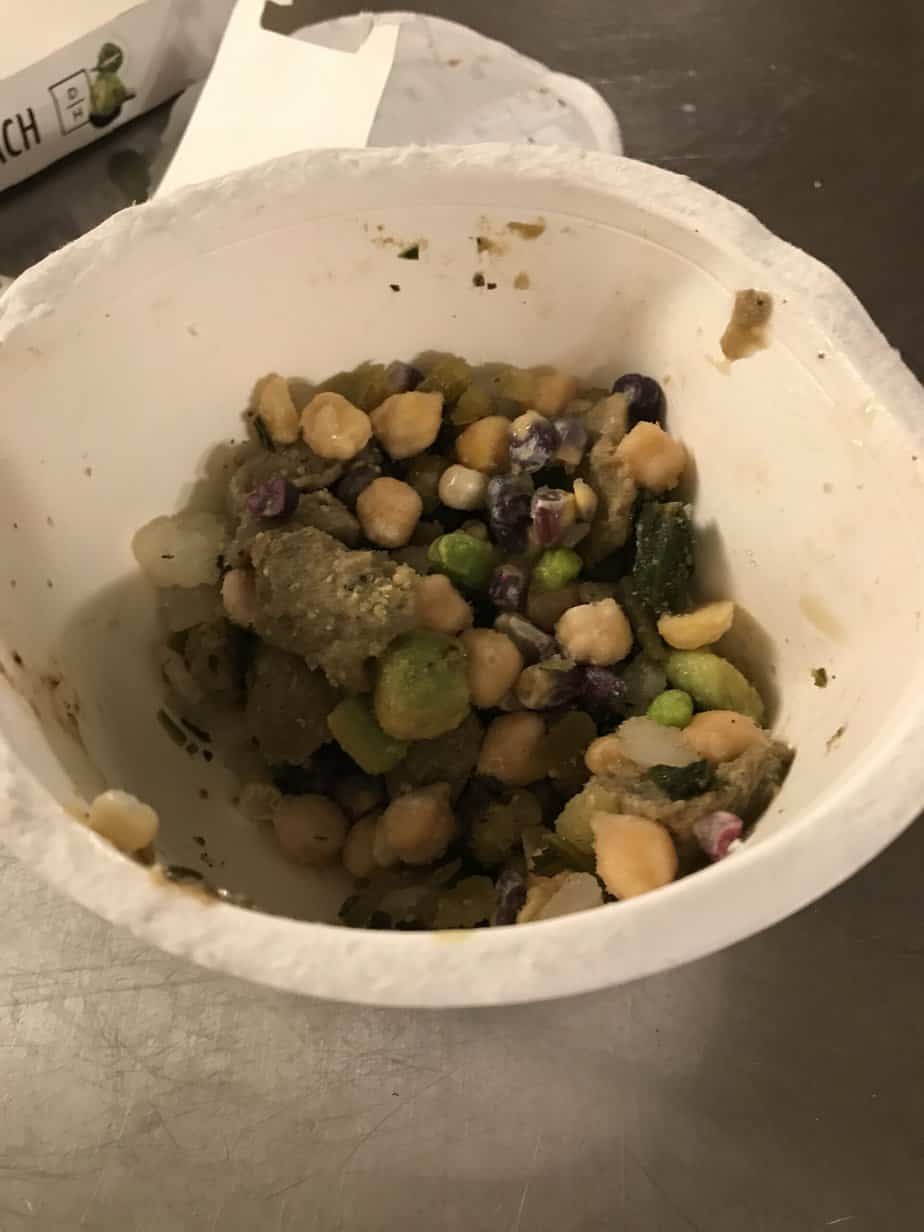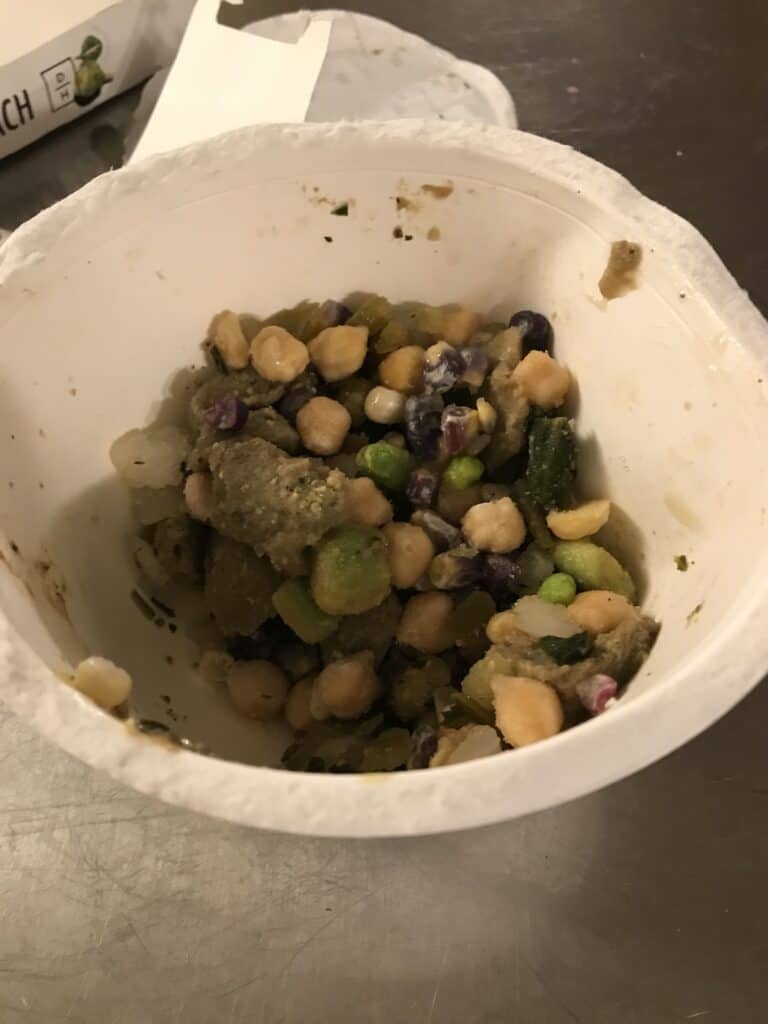 Note: I always make tomatillos salsa from scratch, and I love it, but it is a very watery salsa because the tomatillos have such a high water content. Adding extra water, as the instructions suggest, only exacerbates that problem. This is an issue across the board but a particular issue with tomatillos and the tomatillo soup.
I was primarily focused on how the avocados would thaw, and the answer could have been better. They didn't have the same consistency that they would have if they were fresh. It's not a food that freezes well, and it was coated with something to keep it from browning.
The taste was a letdown. I was famished, so of course I ate everything, but there just wasn't anything to it. At least when you have a can of soup from the store, you taste salt.
Let's cut to that flatbread. Right about the time I was finishing my unsatisfactory bowl of soup, I turned to the flatbread. Again, I was starving, so I ate it, but what struck me most was that it was incredibly Bland, except for the artichoke. The artichoke almost kicked you in the mouth with how strong the flavor was, and everything else was just a mush of inconsequential accompaniment.
As a frame of reference, we are starting to get mice in the house again because the weather is turning, and they will eat everything left out on the counter or the stove. I left some of the flatbread out, and they didn't go near it. It could be that they aren't vegan, but I doubt it.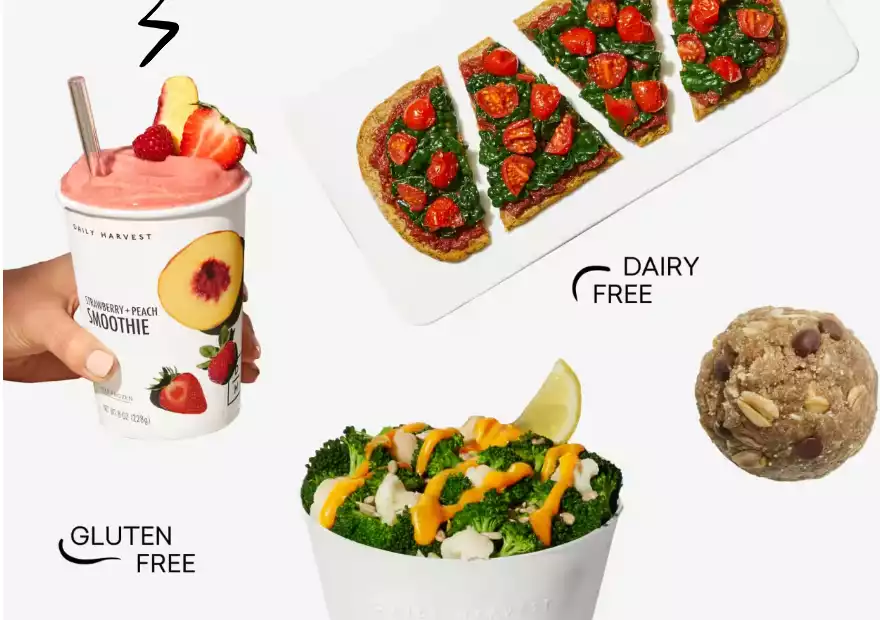 Material and Durability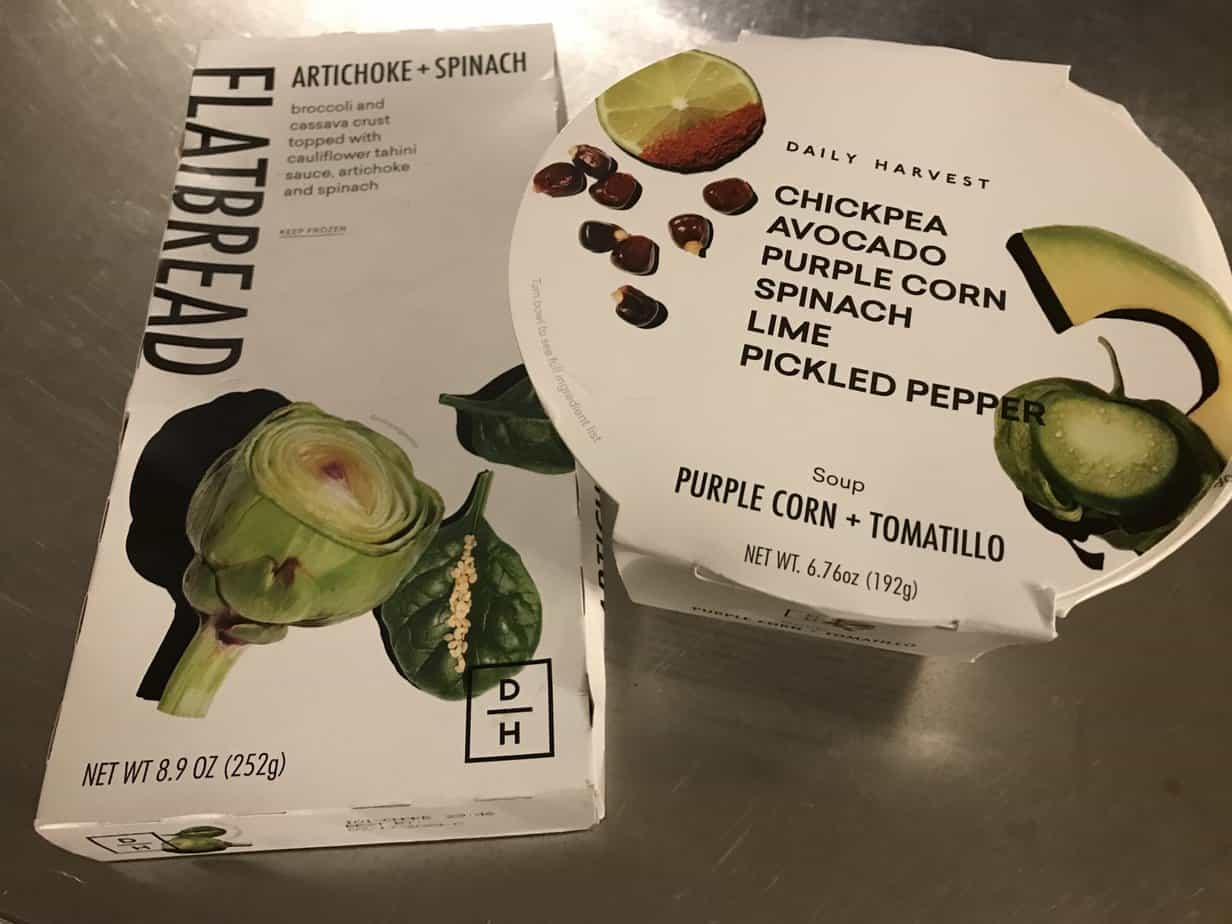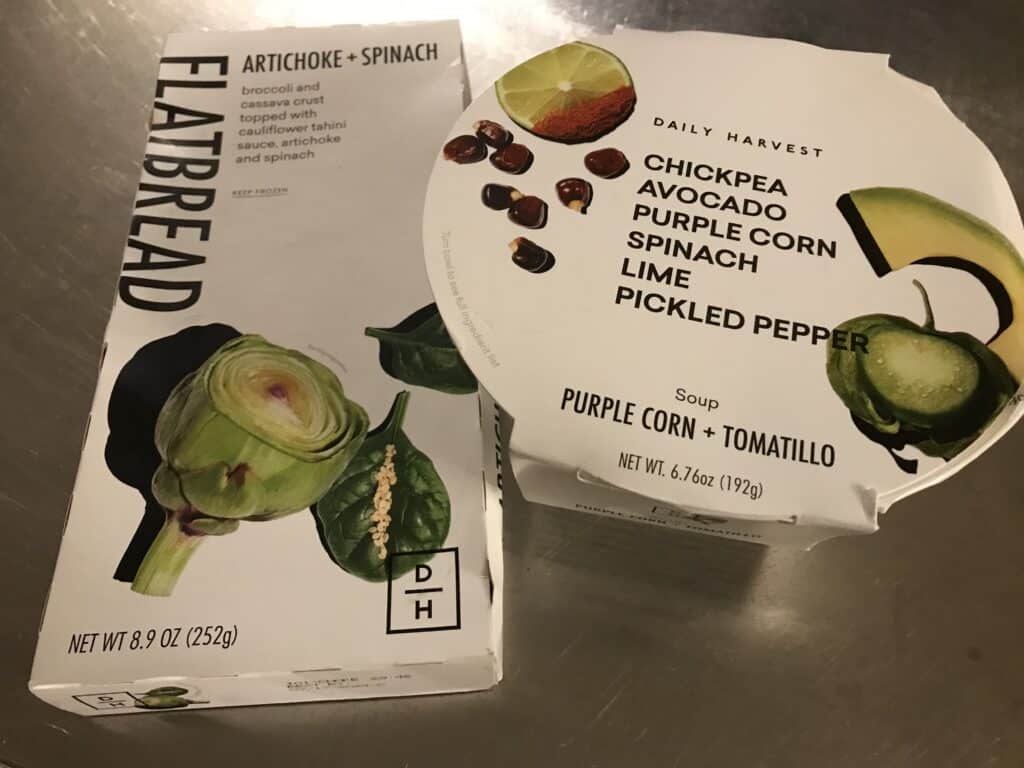 All of the cardboard material is easy to dispose of, but it's also very thick. I like that each container for the soups, oatmeal breakfast items, flatbreads, and smoothies has little QR codes at the bottom that help you track the environmental impact of using recyclable materials and verify different recipes you might use.
Most of the items that have an option of preparation in the microwave, like the oatmeal bowls, can be prepared directly in the container, which is very good for those who travel or don't have much time on their hands.
Cancellation
I wasn't thrilled with the cancellation process. The company sent many marketing emails between the time I added items to my box and the time I paid for them. They obviously wanted to keep me hooked. And every single message talked about how easy it was to cancel the plan if necessary.
I put that to the test, and it took much work. In fact, the process for cancellation ends with you pausing your plan indefinitely, at which point they continue to send you marketing emails about discounts and loyalty programs, trying to get you to reinstate your plan.
It takes quite a bit of doing to cancel your plan. You have to go through six layers of attempts to keep your loyalty before you can pause your plan, and after that, you have to go back into your account and click the edit button next to the paused plan in order to end your plan entirely. And I can't emphasize enough just how small that print is, and at the bottom of the page, almost as though they don't want you to find it.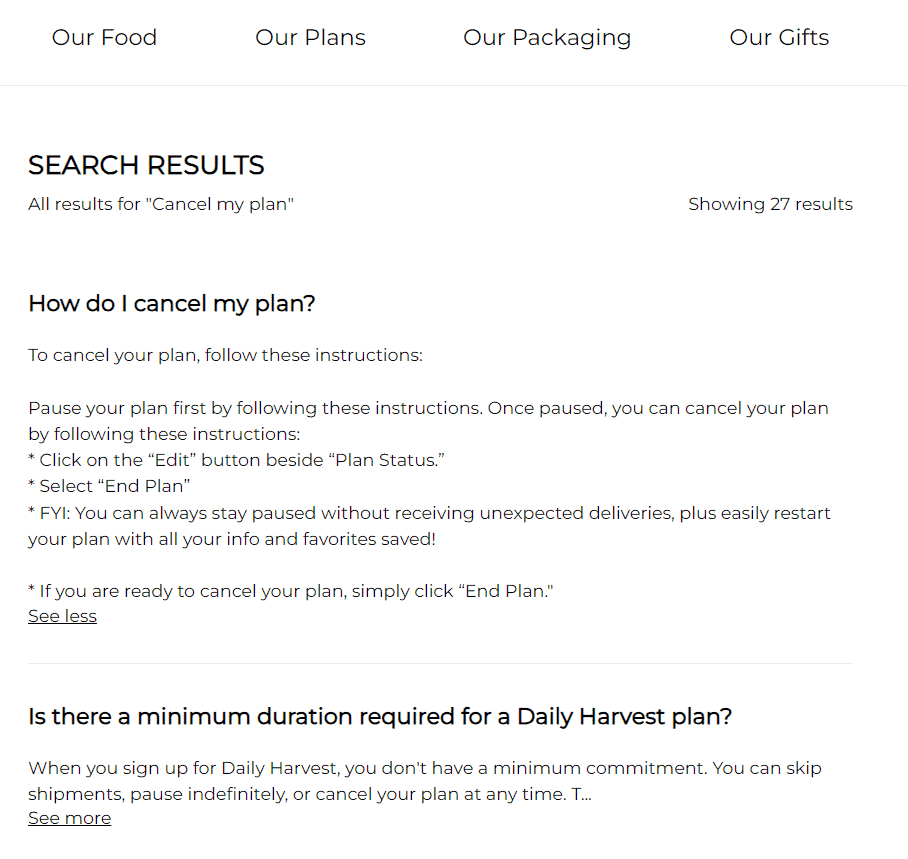 FAQs
Question: Why is everything frozen?
Answer: All of the ingredients and items in your box are frozen when harvested, which, in theory, keeps a lot of the flavor and nutrients intact. You definitely taste the difference compared to products that ripen during Transit and are less tasty when they reach you.
Question: Are the foods vegan-friendly?
Answer: Yes, all of the foods are plant-based, so, vegan. I honestly can't believe they didn't plaster the word "vegan" all over their website since the marketing seems to be the only reason companies ever offer vegan foods.
There are primarily fruits, vegetables, seeds, grains, and legumes with no animal-based products. That means the recipes are also Kosher friendly but lack the Kosher certification, so that's something to consider.
Question: What if I have nut allergies?
Answer: All of the recipes are naturally gluten-free and dairy-free. However, a few recipes have tamari or miso, so they aren't soy-free unless you check the ingredients. The food has a lot of nuts and seeds, though, so you have to do your homework to decide what works best for your diet.
Alternatives to Consider
Revive Superfoods: This company heavily emphasizes smoothies, noting that all of the material that goes into their foods is harvested and frozen on the same day, so you really taste the freshness.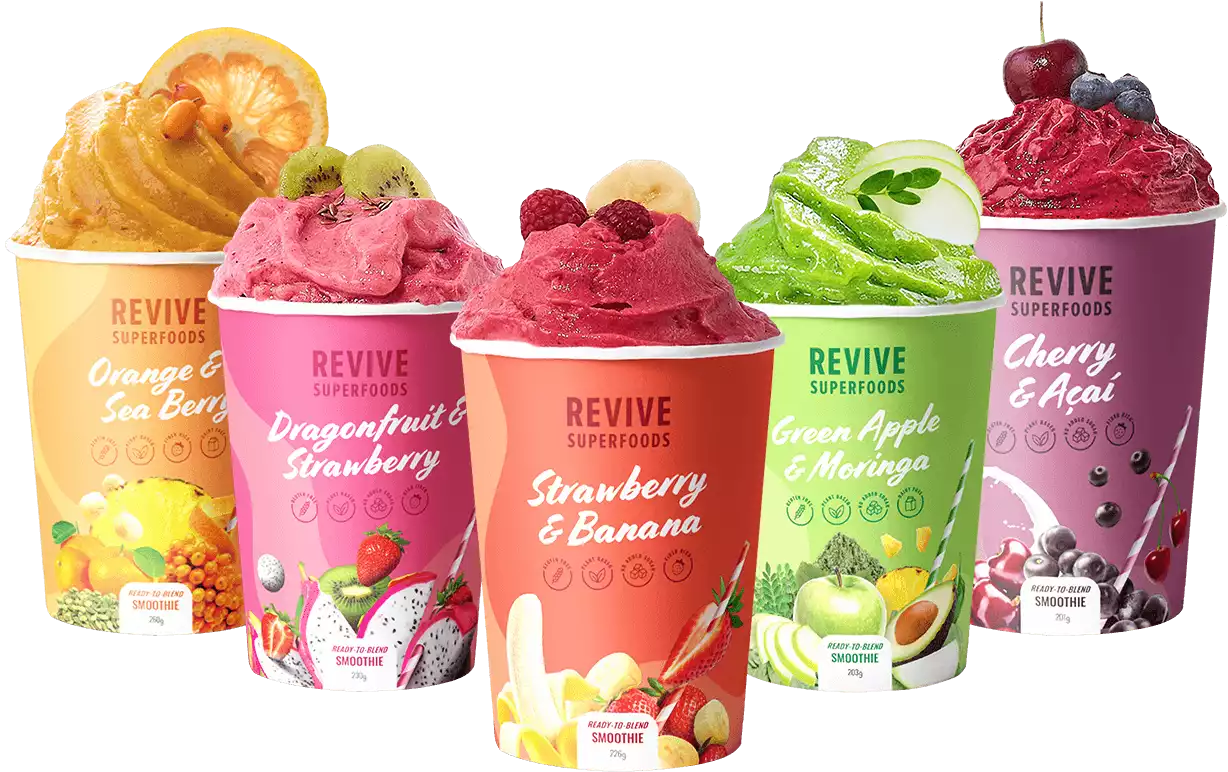 Why Go with Revive?
Revive Superfoods is a trusted name in the realm of convenient and nutritious meal solutions. They offer a diverse menu of frozen, ready-to-blend smoothies and meals made from high-quality, plant-based ingredients. With a focus on delivering both flavor and health benefits, Revive Superfoods makes it easy for individuals to prioritize their well-being, even amidst busy lifestyles.
Get Started
Use Code "CHRISTMAS60" for 60% Off!
We earn a commission if you click this link and make a purchase at no additional cost to you.
Hello Fresh: This is slightly similar, and you can choose the types of foods you want, like vegan or vegetarian, but instead of having meals sent to you that you have to microwave, they send you the ingredients that you just have to toss together, usually in a skillet.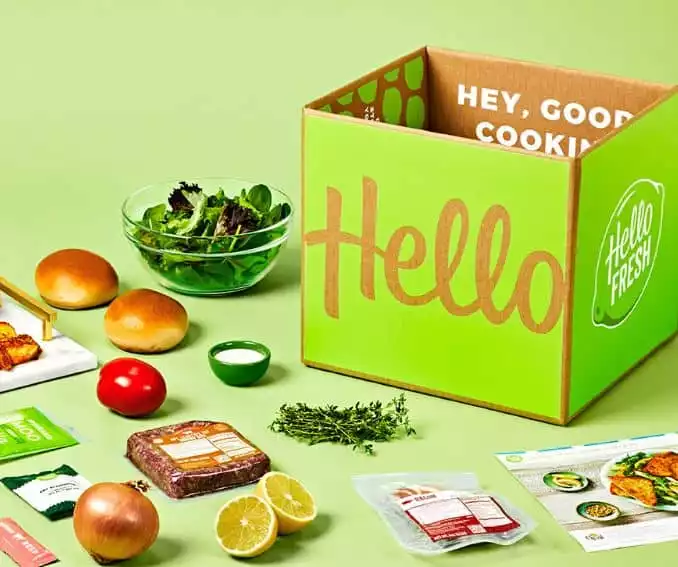 Order Your Delicious Meal Kit | HelloFresh
HelloFresh delivers weekly meal kits with delicious, prepped ingredients and easy-to-cook recipes directly to your door. Take the guesswork out of meal planning and cook delicious food for you or your whole family.
Get Started
We earn a commission if you click this link and make a purchase at no additional cost to you.
Vegancuts: This company provides healthy vegan products, but you pick vegan, non-GMO, gluten-free, and organic snacks, sodas, desserts, and drinks. It doesn't give you full meals, but it certainly gives you something to snack on.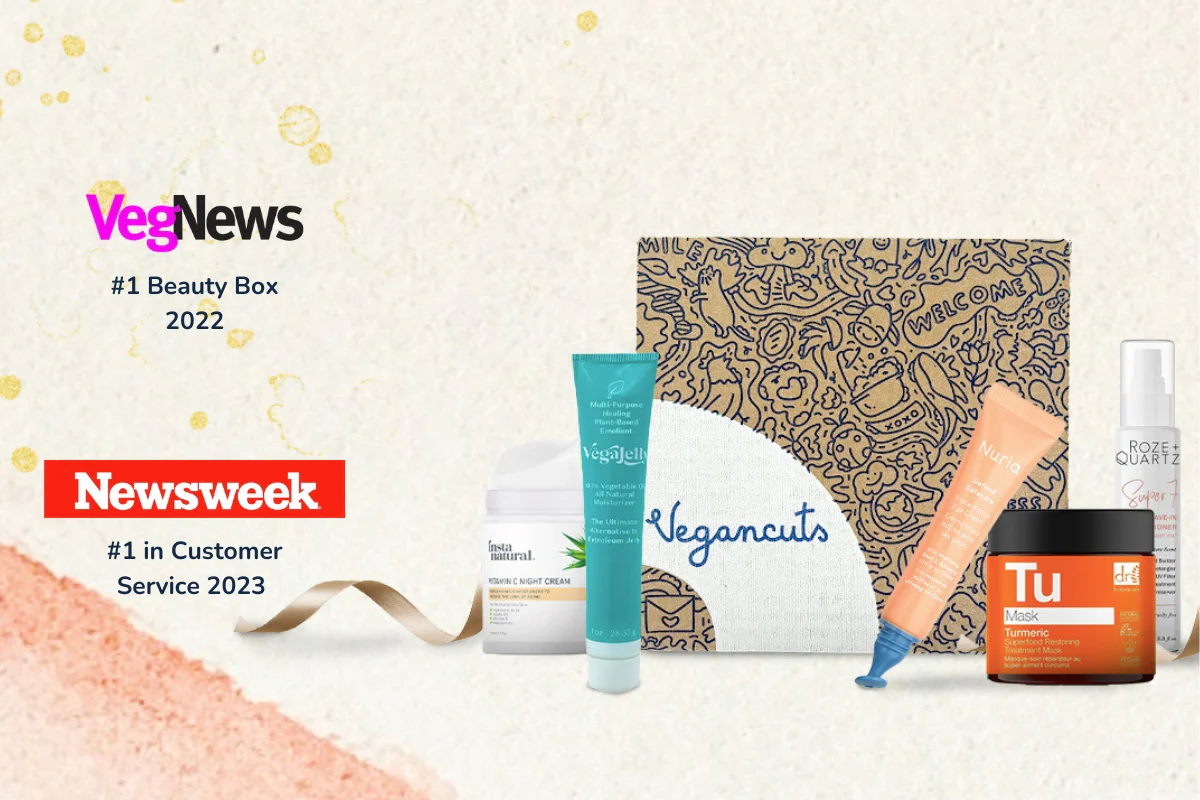 Vegancuts Monthly Beauty Box | Cratejoy
Discover how amazing vegan and cruelty-free can feel. Each month, receive 4-6 deluxe and full-size beauty products. We cover your skin and body care, from luxurious exfoliating cleaners to nourishing hydrogels.
Check Price
We earn a commission if you click this link and make a purchase at no additional cost to you.
Read our complete reviews and guides for each alternative:
Tips
The grain sides are lovely to have in the freezer because you can make your main meal and then toss that in the microwave right before you eat. I loved adding some of the grains to things like cauliflower tacos or Mexican potato enchiladas.
If you travel, you can easily save the box in which your food is delivered, pack it full of ice packs, and bring some of your food with you. Obviously, this won't work if you're on a plane, but I usually drive to conferences that are only a few hours away, and I love taking them with me to have in the hotel so that I'm not stuck eating fast food the whole time.
If you are making any of these items, put in slightly less liquid than they call for, especially where the soup is concerned; otherwise, you'll mostly get a runny soup that spills all over the place.
Conclusion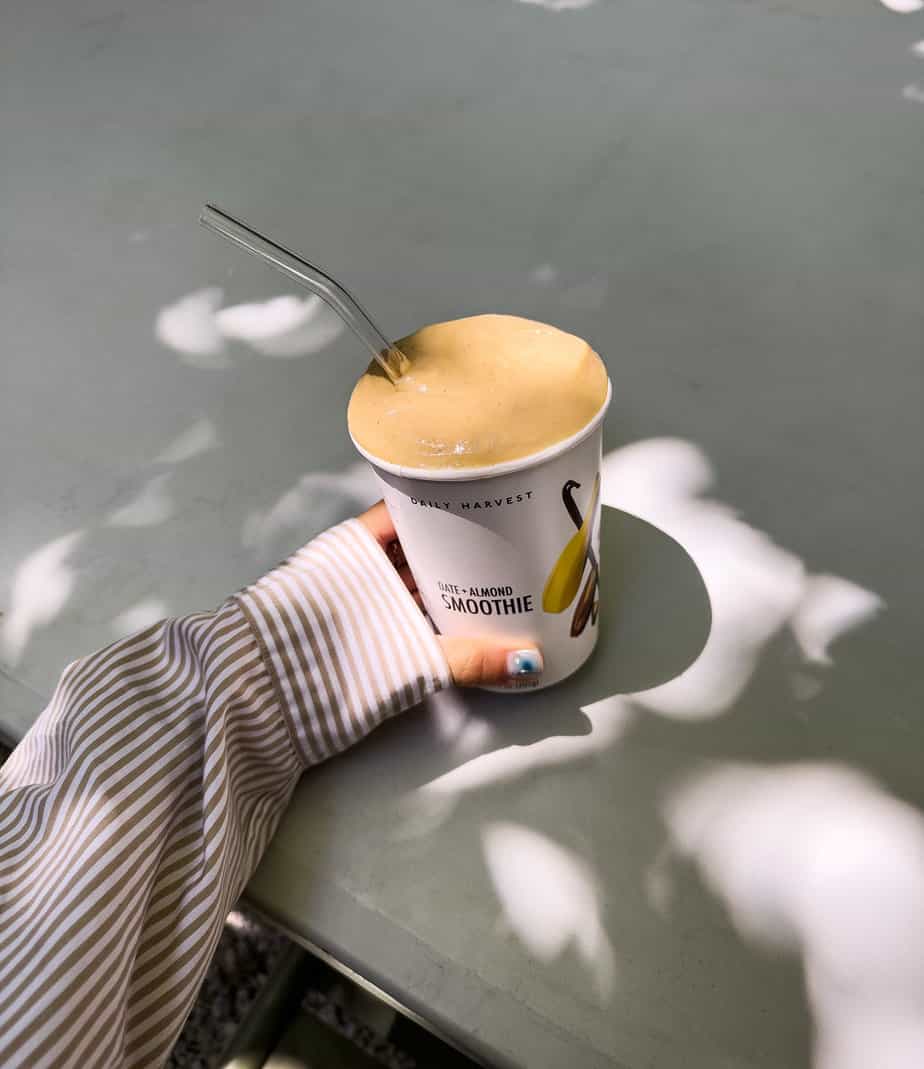 I also absolutely loved the taste of the organic smoothies. I would leave the main foods behind. The ordering process was great fun and easy. I was excited after reading the descriptions and the hype, but the hype fell short. The tastes were bland at best aside from the smoothies, and the smoothies were overpriced for what they were. Invest in a company that offers wholesome, filling foods if you need a subscription service.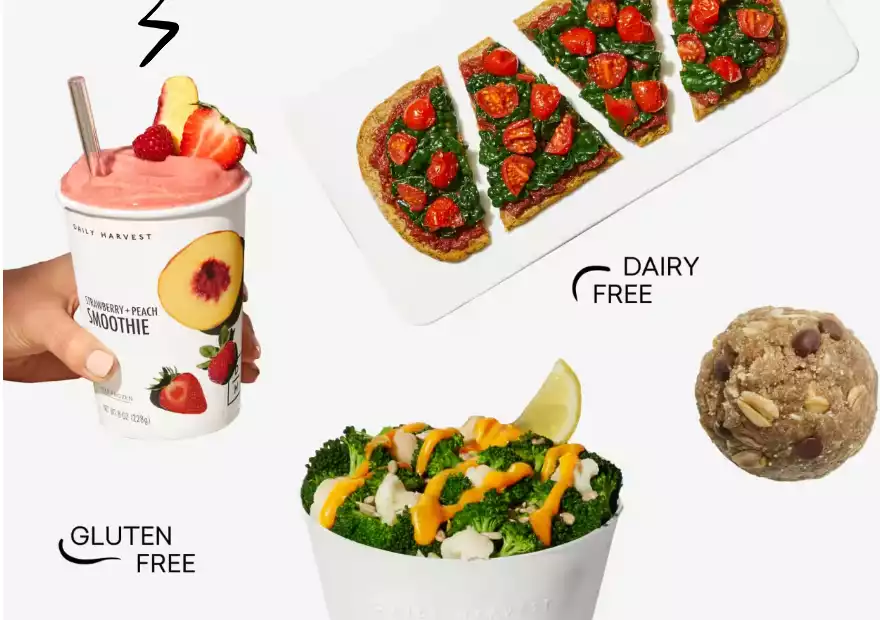 Continue reading: