Latest posts by Lauren Vigdor
(see all)
Food has been a big part of my life since I was born. My mom owned her own catering business when I was young and was our large extended family's unofficial caterer and hostess. Later on, my dad owned an ice cream factory. I was introduced to wild rice and rumaki decades before I would ever serve my time in the restaurant industry.
Unfortunately, like any self-respecting five-year-old, I definitely had my "plain pasta with butter" picky-eater phases growing up. I was encouraged but never forced to try anything, so when my mom would grill salmon, I would take the tiniest rice-sized flake on the tine of my fork before declaring myself a seafood hater.
It wasn't until college that I started liking seafood, and looking back; it seems so funny to me that I was so picky. Now, if I were to choose one protein to eat for the rest of my life, it would probably be salmon or at least some kind of seafood—fresh seafood is so delicious and healthy!
I live on a barrier island in the Atlantic, and in the summer, I shuck and eat oysters on my back porch while some of my friends spend their days working on scalloping boats. Fresh, responsibly-sourced seafood is something that I really care about, and I realize that most people don't live in a place where it's as readily available as it is here. That's why the idea of Sea to Table is so appealing to me. It gives people access to wild-caught seafood regardless of where in the country they live.
Bottom Line Up Front: My Honest Sea to Table Review
Sea to Table ships flash-frozen wild-caught seafood all over the continental U.S. While their seafood is pricier than the average grocery store (and even more expensive than some competing delivery services), their transparency and commitment to sustainability are unrivaled. Everything I tried from them was fresh and delicious, and I will be ordering from them again.
Better Seafood Selection & Value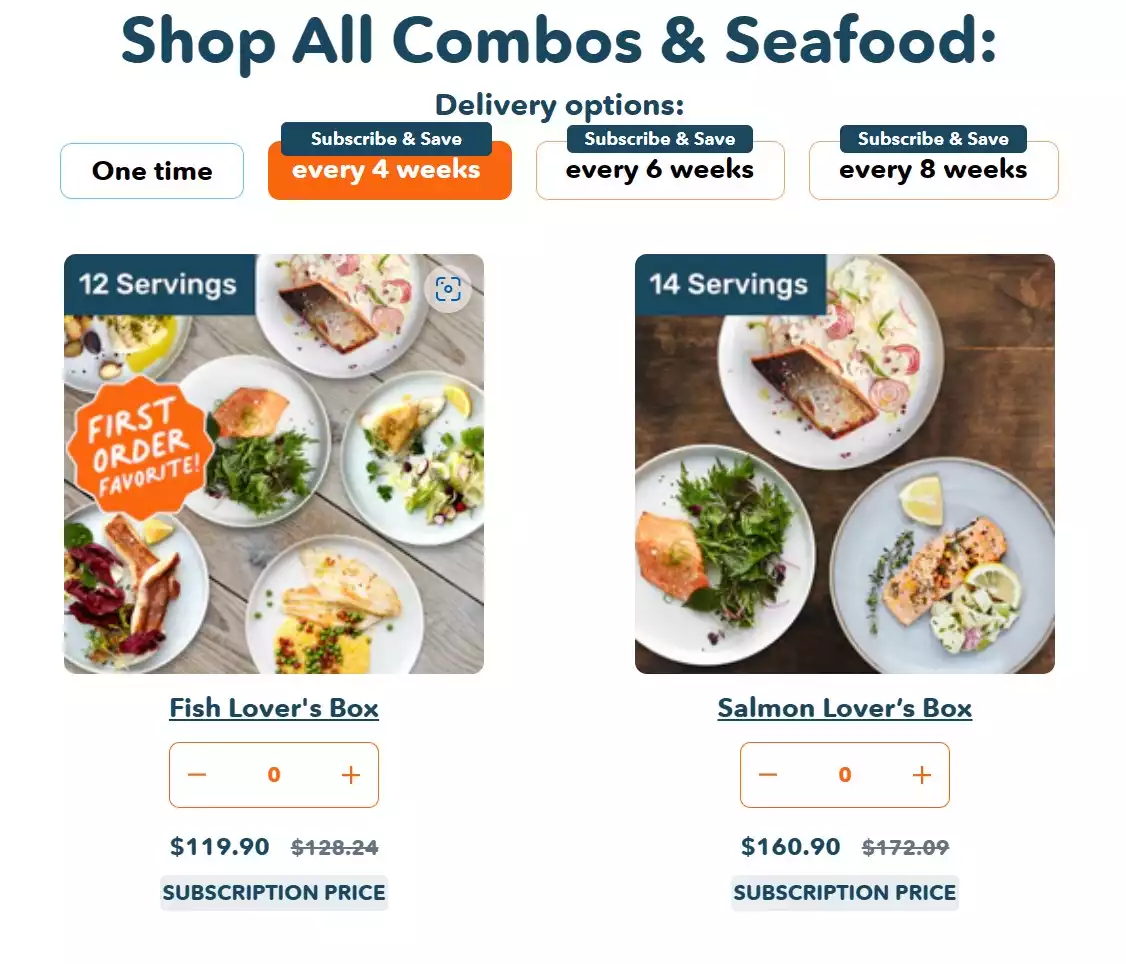 I Switched to Sea 2 Table?
For fish exclusively, I've recently switched to Sea to Table for the best selection, quality, value, and shipping timelines. Customize your subscription or order just what you want, when you want.
Find Your Seafood
We earn a commission if you click this link and make a purchase at no additional cost to you.
Everything You Need to Know about Sea to Table
Sea to Table is a small, family-owned business that sources wild-caught seafood from the coastal United States. It ships it to customers across the continental U.S. Their seafood can all be purchased as part of a subscription or as a one-time purchase or gift.

Commitment to Sustainability
All of the fish sold by Sea to Table is wild-caught on the coast of the United States. Each pack of fish is labeled with the name of the fish species, where it was caught, the catch method, its best-by date, and sometimes even the name of the fishing vessel that caught it. Since a huge percentage of seafood sold in the U.S. is imported, I found it refreshing to know there's a place where I can purchase seafood that was caught closer to home.
Four times a year, Sea to Table sends samples of their fish to a food technologies lab to have its DNA sequenced. This helps combat potential fish fraud—a practice that's unfortunately all too common in the seafood industry, where species are misrepresented or swapped for similar-looking species. I like the peace of mind that comes with knowing exactly where my food came from and how it arrived on my plate.
Subscription Options
Everything that Sea to Table offers can be ordered as a one-time purchase or as a recurring subscription every four, six, or eight weeks—including their a la carte seafood and mixed boxes. Subscribers are given a discount of 3.5% to 6.5% off each purchase (depending on the delivery frequency).
I really like that subscribers aren't stuck choosing from just two or three random mixed boxes. While there are half a dozen assorted boxes to choose from (more on that below), you can also essentially create your own subscription box by selecting individual seafood items (most are sold in packs of two servings) and having them set to ship as frequently as you want.
The Sea to Table Selection of Seafood
Sea to Table sells a somewhat limited selection of wild-caught seafood caught in several United States coastal locations. While I wish they had a few more options available, I do admire their commitment to keeping their selection local to the United States. I'm wary of anyone that sells a "fresh local" product but offers too many options—exactly how "fresh" and "local" can they possibly all be?
Their seafood is sold cleaned, portioned, and ready to cook. Some fish are sold skin-on, while others are skinless. Seafood that is available in packages of two portions includes:
Wild Gulf Shrimp (Florida)
Alaska Sockeye Salmon (Alaska)
Gulf of Maine Redfish (Massachusetts)
Northwest Pacific Halibut (Alaska)
Atlantic Winter Skate (Massachusetts)
West Coast Dover Sole (Washington/Oregon)
Wild King Salmon (Alaska)
Northwest Pacific Cod (Alaska)
Pacific Black Cod (Alaska)
Jumbo Easy-Peel Wild Gulf Shrimp (Florida)
Sushi-Grade Atlantic Albacore Tuna (South Carolina)
Jumbo Maine Lobster Tails (Maine)
Large Atlantic Sea Scallops (Massachusetts)
They also sell pre-build boxes of fish, which contain a variety of seafood, equalling 10-16 servings. I did the math, and it looks like you save around $16 per box when you order this way rather than ordering the included fish a la carte. The boxes include the following:
Prices
Prices are higher than you would pay for seafood at the average big box grocery store, but in my opinion, the quality of this fish is reflected in the price. I compared Sea to Table's prices with the prices of similar products at a few local chain grocery stores and my nearest Costco.
Pretty much across the board, Sea to Table was significantly more expensive—as much as $10 to $20 more per pound for wild-caught frozen sockeye salmon. It's worth mentioning, though, that while the grocery store salmon was labeled wild-caught, there wasn't much information available about where and when it was caught and what catch and freezing methods were used.
My local fish markets don't carry a lot of stock this time of year (many of them are even closed until the tourist season picks up in May), but those that are open sell their fish for comparable prices to Sea to Table. For the most part, the local stuff was priced a little under what I could get from Sea to Table, but the prices were much closer than the big box stores.
Shipping is free on all orders totaling $99 and up. Orders up to $49.99 are charged a $45 shipping fee, and orders totaling $50 to $98.99 cost $30 to ship. If you're only interested in purchasing a small amount of seafood, it may be more cost-effective to go through a local fish market if you have one available to you. Since everything arrives frozen solid, I'd sooner order some extra seafood to stock my freezer rather than pay a shipping charge.
Better Seafood Selection & Value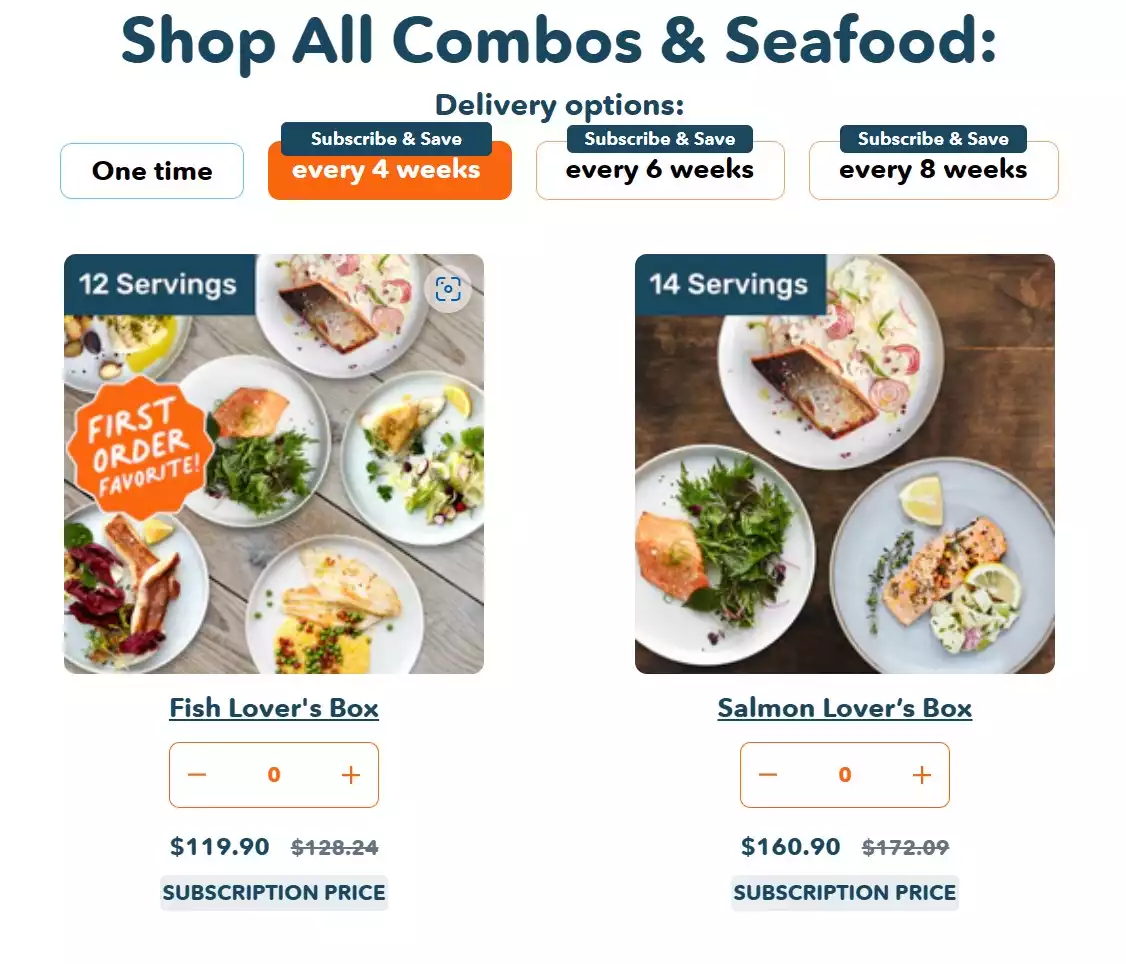 I Switched to Sea 2 Table?
For fish exclusively, I've recently switched to Sea to Table for the best selection, quality, value, and shipping timelines. Customize your subscription or order just what you want, when you want.
Find Your Seafood
We earn a commission if you click this link and make a purchase at no additional cost to you.
Refunds, Cancellations, and Customer Service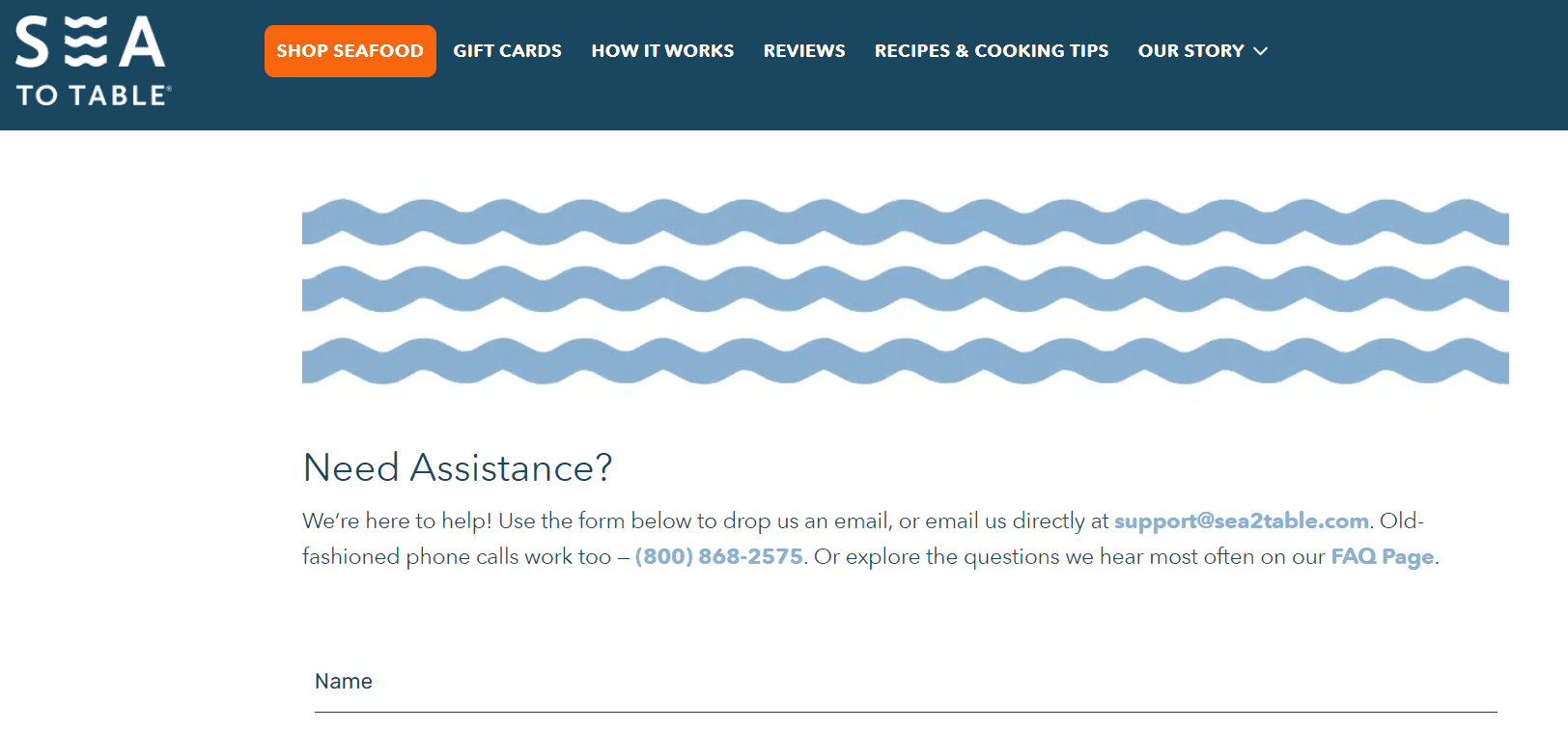 According to their website, Sea to Table will "refund, replace, or exchange any item that doesn't arrive in perfect condition within 30 days of purchase." To initiate a refund or replacement, you need to contact their customer service via email.
You can cancel or change your subscription anytime by logging on to the Sea to Table website. If you've already placed a one-time order and want to cancel it before it has shipped, you can do so by contacting customer service. If you want to cancel any order that has already shipped (you will have received tracking information via email), you will be charged a $45 return-to-sender fee.
According to the website, customer service is available via email, phone, or web chat during "regular business hours." They don't list specific hours on the site.
The Sea to Table Blog
Sea to Table has a blog on their site that I found incredibly informative, even if it was structured a little strangely. Clicking "Recipes and Cooking Tips" at the top of the home page will lead you to a page listing recipe ideas in drop-down menus under each type of seafood they offer.
There are also drop-down menus for cooking tips below, many of which lead to detailed blog posts. There doesn't seem to be a way to access the blog outside of these menus, but you can browse recent articles once you've clicked through from the recipe page.
I read through some of these recipes and tips and used them as inspiration when deciding what I wanted to cook with the seafood I received. I was surprised at how helpful they were. They provided suggestions for substituting other types of fish in the recipes, and many included helpful photos and videos.
My Experience with Sea to Table
I had the opportunity to try a few things from Sea to Table and was very impressed by their informative packaging and the quality of their seafood.
Ordering and Shipping Notifications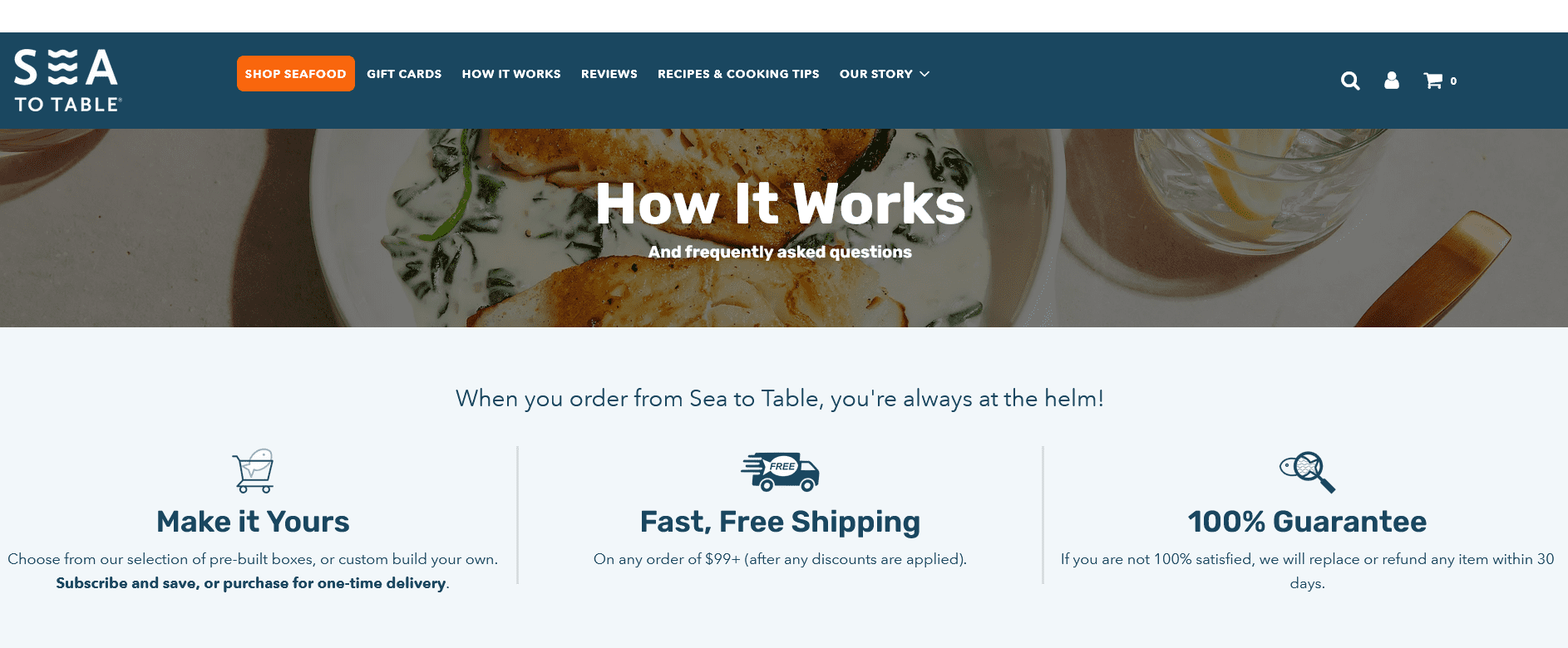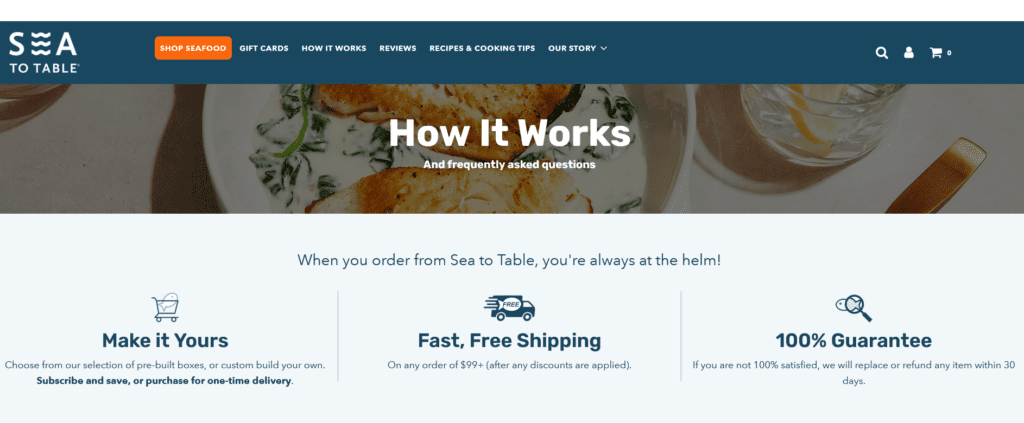 Sea to Table's website is very easy to navigate (with the possible exception of the blog). You can view their entire selection of seafood and select your items, quantity, and frequency of delivery, all from the "Shop Seafood" tab.
All of the items are accompanied by clear, colorful photos, and it's very easy to remove items, update quantities, and even add a gift message to your order. I honestly have no complaints about the website—it's uncluttered and aesthetically pleasing, and all of the information I need is right in front of me.
I received a notification via email that my order had been received. Along with my order number, the email stated that my order would ship within 1-3 days and would be in transit for 1-3 days in eco-friendly insulated packaging packed with dry ice. The email also stated that they do their best to deliver on weekdays so that orders arrive on time for the weekend, which I thought was a thoughtful touch.
A day later, I got a shipping notification email stating that my order had shipped and providing me with a tracking number. About a day after that, I received a notification that my order was out for delivery. I also received an email when my order had been delivered, along with a welcome email from the company's founder, Sean Dimin, an email containing a free downloadable seafood cookbook, and another email with a coupon code for free shrimp with any order over $149.
I tend to get annoyed when I receive more than one or two emails from a company within a span of a few days, but I appreciated knowing exactly where my seafood was at all times and assumed the other emails were so frequent because I was a first-time customer. Plus, who doesn't love free shrimp?
Delivery and Packaging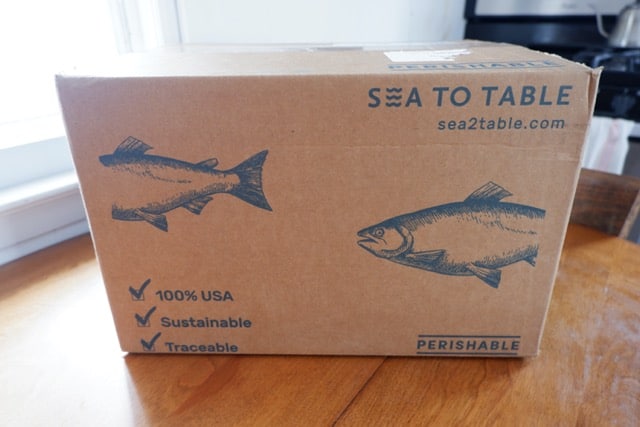 Somewhere between the "out for delivery" email and "order delivered!" email, my seafood showed up on my front step. It was packed in a cardboard box with an inner layer of thick insulation lining it. There was a bag of dry ice inside the insulation, with a layer of butcher paper between the ice and the seafood.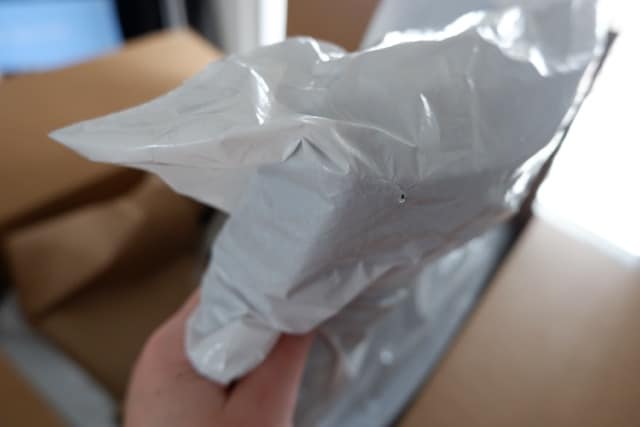 Each package of seafood was frozen solid and cold to the touch. They were neatly wrapped in more butcher paper, and each was labeled on the front with the type of seafood as well as defrost, prep, and cooking suggestions. The packages were labeled on the back with the type of seafood again, the species' scientific name, the catch location, catch method, lot number, and best-before date. The label on the scallops even included the name of the fishing vessel.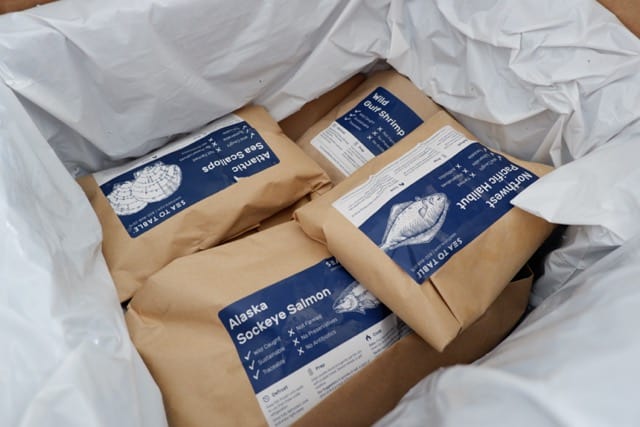 Not only did I feel fully confident that my seafood arrived safely and fully frozen, I also really appreciated the simple aesthetics and eco-friendly nature of the packaging.
Northwest Pacific Halibut Review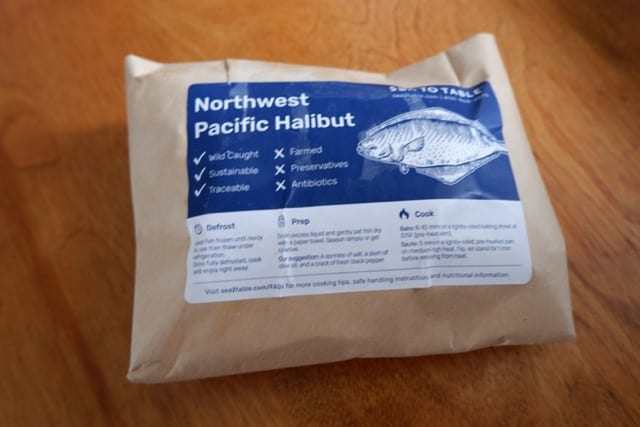 The first thing I decided to cook from Sea to Table was the Northwest Pacific Halibut. I love halibut but don't cook it at home often because it tends to be expensive. I received two five-ounce portions of halibut, each individually vacuum sealed. I thawed them in the fridge for 24 hours before cooking.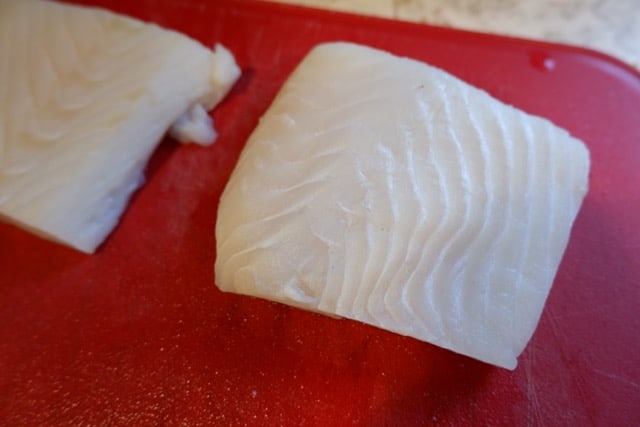 When I opened the vacuum packs, I was immediately impressed by how clean the fish was. Each filet was pristine, with no traces of skin, scales, or pin bones. They were a pearly translucent white color and smelled fresh but not overly "fishy."
The package directions said to drain the liquid and pat the filets dry before seasoning. Each pack only had a few small spoonfuls of liquid, but I patted them dry and seasoned them simply with just some olive oil and salt.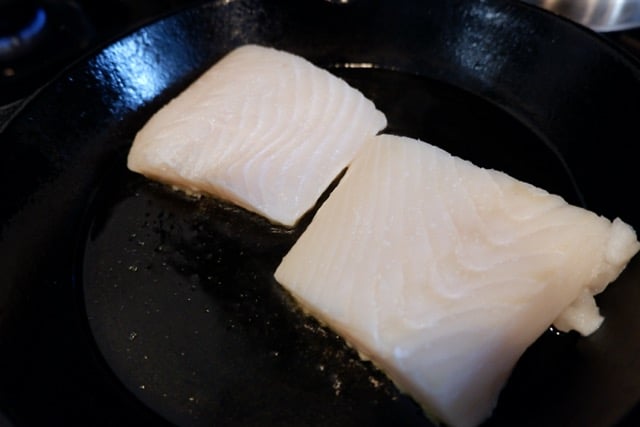 I cooked the halibut according to the saute instructions on the package—searing it in a cast iron pan over medium-high heat for five minutes, flipping it, and letting it stand for one minute before removing it from the heat. It was cooked perfectly. It cooked to a lovely opaque white with a bit of golden crust and fell apart into huge flakes.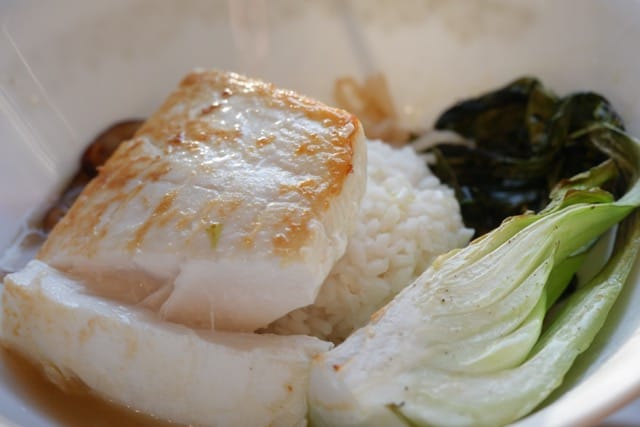 The fish was very fresh tasting, not at all fishy, and not gummy or chalky. I served it with short grain rice, roasted bok choy, mushrooms sauteed with soy and sesame, and a dashi-inspired miso nori broth. The portions were very generous, meaty, and satisfying, and as an added benefit, I noticed there wasn't any lingering fishy smell in my kitchen after cooking!
Alaska Sockeye Salmon Review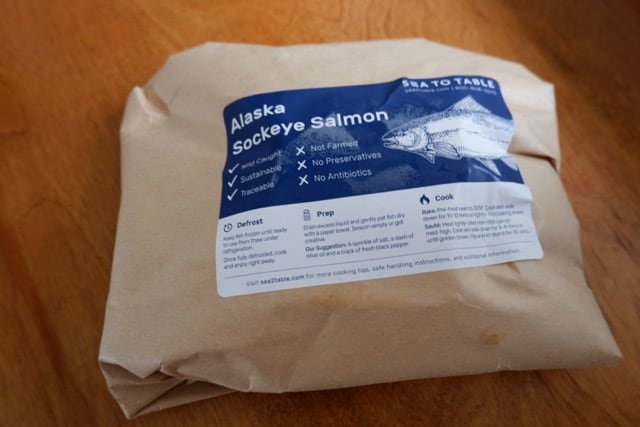 The next thing I tried from Sea to Table was the Alaska Sockeye Salmon. It was a beautiful deep orangy-pink color and was packed with the skin on. Again there was very little liquid in the vacuum packs and no fishy smell. I always check my salmon for pin bones, and neither filet had any.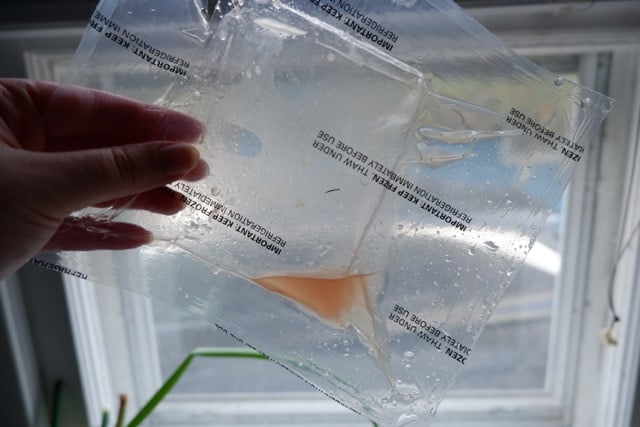 One of my favorite ways to cook salmon is to coat the non-skin side with a light layer of mayo (trust me—it keeps the fish moist and helps everything stick!) and then season the filets with salt, pepper, garlic, lemon zest, and a ton of fresh dill. I did that and then seared the salmon skin side down on medium-high heat to get the skin nice and crispy.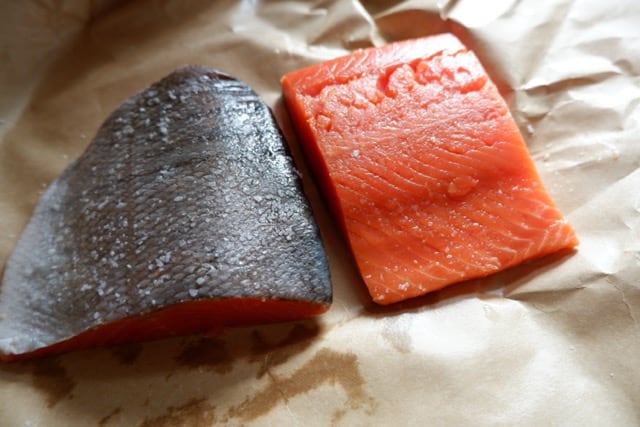 After five minutes or so, I flipped the salmon and seared it for another minute. I served the sockeye salmon with a lemon asparagus orzo salad I made with a ton of fresh herbs.
The salmon cooked to a beautiful deep color and was incredibly juicy, succulent, and fresh tasting.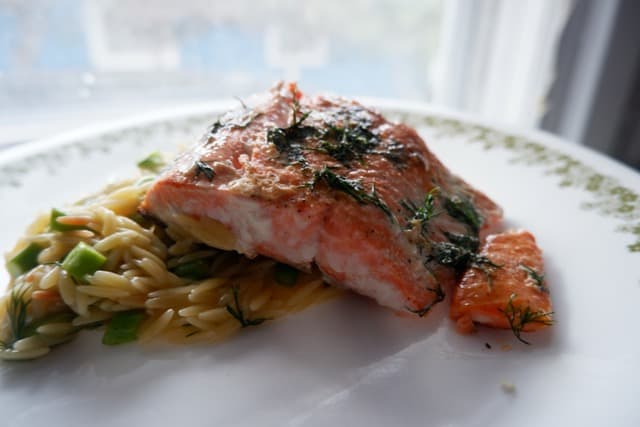 The texture was lovely—it was firm but soft and not at all rubbery or mushy. It flaked a bit and could easily be cut with a fork. The crispy skin was one of the best parts.
I would absolutely purchase this salmon again. Wild-caught salmon is so healthy and delicious, and this was so fresh tasting and a breeze to defrost and cook since everything was already portioned out. I also love that the salmon is sushi grade—I'll definitely be making some salmon sashimi or poke bowls next time I order.
Wild Gulf Shrimp Review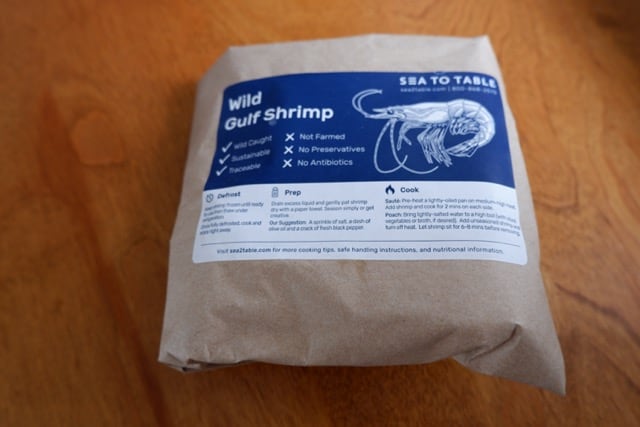 My Wild Gulf Shrimp were still a bit frozen when I went to cook them (my fault—I took them out of the freezer too late), so I ran them under cold water for a minute, and they defrosted very quickly. The package contained 22 shrimp, all fairly large, cleaned, and deveined.
It was such a gorgeous day and one of the warmest of the year so far, so I just had to turn on my grill. I tossed the shrimp into a quick marinade of olive oil, salt, cracked black pepper, Aleppo pepper, and a splash of fresh orange and lemon juice.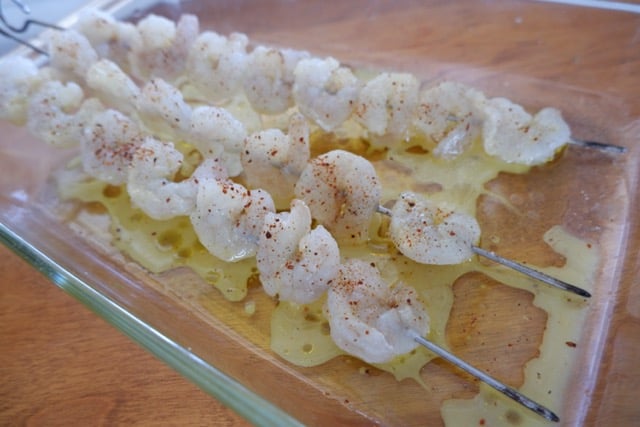 They only took a few minutes on each side to grill and came out pink and plump with just a slight char from the grill. I served them with grilled bread, zucchini, and plenty of lemon and parsley. It was a feast for two people.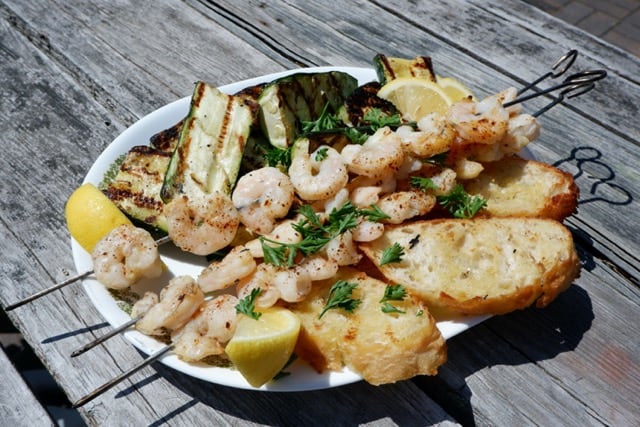 Of everything I tried from Sea to Table, the shrimp was the only thing that had a distinct cooked seafood smell to it. It wasn't bad, just more noticeable compared to the other three products I tried. There was no fishy smell to the raw shrimp, however.
The shrimp was delicious and clean tasting, and the texture was great even with cooking it on the grill. It wasn't rubbery or dry at all but was pleasantly firm and juicy.
Large Atlantic Sea Scallops Review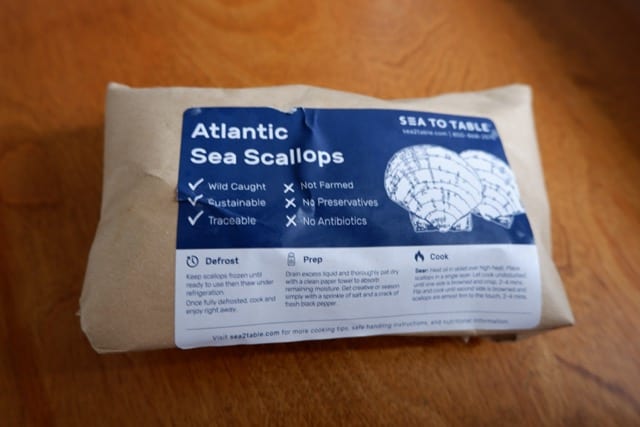 Scallops are my dad's favorite, so I had to invite him to join us for dinner when I made these. I thought he would appreciate it even if it meant I had to stretch two portions of scallops between three people, but when I opened the package, I was very pleasantly surprised. I was only expecting a handful of scallops, but there were ten large scallops in the pack (according to the website, one package contains about eight scallops).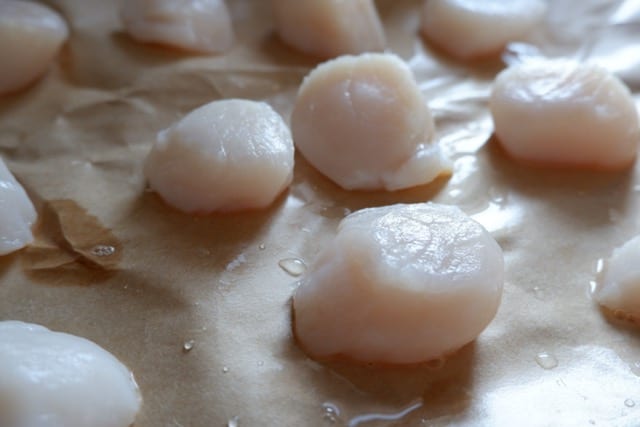 The scallops were all around 1.5" to 2" across and were an opaque white with a firm texture. There was one small broken piece of scallop in the bag, but none of the scallops I received appeared to be broken.
I decided to adapt a recipe from one of the restaurants I used to work at for these. I served them seared on a bed of bacon and sweet pea risotto.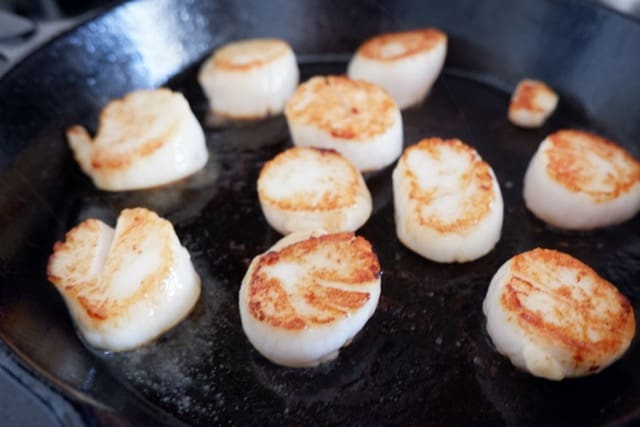 I prefer to keep my scallops simple (though I once worked at a restaurant that had a fantastic scallop ceviche with grapefruit and jalapeño—next time). I patted the scallops dry with a paper towel and seasoned them with just a sprinkle of kosher salt. (Make sure you wait until the last minute to salt your scallops; otherwise, it will draw liquid out of them, and you won't get as nice of a sear.)
I seared them on medium-high in a cast iron skillet for two or three minutes per side until they released from the pan and developed a gorgeous golden-brown crust.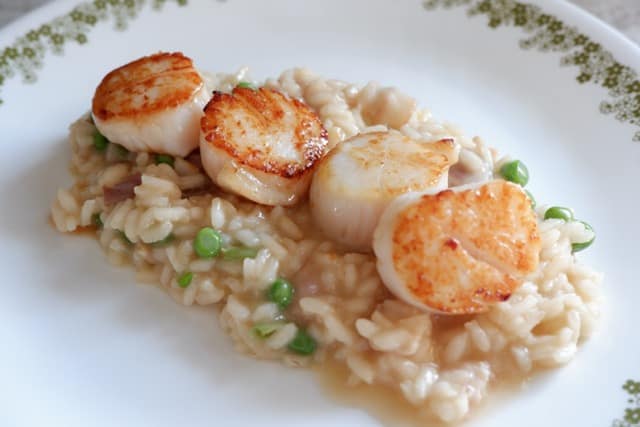 The scallops were buttery and unbelievably sweet—they were easily cut with the side of a fork. My dad declared them "outstanding." I did get just the tiniest bit of grit in my very last bite, but even living somewhere where I have access to local scallops, I could see myself stocking my freezer with these—they were so quick to defrost and tasted so fresh, they'd be a great option for days when I forget about dinner until I'm already hungry.
A Word about Sea to Table's Controversy
In 2018, Sea to Table was accused by the Associated Press of misleading customers about the origins of some of their seafood. For example, tuna labeled "Montauk Tuna" had actually been caught in North Carolina (the fish is migratory and is found in both locations throughout the year). Some of the claims turned out to be true, while others were unfair accusations. Sea to Table released a blog post in response to the controversy.
I feel somewhat ambivalent about the controversy—on one hand, I really detest when companies mislead their customers, on the other, I understand that keeping up with consumer demands sometimes poses challenges that result in mistakes being made. Thankfully, in this case, none of those mistakes were dire.
Even after everything that happened, I have to say that they are still one of the most ethical seafood companies. They were still sourcing wild-caught tuna; it just didn't come from where they led customers to believe. In the grand scheme of fish fraud, I would honestly consider it a pretty minor offense, and they were also transparent and open about this.
Sea to Table Pros and Cons
Pros
You can customize your order with any of their available seafood, whether you want it one time only or as a subscription. You aren't limited to random mixed boxes in order to receive the subscription discount prices.
I like that there are three different interval options for subscription deliveries. You can choose to receive orders every four, six, or eight weeks.
You're not required to make an account or sign up for a subscription to order from them.
Everything they sell is delicious, wild-caught, and sustainable.
I like that you can combine lower-cost items like shrimp and skate with splurge items like lobster tails to really customize your order.
My order shipped very quickly and arrived frozen solid.
Cons
I wish they offered more of a selection, not just of seafood but of preparation methods. I would love a whole fish that I could stuff with citrus and herbs and throw on the grill in the summertime.
They can only ship to the continental United States.
Sea to Table is a bit pricier than some of their competitors (but quality reflects that!)
Alternatives to Sea to Table
There are several alternatives to Sea to Table that provide a slightly different selection and customer experience. Below are some of my favorites.

Vital Choice is an online market selling seafood and marine supplements such as omega-3 capsules and fish oil. They're linked with several other popular gourmet and specialty delivery brands, including 1-800 Flowers, Harry & David, and Stock Yards.
While Vital Choice carries a much more extensive selection than Sea to Table, most of which is sustainable and wild-caught, its website and subscription boxes leave much to be desired. The website is very cluttered and can be challenging to navigate, and although they offer a ton of seafood for one-time sales, they only have three monthly subscription boxes that can't be customized.
You choose from all salmon (which includes salmon burgers and lox), mixed fish, or mixed seafood (fish and shellfish), and an assorted selection of what's available is sent to you every month.
Vital Choice is a great option if you're looking for a variety of types of wild-caught seafood, smoked, canned, or tinned seafood, or marine supplements. If you want a monthly subscription that you can customize, stick with Sea to Table. You can read more about Vital Choice in our Vital Choice Review.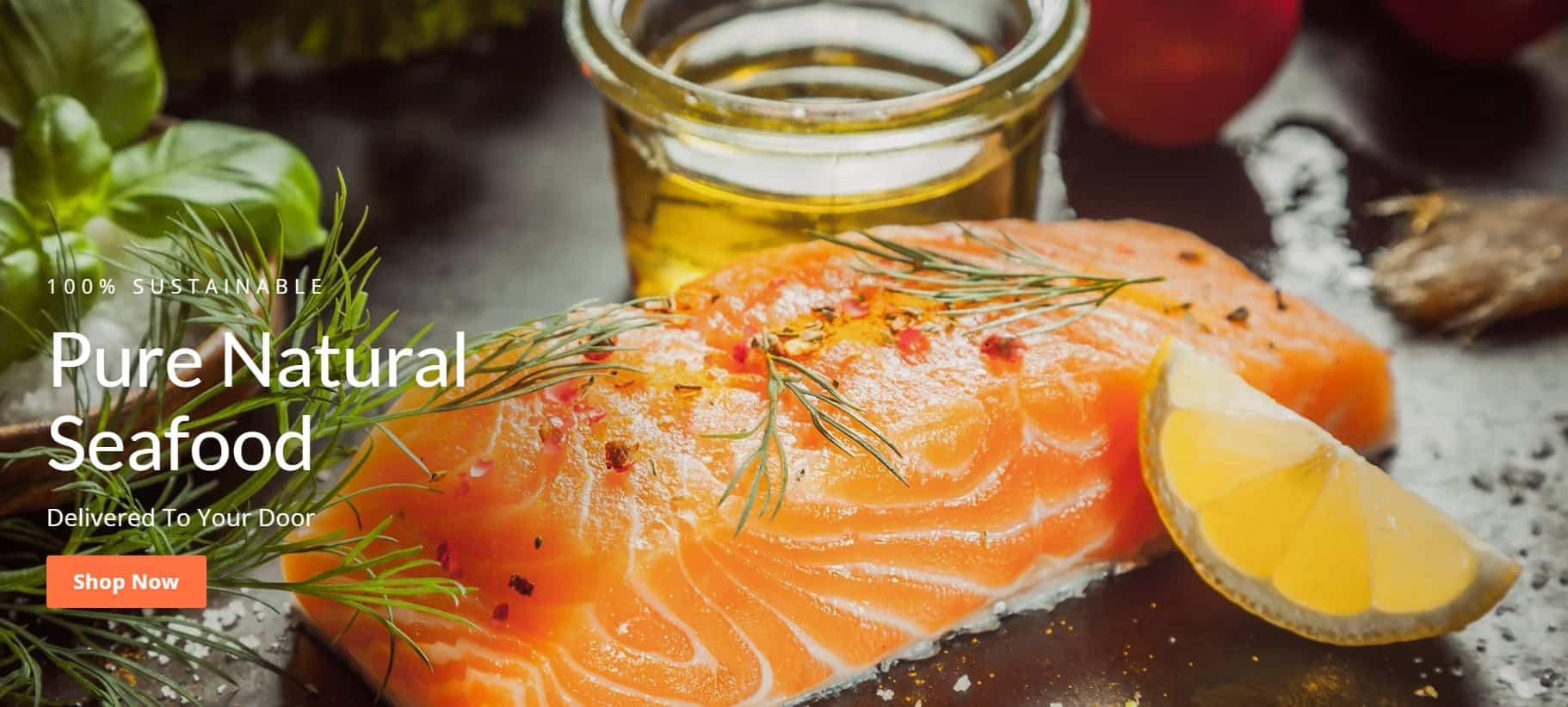 Sizzlefish is another seafood delivery service that offers a larger selection than Sea to Table. Most of what they sell is wild-caught, though they do carry some farmed fish as well. I actually kind of like this, since everything is labeled so that the consumer can make an informed decision regarding what they want to purchase. However, they're not as transparent or in-depth about their sources and catch locations.
Sizzlefish offers three subscription options. The most affordable is a selection of wild seafood chosen for you by the company, and the other two allow you to choose 14 or 28 servings of seafood for yourself. (The priciest box has more seafood options to choose from, including more expensive fish like mahi-mahi and ahi tuna.)
Sizzlefish is an excellent choice if you're looking for a little more variety than what Sea to Table offers or if you want a subscription that's somewhat customizable but doesn't require all the flexibility of Sea to Table. You can read more about Sizzlefish in our Sizzlefish review.
FAQ
Question: What is the best way to defrost frozen fish?
Answer: The best way to defrost frozen fish is by placing it in the refrigerator 24 hours before you plan to prepare it. If you don't have 24 hours, you can thaw your fish quickly by placing it in a sealed ziplock bag and submerging it in a bowl of cold tap water. Change the water in the bowl every 20 to 30 minutes until the fish is completely thawed.
Because botulinum toxin is produced in oxygen-free environments, it's always a good idea to remove your seafood from its vacuum pack or puncture the package before defrosting.
Question: Is wild-caught seafood better?
Answer: Wild-caught seafood tends to be lower in saturated fats than farmed seafood. It also tends to be at lower risk for disease and won't contain antibiotics. Both farmed and wild seafood can contain mercury and other contaminants.
Question: What is the best wild-caught fish to eat?
Answer: Wild-caught salmon is low in saturated fat, high in omega-3 fatty acids, and low in mercury, which makes it one of the healthiest wild-caught fish.
Question: Is it better to buy frozen seafood?
Answer: Depending on when and where you buy your seafood, it might actually be better to buy it frozen. If seafood is frozen quickly using proper methods when it's fresh, it won't lose any flavor or nutritional value.
If you live close to where the fish was caught and can buy it fresh right when it was harvested, that's great, but a lot of the "fresh" seafood you find in large grocery stores (especially those far from the coast) was previously frozen and thawed for sale. At that point, it makes more sense to buy frozen fish and thaw it yourself right before cooking it.
Final Thoughts: Is Sea to Table Worth It?
I think that Sea to Table is absolutely worth it to get healthy, fresh-tasting, wild-caught seafood delivered to your door. They're a bit pricey, but everything I tried from them was something I would order again, and I think they are among the most transparent in the industry regarding their sources. I might not be a lifelong seafood lover, but fresh seafood is something I can no longer live without. I would definitely order from Sea to Table again.
Better Seafood Selection & Value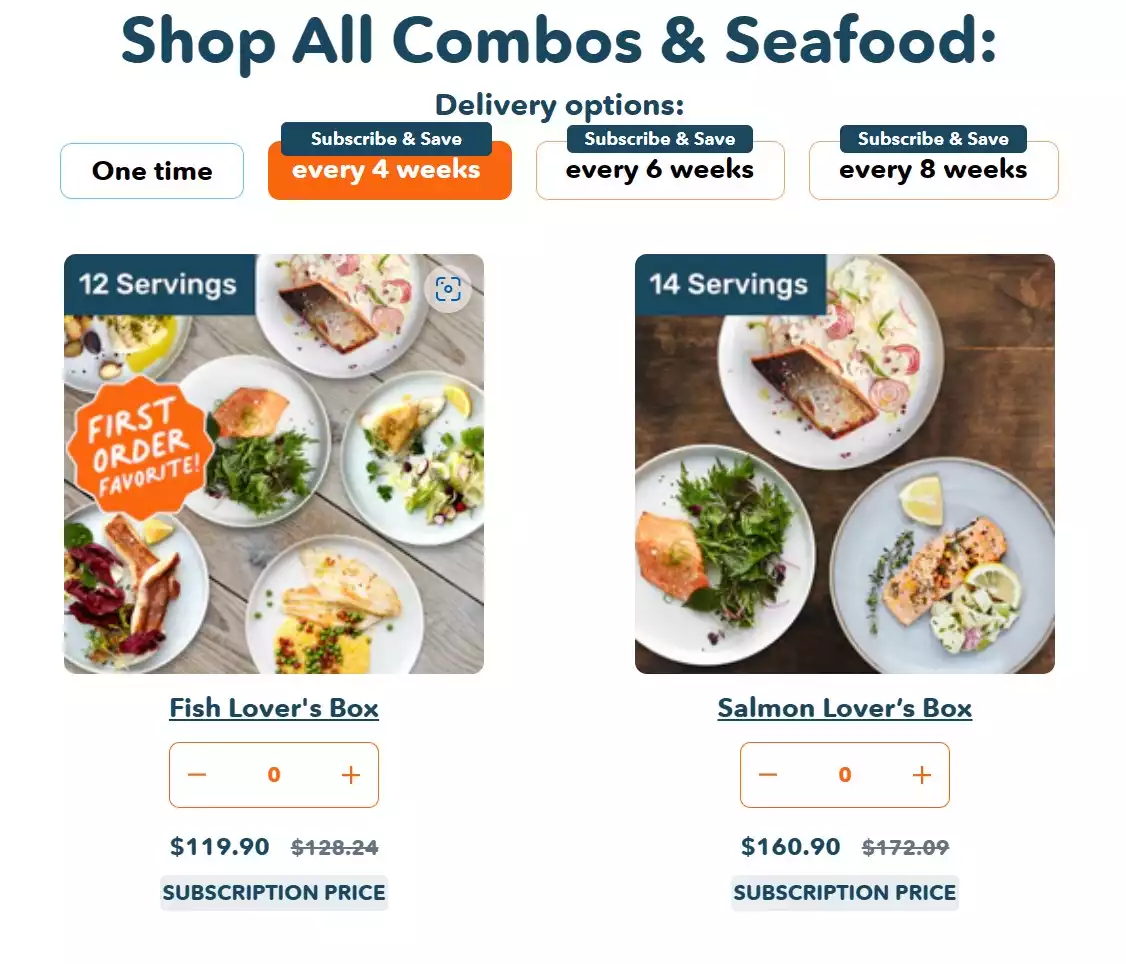 I Switched to Sea 2 Table?
For fish exclusively, I've recently switched to Sea to Table for the best selection, quality, value, and shipping timelines. Customize your subscription or order just what you want, when you want.
Find Your Seafood
We earn a commission if you click this link and make a purchase at no additional cost to you.
Related read