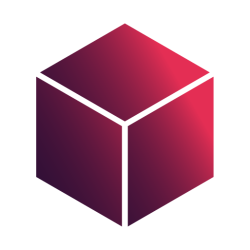 Latest posts by Subscriboxer Team
(see all)
If you are looking to see if Gobble is worth the money, you are in the right place. I tested it myself!
Gobble is a meal delivery service that says they help you get dinner on the table in only 15 minutes, with minimal meal prep.
Gobble Pricing
I couldn't wait to see if it would be possible for me to get a healthy meal ready so quickly. I was ready for some healthy, home-cooked fast food.
Meal Planning: Gobble has weekly plans for families of two or four. Plans include meals that cost $11.95 for each serving if you order six meals or more and $13.95 if you order fewer meals.
When ordering from Gobble I was a bit thrown off by the fact that they don't list the pricing explicitly. You have to enter your credit card number to look at the menu option and as you click to add meals to your cart, it doesn't add up a total or include any pricing information.
I actually had to find the cost of my order in the FAQ section of the website and felt uncertain enough to check my billing later. I felt like this put me off to a bad start with Gobble, because I always like to know how much I'm spending and whether something is a good value.
I feel like pricing should be transparent right off the bat, not a frequently asked question! $11.95 per meal is pretty standard for meal delivery subscriptions, so the price itself didn't shock me, but I like to know what I'm getting into.
Gobble Ordering Process
After I got over the mystery pricing, selecting my meals was easy. I thought that the options that they provided all looked delicious. Gobble also offers Premium meals, breakfasts, cocktail mixes and desserts for an added fee. I was almost tempted into adding a cranberry hibiscus cosmo mix to my order!
Once I placed my order, I was excited to try Gobble. I was especially curious to see if I could manage to get two meals on the table in only 15 minutes. Another thing that Gobble boasts about is that they have one-pan meals. I have tried quite a few meal delivery subscriptions before, and I am often irritated by the number of dishes I end up doing after the fact!
It sometimes feels like the convenience of meal delivery services doesn't outweigh the massive cleanup. I was interested to see if Gobble would be different and if they could really streamline the process as some Gobble reviews suggested.
Gobble Shipping & Delivery
With a week after I placed my order, I received my Gobble meal kit shipment. When I opened the food delivery box, I found three bags, one for each meal and 3 separate bags of the proteins to go along with them. I also received the recipe card selections to help me through the process of making my Gobble dinner kit.
Fast Gourmet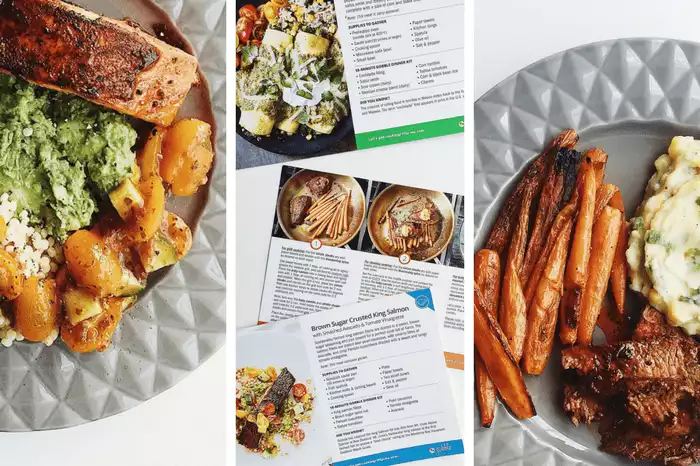 Why Go With Gobble?
Gobble hit that sweet spot of delicious recipes, easily produced within 15-20 minutes. I particularly love the DINNER menu options, among the best well-rounded and consistently tasty services I've tested this year.
Check Current Promo Offers
We earn a commission if you click this link and make a purchase at no additional cost to you.
Meal #1 Malaysian Seafood Curry Meal Kit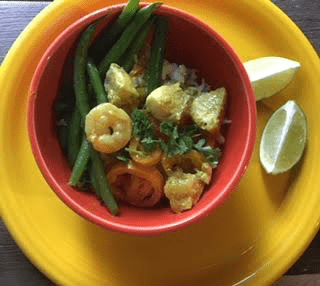 With a promise of a 15-minute meal dinner kits, I was expecting to find everything pre-cut and cleaned, but with this meal, I had a little bit of prep work. I had to chop and seed my bell peppers. I even had to cut my fish into bite-sized pieces. This was a challenge for me, and I ended up switching knives.
In the end, I went over the 15 minutes for sure! The meal ended up taking me 24 minutes to make.
This is still much faster than I usually get dinner done, so I'm not complaining, but I was interested to see if the claim was true. Maybe a more seasoned chef would have breezed through the process in 15 minutes flat. The final product was so amazing that I have nothing but great things to say about Gobble so far.
I absolutely loved this meal and the ingredients. I thought that the snapper fillet and the shrimp went together perfectly with the flavorful curry sauce and the fresh veggies (and very fresh ingredients overall) over the plentiful serving of rice. The portion size was more generous than many meal services that I have tried. This meal really impressed me, and I was excited to see what was to come with Gobble.
Pro– Delicious dinner that we loved!
Con– I went well over the 15-minute mark, not the easiest recipe!
Meal #2 Argentinian Style Steak Meal Kit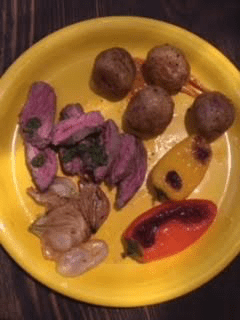 This time I didn't bother timing myself while preparing my Gobble meal. Cooking up the steak, veggies and potatoes went pretty quickly since the potatoes were pre-cooked to some extent. The charred bell peppers and onions went really well with the chimichurri, and the potatoes were excellent with the bravo sauce. Everything was delicious.
Usually, meal delivery services provide meals that are extra light. My husband definitely appreciated the meat and potatoes aspect of this meal, and for me, there were even leftovers, though they were quickly stolen (and gobbled) by my husband.
I did notice that the calorie info was a little bit higher than I had hoped for at nearly 700 calories per serving. One thing that I really enjoyed about Gobble so far was that the mess was minimal and the one pan promise held true.
Pro– A hearty sirloin steak, amazing meal with easy cleanup.
Con– The heartiness came with a calorie count to match!
Meal #3- Chimichurri Fish Tacos Meal Kit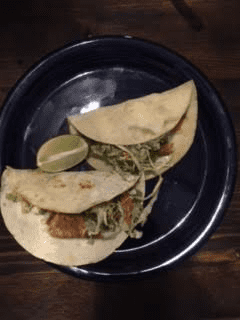 This meal came with the same chimichurri sauce that I loved from last night. I liked it so much that I didn't mind having it again, though I do think that one benefit of meal delivery services is that you usually get a huge variety of flavors in your week.
The cooking process repeat made me feel like I was eating leftovers in a way. The barramundi in this dish was so tasty, and I loved the cilantro hummus that went along with it. It was another huge delicious meal!
Pro– Excellent fish tacos
Con– chimichurri twice in one week
Extra Bonus Surprise- Chocolate Chip Cookies
I didn't even notice this sweet surprise in my shipment until I was pulling my final meal from my refrigerator! I guess the bag got shuffled in between the others. This made it an extra fun treat because it was so unexpected. I somehow lost or never received any baking instructions, but I figured I could find them online. I didn't find them!
I decided to just go with it and pop them in the oven at 350 degrees for around 12 minutes. They came out great! Like everything that Gobble sent me, the serving was gigantic. The cookies were huge! They were so yummy too. Who doesn't love a cookie that's fresh from the oven?! I thought it was great just to have a few.
I don't really bake unless I'm expecting a crowd because otherwise, I will overindulge. This was the perfect amount of sweetness for two!
Pro– Everyone loves a good chocolate chip cookie!
Con– I can't complain about chocolate!
Overall Assessment of Gobble
Pros
Delicious meals!
Helps you avoid grocery store lines (no grocery shopping)
Helps cut down on food waste by giving you only the amount you need
Gobble gets dinner on the table FAST
You won't make the giant mess that subscription meals sometimes do
Generous portion sizes
The sweet surprise of free cookies!
Cons
Difficult to find pricing
The 15-minute claim might be a bit exaggerated
The meals are a bit heavy
Gobble Alternatives to Consider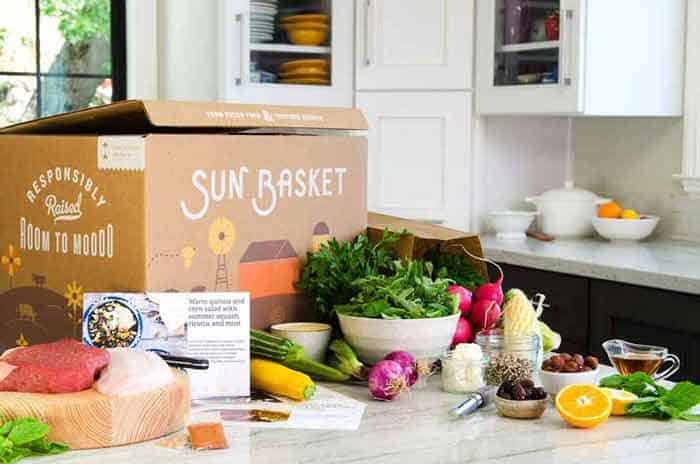 There are so many meal delivery subscription services on the market these days. One company that I really love is Sun Basket. They had much lighter fare than Gobble. They have a similar price point with meals that are $11.99 per serving when you pick the three meals per week option.
You definitely have to work a little bit harder when you make a Sun Basket meal, and they aren't quite as hearty, but I was really into this healthfully delicious service.
If the fast and convenient aspect is what appealed to you then I would suggest Factor 75. With this service, you don't even have to cook at all. You just heat the pre-made packaged meals.
They also have a healthy angle, but the food is so good that it doesn't make you feel like you're on a diet. The cost is $60 for 4 meals. They provide great extras like a chat with a dietician.
Healthy AND Easy Pick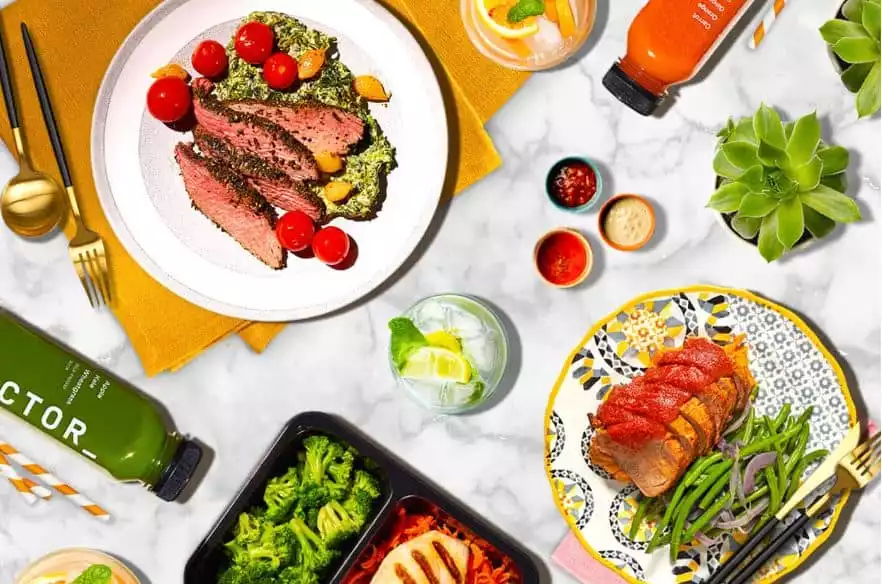 Why Go With Factor?
Just heat, eat, and enjoy. Factor makes eating healthy, EASY. Honestly, the hardest part about eating healthy are MEAL PLANNING and MEAL PREP. Factor removes both as an excuse and is interesting enough to stick with over the long term.
Check Current Seasonal Promo!
We earn a commission if you click this link and make a purchase at no additional cost to you.
Other Food Delivery Service Options
Conclusion: Gobble Review
Fast Gourmet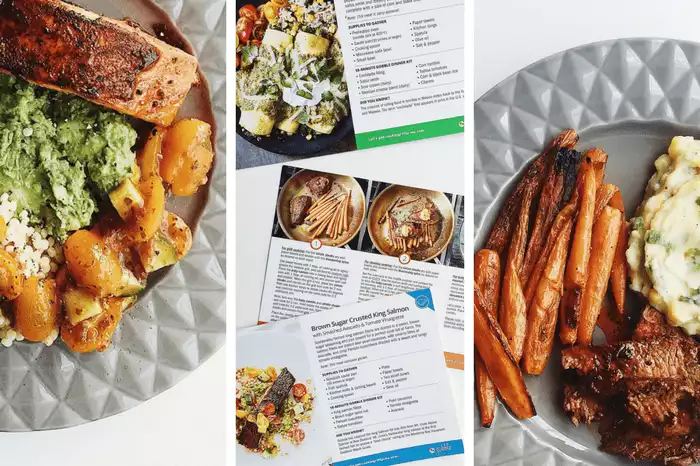 Why Go With Gobble?
Gobble hit that sweet spot of delicious recipes, easily produced within 15-20 minutes. I particularly love the DINNER menu options, among the best well-rounded and consistently tasty services I've tested this year.
Check Current Promo Offers
We earn a commission if you click this link and make a purchase at no additional cost to you.
I enjoyed my experience with the Gobble food delivery and meal plan service, for the most part. The food was so delicious and super easy to prepare and that's a good TL;DR for this Gobble Meal Kit review.
While I think that 15 minutes is a bit of a stretch, I did get dinner on the table in record time. It really felt good to know that after a busy day I could swiftly and painlessly get an impressive meal on the table! That part of the Gobble experience was wonderful.
I started out with some hesitation about the Gobble box because the pricing wasn't listed very clearly on their website. I also encountered a bit of trouble when canceling my service. I canceled online the day before receiving my first shipment in order to ensure that I wouldn't be charged for the second week.
I only wanted to try the Gobble Food meal kit service once for review purposes. I had no problem canceling, but then a few days after receiving my order I got an email notification that my second shipment was on the way!
Luckily I was able to get in touch with customer service before week 2 actually shipped out. I was glad that Gobble fixed the problem, but I have never had cancellation trouble with any other meal delivery service that I've tried so I figure that it's worth noting.
Aside from those few glitches, I had three amazing meals from Gobble plus a delicious dessert.
Bottom Line: Gobble meal delivery is a GREAT meal delivery for on-the-go delicious meals (particularly dinner Gobble dinner options). Check out their current promos here.
Further Reading on Dinner Kits and Meal Kit Delivery Service Options