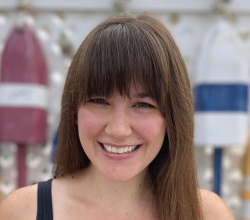 Latest posts by Lauren Vigdor
(see all)
Although I try my best to plan and cook well-balanced meals, I'm not always the healthiest eater (I have a weakness for Flamin' Hot Cheetos, and some days, my laziness (or exhaustion) makes it easy to succumb to the siren song of a frozen pizza).
Despite all this, I am completely obsessed with fresh produce. If I had it my way (and was never overworked or overtired), I'd spend my days perusing farmers' markets or picking vegetables from my garden and then cooking fresh, seasonal meals with them.
I'm an omnivore who's always trying to add more plants to her diet, so I was really excited to try Thistle. The idea of stocking my fridge with super fresh, plant-forward meals that are even easier than frozen pizza sounded like an absolute win to me, and I wasn't wrong!
Bottom Line Up Front
I LOVED Thistle. Everything I tried was delicious and super fresh. The food made me feel great after eating it, but it was interesting and flavorful enough that it didn't feel too virtuous.
It's a little on the pricy side for me long term, but I'm planning on keeping my subscription for a while and ordering some quick, healthy lunches and snacks to get me through a current busy season of my life.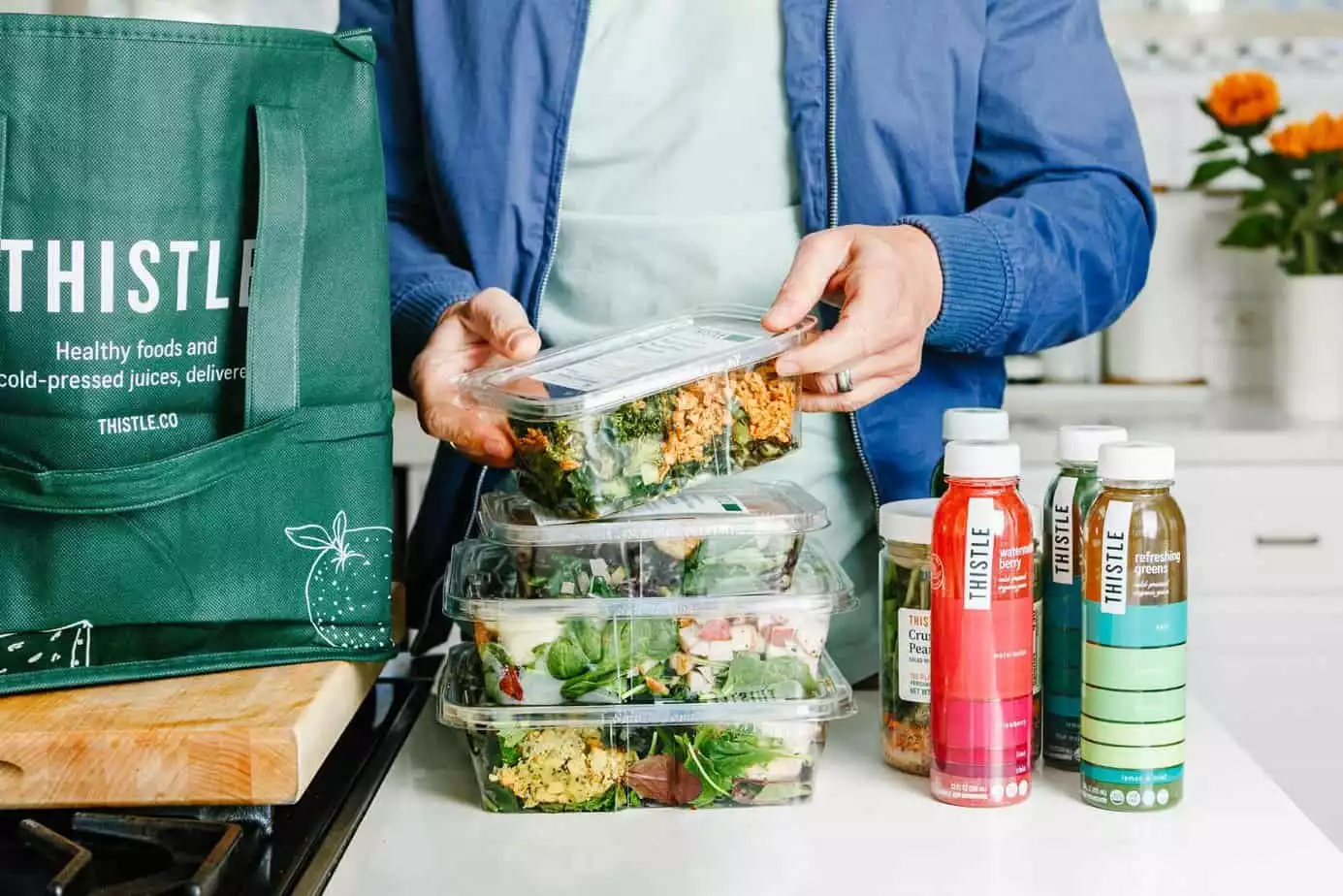 About Thistle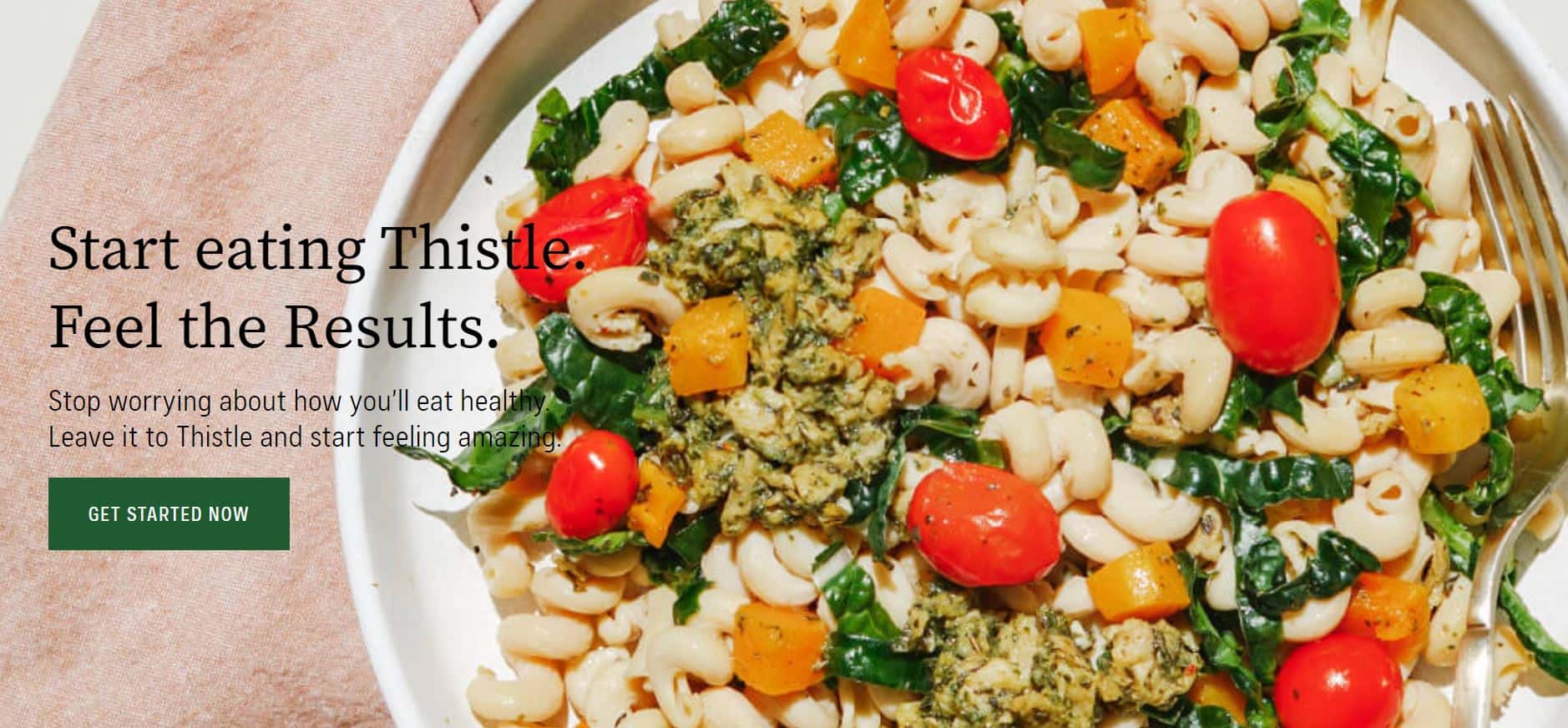 Thistle is a fresh meal delivery service that provides plant-forward, dairy, and gluten-free meals that are sustainably sourced and contain organic ingredients whenever possible. They also source their ingredients from local organizations as much as possible.
The company was established as a convenient and affordable way to promote health and environmental sustainability through plant-forward meals.
Thistle's Key Pillars:
Decreasing food waste

Locally sourced/organic ingredients whenever possible

Plant-forward meals (all meals have plant-based options, and each meal is made with an average of five or six unique vegetables)

Gluten-free meals made with low-glycemic index complex carbs

100% dairy-free meals

Lowering carbon emissions (the company is working towards net-zero emissions)
Thistle's Selection
Thistle offers a weekly rotating selection of breakfasts, lunches, dinners, and snacks, as well as add-ons like juices, wellness shots, soups, and salads. Most lunches and dinners have plant-based and meat-added variations.
One thing that I really like about the meat-added meals is that they treat meat as an ingredient, but not the main component of these dishes. The meals are still packed with plenty of vegetables, fiber, and plant proteins.
They use seasonal ingredients that are sourced locally as much as possible. There are actually several pages worth of blog posts on their site dedicated to highlighting their partnerships with farms, bakeries, and other specialty food producers.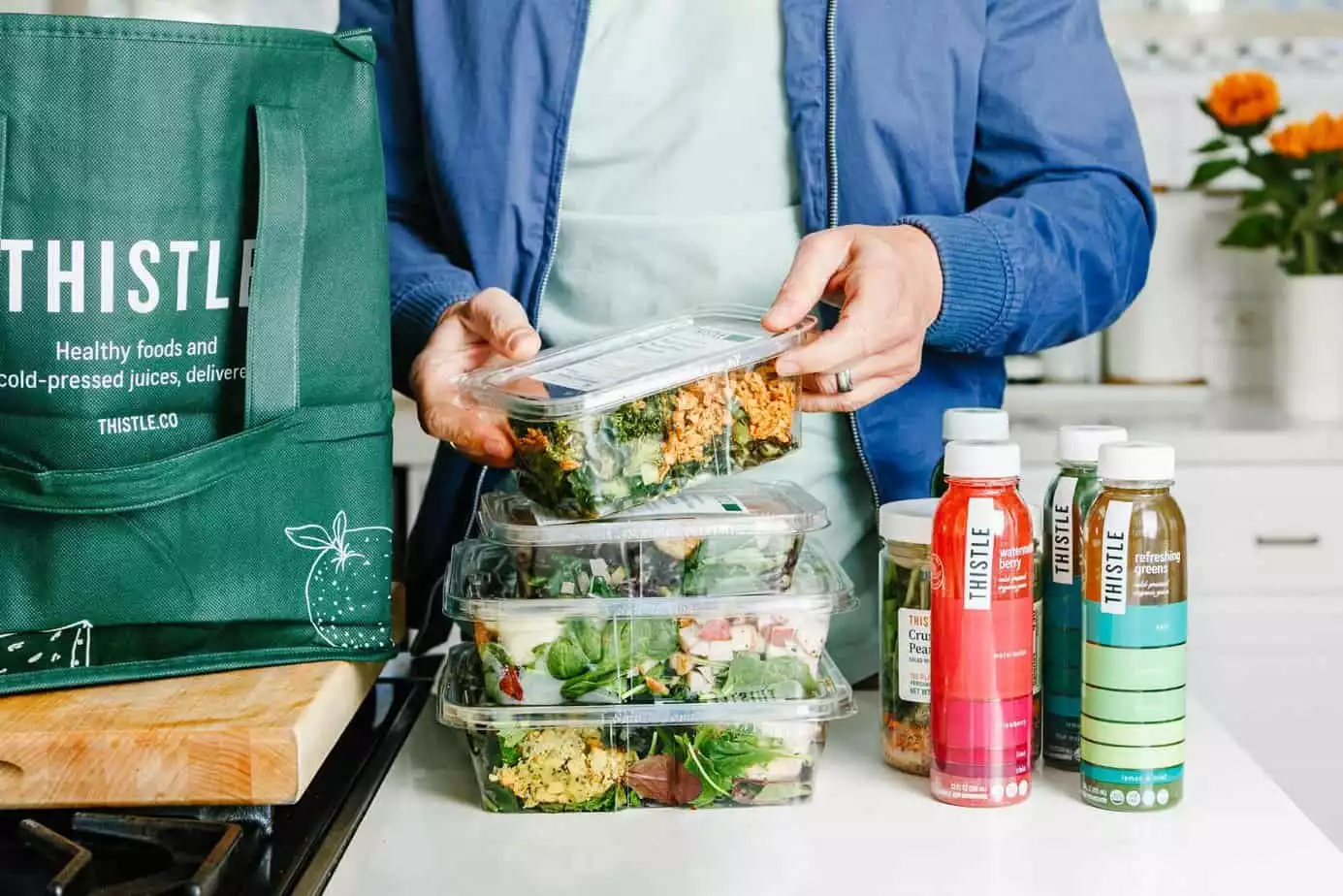 My Experience Ordering Thistle
I decided to order a few items from Thistle to try it for myself.
Thistle's Website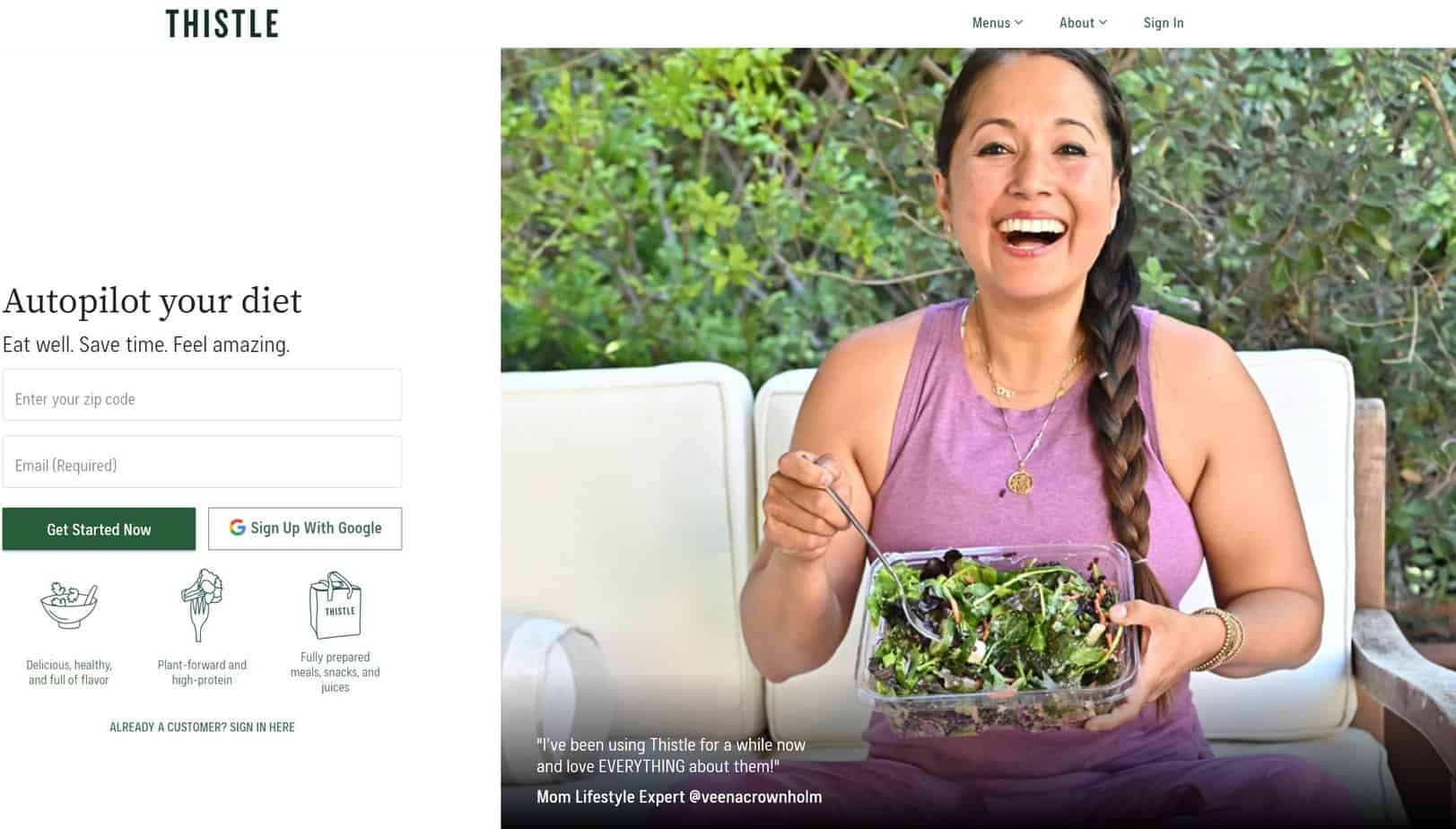 There's a ton of information on Thistle's website, but some of it is a little bit buried. They have a blog with recipes, info on their suppliers, "hacks" to bulk up their meals to serve two or transform them into something different (like turning a salad into a noodle bowl or a protein bar into "nice cream"). You can also view two weeks' worth of upcoming menus and sign up for a subscription.
Ordering Thistle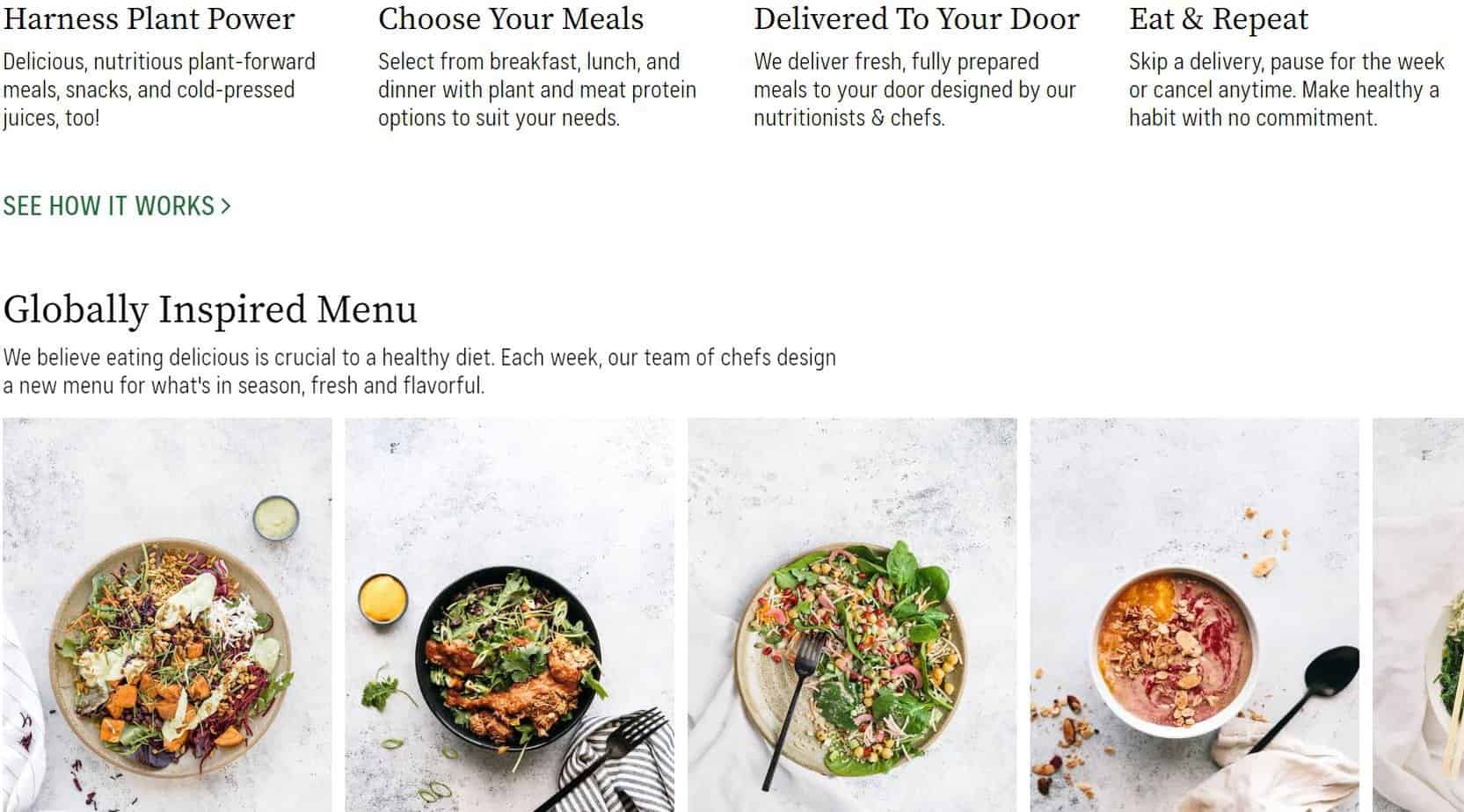 Ordering a Thistle subscription is a little different than ordering from some of their competitors, and while it wasn't difficult, I felt it wasn't quite as intuitive as many of the other meal subscriptions I've explored.
They break their menu down by day for some reason, with one breakfast, lunch, dinner, and snack item listed per day. I'm guessing they do this as a way to give people the option to treat their subscription like a meal plan, but I couldn't find any evidence to suggest that meals were grouped this way to ensure each day's nutrition was complete—maybe this is just their way of suggesting that you eat the more perishable stuff first?
Most likely, you're going to eat whichever meals you choose on whatever day you decide you want them. You can really only adhere to this daily order if you choose to receive all of the food offered each week anyway.
After I ordered, I realized I chose Thursday's breakfast, Friday's snack, and Saturday's lunch and dinner, but it didn't really matter.
One thing I didn't love about the way Thistle's meals are grouped is that you can only choose from three "days" worth of food per delivery. That means you'll have three options each for breakfast, lunch, dinner, and snacks to choose from for your beginning-of-week delivery and three different options to choose from if you want a mid-week delivery. (If you choose a plan with four to six meals per week, you'll automatically receive deliveries twice a week.)
It would be nice to have the whole week's worth of meals to choose from, at least for a beginning-of-week delivery, though I'm guessing this may be a quality issue to ensure that everything is as fresh as possible.
Pro Tip: Thistle was running a promotion for $25 each of your first four boxes ($100 off total) for new subscribers. If you go to sign up for a meal subscription and don't notice that they're running a promotion on their site, it's worth doing some googling to find a promo code—I've found that meal subscriptions are almost always running some sort of deal.
Once I signed up for a subscription, I realized I was going to be out of town on my first delivery date. I clicked on "meal plan" in the drop-down menu under my name in the top right corner of the website.
From there, I was able to pause my upcoming Sunday night delivery and add a "late-week delivery" for Wednesday instead. It was incredibly easy to pause, add, and customize my deliveries once I was signed up. I chose one item from each meal group and was good to go!
Shipping, Packaging, and Unboxing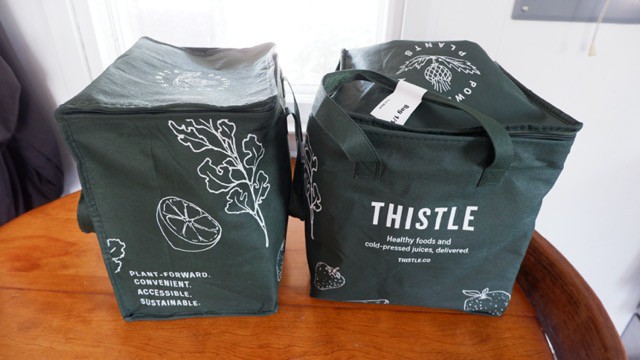 My order arrived on Wednesday night, just after 7pm (I was given a delivery window of 7pm to 10pm). A driver pulled up with two insulated reusable grocery bags and told me that I could leave the bags and ice packs on my front step on my next delivery date, and Thistle would take them back to reuse them.
Not only did the delivery service feel much more personal than other meal subscriptions, I loved the commitment to reusing and recycling materials. I live in a town that banned single-use plastics several years ago, and I have a trunk full of reusable grocery bags from the times I've forgotten to bring them into the store and ended up purchasing a new one—the last thing I need is a new bag each week!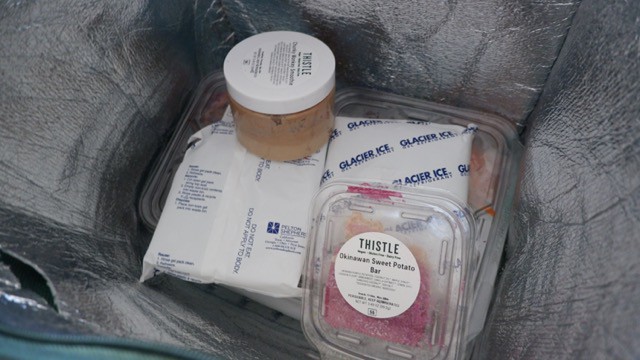 The lunch, dinner, and snack that I ordered were all packaged in plastic clamshells, and my breakfast smoothie was in a reusable plastic jar. According to Thistle's website, all of their packaging is recyclable and made with 15% post-consumer recycled plastic.
They also state that they're actively working toward completely getting rid of single-use plastics and reducing their overall energy usage. I like how transparent they are about where they are in their eco-friendly journey and commitment to sustainability.
There was a large ice pack on the bottom of each bag, and my food was stacked in two layers with two smaller ice packs between them. I realized that the two bags I received were duplicates (I knew it looked like too much food!) They accidentally sent me double my order, which I wasn't mad about!
Everything looked fresh and was still cold—I popped it in the fridge until I was ready to try it.
My Thistle Food Review
Now let's get to the most important part—how does Thistle's food taste?
Chunky Monkey Smoothie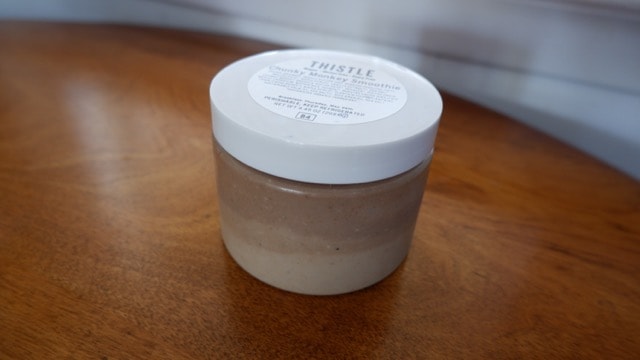 The first thing I tried from Thistle was their Chunky Monkey Smoothie breakfast. As a certified non-morning person, easy breakfasts are a necessity in my life. I loved that all I had to do was pull this out of the fridge and dig in. 
The smoothie was packaged in a convenient reusable plastic jar with a screw-on lid. There was a small recyclable plastic tray separating a handful of mix-ins like oats, plantain chips, cacao nibs, and puffed rice from the smoothie.
I love that the packaging kept the mix-ins from getting soggy without me having to dig around in my fridge for a separate bag that I would have inevitably lost.
The smoothie was thin enough that I could probably have sipped it through a straw if I had wanted to (except for the mix-ins), but I chose to eat it with a spoon. It had a really nice fresh banana and peanut butter flavor with some toasty oat flavors as well.
It wasn't too sweet, but also didn't taste too "healthy." It honestly tasted like something I would make at home with perfectly ripe bananas. At around $12.99 a bowl, I don't know that it was worth the price, but it was definitely delicious.
Beet Poké Bowl with Sesame Edamame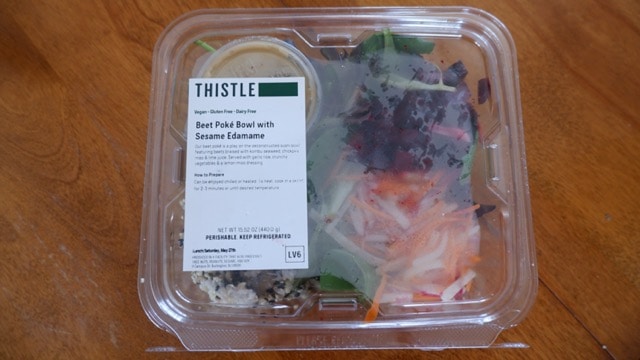 For lunch, I tried the Beet Poké Bowl with Sesame Edamame, except mine didn't actually contain sesame edamame. I received an email a few hours before my Thistle order was delivered saying that due to a supply issue, the poké bowl would be made without edamame.
They apologized for the inconvenience and said that they had added a credit to my account that would be automatically applied to my next order, though they didn't say how much the credit was for.
Even without the edamame, I absolutely loved the poké bowl. It was so bright and fresh tasting. It made the perfect refreshing lunch on a warm afternoon.
The bowl was made from cubed beets braised with kombu seaweed, chickpea miso, and lime juice. They were the perfect texture—crunchy but tender and tasted sweet, earthy, and tart from the lime juice. I do wish that I could taste the oceany flavor of the kombu a bit more, but I love the taste of beets, so I didn't mind that they didn't taste like fish.
The beets were served with garlicky brown rice, crunchy julienned carrots, jicama, and radish, and a miso lemon dressing on a bed of super fresh greens (I didn't find a single brown or slimy leaf in the box!)
I chose the plant-based lunch, but there was also the option to order a version of this dish made with sesame chicken in place of the (missing) edamame.
I wish that I had been able to taste this salad with the edamame, but it was still super delicious and surprisingly filling without it.
Okinawan Sweet Potato Bar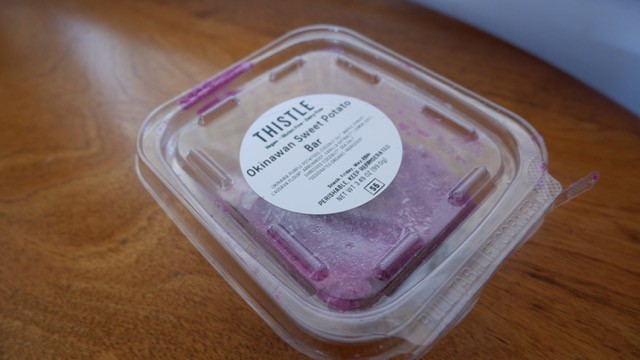 The snack I chose, the Okinawan Sweet Potato Bar, was one of the things I was most excited about in my Thistle box, and it did not disappoint. It was beautiful, sweet but not cloying, and the texture was spot on. I noticed that Thistle had the recipe for it posted on their blog, and I immediately bookmarked it and sent it to a family member!
The bar was made with a cassava shortbread crust that had a soft, crumbly texture and subtle fresh coconut flavor thanks to the coconut oil it was made with. The filling was almost a mousse made from purple sweet potatoes with a hint of lemon juice tanginess and topped with shredded coconut.
This was such a treat! It tasted like something I should be eating at a resort in Bali. I love pastries, and while I've had some very tasty gluten-free desserts before, I've often found them lacking in texture or too sweet for my liking.
This was perfect as-is, and I don't even think a real butter and flour shortbread crust would have improved it—the lightness and coconut flavor of the crust was one of my favorite parts!
Enchilada Bake with Adobo Pinto Beans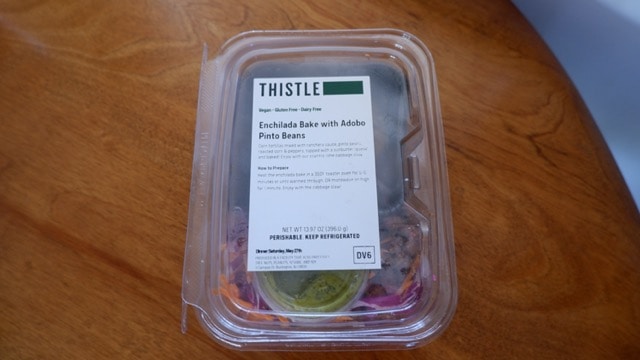 The final thing I tried from Thistle was one of their plant-based dinners, the Enchilada Bake with Adobo Pinto Beans. The package instructions said to heat the enchilada bake in the microwave or toaster oven and serve it alongside the included slaw.
There was no indication of whether or not the compartment that housed the enchilada bake was microwave or toaster oven safe, so I decided to err on the side of caution and transfer it to a heat-proof container.
The enchilada bake was hearty and homey tasting. It had a nice sweet corn flavor with a bit of tanginess. I really liked how soft the texture was. It was topped with a sun butter "queso" that was creamy and nutty-tasting but didn't really remind me of queso—I did like the textural variation it provided, though.
The slaw that was served with the enchilada bake was a bit underwhelming, but it did provide a nice crunch. The cilantro sauce that was served on the side was delicious, and there was plenty of it.
The dinner was definitely filling, and I didn't miss the meat at all. Other than the fact that I would have questioned what the sun butter 'queso' was, I don't think that it would even have occurred to me that the meal was dairy-free, gluten-free, and plant-based had I not already known.
Customer Service and Cancelation
I was able to find answers to all of my questions that popped up in the Help Center linked at the bottom of Thistle's home page, but there is also a form where you can send additional questions and requests to their customer service. I could easily manage, pause, or cancel my account by clicking on "account" and then "meal plan" on the drop-down menu under my name.
Thistle Pros and Cons
Pros
I love that Thistle can accommodate a lot of common food allergies and dietary restrictions.

All of their items are gluten and dairy free.

I love that they include options for plant-based and meat versions of their lunches and dinners, and especially love that they treat meat as an ingredient but not the

only

ingredient in their dishes.

Their packaging is recyclable and made in part from post-consumer recycled material.

I really like their transparency and commitment to sustainability.

The portions are big. Even the salad was fully loaded and filling enough to get me through the day.
Cons
A regular subscription to Thistle can be pretty expensive. One full day's worth of eating costs a little over $50, and if you ate Thistle meals for every meal, six days a week, you'd spend more than $230 a week.

Their selection isn't huge. For each delivery date, you can choose from three "days" worth of food—meaning there are three options each for breakfast, lunch, dinner, and snacks (plus the regular available add-on juices and salads, etc.). That means if you're eating Thistle six days a week and don't care for one of the meals offered, you either have to double up on something you're already receiving or skip that meal entirely.
Other Alternatives to Consider
If you like the idea of Thistle but aren't sure if it's quite right for you, you might want to look into the following alternatives: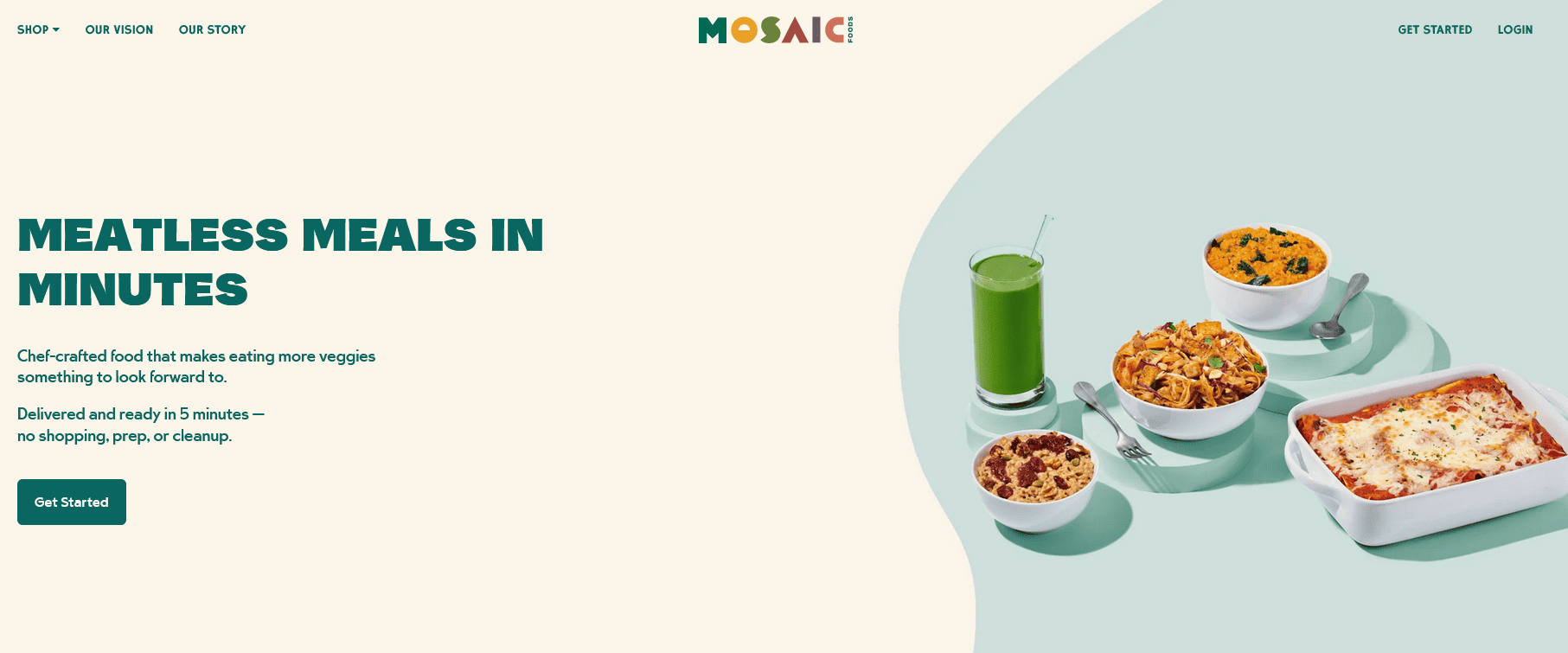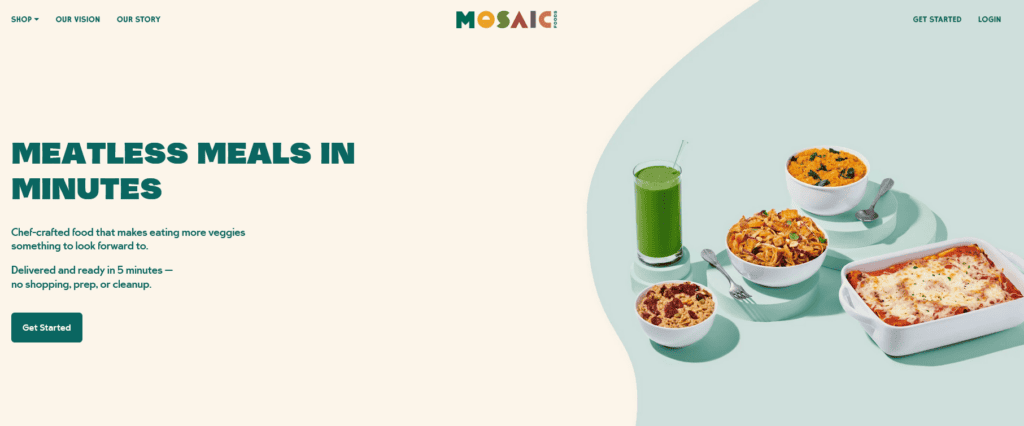 Mosaic is a meat-free meal delivery service that will deliver frozen entrées, family meals, smoothies, and oat bowls to your door every one to four weeks. I prefer the taste of Thistle's fresh meals, but the fact that Mosaic's meals arrive frozen and are stored in the fridge means that they're better for someone who needs a little more flexibility.
You can quickly reheat the meals straight from the freezer, and you can also leave them frozen for quite some time without worrying about them losing their quality. It's a great option if you want to stock up on meals without worrying about them spoiling.
Mosaic's meals are also slightly less expensive than Thistle's, averaging around $10 to $12 per entrée. They have a reasonably extensive selection but don't rotate their menu weekly like Thistle does.
Also read: My Week of Mosaic Foods: Review & Guide


Just like Thistle, Sakara delivers fresh, gluten and dairy-free, plant-based meals to your door twice a week. The main difference between the two companies is that Sakara's meals are part of an overall wellness and nutrition program.
When you sign up for Sakara, you choose from their list of half a dozen nutrition programs that combine fresh meals, supplements, coaching, and a guidebook. Sakara has plans targeting specific health goals, such as weight loss or gut health. In addition to meals for breakfast, lunch, and dinner, they also offer wellness teas, vitamins, smoothies, snacks, and other supplements.
Unlike Thistle, Sakara's menus can't be customized. Once you sign up for a plan, there's no option to choose which meals you'll receive. They don't offer any meals with meat, and all of their meals are more expensive than Thistle's—sometimes up to twice the price.
FAQs
Question: Are Thistle meals vegan?
Answer: Not every Thistle meal is vegan, but there are many vegan options available. All Thistle meals are gluten and dairy-free, and there are plant-based variations available for all of their meals. 
Question: Is Thistle keto?
Answer: Thistle does not offer keto-specific meals, but all of their meals are gluten-free, and many may fit into a paleo or keto-friendly lifestyle. 
Question: Are Thistle meals frozen? 
Answer: Thistle's meals arrive fresh, not frozen. Certain meals, such as some dinners, smoothies, and snacks, can be frozen if you want to stock up on a particular item or won't be able to eat it within the recommended time. 
Question: How does Thistle accommodate dietary restrictions and allergies?
Answer: Thistle can accommodate diets restricting dairy, gluten, eggs, soy, peanuts, tree nuts, pork, seafood, shellfish, and coconut.
When you sign up for a subscription, you'll be asked to select any allergies or restrictions that apply to you (you can also update this on your Meal Plan page). Thistle will replace or omit these ingredients from your meals or provide you with alternative meal options when a dish can't be modified. 
Final Thoughts
I love love LOVED Thistle. It's a bit pricey, but worth it if you can swing it (look for discount codes online). Often when I review a subscription, I end up canceling it soon after (gotta make room for the next subscription!), but I'm planning on hanging on to this one for at least a few weeks—I'm going to be super busy, and want to make sure I'm eating ok.
Thistle is excellent for vegans, vegetarians, flexitarians, or anyone looking to incorporate more plants and plant-based meals into their lifestyle. Everything I tried was super delicious and satisfying and made me feel great after eating it.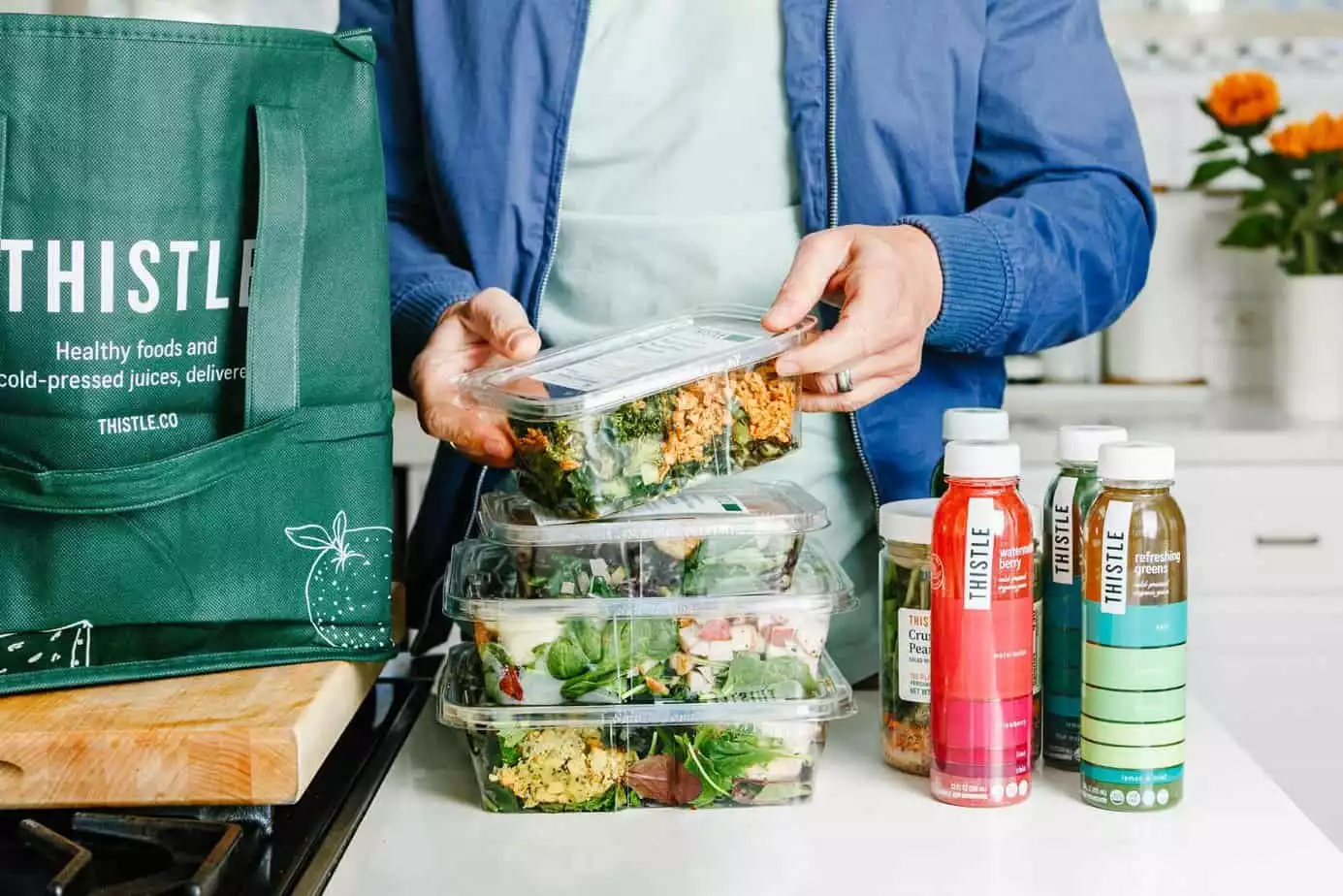 Related read