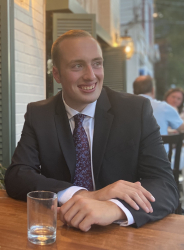 Latest posts by Raymond Delucci
(see all)
As we start to exit the worst of the pandemic, the meal kit space has continued to tighten regarding the competition.
With new companies being established every few months, picking which one you want to try can take time and effort. The two most popular kits in the space currently are Hungryroot and HelloFresh.
The two kits offer the ability to cook through recipes and ingredients provided. They also let you customize your boxes in certain areas so that the dining experience is optimal for receiving the box. Finally, both provide aspects of their experience that provide healthy and clean eating options.
The Bottom Line Up Front
As we compare the two services, HelloFresh has some clear advantages regarding the meal kit space. The variety of meals paired with a beautiful interface on their site guiding you through the recipes makes them stand out over Hungryroot.
Main Differences Between Hungryroot and Hello Fresh
Both services allow customization, but Hungryroot offers customization on both meals offered and snacks and sides that will be delivered.

Hungryroot acts as a grocery store shopping type platform. Picking and choosing different recipes and goods is the draw. HelloFresh focuses strictly on recipe variety and delivers on this.

Hungryroot has a more in-depth sign-up process when using the subscription, getting into great detail about your tastes and overall preferences for food.

The interface for customizing your box is much easier and more streamlined with HelloFresh based on my usage.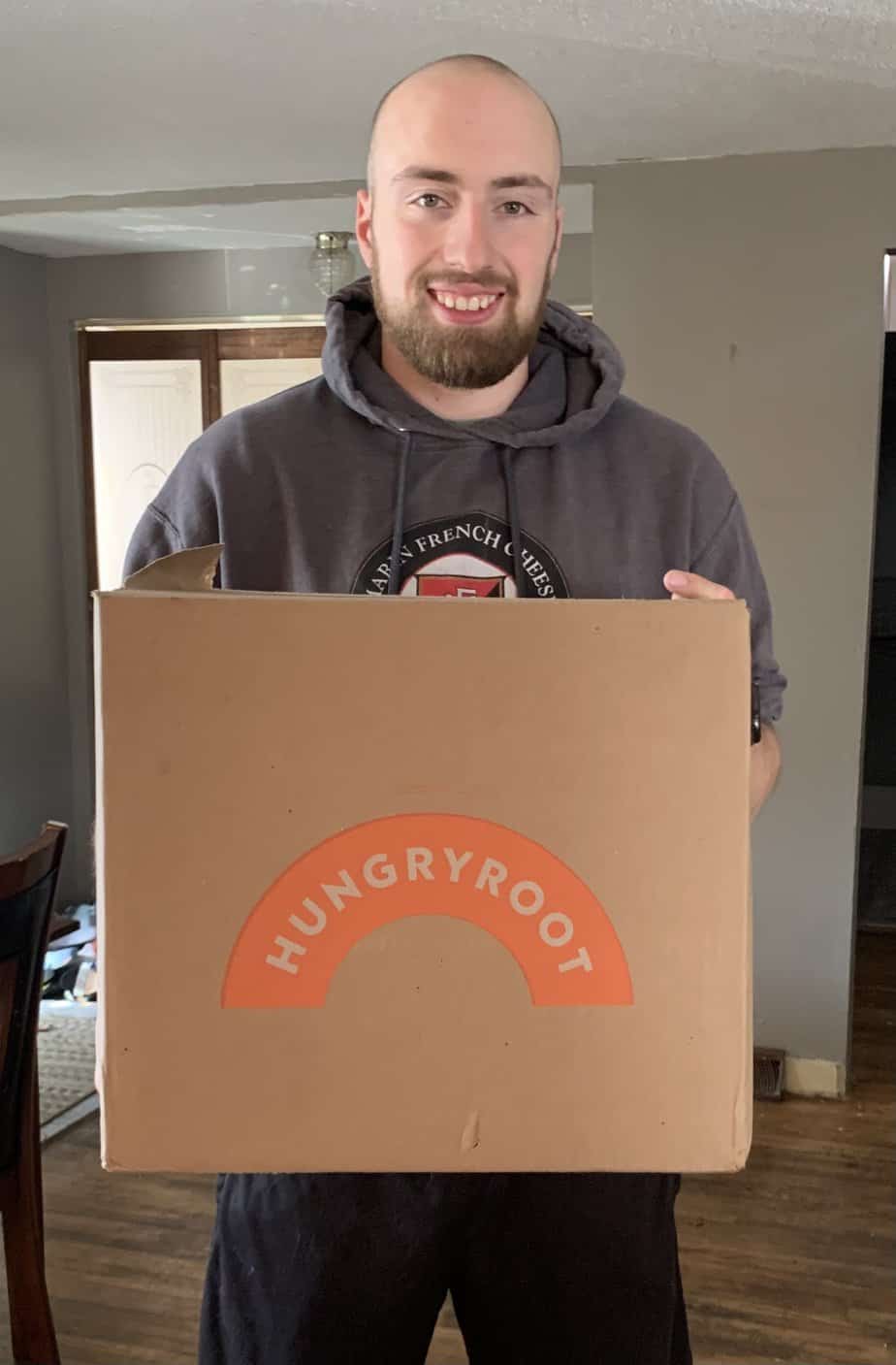 A quick overview of how Hungryroot works is that you start by taking a very in-depth quiz. You go over likes, dislikes, goals for eating, lifestyle choices, and cuisine preferences.
From there, you share how much food you need and what else you may prefer for a delicious meal or snack. You can edit your box weekly to add or remove prepared meals, snacks, and other items.
You then receive a weekly box from Hungryroot with Consumer Packaged Goods items that are diverse and tasty. You will receive fresh produce, such as a ready-to-make kale salad bag. You will also receive ingredients to make easy and delicious recipes using a pre-provided recipe sheet from the company.
Hungryroot is excellent at offering diverse options. In trying the product, I had fun eating through different packaged goods and cooking some unique products from their provided recipes. Find my review for Hungryroot delivery service here.
Hungryroot Pros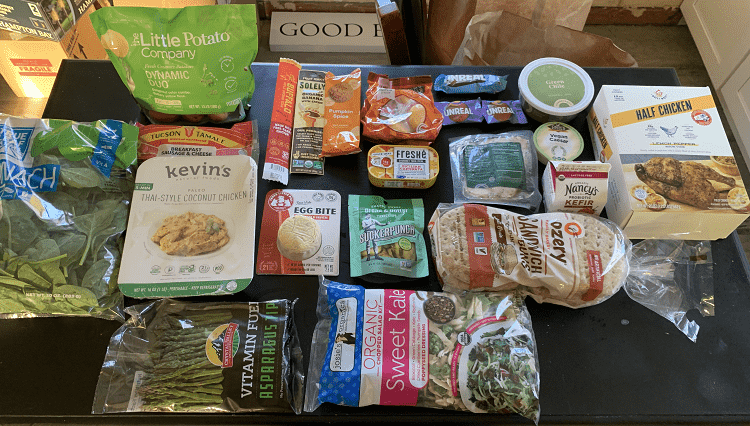 Variety, Variety, Variety
I was thoroughly impressed with how much variety I received in my Hungryroot delivery service box. Flavors from all over the world were packed into my box, and I thoroughly enjoyed most of them.
From a delicious gruyere/pancetta egg bite to a coconut chicken curry dish I had a blast making, these were memorable meals I crave.
There is something to be said for a company able to supply and deliver so many health-focused and fun options to eat. Impressed is an understatement regarding the value proposition of discovering new flavors that Hungryroot offers.
It is fun to have a grocery aisle-type feel when using their website's interface. The immense food catalog on display is astounding and can be overwhelming if you are not using your filters properly to choose what to buy.
Efficiency Is A Hallmark Of The Box
During my signup process, I did point out that efficiency was a significant factor in choosing the box. Everything sent to me in the box was ready to be cooked within 30 minutes or consumed immediately. They did deliver, and I was thrilled with just how little time I had to spend cooking with the options.
I am usually an avid home cook, wanting to flex my hard-earned restaurant skills at home. But the week I received my box, I traveled to visit family. I was set up out of my sister's kitchen, an unknown arena, and could still nail every recipe promptly. It was a delight to cook with Hungryroot's offerings.
I am very wary as a chef when I try pre-made or 90% cooked items that are meant to be heated up for a recipe.
The private-label cooked items that are then used to make the recipes they send you are top-notch in quality and taste. But the work and thought put into the Hungryroot items really did stand out during my cooking and eating experience.
Robust Signup Process
One of the last big items I liked about ordering the Hungryroot product was the intense and hyper-focused signup process. I was so impressed with the in-depth questions Hungryroot makes an effort to ask its customers.
Many worry about committing to these boxes because they are not sure they will like the product they receive. Hungryroot makes it so they can gauge what you will enjoy and dislike with excellent accuracy. Of course, they will have some misses, but this signup process elevated my experience.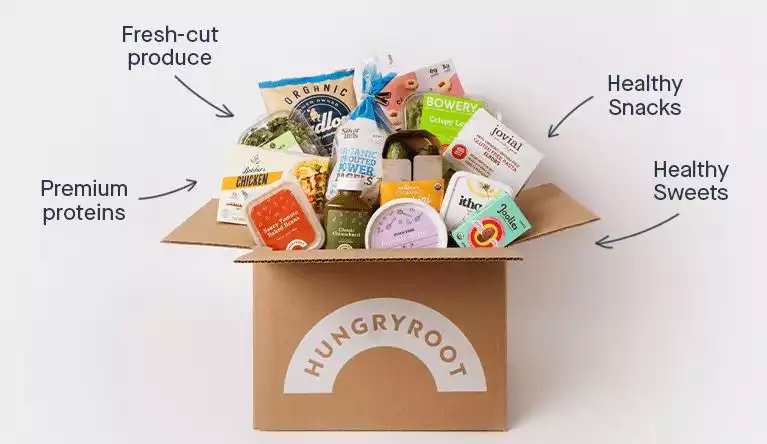 Why Go with Hungryroot?
Good-for-you groceries, simple recipes, recommended just for you. Get 30% Off + Choose Your Own FREE Gift For Life.
Sign Up
We earn a commission if you click this link and make a purchase at no additional cost to you.
Hungryroot Cons
Lack Of Protein Variety If Curated By Hungryroot
As I mentioned, when you sign up for this service, you get many options to choose from. One of them is the protein selection if you do consume animal protein. When I received my box, all my protein items were chicken based. Even the jerky was chicken!
The draw for me was curating the box based on the quiz. You can go in and choose your items for the service and change the options if needed. But it felt like I lost some time completing a 10-minute quiz on my preferences to be given the same protein across the box.
If you want more of a say in the options you want, you need to go in and edit your box. In my opinion, the automatic choices and the system used to make them are not quite there to trust that you will get exactly what you need week to week.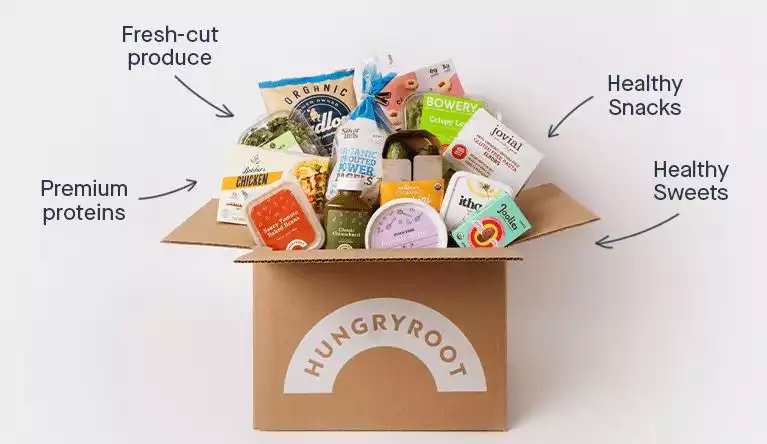 Why Go with Hungryroot?
Good-for-you groceries, simple recipes, recommended just for you. Get 30% Off + Choose Your Own FREE Gift For Life.
Sign Up
We earn a commission if you click this link and make a purchase at no additional cost to you.
How HelloFresh Works

The signup process for HelloFresh is less in-depth than Hungryroot meal delivery service but does offer some pretty unique features. To start, you will choose which meal preference best suits you. These are the meal category options you can choose from in the signup process:
Meat & Veggies

Veggies

Family Friendly

Fit & Wholesome (dietary needs)

Quick and Easy

Pescatarian
From there, you will be asked if you are feeding 2 or 4 people. The most you can choose is four people for any given box. You then share how many recipes you would like sent per week and sign up for the weekly subscription.
HelloFresh has over 100 recipes to choose from. They filter out the ones based on your preferences, but you still have access to their entire catalog if you want to try them. Some even have the option of mixing and matching main proteins and sides to create your meals.
HelloFresh Pros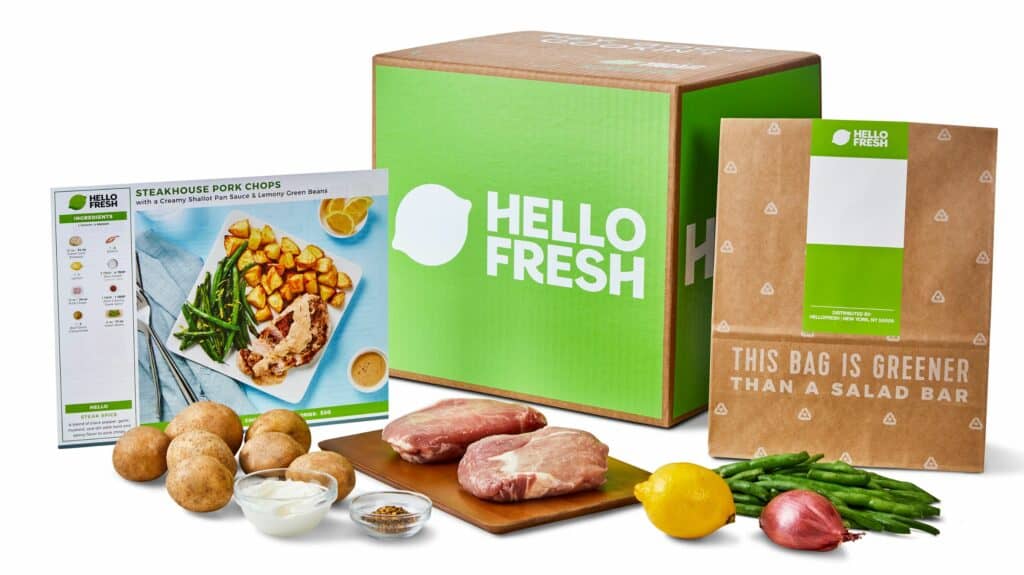 Complete Control Over Meal Choice
One of the biggest reasons that HelloFresh topped over four billion dollars in revenue last year is the offerings and choices loyal customers have when ordering the box. Each week you can go through a very diverse catalog to choose which options come to your house.
The newer mix-and-match feature of proteins and sides takes the customization and variety of each recipe to the next level. The element of choice customers of this box have astounding, and the fact that HelloFresh can deliver on it consistently should not be overlooked.
Recipe Variety
The variety value proposition for HelloFresh compared to Hungryroot comes down to the actual catalog of recipes available through the site. Not only do the tastes change, but so do the different ways you cook them. There are just so many tasty options to choose from.
The different cooking methods HelloFresh guides you through are pretty impressive. Blanch, boil, bake, saute, fry, and much more. The kits give you some great cooking options and are a fun way to engage customers to keep coming back.
Recipe Detail
The HelloFresh site and recipes are beautifully done, and as a chef, I was so impressed with this portion of the process. It can be hard to direct someone on how to cook a dish.
HelloFresh offers beautifully clear pictures and easy and efficient dialogue in recipes to provide a clear path from raw ingredients to a beautiful final plate.
The whole point and draw of HelloFresh are that it is a cooking-based box. For years they have dedicated themselves to creating a user experience that is easy to follow and yields high-quality meals. The experience of cooking through their site is a joy for any home cook.
HelloFresh Cons
No Vegan Options
While they offer veggie-based meals, there is no proper vegan option for HelloFresh. This does limit any vegan consumers looking to stay away from animal-based products. This lack of an option does act as a barrier for some and is a non-starter if you are vegan.
Full Kitchen Required
HelloFresh is a meal kit for those who love to cook. This is why I love the product so much. But if you are looking for ready-to-eat meals and efficient, quick options, there may be a better kit.
Also, not everyone may have a fully stocked kitchen, which hinders end consumers if they are missing specific equipment.
Hungryroot Meal Offering Examples
The awesome part about Hungryroot and the meals they provide is that most of them are made using a few simple ingredients. They achieve this by sending ingredients that are pre-made and have been cooked most of the way so that you can have the meal done in a relatively short amount of time.
For example, the protein options I received all came pre-cooked. I believe most of them were cooked sous-vide, aka in a water bath, in order to keep moisture and texture when storing. Upon re-heat, all you then have to do is open the packages and follow the cooking instructions.
Let's take their Pesto Chicken Chickpea Cavatappi, for example. They provide Hungryroot Kale Pesto, Banza Chickpea Cavatappi, and Hungryroot Seasoned Grilled Chicken Breast.
All that is required for this dish is to boil the pasta, cook the chicken and sauce, and then combine them to create the desired dish. Below is a look at some of the many recipes you will find with Hungryroot.
Korean BBQ Chicken & Broccoli Stir-Fry

Vegan Super Chorizo Tacos

Korean Bulgogi Chicken Rice Bowl

Zesty Shrimp Taco Salad

Marinara Turkey Meatball Stuffed Mushrooms

Green Chili Chicken Panini

Half Roast Lemon Pepper Chicken with Creamer Potatoes

Roasted Salmon and Sweet Potato with Brussel Sprouts

Coconut Chicken Curry
HelloFresh Meal Offering Examples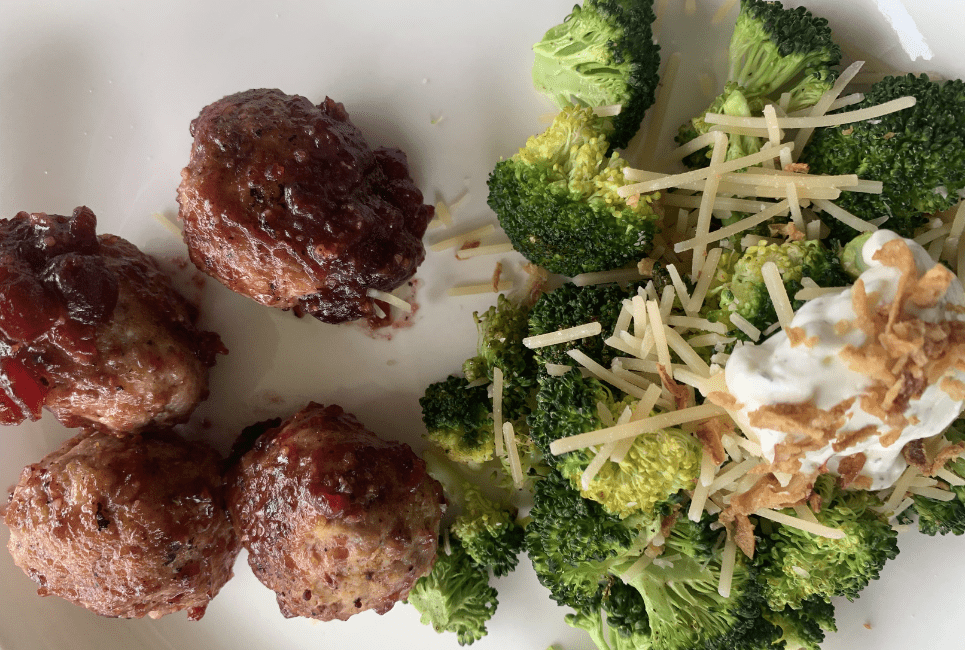 HelloFresh has a beautiful website in which there are chef-curated examples of exactly what needs to be done for meal prep when cooking meals. Similar to Hungryroot, HelloFresh will share exactly what is coming in each kit. These recipes tend to be more in-depth and actually require you to cook them fully.
Let's look at their Mozzarella Crusted Chicken recipe. So instead of having a pre-cooked chicken breast like Hungryroot, HelloFresh sends the raw chicken breast.
They also send breadcrumbs, cheese, paprika, and dried oregano for the breading. You then are responsible for mixing the breading, breading the chicken, and cooking it fully.
An important thing to note with HelloFresh is that they do expect you to have some kitchen basics on hand. For the dish above, what is not included but is expected for you to complete the meal fully is Olive Oil, Salt, and Black Pepper.
Below are just a taste of what HelloFresh has to offer:
Thai Coconut Curry Chicken

Mustard Apricot Pork Tenderloin

Sesame Soy Beef Bowls

Garden Spinach Ricotta Ravioli

Shrimp and Scallop Scampi

Cherry Balsamic Pork

Sirloin and Sherry Shallot Sauce
Price Comparison
The pricing of these two services is very similar. You will see a minor difference when broken down by serving, but when you add shipping costs, they both add up to around the same amount. I looked at three meals a week for two people when making this price comparison.
Hungryroot Price: The price per serving averages out to around $9.69 per recipe when looking at the meals offered. There is some price fluctuation based on protein versus veg choices and other factors.
HelloFresh Price: The price per serving for HelloFresh on their website is $9.99. When in their signup process, I chose both protein-based meals and vegetable-only meals, and the price per meal stayed the same throughout.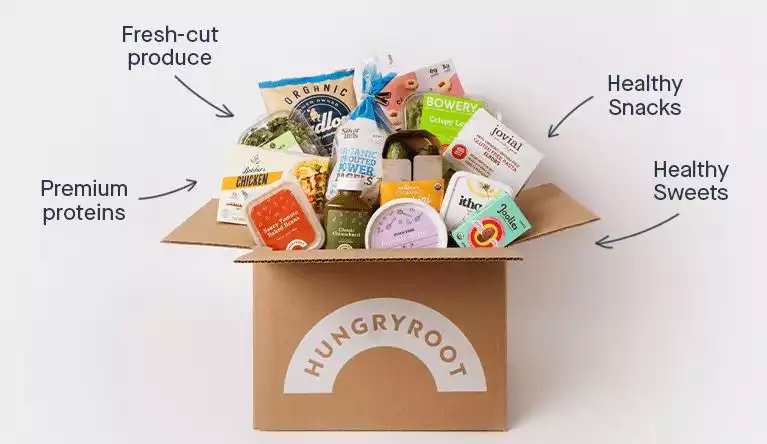 Why Go with Hungryroot?
Good-for-you groceries, simple recipes, recommended just for you. Get 30% Off + Choose Your Own FREE Gift For Life.
Sign Up
We earn a commission if you click this link and make a purchase at no additional cost to you.
Hello Fresh and Hungryroot Alternative Meal Kits To Consider
There are a whole slew of substitutes to consider in lieu of both Hello Fresh and Hungryroot. Here are some of my favorite options: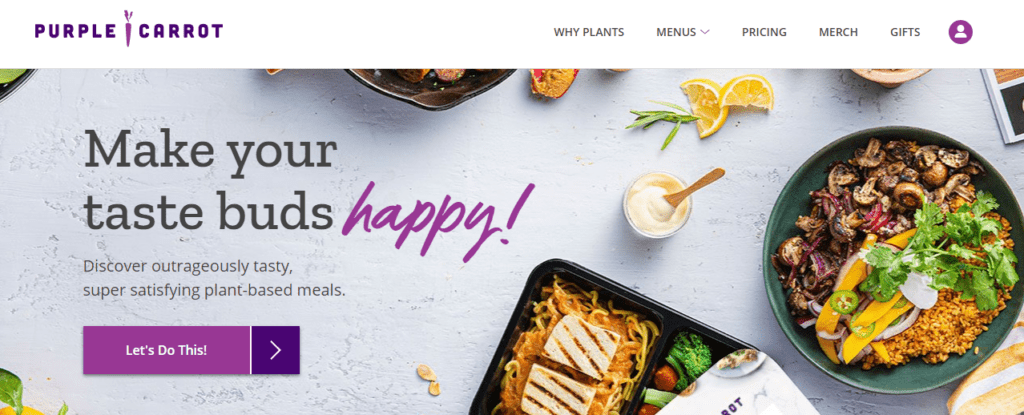 Purple Carrot is a popular plant-based meal subscription service (meal plan) that also focuses on the cooking aspect of the meal kit sector. They rely on showing you how to cook some delicious, in-depth meals. If you are looking for a plant-based alternative to HelloFresh, this is your best bet.
Purple Carrot Competitors Compared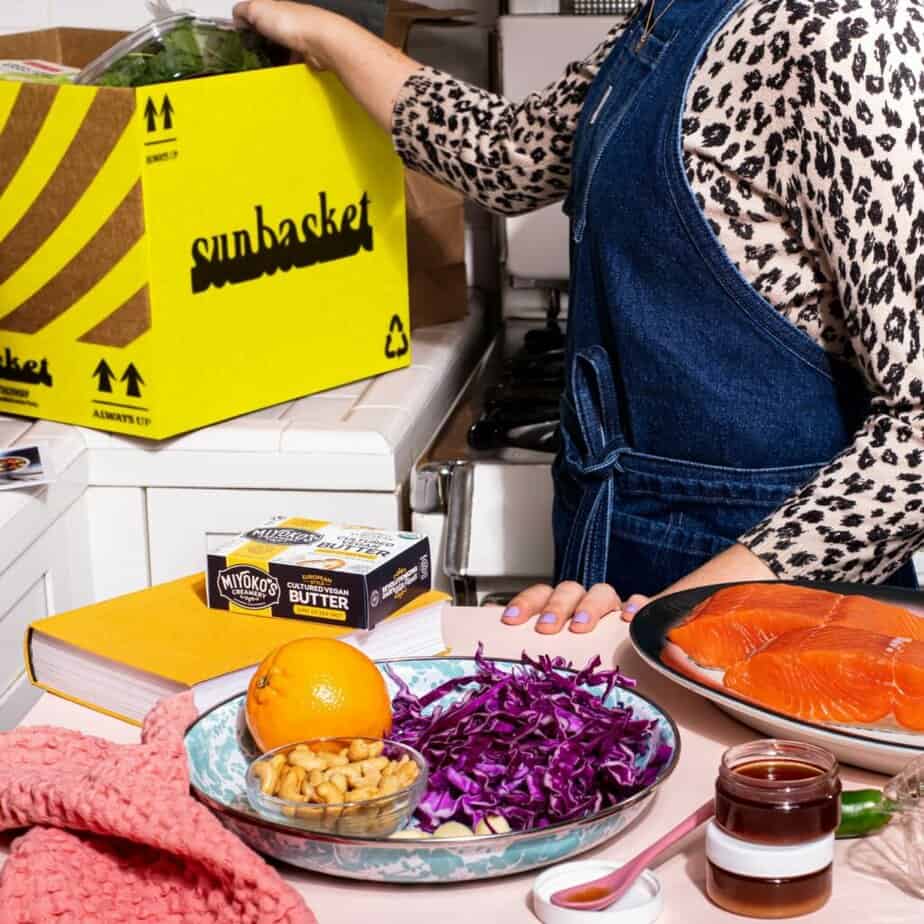 If sustainable and organic ingredients are your focus, Sunbasket is a great meal plan alternative to the two kits in this article. They deliver on all of their ingredients being organic and sustainable and offer both recipes to cook with and ready-to-eat options.
Other Meal Delivery Service Options to Consider
Our editorial team has also covered other meal delivery service & these are worth considering:
Green Chef: Great option for dietary restrictions and dietary needs like gluten free, paleo, keto, low calorie, etc…
FAQs
Question: Which Kit Is Cheaper?
Answer: As of writing this review, these two kits average about the exact same cost per portion, as shown in the price comparison.
Question: Can You Cancel Your Subscription Anytime?
Answer: You can cancel your subscription to either box at any time. It is based on a weekly cadence, so before each customization, the window closes, and you can cancel the delivery. 
Question: Which Meals Take Longer To Prepare?
Answer: Due to how in-depth the recipes are, HelloFresh, on average, should take longer to prepare. Depending on scheduling and how much you enjoy cooking, this can be a selling point for some and a hindrance for others. 
Conclusion: Hungryroot or Hello Fresh?
While both of these kits offer excellent services, I would choose HelloFresh over Hungryroot for my lifestyle. I cook almost every meal I eat due to working from home and being conscious about going out to eat.
To be able to choose and plan my meals each week at the depth HelloFresh offers and to be met with quality and delicious service is why HelloFresh takes the edge in this comparison.