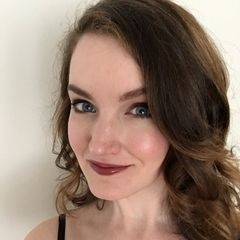 Latest posts by Crystal Schwanke
(see all)
My thredUP review is kind of a mixed bag. It started out as positive, but I was underwhelmed as I went through the items I received in more detail and compared them to the listings. My daughter ordered a couple of things from them a few months ago and had a mostly positive experience. I expected mine to be the same.
I've shopped in consignment stores off and on for years. I love trying new ones, but I've only found one or two I want to return to. So I felt like I had a pretty good idea of what to expect from thredUP. My takeaway: I really prefer to see the items in person before buying them, but I love having so many options I can use filters on at my fingertips when I'm looking for something specific. When I'm not looking for something specific and just want to browse for things I don't know I need yet (but just need to update my wardrobe), that's a different story.
A Tale of Two thredUP Orders
Well, really, it's a tale of three thredUP orders–one mine, two my daughter's. Her experience was different from mine in a few ways, but shopping at thredUP was positive for her and neutral for me.
To sum things up: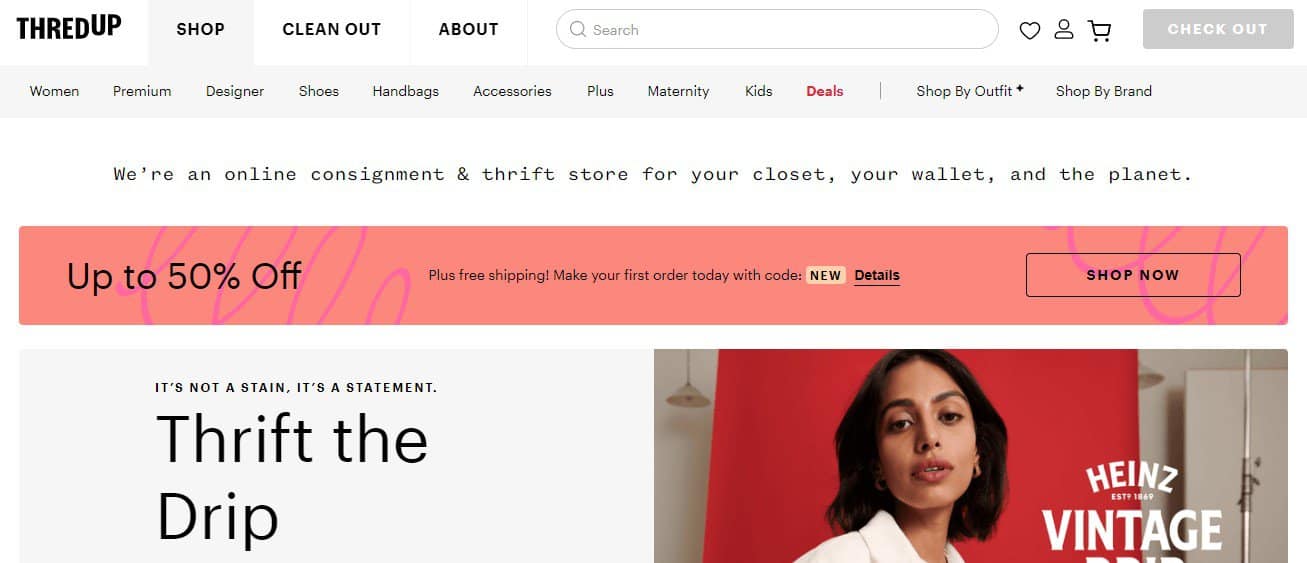 I didn't participate in her orders (she got my husband to help), but I was vaguely aware that they had occurred. I was excited to check out what she got when the packages arrived. Then I compared them to their listings on the site. I'll compare the experiences as much as I can.
Shipping Time Varies
I ordered a few things at once, and shipping took much longer than expected because the items needed to be gathered from different areas. I didn't realize this would be the case, and it wasn't really an issue for me, but it's something to keep in mind if you're shopping for a specific event.
She ordered two pairs of jeans at different times, and shipping was incredibly fast. It felt like we blinked and they were here. It wasn't overnight, but darn close to it. Maybe two days?
The Fit and Condition
Her jeans fit as she expected them to and were in excellent condition at first glance. However, she noticed the pockets on one pair seemed to have been cut out, so there wouldn't be any lines showing through on the thighs. One of them had a smell she described as, "It obviously spent some time in somebody else's house." It wasn't offensive, but it was noticeable.
The other pair's button fell off the first time I washed them, but there's no way ThredUP could've known that would happen. Dealing with the missing button is not as easy as it would be if we'd purchased the jeans from a department store and needed a replacement. We'll have to develop a DIY fix for it, which isn't really a huge deal.
One item I received was similar to the photo but obviously not the exact item (the image had a V-neck, but the sweater I got was a crewneck). I wish there had been more information about the jeans I ordered (care and fit) because I would've chosen a different option.
One top was too small and another borderline too small, but that was my fault for looking at the size tag and not the measurements (they must've shrunk before they were sent to thredUP).
Some of my items "smelled like they'd been in someone else's house" and triggered my allergies, but washing them will fix that. And that's a risk when you shop at any consignment shop, not just thredUP.
Pricing
If I combine experiences for an average opinion of thredUP, the prices were so amazing, they made the shipping hiccups and unexpected issues with both pairs of my daughter's jeans and the too-small tops worth it. She was still happy with her jeans. I might be able to make all five of my items work for me, though I'm not sure about the button-up shirt.
The Shopping Process
She loved the whole shopping process on thredUP, but I felt overwhelmed and had to take several breaks before I could find things I liked. I wasn't looking for anything specific, but the filters were beneficial.
So Here's How thredUP Works…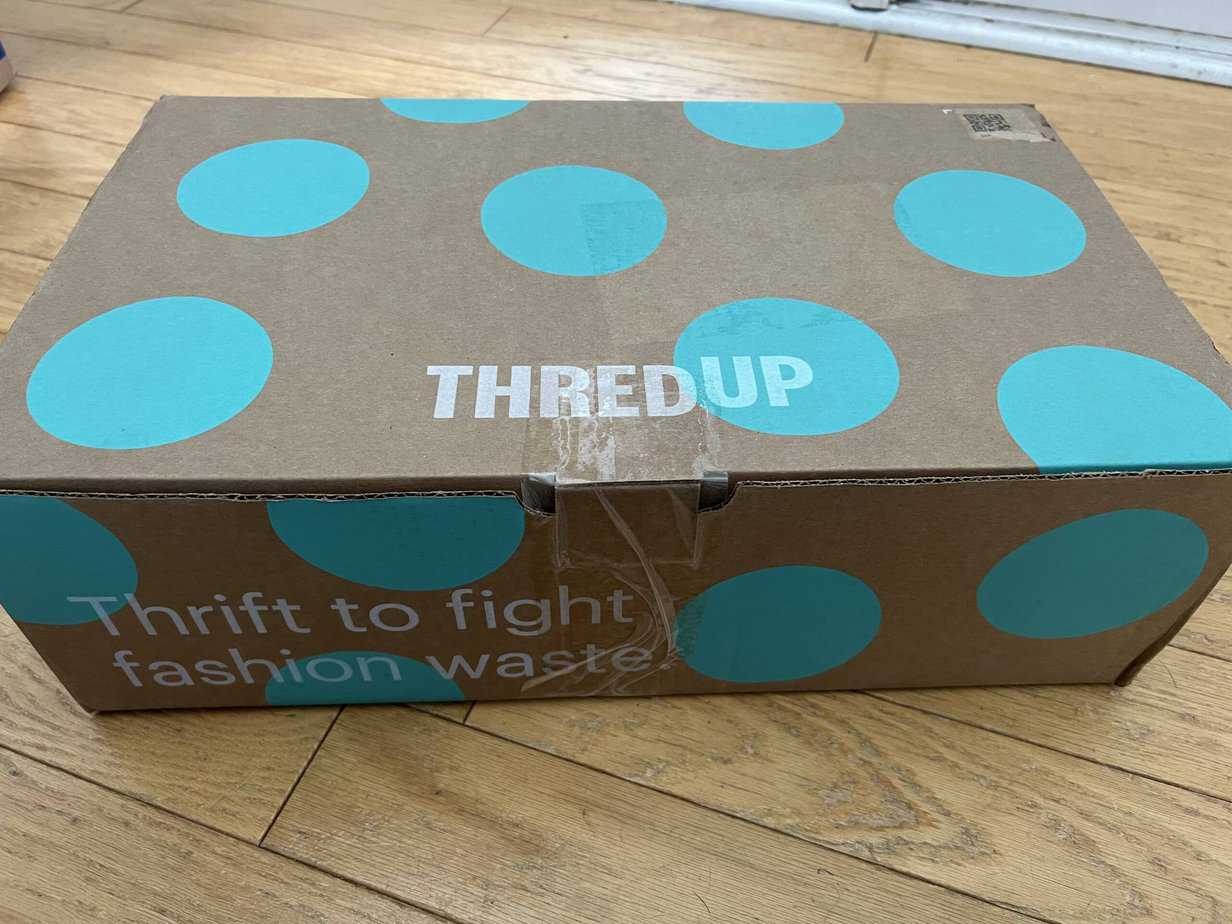 You have the world of consignment fashion at your fingertips when you visit thredUP, seriously.
You can leave things wide-open and just browse if you have the time, but I found it helpful to have a general idea of something I wanted and then rely on the filters to narrow it down.
You'll see information about each item, including condition, size, measurements, material, color, the positive impacts of buying an item, sizing tips (sometimes), and the estimated retail cost of the item compared to the price you'll pay on thredUP.
When you add things to your cart, a timer will start. The item you chose will stay in your cart for 12 hours. It says it's reserved, but I think other people can buy it while it's in your cart. It's just removed from there (you'll still see recently removed items on your cart page) after 12 hours are up.
If you're just browsing and want to keep track of what you might want to buy, it's better to click the heart on the listing to add it to your favorites. Those things will stay there indefinitely. They might sell in the meantime, but you'll still be able to see that your favorited them.
Once you've checked out, you'll wait a few days while thredUP gathers your items from different warehouses so they can send all of them to you in a single box. You'll get a shipping notification, and your clothes should show up within three to eight days. My daughter's jeans showed up in envelopes, and my five items came in a box.
You'll have 14 days to decide whether to return your items. If something doesn't work for you, you can start a return request and possibly get a prepaid shipping label, depending on where you live.
My thredUP Experience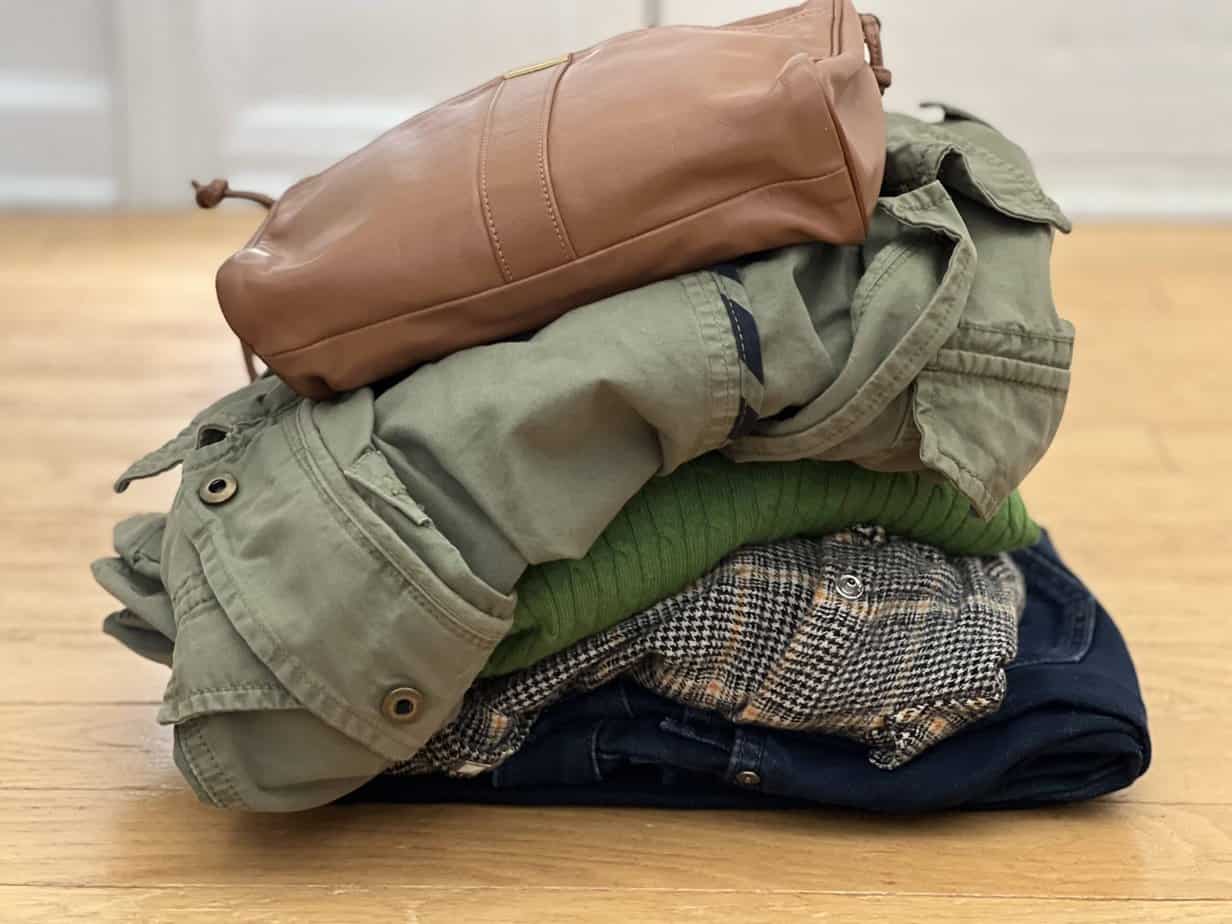 Not gonna lie. Even though I generally liked the outcome, learned some lessons about shopping at thredUP that'll help me next time, loved the prices, and would recommend the store, shopping at thredUP frustrated me.
I have mixed feelings about going into the giant thrift store near me, so I guess there's a theme here. That store used to be better, so I don't really go anymore, but I did find some clothes I loved there once upon a time. (Just so you don't think I'm never happy with consignment stores and thrifting.)
Walking in was always overwhelming, though everything was somewhat labeled and organized (like thredUP). Still, shopping at that store felt better than shopping online in this case.
I think there was a weird disconnect when I was shopping on thredUP because I wanted to see and touch (and smell!) the clothing in person. After all, it was previously worn and washed (sometimes in hot water, which could affect sizing).
If I'm shopping online for something new, I have a pretty good idea of what to expect, and there's a lot of detail in the photos (usually). With this, I wanted to see them in person to check the sizing, get an idea of how it'd look on me, feel the fabric, check for wear and stains, etc. Maybe better–or more–pictures or even quick videos would have helped.
Once I narrowed things down and added some items to my cart, I realized they'd only hold them there for about 12 hours. Someone could buy them if I hadn't checked out yet, but no matter what, they'd be removed from my cart after the time was up. I'm one of those "my Amazon cart total is at 4 billion dollars" people. I'll just keep adding things so I can check out when I'm ready (which could be a while). Sure, items can sell out while they're in the cart, but if not, I'd like to be able to go back to it.
What I Got from thredUP
Because the deals were so good and I could combine the low prices with a coupon, I picked up five things for around $55.00. Shipping was free even though it's usually only free on orders of $79.00 or more. Some of those five items were good, but some were disappointing. Here's what I got:
Crew Pullover Sweater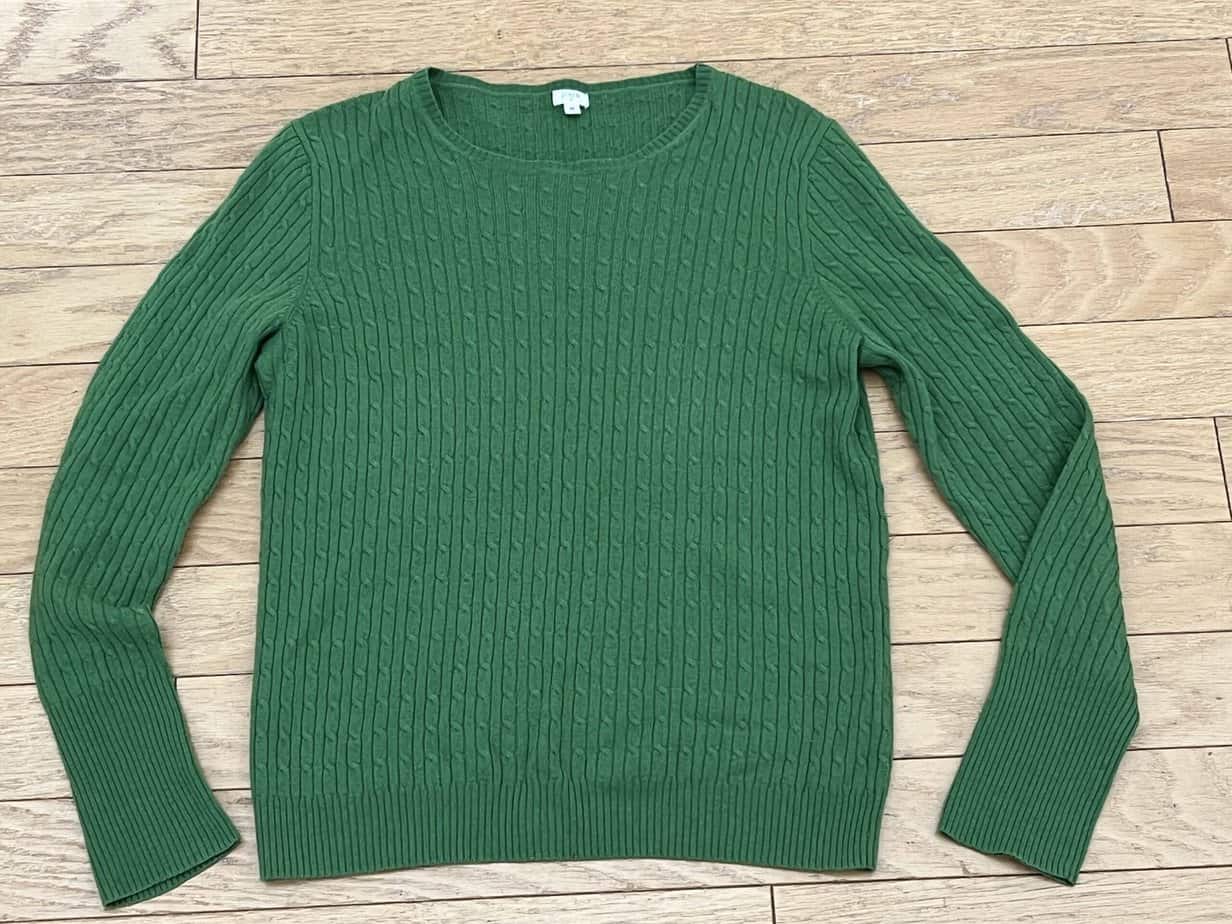 I'm not sure what happened here, but I ended up with a crewneck, not the V-neck in the picture. Everything else about the sweater looks the same as what's pictured.
It looks smaller than I expected it to–more like a Small, maybe even an Extra-Small. I have tried J. Crew clothing and never noticed anything odd about the sizing, so that probably boils down to how the previous owner cared for the sweater.
The listing said it was in excellent condition, which I can mostly agree with as far as signs of wear go.
Free People Long Sleeve Button-Down Shirt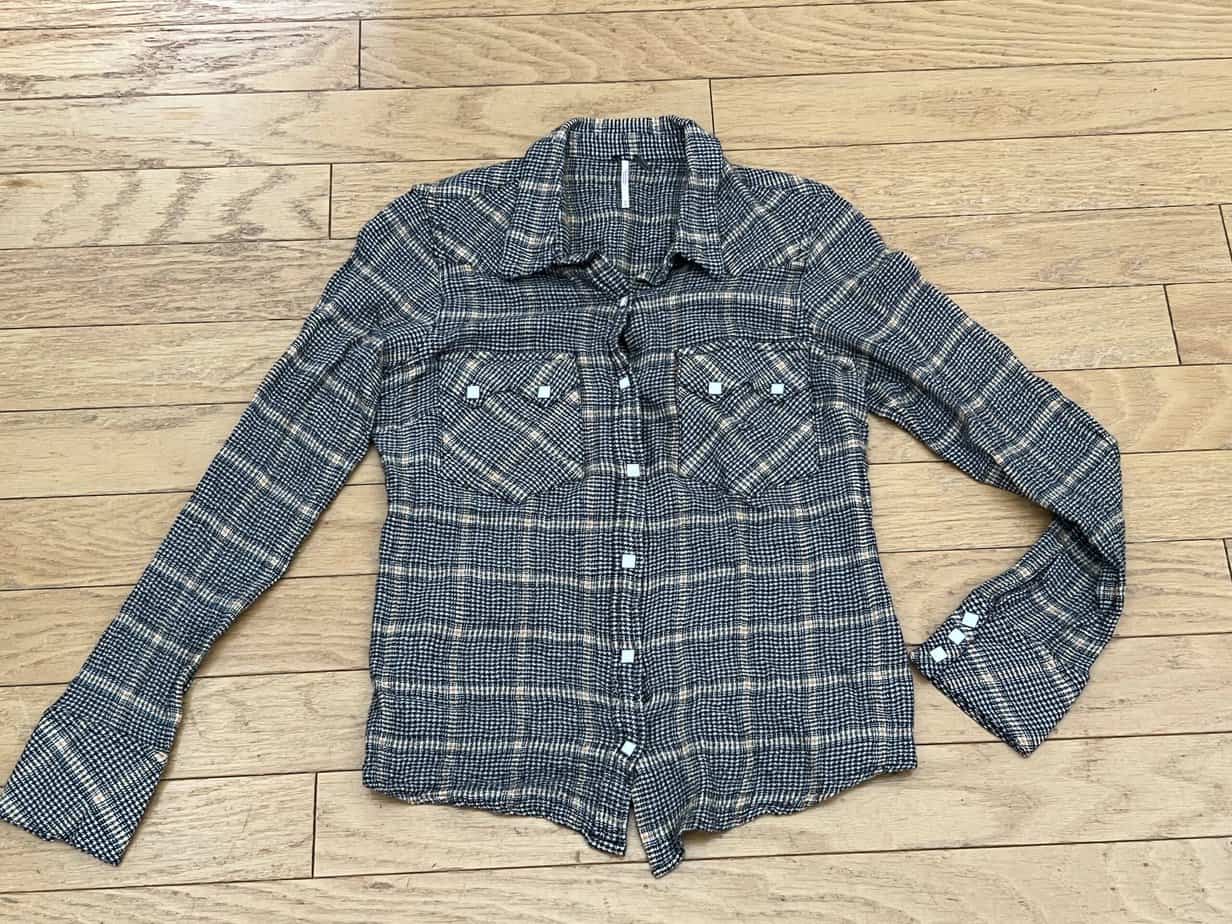 I've never tried the Free People brand, but this size Medium doesn't seem like the size Mediums in my closet. It, too, is smaller than expected. Again, it could come down to the way it was cared for. I'll probably end up giving this one away.
The material is excellent, and I'd love to wear the shirt…if it fit. Part of that is my fault for not checking the measurements and going by the size on the tag. The measurements (35″ chest and 23.75″ length) don't sound like a Medium to me. I checked a few charts online, and it seems to be more in line with Small or even Extra-Small sizing.
It was listed as in "good condition" and aside from possible shrinkage, I'd say it's at the high end of that, close to excellent.
GAP Jacket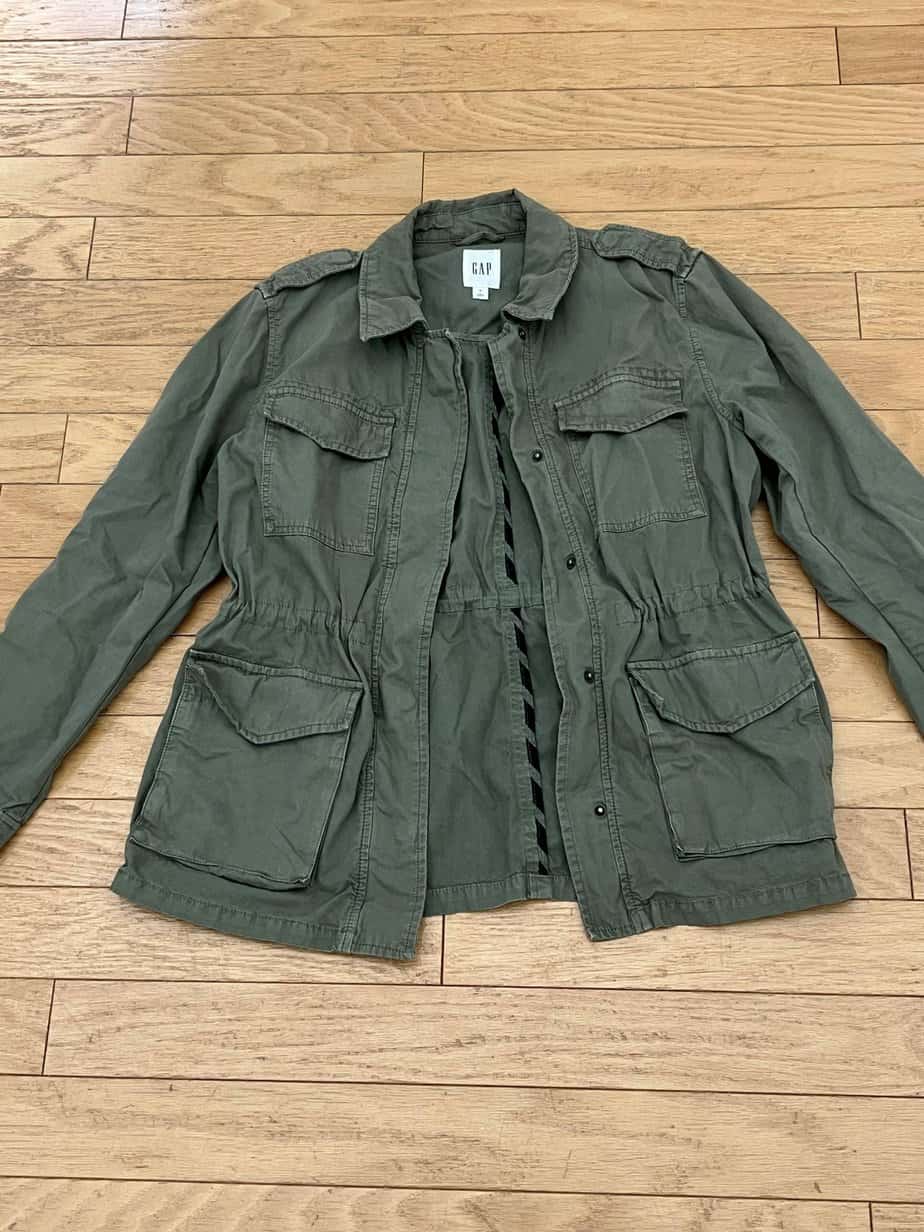 I love jackets like this one by GAP, and this was one of the first things I came up with once I realized I needed more of a plan than just seeing what was on the thredUP site.
The sizing on this one matches my expectations. Even though the condition says "good," I don't think it's that much more worn-looking than the sweater marked "excellent."
Joe's Jeans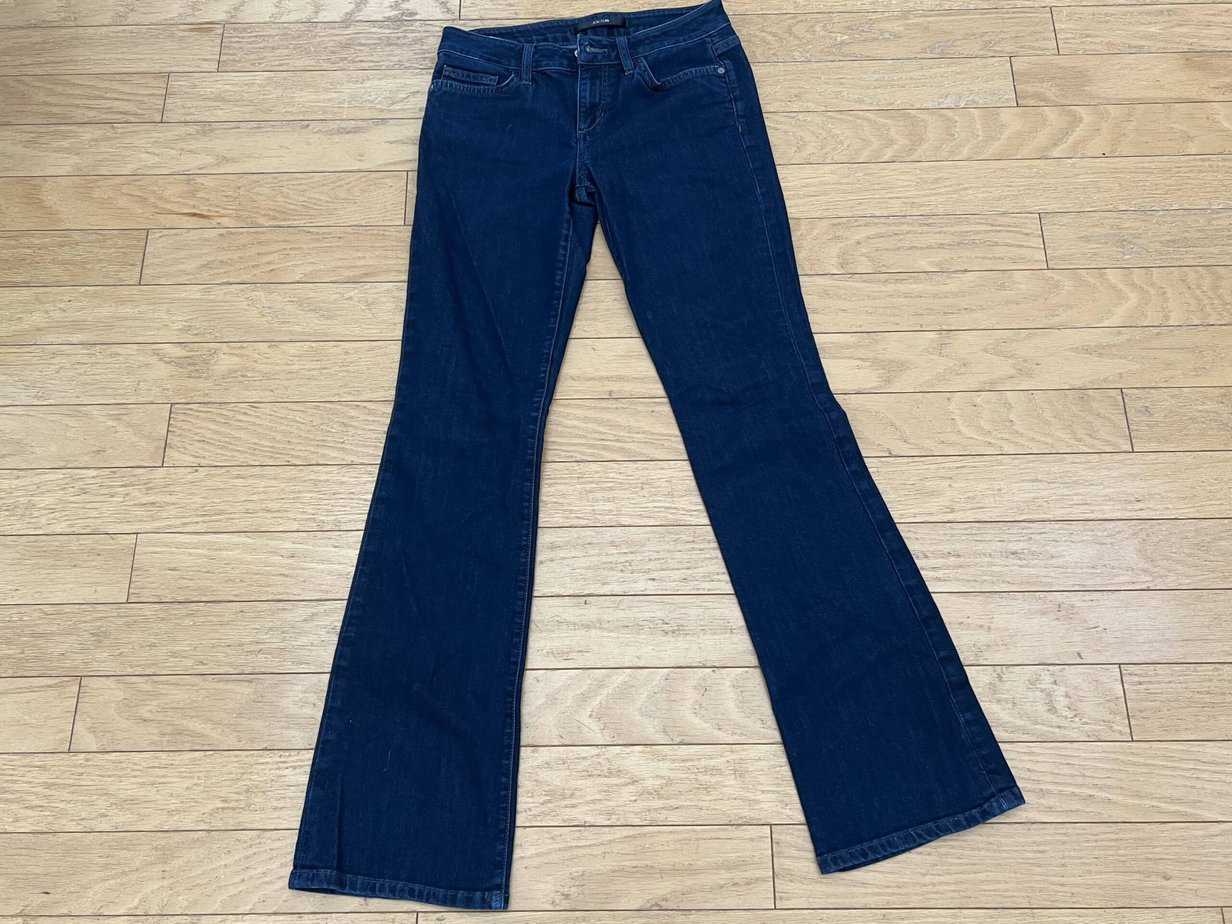 I'd heard good things about the Joe's Jeans brand, so I thought shopping on thredUP was the perfect opportunity to try them out.
I think these are the same ones that were pictured (I wouldn't have thought to question it if not for the green sweater situation mentioned above). The flares seem less pronounced in person, and the tag says Curvy Bootcut. There was nothing about the "Curvy" part in the description, but it works to my benefit since I was wondering if they might be a little tight.
The description does say this brand may run small. That heads-up was nice.
I would've appreciated a warning that dry cleaning is recommended, though. I'm sure I'll end up washing these with all my other jeans by accident because dry cleaning my denim isn't really on my radar. Tossing them in the washing machine without thinking about it is inevitable.
These were marked as in "good" condition. I agree. There's either wear or a stain on the front of one thigh that I noticed immediately. Other than that, it's just normal, minor wear.
Assorted Brands Crossbody Bag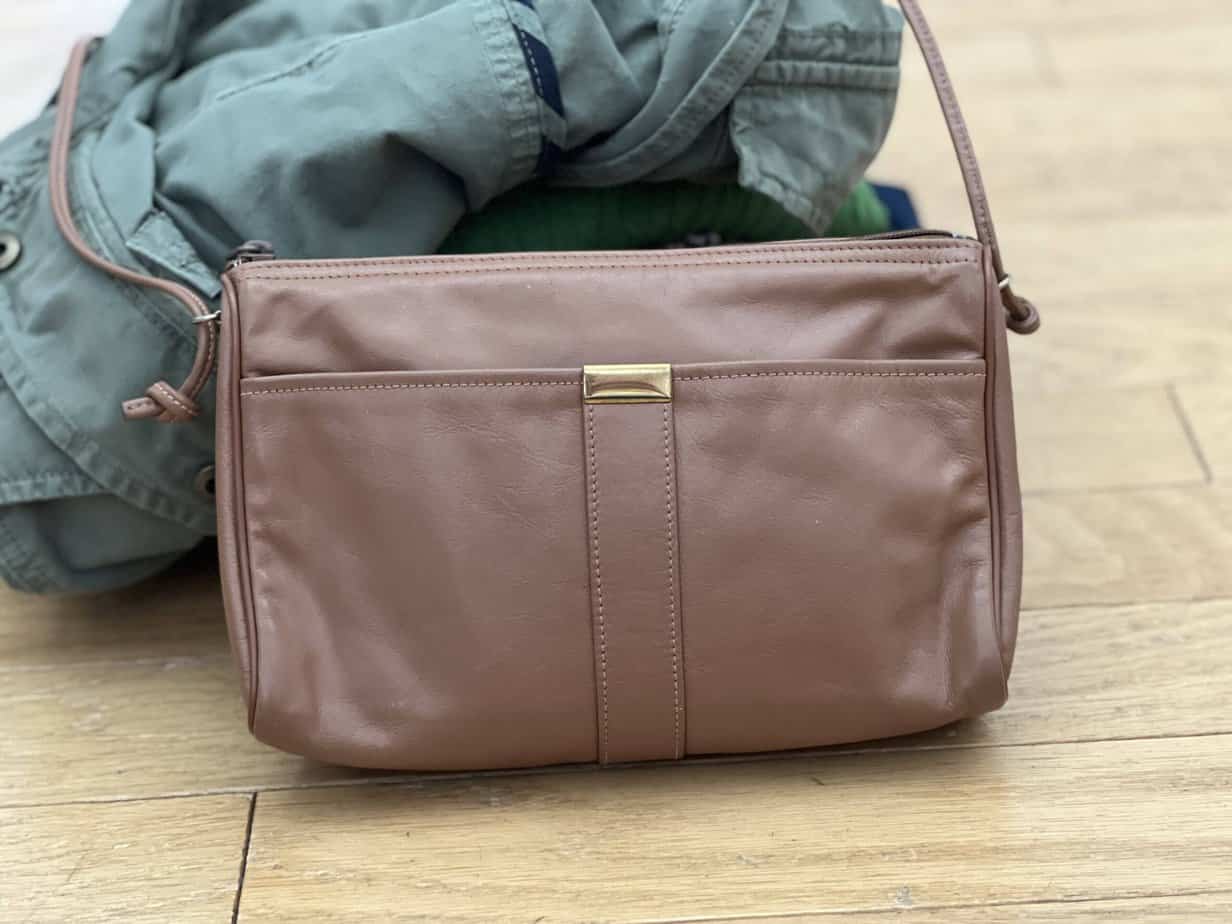 I wanted to get at least one accessory just to see how they measure up to the description, and a small crossbody bag that'll go with most things seemed perfect.
It's in excellent (but not "like new") condition, came stuffed with the same tissue paper thredUP wrapped it and my clothes in, and was clean. It's obviously been used, but it's not especially worn. I'd say it fits the Excellent condition that's listed.
thredUP Pros
Thrifting is good for your wallet. Plus, you can save a ton of money and get designer clothing for less than you'd pay for the same type of item from a lesser-known brand in a department store or boutique.

Speaking of designer and high-end clothing, it's nice to give some of them a test run before splurging on something. I'm always hesitant to commit to expensive jeans, for example, because I don't know how they'll behave and last in the long run.

Thrifting is good for the environment.

You can get designer clothing (in excellent condition) for a fraction of the cost. My daughter's first pair of jeans from ThredUP retailed for over $300.00, but she got them for about $25.00.

Shipping can be fast, especially if you just order one thing.

Coupons and sales are on top of what you already save when you shop there.

You're not stuck following current trends–there's a little bit of everything there. I ran across all kinds of styles while I was browsing.

Everything is folded and packaged with care. My clothes were wrapped in tissue paper, and then the purse was wrapped separately (again in tissue paper).
The filters are beneficial. It can't hurt to use those even if you're just browsing.

I appreciated the little notes in the descriptions of some items. In one case, I saw "this item may run small," so I knew to work around that and order a different size.

Suppose you're learning to sew or want to paint on your clothing or embellish them in other ways. In that case, it's easier to feel okay about that when choosing less expensive, pre-worn clothing (at least in my mind). My daughter was looking specifically for a pair of jeans she could paint. It's probably less anxiety-inducing to use an inexpensive, pre-worn pair for a project like that than a brand new, more expensive pair. I imagine it's a little like when I buy a stunning new notebook and then freeze up when I go to write in it.

Pre-paid, pre-addressed return labels are available for the 48 contiguous states.

If you have to return something (make sure you do it within 14 days), you're not stuck with only store credit as an option unless you paid with store credit.
ThredUP Cons
You're at the mercy of the previous owners' willingness to adhere to the care instructions and the listing creator's ability to detect issues with the items. They're pretty good, but there's still room for some surprises.

It can take a while for your ThredUP items to ship because they gather from multiple locations and then ship everything together. I fully support this and like that everything comes in one box, so I don't need to ensure everything eventually trickles in. However, if I'd been shopping for something I had to do the following weekend, I would've been scrambling to find something at the last minute. It felt like a longer wait than it was, but I was expecting things to show up quickly, as my daughter's jeans did. I placed my order on August 21st and received an update on August 24th to let me know they were working on consolidating everything at the closest warehouse. I got the shipment notification on August 27th, and my clothes arrived on August 30th.

This is picky and probably a hangup of mine that comes from how much I just don't enjoy shopping for clothes for myself, but I felt like I could've used more detail in the pictures. I had a hard time imagining how the clothes would look on me, how they'd feel, etc. I really missed seeing clothing on models while online shopping.

I felt utterly overwhelmed, but I started out just browsing, and I went into the shopping experience, already exhausted from other things. I'm looking to give my wardrobe a makeover, and I could use a little of everything. That's probably not the best way to approach this store unless you have a lot of time on your hands.

There were some odors (nothing too bad), and at least one of the items inspired a sneezing fit. Not sure what that was about. Maybe the last owner had a cat (I'm highly allergic to those).

If you're a slight germaphobe like me, you will want to wash and sanitize the clothes before you try them on. Kind of annoying if you accidentally end up with a pair of "dry clean recommended" jeans as I did. Oops.

You have to pay a $1.99 restocking fee for items you return.

The descriptions leave out some important information, like how to care for the items. I wouldn't buy something that needed to be dry cleaned unless it was for a special event, for example. If something has a "Curvy Bootcut" fit, it's good to know that ahead of time, rather than just "flares."

Shipping isn't free until you hit $79.00 unless there's a sale or coupon code that changes that. That means you'll be out shipping costs and $1.99 if you have to return something.
Tips for Shopping at ThredUP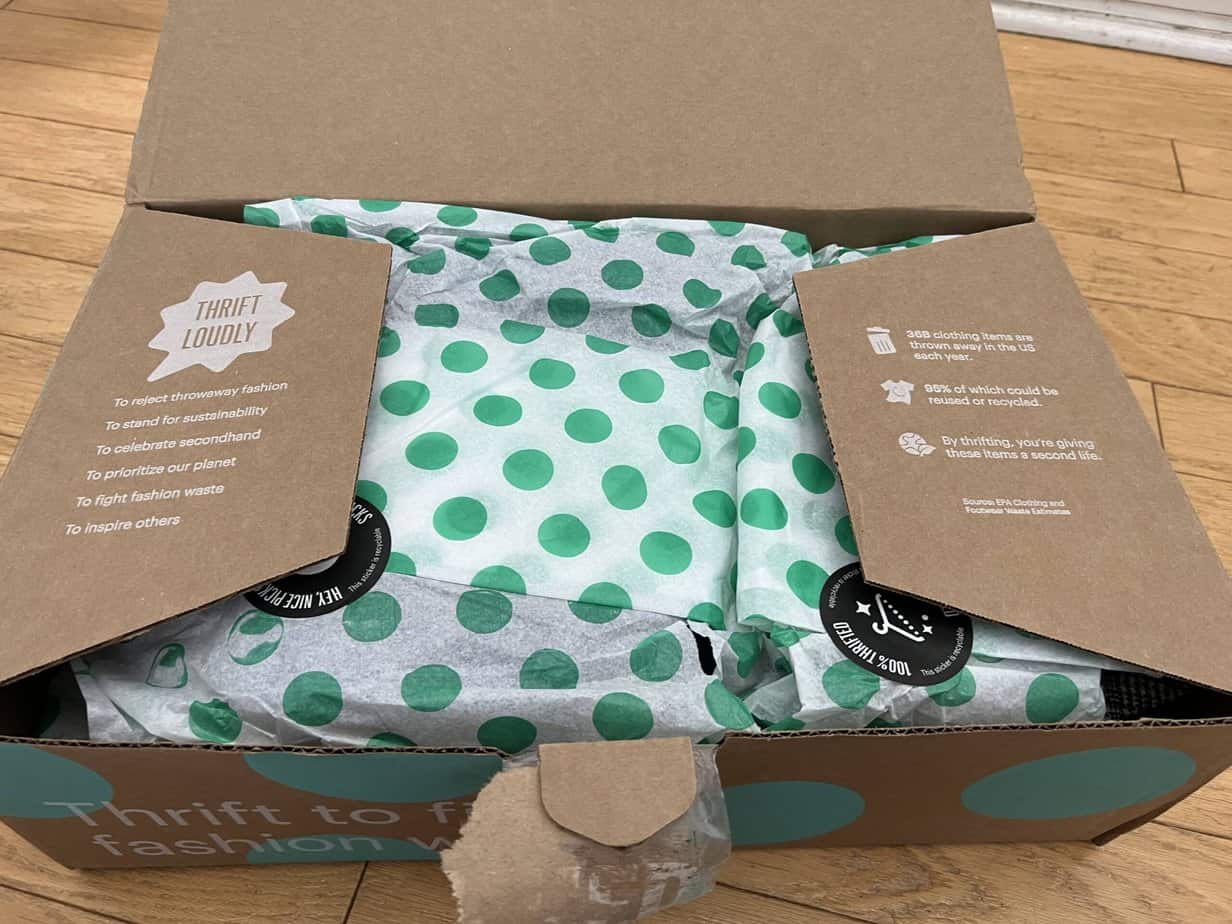 Look for additional coupons and sales. I got five things for around $54.00. Because I had never shopped at ThredUP, I got 50 percent off on top of all the other savings that go along with thrift store shopping.
Look for clues in the description and consider sizing up in case the previous owners didn't follow the care instructions as well as you would've hoped.
Right out of the box, some items looked smaller than I thought they would. That could be my unfamiliarity with some brands and how they fit (women's sizing, am I right?), but I chose items from a few different brands. Pay attention to the measurements, not just the size. This seems like a no-brainer to me now, but I didn't think about it then.
Sometimes, you'll see notes that a brand runs small or large, which can help you make an informed purchasing decision.
Unless you're planning to check out very soon, just click the heart to favorite an item so you can return to it later. Carts won't hold onto your choices for long.
Other Options to Consider
I'm most familiar with thredUP (it's the only option I've tried and the online consignment shop name I hear the most), but there are other alternatives:
Poshmark

I have poked around on Poshmark a bit and find it less overwhelming. It seems easier to navigate overall. They authenticate luxury items for free, ship fast, and "style" you. I don't think this styling is anywhere near the level of services like Stitch Fix, but it looks like you'll get recommendations. You can also participate in online, real-time shopping events called Posh Parties.
TheRealReal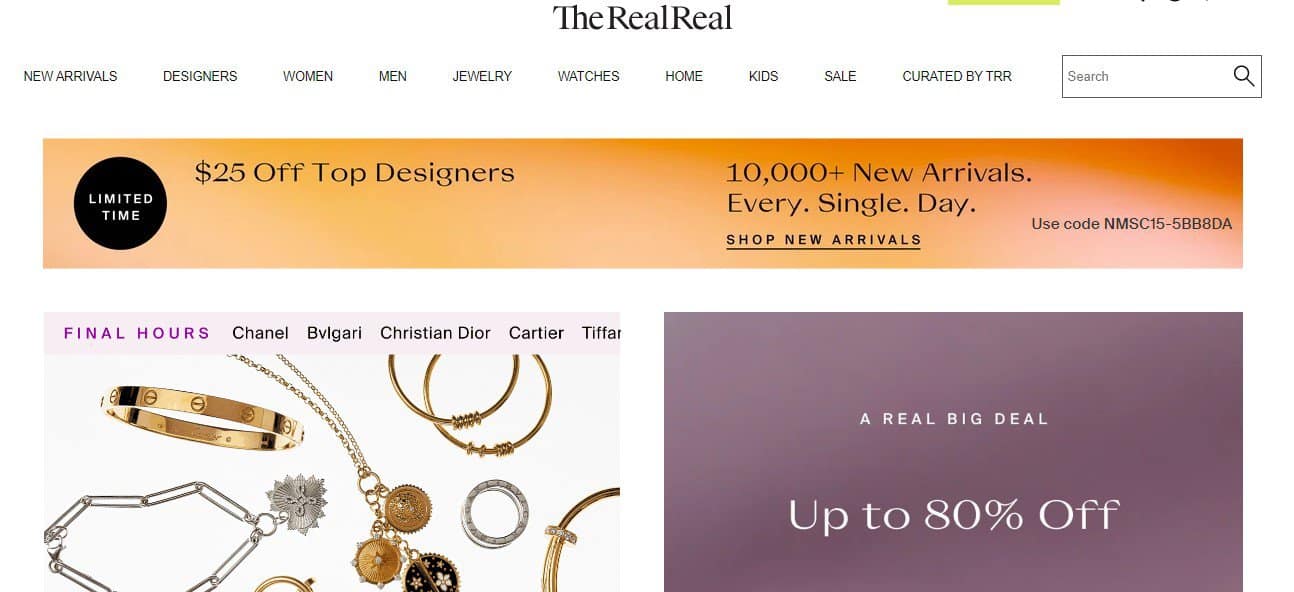 This is technically an option, but I'm not thrilled with it. True, you can get some lovely luxury items here (that's all they offer), but it also involves a membership (the General Member option is free).
From what I can tell, you must sign up just to browse. You'll get a $25.00 site credit when you do, though.
A friend of mine uses this site, and she's found some exceptional items on there.
Mercari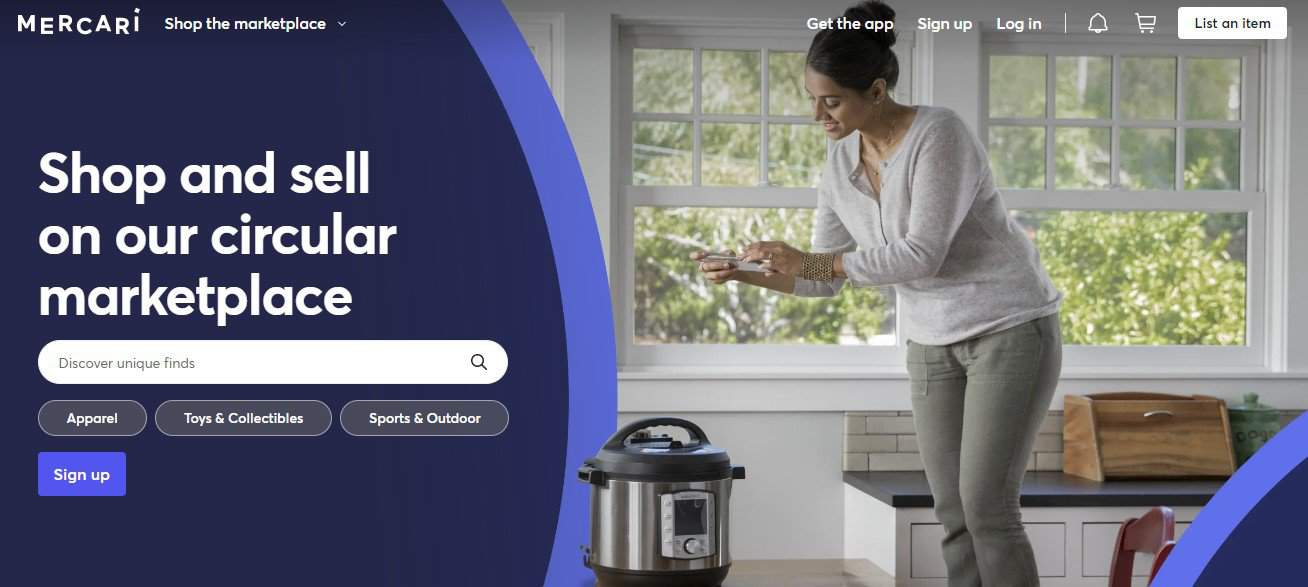 The layout of this site is somewhere between thredUP and Poshmark to my brain, but it veers more toward the overwhelming side.
You're not limited to clothing here, either, which is kind of nice. You can get a deal on a Macbook Pro and some Mickey Mouse ears from Disney World's 50th Anniversary Mad Tea Party at the same time you snag a pair of Levi's shorts and a swingy dress.
There's a lot of cool stuff here. I could see myself spending hours on it because I wanted to, not because I felt I had to filter through pages and pages to find something I liked.
Tradesy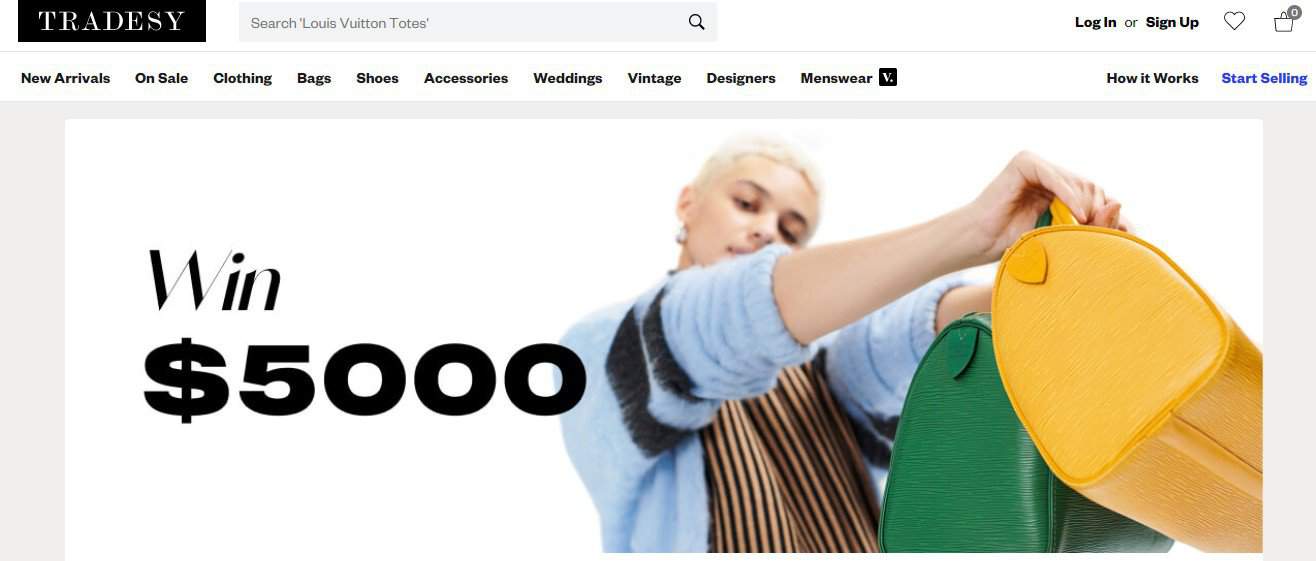 I've barely heard of Tradesy, but I like their style so far. The photos are good, and I feel less need to reach through the screen and touch the items I think I might like.
This is another one I could spend several enjoyable hours on. I found a dress I wanted to buy within five minutes of browsing the site. The estimated retail price is $595.00, but Tradesy's offering it for $115.00. It's new with tags. Too bad it's too big.
Sellers choose their own prices, so how much of a steal you'll get will depend on how much they want or need. I found another dress with a retail price of $625.00, and the seller is asking for $535.00.
Items come directly from the sellers, too, so there's no Tradesy staff evaluating things. That could potentially be risky. It looks like shipping could take a while because Tradesy sends the seller a box to ship the item in when it sells, then the seller sends it to the buyer within 10 days.
FAQs
Question: Is thredUP legit for buying?
Answer: Yes. Between my daughter and me, we've ordered from them three times and always got the items we ordered. 
Question: Does thredUP wash their clothes?
Answer: No, which is one of the downsides to shopping there. They request that people wash their clothes before they send them in to be evaluated. You'll likely want to clean the items you buy before you try them on. Bummer.
Question: Does thredUP take your money?
Answer: Only in exchange for clothing. thredUP isn't a scam. You'll really get the clothes you ordered. If you're wondering about this from a seller's perspective, you can expect to get five to 80 percent of the price thredUP can sell your item for. You can immediately spend that money if you're recycling it into thredUP to buy clothes. The other option is to wait two weeks and have it sent to PayPal, Stripe, or your bank account.
Question: How long does it take to get clothes from thredUP?
Answer: Their site says it can take a week for them to get your order together (it took a few days for my five pieces), then three to eight business days for delivery.
Do I Recommend thredUP?
Yep, I do, but tentatively. I'd say shop with caution and take your time. The biggest risk is ordering by size but not checking the measurements listed. Compare the measurements to what you need or the measurements of brand new clothing from that brand (you can usually find size charts online). If you have to return something, you'll have to pay the restocking fee, and you won't be reimbursed for the initial shipping costs (from what I can tell, return shipping will be free).
Though there were a few issues, like slow shipping time on orders with more than one item and problems that come with "worn" clothes (like the button that fell off in the wash), I think the pros outweigh the cons by a good bit. It wasn't perfect, but what is?
If you don't have any good thrift stores near you and you love browsing styles that go far beyond current trends, you're going to adore thredUP. I don't have good options near me, so the thredUP option sounded exciting.
Suppose you're comfortable with consignment store shopping and needing to wash clothes before you try them on. In that case, thredUP is really no different, but you'll have a lot more options than you would by walking into an actual store.
You can save money, access all kinds of fashion and designer labels, do good for the environment, and find inexpensive clothing and accessories to help you explore and express your creativity. I give thredUP a thumbs-up. It's a diagonal thumbs-up (closer to neutral that way) rather than a wholehearted "YEAH!" but I'd try it again now that I've learned what to do when shopping there.
Recommended Reads: