Latest posts by Alizabeth Swain
(see all)
While I was pregnant, I was told I should spend months researching the best car seats, the best crib mattresses, and the best diaper brands. Do you know what no one told me I should do? That I should spend the same amount of time researching the best food to put into my baby's body.
I treasure that my son is healthy, besides having a severe bleeding disorder. But, since he has a severe bleeding disorder, I spend extra time researching what I put into his body to ensure it's the best thing for him.
That's one one of the biggest reasons I chose to follow baby-led weaning (BLW) when my son turned six months. It breaks my heart whenever I see a recall on Gerber purees or any other type of baby food. The safety of children's food and products should always be #1, but unfortunately, that isn't the case anymore.
As a full-time working stay-at-home mom, I don't have time to cook every single meal my BLW babe eats. That's why I spent time researching the best meal delivery subscription options on the market for busy mamas like me.
Two of the top brands I discovered are Yumi and Little Spoon. I ordered both of these subscriptions and had my trusty partner-in-crime (AKA Nathanael) try out both of these meal delivery services with me. So, who's the real winner? Buckle up for this Yumi vs. Little Spoon comparison; the answer may surprise you!
Bottom line up front: For my family, Little Spoon is the clear winner. There's more variety, more convenience, and better food offered by Little Spoon.
You might also be interested in: Best Baby Food Subscription Services
Main Differences Between Yumi vs. Little Spoon
Little Spoon offers little kid plates and big kid plates, whereas Yumi offers more purees and some finger foods

Little Spoon's customer service was easy to get ahold of, but Yumi's customer service wasn't

Little Spoon meals need 1-2 minutes to heat up in the microwave; Yumi meals can be eaten straight from the fridge

Little Spoon meals don't require you to feed your babe; Yumi meals require you to spoon-feed your Little Spoon

Little Spoon offers bi-weekly deliveries, whereas Yumi delivers weekly

Little Spoon allows you to choose the meals you get inside your box, whereas Yumi doesn't provide much customization

Little Spoon offers the same meals for babies 6+ months, whereas Yumi provides different meals for different milestones

Little Spoon customer service is responsive; I was not able to get ahold of Yumi customer service

Little Spoon uses BPA-free plastic to hold all of their food, whereas Yumi uses BPS-free glass jars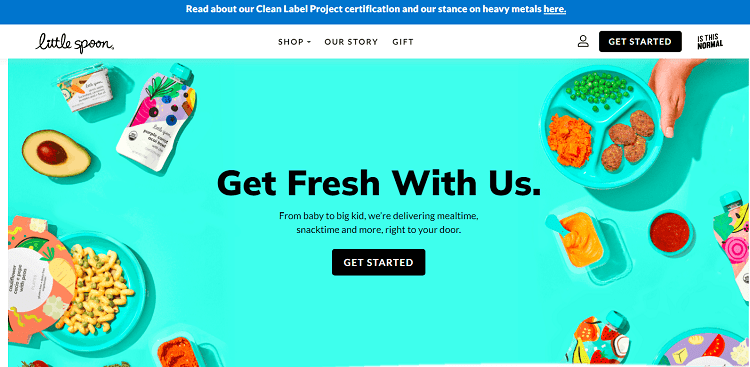 Little Spoon offers a variety of different types of meals, including larger meals for older children, purees, and finger foods. There are a bunch of other pricing options available, depending on the type of food you're ordering. Even better, Little Spoon offers snacks and smoothies, but you can add them to your order.
Little Spoon's ingredients in their smoothies, meals, or snacks are free of GMO and artificial ingredients. I love that Little Spoon sneaks veggies into their meals because it's great for families that have picky eaters.
Ordering Process
The ordering process for Little Spoon was straightforward. I love the different programs they offer, but most importantly, they provide meals that are friendly for babies who participate in baby LED weaning.
It was straightforward to sort through the different plates they had and pick out the ones I thought my son would like the most. There was a lot of variety, but I wasn't overwhelmed by all of the options available.
Once I picked a few meals that I wanted my son to try, I was able to check out with no issue. Plus, my box arrived on time, I wasn't missing anything, and everything was in excellent condition. The ordering process with Little Spoon was as easy as it could be.
The Food Quality and Taste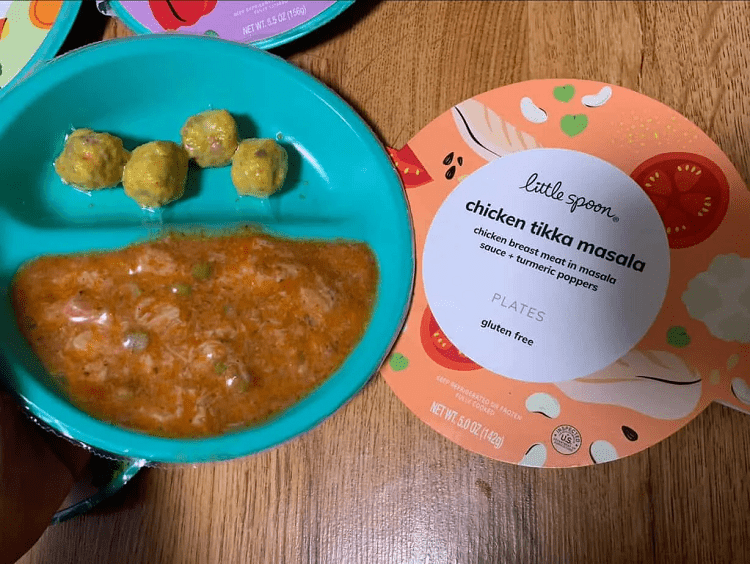 I loved how easy it was to heat up the meals. I was able to get my son fed in less than 3 minutes oh, thanks to the microwavable option with Little Spoon. Thankfully, my son is a picky eater, so most of the meals I ordered from a Little Spoon were a big hit. However, I was disappointed by the cut of some of the foods Little Spoon offered.
There were some foods that were cut in a coin shape, which is pretty dangerous to give any child under the age of five. This is because the coin shape is similar to a toddler's airway; coin-shaped pieces of food are the easiest for babes to choke on.
You shouldn't feed your child any of the vegetables that are shaped like coins, such as the carrot, but Little Spoon includes them in their meals. If you don't want to waste anything, I recommend cutting the coin-shaped pieces down into smaller sizes to reduce the choking hazard.
There were a couple of meals that I wish I had a more significant portion size for the main course. With these meal, such as the cauliflower barbecue wings, the sauce and side dishes were actually the main focus of the meal. However, overall the meals were pretty delicious. I definitely wish Little Spoon offered adult sizes on some of their meals because I would totally eat them!
Little Spoon Pros and Cons
If you want a quick breakdown of the firm and weak points of the Little Spoon subscription, here's my hot take:
Pros
Lots of meal options are available

Hidden superfoods and veggies inside of each meal

The fun takes on healthy meals

Food is super easy to heat up and serve to your babe

The ingredient list and nutrition information on each sleeve is helpful to read

Fast shipping
Cons
One of the meals caused my son to choke because of how dry it was (he's okay now)

Not all of the sides are safely cut; use caution when ordering/feeding your babe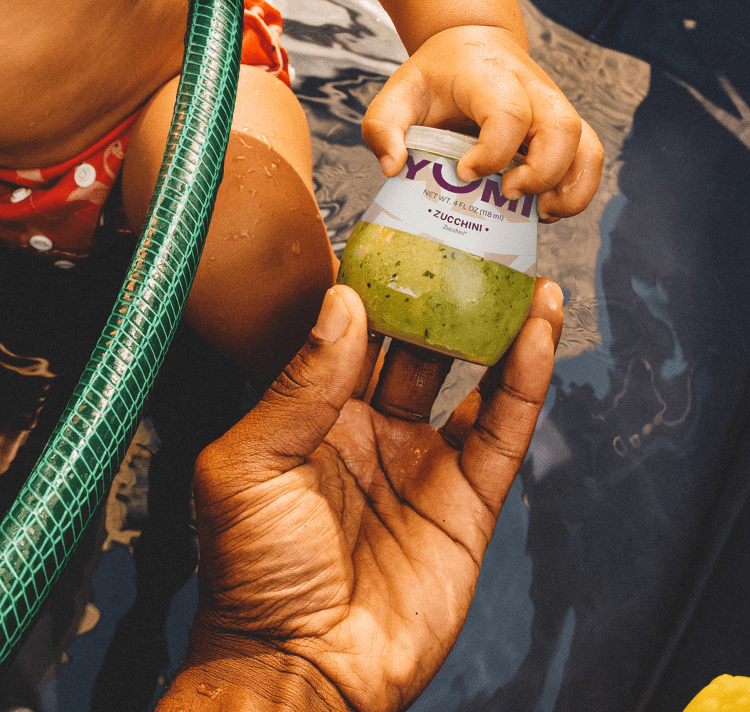 Yumi is a brand that focuses on creating meals that help your child to meet each developmental milestone. They focus on producing nutritionally dense food with lower sugar content. They make food for children aged six months to 24 months old. Yumi offers organic meals and snacks, with three different meal plan sizes available for purchase.
The cost of a jar of food offered by Yumi is $3. They pack their food with many Super Foods, like quinoa, sweet potatoes, and flaxseed. They offer seven different stages of food for babies, with each stage meeting a specific developmental milestone as you're a baby grows.
For example, stage 5 is where Yumi begins to introduce texture into the purees to get your baby used to feel different textures in their mouth.
There's really only one big thing that I can't entirely agree with when it comes to using Yumi. Yumi doesn't include the nine common allergens in their food to reduce the chances of a baby having an allergic reaction to food.
However, the American Academy of Allergy and Immunology actually recommends introducing babies to these nine common allergens while they're little to reduce the chances of them having allergies when they're older.
Ordering Process
I really like how Yumi has branded itself. All their ingredients come from USDA-certified organic farms, and all their foods are in the Non-GMO Project Verified. This means that all of their foods are super healthy and clean!
I wouldn't say that I had a successful time with the ordering process through Yumi. My son was 11 months old when I ordered this subscription, but he was put on Stage 6. Stage 6 is the "pinchable" stage, where there are finger foods included inside the jars to work on developing your baby's pincer grasp.
Things like peas, finely chopped carrots, and other small fruits and vegetables are included in these jars. However, my son should have been put on stage 7, which is Yumi's final stage and appropriate for babies 11+ months.
I ended up ordering a couple of Stage 6 jars. Once I received my package, I noticed that I needed several items from my order. I ended up reaching out to Yumi customer service to see if I could get a refund or if the jars I was missing were sent to my home, but I didn't have any luck contacting their customer service.
Food Quality and Taste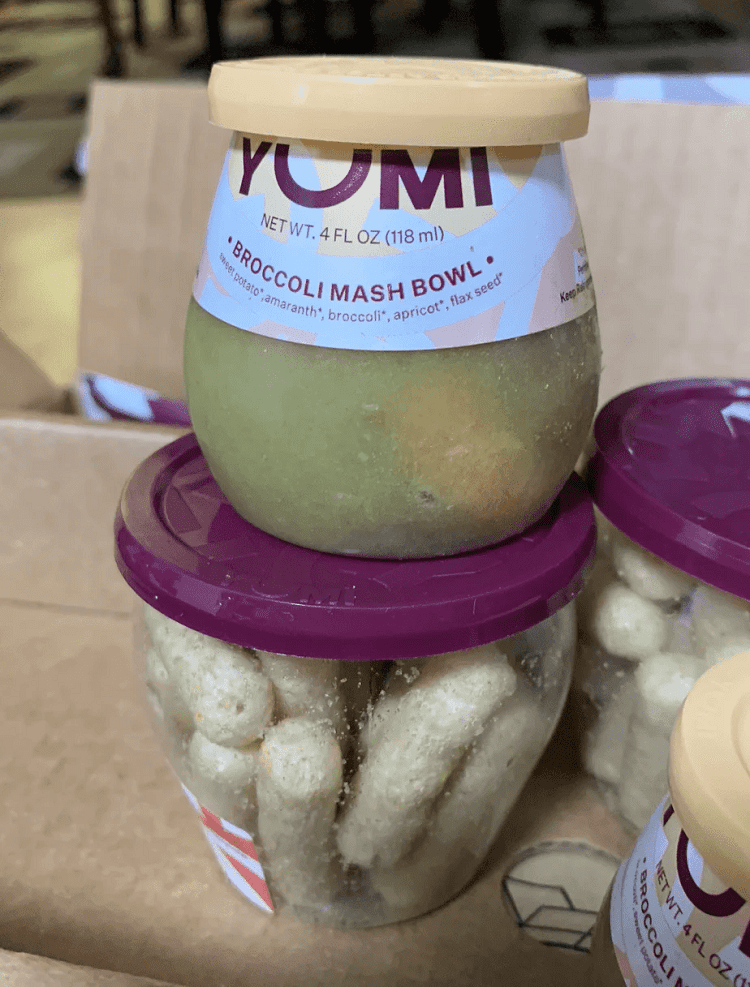 My son didn't have a successful time with Yumi as he did with Little Spoon. This is essentially to do with the gap in the age-appropriateness of his developmental milestones with what we received from Yumi. Since I mostly received purees and no finger foods, I could tell that he was frustrated when he couldn't feed himself.
I did try pre-loading the spoons and having him feed himself this way, but there wasn't a lot of texture for him to feel in his mouth.
He did have a couple of favorite options, Like the cauliflower puffs. However, the cauliflower Puffs were the only non-puree option that we received inside the box.
Out of all of the purees, he liked broccoli mashed bowl the best. My complaint with the broccoli mashed bold is there was less organic sweet potato inside of the jar that we received compared to the picture that we saw online. This bowl was mashed broccoli with a little dollop of sweet potato at the bottom.
I was impressed with the overall quality. Everything looked better on their website compared to what we received in our box.
Yumi Pros and Cons
If you want a quick look at what I believe the strengths and weaknesses of Yumi are, here's a closer look:
Pros
Vegan options available

USDA organic certified

Lots of superfoods and vitamin-dense nutrients inside each jar

Yumi does offer monthly discounts and a points reward system which will help to cut down on the cost of the jars
Cons
Expensive

Not a lot of customizable options are available

I was missing items from my first order

Customer service was impossible to get a hold of

We didn't get matched with food options that word developmentally appropriate for my 11-month-old
Alternatives
Don't feel like Yumi or Little Spoon are the best fit for you and your babe? Don't worry! Here are a few other brands I've tried out that I feel offer similar characteristics to both Yumi and Little Spoon:
Nurture Life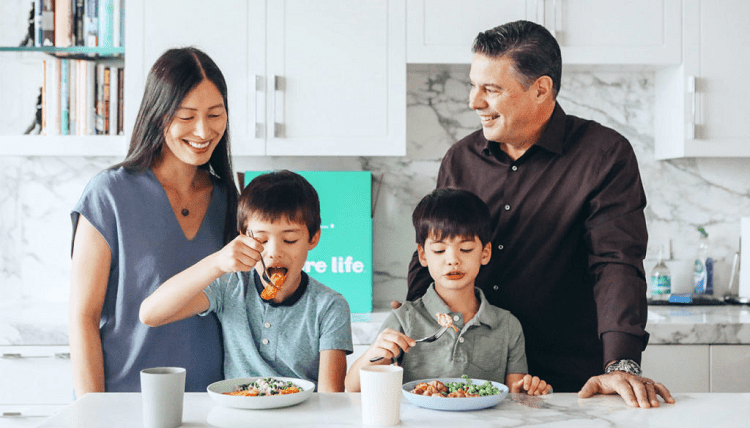 This brand is a little bit more expensive compared to Little Spoon, but it offers many healthy options for babies six months and up all the way to 12 years old. If you have several children, you have to worry about feeding, or there's a large age gap between siblings, Nurture Life offers a lot of fantastic meal options.
Plus, all of their meals are ready in 2 minutes or less. They are pretty selective about what they choose not to include in their meals, such as pork, soy, milk, and a few other things. So if you have a baby that has special dietary needs, Nurture Life is a great option!
Once Upon a Farm Organics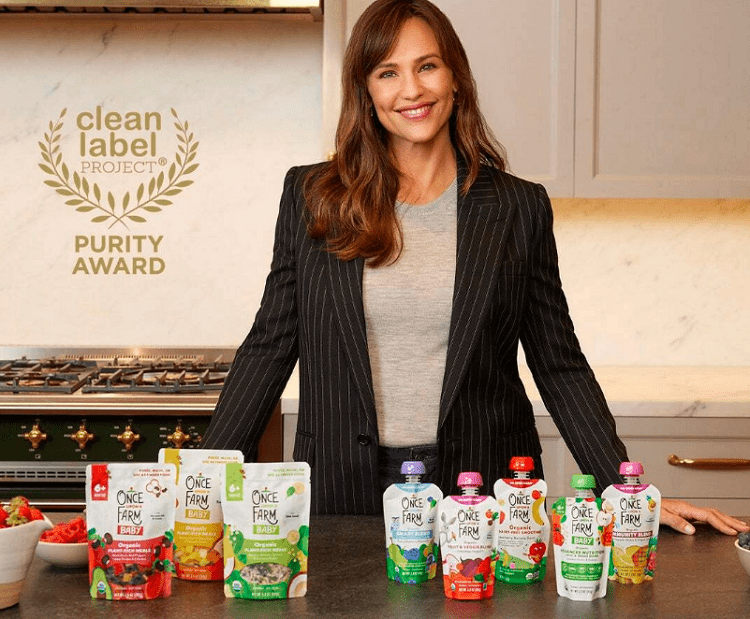 Once Upon A Farm organics was formerly called Raised Real. This brand offers organic baby and toddler meals. This subscription is cool because it caters to both BLW and puree families. Once Upon A Farm sends out bags of food that you can puree, Mash, or let your baby eat as finger food.
They have some exciting combinations 2, like quinoa, banana, spinach, and coconut butter, all in one meal. This is really great for parents who want to have their baby follow baby LED weaning but don't want to do all the prep work that comes with it.
All of the meals offered by a Once Upon A Farm Organics are ready to cook, don't contain any artificial ingredients come out are vegan, non-GMO, USDA organic, and gluten-free. While they do recommend that children 12 months and older start eating their food, their bags are labeled as safe for babes six months and up.
Cerebelly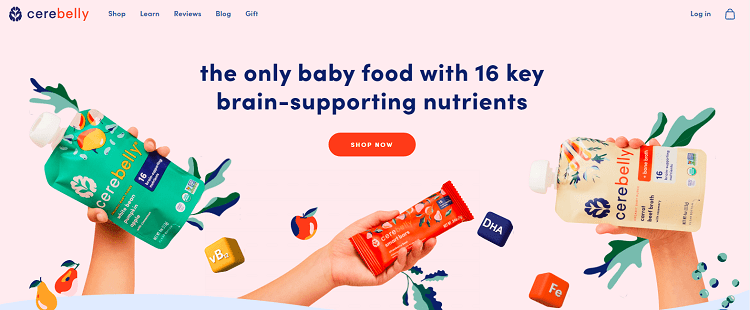 Cerebelly is an excellent alternative if you really like what Yumi has to offer. A practicing neurosurgeon designs all of the pouches offered by Cerebelly, so all of the foods provided are included to support your child's neurodevelopment. There are a lot of fun options offered by Cerebelly, including some unique ones that I never thought I would have seen an offer to buy a baby food brand.
Things like sweet potato chicken broth, carrot beef broth, and butternut squash white bean are just a few of the flavors offered to buy this brand. This is great if you're looking to follow the puree route with your babe or you have a babe/toddler that needs on-the-go snacks.
FAQs
Question: How long do Little Spoon plates last?
Answer: If you throw them in the fridge, they can last up to 14 days. But if you pop them into your freezer, they can last up to three months!
Question: How long is Yumi good for?
Answer: Yumi meals are good for up to seven days in the fridge. However, you can throw them in the freezer, and they'll last up to two months. Once you open up a Yumi jar, you should make sure your babe consumes it in 24 hours. 
Question: Is Little Spoon cheaper than Yumi?
Answer: Little Spoon is a little cheaper than Yumi, yes! Plus, you get soooo much more food with Little Spoon per serving than you do with Yumi. While you're only saving around $0.25 a meal going with Little Spoon, the quality is definitely worth it by going with Little Spoon!
Little Spoon vs. Yumi – There's a Clear Winner
Little Spoon is the clear winner. There's so much more you get with Little Spoon than you do with Yumi. Not only are you getting larger portion sizes and more variety, but you get the option to customize your boxes and order meals for all of your kiddos in one place. Plus, many families use BLW as the first way to introduce food to their babies.
Little Spoon offers a variety of textures and flavors that aren't offered with Yumi. The variety of meals and plating offered by Little Spoon will set any BLW baby up for more success than Yumi does.
Not to mention, I was missing items in my first Yumi order. I didn't have any problems with Little Spoon sending me everything I needed. Their website is easier to use, their food is delicious, and my only big complaint is how some sides (like the carrots) were cut.
My #1 pick is Little Spoon!
Related read