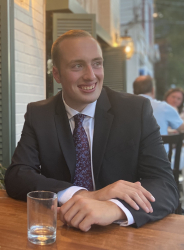 Latest posts by Raymond Delucci
(see all)
The meal box space is rich, with many great options to choose from. I have worked with these kits and have tried many of them. I look at many of these kits personally through the lens of a recipe developer and a trained chef. So when diving into the space, two brands stood out: Hungryroot and Purple Carrot.
These two kits are definitely both for the type of person who loves to cook at home and experiment with the food they eat. They both offer a variety of meal options for diverse cultural backgrounds. They also lead with a health-forward sense of cooking, offering some healthy options for customers.
The bottom line difference between the two, though, is that Purple Carrot is entirely plant-based, while Hungryroot is not.
Purple Carrot prides itself on both its pre-made meals and meal kit recipes being plant-based and good for you and the planet. Hungryroot focuses more on snacks, meals, and a variety of healthy options. They do not focus solely on meals such as Purple Carrot.
The Main Differences
Hungryroot offers both ingredients and recipes to cook with and also packaged goods to consumers. Purple Carrot provides ready-to-eat meals and meal kit recipes.

Hungryroot has a variety of animal proteins to choose from, whereas Purple Carrot is plant-based.

Hungryroot sends a weekly box with meal options and other CPG goods, whereas Purple Carrot lets you choose weekly meal options.
A quick overview of how Hungryroot works is that, basically, you start out by taking a very in-depth quiz. You go over likes, dislikes, goals for eating, lifestyle choices, and even cuisine preferences.
From there, you share how much food you need and what else you may prefer for a meal or snack. You can edit your orders weekly but this quiz sets up your experience.
You then receive a weekly box from Hungryroot with Consumer Packaged Goods items that are diverse and tasty. You will receive some fresh produce, such as a ready-to-make kale salad bag.
You will also receive ingredients to make easy and delicious recipes using a pre-provided recipe sheet from the company.
Hungryroot is excellent at offering diverse options. In trying the product, I did have fun eating through different packaged goods and also cooking some unique products from their provided recipes. Find my review for Hungryroot here.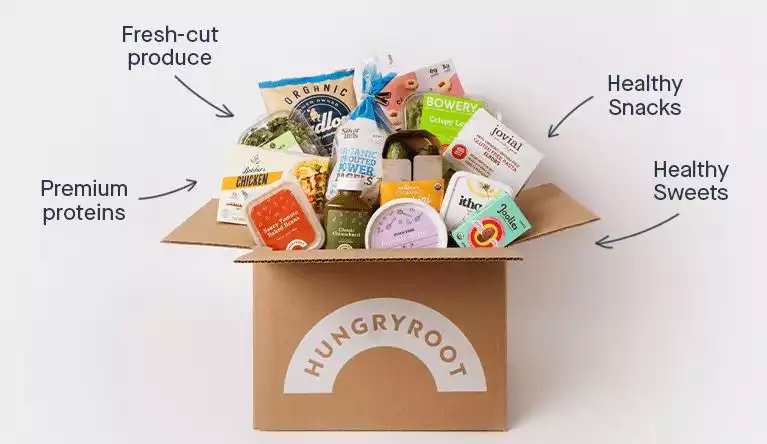 The easiest way to eat healthy | Hungryroot
Good-for-you groceries, simple recipes, recommended just for you. Get 30% Off + Choose Your Own FREE Gift For Life.
Sign Up
We earn a commission if you click this link and make a purchase at no additional cost to you.
How Purple Carrot Works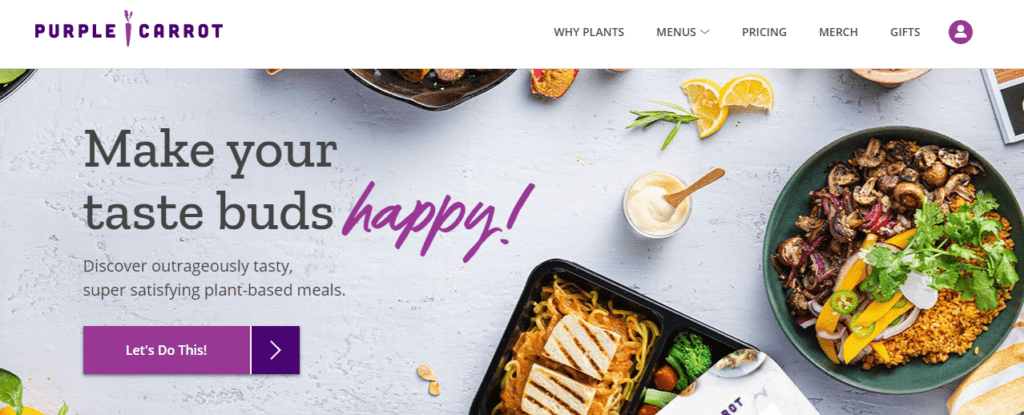 Purple Carrot follows the same weekly cadence of delivery as Hungryroot. The sign-up process is slightly shorter, basically asking how many meals you would like sent and some other preferences.
The nice thing about using this service, though, is that you can choose which ready-to-eat or meal kit meals you want to be sent to you.
Purple Carrot then sends you a box with your meals, offering a diverse menu portfolio that stands out. Dilly Carrot Bisque and Chermoula Chickpea Bowls are just two of the vast array of meal options you can choose from.
I also found that Purple Carrot offers much more in-depth cooking with their meal kit options. The savvy home cook will have a field day with Purple Carrot, as the challenge and excitement of cooking plant-based recipes with some pretty moderate in-difficulty cooking techniques can be rewarding.
Hungryroot: Pros
Variety, Variety, Variety
I was thoroughly impressed with how much variety I received in my Hungryroot box. Flavors from all over the world were packed into my box, and I thoroughly enjoyed most of them.
From a gruyere/pancetta egg bite that was delicious to a coconut chicken curry dish I had a blast making, these were memorable meals I crave to this day.
There is something to be said for a company able to supply and deliver so many health-focused and fun options to eat. Impressed is an understatement when it comes to the value proposition of discovering new flavors that Hungryroot offers.
Efficiency Is A Hallmark Of The Box
Everything sent to me in the box was ready to be cooked within 30 minutes or consumed immediately. During my sign-up process, I did point out that efficiency was a major factor in choosing the box. They did deliver, and I was very happy with just how little time I had to spend cooking with the options.
I am usually an avid home cook, wanting to flex my hard-earned restaurant skills at home. But the week I received my box, I was traveling to visit family. I was set up out of my sister's kitchen, an unknown arena for me, and was still able to nail every recipe promptly. It was a delight to cook with Hungryroot's offerings.
Robust Sign-Up Process
One of the last big items I want to share that I liked about the process of ordering the Hungryroot product was the intense and hyper-focused sign-up process. I was so impressed with the in-depth questions Hungryroot makes an effort to ask its customers.
I think a lot of people worry about committing to these boxes because they are not sure they will like the product they receive.
Hungryroot makes it so that they can gauge with some very good accuracy what you will like and dislike. Of course, they will have some misses, but it is this sign-up process that elevated my experience.
Hungryroot Cons
Lack Of Protein Variety If Curated By Hungryroot
As I mentioned, when you sign up for this service, you get a bunch of options to choose from. One of them is the protein selection if you do consume animal protein. When I received my box, all of my protein items were chicken based. Even the jerky was chicken!
I found this as a missed opportunity as I spent all this time filling out a questionnaire on what I wanted out of my box only to receive all chicken.
This is only my experience, and I hope this is not the case for all customers, but for me, it was a letdown. you can go in and edit your order but taking the sign-up quiz did take a lot of time not to yield a diverse result.
Purple Carrot Pros

Plant Based Option
If you are someone who eats a plant-based diet, then this option should be great for you! The whole initiative behind this box is to bring the plant-based meal options of the market to a tastier and higher level.
There is also just a wide variety of cuisines and flavor affinities to choose from. It is a solid service for anyone looking to eat more plant-based.
There is also a great insight into what exactly purchasing a box does in regards to its effect on the planet and your impact as a consumer making this choice. To affect real change and know you are doing it while eating delicious food is a win-win.
More In-Depth Cooking
I took time to compare the recipe instructions from Hungryroot and Purple Carrot, and there is no doubt that Purple Carrot offers a more robust way of cooking your meals if you go that route. A focus on knife cuts, proper technique, and useful guides will help you manage the menus that Purple Carrot has to offer.
I find this useful for plant-based diners as it teaches and allows them to learn more options within their dietary restriction. The plant-based world can be confusing and downright hard in terms of finding delicious variety. And I believe Purple Carrot recognizes and fills that need.
Purple Carrot Cons
Only Plant-Based
A pro and a con is the reality that you can only order plant-based options on Purple Carrot. They do not use any animal ingredients, and this is a major selling point for them.
I love plant-based foods, but not having the option to order animal proteins takes away from a segment of customers and options for them.
Some Missing Variety
When comparing the two, Hungryroot blows Purple Carrot out of the water with its variety. While Purple Carrot does offer an array of ready-to-eat meals and meal kit options, I do feel more options could be used in their meal selection.
Hungryroot Meal Offering Examples
Korean BBQ Chicken & Broccoli Stir-Fry

Green Chili Chicken Panini

Half Roast Lemon Pepper Chicken with Creamer Potatoes

Roasted Salmon and Sweet Potato with Brussel Sprouts

Coconut Chicken Curry
Purple Carrot Meal Offering Examples:
Caprese Mac n' Cheese

Harissa Roasted Butternut Squash

Sage Walnut Pesto Penne

Plantain Rice Bowl

Thanksgiving Sandwiches
Price Comparison
Hungryroot Price: $70- 3 two-serving meals

Purple Carrot Price: $79.50- 3 two-serving meals
Subscription Box Alternatives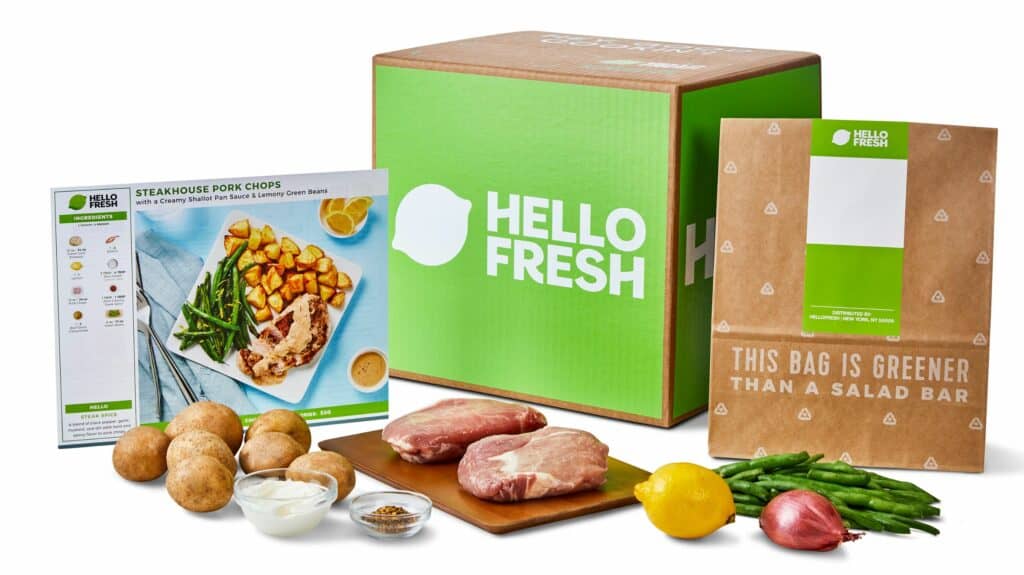 HelloFresh is a meal kit company that is focused on solely providing ingredients for you too cook with. The draw for them is the beautiful and wide variety of meals options they offer. They are the leading meal kit brand and it is due to their tasty customer choices.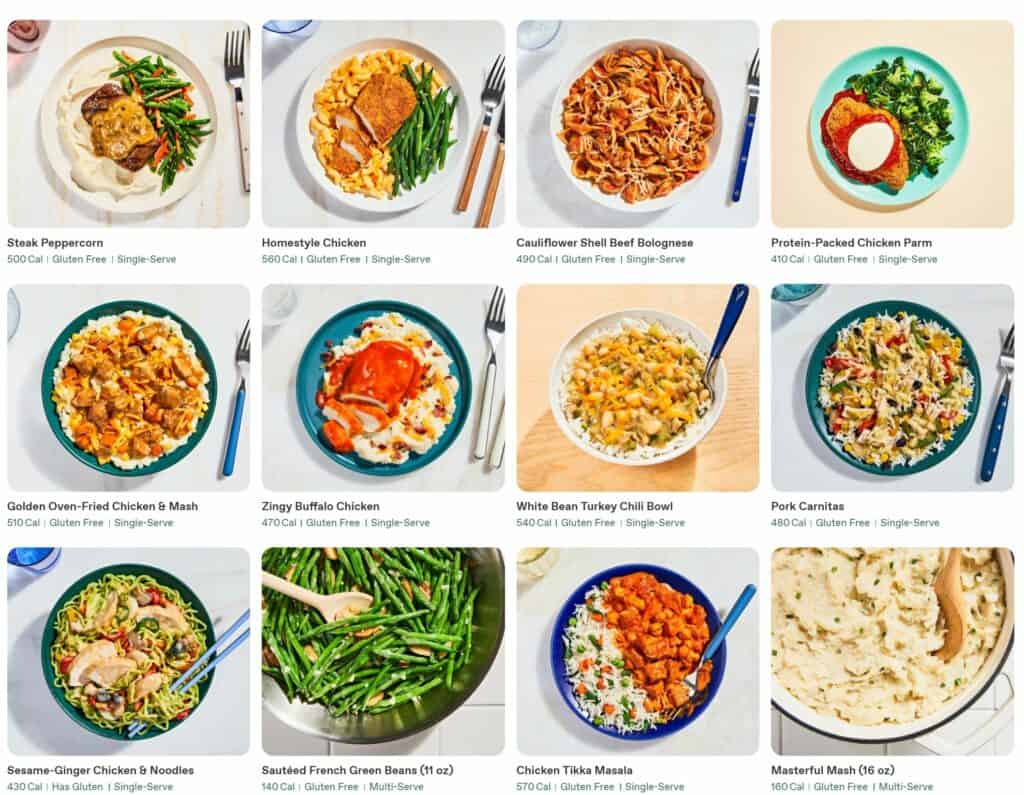 Freshly is a ready-to-eat meal subscription company. Their meals are health conscious, and henceforth a great alternative if you are looking for healthier options to eat. All of their meals can be heated within 3 minutes and their selection varies greatly.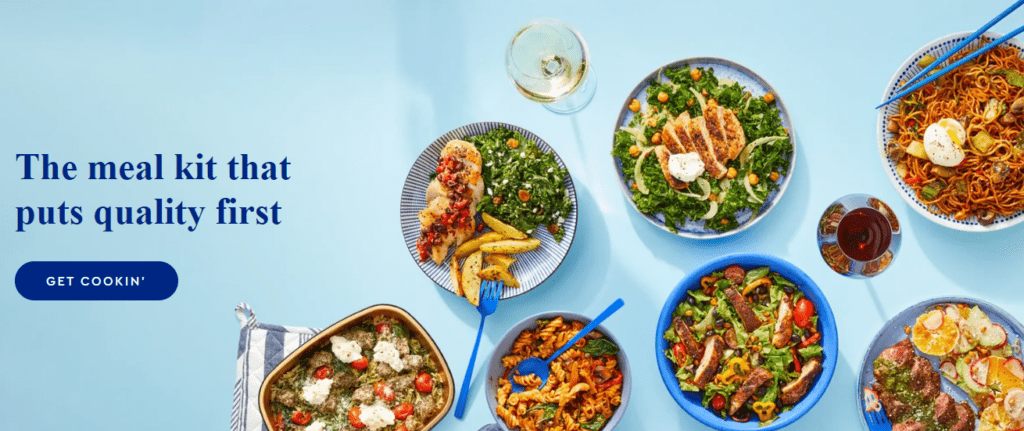 The original meal kit company, Blue Apron is an evergreen meal kit company that kind of started it all. They offer ingredients and meal ideas for you to cook with and are a great alternative to any adventurous home cook.

Home Chef is another meal kit option, providing ingredients and recipes. Their big draw is their in-depth customization. The service prides itself on being more customizable than competitors so if choice is your draw to the kits in this article then this is your third best option!
FAQs
Question: Which Kit Is Cheaper?
Answer: Solely based on the cost per meal, Hungryroot is the slightly cheaper option between the two kits.
Question: Does Hungryroot Also Offer Plant-Based Options?
Answer: Hungryroot does offer plant-based options. You can share that you are vegan or vegetarian, and they will tailor to your dietary preferences.
Question: Are These Boxes Organic?
Answer: Neither service is fully organic. Both share that they strive to serve organic items when possible, but neither is fully certified organic.
Final Verdict
In the end, I believe Hungryroot is the better option over Purple Carrot. While Purple Carrot offers some tasty recipes and the plant-forward approach appeals to me, Hungryroot offers such a variety in its meals and goods that it simply cannot be beaten.
I also really enjoyed how in-depth Hungryroot assessed my tastes, and it felt good to see that in the box. Hungryroot narrowly beats out Purple Carrot when I choose my next box.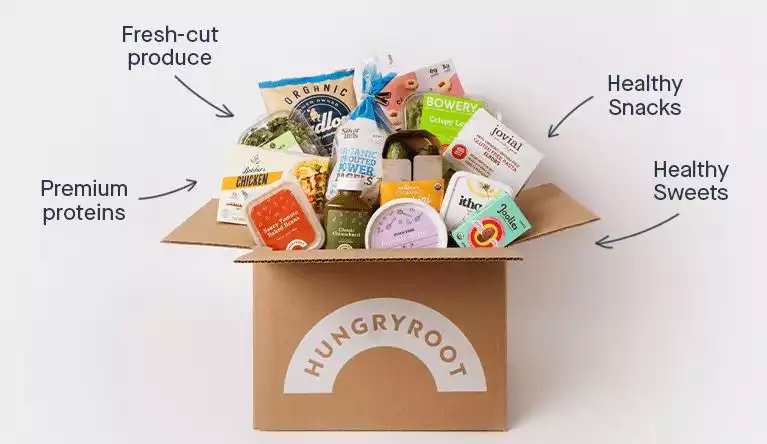 The easiest way to eat healthy | Hungryroot
Good-for-you groceries, simple recipes, recommended just for you. Get 30% Off + Choose Your Own FREE Gift For Life.
Sign Up
We earn a commission if you click this link and make a purchase at no additional cost to you.