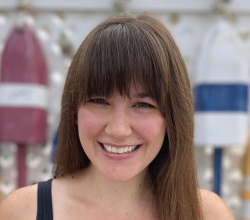 Latest posts by Lauren Vigdor
(see all)
Access to healthy, organic food has become easier than ever, thanks to meal kit delivery services like Green Chef and Sunbasket. Both services will deliver fresh, organic foods to your door each week so that you and your family can enjoy home-cooked meals made with organic ingredients—what's not to love?
Honestly, my biggest problem with meal kit subscriptions is that there are just so many of them, meaning it can be hard to choose which suits you. I compared Green Chef vs. Sunbasket because I care about the ingredients that go into my meals, and I wanted to know which of these two organic meal kit services better met my culinary needs (and might meet yours!)
Bottom Line Up Front
Both of these meal kit subscriptions are among the best in terms of the quality of ingredients that they use. Both services source organic ingredients, and while I like both, I prefer the taste of Green Chef's meals. However, if you want the flexibility of a subscription that offers both meal kits and ready-to-eat meals, you may want to try Sunbasket.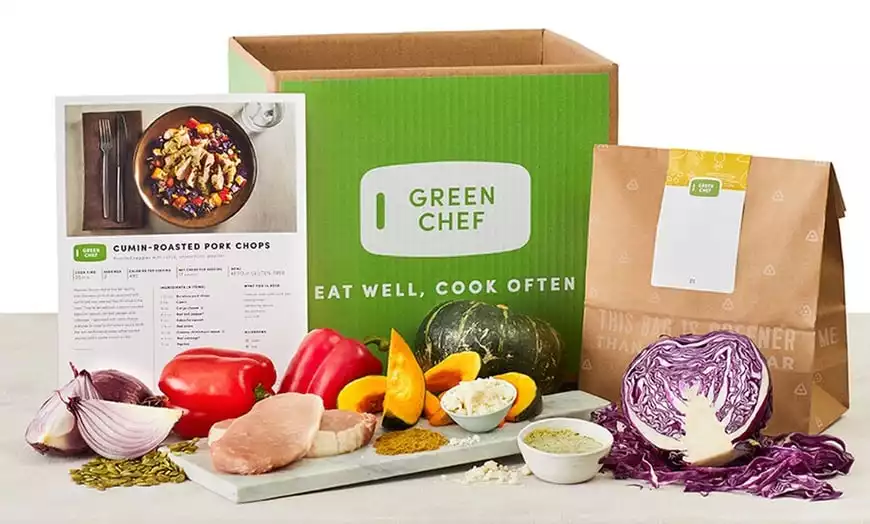 Main Differences Between Green Chef and Sunbasket
Sunbasket ships meal kits and ready-to-eat meals, whereas Green Chef only ships meal kits.

Sunbasket allows you to choose between two and five meals per week, whereas Green Chef allows you to choose two to four (the two-per-week option is only available for families of four).

Sunbasket's meals can serve up to four people, whereas Green Chef's meals can serve up to six people.

Sunbasket has diabetes-friendly meals, whereas Green Chef has meals that are certified gluten-free.
Green Chef vs. Sunbasket Compared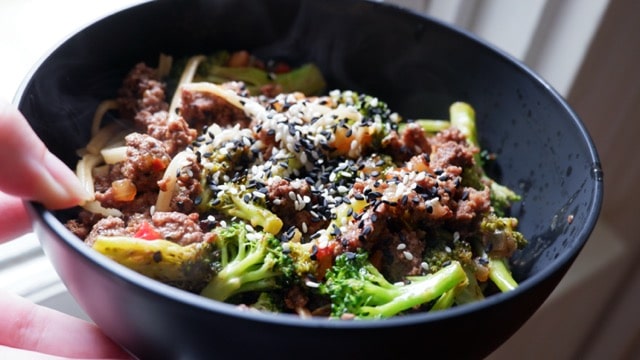 There are several similarities between Green Chef and Sunbasket. Both companies rely on organic ingredients, both feature creative, chef-designed recipes, and both offer a weekly subscription with a rotating menu of meals and add-ons, to name a few. Let's see how they stack up when it comes to things like quality, ease of use, and customization options.
Menu and Selection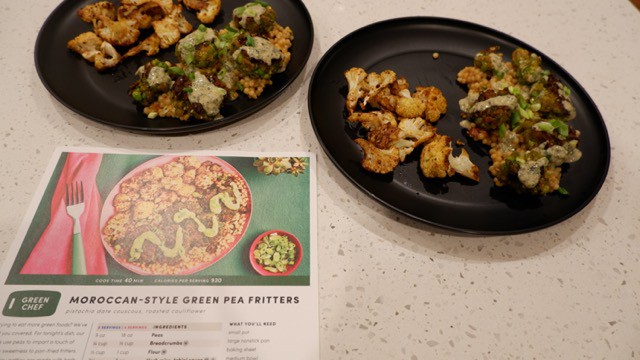 Both Green Chef and Sunbasket offer a lot of variety in their menus. The meals are elevated compared to what I would normally throw together on a weeknight, but they're still unfussy—they're the sort of thing you might find at your go-to casual restaurant. 
Sunbasket's meals tend to be a bit more globally inspired than Green Chef's, and while I think Sunbasket's menu is more adventurous, Green Chef's is more in tune with what I want to eat on a busy weeknight. It's healthy, flavorful comfort food that isn't too heavy.
However, Sunbasket does offer a wider selection, both of meals and types of meals. Each week, you can choose from meal kits, "Fresh and Ready" prepared meals, breakfasts, lunches, snacks, and grocery items.
Both companies cater to a variety of lifestyles and dietary restrictions, like keto, vegetarian, and plant-based. However, Sunbasket has diabetes-friendly menu items that are approved by the American Diabetes Association, and Green Chef has certified gluten-free meals. (Sunbasket's gluten-free meals are not suitable for those with severe gluten allergies.
Winner: Tie! While I think Sunbasket carries a better selection, I prefer the meals offered by Green Chef. 
Ingredients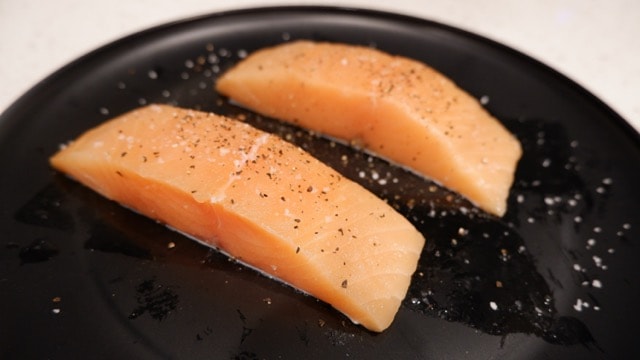 Both of these subscriptions focus on ingredients before all else. Green Chef was the first USDA-certified organic meal kit delivery service, and they stock their kits with organic produce and eggs, and proteins raised with high animal welfare standards. Organic meat and wild-caught seafood are offered as upgrades to many meals.
Sunbasket uses 98% USDA-certified organic produce in their meal kits and responsibly-raised meat and seafood. In the event that they can't source an ingredient organically, they'll notify you by adding a note to your bag. They also offer USDA-organic meat and poultry options in their grocery section.
Overall, I think that Green Chef and Sunbasket use similar-quality ingredients, but I've found Green Chef's meal kits to be just a little bit fresher. There are also two other places where the companies differ. As I said above, Green-Chef has meals that are officially certified gluten-free and processed in a separate facility from meals containing gluten, whereas Sunbasket's gluten-free meals may be subject to cross-contamination. However, I do like that Sunbasket has a drop-down menu on their menu page that allows you to filter out certain common allergens, like gluten, soy, and dairy.
Winner: This was another close one, but I'm giving it to Green Chef for their commitment to organic ingredients and the way they handle allergens.
Subscription Options
Green Chef has plans that serve two, four, or six people, and you can choose to receive either three or four meals per week. (If you choose a plan for four people, you can also choose to only receive two meals per week). When you sign up for a subscription, you can choose if you prefer meals that are Mediterranean, calorie-smart, quick and easy, plant-based, protein-packed, keto, "delicious discoveries," or gluten-free. You can select more than one preference (or all of them) at sign-up, though you'll have access to the full menu each week, regardless of what you choose for your preferences. These just change the order in which things are recommended to you and help Green Chef make suggestions.
Green Chef also offers a complimentary 20-minute nutrition coaching session with each subscription.
Sunbasket has plans that serve two or four people, and you can choose to receive two, three, four, or five dinners each week.
When you sign up for a Sunbasket subscription, you'll be asked if you're more interested in their meal kits or their "Fresh and Ready" heat-and-eat meals (don't worry, you'll still be able to choose from both each time you choose your weekly box). They have options for paleo, gluten-free, vegetarian, pescatarian, Mediterranean, diabetes-friendly, carb-conscious, and keto-friendly diets. If you select one of the diets, you can still choose from the full menu, but if you let Sunbasket autofill your box for one week, they won't assign you any meals that don't meet your preferred diet.
Sunbasket also lets you set specific preferences based around your eating habits, such as "high protein," "low added sugar," and "avoid pork."
Winner: Sunbasket wins this one. I like how many preferences they allow you to set when signing up for a subscription. The only exception is the number of servings each company offers—if you have a larger family, you might want to consider Green Chef's six-serving option.
Price
Green Chef and Sunbasket are both more expensive than many competing meal kit subscriptions simply because they source organic ingredients. Both companies use a tiered pricing structure that depends on how many meals you order per week, but in general, Sunbasket's meals run around a dollar (or less) cheaper than Green Chef's. You should expect to pay about $10.99 to $13.99 per meal with Sunbasket and $11.99 to $13.49 per meal with Green Chef. Note that Sunbasket's plan with the fewest meals is actually more expensive per meal than Green Chef's because you're only ordering four servings rather than Green Chef's smallest plan, which is six servings.
It's also worth mentioning that both companies offer several premium meals per week, which will cost more. Sunbasket has their "Chef's Table" meals (which, incidentally, aren't very well-labeled on their website), and Green Chef has their "Chef Select" meals. Choosing these as part of your weekly order, as well as adding add-ons or upgrades, will add to the cost of your plan.
Winner: This is actually a tricky one. Generally speaking, Sunbasket is the less expensive option. Still, I feel like Green Chef is more transparent about their pricing—they clearly label their Chef Select meals, and you can view their pricing structure before you sign up for a membership, unlike Sunbasket. That being said, as long as you're vigilant about your choices, Sunbasket is the cheaper option. 
Customization Options
Green Chef lets you replace, upgrade, and add extra protein to many of their meals. You can swap one protein for another, upgrade to a nicer cut of steak or wild-caught salmon, or double the portion of protein in a given meal kit.
Sunbasket allows you to customize your subscription by selecting different preparation difficulties in one subscription box—you can mix and match meal kits, quick meals kits, and heat-and-eat meals all on one subscription. Beyond that, they're just starting to incorporate customizable meal kits, which means there are only a few available each week (often, they're the Chef's Table meals). For these kits, you can substitute different proteins for the ones that come standard in the meal.
They do also sell many a la carte proteins with their selection of groceries, so if you wanted to make a non-customizable meal with chicken instead of pork, for example, you could just buy extra chicken from them. However, you would still have the pork from the meal kit left over.
Winner: Green Chef wins this one. The fact that they allow you to customize many of their individual meal kits is a fantastic way to allow for different preferences, diets, and lifestyles. It looks like this is the direction that Sunbasket is headed in as well, so definitely double-check which of your meals might be customizable when placing an order.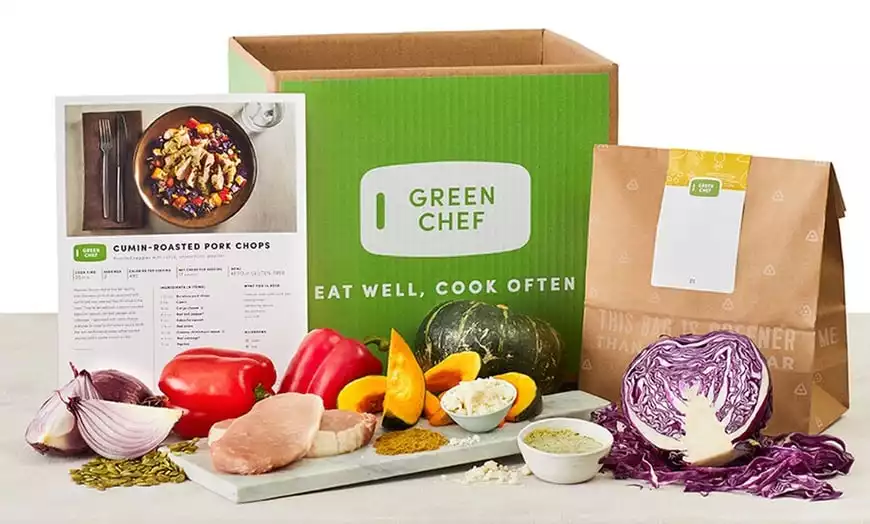 Website, Ordering, and Delivery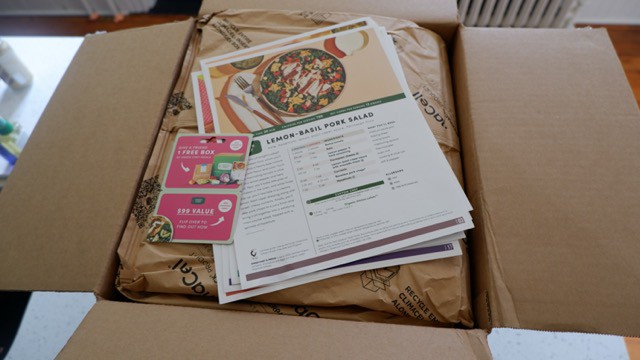 Both Green Chef's and Sunbasket's websites make it easy to browse their current menus and sign up for a subscription (Green Chef gets bonus points for actually listing subscription prices on their site before asking you to sign up). One thing that I did find odd was that, unlike Green Chef, Sunbasket doesn't have separate tabs on their site to explore their plans or sign up. It makes their site just slightly more confusing to navigate, and some extra clicking around is needed if you want to browse their selection first and then sign up for a plan.
Green Chef's FAQ page is a little more extensive and is easier to search than Sunbasket's, but overall, both sites answered most of the fundamental questions I could think of. Green Chef's customer service is available by phone (weekdays, 6 a.m. to 11 p.m. EST; weekends, 7 a.m. to 7 p.m. EST) and via webchat (9 a.m. to 7 p.m. EST daily). Sunbasket's customer service reps are also available daily but with more limited hours (6 a.m. to 8 p.m. PT on weekdays and 6 a.m. to 1 p.m. PT on weekends). They do have a chatbot that is available 24/7.
Green Chef delivers to the continental United States Monday through Saturday. Depending on where you live, you can choose your weekly delivery date. Sunbasket delivers everywhere in the United States except Alaska, Hawaii, Montana, North Dakota, and parts of New Mexico. They deliver Sunday through Thursday, and depending on where you live, you can choose your delivery date. Both companies ship orders in insulated, eco-friendly, recyclable packaging.
Delivery-wise, both companies are pretty comparable (unless you live in Montana, North Dakota, or those parts of New Mexico). One thing I liked about Green Chef, however, is that on their website, they state, "If you choose to have your package delivered to a commercial address, your delivery driver will make an effort to deliver the package before 5:00 pm local time." Since I work from home and don't have a commercial address, I couldn't test if this was true, but I like that they consider it.
Winner: Green Chef wins. Both sites are comparable, but Green Chef's is a bit easier to navigate, their customer service is more readily available (at least the real humans are), and they deliver to a broader area. 
Recipes and Cooking Experience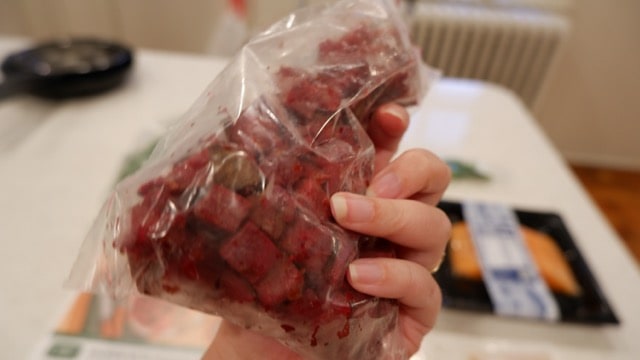 Green Chef's meal kits arrive as bags of ingredients with large, full-color recipe cards that list step-by-step instructions for how to make the meals. Many of the ingredients come pre-chopped or partially-chopped (in one bag, I had two halves of bell pepper, the stem and seeds already removed). There's a photo of the finished dish on the front of each recipe card and photos of each of the five to seven steps each recipe entails on the back. The instructions are simple to follow, and most recipes take around 25 to 40 minutes to prepare.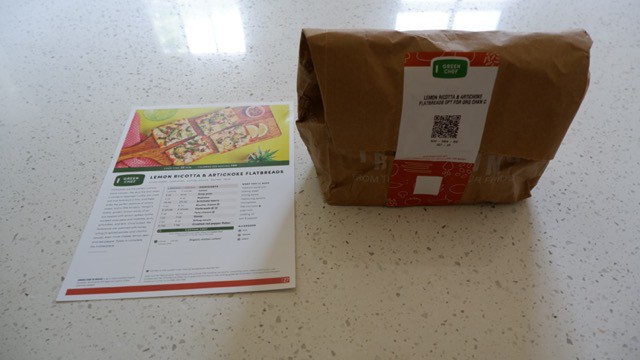 Depending on which meals you choose from Sunbasket, you may end up with a bag of whole ingredients, a bag of prepped ingredients, or a complete meal ready to throw in the oven or microwave. Fresh and Ready meals are ready to heat and eat, and meal kits labeled "speedy" come with many of their vegetables pre-chopped and sauces premade. Beyond that, it's hard to tell how much prep you'll have to do for a particular meal without reading the recipe in advance. Some kits may have chopped garlic, while others come with whole garlic cloves.
Sunbasket's recipe cards are easy to follow but lack the step-by-step images Green Chef provides. One thing I really like about Sunbasket is that they include a list of suggested recipe steps that children can help with on each card. Their meal kits take about 25 to 40 minutes for a regular kit, 15 to 20 minutes for a speedy kit, and a few minutes in the microwave or oven for fresh and ready meals.
Winner: I like Green Chef because their meal kits had exactly the right amount of prep work for me, and I know what I'm getting. Some of Sunbasket's regular meals (not even the Chef's Table ones) had more involved steps and more extensive prep than I was expecting. (Often, I don't want to sit and grate root vegetables for 20 minutes on a weeknight). 
Green Chef Pros and Cons
Pros
All of Green Chef's meals that I tried were flavorful, well-balanced, and satisfying.

I love their commitment to organic and sustainable practices.

They have a plan that serves six people per kit, which is perfect for larger families.

Many of their meal kits are customizable.

They have certified gluten-free options.
Cons
Their weekly menu is smaller than many meal kits.

They're more expensive than other meal kit subscriptions.

Other than a few add-ons, they don't have ready-to-eat meals.
Pros
I love that you can combine meal kits and fresh and ready meals in your subscription.

Their meals are worldly, exciting, and inspired.

They have an extensive selection of add-ons, which includes fresh pasta, deli items, proteins, and snacks.

I like that they call out which cooking steps kids can help with on their recipe cards.

They carry diabetes-friendly meals.
Cons
There's no option to customize most meal kits.

I prefer the taste of Green Chef's meals.

They're not as good for people with food allergies.
Alternatives to Consider
If neither of these meal subscriptions seems like they're right for you, consider one of the alternatives:
Purple Carrot: Purple Carrot is a strictly plant-based meal kit and ready-to-eat meal delivery service. They use some ingredients but don't source as many as Green Chef or Sunbasket. Read our Hungryroot vs. Purple Carrot review here. 
Thistle: Thistle only delivers ready-to-eat meals, not meal kits, but they're fresh, plant-forward meals that cater to omnivores or those that follow a plant-based diet. Many, but not all, of their ingredients are organic. You can read my Thistle review here. 
Hungryroot: Hungryroot doesn't just sell meal kits; they also have an extensive selection of groceries. Their meal kits are a little different than other services—they send you a combination of whole and prepared foods that you might find in a grocery store (like name-brand plant-based chicken tenders or prepared mashed potatoes), and you assemble the meal yourself. Not everything is organic, though much of it is, and it's a great way to get ideas for quick meals that you could shop for at your local grocery store. You can read our full Hungryroot review here. 
FAQs
Question: Who owns Green Chef? 
Answer: Hello Fresh owns Green Chef, as well as Every Plate, Chefs Plate, Factor, and youfoodz. 
Question: How long do Green Chef meals last? 
Answer: Green Chef recommends that you eat your meals within five days of their arrival at your door and consume meals containing seafood within three days. I kept one vegetarian meal in the fridge for a little over a week before cooking it and noticed some loss in quality (I had to throw out some of the cauliflower), but I could still cook and eat it. 
Question: Will you save money with Green Chef? 
Answer: Green Chef will most likely cost more than going to the grocery store and prepping all your meals yourself, but if you go out or order takeout several times a week, you'll probably save some money by replacing those meals with Green Chef kits. 
Final Thoughts
While I like both Green Chef and Sunbasket and think both have their merits, I simply prefer the taste of Green Chef's meals, so they win for me. Their website and recipes are also easier to follow, and I like the amount of prep work I have to do when making their meals (and the fact that it's somewhat consistent from meal to meal).
I still think Sunbasket is an excellent choice if you prefer the types of meals they offer or if you want the flexibility of having meal kits and prepared meals sent to you each week.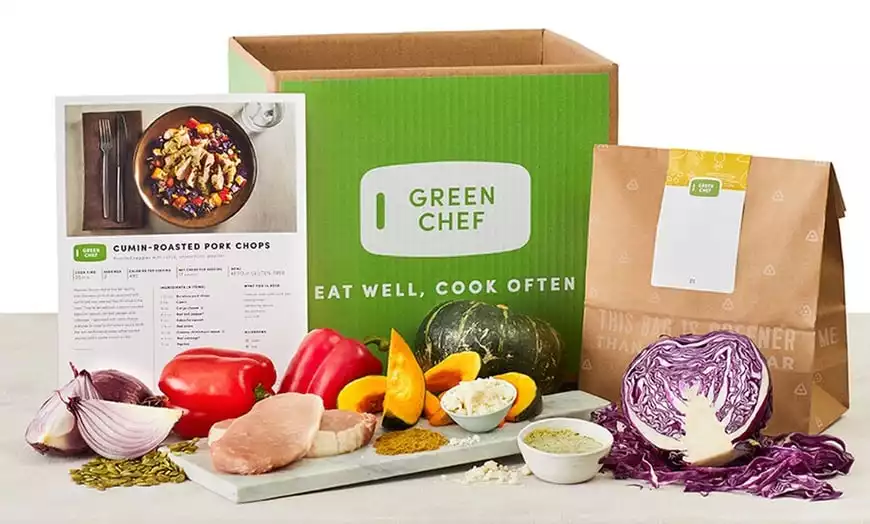 Continue reading: