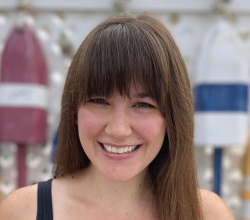 Latest posts by Lauren Vigdor
(see all)
Although many of us can agree that they save time and energy, meal subscriptions aren't one-size-fits-all.
Sure, at the heart of each service, they aim to provide you with food delivered to your door on a regular basis, but beyond that, they can be very different from one another. And that's great!
I love to cook, am picky about my ingredients, and often entertain guests. I also have a good friend who works crazy hours, spends most of her free time at the gym, and has never used her stove.
Don't we both deserve fresh, convenient meals delivered to us each week?
I love how different meal subscriptions can be because it means that everyone has the ability to find a subscription that caters to their exact lifestyle and needs.
The only problem is sorting through all of the hundreds of subscriptions out there to figure out which works best for you. I decided to compare Factor vs Home Chef to determine which lifestyles they work best for and which they don't.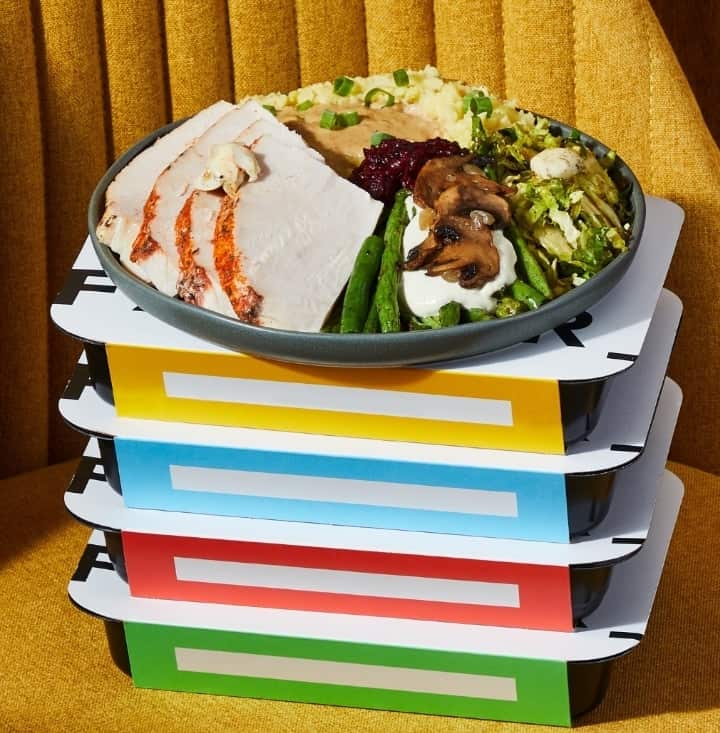 Bottom Line Up Front
Of the two, Home Chef fits my current lifestyle a little better. I love that they offer different prep levels, so I can make a restaurant-worthy meal from scratch one night but toss some ingredients in a grill bag the next.
That being said, I'm considering signing my dad up for Factor. He's a meat and potatoes kind of guy who doesn't like to spend more than a few minutes preparing a meal.
Everything I tried from Factor was tasty and healthy, and I think my dad would really enjoy it.
Healthy AND Easy Pick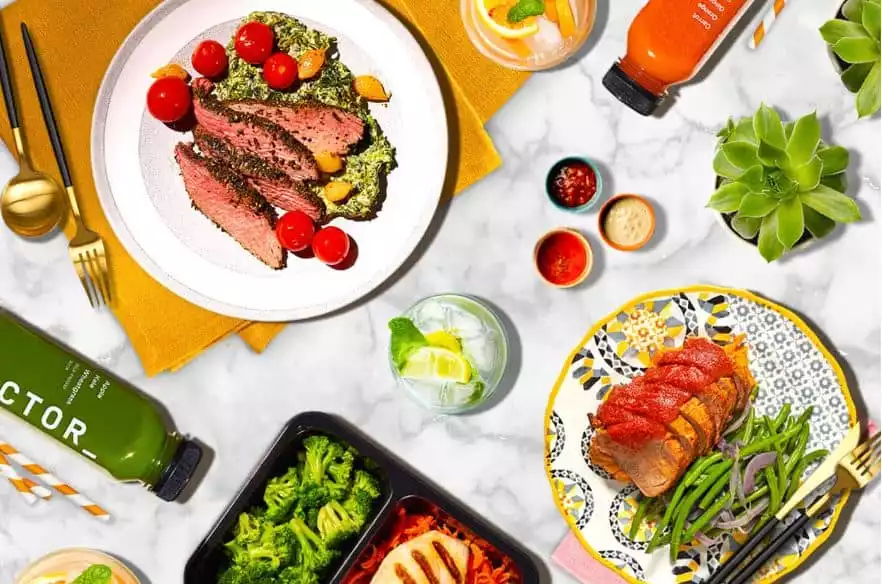 Why Go With Factor?
Just heat, eat, and enjoy. Factor makes eating healthy, EASY. Honestly, the hardest part about eating healthy are MEAL PLANNING and MEAL PREP. Factor removes both as an excuse and is interesting enough to stick with over the long term.
Check Current Seasonal Promo!
We earn a commission if you click this link and make a purchase at no additional cost to you.
Main Differences between Factor vs Home Chef
The main differences between Factor vs Home Chef are:
Factor only sells oven-ready and microwavable heat-and-eat meals, whereas Home Chef sells meal kits and several types of heat-and-eat meals (oven, microwave, and grill.)
Factor is better for individuals, whereas Home Chef is better for families.
Factor focuses on macros and specific diets (like keto), whereas Home Chef focuses more on prep difficulty levels and family-friendly meals.
Factor's meals aren't customizable, whereas many of Home Chef's meals are, which can be essential if you have food allergies or dietary restrictions.
Factor's meals are ready in two minutes, whereas many of Home Chef's meals take more than 30 minutes to prepare.
Factor's meals are higher in sodium and saturated fat, whereas many of Home Chef's meals are higher in carbs.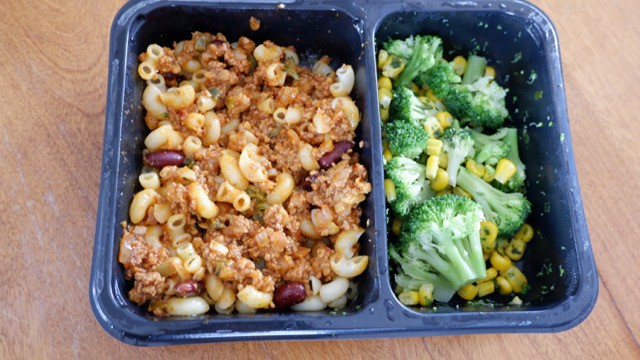 It doesn't really get any easier than Factor. Single-serving meals arrive fresh at your door, you stick them in the refrigerator, and when you're ready to eat, you either pop them in the microwave or the oven for a few minutes.
You can even eat them right out of the package, which means you'll only have to wash your fork (unless you forgo the fork altogether—hey, it's your life.)
Factor is also one of the best meal subscriptions for someone following the keto diet. They're not an exclusively keto company, but almost half of their weekly meals are keto-friendly, and many more are high protein.
In addition, according to their website, you can add additional fat to some of the high-protein, low-carb meals to make them more keto-friendly.
Factor's ketogenic (or "keto") meals all contain at least 60% of their calories from fat, 20% of their calories from protein, and 10% or fewer of their calories from carbohydrates.
In general, people on the keto diet aim to consume 50g or fewer carbs a day. However, everyone's body is slightly different in maintaining ketosis—the state where your body is burning protein and fats instead of carbs. 
Factor also includes a free 20-minute consultation with a nutritionist with your subscription, so while Factor isn't explicitly a diet or weight loss plan, I can see how it could easily be incorporated into one.
What Does Factor Offer?
All of Factor's meals are single servings packaged with an entree portion (often on top of a "starchy" filler) and a side. They have a ton of pasta dishes and "meat and potatoes" style meals.
However, the low-carb meals will often sub cauliflower or celery root for the potatoes, and all of Factor's pasta dishes are made with gluten-free pasta (made from lentils or chickpeas).
In fact, all of Factor's meals are gluten-free, and most contain low-glycemic-index carbs (though some dishes do use real potatoes). All of their meals are free of hormones, GMOs, and additives.
In addition to keto, low-carb, and high-protein meals, Factor also has vegetarian, vegan, and low-calorie meals available each week. One thing to note, though, is that many of Factor's meals are pretty high in sodium and fat, even the low-calorie ones.
In addition to their regular entree-sized meals, Factor also offers breakfasts, snacks, extra proteins, shakes, and juices that can be added on to your weekly subscription (you can't subscribe to just these add-ons without the regular meals).
Most of the add-ons are keto-friendly (except the juices, which are too high in natural sugars).
Healthy AND Easy Pick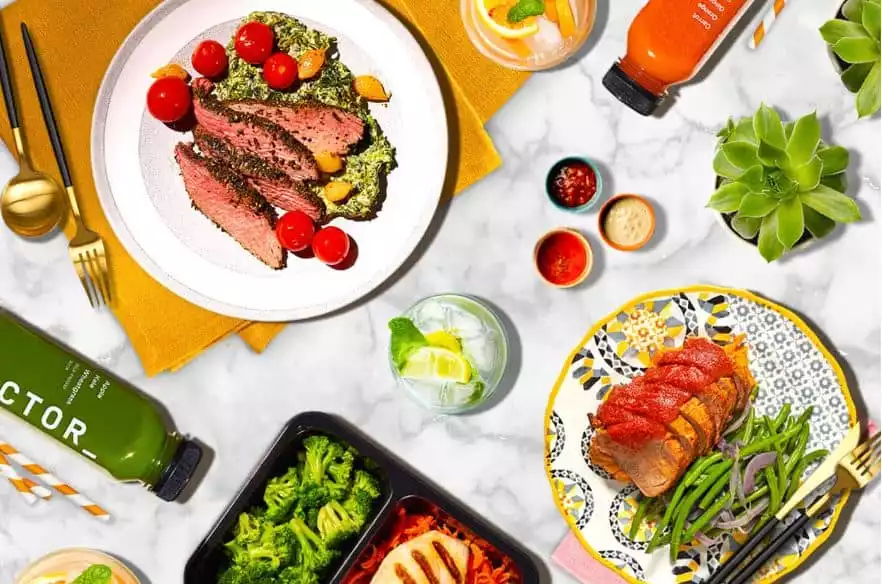 Why Go With Factor?
Just heat, eat, and enjoy. Factor makes eating healthy, EASY. Honestly, the hardest part about eating healthy are MEAL PLANNING and MEAL PREP. Factor removes both as an excuse and is interesting enough to stick with over the long term.
Check Current Seasonal Promo!
We earn a commission if you click this link and make a purchase at no additional cost to you.
Factor Pros and Cons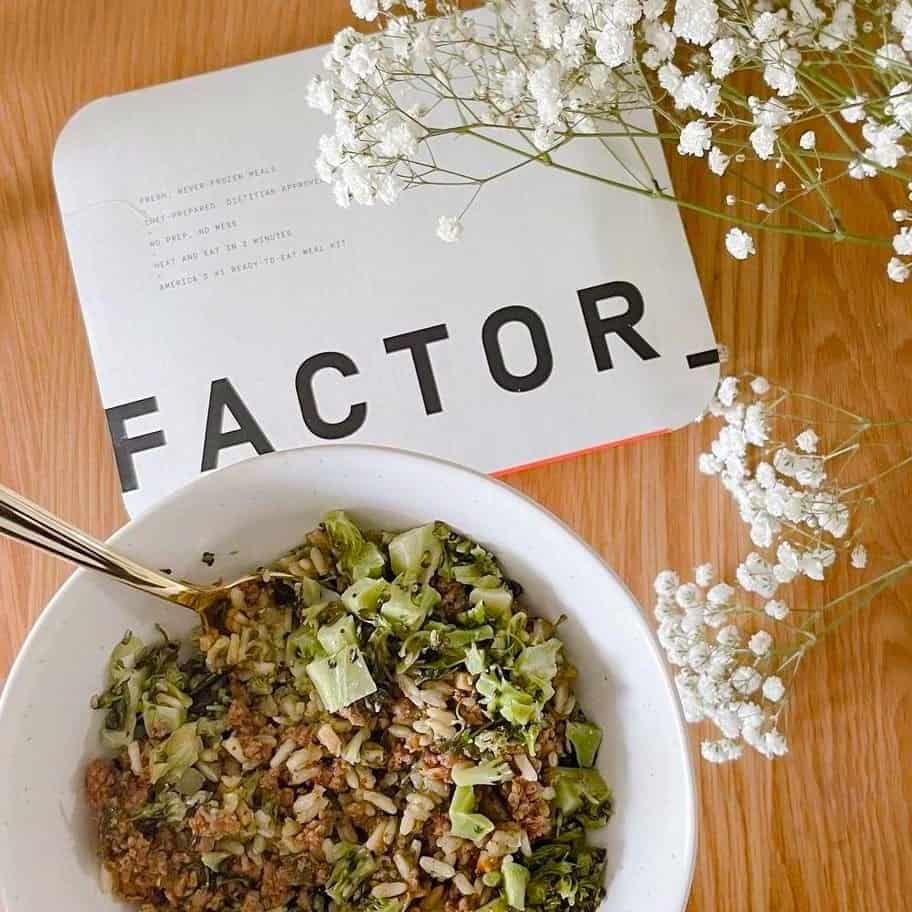 Pros
No prep and no cleanup are hard to beat on days when you're in a rush.
It's an excellent option for those following specific diets, especially high-protein, low-carb diets.
Most meal services don't include a consultation with a nutritionist. It's a nice added perk.
The meals are filling comfort foods. If you're using Factor as a diet plan, you most likely won't feel deprived.
Each meal is a single portion, making Factor an excellent choice for meal planning.
Cons
Factor's meals are pre-made and pre-portioned, so they can't be modified.
They tend to run high in sodium and fat, especially saturated fat.
A lot of the vegetable side dishes in the Factor meals I tried were just ok. They were somewhat bland compared with the main entree.
Everything is packaged into single servings, so if you're ordering for a couple or a family, you'll have to be sure to select multiples (or just all eat different meals each night).
There are no meal kits for those who do like to cook.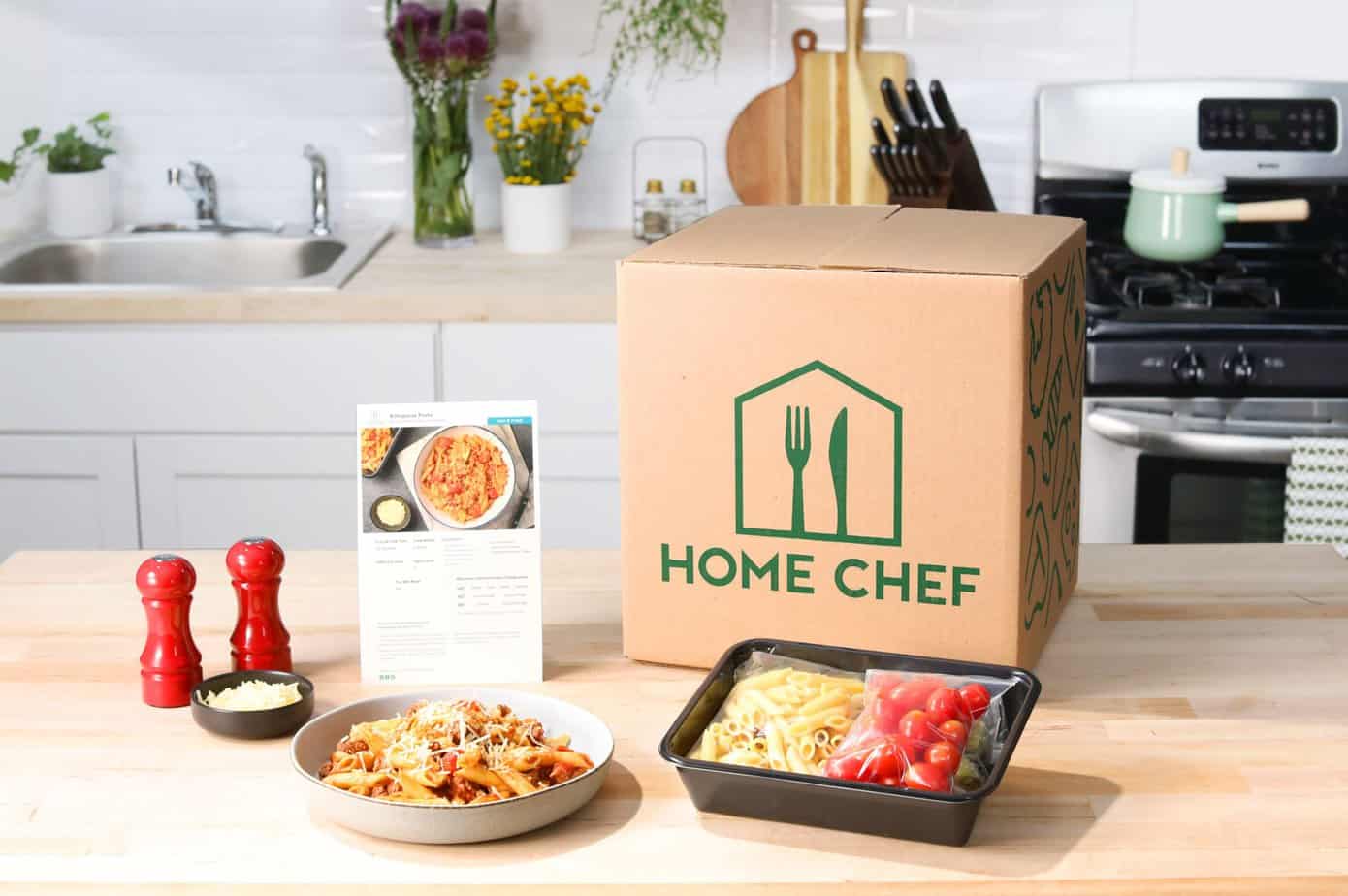 Of all of the meal subscriptions on the market, Home Chef offers one of the widest selections, both in terms of variety of meals and variety of prep difficulty.
If you're like me and one day you're making your own mozzarella from scratch, but the next you're in a heated rock-paper-scissors battle with your significant other over who has to get up and toss the frozen pizza in the oven, this might be the perfect solution for you.
What Does Home Chef Offer?
Home Chef's meals tend to be homestyle, "comfort" cuisine—think, the stuff your mom would make or the kind of food you'd get at your favorite cozy, casual restaurant or pub.
I think their ingredients are higher quality than a lot of other meal kit subscriptions, and their recipes are tasty and interesting but still accessible (meaning picky eaters probably won't struggle with them.)
They have plenty of options for vegetarian, low-carb, low-calorie, and wheat-free meals each week. You can also set your dietary preferences and include any restrictions or allergies you have when you sign up for a subscription.
Many of the meals can be customized by swapping out one protein for another, upgrading to a better quality protein (like a nicer cut of steak), or doubling the protein in a meal.
Plenty of other subscriptions allow you to add extra a la carte protein to your order, but I can't think of another meal subscription that allows you to double your protein in a dish like that.
Each week, Home Chef offers an extensive selection of breakfasts, sides, snacks, proteins, soups, and desserts that you can add to your box. Just like with Factor, these add-ons can only be purchased in conjunction with a regular subscription.
Home Chef's Prep Categories
One of my favorite things about Home Chef is the way that they categorize their meals based on how difficult they are to prepare.
I really like having the option for more involved restaurant-worthy meal kits for weekends and date nights and easy meals that I can just toss in the oven or microwave for weeknights. Here are the different categories they offer:
Meal Kits: Standard kits of a bag of pre portioned ingredients with an accompanying recipe. These take about 30 minutes to prepare.
Express Meal Kits: Meal kits that only take around 15 minutes to prepare. Many of these are simpler meals and/or contain pre-prepped ingredients.
Culinary Collection: Meal kits with premium-quality ingredients. These are the "restaurant-worthy" meals you'll want to make for special occasions, date nights, or just because you're feeling a little fancy.
Fast and Fresh: Ready-to-eat meals that just need to be warmed in the microwave or oven. These are Home Chef's versions of what Factor offers.
Oven-Ready: Ready-to-eat meals that need to be heated in the oven. They come in an aluminum tray, so they're not microwavable. Many of these are larger and are great for family dinners.
Grill-Ready: I've never seen another meal subscription offer something like this before, but these meals get tossed in a grill bag and thrown right on the grill. All of the ingredients are pre-portioned, and the grill-safe bag is included.
Home Chef Pros and Cons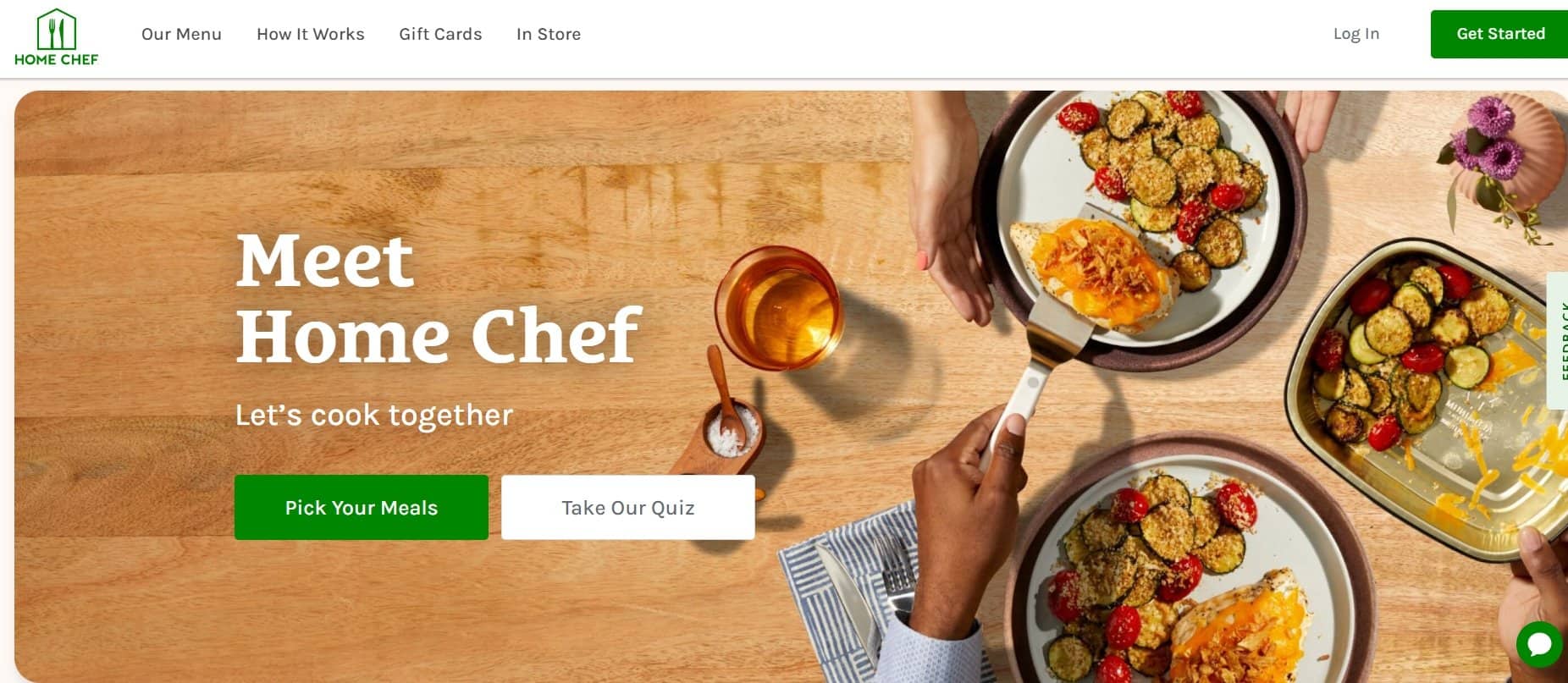 Pros
Great for people who like to cook but want to improve their skills.
It's very easy to sort by different prep difficulty levels.
Home Chef is a great option for families since they offer plans that feed six people per meal.
Many meals are customizable—you can swap out proteins, upgrade to better quality ingredients, or double the protein in a meal.
They offer a huge selection with some of the best variety I've seen.
I love that you can browse six weeks' worth of menus online instead of the more typical two to four weeks.
Cons
Some of Home Chef's meal kit recipes can be somewhat time-consuming.
They use a fair amount of small plastic bags in their packaging, which aren't easily recyclable (at least not where I live).
If you're only interested in ready meals, your options will be somewhat limited with Home Chef.
Factor vs Home Chef: Head to Head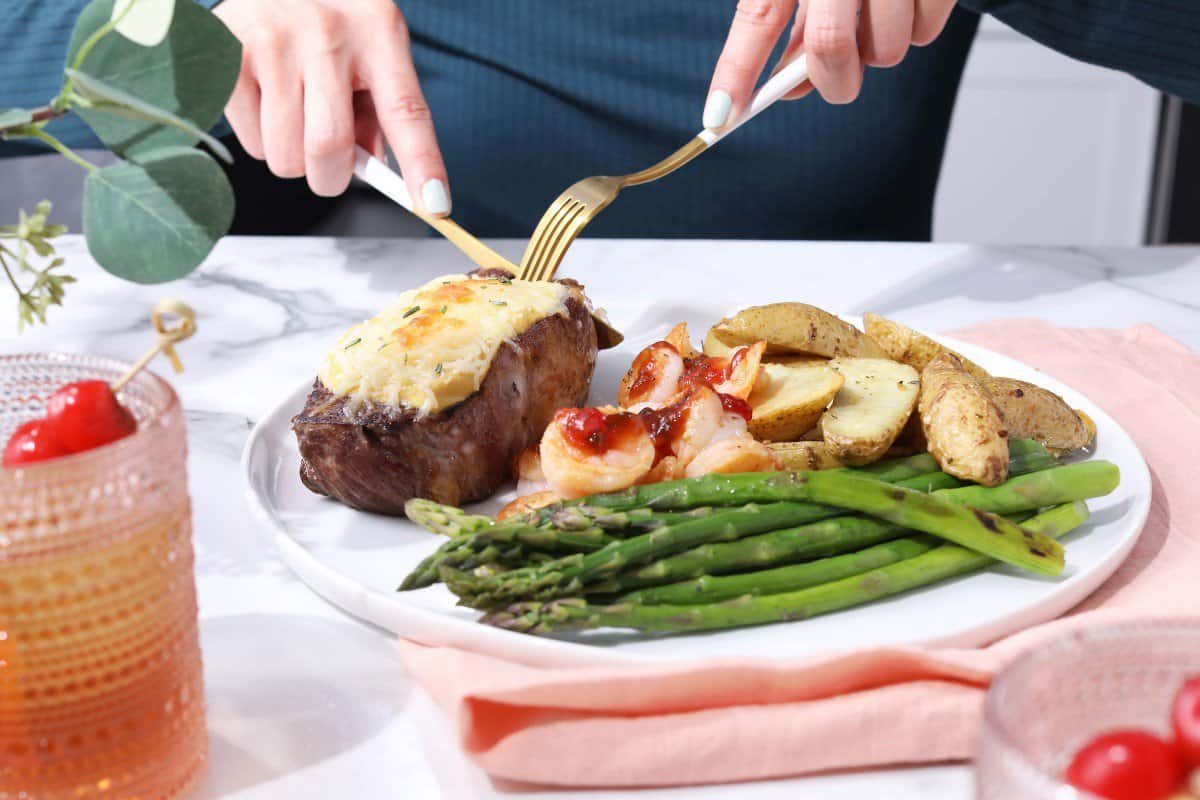 Let's take a look at some of the key components of these two meal subscriptions head-to-head.
Selection
For me, Home Chef wins for selection, both in terms of variety of cuisine and variety of meal options.
I just really love the different prep difficulties and customization options they provide. While I love a good meat-and-potatoes meal as much as the next girl, I think that variety is necessary if I'm going to stay interested in a meal delivery service.
The one exception, however, is when it comes to keto meals, weight loss, and macro tracking. If that's your main goal, you're going to find a broader selection that suits your lifestyle with Factor.
The company currently enters all of their meals into apps like Carb Manager, MyFitnessPal, and LoseIt—so while they're not explicitly designed as a weight loss company, they do make it as easy as possible for you to fit their meals into your nutrition plan.
Customer Service and Website
The customer service and websites for Factor and Home Chef are relatively comparable.
Both sites are easy to navigate, the FAQs answered all of the essential questions I could think of, and customer service is available via phone, email, and chat.
I will say that Factor wins by a hair in the customer service department because they offer a 24/7 chat (Home Chef's is only available during regular business hours).
However, Home Chef may win in the website department simply because they show you six weeks' worth of menus at a time, allowing you to plan ahead.
Packaging
Both Factor and Home Chef claim to use as much recyclable packaging as possible, but Factor wins this one for me. Home Chef uses too many tiny plastic bags for my liking.
I understand that they're technically recyclable, but in most places, they need to be recycled at a facility and can't be picked up with your curbside recycling.
If the goal is to make our lives easier by cutting down on shopping and meal prep, don't give us another chore to take up that extra time!
Quality and Taste
This category is obviously the one most subject to personal preference, but for me, Home Chef wins.
Factor's meals are delicious, and I love that they're free of hormones and additives, but I don't think you can beat a freshly cooked meal.
The fact that you cook most of Home Chef's meals yourself right before eating them means that you don't lose anything in terms of texture or taste.
I also found Factor's vegetable sides slightly lacking. They weren't bad by any means; I just thought they tasted extremely underwhelming, especially compared to the entrees—they reminded me of frozen steamed veggies.
Most of them were topped with some sort of butter to up the fat content but lacked seasoning.
However, some of Factor's sauces blew me away—especially the one on the Creamy Dill Shrimp Pasta.
It was rich without being too overwhelming, and the freshness of the herbs survived a layover in my fridge and a few minutes in the microwave. I'm seriously considering emailing them for the recipe.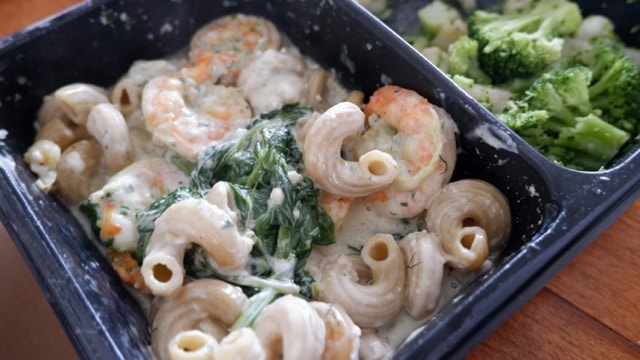 Other Alternatives to Consider
If neither of these subscriptions work for your lifestyle, consider one of the following instead.
Alternatives to Factor
Mosaic Foods: Frozen prepared meal delivery specializing in plant-based healthy meals. Read our review here.
CookUnity: Prepared meals with a focus on "chef-to-table" cuisine. Note that CookUnity's delivery area leaves out a portion of the central United States.
Trifecta: Premade meals that function as part of a larger meal plan. Trifecta also offers macro tracking and nutritional coaching to help you meet your dietary needs.
Alternatives to Home Chef
FAQs
Question: Who is Factor owned by?
Answer: Factor is owned by Hello Fresh another meal subscription service. EveryPlate and Green Chef are also part of their family of meal kit delivery services.
Question: Is Home Chef made by Kroger?
Answer: Home Chef is owned by Kroger. In fact, you can buy some Home Chef meals in Kroger markets.
Question: Is Home Chef fresh or frozen?
Answer: Home Chef meal kits are bags of fresh ingredients. Their "oven-ready" and "fast and fresh" meals are fresh, heat-and-eat. Home Chef does not recommend freezing their ingredients or meals.
Factor vs Home Chef: Final Thoughts
I really like both Home Chef and Factor, but they work for different lifestyles.
Both will provide you with fresh, healthy, and delicious meals, but Factor is better for people who don't want to do any prep, and Home Chef is better for people who might want to cook some of their meals from scratch.
I really like the flexibility that Home Chef's subscription provides, so I think that one makes the most sense for me.
However, if I were on the keto diet or looking for better portion control, I could absolutely see myself switching to Factor. My suggestion would be to go with whichever seems like the best meal delivery service for your individual needs since both are great.
Healthy AND Easy Pick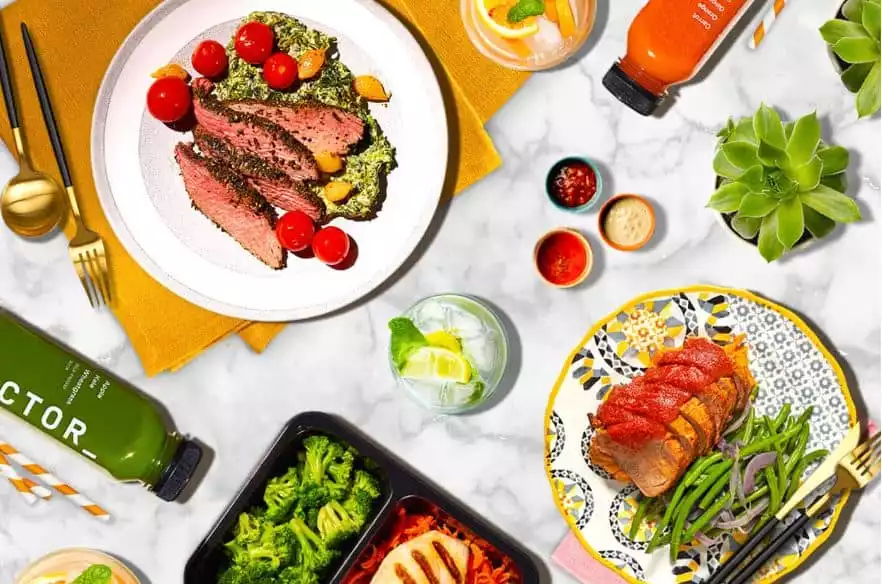 Why Go With Factor?
Just heat, eat, and enjoy. Factor makes eating healthy, EASY. Honestly, the hardest part about eating healthy are MEAL PLANNING and MEAL PREP. Factor removes both as an excuse and is interesting enough to stick with over the long term.
Check Current Seasonal Promo!
We earn a commission if you click this link and make a purchase at no additional cost to you.