Latest posts by Trevor Abbott
(see all)
Meal delivery services are trending more than ever, with countless online options to replace conventional shopping & food preparation. This empowering reality allows you to manage a gluten-free diet in various ways while accessing healthier organic food that compliments your health and keeps your body balanced.
Aside from the health benefits, one of the main appeals of these services is the convenience of not having to shop for anything and having it delivered to your door. Quitting gluten doesn't have to be arduous, and Green Chef makes it easier to accomplish it!
Knowing that your food is free from gluten constitutes half the battle regarding following a strict diet, and things aren't always what they appear to be, even if labeled a certain way. It's more necessary to watch what goes into your body if you have a gluten intolerance. It has been the talk of the town for quite a while now, and many who aren't intolerant are also beginning to perceive the immense benefits of cutting gluten out completely.
Green Chef is a service that puts an admirable food philosophy into action with each gluten-free chef-inspired meal to your doorstep without uncertainty.
This security in knowing what you're eating has made meal services like Green Chef thrive in the market, and they're not slowing down as more people realize the benefits.
I recently tried their meal delivery service, and I'm excited to bring you this comprehensive review & guide to discuss my experience while explaining all the aspects of their gluten-free service! Let's dine on the details with a glass of fine wine and discover what makes Green Chef's gluten-free meal kits worthy of consideration for the long term!
Bottom Line Up Front
Green Chef is a meal delivery service that pays careful attention to their ingredients with nutritious organic, gluten-free meals that cater to various strict lifestyles but are also suitable for the average individual with great taste.
They are a prominent meal delivery service company because of its exceptional quality and diverse meal plans, including Keto/Paleo, Vegetarian, Meditteranean, Fast & Fit, Vegan, and gluten-free. They are excellent for those following a gluten-free plan and need something more convenient than shopping. Green Chef nurtures you with a diet that is free from gluten and helps you live your best life while gaining peace of mind and confidence in what you consume regularly.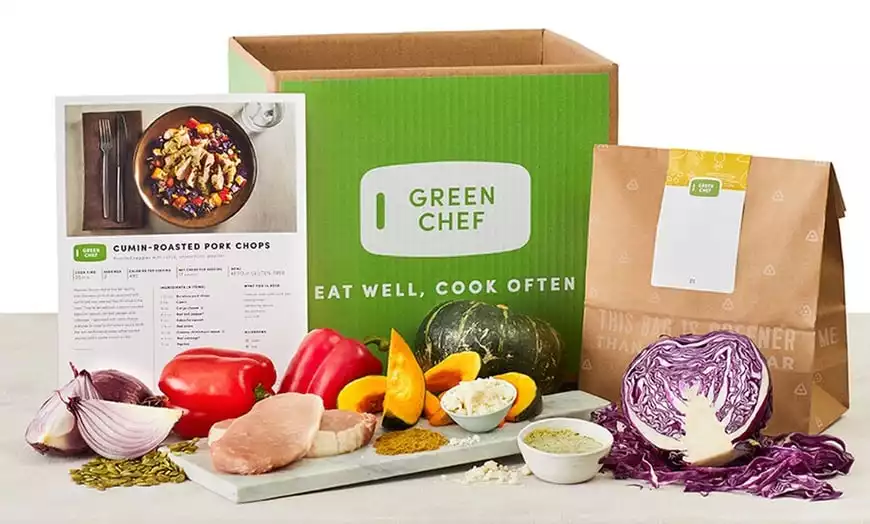 Why Go With Green Chef?
Green Chef is a meal kit service that delivers boxes filled with fresh ingredients on a weekly, biweekly, or monthly basis to make chef-curated meals. Diet and allergen friendly options, are one of the reasons I love Green Chef.
Choose Your Plan
$250 Off for Cyber Week Here
We earn a commission if you click this link and make a purchase at no additional cost to you.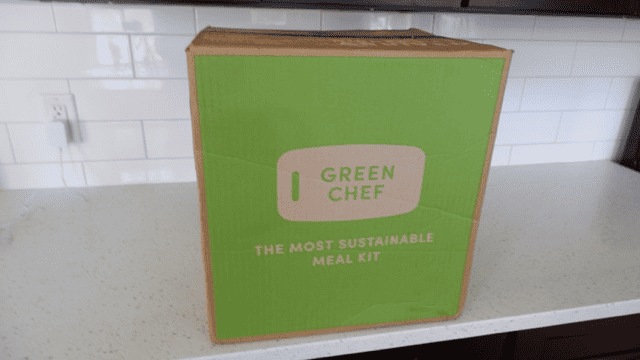 Green Chef is a sustainable gluten-free meal delivery service that is fresh beyond belief and will have you wondering why you haven't given this a shot before. They provide an eye-opening meal kit experience that makes you crave more food to stay healthy and satiated. Green Chef started back in Colorado and is now owned by Hello Fresh. They stand out among many other meal delivery services because it's a meal kit where you receive the ingredients to prepare and cook yourself.
This gives you the freshest result possible with foods that have never been frozen or standing in packaging for any period. It's like going to a higher-class grocery store without deliberation or preparing a list of meals.
All ingredients are pre-measured perfectly to reduce waste and are accompanied by easy-to-follow directions that won't take long to assemble. No matter your meal plan, they ship the individual components in an organized fashion to be easily prepared. According to their website, Green Chef offers "Chef-crafted recipes that tempt your taste buds, made with clean ingredients that nourish your body."
Read our complete guide and Green Chef review here.
Green Chef Helps You Realize The Benefits Of A Gluten-free Diet
Many people are intolerant to gluten, and you may be one of them and not even know it. You might wonder how a gluten-free diet can benefit you even if you aren't. Green Chef is an enlightening service because it specializes in bringing these issues to light and helping you realize the immense positives that can supercharge your wellness. You can savor every bite when using their gluten-free meal kit service, knowing there isn't any gluten.
They are a highly reliable meal kit service and are the only ones on the market who own a Gluten-free certification that's official and gives you more confidence when buying from them. They are experts at prepping gluten-free food so you can live well and thrive with all the benefits. All you have to do is follow the recipe card, and you don't need to be an expert in the subtleties of eating a diet without gluten. The following are some benefits you may notice after trying their service.
Increased weight loss
Less brain fog and increased focus
More energy & overall health improvements
Enhanced gastrointestinal health
Better physical performance overall
Green Chef Gluten-Free Meals Are Gourmet Quality Without Sacrificing Taste
Just because you cut gluten out doesn't mean you need to sacrifice all the flavors in the world to live healthy. Green Chef makes it a point to help you discover the best aspects of living without gluten plaguing you at every meal. It's almost impossible to avoid it without thinking about your consumption. Green Chef considers your needs by providing gourmet gluten-free meals that will make you crave more.
They take the flavor to the next level with professional chefs skilled at giving you a five-star restaurant experience with no gluten. The taste of each meal is complex and invigorating to such a high degree that you will forget you're eating meals without gluten. They are packed with flavor so that you will feel accommodated during preparation and when you dig in. They are an excellent way to transition into a gluten-free lifestyle without complications.
Discover A Meal Plan Centered Around A Gluten-free Diet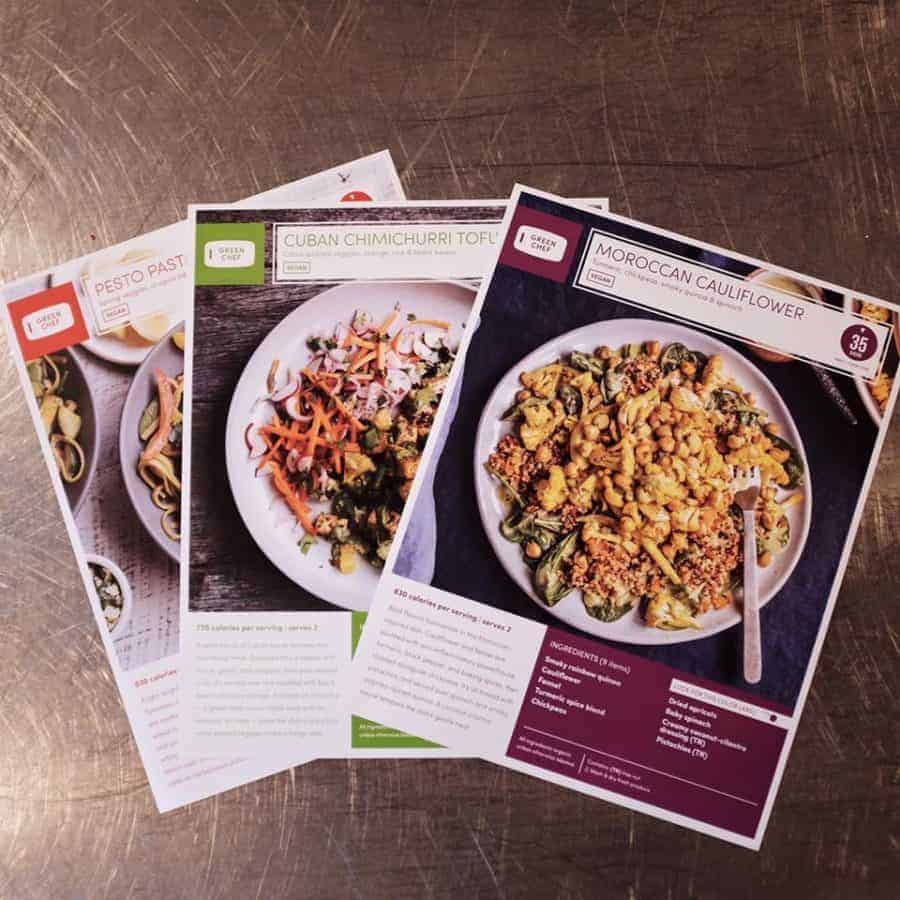 You can quickly discover a meal plan perfect for your gluten-free ambitions; they understand it's not the easiest choice. Selecting your plan is straightforward, and they operate with your best interest at heart instead of throwing things together half-heartedly. They promote your well-being with a gluten-free diet that will avoid harmful gluten-related foods, such as rye, wheat, & barley.
They operate with a conscientious objective to help those struggling to maintain a gluten-free diet due to complicated shopping & developing self-control when eating consistently. After they help you discover your meal plan, you're good to go and can alter it anytime at your convenience. Their Keto meal plan is particularly suitable for this lifestyle, which includes foods with healthy fats, fresh produce, high-quality animal proteins, seeds, nuts, & delicious legumes.
Picking Your Gluten-Free Meals
Green Chef will conveniently pack your meals, including seasonings, sauces, meats, fish, vegetables, & healthy grains. They feature a wide selection of fantastic, flavorful dishes that align with one of the plans. You can choose between exquisite new recipes each week that are constantly shifting so the flavors stay fresh and stimulating for the taste buds. When visiting their website, you will find that browsing their selection process is straightforward.
Each week brings ten new gluten-free options per week, and each one will have you eating with a clear conscience. They condense the selection process so you don't feel overwhelmed and can narrow down what's best for your lifestyle. Green Chef takes their customers' needs seriously with a wide range of flavors and healthy dishes catering to their health needs. Selecting a gluten-free lifestyle is essential and gives you more freedom so you don't feel limited or lacking options. Here are some of their gluten-free meals that are noteworthy.

Boom Boom Chicken with Honey-glazed sesame carrots & cashews
Lemon aioli with roasted butternut squash
Pecan-encrusted trout
Who Will Benefit From Green Chef?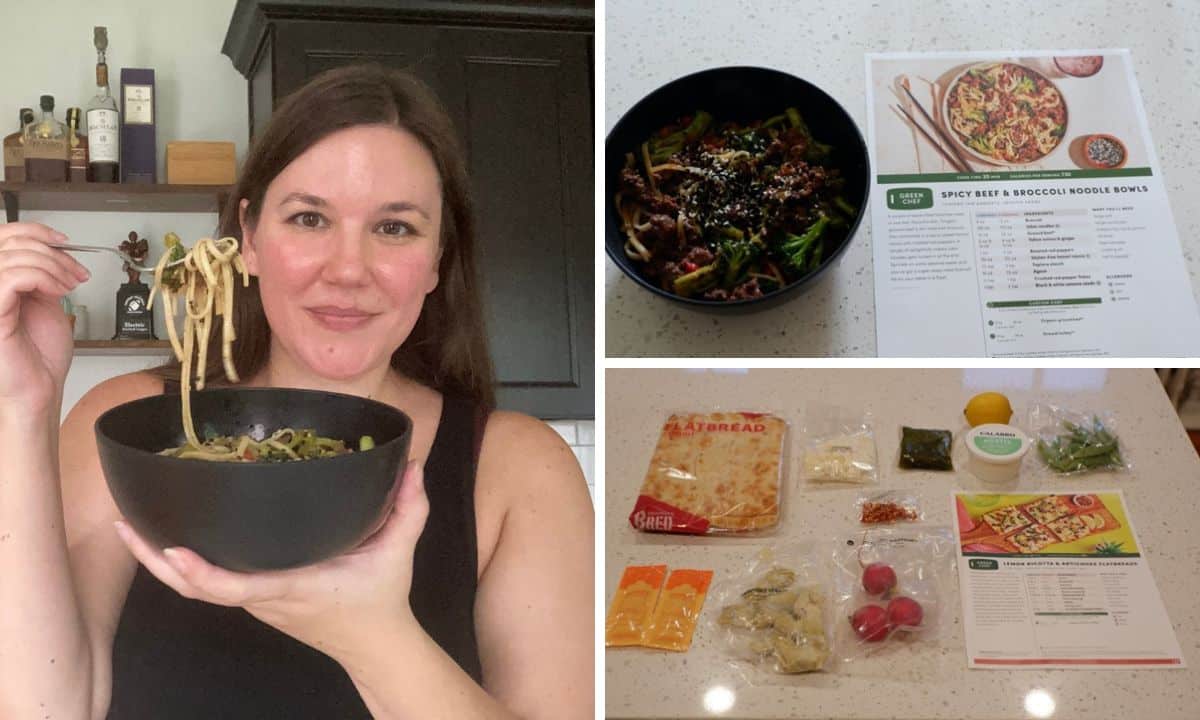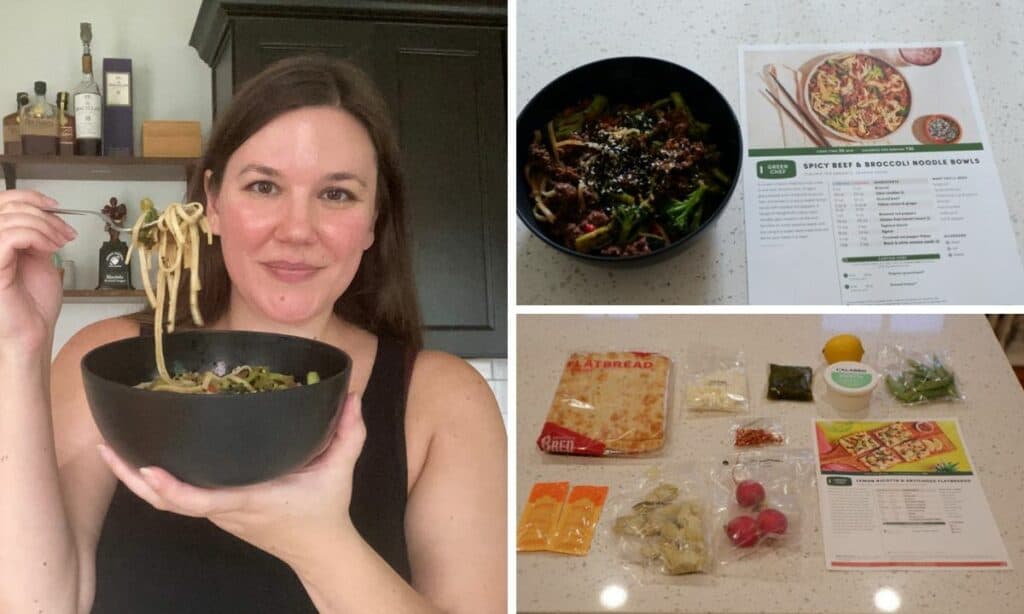 If you have limited access to genuinely organic food, Green Chef may be a viable solution to get you on the right track to true wellness. They believe you deserve transparent food while being grown with integrity for optimal nutritional benefits and no harmful elements. Most of the ingredients you'll find here are certified to be organic, and they are honest about anything that isn't instead of trying to hide it like most sketchy grocery stores.
Both families and individuals can enjoy this service, making it an excellent strategy for introducing more nutritious food into daily living. Even if you don't have specific dietary needs, Green Chef is worth trying because it's packed with nutrients for better living. Here are the core diets they cater to for your reference so you can determine if it's a good fit. No matter your needs, this is a great option to help take control of your health and get some good meals amid the increasingly devastating effects of fast food and contaminated store ingredients.
Vegan

Keto

Vegetarian

Gluten-free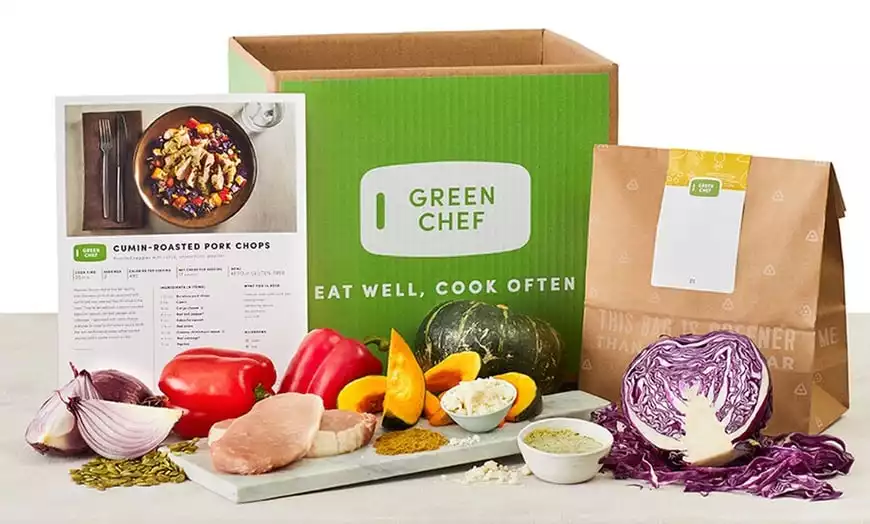 Why Go With Green Chef?
Green Chef is a meal kit service that delivers boxes filled with fresh ingredients on a weekly, biweekly, or monthly basis to make chef-curated meals. Diet and allergen friendly options, are one of the reasons I love Green Chef.
Choose Your Plan
$250 Off for Cyber Week Here
We earn a commission if you click this link and make a purchase at no additional cost to you.
Gluten-free Subscription Plans Green Chef Offers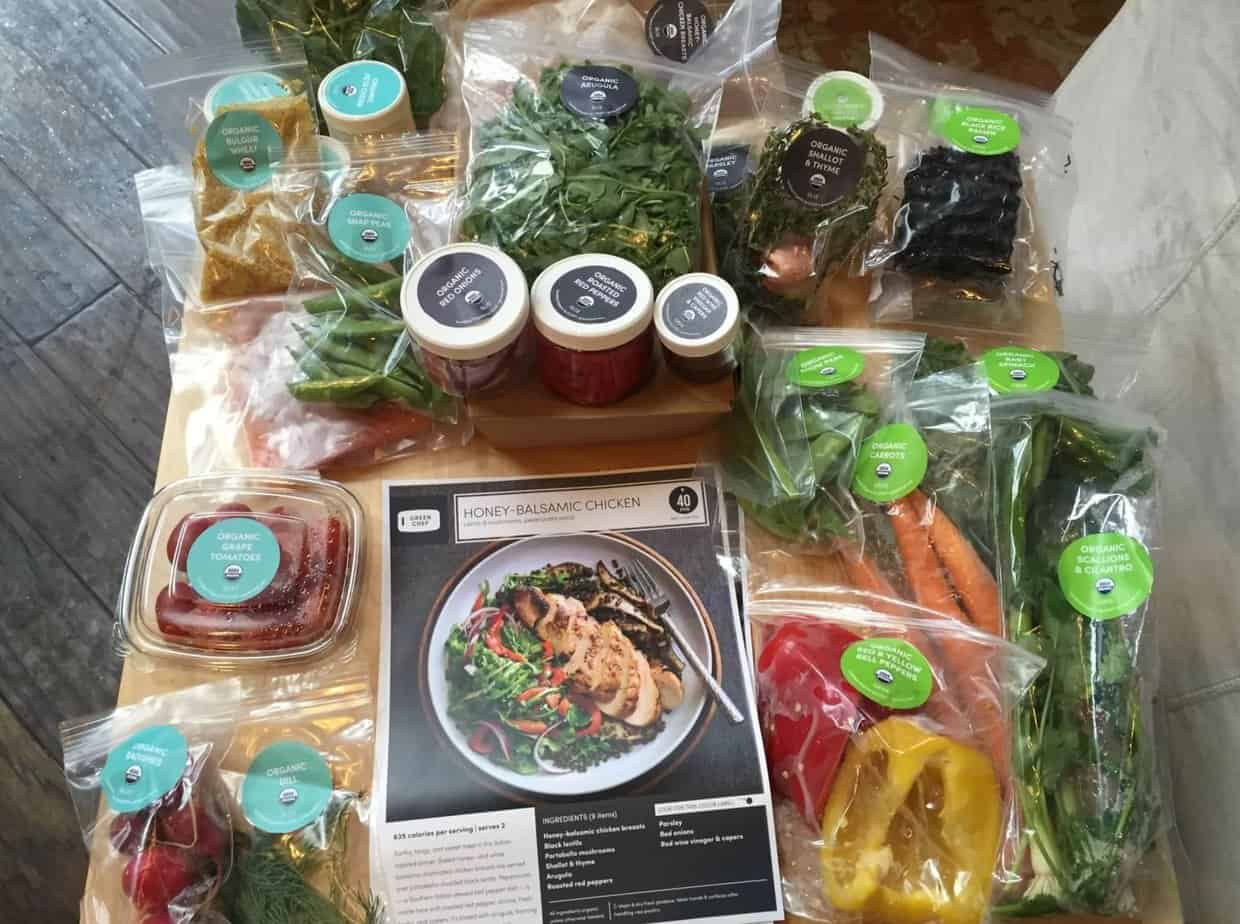 There are a few subscription plans available, and it's worth knowing them in greater detail so you can make a more accurate decision if you decide to move forward. I didn't have to choose one because I was testing the service, but if I had to choose a plan, it would be the plant-powered option because there's something special about only consuming plants that change your body and mind for the better. The subscription plans they offer are:
Keto & Paleo
Vegetarian
Meditteranean
Fast & Fit
Vegan
Gluten-free
Find the best paleo meal delivery services here.
How Many Gluten-Free Meal Kits Are There?
With Green Chef, you can get a max of four recipes weekly, which would be for two to six people in any given home. They have bi-weekly or monthly subscriptions, alternatively to consider. This means you can start slow to get a taste for what they offer, and if you're sold on gluten-free meals, you can increase the frequency over time. You will quickly realize the benefits of their gluten-free service, and I was compelled to try out the service more consistently after testing it.
Considering The Cost
Two Servings
Three

meals a week is

$13

per serving

Four

meals a week is

$13

per serving
Four Servings
Two

meals a week is

$13

per serving

Three

meals a week is

$12

per serving

Four

meals a week is

$12

per serving
Six Servings
Three

meals a week is

$12

per serving

Four

meals a week is

$12

per serving
My Overall Experience With Green Chef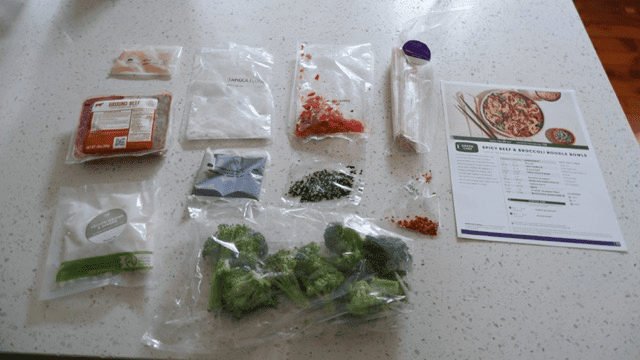 Overall, I had a highly delightful experience while trying the meals from Green Chef; the flavors were incredible for being gluten-free. Typically, you'd expect healthier foods to be less satisfying than pizza & chocolate ice cream, but If I had to eat Green Chef for the rest of my life while cutting out the unhealthy stuff, I would. The packaging was tidy, and the ingredients were well-packed with organized instructions to complete each meal efficiently.
I enjoyed cooking with them and caught myself pretending I was a real chef because I might as well make it fun if you still need to prepare things. The taste was exquisite, and I could feel my body supercharged with highly nutritious food that helped me tackle the week with increased energy from higher-quality food sources. It's a pure feeling free of gluten that messes with your health. I was heavily impressed with them regarding taste after trying other meal services, and they stood out as the best I've come across so far! They have enlightened me on how achievable the gluten-free lifestyle is, and after trying the meals, I knew that I could likely eat this way forever and cut out the gluten.
Ordering Process On The Website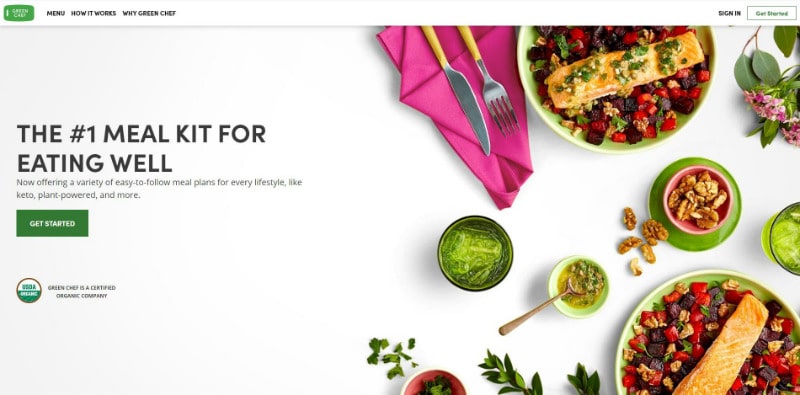 Green Chef's website is easy to navigate; you can choose between gluten-free meal plans when you arrive. The first step is to build your meal plan based on your needs, which is very easy. During this phase, you will also choose the size of your box to suit the appropriate head count. You can customize your meals weekly to keep things fresh and captivating from month to month. Your needs may change, and making adjustments where necessary is nice.
While ordering, you can customize various intricate details regarding your meals, like omitting ingredients or increasing/decreasing portion sizes. Anything can be altered easily, which is good, knowing some flexibility is at play here. Their Green Market allows for healthy eating all day with wholesome ingredients that won't disappoint. Your box will arrive in a moderate amount of time, ready to prepare so you can cook and enjoy it!
Shipping & Unboxing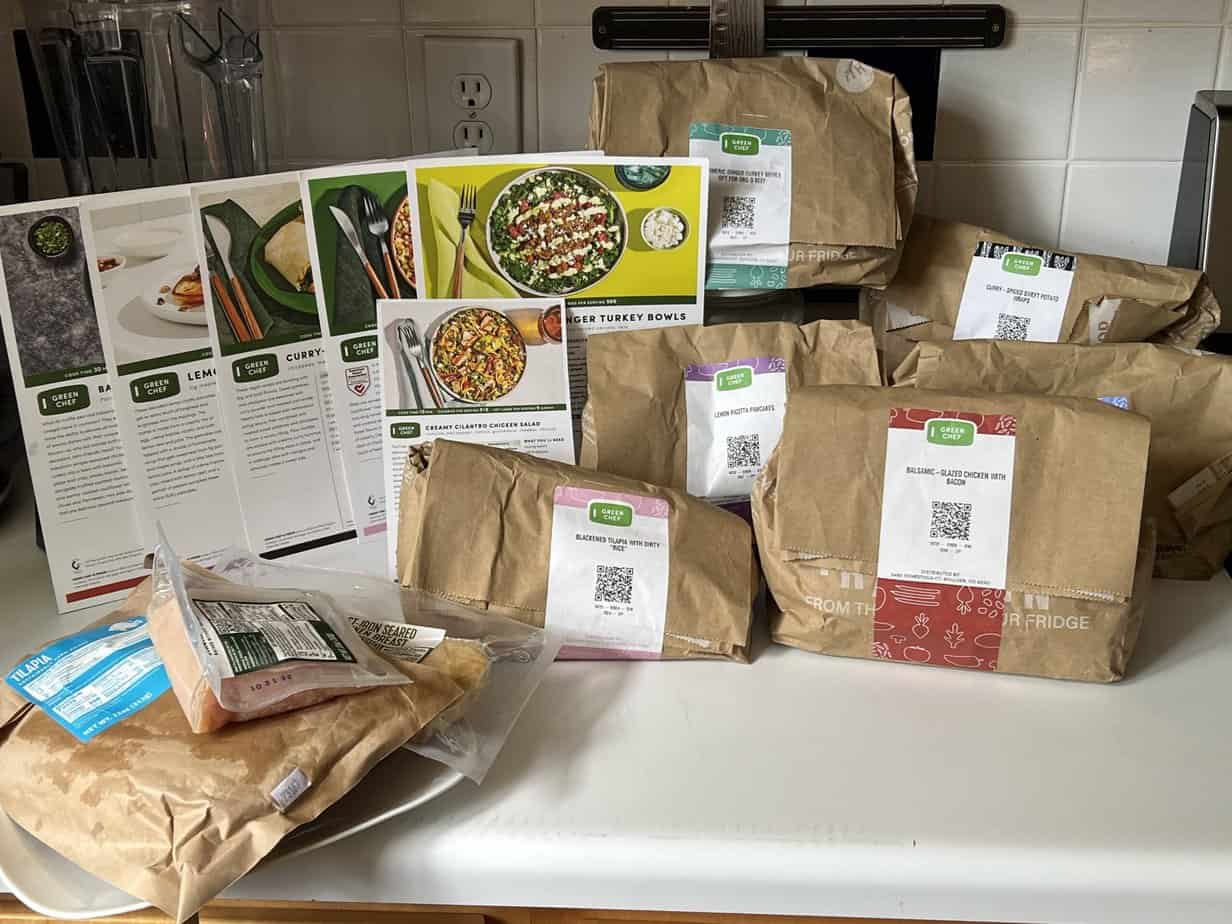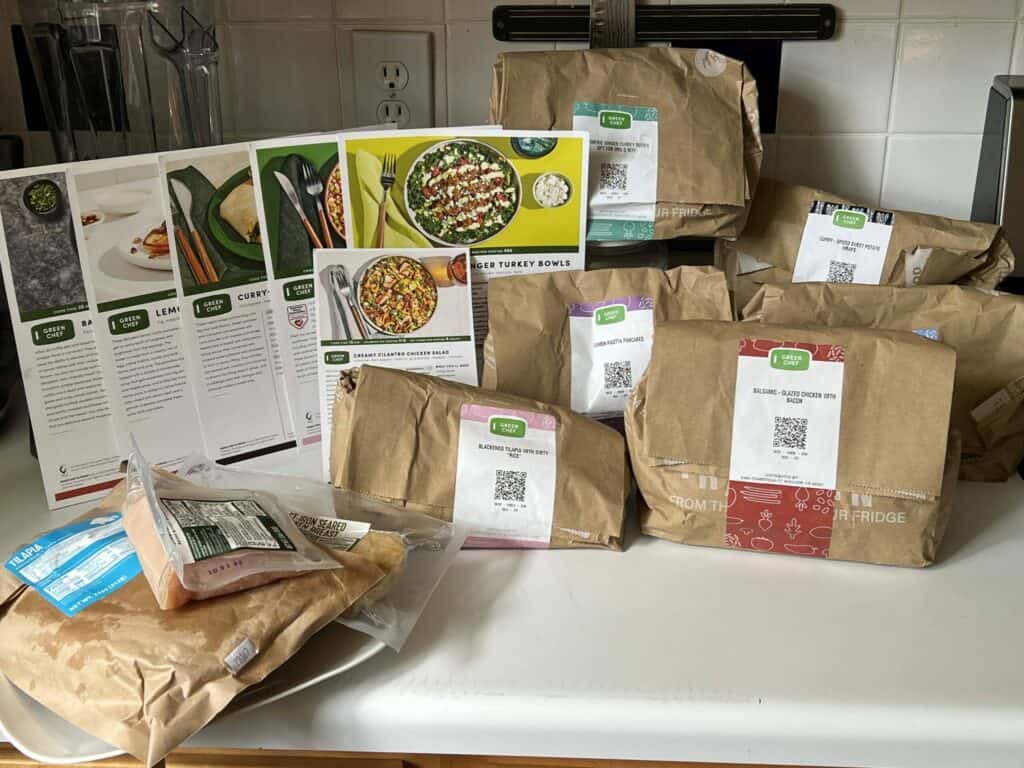 My unboxing experience was pleasant, and there wasn't anything out of the ordinary. It came in a nice, sturdy box with its logo, and everything was packed neatly for a memorable unpacking experience. Even the meats were stored separately to reduce the chances of contamination of the other foods. It was all strategically placed perfectly, so you can unbox it and start the recipes immediately.
Everything was labeled so I could see the distinct meals and select them quickly to prepare in any order. The proper cooling packs were also present, ensuring everything stayed fresh and cool during transit. Please note that while ordering, shipping will be an additional fee of ten dollars per any given order. It's probably not something anyone wants to pay, but it's worth the extra charge when you realize what you're getting and that the box was prepared with integrity.
What I Ordered & Received From Green Chef
Chili-Lime Barramundi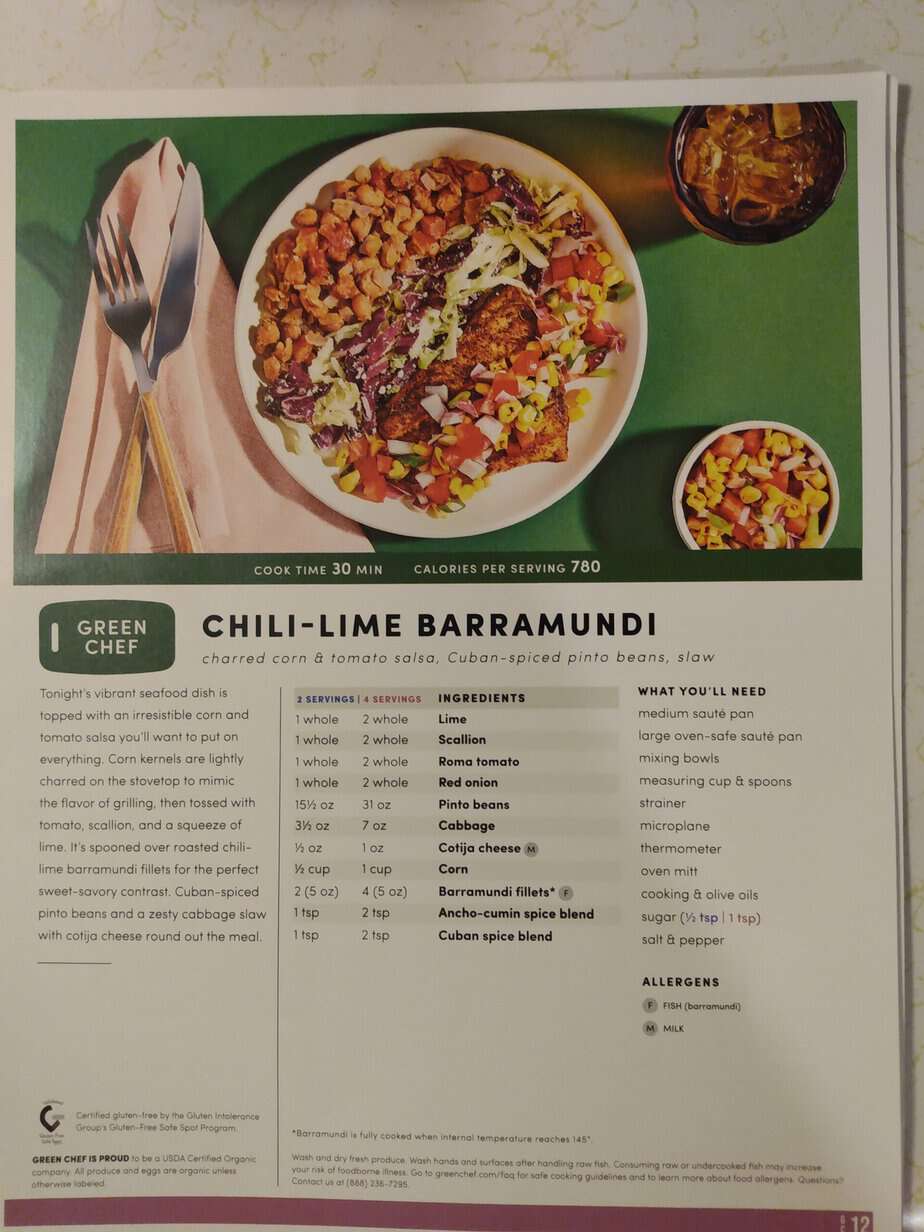 I was worried that this dish would be too fishy, but the meat was tender and savory with the perfect flavorful texture. You wouldn't expect anything less from Green Chef after trying them once. I enjoyed the corn & tomato salsa especially and couldn't get enough while drizzling it on the dish. I was particularly impressed with the healthy elements, such as the fibrous Cuban-spiced pinto beans and slaw, that made digesting easier.
This dish had a savory-sweet contrast that was to die for, and I'm not even the biggest fish lover. This meal was a pleasant surprise and would give any restaurant a run for its money because of the contrasting flavors that made it outlandishly delicious and savory with an added healthy kick. Aesthetically, this was one of the more impressive dishes, and I highly recommend it if you're a fan of seafood!
Creamy Cilantro Chicken Salad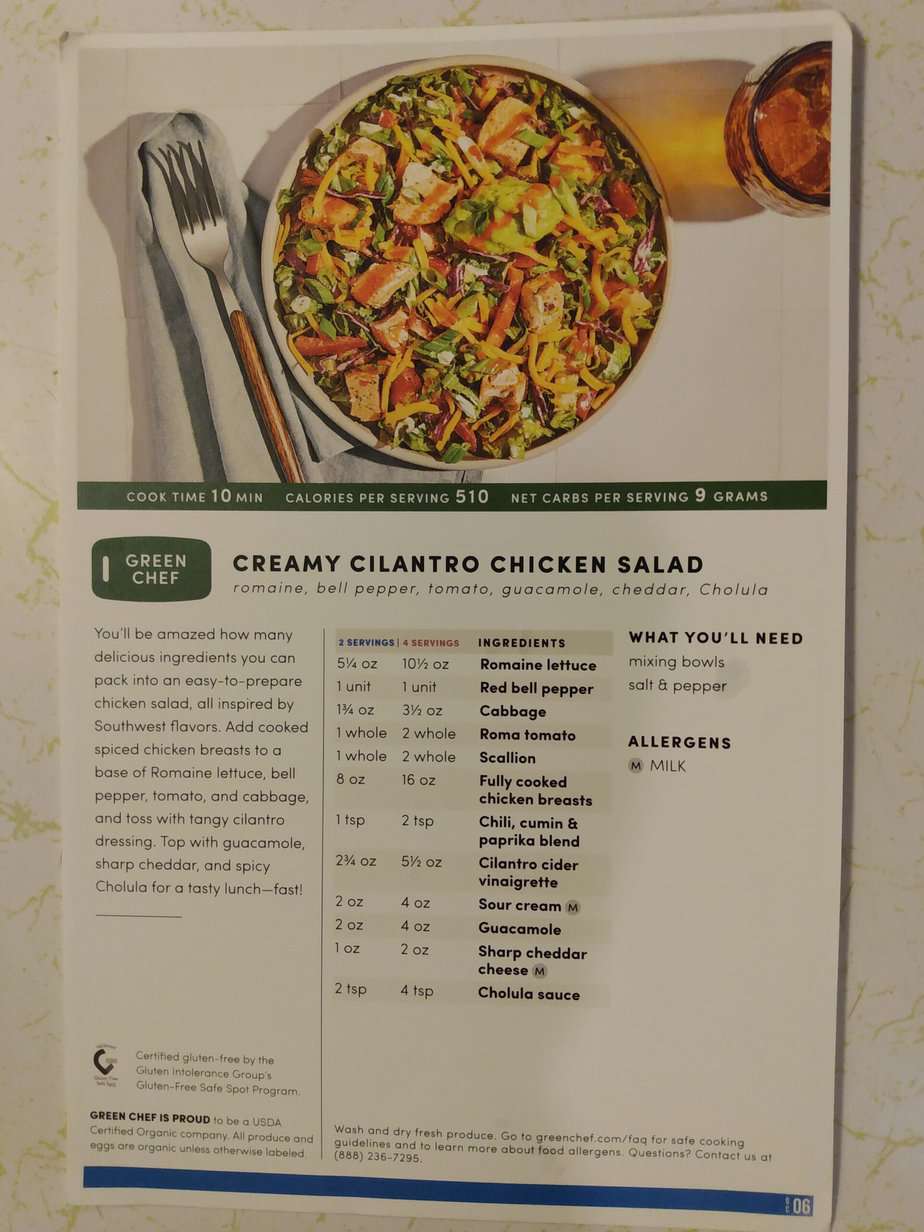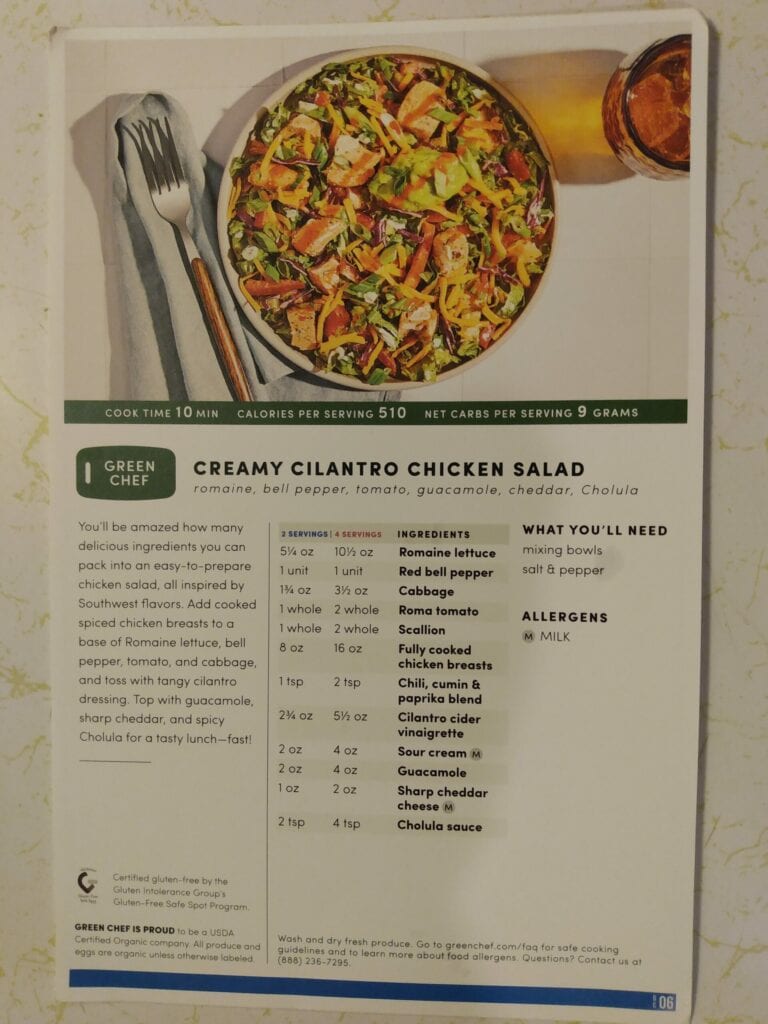 This one was like your standard chicken salad but with a flavorful punch that drove me wild with delight compared to the many other grilled chicken salads I've had in the past. It stood out with the delicious ingredients that gave it some personality, including guacamole, Cholula, bell pepper, & romaine. This was one of the easiest dishes to prepare, considering it's a chicken salad, and the meat was pre-cooked, so that was a plus.
Taste-wise, I was blown away by how satisfying this meal was for a simple dish. The flavors were inspired by the Southwest, one of my favorite types of food. The chicken breasts were tasty and full of flavorful spices that made it wonderful when paired with the tangy cilantro dressing, which caught me off guard in a good way. The toppings were a nice additional feature that brought it to life and made the perfect light lunch packed with protein!
Prosciutto, Ricotta & Kale Toasts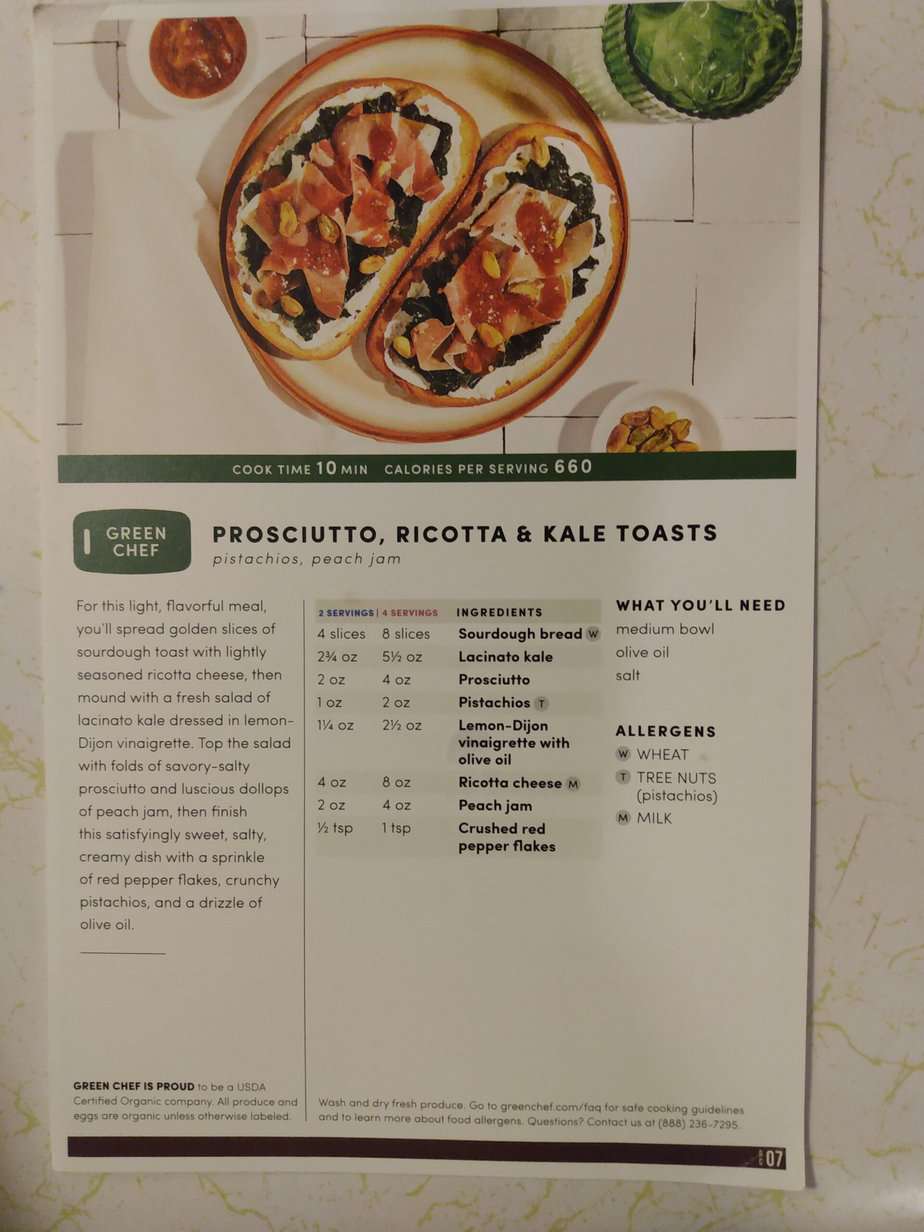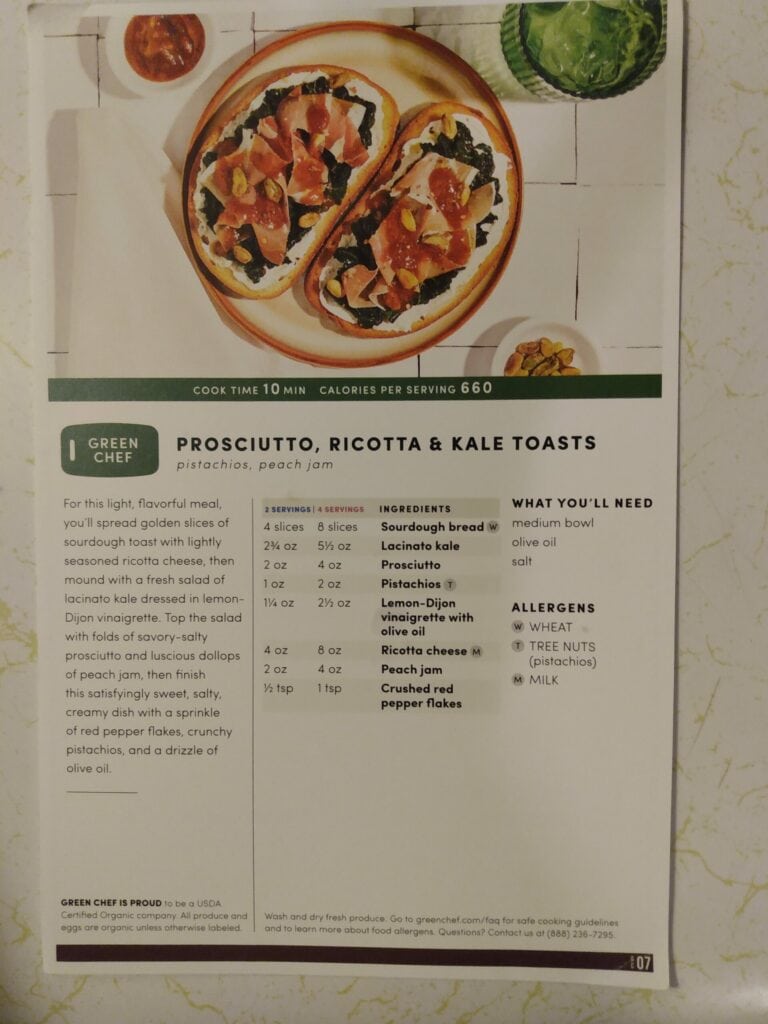 These little snacks were an extraordinary surprise with incredible flavor. Even in a room full of skeptics, i.e., my family, they were all impressed with the result of a simple toast dish that presented uncanny flavor with pistachios and a peach jam spread. These kale toasts were a lighter meal that my stomach appreciated as an immaculate snack with probiotic sourdough toast and ricotta cheese. It also had some kale on top, which I always appreciate with any meal.
The lemon-dijon vinaigrette was what enhanced the flavor profile to a considerable degree. The flavors of this dish were out of this world and indeed came as a surprise to everyone who enjoyed them, myself included. There was sweet, salty, creamy, & even slight spice with red pepper flakes and a logical olive oil drizzle. This dish made for a perfect healthy light lunch that most people would enjoy while being a keeper for pistachio lovers!
Italian Beef Stuffed Peppers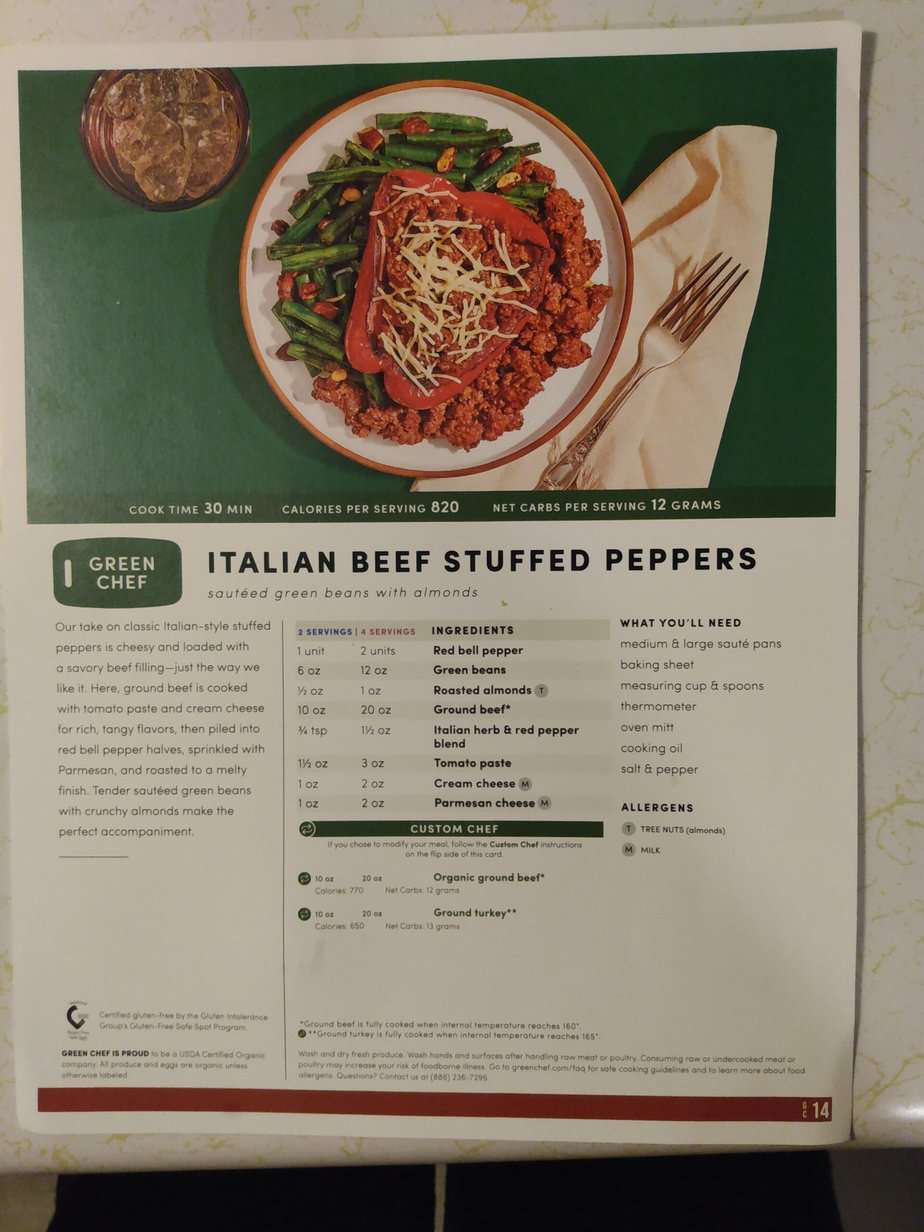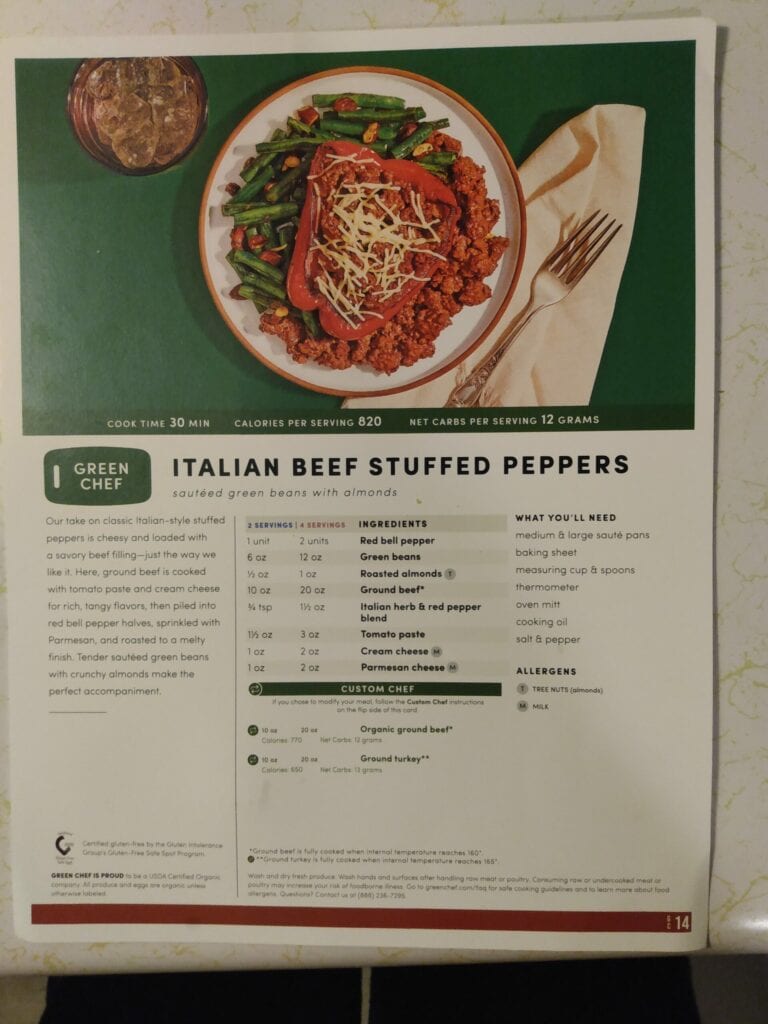 I'm a sucker for anything Italian beef, so this one was a must-have when I selected my meals from Green Chef. Stuffed peppers have always been a favorite, but these stood out as the best I've ever had, with cheesy goodness and a savory filling of beef raised right without all the hormones and foul abusive practices. The meat was specially cooked with tomato paste and cream cheese, an interesting concept I've never considered trying before.
The result was a tangy and rich flavor that was complex and full of melted cheese. Like with any Green Chef meal, you come to expect some additional healthy sides, and here I had sauteed green beans accompanied with some crunchy almonds for a fantastic contrast in texture. I couldn't get enough of this one and wanted more! It stayed true to the Italian style and over-delivered with an impeccably crafted stuffed pepper dish.
Black Bean Taco Salad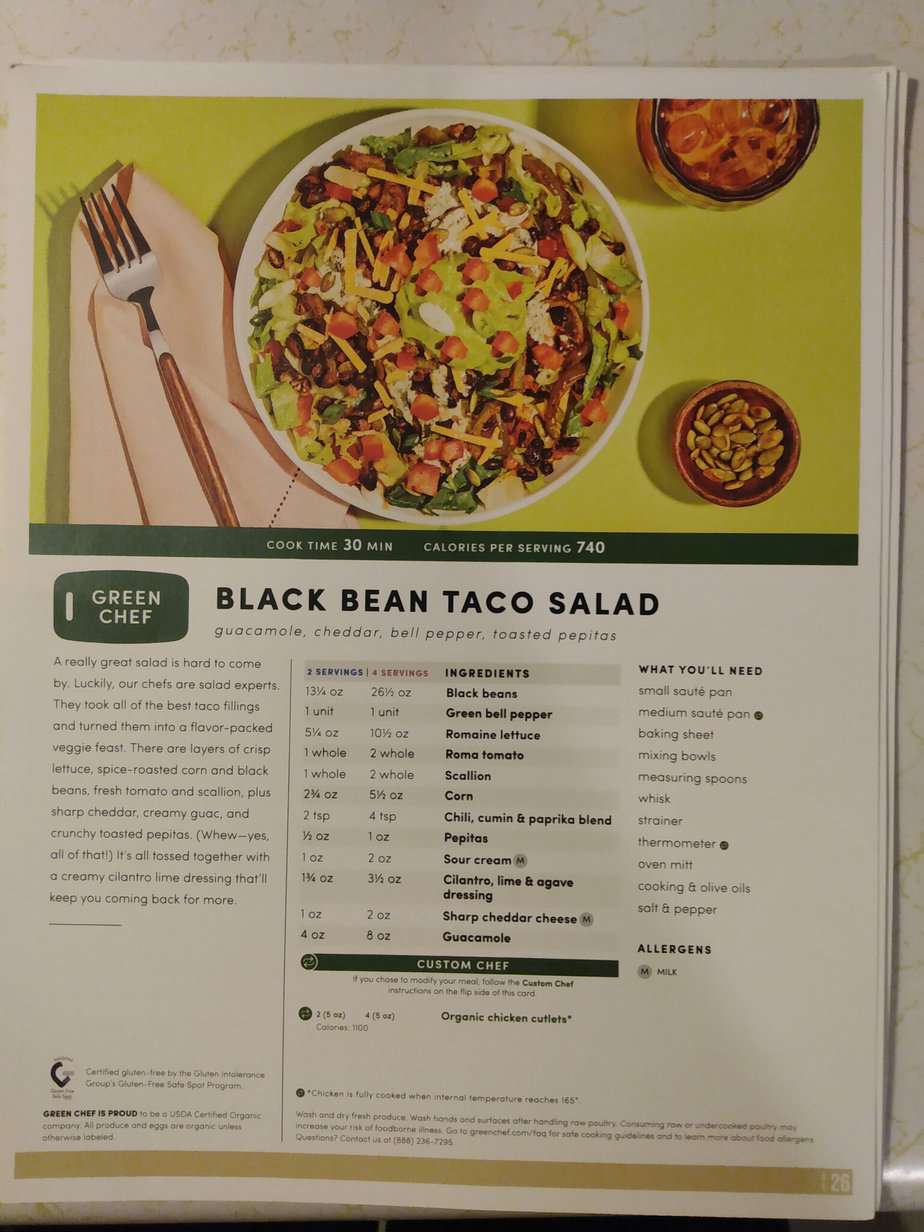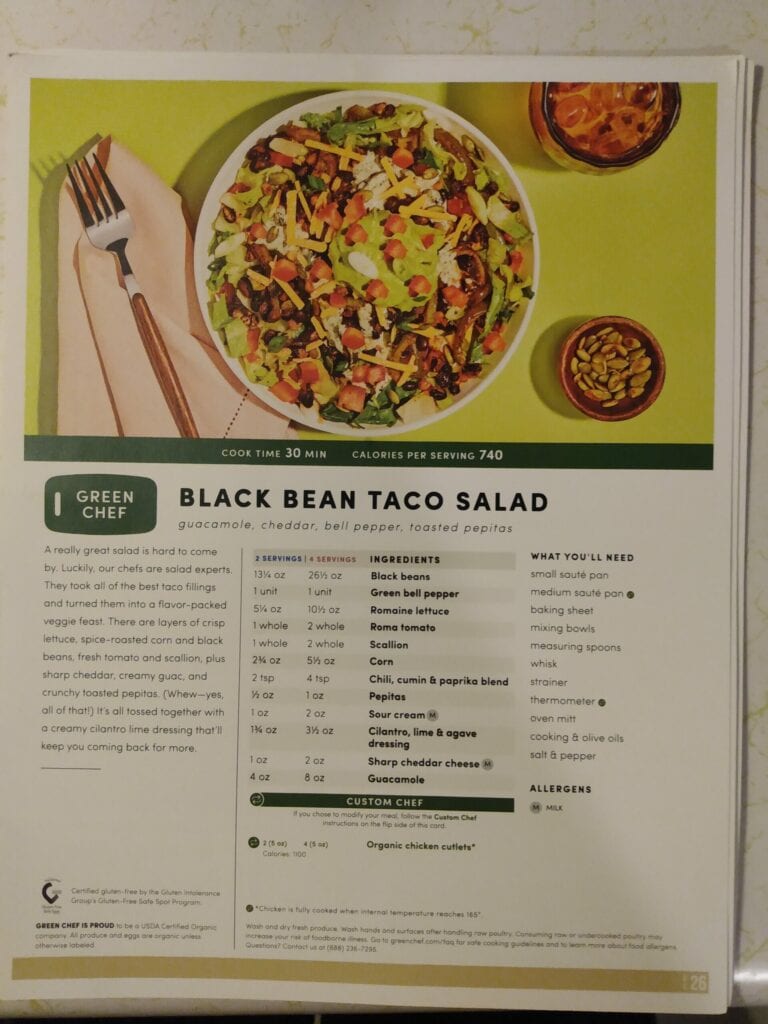 I'm over the moon for Mexican food, but sometimes the Americanized version is too salty and not the best for you. That's where this healthier black bean taco salad came to the rescue with an excellent, rare salad. All the classic taco fillings are present for a salad with a stunning taste with only veggies. You don't need meat to enjoy a good Mexican dish, as evident with this powerhouse of nutrients and beautiful aesthetic appeal.
The crunchy toasted pepitas were a nice touch, and I appreciated all the diverse textures with this salad. I tasted the creamy cilantro lime dressing with and without the meal, and it was incredibly delicious with a sweet appeal that brought the salad to life with a unique flavoring. This was one of the best salads I've ever had, and it was nice to enjoy one with no meat and the same savory results packed with protein.
Garlic-herb Chicken With Sun-dried Tomatoes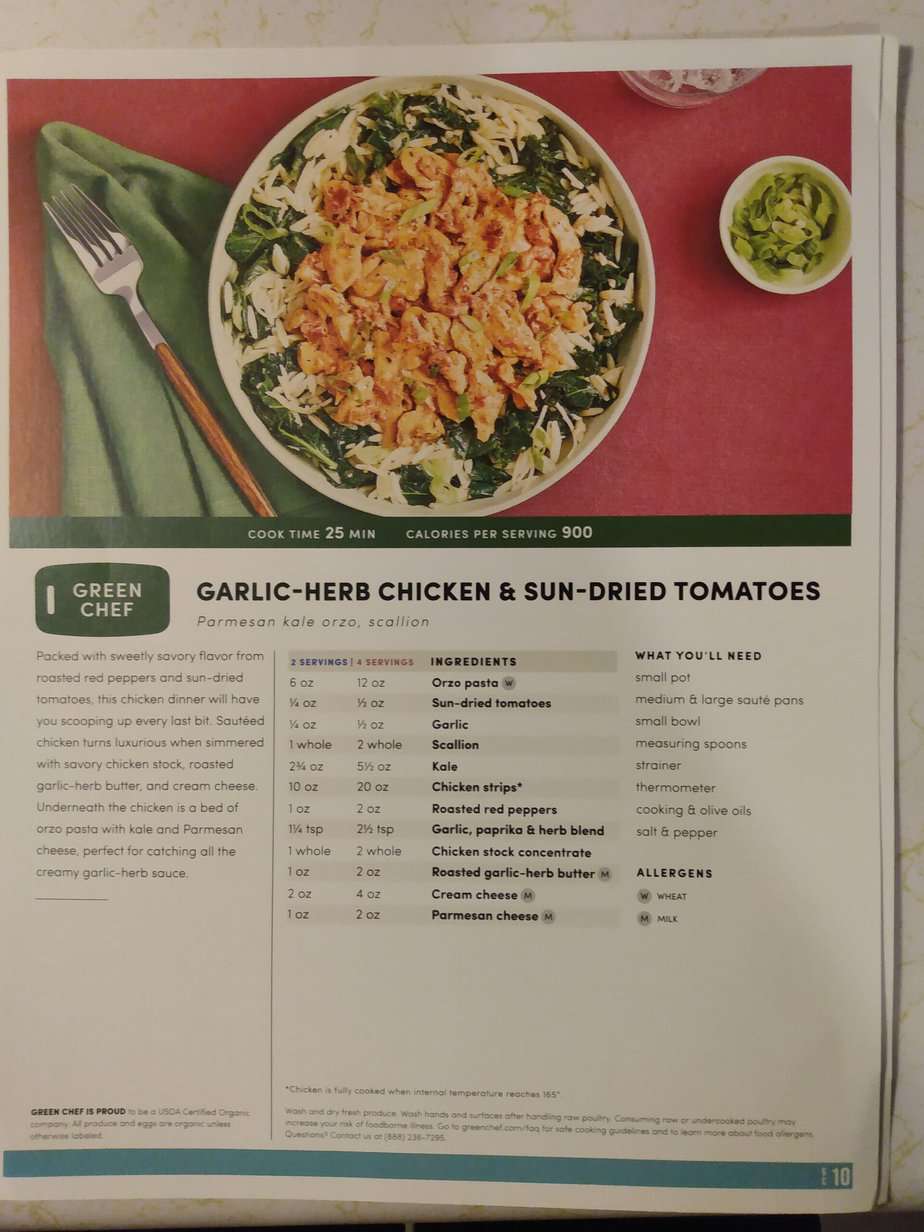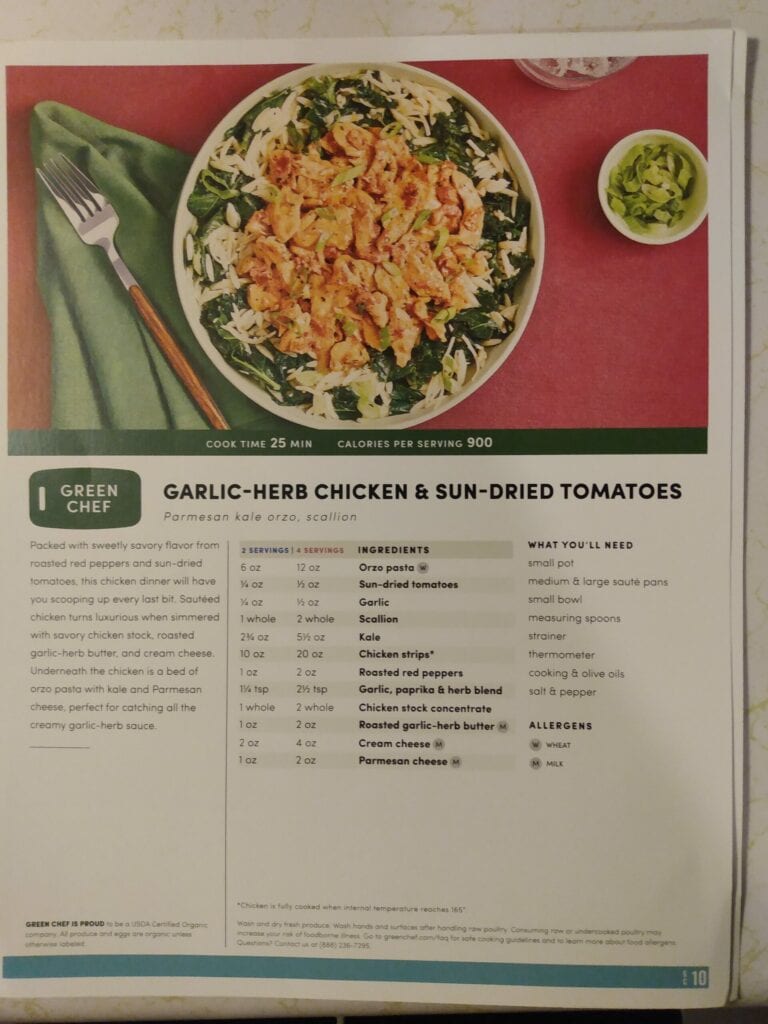 This was hands-down my favorite dish on the list because I adore sun-dried tomatoes, given their extra sweet quality. This meal was savory, with roasted red peppers and tomatoes for an exciting combination. The sauteed chicken was exemplary when roasted with other ingredients, absorbing the flavor and making it more tender. Aside from the chicken, the orzo pasta, complimented with kale and parmesan cheese, made this an exquisite dish that impressed me beyond measure.
My favorite part was the creamy garlic-herb sauce that tied it together with the prominent flavor. Anything garlic is up my alley because it's flavorful and one of the healthiest ingredients on the planet. I enjoyed the paprika & herb blend that made this meal pop even more, and every last bite was consumed. Given that I didn't need to cook meat, it took me very little time to prepare this high-class dish, and I would gladly do it again to get a taste of Heaven!
Green Chef Pros & Cons
Pros
Excellent for Gluten-Free diets
Good diversity in meal plans
Friendly & prompt customer service
Organized website & easy ordering process
Delicious meals with no guilt regarding the environment
Mostly certified organic company
Cons
An irritating shipping cost
Too expensive overall for strict budgets
Extensive preparation for each meal compared to other services
Not every single meal will be ideal, and can be overpowering
The meal plans might be hard to deliberate between
Alternative Gluten-free Meal Delivery Services To Consider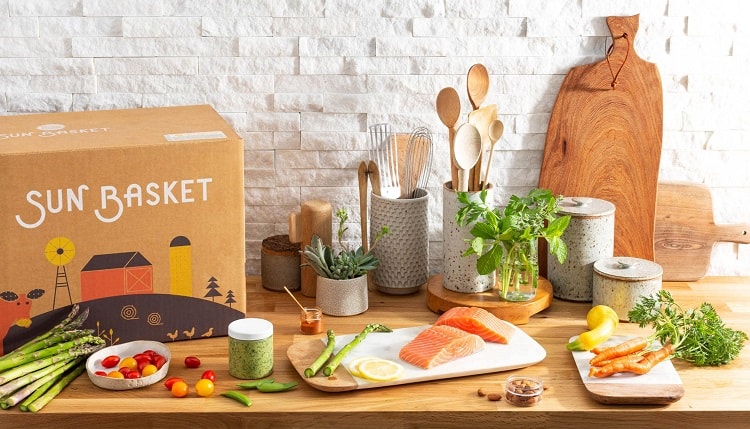 Sunbasket is another reputable meal service that focuses on high-quality, nutritionally dense food that nourishes the body and mind for the long term. The meals are accessible to all skill levels and give you many of the same healthy results as Green Chef. You may find more variety here and can explore different meals by considering it as an alternative. Organic produce & incredibly clean ingredients are the name of the game with Sunbasket, and they stand out as a viable option with great promise. You have great flexibility when choosing the meals and particular ingredients for a tailored meal kit.
Complete Sunbasket review here.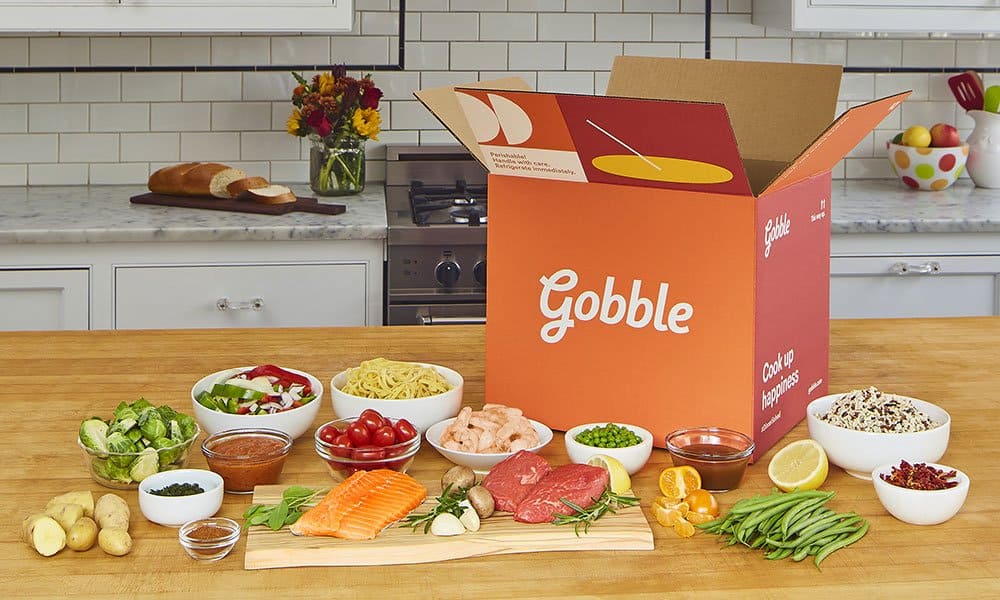 Gobble is a meal delivery service that takes pride in giving you quick meals that can be enjoyed in under fifteen minutes, slightly less than most of the meals from Green Chef. If time is of the essence, then they might be a better option when on the go, and you're feeling stretched thin. Remember that it has limited diet plans, but you will find some meals that naturally fall into specific categories. Although they do have standard plans available, they are not for all. It tastes great and is healthier than getting ingredients from the store while enjoying some delicious flavors!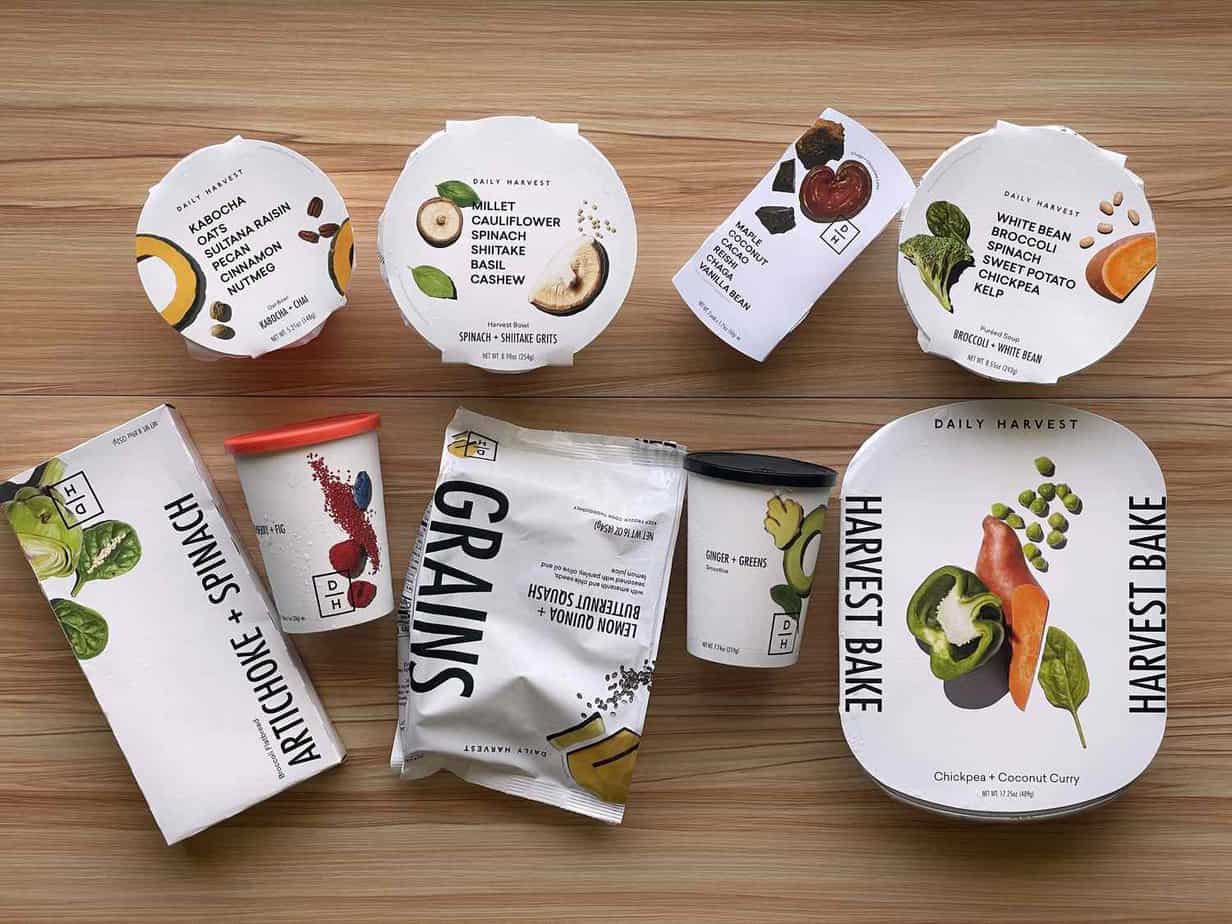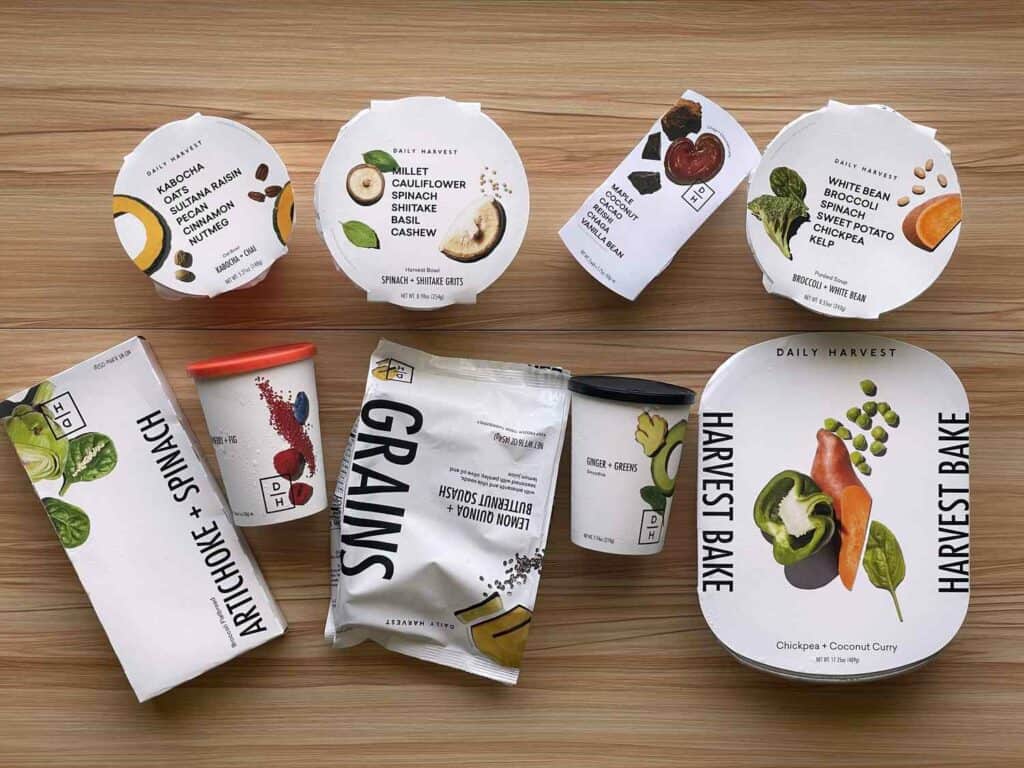 Daily Harvest is another alternative service on a mission to help you incorporate more veggies and fruits into your daily diet with sustainable results. They are straightforward to fix and are your go-to company if you're looking for smoothies, which Green Chef doesn't offer. Daily Harvest is about prioritizing the health of its customers and the planet itself. The main difference between them and Green Chef is that they are entirely plant-based and focus solely on every meal with delicious foods powered by plants and harvest bread, snacks, veggies, flatbreads, and much more.
Frequently Asked Questions
Question: Is Green Chef a Gluten-free service?
Answer: Green Chef is safe if you adhere to a gluten-free diet and is an excellent alternative to shopping at the store. They have many tasty options that mitigate shopping factors and give you new tastes with pure foods harvested as they should be with no shady business. You can count on Green Chef to provide gluten-free foods that will keep you healthy and satiated without the stress of weighing many options.
Question: What makes Green Chef extraordinary compared to the rest?
Answer: Green Chef stands out because of their Gluten-free foods' supreme quality and taste. They operate with integrity and have an excellent online reputation if you're sensitive to gluten or want to make things easier when cooking at home. They are among the best because they have excellent customer service and delicious meals. The ingredients are mostly organic, and they will let you know if something isn't and provide a suitable substitute. Green Stands out because California Certified Organic Farmers accredit them.
Question: Can I pick my gluten-free recipes?
Answer: Yes. With around ten gluten-free options per week, you can pick the ones that suit your taste better than others and be selective during the process. It's a flexible service allows you to deliberate between options and try new flavors to help you establish which ones are your favorite for the long term. Having the ability to choose is important with any given meal delivery service, and Green Chef delivers each week with fresh options that will make you feel more accommodated overall when selecting your gluten-free meals.
Green Chef Verdict: 9/10 A Higher-quality Gluten-Free Service For Conscientious Eaters
Now you understand why Green Chef is an excellent choice for various diets, especially the gluten-free lifestyle. It's about becoming more conscientious about what you consume, and they will help you every step towards wellness. Undoubtedly, it's much better for you, and you'll feel the results in your daily routine.
I'm confident you will enjoy the rich flavors because the chefs here care about the final result. The ingredients are well-known to have substantial nutrients and may help to address some deficiencies if you haven't been getting enough. They stress plants and cook excellent meat, opening them up to a broader customer base and making them more versatile.
Each meal I tried had an elegant appearance when prepared correctly, giving unique textures and flavors that constituted a satisfying experience. Of course, everyone's taste is different, and many meal kit services are on the market. It's your job to bite into them and see the results of gluten-free meal delivery services. I guarantee you'll be impressed with Green Chef compared to other services, and it's worth the more profound price. Suppose you want to take your health to the next level without suffering regarding flavor and preparing food. In that case, this is the most suitable option with the exceptional online reviews! Check out Green Chef today. If you found this article compelling, you won't regret it!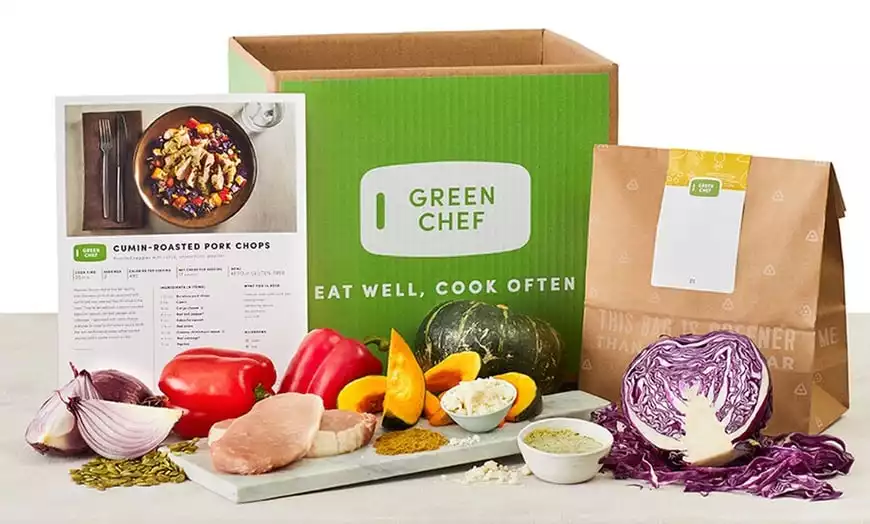 Why Go With Green Chef?
Green Chef is a meal kit service that delivers boxes filled with fresh ingredients on a weekly, biweekly, or monthly basis to make chef-curated meals. Diet and allergen friendly options, are one of the reasons I love Green Chef.
Choose Your Plan
$250 Off for Cyber Week Here
We earn a commission if you click this link and make a purchase at no additional cost to you.
Continue reading:
Green Chef vs Sunbasket Compared
Green Chef vs Instacart Compared
Misfits Market vs Imperfect Foods Compared: Which One Should You Use?