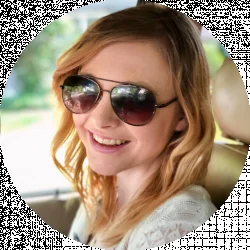 Latest posts by Erin Jamieson
(see all)
Blue Apron was ranked among the most popular food delivery services, and it seems like this year would be a good one for the company. Even without the pandemic, food delivery services were projected to grow– and now, collectively they'll likely reach a worth of $11.8 billion in the U.S. alone. But 2021 has been a hard year for Blue Apron, leading many to ask how to cancel the service and what to replace it with.
On September 15, 2021, co-founder Matthew Salzberg resigned. That was likely in response to a floundering company. At its peak, between 2015 to 2016, Blue Apron boasted over $1 billion net revenue. Five years later, it was making just $2 billion in revenue and had slashed its employees– as other kits rose above them.
Blue Apron initially attracted customers through offers for free trials. The problem? Upwards of 75 percent of customers canceled within six months. Some experts say the demand for meal kits has been exaggerated– and that competition is what has hurt Blue Apron so much.
But one takeaway? Many customers weren't convinced to stay subscribed to Blue Apron. On Consumer Affairs, Blue Apron earned a meager average of 2.7 out of 5 stars.
If you're one of those customers who are displeased with Blue Apron, this is the article for you. I'll tell you a little about Blue Apron's current situation, how to cancel your subscription, and my recommendations for the top 3 meal delivery companies to replace it with.
What is Blue Apron and how does it work?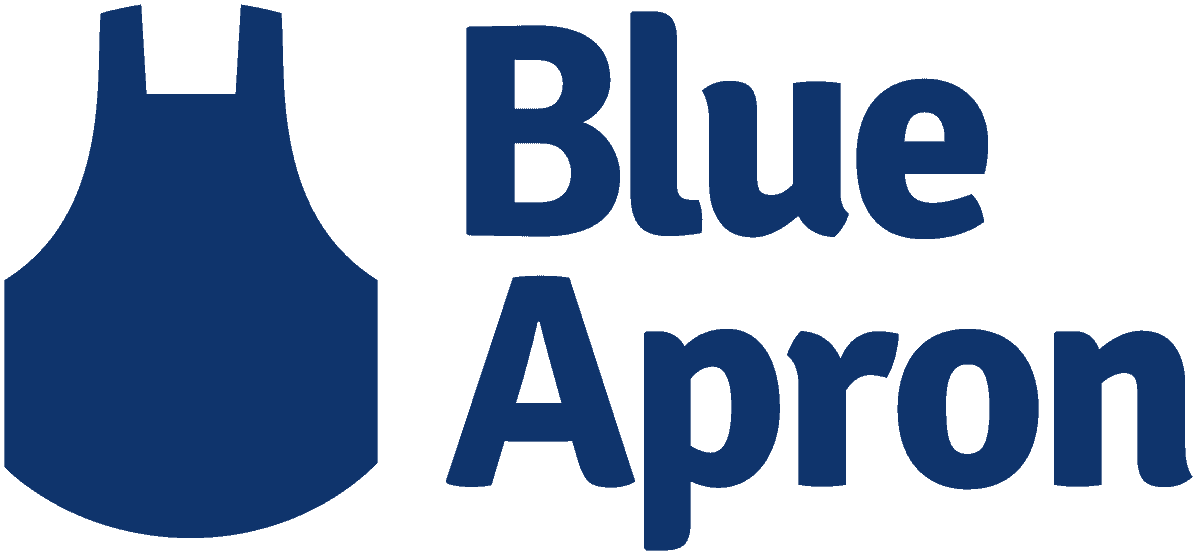 If you're reading this, chances are Blue Apron doesn't need much of an introduction. Blue Apron, like many of its competitors, sends you fresh ingredients and instructions for different meals. Customers choose their meals for that week and then are given all they need to make meals within 30 to 45 minutes. The problem? Many other companies offer a similar service– and Blue Apron is hurting from poor management.
Is Blue Apron in trouble?
Blue Apron may have a glimmer of hope. The pandemic gave Blue Apron a lifeline. Knowing that Americans may be more willing to spend on meal kits as restaurants shut down, Blue Spring changed its strategy. Instead of trying to appeal to new customers, Blue Apron committed more narrowly to what they call "core customers." Yet, even without their new approach, they may still reap benefits: in the second quarter of 2020, the company gained 20.000 new customers.
Recipes were simplified and scaled back. Customers can now order many boxes per week. They are now also expanding into frozen food options. This– and maybe mostly the pandemic–shows an opportunity for Blue Apron to turn things around. Sales soared 400 percent between March and April 2021, despite the still-short staff.
What's unclear is if these changes will pay off and remain– or if the pandemic boost is keeping them on the upswing. While the situation appears hopeful for Blue Apron, they'll need to overcome lackluster customer reviews and continue to improvise to meet consumer needs.
Why is Blue Apron sold out?
One problem Blue Apron is facing, however, is not unique. Some of their meals are sold out. The reason is that companies are struggling with shipping and the ability to acquire and store ingredients during disruptions still ongoing from the pandemic. That means fewer options at times for customers.
How do you cancel Blue Apron?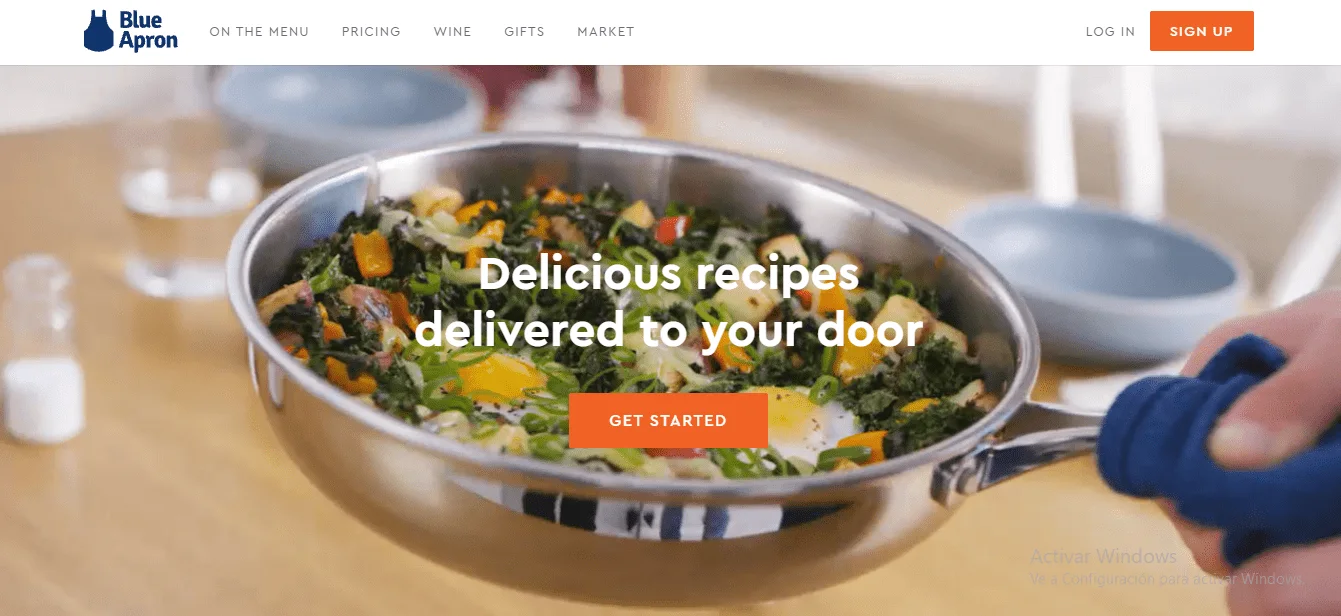 Looking to change services? Blue Apron allows flexibility for canceling, but it's important to do it correctly.
Can you cancel Blue Apron anytime?
The good news is that if you aren't happy with your Blue Apron service, you can cancel any time before your next delivery. Meals are automatically sent weekly unless you opt to cancel or skip a certain week. If you cancel after your account says "Order Processed" or "Shipped" then you are subject to all fees, including taxes and shipping.
How do you skip a Blue Apron shipment?
To skip a single Blue Apron week or weeks, head onto your Account Settings. After you sign in, you should see upcoming orders. From the account tab, you make changes to all shipments before they've been processed. Check the Upcoming page to see the current order status and what shipments can be canceled.
How do you cancel a Blue Apron account?
If you don't want to receive any shipments again, then you can cancel your account completely. To do so, email [email protected]. From there, you'll be sent specific instructions to cancel. I'd prefer a simple email to be enough to cancel, but that's Blue Apron's process.
Are services like Blue Apron worth it?
If you had a less than stellar experience with Blue Apron, or if you're looking for a meal kit for the first time, you may wonder whether services like Blue Apron are worth it. The truth? It depends–both on the meal subscriptions you select and what you hope for out of a meal subscription service.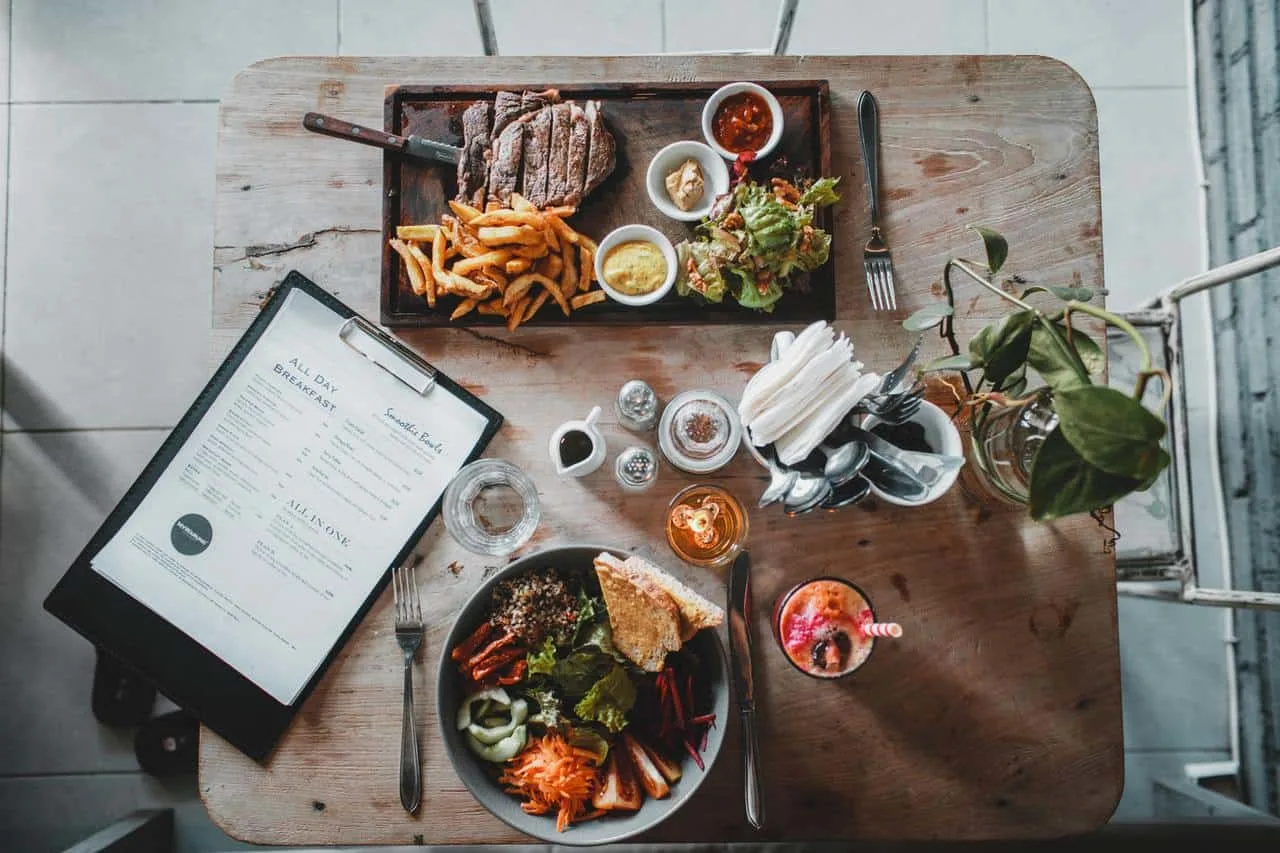 Are meal subscription services worth it?
Meal subscription services, on the whole, aren't going to save money. If your main goal is to save money, they may be a bit cheaper, of course, than eating out every night. But compared with groceries, they're more expensive. This only makes sense, as you're paying for a service, convenience, delivery, and recipes, as well as prepped ingredients.
The upside is that meal subscription services are convenient, often (not always) healthier than eating out, and teach you new recipes. They may expose you to flavors or tastes you haven't tried and may even improve your culinary skills.
At their best, meal subscriptions are fun, handy, and helpful. At their worst, they're a headache when customer service is poor.
What food delivery services should I avoid?
Selecting the best food delivery service is important. Some of that is due to personal preferences, such as budget and cuisine types. But the truth is that many advertised meal subscriptions have a history of poor customer service. Poor service can kill any pluses of a food kit. Many companies started with a great reputation– but have since dwindled.
Sadly, if you check in with the Better Business Bureau, several have C- to failing ratings based upon official complaints. These include Home Chef, Gobble, Marley Spoon, Snap Kitchen, Veestro, and Dinnerly. I would recommend against any of these for now, until or unless they can improve their reputations.
What other factors should I consider?
Much of what you decide upon is also due to personal taste. That is, what do you want or need in foodservice? Some offer robust, hearty meals, while others are more focused on healthy eating. Some are focused on delivering to families, while others may be more friendly for smaller households. Make sure you look at sample meals they offer– and understand the fees including shipping and handling, taxes, etc) that you'll be subject to.
Best Blue Apron Alternatives
Here are my top three recommendations for meal delivery services to replace Blue Apron with. These three have amongst the best reviews and reputations in the industry– so you can feel more confident about your experience. Each of these three alternatives offers something unique in terms of service and cuisines, and each deserves a spot. I've checked into customer experiences, but also considered variety and value per price point. These are not ranked in order– what you decide upon will be due to personal preferences.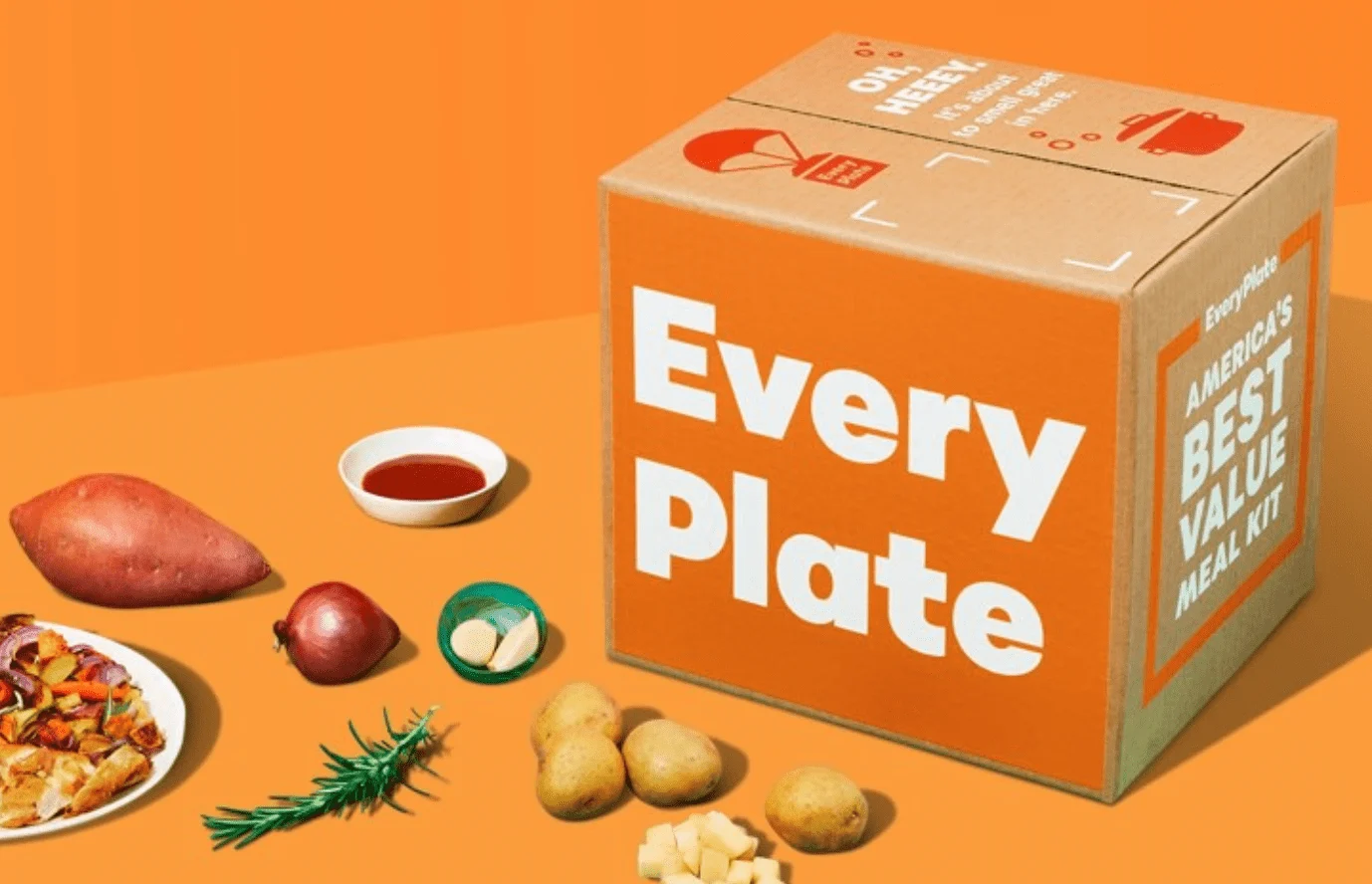 Have a picky family? EveryPlate is one of the best meal delivery services for crowd-pleasing, classic American cuisine. Each features hearty but colorful ingredients, with comfortable flavors that make it a go-to for busy families. On TrustPilot, EveryPlate has an average of 4.1 out of 5 stars, and an average of 4.3 out of 5 stars based upon consumer reviews. This family-friendly meal service has been praised for its affordability, and quick recipes you can make in 30 minutes or less.
How does EveryPlate work?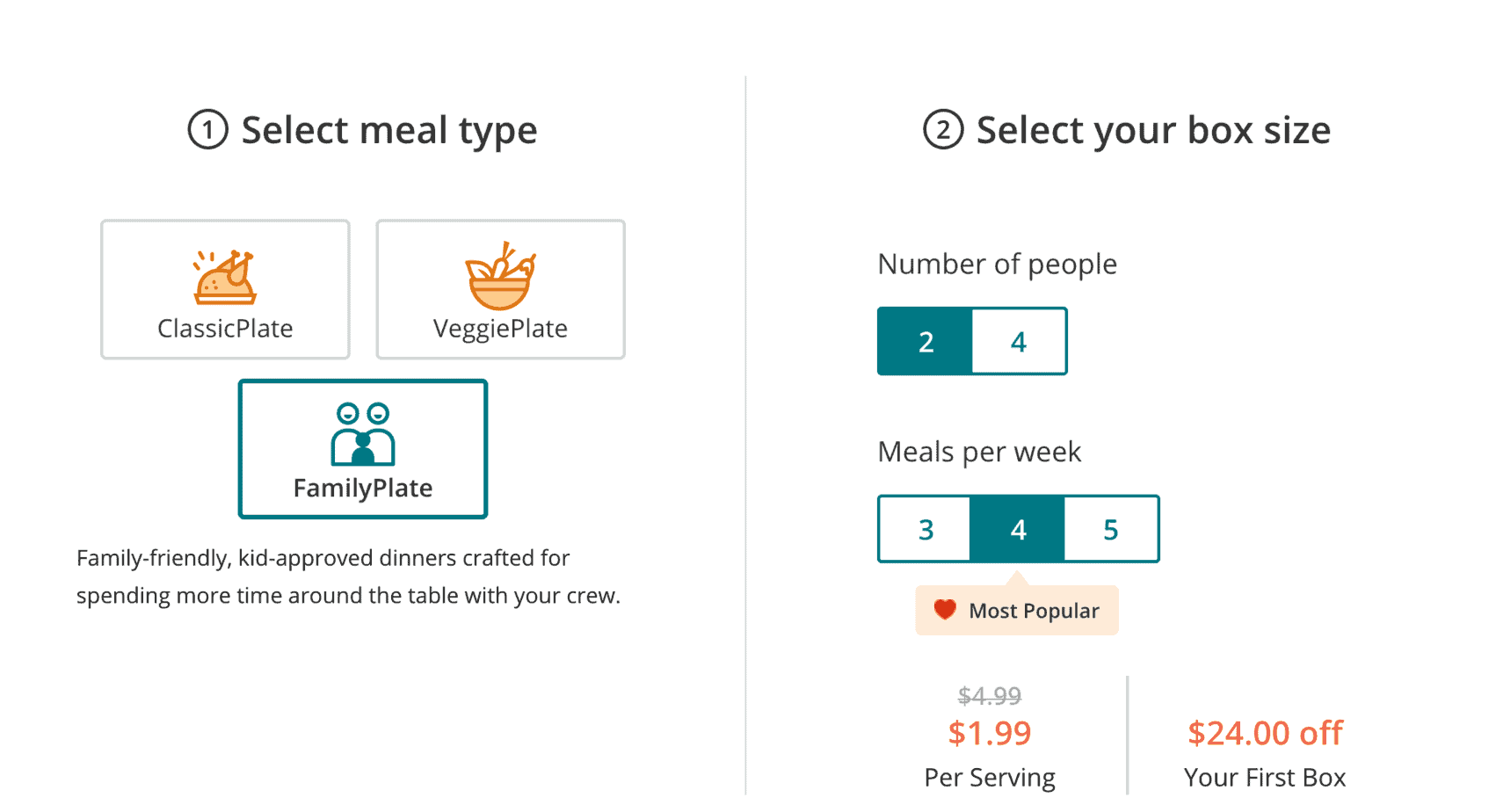 EveryPlate allows you to select from 16 meals every week. Since the meals change every week, you'll have the chance to customize and find new recipes so you won't get bored. You'll start your plan by selecting a meal plan type (classic, family, or vegetarian), the number of people in your household, and several meals per week. You can cancel any week you like– otherwise, meals will be delivered weekly, based upon your indicated frequency.
How does EveryPlate delivery work?
Ingredients can stay fresh for up to 48 hours, so you don't have to be home for deliveries. All boxes are recyclable and you can track your package online. You can change delivery dates 5 days ahead of the next delivery.
How much does EveryPlate cost?
EveryPlate is considered not the cheapest, but one of the more affordable meal delivery kits. Each plan offers options for 2 or 4 servings per box, with a frequency of 3, 4, or 5 days a week. All plans cost $4.99/ serving, with a discount rate of $1.99/ serving with your first order. This equates to a total discount of $18 to $30 off your first order, depending on the box.
What kinds of meals does EveryPlate offer?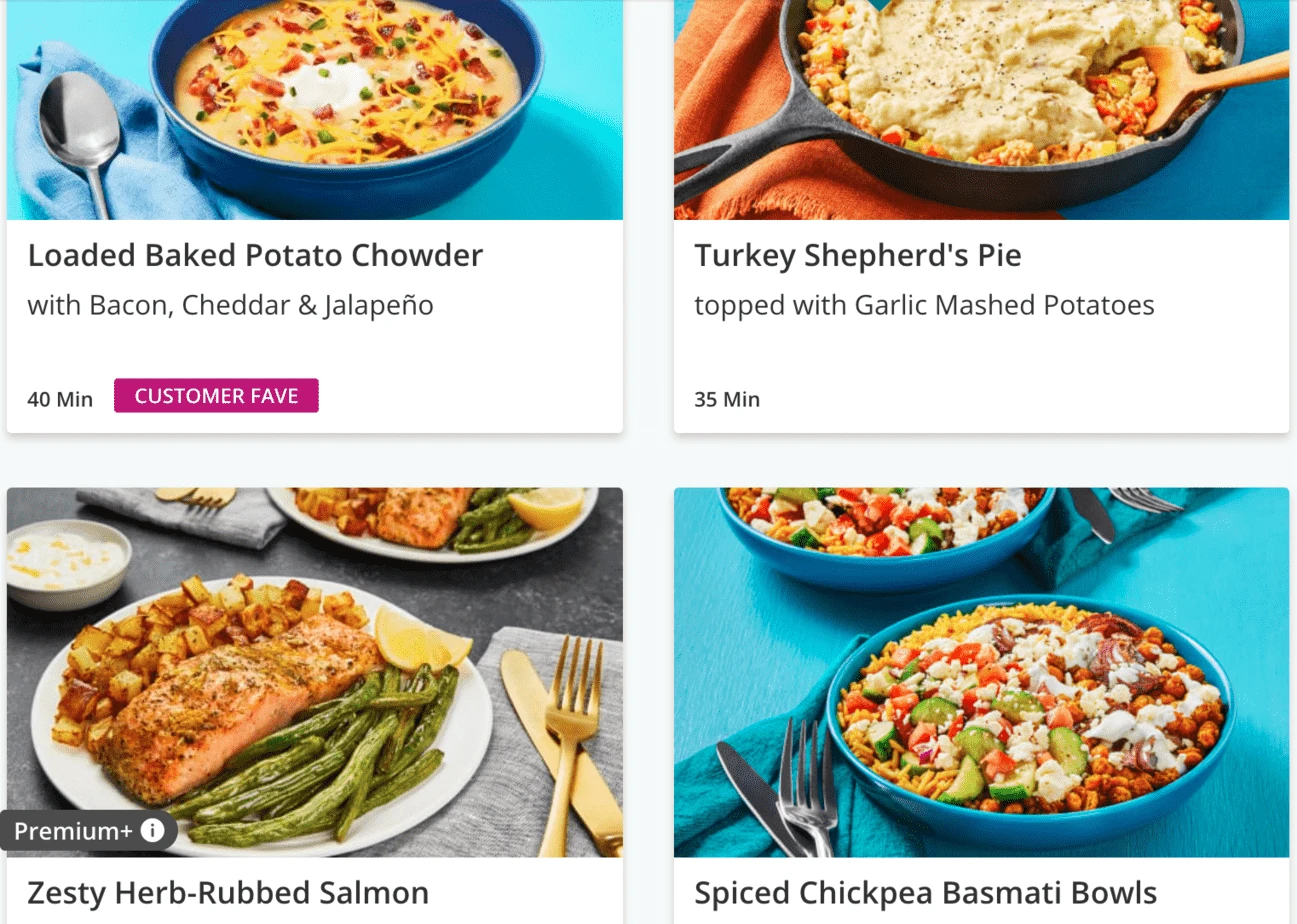 EveryPlate offers American classic meals, both with meat and vegetarian options. They don't have any meals for special diets yet, but every meal comes with downloadable nutritional facts and ingredient information. You can preview their current weekly menu to get an idea of what meals they offer. They do not carry gluten-free or vegan options.
Pasta dishes, burgers, steak and potatoes, tacos, chowder, sandwich melts, veggie bowls, and simple meat dishes are par for the course. Most dishes have a reasonable balance of protein, carbs, and produce. They aren't especially creative, but more 'comfortable' dishes.
How do you cancel EveryPlate?
If you decide that EveryPlate isn't right for you, you can cancel at any time. You will be responsible for any shipments coming within 5 days. Log into your account. Under "Settings," scroll down to "Deactivate Your Plan." You'll be asked to confirm a second time.
How do I get started?
To get started, choose your EveryPlate plan here.
Best Healthy and Fast: Freshly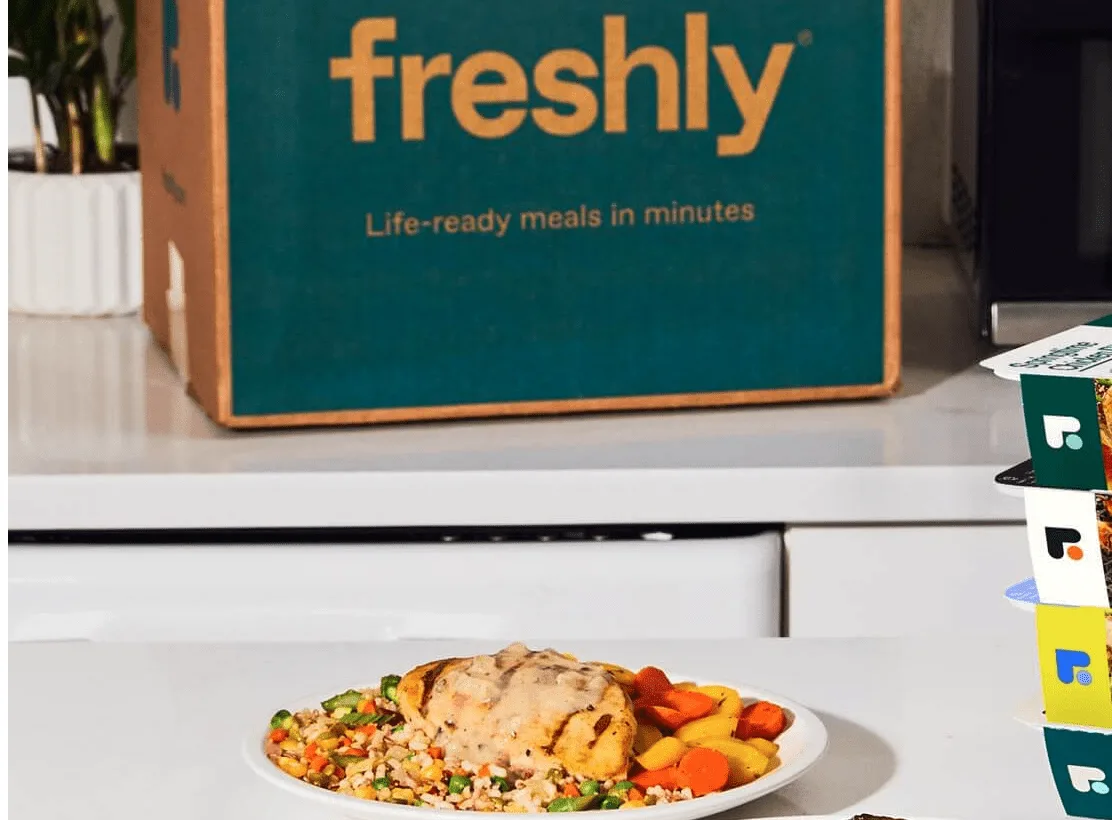 Freshly is one of the most popular meal delivery services, and a great alternative to Blue Apron. With an A rating from the Better Business Bureau and an average of 4.5 out of 5 stars, this highly-rated meal service is a great option to consider. Fully prepped meals means less cooking– and ready to serve, but fresh, customized meals within minutes.
How does Freshly work?
Order meals via their website or the Freshly app. At any given time, you'll be able to select from 30 or more meals from a rotating menu. Those meals were prepared and fully cooked. Once they're delivered, most meals can be heated up under 5 minutes. You can also cancel weeks and pick meals based on special dietary needs.
How does Fresh delivery work?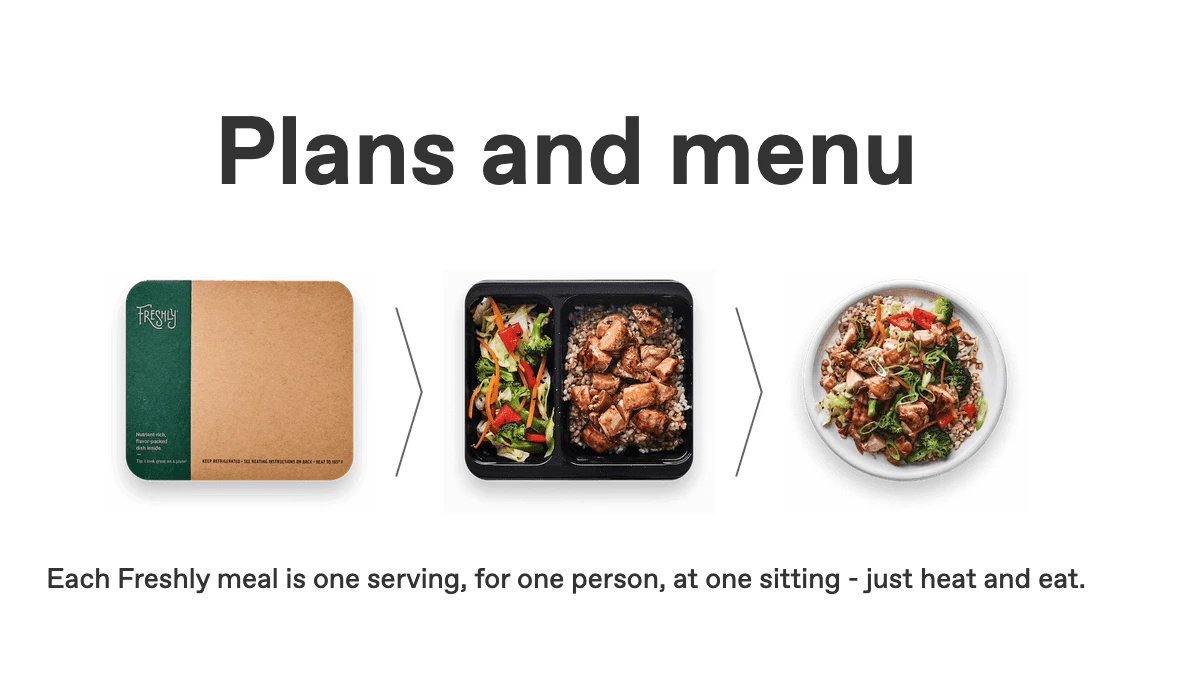 Each shipment does add a small shipping cost– which is not included in the price per serving. You can select days of the week that work best for you. Meals can last up to 3-5 days in the refrigerator, and always must be heated up– but don't require other prep work. Special atmospheric packaging ensures that deliveries stay fresh without refrigeration for an impressive 60 hours. All of their boxes, metal containers, and cardboard sleeves are recyclable.
How much does Freshly cost?
Freshly doesn't have meal plan types. Instead, plans are priced by the number of meals per week. I like that they provide estimated total costs as well. Note that each meal is a single portion, except for shareable-sized proteins. To determine how much you need for your household, you'll want to look at the size of the meals you select. The biggest downside to Freshly is figuring it out– and also, it's a little pricey.
| | | | |
| --- | --- | --- | --- |
| Meals Per Week | Base Cost | Est. Shipping | Total (Per Week) |
| 4 | $47.16 | $6.99 | $54.15 |
| 6 | $59.94 | $6.99 | $66.93 |
| 8 | $75.92 | $8.99 | $84.91 |
| 10 | $92.90 | $10.99 | $103.89 |
| 12 | $107.88 | $11.99 | $119.87 |
What kinds of meals does Freshly offer?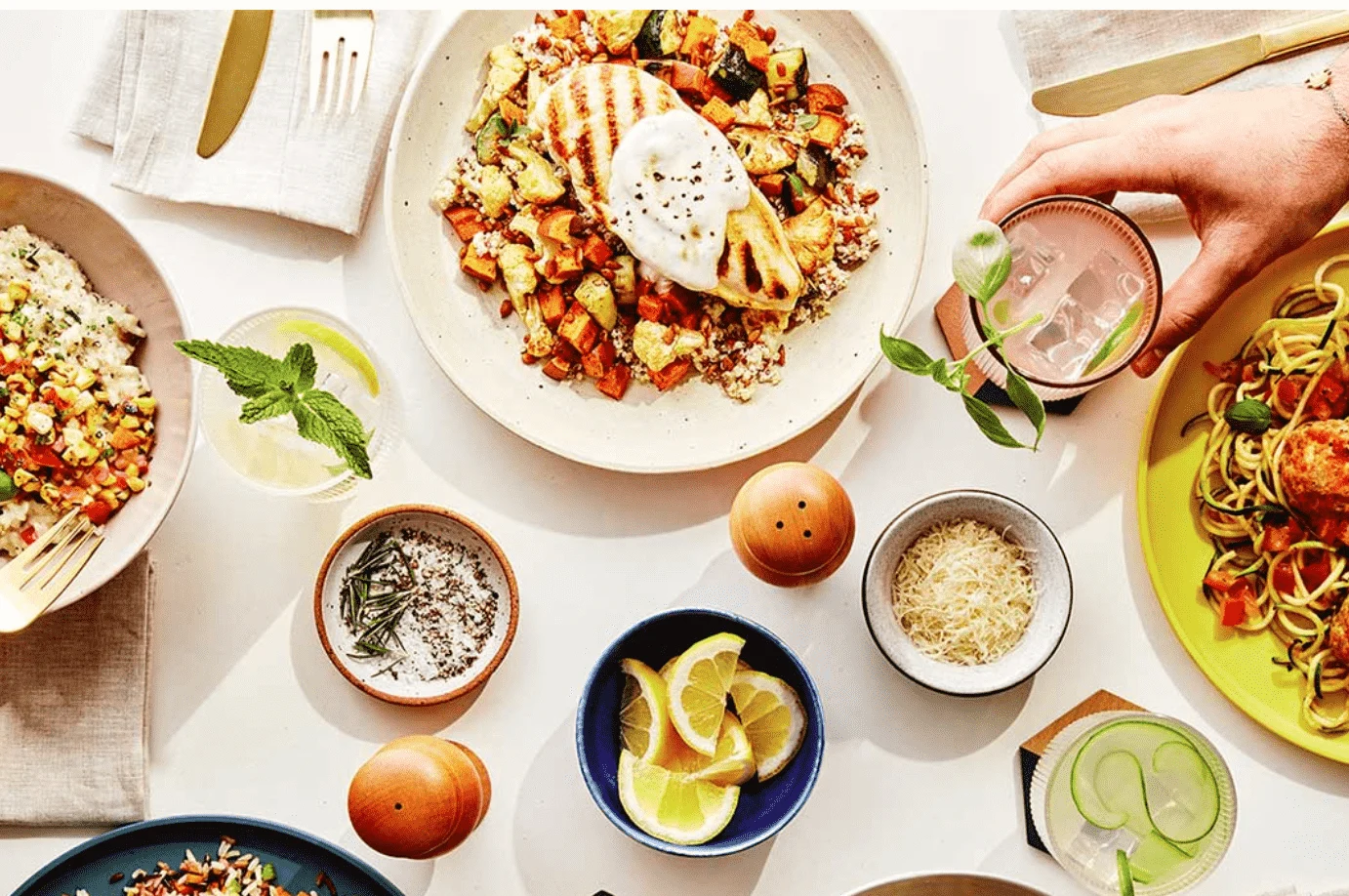 The good news is that Frehley offers a rich variety of vibrant meals. While you can't select a plan purely based upon dietary needs, they do include some options for gluten-free and vegetarian. You can view their current menu to get a sense of what types of meals they offer.
You'll find American comfort food classics, such as steak and mashed potatoes, buffalo chicken, and hearty stews– but even these are well balanced and have bright, fresh, and slightly healthier variations. You'll also find Mexican and Asian dishes, as well as a few other cuisines, including Italian and Greek. Examples of vegetarian dishes include lentil pasta and veggie meatballs. They have a few fish dishes, but the majority of dishes are well balanced but meat-based.
Meals have lower sugar, less processed ingredients, and more produce than the average meal delivery service.
How do you cancel Freshly?
You can cancel Freshly by logging into your account. Select "Cancel Subscription" under "My Subscription." From there, you'll simply be asked why you're canceling and be good to go.
How do I get started?
You'll need to create a new account by entering your email address and zip code. Join Here.
Best For Plant-Based: Mosaic Foods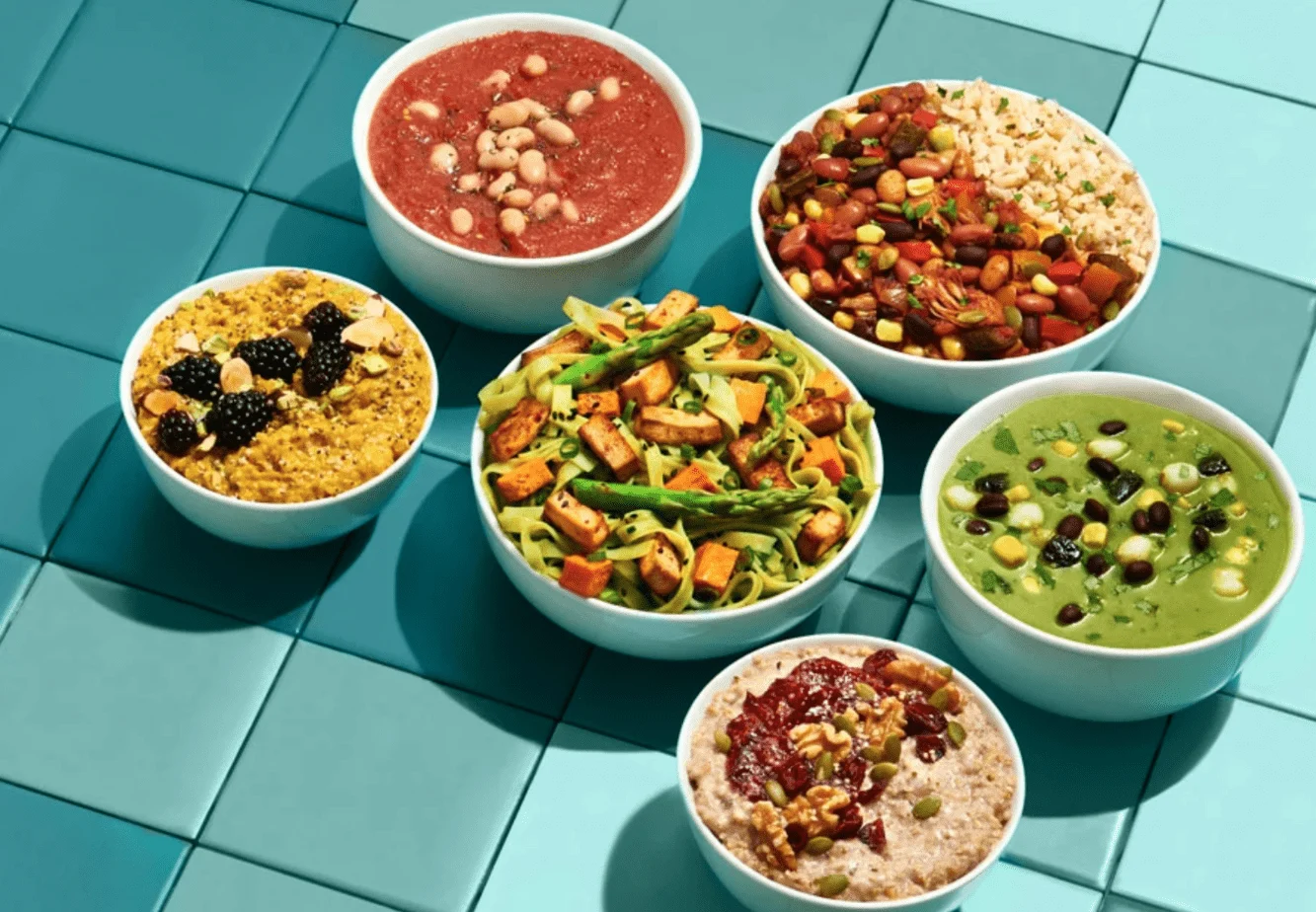 Let's face it: often, when a meal service says it offers vegetarian or vegan meals, those options are lacking. Much as I like Freshly, even they are pretty limited. So if you're open to pre-made meals you heat up, you may want to look at Mosaic Foods. I was skeptical at first– after all, other companies serve fresh vegetarian meals, and Mosaic ships frozen. But most of those have awful consumer ratings and don't give you great value. Mosaic Foods holds an average of 4.6 out of 5 stars based upon over 400 real customer reviews– a higher average than the majority of all food delivery companies.
They also have a unique commitment to fighting food waste. Unfortunately, this service is limited to major metro areas and the Eastern and Western states, so enter your zip code on their main page to see if they deliver near you.
How does Mosaic Foods work?
You'll select your plan, which includes the frequency of deliveries and can be skipped or changed. Every week, you select from breakfast, lunch, and dinner plant-based meals. Meals are freshly prepped but frozen upon arrival. All meals are delivered to your door and can be heated, like Freshly, in a short period.
How does Mosaic Foods delivery work?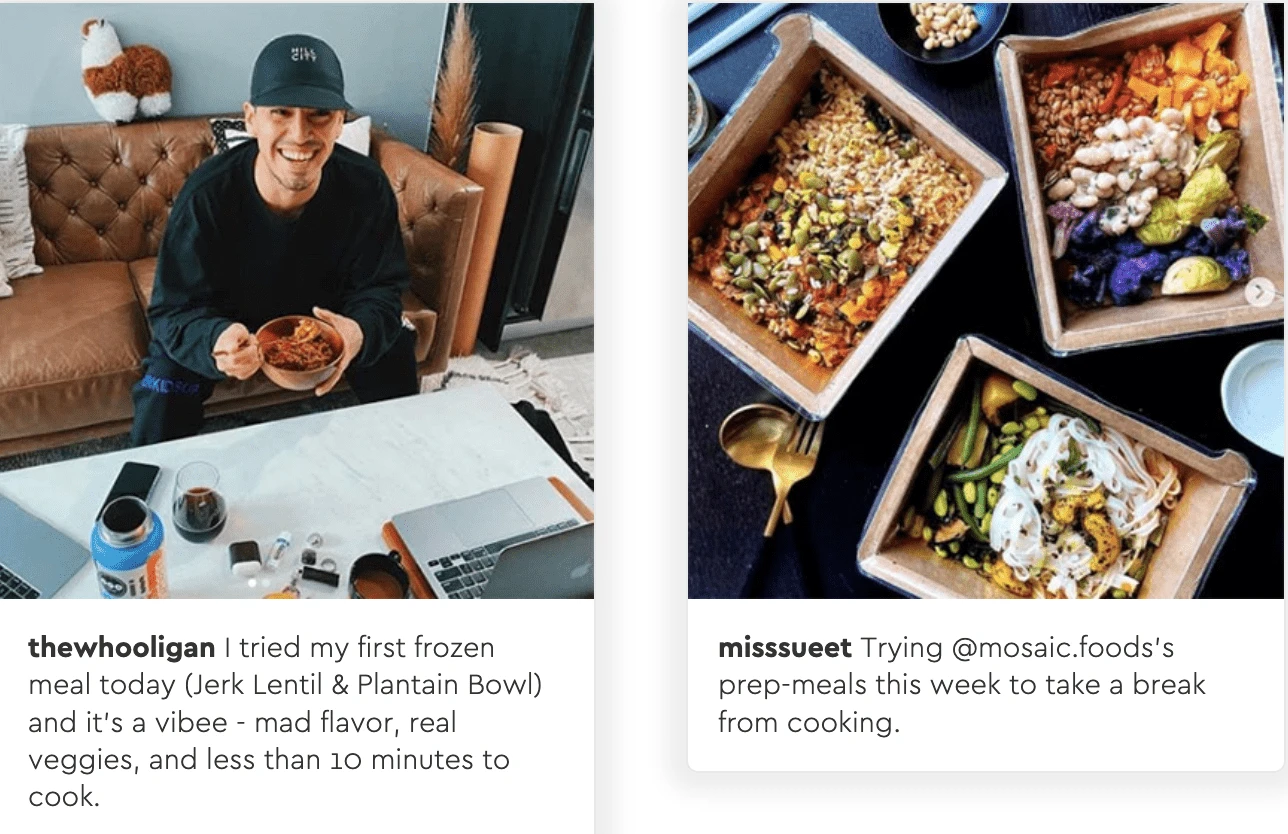 Start by entering your zip code here to make sure they deliver in your area. Once you've ensured they offer service, be assured that packages should stay good for a day if you're not there when they arrive. All packages include dry ice and are recyclable. You can track all shipments via the Customer Portal online. In my area, I had service, but meals were currently sold out– likely due to pandemic delays, so be patient and check back if this applies to you.
How much does Mosaic Foods cost?
Mosaic Foods are priced per meal, no matter your plan. You can expect to pay $4.99 for oat bowls, $7.99 for soups, and $8.99 for main dish veggie bowls. All orders are subject to shipping free, except for shipping fees waived for orders over $100.
What kinds of meals does Mosaic Foods offer?
Though all meals are made with fresh ingredients, they will arrive frozen. All meals are made by chefs and include fresh produce, hand-cooked grains, and unique seasonings. Breakfast foods include oat bowls with fun flavors, such as peanut butter and cocoa and golden milk and blackberries.
For lunch, expect protein-packed meals with flavors from a variety of cuisines. Examples include a peanut tofu bowl and curried lentil soup. Dinners feature robust dishes, such as a Tuscan pesto bowl and a Thai stir fry. All meals are colorful and incorporate some form of plant-based protein.
Every box sold goes towards City Harvest, a non-profit organization dedicated to reducing food waste in New York.
How do you cancel Mosaic Foods?
You can cancel your plan by emailing [email protected].
How do I get started?
To get started, Click Here to check your availability and begin selecting your plan.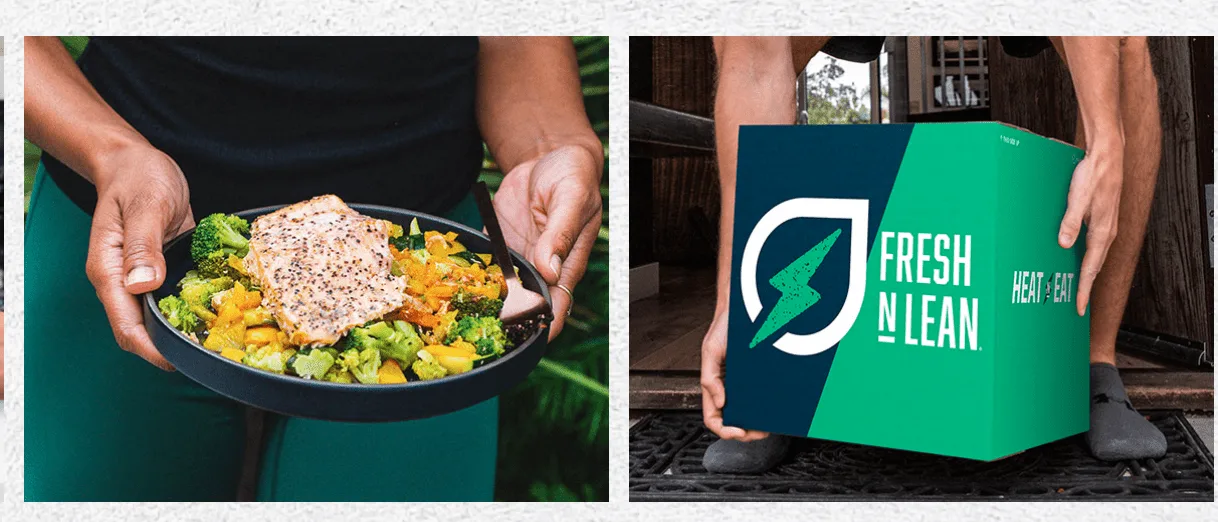 Frequently Asked Questions
Question: Can you lose weight with Blue Apron?
Answer: It's important to understand that Blue Apron is not a weight-loss food delivery service. While it is possible, of course, to lose weight with any service if you're positively changing your eating habits, Blue Apron is not designed to be low-calorie.
Question: What is the cheapest meal box?
Answer: When selecting the best meal box, it's great to have a budget in mind– but the cheapest isn't always the best way to go. Home Chef is often rated as the cheapest option, alongside Dinnerly. Despite many recommending these options, research shows that they have poor reviews and customer service. EveryPlate tends to be more affordable than most, however, as does HelloFresh. HelloFresh is in the middle ground when it comes to customer satisfaction: it's not in a concerning rating, but it also has quite mixed experiences.
Question: What is the healthiest delivery food?
Answer: Most delivery food services have upped their game when it comes to healthy food, sprucing up recipe options and ingredients. Some lump healthy and low calorie together, but those are not the same things. Healthy generally indicates a balance of nutritious ingredients and reasonable sodium and added sugars (limited) per the ratio of the portions. CNET includes SunBasket, Green Chef, Home Chef, Blue Apron, Purple Carrot, Mosaic Food's, Veestro, Splendid Spoon, Sakara Life, Pete's Paleo, Fresh N' Lean, and Freshly amongst the healthiest foods.
Final Thoughts & Honorable Mention
If you aren't pleased with your Blue Apron subscription, the good news is that there are plenty of great alternatives. Now that you know how to cancel Blue Apron– and what to replace it with– I hope you find a service that fits you.
Before signing up for any service, comparison shop. Always advocate for yourself and select a plan that fits into your budget. If you have allergies, make sure this is known to the subscription kit provider. Normally you should be asked this during the process of creating an account and selecting meals, but if you have an unusual allergy (such as my mom's allergy to red dye) make sure that's mentioned, too.
I realize that Mosaic Foods may not be available to everyone, and so, if you're still on the search for a vegan/ vegetarian alternative for Blue Apron, I recommend Fresh N' Lean. Unlike most vegetarian meal services, it holds an unofficial A+ rating on the Better Business Bureau and offers a nice range of meal types. It does, however, have substantially lower customer reviews vs Mosaic Foods.
Further Read: