Latest posts by Raymond Delucci
(see all)
We live in an era where time and efficiency are two variables that are held almost higher than anything else. As a busy professional, I am always looking for ways to maximize my energy and remove friction within my life. That is why I wanted to try out Hungryroot and the service they offer.
I was excited for Hungryroot due to multiple reasons. First is the fact that I love trying new foods and CPG (Consumer Packaged Goods) items. With my background as a Chef and Recipe Developer, I take great interest in what I am consuming and how it is presented to me. I also love to cook so Hungryroot seemed to be the perfect fit for me.
TL;DR: Before diving into the nitty gritty of my review, I did want to share that overall I really did enjoy Hungryroot and its offerings. I do think the Hungryroot cost is slightly high compared to what is delivered and I did not get as much variety with the Hungryroot recipes as I thought I would. But the food was delicious, arrived at a cold temperature and the kit was easy enough to follow. I would definitely purchase this box again.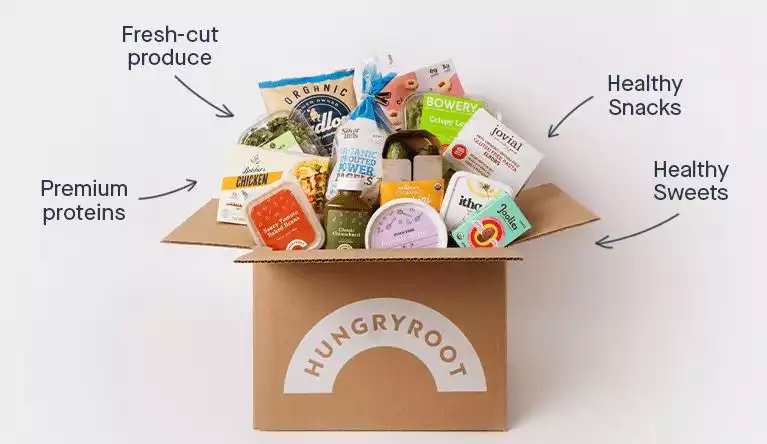 Why Go with Hungryroot?
Good-for-you groceries, simple recipes, recommended just for you. Get 30% Off + Choose Your Own FREE Gift For Life.
Sign Up
We earn a commission if you click this link and make a purchase at no additional cost to you.
How To Sign Up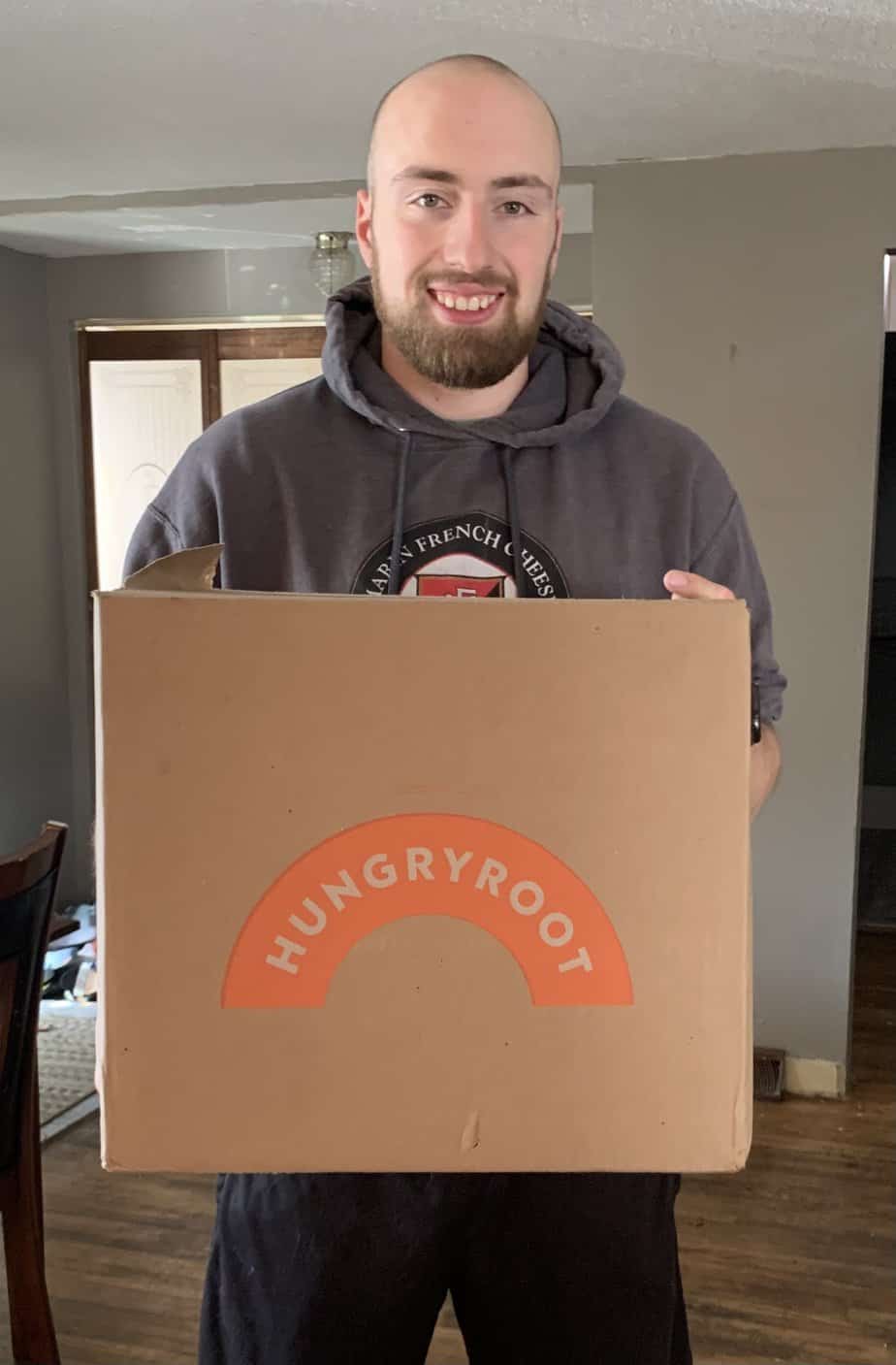 Planning Out How Many You Can Feed
When signing up for Hungryroot I was surprised at the amount of questions asked about my personal food choices and preferences before getting to check out. You really feel like the team behind this product cares greatly that you enjoy your box and it shows with the multi-question quiz that took about 5-10 minutes for me to complete when signing up.
One of the first questions was asking how many people I was planning on feeding (meal planning). This was to ensure they sent and suggested the proper amount of food for whatever your needs. The kits feed up to four people at a time so it is important to note this if you are consistently feeding a larger group.
Setting Your Goals
We all have our goals as to why we choose to start subscribing to a box like Hungryroot. I shared mine above. But I found it really fun to see that the team behind the product does give you the option to choose 3 goals you may have when signing up for their service.
There were about nine options to choose from, and the ones I chose were: Waste Less Food, Grocery Shop Less, and Save Time. Aligned with my lifestyle, the efficiency angle really came through in the box which I touch on later in the review. But it was also great to see some options addressing food waste and alternate protein choices, such as Organic Banana Cacao Fruit Jerky.
Honing In On Your Taste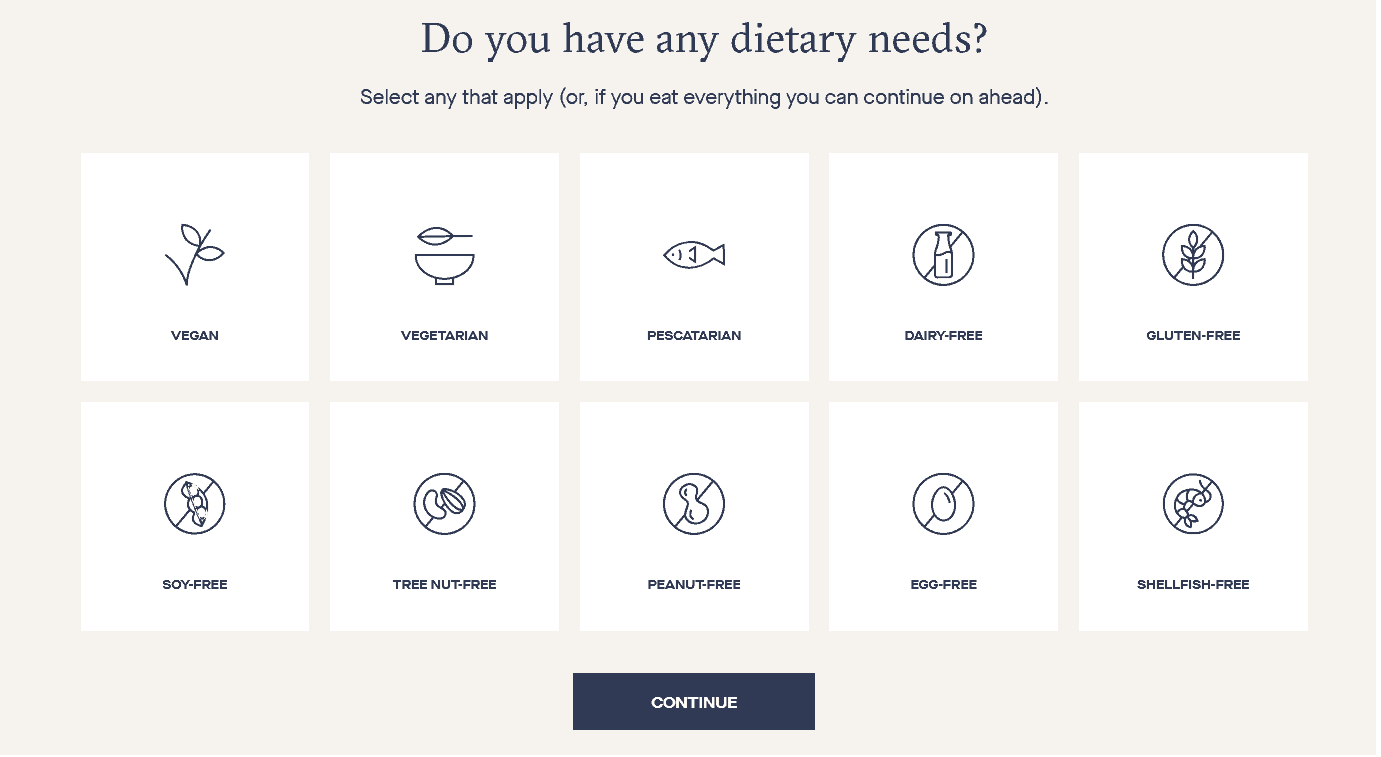 The next step in signing up was the quiz you take in order to really dial in on what you like and dislike in regards to consuming food. They first ask you if you fall into any of the following categories:
Pescatarian

Omnivore

Vegetarian

Vegan
They then ask if you have any dietary issues they should be aware of. Finally, they ask about any allergies you have. I found this section great as it is a base to what the rest of the quiz is about. So for example, if you are vegan you will not be bogged down by useless questions about which animal proteins you prefer.
Maybe my favorite part of the quiz came next as it spoke to my background as a Chef. They asked if I enjoyed cooking, (which I do) and then asked what I cook with. They offered a list of cooking equipment and I checked off what I had in my home kitchen.
The quiz then went deeper, asking about different cuisines you may like. They really dial into the ethnic tastes you may prefer, like choosing Asian versus Mexican cuisine. As I eat and enjoy almost all foods I chose all of the cuisines they had to offer.
The Tiny Details Of What You Like To Eat
It was at this point that I was really impressed with the Hungryroot meal kit delivery service sign-up process. They just went deeper than I could have ever expected in regards to asking about my taste. They asked about which tastes I preferred more, in which I chose sweet and tangy. They then asked what kind of meal options I prefer.
Finally, they asked about my heat tolerance on food items and then my routine. How many meals do I want provided over the course of a week and which ones I wanted covered. The sign-up process for Hungryroot is robust and set me up for high expectations to receive my box. I was very curious when the box landed on my doorstep.
Box Condition Upon Arrival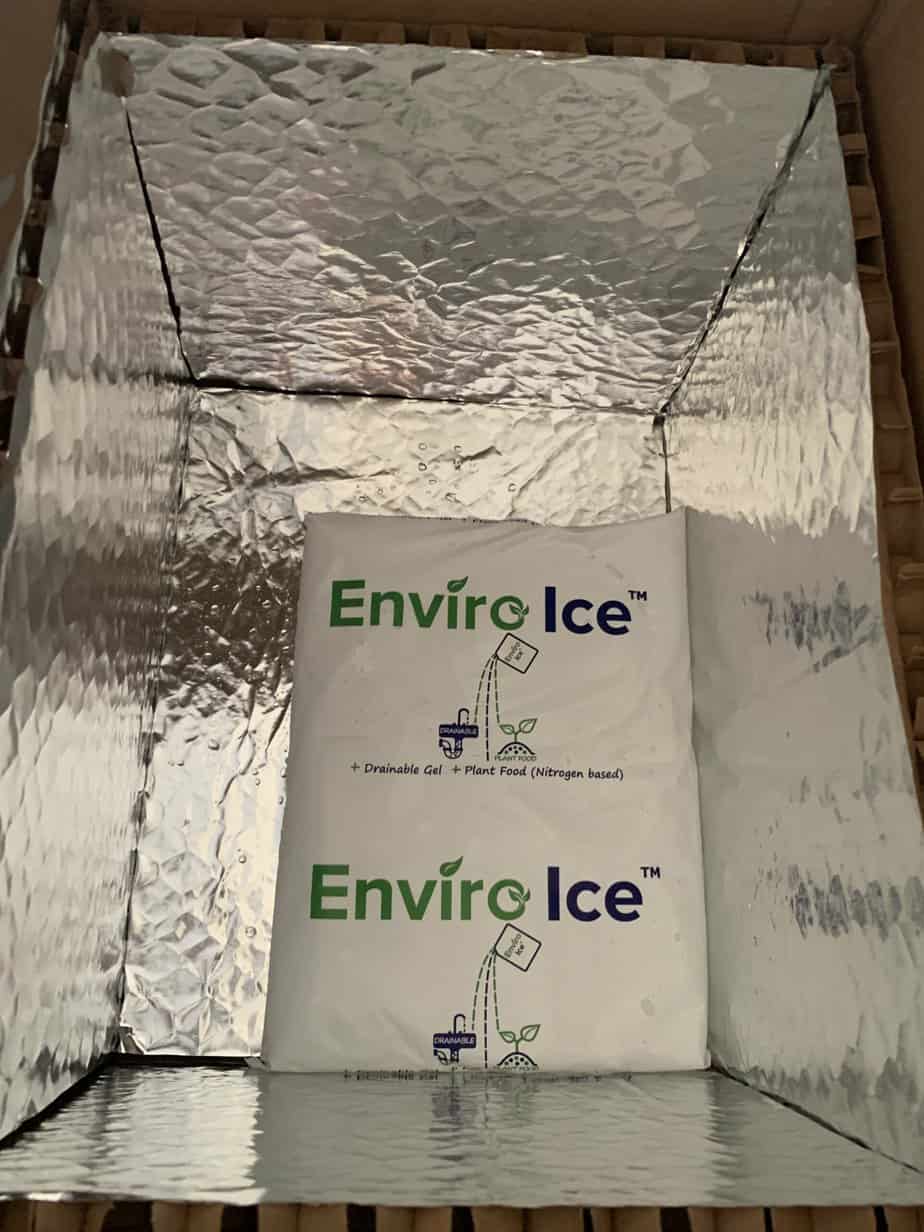 My Hungryroot box arrived on time and in really good condition. The box was not damaged and was sturdy enough to withstand the shipping process. Upon opening the box I was surprised to find a really well-insulated package with a fully intact ice pack.
As someone who is trained in food safety, this was one of my bigger concerns relative to local grocery delivery. The proteins and ready-to-eat foods were still cold and within a safe temperature. I was pleased that such care went into making sure that the food delivered was safe to eat!
What Came In The Box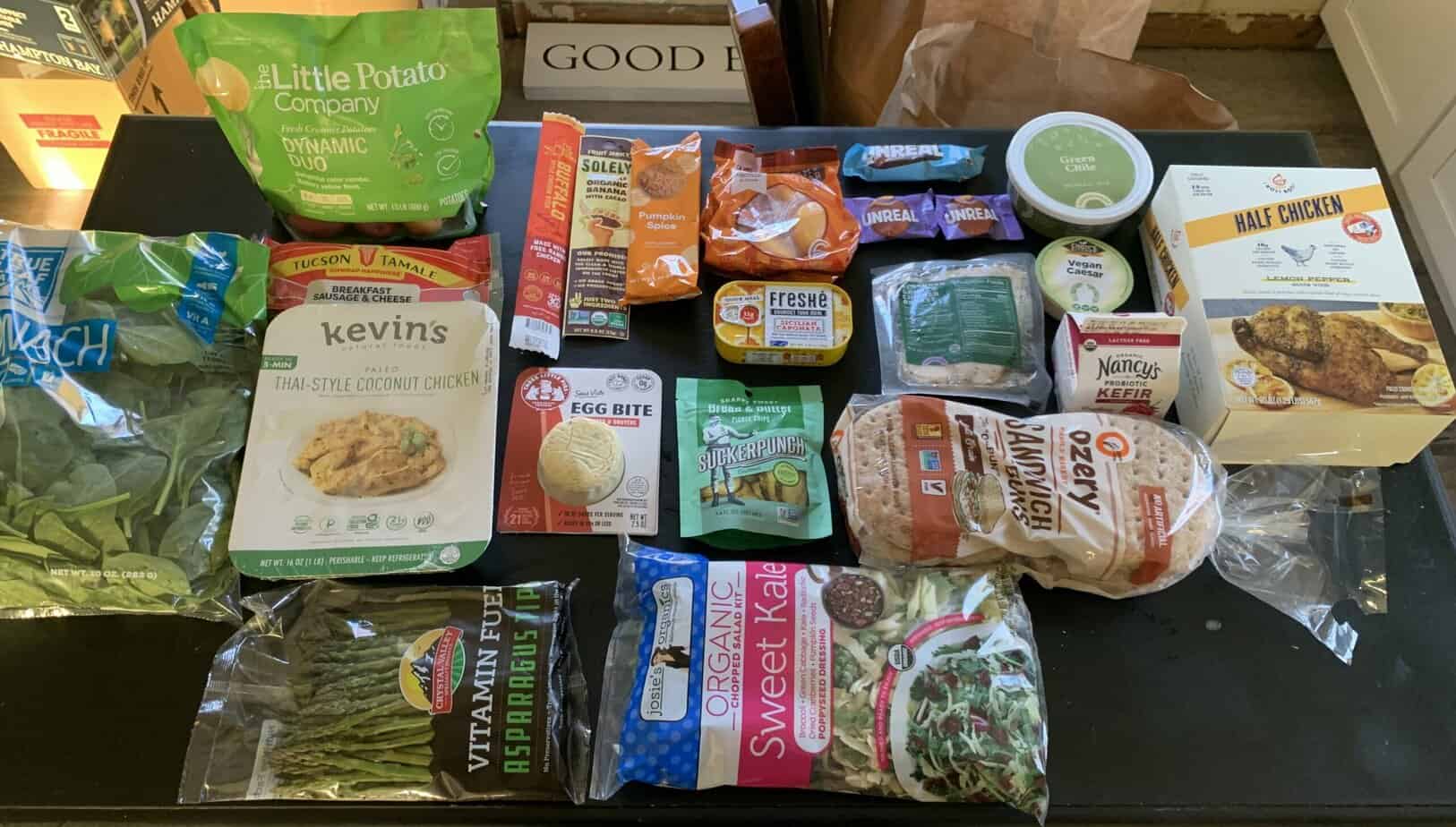 I will go into detail about certain items I found in the box, but first will detail the contents in their entirety below. For the $70 I paid for the box, this is what I received:
Seasoned Grilled Chicken Breast

Lemon Pepper Half Chicken

Sous Vide Gruyere + Prosciutto Egg Bite

Breakfast Sausage + Cheese Tamale

Creamy Cheddar Rounds 6 Pack

Thai-Style Coconut Chicken

Organic Raspberry Kefir

Vegan Caesar Dressing Cup

Baby Spinach

Fresh Asparagus

Green Chile Sauce

Organic Sweet Kale Salad Kit

OneBun Multigrain Buns

Dark Chocolate Coconut Bar

Single Dark Chocolate Almond Butter cup

Soft Baked Pumpkin Spice Cookies

Multi Colored Creamer Potatoes

Bread and Butter Pickle Slices

Organic Banana Cacao Fruit Jerky

Sicilian Caponata Tuna

Buffalo Chicken Jerky Stick
As you can see you do get A LOT in the box. There is just a ton of variety in what they send and it is pretty great to see so many different types of food to choose from. They cover breakfast, lunch, and dinner and even add snacks and sweet items for dessert. It truly is an all-encompassing service.
You can even select your objectives up front, so experiences may vary based on how much healthy food you get vs more indulgent options.
One of the few complaints I do have though is the protein selection. During sign-up I indicated I enjoyed several different types of protein. To have all of my protein options be chicken based seemed a little uninspired and frankly too similar. While the flavor of the options was great and versatile, I did grow tired of back to back to back chicken-based meals and wish another option was thrown in.
Additionally, you get a sheet of paper with cooking instructions on it. The box provided three recipes to cook, correlating with some of the ingredients above. I will break down these below as they were fun to make and delicious to eat.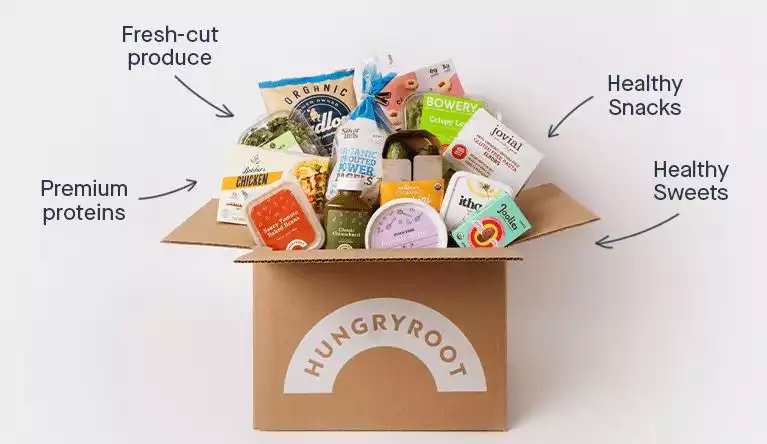 Why Go with Hungryroot?
Good-for-you groceries, simple recipes, recommended just for you. Get 30% Off + Choose Your Own FREE Gift For Life.
Sign Up
We earn a commission if you click this link and make a purchase at no additional cost to you.
Thai Coconut Chicken Asparagus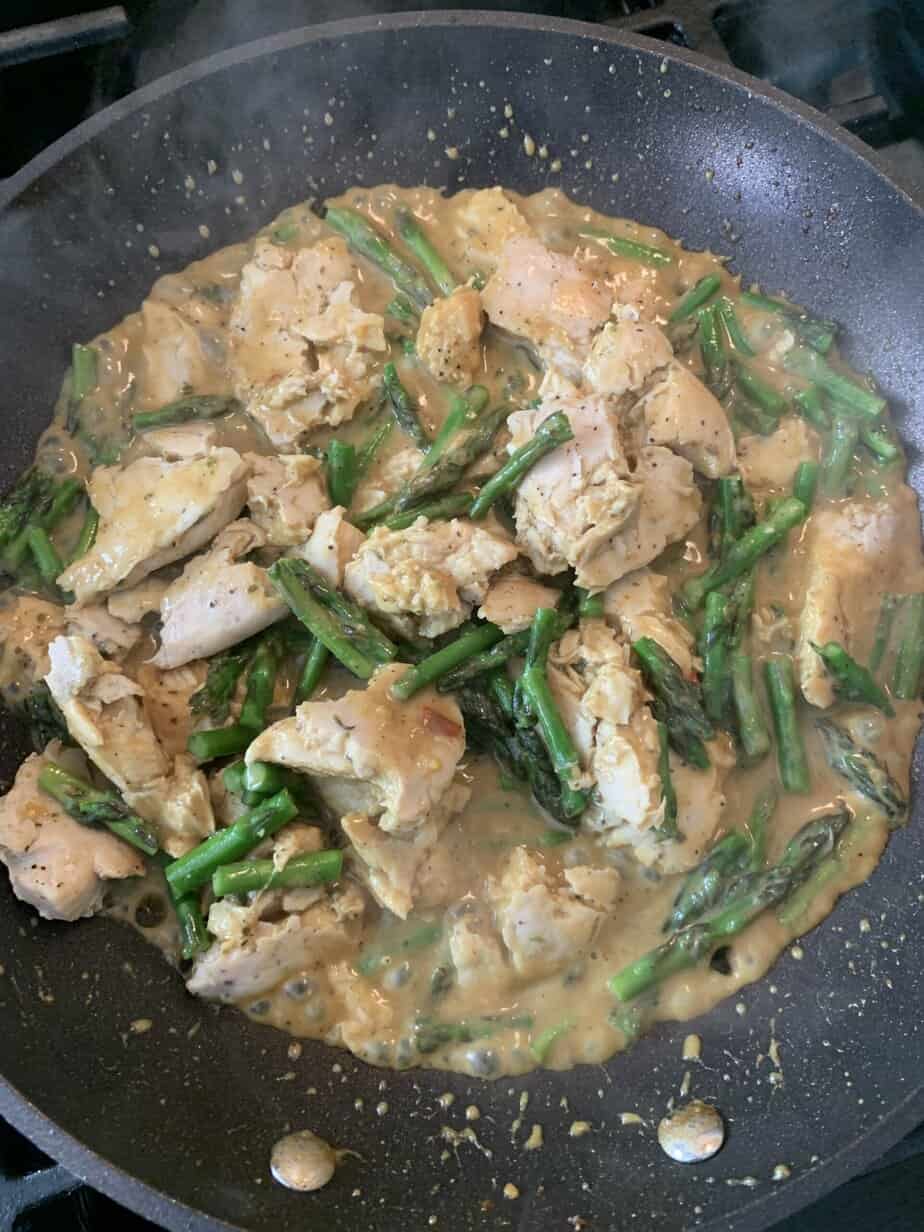 Ingredients Used:
Fresh Asparagus

Thai-Style Coconut Chicken
The first recipe I made was a simple yet delicious Thai-inspired chicken dish. This really only utilized two ingredients out of the box but did deliver on two great portions. All I had to do was cut the asparagus and saute it. I then had to empty the chicken into a saute pan, brown, and then add the sauce packet. Once added I simply added in the asparagus and served.
This dish took about 15 minutes to make and was super simple. Each serving is 430 calories which makes it a great healthy meal option for those watching their calorie input. The sauce on the chicken was creamy, spiced well, and simply very tasty. The chicken came pre-cooked, and to brown, it slightly made it tender, juicy, and full of flavor. I LOVED this dish, in both its ease to make and how good it tasted.
Spicy Chicken + Cheddar Panini
Ingredients Used:
Green Chile Sauce

Seasoned Grilled Chicken Breast

OneBun Multigrain Bun

Creamy Cheddar Rounds
This panini hit the spot for a perfect lunch sandwich. The pre-cooked chicken came already seasoned and sliced, leading me to simply brown in a saute pan. I shredded the cheese wheels and set them aside. I then spread the green chile sauce on each bun, added the chicken and cheese and then grilled in a skillet until the bread was golden brown and the cheese was oozing out of the sandwich.
The tangy chile sauce mixed with the umami of the chicken and rich creamy cheddar offered a flavor affinity I crave while writing about now. The panini was very filling and delicious and I did not feel hungry until dinner time. This recipe was another quick cook, taking about 20 minutes. Each serving was 400 calories and it was a win for a quick lunch option.
Juicy Lemon Chicken, Roasted Potatoes, and Caesar Salad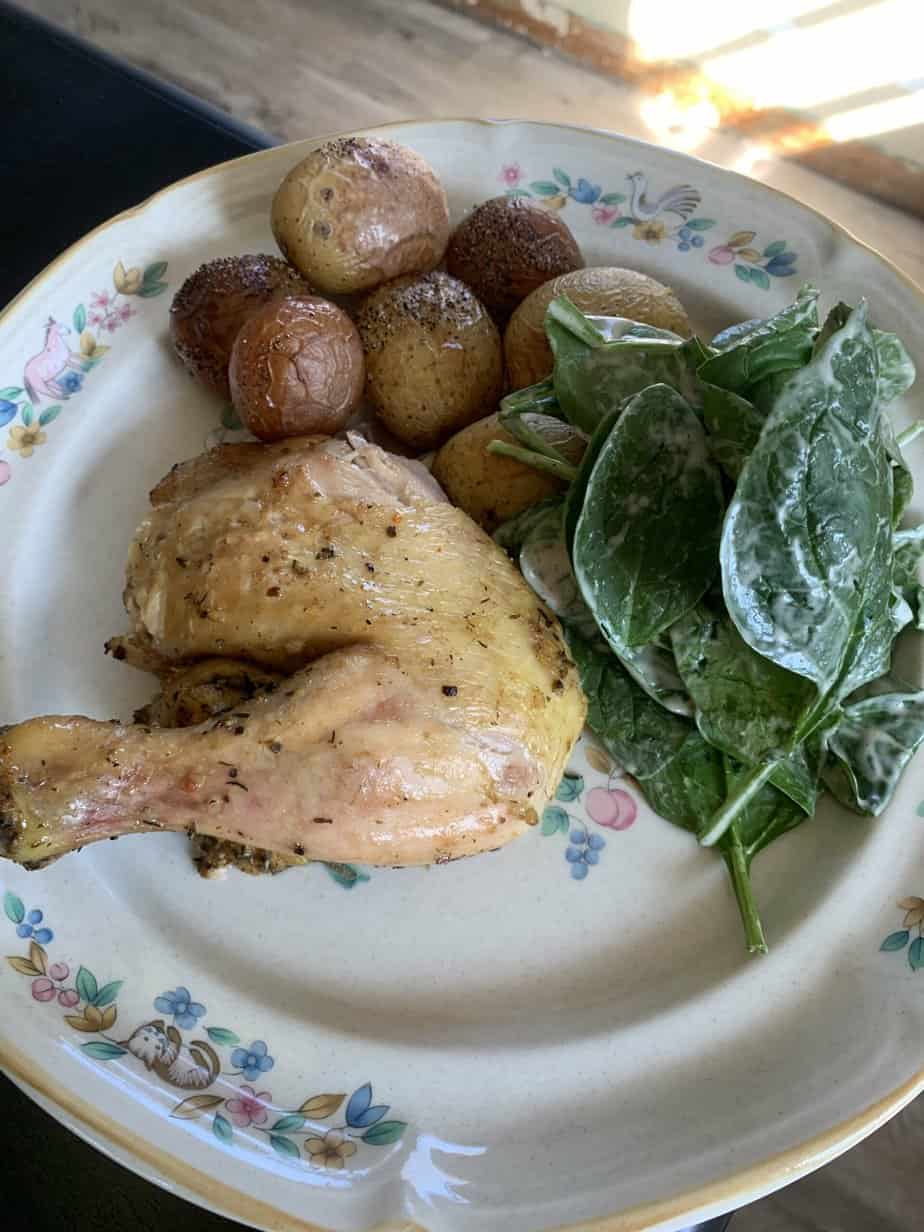 Ingredients Used:
Baby Spinach

Multicolored Creamer Potatoes

Vegan Caesar Dressing Cup

Roti Lemon Pepper Chicken Half
The last recipe offered in the box was a solid dinner choice. This was also easy to make. It involved tossing the potatoes in olive oil, salt and pepper and roasting until soft. You also just open the pre-cooked half chicken and roast until crisp and heated through. Finally, you mix the spinach with the dressing and boom, dinner is served.
This took about 35 minutes for me to cook completely and each serving was 610 calories. I found the chicken to have great taste due to the lemon pepper seasoning, but the skin did not crisp up fully as I would have liked. The potatoes were great and the salad was nice but I did find the dressing a little bland. Overall, this was a good meal but my least favorite of the three that was cooked. It was also by this point that the chicken fatigue kicked in.
The Rest Of The Box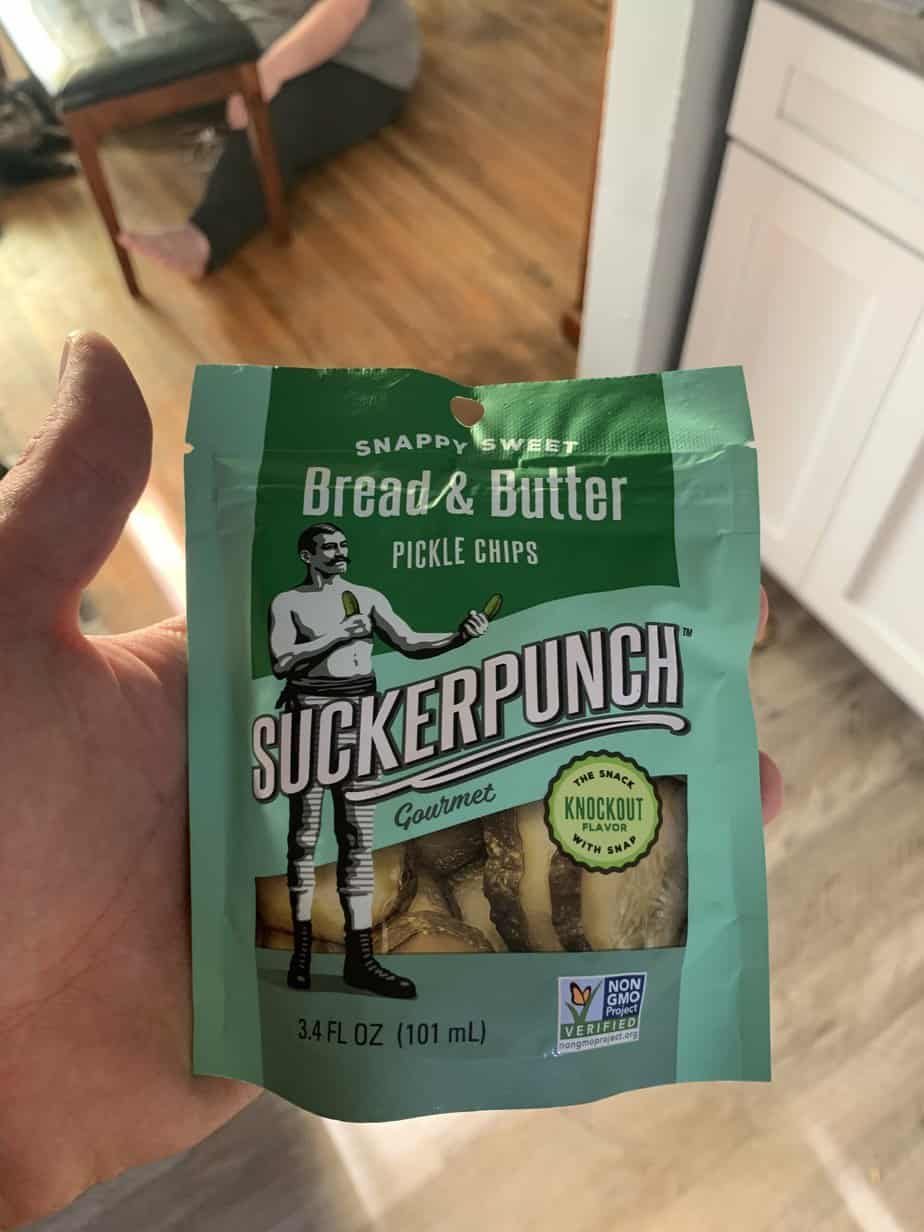 The rest of the items in the box were mostly good. The bread and butter pickles were a standout and I actually put them on my second panini. The Kefir was delicious and a great probiotic option to have. I was also very impressed with the gruyere and prosciutto egg bite, which was surprisingly very flavorful.
I was not a fan of the caponata-style tuna that came in a can. The fish had an odd texture and the taste was off-putting. The can was also very hard to open as the tab did not help peel the whole lid off. The pumpkin spice cookies were a little stale as well and were very thin which left more to be desired.
The rest of the kit did deliver a plethora of snack and meal options and I found it to be fun to try new and different food items. Besides the sameness of the chicken, there was a great variety for anyone wanting to try a bunch of new flavors and food items.
Is Hungryroot Worth It?
Overall I would say Hungryroot is definitely worth it. If you like a blend of cooking and already prepared meal options then this is the box for you. I will say the price is a little high on the box delivered to me, but only due to the value proposition.
The fact that I received all chicken for my proteins when something such as beef could have been added in seemed to make my personal offerings a little cheaper than what could have been sent.
Hungryroot offers delicious meal and snack offerings at a fair price. They deliver some easy-to-follow recipes and offer a product that gives an excitement to the grocery delivery & food delivery space.
More so than other meal delivery services, Hungryroot uses items you can find in a grocery store to create healthy and delicious meal. In this way it TEACHES you to be a better cook & even to be better at grocery shopping.
I would definitely order them again and am excited to see what I get in my next box!
Hungryroot Alternatives: Other Meal Delivery Service Competitors
The meal kit landscape is full of many opportunities. Each kit has its own unique value proposition in what it offers. Here are some alternatives to Hungryroot in the ready-to-eat/meal kit space:
Hungryroot Pros and Cons
Pros
Great Variety

Robust Sign-Up Process

Easy To Follow Recipes

Delicious Offerings

Safe and Trustworthy Packaging

Easy to contact customer service
Adaptable to different dietary preference and dietary restriction needs
Cons
Lack Of Protein Variety

Minimal Poor Tasting Products

Value Of Box Contents Varies On Delivery (not always better than your standard grocery item selection)
Still requires prep, not fully prepared meals
Hungryroot Promo Code and Deals
From time to time Hungryroot offers seasonal discounts and special offers. I'll keep track of them here & update as we find new ones:
Save 30% Off: This special offer is currently active and applies on orders $99+. Also includes a "free gift", typically an extra meal of your choice.
Hungryroot Review FAQ's
Question: How Long Is The Box Good For?
Answer: Each item has its own expiration date for how long each item can last. Due to the blend of frozen, refrigerated, and shelf-stable products you should go by the date on each package.
Question: What Is The Most People You Can Feed With One Box?
Answer: Four people is the most you can feed with a Hungryroot Box.
Question: How Often Are You Charged For Your Subscription? 
Answer: You are charged weekly for each delivery. You also can cancel any time you would like through their website.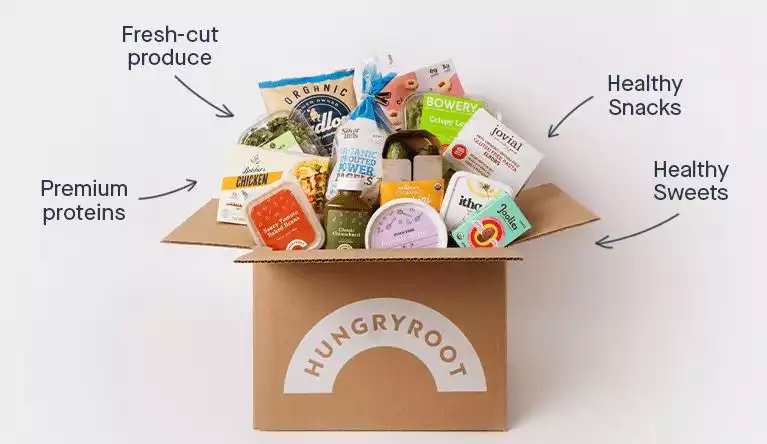 Why Go with Hungryroot?
Good-for-you groceries, simple recipes, recommended just for you. Get 30% Off + Choose Your Own FREE Gift For Life.
Sign Up
We earn a commission if you click this link and make a purchase at no additional cost to you.