Latest posts by Alizabeth Swain
(see all)
Do you enjoy buying from a company devoted to customer care and satisfaction?
Well, I have big news for you – Allen Brothers is not a company devoted to supporting their customer experience.
I have nearly a decade in the subscription industry; I've worked with many big-name brands, like Fabfitfun, Popsugar, Ipsy, Boxycharm, and Hello Fresh, to name a few. I've seen the rise and fall of many subscription boxes. I've seen the good, the bad, and the ugly.
I am shocked that Allen Brothers still offers a subscription option to their customers. I had a horrible ordering experience. But before I get into all the beefy details about what went wrong in my Allen Brothers review, you need to know who they are, what they're about, and what other options you should consider.
So, buckle up. It's gonna be an unbeef-lievable journey.
The juicy deets: I would not recommend Allen Brothers. I had problems with their billing department, a complete lack of communication from the brand, and my package took several months to arrive. I'd only recommend this subscription to someone looking for chaos and stress.
A Closer Look at Allen Brothers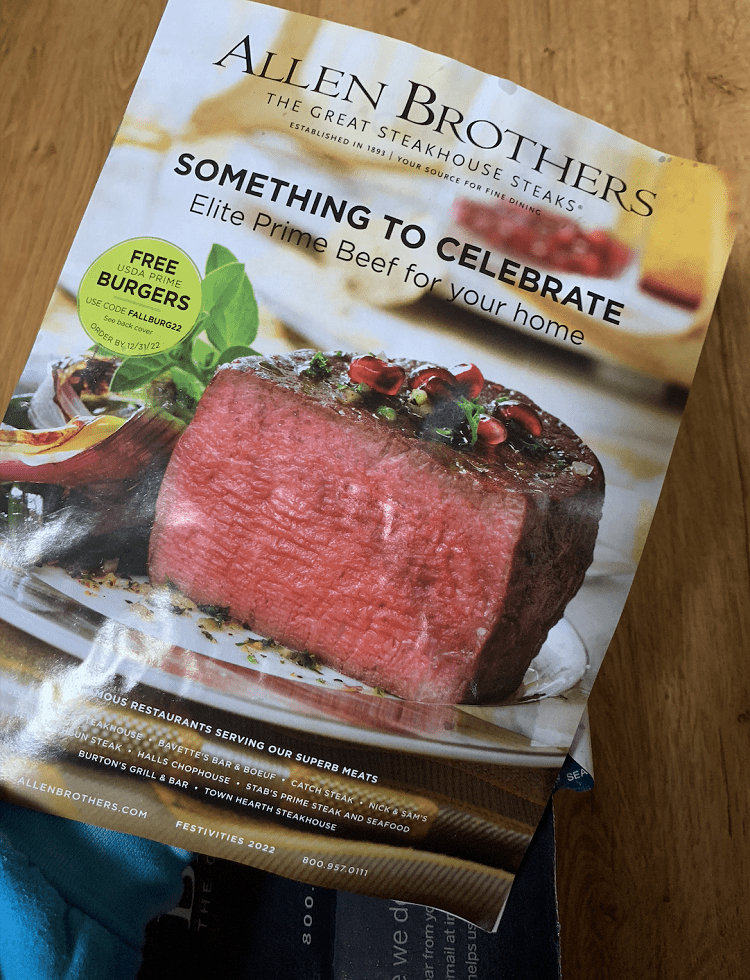 Allen Brothers is a high-quality meat provider. There's a good variety of meats that Allen Brothers offers if you're someone who isn't just looking to buy a couple of steaks. They offer seafood, bison, pork, poultry, lamb, hot dogs, dry-aged beef, veal, and wet-aged beef. They even have one of their Chairman inducted into the meat industry's equivalent of the Hall of Fame.
But that's not all they offer either. You can also get on some side dishes, desserts, appetizers, and even kid-friendly options. I thought it was so cool that they offered compound butter and rendered duck fat. I initially planned on ordering the rendered duck fat after I got my box. Still, I'm unfortunately not going to be doing that because of my bad experience with Allen Brothers.
Allen Brothers offer several subscription options for someone interested in ordering a larger quantity of meat or regularly having deliveries made to their home. A 12-month steak plan will start at $2,000. With this subscription option, you'll get a variety of steaks, lamb chops, ribs, burgers, ham, and pork chops.
I think it's cool that Allen Brothers offers both dry-aged and wet-aged beef. The end results for both dry aging and what aging provide unique flavor profiles, so I love that Allen Brothers caters to people who enjoy both.
They also offer three guarantees on their meat. Allen Brothers promise their beef is high grade, high quality, and will arrive on your doorstep in great condition. I can tell you, don't count on actually being able to contact the brand if you notice a problem with your order. They were not able to fulfill this guarantee for me.
The Ordering Process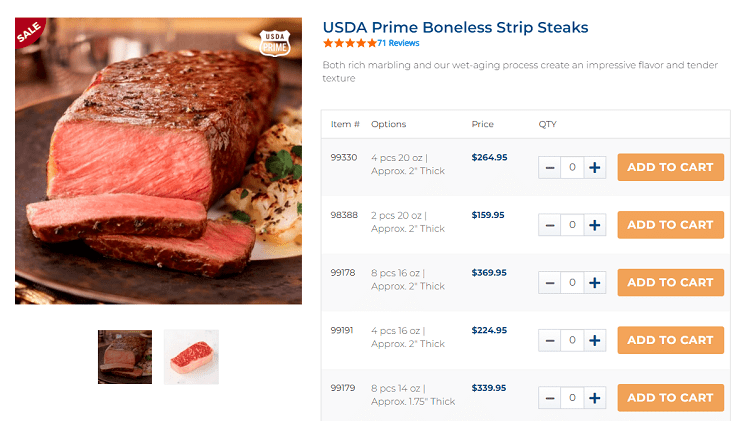 I didn't want to shell out a couple of thousand dollars to try steaks from the Allen Brothers. So, I decided to go with something a little simpler. I ordered their petite breakfast steak sampler, which includes two USDA prime filet mignons, two USDA Prime Sirloin strips, and two USDA prime rib eyes.
The filet mignon is 4 oz each, the sirloin strips 6 oz each, and the ribeyes are 8 oz each. Allen Brothers describe this breakfast sampler as a great dinner "for your little ones."
I checked out these steaks and had to pick a day of the week for them to be delivered. I paid for the expedited shipping to ensure the package would arrive on time because I didn't want to worry about the meats spoiling in the hotter weather.
Allen Brothers have been around for nearly 130 years, and that's basically how long it took for my package to arrive. I initially placed the order for delivery for the first week of June. My package did not get delivered until August 13th.
My Customer Service Experience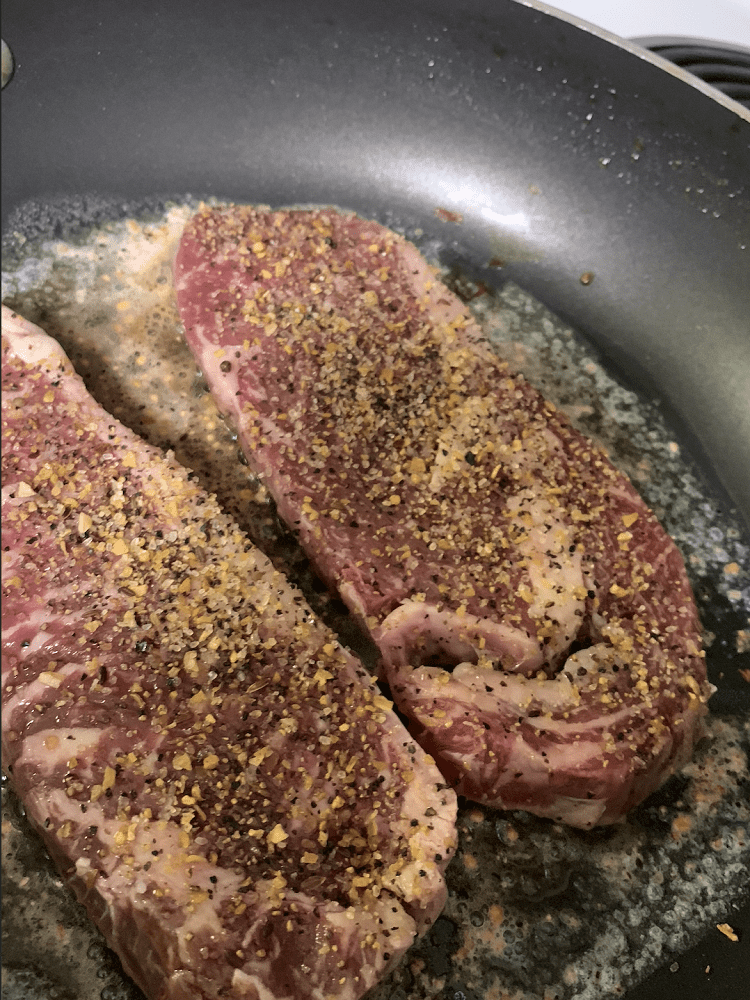 Delivery day came and went. I was like a sad puppy looking out of my window when the delivery truck drove by, and there was no package at my front door. I got the order notification, but I never heard anything from Allen Brothers about my package being shipped. Over the next few days, I consistently checked my email to ensure that I hadn't missed any shipping notifications.
Off course, I know running a small business can be very difficult, and it's even trickier when things get lost in the mail. So, I reached out via email. I asked them what was happening and when I could expect my package to arrive. I assumed that's what happened: my package had gotten lost in the mail. After all, there was no way that they had sold me a product that wasn't in stock, right?
I went online again to ensure I had placed the order. At this point, I was starting to think I was going crazy. I hadn't heard back from anyone via email still. My account said that I had placed the order and that it was due to be delivered the first week of June. Here I am at the end of June, and I have yet to be able to get ahold of anyone via email or phone call.
Whenever I called the customer service numbers I could find for Allen Brothers, the line would ring. I would get directed to a customer service agent through the robot answering machine the Allen Brothers uses, but I never was able to speak to anybody.
I went online the first week of July to see if there was any new update on my order. I looked at the website and noticed that the breakfast sampler was sold out.
That's so weird, considering I placed my order last month and still hadn't gotten it. I thought that maybe if I gave it some time, I would hear back from Allen Brothers via email. In my mind, maybe it was just one person running everything, and they were swamped with orders. I tried to give them some grace, but I never heard back from them.
I honestly gave up.
That is until….
It's August 13th. I'm playing with my son out of my front yard and a truck pulls up in my driveway. I stand up, wondering what the package could be because I hadn't ordered anything recently. The delivery man walked out of his truck with an Allen Brothers box and placed it on my doorstep.
I will admit I was nervous. I was so scared that this package had been lost in the mail and had finally made its way to my doorstep. I was prepared for rotten, disgusting meat.
Thankfully, that's not what happened. According to the shipping label, the package had been shipped two days prior, on August 11th. When I touched the box, I could feel the ice packs on the inside, keeping everything nice and cool.
Great news, right?
My Unboxing Experience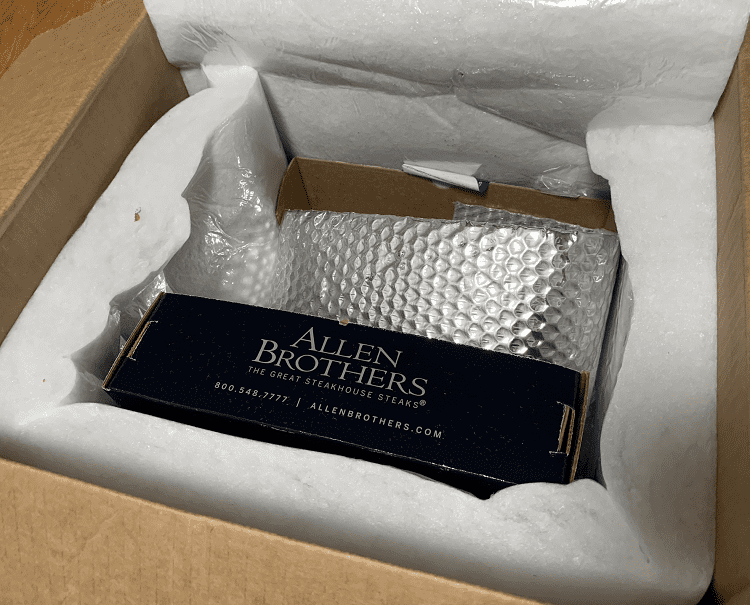 Wrong. I opened the box, and the package containing all of the steaks was opened. This is how the box looked when I pulled it out from all of the phone and ice packs.
As you can see on the sticker, it says, "sealed for your protection." The bottom part of the sticker says that if the package seal is broken, to call their customer service line. I called this customer service line, and the phone just rang and rang. I sat listening to my phone ring for 15 minutes before giving up. I knew that I was going to get anywhere getting any help from the Allen Brothers.
I took another good look at my Allen Brothers exterior box. I made the executive decision to take a risk anyway. The shipping box didn't look tampered with at all, So I think maybe the sticker just came off during the shipping process.
Quality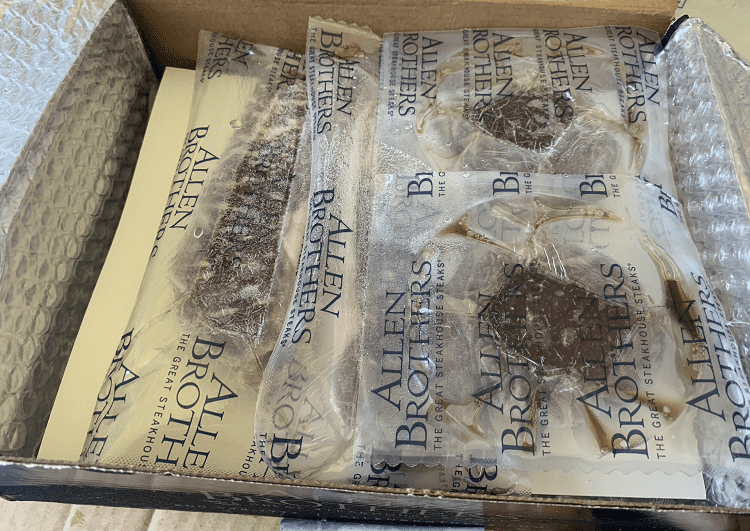 I am sad that I had such a bad shipping experience with Allen Brothers. The quality of their steaks was unlike anything I had ever eaten before. Let me tell you, if the entire order experience didn't cause so much anxiety and stress, I would be ordering from them again.
Ribeye
I know a lot of people will probably opt for the filet mignon, but the ribeye was my favorite steak from this trio! There was tons of beautiful marbling on this steak, and it still had a nice little strip of fat on the outside of the steak. It's so hard to put into words how amazing this steak was. It was incredibly tender; I didn't need a knife to cut it. I didn't do anything fancy to it either.
We don't believe in steak sauce in my household, so the only thing that went on this steak was some salt, pepper, and cooked in butter.
I swear, I could eat this steak every day of my life and never get bored. There's such a huge difference in the taste of the meat too. Compared to supermarket steaks, this was juicy and had a nice beefy taste to it. It didn't taste blood or notice a strong iron aftertaste. I could taste (and feel) the difference between these cows being grass-fed.
What an experience! Everyone should try a ribeye of this quality once in their lives. I would've easily paid over $50 for this steak alone if I had ordered it in a steakhouse!
Filet Mignon
I've never been a huge fan of filet mignon. I feel like it's one of the most overhyped foods in the world, but the Allen Brother's filet mignon made me appreciate it differently. This was a buttery steak with a milder flavor than the ribeye. It wasn't marbled and had a much lower fat content (fat is flavor, which is why I probably loved the ribeye so much).
This was nice; the filet mignon had a nice graining to it. This was a very light-tasting steak. I was careful not to overcook it, so it still had a lot of moisture. It wasn't as juicy as the ribeye was, but it was nice. I wouldn't go out of my way to order this again.
Sirloin Strips
These sirloin strips were a close second place for me; I would eat these for every meal of the day if I could! These steaks had a gamey flavor, but it wasn't overpowering. I noticed it held the seasoning a lot better compared to the ribeye.
There wasn't a lot of marbling in these sirloin strips, but I was so happy to find they weren't excessively chewy! There was still a ton of flavor packed into these steaks, with a nice focus on the lean flavor.
More Thoughts on Allen Brothers
I would happily get the ribeye and the sirloin strips again. All of the meat was so tender and delicious. You can absolutely taste the difference in the grass-fed cows, the meat quality, and the overall tenderness. That's the main winner for me – how tender these steaks are. I've never had steaks so tender before, especially the ribeyes. This was so impressive!
In terms of affordability, I think the Allen Brothers steaks would be great for special occasions. If you have a birthday or a cluster of birthdays in your family and want to do something special, I think the steaks would be great.
I am impressed with the quality, partially because of the surprise factor; I didn't have high hopes for these steaks after the terrible experience with the Allen brothers that I had had so far. Yet, the quality of the steaks was almost worth the hassle.
Other Alternatives to Consider
Please believe me when I say I am so sad to be recommending other alternatives. The quality of the Allen Brothers steaks we're out of this world, and I wish I could give every person reading this review a bite of one of their steaks.
That's the only way that you could truly know how tender and delicious their steaks are. I think the Allen Brothers steaks are the best steaks I've ever had in my life. I don't want to take another chance and get ripped off.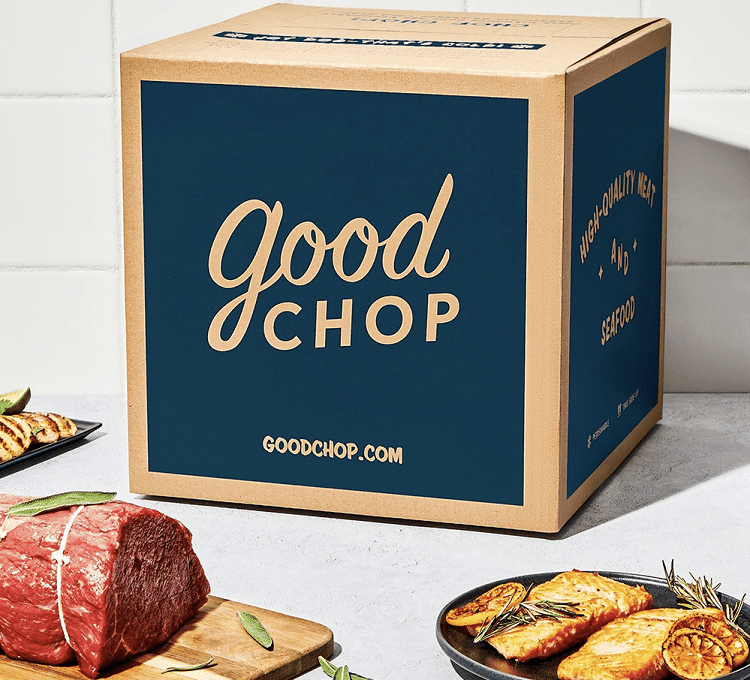 I have always had a good experience with Good Chop. This is a great subscription to look into if you're single or you have a smaller family. For about $50 more than the Allen Brothers breakfast sampler, you will receive 36 portions of meat. You can get a variety of me inside of his box, but it's a great option if you're looking to fill up your freezer for cheap.
Plus, the meat you receive inside your Good Chop box is all grass-fed! I've tried the Good Chop box before, and I wouldn't say the meat is as tender as what I received in the Allen Brothers box, but it was still better quality than what I would order at the supermarket.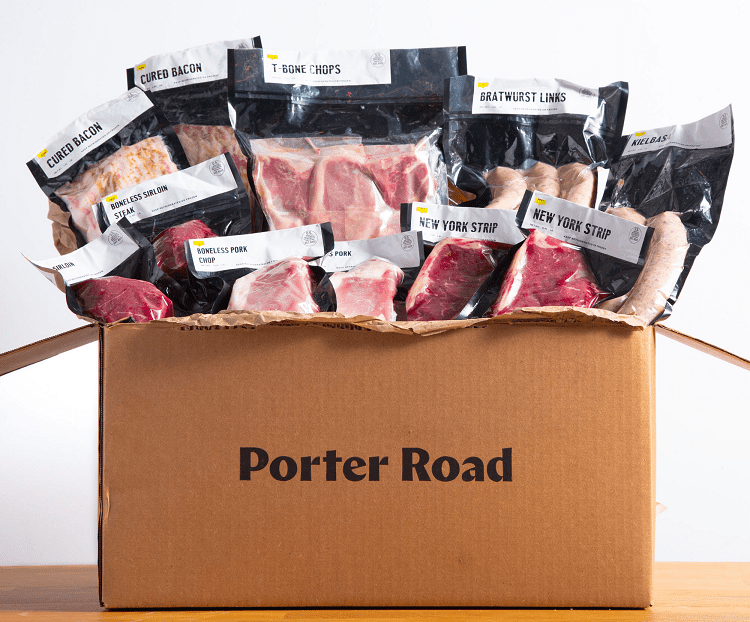 If you're looking for a box that's a little bit more laid back because you don't like getting overwhelmed with options, I think Porter Road would be a great one to look into.
They don't offer any seafood options, but they give you the option to purchase their meat individually or all together in a box. They have an environmentally friendly process throughout the raising and packaging all of their meat. I think Porter Road quality makes it clear that they are a butcher shop. Their steaks are incredible.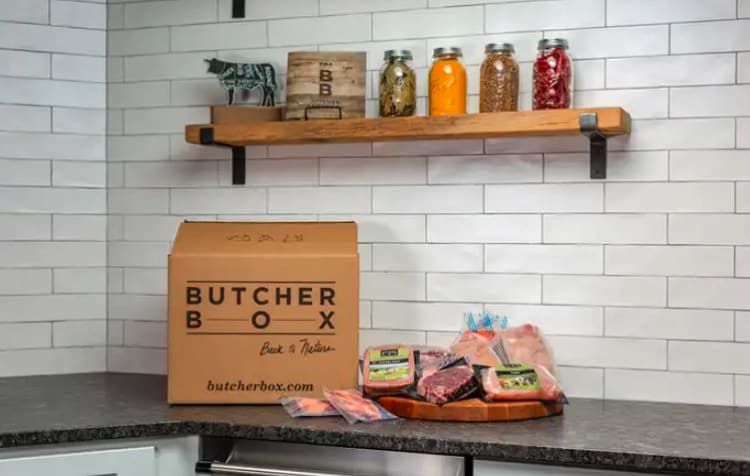 I like how simple ButcherBox makes everything. There are only five box options you can choose from, so if you're looking for a subscription company that'll keep food on the table without you having to do too much thinking and planning, I think this is a great option. Plus, all of the meat that comes from this company is either grass-fed or free-range.
However, they offer custom boxes if you're willing to pay a little more. I think the quality is pretty good; it's definitely above what I would buy at Walmart or the other grocery stores in my area.
Also read: ButcherBox vs Crowd Cow: Which One is Best?
FAQs
Question: How long do Allen Brothers steaks last?
Answer: Allen Brothers seafood should only be stored in your freezer for up to three months. However, their beef can be stored in the freezer for up to 18 months. However, I wouldn't recommend this because it increases your risk of your steaks getting burned freezer.
Question: Where does Allen Brothers get their Meat From? 
Answer: Allen Brothers have a very selective process where they get their meat from. They only source their beef from farms that are located in the middle of the United States or the middle northern part of the United States.
This is because the climate in these areas is perfect for raising high-quality meat. The only meats they don't Source from the United States are Japanese Kobe and Australian wagyu beef. 
Question: Where does Allen Brothers Ship to?
Answer: Currently, Allen Brothers ships to Puerto Rico and all 50 states in the United States. However, they do not offer international shipping.
Allen Brothers – Would I Recommend it?
It's so sad I had such a bad ordering and customer service experience with Allen Brothers. I wish it weren't this way because I would absolutely be a loyal customer if it was. They're famous for their quality steaks and definitely didn't disappoint in this area.
However, when I place an order, I expect better communication. My package showed up almost two months later and with no reason from the brand, which I think isn't okay. I could never get in contact with their customer service, even with concerns about the package being opened.
I think the meat quality is amazing if you're willing to take the risk. However, I think other quality steak companies put a lot more effort into caring about their customers.
Related Posts