Latest posts by Crystal Schwanke
(see all)
I've used Amoire twice and Stitch Fix six times, but those numbers don't mean what you might think in the Armoire vs. Stitch Fix comparison. I genuinely like both services, but they serve different purposes. It's like having kohl and liquid eyeliners in your makeup bag. They produce different effects, and it makes sense to use both, depending on the occasion.
Stitch Fix is more for everyday wear (how I use liquid eyeliner), while Armoire is the extra oomph when my wardrobe needs a dose of fun, glamour, or just something to take it up a notch (like sultry, smoky kohl eyeliner along the waterline, for me).
Bottom Line Up Front
I like Armoire and Stitch Fix for different reasons. I wouldn't try to maintain all or most of my wardrobe with Armoire. Still, I like them for experimenting with new things, wearing clothes I wouldn't want to be responsible for maintaining (some fabrics are just too high-maintenance for me), and having access to items I wouldn't budget for at the full price. I wouldn't use Stitch Fix to try trendy or unusual-to-me styles.
These two services may be interchangeable for some, and each has several pros and cons to weigh, but to me, they're too different to say one is better.
Top Rent the Runway Alternative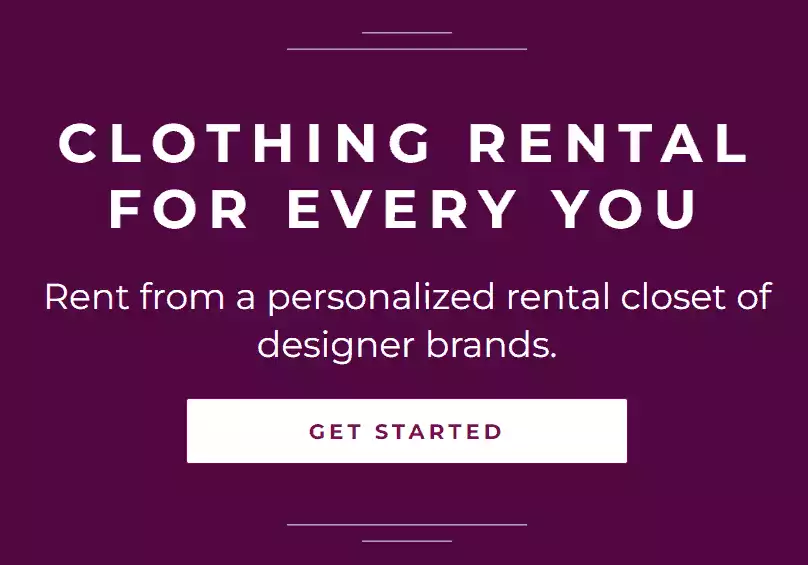 Why Go With Armoire Style?
Armoire Style offers a similar service to Rent the Runway, but has a much higher "success rate" due to a proprietary fashion + style matching quiz that "gets" your personal quirks better than a generic rental service. Kind of like if you merged Stitch Fix with Rent the Runway. Personal stylist + free shipping + keep what you love.
Take the Quiz
We earn a commission if you click this link and make a purchase at no additional cost to you.
Main Differences Between Armoire and Stitch Fix
Armoire lets you keep the clothes for a month before you decide what to keep, whereas Stitch Fix only gives you three days.

Amoire lets you

wear

the clothes during the month you have them, whereas Stitch Fix wants whatever you don't keep back in new condition (within a few days).

Armoire is a clothing rental service, so the clothes they send won't all be new with tags, whereas Stitch Fix only sends new clothes with the tags still on.

Armoire's focus is on letting you choose what you want to try, whereas Stitch Fix is focused on having a stylist select pieces for you based on your stated preferences.

Armoire is quick, whereas Stitch Fix requires you to schedule with the stylist (you can shop for individual pieces independently after receiving a Fix).

Armoire's styling option feels less personal, whereas Stitch Fix's feels more like a conversation.

Armoire options can include more than five pieces per month, whereas Stitch Fix limits you to five items per box (of course, you can always order more boxes throughout the month if a styling slot's available).
Key Features of Armoire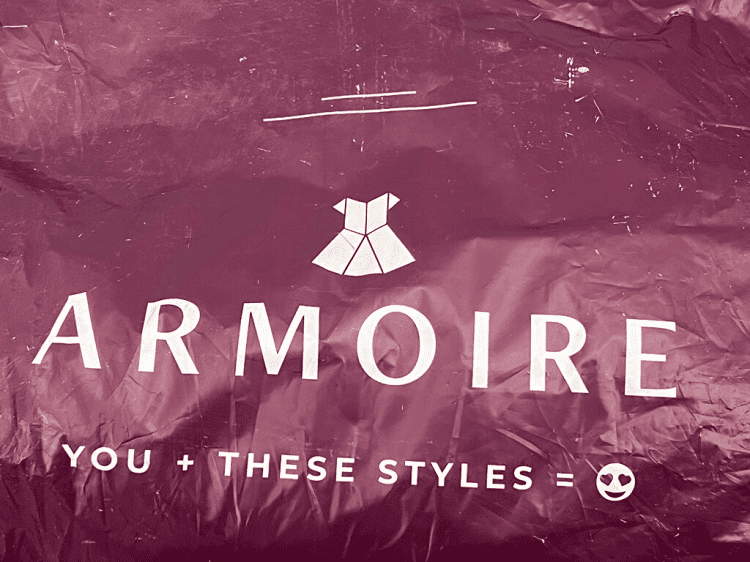 Armoire is one of my favorite clothing rental companies because there's something for every style and mood. There are brands I've heard of and always wanted to try (like Paige jeans) and new ones I've discovered, like Yumi Kim. I've also rented Lilly Pulitzer, Outerknown, Michael Stars, BB Dakota, Boden, and Sarah Alexandra pieces.
The Plans
You can choose from three plans: 4-item, 7-item, and unlimited (6 items at a time). If you select a plan with four or seven items, you'll get that one case for the month. Unlimited means you can swap out items throughout the month.
Like something so much you're not ready to give it back yet? That's okay, too. You can rent the item longer (this option doesn't make the most financial sense because you'll still have to pay for the next month, but sometimes it's worth it) or purchase it at a discount and send the rest back.
Unless you're buying, the pricing is predictable based on the plan you chose, so it's easy to budget for.
What You Get
Once you sign up and answer questions about your body type, preferences, and what you're looking for (season, occasion, etc.), you'll see suggested items in recommended sizes. You don't have to stick with those. You can venture out on the site, searching for specific things or browsing. Build your case and finish checking out.
There's also the option to ask for a stylist's help, but that's not front and center the way it is with Stitch Fix. You answer questions and get an email to go check out your new closet on the site.
Pros of Armoire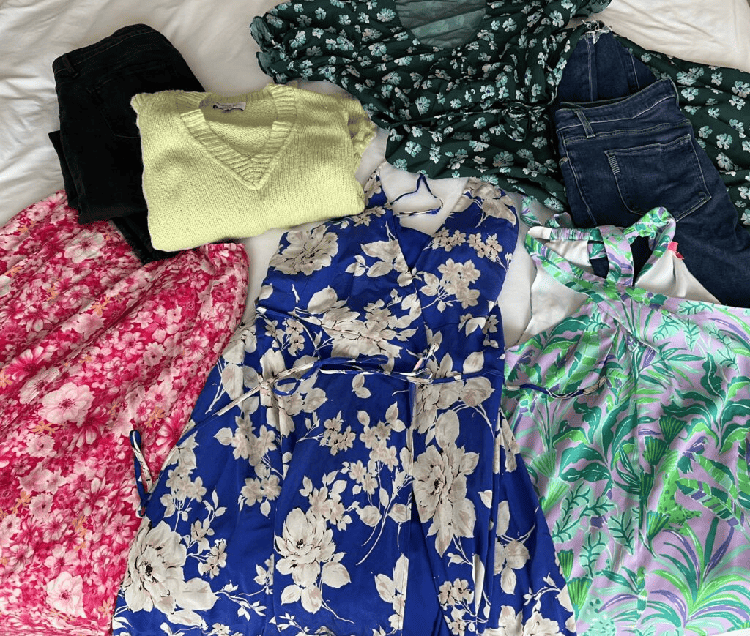 The shipping was fast! It made it from Seattle to the Atlanta area within days of my order, and I ordered late on a Saturday afternoon.

You get about a month to decide if you want to keep anything.

You can get designer clothing at a discount–and sometimes it's barely been worn. Sometimes it's

never

been worn.

If I want new clothes for next weekend, Armoire will most likely be able to accommodate me. The shipping's fast, and there's no wait–you go in, sign up, choose your clothes, and poof! They're at your door in no time.

There's a social component to shopping at Armoire, so you can follow people with similar preferences and body types to yours and see what they discover, how they style different items, and get ideas.

I love how much guidance there is to help shoppers choose the right size. An 8 from one brand might fit like a 6 in another brand, or the person who usually wears a medium might need a large or even extra-large in a particular outfit. There are reviews, users' photos, and a summary of how an item fits all right there on the page.

You get a free backup size sometimes. I'm assuming it's for specific brands. Both times I rented from Armoire, I was offered backup sizes for the Yumi Kim brand dresses I chose.
Cons of Armoire
Because the clothes will have been washed and worn several times (unless you're lucky and get a new item), there's potential for the clothes to actually

look

worn and the sizing to feel "off."

I felt stressed out while trying to find the right styles and fit. I reviewed Armoire before, and though I liked the overall service, I had trouble deciding which sizes to order (some didn't work for me). If that happens, it's not as simple as a quick exchange or refund.

You have nothing to show for the money spent once you return your items. If you keep things, you'll have something to add to your wardrobe, but you'll also pay extra on top of the rental fee.

You'll have to remember to cancel, or you'll be charged for another month.
Top Rent the Runway Alternative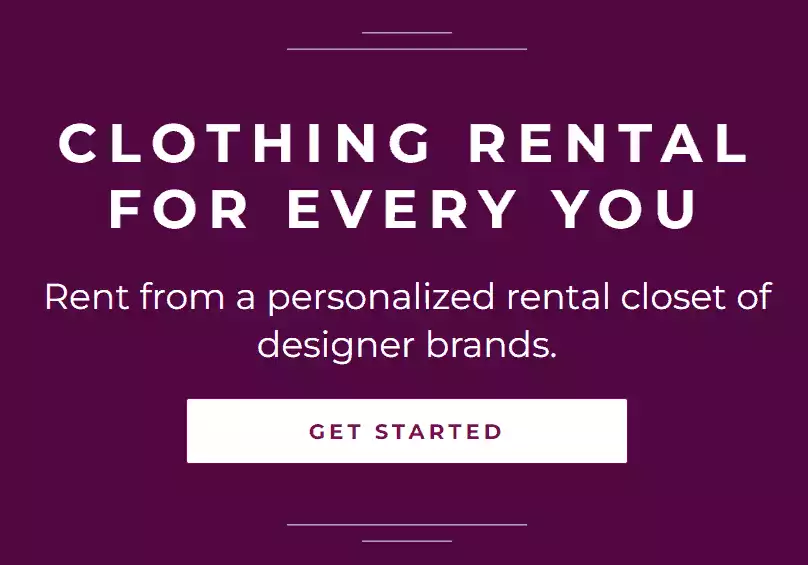 Why Go With Armoire Style?
Armoire Style offers a similar service to Rent the Runway, but has a much higher "success rate" due to a proprietary fashion + style matching quiz that "gets" your personal quirks better than a generic rental service. Kind of like if you merged Stitch Fix with Rent the Runway. Personal stylist + free shipping + keep what you love.
Take the Quiz
We earn a commission if you click this link and make a purchase at no additional cost to you.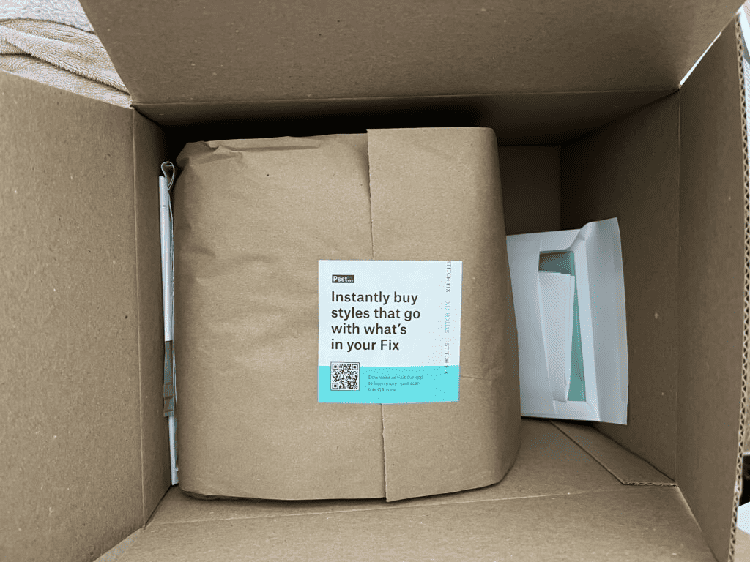 If you've always wanted a personal stylist to help you find the brands, styles, and sizes that work best for your body type and preferences, you'll love Stitch Fix. While Armoire's a rental company, Stitch Fix sends you clothes to consider keeping. There's no renting–and no wearing before you buy.
There's no tiered system with Stitch Fix, but that keeps things simple. A $20.00 styling fee will apply to your order if you decide to keep anything.
What You Get, and How
You'll get five items in each box at the frequency you set. You can order a single box to try it out or set it up on a schedule. My husband and I get boxes quarterly. We set it up so we only have to think about it if we want to pop in and add a note for the stylist. We'll get emails every three months to review the stylist's selections.
You get to have a "conversation" with the stylist before the final shipment. From the stylist's initial selections, you can choose five.
If there aren't five things you like, you can select fewer and leave feedback for the stylist, who will find different things to add to your box. You won't see these additional items until the box arrives. (Perfect for people who love surprises! And luckily, you won't have to wait long once you make it to this stage.)
As far as brands go, I've seen a lot of Fortune + Ivy, Eden Society, Market & Spruce, Democracy, Studio Blue, and Nine Britton.
The Cost
You have some control over the total price because you can set up a general budget for different clothing and accessory categories when you sign up. Still, the total will fluctuate each time based on the items in the box (in my experience, it's only about a $25.00 range from one box to the next).
If you keep all five things in the box, you'll save 25 percent. Sometimes it's worth it to keep something you don't love because it's cheaper to keep all five things than to keep four and send one back.
In my latest Fix, I like most items enough to keep them, but the dress they sent me isn't flattering at all. I'll probably keep it and give it away because I'd lose money if I sent it back.
Pros of Stitch Fix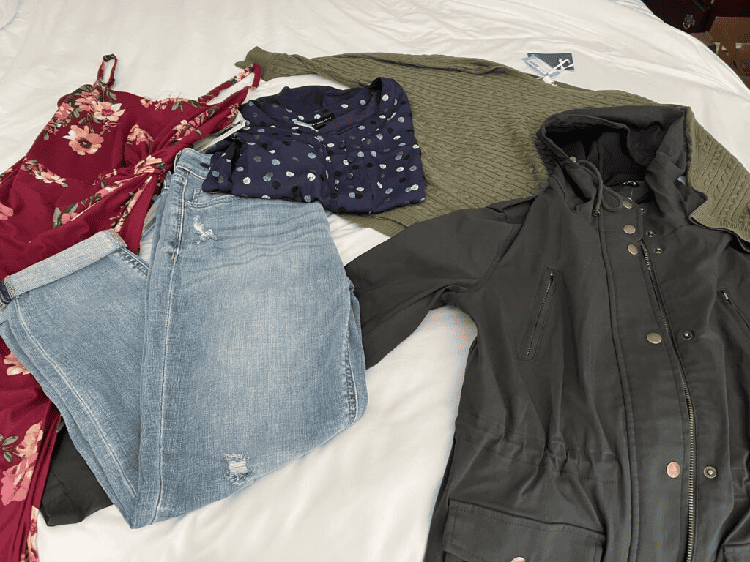 It's a way to get a discount on new clothes from stores and designers you might not know about.

If you don't enjoy shopping, it takes some of the stress of updating your wardrobe off your hands–and the stylists tend to do a fantastic job of finding styles to match your taste and the right cut based on the information you provide them. They've sent me things I never would've chosen for myself that became some of the most-worn items in my closet.

If you need a different size, exchanging it is easy. If you're not in love with an item, you're not charged to keep/use it. You just won't get the same discount you would if you kept all the items.

Getting a sneak preview of the five things the stylist has chosen is excellent because you can reject some and give feedback so they choose the perfect replacement items to send in your box.

When you find a stylist who "gets" you, you can request them again. If you find one who gets it all wrong for you, you can request a new one the next time without making it awkward (it's built into the questionnaire you'll get after you receive your Fix).

Figuring out which size to order is not my problem, which I wholeheartedly appreciate; the stylists have all the information about my measurements, body type, etc., and it's up to them to choose the right size from the brand they choose for me. No sleuthing is necessary on my part.

It's only a monthly subscription if you want it to be. Other options are available.
Cons of Stitch Fix
You only get the extra discount if you want to keep all five things.

You lose the styling fee if you don't want to keep anything from your Stitch Fix box.

You only get three days to decide what to keep unless you

extend your time

(I

just

learned about this option!). If your size fluctuates a lot and your Fix shows up at a bad time, it can be challenging to gauge how well some items will work for you in that short period. Being indecisive doesn't help, either. I've found myself borderline panicking because I felt like there wasn't enough time to decide. I want at least a week.

There have been times I've wanted to schedule a Fix in the near future, but no slots have been available. Needing to schedule an "appointment" (grabbing a time slot on a stylist's calendar for them to choose your clothes, let you approve or reject them, then selecting new pieces if necessary) and then waiting for them to ship is not good for last minute clothing needs or wants.

You can only shop the site a la carte once you've received a Fix. And you can't build your own box in the stylist's place; it's a different process, sans the special discounts you can get in a box from a stylist.
Other Alternatives to Consider
Not feeling an order from Amoire or Stitch Fix right now? There are other options to try: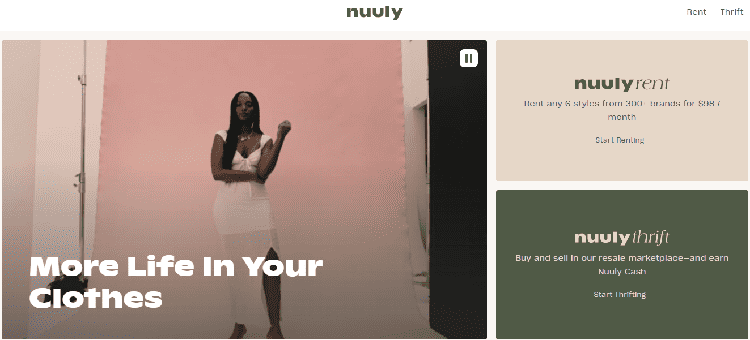 Nuuly is a lot like Armoire. I tried this company around the time I tried Armoire for the first time, and I liked them. It was my favorite until I tried Armoire. In addition to clothing rentals, there's a thrifting option, where you can buy or sell used clothing.
Like Stitch Fix, Nuuly keeps it simple–you get six items (your choice) for a flat fee. Keep them a month, return them, and repeat.
Also read: Armoire vs Nuuly Compared: A Close Call
Daily Look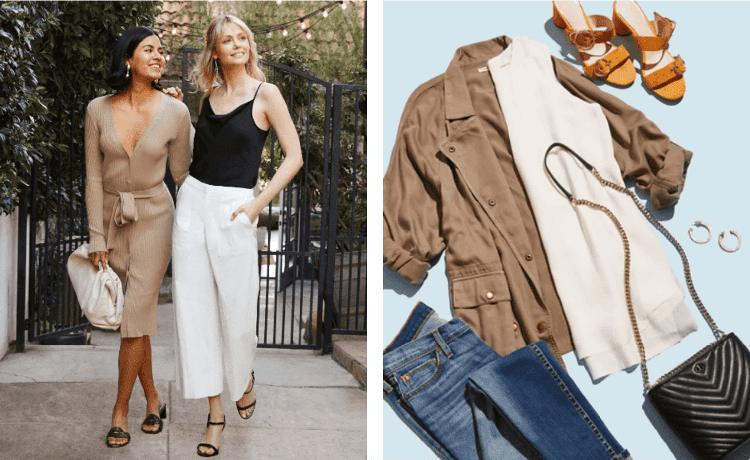 Daily Look is similar to Stitch Fix. A stylist takes your answers to a questionnaire and chooses items for you to consider. What I like about this is the option to include up to 12 items in a box.
Sometimes I want more than five. You buy what you want and then send the rest back. There's less of an incentive to buy everything in the box because you'll get 50 percent off one or two items, depending on how many pieces you choose to keep. The styling fee's twice Stitch Fix's, but it will also apply to your purchase.
Amazon Prime Try Before You Buy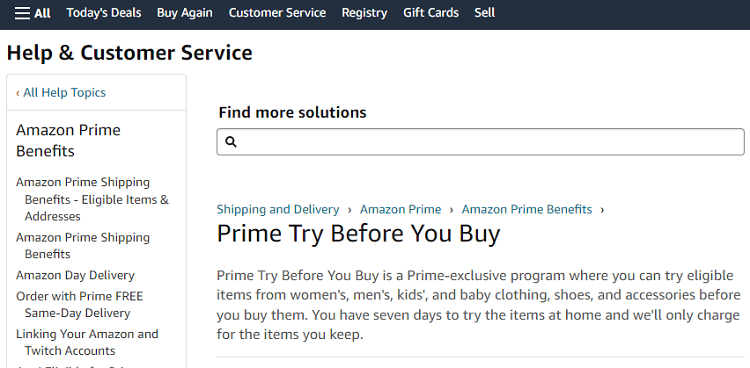 Amazon's Try Before You Buy option for Prime members is similar to Stitch Fix, but you'll choose your own clothes. Once they're delivered, you'll have seven days to decide whether to keep the items.
You can get anything from blue jeans to cocktail dresses this way, and, as always, the Prime shipping makes it fast. It's perfect for last-minute events or when you look in your closet and decide you need a wardrobe overhaul, stat.
FAQs
Question: Is Stitch Fix too expensive?
Answer: You have a little control over how much the items in your box will cost when you set up your account. You get a 25 percent discount if you keep everything. It may be too expensive in some cases, but there are ways to make it worth it.
If I keep a whole box, I typically spend around $200.00 for five items, the styling fee (which applies to the purchase), and shipping. That's not a bad deal.
Question: What age group is Stitch Fix for?
Answer: I've used it in my late 20s, 30s, and now, at 40. The stylists did an excellent job in most cases. My husband has enjoyed it in his 40s, and would've liked it in previous decades.
My teen had mixed results and ultimately decided to cancel, though she did like a few items across two or three boxes. Stitch Fix can work for teens and adults, but it's a matter of getting matched with a stylist who listens to what you want, something you don't have much control over (though if you find a great stylist, you can request them again).
Question: Is Stitch Fix free if you don't keep anything?
Answer: You won't get your $20.00 styling fee back if you return all the items in the box. If you buy something, the styling fee will apply to that purchase.
Conclusion: Armoire Is Fun, but Stitch Fix Is Stable
To me, the perfect combination is a steady stream of Stitch Fix (every other month or quarterly) paired with a few sporadic cases from Armoire throughout the year. I don't enjoy shopping for clothes as much as I used to, and having someone choose for me or a low-risk option with a ton of time to try the clothes before I commit to them is the perfect solution.
If Stitch Fix is steadily sending me classic pieces I can keep and wear for years, I'm slowly building a wardrobe I can choose from without thinking about it too much.
I'm not quite at Steve Jobs' level, with a "uniform" that prevents getting dressed from contributing to decision fatigue. Still, I don't want to put much thought into what I wear daily as a mom who works from home and barely leaves the house most days.
Then I can mix it up and take risks with Armoire as needed. They don't even need a lot of notice. If you have an event in two weeks, you can almost definitely rent the clothes and in plenty of time for them to make it to your door.
Top Rent the Runway Alternative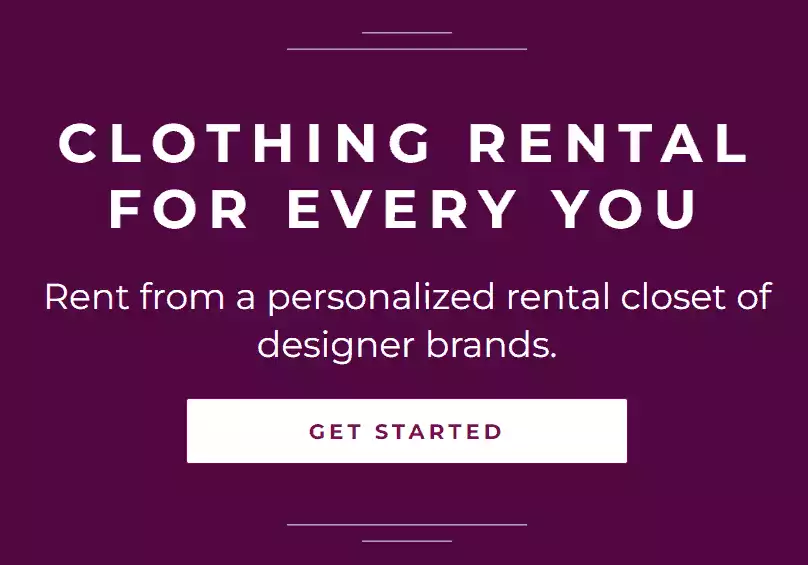 Why Go With Armoire Style?
Armoire Style offers a similar service to Rent the Runway, but has a much higher "success rate" due to a proprietary fashion + style matching quiz that "gets" your personal quirks better than a generic rental service. Kind of like if you merged Stitch Fix with Rent the Runway. Personal stylist + free shipping + keep what you love.
Take the Quiz
We earn a commission if you click this link and make a purchase at no additional cost to you.
Related read