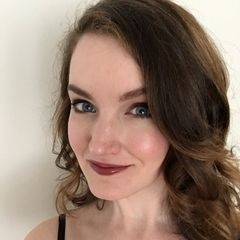 Latest posts by Crystal Schwanke
(see all)
I have been a clothing-borrowing queen lately, and Armoire clothing rental finally came up for me to try. I get the impression they're newer to the scene, but they're doing things right–and with a twist.
You don't just rent clothes from them; you can share your own looks and follow fellow fashionistas in The PWR Feed. It's like social media but all about the clothing you can get from Armoire.
Bottom Line Up Front
Until now, my favorite clothing rental option was Nuuly. Armoire has won me over, though, with their quality, the option to add backup sizes for some items, pricing, extras, and how crisp and new the clothes felt (the jeans even had the tags on them). I wouldn't say I liked how much I'd still have to pay if I wanted to buy any of the rented pieces. Armoire makes good recommendations in the top five and "More Recommendations" sections. They aren't always things I want at the moment, but I like most of what they show me. Those items can be favorited for later.
What to Know Before Diving In with Armoire
There are three plan options, one of which is unlimited (though you can only rent six things at a time).

You'll get a discount on your first month.

You might get lucky and get free add-on items. I rented four things and ended up with seven.

If you're using this to rent clothes to find keepers to add to your closet, you should check the prices first. Other rental options I've tried have offered items for lower prices (that said, the designers weren't the same across the board, so this is just a general assessment).

You can keep the clothes you've rented until your next set arrives.

There's a social component, though you don't have to engage. People can show off the items they rented, and others can follow and/or leave comments on their posts.

You get recommendations after you fill out your profile and sign up. You even have the opportunity to chat with a stylist if you need to.
Top Rent the Runway Alternative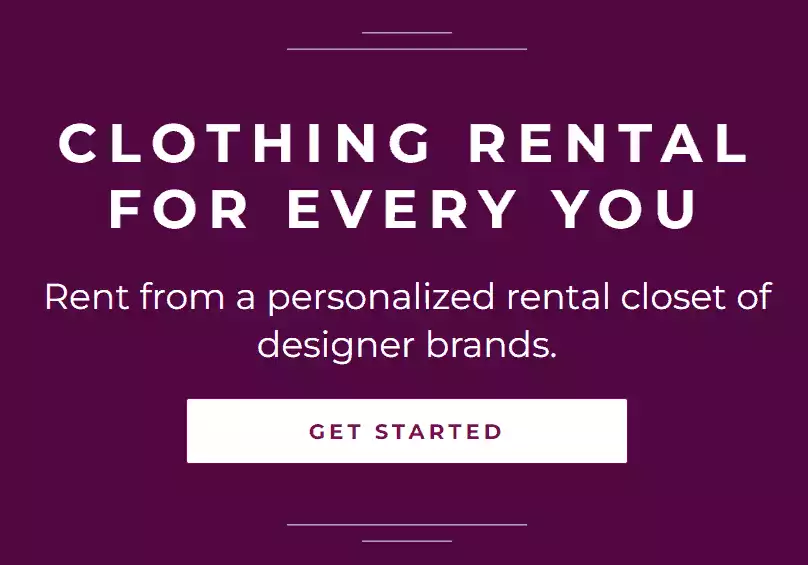 Why Go With Armoire Style?
Armoire Style offers a similar service to Rent the Runway, but has a much higher "success rate" due to a proprietary fashion + style matching quiz that "gets" your personal quirks better than a generic rental service. Kind of like if you merged Stitch Fix with Rent the Runway. Personal stylist + free shipping + keep what you love.
Take the Quiz
We earn a commission if you click this link and make a purchase at no additional cost to you.
My Experience

With Armoire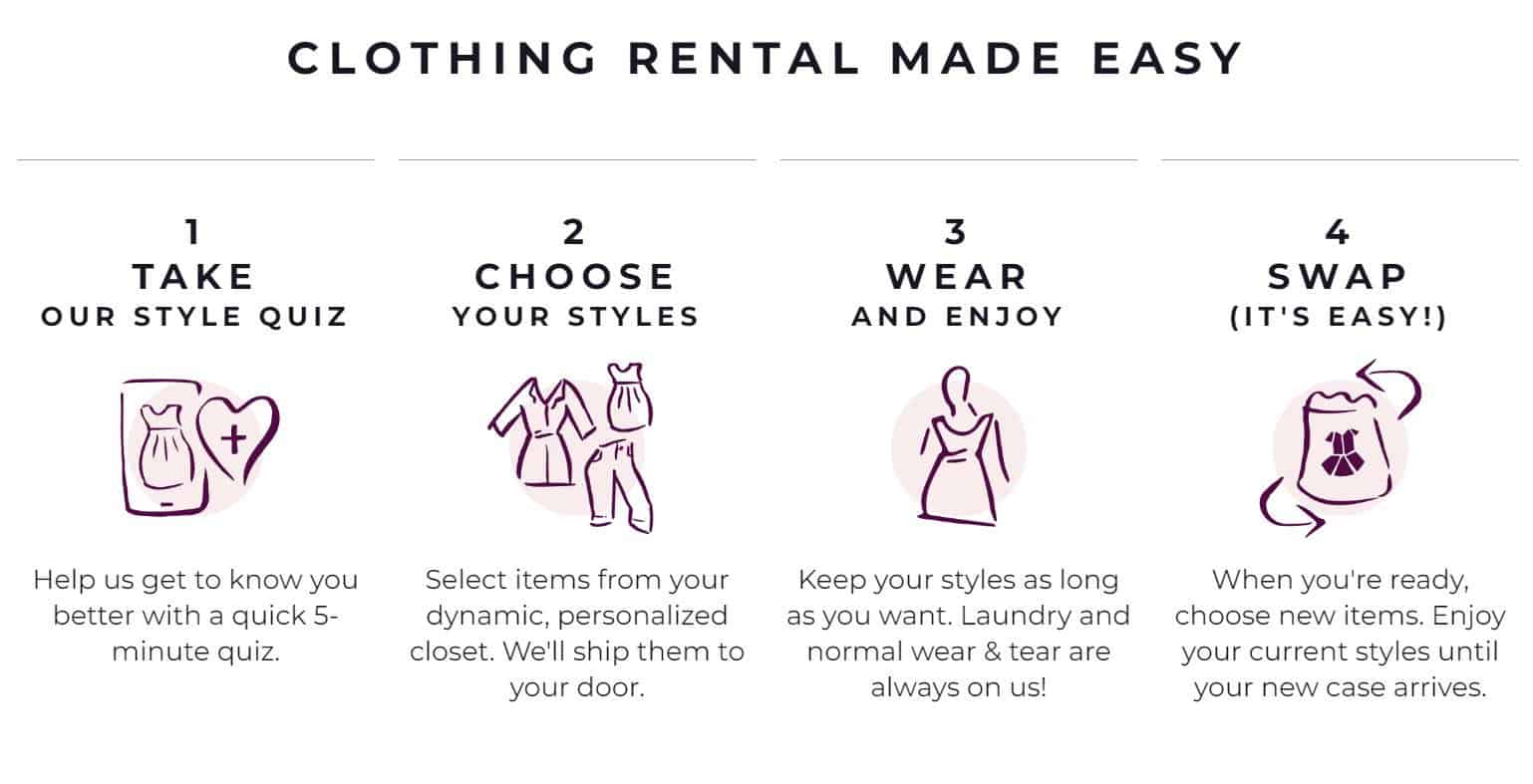 Getting Started and Contacting Customer Service
While I was filling out my profile and trying to choose my general sizes, the site seemed a little glitchy at first. This was a user error because I didn't give a size for something I thought was optional.
If you run into issues, ensure everything's filled out, even if you don't want a particular type of clothing (for me, it was the jumpsuit section).
This was good, though, as it gave me a reason to contact customer service for help. They were quick to respond and very friendly; they even followed up with me later to ensure everything was sorted out. I feel confident saying they genuinely care about the customer's experience and work to address any issues that pop up.
The Recommendations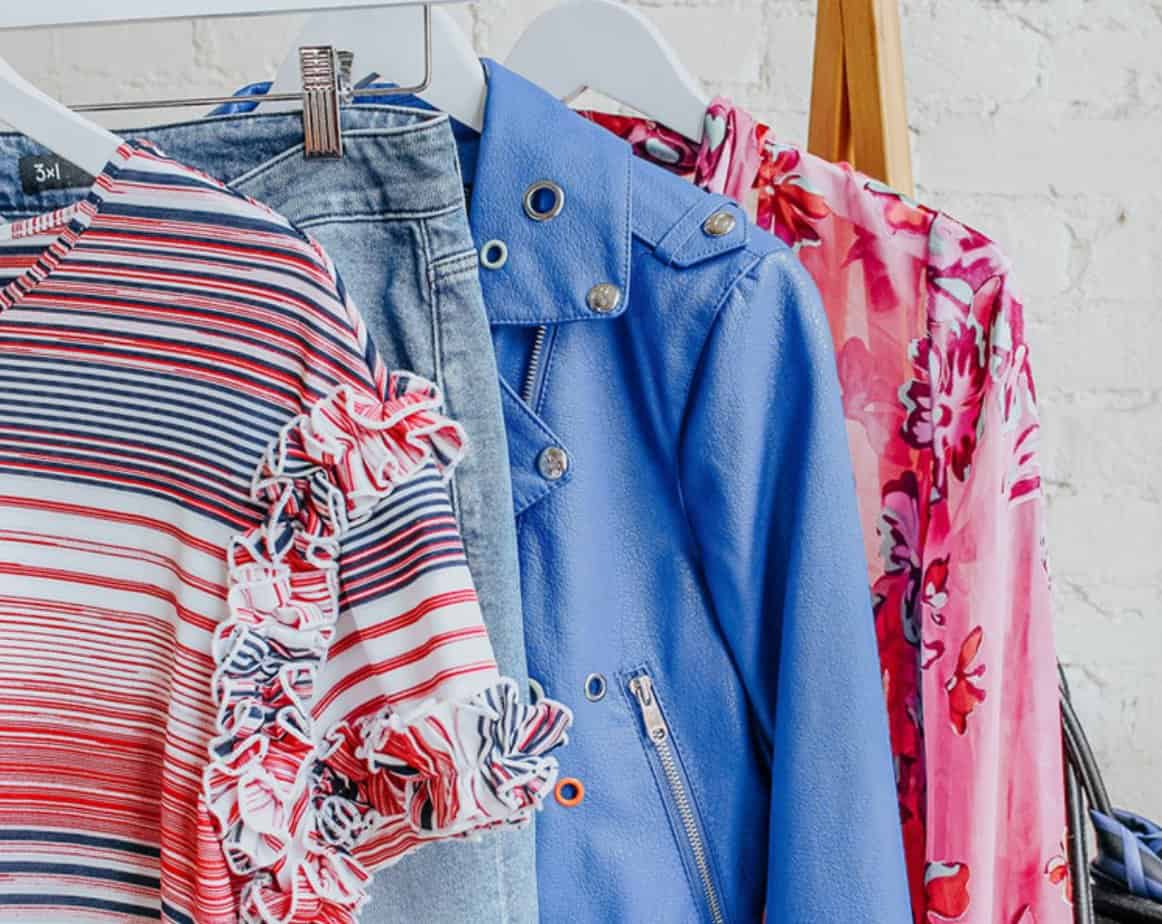 I liked their recommendations when I was done filling out my profile. Ultimately, I ended up choosing my own items because the suggestions needed to better match what I said I was looking for.
I work from home and needed more casual pieces, and what came up looked like something to wear to an office.
You might be on your own a little more than expected, but everything felt well-organized, and I didn't have a hard time finding plenty of clothes I wanted to rent. That's even after seeing that many of the things I went for first were unavailable in the sizes I'd chosen when I set up the profile.
When I clicked to see other recommendations, I just got a blank page (it worked later). "Customize your recommendations" got me nowhere, either. Still, I think that could've been tied into the missing information I mentioned earlier (this also worked later). Getting to the checkout point was a mess–probably my fault–but I persevered and made it through. And I'm so happy I did!
How Much I Rented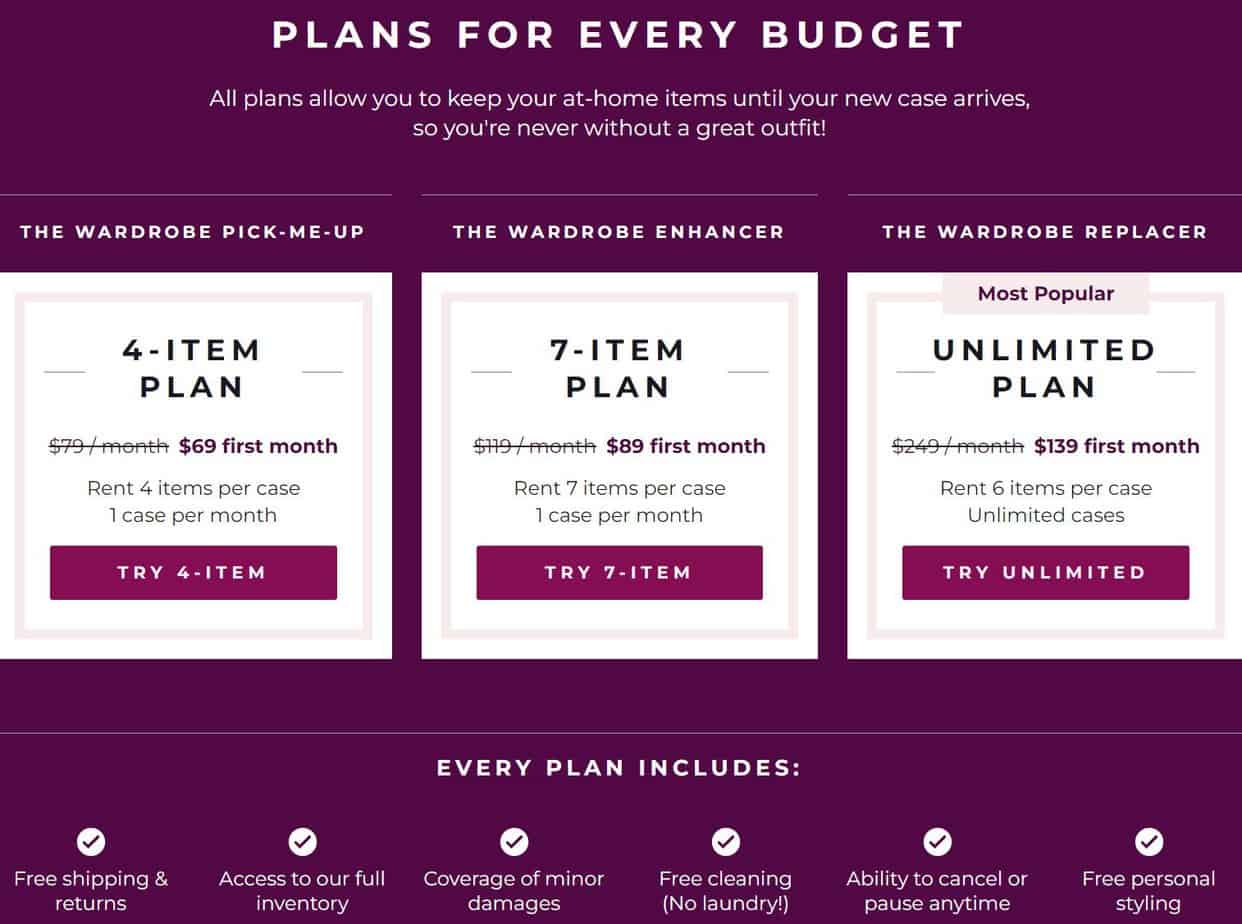 I chose my four items, then saw that I had two "one-time bonus items" to use before January. So I added more. (I had a discount code, but it still only would've been $69.00 for that first month.) All in all, I rented $1419.00 in clothing for $59.25.
Armoire Clothing Shipping and Delivery Experience
Five hours after I checked out, I had an email informing me that my items had shipped. Two days later, the bag was on my porch.
Pros and Cons of Armoire
I had a roller coaster experience with Armoire. It started off mildly rocky, but I was happy by the end of it.
What I Loved

About Armoire
I got to discover a lot of brands I'd never heard of.

When I had trouble getting past the sizing section of profile-building, I had to ask a question, and customer service responded quickly. They were friendly and followed up, too.

It takes you through things you can favorite, dislike, or skip, and you can save your favorites to your closet for later. This reminds me of one of my favorite things about Stitch Fix.

Even though I almost didn't go through with the sign-up process because of the glitches and the negative reviews on many of the clothing items I considered, Armoire exceeded my expectations.

Some things come with a free backup size. (Unfortunately, only one of mine did, and I

still

needed a different size.)

I never would've guessed these clothes had been worn before. The jeans came with the tags still on! Everything felt crisp and brand new.

I was underwhelmed by the bag the clothes came in (which is silly, but Nuuly spoiled me with their little train case setup). However, they were tied up so cute inside and came with an adorable little origami dress.

You can add bonus items if you have a special event coming up. I didn't need to do it this time, but it's nice to know it's an option. Buying outfits and accessories for fancy holiday parties stresses me out, so I would've loved this option in previous years.

Shipping was fast. In two days, my case went from Seattle, Washington, to the Atlanta, Georgia, area.
What Could Use Improvement
There were only a few cardigans to choose from, and if you haven't been able to tell from other reviews, I love cardigans.

The site seemed a little glitchy at times, which was frustrating. I haven't had any trouble since that first day.

Some of the photos on the site were zoomed in too far to get a good feel for how the clothes fit.

Many items I started my search with had negative reviews, which almost made me want to back out of the whole thing. I don't think Armoire should hide those, obviously. Still, they may want to consider making changes (more accurate sizing information, for example) so the clothes meet the customers' expectations better. They might be doing that with the free backup sizes on some items. I was happy with what I got, so don't let the negativity deter you if you want to try it.

Some of the clothing felt like it was for someone shorter or taller than me. I'm 5'8," and the shirts were on the shorter side, while the jeans had a 34″ inseam. If you're not familiar with the brands, it could be hard to navigate the sizing. I got lucky in this case.

If you want to keep something, you might be disappointed by the price. Obviously, the brands are different, but these items are more expensive.

I say this about most clothing rental companies, but it's true here, too–the option to swap for a different size would be fantastic.
How to Decide Whether to Try Armoire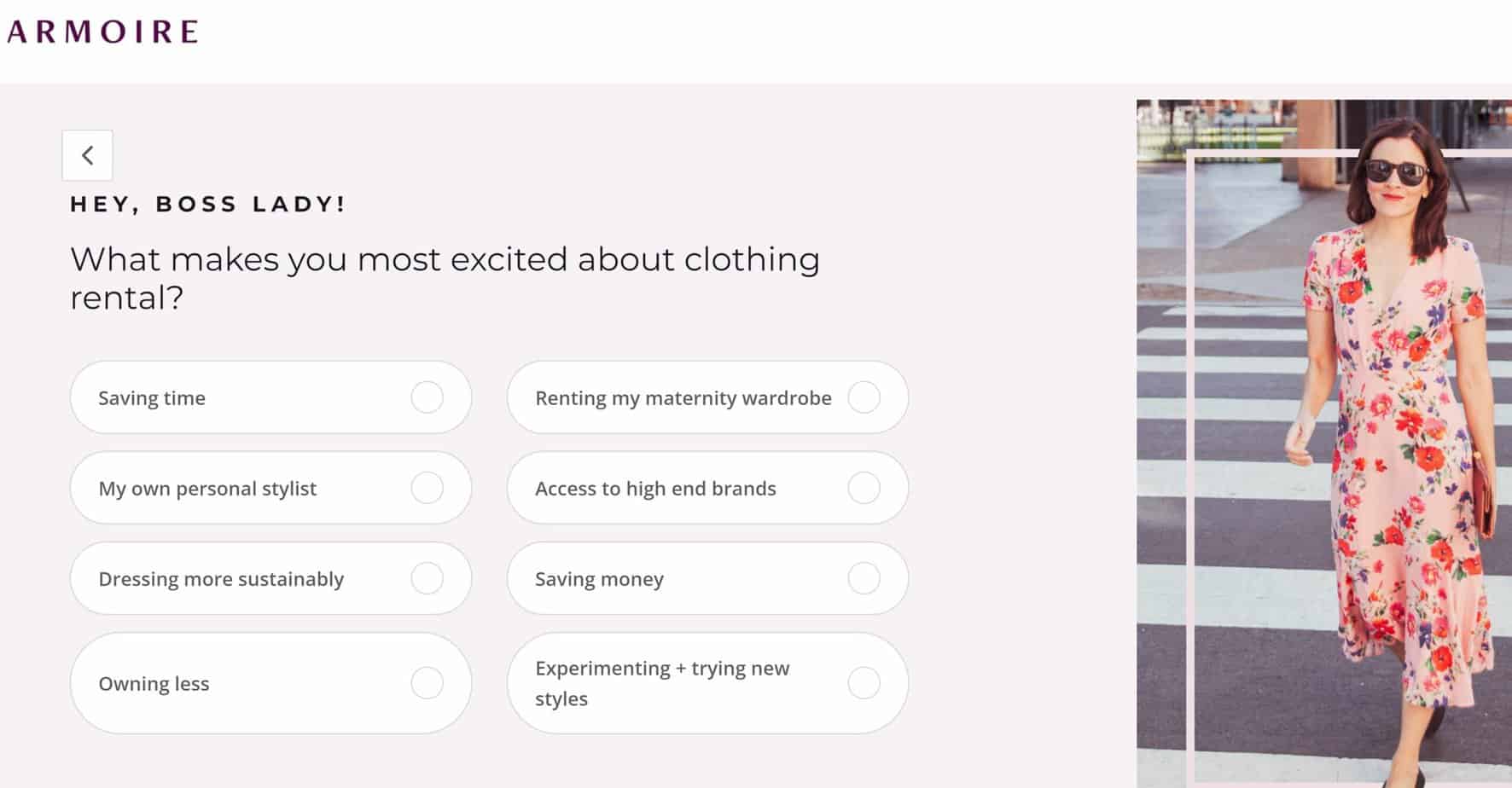 You should try Armoire if:
You want to rent clothes, but also want help deciding what to try.

You like the idea of finding other users with similar body types to yours and seeing what they've worn, how they've styled it, what size they got, and how it fits.

You're considering expanding your wardrobe with some purchases but want to be able to try items before you commit to adding them to your closet.

You're not looking for a plan that includes accessories. Some, like scarves, are available, but you don't have to rent an accessory and can stick with clothing only if you prefer).

You have a budget of at least $79.00 (before tax) for clothing.
Amoire Clothing Alternatives:
Other Options to Try
There are so many excellent clothing rental companies; if one doesn't work for you, there's a good chance another will. If Armoire's not "the one" for you like it is for me, check these out:
FashionPass
I liked FashionPass, but the built-in accessories part of the plan bugged me. I didn't want accessories, just clothes. You can try it out for as little as $59.00 for the first month (that gets you two clothing items and one accessory). Regular subscription prices range from $89.00 to $149.00 per month. On the mid-tier and top-tier plans, you can swap two accessories for one clothing item. If you're like me and prefer not to rent accessories, this could be a good option. I didn't see this when I gave them a try (and went with the lowest tier anyway), so it might be new.
Nuuly
I'm not necessarily looking for specific brands and designers to add to my wardrobe as much as I'm looking for affordable, quality pieces. Nuuly was my favorite until I found Armoire, and I still like it a little more for the prices. Nuuly's discounts on items you might want to buy seemed more manageable than Armoire's. You get to rent six pieces for $88.00 per month, with the option to add up to two extras for $20.00 each.
Rent the Runway
Rent the Runway has all kinds of clothing. Still, I think it's best for special events when you want to make a statement without spending hundreds or more on an outfit you'll probably only wear once. You'll pay $69.00 for the first two months and receive four items per month (similar to Armoire's lowest tier), but it jumps up to $94.00 per month after that. If you want eight things, you'll pay $99.00 for the first two months, then $144.00 monthly. If you love designer clothes and want an extensive collection at your fingertips, this could be the one for you.
Haverdash
I like Haverdash's unlimited shipments. You pay $59.00 monthly to get three items at a time, but you can get multiple monthly shipments. This is the only plan available at the moment, but if you only need a little at a time, it could be perfect.
FAQs – Armoire Clothing Rental Review
Question: What is similar to Rent the Runway?
Answer: Armoire is one of the closest options I've found. FashionPass and Nuuly are other options to try if you're looking to rent clothes and send them back or buy them at a discount.
Question: How much is an Armoire membership?
Answer: They have options. To rent four items per month, you'll pay $79.00. If you'd like seven, it's $119.00 per month. If unlimited's your jam because you want new outfits all through the month, you can pay $249.00 per month and get unlimited cases (six items per case).
Question: How do I return an Armoire?
Answer: The case comes with a return label. Put your items back in the bag they came in, seal it up, and put the new label on the outside. I'll be sending mine back via USPS, but they give you a choice between that, FedEx, and UPS. 
Question: What is Haverdash?
Answer: Haverdash is similar to Armoire. It's a clothing rental company where you can get three items at a time (unlimited shipments) each month for $59.00, wear them, then send them back in a prepaid bag.
Yes, Try Armoire
If you're interested and it fits your budget to rent clothing from Armoire, you should do it! The only downside is that you'll have to send the clothes back (though you could technically buy it all). I'd love to keep several items from my order.
Everything looked and felt brand new, so it was just as rewarding as shopping in a department store–no surprise disappointments (except the dress, which didn't fit). This is a company I want to tell everyone about and encourage them to try.
As usual with clothing rental companies, carefully read the details about the fit of each item. Then take it a step further and click through the user photos to see how it might fit.
Top Rent the Runway Alternative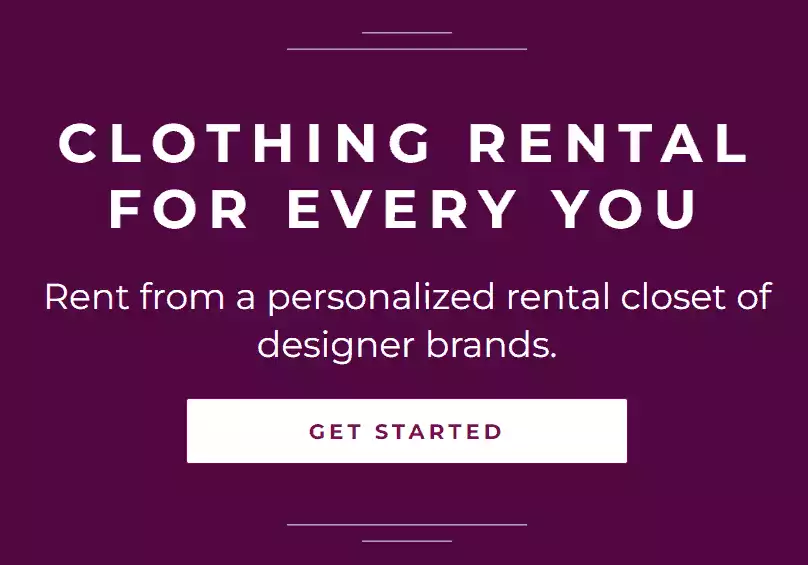 Why Go With Armoire Style?
Armoire Style offers a similar service to Rent the Runway, but has a much higher "success rate" due to a proprietary fashion + style matching quiz that "gets" your personal quirks better than a generic rental service. Kind of like if you merged Stitch Fix with Rent the Runway. Personal stylist + free shipping + keep what you love.
Take the Quiz
We earn a commission if you click this link and make a purchase at no additional cost to you.
Recommended Style Subscription Reads: