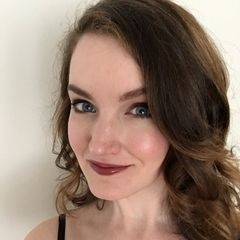 Latest posts by Crystal Schwanke
(see all)
Ah, a showdown between my two favorite clothing rental companies: Armoire vs Nuuly. They have much in common; I'd say they're more similar than different.
I've enjoyed clothing from both so much that I've opted to keep some clothing from each service for good. I've been writing about fashion for over a decade and didn't know what to think when so many rental companies started popping up; I'm happy to say I've been pleasantly surprised overall.
The quality was better than I expected, the prices are reasonable, you don't have to worry about laundry with either one, and each is a subscription that allows you to enjoy the items you choose for a month (or more).
Even some downsides are the same (like how you can't swap things out if you realize you need a different size, though Armoire offers free backup sizes on some items).
Even though they're so similar, and I like them both, I still have a favorite. Keep reading to see which one wins and why.
Bottom Line Up Front
I already liked Nuuly before I tried Armoire. Then Armoire took first place on my list of top clothing rental services. I still prefer Armoire, but if you see something you like at or about Nuuly, there's no harm in trying them. Both are excellent clothing rental companies that will get your picks to you within a few days (at least from my experience).
The only stress I experienced with either one was worrying about selecting the right size, as I wasn't familiar with how all the different brands fit my body, how the sizes run, etc. Both Armoire and Nuuly have reviews to help you with that, though.
Armoire goes a bit further to help, thanks to the social section of the site and the complimentary chat with a stylist if you need it.
Top Rent the Runway Alternative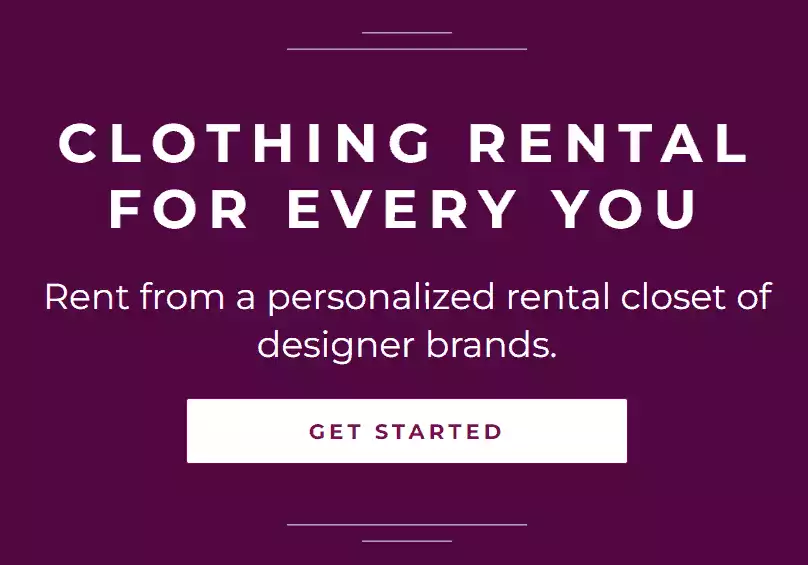 Why Go With Armoire Style?
Armoire Style offers a similar service to Rent the Runway, but has a much higher "success rate" due to a proprietary fashion + style matching quiz that "gets" your personal quirks better than a generic rental service. Kind of like if you merged Stitch Fix with Rent the Runway. Personal stylist + free shipping + keep what you love.
Take the Quiz
We earn a commission if you click this link and make a purchase at no additional cost to you.
Main Differences Between Armoire and Nuuly
Armoire gives you choices–four-item, seven-item, or unlimited plans–whereas Nuuly only gives you one option, the six-item plan.

Armoire is clothing rental only (with the option to buy), whereas Nuuly is a clothing rental company that allows you to buy, but also has a thrifting section where you can buy or sell clothes.

Armoire has a social component that helps you make rental decisions and style different clothing pieces, whereas Nuuly does not. (Both offer plenty of customer reviews and photos to look through, though.)

Armoire offers the opportunity to enlist a stylist for help, whereas Nuuly does not.
Key Features of Armoire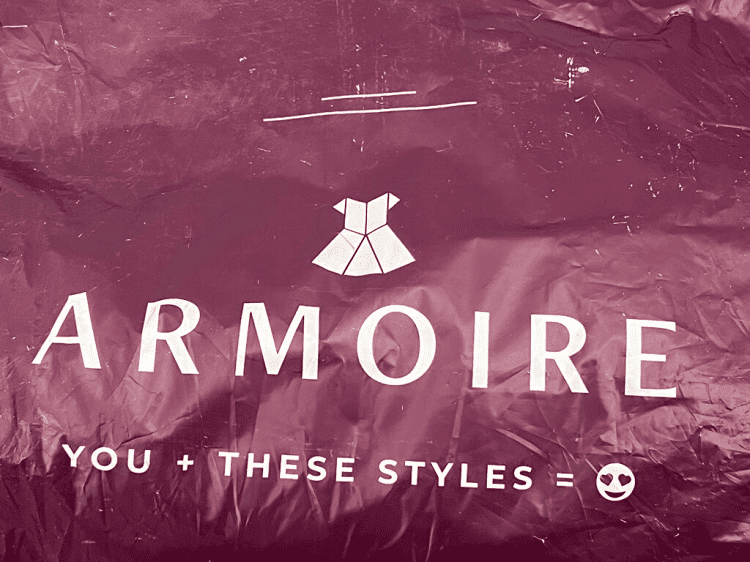 Flexibility is one of the standout Armoire features. As mentioned above, you can choose the best plan for your needs. Beyond that, you can keep your items longer than a month if you like them that much but don't want to buy them (you'll be charged the subscription fee for another month, of course). The "swaps" keep adding up until you're ready to exchange your rented items for a fresh batch.

More on flexibility: You can add items to your orders for just $20.00 each.

Curated suggestions give you a good starting point. It'll make it easier for you to find the clothes you'll like the most–in the sizes that are most likely to fit you well–based on your preferences and the information you've provided during the onboarding process.

Pre-pay plans are available.

You can start for as little as $69.00 for your first month.

I can't find a whole list of brands like the one Nuuly offers on their site, but you'll see designers like Yumi Kim, Boden, Paige, Anna Sui, French Connection, BCBG Maxazria, Reiss, Daze, Joi, Who What Wear, White + Warren, and tons more.
Top Rent the Runway Alternative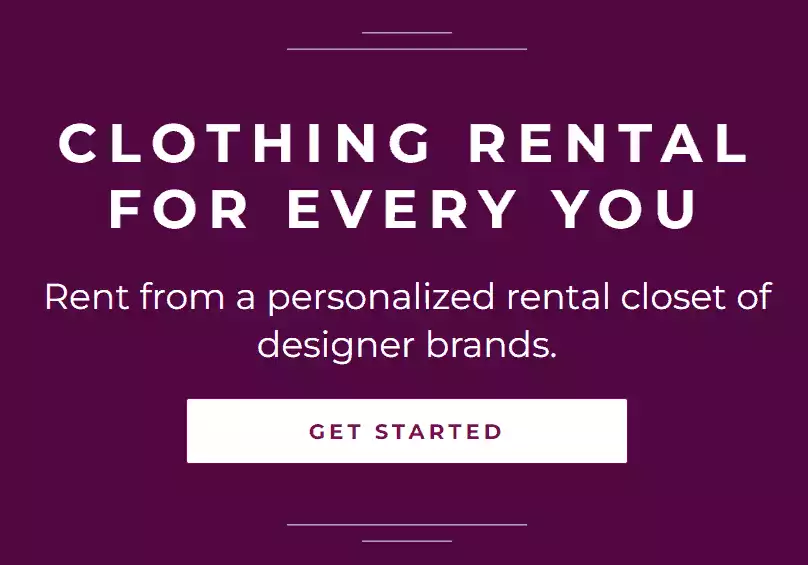 Why Go With Armoire Style?
Armoire Style offers a similar service to Rent the Runway, but has a much higher "success rate" due to a proprietary fashion + style matching quiz that "gets" your personal quirks better than a generic rental service. Kind of like if you merged Stitch Fix with Rent the Runway. Personal stylist + free shipping + keep what you love.
Take the Quiz
We earn a commission if you click this link and make a purchase at no additional cost to you.
Pros of Armoire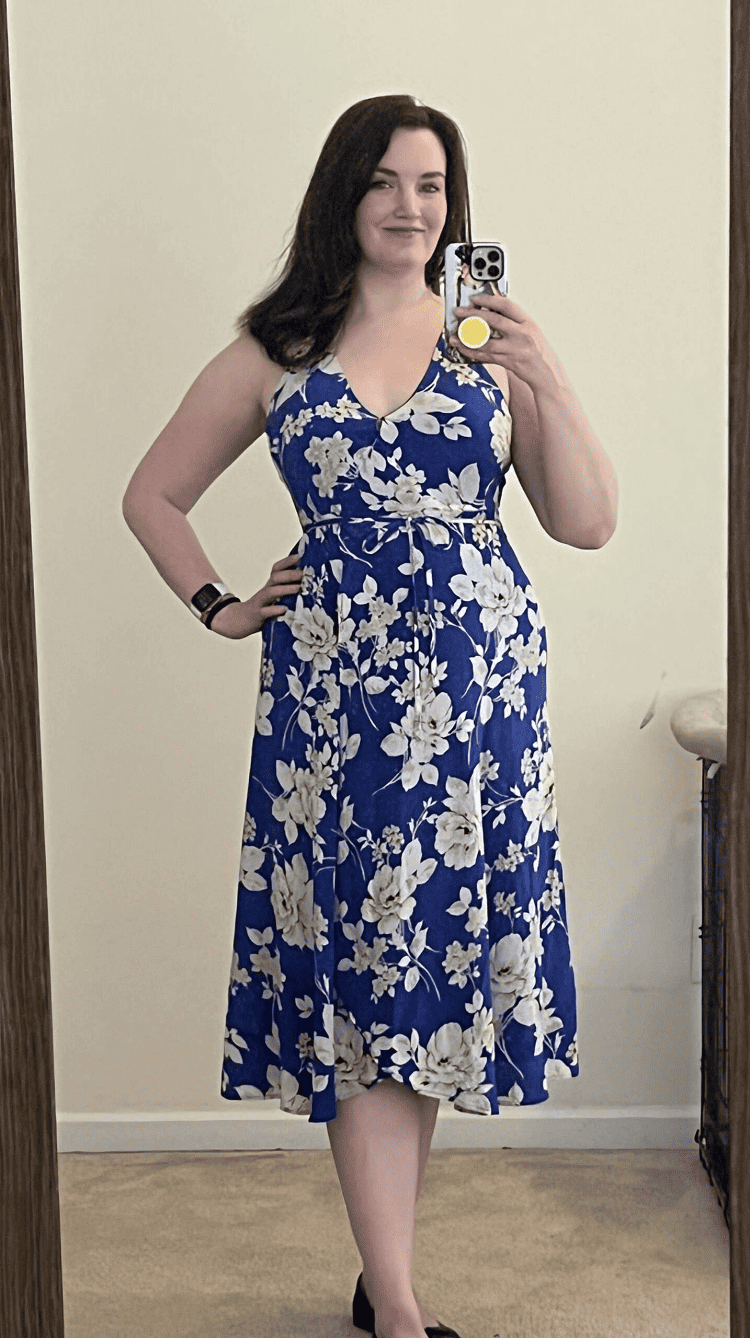 You can keep your items until the next case arrives. They ask that you ship the old set back within a day of receiving the new one.

The unlimited option is excellent for someone who loves mixing it up throughout the month. You only get six items per case instead of seven (what I got both times). Still, because you can trade items during the month, it's a fantastic opportunity to try new things more quickly.

Every time you log in, you're greeted with the top five recommendations, with the option for more if you'd like to see them. I love this because it can give me things to save for later, even if I'm not ready for them yet. That makes filling my next case quicker and easier–I won't have to sit there and browse for an hour to find something I want to wear, then figure out which size to order.

There are several sources of information regarding the fit of each piece. You can read the reviews, look at other renters' photos, see reviewers' measurements and usual sizes, and then see a summary based on those reviews at the top of the page. I triple-checked my measurements and combed through the feedback on everything I wanted to try more carefully before ordering my Armoire case. I didn't have any surprises.

Armoire will let you request a free backup size on some items. For me, it was a Yumi Kim dress each time. Good thing, since that brand fits me differently than most others. The backup size kept me from being disappointed this time; now, I might purchase the dress in the smaller size. Based on my previous experience with Yumi Kim (neither size I got fit), I was going to go up two sizes, which would've been too much. The backup size fits perfectly.

You can chat one-on-one with a stylist for free.
Cons of Armoire
I know this is because of the brands they carry (that I chose to rent), but the clothes are still expensive even with the discount. This isn't that bad if you get a barely-worn or new-with-tags item, and they're things you can wear for years, but there are less expensive options for similar items out there. Still, I wince when considering keeping the $160.00 pair of jeans and the $125.00 dress I love from my most recent case.

Sometimes I just want to buy clothes and be done with thinking about them. Armoire and similar services create an "open loop" in my brain that won't be satisfied and settle down until I have returned the clothes on time, so I don't think I could personally maintain a monthly subscription. It's like having an open tab in my brain at all times that I need to close. A case here and there is perfect, though.

I see the benefits of the social aspect Amoire offers, but it feels like a distraction to me.

The sweater I rented had some stains, but they were barely noticeable.

This is probably just a "me" problem, but all the tops (other than the sweater) I rented from there seemed to be shorter on me than on the models and would've been more flattering if they were longer. I'd usually shrug it off and attribute that to being, well, not a model with model proportions, but when I buy new clothes online or try them on in stores, I don't usually have that issue.
Key Features of Nuuly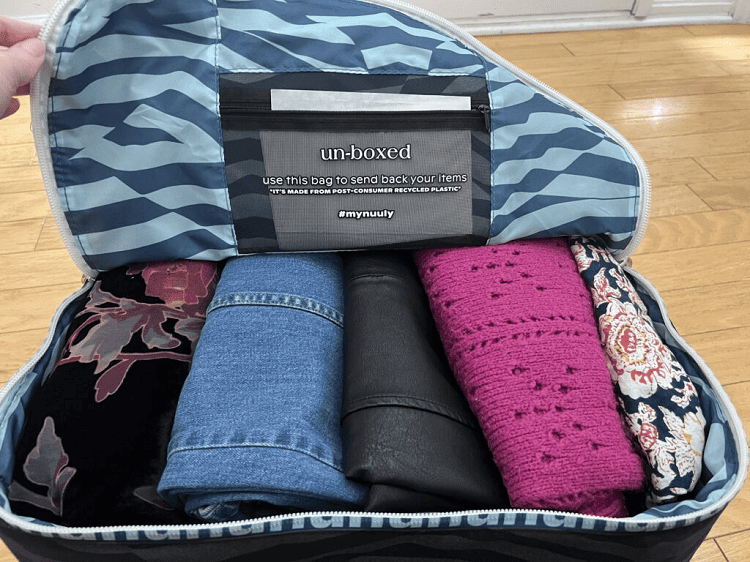 Each month, you get to rent six items (your pick) for $98.00.

You can buy the things you can't bear to send back–at a discount–but there's no expectation for you to do so.

There's a thrift store component to Nuuly as well, but that's a separate section on the site (and app) where you can buy and sell clothing.

If you want to rent more than six items (to finish off an outfit or try a backup size, for example), you can add more items for $20.00 each.

Nuuly has a list of brands they offer, so it's easy to skim and see if they're designers and styles you might be interested in.
Pros of Nuuly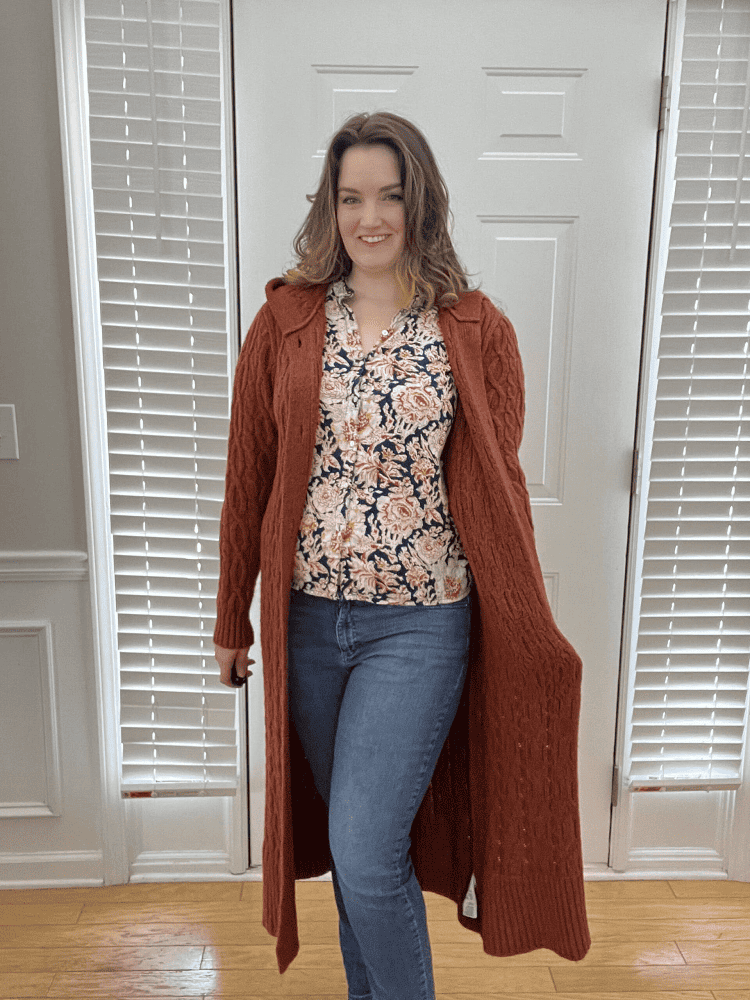 You don't have to weigh any pros and cons of different plans or determine how many times you can fit in swaps during the month to calculate the best plan. There's one plan with six pieces for one price. I like simplicity. I'm not too fond of math and lots of moving pieces.

Shipping was fast.

There weren't any huge surprises in the shopping, ordering, or shipping process–all of that was easy-peasy. I had some issues with sizing, but that could've been bad luck or a mess-up when checking my measurements. I also could've spent some time combing through the reviews more. As time passes, Nuuly will accumulate more and more user reviews that'll help others choose the correct sizes for each clothing item.

I love the packaging it comes in–not a regular old bag or box, but more like a train case.
Cons of Nuuly
Like Armoire, Nuuly creates that same "open loop" in my brain that keeps a tab open, taking up brain power until I have sent the clothes back.

There's no stylist to help you choose the clothes; you're on your own.

If you get the wrong size, you can't do much about it. They don't swap them for you. However, if they don't send you the size you ordered, they ask that you contact them for help. In that case, it's their mistake and they will try to correct it.

Overall, the clothes from Nuuly looked a little more worn than the ones I got from Armoire. However, that wasn't true across the board (the cardigan I purchased at a discount was in fabulous shape).

They discourage you from washing the clothes in their FAQ section (which makes sense since they want to handle how the clothes are cared for to ensure they're clean and well-maintained for the next renter), but how many times will you want to wear something without washing it?
Other Alternatives to Consider
Nuuly and Armoire are so similar, you can't go wrong. But that means if Armoire doesn't feel like the best solution for you, there's a good chance Nuuly won't, either, and vice-versa. What then? Here are some alternatives to try:
Mercari

If it's just a discount on designer items you're after and you're looking to buy anyway, Mercari's worth checking out. You never know what you might find (it's not all clothing), but I've noticed some incredible deals there.
In most cases, you'll need to act quickly if you see something you'd like. I've missed out. You'll probably have the best luck if you're looking for accessories like designer bags. Still, you can find jeans, tops, activewear, and more here.
Amazon Try Before You Buy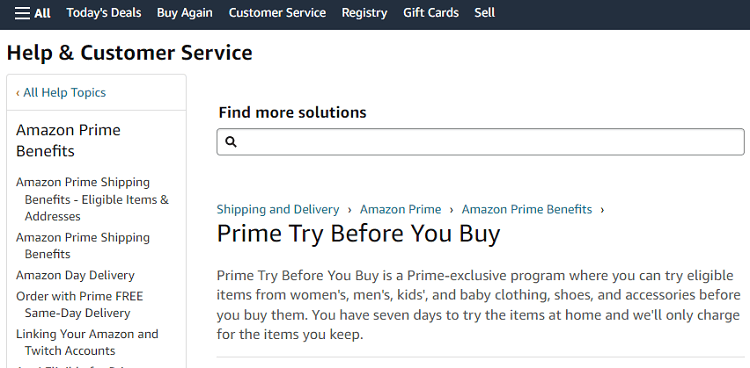 Pricing will vary with Amazon, and you're unlikely to get any special discount by shopping there. However, if you're looking for the perfect addition to your wardrobe and don't want to spend a ton–even temporarily, while you try things on–ordering several things from their Try Before You Buy section could be just what you need.
You can find tops, pants, cocktail dresses, etc. The shipping should only take a couple of days. Shipping with Armoire and Nuuly also took less than a week, but Amazon's about a day faster on average.
Rent the Runway (Maybe)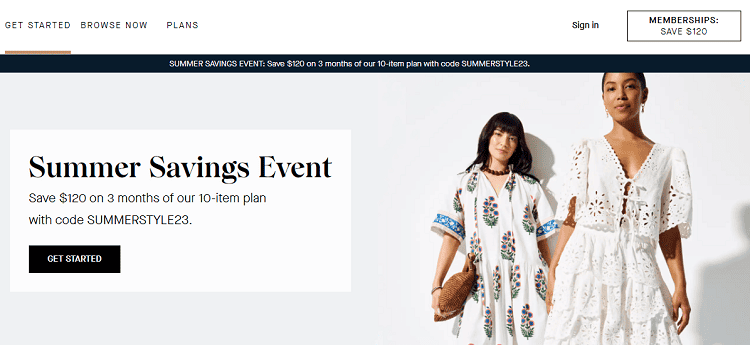 I must mention Rent the Runway because they offer high-end, gorgeous clothes for those days you want to look especially chic and/or glam. The "maybe" is because these clothes might be a little more than you'd like for the average day, if you're like me.
There are three plans to choose from, and the pricing is reasonable (the five-item plan is only $79.00 for the first month). If you've always wanted to try some runway looks, now's your chance. Don't get me wrong, not everything here is over the top.
The styles are elevated compared to the average outfit, which makes it fun. And if you have a special event where you need a gown, look no further than this option (get that and a few more pieces to wear while you're at it).
Also read: Nuuly vs Rent the Runway: If You Think Your Life Is Boring, Here's What You Need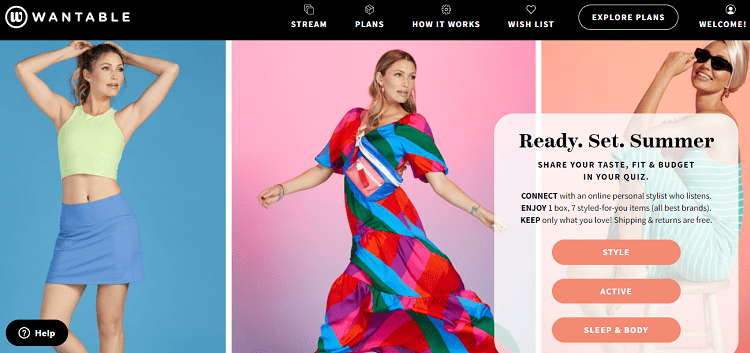 Wantable's not a rental service, but you can get help choosing seven items you're likely to love (there's a $20.00 styling fee). Once your box arrives, you'll have five days to decide what to keep.
If you keep at least five things, you can save 20 percent on your order. Wantable has options–sleep & body, themes, active, and more. You'll even have the opportunity to request specific pieces.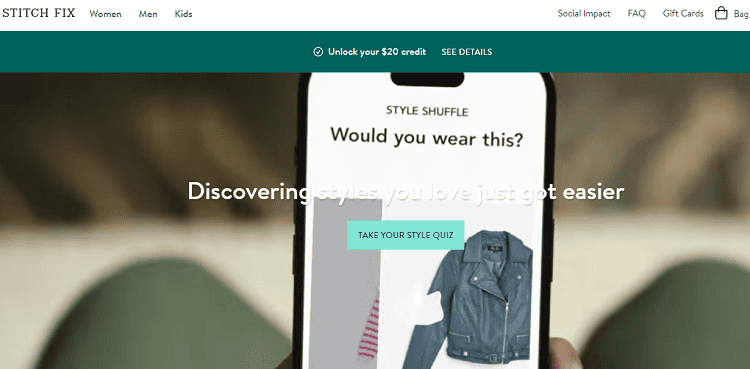 Sometimes I know I want/need new clothes, but I want to avoid dealing with the hassle of shopping for them. Sometimes I know I want clothes I can keep until they fall apart rather than things to rent and return (I appreciate both options, but I can't rent all the time).
I like Stitch Fix because once you give them your measurements and preferences, the stylists can run with that information, find you brand-new clothes you'll like, and let you choose from just a few items in a preview.
If you don't like at least five of those for your Fix, they'll find new options before your box is shipped, so you'll get five things every time. If you like all five items enough to want to keep them, you'll get a 25 percent discount on everything.
ThredUp

With ThredUp, you're not renting; you're buying. That said, you're also saving a ton of money on the clothes you get, and you're not locked into ordering a specific number of items. Get as many or as few as you'd like. They frequently run sales, so you'll be getting savings on top of savings, even on designer items.
My experience with ThredUp was hit or miss, but my teenage daughter was blown away by the quality of the items and the prices she got them for. My advice: Take your time here and look for the gems and you'll be thrilled with what you get.
FAQs
Question: Can you keep Nuuly for longer than a month?
Answer: You can, but since it's a subscription service, you'll be charged for another month right on time. So you can keep the whole set of clothes longer or return everything and then rent the item you loved again (along with five new-to-you things).
There's also the option to purchase the item you want to keep longer and send the rest back, then rent six different pieces for your next month (or pause/cancel if your budget needs a break after purchasing an item).
Question: How Many Pieces can you Rent from Nuuly?
Answer: With Nuuly's plan, you get six pieces per month. However, if you need more, you can add up to four additional items for $20.00 each.
Question: How much does Nuuly charge to buy clothes?
Answer: If there's something you'd like to keep, you can buy it at a discount of up to 75 percent. There's not a blanket percentage off the retail price across all items on the site, but you can find out how much each piece of clothing will cost you by logging in and looking under My Nuuly.
It's easy to buy from there (they already have your payment info, so it's barely more than a click of the Buy button).
Conclusion: Armoire Is Best, but Barely
It's so close, people who want to try rental companies more than once should give both Nuuly and Armoire a try. However, I recommend starting with Armoire because of the option to choose a backup size on some items, the different plans you can choose from, and the ability to chat with a stylist.
It doesn't hurt that I've gotten slightly less worn-looking clothing from Armoire, but some of that will depend on what you order and how many times it's been worn before it gets to you.
Top Rent the Runway Alternative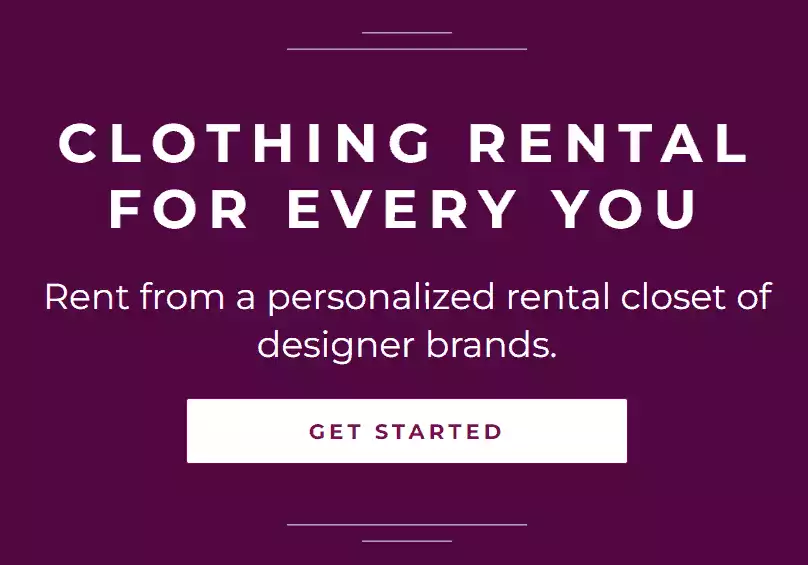 Why Go With Armoire Style?
Armoire Style offers a similar service to Rent the Runway, but has a much higher "success rate" due to a proprietary fashion + style matching quiz that "gets" your personal quirks better than a generic rental service. Kind of like if you merged Stitch Fix with Rent the Runway. Personal stylist + free shipping + keep what you love.
Take the Quiz
We earn a commission if you click this link and make a purchase at no additional cost to you.
Related read