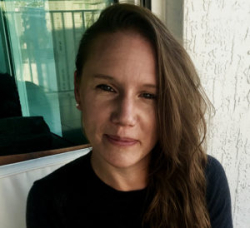 Latest posts by Jacqui Somen
(see all)
Athletes constantly move their bodies, which means they are always burning calories and usually need to eat more food than the average person.
Dietary recommendations for athletes often vary based on the sport and community, so it is a good idea for athletes to work with a sports nutritionist to develop a dietary plan that is best for them and their specific athletic goals, but experts provide some general recommendations.
Generally speaking, athletes typically require more calories than sedentary people. This is because athletes spend a lot of time in training, practice, and competition, pushing their bodies to the limits; all that energy needs to come from somewhere!
Athletes require a balanced diet just like everyone else; they may just need more food overall. According to the University of Washington School of Medicine and Public Health, student-athletes need to consume about 3,000 calories per day for men and 2,700 calories a day for women. In comparison, the FDA recommends that sedentary men consume approximately 2,400 calories per day and sedentary women consume approximately 1,800 calories per day.
Additionally, carbohydrates are essential for athletes as this is where your body pulls energy. And it is always important to eat an increase in calories and macronutrients alongside ample servings of vegetables and fruit, regardless of your activity level.
While athletes tend to have particular dietary needs that vary depending on the sport and the individual, I'll use the criteria of the availability of convenient and tasty higher calorie, higher carbohydrate, protein-rich meals that can easily fit into an athlete's busy schedule as the baseline for selecting meal delivery services for athletes.
TL;DR Several meal delivery services offer meal plans that could cater to the increased energy needs of athletes. Factor has a great Protein Plus program that includes higher-energy meals and a dietitian support session. FireRoad is a good option for performance-focused plant-based athletes.
Healthy AND Easy Pick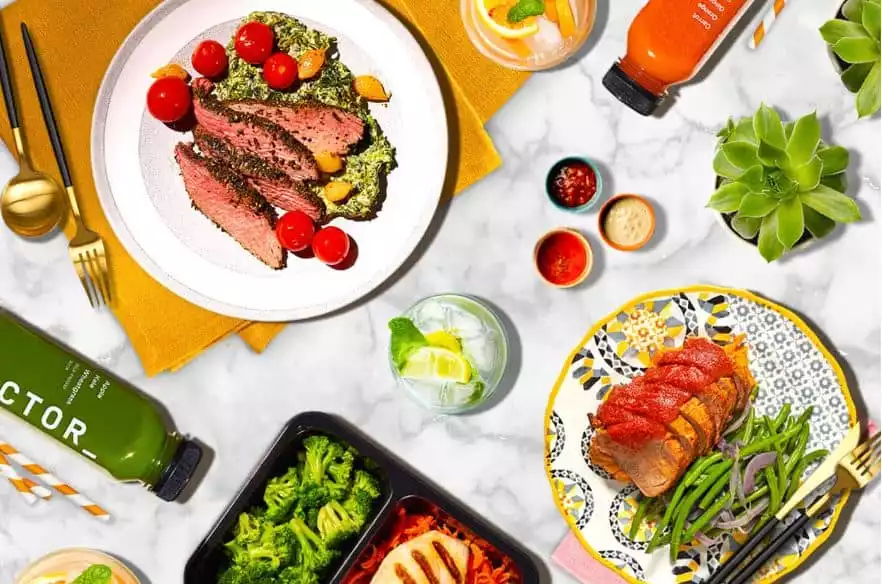 Why Go With Factor?
Just heat, eat, and enjoy. Factor makes eating healthy, EASY. Honestly, the hardest part about eating healthy are MEAL PLANNING and MEAL PREP. Factor removes both as an excuse and is interesting enough to stick with over the long term.
Check Current Seasonal Promo!
We earn a commission if you click this link and make a purchase at no additional cost to you.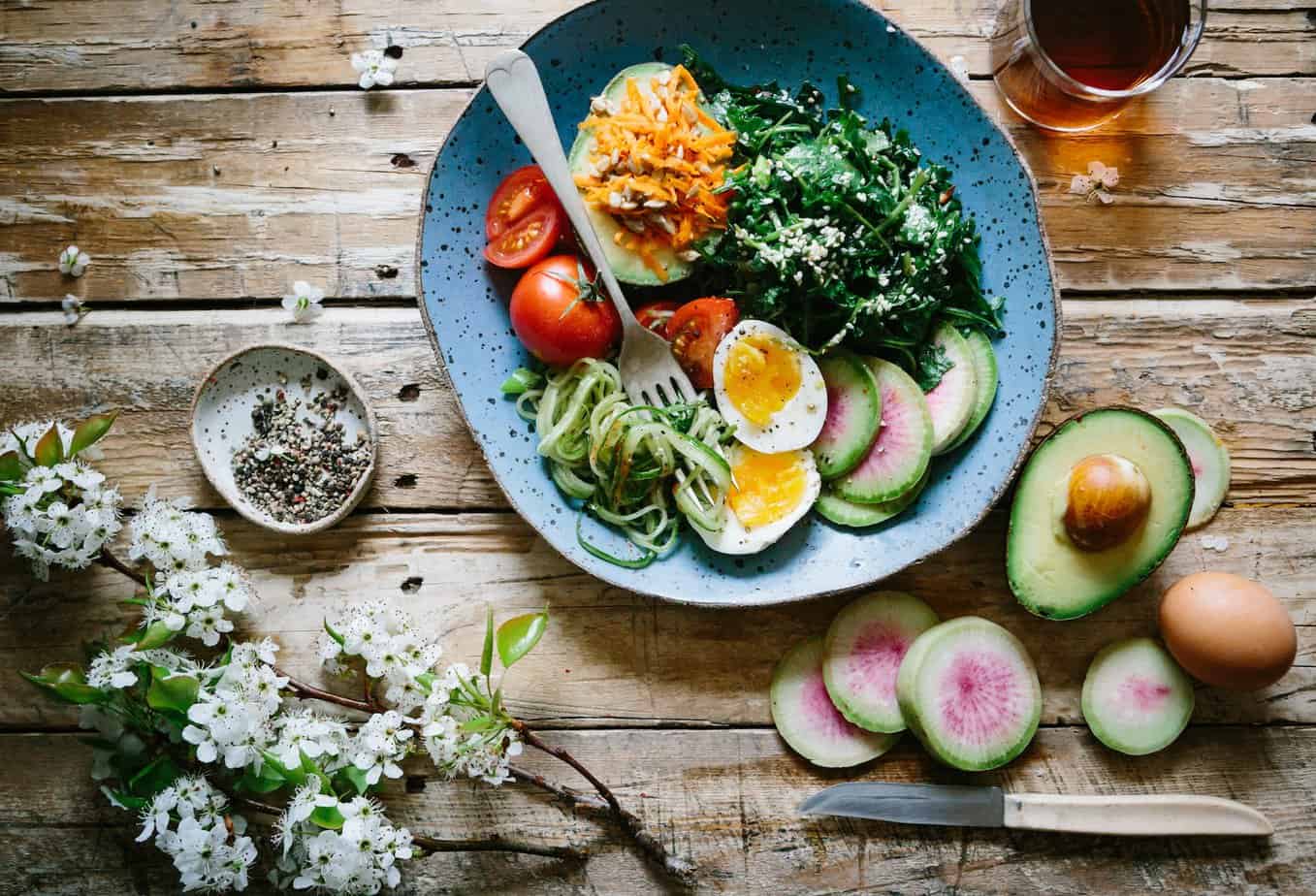 Why a Meal Delivery Service for Athletes?
With practices and travel alongside life's other responsibilities, athletes are often really busy, sometimes too busy to be able to put time and energy into creating healthy dishes for every meal.
The right meal delivery service can help athletes meet their energy and nutrient needs while eliminating time spent on planning and preparation. With meal delivery services, athletes can spend more time training and less time in the kitchen.
What Are the Best Athlete Meal Delivery Services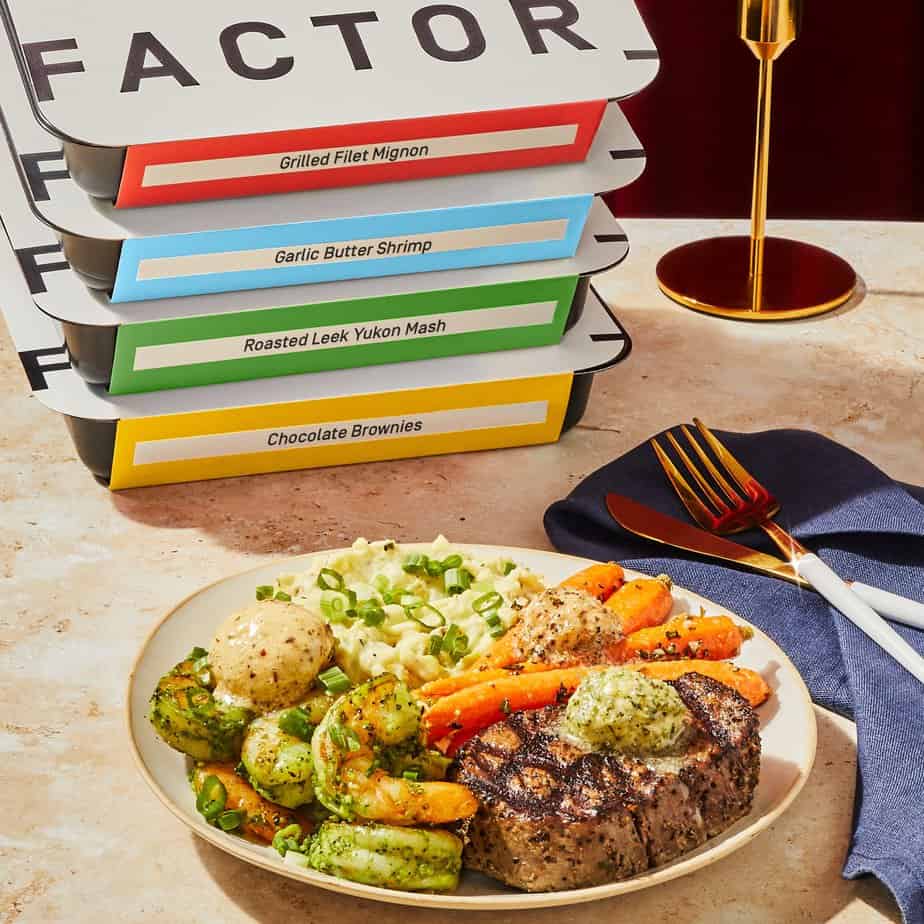 Factor for Athletes
Factor's Protein Plus meal plan offers calorie-rich meals that could be perfect for a busy athlete. These meals are delivered fresh weekly, making it easy for athletes to nourish their bodies when they find the time. Factor also offers consultations with their dietitians, which can help you find the right plan for your performance needs.
Also read: Sun Basket vs Factor: A Meal Box Service Showdown!
Pros
Factor offers several plan options, including plans that cater to athletes.
This meal delivery service offers convenient delivery and meal selection.
Factor meals are delicious, clean meals.
Cons
Factor's Protein Plus meals may be heavy for athletes depending on when consumed.
Athletes with sensitive stomachs might need more simple meal options before competitions.
Factor's Calorie Smart meals might not provide enough energy for a busy athlete.
Sample Menu for Factor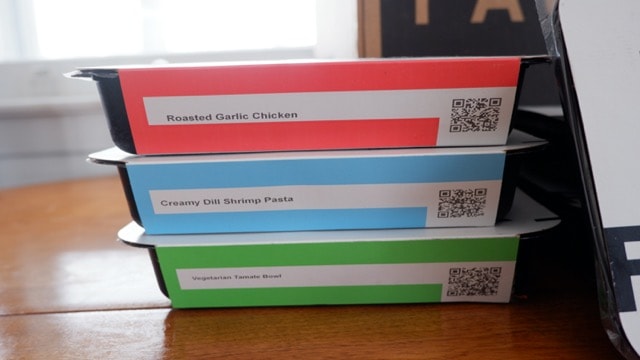 The Factor Protein Plus plan is suitable for busy athletes looking to boost their macronutrient intake to fuel high-intensity training and competition. These meals contain high amounts of both protein and carbs. For example, their Chimichurri Filet Mignon & Shrimp with Zucchini Pepper Sofrito & Potatoes meal labeled as Protein Plus contains 620 calories, 50 grams of protein, 36 grams of carbohydrates, and 32 grams of fat.
Here are some sample offerings from Factor's Protein Plus options:
Sun-Dried Tomato Chicken with Zucchini Noodles
Mexican Beef & Refried Beans with Jalapeño-Cilantro Crema
Chive & Garlic Chicken with Creamy Cheddar Mash, Green Beans & Mushrooms
Chicken Alfredo Pasta with Garlicky Broccoli
Turkey Chili & Zucchini
Meals That Are Convenient for Athletes
Factor meals are perfect for the busy athlete who doesn't have time to meal plan and cook. Factor meals are delivered fresh, not frozen, which means that you even skirt the added time and effort required to thaw meals before you prepare them.
This is a big deal for me, as I often forget to take my meals out of the freezer in time. Factor meals can last about seven days in the fridge after delivery, which a busy athlete needs during training. So, don't be afraid to hit the gym for a few extra reps, you won't need any meal prep time when you get home!
Factor Meals Are Reasonably Priced
With Factor it's important to consider the time and mental energy you're saving from eliminating meal planning, shopping, cooking, and cleaning when reviewing pricing.
For Factor, 6 meals per week, which could be great for someone looking for healthy lunch options away from the family, costs $80.94, which amounts to $13.49 per meal (the price per meal decreases as you increase meals per week). As a trainer, and nutritionist, one of the toughest things I see with my clients is compliance.
If you can't consistently follow the menu plan or diet when training, it's not going to be worth it. For athletes, this can be a great option to supplement their own cooking and nutritional needs and give them some time away from their kitchen.
Healthy AND Easy Pick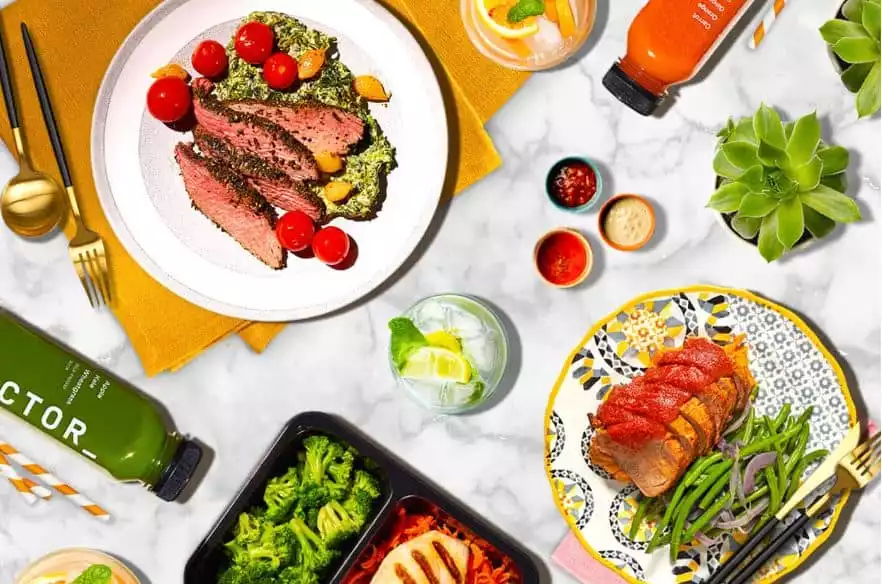 Why Go With Factor?
Just heat, eat, and enjoy. Factor makes eating healthy, EASY. Honestly, the hardest part about eating healthy are MEAL PLANNING and MEAL PREP. Factor removes both as an excuse and is interesting enough to stick with over the long term.
Check Current Seasonal Promo!
We earn a commission if you click this link and make a purchase at no additional cost to you.
FireRoad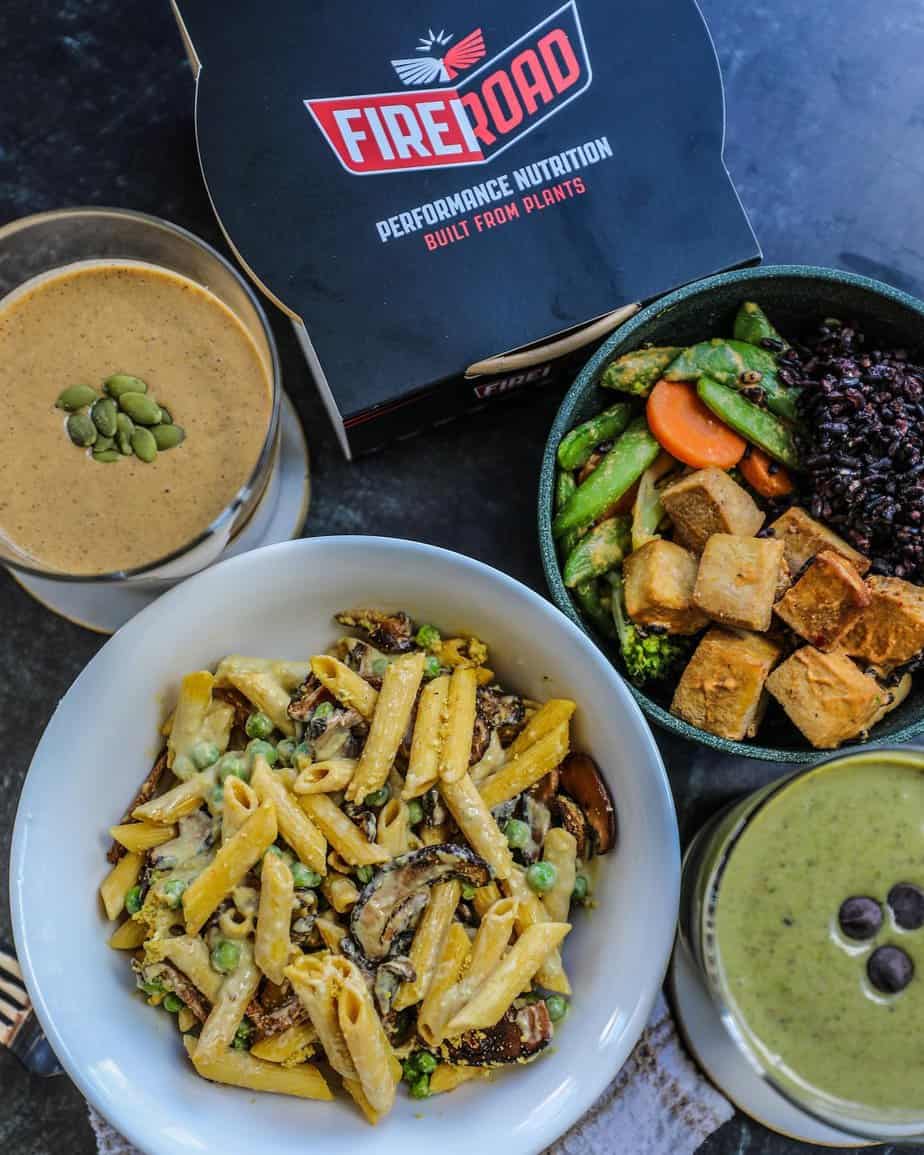 FireRoad Provides Plant-Based Performance Meals
FireRoad delivers nutrient-dense plant-based foods designed for athletes. FireRoad was co-founded by Vega co-founder and ultra-athlete Brendan Brazier.
Pros
FireRoad is one of the only plant-based meal plans for athletes.
This service was developed with the input of top-tier athletes.
FireRoad's meals are very convenient.
Cons
FireRoad's menu lacks gourmet meal options.
FireRoad's menu might get boring after some time.
You curate your own box with FireRoad, which might add more time and energy to your meal-planning process.
What's on Fire Road's Menu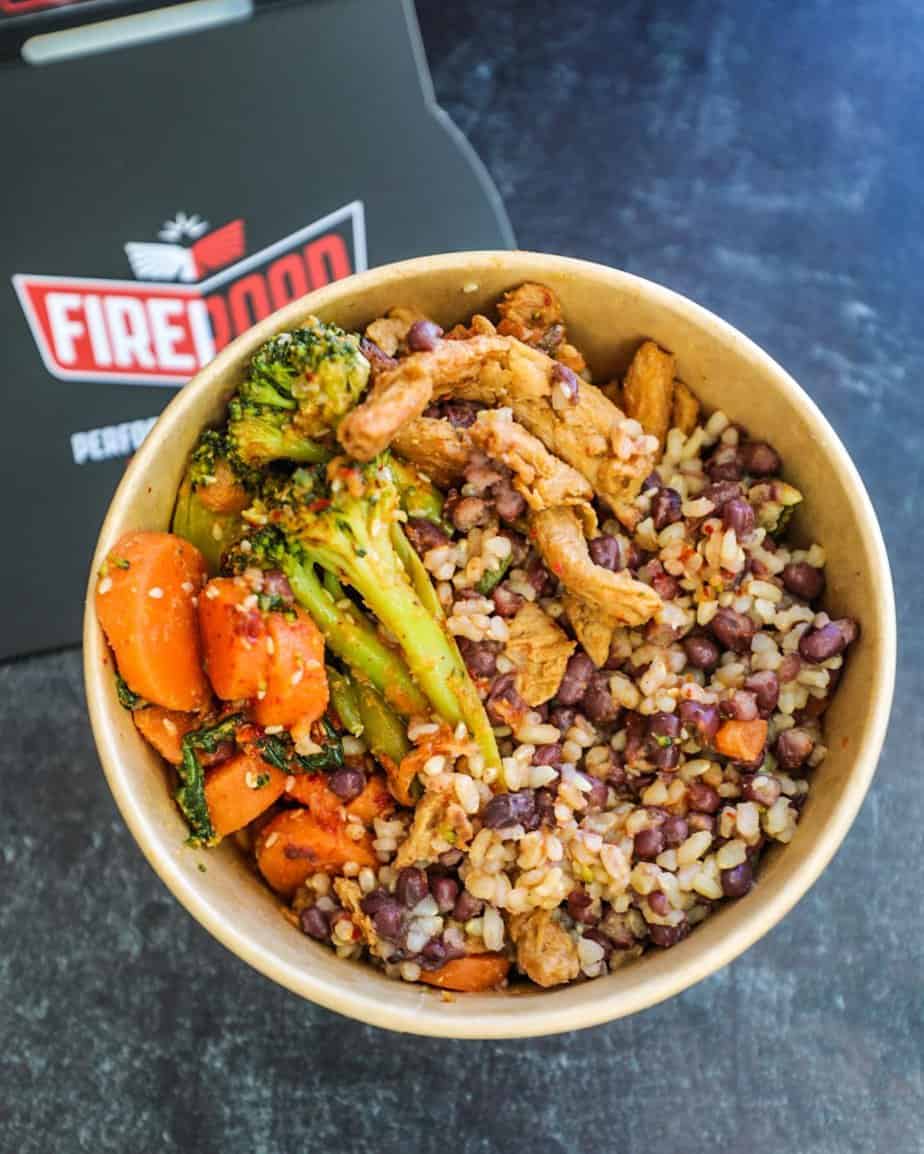 FireRoad's menu includes an array of ready-to-eat options, such as craft pizzas, grain bowls, smoothies, overnight oats, gluten-free pasta dishes, soups and stews, energy bits, juices, and more.
FireRoad Meals Are Very Convenient for Athletes
FireRoad menu items are purchased à la carte, and each meal costs between $4-12 per item. You can also receive discounts for buying more items at a time. They also offer curated boxes that either provide more protein or help people shift to a vegan diet. FireRoad delivers one-time, weekly, every other week, or monthly.
How Much Do FireRoad Meals Cost?
With FireRoad, you have control of what is going into your box and how much you spend each week, unless you purchase a curated box. This meal plan would work best as a supplement to regular groceries as the meals could get old after a while.
Meals, such as pizzas and grain bowls, cost about $12 per meal, which is on par with other meal delivery service's pricing. FireRoad's Power Pack box, which contains 23 items, costs $181.80, which breaks down to about $8 per item. The boxes include some meals and other items, such as energy bites.
MealPro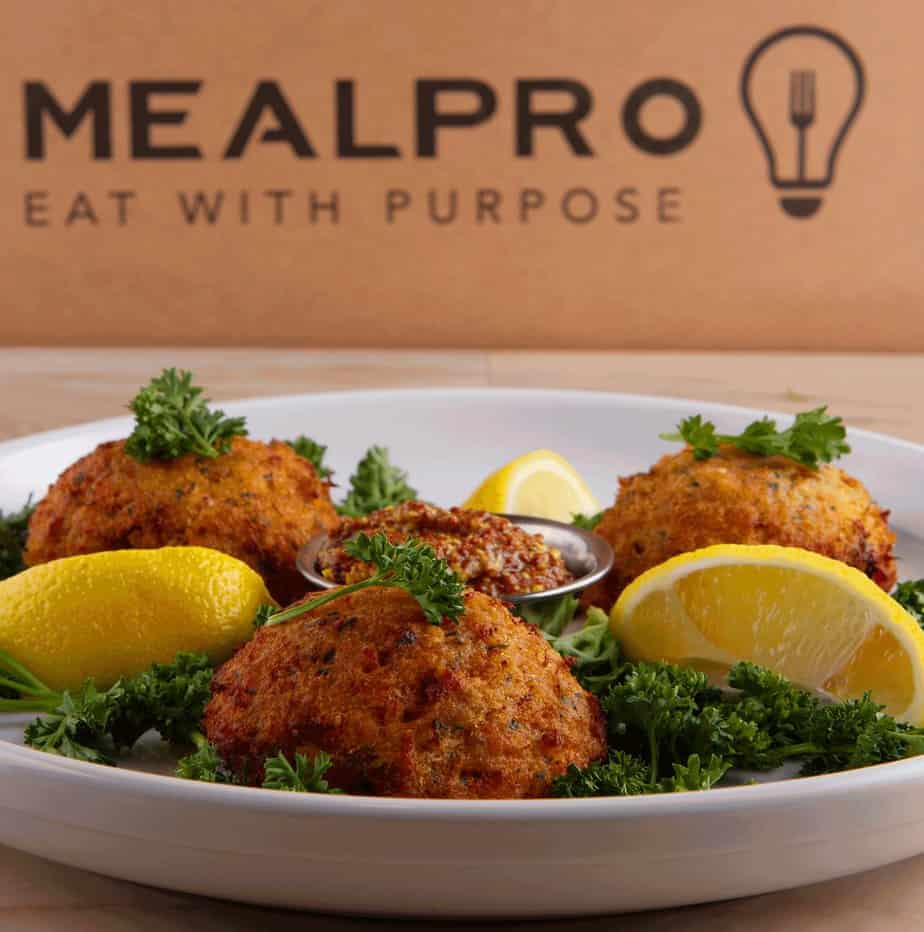 MealPro is a meal delivery service that was created for high-intensity athleticism. Their menu includes no-frill meal items that focus on lean proteins and vegetables.
Pros
MealPro meals are high in macronutrients, which might fit into an athlete's dietary plan.
MealPro meals are great for an athlete looking for simple protein-rich meals.
These meals were created with a high-intensity athlete in mind.
Cons
MealPro meals might be too high in macros for some; I would check in with a nutritionist before signing up for this meal plan.
Menus are basic and might get boring after a few weeks.
MealPro does not offer nutrition support.
Meals for Athletes on MealPro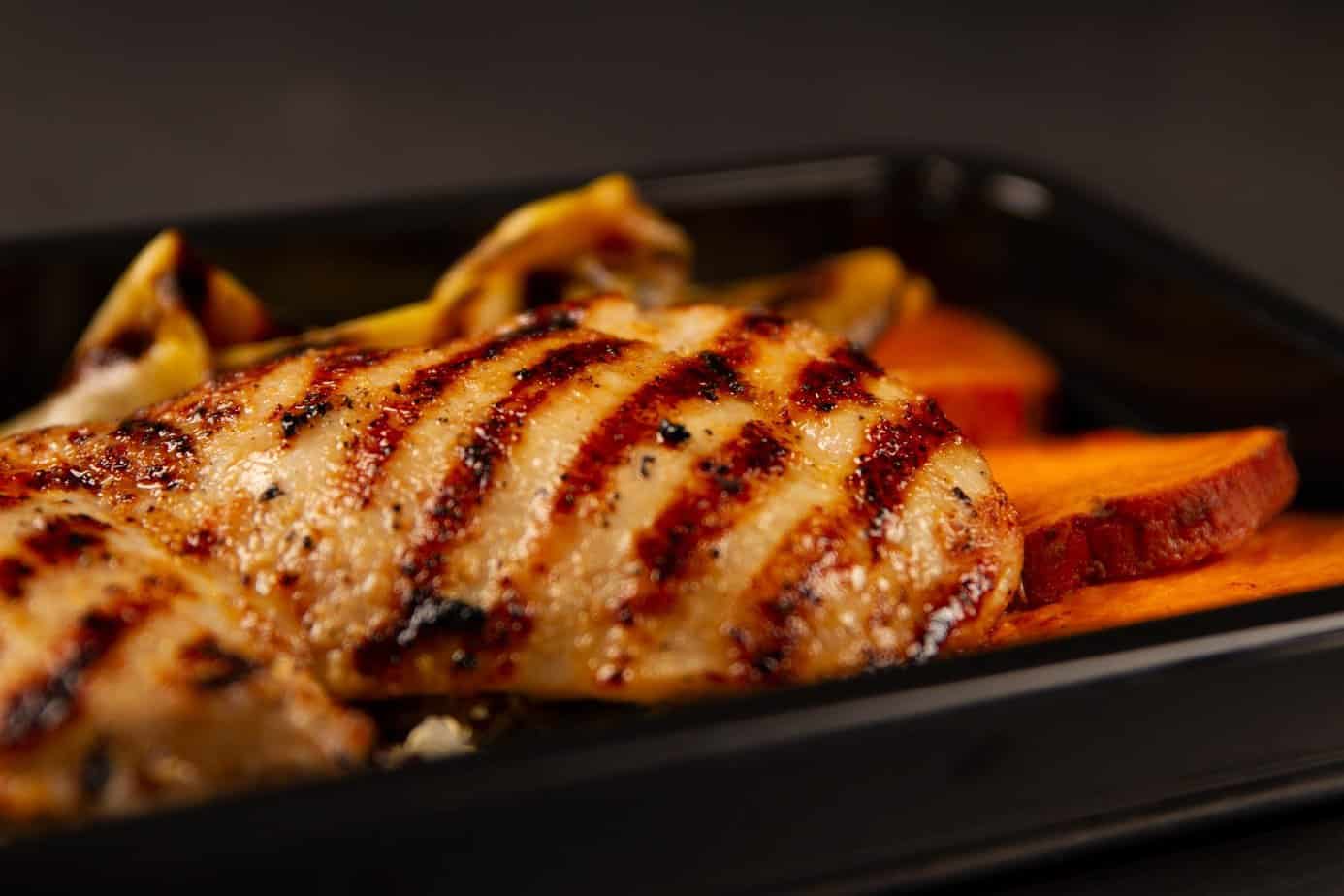 MealPro only offers one menu for everyone (so no athlete-specific menu), but you can select whichever meals you want. Here are a few sample meals from Meal Pro:
Garlic Chicken
Teriyaki Chicken
Avocado Chicken
Orange Chicken
Steak Fajitas
MealPro Meals Are Great for Busy Periods or During Intense Training
MealPro's meals are delivered weekly; you can either order an 18-meal or a 20-meal box. This is kind of a lot to get through in a week, but they also don't require a subscription and you could freeze a box of meals and consume over time or during periods when you're extra busy.
MealPro Pricing
MealPro meals cost anywhere from $9.99 to $18.99 per meal. With this meal delivery service, you can control your spending to some degree. With 18 meals, you need to pay for shipping; with 20 meals, shipping is free.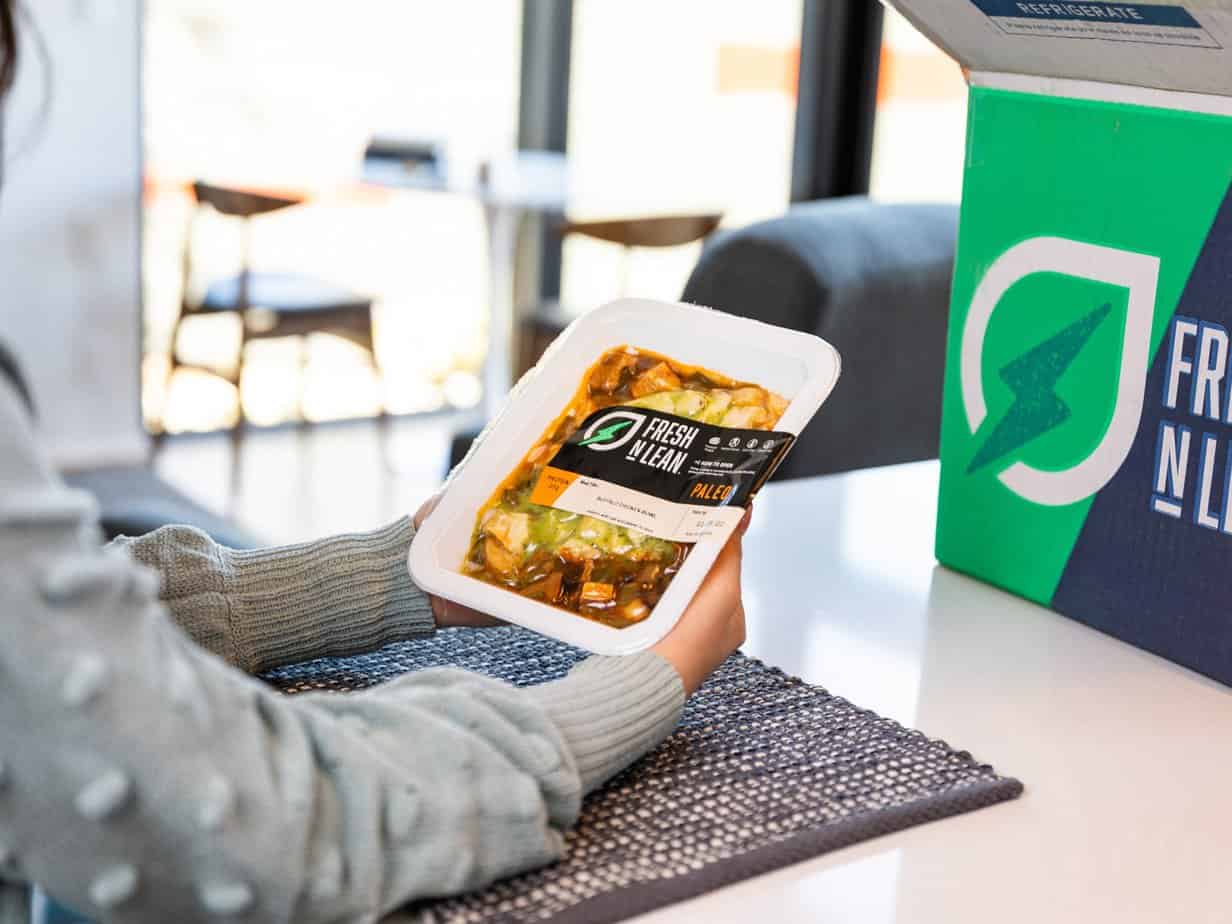 Fresh N Lean offers several meal plans that could be great for athletes, such as their Protein Plus meal plans, depending on your dietary needs.
Fresh N Lean also has athlete ambassadors, and you can see which plan they each prefer and use their input for guidance. Fresh N Lean's meals are made with fresh ingredients by chefs and are delicious.
Pros
Meals on Fresh N Lean's Protein Plus plan might be exactly what a busy athlete needs.
Fresh N Lean's meals do not contain processed ingredients.
They offer recommendations from professional athletes.
Cons
Fresh N Lean does not provide nutritional guidance for athletes.
Some of the meal options may be too ornate for someone needing a functional diet.
Fresh N Lean does not have very many athlete ambassadors from whom to glean inspiration.
Meals for Athletes on Fresh N Lean
Due to their higher protein and carbohydrate content, Fresh N Lean's Protein Plus plan could be the right choice for a high-intensity athlete.
Sample meals on the Fresh N Lean Protein Plus plan:
Creamy Lemon Dijon Chicken with Herb Potatoes and Broccoli
French Onion Steak, Roasted Mushrooms and Cauliflower
Slow Cooked Thyme Rosemary Beef with Root Vegetables
Crusted Cod and Garlic Vegetables in Creamy White Sauce
Cheesy Bolognese Roasted Vegetables
Fresh N Lean is a Convenient Selection for Athletes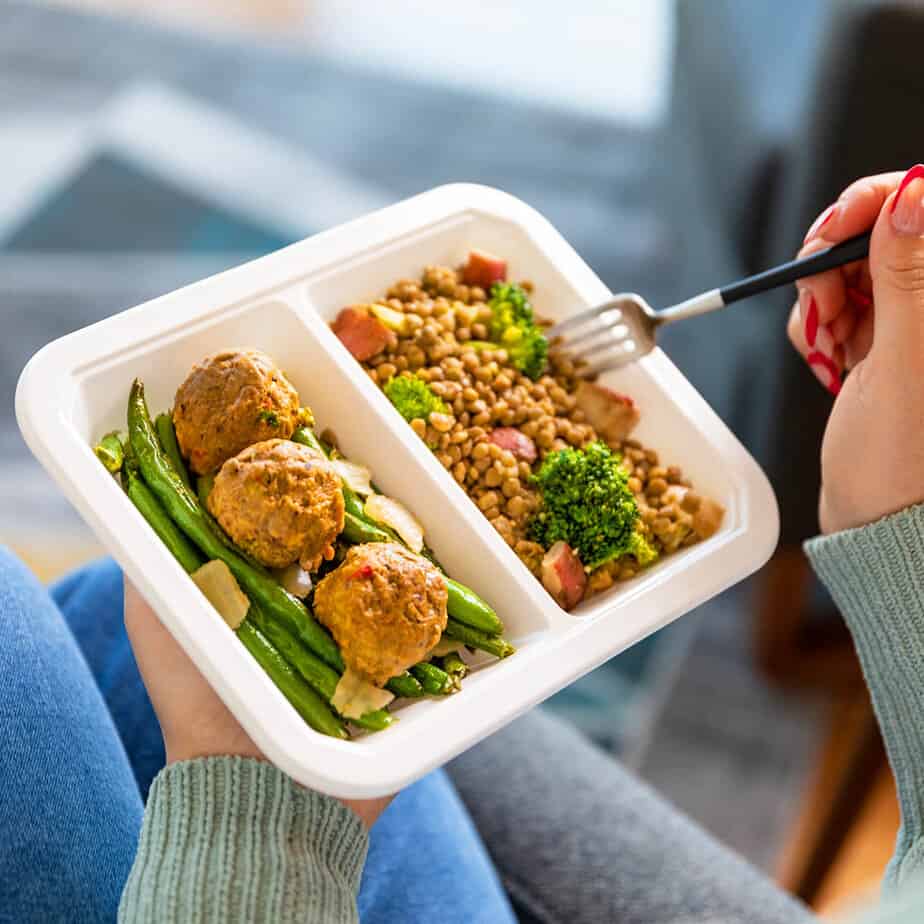 Fresh N Lean's meals are super convenient. Their meals are delivered once per week and should be stored in the refrigerator and heated when you're ready to eat.
Fresh N Lean's Pricing
Fresh N Lean's five days of breakfast, lunch, and dinner on the Protein Plus plan costs about $10.82 per meal. The price per meal increases the fewer meals you order per week. For example, five days per week, just dinner costs about $15.49 per meal. These prices are affordable compared to other meal plans, but are higher than cooking from home.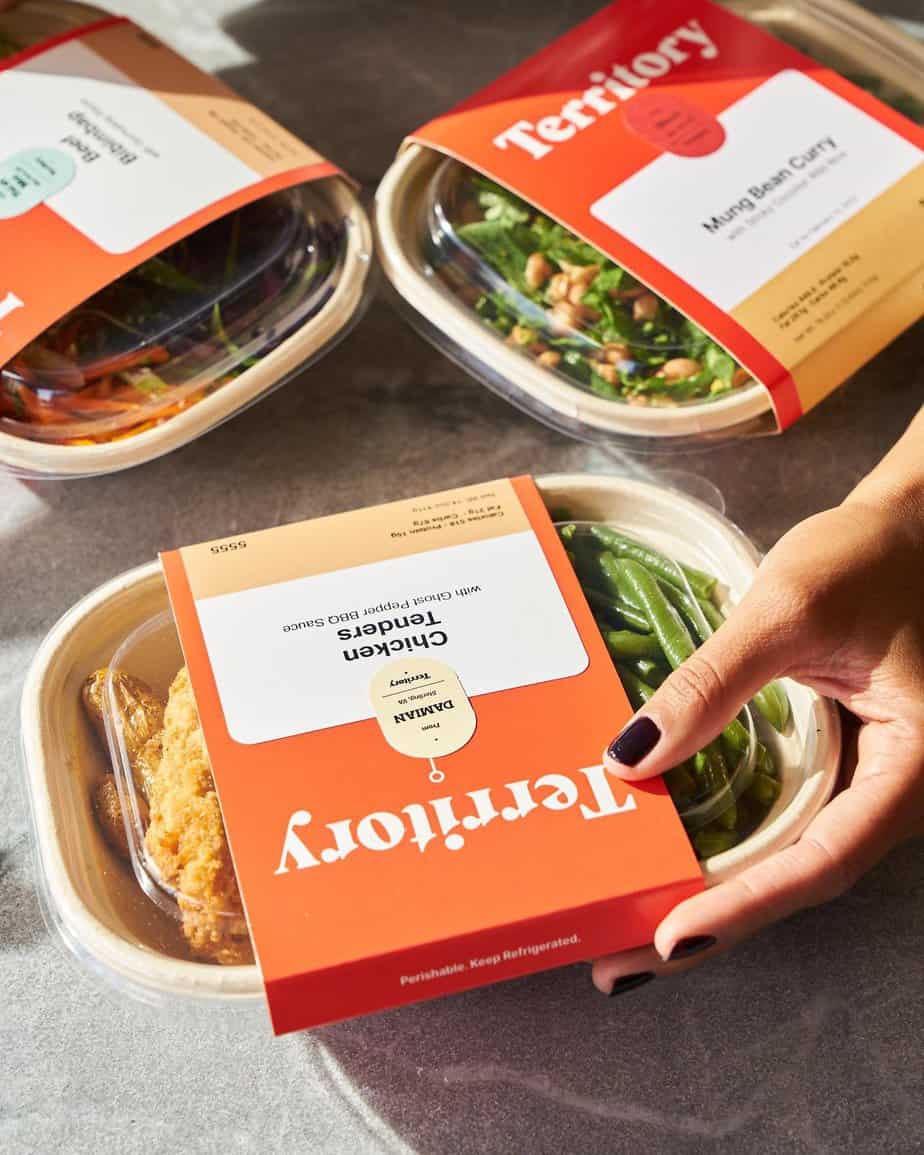 Territory Foods categorizes certain meals as Performance meals, which means that they contain 25 or more grams of protein and 40 grams or more of carbohydrates to fuel athletes' increased nutritional needs.
Territory Foods' meals focus on clean ingredients and were created by chefs. The company also has a team of nutritionist advisers.
Pros
Territory Foods has stringent ingredient standards.
These meals are very convenient and easy to prepare.
Territory Foods' Performance meals include a nice selection of meals for athletes.
Cons
There is no performance plan; you have to select your meals each week, which might increase decision fatigue.
Territory Foods does not offer one-on-one nutrition support.
Territory Foods meals might be too complex for an athlete looking for simple fuel.
Sample Meals on Territory Foods Performance Menu Include:
Chicken Enchiladas with Salsa Verde and Zucchini Corn Relish
Greek-Style Chicken Bowl over Lemon-Tarragon Rice with Green Beans
Chicken Fajita Bowl with Cilantro Rice
Yuzu Ponzu Salmon with Fragrant Brown Rice and Sesame Broccoli
Sesame Tofu and Mushrooms over Brown Rice
Territory Foods Delivery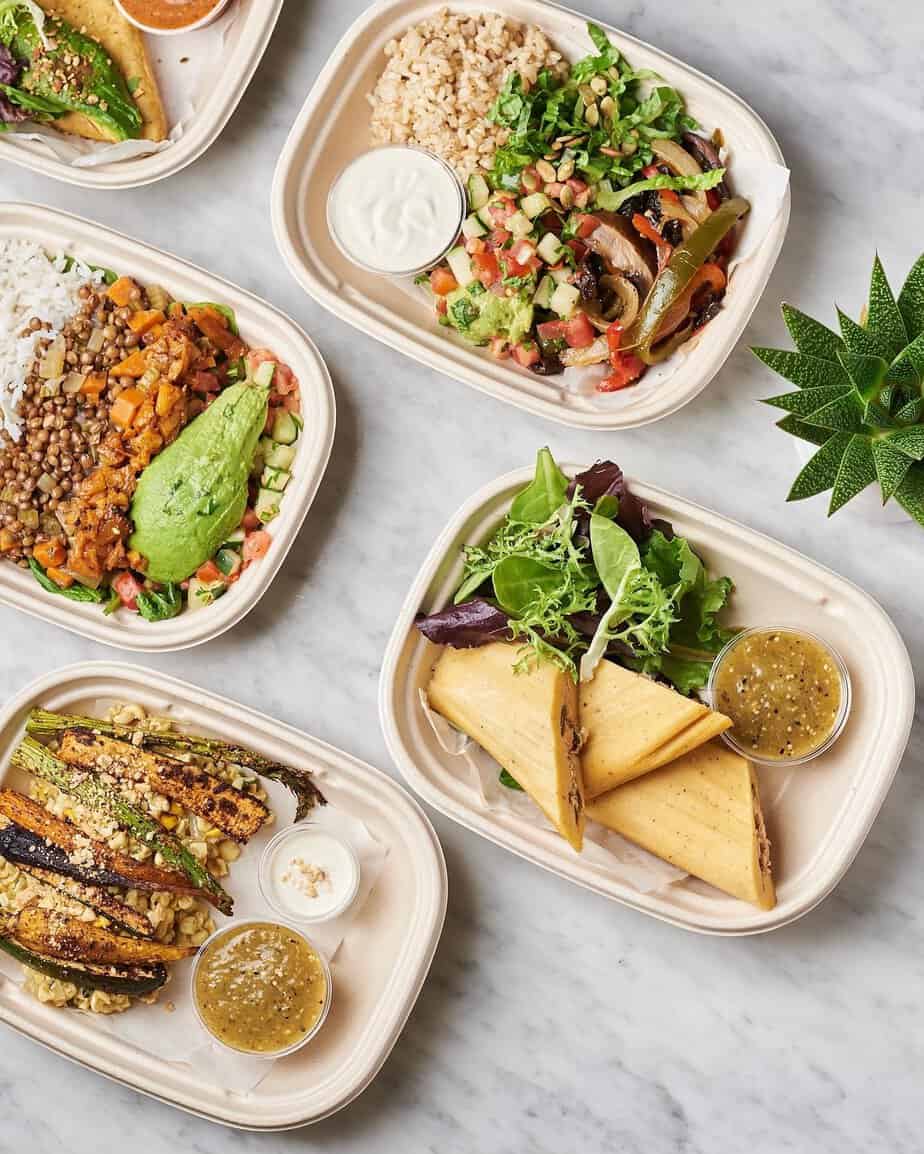 Territory Foods meals are delivered twice weekly and can be quickly prepared in the microwave. These meals are delivered fresh, which helps save athletes time by removing thaw time.
Territory Foods Performance Pricing
Territory Foods meals cost between $14.95 and $18.95 a meal with a minimum of 6 meals, which could cost up to $113.70 and does not include shipping (approximately $14). This price is comparable to other meal delivery services, which are all great for a single athlete who wants to save time on meal planning and cleanup.
Recommendations for the Best Meal Delivery Service for Athletes
The best meal delivery service for an athlete will be an individual choice based on their unique dietary needs. Athletes should look to their support team to determine a diet that will best help their performance. From there, athletes can use that criteria to find a meal delivery service that is right for them.
If you're an athlete who doesn't have access to a nutritionist, Factor could be a good option so that you can take advantage of their dietitian consultation services. If you are an athlete who avoids meat, FireRoad could be a good option for fueling your performance with thoughtfully created plant-based meals.
Overall, the convenience of receiving pre-packaged, pre-portioned meals can be a game-changer in terms of time management. Freeing yourself up from cooking and cleaning in your kitchen can give you more time to train, rest and enjoy life.
Healthy AND Easy Pick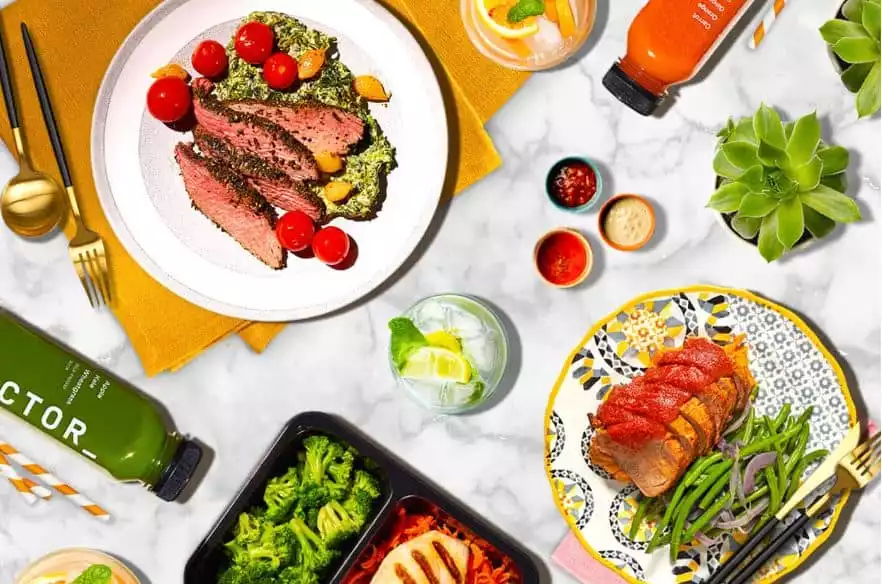 Why Go With Factor?
Just heat, eat, and enjoy. Factor makes eating healthy, EASY. Honestly, the hardest part about eating healthy are MEAL PLANNING and MEAL PREP. Factor removes both as an excuse and is interesting enough to stick with over the long term.
Check Current Seasonal Promo!
We earn a commission if you click this link and make a purchase at no additional cost to you.
Related read