Latest posts by Erin Jamieson
(see all)
It's safe to say that few of us could have imagined just how much 2021, and the pandemic affecting the world, would change the way we do daily life–and push us to grocery store alternatives like meat delivery services.
And for ButcherBox, 2021-2022 has been a wild year.
While 2023 has seen some "return to normal" many consumers are still sticking with some conveniences (like higher quality meat delivered to your door… who doesn't want that?).
ButcherBox, which touts naturally and humanely raised meat, delivered to your doorstep, grabbed headlines when founder and CEO Mike Salguero was honored as an Entrepreneur Of The Year 2020 New England Award winner by Ernst & Young.
Not only that, but the company has also donated to #ShareAMillionMeals, a partnership with Feeding America for relief during the pandemic. All of this is admirable and compelling–but the truth is, ButcherBox is not the solution for everyone.
In this article, I'll give you my 11 best ButcherBox alternatives, from a wider selection of meat/ products to more affordable prices and special features. So if you're on the fence about a meat or seafood delivery service, this guide will get you to your next order.
But first… here's my TL:DR on the best ButcherBox competitors:
Grass Roots Farmer Co-Op
Heritage Foods
Wyoming Legacy Meats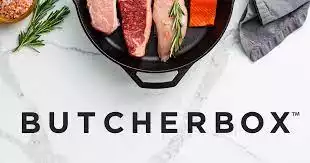 Free Steaks for a YEAR
ButcherBox delivers 100% grass-fed beef, free-range organic chicken, humanely raised pork, and wild-caught seafood directly to your door. Sign up today and CHOOSE from Filet Mignon, NY Strip, or Ribeye (free in EVERY box for 1 year). The best meat protein value we've seen all year.
Check Out this Deal
We earn a commission if you click this link and make a purchase at no additional cost to you.
What is ButcherBox, and why should I look for an alternative?
In a full review of ButcherBox, there are immediate pros and cons. ButcxherBox is a meat delivery service focused on providing meat in a more convenient way, but with value and quality. Their biggest claim is that they are the go-to for 100 percent grass-fed beef.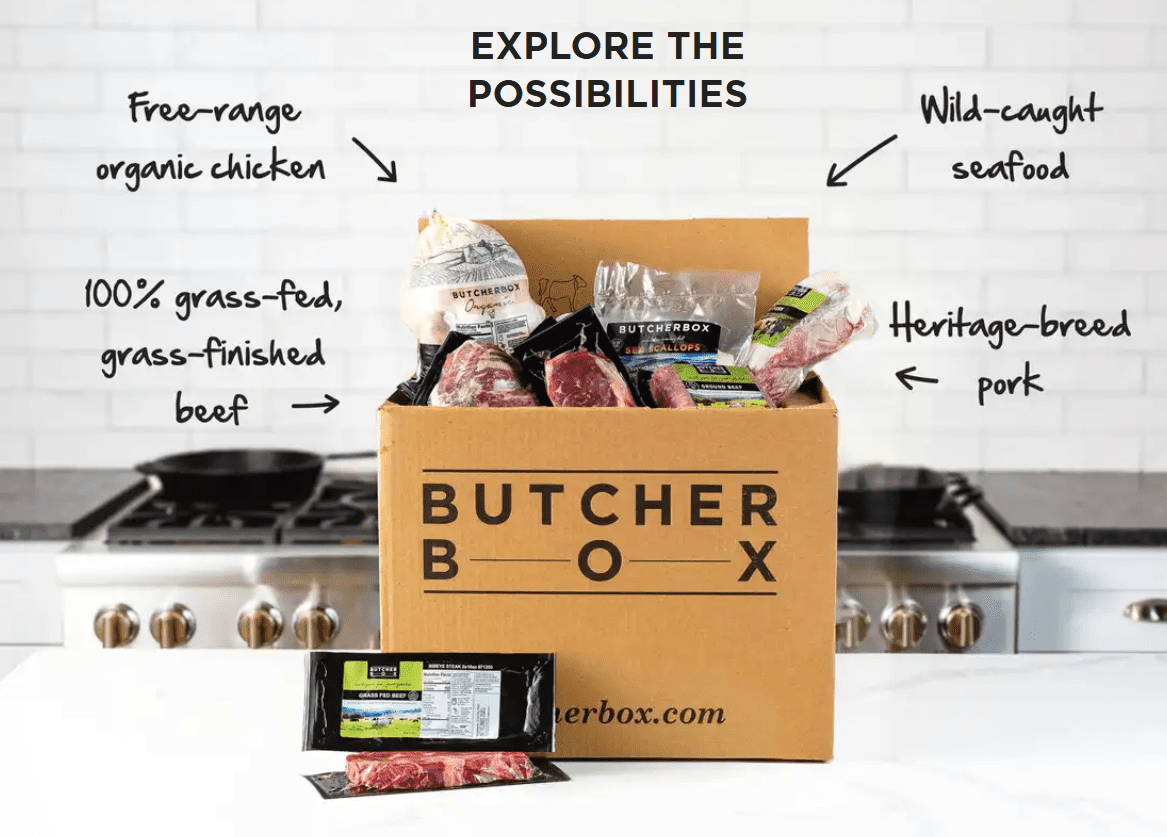 The premium meat averages around 6 dollars per serving, provides subscriptions, and carries hormone and antibiotic-free chicken, pork, and beef, as well as wild-caught Alaskan salmon.
While ethical sourcing and quality are to be praised, ButcherBox has some downsides:
Limited Selection
ButcherBox only carries chicken, salmon, beef, and pork, whereas other delivery companies offer meats such as lamb, and a larger variety of seafood such as shrimp, lobster, crab and mussels. Some delivery services also carry sides, like baked goods, side dishes, or gift packages.
Inconsistent Service
Another reason to seek an alternative to ButcherBox is that many customers have had less than consistent experiences when it comes to service and delivery. The company's BBB profile touts four out of five stars for 600 reviews, but both on BBB and Trustpilot there is a pattern of either quite good or very bad reviews, with delivery and missing products as the top complaints.
Price Point
ButcherBox is not the most expensive meat delivery company, but it's also not the most affordable. Boxes range from $129-$149/ month for nine to fourteen pounds of meat. While you can cancel your subscription when you want, this price point may not be doable for everyone.
Subscription Model
Not everyone who goes with a meat delivery company is looking for a subscription. ButcherBox is built on the subscription model, so there are alternatives for a more a la carte order as you wish option. Plus, ButcherBox boxes may come with more meat than someone wants to order or store.
What Are the Best Online Butchers Like ButcherBox?
Let's jump right into the 11 best alternatives to ButcherBox. All of these offer something that ButcherBox doesn't–and may just be your new favorite meat delivery service or subscription.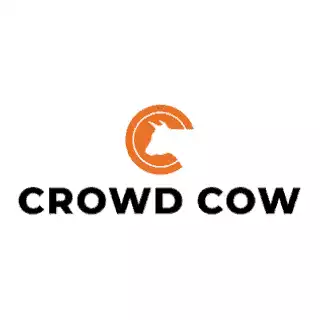 Online Meat & Seafood Delivery | Crowd Cow
Get grass fed steaks, pasture raised craft beef, pastured chicken, heritage pork and more meat you can't find anywhere else ― delivered right to your door.
Build Your Box
We earn a commission if you click this link and make a purchase at no additional cost to you.
Crowd Cow is one of the most unique meat delivery companies on the list. What drew me to Crowd Cow is the innovative model, connects customers with farm-sourced meat from around the United States. A large distance of partnerships means that meat comes from many different places, but also provides variety and closer relationships than with larger sourcing practices.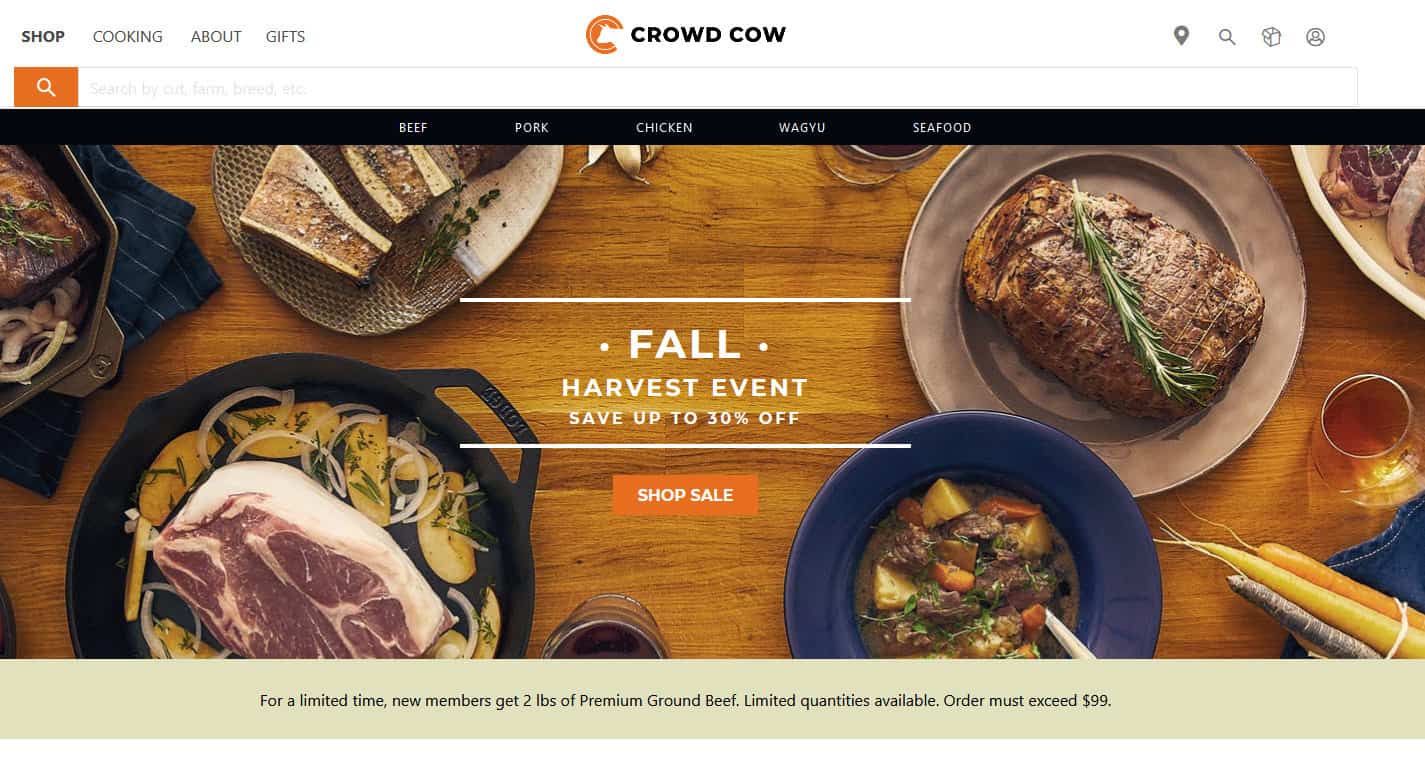 Unlike many of this list, Crowd Cow is also a subscription service, making it a good alternative to ButcherBox if that's a must for you, and making it arguably more convenient. You can select from grass-fed beef; pork; chicken; and a nice assortment of seafood, including Alaskan King Crab; Maine Lobster; Atlantic Salmon, and others.
The subscription model is unique in that you create your own box, with reasonable flexibility for different meat cuts and seafood types.
Best Alternative For: Flexible Subscription with Unique Sourcing
Skip this Alternative If: You're looking for consistent sourcing or a la carte options
Where to Buy: Shop Here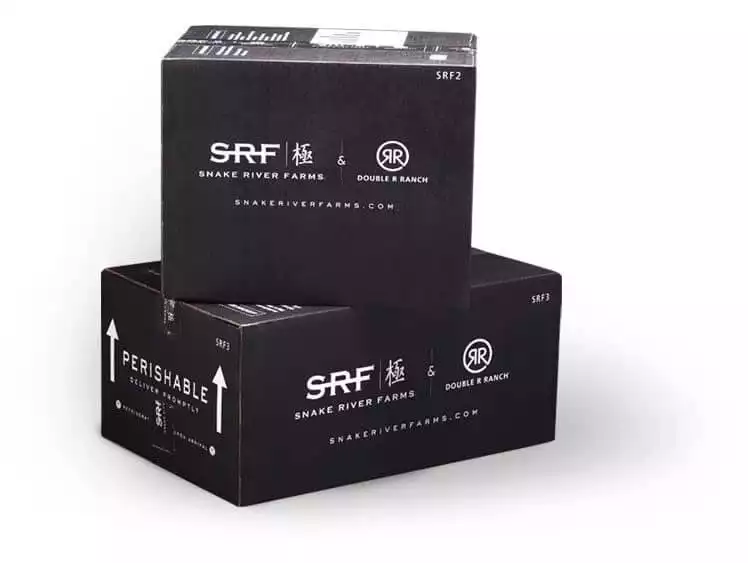 Snake River Farms has a name that's hard to forget–but there are viable reasons that this is one of the best alternative options to ButcherBox.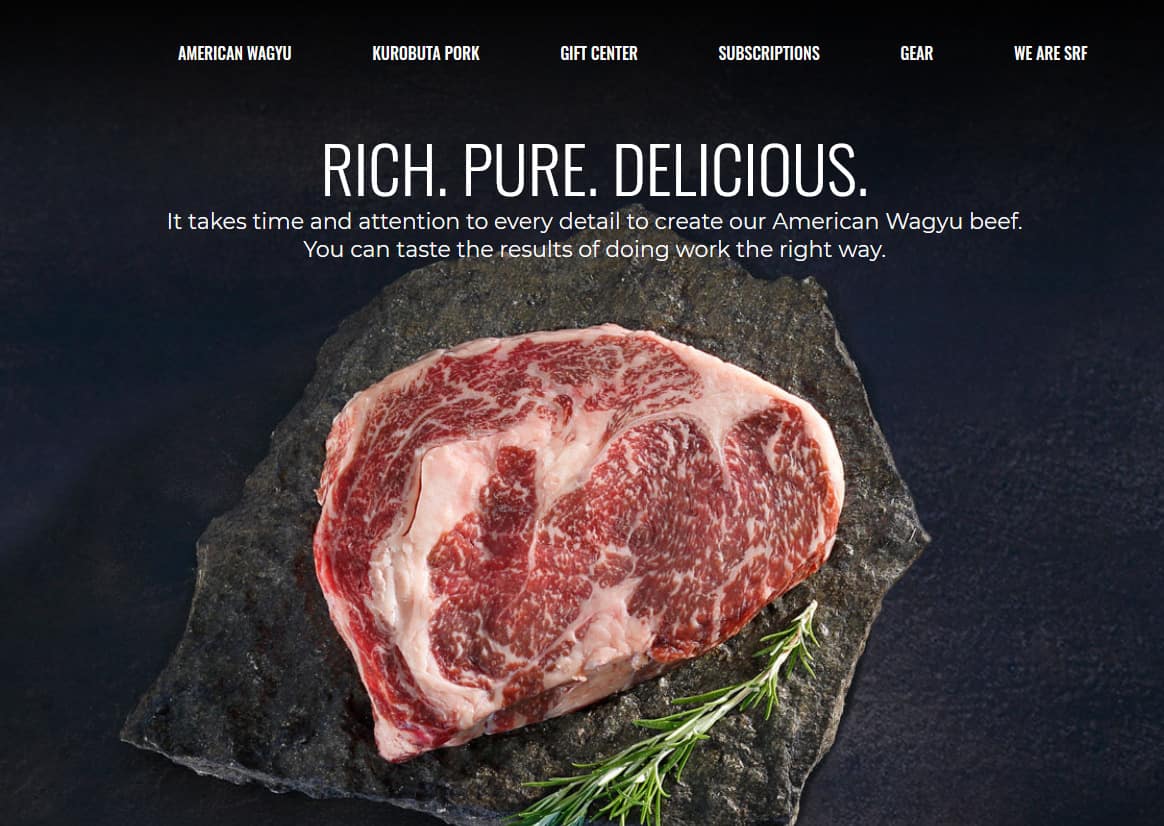 The meat delivery company is unique for one thing: American Wagyu. Rarely offered, this cut of meat is a must-try for steak lovers; it's a cross between American breeds and Wagyu for special marbling and a hearty beef flavor. Other unique options include Kobi Steak, Kurobuta Pork, dry-aged fish, and specialty products like jerky and holiday roasts.
Subscription options include boxes with beef, pork, or a mix, and flexible shipping. Of course, while this is a unique selection, it's not especially budget-friendly.
Best Alternative For: Unique Steak Cuts; Flexible Subscriptions
Skip this Alternative If: You want seafood or are on a tight budget
Where to Buy: Shop Here
Exclusive Offer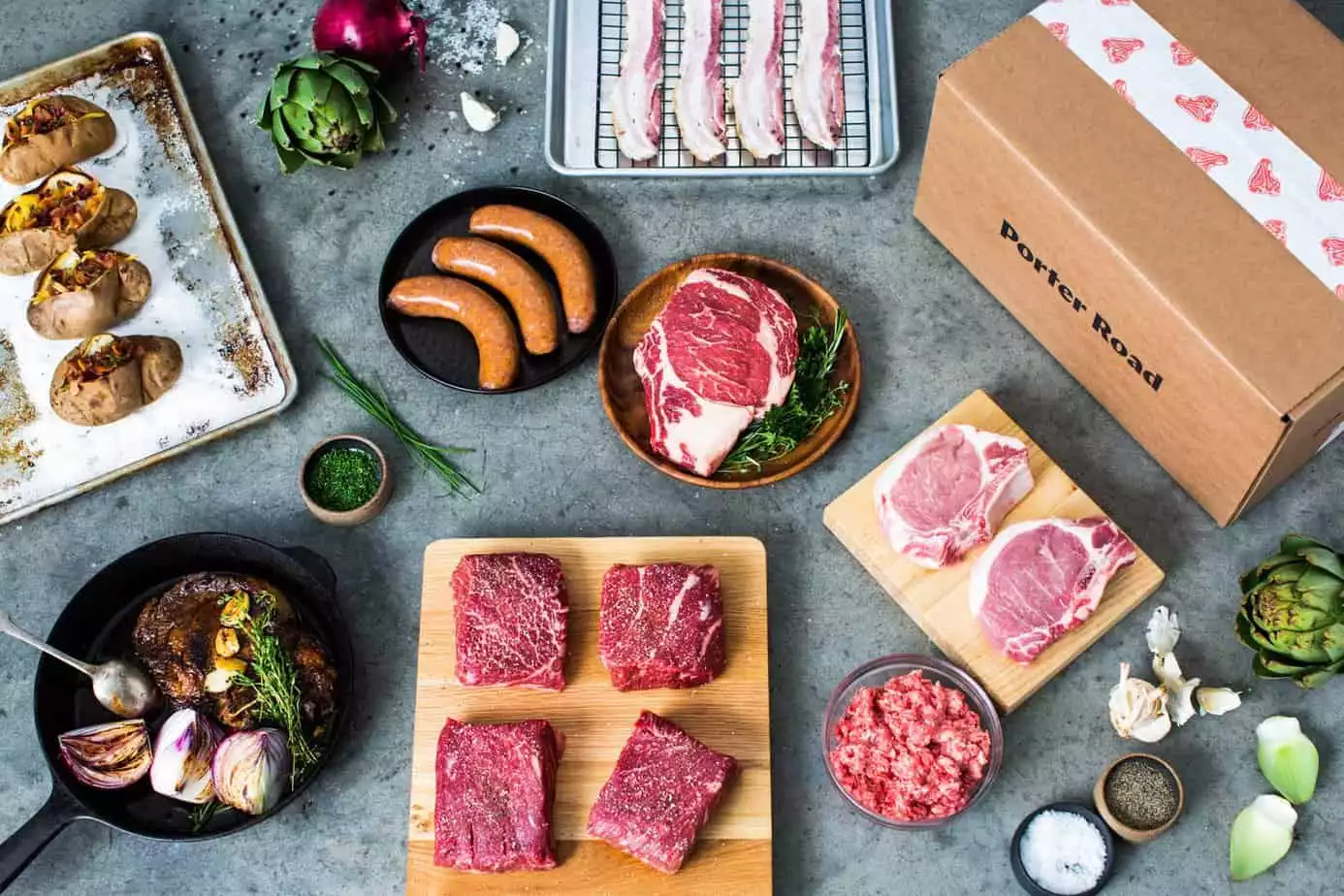 Porter Road is another well-known meat delivery service, and one of my tops picks for a great alternative to ButcherBox. Porter Road provides a great balance of just about everything, with delivery and subscription options, flexible schedules, and a nice inventory of products and services.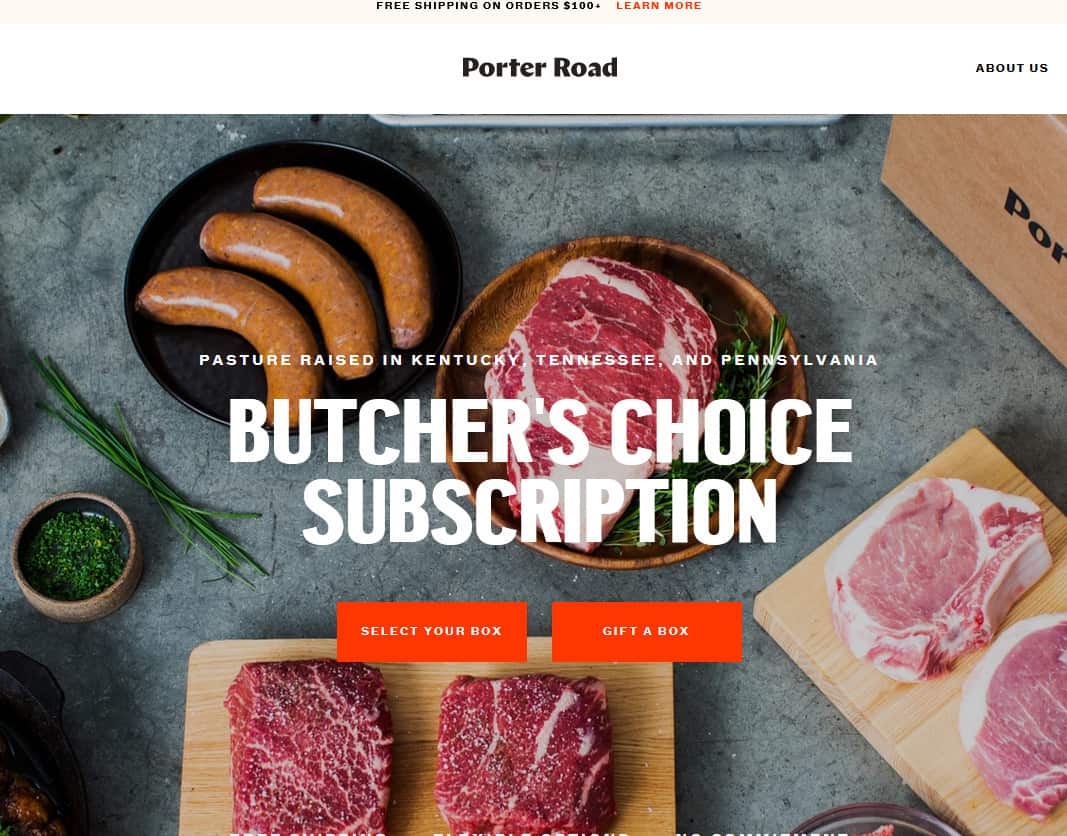 Based in Nashville, Porter Road features locally sourced meat and dry aging and works with local sourcing for high standards of quality. In addition to the typical beef, pork, and chicken options, you'll also find cuts for lamb. As a perk, the meat is pasture-raised without hormones.
All in all, Porter House may be limiting if you want a big variety of meat for a subscription, but it offers a little of everything.
Best Alternative For: All around options; locally sourced lamb
Skip this Alternative If: You want extensive subscription options or seafood
Where to Buy: Shop Here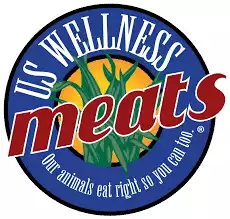 If you're like me and care a lot about service, consider Wellness Meats.
Wellness Meats has a similar ethos to ButcherBox, touting grass-fed beef and sustainably sourced meat. Unlike ButcherBox, Wellness Meats operates on an a la carte model, without subscriptions.
In addition to grass-fed beef, Wellness Meats carries beef, lamb, bison, pork, seafood (salmon, halibut, sablefish, sole, sea scallops, shrimp, mackerel, and tuna), and poultry. Even better, all their products are hormone and antibiotic-free, and they partner directly with their sources.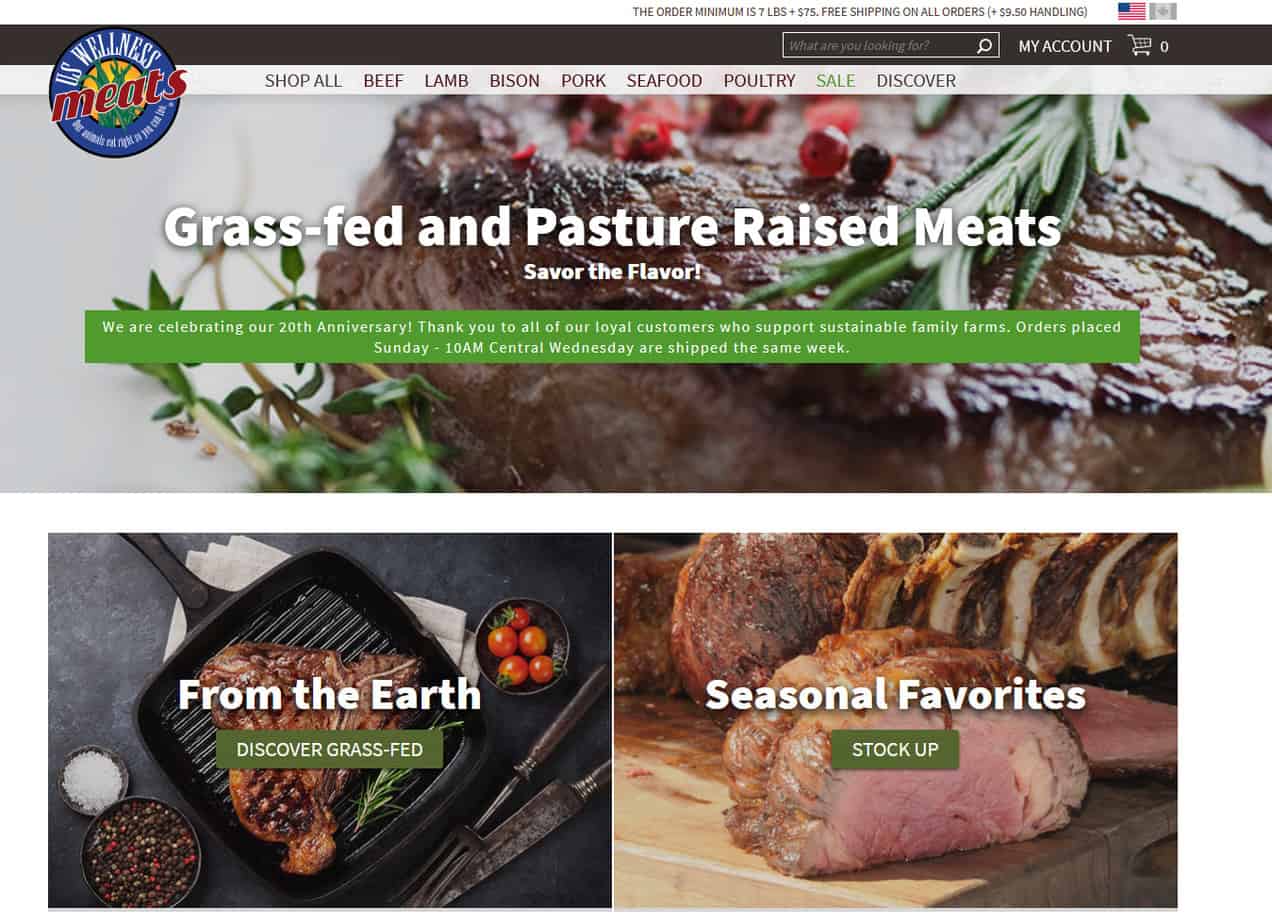 Service is where Wellness Meats also shines: while there were a few stray complaints about delivery delays, meat quality, and overall service was the main reason so many enjoyed Wellness Meats. On TrustPilot, the company earned 4.8 out of 5 stars, based on almost two thousand reviews.
Best Alternative For: Organic Meat or Seafood with Good Service
Skip this Alternative If: You want a Subscription Service or Budget Option
Where to Buy: Shop Here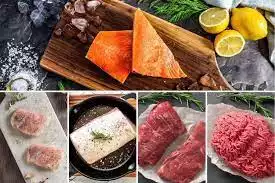 Organic Meat Delivery & Wild Seafood Delivery | Greensbury
Greensbury delivers the highest quality organic, grass-fed beef, organic, non-gmo, free range poultry, wild fish & sustainable seafood from small American farms, ranches, and fisheries straight to your door.
Check Prices
We earn a commission if you click this link and make a purchase at no additional cost to you.
Greensbury is another great alternative to ButcherBox. Their products include organic meats and wild seafood (beef, poultry, pork, lamb, bison; salmon, cod, yellowfin tuna, halibut and shellfish). Like ButcherBox, meat is hormone-free, though it's not locally sourced.
Focusing on sustainable practices, meat is held to strict standards, audited both in Nebraska and New Jersey.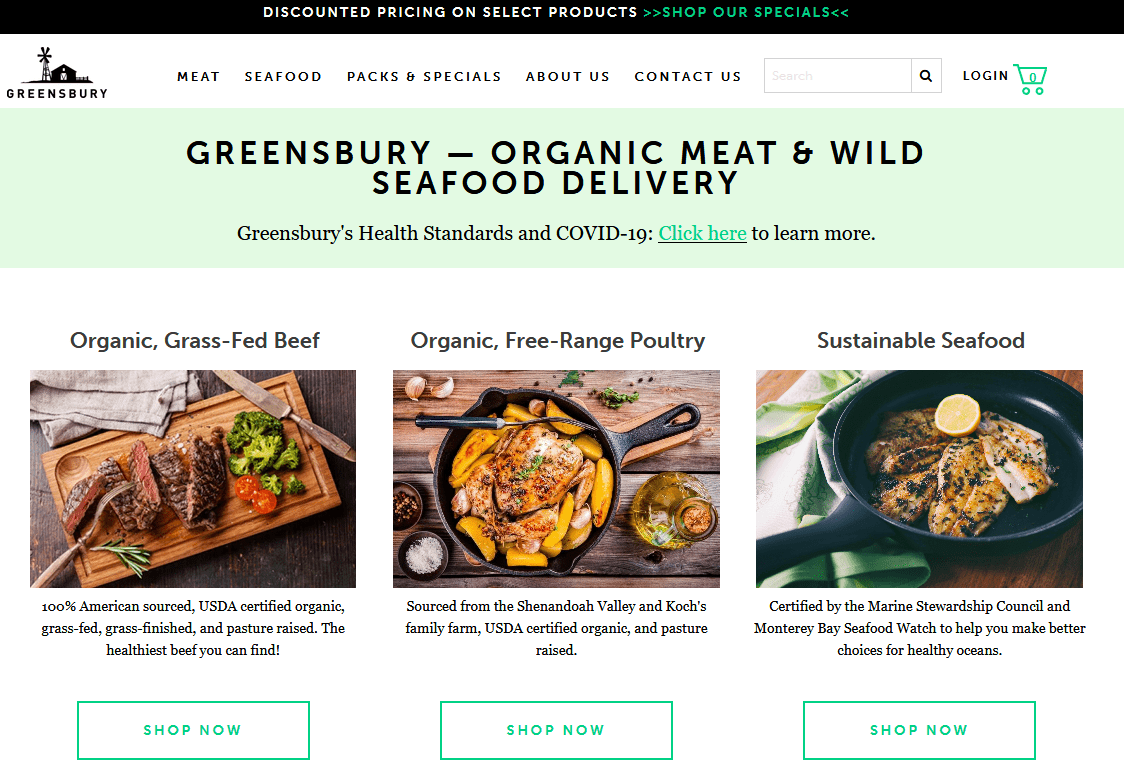 With a wide selection, you can shop both seafood and meat via a la carte or subscription. The a la carte options are modestly sized, making them reasonable for a single person or smaller household. Subscriptions are a bit unusual: you can subscribe to specific products and receive a 5 percent discount, then choose the delivery frequency you'd like.
Best Alternative For: Organic Meat and Seafood for Smaller Households
Skip this Alternative If: You're Looking for a Traditional Subscription or Have a Tight Budget
Where to Buy: Shop Here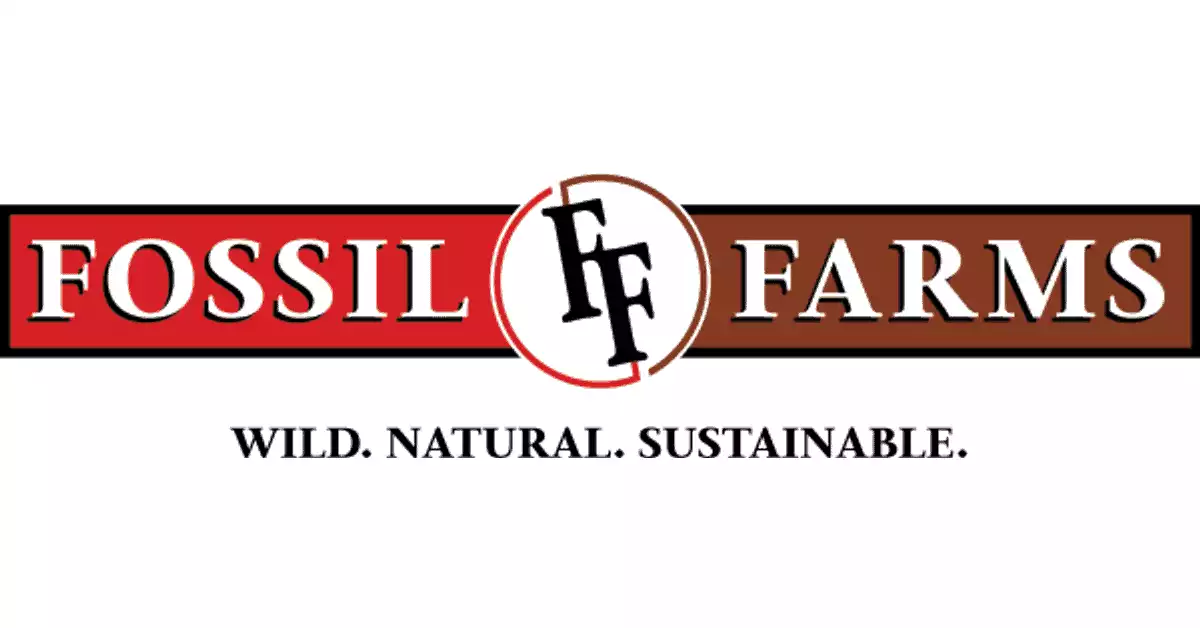 Fossil Farms is perhaps the most unique alternative to ButcherBox, which is why I had to include it on this list.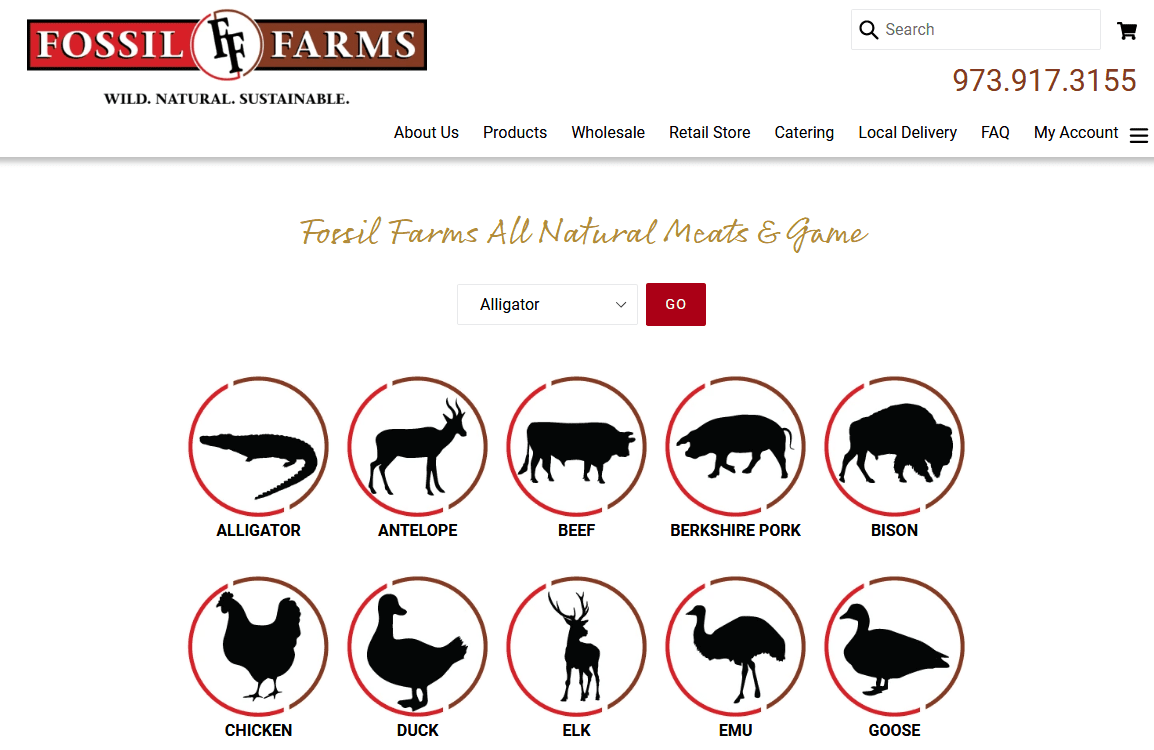 Fossil Farms stands out with wild-caught meat you'd be hard-pressed to find with most any other meat delivery or subscription service. From game meat like rabbit and antelope to specialties like quail, hen, and even emu, there's no shortage of options for the adventurous. There are some more 'conventional' meats as well, like duck, beef, and pork, though that is not the focus.
There are no subscription services available; instead, there are local delivery options as well as wholesale delivery.
Best Alternative For: Game an Exotic Meats
Skip this Alternative If: You want a subscription, seafood, or 'typical' meat
Where to Buy: Shop Here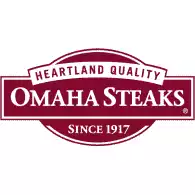 Premium Steaks & Chops | Omaha Steaks
Shop online for perfectly aged steaks, trimmed by master butchers, and backed with a 100% money-back guarantee from Omaha Steaks.
Check Prices
We earn a commission if you click this link and make a purchase at no additional cost to you.
Omaha Steaks is one of the most popular meat delivery companies on this list, maybe partially because they've been around for longer. Chances are you, like me, heard of the company before you tried it. While not my favorite direct alternative to ButcherBox, it may be a good choice for many.
Omaha Steaks distinguishes itself with a wide variety of products. Not only does it offer meat and seafood, but also signature desserts and side dishes, making it a convenient choice for special occasions. Claiming restaurant-quality food, the company has been passed down generations for a century.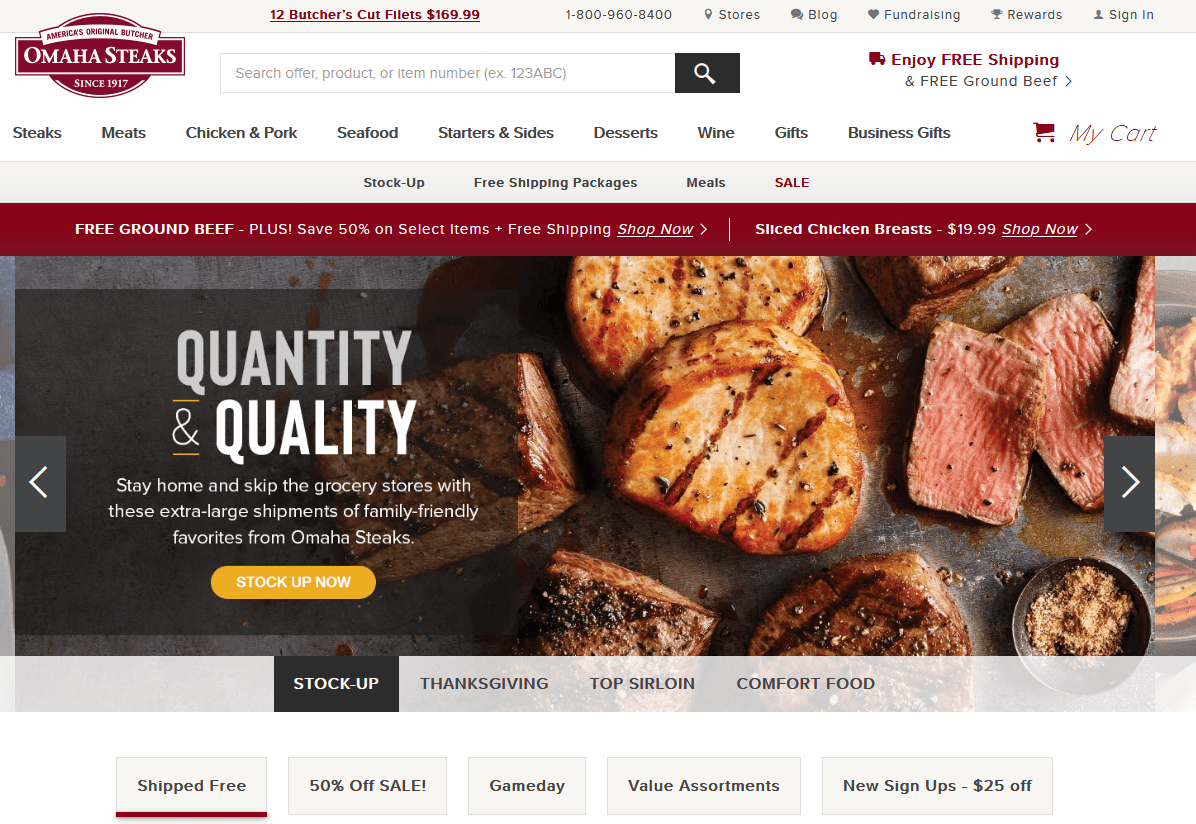 Products are all offered a la carte and include over ten cuts of steak; lamb; ham; pork; bison, and seafood ( snapper, swordfish, salmon, sole cod, tuna, halibut, tilapia, grouper, sea bass, and mahi-mahi).
Side dishes are nearly limitless, from cooked vegetables to potatoes, soups, signature appetizers, and more. Cakes, cheesecakes, pies, and tarts are offered alongside dessert wines.
Best Alternative For: Holiday Celebrations
Skip this Alternative If: You're Worried about Organically Sourced or Sustainable Meat/ Seafood
Where to Buy: Shop Here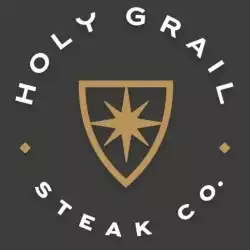 My pick for the final best alternative to ButcherBox is the Holy Grail Steak Company, for, of course, steak (and an alternative to Omaha Steaks if you're looking for one).
Premium steak is the centerpiece of the company, from typical cuts to Australian Wagyu. The company is also known for its quintessential burgers, strip steaks, rib eye, and more. Though not budget low, there are always promotions, deals, and other ways to save money.
This is a delivery service, not a subscription service.
Best Alternative For: Premium Cut Steak with deals
Skip this Alternative If: You want a subscription, seafood, or 'typical' meat
Where to Buy: Shop Here
Grass Roots Farmer Co-Op
This meat delivery service is among the best and my favorites if sourcing is especially important to you.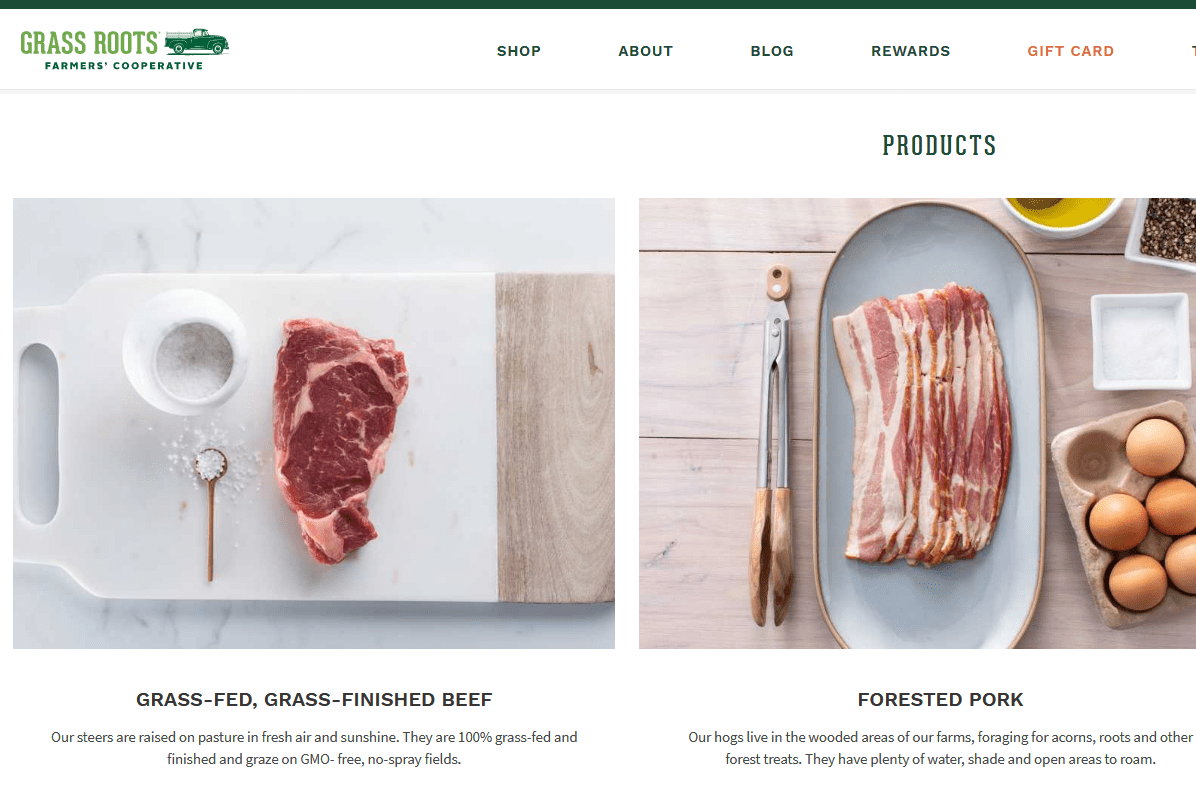 Going a step above many companies, the meat is not only hormone-free but also pasture-raised with no antibiotics, pesticides, or even GMOs. Options include grass-fed beef; forested pork; and free-range/ pasture poultry. All USDA inspected and sourced from small farms, the meat quality is a focus.
The options include delivery only, but do also include some lamb (bone-in leg) and as you purchase, you can earn points or credits towards future purchases.
Best Alternative For: High-Quality Sourced Meats
Skip this Alternative If: You want a subscription, seafood
Where to Buy: Shop Here
Heritage Foods
Heritage Foods is an alternative to ButcherBox for someone looking for a conventional, all service option. Heritage Foods joins just two others on this list to offer Wagyu, though most meat cuts are what you might see in a specialty grocery store.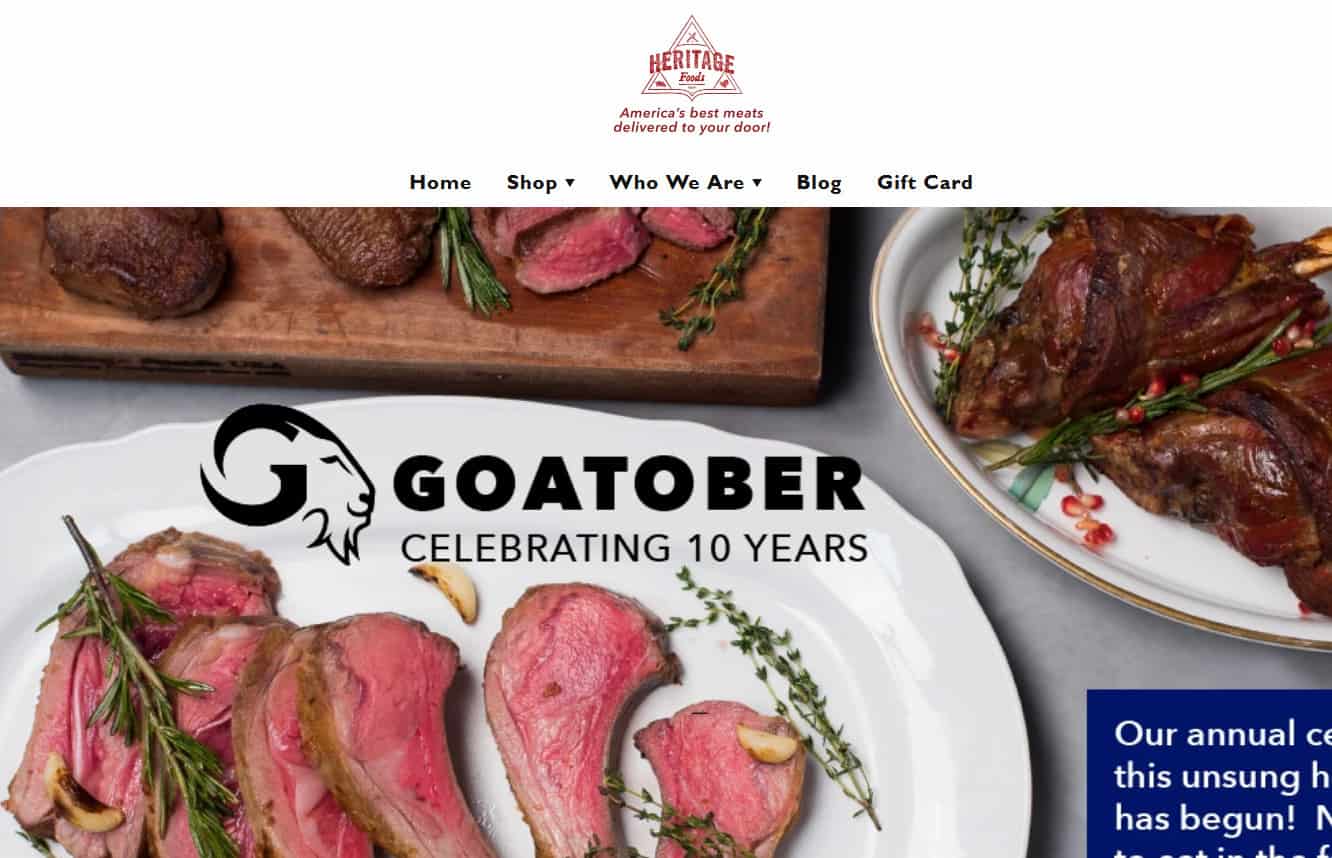 While approachable, with a catalog of beef, chicken, and poultry, all meat is raised humanely and free of both hormones and antibiotics. Whole turkey, pork chops, and bacon, as well as holiday specials, are among the top features.
I really like the option to purchase meal kits, gift cards, and even centerpieces–which fits its delivery (instead of subscription) mold.
Best Alternative For: Festive Occasions with a Unique Twist or Meals
Skip this Alternative If: You want a subscription, seafood
Where to Buy: Shop Here
Wyoming Legacy Meats
I love this option for top quality meat– not only is Wyoming Legacy Meats a source of organic meat, but meat from a single location, meaning you'll be ordering products that are very local, from small ranchers, and humanely raised practices.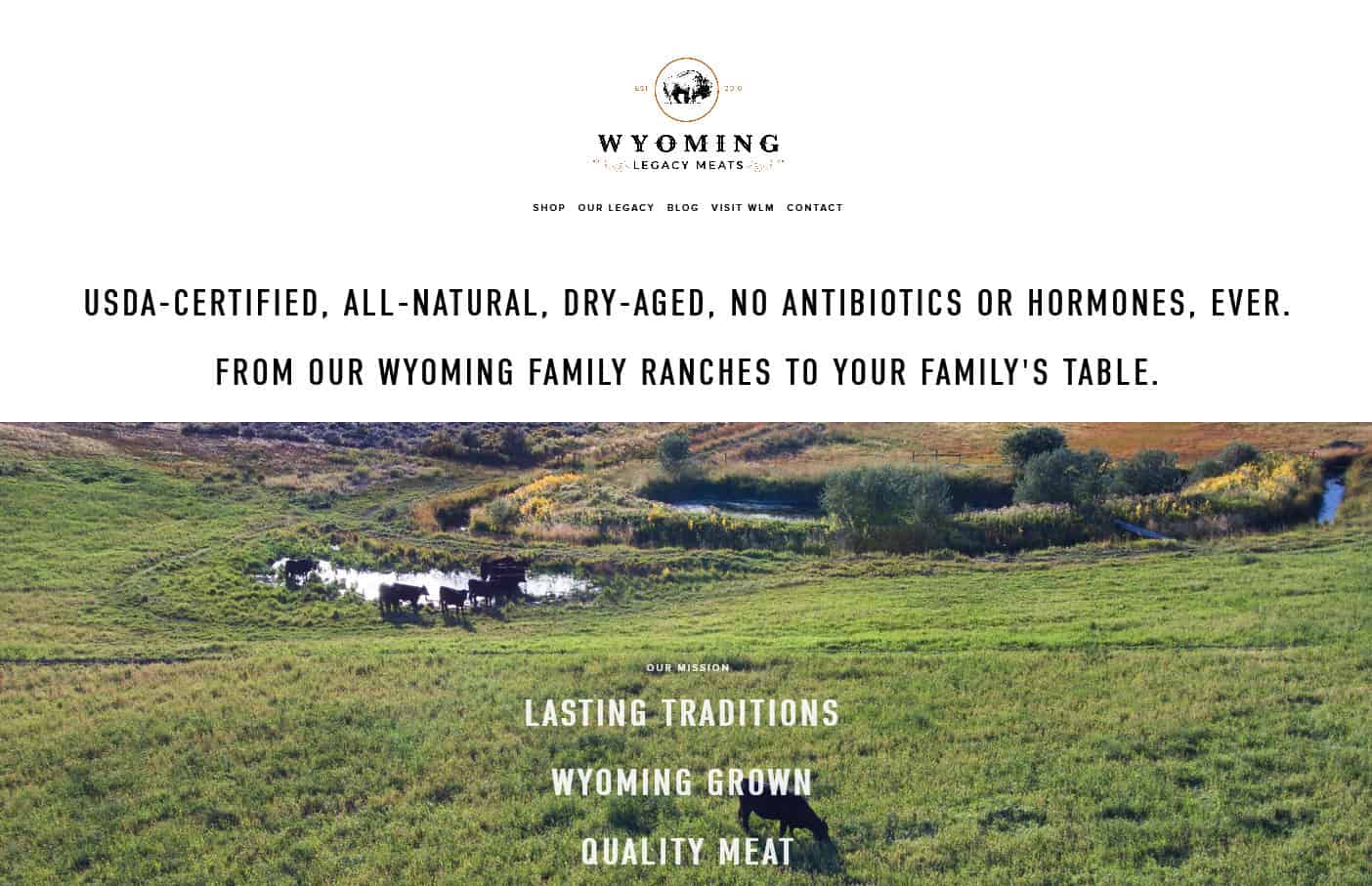 USDA certified and dry-aged, the selection here is more limited but includes curated boxes, especially for cuts of premium steak like New York Strip, Sirloin and Ribeye. While there is plenty to love if you're looking for fresh, quality meat, you may have to wait: right now (as of October 2020) they are taking some time off delivery until they have more stock, so check back in a while.
Best Alternative For: High Quality, Locally Sourced Meat
Skip this Alternative: If you need a meat delivery service immediately
Where to Buy: Shop Here
Frequently Asked Questions
Further Reading on Other Companies Like ButcherBox: