Latest posts by Erin Jamieson
(see all)
From the first time I went into Costco, I was always impressed with their selection- and it was always fun to see new inventory. Part of it is tied to personal memories: I went there several times with my grandparents. But what I never explored before was ordering meat online. And now, with purportedly quality sourced meat from companies like ButcherBox, I was really curious: which is the better place to order online?
From meat quality to reviews, you might be surprised as I was to learn the advantage of selecting meat from one place over another. And while ButcherBox and Costco aren't often seen as direct competitors, I'm seeing more and more demand for meat delivery- both from specialty companies and conventional.
Is ButcherBox vs Costco worth it- and better than essentials you can find from a local butcher or your grocery store? Here's my honest review.
Bottom Line Up Front Summary
What I love about both Costco and ButcherBox is they allow you to shop for meat that goes beyond the typical grocery store experience. But while you can find classics like ground beef, burgers, turkey, and chicken from both, I recommend shopping in stores or through Instacart from Costco. Both companies have substantial complaints about customer service and delivery, so this is a way to bypass most of those issues and still get a selection of natural, conventional, and organic meat. You can also order pickup near you. Shop Costco Meat Here.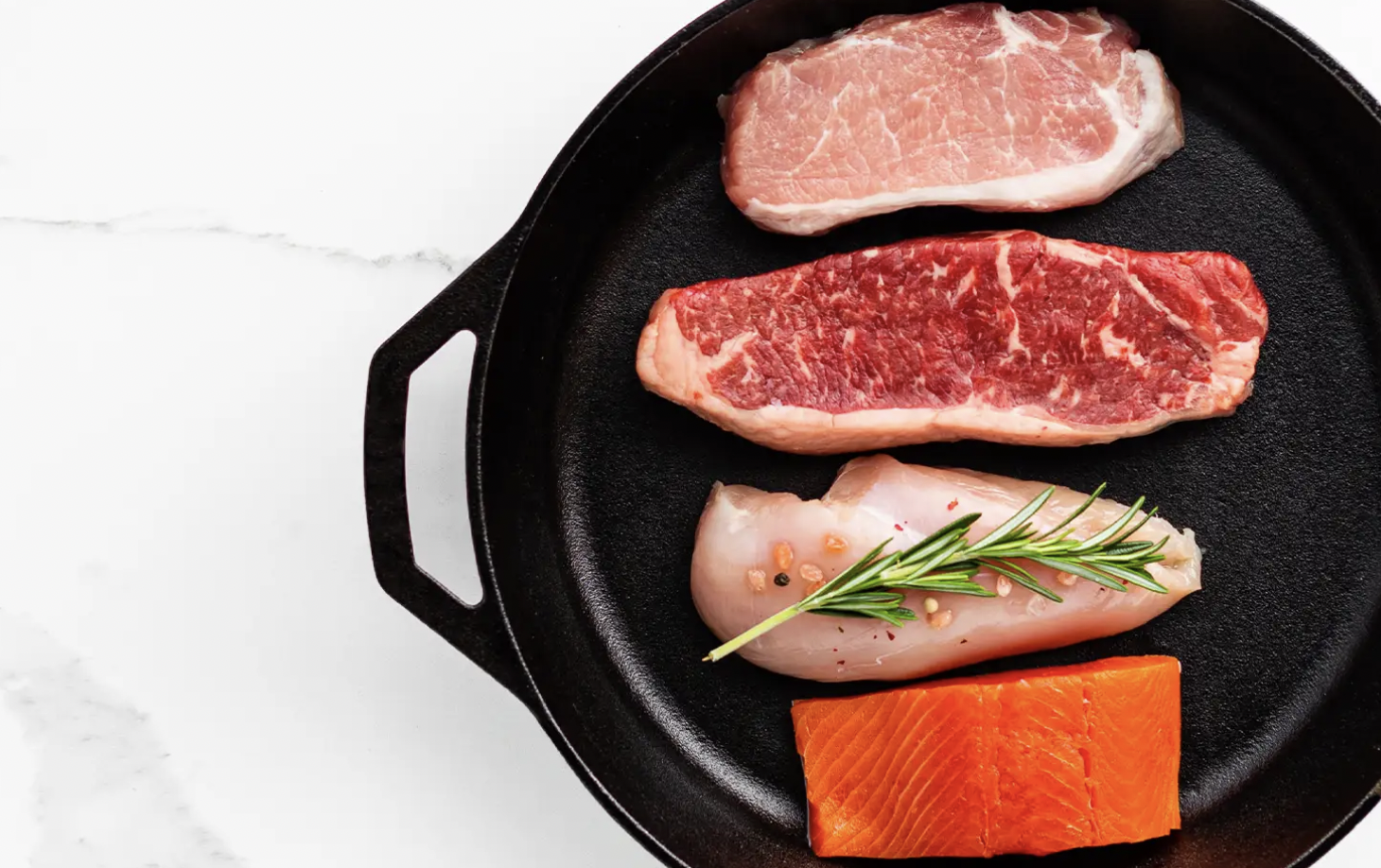 Main Differences between ButcherBox vs Costco Meat
ButcherBox meat is entirely free of antibiotics, hormones, and preservatives, whereas Costco carries conventional, natural, and organic meat

ButcherBox meat comes from the USA and Australia, whereas Costco meat comes from around the world

ButcherBox is a subscription service, whereas Costco has one-day delivery, two-day delivery, and in-store shopping.

ButcherBox has chicken, beef, and pork, whereas Costco online has beef, pork, lamb, and specialties, like halal and Wagyu.
Is ButcherBox or Costco Better for Meat?
From turkey brust to their famous food court hot dogs or signature rotisserie chicken, there's no denying the popularity of Costco and Kirkland brand meats. That's why this comparison to a more grassroots company- ButcherBox- is so interesting. Here's the truth about whether a cheaper or more expensive option is the better bet.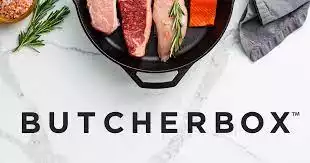 Free Steaks for a YEAR
ButcherBox delivers 100% grass-fed beef, free-range organic chicken, humanely raised pork, and wild-caught seafood directly to your door. Sign up today and CHOOSE from Filet Mignon, NY Strip, or Ribeye (free in EVERY box for 1 year). The best meat protein value we've seen all year.
Check Out this Deal
We earn a commission if you click this link and make a purchase at no additional cost to you.
Shipping and Delivery
You can shop in Costco stores, while ButcherBox only allows you to order online. But if you are ordering online from either, a few things are important. One, I want to see companies with clear shipping, handling, and delivery fees and policies. I also want to see some effort made so that meat arrives as fresh as possible. I was curious to see how Costco and ButcherBox compared, and there are differences.
ButcherBox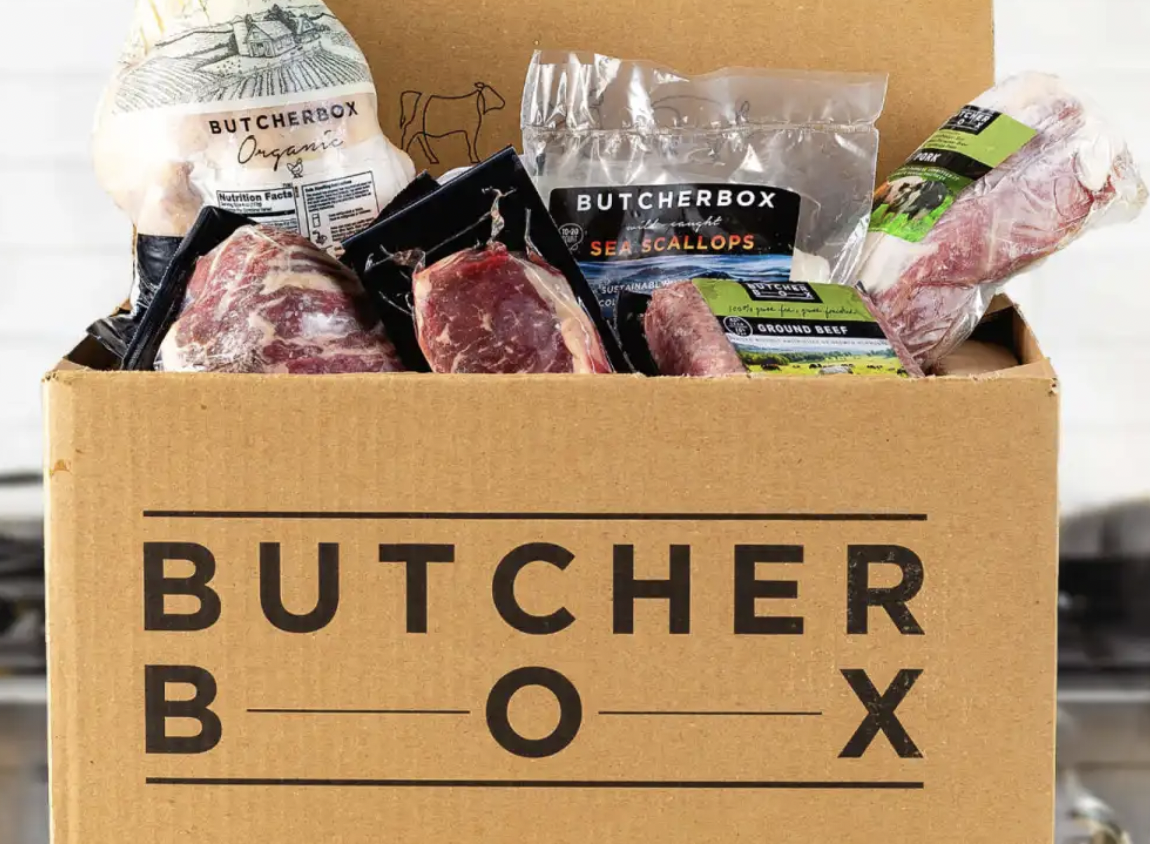 ButcherBox flash-freezes and then individually seals all meat and seafood products. You'll receive an insulated, recyclable box with dry ice (disclaimer: dry ice can evaporate, so make sure everything is 40 degrees Fahrenheit or below). I like that you don't have to worry about shipping fees- those are covered with your subscription.
Check your email once your order: you'll get a tracking number to see an estimated arrival. While ButcherBox has a refund policy for up to a week after you receive your order, it's ambiguous. They state that they can offer you a partial or full refund or credit, but nothing is guaranteed.
Costco


If you shop at Costco's online store, there are both same-day and 2-day delivery options. Same-day options are usually offered from third parties like Instacart and only for meat and other groceries at your local store- so in some cases. The 2-day delivery is going to make more sense.
Either way, Costco meat delivery will be quicker and more on-demand than ButcherBox. There's a $10 flat fee for frozen orders under $100, but that fee is waived over $100 or for fresh items.
Costco meat is mainly frozen, not flash-frozen (depending on the product), with dry ice packs (gel packs are used for fresh meat), protective foam, and a recyclable box. It's important to understand that Costco has a separate Cotsco.com Return Policy for in-store purchases.
While not all reasons may apply, there's a long list of reasons why you can return or refund items. In many cases, you'll need to have your refund processed online and/ or by a local warehouse. You can also- if applicable- return items to your local store. All told, it's a reasonably generous policy.
Winner: Costco
ButcherBox has a few advantages: they flash-freeze everything (better for product freshness), and you have your shipping fee waived. With Costco, you can get fresh and frozen meat, and their return/ refunds policy is quite generous.
Ways to Buy Meat
What's great about a meat subscription service is that you have to put less thought into your shopping: once you know what you like, you can have the same box sent to you. But I want to explain the differences between buying meat from Costco and buying meat from ButcherBox- and why I see an appeal to either.
ButcherBox has two buying options. The main one is their subscription plan- but you can also buy one of their gift boxes if you just want to try their meat and seafood once.
Subscription Plans
ButcherBox has a curated box option and a custom box option for the subscription plans. While you'll pay more for a fully custom box (about $20 more), I like this option because you can hand-select everything you get. The curated boxes are based on meat types- such as mixed, chicken and beef, beef and pork, and all beef. Here's the low-down:
Basic Box comes with 7 to 7.5 lbs

All others come with 9 to 14 lbs

Boxes come every 2 weeks or every 4 weeks

You can cancel or pause boxes from your online account
I like the flexibility offered, but the one downside is that the regular boxes have a fairly wide range of how much meat you get. I understand that there" s some variation, but 5 lbs are substantial. Still, there's enough customization that I'm fairly pleased with ButcherBox's subscriptions.
Gift Boxes
I like that ButcherBox offers an alternative to a subscription with Gift Boxes– though you'll still get more bang for your buck, most of the time, with a subscription. There are chicken samplers, grilling staples, steak boxes, and a favorites collection- all of which give you a nice taste of what ButcherBox offers.
Costco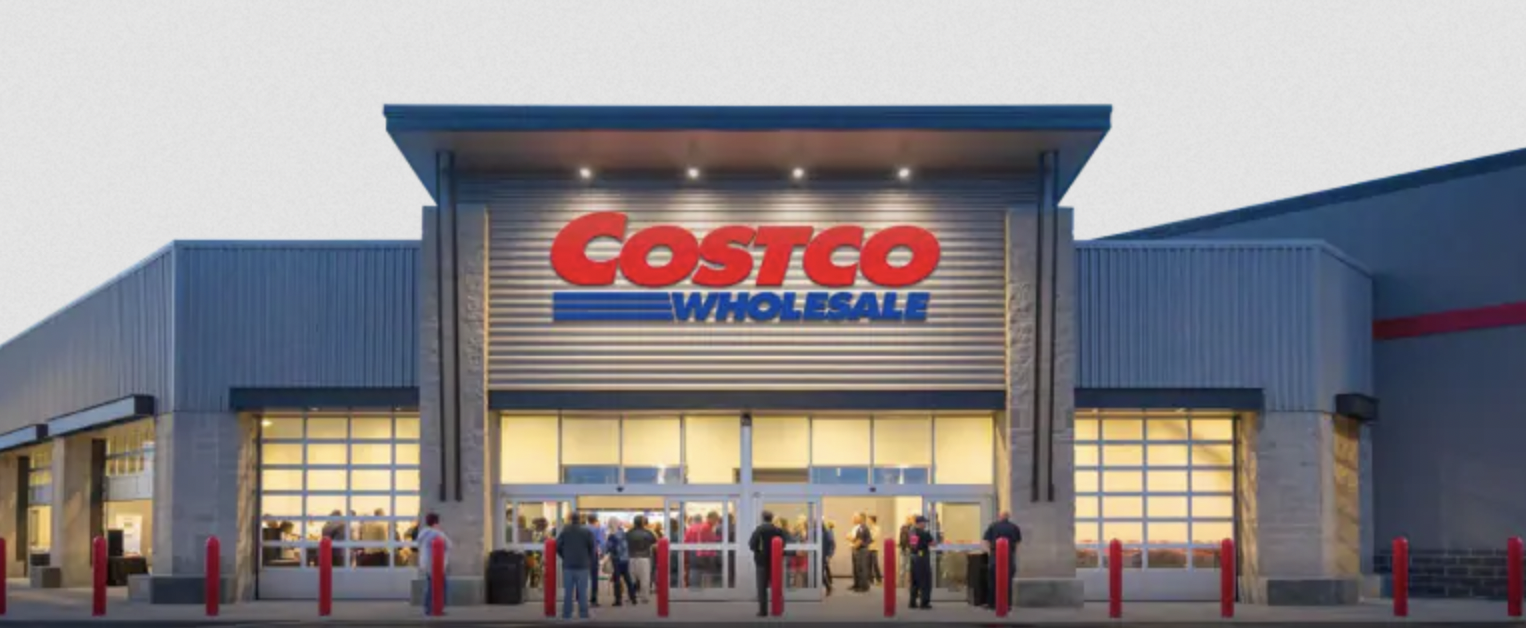 No surprises here: you can buy meat in-store or order it online. Of course, if you don't have a Costco Membership, your better bet is to purchase online. It's more of an a la carte experience- so Costco is a more direct alternative to regular grocery shopping or shopping with your local butcher.
Winner: Draw
It depends on what fits your lifestyle most. If you don't want to think about meat coming every month, a subscription is convenient. But Costco allows you to order meat when you need it, and what you select is entirely up to you.
Meat Sourcing Standards
This is the category that I was most curious about. While ButcherBox's entire business model is more or less based on its meat sourcing standards, Costco had a few surprises I didn't expect. Here's what you need to know about the main differences in sourcing and quality standards- and how they could impact your dinner.
Sourcing standards are the selling point for ButcherBox. Everything they sell is free of antibiotics, preservatives, hormones, and preservatives- which is a big step from typical conventional meat. USDA organic chicken, crate-free pork, and grass-fed/ grass-finished beef are big advantages. Plus, everything comes from the United States, aside from their grass-fed beef.
I love that they've earned B-Corp Certification, which measures a company by its social and environmentally-friendly practices. Plus, they work with partners to support fair labor practices. My only caveat is they could go a few steps further by listing who they work with and how each supplier is selected.
Costco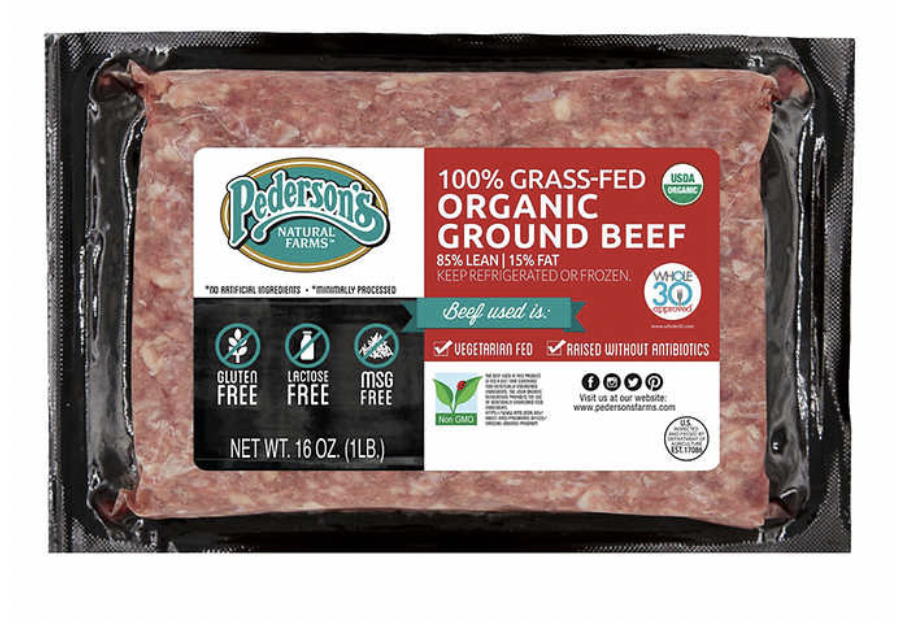 Costco has tons of meat options- but if you want to filter out conventional meat, your best bet is to search for Gourmet Meat. Since Costco is a wholesale supplier and not entirely focused on natural ingredients, sourcing and quality vary greatly. The good news is that some of its gourmet options include antibiotic-free meats, USDA Prime and Choice meats, and high-grade Wagyu. They even have grass-fed beef and are fully organic.
The other thing I like is that most of the premium products tell you where the meat comes from and additional sourcing standards. You can look up individual names or brands if you want to be extra picky. A large amount of their meat comes from American farms, but you'll also run into the meat from Australia, Canada, and Southeast Asia.
Winner: ButcherBox for Consistency, Costco for Variety
I have to give it to Costco: some solid options go beyond conventional meat- and it's better quality than most at your grocery store. ButcherBox has higher sourcing standards overall, though.
Meat Selection
For meat selection, I had high expectations. I wanted to see a nice variety of cuts and meat types and options for everything from casual grill-outs and weeknight dinners to special occasions. Here's how ButcherBox and Costco compare in the meat department.
ButcherBox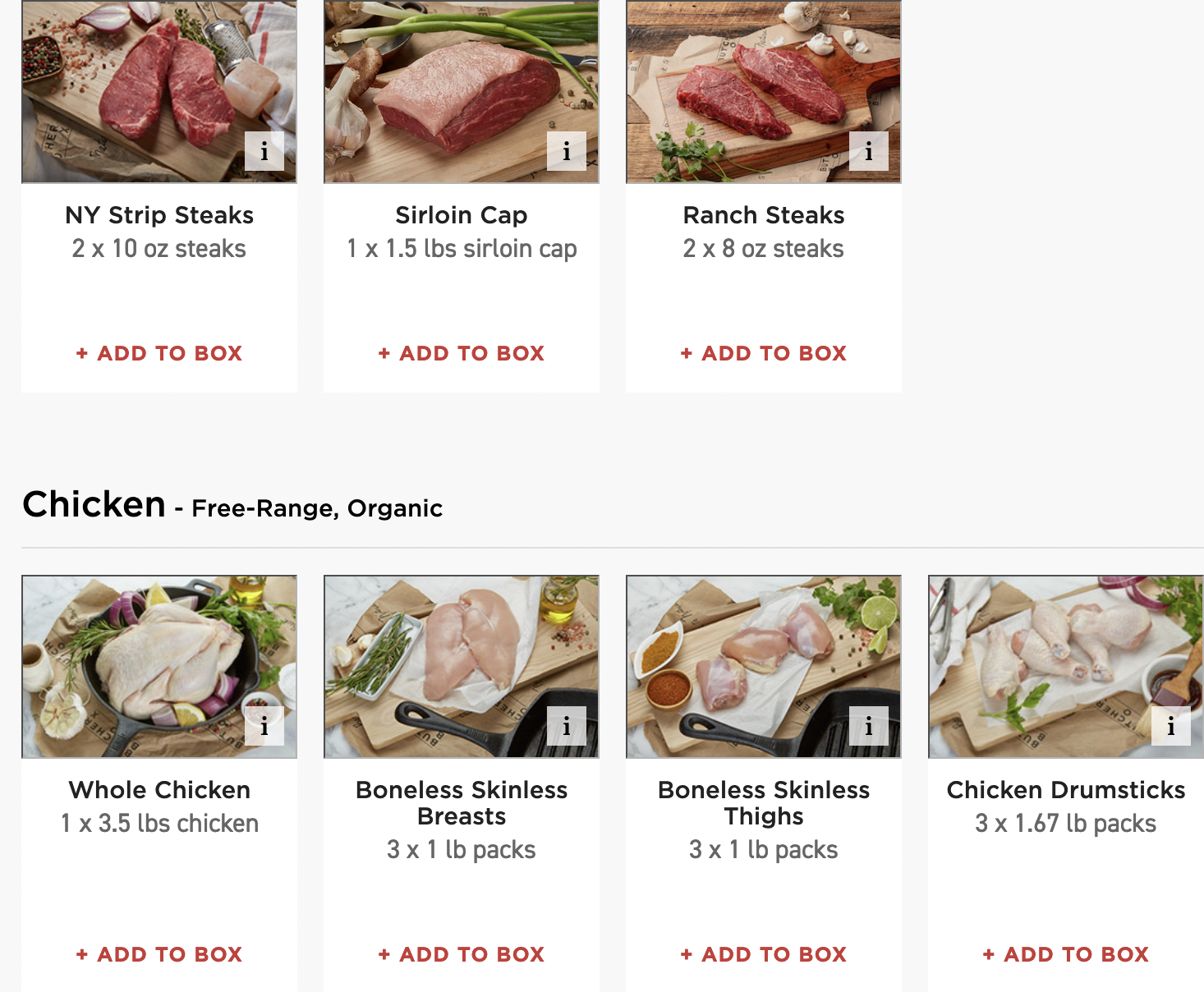 ButcherBox carries grass-fed beef, organic chicken, and crate-free pork, including some pretty popular cuts:
Bottom round roast, London broil, flat iron, coulotte, filet mignon, ground beef, tips, better, burger patties, NY strip, ribeye

Bacon, pork chops, tenderloin, ground, butt, St. Louis, baby back

Chicken breasts/ drumsticks/ whole chicken
Costco

Heads up: even if you plan to buy conventional meat, Costco meat is not usually cheaper but more expensive than your local grocery store (but certainly less expensive than most specialty butcher shops). Some Costco meat is as costly as ButcherBox!
Costco carries beef, pork, and lamb- with more options, like their rotisserie chicken, also available in stores. Examples of either popular or noteworthy meats include:
| | |
| --- | --- |
| Cotsco.com Meat Type | Examples |
| Beef (including USDA Choice, Prime) | Carne Asada, Top Sirloin, Ribeye, Ground, Burgers, Grass-Fed, NY Strip, Flat Iron, Black Angus, Filet Mignon, Texas Roast, Prime Rib Roast, Chuck Eye Roast, Beef Marrow, Tomahawk |
| Pork | Berkshire Tenderloin (specialty breed known for great marbling), Pork Rib, Italian Sausage, Bacon, |
| Lamb | New Zealand Grass-Fed, Grass-Fed Frenched Racks, Loin Chops |
| Specialty | Halal Meat, A5 Japanese and Australian Wagyu, Low Salt Bacon |
Winner: Costco (Except for Chicken)
This isn't easy- but for overall variety, Costco has the edge. It's not an entirely fair comparison, but Costco has specialties like Wagyu and even halal meat. And while I love that ButcherBox sourcing standards are pretty consistent, I was pleased to find fully organic, hormone-free, and other options from Costco.
My other caveat: if you want to order chicken online, ButcherBox has plenty. At the same time, you'll mostly need to shop in stores for the best Costco selection. But remember that you probably won't save much money if you buy premium options from Costco: they aren't too different in price vs ButcherBox.
Overall Customer Satisfaction
I know that even the best personal experiences don't always reflect everyone's experiences. So I looked into Costco and ButcherBox for a better sense of how they handle complaints- and how pleased people are overall. It was a little tricky- as everyone providing feedback for ButcherBox is directly discussing its service and meat. However, I still got a good sense of how customers felt.
ButcherBox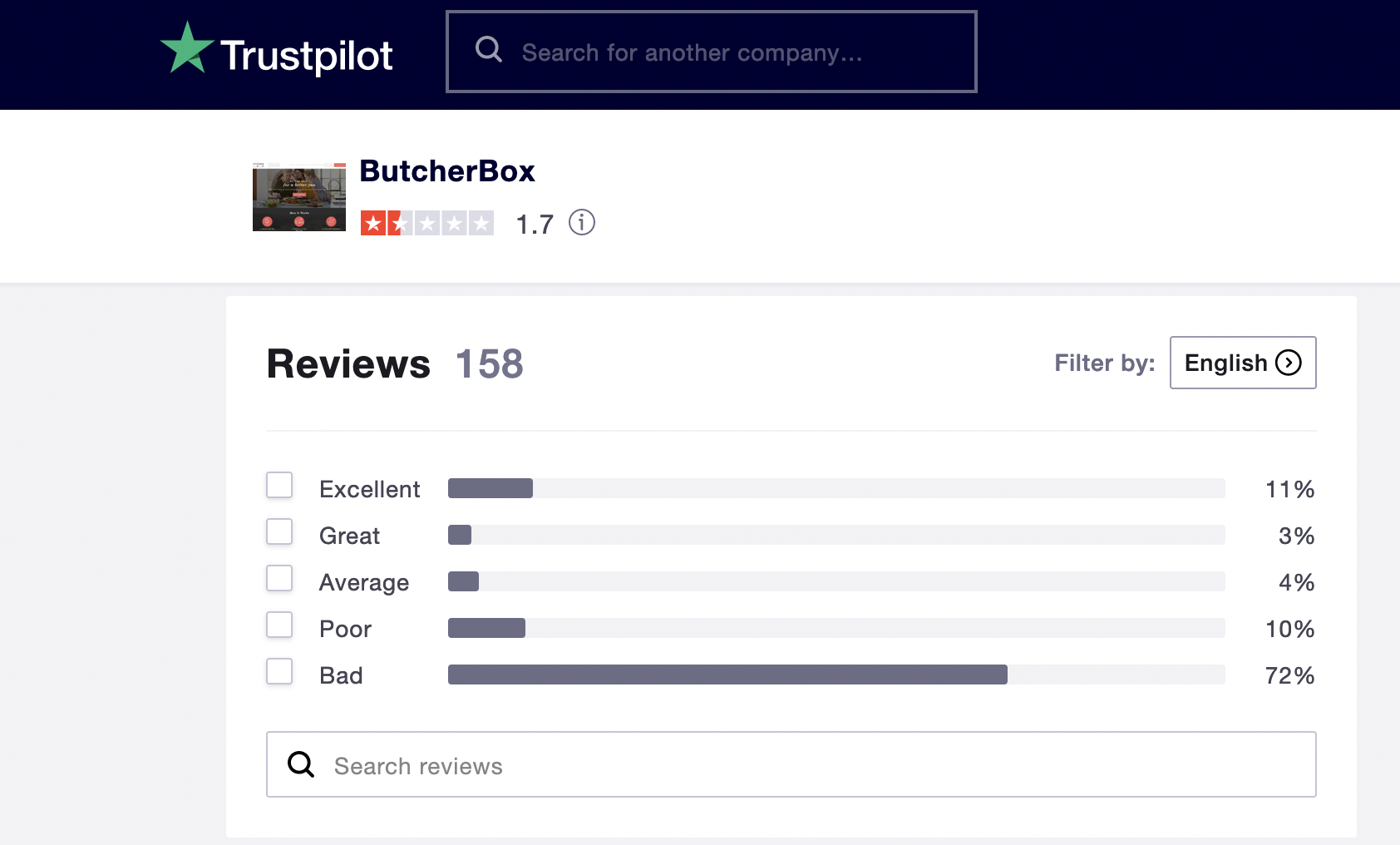 ButcherBox has had a good reputation for its standards- which is why I'm unhappy to see how it's declined in customer satisfaction. Over 70 percent of customers (Trust Pilot) gave their experience just 1 out of 5 stars. The complaints are substantial- from problems with orders to poor taste. And I don't see as great of an effort as I'd like to see those complaints resolved.
Costco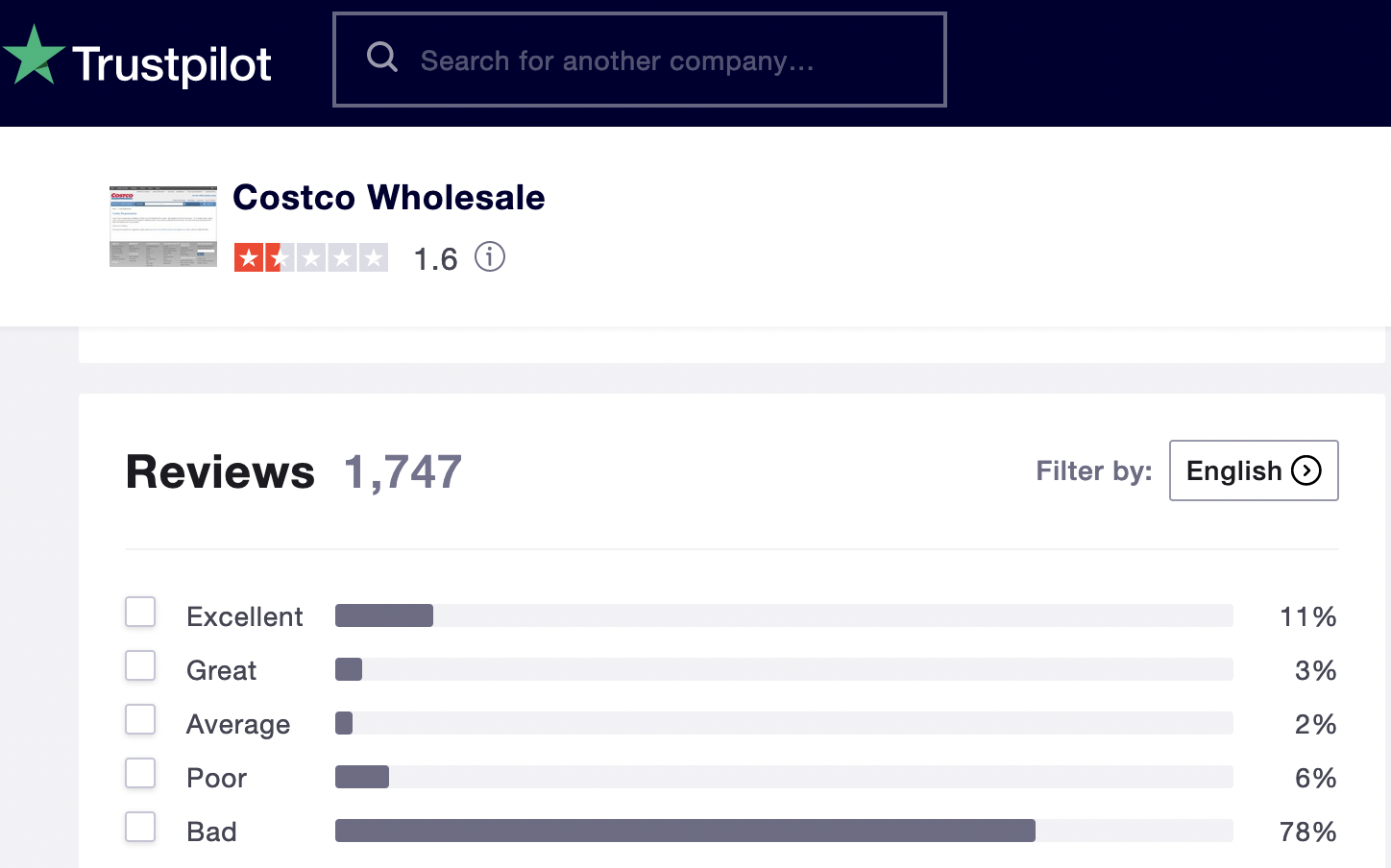 As much as some people like shopping in stores, ordering from Costco online sadly seems to be just as unpopular as ButcherBox right now, with even more (70 percent, Trust Pilot) customers scoring their experience as low as possible. Delivery delays are understandable, but order mishaps and inadequate customer service responses are problems.
Winner: Costco
To be frank, there probably shouldn't be a winner in this category. Both Costco and ButcherBox need to address customer service complaints. That said, I saw Costco reach out to more customers, and most complaints have to do with the service itself as opposed to meat quality or taste.
Frequently Asked Questions
Question: Who is Costco's meat supplier?
Answer: While there were rumors that Costco meat (Kirkland Brand) comes from China, the majority comes from American farms, while some other products- like shellfish, fish, and lamb- come from Canada, Australia, and parts of Southeast Asia. All of their veal comes from Atlantic Veal and Lamb Inc, a food service company that oversees over 100 farms and are headquartered in Brooklyn. Put: Costco has several meat suppliers, so you must look at individual products to find out where they're from.
Question: Is Costco meat healthy?
Answer: Besides the general debate of how healthy meat is- and which meat is the healthiest- you can find meat for various nutritional and diet plans at Costco. The rotisserie chicken is rich in protein and flavor but is a bit high in sodium and preservatives. I like that they have some more natural options than you'd find at typical grocery stores, but there are plenty of Costco meat products that have additives, preservatives, and sodium and are high in fat. The key is to be selective about what you buy.
Question: Is ButcherBox trustworthy?
Answer: ButcherBox has an A-plus rating on Better Business Bureau, and its website is secure. However, they are less trustworthy than they used to be, based on a wealth of poor customer reviews and complaints. While they are a legitimate company and their source standards are high, they, unfortunately, aren't the best choice as of this review if you're worried about shipping, delivery, and delicious taste.
Question: Is ButcherBox grass-finished?
Answer: One way ButcherBox stands out from conventional meat delivery companies is that its meat is both grass-fed and grass-finished. Often even grass-fed beef is grain-finished. Grain feed is more economical as a way to fatten up animals. Grass-fed and grass-finished beef have a gamier taste, is leaner, and has a healthy portion of omega 3's and omega 6's.
Grass-fed indicates the bulk of their diet, while grass-finished indicates their feed leading up to the time they were butchered. It's good to see these standards, and hopefully, more companies will follow suit.
Final Verdict: Cotsco Meat Is Better- with Caveats

On paper, I love what ButcherBox stands for. It's nice to see more grass-fed and finished options, and I also like that they work directly with their sourcing partners and suppliers. But after a thoughtful review and analysis, I recommend shopping in-store at Costco, if possible- or ordering fresh meat via Instacart.
This will limit your options, depending on your proximity to a store and what your store carries. Still, it's an excellent way to bypass the most common complaints and hopefully find meat that fits your needs. You can even order online for store pick up ahead of time. Shop Costco Meat Here.
Alternatives to Try
If you're not pleased with ButcherBox's customer service but want an alternative to Costco, there are some excellent meat delivery options- whether you want organic, a subscription, or just an excellent range of cuts and other choices.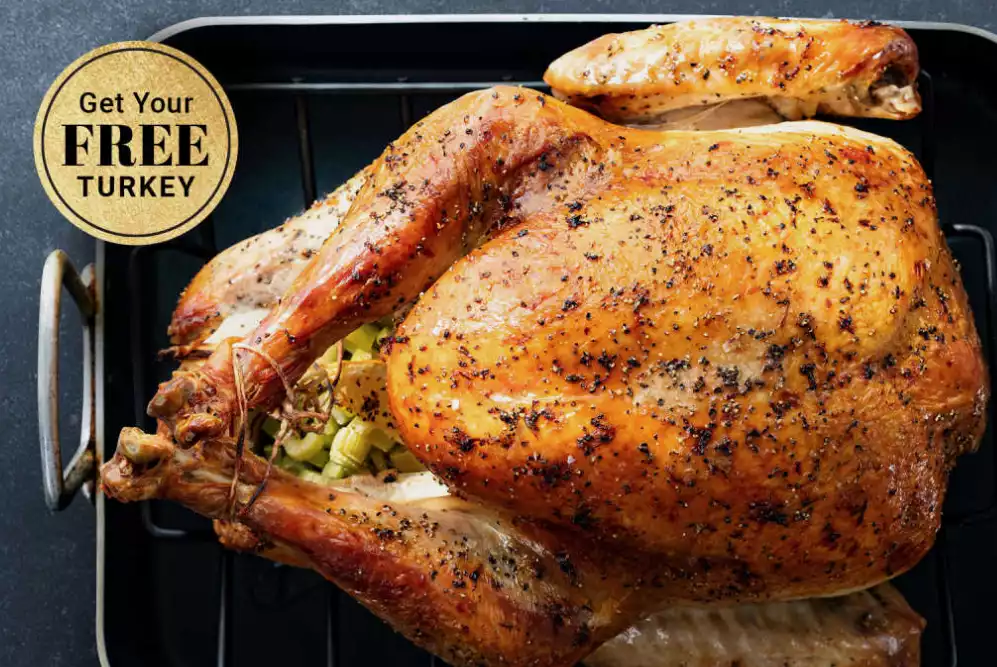 Try ButcherBox Now!
ButcherBox delivers 100% grass-fed beef, free-range organic chicken and turkey, humanely raised pork, and wild-caught seafood directly to your door. Get 1 FREE TURKEY for Thanksgiving.
Order Now
We earn a commission if you click this link and make a purchase at no additional cost to you.
Recommended Reads: