Latest posts by SubscriboxerEditor
(see all)
Looking for the best ButcherBox deals so you don't pay full price? You've come to the right place.
ButcherBox frequently runs promos, BUT they tend to change and vary depending on if you are 1) a new customer or 2) and existing customer.
I created this page because I was personally having a hard time keeping track of it all. Definitely check back frequently as ButcherBox sales rotate seasonally AND monthly.
Active Best ButcherBox Deals
Here's a list of the currently active ButcherBox deals:
These deals are valid on ANY of the core ButcherBox subscription offerings, regardless of what type of box you select.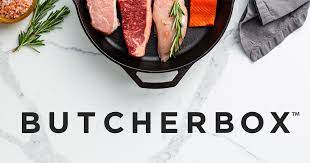 Meat Delivery Subscription | Butcherbox
ButcherBox delivers 100% grass-fed beef, free-range organic chicken, humanely raised pork, and wild-caught seafood directly to your door.
Check Prices
We earn a commission if you click this link and make a purchase at no additional cost to you.
Expired ButcherBox Deals
Free Lobster Tails + 2 Ribeye on First Order: This was a Summer 2022 promo offering a free lobster and steak. ButcherBox tends to offer a deal like this every Summer.
ButcherBox For Life Deals
This type of deal is available exclusively for existing ButcherBox members. The specific categories might vary based on when you first signed up, or what's current being rotated on promo.
Some examples of past ButcherBox "For Life" deals include:
Ground Beef for Life
Bacon for Life
Wings for Life
Typically these are offered on sign-up and do not include high-end cuts like prime rib (sorry folks). What this means is that on each regularly subscribed order, you receive a complimentary order of your "For Life" product.
Please note, if you cancel your membership at any point, you effectively "give up" your lifetime deal and cannot access it upon reactivation of your membership.
ButcherBox Free for a Year Deals
Similar to the "For Life" deals, ButcherBox also offers sign-up promotions for a full year (typically 12 monthly order cycles).
Some examples of current and past "Free for a Year" deals include:
Can You Stack ButcherBox Promotions?
The short answer is "No", you can't stack multiple discounts or promotions on top of each other.
When Do ButcherBox Promotions Expire?
For ButcherBox new member promotions, the offer generally is "until supplies last" or the promo period is ended.
For ButcherBox existing members, promotions are almost exclusively only available on your NEXT order, although you may see some repeat deals over your lifetime as a member.
No Good Deals for You? See How ButcherBox Compares to Other Meat Delivery Options: