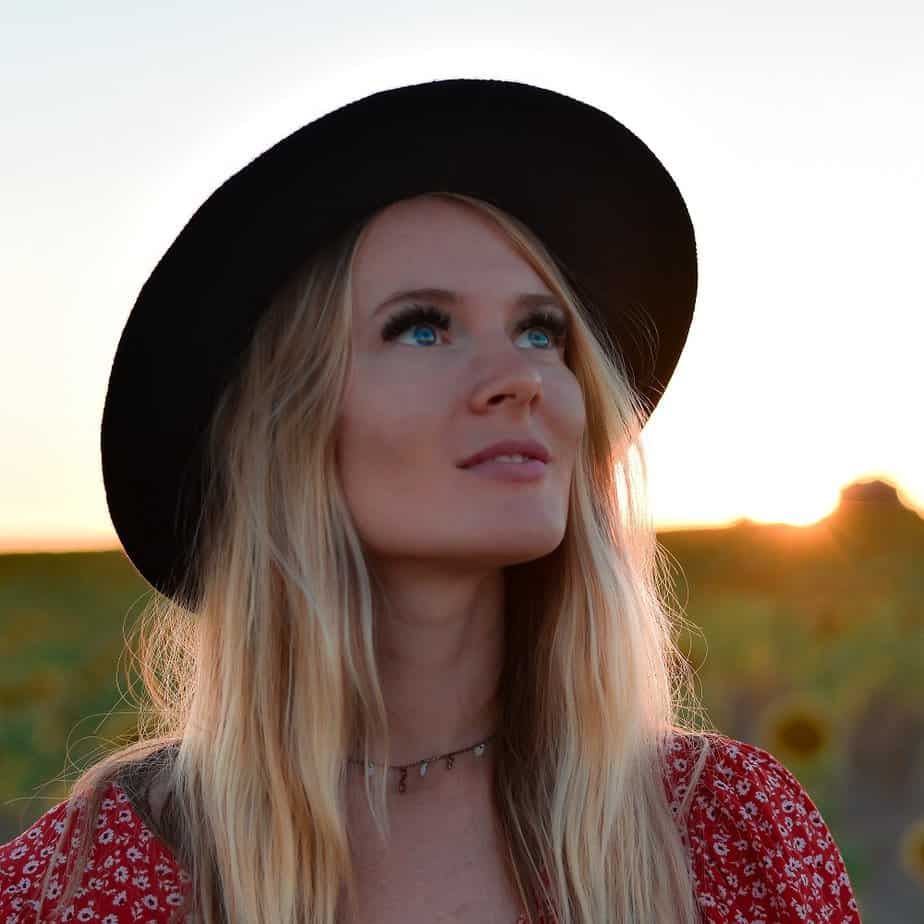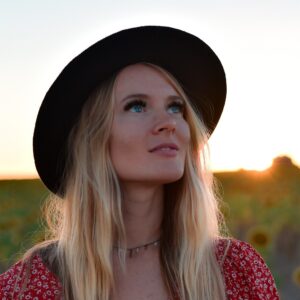 Latest posts by Haley Parker
(see all)
It's challenging to compare Gymshark vs. Lululemon because Gymshark is known for making clothes for gym rats, whereas Lululemon is popular amongst yogis. Although, the two brands do have products that cross over into each others' turf. It's always good to look into a brand that could compete with Lululemon to save a little money.
Gymshark vs. Lululemon Up Front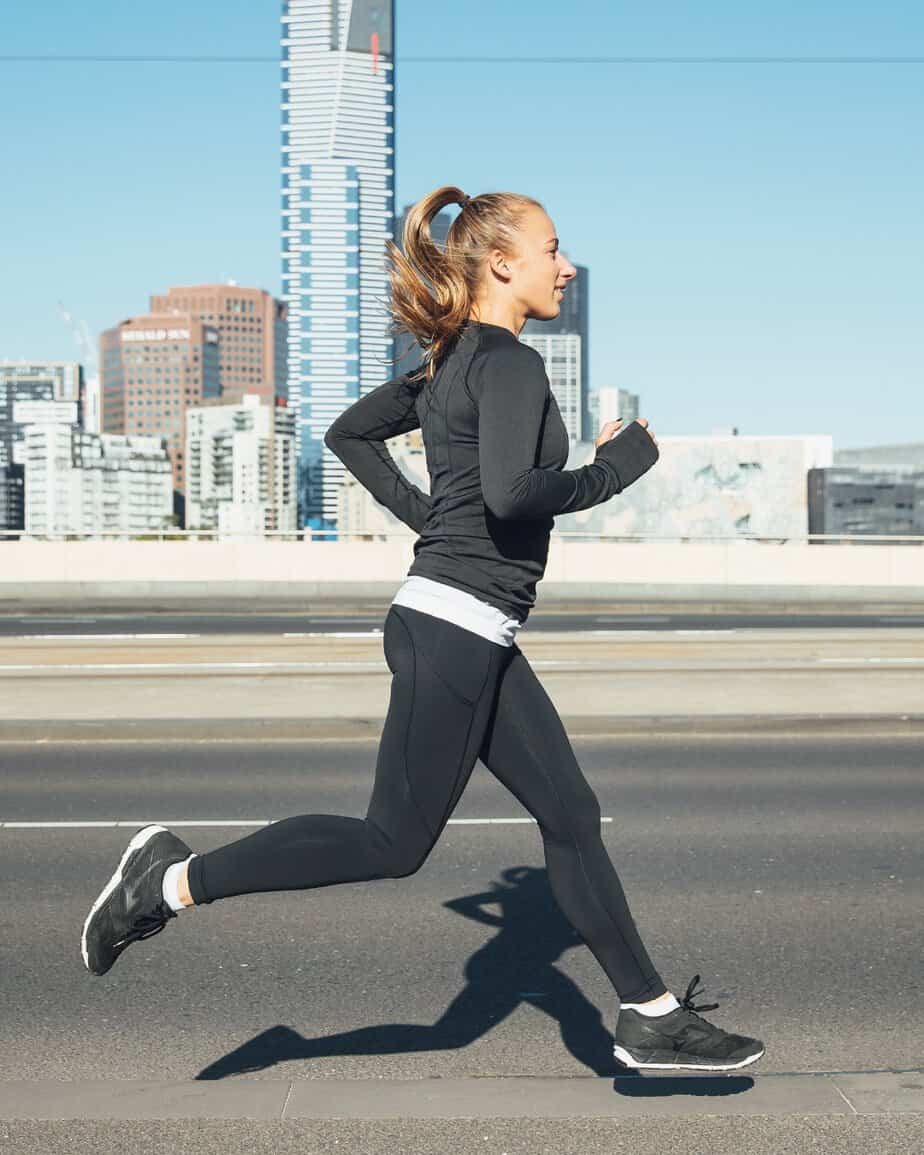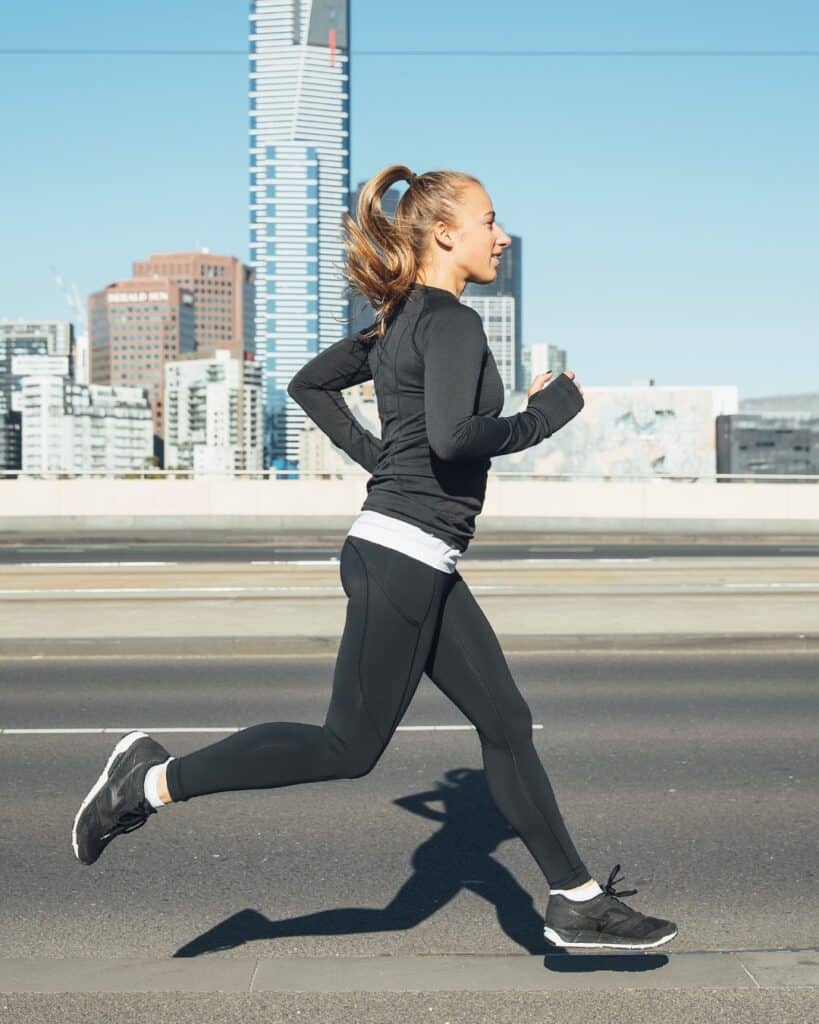 The only thing that Gymshark and Lululemon really have in common is they make athleticwear. Gymshark solely creates gym wear that is exceptional for sweaty workouts that involve heavy lifting. Lululemon makes a little bit of everything regarding athletic wear. It's extraordinarily comfortable and lasts forever. Lululemon is definitely the superior brand as long as you can afford it. Although, Gymshark is a great brand for the price if you need something a bit more affordable.
Main Differences between Gymshark and Lululemon
Gymshark's prices are in the affordable to mid-price range, whereas Lululemon is a more luxurious line with higher prices.
Lululemon focuses on comfort, whereas Gymshark's clothes are made for tough workouts.
Lululemon is known for having clothes that will last years, whereas Gymshark's clothes seem less durable.
Lululemon uses a nylon, elastane blend, whereas Gymshark uses a polyester, elastane blend in most of their clothing.
Lululemon's customer service goes above and beyond, whereas Gymshark's customer service is very basic.
Gymshark is most known for its leggings and how figure-flattering they are. Although they have a little bit of everything regarding gym wear. The brand is super popular amongst social media influencers, but I'll test it to see if it's as good as they make it seem.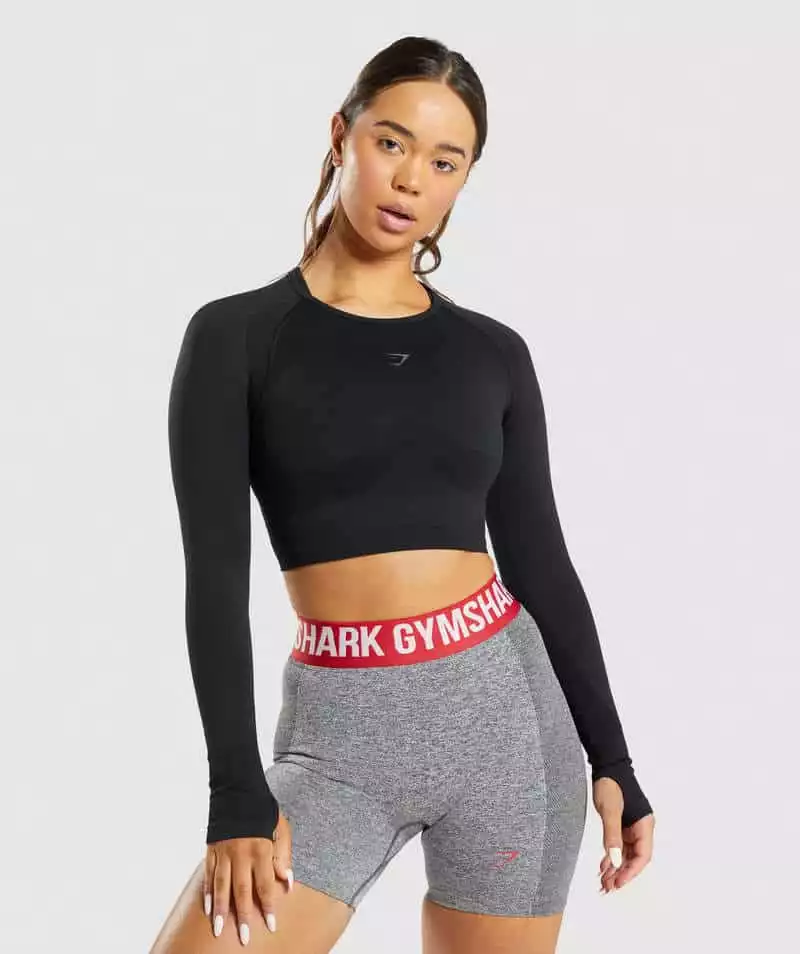 Gym Clothes & Workout Wear | Gymshark
Known for matching tonal leggings, shorts and fitted tops, often modelled on sculpted gym goers, Gymshark has grown at pace.
Check Prices
We earn a commission if you click this link and make a purchase at no additional cost to you.
Pros
The prices are fantastic for what you are getting.
Most of their clothes have features that accentuate your muscle definition or figure.
Free 3-day shipping on orders over $75.
Everything was extraordinarily sweatproof and kept me cool.
There is fantastic compression where you need it in their clothing.
I love all of the colors they provide, with most being darker colors and a variety of neutral tones.
You get special discounts if you are a student or veteran and for signing up for email or texts.
The gusseted crotch in the leggings is one of the best I've experienced.
Gymshark goes beyond using recycled materials in their sustainability initiatives, acknowledging that fashion waste and dyes are also huge contributors.
Cons
The leggings showed some of my imperfections, like butt dimples, due to the fabric being pretty thin.
The waistband on my leggings rolled down while working out in them.
Gymshark's customer service is super basic and can sometimes be a little difficult.
Gymshark's Cost
Gymshark is less affordable than brands like Fabletics or Aybl, but I would still categorize it as affordable. On average, you can buy a pair of leggings for $60 and tops or sports bras for $40.
They also have a ton of good sales almost all the time of 30% to 60% off. I got a couple of bras in the $20 range, which is very affordable, especially for what I was getting. My overall order consisted of five items and cost $145, which is not bad. On top of that, you can get an extra 10% off if you're a student or veteran.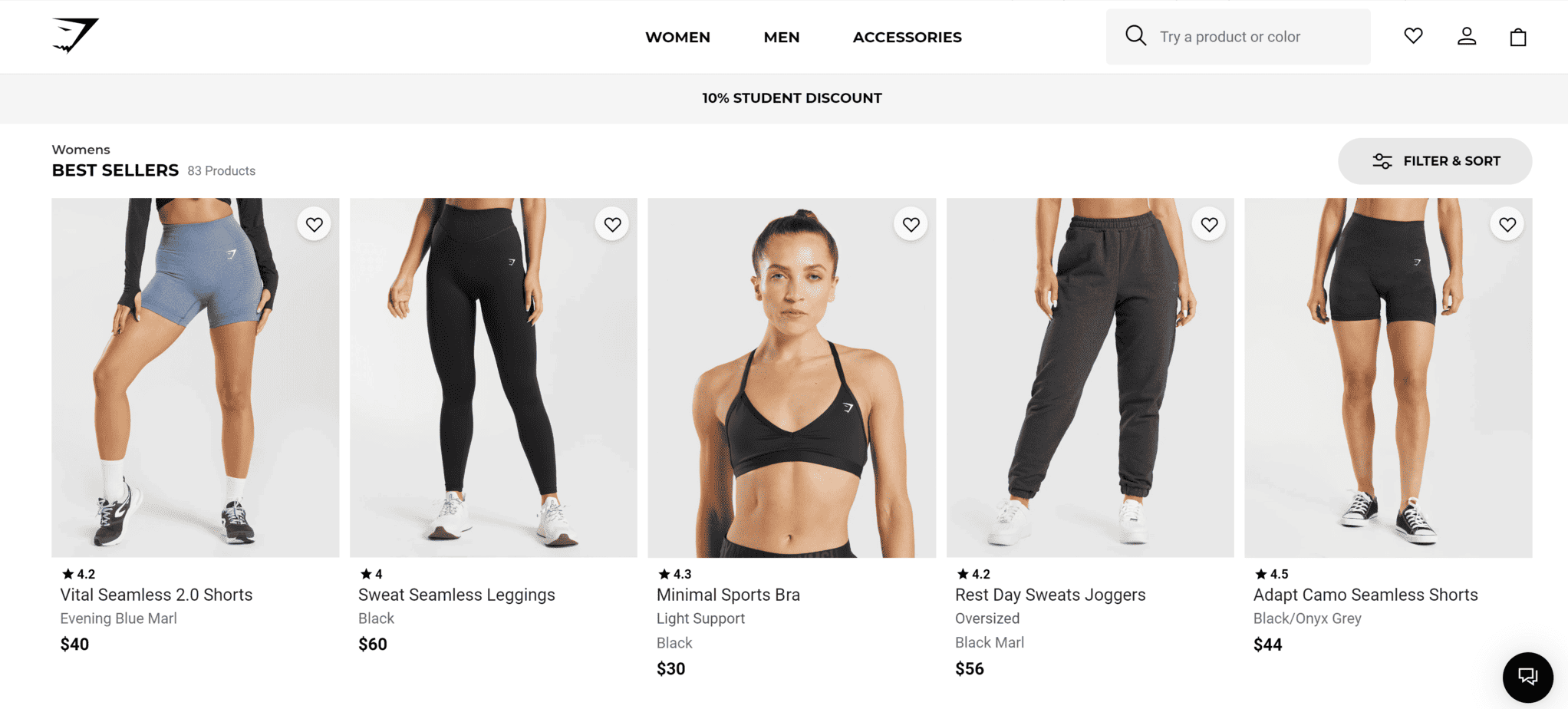 We can't forget the free 3-day shipping when you order $75 or more and the extra 15% you get off on your first order for signing up for texts. Every little bit counts! This is also the fastest free shipping I've ever experienced that wasn't through Amazon Prime.
Gymshark's Product Line-Up
Gymshark focuses on gym wear in every aspect. They have thought about every single thing you would need for the gym and made it available in one spot. You can find all the typical gym clothes you would expect, slip-on shower shoes, gym bags, resistance bands, lifting gloves, and more.
One of the things I like most about Gymshark's clothing is its colors! Nowadays, a lot of athletic clothing is extremely bright or has bold patterns, which is not my vibe. Gymshark's colors are darker or more muted, and they have a wide range of neutrals.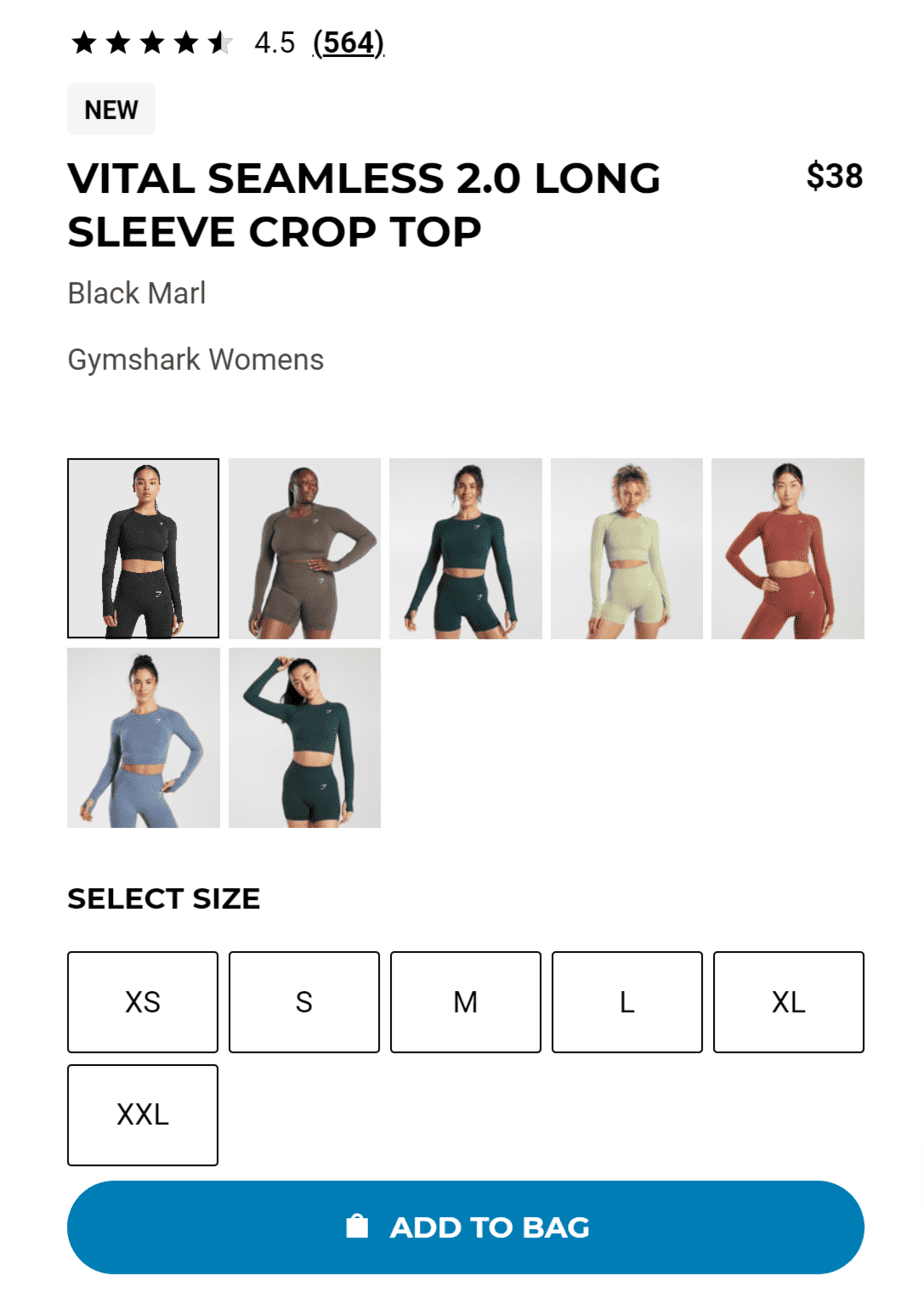 There is a women's and men's category, with sizes ranging from XS to 2XL or 3XL in men's. According to Gymshark's size chart, I'm a size XS in bottoms. I'm typically a size small, and reviewers have said Gymshark runs small, so I was a bit nervous. But I trusted the size chart and got an XS in both the bottoms I ordered. I also got two bras and a Vital Seamless top.
Gymsahrk's Quality
I was extremely pleased that everything felt and looked exceptional on me. I've never had a pair of leggings look as good on me as the GS Power Leggings. They suck in the gut while making my booty pop.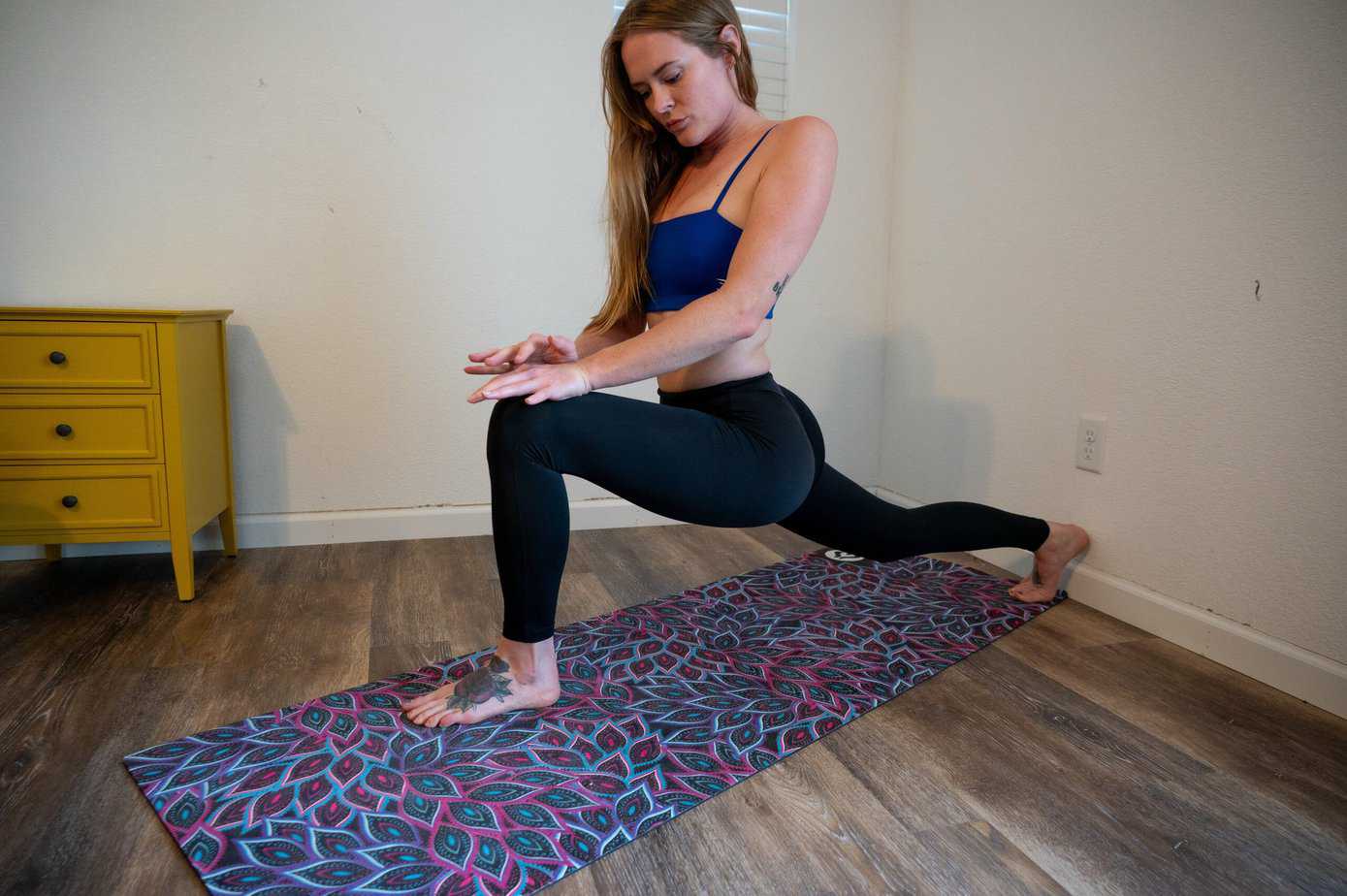 After a quick workout in the leggings, I realized that the fabric didn't hide imperfections very well. I could definitely see some booty dimples when I did the slight clench at the end of a squat. The dark color didn't seem see-through, but lighter colors could potentially be see-through with how thin the fabric is.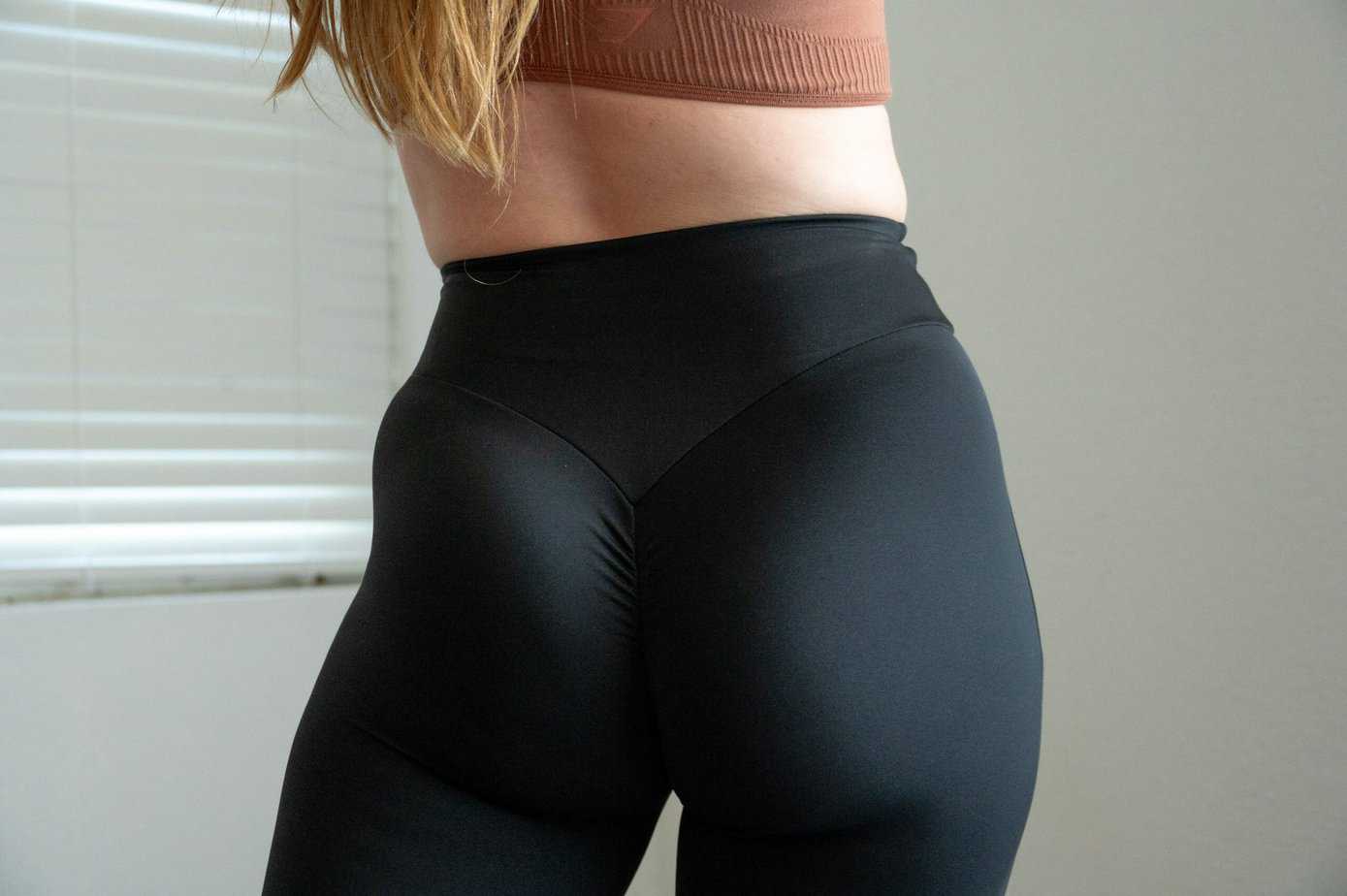 Much of Gymshark's clothing is made of polyester blends, which are way more moisture-wicking than nylon. The leggings and Bandeau sports bra felt extremely sweatproof and kept me cool throughout my quick workout.
Both the Bandeau sports bra and Rest Day Seamless Bralette felt incredibly supportive without feeling restrictive. The Rest Day bralette is supposed to be a low-support sports bra, but it was more supportive than some of the other sports bras I have.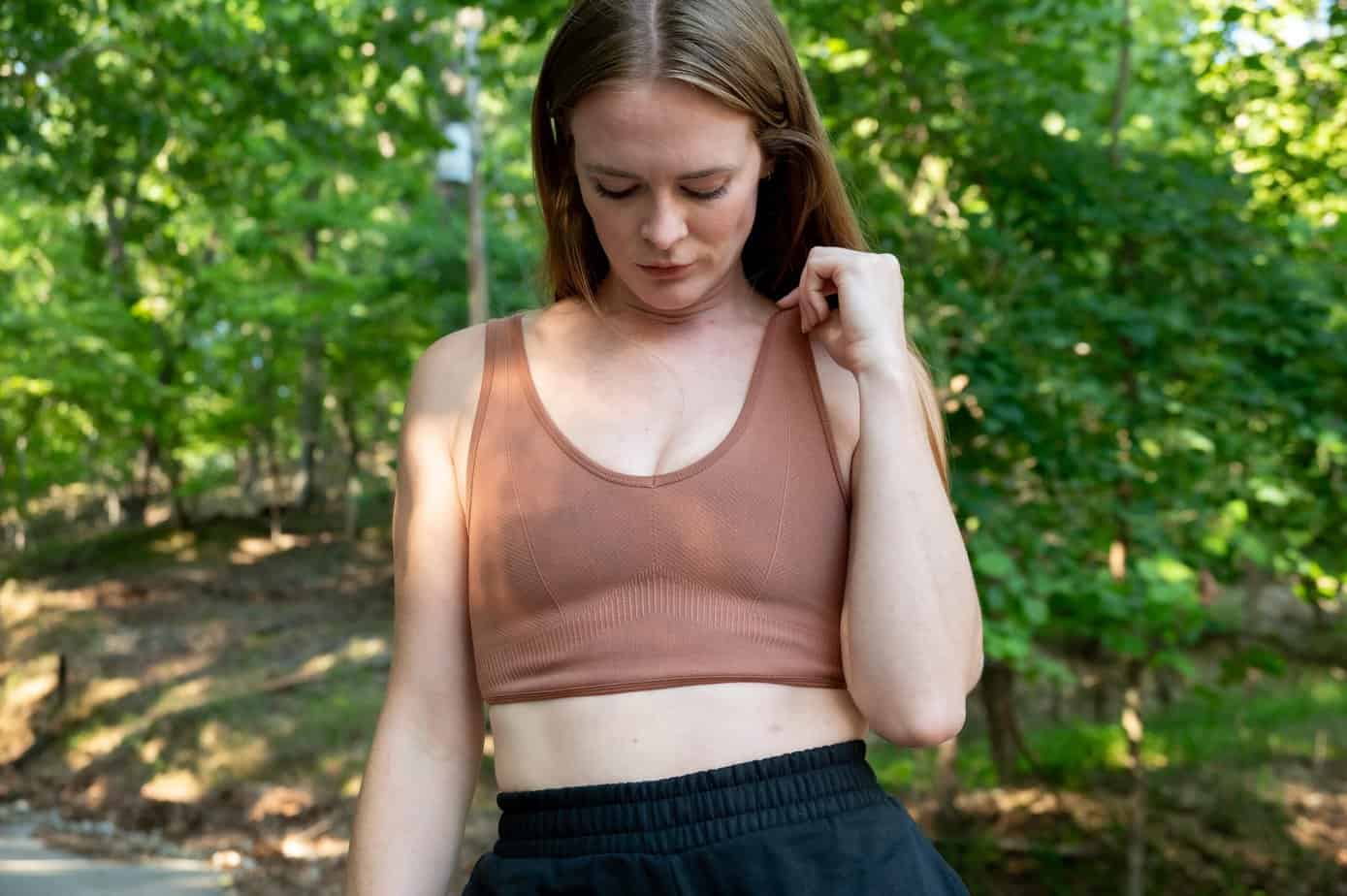 I also decided to try the Training Sweat Shorts, now some of my favorite sweat shorts. They have a triangle shape in the back that also help give you a little shape. They are also super soft cotton and fit me perfectly.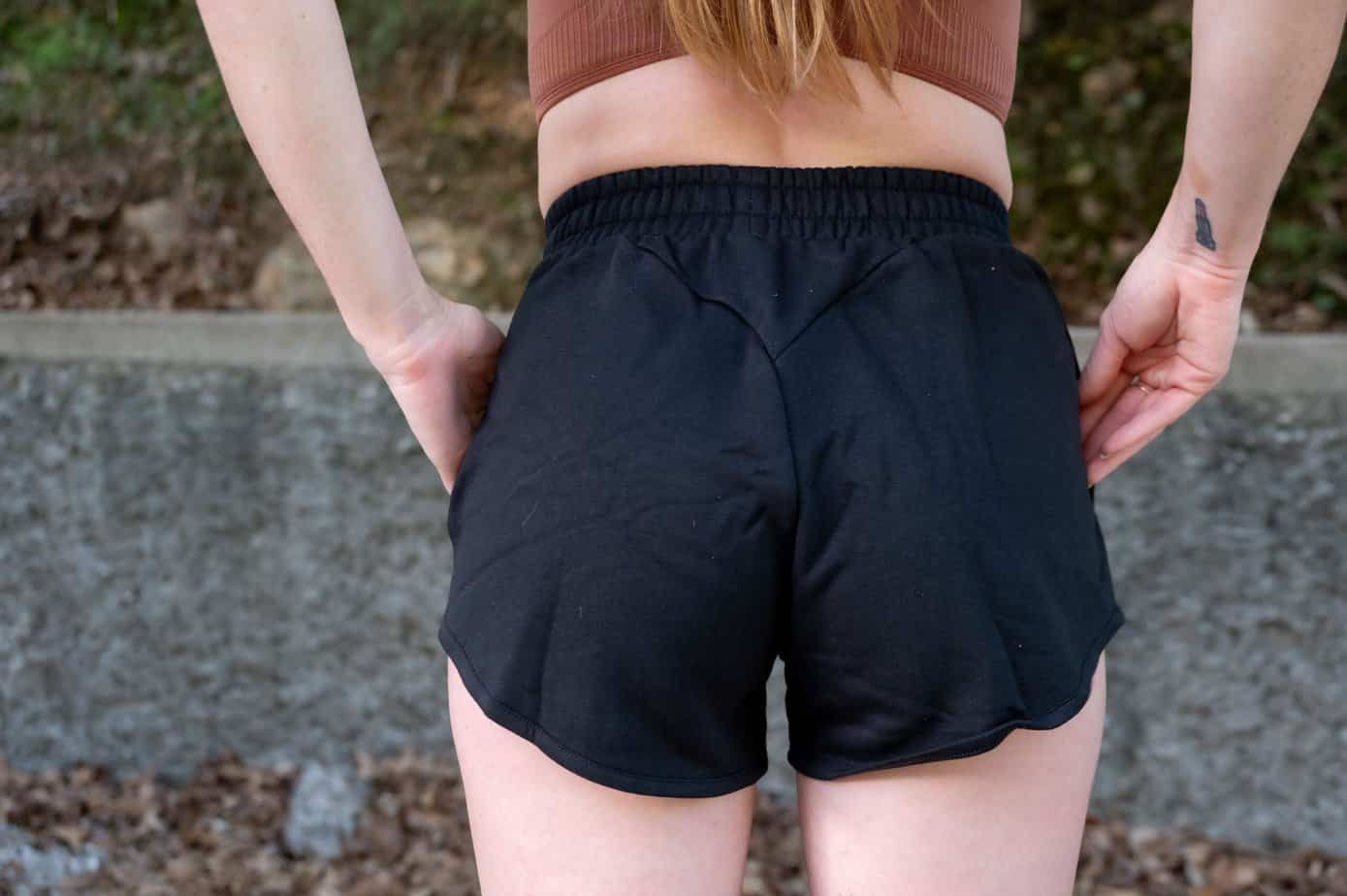 The Gymshark Training App
Gymshark has its own training app that is completely free to anyone with an account. It gives you instructor-led programs and workouts that help you meet your fitness goals. You can also record your progress and personal bests through your profile.
Most of the workouts are meant to be done in the gym, including full body, chest day, core, and leg day workouts. However, they have several options for at-home workouts, plus yoga and meditation.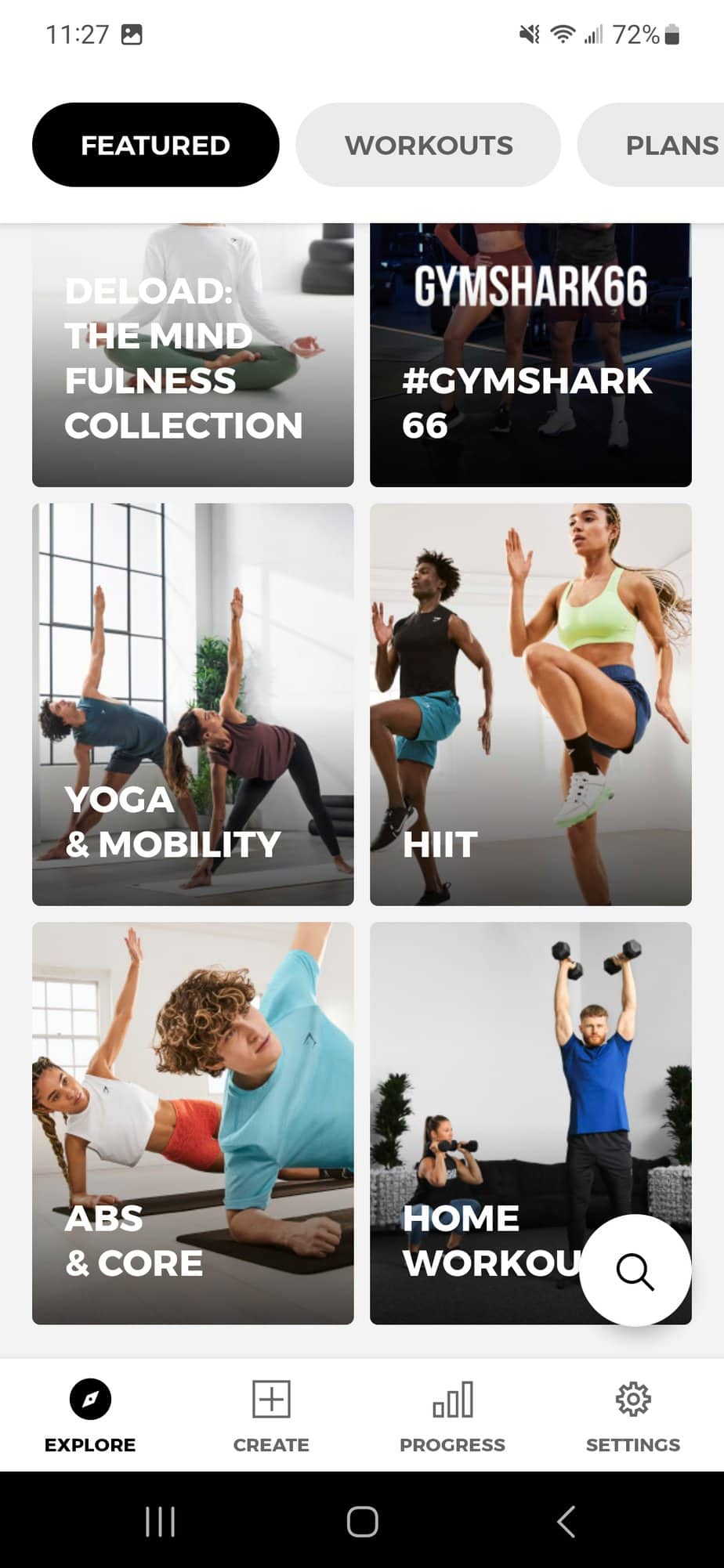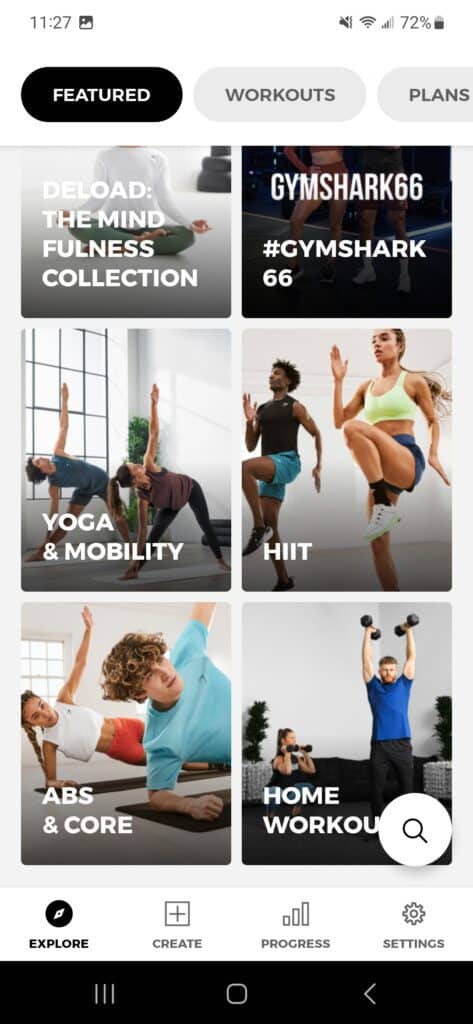 You can also create your own workouts and program in the app. You simply name the workout or program and start adding exercises. You can add the amount of reps and sets you want for each activity and change those over time as you become stronger.
Lululemon basically put leggings back on the map of athletic fashion. Many brands aim to mimic Lululemon as best possible, but people still claim them to be some of the best leggings in the world. Let's see if it is worth its luxury prices and how it differs from Gymshark.
Pros
Lululemon's materials are some of the softest and most comfortable in athleticwear clothing.
People have reported that their Lululemon leggings can last up to ten years.
They offer free hemmings and repairs, so your leggings are a perfect fit for a lifetime.
You can shop online or in-store with over 400 stores in the U.S.
Lululemon has two paid memberships with discounts, access to the studio app, and in-store classes.
They have a wide range of options and fits, so you're almost guaranteed to find something that fits you perfectly.
Everything is built really well, with excellent features and good support.
Lululemon has its own nylon blend fabrics that are slightly more moisture-wicking than typical nylon.
They have a resale shop and overstock sales on their website, which is great for the environment and your pocketbook.
Cons
Everything is expensive.
You need to use pieces for what they're intended for, or they may not last as long.
Lululemon's Cost
Lululemon is definitely not something that you will be able to go on a massive shopping spree with. It's more for those every once-in-a-blue-moon sprees where you want to splurge on yourself. You can expect to pay around $100 or more for Lululemon bottoms, $60 for a top, and $50 for sports bras.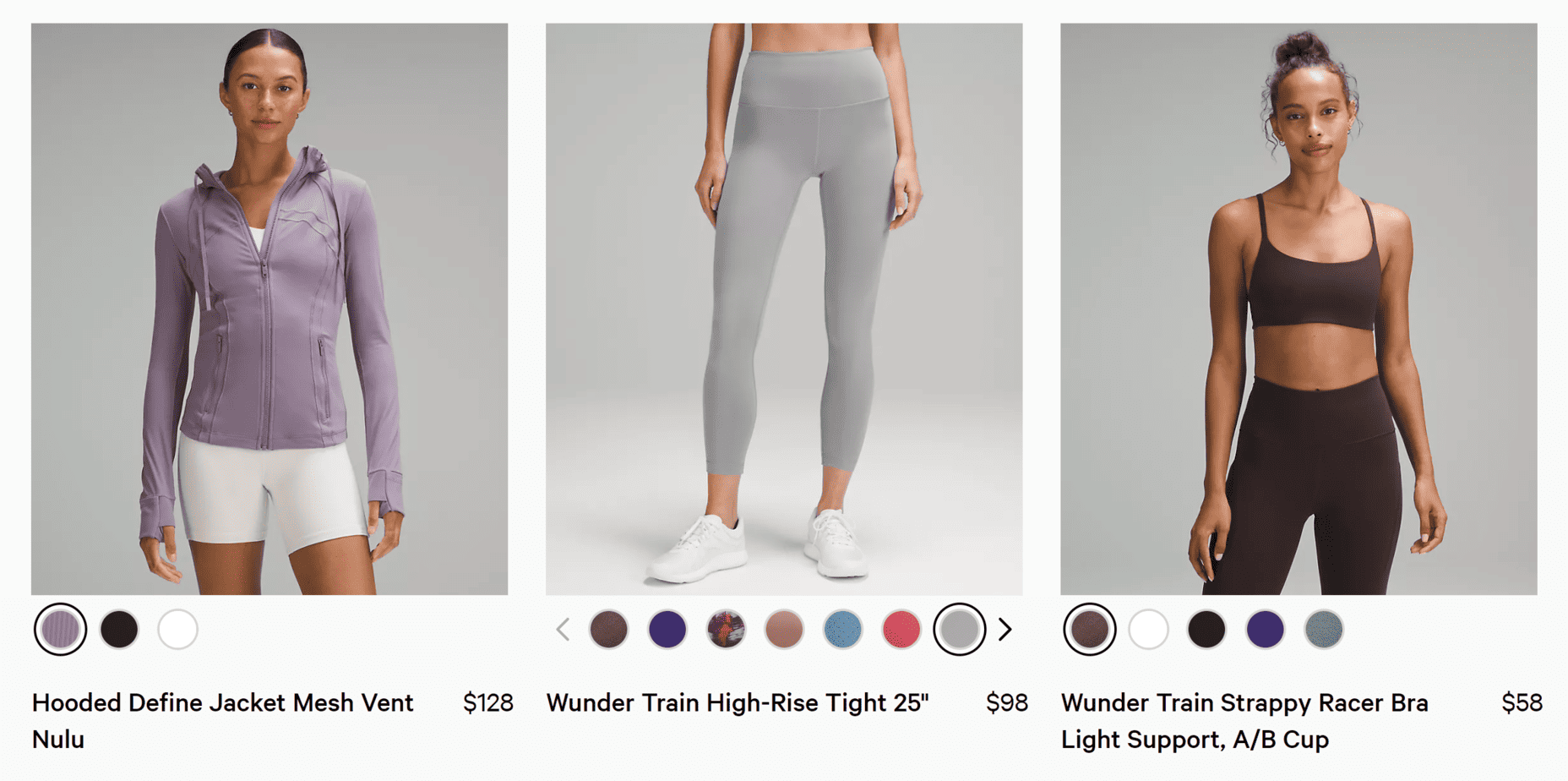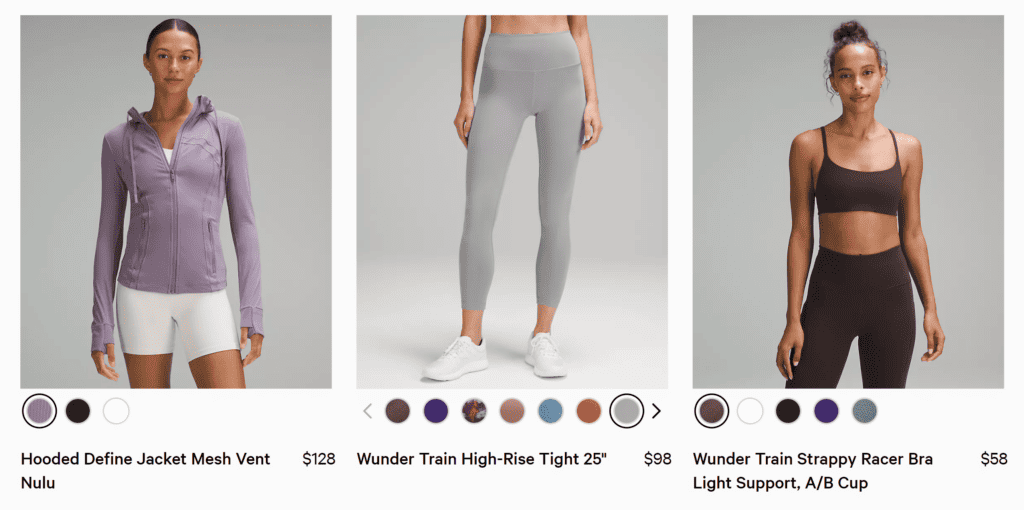 Luckily Lululemon started its own resale shop online about a year ago, where they take lightly used items and resell them to you at a highly discounted rate. This is also a massive help to the environment, with about 10 million tons of clothing being dumped into landfills yearly.
You can also shop Lululemon's "We made too much" page for deals of up to %50 off. If shopping in person is more of your thing, there are 10 Lululemon outlet stores across the states. You don't get as many options as shopping for new releases, but you can still find many things at amazing prices.
Lululemon's Product Line-Up
Lululemon supplies everything athleticwear that you need, whether it's hitting the gym, doing some yoga, going for a run, swimming, or just lounging around. You can also find accessories and shoes, like shower slip-ons, bags, headwear, and workout equipment.
They also have a men's line, which you probably never considered since Lululemon's biggest selling point is leggings. The men's line has several more casual options, such as polos, button-downs, and trousers. But, they lack in a few other departments, like shoes.
The nicest thing about Lululemon's options is their sizing goes beyond the typical sizes, being able to choose your bottoms length and your sports bras cup size. The legging lengths can be selected on each listing, but you must scroll through products to find a sports bra in your cup size.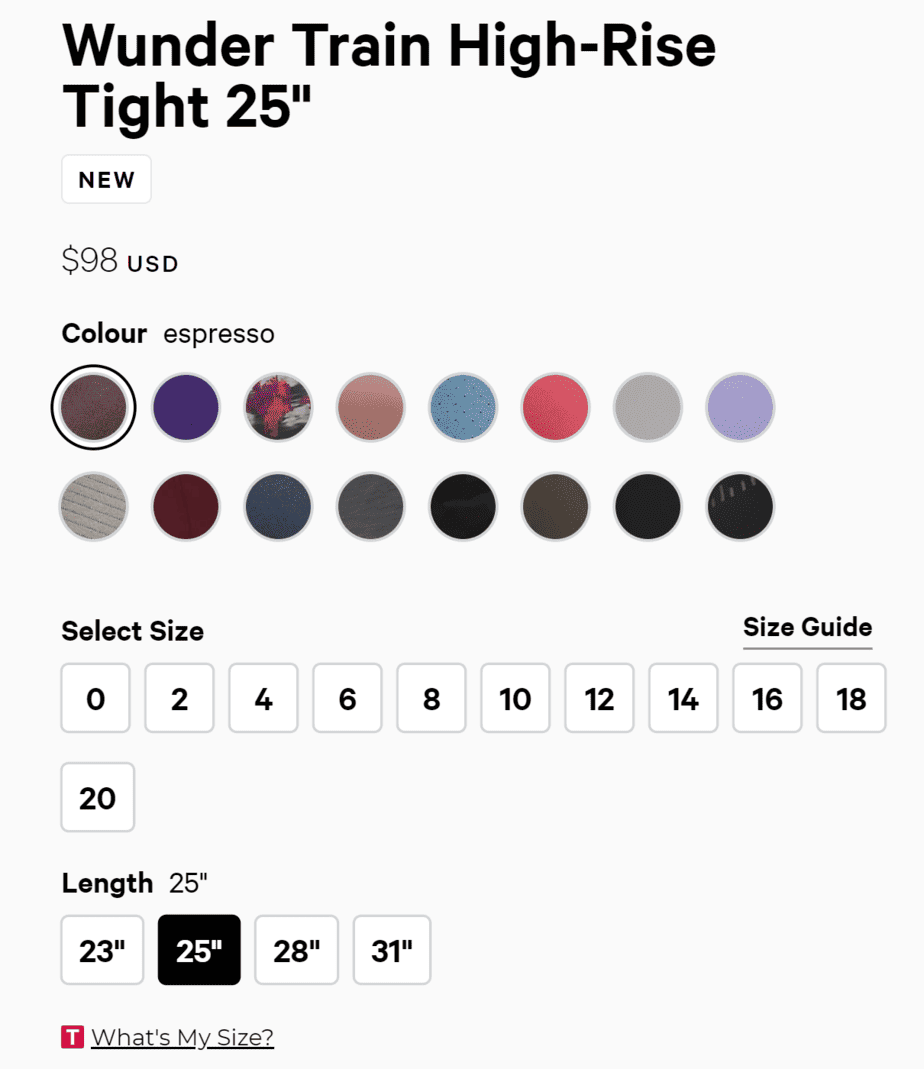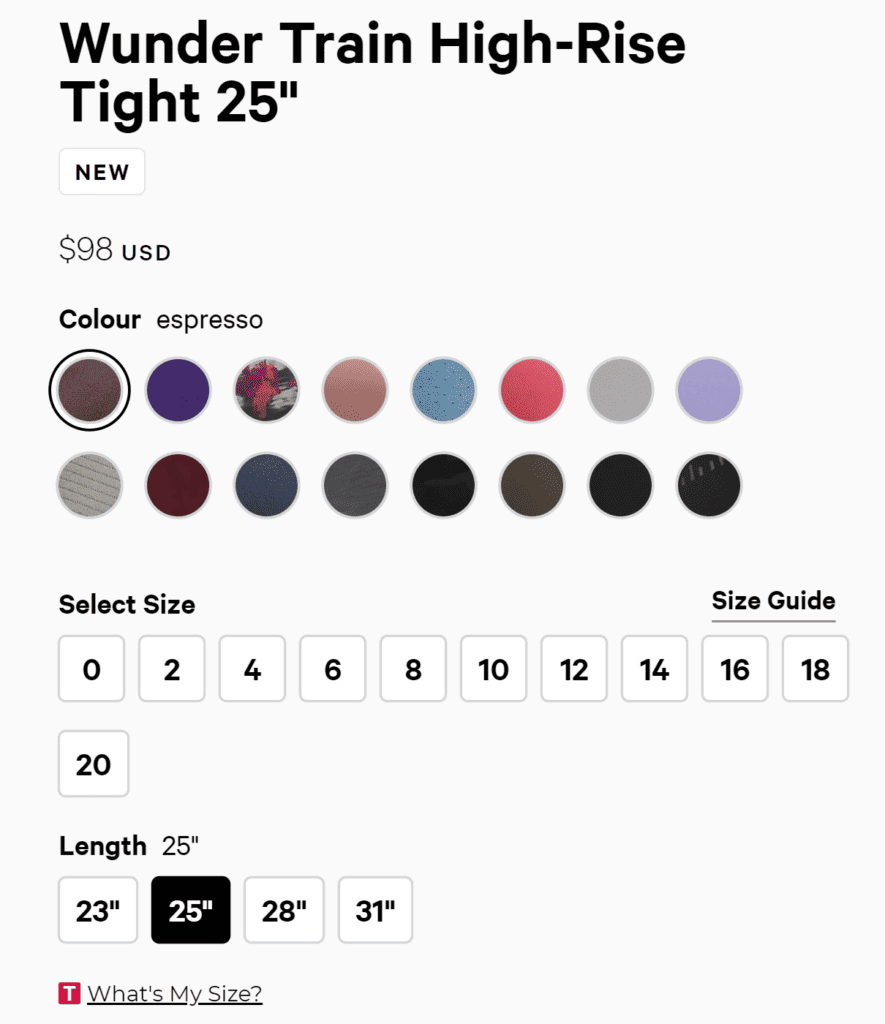 The options you have in sizing and colors are astounding. Women's tops range from XXXS to 2XL, and bottoms range from 0 to 20. I have never seen a size XXXS, and their sizes seem to run small. For example, I'm typically a size 0 or 2, but according to Lululemon's sizing chart, I'm a size 4 in leggings.
Lululemon's Quality
Lululemon basically set the standard for how modern-day leggings should look and feel. They are made to last hundreds of wears, with durable fabrics like nylon and Lycra elastane. Nylon is one of the most durable buttery soft fabrics on the market today.
You will also find many added features to each piece that take Lululemon's quality over the top, such as drawstrings in their leggings and attached sports bras inside their tank tops. Most of their leggings also have small pockets in the waistband now that can fit your keys or a credit card.
Each clothing category is made for a specific activity, such as yoga, running, or heavy-duty workouts, and you can tell the differences. For instance, Align is one of Lululemon's most popular categories for yoga wear because everything is incredibly stretchy and so soft that it almost feels like you're wearing nothing. However, you don't want to use Align pieces for other workouts because the fabric doesn't stand up to rough activities.
They also change the stitching and composition of their fabrics depending on what that piece of clothing is intended for. The Wunder Train line is more moisture-wicking to help with those sweaty workouts. Fast and Free has seamless stitching and is super breathable to keep you comfortable during intense cardio.
Lululemon's Memberships
There are three different memberships that Lululemons provides, and they're different from your typical subscription. The main thing is it grants you access to Lululemon Studio classes, which is a workout app. Everyone also gets free hemmings and repairs in-store if you need your clothes patched up or to fit just a bit better.
The first is the Essentials, which is free when subscribing to the Lululemon email list. You gain access to some Lululemon Studio classes, exchanges on sale items, free hemmings, and more.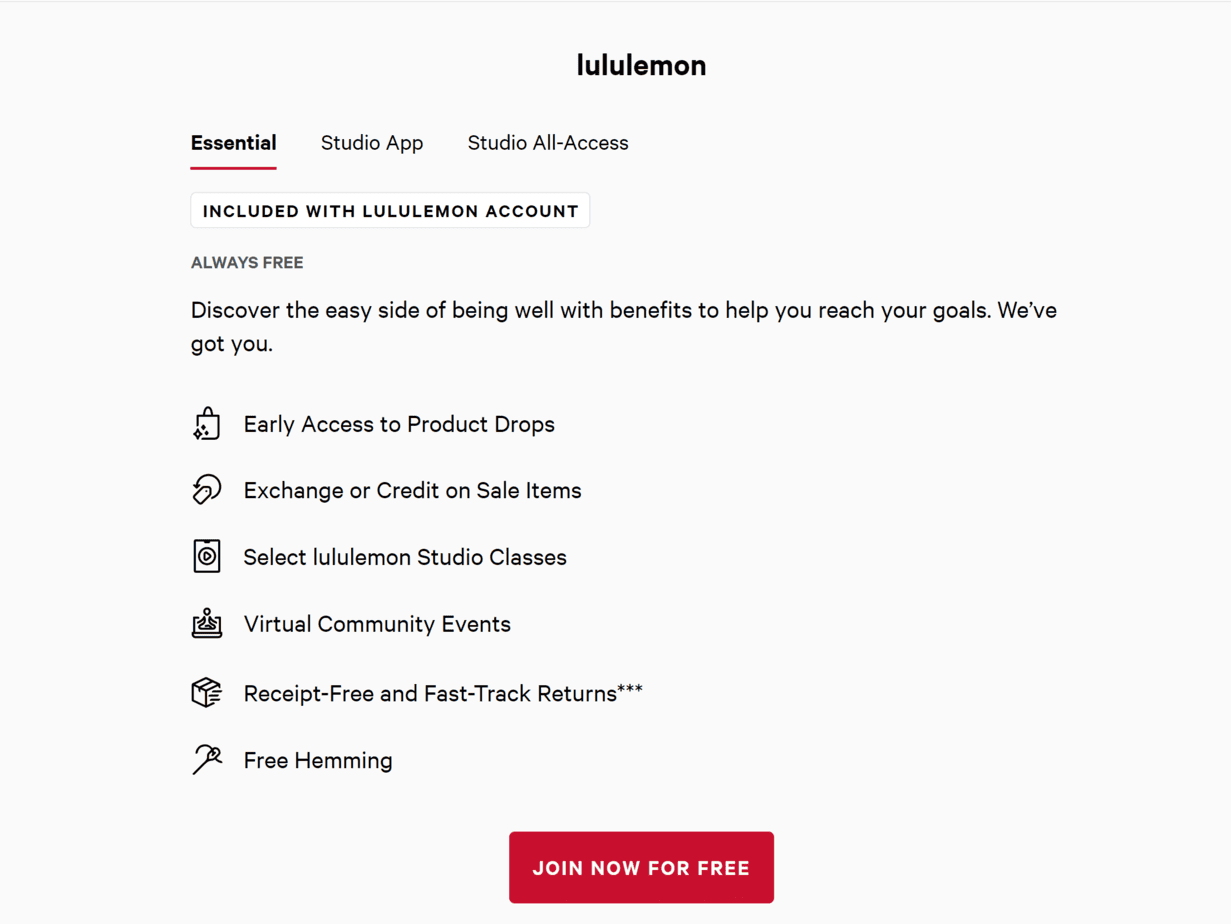 The next level is the Studio app, which costs $12.99 monthly. You get everything in the Essentials, plus 10% once a year, access to all Studio classes, and unlimited classes in stores.
Studio All-Access is $39 per month and gives you 10% off all the time, 20% off at partnering fitness studios, and everything in the Studio app. You can even take your Studio All-Access membership to the next level with Lululemons Studio Mirror. This mirror screens your workouts, so you can see yourself while following along.
More Gym Wear to Look into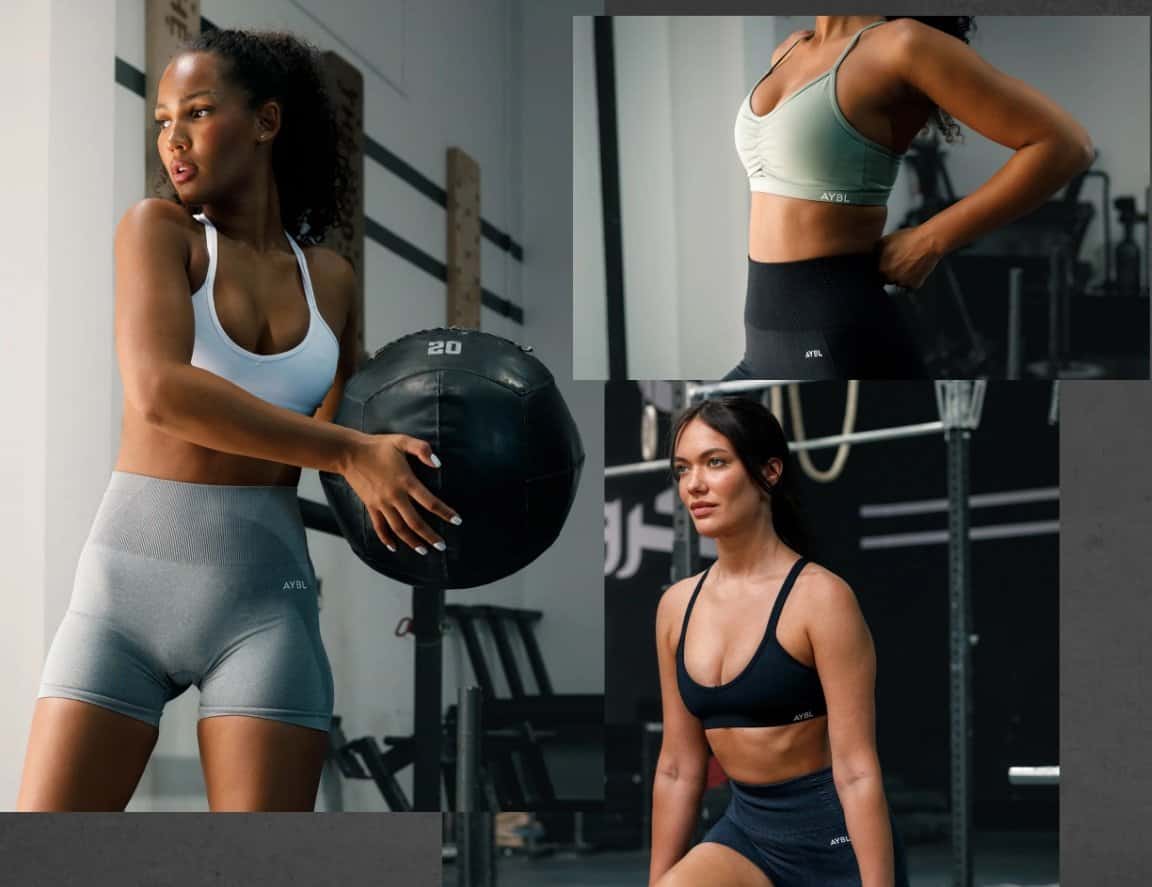 Aybl is so similar to Gymshark that most people think they are a knockoff brand. They have a few lines that are even named nearly the same as Gymshark's lines. However, Aybl is even more affordable than Gymshark, and their fabrics are a bit softer. Aybl isn't quite up to par with Gymsharks quality, but is good enough to look into.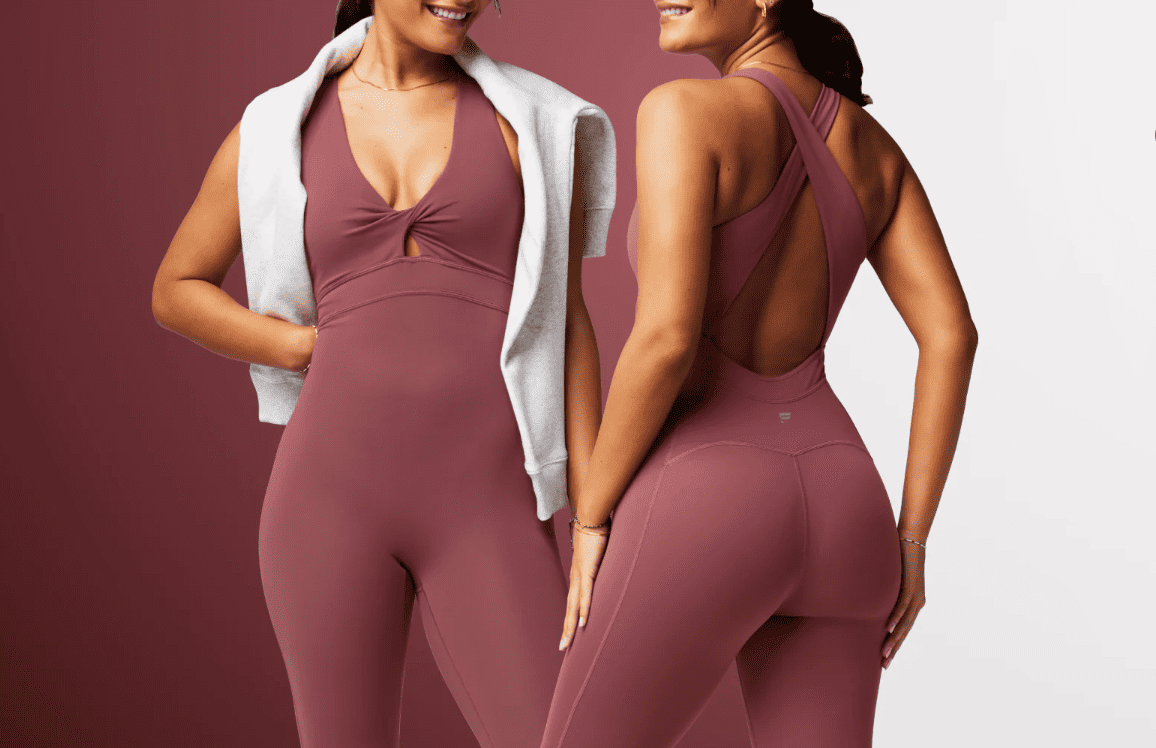 Fabletics saw what Lululemon was doing and did its best to mimic it at a fraction of the cost to you. They are a monthly membership service that offers extreme discounts on quality athletic wear. Fabletics also has swimwear, accessories, scrubs, shapewear, and casual wear.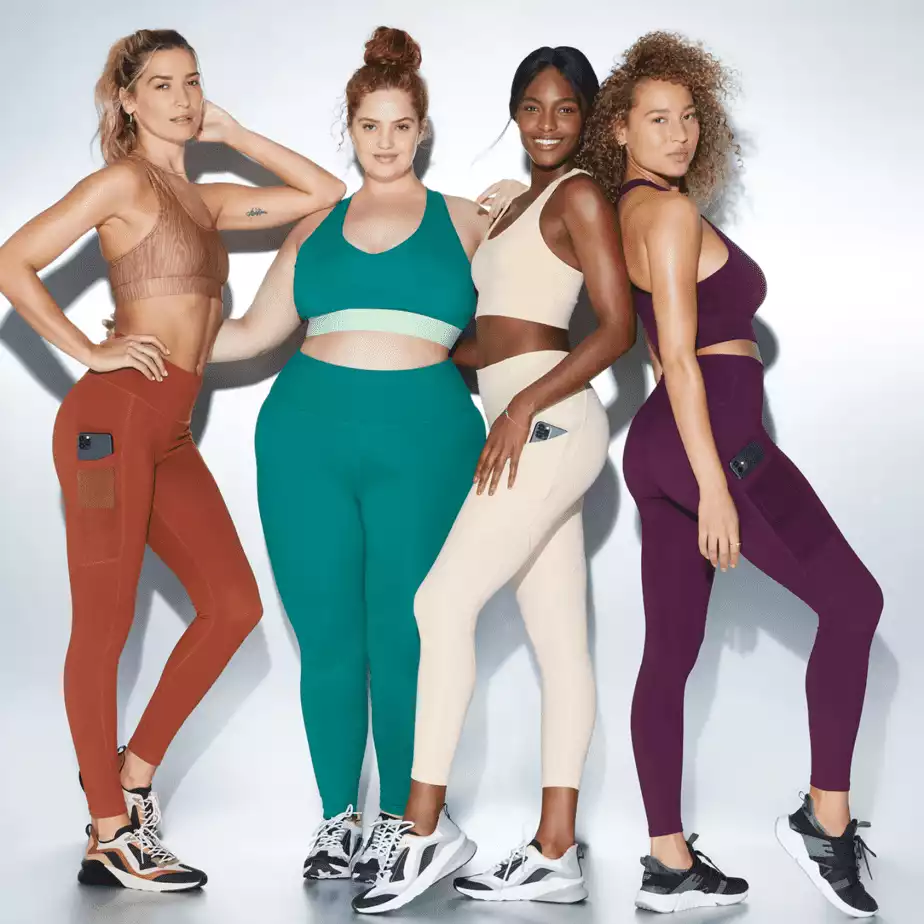 Alo Yoga is exceptionally similar to Lululemon's prices, the yoga focus, and creating a community through in-person events. They use identical buttery soft fabrics in some of their pieces and polyester blends that are great for sweaty workouts. Alo also has a beauty line to bring you back to your center.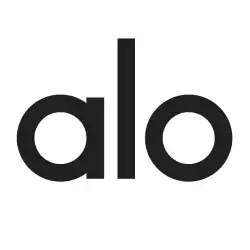 Aloyoga
Alo began in Los Angeles in 2007 because the founders wanted to spread good by bringing yoga to the world: to anyone who is experiencing the transformative power of yoga, to the world's best yogis who wear Alo because it's the only line that actually elevates their practice, to the celebrities and the fashion-forward.
Check Price
We earn a commission if you click this link and make a purchase at no additional cost to you.
Gymshark vs. Lululemon FAQs
Question: Is Lululemon considered luxury?
Answer: Lululemon is a luxury brand with higher-end prices. You get little details in every piece that makes Lululemon products stand above other brands, like some of the softest materials and waistband drawstrings on their leggings. They also give a tailored experience with free hemming and support you in any way possible, like with free repairs if your clothes get damaged.
Question: What makes Gymshark different?
Answer: Gymshark stands out from the rest because its clothes sculpt your body in a way that makes everything stand out that you want to look really good. Whether it's those glutes or biceps. They also use a polyester blend instead of nylon in their fabrics, which is super moisture-wicking, making them sweatproof.
Question: Is Gymshark a cheap brand?
Answer: Gymshark is not a cheap brand but more affordable than many other gym wear lines. The price is really good for the quality of clothing you are getting. Leggings are around $60, and tops are around $40, but they always have fantastic deals.
Is Gymshark or Lululemon Better for You?
Gymshark and Lululemon are very different. Lululemon does have gym wear, but their main focus is on making super comfy clothes that make you feel like your clothes are a part of you. Gymshark strictly makes athletic clothes for gym rats. They are made to accentuate muscle definition and be comfortable during heavy workouts.
If you want something that will last you forever and are okay with spending quite a bit to get that durability, Lululemon is the way to go. They have something for every type of workout, superior customer service, and you know you'll have a perfect fit.
Gymshark uses more sweatproof fabrics that fit tighter to your body, so they are probably better for heavy weight lifting. However, Gymshark's clothes will last fewer wears than Lululemon's. They are also about half the price of Lululemon, making up for the lack of longevity.
Continue reading:
Athleta vs Lululemon Compared: Which Fitness Clothing Brand Should You Choose?
Fabletics vs Lululemon: Which is Activewear is Best?
Aybl vs. Gymshark Compared: They're Not the Same!