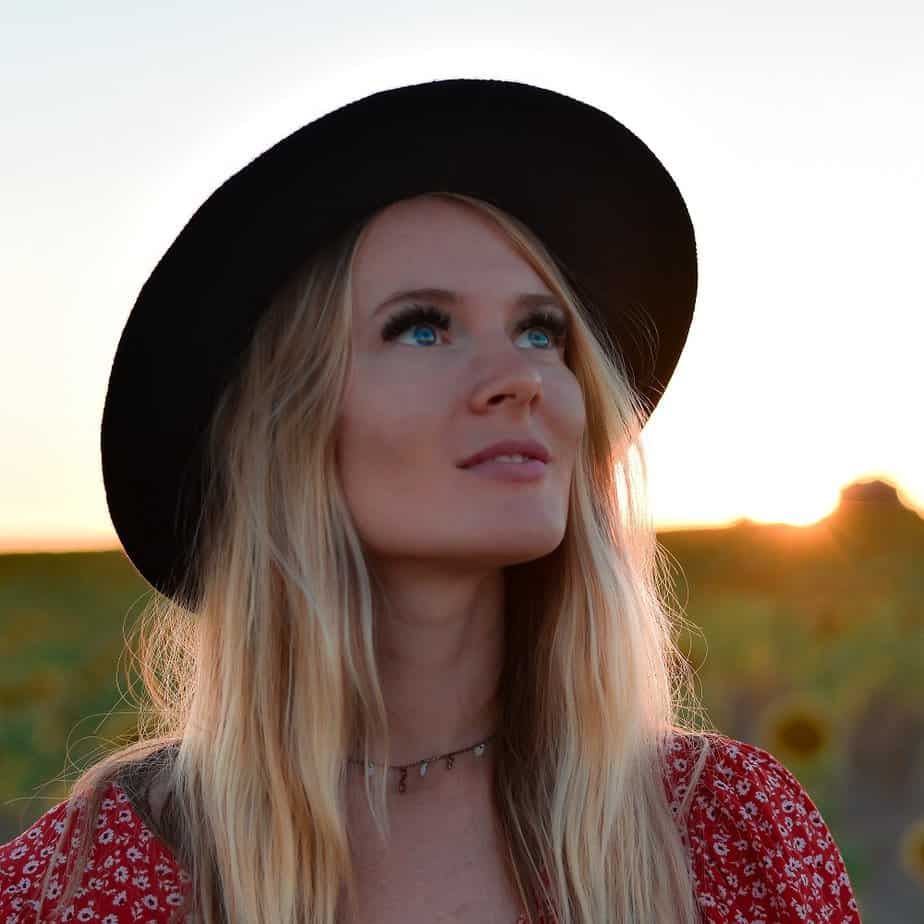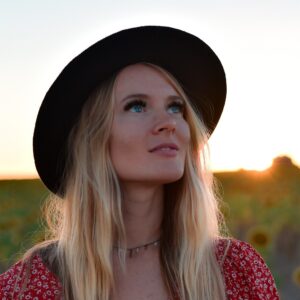 Latest posts by Haley Parker
(see all)
I've never been one that likes to spend much on gym wear because my gym schedule is not the most consistent. However, I have been getting sick of my clothes wearing out over a short time and not looking as good on me as I would like. That led me to a deep dive into gym wear and ultimately wanting to do this Gymshark review and unboxing.
I have never tried Gymshark before, so I'll be going through this journey of discovery with you to see if Gymshark actually lives up to its hype. The brand is slightly more expensive than I typically spend on athletic clothes, but not so much that it will empty your bank account. I'm hoping it will be just enough to meet my quality expectations. Let's find out!
What I think of Gymshark Up Front
My Gymshark clothes are some of the most figure-flattering and moisture-wicking gym clothes I now own. They could do better with some things, like double lining their leggings to hide imperfections better and keep the waistband from rolling down. But, these are overall much better than most of my other affordable athletic clothes.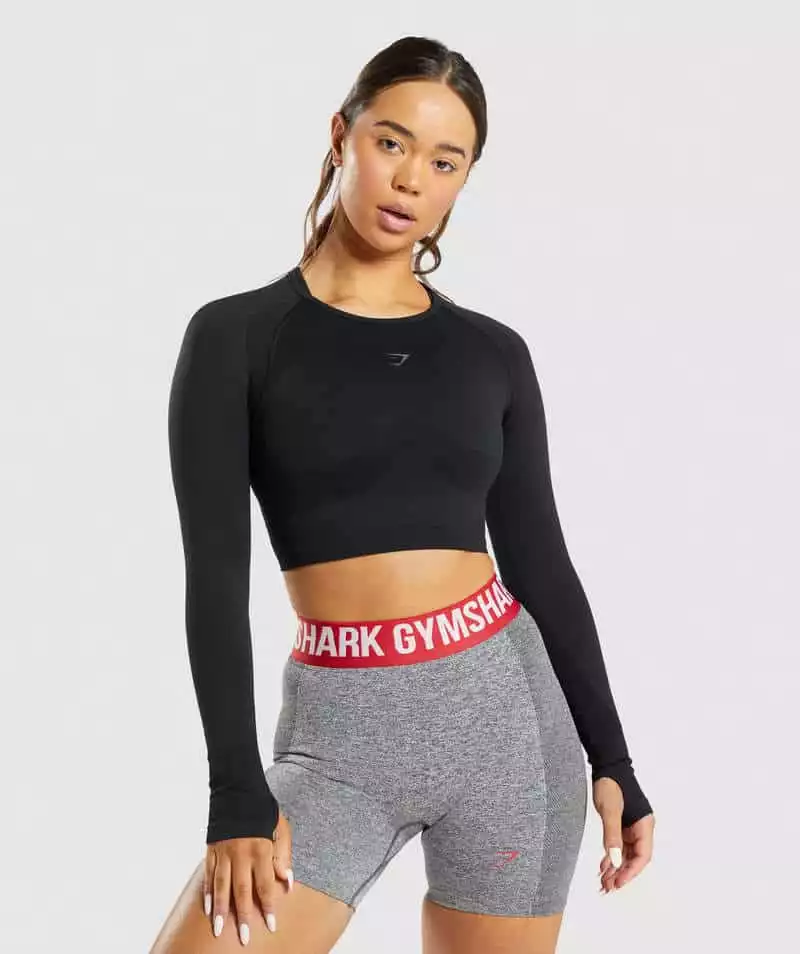 Gym Clothes & Workout Wear | Gymshark
Known for matching tonal leggings, shorts and fitted tops, often modelled on sculpted gym goers, Gymshark has grown at pace.
Check Prices
We earn a commission if you click this link and make a purchase at no additional cost to you.
A Little About Gymshark
If you know about Gymshark already, it's most likely because you've seen them on social media. Nearly all big fitness influencers have talked about Gymshark in some capacity.
Gymshark started out as a super small business a little over ten years ago and specializes in gym wear that does a pretty good job sculpting your body in a way that shows off those gym muscles. They provide all the tools to inspire, teach, and dress you for all your fitness goals.
Gymshark likes to call their community a family because they really are there to help you through every aspect of your fitness goals.
Obviously, they want you to have the best clothing to do your workouts in, but they go beyond that by creating motivating videos, being extremely active on social media, and even going as far as creating a free fitness app for the Gymshark community.
Gymshark's Sustainability and Human Rights Efforts
This is one of the most transparent clothing companies I've seen. It's not every day you find a clothing retail website with an easily accessible list of factories they use. That list is highly detailed, giving you all of their suppliers, locations, and employee statistics.
They acknowledge that the clothing industry significantly impacts emissions and water pollution, what that does to communities, and explain how they are trying to fix that. Gymshark is also making their clothes so they will last longer and are more easily recyclable so they don't end up in landfills.
The Gymshark Training App
This app is completely free and offers most of the same features you would see in other fitness apps. There are no add-ons, premium memberships, or ads. It's simply free!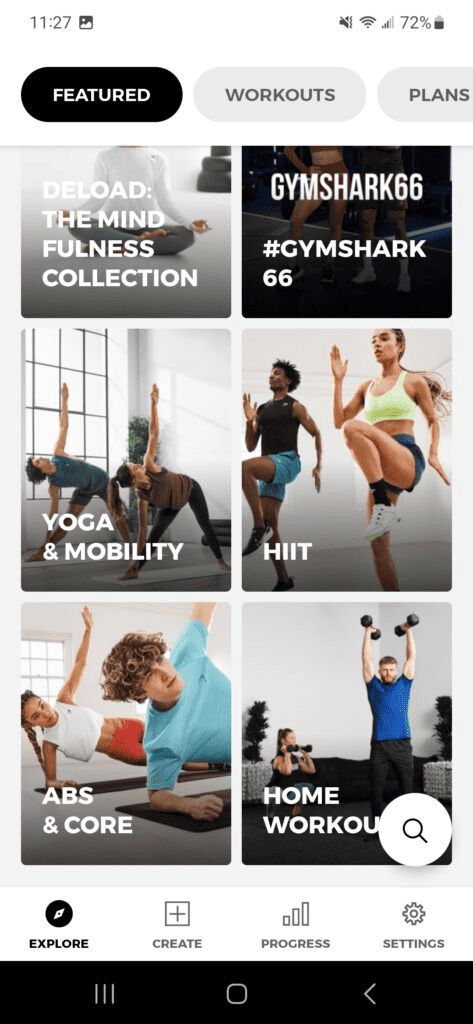 The app has everything from individual workouts to multi-week plans to keep you on track. You can also customize your own exercises and programs. The app will track your progress, letting you know your previous workouts and personal bests.
My Experience with Gymshark
I've seen people walking around my gym wearing the Gymshark logo before. Still, I never really invested time into looking up the brand until now. I somehow just realized that Gymshark has quite the following, so I had to see what all the hype is about. Or should I say, see if the brand actually lives up to it?
Gymshark's Website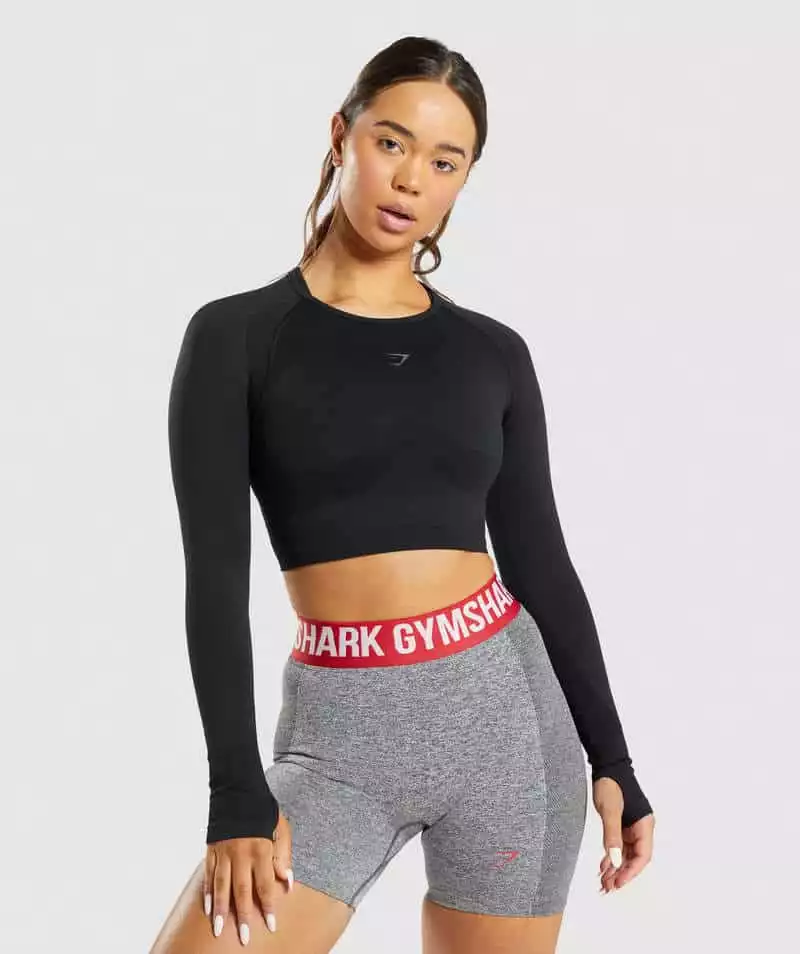 Gym Clothes & Workout Wear | Gymshark
Known for matching tonal leggings, shorts and fitted tops, often modelled on sculpted gym goers, Gymshark has grown at pace.
Check Prices
We earn a commission if you click this link and make a purchase at no additional cost to you.
Navigating the Gymshark website is straightforward. The homepage features their current deals, new drops, and featured categories. All of the categories are listed at the top of the screen.
You can also download the Gymshark app if you prefer shopping on your phone and want to stay updated on deals and new drops. However, the thing I love most about the Gymshark website is there are no annoying pop-ups blocking whatever you're looking at.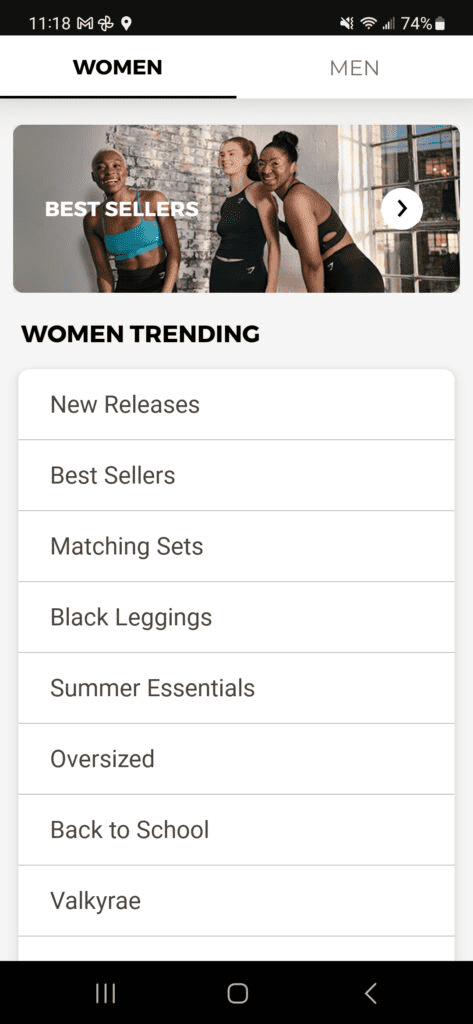 I started shopping by signing up for their e-mail list and text notifications, which gave me 15% off my first order. They haven't been too annoying so far with their text notifications. They've only texted me once or twice a week. Plus, I can track my order easily by looking at my account.
The Cost of Gymshark
I actually thought Gymshark clothing was going to be much more expensive than it is. On average, everything in the store is $30-$60. Some things will drop below $20 when they are on sale.
The most expensive thing you'll find in the store is a heavy-duty pullover jacket that is in the $80 range, which is still a reasonable price for what it is.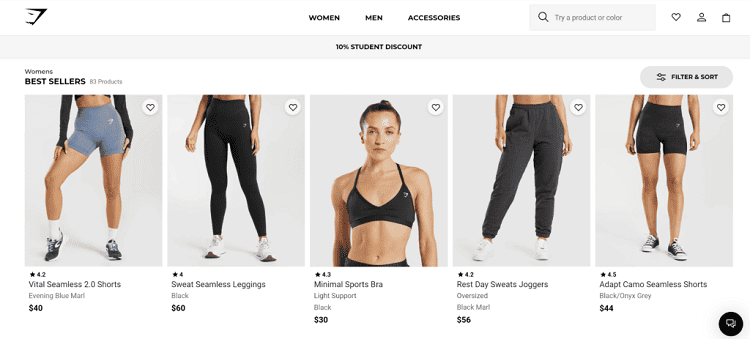 Gymshark also has discounts for students and veterans. Everyone can get 15% off their first order by signing up for text notifications. My entire first order, which consisted of five items, was under $150. That's a steal if you ask me.
Gymshark Options
Anything that you could possibly think of when it comes to gym wear, Gymshark has it. Here's a list of everything you can find in the men's and women's categories:
Leggings

Sweatpants/shorts and joggers

Sports bras

Tops and jackets

Skorts and dresses

Tank tops and crop tops

Onesies

Gym shower shoes

Underwear

Gym accessories, including bags, headwear, socks, and equipment
I love all of the color choices that Gymshark has for each item, with the majority being muted or neutral tones, and sizes range from XS to XXL in women's or XS to 3XL in men's. As long as you're shopping through the newer releases, you shouldn't have any issues finding your favorite color and size in stock.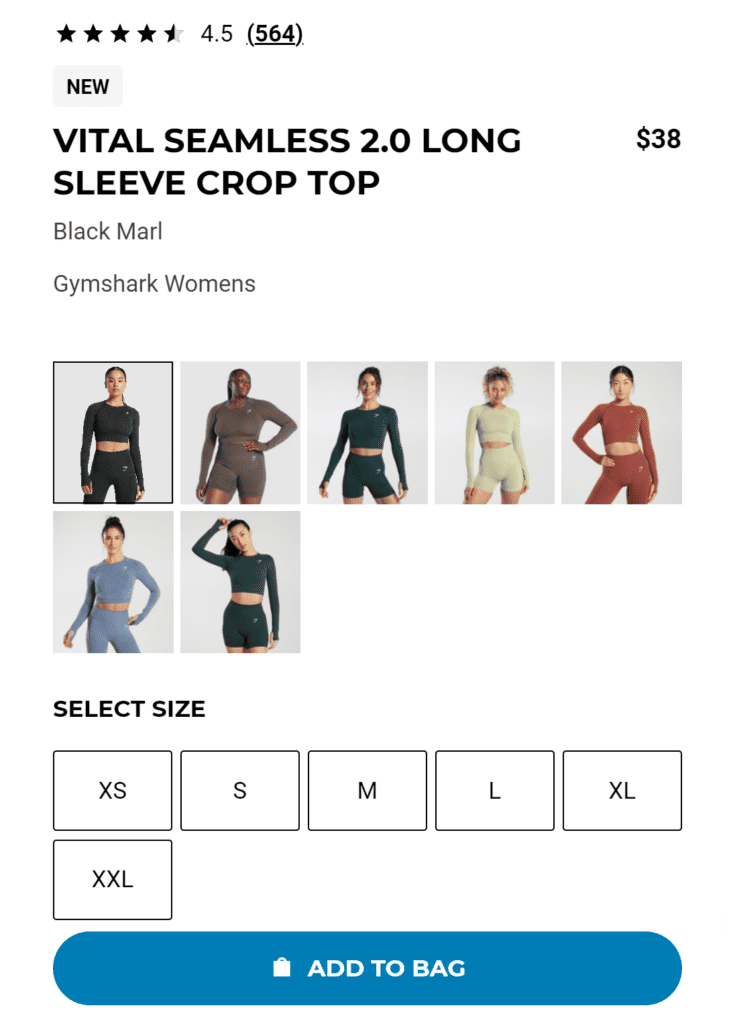 However, when I was shopping through the sale items, nearly everything had many sizes unavailable. This is typical for sale items in online stores because they're things that they aren't restocking. But it's always super disappointing to find something you're really excited about and find out they don't have your size.
Unboxing My Gymshark
I ordered a wide variety of items just to get a feel of everything they had. My order included the GS Power leggings, Training Sweat Shorts, Bandeau Sports Bra, Rest Day Seamless Bralette, and Vital Seamless 2.0 Midi Top.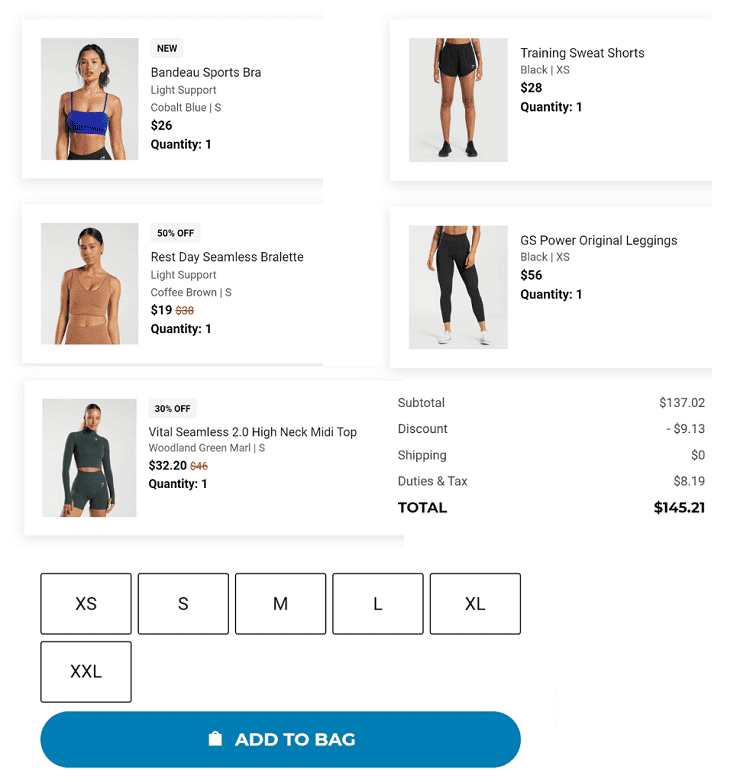 You will probably notice that Gymshark offers free shipping on orders over $75 once you get to the website, but they don't tell you it is free 3-day shipping. This is the first time I have seen this on a clothing website, with it usually being free 7-10 day shipping. My order actually came in 3 days, too, as promised.
My order came in one of those plastic shipping bags, and I noticed as I opened it that the second strip of tape that you typically use to return stuff was also taped shut. I'm not quite sure what was up with that.
Each item was individually bagged inside. It was most likely done this way to reduce the shipments that had to be made since it takes up less space like this. However, a company that is super committed to creating less landfill waste with their clothes could easily use recycled packaging.
The Try On
I was nervous to start trying on everything because the leggings looked toddler sized when I pulled them out of the package. I had ordered a size XS in both bottoms because Gymshark's sizing chart said that size was a 26-inch waist.
But they fit me perfectly once I pulled them on! It took a little work to get them on because they have a ton of compression, especially in the waistband.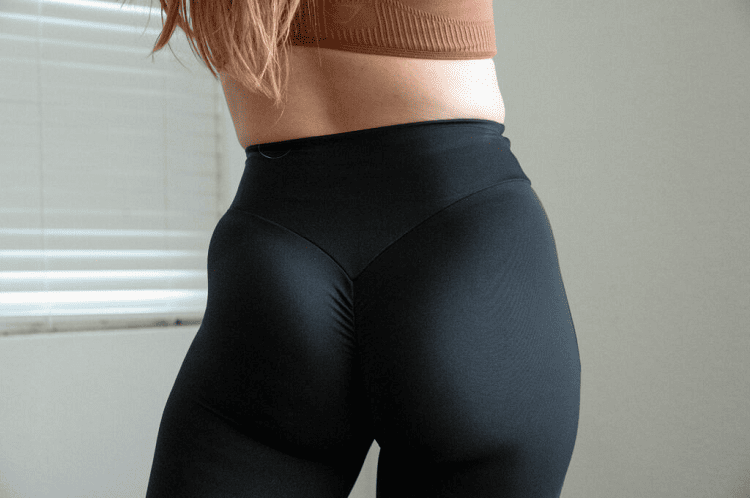 The way they built the compression in these leggings gave me a really great hourglass shape, with them being slightly tighter in the waistband and losing a bit of compression throughout the hip area. The GS Power Leggings also had an excellent V shape in the back with some booty contouring ruching that made my glutes pop!
The Training Sweat Shorts are my new favorite sweat shorts. They fit me perfectly and have tiny details that give me a flattering figure. A V shape is sewn in the back to show off your booty, and the sides come a little higher than the inside of the short's legs to emphasize an hourglass shape.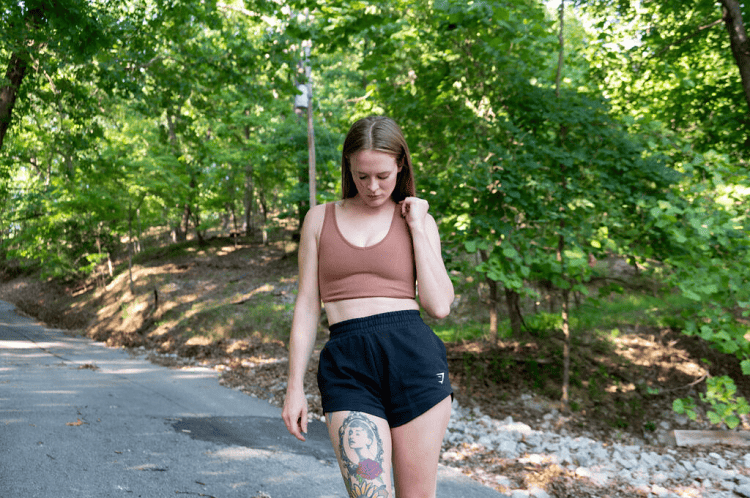 I ordered a size small in all the tops, which were extremely comfortable and supportive. The material on the Bandeau Sports Bra was buttery soft. I loved the color of the Vital Seamless 2.0 top and the fit. The Rest Day Seamless Bralette was super cute and could be worn as a top on its own.
Testing Out My New Gear
The first thing I had to test was just how squat-proof the leggings are. They passed the test in terms of durability with no sounds of tearing stitches. However, I didn't love how thin the fabric was, and the waistband folded down a bit during the squat.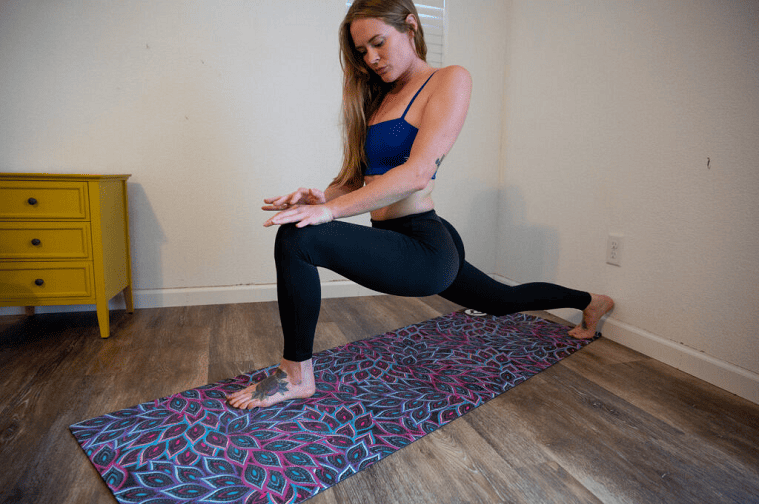 The GS Power Leggings are not double-lined, so I noticed many of my skin imperfections and dimples when I came up from my squat and did the slight booty clench. I didn't really find them to be all that see-through. Although black leggings are harder to see through than lighter colors, and I don't typically wear underwear under my leggings.
I also like to test out leggings for how much camel toe they give you, which is not cute at all. No matter how hard I pulled them up, these things stayed flat in the front. Most likely because of the way the gusseted crotch is built.
The Bandeau Sports Bra and Rest Day Seamless sports bra are more supportive than I expected. I don't have a large chest, so supporting my girls is easy. Regardless, I jumped around pretty hard in these bras, and my chest hardly moved around in the bandeau. The seamless bra also kept my boobs from feeling like they would fly off.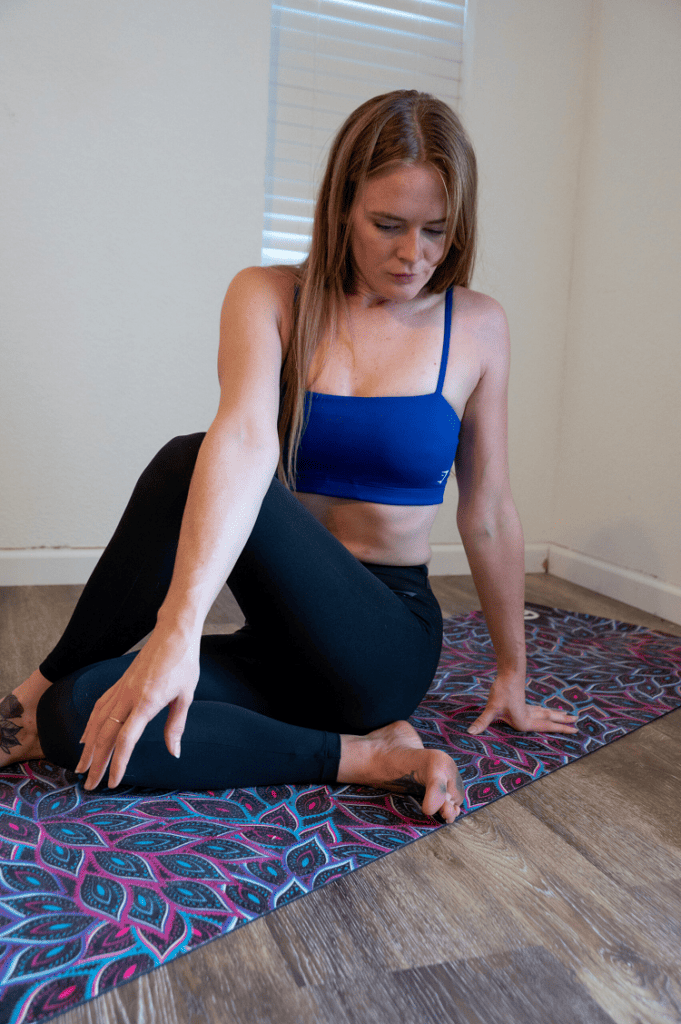 My Traning Sweat Shorts were extraordinarily soft and surprisingly cool for sweat shorts. I was also shocked by how cool the Vital Seamless 2.0 top was. It's long sleeve and feels pretty thick, but it has mesh-like holes in all the right spots for airflow, like in the armpits and around the neck.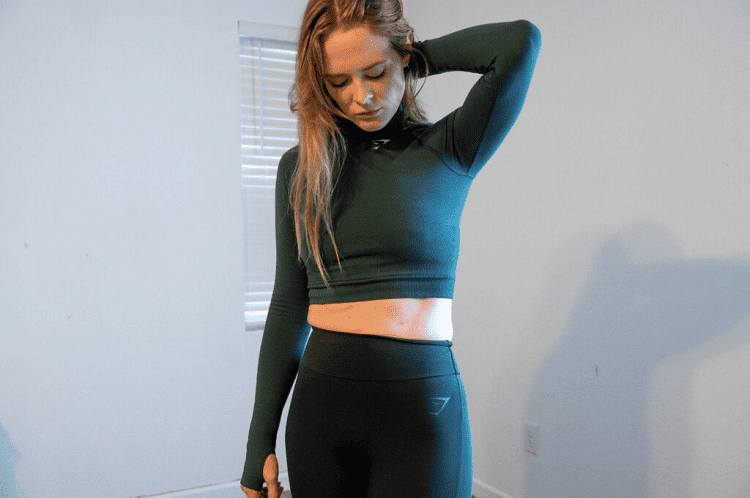 Gymshark Pros and Cons
Pros
The website is super easy to navigate, and there are no pop-ups.

They have special discounts for students and veterans.

They are super transparent about their sustainability and human rights initiatives.

You get free 3-day shipping on orders over $75.

The price of everything is fantastic for the quality you are getting.

All of their fabrics are super moisture-wicking and breathable.

The booty details on their bottoms are incredibly flattering, and nearly all bottoms have these details.

Everything has compression in all the right spots that accentuate your figure and muscle definition.

The gusseted crotch on their leggings is built in a way that prevents camel toe really well.
Cons
Not all leggings are double-lined, so they can be a bit see-through and show some skin imperfections.

The leggings roll down at the waist when you bend in any direction.

They are taking initiatives to help with deeper sustainability issues but not doing something as simple as using recycled shipment packaging.
A Few Gymshark Alternatives
Aybl
If you've seen Aybl on social media or Youtube, it's most likely because they were talking about how similar it is to Gymshark. They have quite a few copycats from Gymshark but are more affordable than Gymshark. They constantly have sales of up to 70% off, and their clothing has all the shaping details that made Gymshark so popular.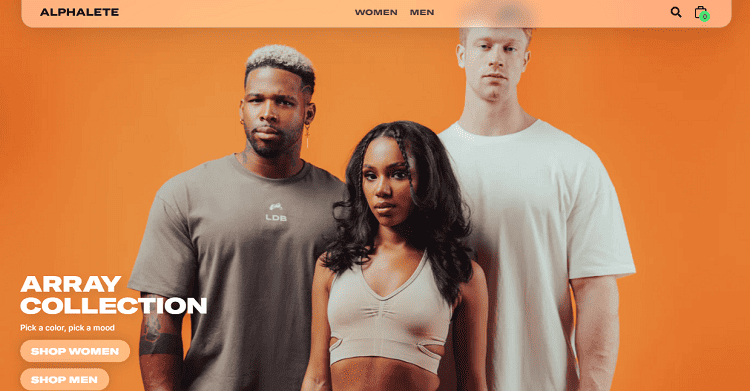 https://go.skimresources.com?id=116152X1575568&xs=1&url=https%3A%2F%2Falphaleteathletics.com%2FAlphalete is similar to Gymshark in that it gets most of its hype from influencer marketing. They also have significant compression and similar details to Gymshark, accentuating the right curves. Alphalete is slightly more expensive than Gymshark, but not to the point where they'll completely break the bank.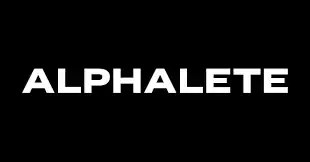 Alphaleteathletics
Today's online world is one of accessibility, high-competition and dropshippers at every turn. So you've got to do something special to stand out. Case in point: Alphalete Athletics.
Check Price
We earn a commission if you click this link and make a purchase at no additional cost to you.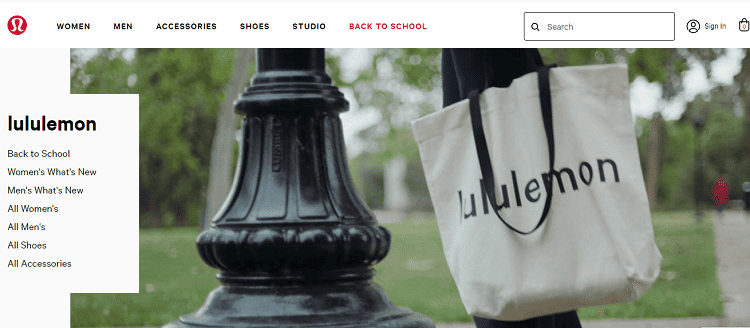 Lululemon was possibly the first widespread luxury leggings. They basically made the criteria for what perfect leggings look and feel like. You'll invest quite a bit into Lululemon leggings, like $90 or more. Still, people swear they are worth it due to their longevity and how they fit nearly every body type perfectly.
Gymshark FAQs
Question: Are Gymshark Leggings Worth the Hype?
Answer: There are some areas that Gymshark could work on, like using a thicker fabric that shows fewer imperfections. Although, Gymshark's leggings hype comes from how figure-flattering they are. I would say they have aced that. They have compression where needed and details that accentuate your booty to give you a nice hourglass shape.
Question: Do Gymshark Sizes Run Small?
Answer: I wouldn't say Gymshark sizes run small, but they have a lot of compression. If you're someone who doesn't like a ton of compression, you should size up. However, I'm typically a size small and went to an XS for my GS Power Leggings based on the size chart. They fit me very well.
Question: Is Gymshark Considered Expensive?
Answer: Gymshark is average when it comes to pricing. Nothing is expensive, but it's not so cheap that you question its quality. You can expect to pay around $30 to $60 for basic items, like leggings, sports bras, and sweatpants. Accessories range from $10 to $16, and jackets or hoodies range from $50 to $80.
My Overall Opinion of Gymshark
Gymshark feels much nicer and is the best at flaunting my figure out of all my gym clothes. Everything is super soft, keeps me cool better than some of my expensive hiking clothes, and the moisture-wicking is impressive.
What stands out most in Gymshark's clothing is how well it accentuates everything you want to stand out on your body. Although there are a couple of things that they could work on with the leggings I received.
They are my most figure-flattering leggings at this point. Still, I've never had a problem with my booty dimples showing through until these leggings.
I love the sports bra and bralette, and the sweat shorts are my new favorites. The Vital Seamless 2.0 long-sleeve top is the first long-sleeve gym top I've ever gotten, but it definitely makes me want more!
Overall, Gymshark has a ton of amazing stuff that is better than over half the affordable gym clothes I own. It's slightly more expensive than affordable brands like Aybl and Fabletics. Although, I still see this as a super affordable brand, especially for the quality you're getting.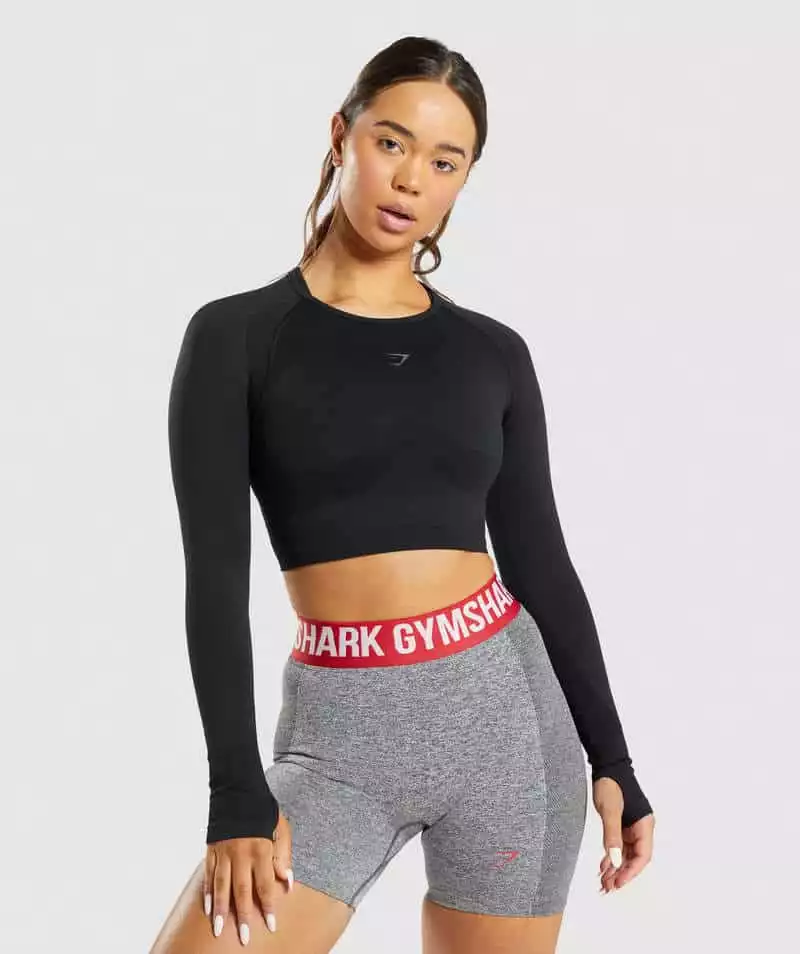 Gym Clothes & Workout Wear | Gymshark
Known for matching tonal leggings, shorts and fitted tops, often modelled on sculpted gym goers, Gymshark has grown at pace.
Check Prices
We earn a commission if you click this link and make a purchase at no additional cost to you.
Continue reading:
Fabletics vs Gymshark: Which Athletic Wear Is Worth It?
Fabletics vs Lululemon: Which is Activewear is Best?
Fabletics vs Athleta: Which Activewear Subscription Is Better?