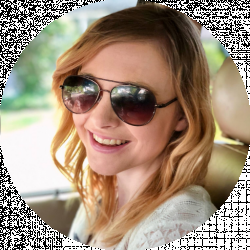 Latest posts by Erin Jamieson
(see all)
Pros
USDA certified organic meat
Dairy held to high standards
Thoughtful ranching
Wide range of meat
Transparent and ethical sourcing
Unique options, including organ meat
Ships to all 50 states
Cons
Can be pricey
Shipping costs could add up
No current subscriptions; many items out of stock
Fairly new to the scene
No seafood or side products (except jerky)
Let's face it: not many of us are traveling right now, and the idea of a sprawling ranch for most of us is a far cry away from crowded grocery stores with masks on faces–but that's precisely what makes organic meat delivery services like Alderspring Ranch more compelling than ever.
Even before the pandemic, though, Alderspring Ranch made a splash in 2019 when they announced an innovative approach–by studying animal behavior. Based in Pahsimeroi Valley, Alderspring Ranch shared how their approach could revolutionize both ranching practices and deliver high-quality organic meat to consumers across the United States.
But what's behind this approach, and is Alderspring Ranch really as innovative as it claims to be? In this review, I'll give you my honest opinion about this organic meat delivery company, dig into what makes it unique, and give you a recommendation if this service is a good fit for you.
What is Alderspring Ranch?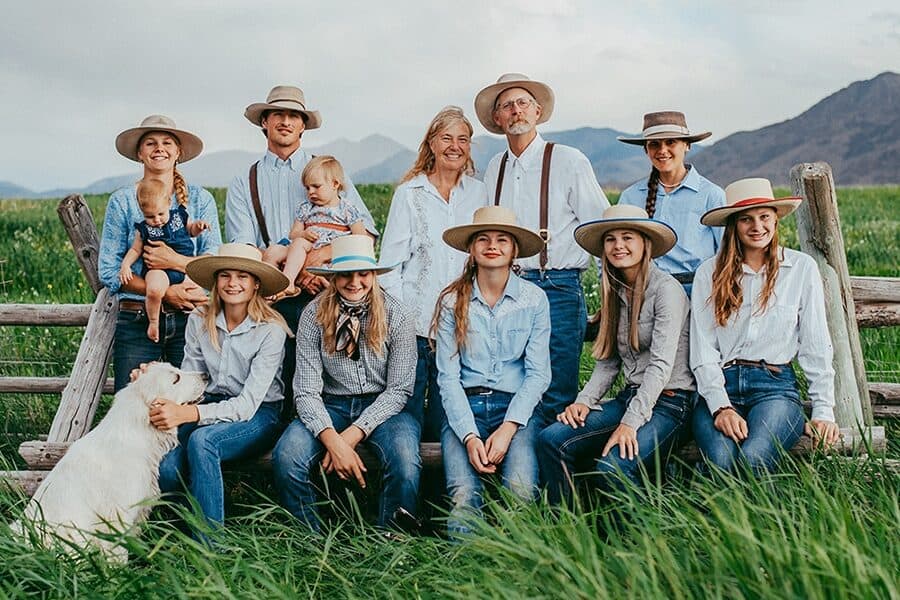 Alderspring Ranch is a family-owned ranch located in May, Idaho, about 39 miles south of Salmon and close to the Pahsimeroi River. Their primary focus is grass-fed beef, which they sell and ship.
The team is small: about nine, and mostly all within the same family. Emphasizing a personal approach, each team member has a profile and bio on an About US page.
Mission
What immediately struck me as unique to Alderspring Ranch is their mission statement, with not just a focus on grass-fed beef, but also the supposed health benefits. The founders state that they were looking for a way to source and ship beef that supports both personal and agricultural health.
Personal Health
Personal Health comes from their statement that, compared with conventional meat delivery services, their beef is certified organic and grass-fed. That means no hormones or synthetics. They also claim that eating in this way, it has helped support the health of their own family. The connection is both to their customers and to their own family.
In fact, they have an entire blog dedicated to explaining the importance of organic meat.
Agricultural Health
Agricultural health is also a tenant of Alderspring Ranch's products and services. Across its 46,000 acres, the team does the work itself instead of outsourcing, leading to closer relationships and more quality control on their own part.
They emphasize low stress, personal treatment for their cattle; the use of organic methods to regenerate soil; and being mindful of how to balance the use of land and health of their cattle. By studying both the impact of ranching on the environment and cattle behavior, the ranch focuses not only on production but replenishment of the land and keeping cattle safe from predators without cruel methods. Cattle are driven to the optimal grazing spots, and, supposedly, are healthier because of these methods.
My Takeaway
There's a lot to unpack here, in part because Alderspring Ranch simply has a very different approach, even from many organic meat delivery services I've reviewed in the past. The focus on not only the cattle themselves but also the land makes it promising to support–but the length of detail about their methods also makes me hopeful they are transparent and committed to their mission.
What Products does Alderspring Ranch Sell?
Alderspring Ranch sells organic grass-fed beef, but also lamb, dairy, pork, chicken, and even pet provisions. I was initially a little surprised to see this selection, especially since their mission and public statements have solely focused on their grass-fed beef.
Grass-Fed Beef
Grass-fed beef (which is also USDA certified organic) includes options for nearly every taste. Ground beef, top sirloin, summer sausage, bratwurst, hot dogs, beef chorizo, bones, kidney, patties, chuck, brisket roast, Frankfurter, sliced liver, osso buco steak, tenderloin roast, and sirloin tip roasts are all currently available.
There were many other items out of stock as of this review, which includes: ribeye, New York steak, ground brisket, beef eye of round roast, Italian sausage, tri-tip roast, grass-fed skirt, beef tendons, lunch meat sausage, filet mignon, beef tongue, rump roast, stew meat, flank steak, flatiron steak, Delmonico steak, and Kielbasa.
Grass-Fed Organic Lamb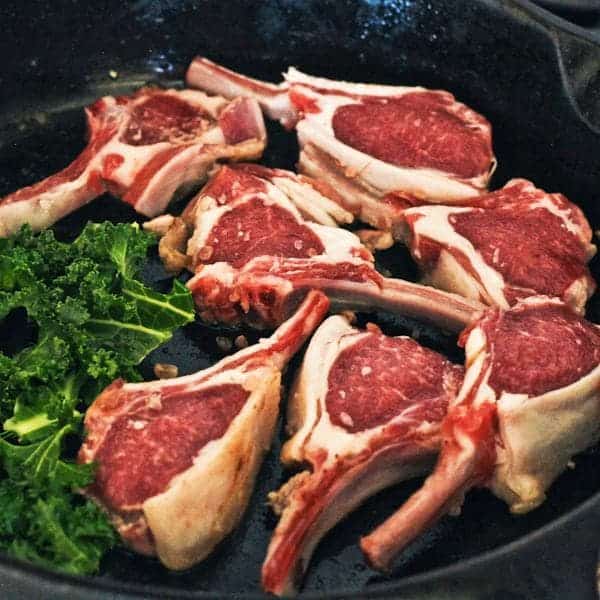 Lamb can be hard to find in a meat delivery service and has always been my favorite meat. The good news is that all lamb from Alderspring Ranch is certified USDA organic; the bad news is that it's not always in stock. As of this review, no lamb is currently in stock. When they do carry lamb, options include baby back ribs; loin chops; ground lamb; sirloin; rack of lamb; leg of lamb; and lamb bones.
Artisanal Dairy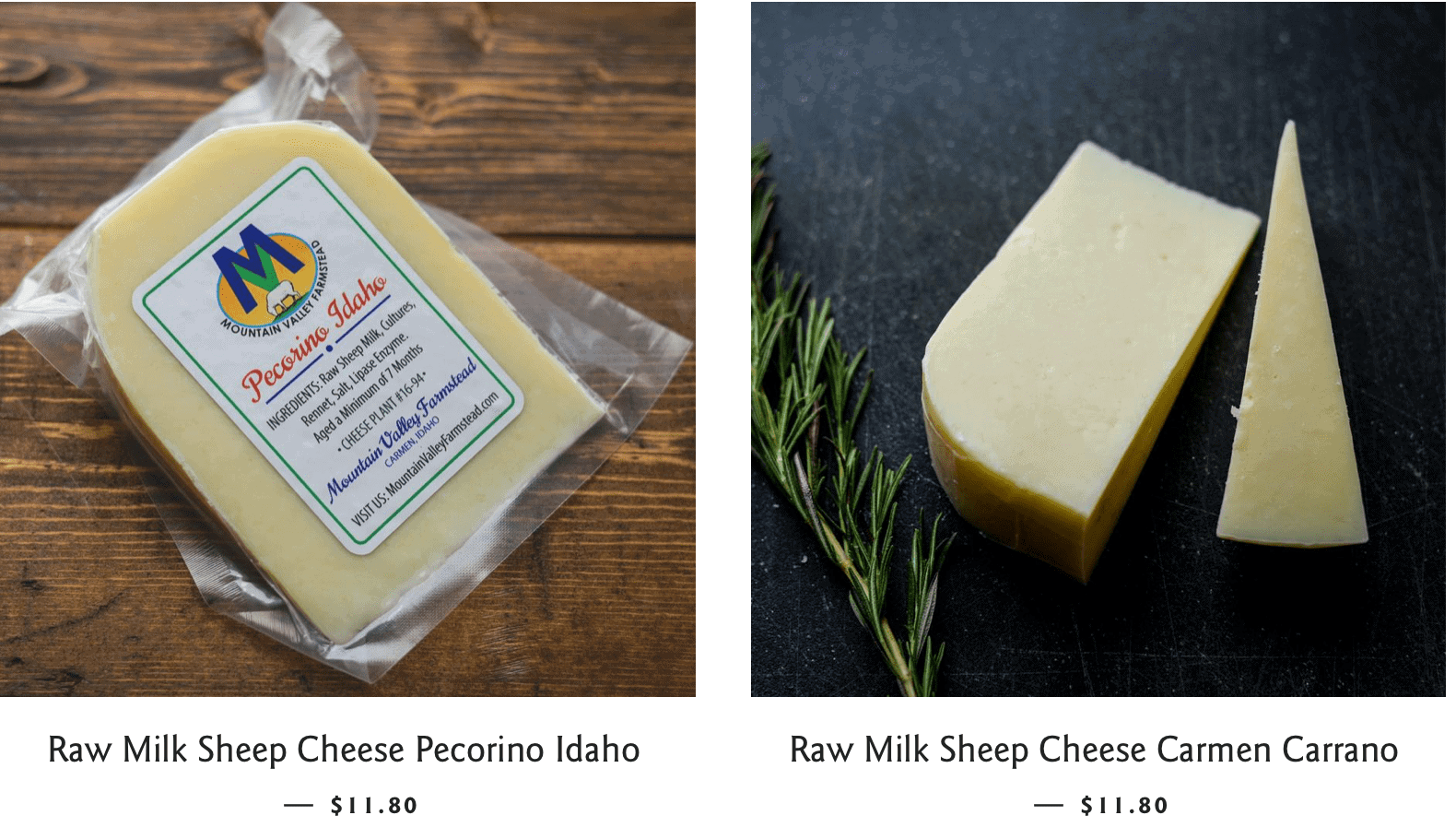 Dairy options are an exception, in that they are not directly produced by Alderspring Ranch, but sourced from local producers. All cheese comes from Mountain Valley Farmstead. They produce raw cheese in small batches and are free of antibiotics. Sheep's milk is easier to digest for those with dairy sensitivities.
Options include pecorino, Carmen Carrano, mountain cheese, and two additional styles. It looks excellent, but I will caution that it's raw: while there are debates about raw vs pasteurized, it's important to note that raw dairy can contain pathogens and shouldn't be consumed by anyone who is pregnant or may become pregnant.
Heritage Pork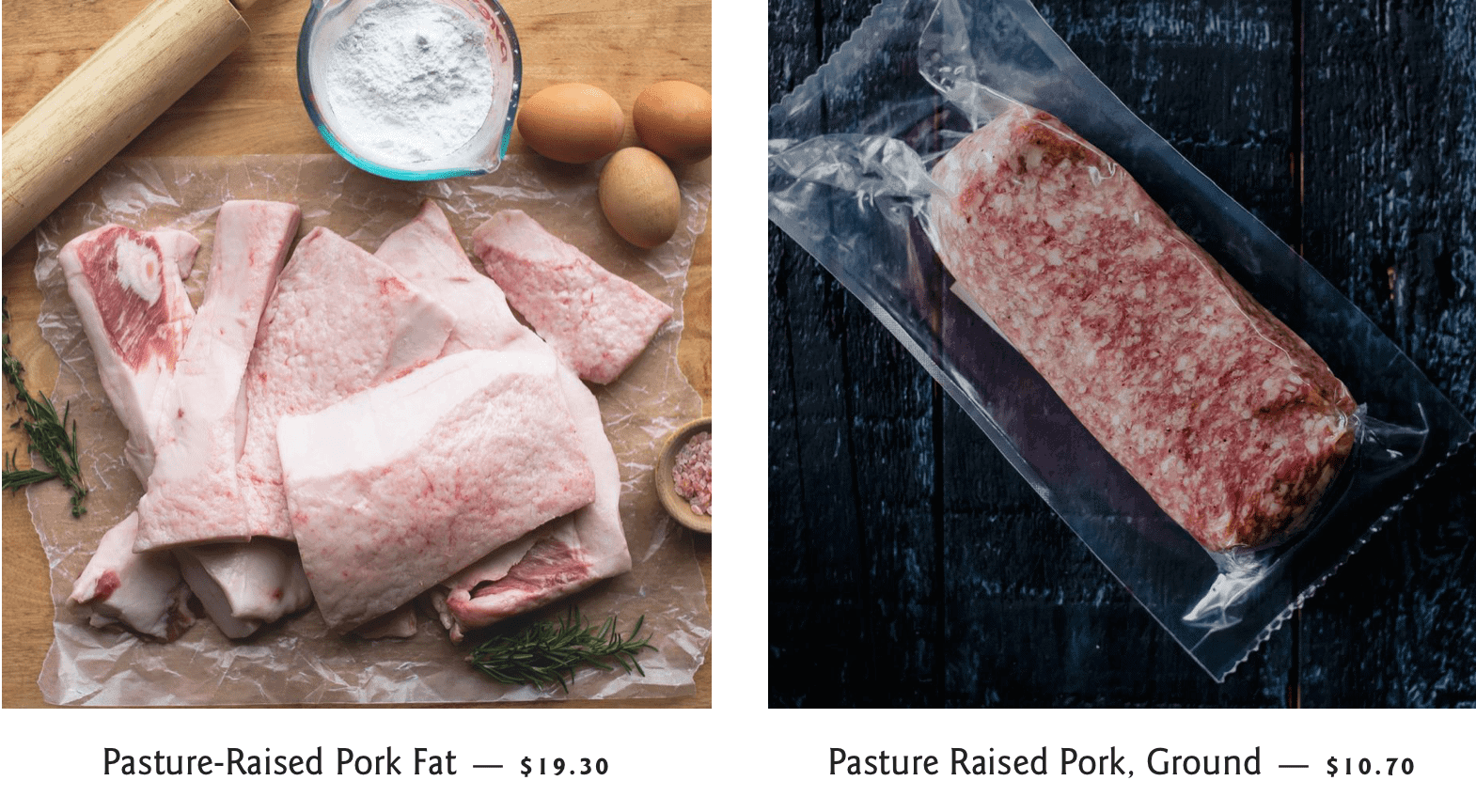 Heritage Pork is raised with specific standards in mind that go above and beyond. These include allowing them to roam freely; feeding pigs a diet of wheat, peas and grass; and processing in a small facility. All pork can also be easily traced.
Options include pork fat, ground pork, Italian sausage, and smoked ham. Though currently not in stock, other options can include baby back ribs; pork chops; spare ribs; uncured smoked bacon; country-style ribs; pork cutlets; pork heart; pork bones; shoulder roast; breakfast sausage; and tenderloin.
Chicken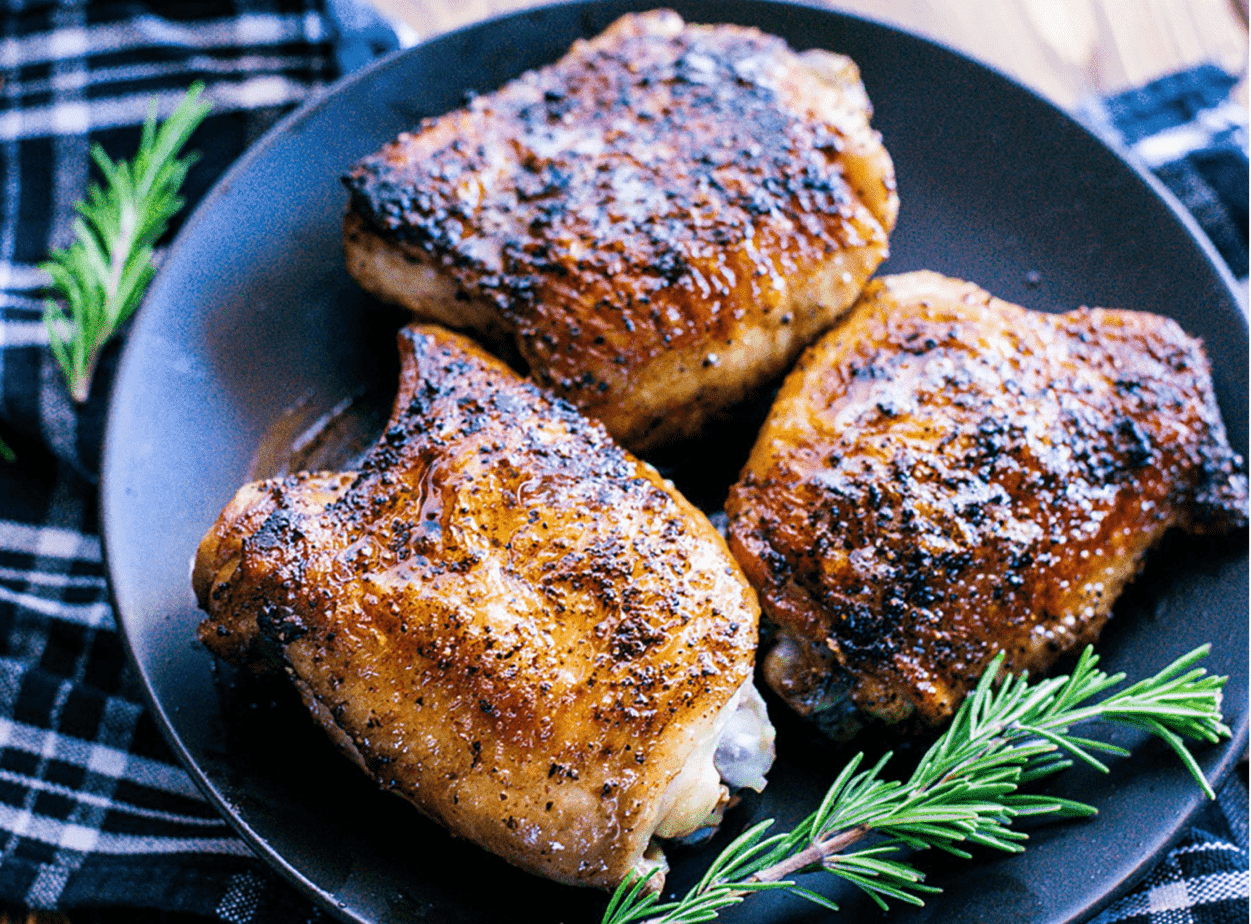 Once again, Alderspring Ranch chicken is held to high standards. All chicken is raised by a former employee several hours away, by a manager who owns and operates his own USDA processing facility. Chickens are permitted to roam pastures, are fed corn that is soy-free, and is GMO and organic. They are currently in transition to being officially certified organic.
Current chicken options include only chicken broth, but, when not out of stock, you can also buy hearts, drumsticks, thighs, boneless skinless breasts, whole fryer chicken, wings, and liver.
Beef Sticks and Jerky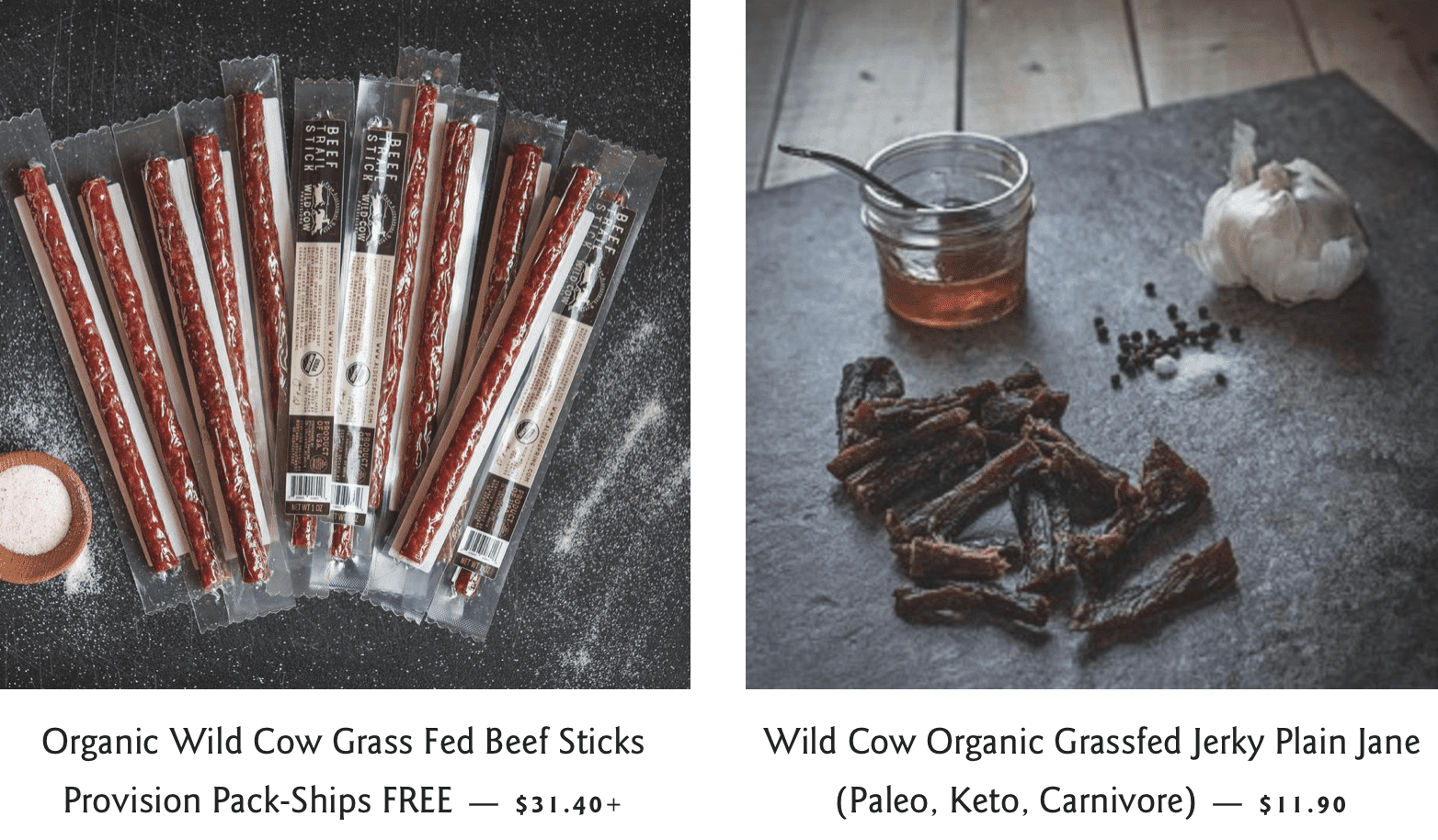 The 'Wild Cow' line features organic grass-fed beef snacks such as beef sticks and jerky in different buying options.
Pet Provisions
Alderspring Ranch carries a rather unique category of products, with its options for pet provisions. These include both bones and pet food. The pet food is 100% organic beef, made of 90 beef cuts and 10 percent offal/ organ meats.
My Takeaway
I was blown away by the sheer variety, unique offerings, but most of all, the quality offered by Alderspring Ranch. Nearly every product is explained from birth to processing– and these steps go beyond what I normally see in an organic meat delivery service.
The biggest downside is that many products seem to be sold out, but this can be explained. For one, this is being reviewed during the holidays and a pandemic. Due to their careful unique process and not outsourcing beyond a few hours, all with local connections, it's just not realistic to expect all products year-round.
How do you order from Alderspring Ranch?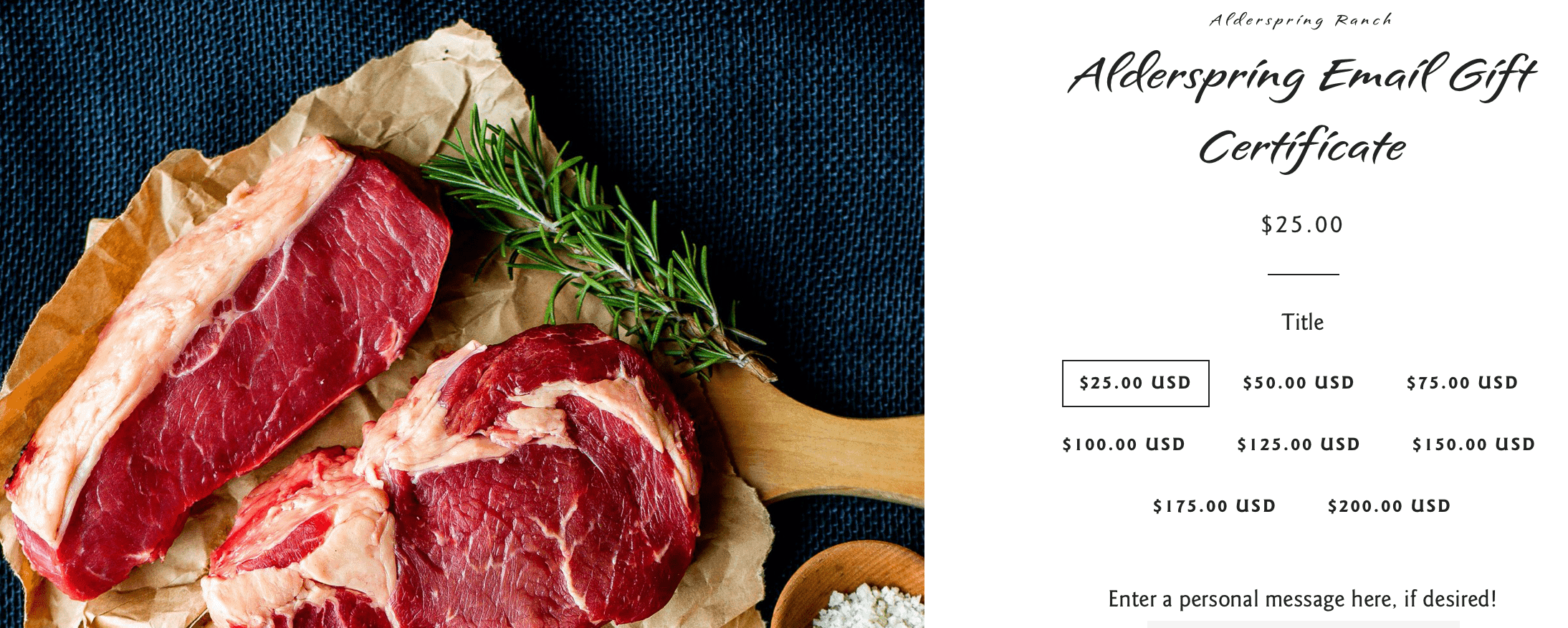 Ordering from Alderspring Ranch is fairly straightforward. Simply navigate to their shop and select the products of your choice. Each product clearly states the price and size. While there aren't multiple options for different pounds, you can select in the quantity you want, and also buy in a few ways.
Buying in Bulk
Currently, Alderspring offers 6 bulk packages, which mostly include a selection of beef. However, about half of these are sold out. This is initially pricey but can save money in the long run if you have the freezer space; you can buy in bulk here.
Subscriptions
While Alderspring Ranch has offered subscriptions in the past, they are currently suspended during the pandemic. I'd keep an eye out to see when they might return.
Gift Certificates and Merchandise
You can give a digital certificate of $25 to $200, with the option to include a personal message. They also have cards for sale and a number of leather and hide products, such as belts; wallets; a checkbook and passport covers.
Shipping and Processing
All packages are shipped via UPS. Shipping fees vary depending on location, but you'll see the breakdown when you check out. While the western United States can be reached with standard shipping, orders further away can require 3-day shipping or 2nd-day air. The good news is that they ship to all 50 United States.
With the exception of holidays, orders are shipped on Mondays; you'll also receive an email confirmation, as well as a tracking number. With the exception of cheese, all meat is flash frozen. The packaging is not only recyclable but also BPA free, with dry ice.
If you're missing something, or have concerns, you'll be directed to contact their consumer service email. There is no specific stated policy for refunds.
What's Alderspring Ranch's Reputation?
Alderspring Ranch doesn't have a BBB profile, which, given its size and novelty is not entirely surprising or concerning. It's been covered in a number of media outlets, including Forbes, USA Today, The New York Times, Slate, Edible Ohio, and others.
While there are no complaints, there simply isn't much of a reputation yet. In other words, not many consumers or professional companies have discussed their personal experiences with ordering from Alderspring Ranch. The few reviews did express excellent taste, quality, transparency, and management.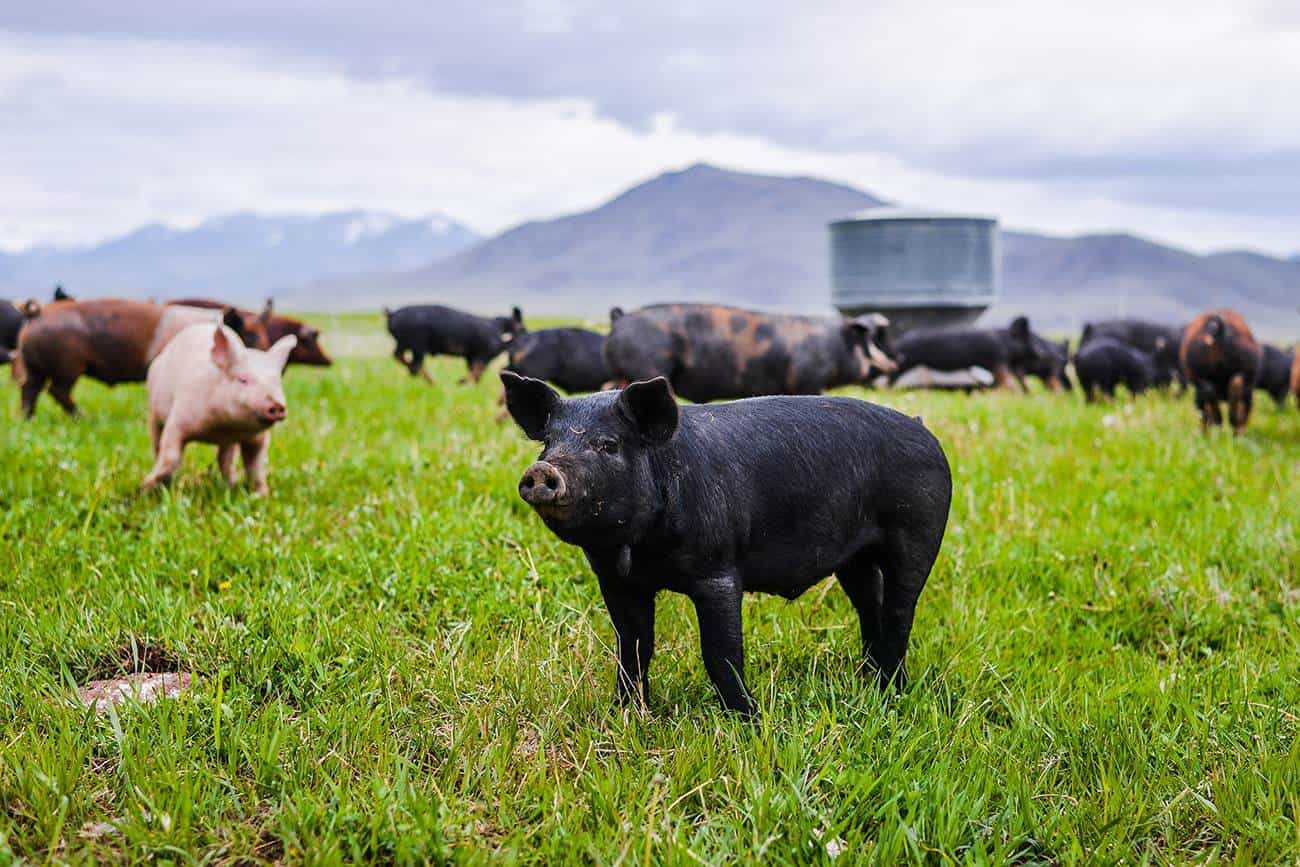 Frequently Asked Questions
Question: Where is the best place to buy organic meat?
Answer: In optimal circumstances, many would say that the best place to buy organic meat is from a local rancher or farmer, but even in the best of times, that's not a practical solution. Some butchers carry organic meat, but a great option is seeking out the best organic meat delivery services. Some also offer subscriptions. Ordering online is a way to get a wider selection and be choosy when it comes to price, cut, quality and sourcing.
Question: What is meant by organic meat?
Answer: If you're looking for organic meat, it's always good to be clear exactly what the label indicates. To ensure consistent, quality standards, opt for meat that doesn't start that it's organic, but also that it's officially USDA certified organic. Organic meat is broadly understood to be raised without growth hormones or antibiotics. In addition, USDA guidelines require the animals to have at least some space to graze or roam, though those standards are a little less clear.
Question: Is organic meat really better for you?
Answer: Organic meat is free of hormones or antibiotics and usually held to higher standards. It also, if certified, should be free of pesticides and fertilizers. Other concerns with conventional meat include bioengineering, access to sewage, and more. Though this sounds alarming, the research is more mixed for organic meat than it is for, for instance, fruits and vegetables — put simply there is evidence that some of these issues could be of concern, but we don't know enough. Organic also doesn't always equate to better living conditions for the animals, which is why it's important to learn more beyond the organic label.
Does organic meat taste different?
Some claim that organic meat tastes better, fresher, and is overall more plantable. But the main difference is in the way much of the organic meat is raised. Grass-fed beef does have a notable taste difference vs grass-fed, at least for meat-lovers, and organic beef tends to be grass-fed. Grass-fed beef tastes different due to the micronutrients beef is getting; these impact especially how the fat tastes. Many also say that grass-fed beef is more fragrant, and we know that smell and taste are directly connected.
What are the negatives of organic meat/food?
Organic meat is not always practical for everyone. For one, they are harder to find and you may be more limited in terms of cut and choice, though organic meat delivery companies like ButcherBox offers a convenient option. But the main downside is cost. Organic meat is markedly more expensive than conventional meat and may not fit into everyone's budget. If you are on a tight budget, a good rule of thumb is to eat organic when you can, and have a diet of mostly non-processed foods.
What is the best meat delivery service?
The best meat delivery service depends on your budget, lifestyle, and personal preferences. For some, an all service no fuss company like Omaha Steaks offers a wide variety of options and even sides. For those more concerned with ethically sourced meat, taking a look at the best organic delivery services is a good idea.
Final Decision: Try a small order first.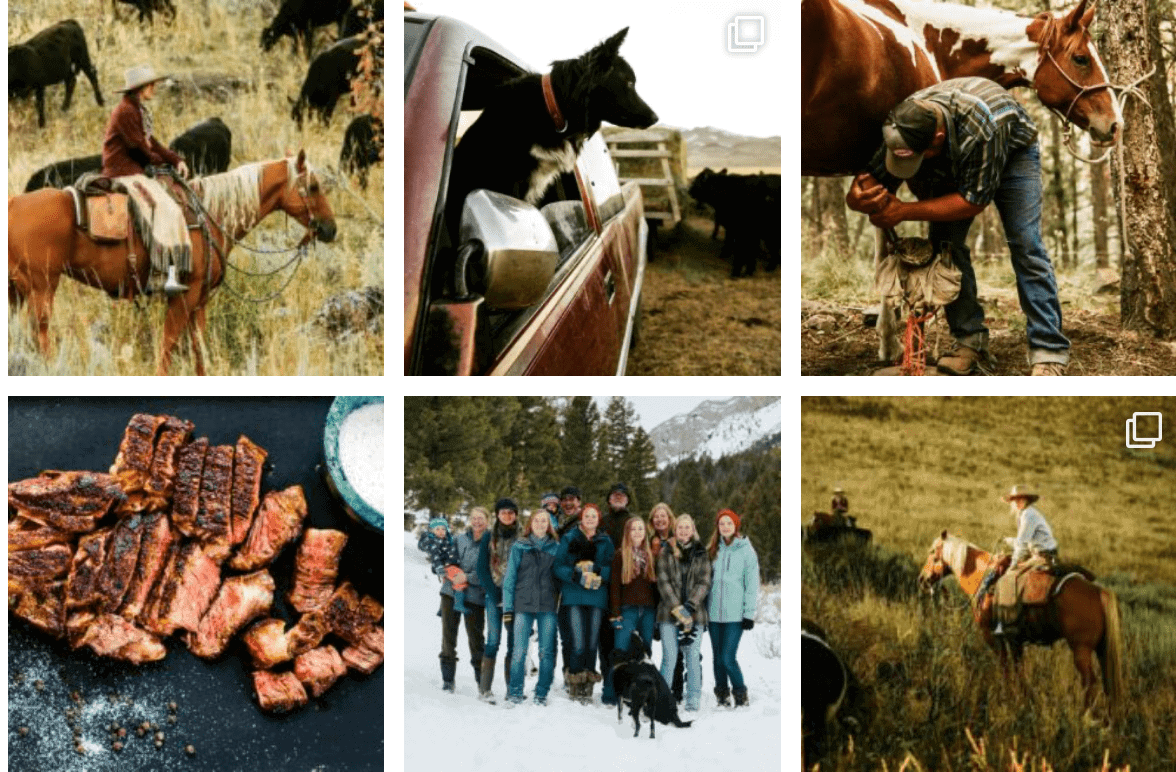 There is so much I love about Alderspring Ranch, from the wide diversity of products, unique offerings, and even to their transparency. It's easy to order, and you'll be able to find something in a quantity that suits your needs. I also love that their animal products are largely not only organic, but held to extra standards, both for the health of the animals and the land. In fact, on its face, Alderspring Ranch is one of the most transparent delivery services I've come across.
The reason I say to try a small order first is because it's not as well tested as other delivery services, and there isn't a clear return policy. Plus, since Alderspring Ranch isn't the most affordable, it makes sense to first make sure you enjoy their products.
Interested? Shop on Alderspring Ranch here.