Latest posts by Erin Jamieson
(see all)
Growing up, my family usually bought our steak at a grocery store- and occasionally we'd treat ourselves to seafood from a specialty shop. But one year, near Christmas, someone sent us Omaha Steaks.
I remember the excitement of opening up the package, even though the meal itself wasn't as memorable. There was something special about having it delivered to our door. But a lot about Omaha Steaks, and Allen Brothers, has changed even since then.
For over a century, both Allen Brothers and Omaha Steaks have been serving American steaks and other favorite meats. Yet it's exciting- and interesting- to see how they've transformed.
No longer do you have to travel to Chicago or Omaha: now, both offer online delivery for everything from filet mignon to lobster. But I wanted to see how both companies' quality holds up today- especially with a slew of options for organic meat and affordable patties.
Here's my honest look at the very real pros and cons of Allen Brothers vs Omaha Steaks. As much as both of these companies have become American staples for grill-outs and more, what I discovered gives me an idea of if either company is worth it for your next cooking event.
Bottom Line Up Front Summary
What I like about both Allen Brothers and Omaha Steaks is they have traditional roots as classic butchers. These two meat companies have been in the industry for over 100 years.
But as a meat delivery service now, both companies fall short on quality standards and customer service- and I sadly cannot fully recommend either. Something that could be worth looking into is Omaha Steaks Retail Locations, where you can purchase in-store. I'd go for the appetizers or desserts, with haven't received the extent of complaints, and bypass the shipping and ordering process. And If you're still looking for mail-order steak, check out my alternatives at the end of this review.
Main Differences Allen Brothers vs Omaha Steaks
Allen Brothers has a wider variety of seafood, while Omaha Steaks has more cuts of steak
Allen Brothers has specialty meat like Wagyu, while Omaha Steaks has more gourmet desserts, appetizers and meals
Allen Brothers carries mostly USDA Choice and Prime, while Omaha Steaks meat comes entirely from the USA
Which is Better: Allen Brothers or Omaha Steaks?
Whether you're short on time, looking for a wider selection of steaks, or you want to gift someone, both Allen Brothers and Omaha Steaks look tempting at first glance. But as much as these American online meat delivery companies have in common, I discovered rather compelling differences. Here's what you need to know before buying from either.
Company History and Mission
Chances are you've heard of Allen Brothers or Omaha Steaks or maybe both, even if you've never ordered from either. That's because both have been around for over a century, and while I love that they have a long history of expertise, I wanted to trace how they've transformed- and where they see themselves now.
I also think that their company mission statement says a lot about where their focus is. Plus, I wanted to see how their history and mission compare to their quality and service.
Allen Brothers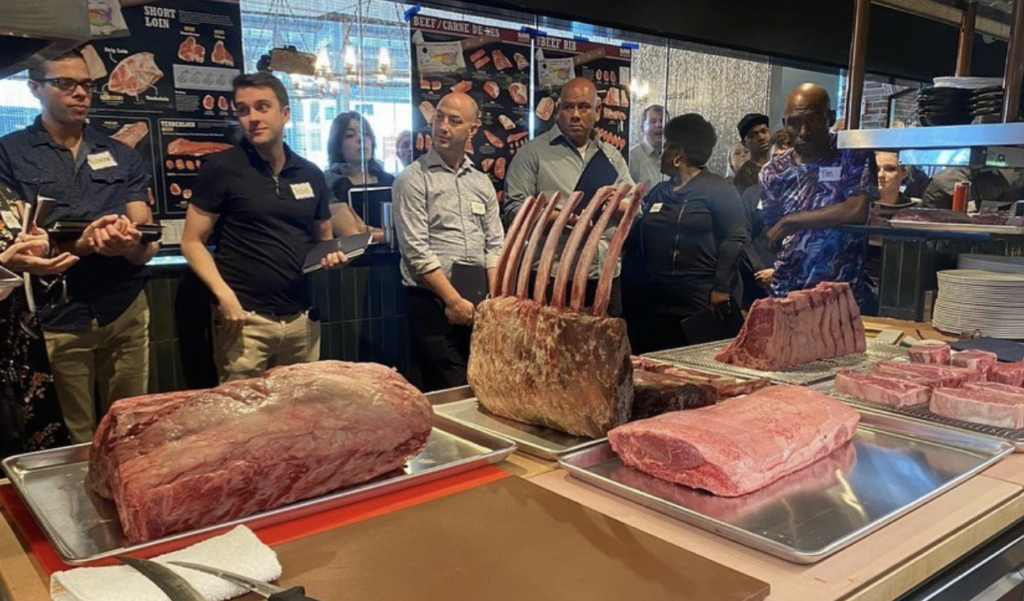 Allen Brothers have been around since 1893, starting as a butcher in Chicago. Hand-selected and artisan cuts, as well as tradition, seem to be at the heart of their business.
I like their focus on USDA Prime beef, as well as aging for optimal flavor. Its mission statement does an excellent job of balancing the company's history with its quality standards.
It's also refreshing to see not merely general terms, but specific explanations behind their selection and aging processes- and how it's transformed over the decades. There was, however, a substantial change in management: Allen Brothers, as of 2013, is now under The Chef's Warehouse, Inc- a food distributor whose headquarters are in Cincinnati.
Omaha Steaks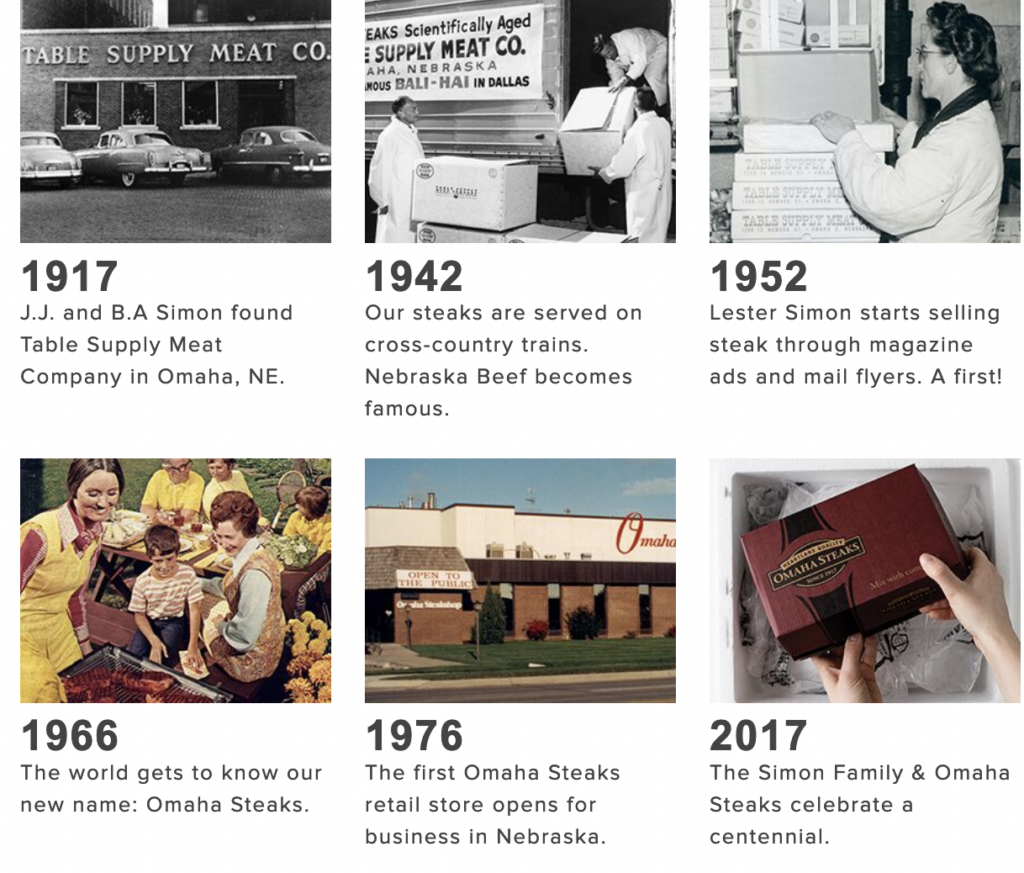 Omaha Steaks has been around nearly as long as Allen Brothers: it opened its doors as a small butcher in 1917 in Omaha, Nebraska. While Allen Brothers do an excellent job explaining its vision, Omaha Steaks supplies a detailed history of the company's evolution, decade after decade on their Century of Steak website feature page.
The family-owned business continued to expand- first by selling its steak on trains, then by mail order. They emphasize generations of experience to 'deliver the best.'
Winner: Allen Brothers
Much as I enjoyed looking through the evolution of Omaha Steaks (history, of any kind, always appeals to me), Allen Brothers establish sourcing and quality at the center of its company. While that doesn't mean they have higher standards, I think that Omaha Steaks could do a better job of explaining why or how they care about quality.
Shipping, Delivery, and Refunds
Trust me: shipping and delivery are one of the most important things to check if you're ordering steak, meat, or seafood online. My first step was to make sure that Allen Brothers and Omaha Steaks were clear about where they cover, their shipping carriers, and general delivery policies. I also wanted to check how meat was shipped to retain freshness– and the process for refunds.
Allen Brothers

Allen Brothers ships within the United States- including Alaska, Puerto Rico, and Hawaii, and I like that they lay out shipping costs– determined by several items.
Not only that, but, along with typical tracking, they lay out estimated delivery dates, plus options for overnight and Saturday delivery. If you're ordering in December, they mention there may be a day or two delay- and you should prepare to order in advance.
They also take important steps to ensure freshness. Meat and seafood are flash-frozen and placed in an insulated, recyclable container with dry ice. I also like that they bar-code all shipments to make sure you're receiving the weight you paid for. On a less positive note, their refund policy is vague. You're directed to call customer service for them to "achieve an appropriate resolution if necessary."
Omaha Steaks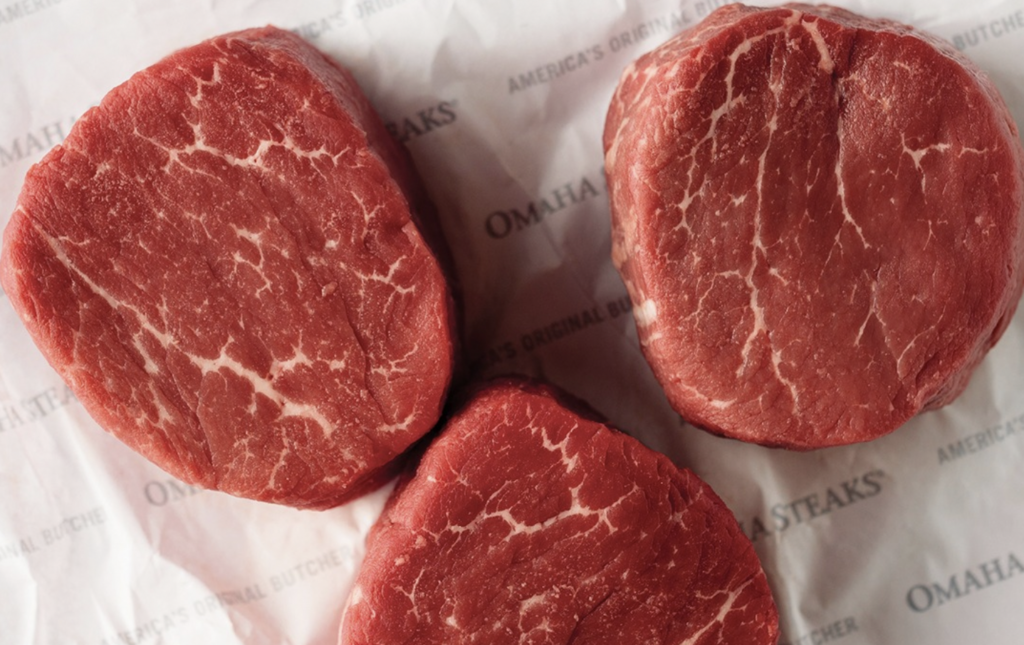 Omaha Steaks shipping prices are a little a more simple- and less expensive. You'll pay a flat shipping fee or get free shipping for orders over $168. They also offer expedited shipping, rush shipping, and Saturday delivery. In addition to the contiguous United States, Omaha Steaks offers delivery to Alaska, Canada,  Puerto Rico, Hawaii, and the US Virgin Islands for about $20 more per order.
Like Allen Brothers, steaks arrive frozen (flash-frozen, vacuum-sealed) in an insulated container with dry ice. Their 100% Satisfaction Policy isn't quite like it sounds. While at first they direct you to email or call for any reason, they add a clause that they "reserve the right to limit refunds and replacements."
Winner: Omaha Steaks
Both companies should consider adding circumstances when refunds are accepted, and both flash freeze for freshness. So while this was close, I'll award the win to Omaha Steaks for slightly cheaper shipping, plus more ways to contact customer service.
Sourcing Standards
A lot of the appeal of both Allen Brothers and Omaha Steaks is their vast selection of cuts. But I wanted to dig deeper to see: is the quality of their meat living up to their classic butcher roots? Is it any better than a local grocery store? I wanted to know where meat and seafood were sourced from, if it was USDA graded, and if any flavors or additives are used to artificially enhance products.
Allen Brothers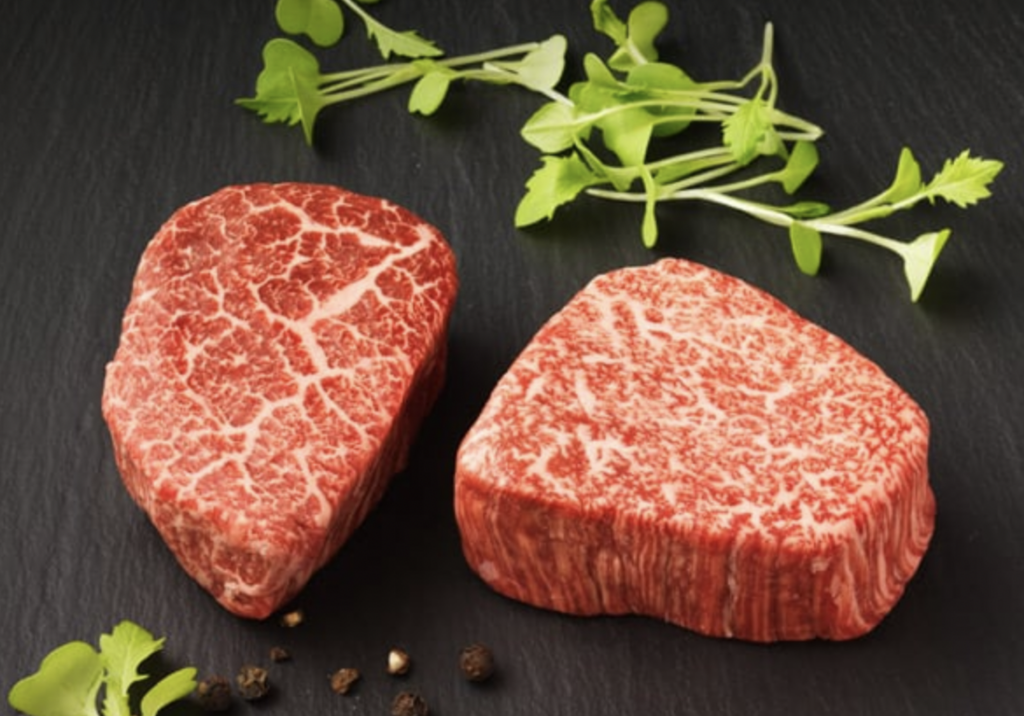 Allen Brothers either wet ages or dry ages their meat, depending on the cut, for 4 to 8 weeks. Both help retains moisture, and flavor, and make for a more tender steak. While they offer all kinds of steaks, I like that there's a selection of grass-fed (notable for a healthier fat profile and unique gamey flavor) as well as USDA Prime and USDA Choice.
All meat is hand-cut and sourced from the US- aside from Japanese and Australian Wagyu. However, they don't disclose exactly where they source from.
Omaha Steaks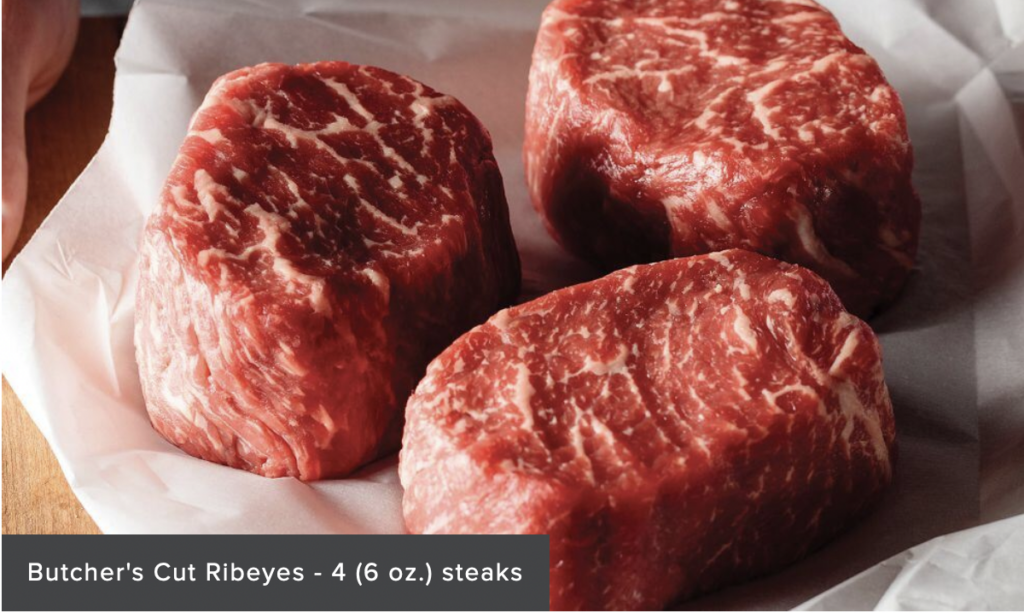 Omaha Steaks sources cattle from the 'Heartland' of the United States and explains that USDA grading is only 'a small factor'. Most of their meat is grain-fed, though I was happy to see a small selection of grass-fed products.
Winner: Allen Brothers
Allen Brothers and Omaha Steaks both don't guarantee any added hormones, antibiotics, or preservatives. But if you're looking for steaks that as USDA graded, Allen Brothers is the winner. In the future, I'd like to see standards raised- and some more sourcing information about both their meat and seafood.
Steak and Seafood Selection
Exactly what kind of steak, meat, and seafood can you find online from Allen Brothers or Omaha Steaks? I expected a wide variety of options, and I wasn't too disappointed. Still, there are a few interesting differences between the two companies.
Allen Brothers

Allen Brothers have an assortment of cuts and types of steak, including:
Filet Mignon
Strip Steak
Ribeye
Porterhouse
Beef Roasts
Burgers
Japanese and Australian Wagyu
With These Distinctions:

USDA Prime
USDA Choice
Grass-Fed
Dry vs Wet Aged
There could be a few more cut selections, but they've included grilling favorites, and I also like that they sell Wagyu.
Examples of seafood include smoked salmon, Chilean sea bass, domestic sea scallops, Wild-caught Alaskan halibut, cold-water lobster tails, Alaskan king crab, tiger shrimp, Wild-Caught Alaskan salmon, Atlantic salmon, Wild-caught grouper, Yellowfin tuna, Spanish octopus and caviar.
Omaha Steaks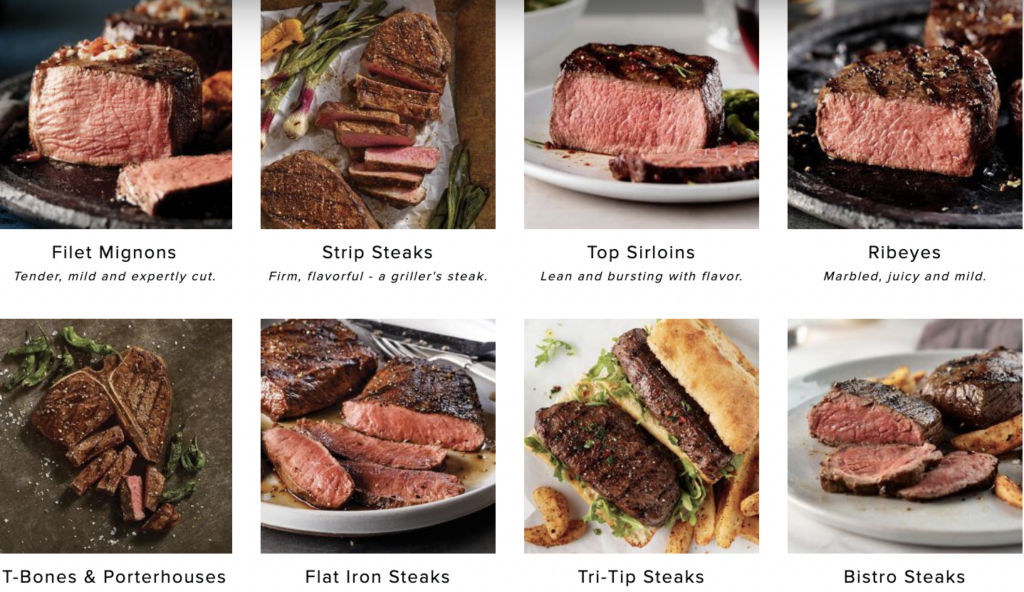 Omaha Steaks has more cuts- but less specific steak quality options:
Filet Mignon
Strip Steak
Top Sirloins
Ribeyes
Porterhouse
Flat Ion
Tri-Tip
Bistro
Bavette
Hanger
Skirt and Flank
Prime Rib
There aren't categories for USDA Prime or Choice, not specialties like Wagyu.
Seafood includes salmon, cod, sole, tuna, halibut, grouper, mahi-mahi, snapper, trout, swordfish, sablefish, lobster, crab, scallops, oysters, and more.
Winner: Omaha for Wide Assortment, Allen Brothers for Better Standards
If you want a wide selection of seafood and cuts, Omaha Steaks has the edge. But for higher-grade and specialty steaks, Allen Brothers gets my approval over Omaha Steaks.
Other Products
One reason why Omaha Steaks is so popular is that they don't just sell meat and seafood- but full appetizers, meals, and more. I was curious to see how Allen Brothers compared if you need to throw a full course dinner in a pinch.
Of course, this isn't the most important thing to consider (you could always buy sides from a local store) but for some, it could be an incentive for larger or more frequent orders.
Allen Brothers

In addition to steak and seafood, Allen Brothers sells veal, pork, turkey, duck, quail, and prepared items for festive occasions. That includes meat appetizers, crab cakes, and spanikopita. They have just 7 frozen desserts: apple pie, eclairs, chocolate cakes/ couples, and creme brulee.
Omaha Steaks

Omaha Steaks sells chicken and pork, but they're better known for their starters, sides, and desserts. Appetizers include a wide range of meat appetizers, vegetables, soups, and specialties. Their dessert catalog includes cakes and cheesecakes, tarts, pies, candies, mousse, custards, and cookies.
Winner: Allen Brothers for Meat, Omaha Steaks for Everything Else
I was pleasantly surprised to find more unique meat options, like duck and veal, from Allen Brothers. Yet there's no denying that Omaha Steaks excels with an extensive and occasion-worthy catalog of more interesting appetizers and sides.
Overall Customer Experience
Something I've learned: even with my personal experiences and research, it always is a good idea to check a company's reputation- both on a professional level (Better Business Bureau) and customer reviews on sites like Site Jabber, Consumer Affairs, and Trust Pilot.
I never take one review too seriously, but I look for patterns, gather common complaints and praise, and observe how the business is responding.
Allen Brothers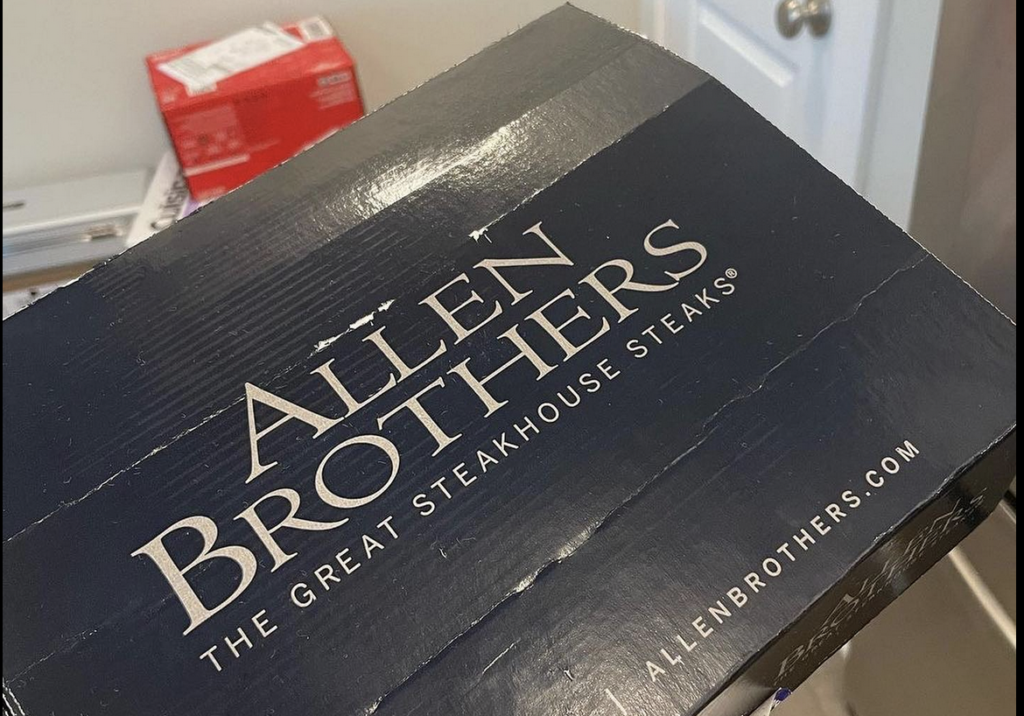 Allen Brothers have a C minus rating on the Better Business Bureau and are not accredited- though I only see 4 complaints closed within the last 3 years. Unfortunately, there aren't too many customers reporting on their experience- but on Yelp, the company earned an average of 2 out of 5 stars.
What's concerning is that a lot of customers were displeased with customer service, stating that it was non-responsive, that products were poorly packaged, and orders were not processed well. Some even mentioned being long-time customers and noticed a decline in product quality.
Omaha Steaks
Omaha Steaks has been accredited through the BBB for over six decades, and still has an A-plus rating, though a sizable number of complaints over the years. What's more disheartening is the pattern of customer complaints on Trust Pilot. While a little over a quarter of reviews were positive, praising quality, a whopping 72 percent were mostly negative. The meat was described as tough, tasteless, and expensive. Many long-term customers were disheartened by lackluster customer service and a change in quality.
Winner: Draw
I think that both Allen Brothers and Omaha Steaks have slipped in standards in recent years. Some delivery issues are reasonable, but nothing was encouraging: no signs of the companies reaching out to customers and little praise.
Frequently Asked Questions
Question: Are Omaha Steaks from China?
 
Answer: I've seen rumors that Omaha Steaks are from China, but that's far from the truth. Omaha gets its meat from Midwestern cattle. While this is conventional cattle, it still is American-bed, which aligns with the company's roots.
While Omaha Steaks has undeniably expanded from its butcher shop founding in 1917, it's good to see that its meat is sourced from and processed within the United States. They also oversee processing plants within the Midwestern United States.
Question: What is so special about Omaha Steaks?
Answer: Omaha Steaks is one of the oldest mail-order (and now online delivery) meat companies. It also has traditional roots as a butcher's shop, which is unusual for some of the newer meat delivery services.
But there are other reasons why Omaha Steaks has become an American staple: they also sell gourmet sides, desserts, and gifts. It's easy to order an entire meal, including for holidays and festivities. But, there are some notable downsides for true steak enthusiasts.
Question: Are Allen Brothers still in business?
Answer: Allen Brothers are certainly still in business- but its management changed. In 2013, it was acquired by The Chef's Warehouse Inc. At the time, it was a sign of yet another one of the dwindling independent steakhouses being bought up like a larger corporation.
The Chef's Warehouse Inc is a wholesale grocer and distributor that's been in business for over 35 years. Though its headquarters are based in Cincinnati, they have locations within the United States and are involved in myriad projects.
Question: How Long do Allen Brothers Steaks Last?
Answer: Allen Brothers steaks are shipped frozen and can last up to a year to a year in a half in your freezer, while their seafood products should be used within three to nine months.
It's best to thaw your steak over 24 hours, with something underneath the packaging to catch any dripping or leaking. After it's thawed, cook your steaks as soon as possible, and store any leftovers in an airtight container in your refrigerator. Eating cooked steak within a day or two is the best way to prevent food poisoning or sub-par meat.
Final Decision
Sometimes you need steak- and even a full meal- in a pinch. From aged steak to signature shellfish, it's easy to see why both Allen Brothers and Omaha Steaks are popular options for entertaining.
But I sadly cannot recommend either company for quality steaks. Allen Brothers may have higher sourcing standards, but the quality of products and services just isn't there. Omaha Steaks may be an okay option if you want desserts and sides- these were not typically complained about. Shop Omaha Steaks Here, Or Check Out Better Alternatives Below.
Final Recommendations
If you're not happy with the quality or selection from Allen Brothers or Omaha Steaks, here are some other delivery options that'll ship signature steak and other meats:
Organic Prarie: From patties to signature steaks, everything here is grass-fed and organic- and there's also a selection of turkey, ham, and grilling favorites like hot dogs.
New York Steak & Seafood Company: This company has a great selection of USDA Prime and Choice meats, primarily positive reviews, and is a natural alternative to Allen Brothers or Omaha Steaks
Wild Fork Foods: They not only have higher sourcing standards, but also signature options like Wagyu.
Recommended Reads: