Latest posts by Erin Jamieson
(see all)
I've always loved healthy, fresh food, but over time, the definition of that for me has changed. As hard as it is for someone like me to spend money or time on myself, I know even one person needs to be willing to listen to their needs- from getting too busy to need to focus on quality options.
I'm also learning that health is not one definition. For some, it means going gluten-free, seeking meals that are low in sodium, or, for someone like me, simply challenging myself to try new meals, even simple one-pot recipes.
That's why both Dinnerly and HelloFresh are intriguing to me: two meal delivery services that claim to offer fresh meals for cheaper than other companies, all the while marketing for different dietary trends, like low carb. But in this review, I'll be investigating those complaints, which are a direct compare and contrast.
Is Dinnerly or HelloFresh a better go-to for daily means? Read on to find out my analysis of the overall quality and value of both- and which company comes out on top.
Bottom Line Up Front Summary
HelloFresh and Dinnerly both have a nice variety of recipes, with fresh recipe prep and affordable prices. But Dinnerly is more affordable, does a bit better accommodating dietary restrictions, and has higher sourcing standards. I recommend Dinnerly over HelloFresh- but I'd ask to make sure my meat would be properly vacuum-sealed, as there have been some complaints.
Main Differences Dinnerly vs Hello Fresh
Dinnerly has organic chicken and grass-fed beef, while HelloFresh doesn't disclose where their meat comes from
Dinnerly also sells appetizers and desserts, while HelloFresh has more meal variety
Dinnerly allows you to receive meals 3 to 6 times a week, while HelloFresh also has options for twice a week
Dinnerly has some packaging complaints, while HelloFresh has some meal quality complaints
Dinnerly Compared to HelloFresh: My Honest Review
Here's my honest take on Dinner and HelloFresh-and what I think about these two popular meal delivery services. With a side-by-side comparison of everything from meal quality to customer service, delivery, and more, I unpacked which company is worth your money.
Subscription Options
Dinnerly and HelloFresh both deliver to all states aside from Alaska and Hawaii. So I wanted to take a look at just how flexible and versatile both meal delivery options are. While both are aiming to please couples and families alike, there are some interesting differences in just how often you'll receive your meals.
Dinnerly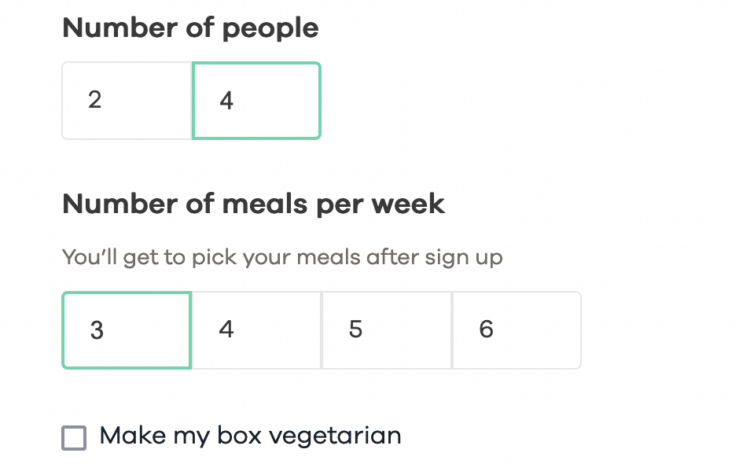 While I don't think that cheaper is always better, I will say that affordable options are becoming harder to find- and the spike in grocery store prices lately has made that only more obvious.
So I was immediately struck by the discount you get by ordering a Dinnerly subscription. It's easily one of the cheapest options, costing less per serving on average than most of its competitors. They also have a few subscription options for several portions and delivery frequency:
2 or 4 portions per meal AND
3, 4, 5, or 6 meals per week
This is also a lot more flexible than some meal delivery options. What I like about this is you can get meals delivered just three times a week to help out or as much as nearly every day if you don't have time during the week. Plus, two portions per meal is handy for someone like me who doesn't have a big family to feed.
Another big plus, and a personal must for me: Dinnerly also allows you to skip weeks- and you can cancel at any time before your next delivery.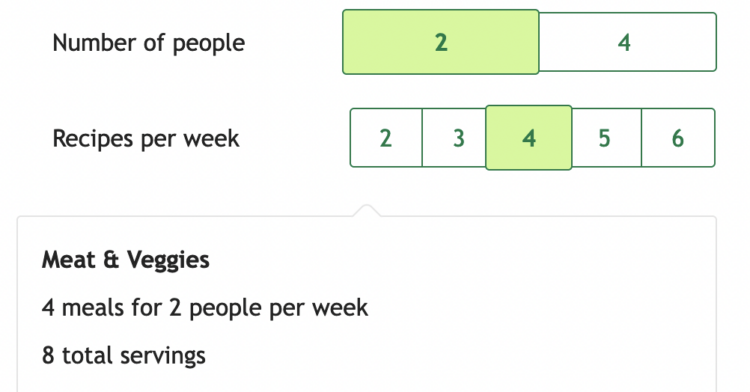 HelloFresh is just a little more expensive than Dinnerly- but nearly as cheap when on promotion. Even more interesting? HelloFresh subscription options nearly mimic the options you get from Dinnerly, where you can select by several people and meal frequency per week:
2 or 4-person plan AND
2, 3, 4, 5, or 6 recipes per week
Like Dinnerly, you can skip weeks, you aren't stuck in a lengthy contract, and can cancel before your next order. So I was impressed with the flexibility from HelloFresh as well.
Winner: Tie
I wasn't struck by the differences so much as the similarities between HelloFresh and Dinnerly. Both offer meals at pretty cheap prices, and with both, you can select portions and meal delivery consistency. Dinnerly is a bit cheaper per serving, while I like the ability to select just 2 meals a week through HelloFresh.
Delivery Details
How your food arrives matters a lot- I know firsthand that there's a big difference between clear delivery options and fresh food and a poor experience. Dinnerly and HelloFresh both deliver to your door- but here's how you'll receive your packaged meals.
Dinnerly
Dinnerly lets you select your delivery day for your first shipment, and then you'll receive your ingredients and recipe in an insulated box. One thing that is important for me to clarify: some meal delivery options ship you fully prepared meals (like Freshly) where you just heat everything. In my opinion, something like Dinnerly is better.
While it requires a bit of prep work from you, it also tends to taste fresher, gives you more for innovation, and allows you to explore recipes- all the while still giving you direction and saving time.
What's unique about Dinnerly is that all packaging materials are SFI certified: not only is everything recyclable, but it's also sourced sustainably. That's true for the liner, box, and even containers for ingredients and your ice package.
Shipping costs an extra flat fee of $9.99- which does detract from my earlier comment a little bit about the low cost. The good news is that all your food is protected not only by an ice pack but also with insulated liners.
HelloFresh
HelloFresh has a lot of similarities for its delivery: you're still paying that flat $9.99 shipping fee (except on promotion/ when you first sign up). Everything comes in an insulated styrofoam container, with all the ingredients you need, plus vacuum sealing for fish and meat options. I also really like how ingredients are clearly labeled for easy preparation.
Because of the ice packs and insulation, food is delivered to be fresh for up to 24 hours, which is a big plus. Since different delivery dates are available based on where you live, you'll have to check with your location- but I'd say it's pretty flexible.
Winner: Tie
I appreciate both Dinnerly's and HelloFresh's flexible delivery options. What I like most about Dinnerly is its sustainable packaging, while I like the clear labeling from HelloFresh. Minus promotions, you'll be paying the same shipping fees for both companies, so, all told, I don't see a huge advantage over Dinnerly or HelloFresh.
Food Quality and Nutrition
For menu options, I wanted to see just where the food comes from, its nutritional value, and whether or not HelloFresh and Dinnerly live up to their advertising. But aside from food quality, I was also interested in seeing the nutritional content- and who each service is most suited for.

Let's just say that I was curious to see if Dinnerly, as they claim, has food and flavors for everyone. They do offer a variety of meals for different preferences, including meat-based, vegetarian, low-carb, low-calorie, gluten-free, dairy-free, and 'kid-friendly.'
What's cool is that every recipe has labels, and sometimes fits under several categories. However, I do want to emphasize that they don't have fully allergen-free meals for serious intolerances.
Looking deeper into both Dinnerly's ingredients and nutrition, I was pleased to discover that all meat is from the USA, except for some Australian grass-fed beef. They also only ever use entirely antibiotic-free chicken. And while you won't find a slew of organic meals, they use some organic ingredients here and there.
As much as I like that Dinnerly has nutritional information listed for its recipes, I mostly wouldn't recommend it for someone trying to lose weight.
Aside from some low-calorie meals, most meals average several hundred calories, with staples as high as 900 calories per serving. Sodium isn't low, but lower than some, with an average of 400 to 850 mg/ serving.
All in all, Dinnerly isn't the healthiest option, but they have a lot of ways for you to make informed choices- and higher ingredients standards than many conventional meal services.
HelloFresh

With fresh in the name, I wanted to see HelloFresh live up to its standards. Like most large delivery services, there are fully vegetarian options. Plus, they have low-carb meals, and low-calorie meals (though these meals still hover around 650 calories per serving- higher than I'd expect for something under that label).
Unfortunately, there's no information on where they get their meat or seafood from, and it's not the best place for those looking for gluten-free, keto, or organic ingredients. Sodium counts are also a little higher than I'd like, but, like Dinnerly, you get control over what meals you select.
One thing I do like: is the commitment to less food waste. They're working towards reducing their carbon footprint- and you won't get extraneous ingredients.
Winner: Dinnerly
Neither Dinnerly nor HelloFresh are organic, designed to help you lose weight, or catered specifically for dietary needs. But I will say I like the balance of fresh produce in most recipes.
Dinnerly gets the win here for a few reasons. They do a better job of catering to dietary needs, and I like their focus on organic chicken and grass-fed beef. Dinnerly is just a bit better at reducing its sodium counts, and there's more I like to accommodate a variety of diets.
Food Variety
We all have different tastes, needs, and preferences. What's interesting to me is comparing Dinnerly's variety of meals against HelloFresh. From preferences to the fusion or representation of cuisines, here's what I found out about the main differences between the two.
Dinnerly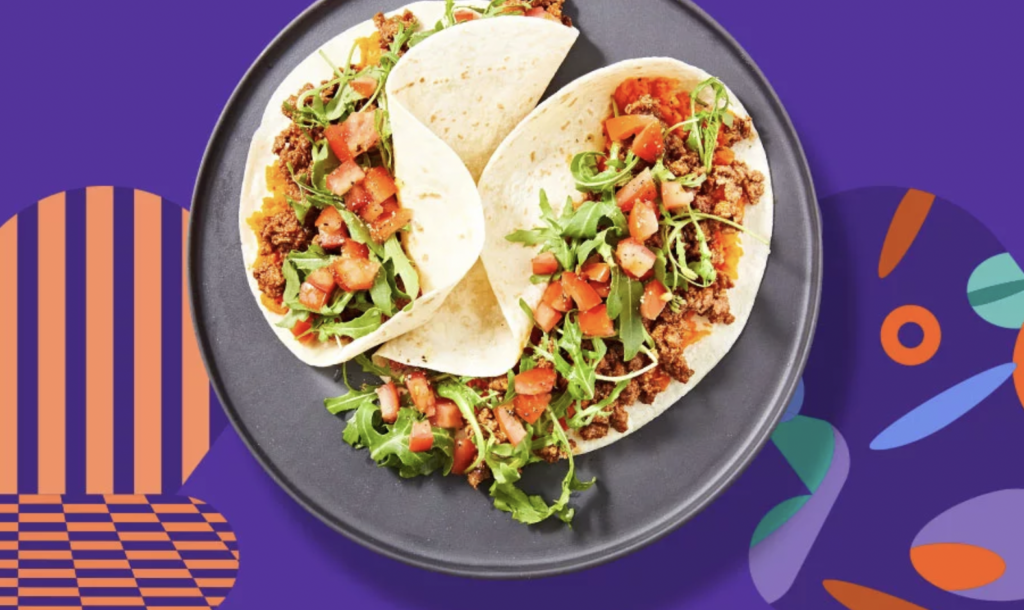 Asian, Italian, casual American, and Latin American dishes are all on the table. It's pretty clear how heavily influenced each dish is by comfort and American cuisines, and I like the variety as a whole.
Pizza, quiches, soups, tacos, bowls, and even appetizers and desserts are on the menu. While the recipes lean towards more indulgent comfort food, there's still enough variety to please most.
HelloFresh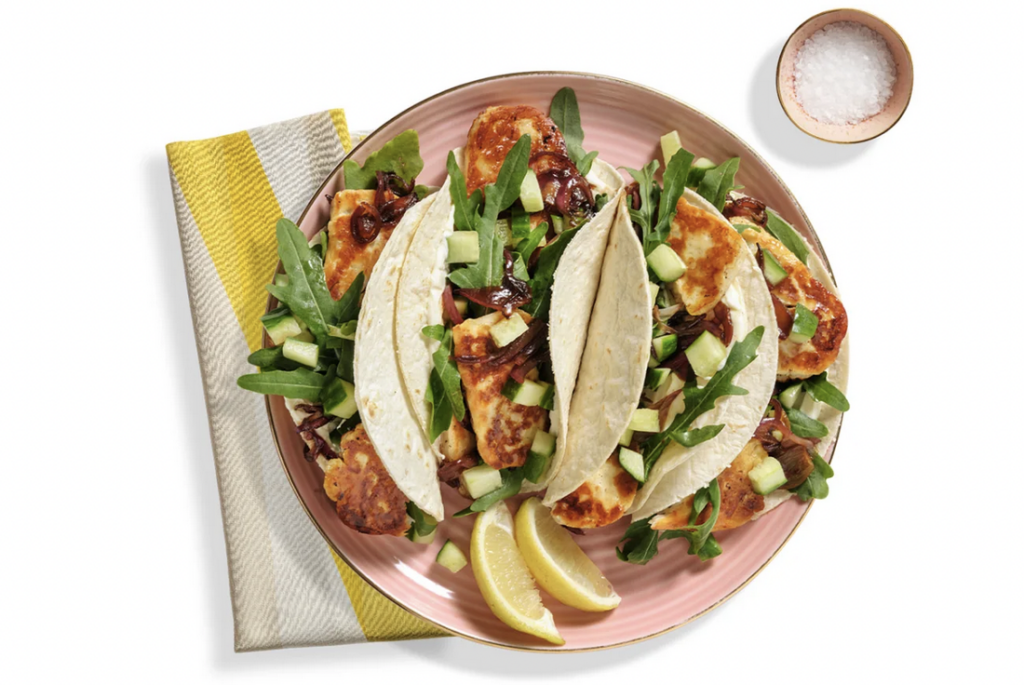 I saw a similar pattern with HelloFresh: the same blend of American. Asian and Latin American cuisines. However, there's a bit more variety in the main meals- HelloFresh meals experiment more with colors, flavor, and aesthetics. Stir-fries and sandwiches are more added, but you also won't get the option for appetizers or desserts.
Winner: Tie
If you want to throw in appetizers, desserts, and more kid-friendly or festive dishes, Dinnerly delivered. But if you're more interested in unique sauces and a wider range of dinner entree types, I'd go with Hello Fresh.
Delivery and Overall Experience
While giving my honest opinion, I also wanted to understand the average customer experience with both Dinnerly and Hello Fresh. For this, I checked out both companies' reputations, and external reviews, and investigated complaints. It's here that there are a few striking differences between Dinnerly and Hello Fresh.
Dinnerly
Dinnerly has a C rating on Better Business Bureau, due to some unresolved issues. I've been seeing this trend spike for delivery companies, especially during the pandemic. So I took to Trust Pilot and found an interesting pattern. While over 60 percent of customers awarded Dinnerly 4 or 5 out of 5 stars, 12 percent (a notable number) gave it one star, and five percent still had a 'poor experience.
While most are happy with the food quality, the packaging is a definite concern: some packages aren't tightly sealed enough, leading to leaking and other issues. I was happy to see Dinnerly respond to those complaints.
HelloFresh
HelloFresh has an A through the Better Business Bureau, and the same 4 out of 5 star average on TrustPilot. Yet there was a notable pattern here too: Just under 88 percent of customers gave the service a 4 or 5-star rating.
That made me feel fairly confident- until I saw that the majority of complaints are very recent. Many stated they'd been subscribed for a while and noticed recent changes in meal quality- from lower quality ingredients to moldy packaging. Others had trouble canceling their order.
Winner: Dinnerly
This was a strange decision for me because I normally would award a company with a higher BBB the higher rating, but most Dinnerly complaints seem less concerning than HelloFresh.
While Dinnerly needs to improve its packaging standards, the nearly universal agreement that the food is delicious is a much better sign than the apparent decline in quality from HelloFresh.
Frequently Asked Questions
Question: Is Dinnerly Good for Weight Loss?
Answer: While I see a lot of people ordering meal delivery services in hopes of losing weight, that isn't the purpose of most of them, and that's true for Dinnerly. While Dinnerly has some modest calorie counts for some meals, I'd say it's heavier than many of its competitors. Some meals have calorie counts that exceed 700 or 800 per serving.
It depends on what you select, but, at the end of the day, Dinnerly is not intended for weight loss. The only reason someone might lose weight with Dinnerly is if they are hand-selecting their lowest calorie options and swapping them for typically heavy meals.
Question: Are Dinnerly Portions Small?
Answer: Dinnerly portions are by no means small. If anything, they are on the more generous size- which explains some higher calorie meal options. Some families of 6 might be able to get by with just 4 or 5 portions. Of course, you'll have to try it out to see what suits you, but Dinnerly isn't skimping on the portion sizes. Each meal has either two or four rather generous portions.
Question: Can you Lose Weight with HelloFresh?
Answer: While you can lose weight with HelloFresh, it's important to understand that HelloFresh is not a weight loss program, like Nutrisystem or something similar. Here's the low-down: HelloFresh meals are an average of 600 to 700 calories, but they're now partnered with Weight Watchers.
Out of that partnership, they offer lower calorie, Weight Watcher-friendly meals. So someone truly can lose weight with HelloFresh- but it's up to you to track and order options that fit within your dietary needs.
Does HelloFresh Include Meat?
Answer: HelloFresh meals range from meat and seafood-based to vegetarian. Their Veggie meal plan means you'll only get vegetarian options, while their regular meal plan includes a range of both meat and seafood.
Luckily, meat and seafood are shipped vacuum-sealed, which means they should arrive not only safe but also fresh. There's a pretty nice range of beef, pork, chicken, and other meats, and a lot of it centers around casual American food. Every delivery comes with all the ingredients you need- meat included- as well as recipe cards and easy-to-follow instructions.
Final Decision: Give Dinnerly A Try
In the battle between Dinnerly vs Hello Fresh, Dinnerly comes out on top. My biggest concern is their packaging quality, but they do appear to respond to complaints.
I want to see their BBB rating improve and a few tweaks, yet the service holds promise. I like their prices, fresh ingredients, higher meat sourcing standards, and the variety of different lifestyle preferences. HelloFresh, meanwhile, needs to step up its fresh ingredients and options for other lifestyles, as well as consumer complaints.
Give Dinnerly a try if you feel confident enough, but make sure you carefully inspect your packaging when it arrives. I'd probably feel most comfortable ordering vegetarian from Dinnerly. Subscribe to Dinnerly Here.
Final Recommendations: Alternatives to Try
Home Chef: It's one of the top-rated meal services out there, with options for vegetarian, low calorie and low carb meals.
Fresh N Lean: Organic food, with a fresh taste and high-quality meals; it's also one of the best meal services for overall customer satisfaction
Little Spoon: If you're on a tight budget and have kids, this is one of the most affordable (and tasty!) options.
Further Reads: