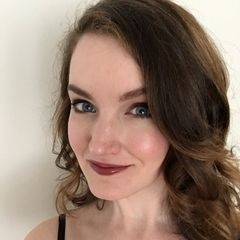 Latest posts by Crystal Schwanke
(see all)
If money were no object, this whole Nuuly vs. Rent the Runway decision would be much harder for me.
I love fashion and beauty and I've been studying new styles and trends and writing about them for years. However, I'm still your average, boring, introverted human who would rather die than have events to attend every weekend. I still want to look cute, though.
Do you see my dilemma? Nuuly has clothes for the everyday woman living an average lifestyle. Rent the Runway has clothes for the fashionista, especially those who regularly attend events. I do love gorgeous clothes…
Bottom Line Up Front
It's not really that much of a dilemma if I think about it because Nuuly is much more affordable. The average clothes there are more in line with my lifestyle as a writer, mom, and someone who sticks with classics in her closet but likes to branch out and try new trends and styles. Rent the Runway, while not 100 percent full glam, just feels a bit intimidating for me to bring home to meet my favorite pair of (not designer) blue jeans.
Rent the Runway represents the person I used to aspire to be, but Nuuly is reality. And don't get me wrong–they carry all kinds of styles. They have basics (I'm totally buying the long, hooded rust-colored cardigan to keep) and more exciting pieces for when life's not just car line, coffee runs, and a trip to Target.
I wish I'd taken advantage of Rent the Runway's existence when I needed to buy dresses for fancy company parties. I always resented wasting the money on dresses I'd never wear again, and the shopping part was miserable.
For now, though, Nuuly is the way to go, and I think it's a better fit for most people. They aren't perfect, though; they don't address sizing issues as well as Rent the Runway. Or at all.
The Main Differences Between Nuuly vs. Rent the Runway
Nuuly has one plan, whereas Rent the Runway has several options.

Nuuly requires you to send all items back before ordering more, whereas Rent the Runway lets you send a few back at a time and get more.

Nuuly is on the more affordable end of the scale, whereas Rent the Runway is pricier (especially in the upper tiers).

Nuuly is more focused on casual, everyday wear, whereas Rent the Runway has a mix but seems like a better choice for special events.

Nuuly only sends one shipment per month, whereas Rent the Runway allows you to swap out items throughout the month in line with the plan you chose.

Nuuly won't help you if something doesn't fit, whereas Rent the Runway will.

Nuuly doesn't offer a rental option for individual pieces, whereas Rent the Runway does (it's expensive, you have to schedule it, and you don't get to keep the item or items for more than eight days if you go this route). 
Nuuly Overview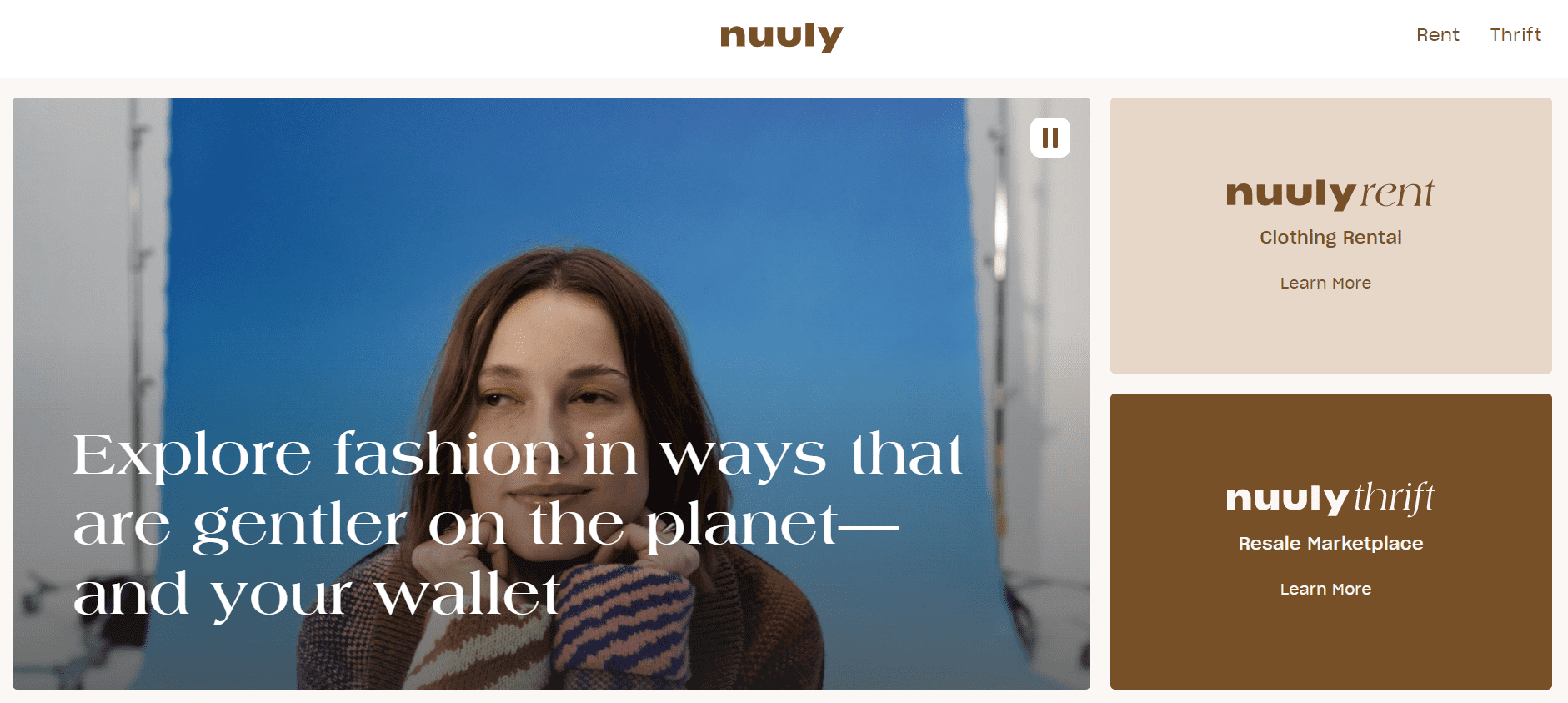 Nuuly is a good option for everyday wear, especially if you're looking for outer layers, like cardigans and jackets, to mix things up. Here are some of the things you should know before signing up for this service:
You get six items at a time and keep them for the whole month. No swaps, so choose wisely.

They do the laundry, so you don't need to worry about it.

Going through the checkout process is easy if you want to keep something you rented. 

You get a discount since the clothes aren't brand new, but they're generally in good condition. The discounts are deep, too. I rented jeans that I could buy for a whopping 75 percent off.

There's only one plan, which keeps things simple and easy.

Because there's only one plan and you don't get unlimited swaps, the bandwidth it'll take up in your brain is limited to choosing your pieces and then remembering to send them back–easy-peasy. (Albeit kind of a bummer if you'd like more.)

They offer Standard sizes in 00 to 18, Petite in 00 P to 18 P, and Plus in 16 W to 34 W.
Nuuly Pros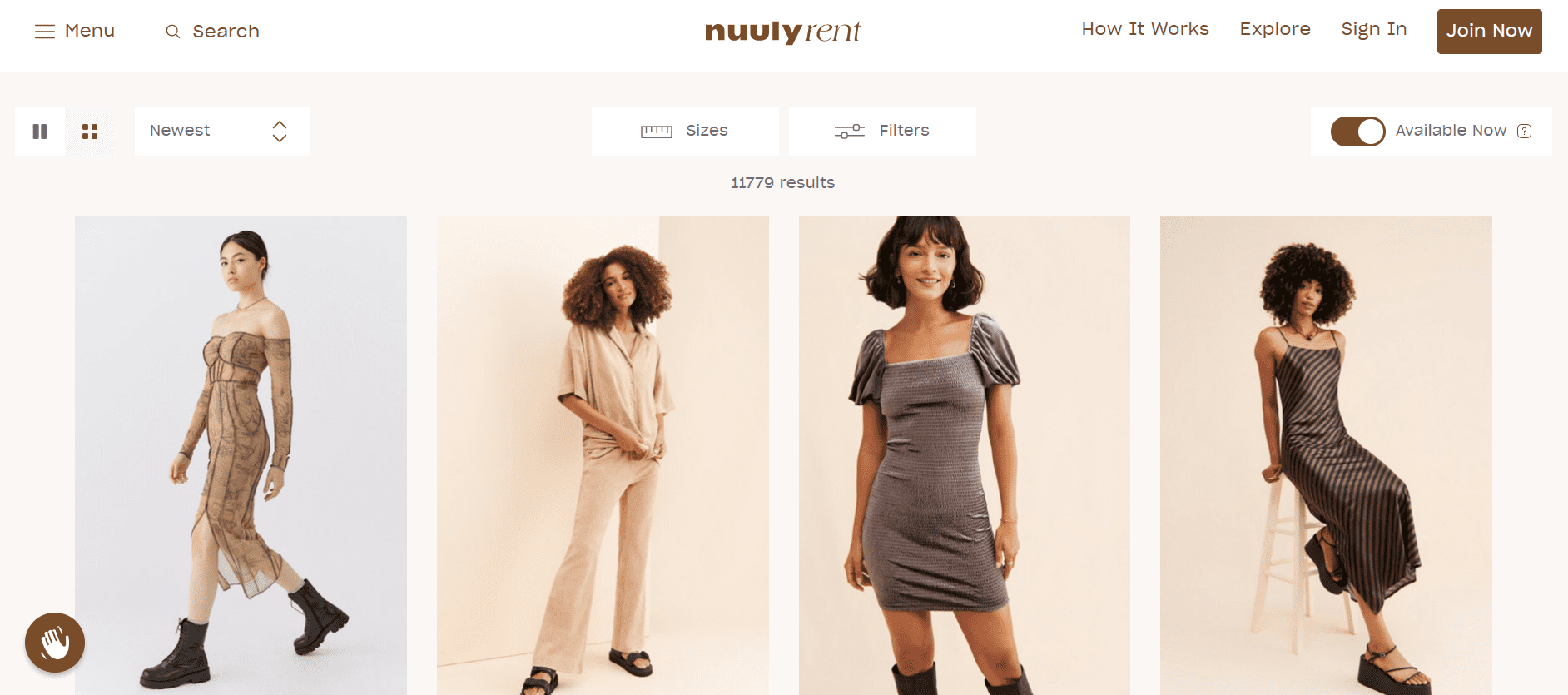 You get six items to keep for the whole month. You can keep them longer if you want to, but you're still charged a subscription fee. There's no late fee, though. 

There's a variety of clothes to suit different lifestyles and style preferences. They're nice, clean, clothes in good condition. I thought one shirt looked a little too worn, and it was more cropped than expected as if it had shrunk in the wash, but it was still wearable.

You get all the clothes at once, with no need to cycle through your picks through the month as you mail things back and forth.

This is one of the more affordable options, and it still gives you a lot of pieces at once so you can mix and match them through the month if you plan carefully.
Nuuly Cons
You only get six items per month. No swaps. You can't clean the items yourself, so keep that in mind when you choose things to keep all month. 

If you get the wrong size, you're out of luck. Money wasted. Some of the things I tried didn't fit even though I ordered my usual size, and nothing was to be done about it. That threw a wrench in my outfit plans. 

There's only one plan available, which feels refreshing until you compare it to Rent the Runway's options and the ability to get up to 16 pieces in a month.
Rent the Runway Overview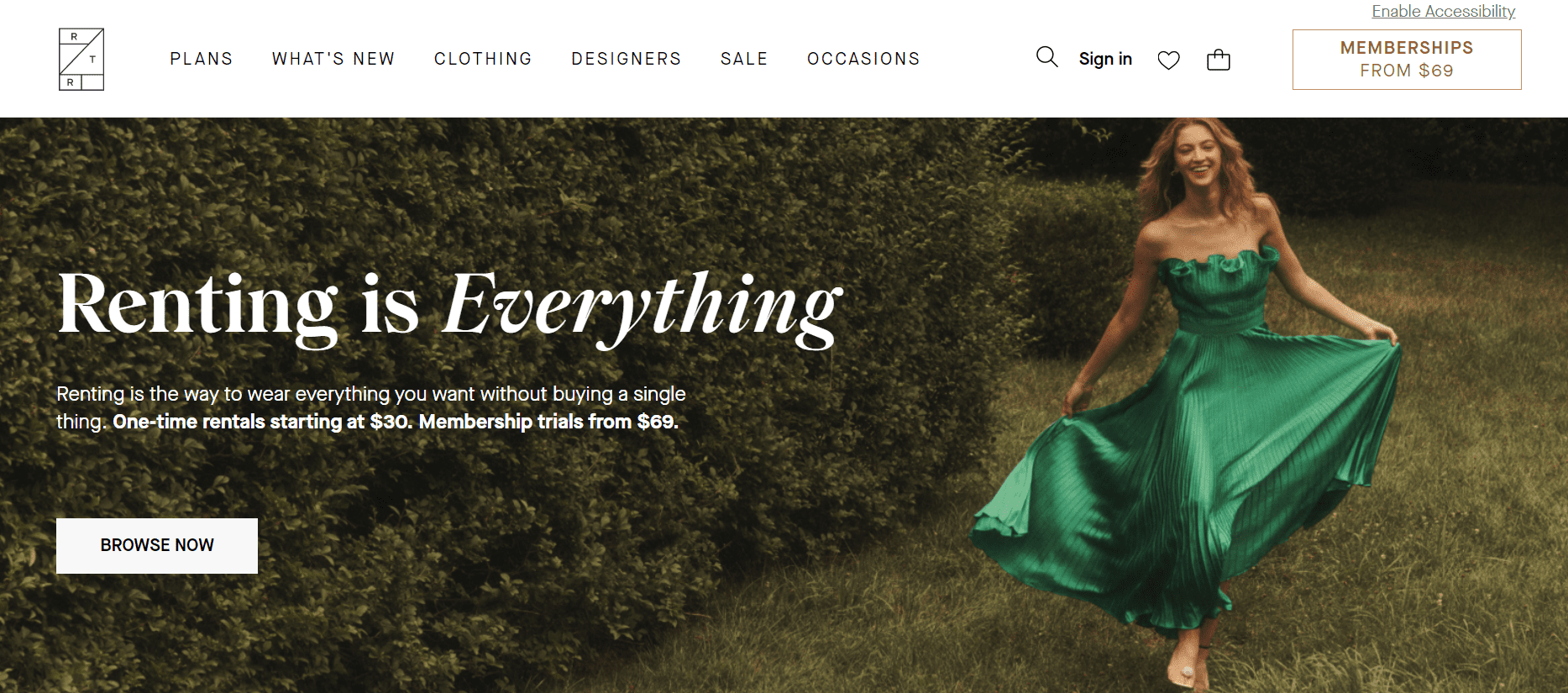 Rent the Runway is the perfect option if you've ever wondered what it'd be like to dress like a model or celebrity. Their fashions are designer and expensive, but you get to try them on and wear them out for a fraction of the price. You can even buy them for a more palatable price than retail. Here are some of the key features:
Depending on your chosen tier, you can get four, eight, or 16 items per month.

You can only have four things rented at once, regardless of the plan.

As of this writing, a discount on your first two months is available, making it even more affordable.

You have the option to rent outside of the membership. Still, you don't get to keep the items as long, there's scheduling involved, and you'd probably save money to just give the membership a trial run and try more designer pieces in the process. 

This is the ideal option for glamorous special events, even if you'd rather use other services for day-to-day life. 

They do the laundry–you don't wash (or alter, just FYI) any of it.
Rent the Runway Pros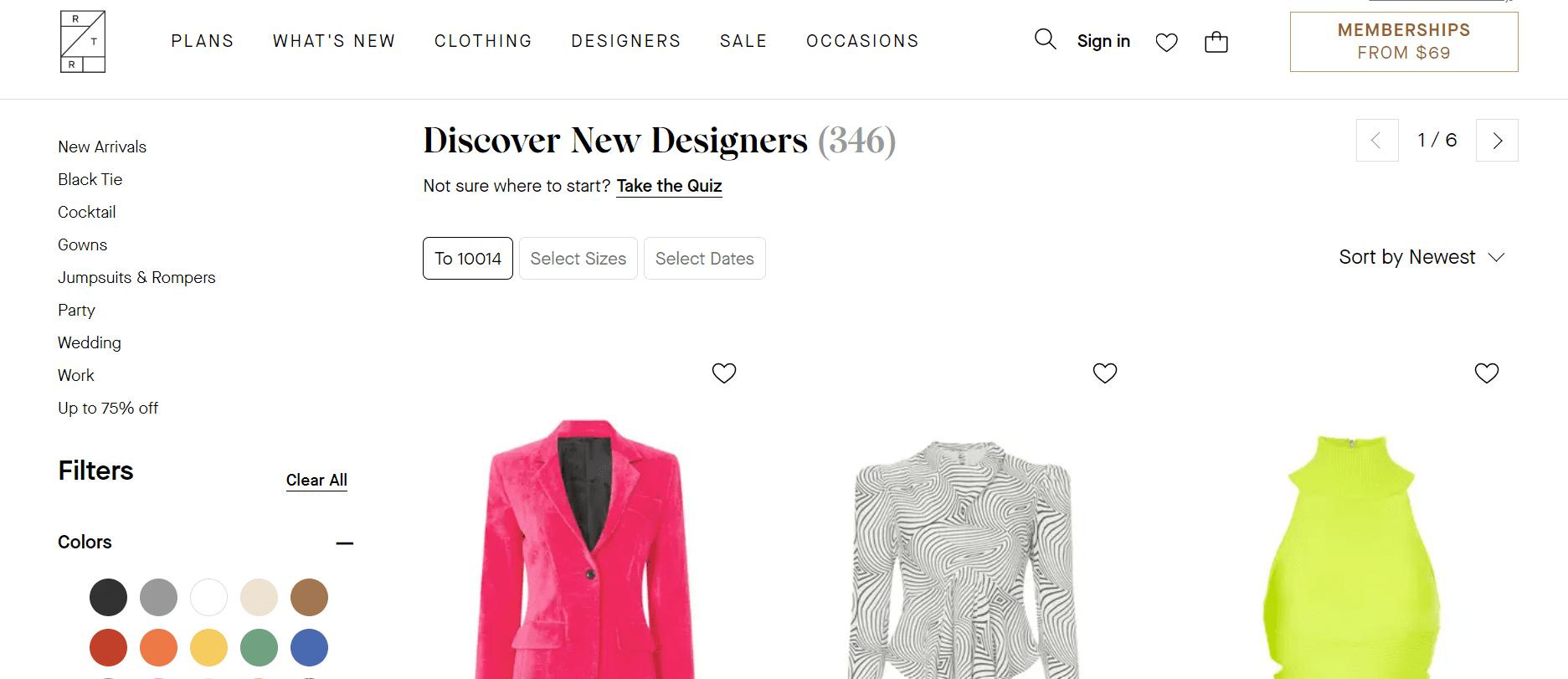 You get to wear clothes the average woman wouldn't be able to buy regularly. You get to wear clothing you may have only dreamed about in the past and you don't have to go broke. 

You're allowed to rent one thing at a time, though it's not cost-effective to do it that way unless you just need one thing once and have absolutely no interest in membership.

When you have a membership, you can send part of the items back and get new ones. You don't have to return everything at once the way you do with most other companies that work this way.

You can choose items for a new shipment before you send your current one back.

You can buy designer items at heavily discounted prices when you're a member (you can't purchase the items you rent outside the membership). This is one way to accomplish your dream of having a closet full of designer items.

You get help (from a computer, not a stylist) in choosing the right size. If something doesn't fit, they help you find a replacement.

Sizing runs from 00 to 22, and there are also maternity clothes.
Rent the Runway Cons
This is one of the most expensive clothing rental options I've found. They're working with more expensive clothes, so it's understandable. Still, unless you really need or want the more expensive clothes, you could probably be just as happy with an option that costs less.

Regardless of your plan, you can only rent four things at a time. You'll just get more swaps through the month with the higher tiers. That means you'll probably always have a tab open in your brain. You'll be thinking about when to wear what you just got, when to send it back, what to order next, when it'll show up, etc., just to make sure you get your money's worth (especially when you're trying to fit four sets in per month).

When you rent individual items outside the membership, you choose a rental date and have a window of time to wear and return them. Sometimes, it can feel like you're cutting it close to get an item in time for an event. They ship just a couple of days before your window starts.
Other Options to Consider
Wondering what else is out there before you go all-in with Nuuly or Rent the Runway? You might have a better match, depending on what you need and your reasons for renting clothes. Here are some other options: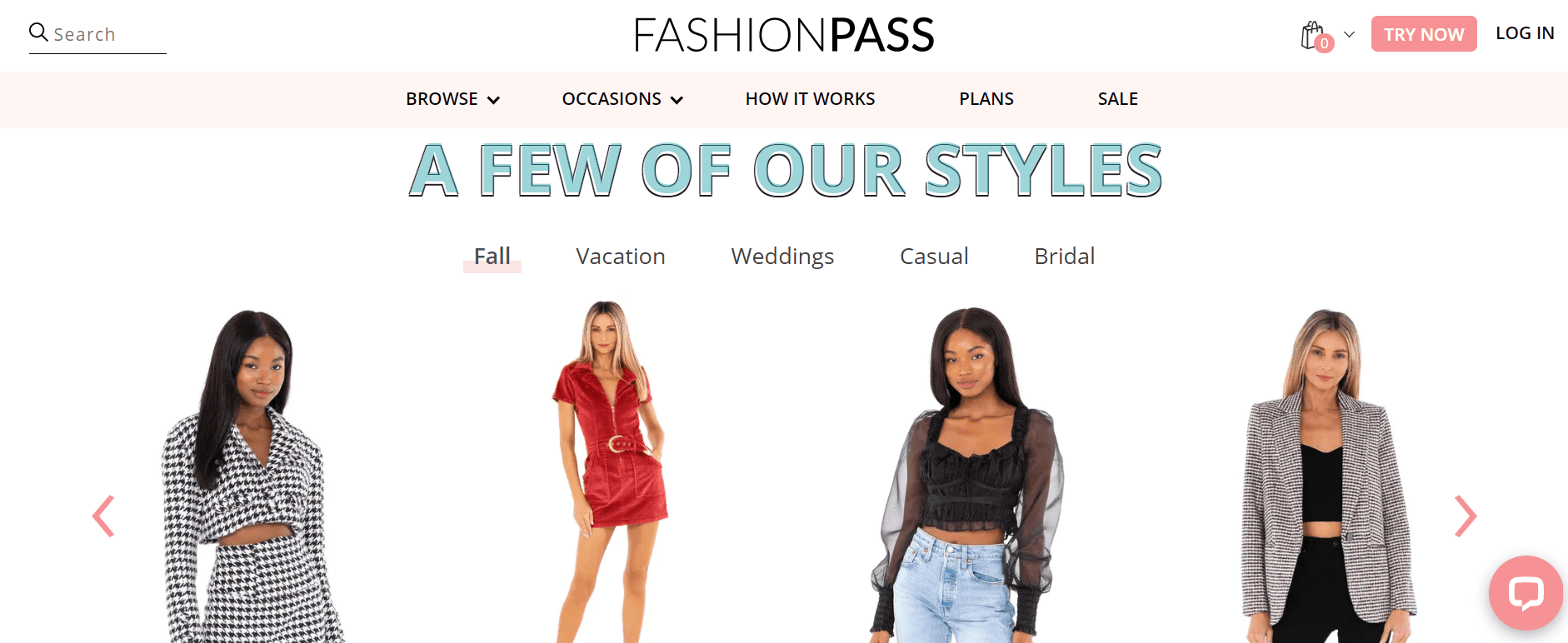 In my mind, FashionPass is most similar to Nuuly. Still, they have tiers to choose from, and each tier includes accessories.
You can also swap the clothes throughout the month the way you can with Rent the Runway–for much less money.
You won't get the same high-end designer styles you can find on Rent the Runway, but it's a good option for the average person just looking to explore new trends and spice up their wardrobe.

Gwynnie Bee is a clothing rental service like Nuuly and Rent the Runway. You get unlimited exchanges and have the option to keep things you love for a discounted price.
They have built-in tools to help you get the right size, which takes some guesswork and anxiety out of the process.
They offer styles in sizes 0 to 32. A range of plans and pricing covers one item at a time for $49.00 to 10 at a time for $199.00.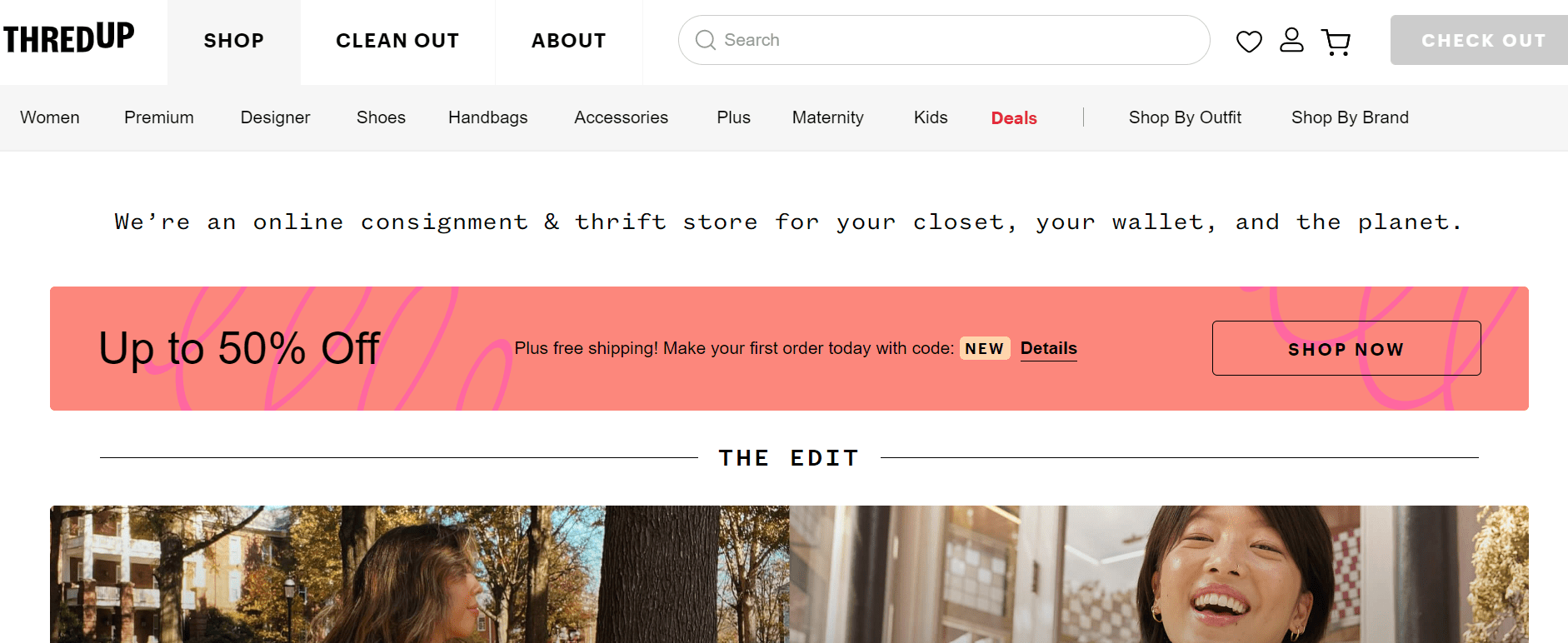 ThredUP isn't a fashion rental company, but you can get some nice (thrifted) things at a fraction of the price. Depending on why you were looking into Nuuly and Rent the Runway in the first place, it might be helpful for you. You can save money and keep clothes out of the landfill this way.
My experience with them was mixed, but there are some definite gems on the site! My daughter was able to score a few. 
If you're familiar with Stitch Fix, Wantable is similar. Wantable sends you brand new clothes, chosen by a stylist, for you to decide whether to keep or send back.
It's not a rental service, but it is a way to freshen up your wardrobe like clockwork–and you don't even have to spend the time shopping.
Just tell them what you like and want or need, and let the stylist do the rest. Pay the $20.00 styling fee that applies to anything you buy, wait for your seven items to show up, decide what you want to keep, and send the rest back. If you love at least five times enough to keep them, you get a 20 percent discount.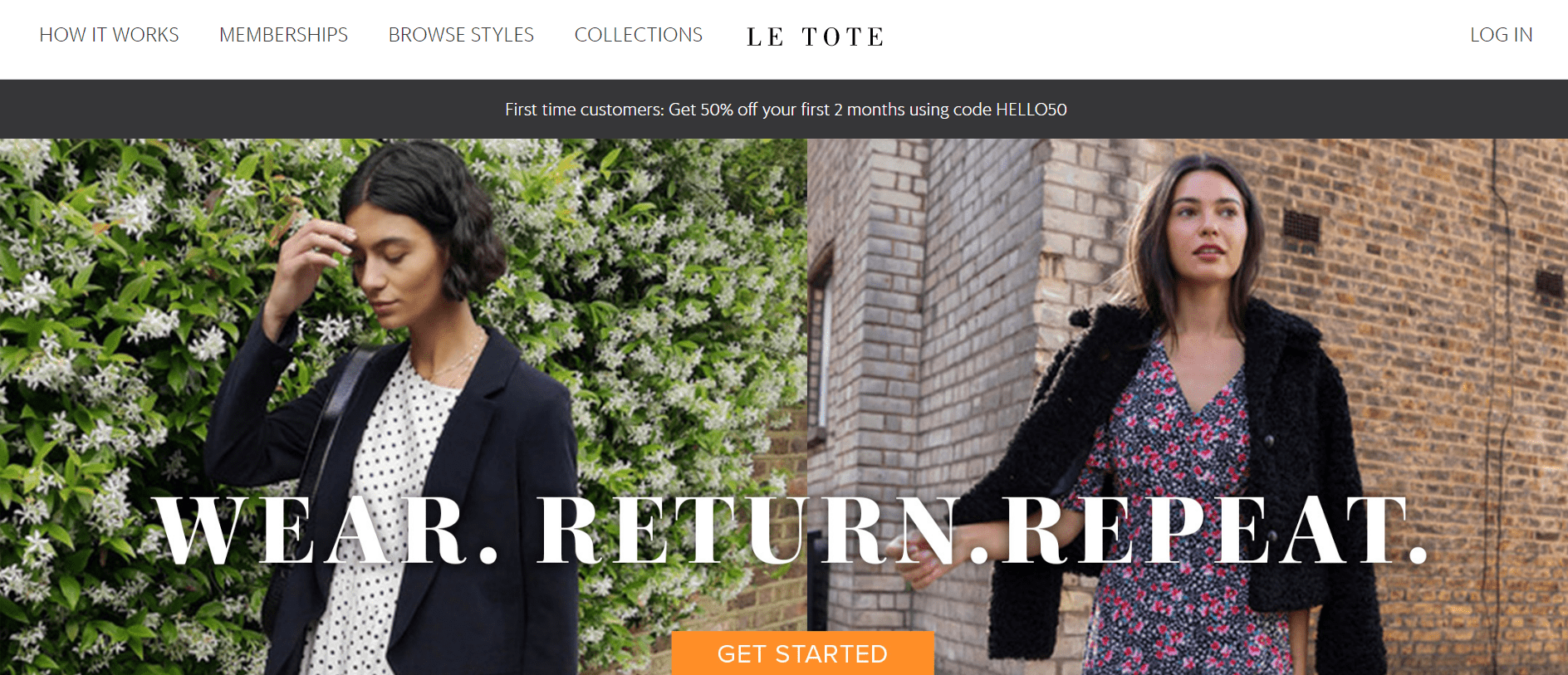 Le Tote is another rental service. You can choose between two plans–four items of clothing or three items of clothing and two accessories. It's primarily everyday wear and work attire, but there's a "Going Out" category, too.
You'll have to return everything together, as you do with Nuuly, unless you want to purchase one or more items. In that case, you can get up to a 50 percent discount.
FAQs
You probably have lots of questions. I sure did before I started checking these kinds of companies out.  
Question: Is Nuuly owned by Anthropologie?
Answer: They're both owned by a company called URBN.
Question: How fast does Nuuly come?
Answer: My order took about three days. I ordered late on Wednesday and had it on my porch on Saturday morning. It can take up to five business days from start to finish, though. 
Question: Can I keep an item for another month with Nuuly?
Answer: Technically, you could, but you'd have to keep all the items. You can't send the other things back and swap them out while holding onto one thing unless you buy it. From what I understand, you'd be billed another $88.00 to hang onto the same items for another month, but there's no "late fee," so to speak. 
Question: Can you exchange sizes on Nuuly?
Answer: No, and this is really my only beef with them.
Question: Does Rent the Runway arrive early?
Answer: It's unlikely that you'll get your clothes early. They ship them out one or two days before your rental date, so they'll show up by 10:00 PM the day your rental period starts. Be sure to schedule accordingly. If you need something on that first day, you'll probably want to try to schedule a day early. A little wiggle room never hurts!
Question: Can you alter Rent the Runway dresses?
Answer: No, you can't. They recommend using fashion tape and then removing it before you send them back.
So…Nuuly or Rent the Runway?
I choose Nuuly, but be careful about your sizes since there's no going back. Nuuly's styles are more casual overall and better for the average person, living an average, everyday life with some fun events or getaways thrown in here and there. It also costs less, though it's annoying that you only get six items per month for the price.
If you're always looking for designer clothing and have a lot of events–or you're just really into designer fashion and shaking things up with more unusual options–Rent the Runway could be for you. It's not my personal preference, but that doesn't mean it won't be yours. If you can swing the monthly price without sacrificing the clothes you need to buy and keep in your closet long-term, there's no reason not to try it.
Recommended Reads: