Latest posts by Lauren Vigdor
(see all)
Although I try to eat healthy, I'm not someone who generally follows diets. I try to eat intuitively and focus on balanced nutrition, whole foods, and eating seasonally.
Because of this, a lot of my eating habits tend to line up with the ethos of the Mediterranean diet (that is when I'm not tasting my way through a big box of gourmet steaks). If I were going to follow a diet, that would be it. Fresh seafood, olive oil, and the occasional glass of wine—all with no strict rules? Sign me up!
My biggest problem with following any sort of diet is the amount of time it takes to plan, shop for, and prepare meals. Without these necessary steps, it's pretty much impossible to stick with any sort of diet, but I don't always have that kind of time.
Luckily, I'm a huge fan of meal subscriptions for their convenience and the kid-on-Christmas-morning glee I get every time I unbox a new order.
So why not see if I could use them to make sticking to a diet easier? I've rounded up the best Mediterranean meal delivery services below so that you can choose the one that works best for your lifestyle.
Bottom Line Up Front
I like all of the meal services on this list for different reasons, which I've listed, but I think the best Mediterranean meal delivery service overall is Sunbasket.
I also really love Green Chef for the Mediterranean diet, as their ingredients are super high quality, and I really enjoyed the meals that I tried there as well! They are a certified organic meal delivery service that really delivers, so if quality, organic ingredients are important to you — choose Green Chef!
It's not exclusively a Mediterranean meal service, but the organic meal kit and prepared meal subscription has a ton of Mediterranean options, and they make it easy to view them all and choose a Mediterranean plan.
What is the Mediterranean Diet?
The Mediterranean diet is inspired by the traditional diets of coastal Mediterranean countries like Greece, Spain, Turkey, and Lebanon. It's not a diet with a strict set of rules. Rather, it's a flexible way of eating that emphasizes plants, lean protein, and "good" fats.
Some of the key characteristics of the Mediterranean diet are:
An emphasis on whole foods.

An abundance of fresh vegetables, fruit, legumes, whole grains, nuts, and seeds.

Lean proteins like fish, poultry, eggs, and plant-based protein. Meat is also consumed in smaller portions compared with many Western diets.

Olive oil is the primary cooking oil and fat source used in the diet, as opposed to other vegetable oils or animal fats like butter.
Some things that the Mediterranean diet limits or excludes are:
Red meat is only consumed infrequently and in small amounts.

Dairy is limited, though you'll often see cheese or yogurt included in the Mediterranean diet.

Limited wine consumption is actually considered ok on the Mediterranean diet—cheers!
Since the Mediterranean diet is flexible, well-balanced, and packed with nutrients, it's often considered an ideal form of healthy eating.
I personally love the flexibility (and it doesn't hurt that some of my favorite foods in the world come from that region!) While it's not a weight-loss plan per se, it is possible to incorporate the Mediterranean diet into a weight-loss program if that is your goal. The diet has also been linked with improved heart health and blood sugar regulation.
The Best Mediterranean Meal Delivery Services
Meal subscriptions are one of my favorite ways to simplify my diet, especially when I'm busy. I took a look at several meal delivery services to see which ones best catered to the Mediterranean diet.
Selection Criteria
To even be considered for this list, the meal services I looked at had to meet the following criteria:
All of these delivery services have plenty of weekly options for those following the Mediterranean diet.

I chose services that also included meals with Mediterranean-inspired flavors.

All of them had to be available as a subscription.

All of the subscriptions on this list had to be easy to pause or cancel. (Check out my

Thrive Market

review to see why this is something I will always check now!)

Sunbasket isn't strictly a Mediterranean meal delivery service. They're a subscription service that sells meal kits and premade meals made with 98% organic ingredients.
That being said, they're one of my favorite places to get Mediterranean meals. When you sign up for a Sunbasket subscription, you'll select whether you prefer meal kits or "Fresh & Ready" prepared meals (you can still choose from both when you place your order), and then select that you follow the Mediterranean diet.
If you let Sunbasket autofill your weekly order, they'll only fill the box with meals that align with the Mediterranean diet. If you want to pick your own meals each week, you'll always be able to choose from the full menu, but they'll make sure to show you Mediterranean diet meals first.
Meal kits will arrive as a bag of ingredients and the recipe needed to cook your meal at home, while Fresh & Ready meals will arrive ready to reheat and eat.
Of all the delivery services on this list, their Mediterranean meals are some of the most attuned with what I think of when I picture the Mediterranean diet. They're vegetable-forward meals made with organic produce, lean fish and meats, and healthy fats.
Key Features
Meal kits, fresh (not frozen) prepared meals, and grocery items.

A lot of variety and global flavors.

98% USDA-certified organic ingredients.

Meal kits serve two or four people; "Fresh & Ready" meals are single-serve.

$11 to $14 per meal.

Some meal kits are customizable.

Delivers to most of the continental United States.
Pros
You can combine meal kits and premade "Fresh & Ready" meals in your subscription.

They make it easy to select a Mediterranean diet and sort meals.

They have an extensive selection of add-ons and grocery items.

They have "speedy" meal kits that only take 15 to 20 minutes to prepare.
Cons
Certain meal kits, labeled "Chef's Table," are more expensive than their regular meal kits.

Their recipes only include an image of the final dish, no progress photos for the steps.

I found their website a bit less user-friendly than some of the others on this list.
Green Chef: Highest-Quality Ingredients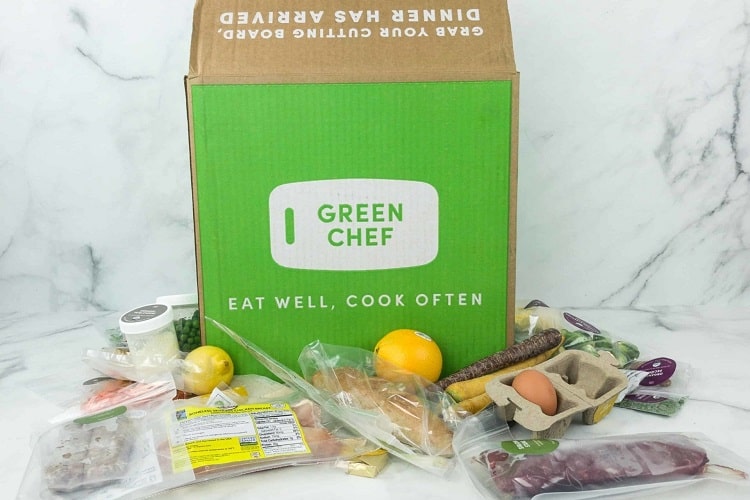 Green Chef is a certified organic meal kit subscription. They source fresh produce and protein from local, sustainable farms as much as possible. Just like Sunbasket, they aren't strictly Mediterranean but do offer a Mediterranean plan.
When you sign up for the Mediterranean plan, they'll tailor your suggestions to highlight meals that meet the criteria for the diet, but you'll also have access to their other meals, many of which are suitable for plant-based, gluten-free, high-protein, keto, and more.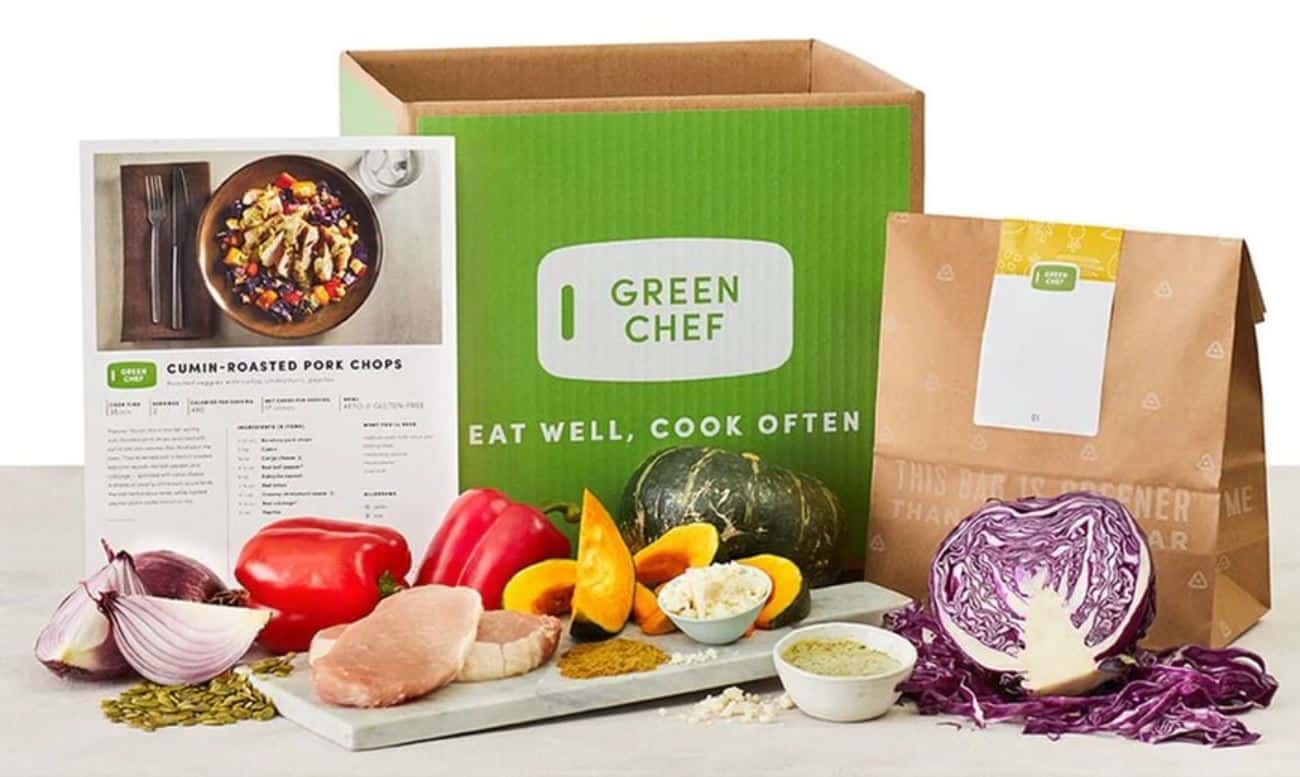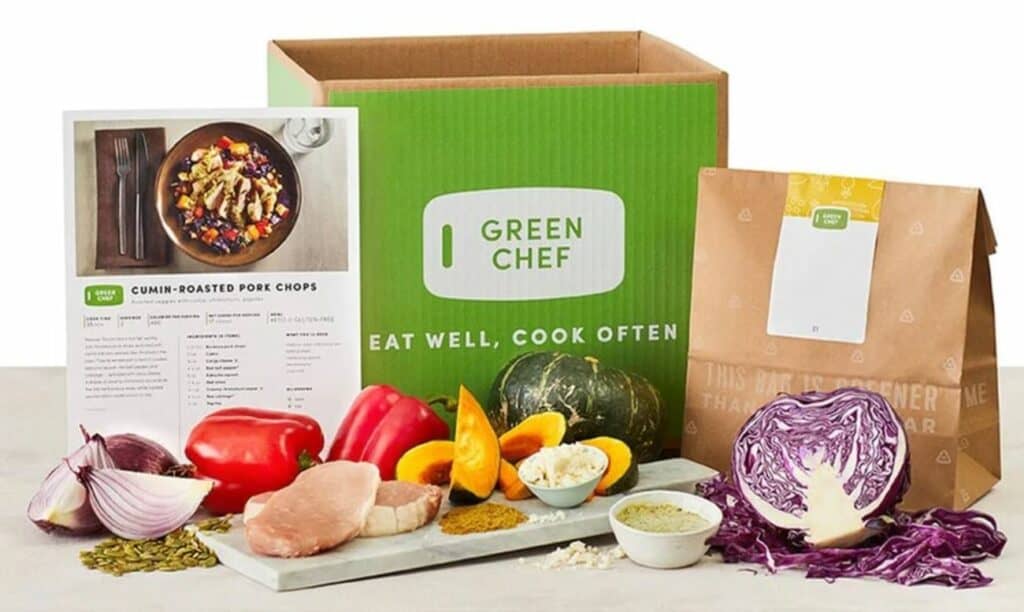 They usually have five to seven designated Mediterranean meals available each week, but in my experience, several more of their weekly meal options meet the criteria for the diet, even without being labeled as such.
Many of the meals are labeled with more than one corresponding diet (like calorie-smart, gluten-free, and veggie, for example), but it seems like they may limit the labels to three per meal.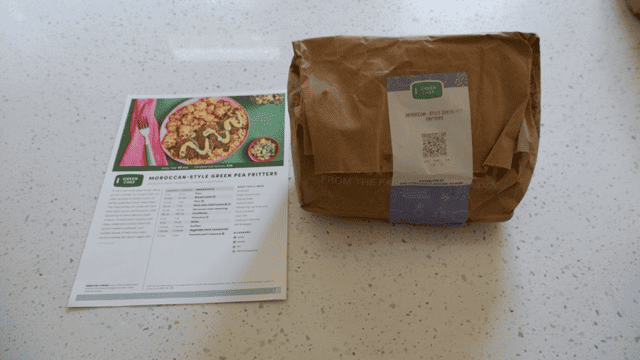 Green Chef is one of my favorite meal kit subscriptions for their ingredient quality, commitment to sustainability, and overall taste. They don't have quite as many Mediterranean options as Sunbasket, but they're still an excellent, flexible option.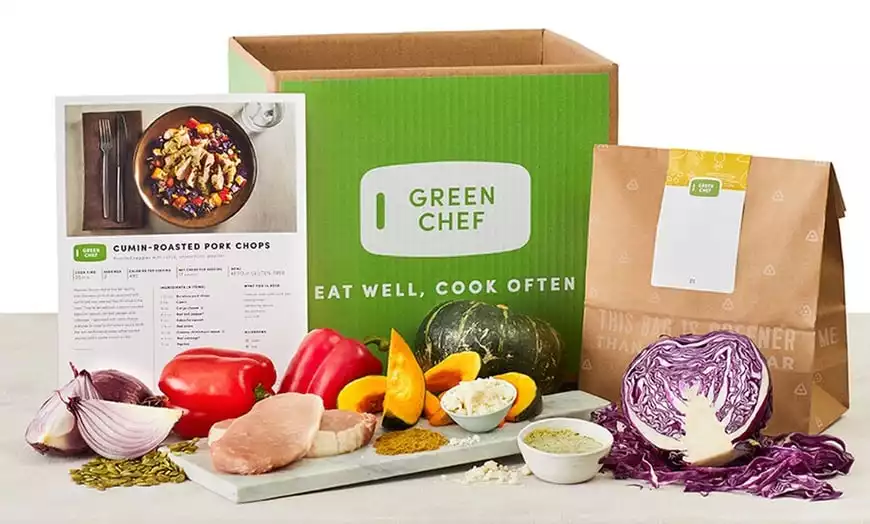 Why Go With Green Chef?
Green Chef is a meal kit service that delivers boxes filled with fresh ingredients on a weekly, biweekly, or monthly basis to make chef-curated meals. Diet and allergen friendly options, are one of the reasons I love Green Chef.
Choose Your Plan
$250 Off for Cyber Week Here
We earn a commission if you click this link and make a purchase at no additional cost to you.
Key Features
Organic meal kits.

Good for omnivores.

Meal kits come with easy-to-follow recipe cards and take about 30 minutes to prepare.

Delivery to 48 contiguous U.S. states.

Meals serve two, four, or six people.

Meals cost around $12 to $13.50 per serving.
Pros
I love that they're all organic.

Their fresh, whole ingredients are ideal for the Mediterranean diet.

Their meal kits are customizable. You can swap out or upgrade your proteins.
Cons
Green Chef doesn't make it as simple to sort by diet/lifestyle as some other subscriptions.

Not all of the meals compliant with the Mediterranean diet are labeled.

They don't carry prepared meals.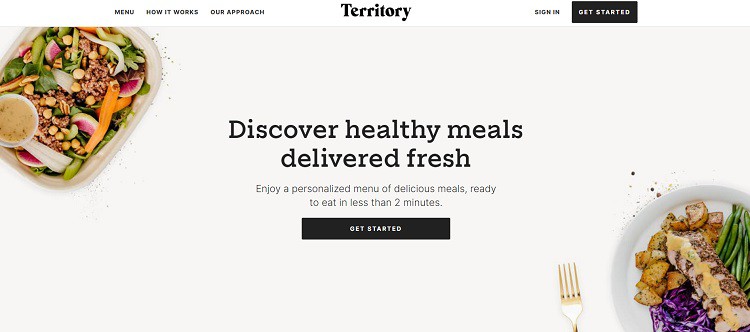 Territory Foods is a fresh prepared meal delivery service that's available as a subscription or one-time order. They focus on sustainably sourced nutrient-dense ingredients and specifically cater to several diets like Mediterranean, keto, paleo, low-carb, and plant-based. All of their meals are gluten- and dairy-free.
They have more than a dozen meals that are compliant with the Mediterranean diet, and they list the nutrition and macros for their meals right on their website.
Their meals are crafted by independent, regional chefs and are shipped fresh, not frozen. They focus on local companies as much as possible, even working with local delivery companies. Their partner chefs are responsible for sourcing ingredients, and some prioritize organic ingredients, whereas others prioritize those sourced from small, local farmers and producers.
I think that Territory Foods is one of the most convenient ways to follow the Mediterranean diet, especially if you're using it as part of a weight-loss of overall health plan.
Key Features
Prepared heat-and-eat meals.

Meals are single-serve.

Subscriptions or one-time ordering.

Gluten-free and dairy-free.

Meals range from around $14 to $18 per serving.

Seasonal menu that doesn't change week to week.
Pros
They include a sticker on their meals that indicates whether they've arrived at a safe temperature to consume. I think this is genius, and I don't know why all temperature-sensitive delivery services don't do this!

Subscriptions receive a 5% discount over a la carte ordering.

They have up to 90 meals to choose from each week.

Their site makes it very easy to sort meals by diet, ingredients to avoid, and calorie or sodium levels.

It works like a guided nutrition plan but isn't as expensive as working with a personal nutritionist.

The meals are made by local chefs.
Cons
They deliver across the United States but aren't yet available everywhere. (

Enter your zip code on their site

to see if they'll deliver to you).

Their meals are more expensive than the others on this list.

They don't do meal kits.

The menu isn't updated every week, so there's a chance you'll get bored of your options.
Fresh N Lean: Best for Cuisine Variety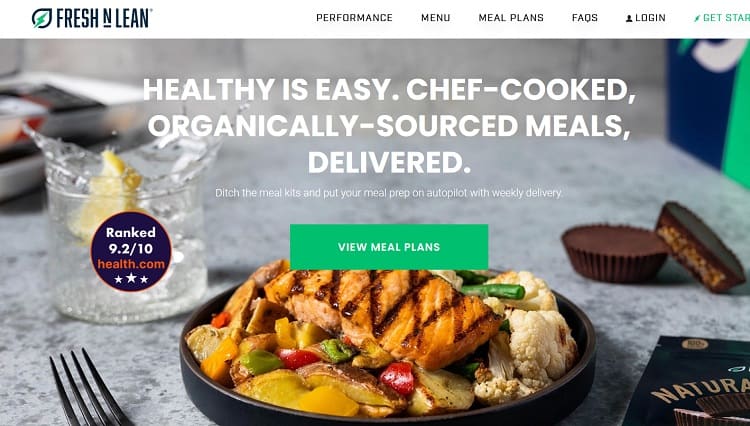 Fresh N Lean is a single-serve premade meal subscription. They specifically cater to eight different diets/lifestyles: keto, Whole 30, protein plus, paleo, standard vegan, low-carb vegan, bulk, and the Mediterranean diet.
When you sign up for a subscription, you can choose to mix and match your meals from any of these diets, but I think the subscription works best for individuals looking for an easy, guided way to stick to one of these diets.
Fresh N Lean makes it easy to learn about and stick to your diet. Not only do they provide you with fresh, convenient meals, they also have a ton of useful information on their website. Here, you can learn about the macros, key ingredients, and what foods to avoid on the Mediterranean diet.
Their menu rotates weekly, but they generally have around 10 to 12 Mediterranean lunch/dinner options and seven Mediterranean breakfasts available on a given week. The meals are varied and colorful, so you won't get bored. Even though they fit the Mediterranean diet, you won't find strictly "Mediterranean" flavors on the menu.
Sure, they have Tuscan fish with herb-roasted vegetables, but they also have dishes like bang bang shrimp with broccoli and coconut rice, smoky red sauce enchiladas, and Caribbean jerk chicken listed on their Mediterranean diet menu.
You can sign up for a weekly subscription (choose one, two, or three meals a day and the number of days a week you want meals), or you can order Fresh N Lean meals a la carte.
Key Features
Ready-to-eat meals.

Fresh, not frozen.

Caters to specific diets and lifestyles, including Mediterranean.

Meals can be reheated in the microwave, oven, or stovetop.

Delivery to all 50 states.

Meals cost around $10 to $15 depending on what and how many you order.
Pros
This is probably the easiest plan to use if you're looking for a straightforward way to follow the Mediterranean diet.

The meals are freezable if you don't get to eat them right away.

They take only a few minutes to reheat and don't require any prep or cleanup.

You can add extra meals, snacks, and protein to your order.

They take precautions with allergies and cross-contamination. They offer gluten-free, dairy-free, and soy-free options and process vegan meals separately from those containing animal products.
Cons
Some of their meals can be expensive.

I prefer the quality of a meal kit to a heat-and-eat meal.

Their meals are somewhat high in sodium.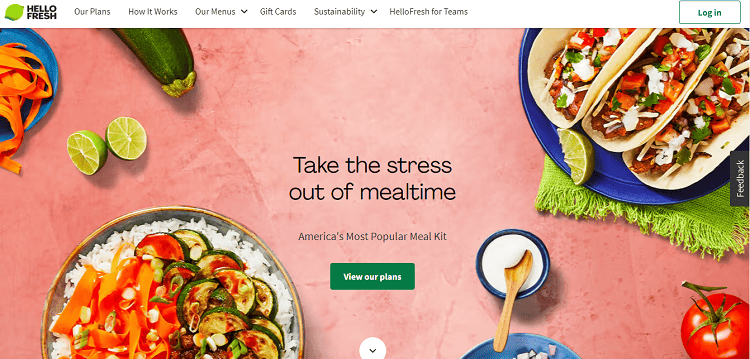 HelloFresh is another meal kit service that caters to omnivores and several different diets/lifestyles. They usually have plenty of Mediterranean meal options each week, but one word of warning: not all of their "Mediterranean" meals necessarily follow the Mediterranean diet—some are just made with Mediterranean-inspired flavors.
That being said, they do have a large selection of meal kits each week that meet the criteria for the Mediterranean diet (more than many other meal kit subscriptions, in fact); it's just a bit more challenging to search for them.
They don't have a Mediterranean-specific plan that you can sign up for like many of the other services on this list. In fact, I almost disqualified them as a result, but I felt like I needed to include them because they do have so many options and so much variety available each week that meets the diet's criteria.
They're also an excellent, flexible subscription that's a bit more affordable than some of the others on this list.
Key Features
Weekly subscription (choose two to six meals per week).

Meals serve two or four people.

Simple, family-friendly meal kits.

Plenty of variety, but no way to sort by different diets (other than vegetarian or pescatarian).

Delivery to all of the continental U.S. and some zip codes in Hawaii and Alaska.

Meals cost around $9 to $12.50.
Pros
HelloFresh is more affordable than the other meal delivery services on this list.

They say they offer at least 50 meals to choose from each week, but in my experience, it's closer to 70+.

Many meals are customizable, and proteins can be swapped out.

Their recipe cards are easy to follow, even for beginner cooks.
Cons
Despite having a ton of Mediterranean meals, they don't have a Mediterranean-specific plan.

It can be challenging to sort through all of the options on their website.

They don't use organic ingredients.
FAQs
Question: Can I follow a vegetarian or vegan Mediterranean diet? 
Answer: It's easy to follow a vegetarian or vegan version of the Mediterranean diet. Plant-based proteins like legumes, pulses, and nuts are already key components of the diet. 
Question: Is wine a mandatory part of the Mediterranean diet? 
Answer: No, wine is not a mandatory part of the Mediterranean diet and should only be consumed in moderation, if at all. 
Question: Can I skip weeks or cancel my meal delivery subscription? 
Answer: All of the meal subscriptions on this list can easily be paused or canceled from the companies' websites. 
Final Thoughts
Your individual needs, preferences, and lifestyle will dictate which Mediterranean meal delivery service is best for you, but I think all of the companies on this list are excellent. My favorite is Sunbasket because I believe they strike the right balance between quality, convenience, and flexibility.
However, if you're using the Mediterranean diet a bit more strictly—to lose weight or for other health reasons, I recommend checking out Territory Foods or Fresh N Lean.
Continue reading
Factor vs Fresh N' Lean: A Keto vs Vegan Showdown
Sun Basket vs Factor 75: A Meal Box Service Showdown!