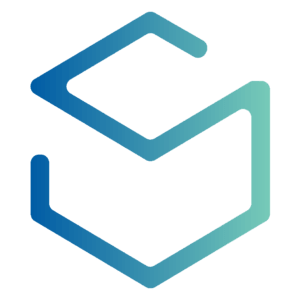 Latest posts by Subscriboxer Team
(see all)
Daily Harvest is a meal delivery service that aims to make eating healthy simple by providing frozen ready to blend smoothies, soups, chia parfaits, lattes, overnight oats and harvest bowls. Cups cost $7.99 to $6.99 depending on the plan that you select. They have weekly and monthly options.
I had been interested in trying Daily Harvest for a while to get a better breakfast routine. I have a great high power blender but the extensive prep and clean up that comes with making smoothies had led me to neglect the thing! I figured that Daily Harvest would be a great way to encourage me to use it by streamlining my busy mornings.
When I signed up for Daily Harvest, I opted to pick my smoothies, though they have a nicely curated collection called The Smoothie Edit. They have similar edits for all of their other offerings. Soon after I placed my order, I received my collection of smoothies in a delivery that was frozen on dry ice. The morning that my Daily Harvest haul arrived, I received an email, so I knew it was on the way.
I managed to be home to get the box inside right away, but according to the company website they use enough dry ice that you can leave your shipment on your porch for several hours.
Once I stocked my freezer with my smoothie cups, I could hardly wait for the next morning to give the delicious sounding flavors a try at breakfast time.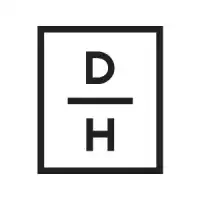 Smoothie #1- Cacao + Avocado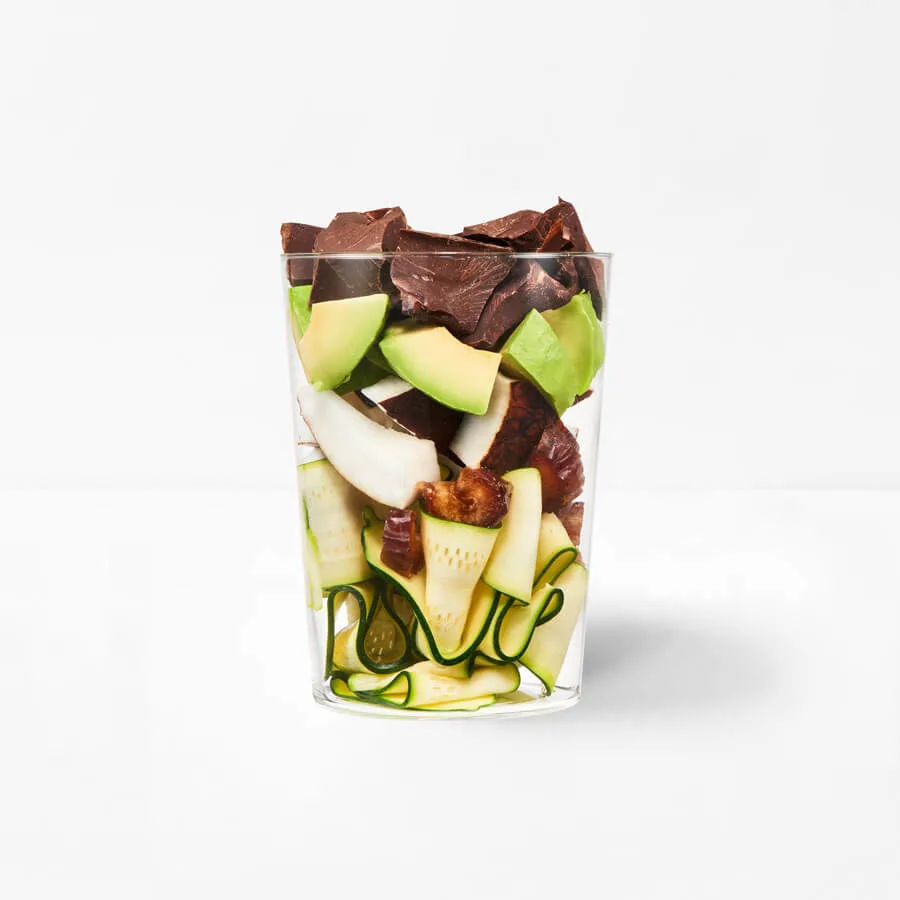 The smoothie included zucchini (which I had never considered as a smoothie ingredient!), pumpkin seeds, dates, avocado, coconut, cacao & pea protein. When I pulled back the top, it was cool to see all of these simple ingredients in little frozen diced up pieces.
I added some milk and popped it all in my blender. After giving it a quick blend, I saw that it needed a bit more time. I blended it for a while so that there were no coconut bits left and the smoothy ended up perfectly smooth.
The final product was so good. It reminded me of a Wendy's frosty more than a healthy smoothie.
Pro– Ridiculously delicious.
Con– I wish I had ordered more!
Smoothie #2- Acai + Cherry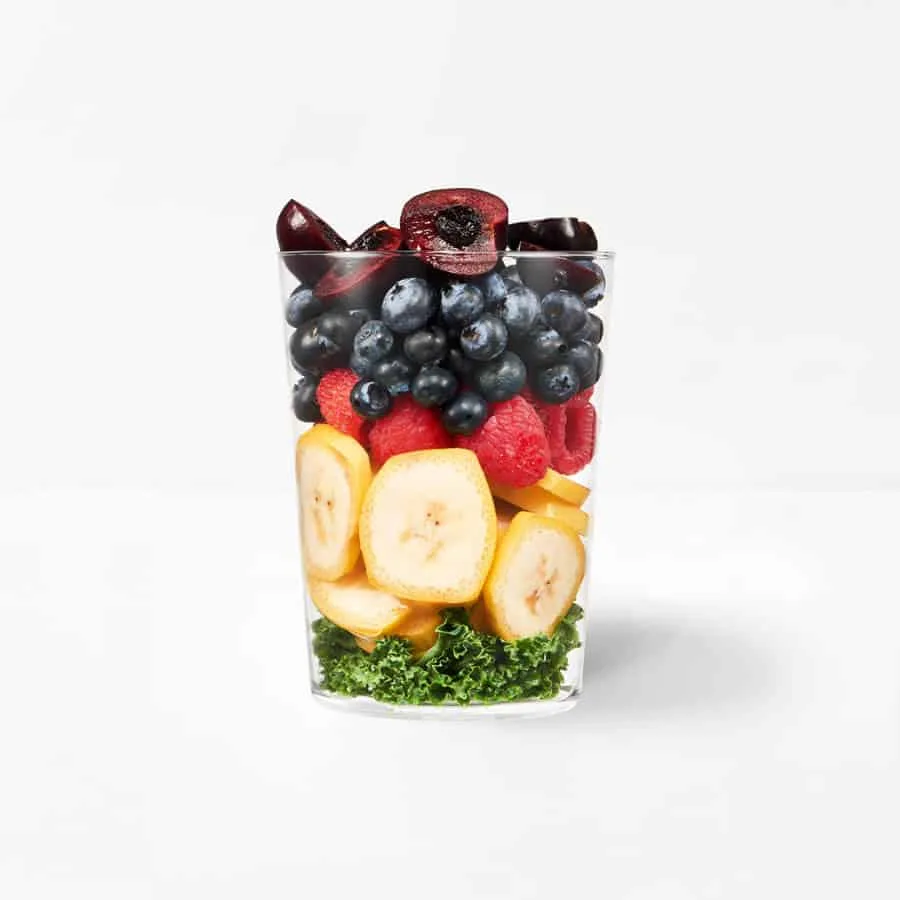 I made this smoothie with water, which is something I have never done before. All of the Daily Harvest smoothies can be made with the milk of your choice or water, and they come up with specific suggestions on each cup.
This one suggested coconut water, so I subbed water for that. The smoothie was light and refreshing with a berry sweetness. The cherry and acai flavors went together really well. It was the perfect way to start my day.
Pro– another winning flavor
Con– I wish I got to try it with coconut water as suggested!
Smoothie #3- Chocolate + Blueberry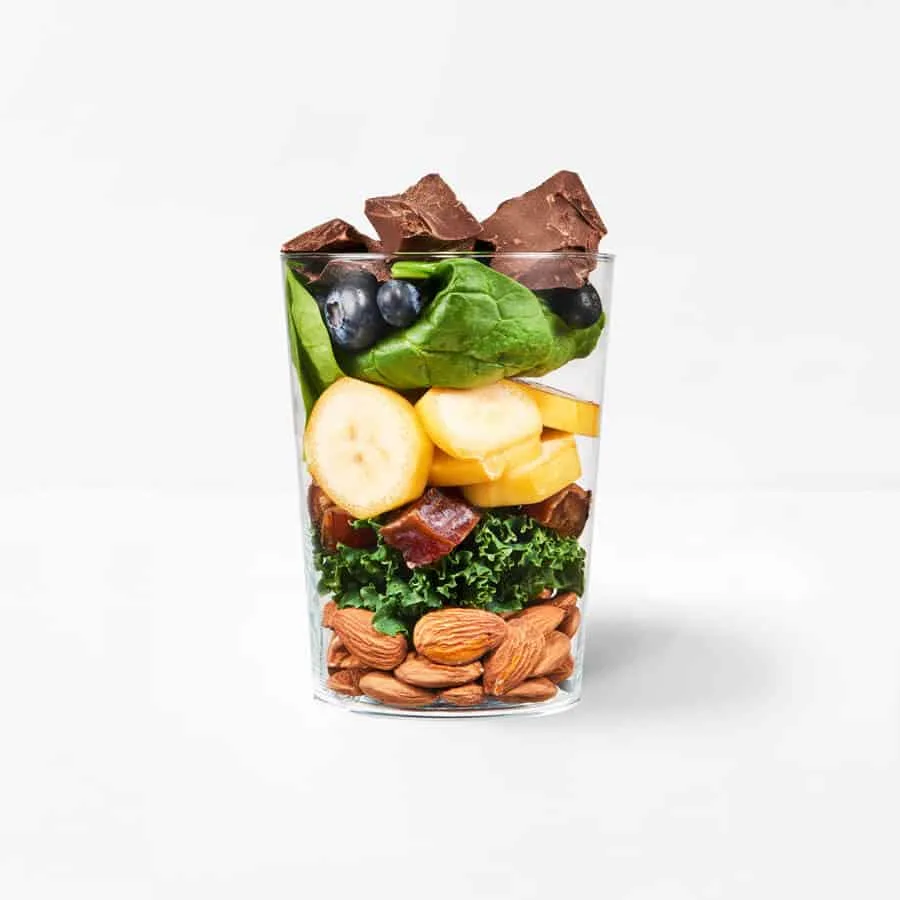 This smoothie was my favorite so far! It had that milkshake quality that I loved about the Cacao + Avocado, but with some of the berry goodness of the Acai + Cherry.
When you make a Daily Harvest smoothie, you pull off the plastic seal of your smoothie cup. Then you will see the contents of your smoothie. In this case, I saw blueberries and greens along with almond, cacao, banana, coconut, and maca.
You add the milk of your choice to the cup until it reaches the top. Then you toss it all in the blender and make your smoothie.
Today I was out the door in under 5 minutes with a delicious breakfast in hand.
Pro– My favorite
Con– Addictive
Smoothie #4- Blueberry + Hemp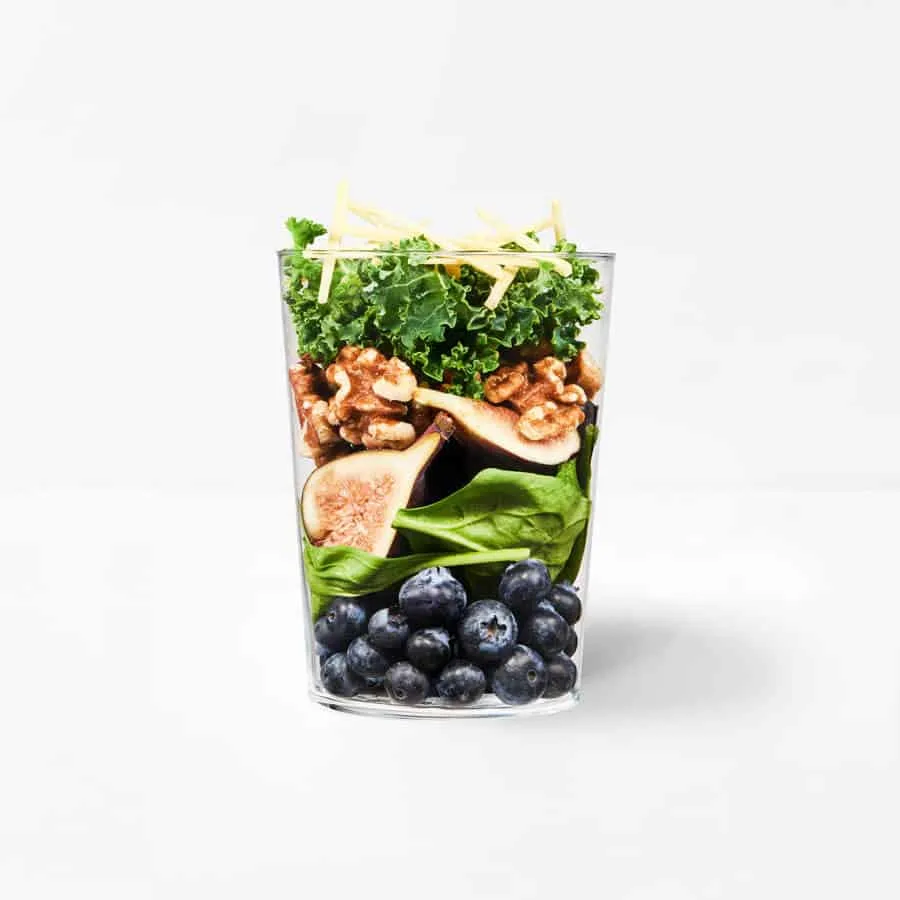 This was another favorite of mine. I actually had it for dessert. If you put the smoothie in the freezer for about 20 minutes, it turns into a healthy version of ice cream.
This way you don't have to feel guilty if you finish the whole container. In retrospect, I totally should have done this with one of the chocolate flavors. Maybe I will next time!
Pro– sweet enough to make a satisfying dessert
Con– I should have picked chocolate!
Smoothie #5- Mango + Papaya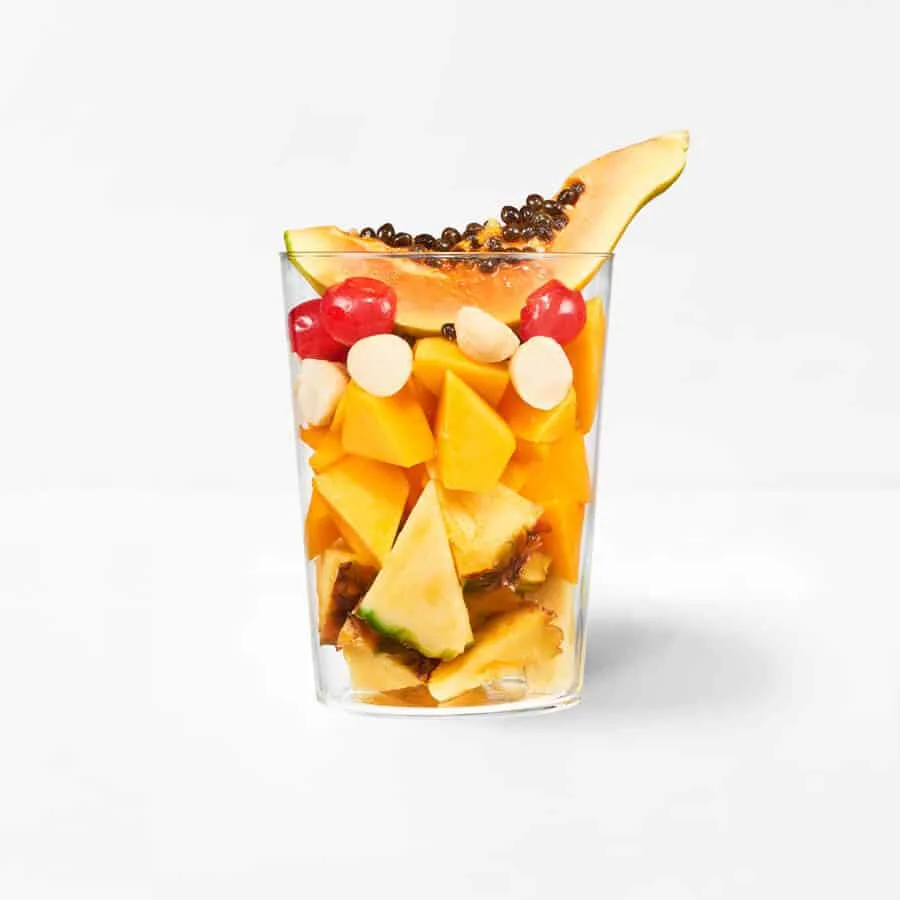 This smoothie made me feel like I was at Disney World. Why? Because it tasted so much like the Dole Whip that they serve there! I was glad that I picked up some coconut water at the grocery store so that I could follow the Daily Harvest suggestion this time. It made all the difference.
This smoothie also included Pineapple, macadamia, and acerola, which is from the cherry family and known for its high content of vitamin C and vitamin A. This one was super refreshing and delicious.
Pro– Tastes like a Dole Whip
Con– Now I wish I was at Disney!
Smoothie #6- Strawberry + Peach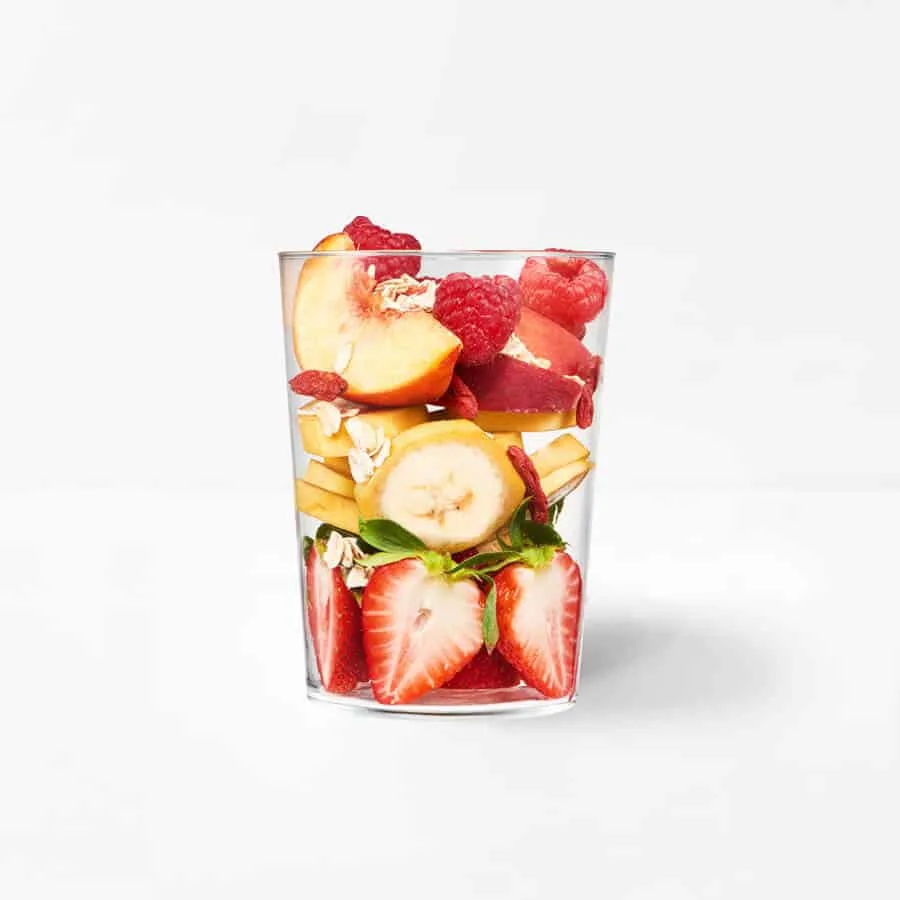 After so many exciting flavor combinations I was feeling underwhelmed by the concept of strawberry and peach while I blended this one up.
Maybe I felt like it was a little bit boring. It just seemed so basic. It listed banana, raspberry, gluten-free oats, flax and goji berry as the other ingredients. Once I tasted it, I felt a lot differently about it though. It was delicious! It had a slight tartness from the goji berries that went well with the sweetness of the peaches. The flavor was addictive.
Pro– Deliciously sweet and tart
Con– A little basic sounding, but in the end, it won me over!
Smoothie #7- Cold Brew + Almond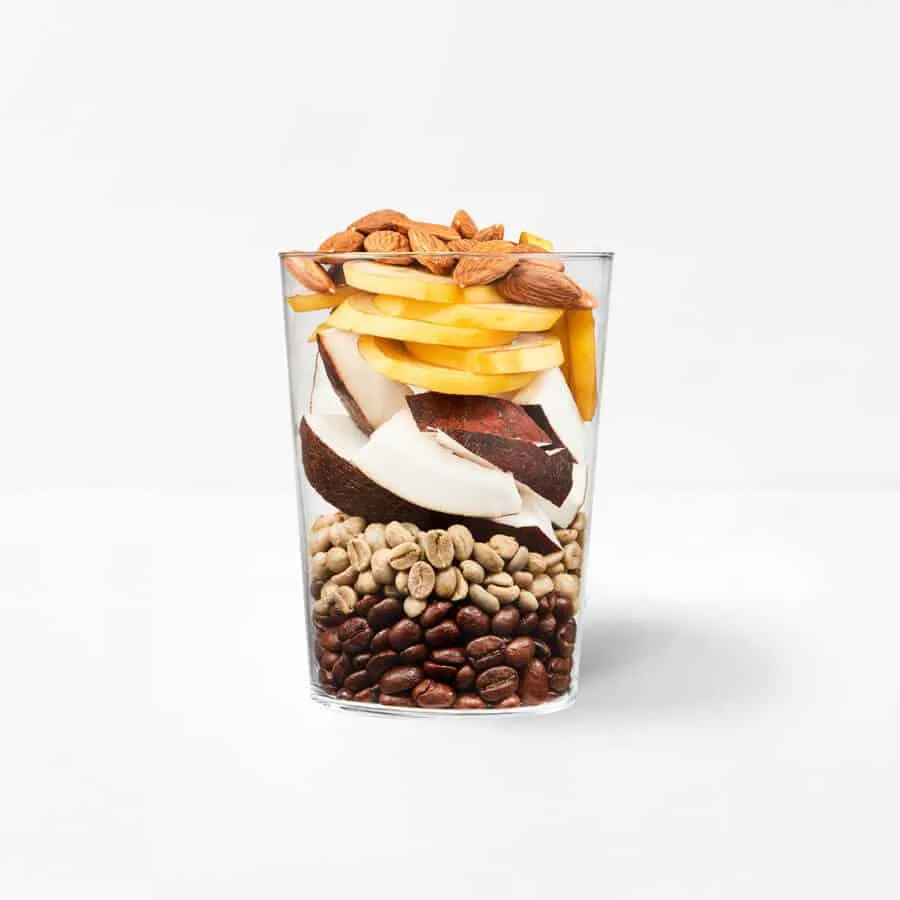 This one beat out the Chocolate + Blueberry one for my favorite! Maybe it was because I was in serious need of some caffeine, but this smoothie made me so happy. I felt like such a multitasker because I had my morning coffee and my breakfast all in one cute cup on the go.
The cold brew coffee was just what I needed to boost me up, and the addition of banana and almond butter made it a satisfying breakfast. But most importantly of all, this smoothie was the tastiest one yet! I will absolutely be ordering this one again!
Pro– Perfect for busy mornings
Con– None at all!
Overall Assessment of Daily Harvest
Pros
Great Value compared to smoothie shops
Addictive flavors
Streamlined my morning routine
Healthy fast food
Cons
I wish that they had a half size mini option
I wish they had sip tops instead of a place for a straw
While there are plenty of healthy meal delivery services I didn't realize there were so many that are smoothie specific like Daily Harvest. Pressed Juicery, the popular juice chain now offers delivery subscriptions of their juices, freezes and cleanses and shots. A bundle of six green juices costs $30 for members and $34.50 for a one-time non-member order. I would love to give this service a try because you don't even need a blender for this one!
If you are willing to take out your blender, GreenBlender is a smoothie subscription that sends fresh, prepackaged ingredients right to your door. Goodie is another similar service. Both of these companies will have you put in a little bit more work, but the payoff is a breakfast made with fresh ingredients.
Final Word on Daily Harvest
I absolutely loved my experience with Daily Harvest. All of the flavors that they have to offer looked amazing, so I was looking forward to receiving my shipment from the moment I ordered.
This service really did live up to that excitement that I had. Daily Harvest helped me to get out the door quickly in the morning without resorting to a less healthy quick breakfast and to me that made it worthwhile.
Also, the time that it takes to blend up a Daily Harvest smoothie and give the blender a quick wash was faster than your average juice shop morning rush line in my area.
My one critique would be that with the richer, chocolatey smoothies the 7.4-ounce serving size felt a little bit large. Some mornings I found myself tossing half a smoothie in the garbage.
I think it would be really cool if Daily Harvest started to offer full and half size smoothie cups so that members can mix it up. That way if you aren't that hungry or if you want a little bit of variety in your breakfast you can grab a half size. I know that I would have liked having that option.
Another change that I would like to see is sip tops instead of straw holes on Daily Harvest smoothie lids. That trend is definitely catching on in my area, and hopefully, Daily Harvest will get a little bit more eco-friendly with their packaging. However, I must note that they didn't over-package their smoothies and the waste was minimal.
Overall, I think that Daily Harvest would be a great subscription service for anyone who loves delicious, healthy smoothies on the go.