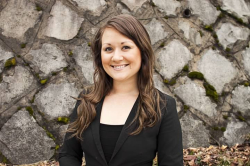 Latest posts by Lacey Jackson
(see all)
Have you ever wondered how much easier life would be with food delivery or smoothie delivery? Daily Harvest and Revive Superfoods give you a way to find out. Both companies offer high-quality frozen foods that are simple to prepare and don't necessitate any chopping or cooking other than reheating. 
But are they worth it? When you consider the cost of the foods, Daily Harvest is higher overall, but they also have a slightly higher volume, so you get more bang for your buck. For both companies, I would stick with the Frozen smoothies and the breakfast items, but their other meals leave a lot to be desired.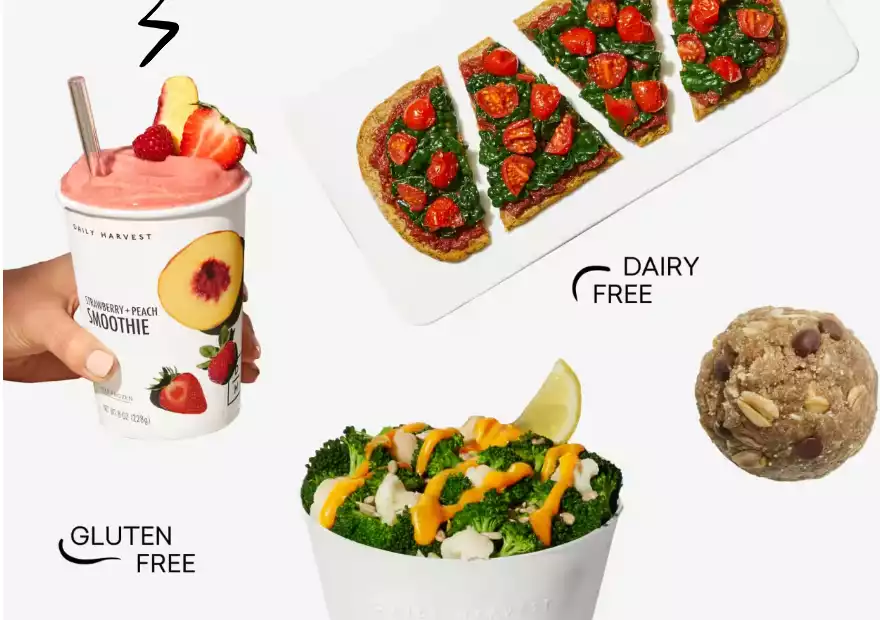 Rating
| | | |
| --- | --- | --- |
| Criteria | Daily Harvest Score | Revive Superfoods Score |
| Ordering process | 10/10 | 9/10 |
| Shipping | 9/10 | 8/10 |
| Variety of foods | 7/10 | 6/10 |
| Taste | 4/10 | 4/10 |
| Overall quality | 6/10 | 5/10 |
| Total | 6/10 | 6/10 |
Key Differences
Daily Harvest has foods you can prepare within the containers and then recycle (containers, not food), whereas Revive Superfoods makes you prepare almost all of their products in a separate container.

Daily Harvest has a lot of different food categories, whereas Revive Superfoods clearly specializes in smoothies, with most of their available catalogue being smoothies.
Revive Superfoods has a lot of "superfood" ingredients, whereas Daily Harvest has organic ingredients.
Daily Harvest has larger portion sizes, whereas Revive Superfoods never come close to filling the container.
Revive Superfoods gives you an amazing metal, reusable straw for smoothies, whereas Daily Harvest has the exact. same. containers and lids but no straw.
Getting Started
When I signed up for both subscriptions, I was impressed at how easy it was to review the menu and pick out the exact quantity of items I wanted.
Price
For the 9-item box with Revive, I would have paid $80.90, but I got a discount on the first order for $35.46.
For the 9-item box with Daily Harvest, I paid $52.61 after a much smaller first discount.
Both box sets of 9 items amounted to about the same without any discounts. However, the emails from Daily Harvest and Revive Superfoods continually send themed discounts. If you are willing to go to your order and apply the discount code before your next shipment, you can get random discounts throughout your subscriptions.
Value
Both companies give you options to make a box based on the number of items you want.
Revive Superfoods offers:
Daily Harvest offers:
6-8 Items

9-11 Items (this gives you $5 off)

12-23 Items (this gives you $10 off)

24-26 Items (this gives you $25 off)
I set aside a few hours at a time whenever I harvest a crop from the garden, harvest something from a nearby farm, get a bunch of berries or vegetables on sale at the store, etc.… These few hours enable me to make jams, freeze berries, puree vegetables for soups or smoothies, and so forth. Now, I usually put effort into preparing these things, and it takes much forethought.
So, I did the math for my last month of food purchases. I averaged it per meal and paid much less for my morning oats, grain meals, flatbread, and smoothies. But I also live in an affordable state.
If you live in an expensive area, the cost might be worth it, mainly because you get discounts on more items. Now, adding the box with the things you like most, or mostly smoothies or breakfasts, would be worth it.
Should you do that, then Revive Superfoods is much better for smoothies, while Daily Harvest is better for having meals/snacks/smoothies around for those nights you don't want to cook.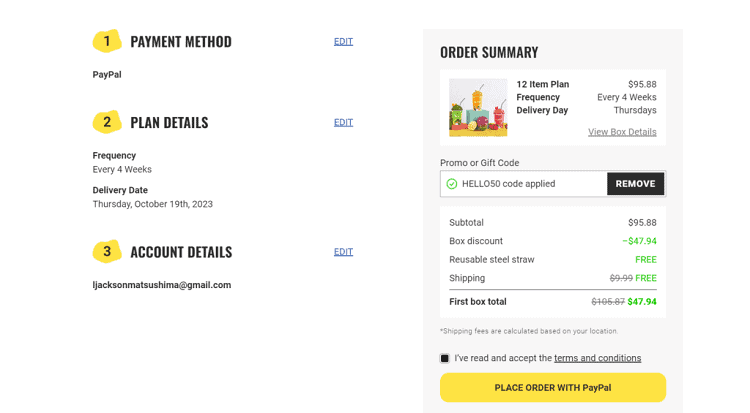 Emails
Both companies send highly informal and personalized emails as soon as you add anything to your box in order to encourage you to check out, and even then, you get much communication from both companies about the status of your boxes as well as email reminders whenever another subscription box is set to renew.
You can choose at any time to cancel them with relative ease, which I like—no hidden fees.
Payment Methods
Daily Harvest only accepts credit cards.
Revive accepts credit cards or PayPal, which I like (PayPal is easier to manage subscriptions, in my opinion)
Food Options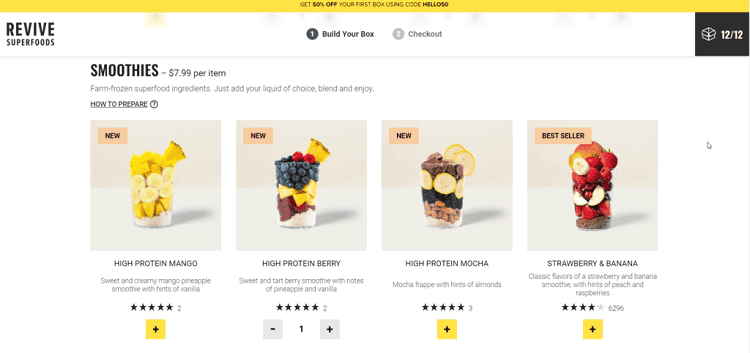 Daily Harvest has:
Smoothies

Flatbreads

Harvest bowls

Grains

Soups

Forager bowls

Bites

Lattes

Milk
Note: When you add "forager bowls" to your box, it might relabel some of the items into things like "oat bowls."
I like that Daily Harvest has the "grains" options intended to be part of a meal. The descriptions even list what it pairs well with.
For example, the "Cilantro Brown Rice + Black Bean" says it pairs well with "smoky carnitas, enchiladas, or fried eggs and avocado."
Up front, I liked that Revive Harvest has a heavier emphasis on smoothies because I have been drinking daily smoothies for about 12 years. I keep a freezer full of the fruit we harvest on the property and what I buy fresh at the store so that I can curate different flavors based on needs (for example, if someone sneezes or coughs within five feet of me, I rush home to make a Vitamin C boosting smoothie).
Revive has:
Smoothies

Acai bowls

Oats

Soups

Microwavable meals
There is some overlap. For instance:
Both have the apple and cinnamon oatmeal bowl

Both have a strawberry banana smoothie
However, in most cases, what they have is similar but with one or two ingredients that are different.
Smoothies:
Daily Harvest has two primary ingredients listed as the "name" for the smoothie, like "Date + Almond," but the pictures show much more like dates, almonds, bananas, mangoes, and a few other fruits.
Under each food item, they have the "tastes like" description so you know what you are getting into. For example, that same Date + Almond smoothie purportedly tastes like a toasted marshmallow shake (incidentally, the toasted marshmallow Jelly Bean was always my favorite).
Revive Superfoods has the same style, with two primary ingredients as the name "Mint & Chocolate," for example, and with a lengthier description underneath like "nostalgic flavors of mint chocolate chip ice cream, with hints of cacao and banana," while the picture shows things like flax seeds, mind leaves, banana, zucchini, and cacao.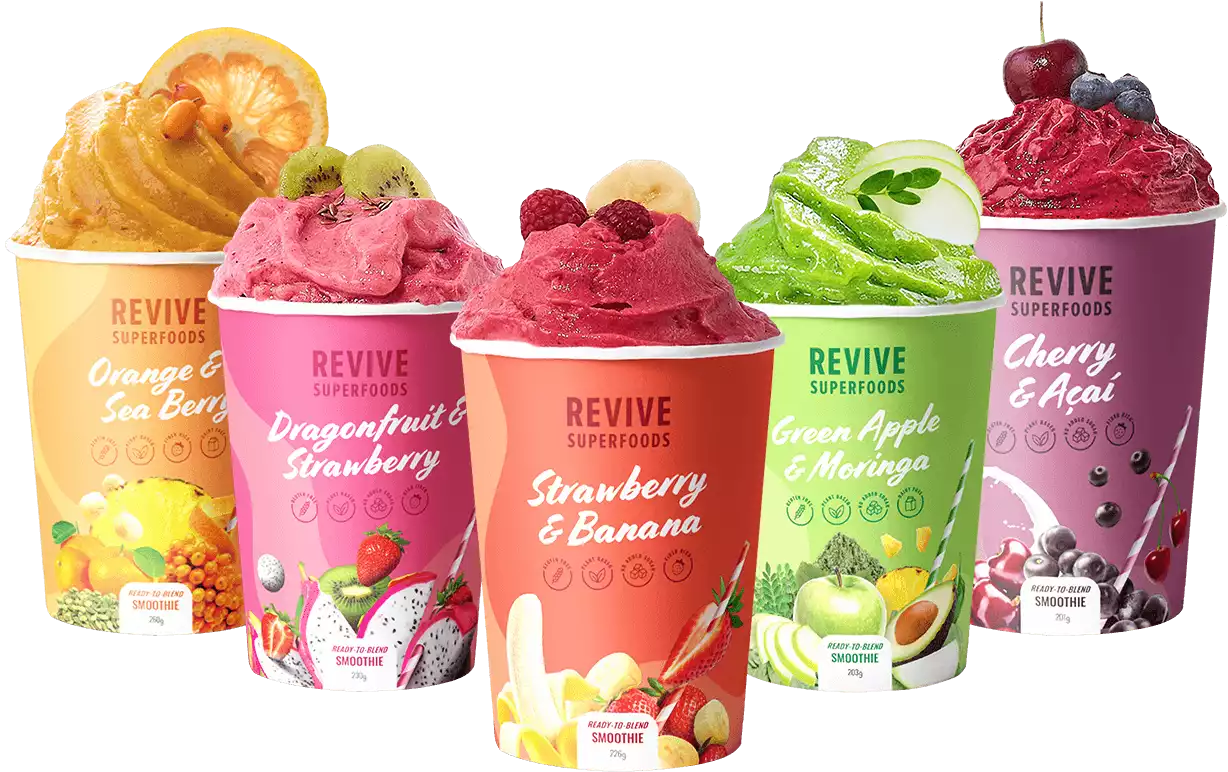 Why Go with Revive?
Revive Superfoods is a trusted name in the realm of convenient and nutritious meal solutions. They offer a diverse menu of frozen, ready-to-blend smoothies and meals made from high-quality, plant-based ingredients. With a focus on delivering both flavor and health benefits, Revive Superfoods makes it easy for individuals to prioritize their well-being, even amidst busy lifestyles.
Get Started
Use Code "CHRISTMAS60" for 60% Off!
We earn a commission if you click this link and make a purchase at no additional cost to you.
Arrival of the Fittest (Fruits)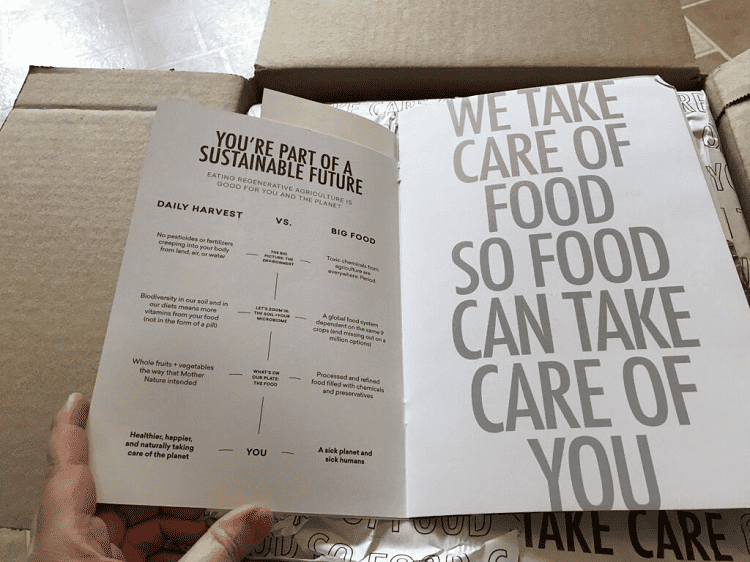 Packaging
Both of my subscriptions arrived on the same day and were basically the same size and weight. I was surprised at how small the boxes were. I was apprehensive that I'd have to clear out half of my freezer to make room for the items, but thankfully, I didn't need to do that at all.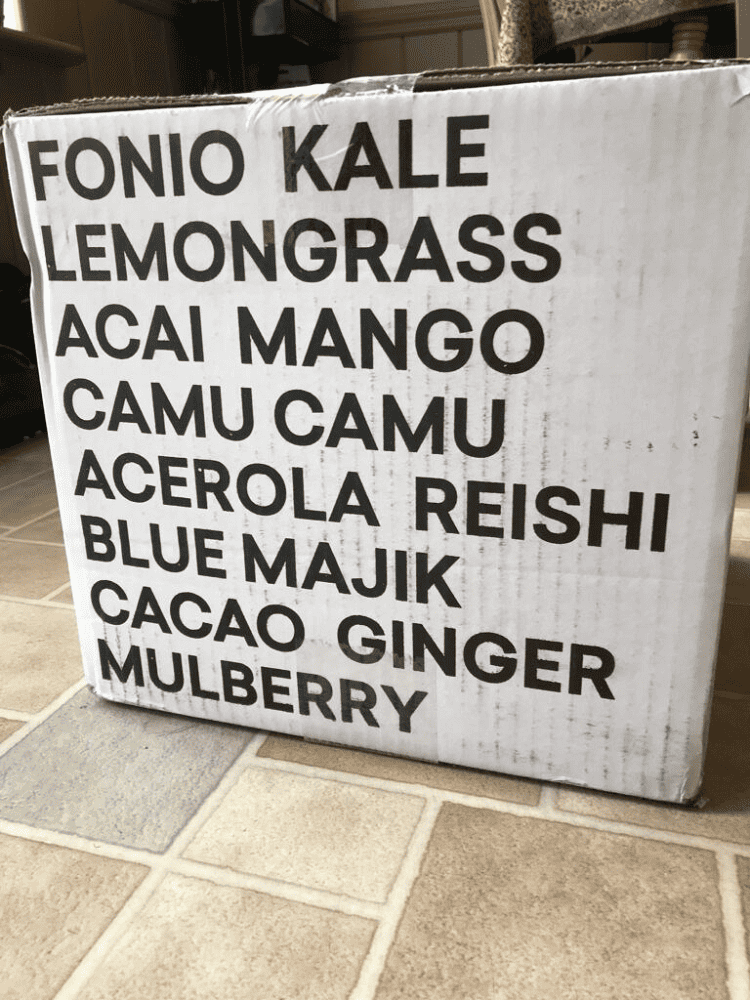 When you look at the individual packaging side by side, you'll first notice that Revive Superfoods is bright and bold. They use lots of colors and pictures with minimal text.
Daily Harvest is quite the opposite. They use plain, easy-to-read text printed on a white background with small pictures.
I abide by the science that labels that have too many colors, pictures, or text across them can be mentally distracting. My office is immaculate and organized, with everything put inside a box or a file cabinet.
The kitchen is much the same; my pantry is well organized with glass containers into which all of my products go, so I'm not looking at a bunch of text, colors, or pictures but instead uniform.
As a result, I was naturally drawn to the Daily Harvest because it's just not so much of a headache. It has simple text, so I know exactly what I'm getting, and I don't have to try and search through the pictures and the colors to figure out what ingredients are in my food.
Quantity and Quality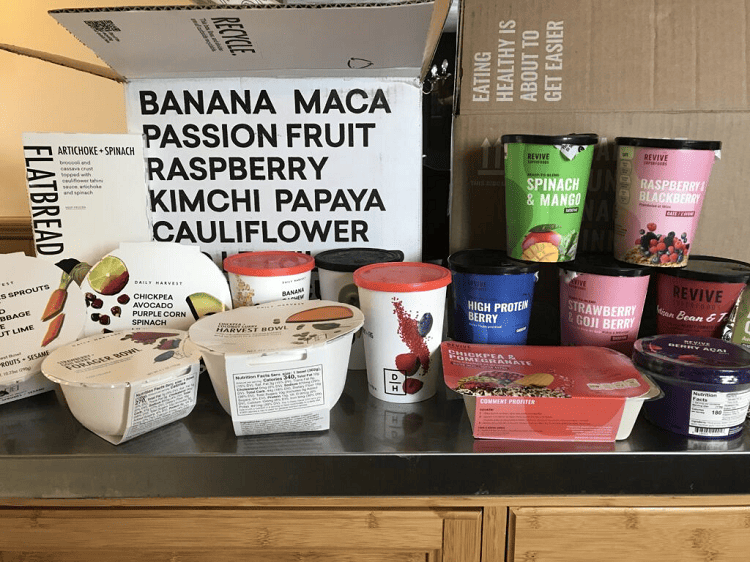 When it comes to the food items, Daily Harvest takes the cake, no pun intended. The quantity is significantly larger across the board, so you get a substantial amount of food. It was more food than I was comfortable eating in one meal.
As for the smoothies, Revive Superfoods would be the better option because Daily Harvest tried to have a little bit of everything. Usually, when a company offers a little bit of everything, they're not good at any of those things, but they are acceptable across the board.
This was absolutely not the case. I was surprised at how much I didn't really care for the quality and quantity of frozen material with the Revive Superfoods smoothies.
When I compared a mango papaya smoothie from Daily Harvest to a mango raspberry smoothie from Revive Superfoods, the taste of Daily Harvest was significantly fuller and more satisfactory.
I was surprised to read that the ingredients listed were organic, so it wasn't just papaya and mango with macadamia nuts in there, but they were all organic items, which could have contributed to this improved taste, but it could also have simply been quantity.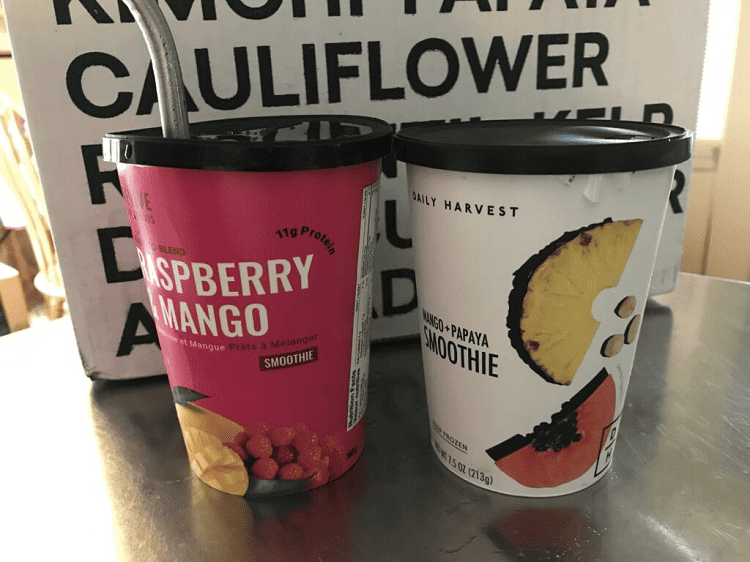 Note: Even though I was delighted with the volume of fruit in my smoothie containers, it does indicate on the bottom of the containers that the fill level may vary from one type of smoothie to the next, which tells me that there isn't necessarily a lot of quality control in terms of the volume
Other Foods
The soups… oh, the soups. I wanted so badly to love them. Both of them.
When I opened the Revive Superfoods Tomato soup, it seemed promising. And yet, the actual amount of quinoa in there was next to none.
When I opened the Tomatillo with purple corn soup, I was overjoyed at the prospect, but there were exactly six purple corn kernels in the entire soup. And the frozen avocado really was a letdown.
At best, both companies certainly have fresh foods in their mixes. You can taste the quality. You know there are fresh tomatoes, not just bland, week-old tomatoes that were overwatered from start to finish.
But fresh ingredients don't have to equal uninspiring foods, which it did more often than not. While fresh, neither company hit it out of the park in bold or striking flavors. It was almost as though both companies worked hard not to offend the taste buds of any potential client, and the result was that everyone had to suffer through Blandsville.
They were filling when multiple items were mixed together, but otherwise, it wouldn't kill you to sprinkle some salt, rice, or even a flavorful dollop of fake cheese on top.
The oats were decent. Probably the second best item compared to the smoothies.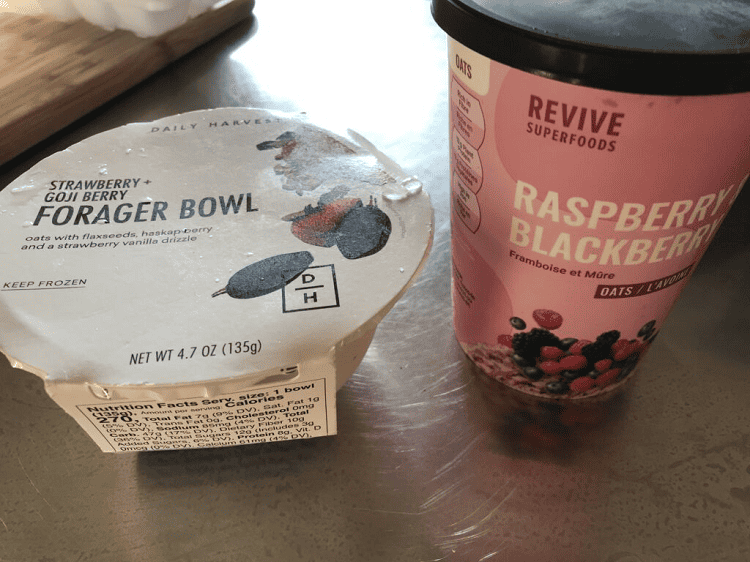 Material
When you put the Smoothie cups side by side, they are the exact same size. Every single part of them is the actual same size and shape. The lids on top are the exact same size and material. Even the puncture section for the straw is the same.
One difference is that Daily Harvest has color-coordinated lids for different food items. Black, for example, is for all of their smoothies. Moreover, they don't provide a straw, so you have to provide your own, and standard straws are too narrow for a thick, creamy smoothie. You really have to work at it to pull the smoothie up.
That's obviously not the case with the larger metal straw provided by Revive Superfoods.
Another difference is the thickness of the cups. The cups are a little flimsier with Revive Superfoods such that if you grab them too hard, drop them, or even dent them in the car, they cave in on themselves and leave a permanent mark, and the lid never fits right again. 
Ease of Use
I like the ease of use for both where smoothies are concerned. Instructions are pretty simple:
The smoothies come in a frozen cup form.

You add a liquid of your choice to fill it to the top.

Blend it all together.

Toss it back in your cup and enjoy.
When I make smoothies, I might be digging through the freezer for four separate bags because I always bag things by fruit or vegetable type. Then, I have to measure correctly for one person (I always need help getting it right). This is so much easier.
Revive has a reusable steel straw that comes with the order. That is ideal for the smoothies and does a lot to help protect the environment against unnecessary plastic.
Where the other food items are concerned, everything can be prepared in the microwave or on the stove/in the oven. The one hiccup I have is that the materials are not supportive enough to be used in the microwave, so if you plan on bringing these items with you for lunch, you need to get a microwave-safe container to use before you theoretically pour your soup or another grain bowl back into the container in which it came.
This seems like a severe oversight. Either they shouldn't tell you to eat directly out of their containers, or they should make their containers so effective that they can be used in the microwave and then eaten out of right after.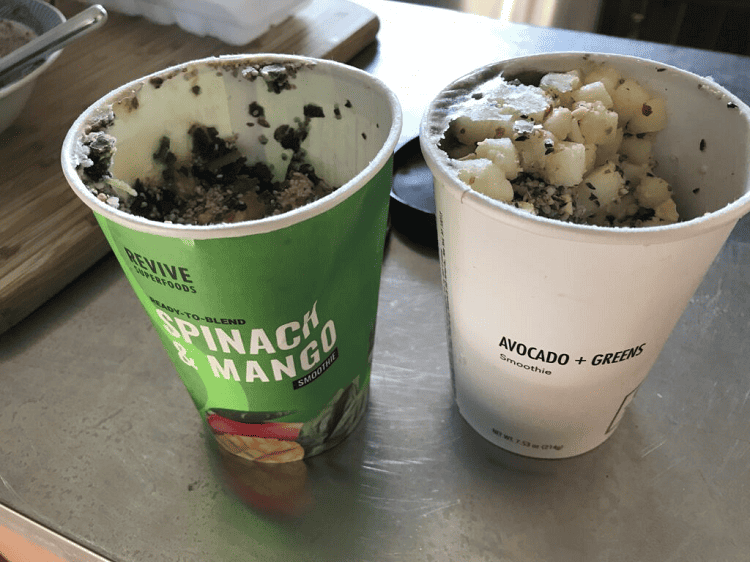 Cancellation
I decided to check into how easy it was to edit or cancel the plan. I was very disappointed with both companies. Both companies marketed the living tar out of how easy it was to cancel or modify at any time, but that really wasn't true.
For Daily Harvest, you have to pause your plan first, which necessitates six separate pages that are designed to trick you into staying because they have big pictures and clickable links and you can't find the pause button unless you scroll to the very bottom where it is simply the text "pause" in the tiniest print out of the entire page.
After you endure that, your plan is only paused. It's not canceled. You have to repeat similar steps to get to the "end plan" option, which I only found out when I contacted customer service.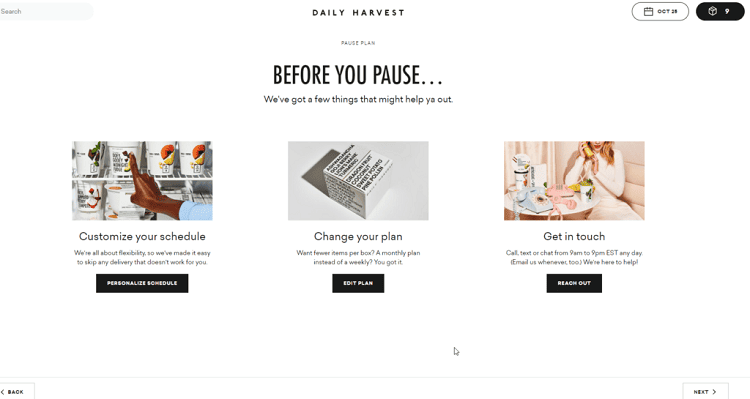 Reviving Superfoods is no better. It took me several pages to facilitate a cancellation of my plan, at which point they forced me to call the Loyalty department, not even regular customer service.
Obviously, the point of moving you to contact loyalty department personnel is so that the individuals with whom you speak can keep you as a customer by offering some reward or discount so that your next order is slightly more affordable.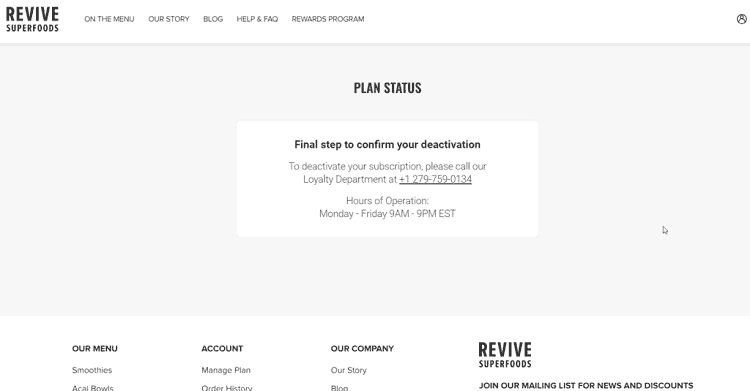 The person with whom I spoke continued to try and convince me to stay, asking me what it would take for me to stay and listing all the things she could offer.
When I told her that I was disappointed in the quantity and volume of frozen material for the smoothies, she tried to direct me to the quality assurance department where I could, instead of finishing my cancellation, just a logical complaint.
I was quick to put the kibosh on that, but it took me 10 minutes on the phone to get my cancellation.
Alternatives to Consider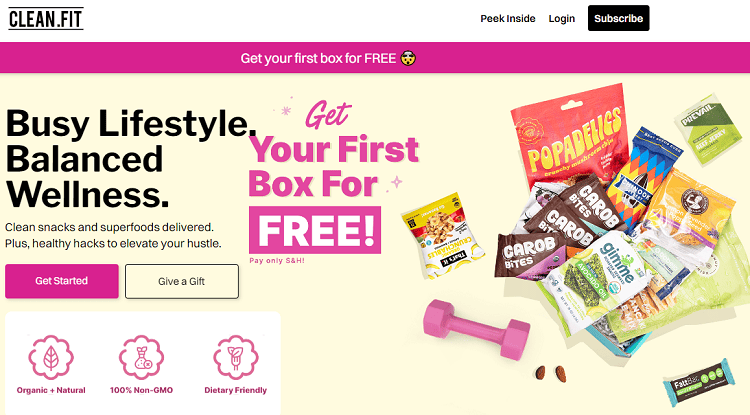 This company provides similar boxes where you can choose the number of items you want, starting with the same number, 9. You get to pick things like Gourmet nut butter, treats, jerky, protein bars, and other types of snacks. You can choose vegetarian or vegan options as well as dairy-free or gluten-free.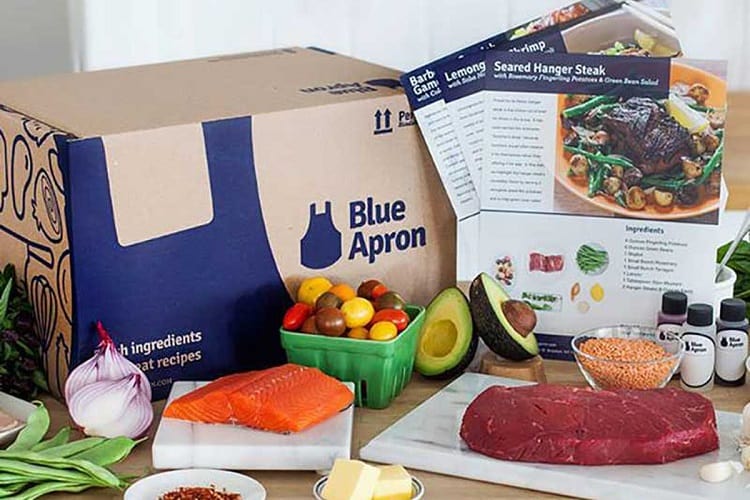 This company is a meal delivery kit. You can choose recipes that you prefer, and you can pick recipe quantities for two or four people. The boxes contain vegetarian or vegan options, and they have pre-portioned ingredients with instructions that are very easy, but you still have to cook the food yourself.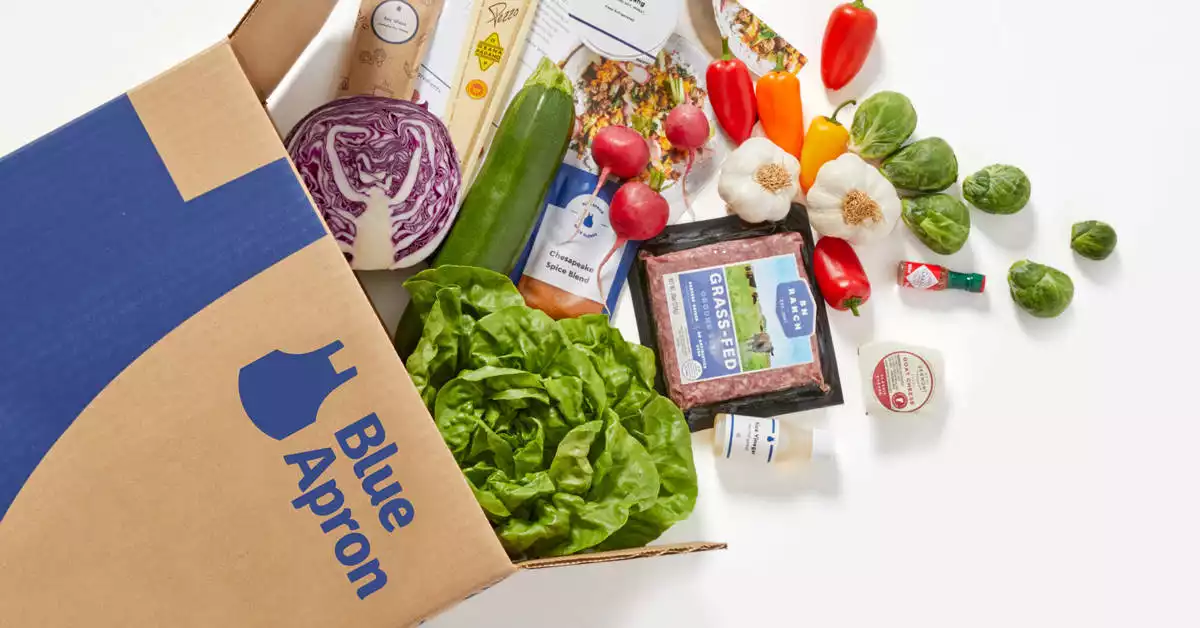 Top Meal Delivery Service | Blue Apron
Follow their easy step-by-step recipes to learn new skills, try new tastes, and make your family amazing meals.
Get Started
We earn a commission if you click this link and make a purchase at no additional cost to you.
Check out how Blue Apron compares to: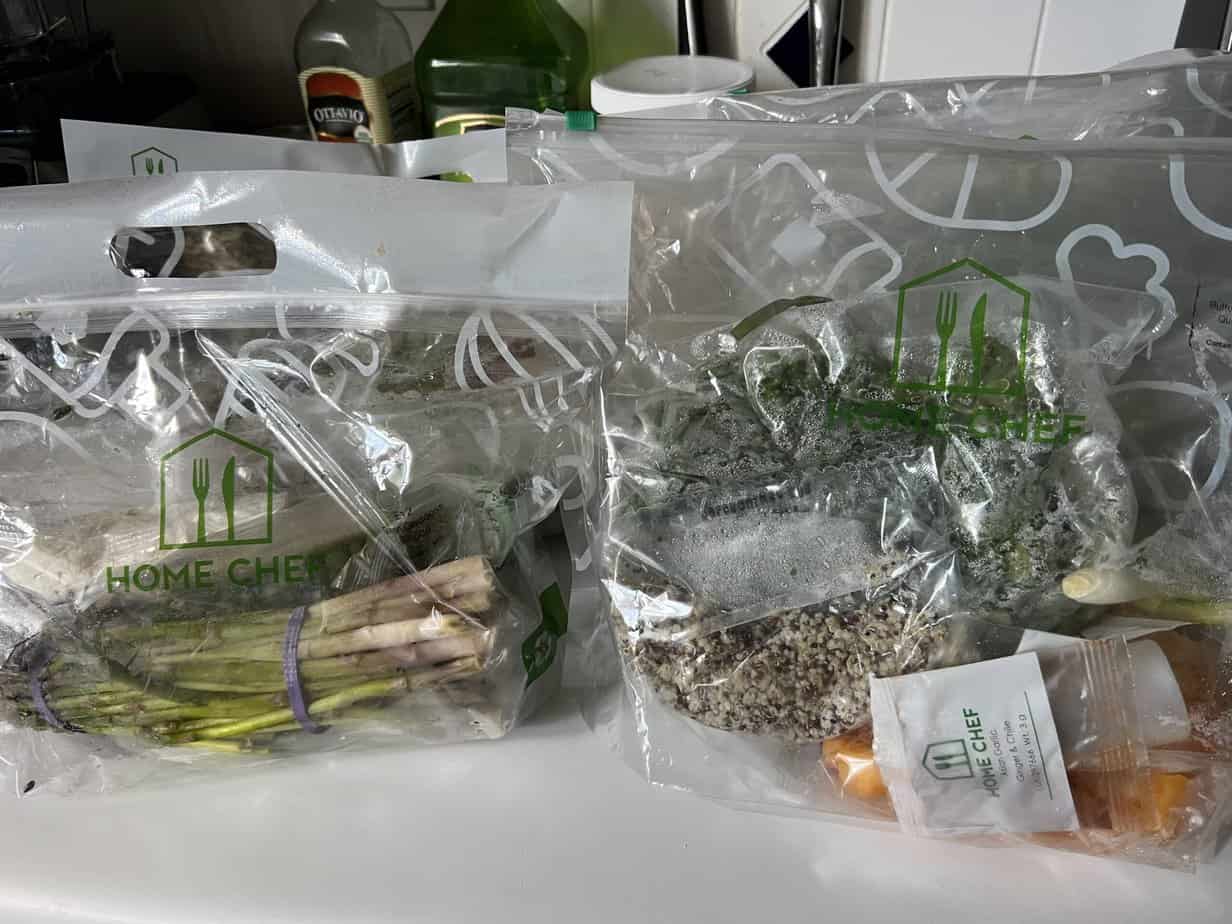 This is a meal subscription service that lets you cook for specific numbers of people. Rather than foods that you microwave, you can pick vegan or vegetarian foods that are quickly prepared at home. You can even incorporate snacks or drinks.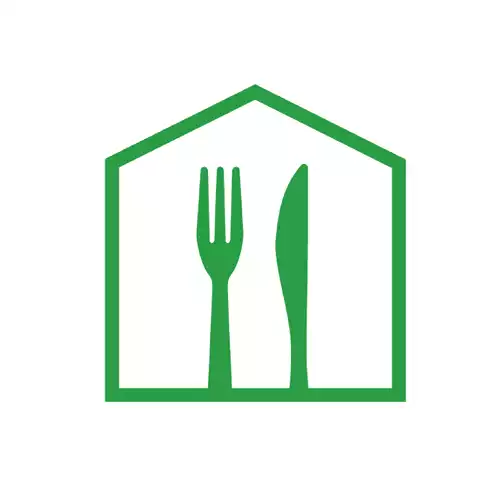 Check out how Green Chef compares to:
Tips
The serving sizes didn't turn out to be very filling for me when it came to the soups, so I combined things like flatbread, soup, and a smoothie to make a complete meal. This worked out really well, but if you consider the budget for all three, it's pretty expensive. So, all in all, your bank account might be empty, but your stomach will be full.

If you're going to take this with you on the road, be sure to bring microwave-safe containers that you can use for all of the foods.
FAQs
Question: How do I Prepare the Food?
Answer: Each food item will contain directions. The smoothies have you add a liquid, blend everything, and put it back in the cup.
The other food items are to be kept frozen, and you can either prepare them in the microwave or in the oven or stove top, depending on the food. Even if you prepare them in the microwave, you're supposed to transfer them to a microwave-safe container before doing so.
Question: What if I am Away When They are Delivered?
Answer: Both companies package the food products pretty heavily in dry ice. This means that you can have your deliveries waiting outside for a few hours before things start to thaw. But you really don't want to count on that, so try to schedule a day when you're home.
Question: How Long do They Keep in the Freezer?
Answer: Many of the items have a use-by date printed on the bottom of the containers. What I have is that it will last several months in the freezer before it starts to go bad, with most of the dates printed in 2024. 
Final Verdict
At the end of the day, it comes out as a tie, and not a good tie either.
Neither company knocked my socks off. If anything, they put more socks on.
I wouldn't rely on Revive Superfoods as my primary food source. There isn't enough variety, nor are there any desserts (a huge plus to Daily Harvest). I was really disappointed in the volume you get for each smoothie, especially when you factor in the price. Daily Harvest and Revive Superfoods left me hungry after every meal, even when I doubled up on containers. Daily Harvest tastes were so bad I had to eat something else to clear them out of my mouth.
While they have "fresh" fruits and vegetables frozen at "peak harvest" they are far from healthy when you look at the sodium and sugar contents for each item. Consider the alternatives if you have them.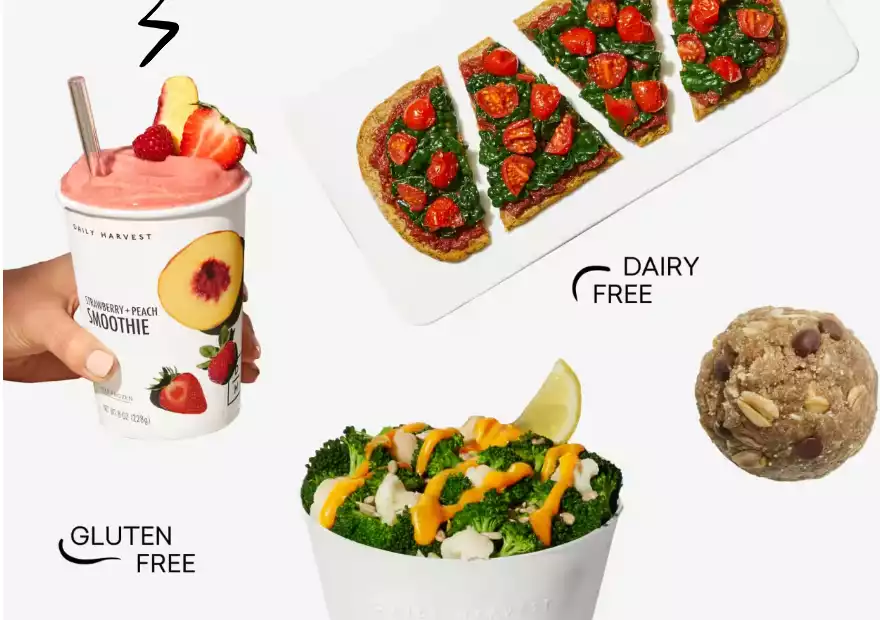 Continue reading:
Daily Harvest Review: A Smoothie Review Worth Reading
Kencko Review & Guide: You Can Buy Powdered Smoothies. But Should You?