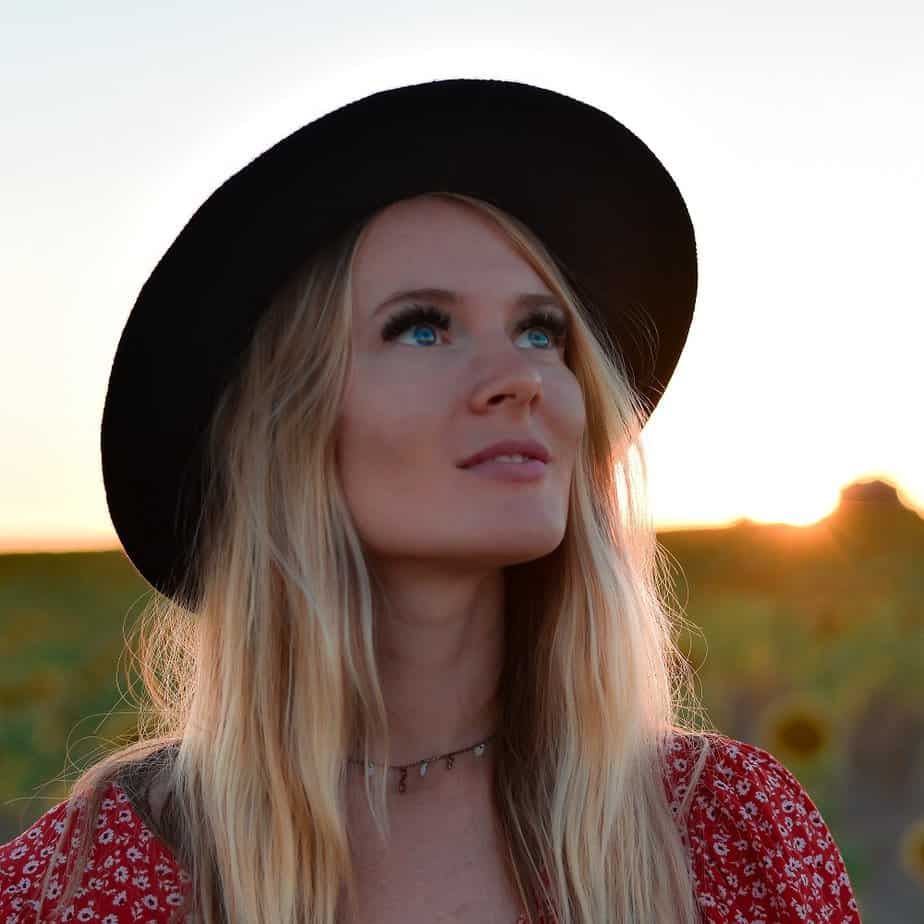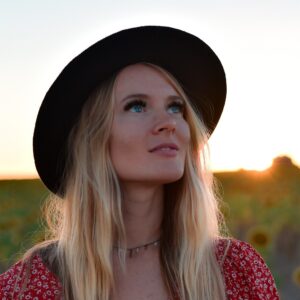 Latest posts by Haley Parker
(see all)
When it comes to clothing subscription boxes, there really isn't a lot out there that covers strictly activewear. I can only think of a couple named Ellie and Fabletics. From the outside, they look like very similar subscription services. However, a few key features will make you love one more than the other. So let's look into Ellie vs Fabletics compared.
Ellie vs. Fabletics Up Front
Ellie and Fabletics subscriptions are very similar in that they are affordable and require low commitment, being able to skip every month without charge. However, Fabletics does it better. While Ellie is a bit cheaper, they don't have nearly as many options, match the quality of Fabletics, or as great of customer service. Fabletics is about $10 more monthly, but it's worth it.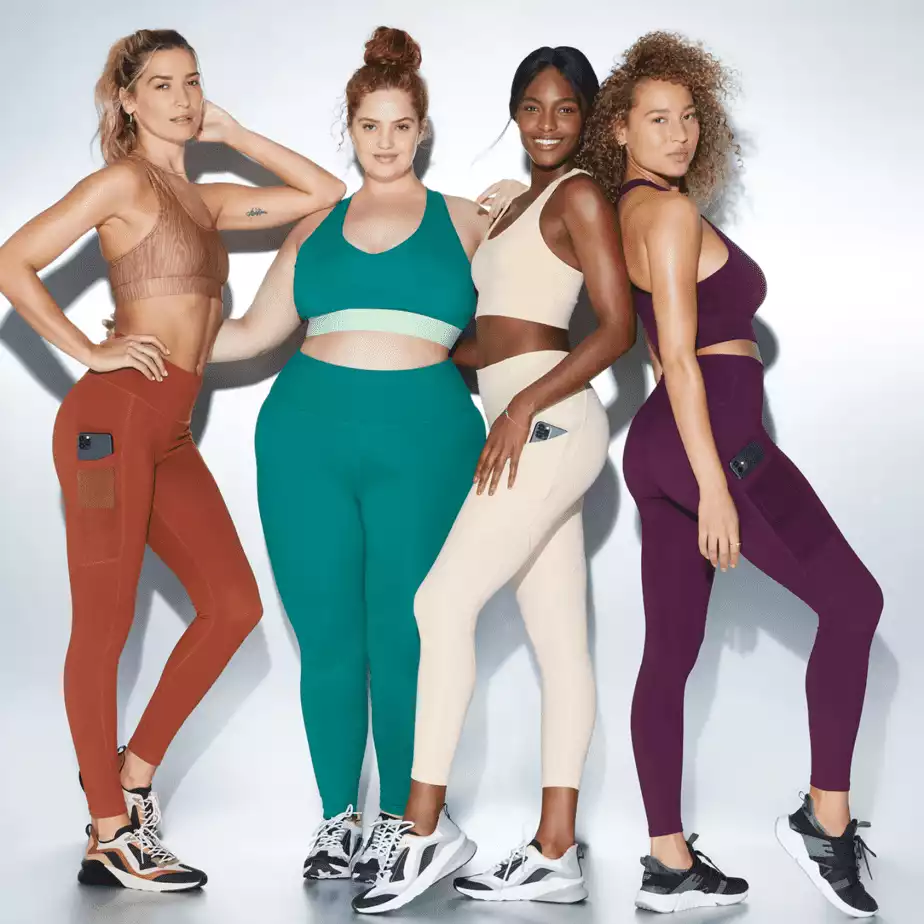 The Main Differences Between Ellie and Fabletics
Ellie's subscription is $44.95-$59.95, whereas Fabletic's subscription is $59.95.

Fabletics has more variety in options, whereas Ellie has all the basics.

Ellie's credit can be used for a 2-piece, 3-piece, or 5-piece set, whereas Fabletics member credit can be used for a 2-piece set, 3-piece set, or $100 item.

Ellie box pricing is more straightforward, whereas Fabletics has varying discounts, and the credit's worth changes depending on what you get.

New members get 40% off if you prepay for the first three months with Ellie, whereas you get a 2-for-$24 deal on leggings when you sign up for a Fabletics VIP membership.

Ellie isn't a sustainable brand, with their items not being built to last, whereas Fabletics has implemented many sustainable initiatives.

Fabletics clothing is higher quality, whereas Ellie's is basic and not built to last forever.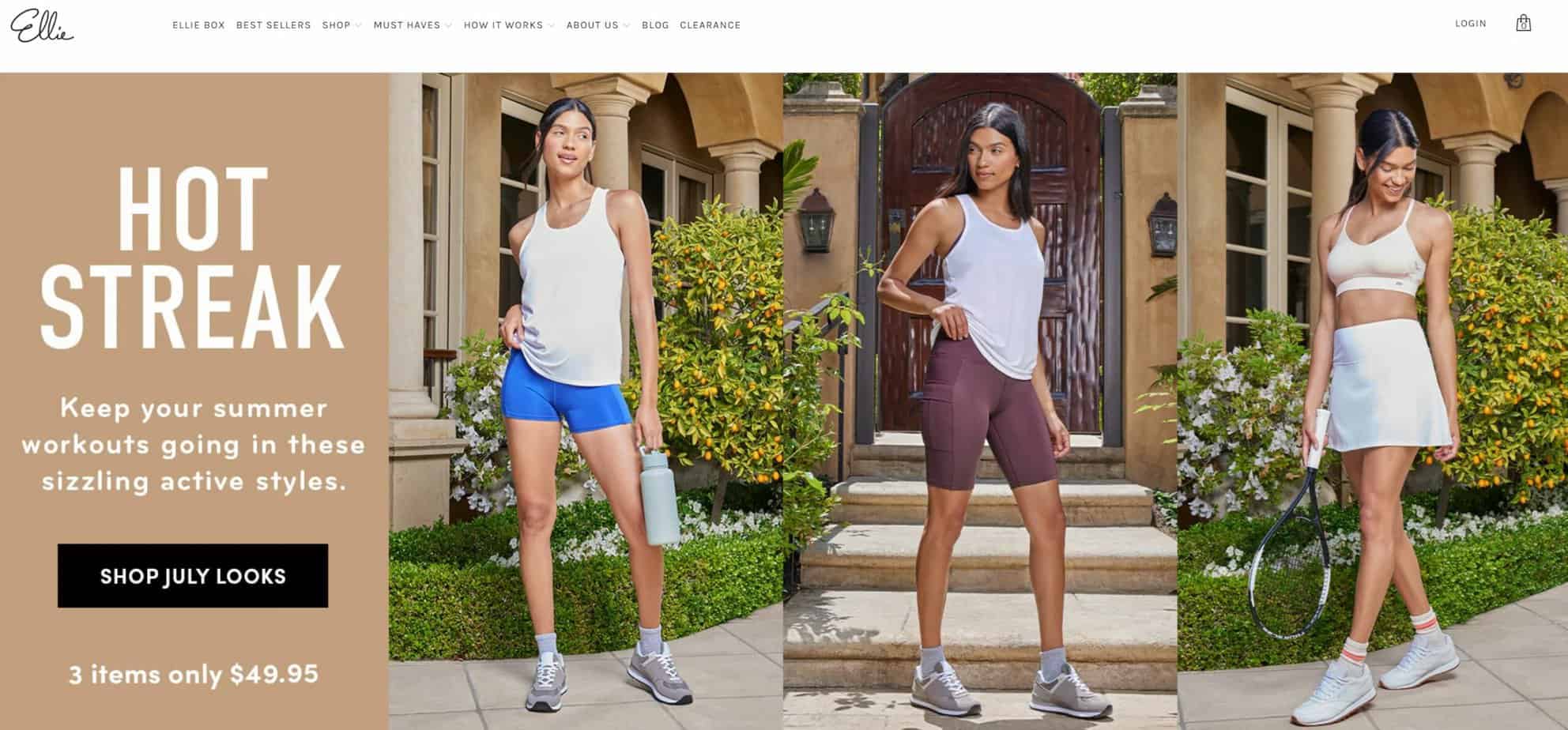 Ellie is for those that want the curated monthly outfit experience without worrying about them charging you a boatload every month. It is probably the most affordable activewear subscription out there. So let's dive into why I like this subscription and a few reasons why I don't like it so much.
Pros
Super affordable with a 2-piece set starting at $44.95, a 3-piece set at $49.95, and a 5-piece set at $59.95.

The subscription gives you a set every month at no additional fees.

You can skip any month you would like, making the subscription essentially free.

The prices are super straightforward with no discounts or credits, so you don't need to be a mathemetician to determine how much you'll spend.

They premake sets for you to choose from, so you don't need to spend hours shopping to make a set.

You can also mix and match items to customize your set.

You can save 40% off your first box if you prepay your subscription for three months.

Always get free returns and exchanges.

You can earn points in a variety of ways, and they can be used for discounts.
Cons
Each design comes in only one color.

The tops are thin and basic.

Nearly every set has a significant amount of sizes unavailable.

You must contact customer service through a contact form or by calling to cancel your subscription.

You can't purchase anything without subscribing and getting a 2-piece set first.

Customer service could be better, usually taking multiple back-and-forth conversations to resolve your issue.
How Ellie Box Works
Ellie's subscription and the Fabletics VIP Membership are actually very similar. They both give you a free workout set each month, and there's little commitment because you can skip any month that you don't want a new set. The Ellie Box subscription gives you a choice of any 2-piece, 3-piece, or 5-piece set every month, usually including a pair of leggings, a sports bra, a sweater or tank, and accessories.
The nice thing about Ellie Box is that all of their activewear is built into sets, so you get a mixture of curated styles, and you choose what you get in the mail. However, you can mix and match your set to customize your clothing more. Once you've chosen your set, you can add any items you like. If you dislike something you got, returns and exchanges are free.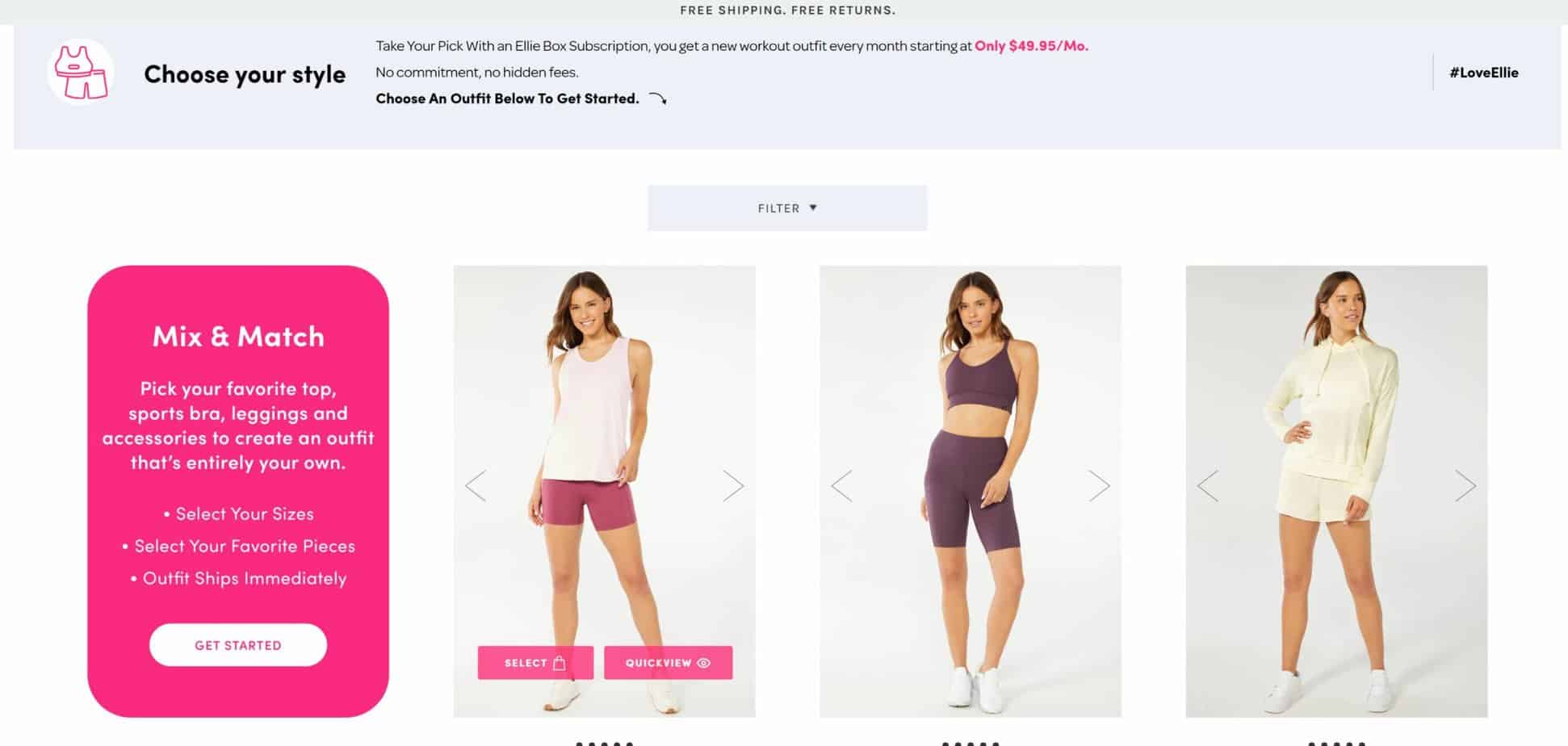 Ellie releases a new collection for you every month. If you don't feel like shopping through the collection, they will automatically send you a set they think you will like based on your style preferences. However, you do not need to purchase something every month. You can easily skip the month by scrolling to the bottom of your new collection between the 1st and 4th and clicking "Skip the Month." You won't be charged anything if you skip.
If you decide Ellie is not for you, canceling your subscription is a bit of a pain. They make you contact customer support rather than simply letting you cancel online. Plus, you have to do it at least five days before your billing date, or they'll charge you for the next month.
The Cost of Ellie Box
The main difference between Ellie Box and Fabletic's VIP Membership is Ellie's pricing is more straightforward. It's as simple as getting a 3-piece set for $49.95 monthly. You can also get a 2-piece set for $44.95 or a 5-piece set for $59.95. If you want to add-on items, they cost between $15-$50. To make it even more affordable, you get 40% off your first box if you prepay for three months.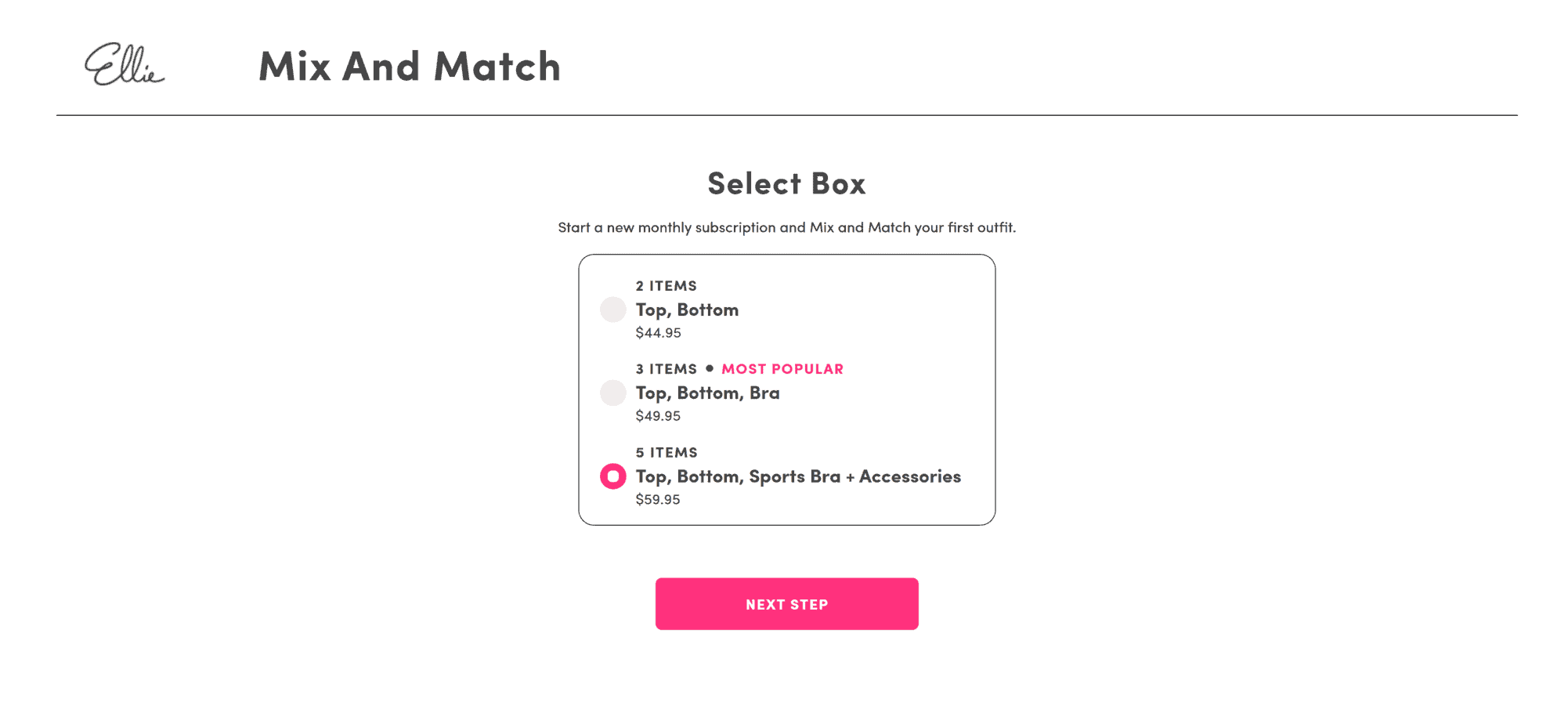 Compared to Fabletics membership, this is cheaper. Still, if you use Fabletic's discounts wisely, it could come out to about the same price. You can also build points in multiple ways to use for discounts. Instead of solely acquiring points through purchases, points are also given for following or sharing on social media, on your anniversary, your birthday, and when you leave a review.
Unfortunately, you cannot purchase anything from Ellie unless you sign up for the membership. They can make everything so affordable because of their membership program. Even though I think it's sneaky when they do that. Why can't I buy it for full price and not be forced into a monthly plan I might forget about?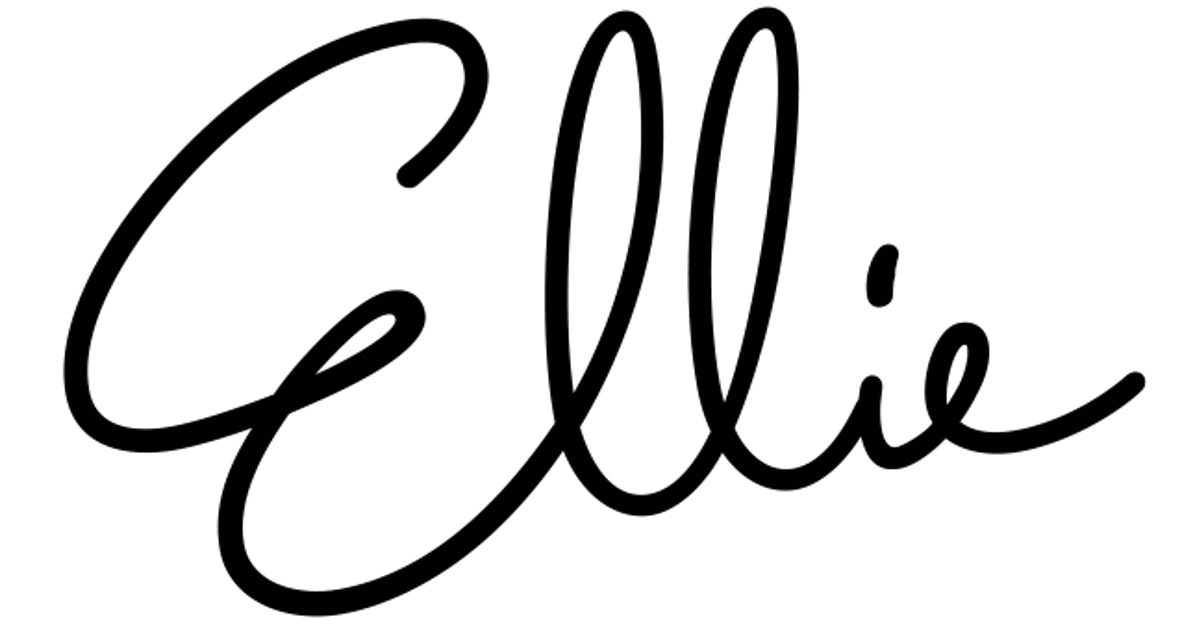 Ellie Subscription: Elevate Your Fitness Style
The Ellie subscription offers an exciting and curated fitness experience, delivering a monthly box filled with high-quality workout apparel, gear, and accessories directly to your doorstep. With Ellie, you can stay motivated and stylish on your fitness journey while discovering new fitness products and apparel each month.
Get Started
We earn a commission if you click this link and make a purchase at no additional cost to you.
Ellie's Options
Ellie has some cute stuff, but I'm not overly excited about their options. Most sets you can choose from are basic, with leggings, a sports bra, and a sweater or tank. The leggings and sports bras look more trendy with modern patterns and unique designs. But the tanks and sweaters look super basic and cheap, in my opinion. Personally, I would stick to the 2-piece set subscription because of this.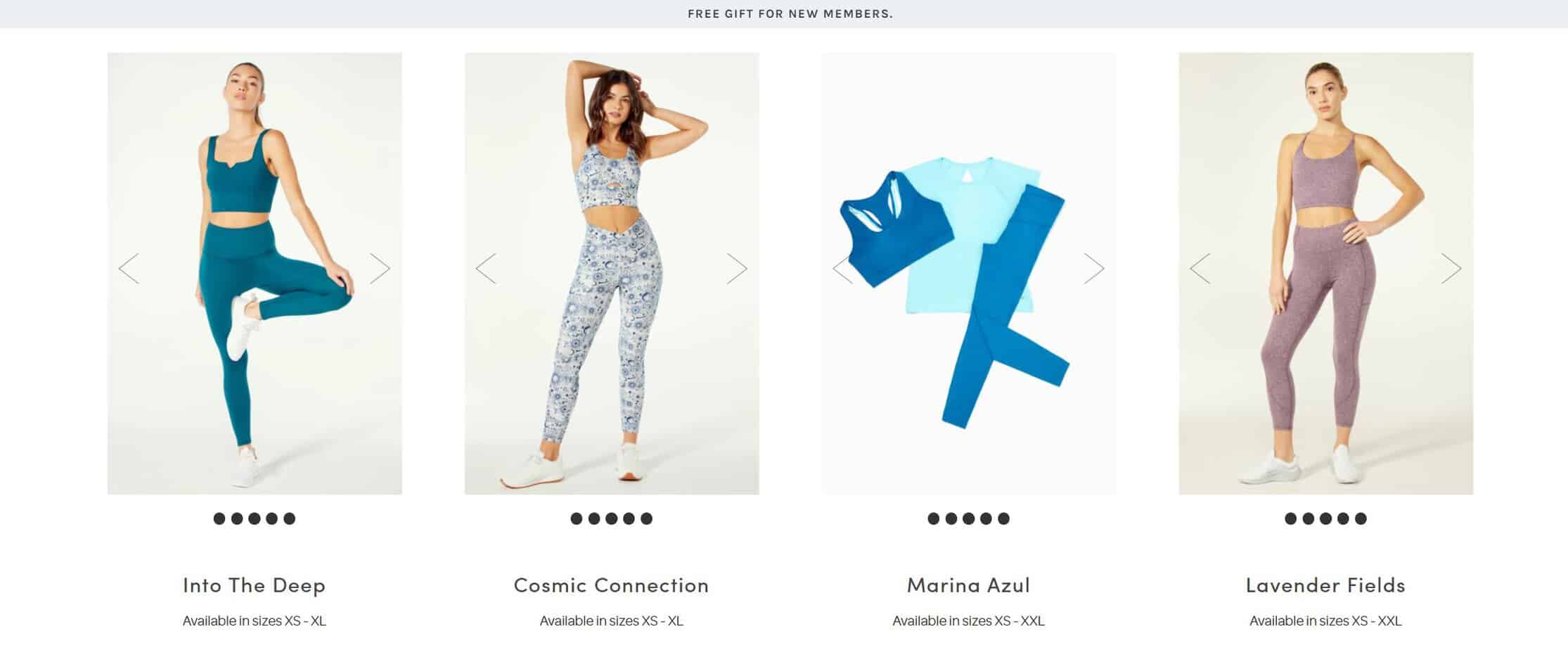 Besides the basics that come with Ellie sets, they also have jackets, pullovers, joggers, sweatpants, and shorts. I really like the few pullover sweaters and shorts that they have. They also have a lot of tennis skirts, which I've been loving lately. If you choose to do the 5-piece set for your subscription, you will also get to choose from an assortment of accessories that aren't available to anyone else, like eye masks, exercise equipment, and massage tools.
One thing that Ellie could work on is their color options and keeping things in stock across all sizes. They probably do this because they come out with a new collection every month. But it's pretty annoying that I must click through multiple sets before finding one with every piece in my size. I'm also pretty picky about the colors I wear, so I skipped over sets with really cute designs that weren't a color I liked on myself.
Ellie's Product Quality
I wouldn't say that the quality of Ellie's clothes is bad, but you get what you pay for in this scenario. The fabric is super soft and stretchy, and you get all the added features mandatory for leggings, such as pockets. However, Ellie's clothes are not built to last forever. Most customers get about a year out of the clothes before they look worn out.
While the leggings and bras are double-layered and relatively thick, the shirts and sweaters are very thin. So much so that you can see straight through most of them. The leggings and sports bras are also built with limited added support or shaping features. You will likely want to avoid doing high-impact workouts in Ellie pieces.
Ellie clothing is more for those looking for something cheap that they will not want to keep forever. If you are someone that likes to renew their athletic wardrobe frequently, Ellie often comes out with new trendy items that you can afford to buy frequently. Personally, I see this subscription as fast fashion, and it is not something I would invest in myself.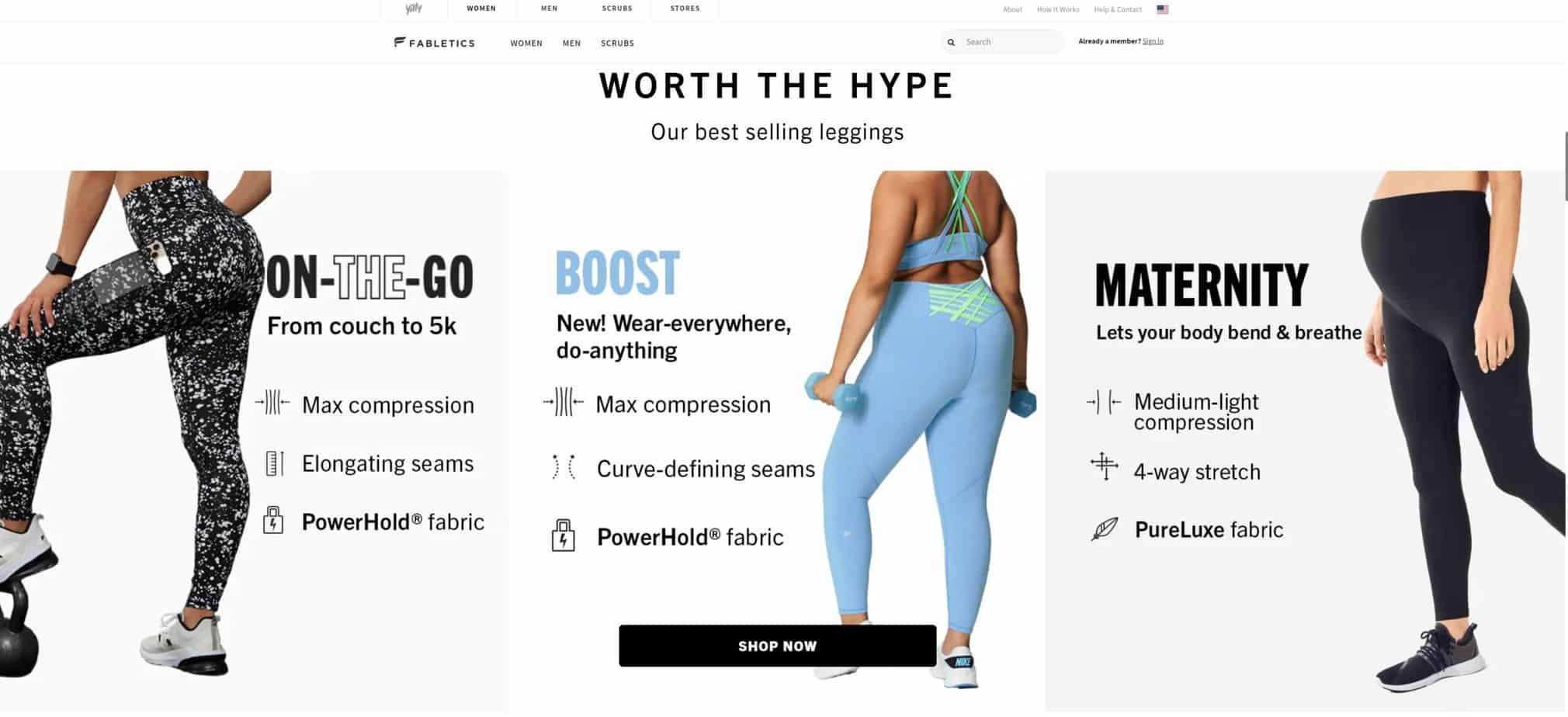 Fabletics is an affordable activewear subscription that allows you to choose what gets sent to you every month rather than getting random stuff sent. They are so well known now that they have expanded into other clothing genres, like shapewear, swimwear, and scrubs. I'll get into all the details on what differentiates Fabletics from Ellie below.
Pros
Members get 20%-70% off and build points for future discounts and goodies.

Your membership comes with free access to the FIT app.

You can skip any month you don't want to be charged for the member credit.

You can easily cancel online at any time before you're billed.

New members get a 2-for-$24 deal on leggings.

They have many options and variety, including athleticwear, swimwear, shoes, accessories, scrubs, and shapewear.

A sustainable brand, using recycled fabrics and being certified carbon neutral.

Everything I've tried on is super supportive and made of good materials.
Cons
Quite a few things are out of stock in specific sizes or colors, especially in their swimwear.

You can't purchase anything without signing up for the VIP membership.
How the VIP Membership Works
Fabletics VIP membership doesn't automatically send you a box every month like most other clothing subscriptions. Instead, it gives you a credit every month to use towards anything you want in the store. The member credit will get you your choice of a two to four-piece set or any one piece worth up to $110. You can save up your credits to use for a big shopping spree later or use them every month.
I like to shop Fabletics for single items, but they also have two to four-piece sets available if you don't have time to shop around and want to pick something quick. Even the sets are customizable because you can choose your desired color or pattern and size for each set piece. There are also a large variety of types of sets, such as three pairs of bottoms, an entire outfit, an outfit with shoes, and more.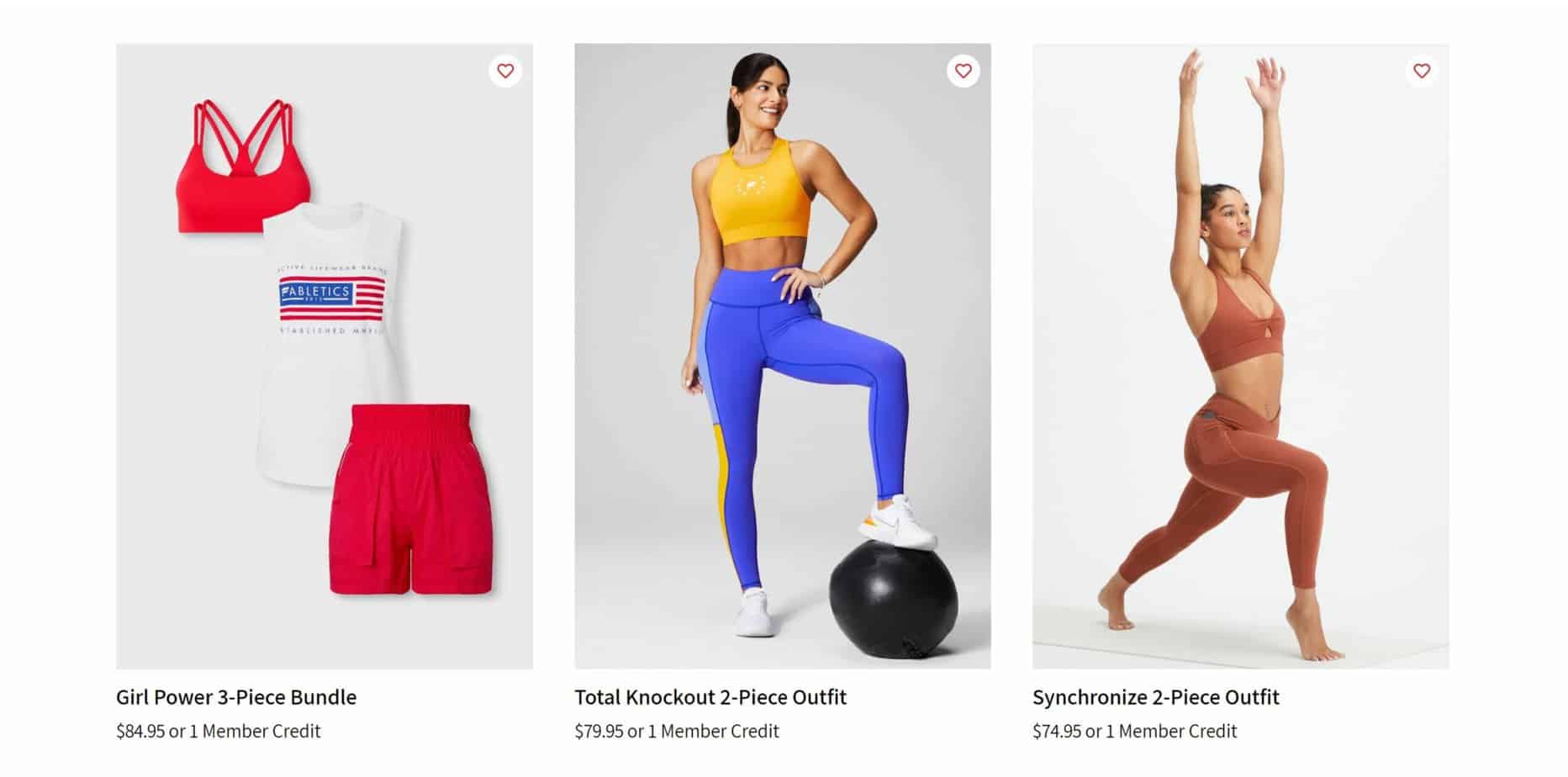 Fabletics is completely commitment-free; you can skip any month you don't need anything or shopping is not in the budget. You do have to remember to go to your account between the 1st and 5th of every month and click "SKIP THIS MONTH." However, if you forget, it's not the biggest deal because you can use your member credits whenever convenient. You won't automatically get sent anything.
If you decide to cancel your membership, you can do so at anytime online or by talking to customer service. This is the most straightforward subscription I've had to cancel. Go to your "VIP Membership tab" and click "Cancel Online." Scroll to the bottom and select a reason for canceling before clicking "Continue to cancel." If you cancel before using your member credits, you can continue to use those credits at non-member prices.
The Cost of Fabletics
Fabletic's membership fee is $59.95, but that fee goes right back into your wallet as a member credit that is worth more than the fee itself, depending on what you choose to use it for. VIP members also get 20%-50% off everything in the store, plus free returns and exchanges within 90 days, free shipping on orders over $49.95, and a new member offer of 2-for-$24 leggings. If you use your credits and the discounts wisely, you could save up to 70%.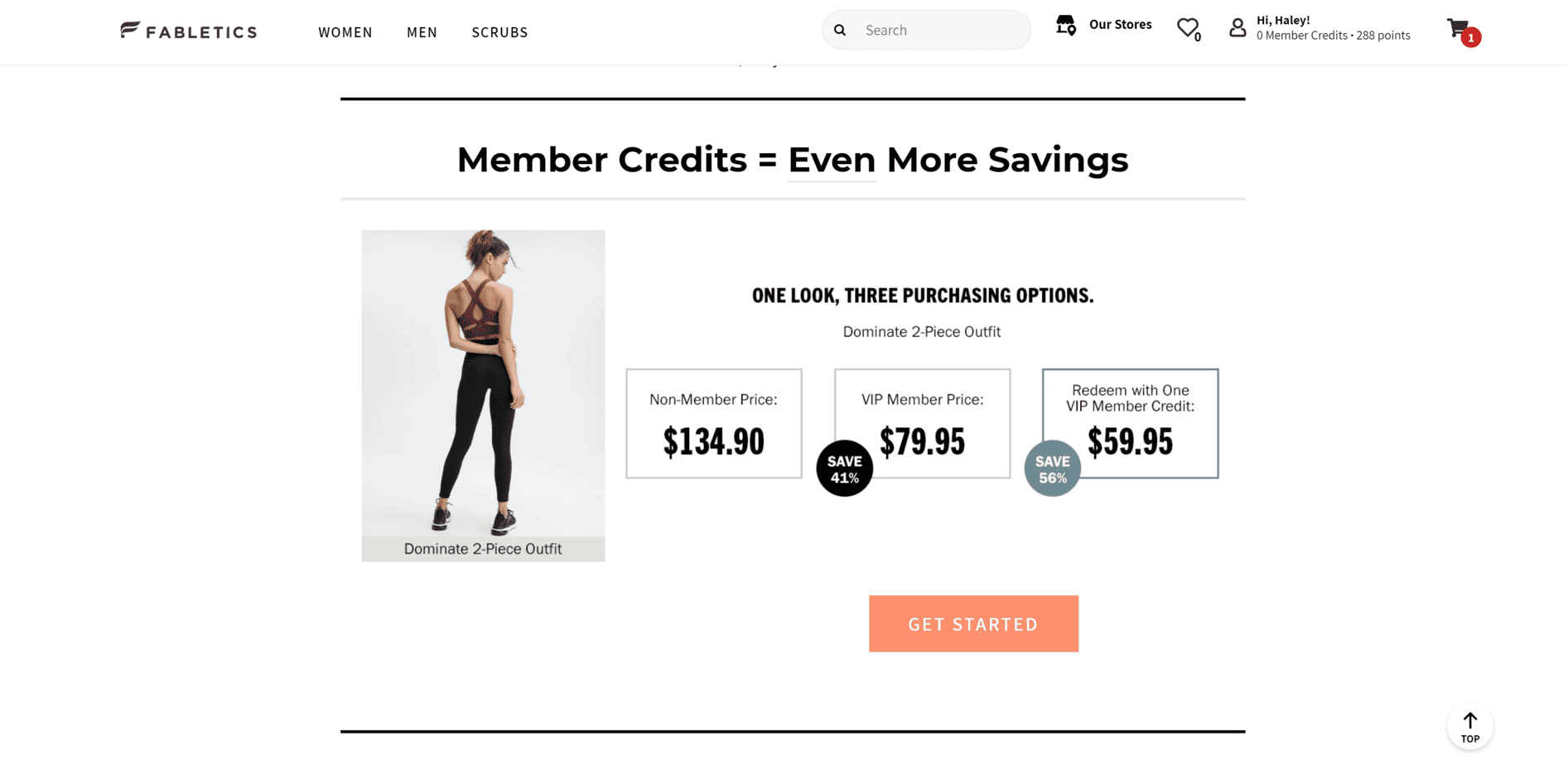 There is very little on Fabletics you can't use your member credit on. Most of the 4-piece bundles and some of the 3-piece sets are about the only things I could find where you can't use your credit. You build points with every purchase that can be used for cash rewards or freebies that are totally worth it. You'll also get points for leaving reviews.
You must have member credits or become a VIP member to purchase anything. Fabletics is especially sneaky about this because they have a button on each item's page that says "Non-Member Add to Bag." However, when you click on it, it takes you to the signup form for the membership. I wish these things would let you purchase at full price without subscribing.
Fabletics FIT App
The Fabletics subscription also comes with access to the FIT app, which usually costs $15 monthly. If you are looking for some new workouts to try out at home, this app is incredible! They supply hundreds of programs, classes, and instructions on how to do specific skills.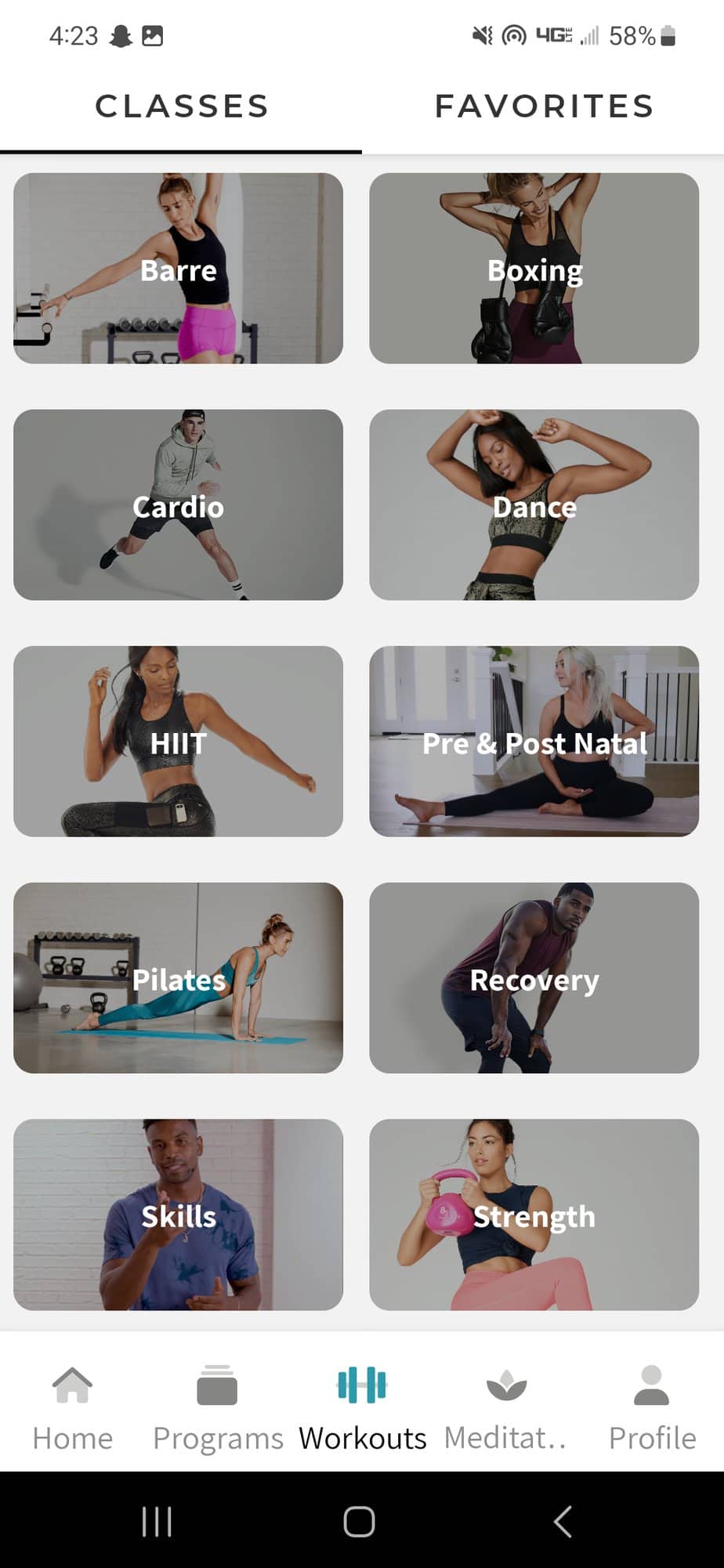 Each class is a 15-30 minute video of an instructor telling you exactly what to do. You can follow along in the programs and classes or learn individual skills to make your own workout. This is also an excellent opportunity to try something new, like Pilates, boxing, or meditation.
Fabletic's Options
I love how many options Fabletics has, from the types of items to the color and pattern choices. You can find your basic activewear, high-impact athletic outfits, golf attire, swimsuits, scrubs, shoes, intimates, shapewear, and accessories. Each item comes in at least a couple of different colors or patterns.
Fabletics has premade outfits and bundles that you can purchase, but you can also buy each item independently. I'm the type that likes to shop around for a while and customize my own outfits, but the curated sets are great for those that don't have time for that. Plus, the premade sets aren't always super matchy like many sets nowadays. They actually look like a stylist carefully picked them out.
My recent shopping spree with Fabletics included a swimsuit set, a couple of legging sets, a sweater, shorts, and one of the new golf skirts. One thing that did drive me nuts was it was challenging to find a swim set that I liked that had all the pieces in my size. The swimsuits were the only area where I had trouble finding my size available. Still, I eventually found a set I love.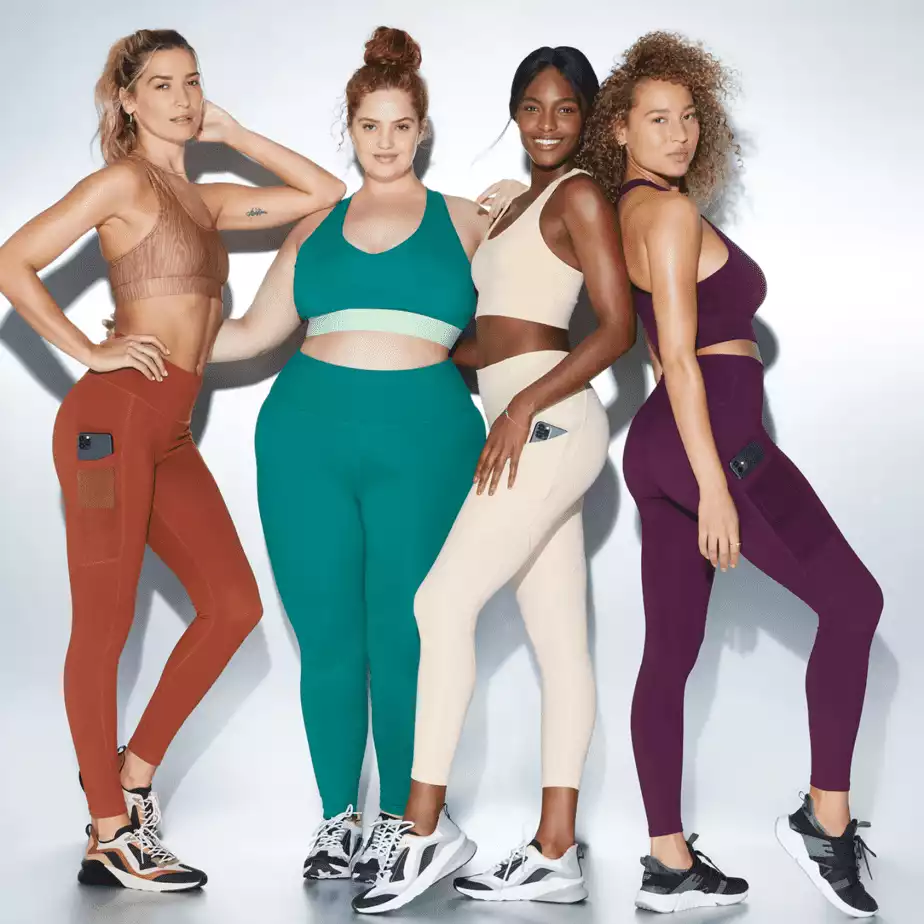 The Quality of Fabletics
Everything I got from Fabletics was made really well, with stretchy materials that are designed in a way that accentuates what you want to stand out. My favorite pieces were the Oasis sports bra, the Cloud Seamless set, and the swimsuit. The only things that I wasn't absolutely in love with were the shorts and skirt, but that's just because I felt like they were a smidge too big on me.
The Oasis yoga set does a fantastic job of giving me support in the front and shape in the back. I did an entire yoga session in it, and it was super comfortable while stretching in all the weird poses with me. My Cloud Seamless set was the most comfortable thing I got, and the flare pants were long enough for me, which is rare. I even got a compliment on how cute it was.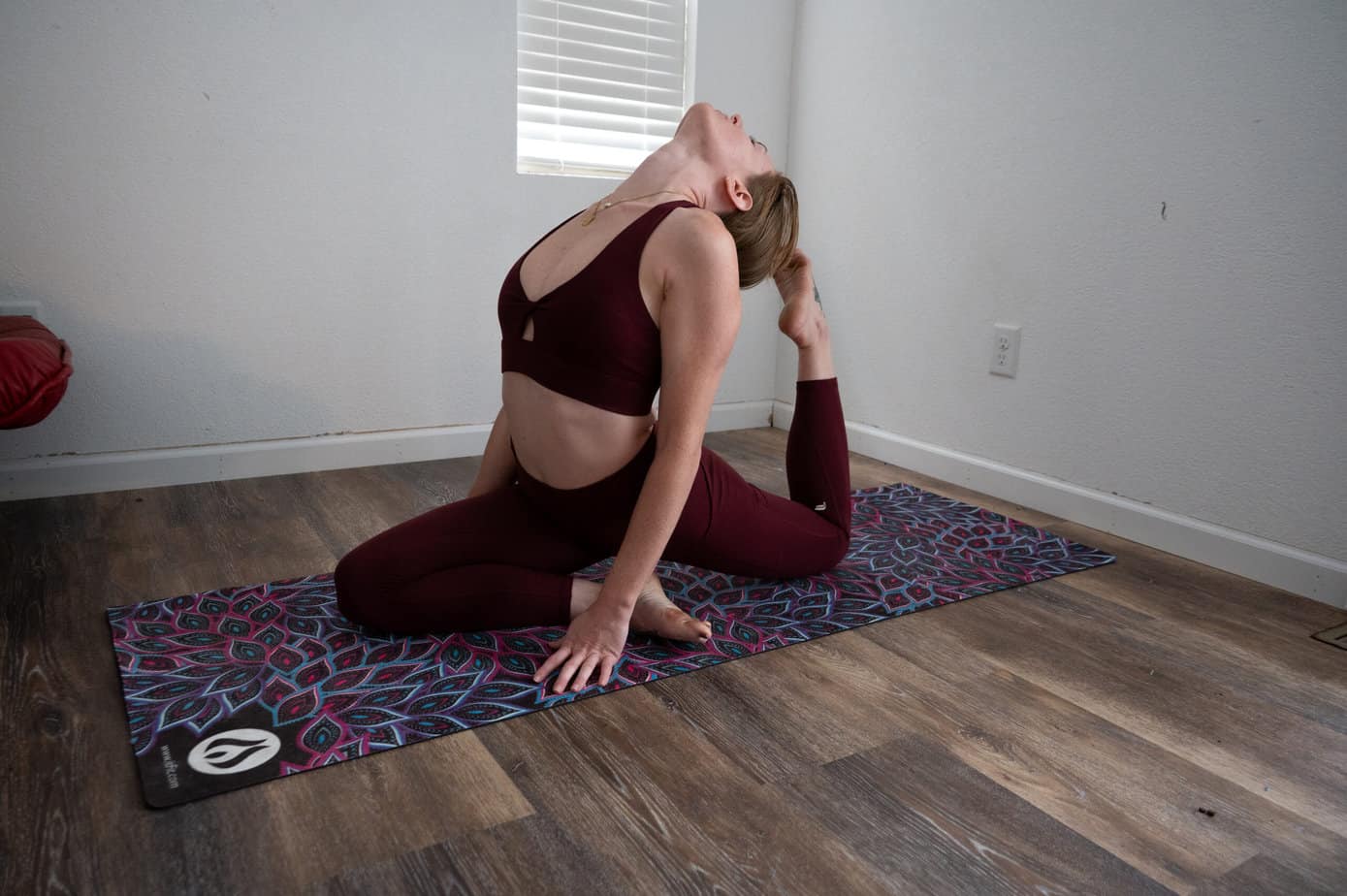 I paired the sweater with the Cloud Seamless set for a bit, but it was way too warm, so I had to shed that. However, it will be perfect for the winter. The swimsuit feels supportive and creates as much coverage as expected with active swimwear, except it's still super flattering. I rarely find an athletic swimsuit that doesn't make me look boxy, but this one cut right where I needed it to.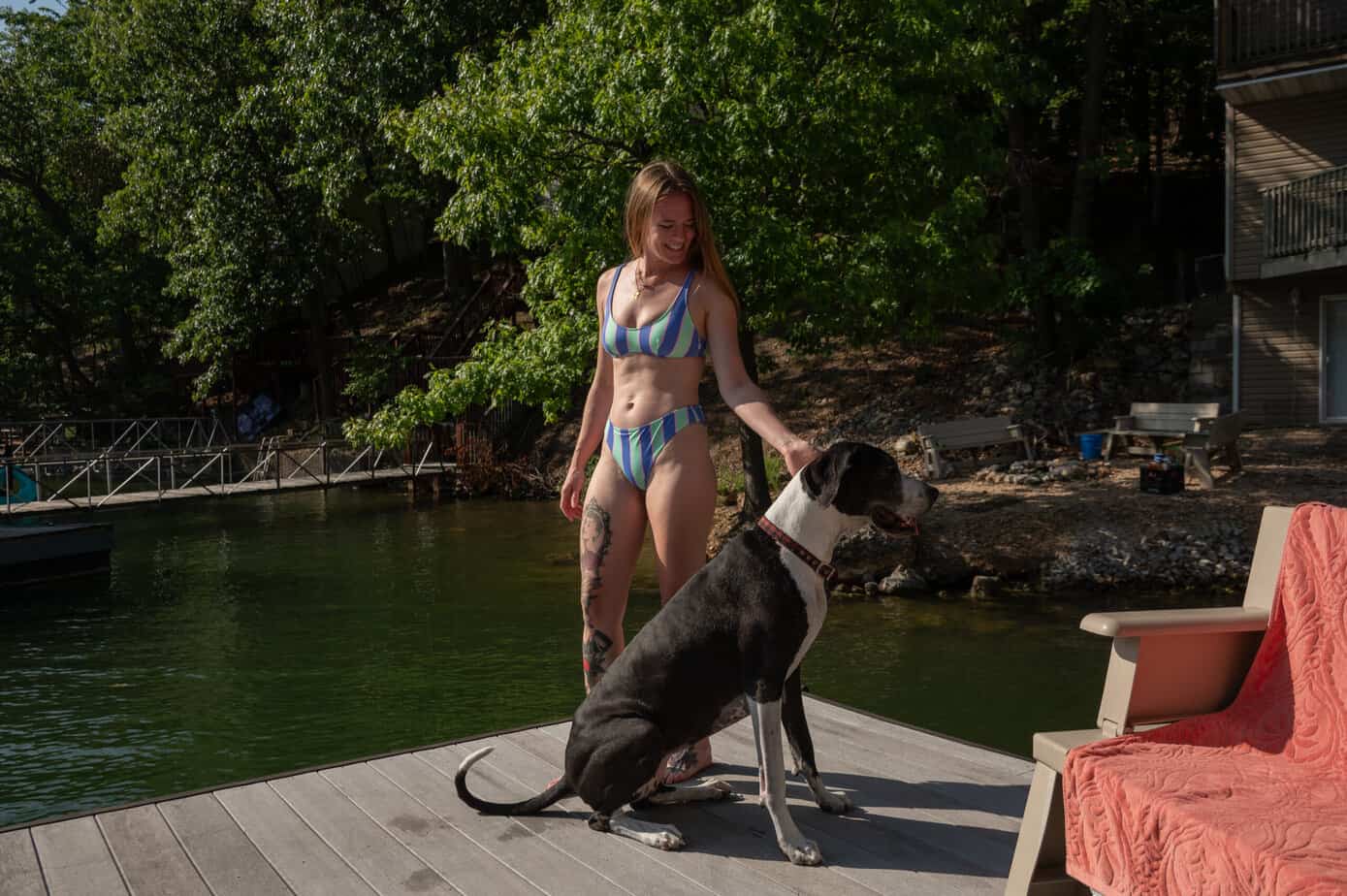 Other Activewear Subscriptions You Might Like
Stitch Fix was one of the O.G.s for clothing-curated boxes, and it is one of the most hassle-free subscriptions you can sign up for. You can signup to have boxes sent to you as often as you would like, and the only fee is a $20 styling fee that you can use towards purchasing any of the clothes they sent. If there's anything you don't like, you send it back in the pre-stamped package provided. Stitch Fix also has various options, from trendy accessories to cute activewear.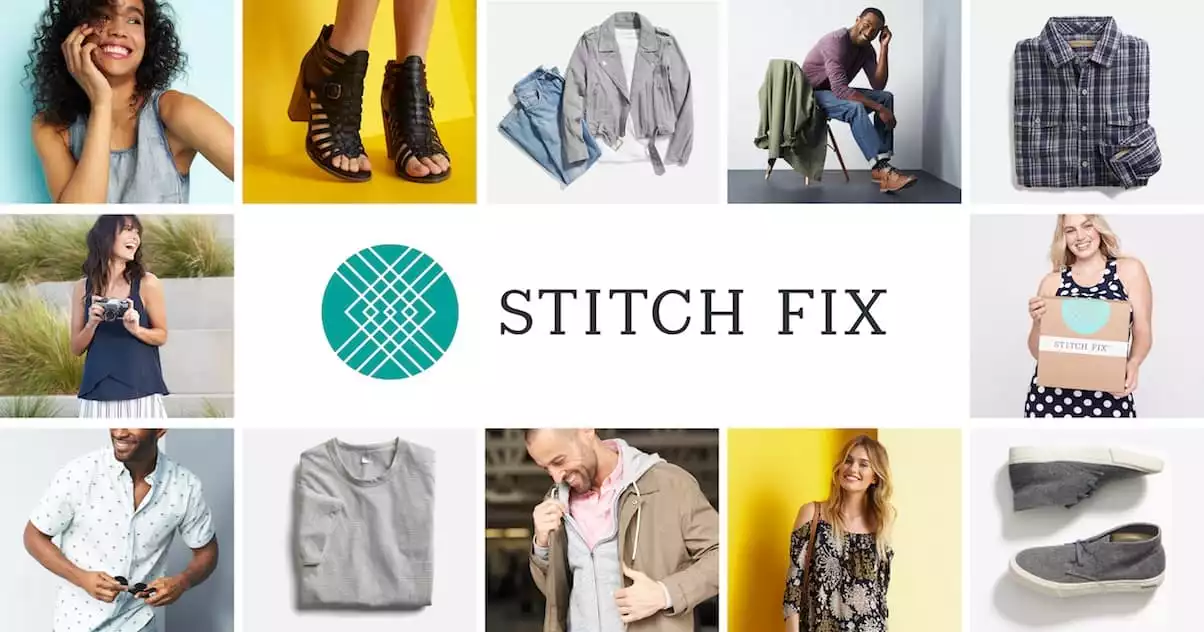 I Prefer StitchFix Personally
It's pretty simple. StitchFix has an AMAZING styling system that quite literally leads the market. Couple that with an amazing selection of brands and StitchFix truly makes it easy to look good without really trying!
Get Started
We earn a commission if you click this link and make a purchase at no additional cost to you.
Wantable is extremely similar to Stitch Fix, except they have individual "edits" you can order from. There's a Style Edit, Active Edit, Men's Active Edit, Sleep & Body Edit, and rotational Themed Edits. You can order a box from each edit giving you more curated options at once, but the Active Edit is most similar to Fabletics and Ellie.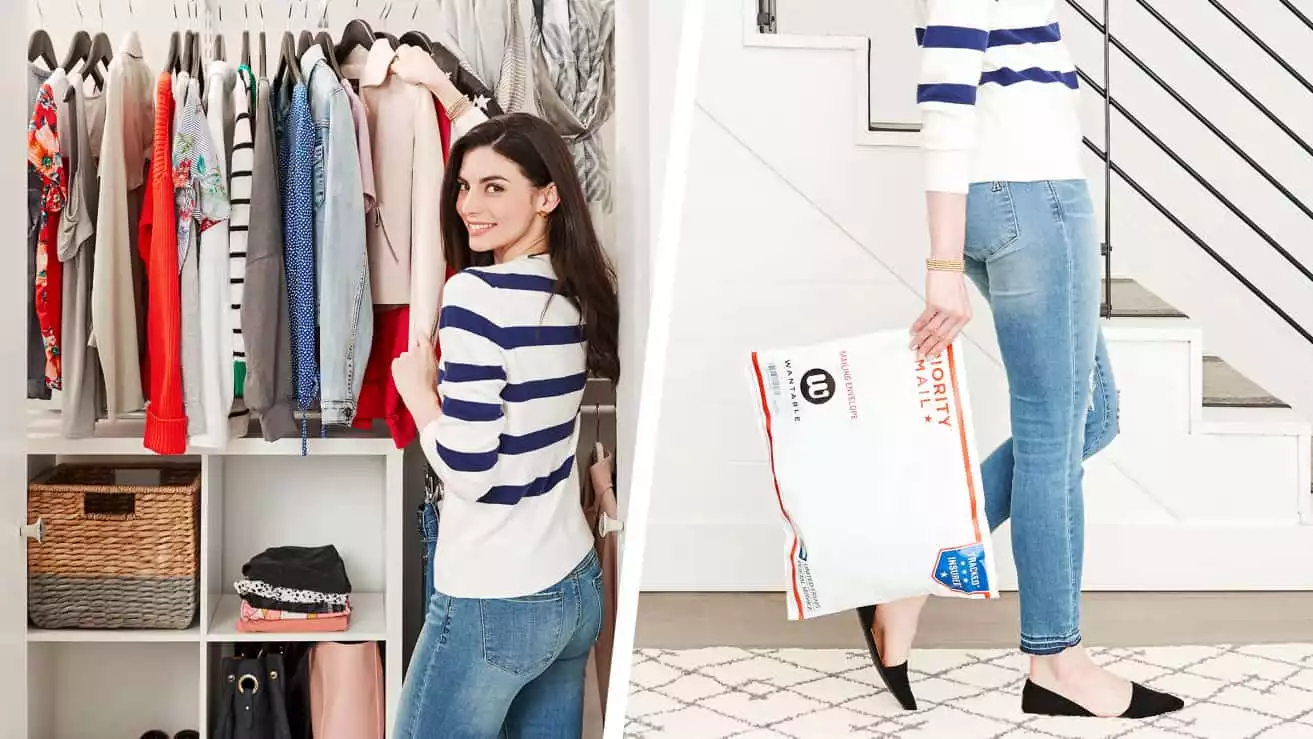 Expert Personal Stylists | Wantable
Wantable is a try-before-you-buy online retailer. Personal stylists create one-of-a-kind relationships with customers to fuel their confidence with looks geared to their unique tastes, needs and wants.
Check Prices
We earn a commission if you click this link and make a purchase at no additional cost to you.
If you strictly love yoga attire, Yoga Club may also be something for you to look into. Their subscription works differently. They make a box based on your style preferences and automatically send it to you on your chosen schedule. Yoga Club's membership is more for those that know they will want yoga attire on a routine basis because there isn't an option to skip a cycle, and you don't get your money back when you return items.
FAQ's
Question:
 Are Ellie leggings squat-proof?
Answer: There are many reviews claiming that Ellie leggings are squat-proof. However, I would only depend on these for a short period. They aren't made with the highest quality materials, and most users started noticing significant wear and tear between 6 months to a year of use. Ellie focuses on more affordable products that you can change out often.
Question: Who is Fabletic's biggest competitor?
Answer: Fabletic's biggest competitor is Lululemon. They stay on par with Lululemon regarding durability and fashion, except they are significantly less expensive. Fabletics can make their clothing much more affordable than Lululemon because of the VIP membership that creates customer loyalty.
Question: Why can't I skip the month on Ellie?
Answer: You can skip the month on your Ellie subscription. You go to your monthly collection between the 1st and 4th of each month, scroll to the bottom, and click "Skip the Month." If, for some reason, Ellie did not register that you have skipped the month, you can contact customer support to stop the transaction or get your money back.
Which One Is Best: Ellie vs. Fabletics
Ellie is slightly cheaper than Fabletics, and you can definitely tell why. Fabletics trumps Ellie in product quality, customer service, options, and available VIP membership features. Ellie can potentially be a great activewear subscription box but is nowhere near Fabeltic's standards yet.
The only reason you should choose Ellie over Fabletics is that you completely flip your wardrobe every six months and want to do it inexpensively. However, you should remember that Ellie can be a bit of a hassle to cancel, and their clothing is only meant for low-impact activities.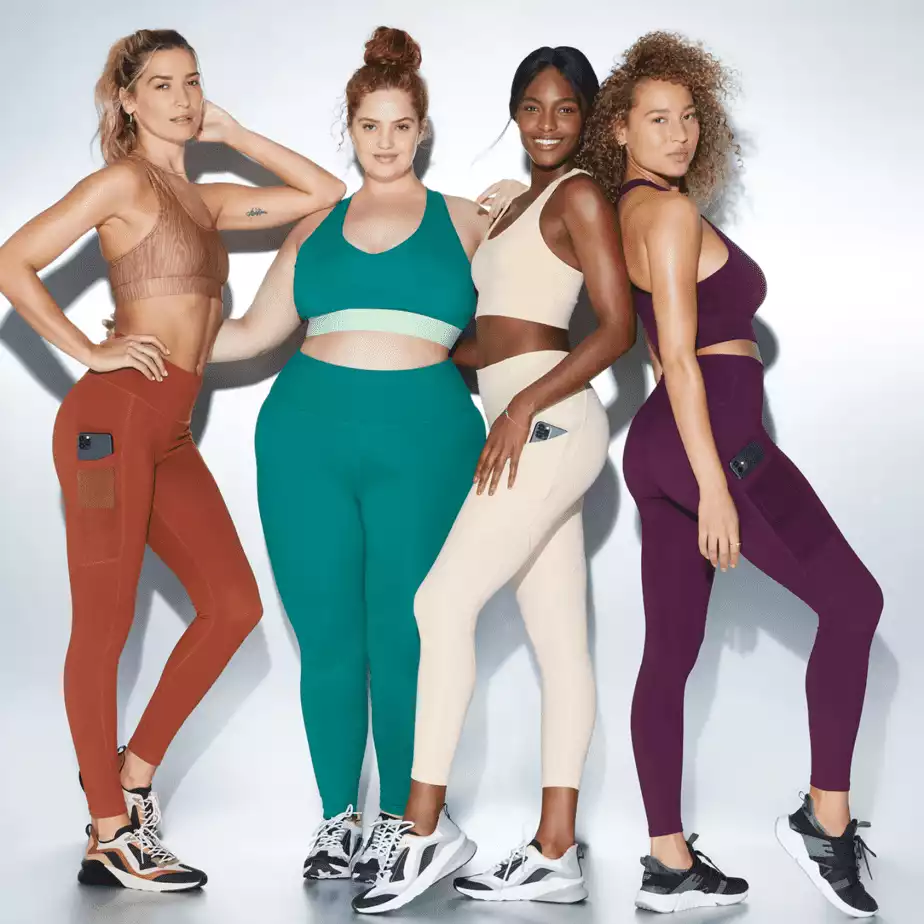 Continue reading:
Wantable vs Fabletics Compared
Fabletics vs Lululemon: Which is Activewear is Best?
Athleta vs Lululemon Compared: Which Fitness Clothing Brand Should You Choose?