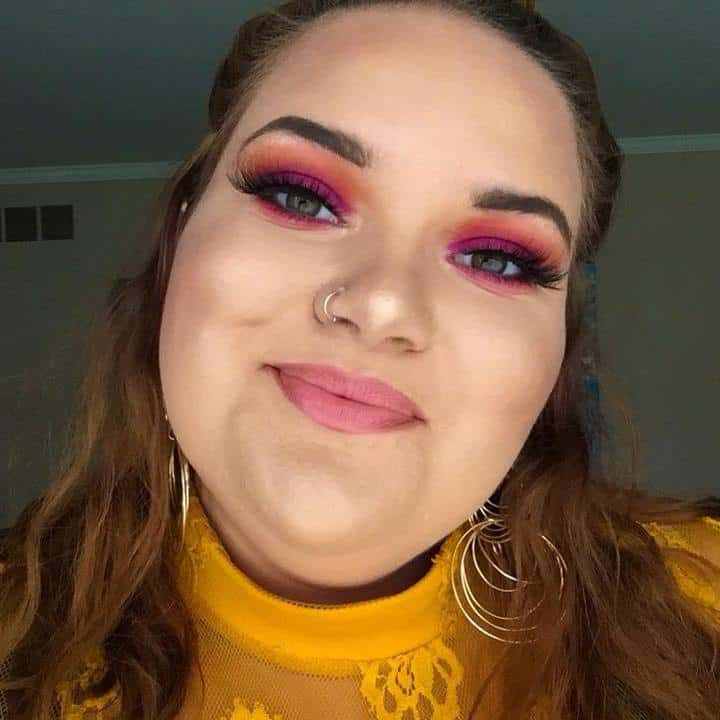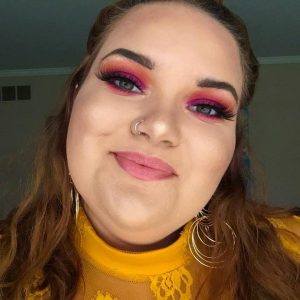 Latest posts by Alizabeth Swain
(see all)
Meal delivery services are supposed to make our lives easier, right?
I'm going, to be honest with you. I honestly had the opposite experience when I tried out Freshly for the first time.
It all started a few weeks ago. Since I gave birth to my son, my husband has been a stay-at-home dad. Now that my son is seven months old, we've decided it's time for him to go back to work. So, I'm going to be working full-time and mom-ing full-time too. Stressful, right?
The last thing I want to do is meal plan. I mean, I hated meal planning, to begin with. But now I can blame it on my hectic schedule and not sound like I'm a bad homemaker/wife.
I never expected the most challenging part of adulting to be figuring out what to eat every single night. Plus, going grocery shopping for the ingredients to make dinner – it's so stressful.
I wanted to make this big transition a little bit easier on myself. So I decided to try two different meal kits (RealEats vs. Freshly) to see which one was better.
After all, I feel like the food and meal kits are the one thing that can really divide people. There are so many different people with allergies, food preferences, spice preferences, those who care about their eating habits and those who don't, and all of the other guidelines that come with our diets.
Bottom line up front: RealEats is the only way to go here. I'm not a picky eater by any means, but I was honestly repulsed by the food I got in my Freshly box. There's a clear winner in this comparison, and it's RealEats.
Editorial Update: Freshly Meal Delivery is No Longer Available
It's official — you cannot order the Freshly box anymore! If you are reading this comparison, it will come as no surprise that we actually preferred the RealEats box so much more, so we recommend choosing that as an alternative. If you visit the Freshly website now, they recommend trying Factor (which our subscription box tester loved) and Freshly is sharing the coupon code: GOFACTOR50 to save up to 50%!
Healthy AND Easy Pick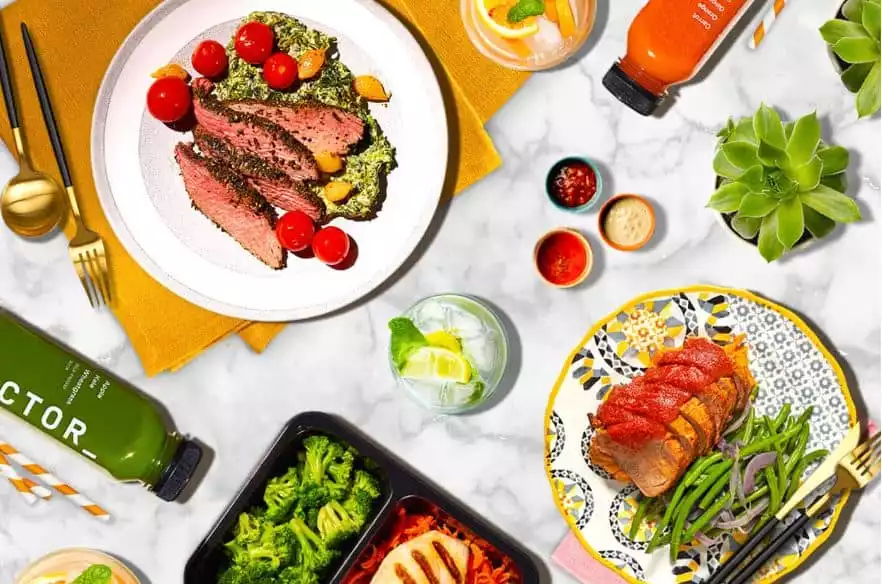 Why Go With Factor?
Just heat, eat, and enjoy. Factor makes eating healthy, EASY. Honestly, the hardest part about eating healthy are MEAL PLANNING and MEAL PREP. Factor removes both as an excuse and is interesting enough to stick with over the long term.
Check Current Seasonal Promo!
We earn a commission if you click this link and make a purchase at no additional cost to you.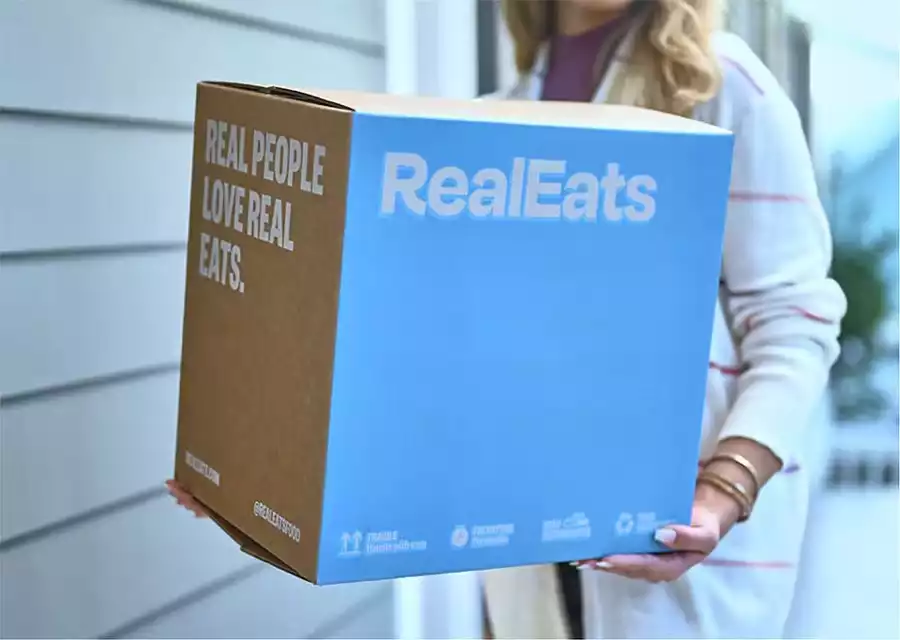 Main Differences Between RealEats vs. Freshly
Freshly is cheaper than RealEats; Freshly averages $11 for a meal, whereas RealEats averages $14/per meal.

RealEats you eat after you boil the ingredients in water to heat up, whereas Freshly only offers microwaveable prepared meals.

Freshly offers gluten-free food, whereas RealEats provides keto, paleo, and vegetarian meals.

Freshly meals came inside a microwaveable container, whereas RealEats food came inside clear plastic bags.

RealEats offers breakfast, couples, sides, proteins, beverages, and snacks, whereas Freshly only offers lunch/dinner meals.

RealEats offers customizable meals, whereas Freshly doesn't

RealEats focuses on having three components to their meals, whereas Freshly doesn't

RealEats meals take 6 minutes or less to make, whereas Freshly makes 3 mins or less
If you've never heard of RealEats before, you should stay tuned to learn more about this brand:
What is RealEats?

RealEats is a meal delivery service that provides meals that have been Freshly prepared by chefs. All of the meals that RealEats offers are focused on being nutritional. You can choose between four through 12 different breakfast and dinner options every week. Plus, you can also add on other sides and snacks (like smoothies) as well. RealEats claims that none of their meals contain any fillers, artificial preservatives, or binders.
In addition, RealEats only provides meals that are individually portioned out. RealEats also offers a full list of ingredients for every single meal option they're offering for the week. So this makes it easy for you to go through all of the available meals to see if there's a particular option you want to avoid based on preferences or dietary restrictions.
My Ordering Experience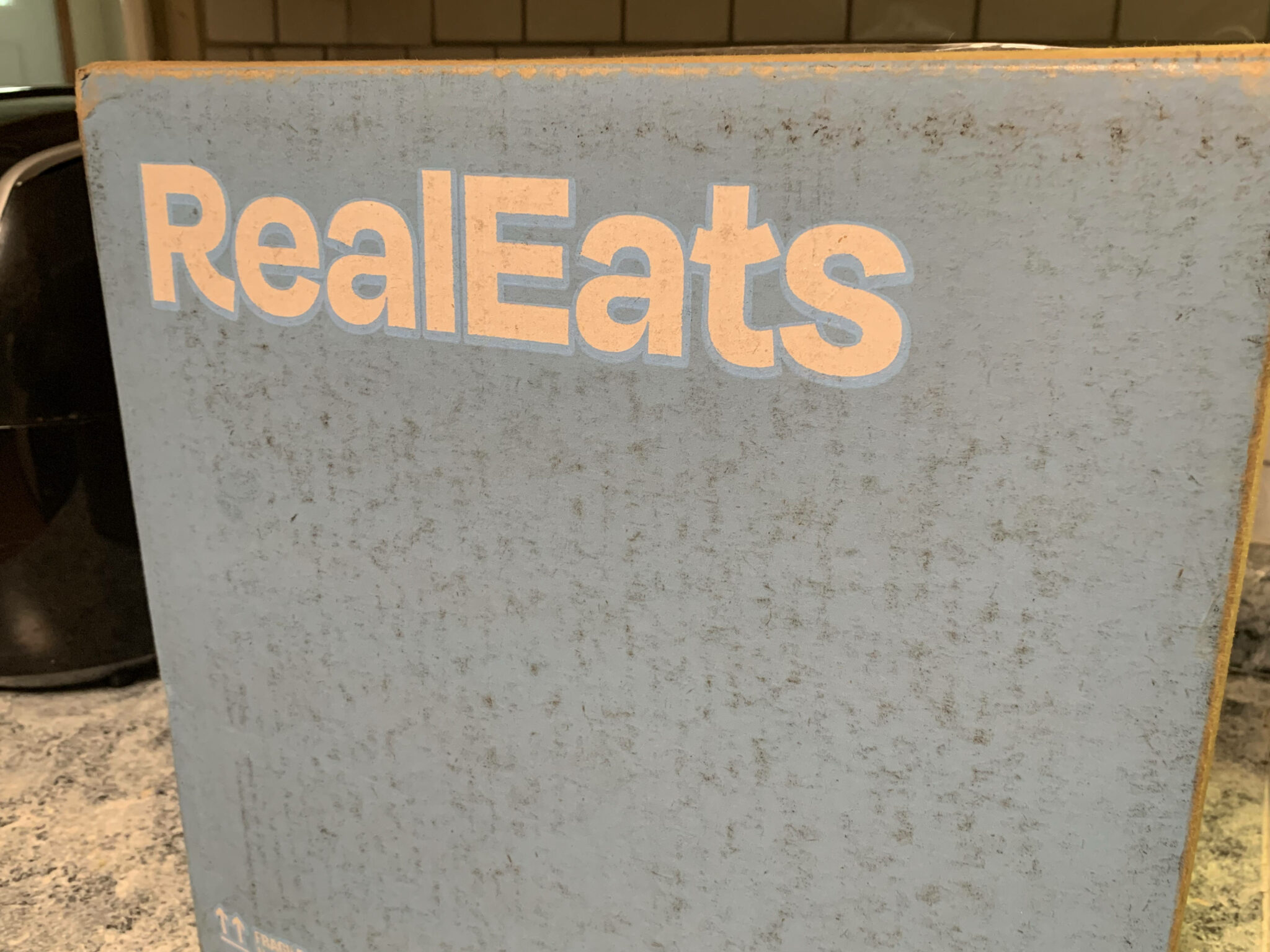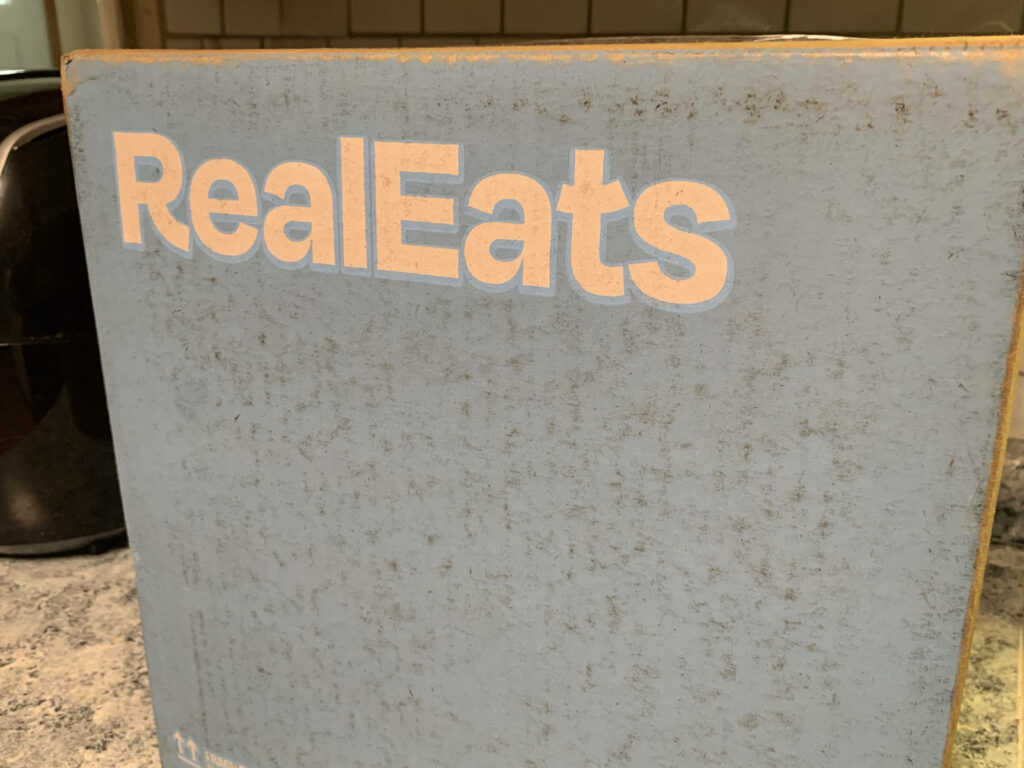 The entire ordering experience was very straightforward. I basically created my account, picked up my meals, put in my payment information, and waited for my order to show up on my front porch.
When my order arrived, I was greeted with a light blue cardboard box labeled "RealEats." As I opened up the box, there were a few cute sayings on the cardboard, such as "Fill your fridge with potential."
Inside the cardboard box, there was a little sheet of paper that explained to me how to properly care for the shelf life of my food. It told me to keep all of my food in the fridge and eat it by May 2nd, 2022. This box arrived on April 27th, 2022.
Also, RealEats explained that if I needed more time to eat my meals, I should freeze the food. They presented on the sheet of paper how to properly freeze the food and when I could reorder if I wanted to receive more shipments.
They also explained a bit more about their company and why they're passionate about being responsible with food choices and supporting local farms.

On top of that, I also received a welcome letter from the founder and the CEO of the company. In addition, I received a breakdown of all the meals that I received and the sides that should go with the main protein in the meal. I really loved how personal and organized everything inside of this kit was. This is something so different from Freshly (which you'll see what I'm talking about in a bit.)
Opening up the box, a recyclable foam was inside to keep my order fresh. Plus, there was a reusable ice pack inside of my order as well.
Everything came clearly labeled and in vacuum-sealed plastic bags. The heating instructions are on it the label for each meal. There's a stovetop recommendation and a microwavable recommendation for every meal. It explained how to heat up the meal on both the stovetop and the microwave.
For example, with the Korean barbecue steak meal, there were two different cook times for the three parts of the meal. I really like how everything wasn't just lumped together with one cook time, which would allow everything to get heated thoroughly. This is something that I feel like Freshly was missing.
Plus, I'm going, to be honest. Just seeing all the food inside of the vacuum-sealed packages was a lot more appetizing than the microwavable meals from Freshly.
My Menu
Korean barbecue steak with gently steamed broccoli and stir fry veggie rice

Chicken tikka masala with vegetable korma and saffron basmati rice

Greek chicken with gently steamed broccoli, couscous, and vegetables

Chicken Asada with pinto beans with cojita and sweet potato brown rice

Garlic lime shrimp with fire-roasted Southwest veggies and Smoky mozzarella grits

Green chile beef with Mexican street corn and steamed brown rice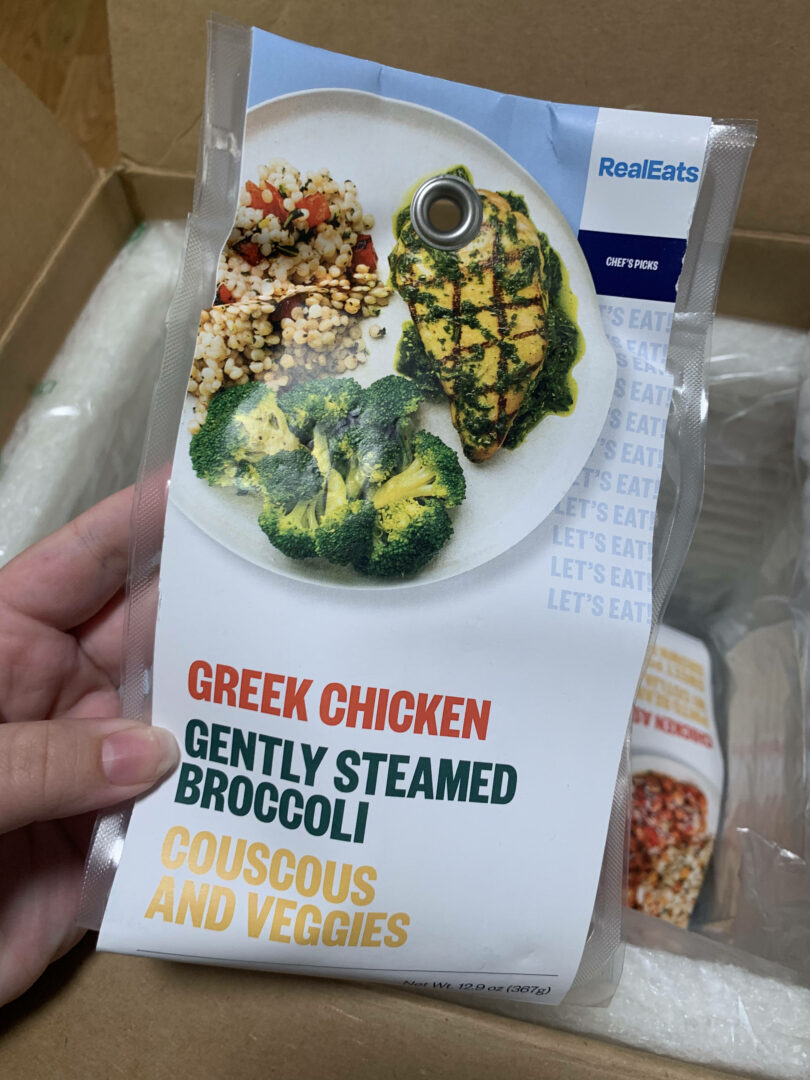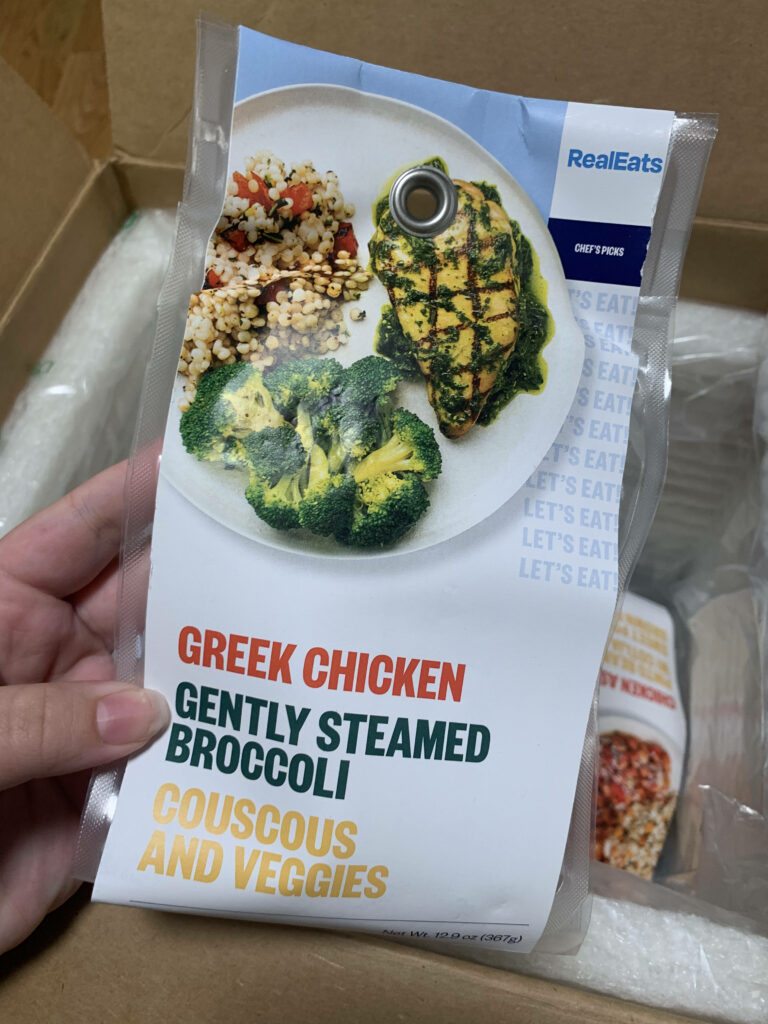 A Closer Look at the Meals
Out of all of the meals I tried from RealEats, my favorite was the chicken Asada with pinto beans with cotija and sweet potato brown rice. I feel like this meal had so many factors to it; it was really complex and sophisticated. Way fancier than I was expecting it to be!
Plus, I think that it tasted terrific. I wouldn't say that it was as good as a meal that I would make fresh at home, but considering the factors around this meal kit, it was actually surprisingly good. It didn't have that weird aftertaste were sent that the meals from Freshly had.
My least favorite meal was the garlic-lime shrimp with fire-roasted southwest veggies and smoky mozzarella grits. I don't really like grits. I also feel like being garlic-lime shrimp was a little heavy on the garlic and not heavy enough on the line. Plus, I personally found the texture of the shrimp to be a little rubbery. It was easier to tell with this meal that it wasn't Freshly-made, but I don't think that it's a bad off.
I do think that these meals would be great for someone who's always on the go and isn't home a lot. Or if you're someone who doesn't like to cook, doesn't know how to cook, or doesn't have the appliances you need to get started cooking, I think the meals and the quality offered by RealEats are pretty much unbeatable.
Pros & Cons of RealEats
Pros:
A lot of add-ons that you can put on your order

Several different meals size options available

Free delivery with all meal plans

RealEats uses local;y sourced seasonal ingredients in their meals
Cons:
Doesn't deliver to all states in the United States

Meals don't come from a facility that's allergen-free

Don't have a whole lot of options for vegans/vegetarians
Would I Recommend RealEats?
Yes, I would. I think the quality of the meals from RealEats is surprisingly lovely. I think it's much nicer than you would get from a fast-food drive-through, not to mention a lot healthier and cheaper. I also think these would be a great option to throw in your lunch box and take with you to work so you can just eat them up real quick. If you're someone who's always on the go and don't ever think about taking time to prepare a meal for yourself, RealEats takes the thinking out of that process and allows you to choose the best meals for your taste. I don't really think there is any way that it could get better than this if you are someone who is super busy.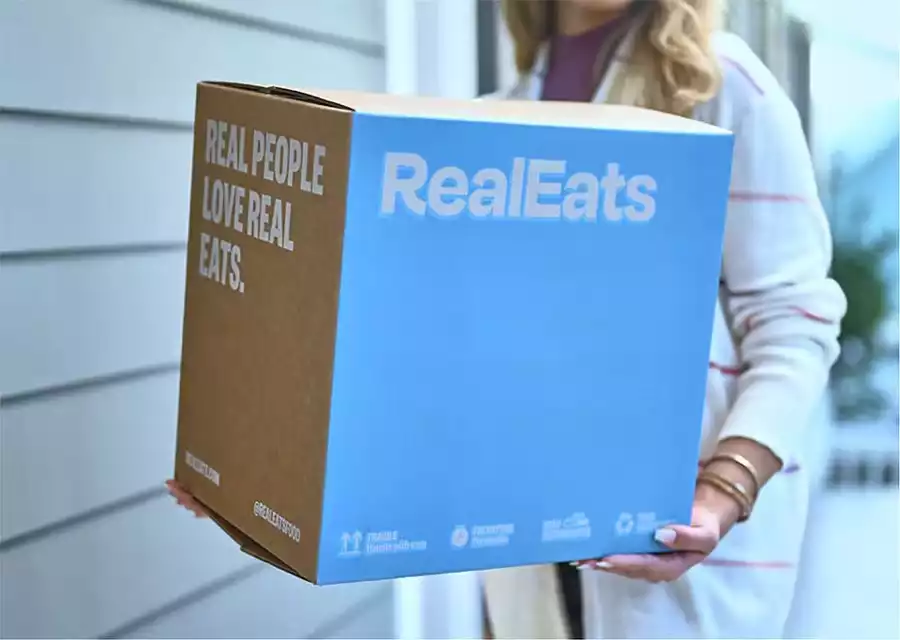 Freshly
-$11.79/
meal
Now that we're done seeing what RealEats has to offer, let's take a closer look at Freshly:
What is Freshly?

Freshly is a subscription-based food delivery service. Freshly offers meals that are supposedly chef-cooked. Once you sign up for their subscription, you can start getting healthy meals delivered straight to your doorstep.
When you're signing up for Freshly, you get to choose between that 30 different meals. I've listed the meals that I chose below. After you've ordered, Freshly will cook up all of the meals that you have ordered and deliver them right to your front door.
To begin enjoying your meal, all you have to do is heat it up in the microwave. Their meals take 3 minutes or less to heat up in the microwave. Then, you can just eat it out of the container if you so please. There's literally no preparation involved. As long as you make sure to take off the cardboard covering outside of the microwaveable container, you're all good.
You can choose to cancel your Freshly subscription anytime you want. All of the meals that are delivered to your home are portioned out for one person to enjoy.
My Ordering Experience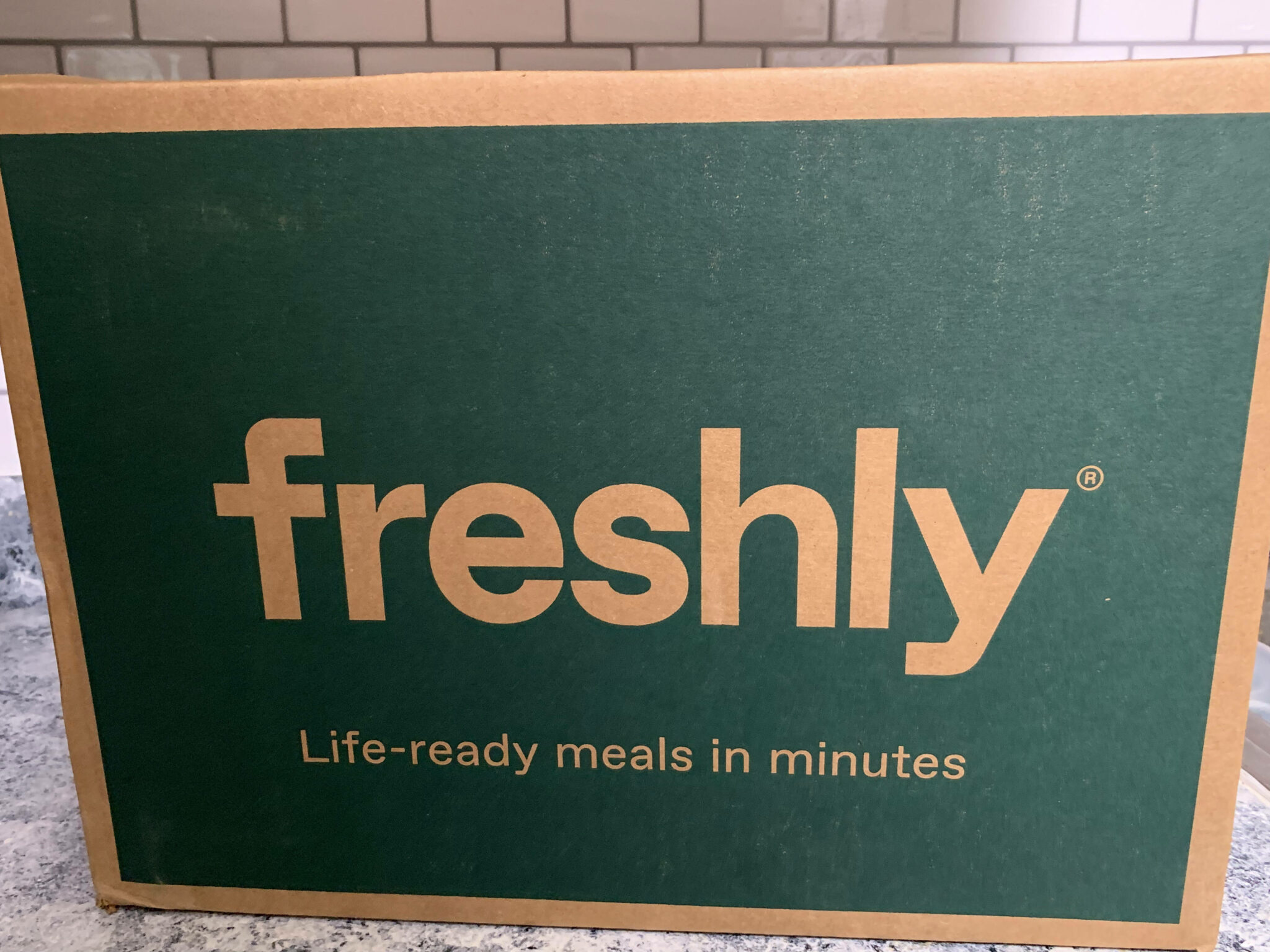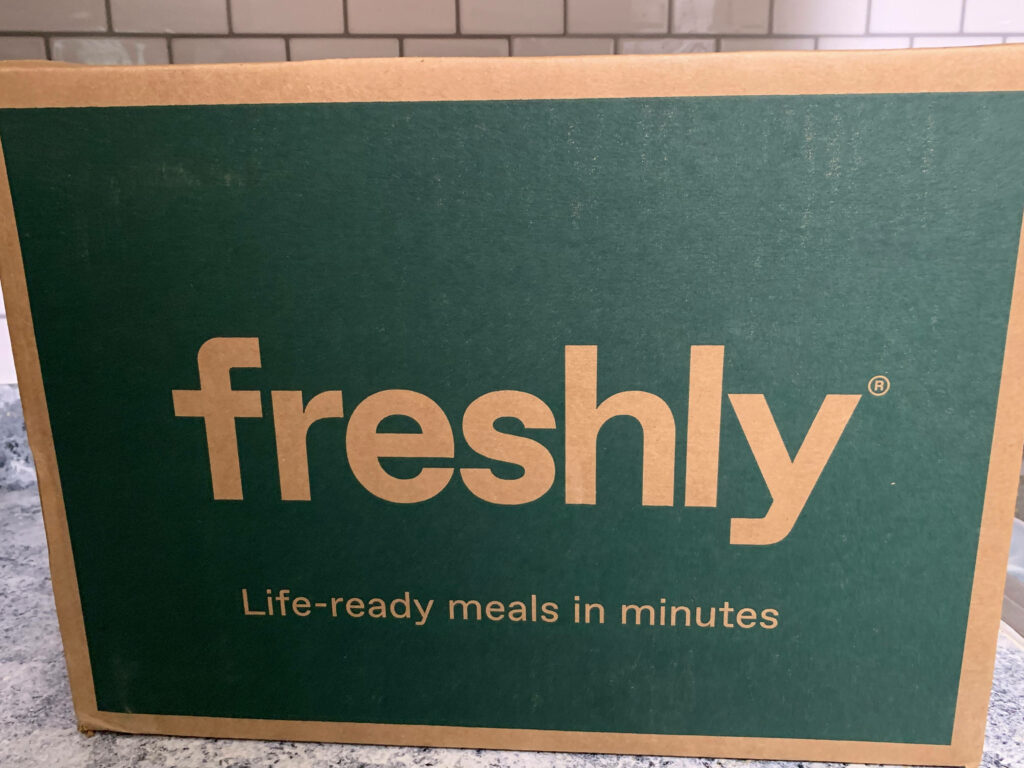 Honestly, the ordering experience wasn't difficult at all. It was straightforward to view the different plans that were available and see all of the options I could choose from on their menu. The smallest plan option they have available is 4 to 5 meals, whereas the largest meal plan they have available is 12 meals.
What I didn't like about Freshly is that they don't offer options for families. For example, if you're looking to shop around for more than one person, you'll have to go with a larger box and order the same meal twice (for two servings).
Freshly offers gluten-free food. Apparently, they've been certified as a gluten-free food service by the Gluten Intolerance Group. While I'm not someone with gluten intolerance, I don't really feel like Freshly made their gluten-free menu a big selling point.
But, I did like how I could see the calories in each serving of meal as I was looking around.
The entire ordering experience I had was very simple. I picked out my order, put in my payment information, and I was done!
A few days later, the box showed up at my doorstep. I loved the dark green print on the outside of the box; it's super different than a lot of the other food subscription boxes. On the inside of the box, there was an envelope that was "Savor the Savings" and had a bunch of coupons inside of it. Inside the box, there was a sheet of environmentally friendly insulation that was wrapped in plastic. Pulling that back, there was a package of ice that kept all of the food inside cold.
Here's what my food looked like on the inside of the box:
A Strange Problem…
This is a little spoiler, but it's okay! Basically, I got my first order of Freshly delivered to my front door. After I tried out the box, I decided I hated it and wasn't interested in any more food from Freshly. So, I canceled my subscription with them.
A week later, I ended up getting another box delivery from them. When I opened up the box, there was another full weeks worth of food inside. It was all the same food I had ordered a week before.
I was a bit alarmed, as I was worried I had been charged for another box even after I had canceled my subscription with them. But, I checked on their website, and I even checked my transaction history on my bank account. I hadn't been charged for two boxes. I got another random box sent to me for free, and I still haven't heard back from Freshly as to why this happened.
My Menu
Here's what I got in my Freshly subscription box:
Buttery Baked chicken empanadas with veggie-loaded refried beans

Sesame ginger chicken and noodles with bright stir-fry veggies

Asian style chicken and noodles with almond tahini sauce and vegetables

Baja green chile chicken stew with hominy and shredded cheddar

Japanese style pork katsu with katsu sauce and confetti rice

Pesto cauliflower shells and sausage with grape tomatoes and broccoli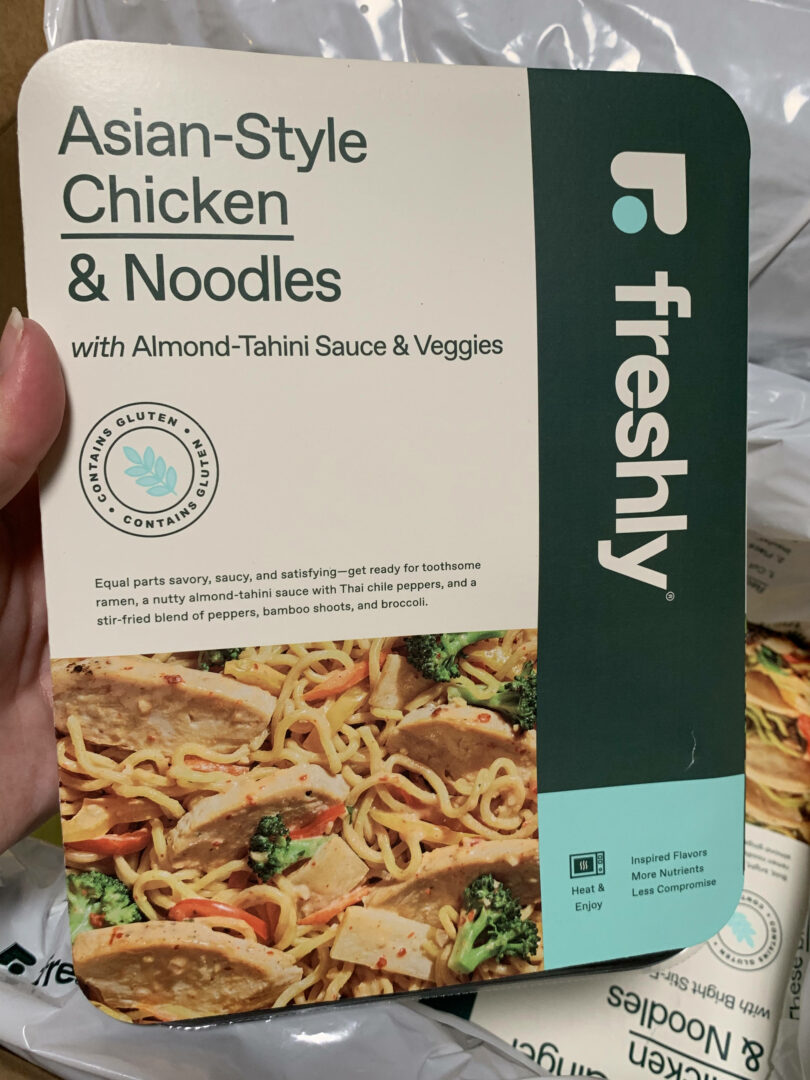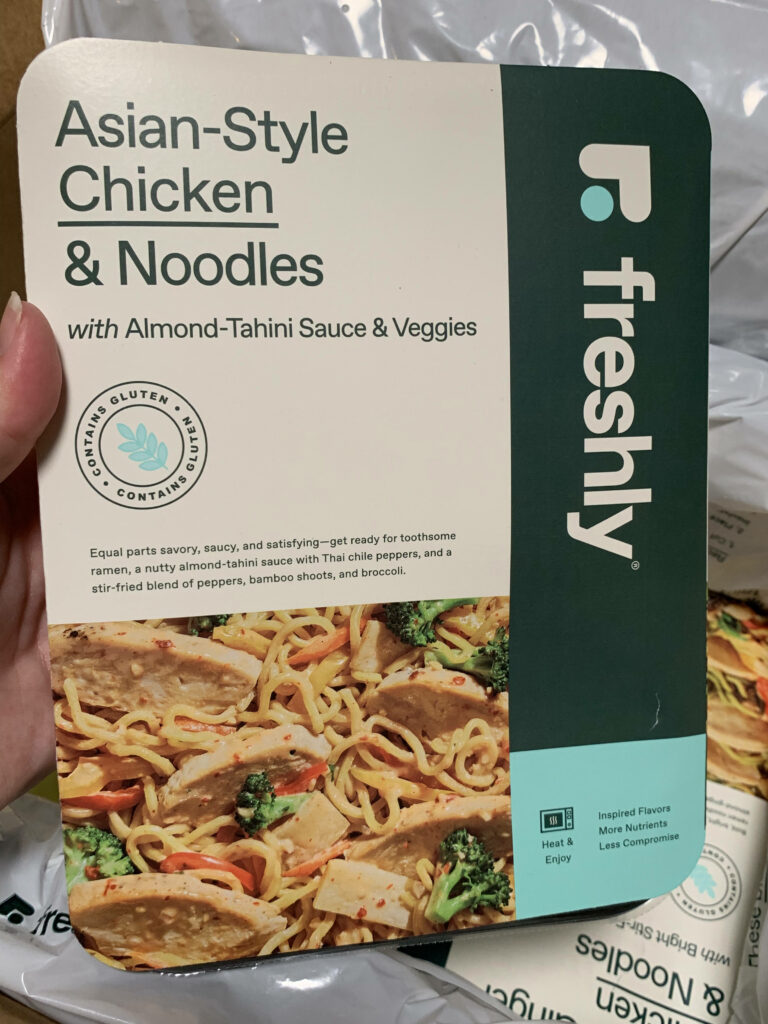 A Closer Look at the Meals
After heating up all of the meals, here's what they looked like:
Honestly, I thought these meals were going to be semi-pleasant, especially because they were Freshly made and crafted by a chef. Boy, was I wrong!
I was repulsed by these meals. They or worse than cafeteria food. I found that most of the meals, I had this strange aftertaste that I still have not been able to put my finger on. Plus, I found that everything was extremely salty but lacked a lot of flavors. I found everything to be particularly bland and mushy. There wasn't a huge amount of variety in the textures available. The only thing that I really felt like I hoped to break up the monotony in the textures was rice. But, not every dish served had rice in it.
These meals are so bad that I was only able to take a few forced bites before I put my fork down. I just could not power through with these meals. And I'm not someone who is a super picky eater either. I just thought the smell was really repulsive, but I can't tell you what that smell was. I'm wondering if there wasn't some sort of additive or extra ingredient added into the food to help preserve it since it's made ahead of time. I don't know what it is, but it's not something that I've ever smelled or tasted before. And the smell that came from these meals was also present in the aftertaste that I experienced. It just wasn't a good time all around.
I have to say, but I think the best meal it came from this was The Buttery baked chicken empanadas. I liked the veggie-loaded refried beans, but it was really mushy when they came out of the package, so it was kind of hard to tell what vegetables were included in the refried beans. But, I do like the concept of this, and this is something that I would consider adding to my regular meal planning.
My least favorite meal was the Asian-style chicken and noodles. Again, the texture was a really big issue with this meal. After I heated it up, there was a layer of either sauce or chicken grease on top of the noodles. It did not look appetizing and nor did it taste good. But, it was really hard to tell what was what with these kits since everything was mixed together in one microwavable container.
Another thing that I experienced with these meals as they were cold. I know that I heated them up for 3 minutes, and I followed the heating instructions I was recommended on the box. But I feel like they cooled down really quickly. I don't feel like I was even able to get halfway through trying to eat a meal before they got cold.
Pros & Cons of Freshly
Still unsure if Freshly is the right fit for you? Let's take a close look at the pros and cons offered by Freshly:
Pros:
No cleanup with meals

Super quick to make, less than 3 minutes

No cooking is required, so you don't need to have an oven or stovetop

Wide meal variety for you to choose from

Gluten-free menu
Cons:
The meals are gross

Expensive

You can only heat it up in the microwave
Would I Recommend Freshly?
No, I would not recommend Freshly. There's only one group of people that I would consider possibly offering Freshly to, but I feel like the same group of people that I would recommend Freshly to, I would encourage them to go check out RealEats. I think these meals may be good for a single guy who doesn't really have the time to cook for himself end doesn't have a picky palate. However, I don't think that the quality of these meals are worth what you're being charged. For the same price that you're being charged Freshly, you could go out and buy your own ingredients and meal prep for an entire week with meals that are fresher tasting and less saturated with salt.
And if you don't have the time to make yourself a meal at all throughout the week, then I would recommend you go with RealEats.
FAQs
Question: How long do the meal from Freshly last?
Answer: Freshly recommends you stick your meals in Your fridge as soon as you receive them. They say they have a shelf life inside of your refrigerator for three to five days. But, they do recommend you make sure to eat any meals that have seafood inside of them first. If you need more time to eat your meals, you can always throw them in the freezer to extend their shelf life. 
Question: Is Freshly owned by Hello Fresh? 
Answer: No, Freshly is owned by Nestle! 
Question: Where do Freshly meals ship from? 
Answer: Freshly ships their meals from several very large kitchens. Freshly claims its kitchens are over 60,000 square feet. These kitchens are located in Maryland, New Jersey, and Arizona. 
Question: Can Real Eats meals be frozen? 
Answer: Yes, you can freeze the meals to get from Real Eats. However, it's important that you freeze them in the original packaging that they came with. This means that you shouldn't open up the food and try to put it into a plastic bag and then throw it in the freezer. Instead, just open up your box, grab the meals out, and throw them in your freezer. 
Question: Does Real Eats have an app? 
Answer: Yes, Real Eats does have an app. It makes it super easy for you to pick out your meals and stay on top of your deliveries every week.
Question: Does Real Eats charge for shipping? 
Answer: No, Real Eats doesn't charge shipping. 
Who's the Real Winner Here?
In my personal opinion, I think that RealEats is the winner. I think the quality of the food is rather surprising. There are some people who may stick their nose up when they think about eating microwavable meals. But, I feel like the quality of the meals that RealEats provides breaks out of the box that a lot of people think of when they hear about microwavable meals.
I think there is a lot more value to be found in the equality of the food and sustainability that RealEats provides. Plus, I think in the long run, there are a lot more cost of portable than Freshly is. I loved how much more personable my first order with them was, especially when I compared my first order to Freshly. There was a lot of time and attention to detail put into the first box that I received from RealEats. Plus, I love the variety that was offered from RealEats too!
My vote is for RealEats!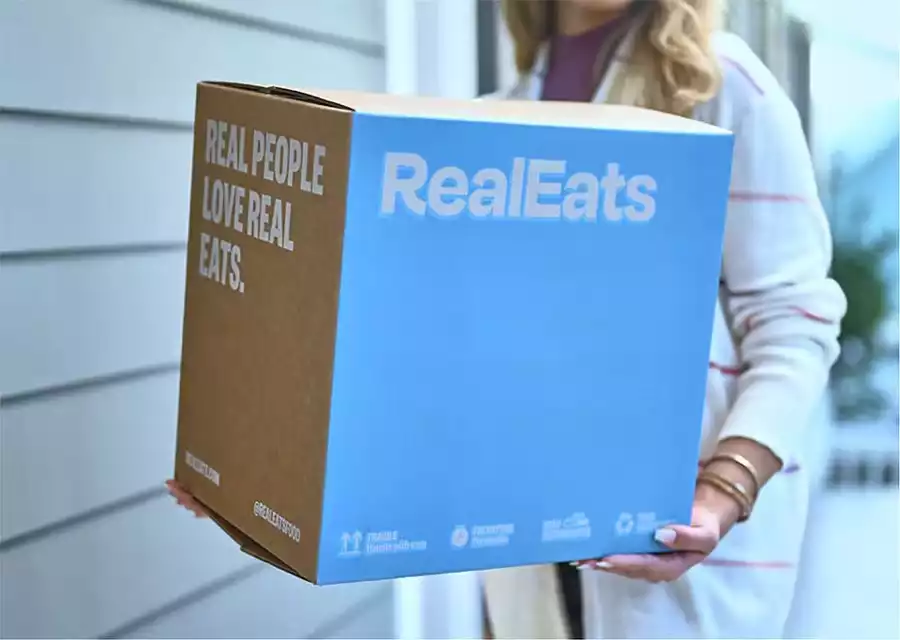 Recommended Reads: