Latest posts by Crystal Schwanke
(see all)
So you know you want to experiment with borrowed clothes, but what are the best clothing rental services out there? Where should you start? The good news is, there's a lot of overlap in why the different companies on this list are "best," so you really can't go wrong with any of them.
I never thought I'd love renting clothes until I tried it, even though I've been following and writing about fashion for over a decade, and now I've tried several. Even though I didn't expect to enjoy it as much as I do, I've found that mixing up your wardrobe without committing to full prices is fun.
While I won't spend hundreds of dollars on items I can't wear all the time, I'm okay with spending a fraction of the cost to bring a little joy, color, and fancy fabrics to my life for a little while. It's an experience.
I enjoy trying new styles I wouldn't necessarily buy in a store, to play up all the facets of my personality and moods, without committing the money or space to them.
Renting won't leave your closet jam-packed full of trendy items you paid hundreds for but lost interest in wearing after a few weeks. Plus, you get to experiment with designer clothing–or just new styles and cuts–before making any long-term commitment- for a fraction of the cost.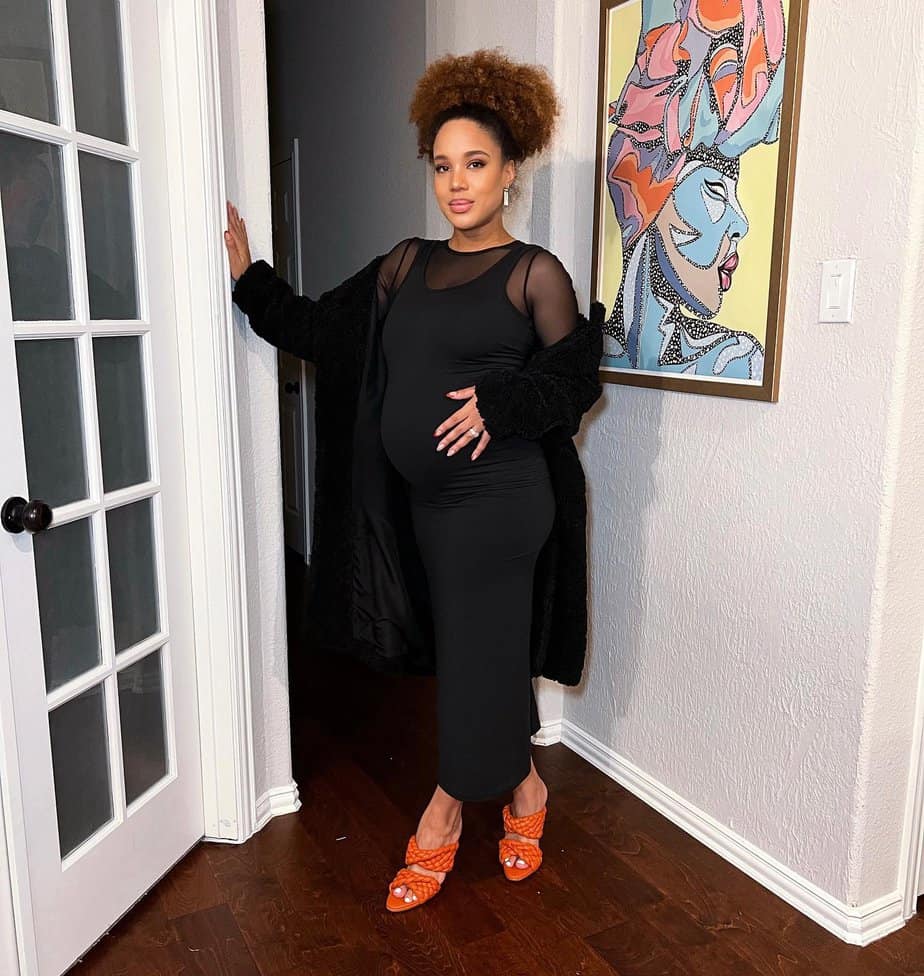 Bottom Line Up Front
Armoire is my favorite because the clothes are good quality, comfortable, and match my lifestyle while being higher-end than I'd usually buy. That said, what's best for me might not be the best clothing rental service for you.
Heck, sometimes what's best for me overall isn't what's best for me at a particular moment (like a special event). Needs vary, so I've tried to cover them all with these companies.
Top Rent the Runway Alternative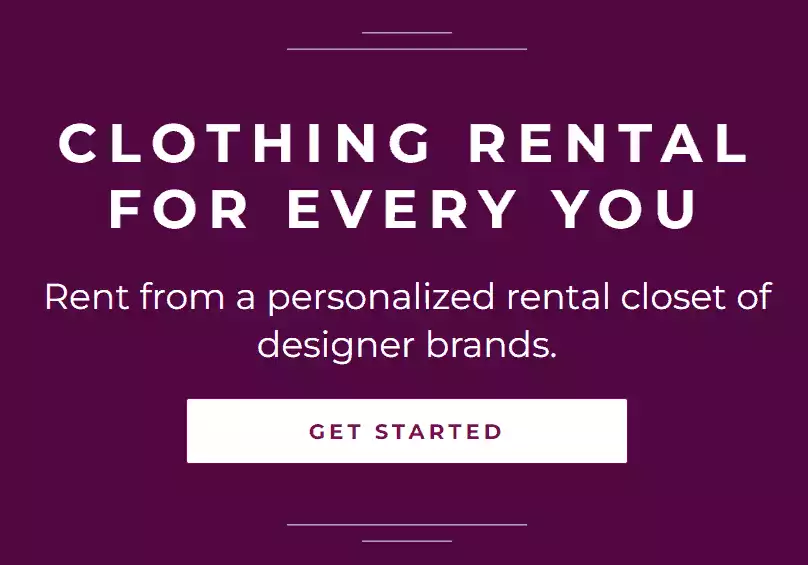 Why Go With Armoire Style?
Armoire Style offers a similar service to Rent the Runway, but has a much higher "success rate" due to a proprietary fashion + style matching quiz that "gets" your personal quirks better than a generic rental service. Kind of like if you merged Stitch Fix with Rent the Runway. Personal stylist + free shipping + keep what you love.
Take the Quiz
We earn a commission if you click this link and make a purchase at no additional cost to you.
My Top Picks at a Glance
For a glamorous evening out when you want to feel like a star: Rent the Runway
For everyday wear (casual): Armoire or Nuuly, Gwynnie Bee
For work: Rent the Runway or Armoire
For special occasions that aren't quite red-carpet-level: Rent the Runway
For moms: Fashion Pass, Armoire, Nuuly, or Gwynnie Bee
For maternity clothes: Armoire or Rent the Runway
How I Chose the Best Clothing Rental Services
When choosing the best clothing rental service for your needs, there are a few things to consider. Beyond finding the best match for the occasion, there are a few things to consider:
Price per month vs. how many items you get
How many exchanges you get (either because they're unlimited as part of the plan or because you need a different size)
How quickly they ship
Opportunities to work with a stylist to find the perfect pieces
How much control you have over what you choose (do you have to get accessories, or can all your items be clothing?)
Availability of items in or near your size
How much information you'll get about sizing and fit before you commit to having something sent to you (reviews with photos help a lot here!)
The 5 Best Clothing Rental Services: Guide to Updating Your Wardrobe
Armoire – Best for: Everyday, work, and mom life
This one's my favorite because there's a style for almost every need, how much assistance you get in choosing the clothes (from reviews to a chat with a stylist), and the different plans you can choose from.
It's a good starting point if you want to test the clothing rental waters because your first month is only $69.00 on the four-item plan. You can get a feel for how it works without spending a lot.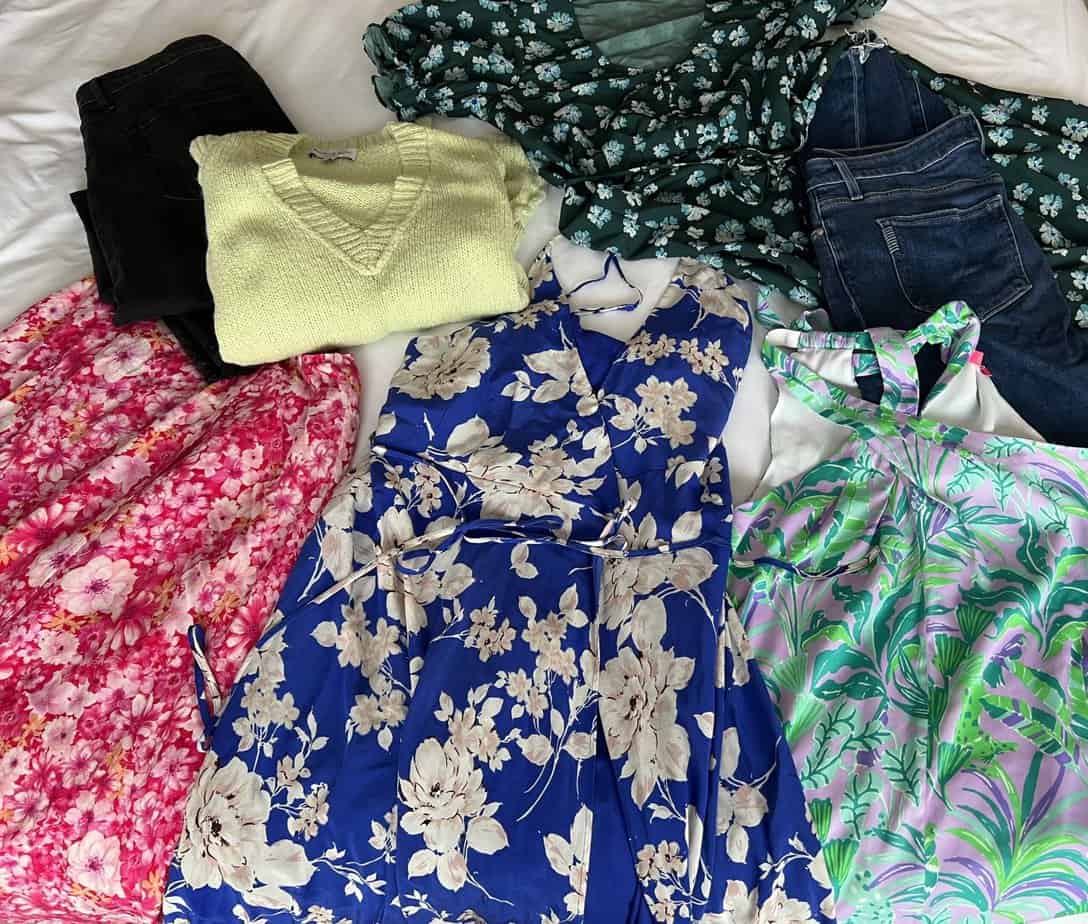 Pros
Fast shipping
There's inspiration and advice everywhere on the Armoire site, from their blog to the featured styles.
You can get a backup size on some items. It seems to be based on brands, as both my offers for backup sizes were for Yumi Kim dresses.
Everything I've gotten has been in excellent condition. Some still had tags.
Though I had some issues with the sizing the first time, taking the extra time to dig through reviews, sizing charts, photos accompanied by reviewers' measurements, etc., paid off. Everything fit well the next time. One top was a little shorter than I'd hoped it would be (one of the issues I ran into before), but I still wore it out and felt comfortable in it.
You can get recommendations based on time of year, occasion, and categories, so finding a starting point is quick and easy.
You can chat with a stylist if you need help. It starts in a chat window with a few questions, then directs you to a human for styling help. You'll be asked to describe your style in three words, what your body type is (they have a blog post to help you determine that if you don't know), how you feel about colors and patterns, and anything else you think the stylist needs to know about choosing the right colors or silhouettes for you. Then you'll get an email with styles curated just for you, based on the specifics you gave. This reminds me of Stitch Fix (another fave), but for renting clothes, not buying them.
Cons
They offer free backup sizes for some items, but not all, so you won't get a choice as to which items you'd like a different size in. You'll just be able to accept or reject the offer for a backup size on specific pieces).
The sizing was funky the first time around, so I learned my lesson and triple-checked my measurements, and combed through reviews and photos before renting anything the next time.
The recommendations were iffy at first (they've gotten better). It didn't ultimately matter since you have complete control over what you rent anyway. The suggestions are just that–recommended styles they think you might like based on your preferences.
You don't swap throughout the month. You keep the same items all month unless you decide to unlock your next case early.
Top Rent the Runway Alternative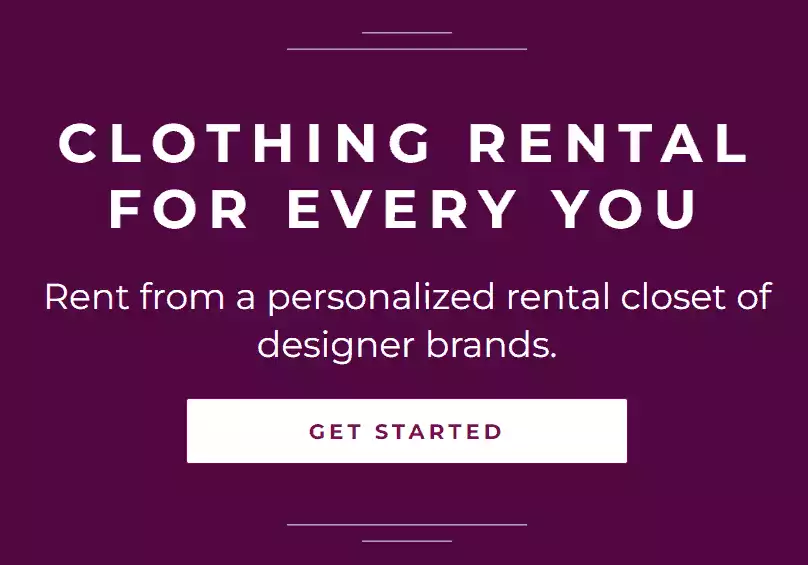 Why Go With Armoire Style?
Armoire Style offers a similar service to Rent the Runway, but has a much higher "success rate" due to a proprietary fashion + style matching quiz that "gets" your personal quirks better than a generic rental service. Kind of like if you merged Stitch Fix with Rent the Runway. Personal stylist + free shipping + keep what you love.
Take the Quiz
We earn a commission if you click this link and make a purchase at no additional cost to you.
Rent the Runway – Best for: Special events, work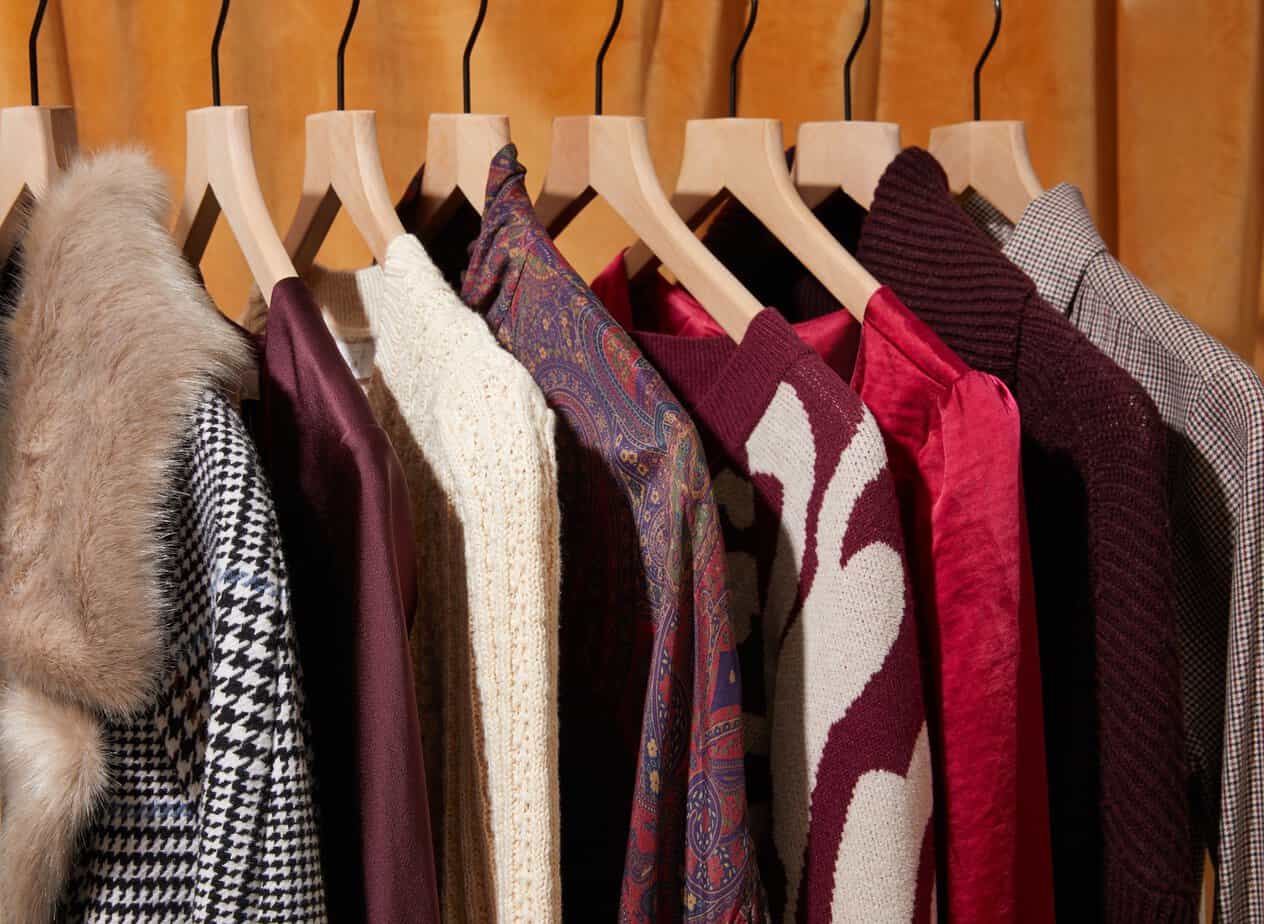 Rent the Runway is the first clothing rental company I heard of, and it opened my eyes to all the possibilities for my closet. This one's upscale and not just everyday wear (as the name suggests). This is perfect for big events where you want to embody the words "glam" and/or "chic."
Pros
You can get some seriously glamorous, designer pieces here, so you can look stunning for a big night, special occasions, etc., without spending a fortune or settling for something less than what you'd love to wear.
There are plans galore to choose from. Seriously, nothing compares. From five items to 20 per month, they've got everyone covered. No pun intended.
You have the freedom to return your items whenever you want. Want to keep something longer? Okay. Return the rest and get another shipment; that item you wanted to hold onto will count as one of the items in the next batch. Want to swap? That's okay too.
You can buy items you love too much to return. If you fall in love with something on the site, you don't even have to rent it first. You can just buy it.
There are maternity styles.
Cons
The selection doesn't strike me as something the average person would want to incorporate into their wardrobe regularly (of course, there are exceptions, and not everything here looks straight off the runway). Some pieces would work–and some personalities could work the extra details and interesting lines–in everyday life. Overall, Rent the Runway probably isn't the best pick if you're looking for something that'll fit right in with the average person's wardrobe.
The five-item plan only gives you Core Closet Access (as opposed to Complete Closet Access), which means you won't have access to formal wear or certain designers. You'll need to upgrade to at least the 10-item plan to get access to everything.
This one's not necessarily a "con," but it could be disappointing: You don't get unlimited swaps throughout the month, and you don't get more than five items at a time. Depending on your chosen plan, you can receive one to four monthly shipments. All plans send you five items at a time; the price difference reflects the number of shipments you get. I'd like to get all the items at one time, in one shipment, but that's my personal preference.
Fashion Pass – Best for: Everyday, mom life
Fashion Pass made the list because it's got a solid mix of clothing and accessory styles to choose from, and your first month's one of the least expensive options on the list. It's good for people who want to try the whole clothing rental thing without dropping $100.00 or more before they know how they feel about wearing used clothing.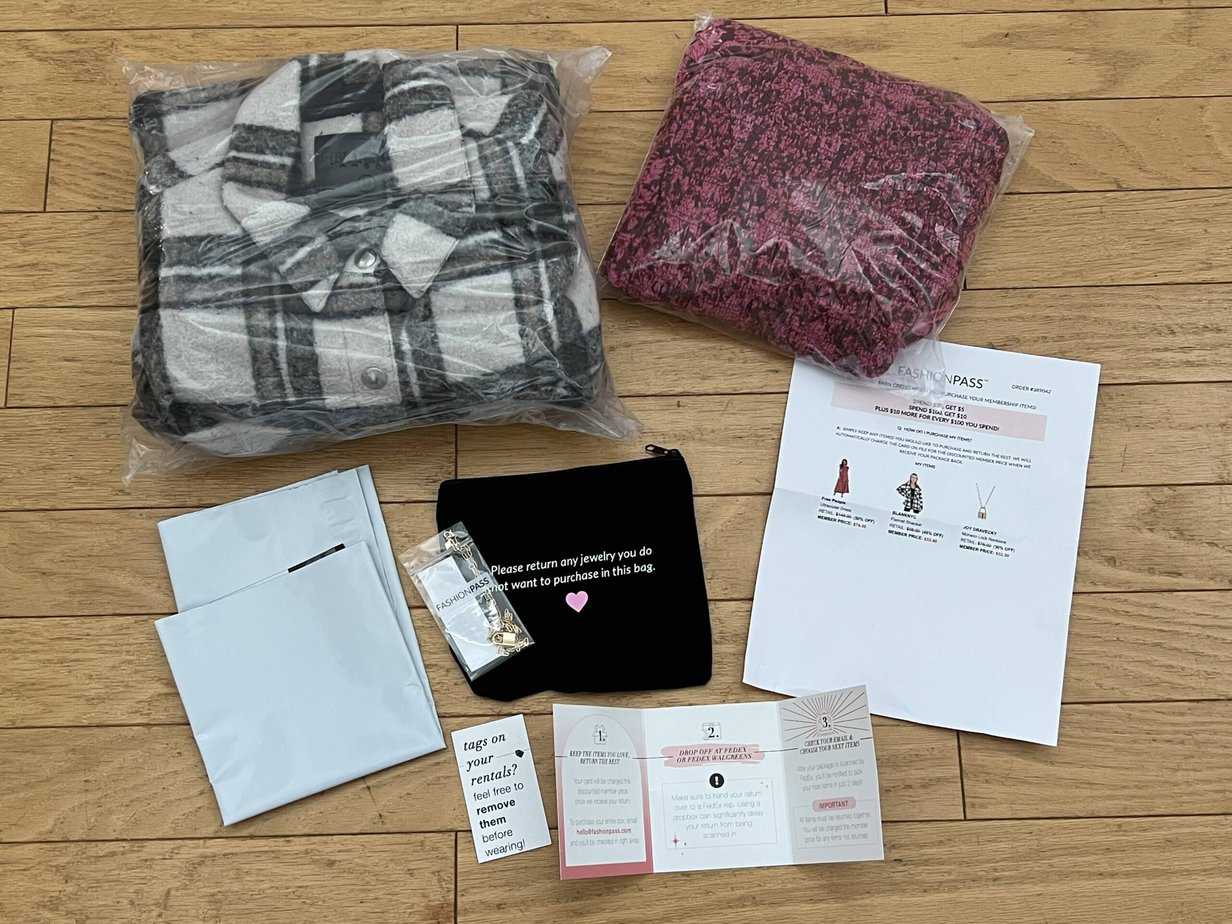 Pros
You can get unlimited swaps for a flat price (currently, prices start at $69.00 per month for the first month, then bumps up to $89.00 per month after that).
There are three plans and pricing tiers to choose from, so if you're looking to rent, you should be able to find something to fit into your budget here so you can try it out.
FashionPass has upped their game since the last time I tried them, and you no longer have to use some of your rental spots on accessories. That bugged me about them because I have tried-and-true accessories I wear every time I wear accessories (I usually forget these days). You can still rent them, but that's not the only option.
You can get up to 80 percent off the items you rent if you want to keep them.
You can add items for $19.95 each if you need more.
Cons
Though the accessory rental situation has improved (and this only needed "improvement" for those who don't ever switch up their accessories), most plans still have an accessory component. If that's not for you, you'll feel limited.
I don't think the lowest tier is worth it, especially after the discounted first month. You only get two items and an accessory. It could still be a bargain if you time things just right with your swaps. This is a good, affordable way to dip your toe into the clothing rental waters, but I'm not sure I'd stick with this plan for the long run. I'd rather have more items at once to create outfits with.
On the other end of the spectrum, there's the $149.00/month option, which gets you four clothing items and three accessories/basics or five clothing items and one accessory/basic. Again, if you can juggle the swaps with ease, you can make it worth it. Still, if the timing gets thrown off (say you rent an outfit for an event that's several days out, so you can't send that group of clothing items back for a little while), it could feel like you're overpaying.
Nuuly – Best for: Everyday, casual, moms
I appreciate the whole experience Nuuly provides. I liked that I could get six items at one time instead of splitting it up and getting fewer with the option to swap.
Swapping six items at a time throughout the month at their price point would be nice, but I still like the freedom to choose a few items that can be mixed and matched for different looks. It's almost like getting a new capsule wardrobe in the mail every month. Almost.
Also read: Armoire vs Nuuly Compared: A Close Call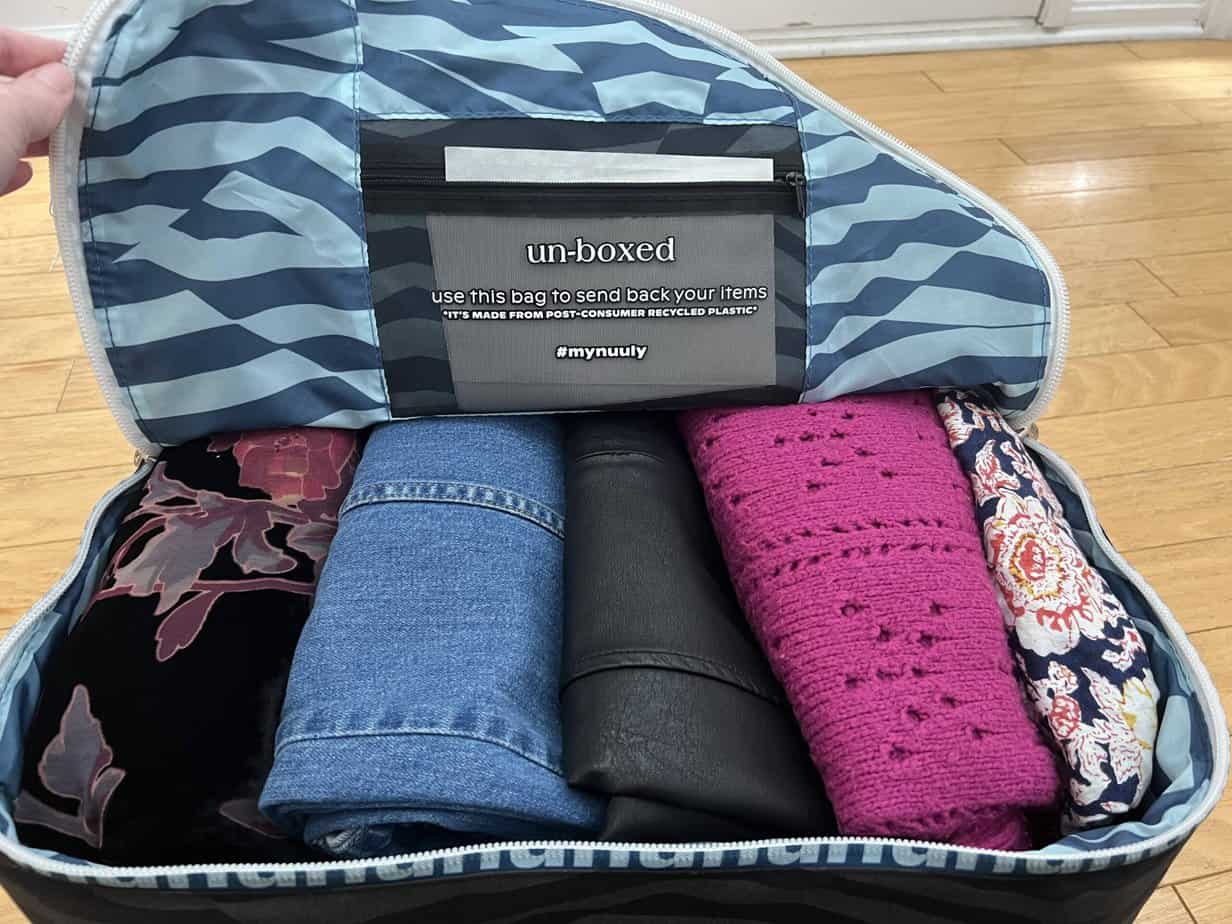 Pros
Their packaging–like a neatly-packed train case–can be used repeatedly, so there's little waste.
Shipping was fast.
You get six styles per case, which should be enough to put together a whole outfit or two (or you can always choose random pieces and mix and match them with things in your closet).
There are over 300 brands here, so you're bound to find some you love–whether you already love them or discover them through Nuuly. Some of my favorites were Free People, Maeve, and Anthropologie.
The site is easy to navigate and filter, so you can find things you're looking for in your size and leave out all the rest.
Cons
Some of the items I got looked more worn than I'd hoped they would, but it wasn't a significant issue.
The sizing was odd for me on a lot of the items. Bottoms didn't fit the way I thought they would. Tops seemed short.
You get six items, but that's it. You don't swap throughout the month under the same $98.00.
Gwynnie Bee – Best for: Moms, everyday wear, work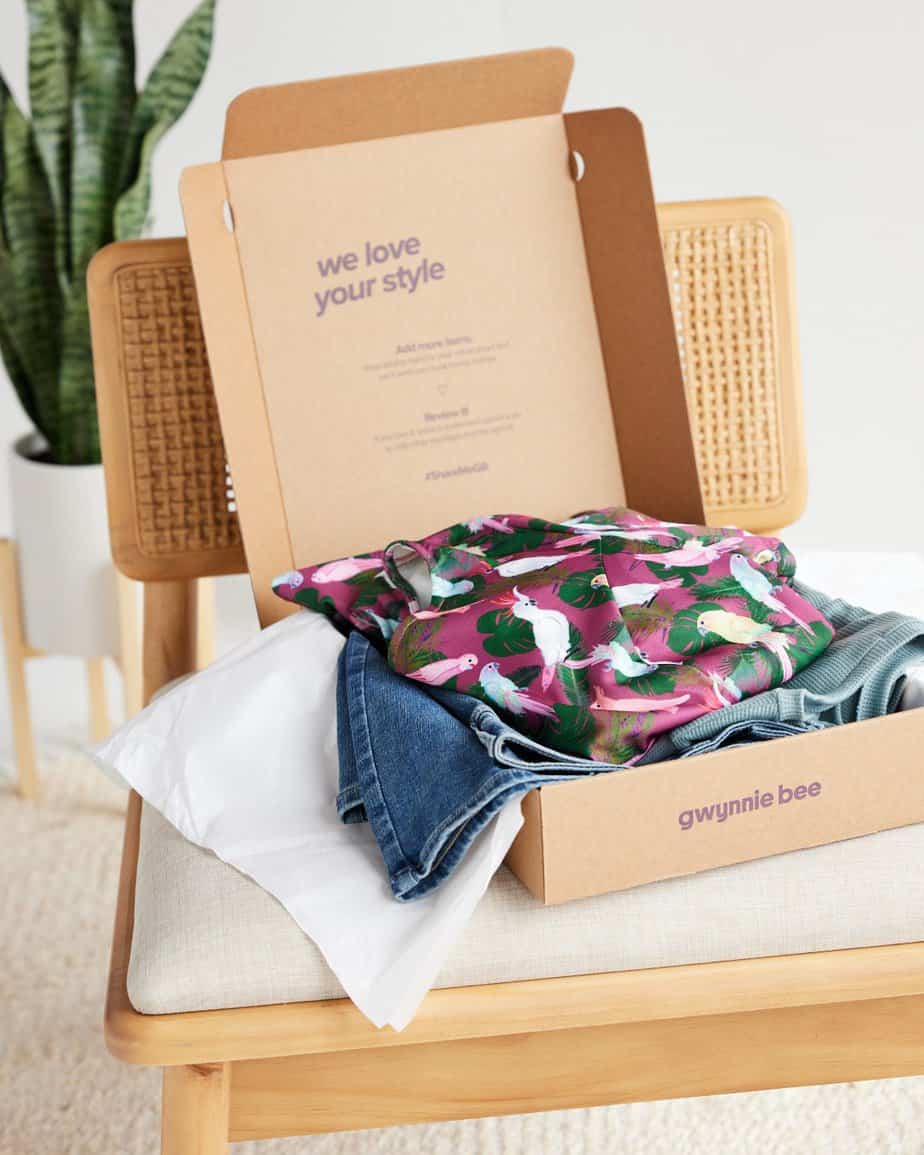 Gwynnie Bee's range of sizes and the prevalence of easy-to-wear items regardless of body type (plus all that color!) got them on the list. Though this selection might not work for every style preference, you will be in heaven if it's a match for you.
Related read: The Best Gwynnie Bee Alternatives to Try Instead
Pros
The sizes range from 0 to 32.
There are many fit and flare dresses, the closest silhouette to universally flattering you can get. This is my favorite dress shape, which makes it hard to narrow down my choices. That's a good problem to have, though!
If you love color and patterns, you'll feel right at home on these pages and in these clothes (there are neutrals, too, but the overall vibe is upbeat and feminine).
There's a size advisor that'll help you make sure you get the right one (a big issue for me with clothing rental companies, so this is much appreciated!). It's worth mentioning that this is based on the brand information you submit when you sign up. If you don't wear a lot of those brands or know the sizes that work best for you in them, the size advisor may be of limited usefulness.
Cons
There's less of a range of styles here. There's some variation, but I feel like Gwynnie Bee caters to a smaller audience than other options. You probably won't be happy here if you like your outfits to have an edgy vibe. However, if you're in that target market, you will adore almost everything they offer.
They still show some things on the site that aren't available to rent if they might be for sale in the shop. While it's exciting to have the opportunity to buy something even though there's no longer an option to rent it, it was a letdown when I couldn't add a specific dress to my closet.
When you set your account up, they want to know three brands that fit you well and your sizes. I completely understand this is an important reference point that they'll use to make recommendations. Still, I'd rather dive in and look. I only wear a few brands on the list, so I can't say which ones fit me well. I want the option to enter my measurements, but I wasn't prompted to enter those.
Honorable Mention
Haverdash – Best for: Everyday, casual, trendy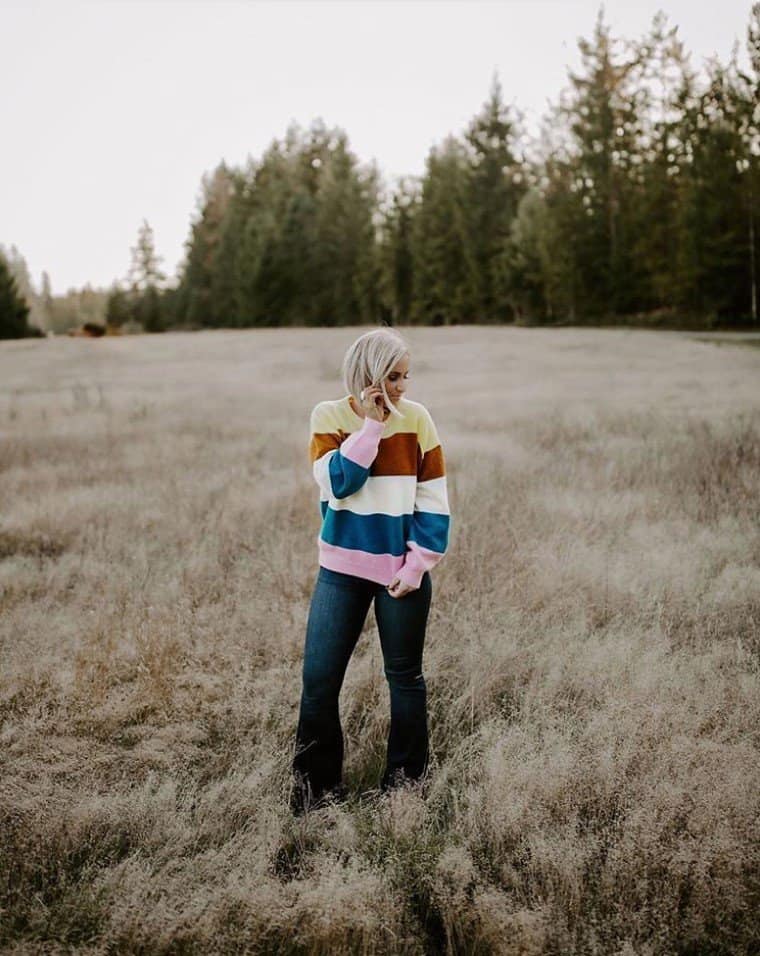 Haverdash almost made the cut! There's a lot to appreciate about the way Haverdash does things. Because of the limited selection (overall style/vibe as well as sizing) and the fact that you can only rent four things at a time, max, they narrowly missed the top five list.
Pros
The site is easy to navigate and they clearly lay out all the steps in the rental process.
The price is reasonable for a clothing rental service (because you don't get many pieces at once), so it's a good way to try it out without making a big commitment.
I didn't feel like I had to jump through a ton of hoops to set up a profile and get started.
Their contact information is incredibly easy to find, which suggests they are eager to make the process as smooth as possible (I haven't needed to contact them for anything yet because the site's so straightforward).
As of this writing, the first box is free (you'll still have to sign up with a credit card and remember to cancel later if you don't want to continue the service).
All of their plans offer unlimited exchanges.
Cons
Even though I believe we should wear what we like, regardless of age, Haverdash's selection seems to skew younger than some of the other options for my taste. There's still plenty to choose from, from fun and flirty (and trendy) to more classic pieces that rely on color and patterns to liven them up, so I recommend checking them out no matter what. I like many options there, even now, but I would've had a harder time narrowing my selection down in my 20s.
Speaking of selection, you get three pieces at a time on the plan they promote the most. You can rent one to four items, though. Prices range from $29.00 to $75.00 per month. I'd still like to see more plans that allow you to rent more than that at one time so you can mix and match pieces to create a few outfits rather than one or two.
When you're filling out the profile and sharing which brands you like to wear–and the sizes you buy from them–there aren't many to choose from.
You have less control over what they send you. They recommend keeping eight things in your online closet at a time, and they'll send you some of those items based on availability. Their Dart option allows you to prioritize items for an extra fee.
The size range is only S to XL.
What to Skip, at Least for Now
Le Tote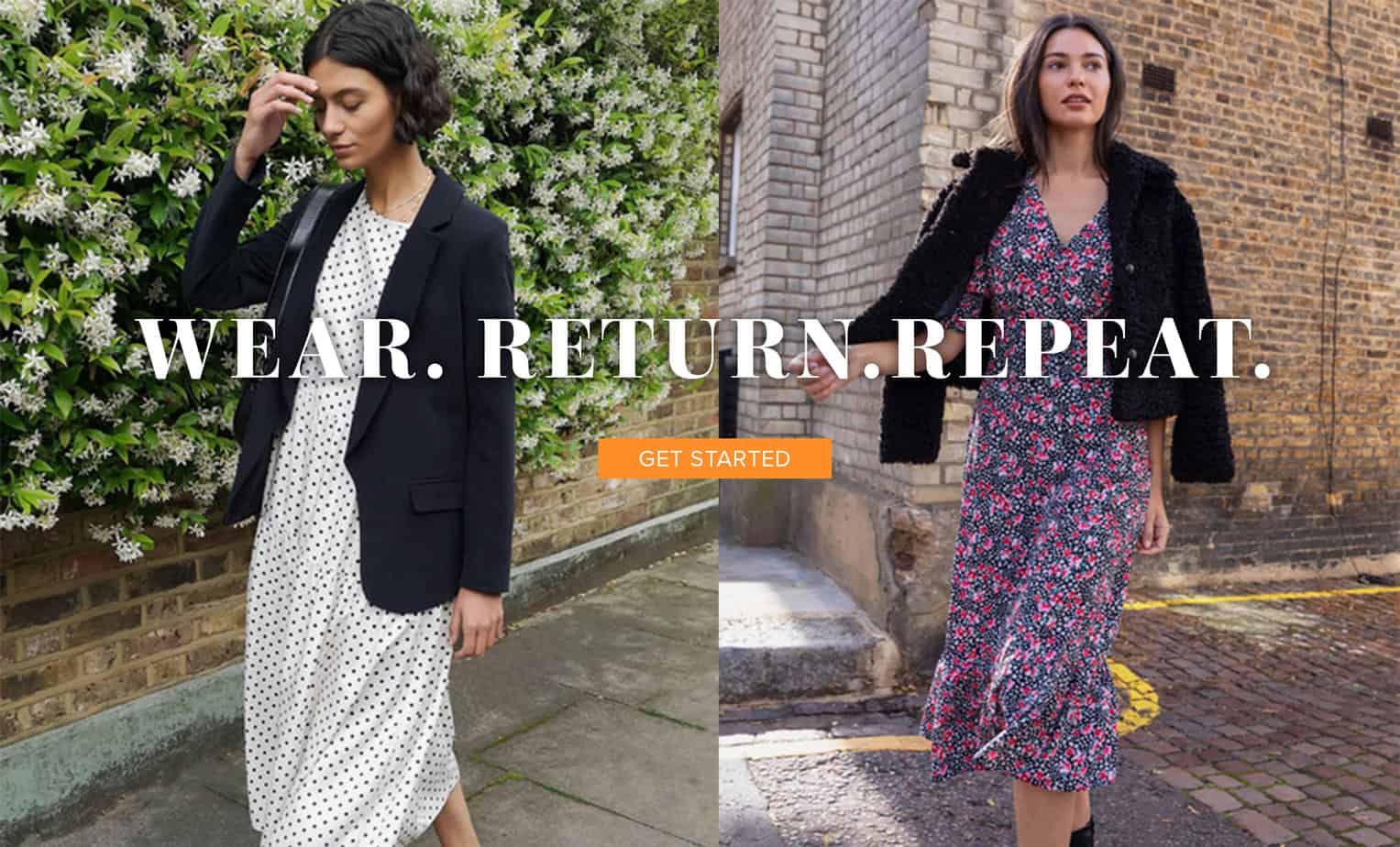 At one time, Le Tote would've been on the list of the best clothing rental services to try. I'd recommend them for clothes to wear to work, everyday clothing, and even maternity wear. However, something seems to have shifted around the end of 2022, and I'm getting mixed messages from their website. Their social media pages confirm my suspicion that something's not quite right.
Their last Instagram post as of this writing in June 2023 was posted on October 2022. Their last Facebook post was published on August 2022. Comments under each of those posts suggest Le Tote isn't the same as it used to be.
What tipped me off, though, wasn't social media. The Le Tote website shows me a New Arrivals section full of tempting items that are appropriate for spring and summer, but just below that, it talks about The Fall Edit and shows a woman in tall boots and a long leather blazer.
It looks like it hasn't been updated since late August or September. If it were early spring, I could almost overlook it (after all, it's still chilly then and some of the clothing styles would still be relevant), but June is a different story. So I started digging for clues on social media.
Obviously, I don't have behind-the-scenes information about the company, but there's enough out there to make me hesitate. Hopefully, this is just a blip for them, and they'll be back stronger than before. For now, though, I'd recommend steering clear.
Top Tip: Do Your Sizing Research
Read the reviews and look at users' photos when they're available. Scour them for clues as to which size you should order.
One thing that bugs me with any clothing rental service is not knowing how worn an item is, how an unfamiliar brand's sizing runs to begin with, and not knowing if the clothes have shrunk.
Though there are likely multiples of any single item on the site (even in the same size), and you're not guaranteed to get it right after the person who left the last review, it is good to scroll through the reviews. If there are photos that include reviewers' height and weight (or more) along with the size they ordered and the size they usually wear, you'll get a better idea of what to order for yourself.
FAQs
Question: Who are the competitors of Rent the Runway?
Answer: It's hard to match the high-end, designer offerings that Rent the Runway has. Some competitors are Armoire, Nuuly, Fashion Pass, and Gwynnie Bee.
Question: What are the benefits of rental clothing?
Answer: Ever buy something in a new style or color, wear it, and then decide it's not the most flattering thing you could've purchased (even though you enjoyed wearing it once or twice)? Or have you ever bought an outfit for a special occasion and left it hanging in the closet for years before you finally donated it?
Do your eyes and interests love trends, but your wallet says no because you'll replace those clothes again in a few months? Do you like buying nice clothes at a discount? The list of rental clothing benefits covers all those things.
Question: What are clothing rental services?
Answer: Clothing rental services allow you to pay a monthly fee to borrow clothes and/or accessories for a set period (usually a month unless your plan will enable you to swap for new selections throughout the month). It's a way to try out new brands and styles, enjoy trends and various designers without a big financial commitment, and buy clothes at a discount if you love them so much you can't bear to give them back.
These companies clean and sterilize items between customers, so you'll never be on the hook for laundry (which means you won't have to be worried about shrinking or damaging something that way).
Not Sure? Start with Armoire.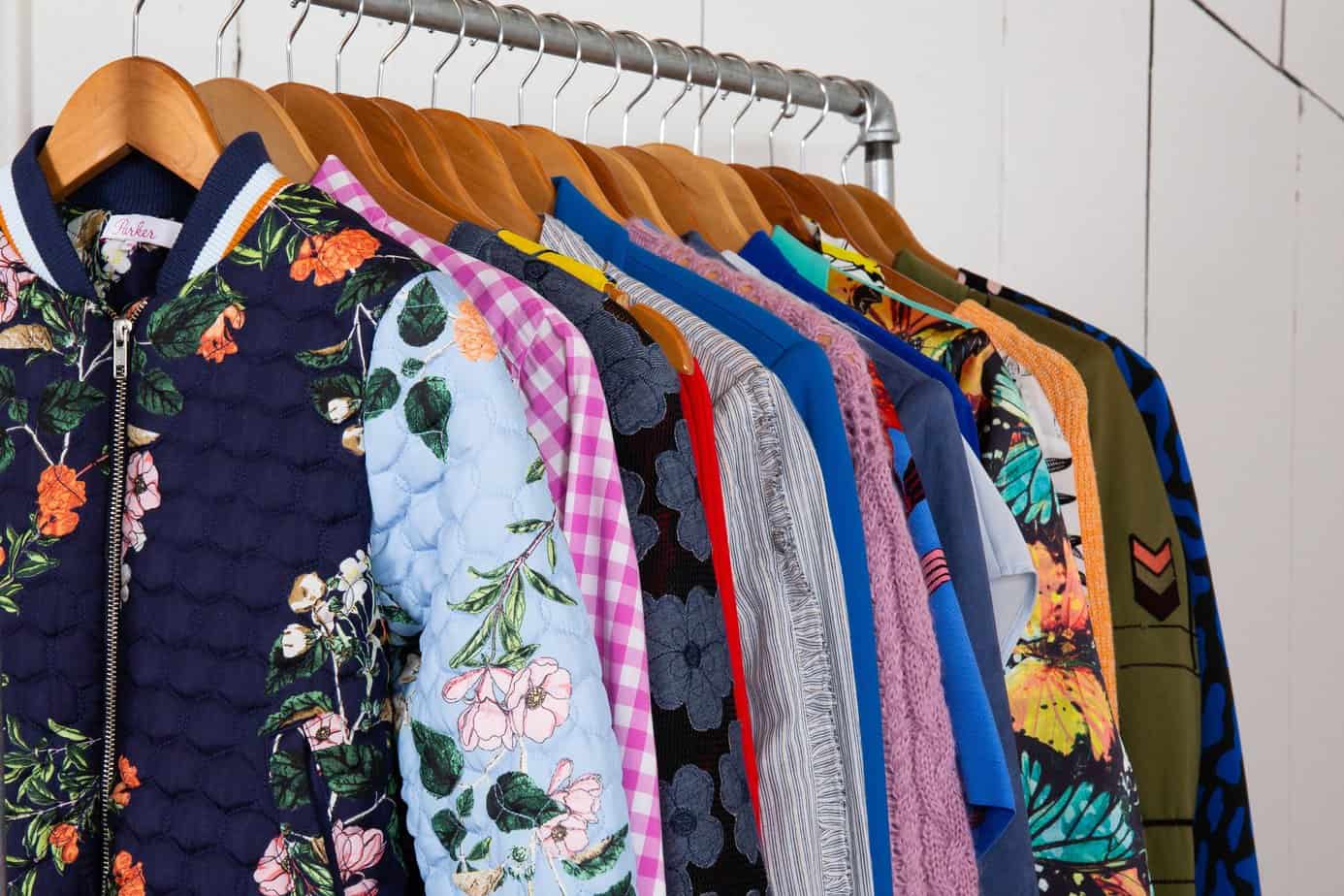 Choosing the best clothing rental service overall is a balancing act, especially when needs and budgets vary.
Armoire is the most versatile, with the most styles/vibes that fit almost any occasion for the average person.
I've gotten consistently high-quality clothing from them, so it's safe to say you can count on them to send you things you'll be proud to wear.
I wish you could swap more often on the two lower tiers (and wish the highest tier were less expensive). Still, if you spring for the unlimited Wardrobe Replacer plan, you'll get six items at a time and as many swaps as you can squeeze into a month. The first-month discounts are steep, so you will only have to spend a little to see what you think.
Top Rent the Runway Alternative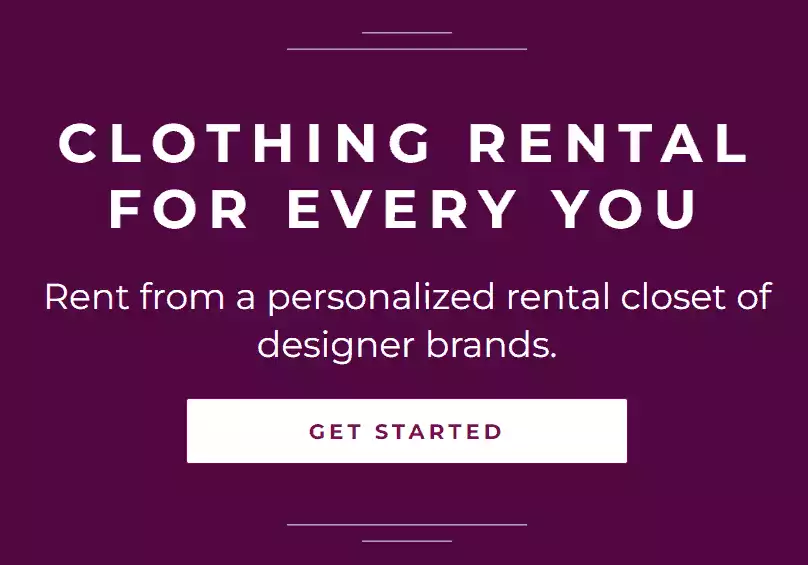 Why Go With Armoire Style?
Armoire Style offers a similar service to Rent the Runway, but has a much higher "success rate" due to a proprietary fashion + style matching quiz that "gets" your personal quirks better than a generic rental service. Kind of like if you merged Stitch Fix with Rent the Runway. Personal stylist + free shipping + keep what you love.
Take the Quiz
We earn a commission if you click this link and make a purchase at no additional cost to you.
Related read