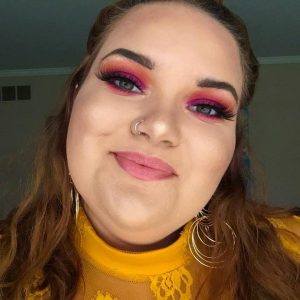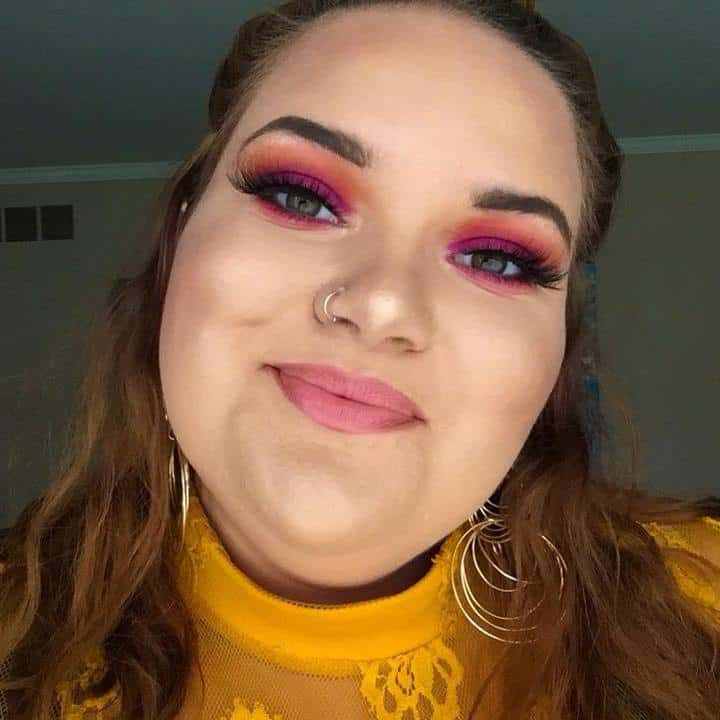 Latest posts by Alizabeth Swain
(see all)
I would love to come here and brag about meat delivery subscriptions like I'm some prestigious food critic.
For now, I'll just have to keep pretending I'm one in my head.
I love meat delivery subscriptions because they allow me to purchase high-quality meats I don't have access to at the grocery store on a dependable budget. Every month, I know how much I'm spending, what I'm getting, and how much I'll be able to feed my family. Want to talk about taking the stress out of grocery shopping? Well, let's talk subscription boxes!
Thankfully, Good Chop and Good Ranchers are two dependable meat delivery subscription companies I've used previously. There are a lot of similar aspects of both subscriptions, so how do you know which one you should sign up for?
Hop on board because we'll closely examine what separates these two meat delivery services together!
TL;DR: Good Chop and Good Ranchers share a lot of similarities. However, I loved Good Chop because you get excellent quality meat cheaper than what you'd pay at Good Ranchers.
You might also be interested in: Best Chicken Delivery Services Guide: Why Good Chop Is My #1 Choice
Main Differences between Good Chop vs. Good Ranchers
Good Chop offers more individual purchase options, whereas Good Ranchers focuses more on bundles

Good Ranchers donates ten meals to local food banks for every subscription sold, whereas Good Chop doesn't

Good Chop is more affordable upfront, whereas Good Ranchers focuses on bulk pricing

Good Chop offers more variety in meats, whereas Good Ranchers focuses more on specific products

Good Chop offers pork products, whereas Good Rancher doesn't

Good Chop has add-ons you can add to your order, whereas Good Ranchers doesn't provide this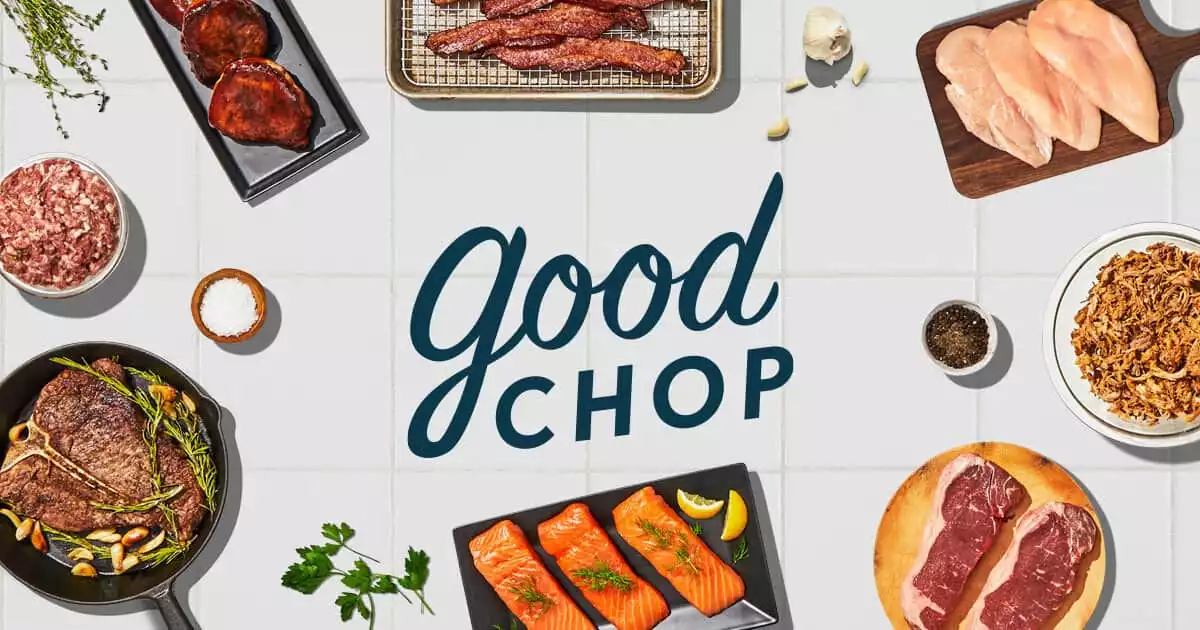 My Experience with Good Chop
I have had a great experience ordering from Good Chop. They're one of my favorite delivery services because of their customer service and meat quality. If you've never heard of Good Chop, I'm here to fill you in on the deets. In a quick summary, they're a seafood and meat delivery service.
Good Chop allows you to build customized boxes where you can choose between cuts of poultry, seafood, and beef. I love the customizable options that Good Chop offers, as it allows me to continuously switch up my family's meal plans to ensure our weekly meal options are manageable.
But, if you feel too much pressure to choose between all of the fantastic meat options Good Chop offers, they also provide pre-made boxes. These pre-made boxes have a variety of different cuts and different types of meat in them. So, there's a little bit to choose from for everybody, regardless of your budget or meat preferences.
I have even better news for you about Good Chop. I'm passionate about supporting small businesses and local farms whenever I can. You can always run into me on a Saturday morning as I walk through my local farmers market buying fresh fruit and vegetables from farms in my area.
I'm passionate about recommending Good Chop to my friends, who also care about supporting local businesses. This Good Chop gets all their meat from local fisheries and farms in the United States. Even better, Good Chop doesn't include any meat that has antibiotics, hormones, artificial food coloring, or GMOs. This means that you can feel good supporting local businesses in the United States and feel confident that you're putting whole and healthy foods into your body.
Inside Your Box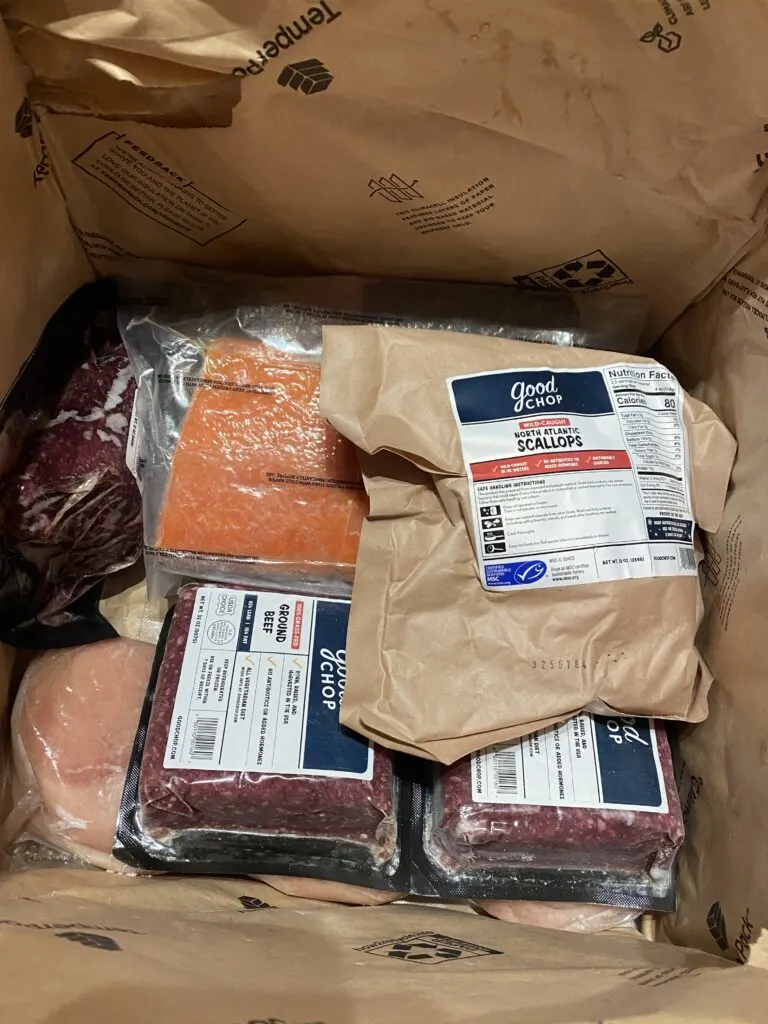 There are two box sizes you can choose from when signing up for Good Chop. You can choose the medium box, which will have six different items (36 portions) inside, for only $149. Or you can choose the large box, which has 12 items (72 portions) for $269. While I know it's a lot of money upfront, you'll have 36 or 72 meals tucked away in your freezer for a whole month. If you do the math compared to your current grocery budget, I'm sure you'll save a lot of money in the long run by buying upfront and in bulk.
Good Chop shows how much they care about its customers by sending out boxes that have excellent packaging. I have had issues with subscription boxes that don't take priority in properly packaging their orders, so I get spoiled or damaged products inside of my boxes.
However, I haven't ever had that problem with Good Chop. They package all of their meats inside a dry ice-filled box. The Good Chop box also has an insulated liner made from plants, so you can easily recycle everything.
My only complaint with Good Chop packaging is that there's still a lot of plastic waste inside their box. Good Chop only works with farms that can prove that they have humane and sustainable practices, so I wish that they would focus on finding ways to reduce how much plastic waste goes into their packaging.
The Meat
To go back to how much you're spending per box, I know the large upfront sums can be intimidating. But, one thing that I would like to mention is that some of the portions you receive instead of your Good Chop box are pretty big. I've had a couple of cuts of meat with plenty left over for another meal. Some items, like their pork chops, were enough to last my family for an additional dinner. So, I'm saving even more money per meal.
I love the variety of meat the good Chop offers also. I don't see a lot of meat delivery services offering things like Italian sausages, so having that as an option to add to my Good Chop order is refreshing. It definitely helps them to stand out a lot compared to other meat delivery services like Good Ranchers.
I love the variety of pork offered by Good Chop. You can find a whole bunch of meats, like:
Ribeye steak

Filet mignon

Stew beef

Ground beef

Burger patties

T-bone steaks

Pacific cod

Lobster tails

Salmon

Chicken breast

Pork tenderloin

Pork loin roast

Boneless pork butt

Italian ground sausage
That's not all that Good Chop offers either. There are still a ton of other options to choose from!
The Good Chop Quality
The quality of meat from Good Chop is always outstanding too. I've never had any issues with undersized cuts of meat, meat that requires a bunch of prep work to cut off gristle and skin, or questionable pieces.
Sometimes, when I go to the grocery store, the grocery store butchers hide meat that's starting to go bad underneath fresh cuts inside of the same package. When I get home and open everything up, I have to throw away a couple of the pieces because the meat is going rancid. I don't even know how much money I've saved with Good Chop simply because I don't have to worry about wasting any money on something that's going bad.
All of the meat I cook from Good Chop is always succulent, tender, and super delicious. I love how tender their chicken breasts and their steaks are. I find that I'm even using less seasoning compared to when I buy grocery store meat. There's not a lot I have to do to get dinner to taste good; why should I add seasonings to perfection?
Good Chop Subscription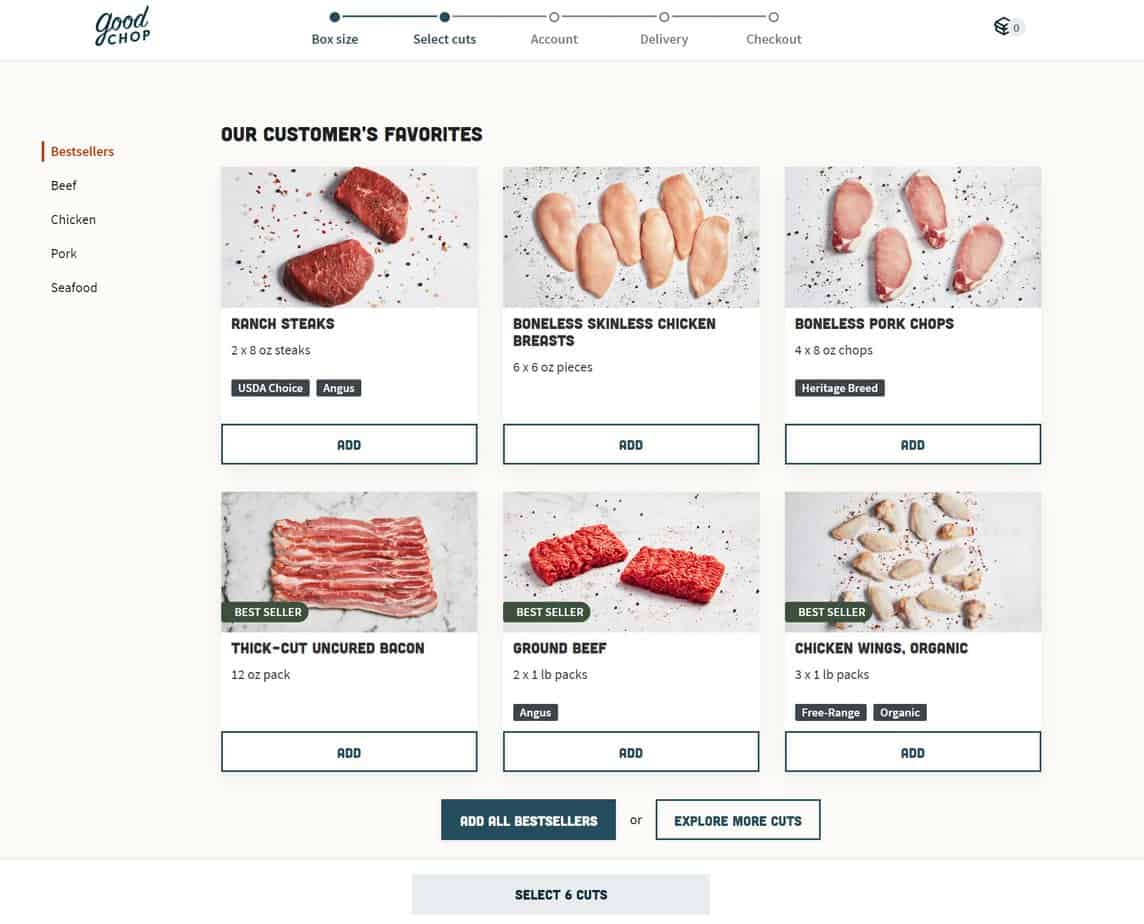 You can choose the different cuts and types of meat you want inside each box, so make sure you stay on top of your email every month to ensure you don't miss out on the email notification that your package is ready to ship. Good Chop allows subscribers to make any changes to their box before it ships. They also allow you to skip or cancel if you decide you don't want a box for a month.
Boxes ship out every four weeks, so you can count on having a freezer full of meat monthly. You don't have to worry about going in and renewing your subscription every month. Your plan automatically renews, but you can still deactivate or pause it anytime before your box ships out.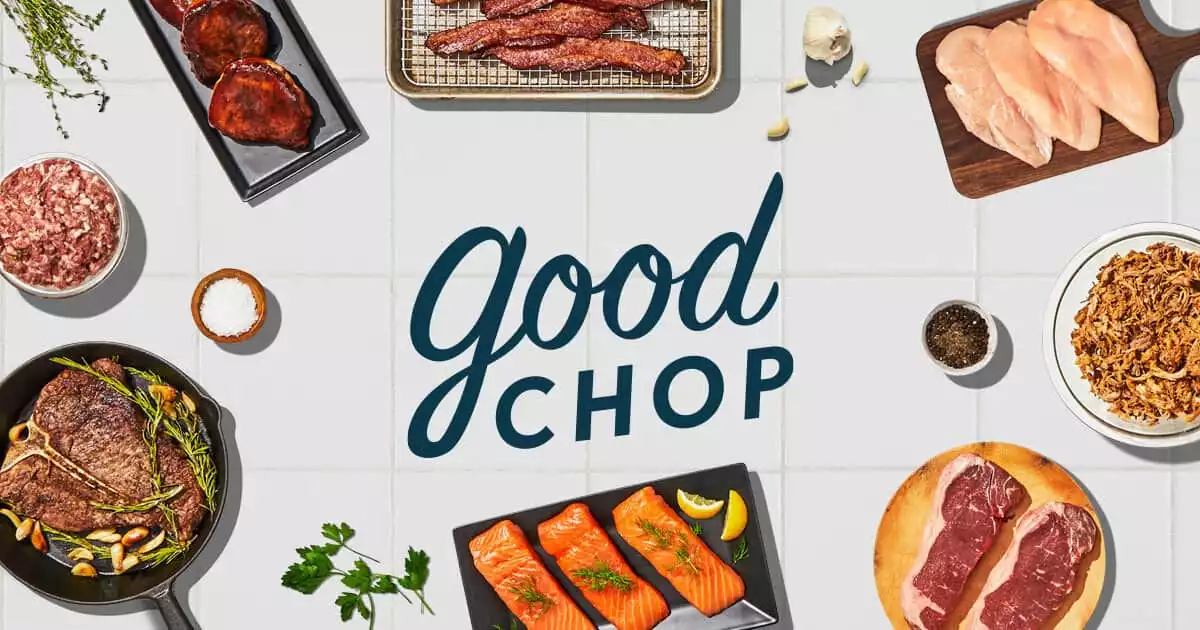 Pros and Cons of Good Chop
Do you want a quick list of all the pros and cons of Good Chop? Here are my thoughts on the strong points of this subscription and places where I think Good Chop can improve:
Pros:
Good Chop's seafood is ASC-certified

Good Chop doesn't offer any meats that contain preservatives, food dyes, antibiotics, GMOs, or hormones

If you aren't happy with the quality of your meat, Good Chop offers a 100% satisfaction guarantee. Not satisfied with your order for any reason? They'll give you a refund or a credit, your choice!

Offer grass-fed beef and free-range chicken

Affordable pricing for bulk quantities of excellent meat

You can add on additional items like sausages and sauces

The quality of the meat is fantastic, and I love that they only work with local farms that have humane and sustainable practices
Cons:
It would be nice to see more seafood options, like shrimp and tuna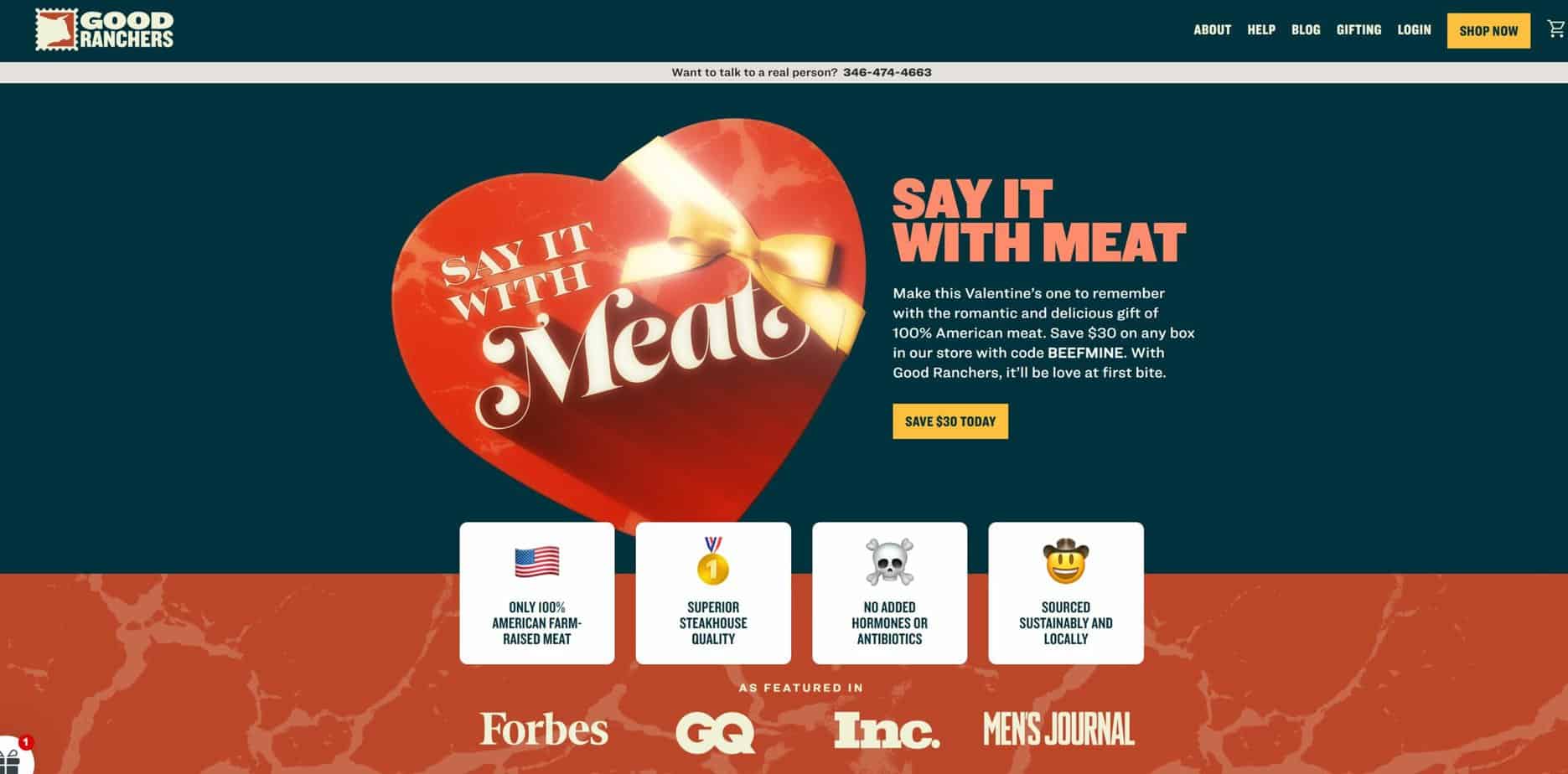 Good Ranchers is another outstanding meat delivery service, especially if you're shopping for a family. You get the opportunity to order restaurant-quality meats and have them delivered to your front door, but you're also getting the opportunity to support small local ranchers.
If you want another thing to make you feel even better about buying a meat delivery subscription, Good Ranchers donates ten meals to a local food bank for every subscription sold. Whether you sign up for one month or a whole year, every box you purchase will help end hunger in America.
Good Rancher Subscription
Good Ranchers offers a variety of boxes for you to choose from for your subscription. Each package offers a different combination of meats and a different quantity. Here's a look at a couple of the boxes provided by Good Rancher:
The Prepper Kit
8.5lbs Bone-in steaks (USDA Prime or Upper Choice)

7.5lbs Boneless steaks (USDA Prime or Upper Choice)

8lbs Signature Angus Ground Beef

18 lbs of chicken breast, with trimming already done
The Cattleman
2 (17oz) T-Bones or Bone-in NY Strips

5 (5oz) Flat Iron Steak

2 (1lb) Signature Angus Ground Beef Packs

5 (6oz) Top Sirloin Steaks

3 (10oz) NY Strips
The Cowboy
4 (16oz) Black Angus Bone-in Ribeyes

3 (10oz) Black Angus N.Y. Strips

5 (6oz) Black Angus Top Sirloin Steaks or 2lbs American Wagyu Beef Steak Tips

2 (1lb) American Wagyu Ground Beef Packs
Family Feast Box
2 (17oz) T-Bones or Bone-in NY Strips

5 (5oz) Flat Iron Steak

2 (1lb) Signature Angus Ground Beef Packs

5 (6oz) Top Sirloin Steaks

3 (10oz) NY Strips

8 (4.5oz) Italian Seasoned Chicken Breast

8 (4.5oz) Garlic Pepper Chicken Breast

8 (4.5oz) Fajita Chicken Breast (Pre-sliced)

8 (4.5oz) Plain Chicken Breast

8 (4.5oz) Assorted Chicken Breast
I like that Good Ranchers offers the option for you to choose how frequently you want shipments delivered to your home when you first sign up. So you can choose between deliveries every four, six, or eight weeks. I think that helps to give better control over budget and freezer space, as not every family will go through meet as quickly as another family does.
I wish Good Ranchers was a little more transparent about their shipping practices, as it would be nice to know how my box would ship before I ordered. That way, I could have better prepared myself for my first delivery and ensured I was home on time. Thankfully, nothing went wrong with my first order, but it would've been nice to know what to expect on delivery day.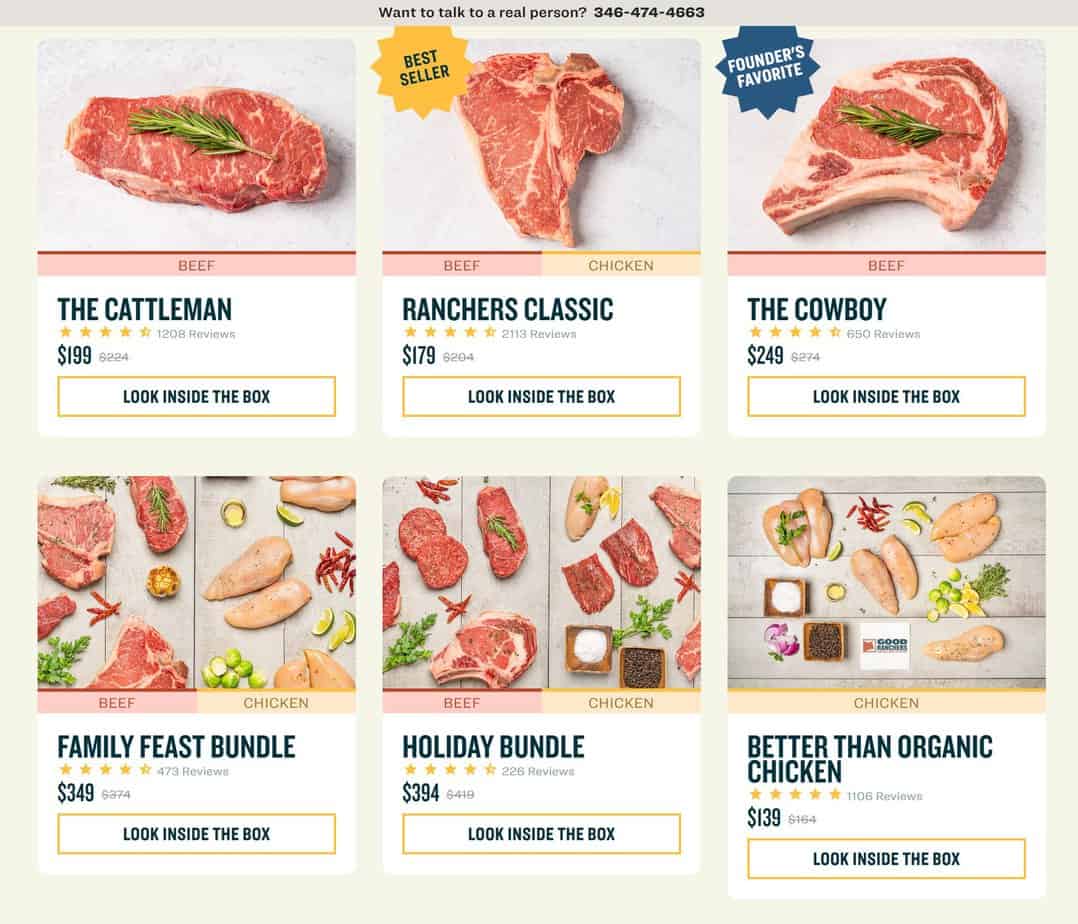 My Experience with Good Ranchers
I've tried out the Rancher's Classic box before, which gave me a combination of beef and chicken inside of my box. The only thing I was a little skeptical about before starting Good Ranchers was the company's legitimacy.
When you do research online to find out more about the origin of Good Ranchers, why they're passionate about their niche, and more about the company; it's hard to find a lot of information.
I wish that Good Ranchers would take the time to introduce themselves and tell more about their company to their customers. I did decide to take the risk for myself and go ahead and trust them when I placed my first order, but I think it would help a lot of other people who are on the fence about ordering.
Inside My Box
I love the packaging that Good Ranchers offer. Good Ranchers has a wasteful styrofoam container, but Good Chop has a lot of plastic inside their packaging. I feel the amount of waste from both companies in their packaging is relatively comparable.
I love how Good Rancher has all the meats separated into smaller cardboard boxes. I think the smaller cardboard boxes inside their subscription are super cute, making me feel less worried about cross-contamination.
The Quality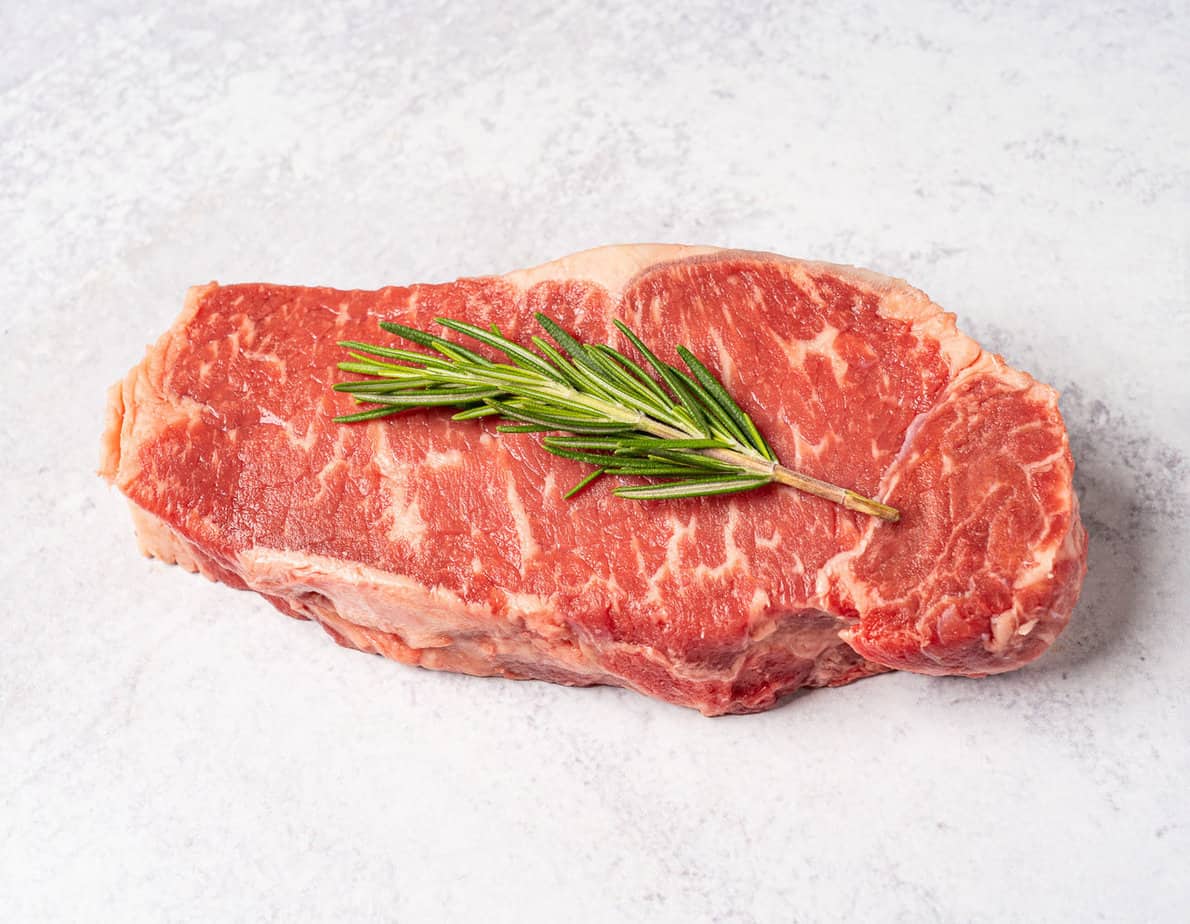 I loved the quality of the meats offered by Good Ranchers! There really isn't any difference in the quality Of the meat provided by Good Ranchers when compared to Good Chop.
The only thing that I could point out in the difference between Good Ranchers and Good Chopped chicken is that Good Ranchers offers some chicken breasts in marinades. One of my favorite marinades from Good Ranchers was their chili-lime marinade. This isn't a marinade I would typically use, but my family absolutely loved it!
I love the portions of the meat offered by Good Ranchers too. There wasn't any meat that I received that I felt was small or undersized. Everything was decently portioned, making me feel like I was truly getting the value out of the money I spent on the subscription.
Signing up for the Good Ranchers subscription allowed me to try higher-quality meats than what I would typically afford if I was shopping at my local supermarket. For their steaks, there was terrific marbling, and there wasn't a huge fat cap left on the steaks that I received. The steaks are USDA choice and better, which is a lot higher quality of meat than I would be able to afford if I were to buy it at the grocery store.
Pros and Cons
Pros:
All of the meats offered by Good Ranchers are grass-fed and grain-finished

Supports small American farmers

Super high-quality tender meats with a variety of unique seasonings

Still pretty affordable, especially when compared to other subscription boxes (except for Good Chop)
Cons:
Styrofoam is super wasteful; I wish there was a different type of packaging Good Ranchers used

I wish they had more custom boxes options

It would be nice to order single items
Good Chop and Good Ranchers Alternative Boxes to Consider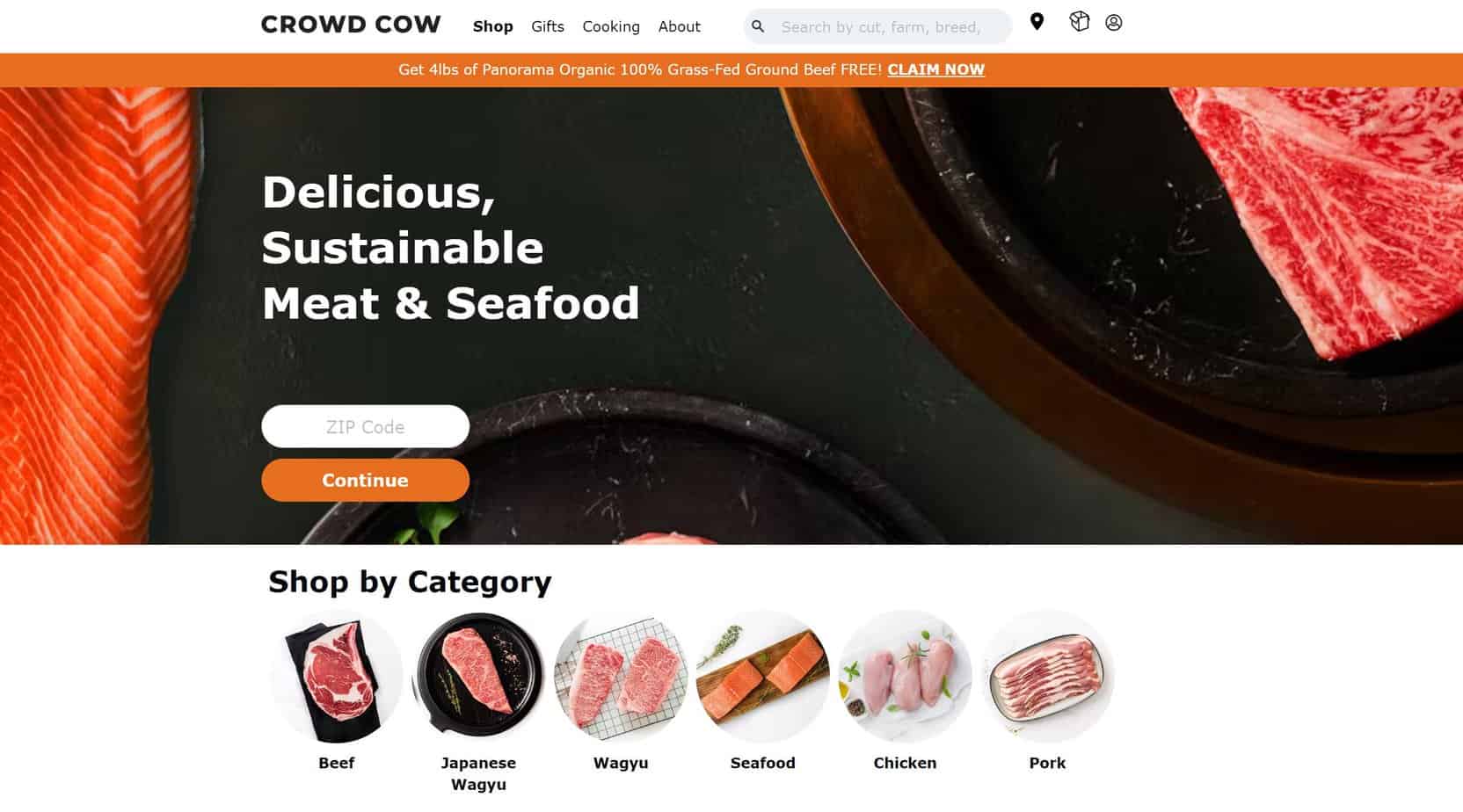 Don't feel like either of these boxes are the perfect fit for what you're looking for? No worries! Here are a couple of other boxes I would recommend you look into:
FAQs
Question: What is the best meat delivery service?
Answer: I think Good Chop is the best meat delivery service out there! They've got excellent prices, their customer service is kind and always willing to help, their shipping is consistent, and the quality of their meat is outstanding. I'm able to eat restaurant-quality food every night while saving money. What more could I ask for?
Question: Does Good Chop help to save you money?
Answer: Yes, Good Chop does help to save you money! Not only do they offer promotions and sales, but their bulk pricing allows you to cut down on costs compared to shopping at the grocery store. Plus, you're buying better quality meats without as many filler ingredients, which is better for your health overall.
Question: Are meat subscriptions cheaper?
Answer: Yes, they're cheaper than buying at the grocery store. In today's economy, it's important to count every penny to stay on top of budgeting. That's what I love about meat delivery services; you can count on spending a flat rate every month and receiving a consistent quantity of food, so you aren't subject to the constant fluctuation of prices at the grocery store.
The Real Winner?
Good Chop is the real winner in my book. For me, the lower prices and increased variety were the tie-breaker between the Good Chop vs Good Ranchers.
I think there are a lot of great qualities about both Good Chop and Good Ranchers, so if you feel like Good Ranchers is a better fit for you and your family, don't feel like you're on the losing team. These subscriptions are pretty comparable, but the slight differences between the two are why I'm giving Good Chop the victory crown.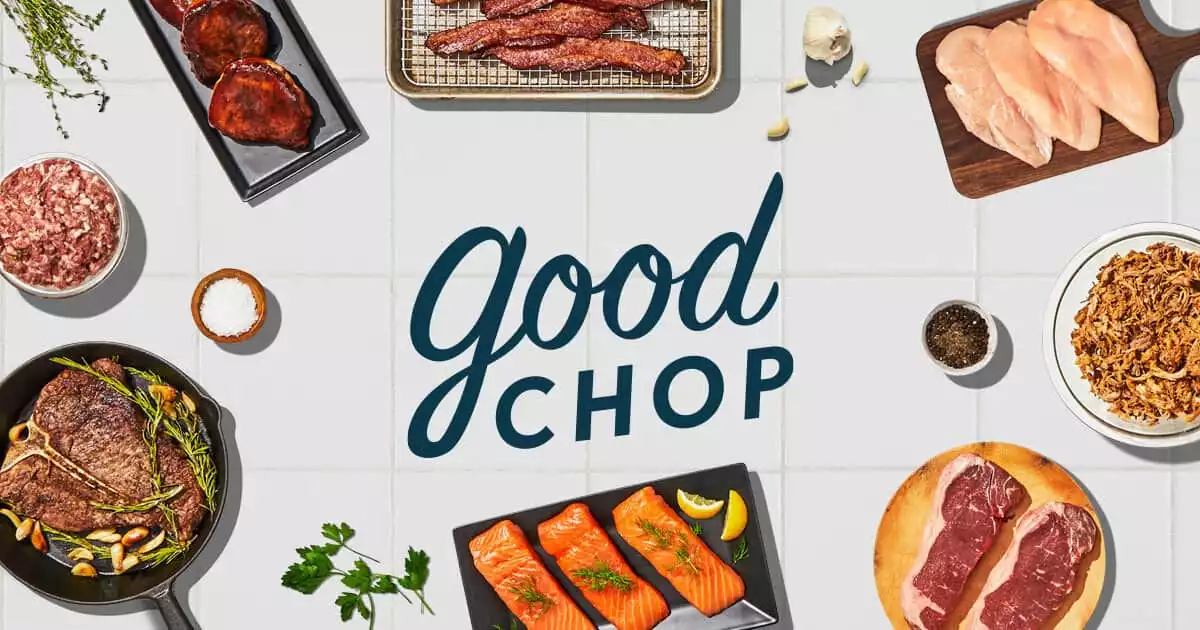 Related Reading on Meat Delivery Boxes