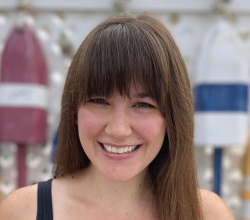 Latest posts by Lauren Vigdor
(see all)
I consider myself an adventurous eater. I like to say that I'll try anything at least once. I've spent enough time working in and around the culinary industry that I've been able to try everything from ostrich burgers (very tasty) to jellyfish (not my favorite). I've been lucky enough to try Wagyu beef and Ora King salmon, and I was once gifted a heritage free-range turkey to cook for Thanksgiving—all that is to say, I've been spoiled.
The problem with being spoiled is that it's hard to go back to regular, run-of-the-mill grocery store proteins. Except now that I'm no longer getting restaurant-quality meat at a discount, I've got to stick to a budget. That has led me to seek out the best deals on the best quality meats I can find, which often seem to come in the form of subscription services. That, in turn, led me to create this Meat N Bone review and guide because there are a lot of meat subscription services out there, and I need to find the broadest selection and best bang for my buck.
Bottom Line Up Front
I really liked Meat N Bone and would order from them again, but it's worth it to me to pay a little extra and order a la carte and not subscribe. They have such an interesting and extensive selection of products; I'd like to be able to choose the cuts of meat I'm going to get! While I liked everything I ordered from Meat N Bone, the game meats and harder-to-source meat and seafood are where they really shine.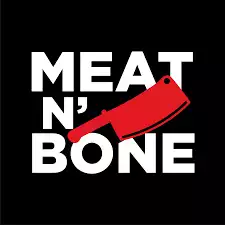 Elevate Your Eating | Meat N' Bone
Meat N' Bone offers over 400 different cuts of meat along with a wide selection of sides, spirits, and cooking hardware. The company's marketplace offers premium seafood, game, beef, poultry, pork, and lamb. Some of Meat N' Bone's most popular items include dry-aged and alcohol-infused steaks.
Check Price
We earn a commission if you click this link and make a purchase at no additional cost to you.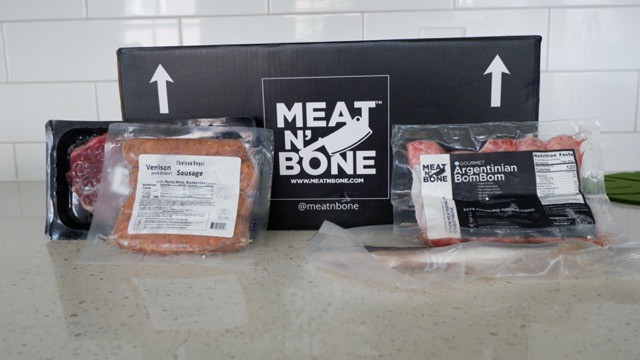 Meat N Bone does offer a subscription service, but first and foremost, it is an online butcher shop. You select your items from their online marketplace or sign up for one of their subscription boxes, and they'll deliver them to your door (anywhere in the United States) packed in dry ice.
Selection
Meat N Bone carries an extensive selection of meats, including beef, poultry, sausages, game meats, seafood, pork, and lamb. They also sell charcuterie, cheese, beer, wine, sake, a selection of sides, and tools that range from Japanese knives and grill pans to dry-aging fridges.
Most (but not all) of their meat is sourced from farms within the United States. They don't list all of the farms that they partner with on their site, but claim to choose meats that are "best in class" and meet the highest standards set by the USDA (I'll cover more of what that means for each protein under Subscription Boxes below).
Subscription Boxes
When you click to sign up for a subscription on Meat N Bone's website, you're actually taken to a second site, Grillmaster's Box. From there, you can choose the type of box, box size, and the number and type of proteins you want. You can select anywhere from one to three proteins per box (out of six types). The available packages are as follows:
The Value Box:

This box is designed to get you the best value for your money. Available in regular ($149 for 20 portions) and large ($299 for 55 portions).

The Luxury Box:

This box is pricier but contains choicer cuts of meat, like Wagyu beef, caviar, and sashimi-grade fish. Available in regular ($199.99 for 20 portions) and large ($399.99 for 55 portions).

The Fit & Lean Box:

This box was designed by personal trainers and focuses on lean meats that promote weight loss and muscle building. Available in regular ($149 for 20 portions) and large ($299 for 55 portions).

The Weekend Grillmaster's Box:

This box is stocked with meats that are perfect for grilling. Available in regular ($129.99 for 20 portions) and large ($259.99. They don't specify how many portions this covers, but say it's good for larger households of four to six people).

The Gift of Meat:

This is a two-month subscription that you can give as a gift without having it automatically renewed. Available in regular ($299) and luxury ($599).
You can choose to have each subscription stocked with between one and three of the following protein categories:
Beef

from small independent farms.

Game meats

that are sustainably and ethically sourced.

Fish and seafood

that is sustainably sourced. Both wild-caught and farmed.

Pork

sourced from the US, heritage bred.

Poultry

sourced from Bell & Evans.

Lamb

raised through high-quality grain-fed programs.
The actual cuts of meat you receive will vary from month to month and will be selected for you by the team at Meat N Bone based on the preferences you set.
Why Would You Subscribe to Meat N Bone vs. Ordering a la Carte?
Whether you choose to subscribe to Meat N Bone or pick and choose items from their butcher shop boils down to personal preference. You'll be able to customize your order more if you go through their butcher shop but you'll get better value for your money if you select a subscription plan through.
My Experience Ordering From Meat N Bone
I wanted to try out Meat N Bone for myself, so I ordered a few items to taste.
Website and Ordering
Since the smallest subscription box was about 20 portions, I opted to go a la carte so that I could review some of Meat N Bone's selection without over-stuffing my freezer. I found the website a little bit overwhelming simply because they have so many products available, but sidebar menus make it easy to navigate and sort items to find what you're looking for. I was particularly intrigued by their extensive selection of game meats and sausages.
I placed my order in the evening and received a confirmation email the following day. Two days later, I received another email that my order had shipped, and less than 48 hours later, it arrived at my front door.
Unboxing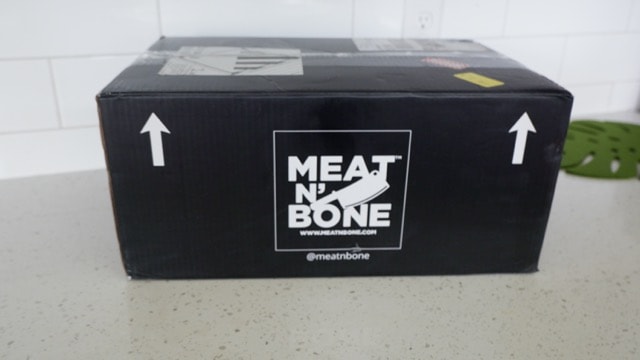 My order was well-equipped to survive its multi-day journey. It arrived in a cardboard box, but within the box was a styrofoam cooler. While I'm all for eco-friendly packaging, the foam cooler was sealed like a vault, keeping everything nice and frosty inside.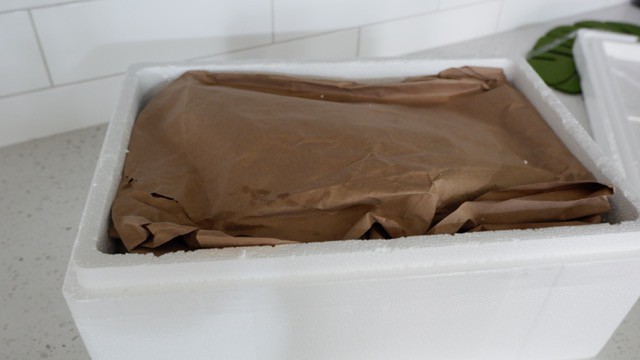 Under a layer of paper were the remnants of dry ice in a mostly empty bag (this didn't bother me—the dry ice kept everything cold even after sublimating). There were also a few gel ice packs that were still frozen solid (which gave me peace of mind) and my meats, which were individually vacuum-sealed.
What I Ordered from Meat N Bone
Gourmet Argentinian Bombones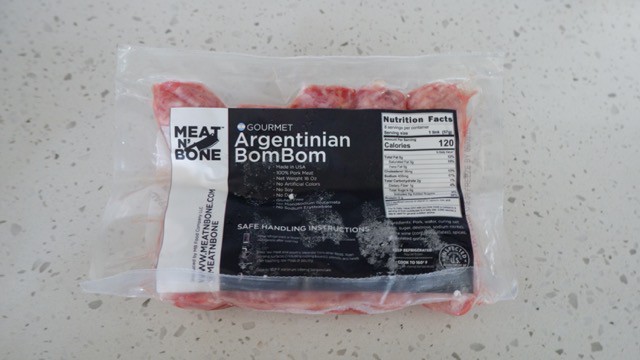 These little sausages were so cute! I noticed that Meat N Bone had a lot of Argentinian sausages available, so I figured I should try one. I had never had these before, but according to their website, they are similar to Argentinian chorizo but smaller.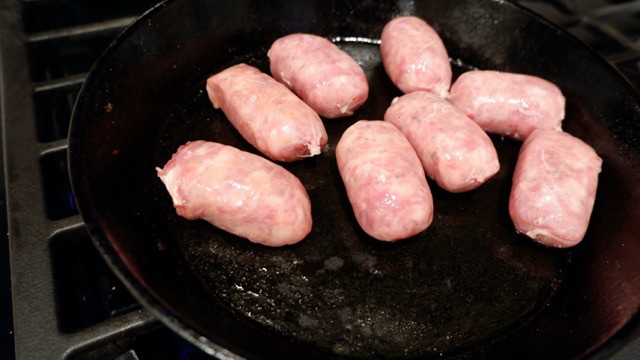 I decided to make a very inauthentic spin on a Choripan, a chorizo sandwich, using these. I had a large loaf of rustic bread that was maybe not the best shape for a sausage sandwich, but I toasted it up and made a chimichurri-inspired garlic herb oil to dress the sandwiches. I was amazed at how fast and easy it was to cook up these little sausages! The natural pork casing browned nicely as well.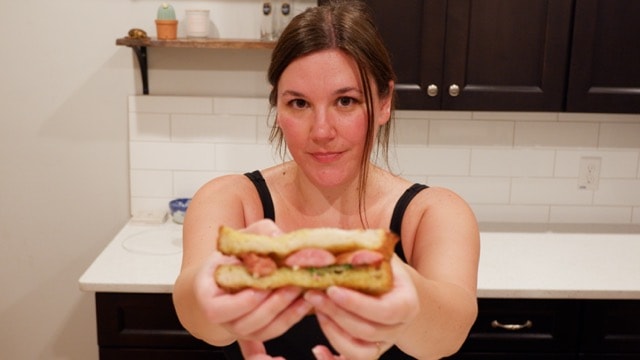 The sausages didn't have the intense chorizo spice flavors I expected. They were subtle and meaty with just a hint of spice. They also weren't nearly as greasy as I expected them to be, which I was glad of—especially since I slathered them in a garlicky herb oil! They made an awesome weeknight dinner, and it was so cool to get to try something I had never seen before.
Mediterranean Branzino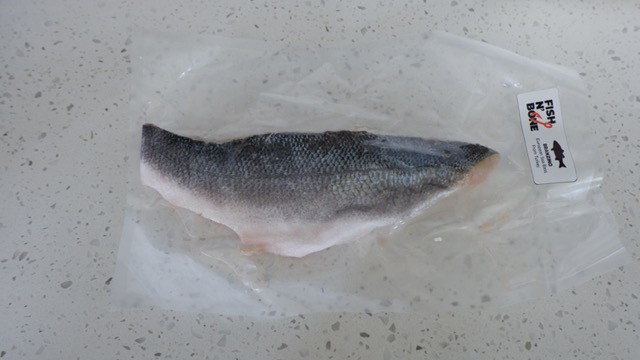 Branzino might be my favorite fish—my fiance and I actually have a rule that if we go out to dinner and the restaurant has branzino on the menu, we have to order it. I've occasionally found it for sale in some local grocery stores, but it's not regularly available, at least where I live. I was really excited to get this from Meat N Bone.
They had a whole fish available, which I usually love for grilling season, but I just moved and don't have a grill, so I opted for a skin-on filet. It defrosted quickly in the refrigerator and was a dream to cook up.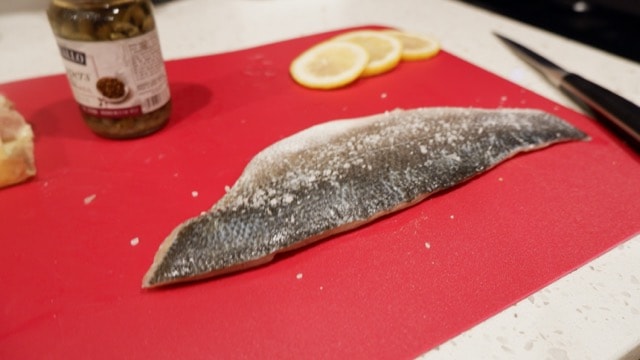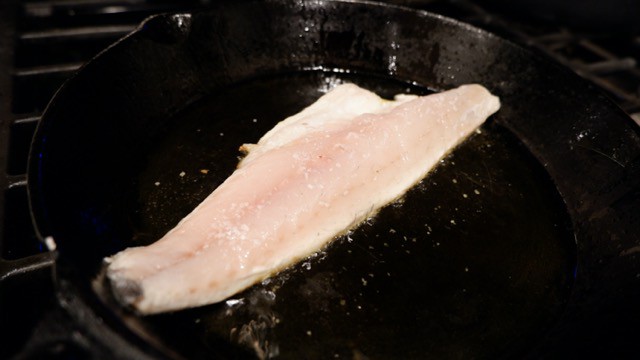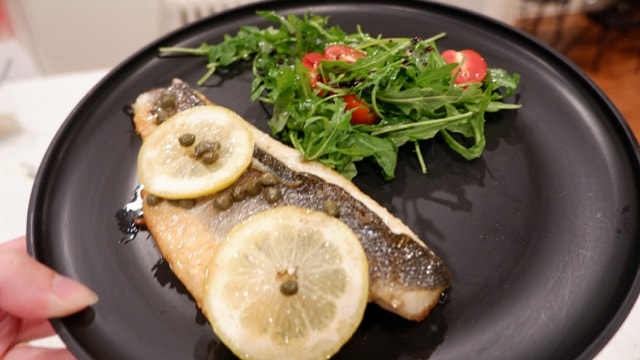 I pan-seared it for just a few minutes on each side and basted it in butter, lemon, and capers. I served it with a simple side salad, and it was excellent—so fresh and delicious. I would seriously order just a box of branzino from Meat N Bone; that's how good it was.
Bison New York Strip Steak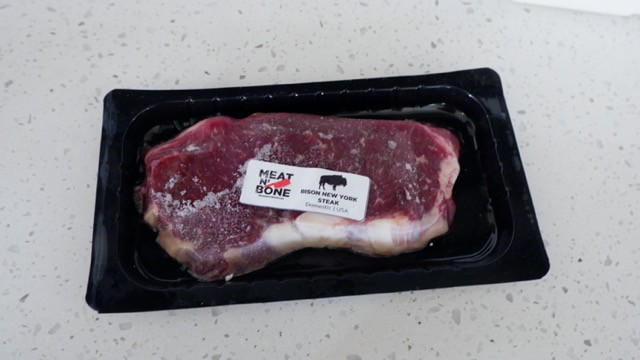 I've had bison before, and I know that some people swear by it. It tastes very similar to beef but is leaner and slightly sweeter. I could definitely see how having the option to order lean, healthy meats like bison from Meat N Bone would be beneficial to a lot of people—especially those who don't have stuff like this readily available in local grocery stores.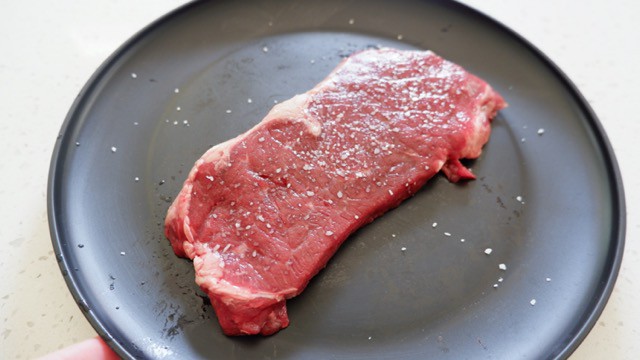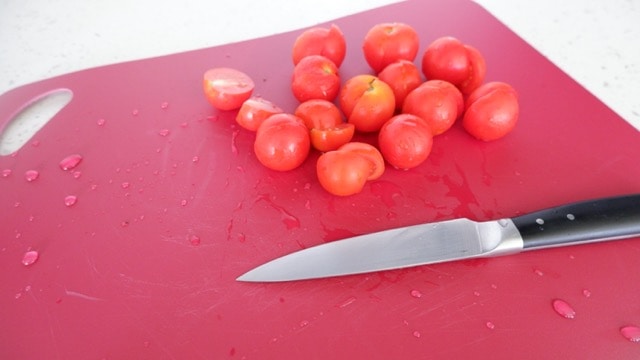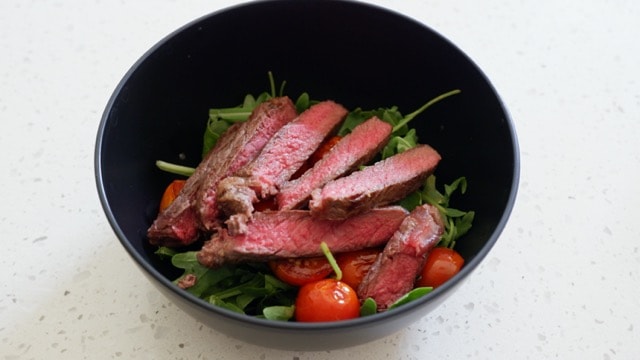 This steak was ridiculously good. I seasoned it with some kosher salt and then seared it for a few minutes in a cast iron pan. It was so tender I could tear off pieces with my bare hands. It was rich, meaty, and exceptionally flavorful but wasn't greasy at all. I often serve New York strip steakhouse style, with a potato and vegetable side, but I decided to lean into the healthiness of the meat and served this sliced on top of a simple salad. It was absolutely fantastic.
Venison, Blueberry, and Merlot Wine Sausage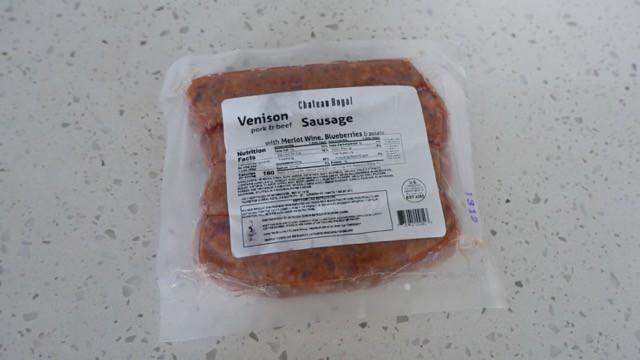 I wanted to try something else from Meat N Bone's game meat selection and was intrigued by these. I've enjoyed venison before (my friend and I actually had the idea for the book on bartending we wrote together over a venison dinner), but it can be pretty gamey. These sausages actually combined venison with pork and beef, which I thought might make them more approachable. I browned them in a cast iron pan and then let them simmer for a while with a splash of beer. They cooked up to a gorgeous bronze color. I served them over mashed potatoes with some roasted Brussels sprouts and frizzled onions.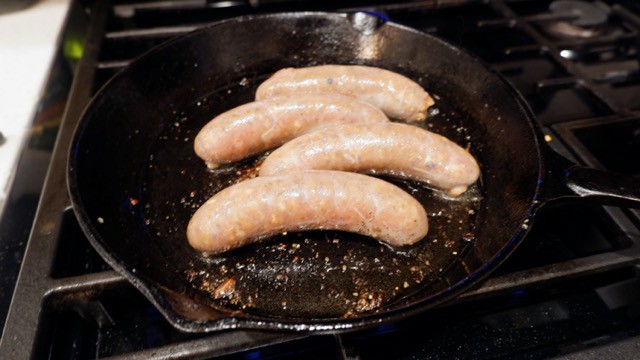 The sausages were meaty, juicy, and not at all "funky" tasting—I thought they tasted a lot like pork sausage with some more complex flavors. I couldn't pick out the individual flavors of the blueberries or merlot, but the sausage was pleasantly sweet, possibly due to these additions. If you're interested in trying venison but are worried it might taste too gamey for you, these are an excellent place to start!
Meat N Bone Pros and Cons
Pros
Meat N Bone carries cuts and types of meat that you won't typically find in your local grocery store.

Their selection is both larger and more extensive than many of their competitors.

Everything I tried from them was high-quality, fresh, and delicious.

They deliver everywhere in the United States, including Hawaii, Alaska, and Puerto Rico.

I like that they offer a gift subscription as well as different packages and tools in the butcher shop that would make great gifts.

Despite their wide delivery area, it's still a small, independently-owned company.
Cons
I wish I could order a subscription that included a selection of all six available protein categories rather than having to choose one to three.

They have a blog with recipes linked on their website, but it's pretty sparse.

I wish they listed all of their partner farms instead of just a few like Bell & Evans.

When I was making my selection, I noticed that several items were sold out.
Other Alternatives to Consider
If you're not sure Meat N Bone is right for you, you might want to check out one of these alternatives instead.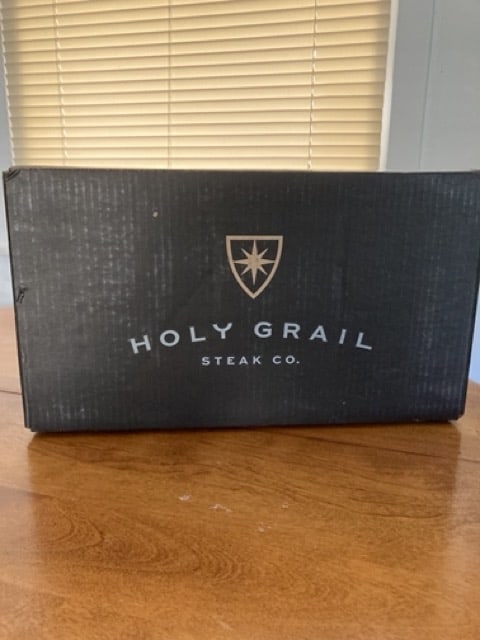 Holy Grail Steak Co.

Holy Grail is a premium beef delivery company (they sell a few other things, but their selection is overwhelmingly beef). This is an excellent choice if you're looking for Wagyu or want to know exactly which farm your steaks came from. You can read my full

Holy Grail review here

.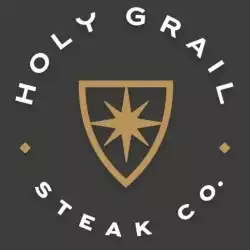 Butcher Box.

Butcher Box is one of the most popular and well-known meat subscription services. While they don't have lamb or game (other than bison), I do like that they offer a customizable box that allows you to choose your cuts of meat. You can read our full

Butcher Box review here

.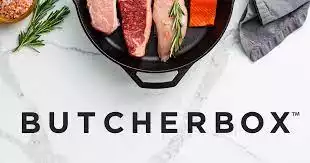 Meat Delivery Subscription | Butcherbox
ButcherBox delivers 100% grass-fed beef, free-range organic chicken, humanely raised pork, and wild-caught seafood directly to your door. Sign up today and get $20 off each box for your first 5 months.
Check Promos
We earn a commission if you click this link and make a purchase at no additional cost to you.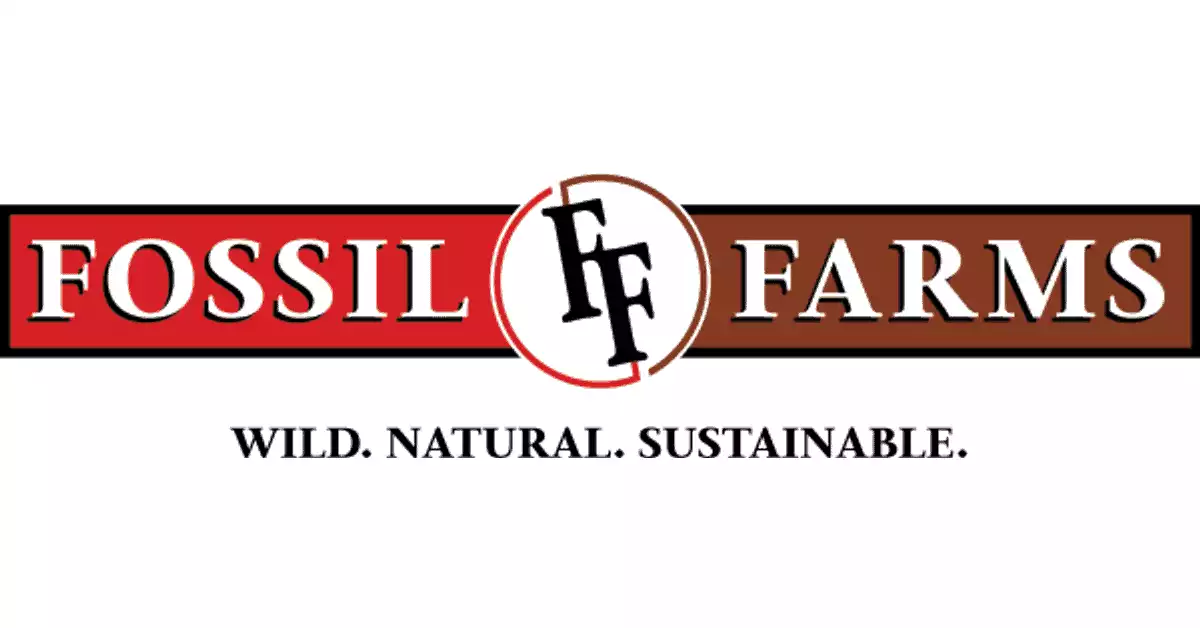 FAQs
Question: Where is Meat N Bone located?
Answer: Meat N Bone is online-only and doesn't have a brick-and-mortar butcher shop, but they are based in Miami, Florida. 
Question: Can I give a Meat N Bone subscription as a gift? 
Answer: You can! Meat N Bone has a subscription option where you can give a two-month regular or luxury subscription as a gift. They also have gift boxes and gift cards available for one-time purchase from their online butcher shop. 
Question: Is Meat N Bone organic? 
Answer: Not all of Meat N Bone's products are certified organic, but their producers follow organic practices. 
Final Verdict: Would I Order From Meat N Bone Again?
I would definitely order from Meat N Bone's butcher shop again, but I don't know that I would order a subscription. Everything I tried from them was fantastic and worth the price I paid for it, but I'd rather have the flexibility of choosing what proteins I receive each month. I think I'd be more inclined to subscribe if I could choose to include a combination of all six proteins in my order rather than just three—I like a lot of variety in my diet, and I love trying new things. That being said, if you're only interested in a few protein categories anyway, you'll get more value for your money if you go for the subscription.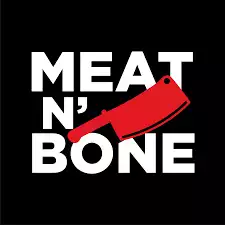 Elevate Your Eating | Meat N' Bone
Meat N' Bone offers over 400 different cuts of meat along with a wide selection of sides, spirits, and cooking hardware. The company's marketplace offers premium seafood, game, beef, poultry, pork, and lamb. Some of Meat N' Bone's most popular items include dry-aged and alcohol-infused steaks.
Check Price
We earn a commission if you click this link and make a purchase at no additional cost to you.
Continue reading
25 Best Organic Meat Delivery Services
ButcherBox vs US Wellness Meats : Features & Main Differences!