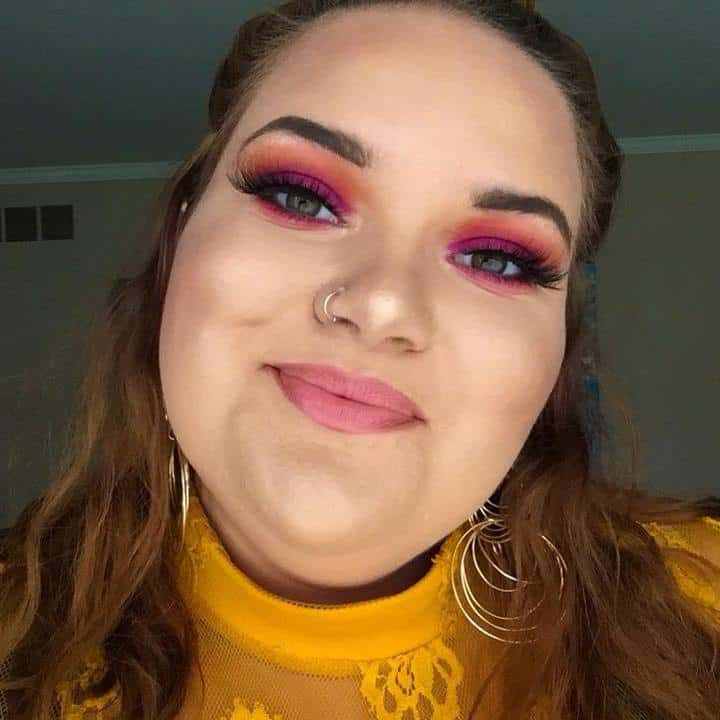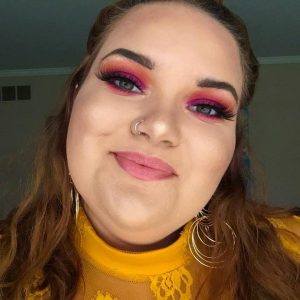 Latest posts by Alizabeth Swain
(see all)
Are you tired of depending on takeout to feed your family every night but don't have the time to go grocery shopping?
I totally relate!
There's no better feeling than seeing the "Order Shipped" email pop up on your phone while you're fighting your toddler to take a bath. Come on; I know it can't just be me that feels that way!
I'm not embarrassed to admit that I depend on meat delivery services to get me through the week. Shoot, without some of these fantastic steak delivery services, my family would be eating fast food every single night!
I don't have the time (nor energy) to grocery shop every week. And with prices nowadays, I'm constantly hunting around for the best deals in my area to save myself a couple of bucks. Depending on a meat delivery service means I'm able to budget better and meal plan.
Signing up for a steak delivery service really takes all of the pain out of everything. Not only can I skip out on price shopping at my local grocery stores, but I don't have to stand in line to check everything out.
I don't have to interact with anyone, I don't have to worry about buying spoiled meat, and I don't have to worry about toting a fussy toddler in and out of the store.
To help anyone else in the world struggling with adult responsibilities, I've compiled my favorite steak delivery services. These steak delivery services have improved my life in so many ways!
The juicy deets: Good Chop is my top choice! They have fantastic customer service, and quick shipping, their orders are packaged with care, and the quality of their steak is AHHHH-MAZING!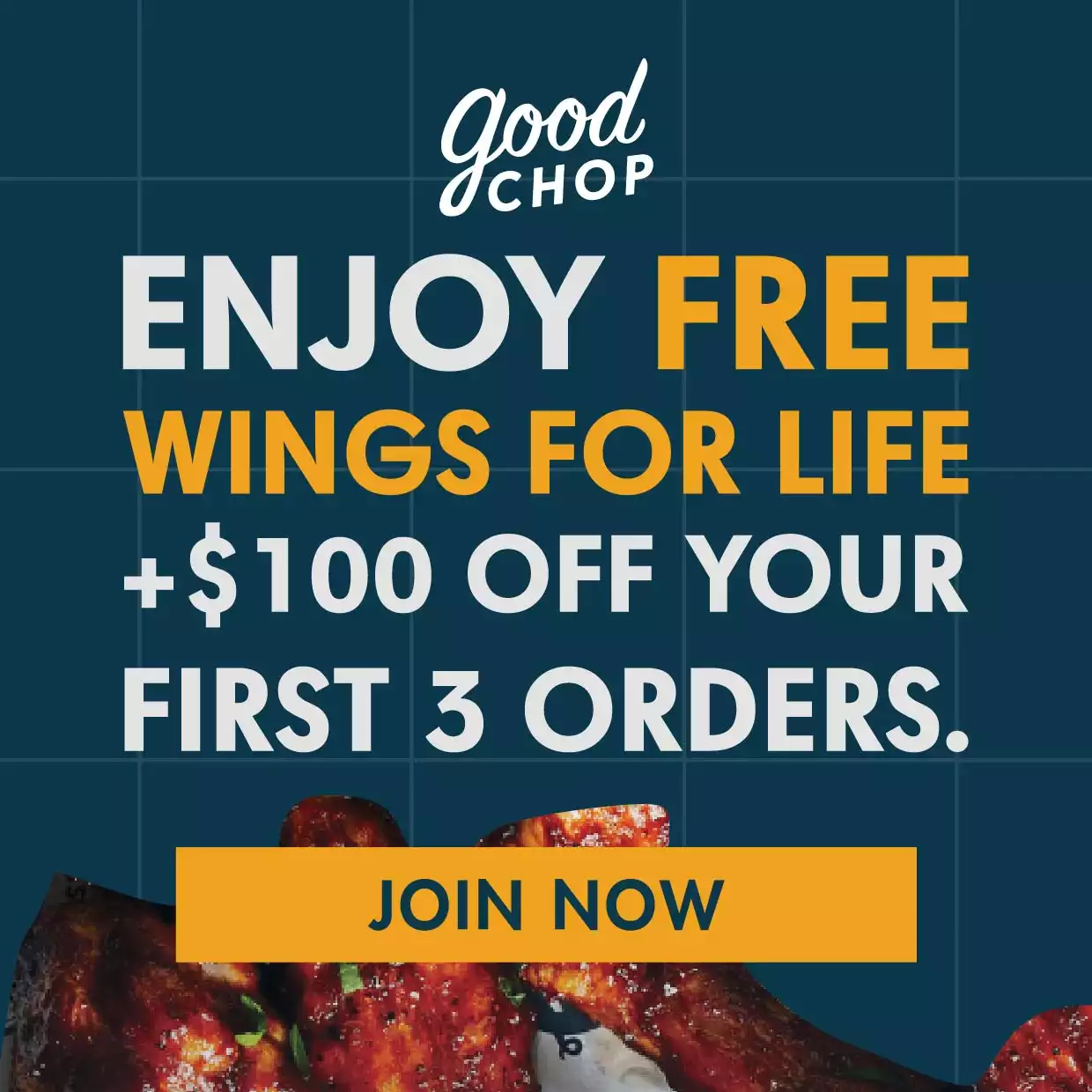 Enjoy FREE Wings for Life
Good Chop is a flexible meat subscription service that brings high-quality, American meat and seafood right to your door. Join Good Chop today to get FREE wings for life and $100 OFF your first 3 orders.
Good Chop Promo Offer
We earn a commission if you click this link and make a purchase at no additional cost to you.
You might also be interested in: Best Chicken Delivery Services Guide: Why Good Chop Is My #1 Choice
How I've Chosen These Services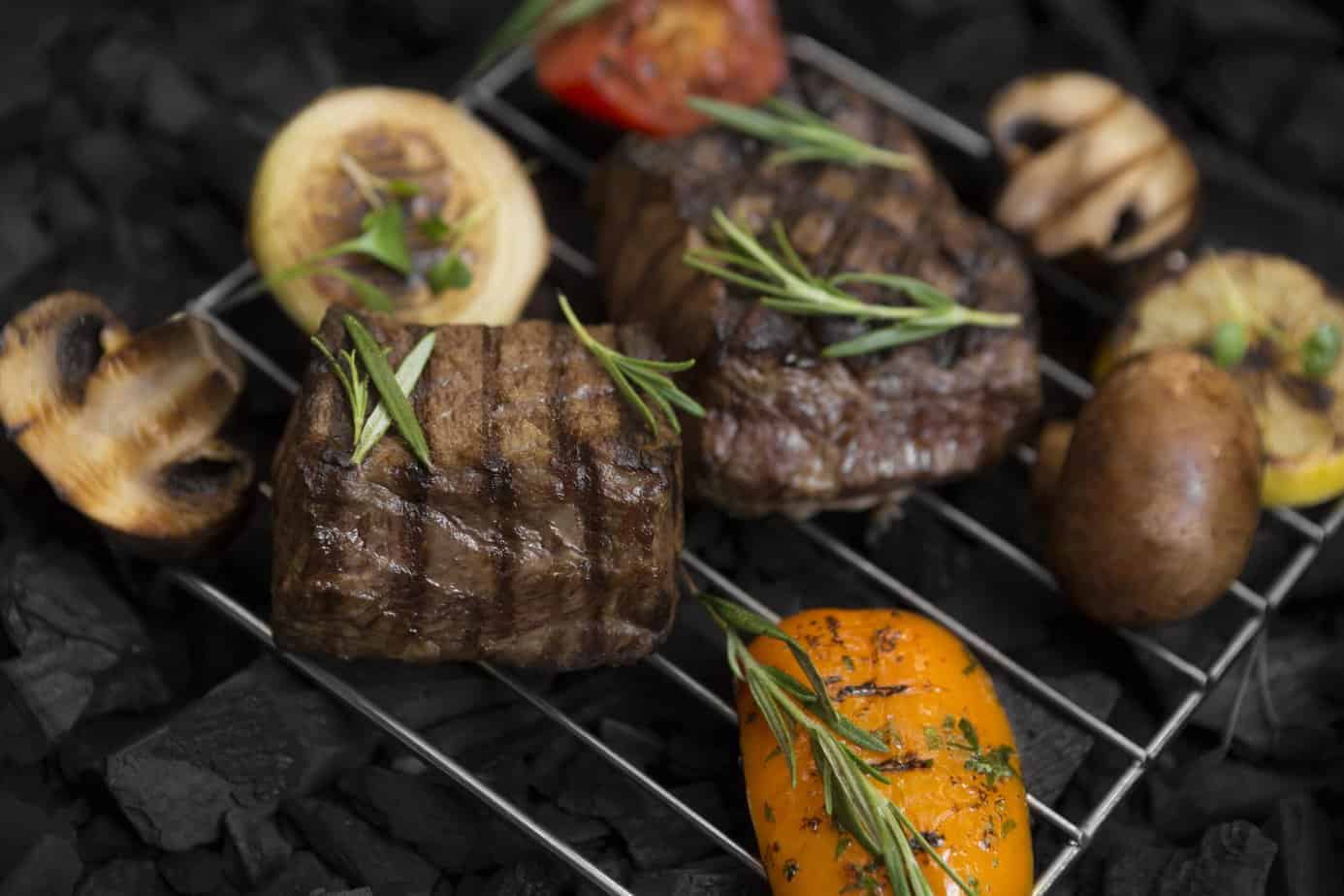 Chances are, we've just met for the first time. You don't know me or my life story, so how can you trust my recommendations? How can you trust me? Here's how:
Personal Experience
I love subscription boxes. I refer to myself as a subscription box addict! As much as I love subscription boxes, I love helping people. In the wise words of State Farm commercials, I know a thing or two because I've seen a thing or two. All of the delivery services I'm listing here are all services I've personally tried out.
That means I'm not listing any companies I've had problems with or companies that send out low-quality meat. I'm here to deliver only the best of the best steak delivery service recommendations to you. Life's stressful enough as it is; you don't need another thing to worry about added to your plate!
Livestock Living Conditions
While I enjoy steak and chicken, I also support animal rights. I don't support companies that provide inhumane or unethical conditions for their animals. I'm all about sustainability, so all of the companies listed below have proven humane and ethical living conditions for their cattle.
Meat Tenderness
If you cook your steak well done, I have to politely ask you to leave.
Just kidding! (kinda).
The steak delivery services I've listed below have fanatic steak quality. Even if you're not the best cook, these steaks' quality is amazing. They're super tender, juicy, and overall delicious.
Steak Quality
Of course, I needed to include quality. I've determined quality by how these companies sent out their steaks. I want to spend my time on something other than prep work, cutting off gristle and excessive fat caps from any expensive steaks I order. I expect these steaks to be ready to throw on the grill (minus some seasoning) when they arrive on my doorstep.
All of the companies I've listed below deliver on that! I didn't have any problems with the steaks I received from the companies I've listed below requiring any extra prep work.
My Favorite Steak Delivery Services
Without any further hesitation, here are my all-time favorite steak delivery services:
Good Chop: Best Steak Delivery Service Overall (Value, Quality, and Customer Experience)
Ranking any meat company the number one spot for best steak delivery services isn't something I take lightly. But Good Chop has earned this spot for the best of the best!
Good Chop only sources their meats from farms with humane standards. That means there's no worry about animal mistreatment, neglect, or abuse. In addition, Good Chop only works with small family-owned farms based in the United States.
Now, there's a whole list of reasons why I'm passionate about supporting small family-owned farms, but I won't bore you with my passions. Just knowing I have the opportunity to support a family-owned farm to make sure it stays in the family for another generation or two makes me happy.
Good Chop doesn't sell any meats given hormones or antibiotics, so you can feel good about what you're putting in your body too.
I love that they offer a 100% money-back guarantee on any meats that you aren't happy with, which made me feel a whole lot more confident when I was first trying them out. You never know; trying a new meat delivery subscription can be a gamble sometimes. However, this guarantee provided by Good Chop made me feel much more confident in their brand!
Currently, Good Chop offers two box sizes. You can choose between a medium-sized box and a large-sized box. With both boxes, you can build your box and choose from a variety of 25 cuts of meat. This includes a combination of pork, steak, chicken, and seafood options.
While their chicken and seafood are great, you better load up on their steaks! Believe me, once you try out their steaks for the first time, you will be addicted. No, I won't judge you for having steak for breakfast, lunch, and dinner!
The best part about Good Chop? The quality, of course! I could go on and on about how amazing their steaks taste, how tender their meat is, and how decadent their steaks are. I eat the best meal of my life every time I cook with a Good Chop steak! But I do love their subscription setup.
You only need to worry about selecting a box size and filling your box with items for you to receive an actual subscription box. Good Chop boxes ship once every four weeks without you needing to send in a reminder to remind yourself to place another order.
Isn't that great?!
My favorite steaks from Good Chop are beef ribeye steak, beef filet mignon, and their New York strip steak. I could eat their grass-fed ribeyes every day for the rest of my life, and I don't think I'd ever get tired of them!
Pros
USDA-grade steak delivered right to your front door

Supports local family-owned farms based right here in the United States

Different size subscription box sizes, which are excellent for families of all sizes and budgets

Great quality customer service and super fast shipping
Cons
I do wish Good Chop offered more subscription box sizes

It would be nice to see less wasteful packaging, especially for a company that focuses so much on sustainability

Seeing organ meat would be awesome (like heart and liver)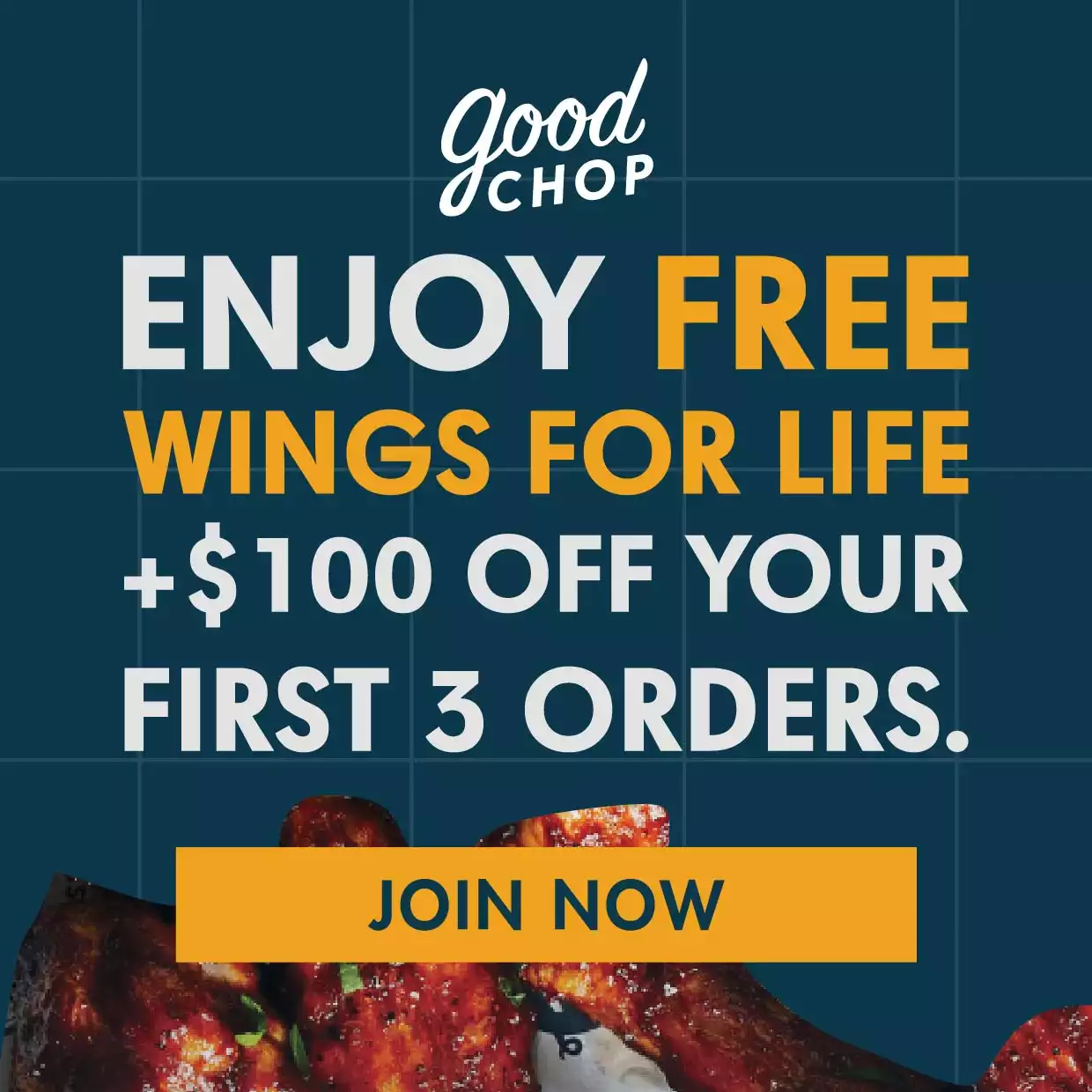 Enjoy FREE Wings for Life
Good Chop is a flexible meat subscription service that brings high-quality, American meat and seafood right to your door. Join Good Chop today to get FREE wings for life and $100 OFF your first 3 orders.
Good Chop Promo Offer
We earn a commission if you click this link and make a purchase at no additional cost to you.
Crowd Cow

: Best Steak Delivery for Wagyu & High-end Steaks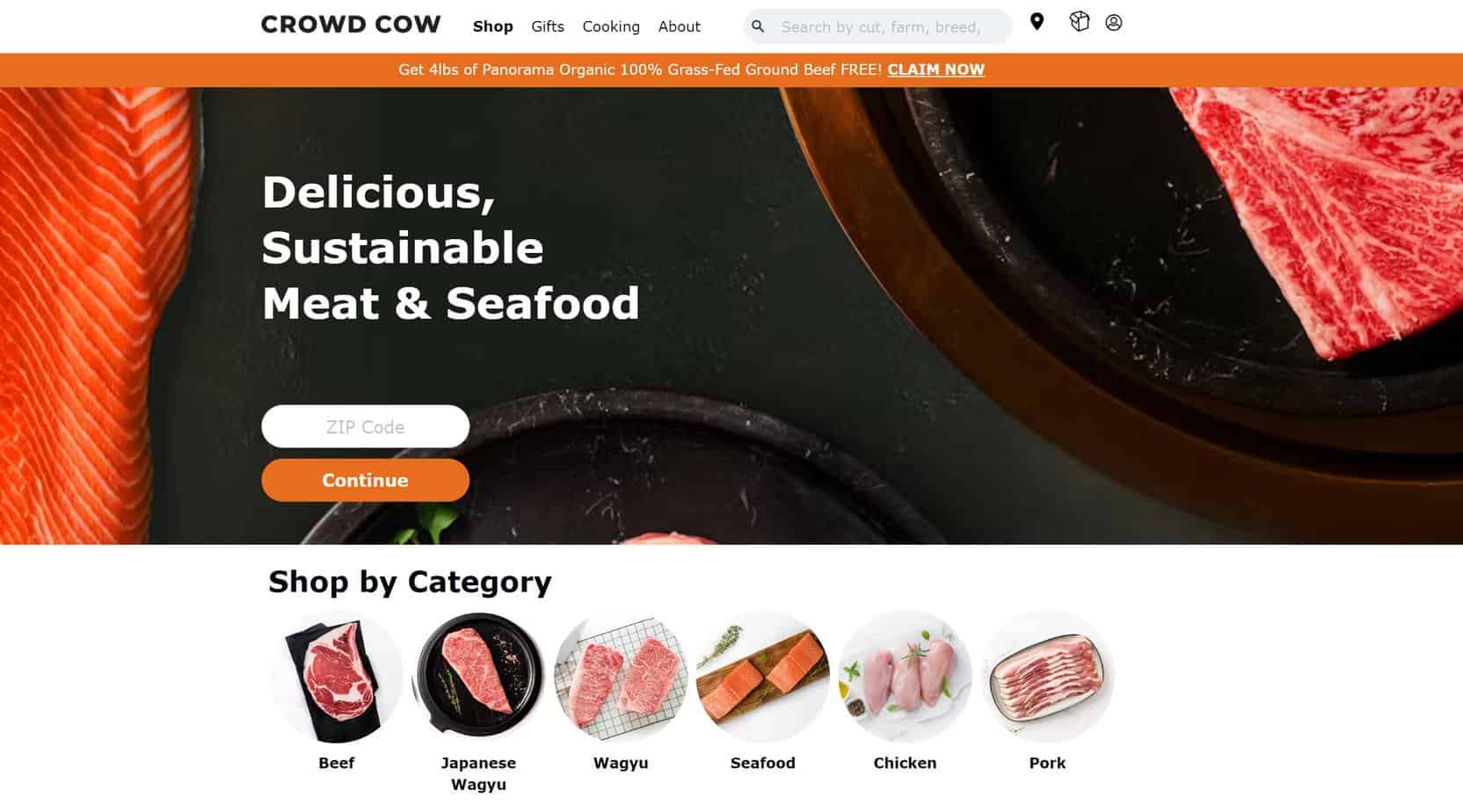 Are you looking for super fancy steaks to have on occasion?
Crowd Cow would be a great fit for you! While Crowd Cow does a good variety of "normal" foods that you could find in the grocery store (like ribeye steaks, chicken, pork, etc.), they also offer some more exotic options that are hard to find anywhere.
Crowd Cow works with farms worldwide to focus on supporting small communities and the growth of sustainable farming around the globe. Crowd Cow offers some of the most incredible foods: genuine American wagyu and Japanese wagyu. While the pricing is costly for their wagyu, I'm happy to see the higher prices.
Many grocery stores (I'm looking at you, Walmart) try to pull off selling "American wagyu" meats for cheap. It's refreshing to see a steak delivery service offer wagyu steaks at reasonable meat prices.
Plus, Crowd Cow has a lot of versatile options too. There's a great variety of cuts of meat and different meats on their available menu, so it'll be a while before you start getting bored of anything. In all of my orders with Crowd Cow, I haven't had problems with poor cuts, excessive fat, or gristle. I love the taste of their meats, and the quality is always on the ball.
I love Crowd Cow and chose them to be on this list, not only for the quality of their meat and their fantastic customer service but also because of the flexibility Crowd Cow offers.
You can order a week's worth of meat from Crowd Cow and know you're saving money by buying in bulk. At the same time, you can request an expensive steak dinner that you can DIY at home for your boo while it's your anniversary.
Pros
Super high-quality meat

Crowd Cow has lightning-fast delivery, which never ceases to impress me

I love some of the more exotic meat options Crowd Cow offers, like boar
Cons
Since Crowd Cow is pretty famous, some meats sell out relativity quickly on their site

Crowd Cow has a minimum order requirement, which may be a bit offputting if you're only looking to order a small amount for your first order with them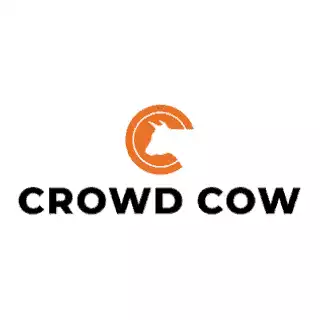 Online Meat & Seafood Delivery | Crowd Cow
Get grass fed steaks, pasture raised craft beef, pastured chicken, heritage pork and more meat you can't find anywhere else ― delivered right to your door.
Build Your Box
We earn a commission if you click this link and make a purchase at no additional cost to you.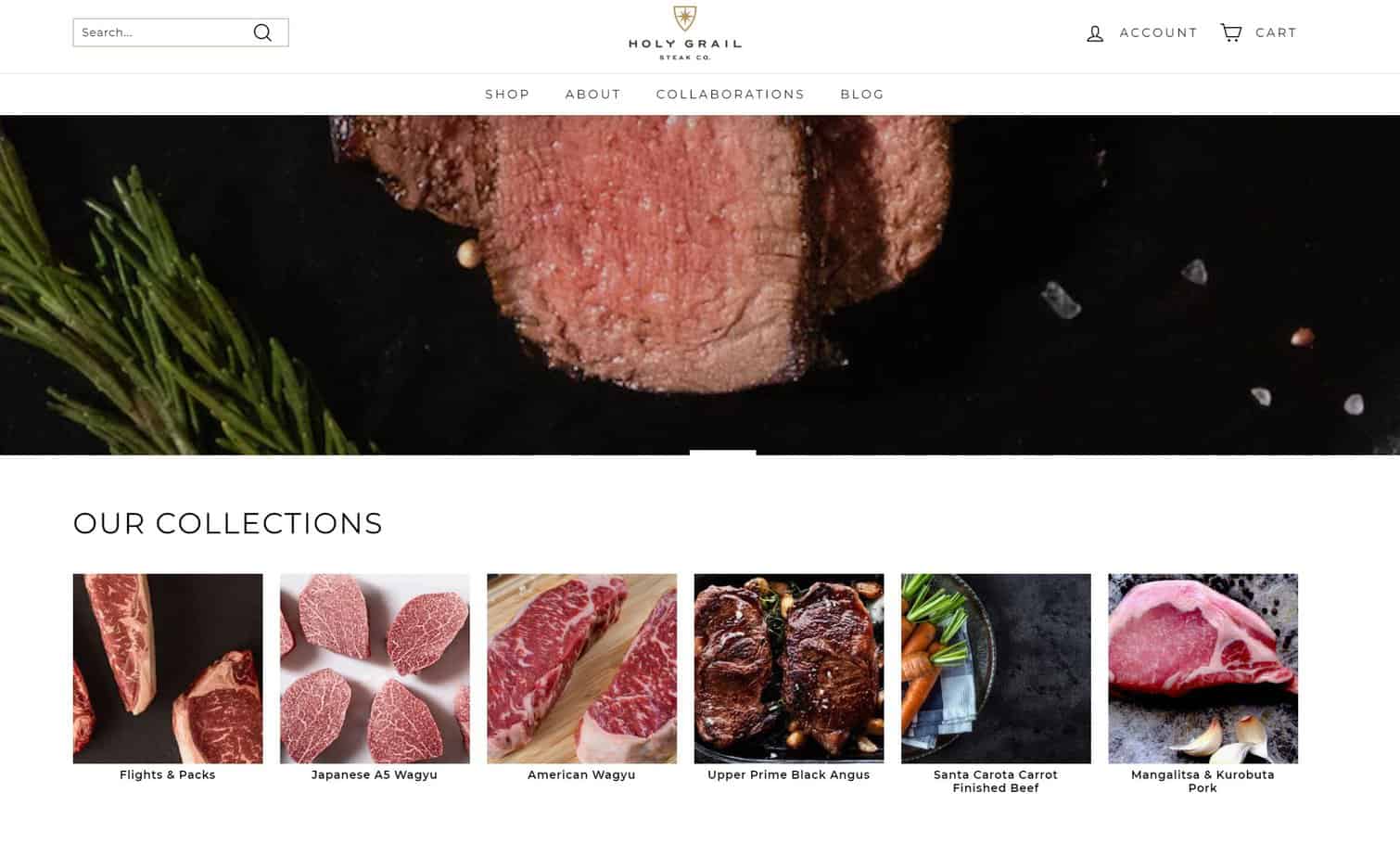 I included the Holy Grail Steak Company in this list for people specifically looking for wagyu.
They're the only steak delivery company in the United States that only sells Japanese Kobe Beef from Kobe-Niku. While Chicago Steak Company offers high-end steaks, the Holy Grail Steak Company offers the highest-grade steaks out of all of the services I've listed in this guide.
Remember, this company isn't affordable (for most people). I would only recommend adding this company to your list of monthly deliveries if you have the budget.
I think the Holy Grail Steak Company is a great steak delivery service for special occasions. Have a graduation, anniversary, or celebration coming up soon? The Holy Grail Steak Company will keep you and your family well-fed and happy.
I've only had the chance to try one thing from this company, and that was their Dry-aged Upper Prime Flight pack. Just one bite into their steaks, and I was addicted. I would sell my entire house and move across the country if it meant I could afford their steaks every month.
Their steaks are DIVINE!
Pros
Holy Grail Steak Company focuses on ribeyes, filets, and strips; they've taken this particular focus and run with it

Offer dry-aged and wet-aged steaks

They sell certified Kobe beef
Cons
Their website isn't easy to use; I've had a lot of problems trying to load in and check out before
Chicago Steak Company

In the market for USDA Prime Beef? If so, Chicago Steak Company is where you should start looking!
There aren't many companies that offer the same high-quality meat that Chicago Steak Company does. the marbling in the steak that Chicago steak company sends out Is amazing and unlike any other company on this list.
I didn't know this the first time I signed up for the Chicago steak company, but it's really cool that I can buy from a company that also sells steaks to five-star hotels and high-end steakhouses. I also love that this company doesn't just offer steaks but offers a wide variety of delicious other meats.
The Chicago State company offers both dry-aged and wet-aged steaks, which isn't something a lot of other steak delivery services on the market offer. I think the Chicago State company is excellent for someone looking to invest a pretty penny into a delivery service that will give them a unique and mind-blowing experience every time.
Trust me when I tell you that you'll be amazed when you take a bite of their steaks! Many companies out there try to pass off USDA quality meat without actually having the quality meat to back up those claims. Thankfully, Chicago Steak Company isn't one of those companies.
If you're unsure about what to try out first, I highly recommend their Tomahawk ribeye steak. This is a life-changing steak; it brought out my inner caveman and made my belly very happy!
Pros
Chicago Steak Company steaks have won awards (like the Great Steak Debate People's Choice Award)

They offer regular people the same steaks they sell to high-end hotels and restaurants

Offer wet-aged and dry-aged steak options, which isn't offered by a lot of steak delivery services

Offer free shipping with subscriptions
Cons
Chicago Steak Company doesn't offer grass-fed beef options

Their steaks and American wagyu cuts are pretty expensive (but righteously so)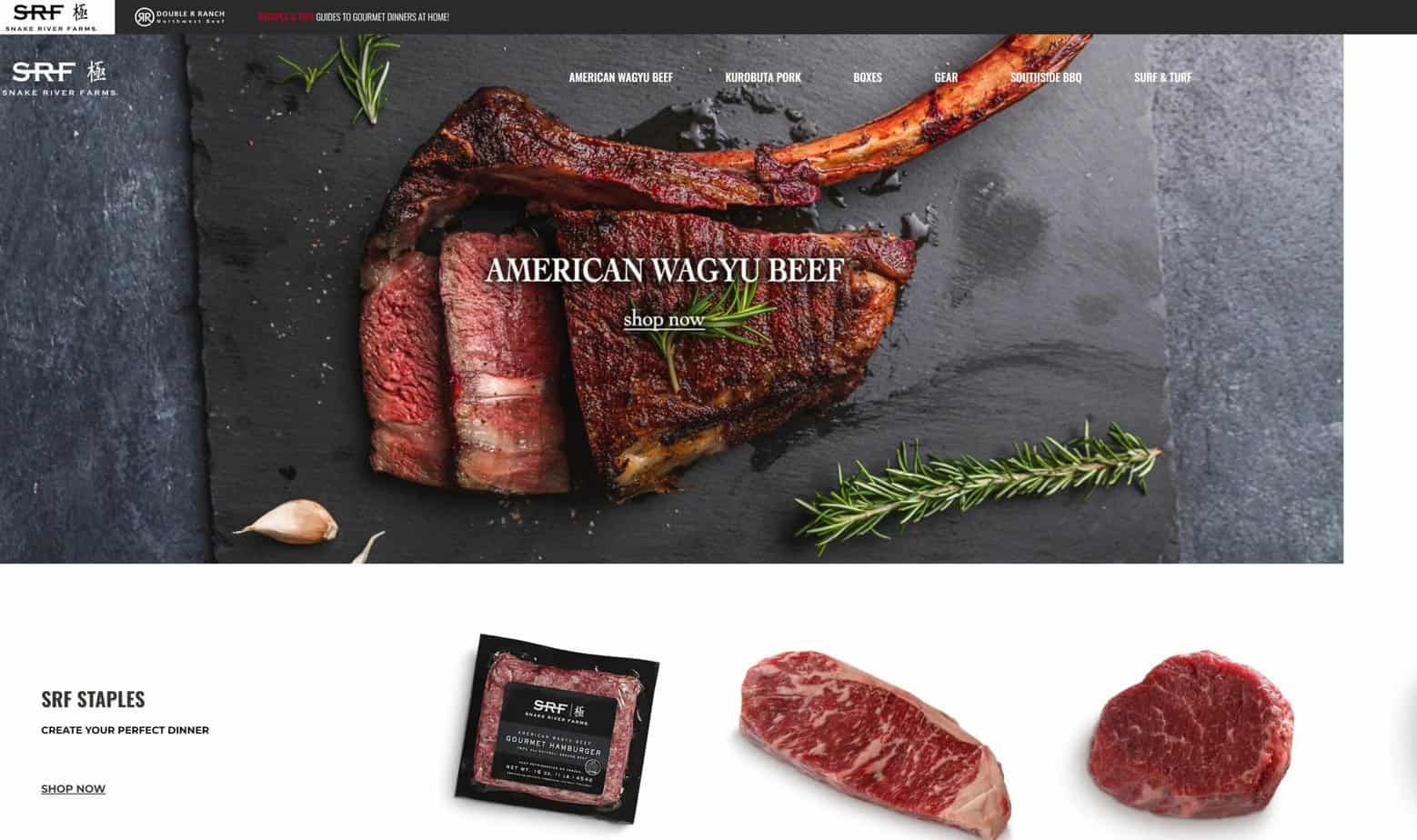 Snake River Farms claims to be the first company to create American Waygu. They state they created a new breed of cattle by cross-breeding purebred Japanese Wagyu with American cattle.
With this combination, tasters will get the fantastic flavor of Japanese marbling mixed with the outstanding beef flavor American cows have. Besides their steaks, they offer a lot of other cool products. Not a fan of hot dogs? Well, you should try the wagyu hot dogs offered by Snake River Farms; it'll change your mind for sure!
Snake River Farms has amazing-tasting steak, and their customer service is hard to beat. While there isn't a ton of variety to choose from with Snake River Farms, I'm okay with that. I can tell by the quality of their steaks (and hot dogs) that Snake River Farms wants to be the best at what they're good at, and that's wagyu.
Sure, it would be nice to have a decent selection of other products to offer from. But I don't shop at Snake River Farms enough (because of the pricing) to want to stock up on different meats.
They're another company I go to for special occasion orders, but I mostly buy their steaks for holiday gifts and birthday presents. Their meats are amazing and high-end but are less expensive than some of the finer steak delivery services on this list.
Pros
The ordering process is super smile

High-quality steak with a unique spin on wagyu

I've never had any problems with their customer service
Cons
Shipping sometimes takes a while

They aren't affordable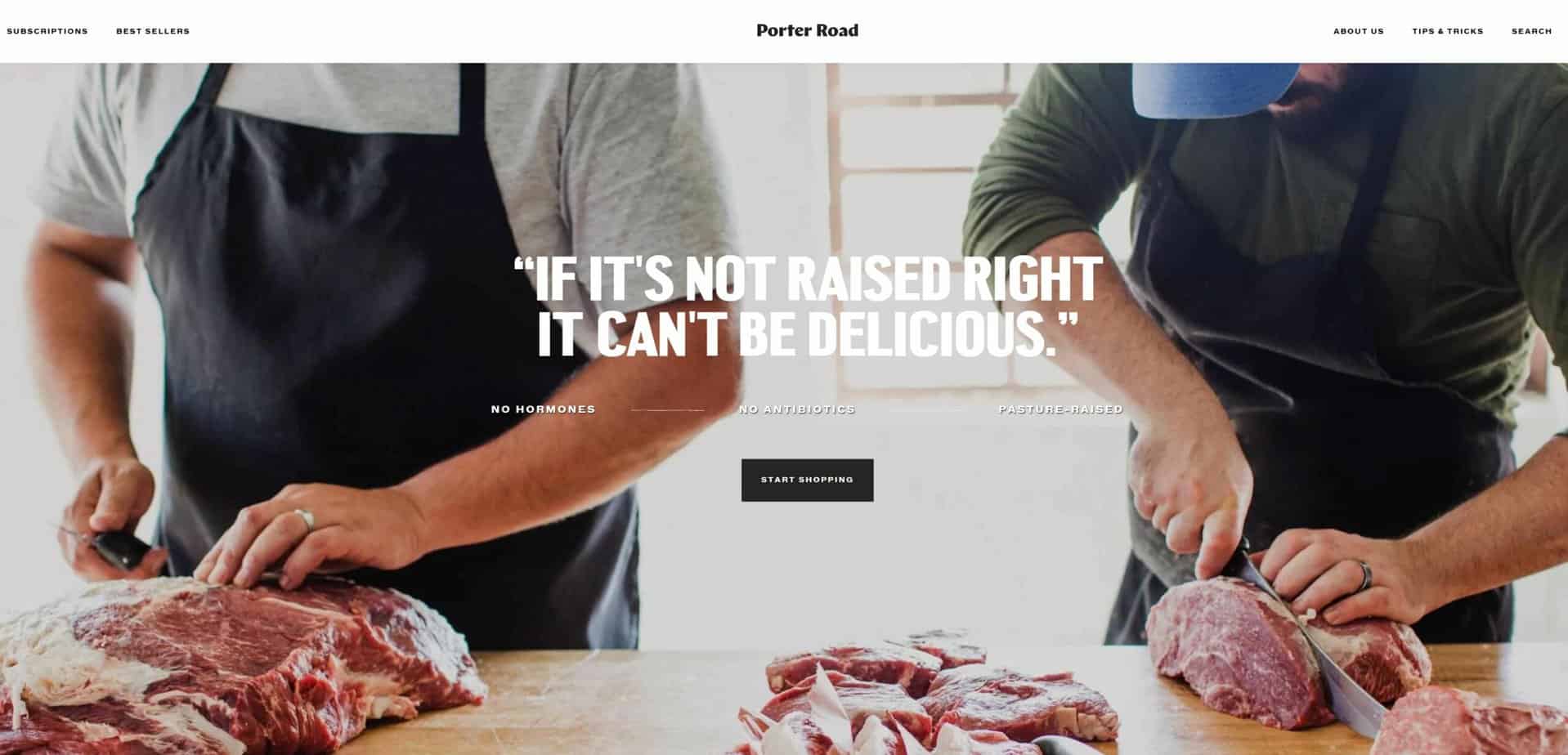 Are you looking for a steak delivery service that you can trust for more than just steak? Porter Road is one of my favorite steak delivery services because of the quality of their steaks and the variety of cuts they offer.
But steak isn't the only thing they do well. They also offer a great range of lamb, pork, and chicken. They're basically a full-service online butcher that offers all hormone-free, antibiotic-free, and pasture-raised beef.
One reason why I really like Porter Road is because all of their meat is sourced from small family farms located in Tennessee and Kentucky. Their steaks are dry-aged and cut after 14 days in Kentucky before being sent out in subscription boxes.
There's a lot of time, effort, and care put into raising and caring for the cows before they're sent off to slaughter, and you can tell that just based on the quality of the meat alone.
I love how even though there's a lot of attention and care put into the meats they sell, their meats are actually pretty affordable compared to other subscription services. I think Porter Road is a great option for anyone looking to venture out and try online steak services without having to invest too much money.
Porter Road has a variety of 50 different cuts for you to choose from, so it'll be pretty hard to get bored with all of the variety they offer. If you feel like the 50 different cuts of beef are too much for you to choose from, you can get a variety of different steaks delivered to your doorstep with their curated meat box.
I love their meat boxes because they give you a great variety to choose from! They even give you some options you may not have ordered if you were to leave to make all the decisions yourself. Even better, Porter Road focuses heavily on promoting sustainability, so you can feel confident that the steaks you're eating were humanely raised.
Pros
A lot of different varieties to choose from

More affordable compared to other steak delivery services

Focused on promoting healthy and happy animals
Cons
Their steaks don't have as much marbling as other brands offer

It's hard to compare their steaks to higher-end delivery services; they're still good but don't offer the same quality

Of course, I had to include Butcher Box in this list! You've probably seen at least 3,000 Butcher Box advertisements in your lifetime, but I'd like to mention them in this list because of how popular they are! Butcher Box offers grass-fed steaks, along with heritage pork and free-range chicken.
When I first signed up for Butcher Box, I only ordered a couple of packages of chicken products. But I got eight free steaks in my first box, which is what made me loyal to Butcher Box.
Not because I got free steaks, but because of the quality of their steaks! Due to the low Butcher Box prices, I wasn't expecting the quality that was any different from the supermarket. Thankfully, I was proven wrong.
Butcher Box has a decent selection of boxes to choose from, but I do wish they had a steak sampler. It would be really nice to buy once every couple of months to keep cheaper steaks in my freezer!
Some of my favorite steaks from Butcher Box are their ranch steaks and flat iron steaks. And while you're paying more upfront for a lot of meat, you're saving money for yourself in the long run. Plus, the quality of the meat is so much better compared to the meat you'd get at Costco or BJs!
Pros
Super convenient; I love how easy it is to order steaks

I love the variety of other meats Butcher Box offers, like bison and hot dogs

Their steaks are juicy and tender

I feel better knowing I'm eating organic meat
Cons
I wish they packaged their meats smaller or differently; the way their steaks are currently packaged take up a lot of room in my freezer

You have to mentally plan ahead what you're planning to make for meals before you order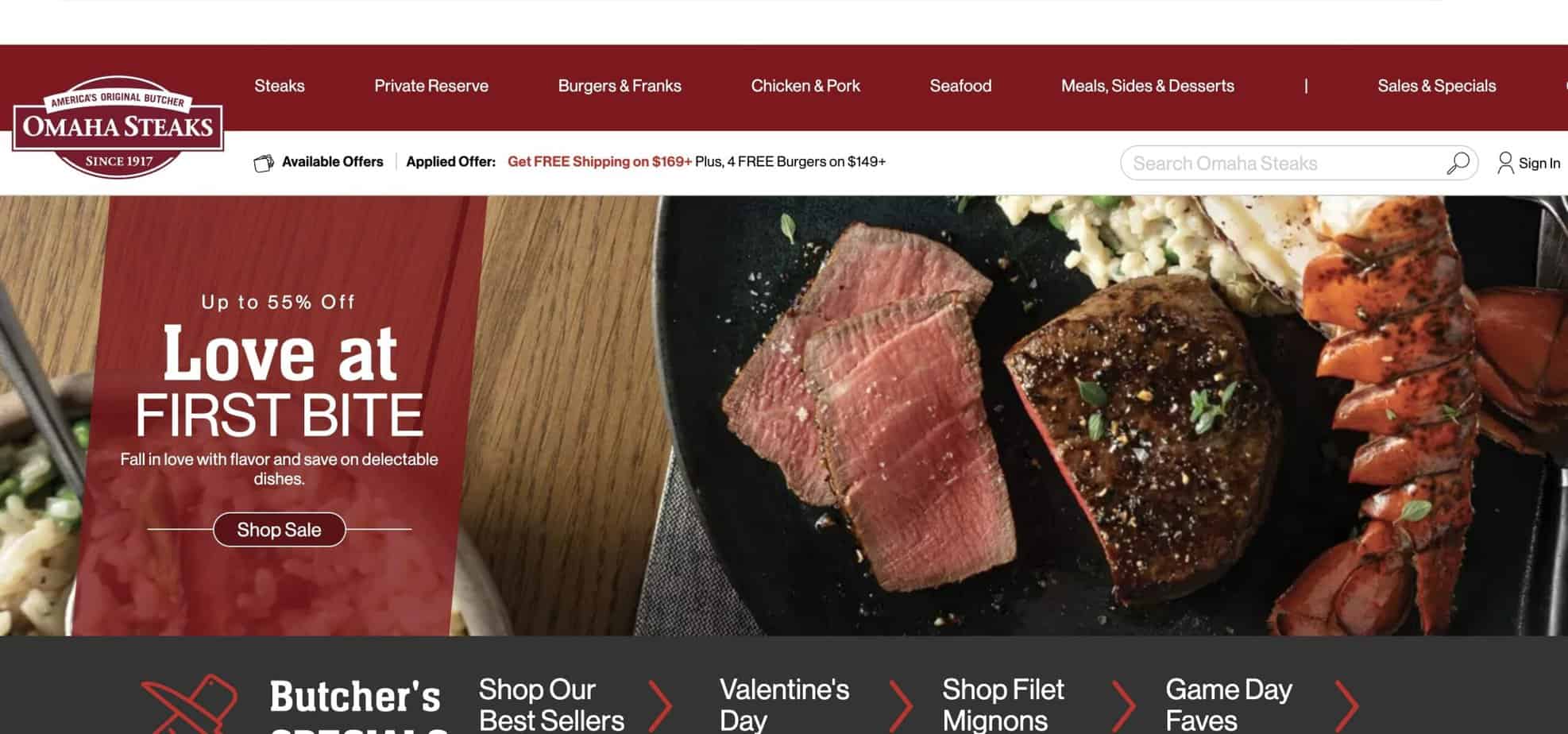 If you've spent any time researching steak delivery services, you've probably heard of Omaha Steaks. They're one of the most well-known steak delivery services, and for a good reason.
They have a ton of variety for you to choose from (if that's something important to you). Their steaks are delicious, and I love the loyalty reward program they offer. If you aren't happy with the quality of the steaks you receive in your order, Omaha Steaks offer a 100% money-back guarantee.
Omaha Steaks is another great option for anyone looking for more affordable steak options because of all the sales, coupons, and rewards points available to help save you money.
While they originally started as a family-owned business, they've quickly grown into much more. I prefer to support smaller businesses when I can, but I always try to take advantage of the sales and promotions run by Omaha Steak when I can.
Pros
Add-on options are available with their steak orders, so if you need to grab something to make date night a little more unique, Omaha's got wine and desserts to choose from

They have a great guarantee offered for people who aren't confident about buying from a steak delivery service for the first time
Cons
All of the options on their website make their selections feel overwhelming

Their minimum order requirement for free shipping is pretty high
Nebraska Star Beef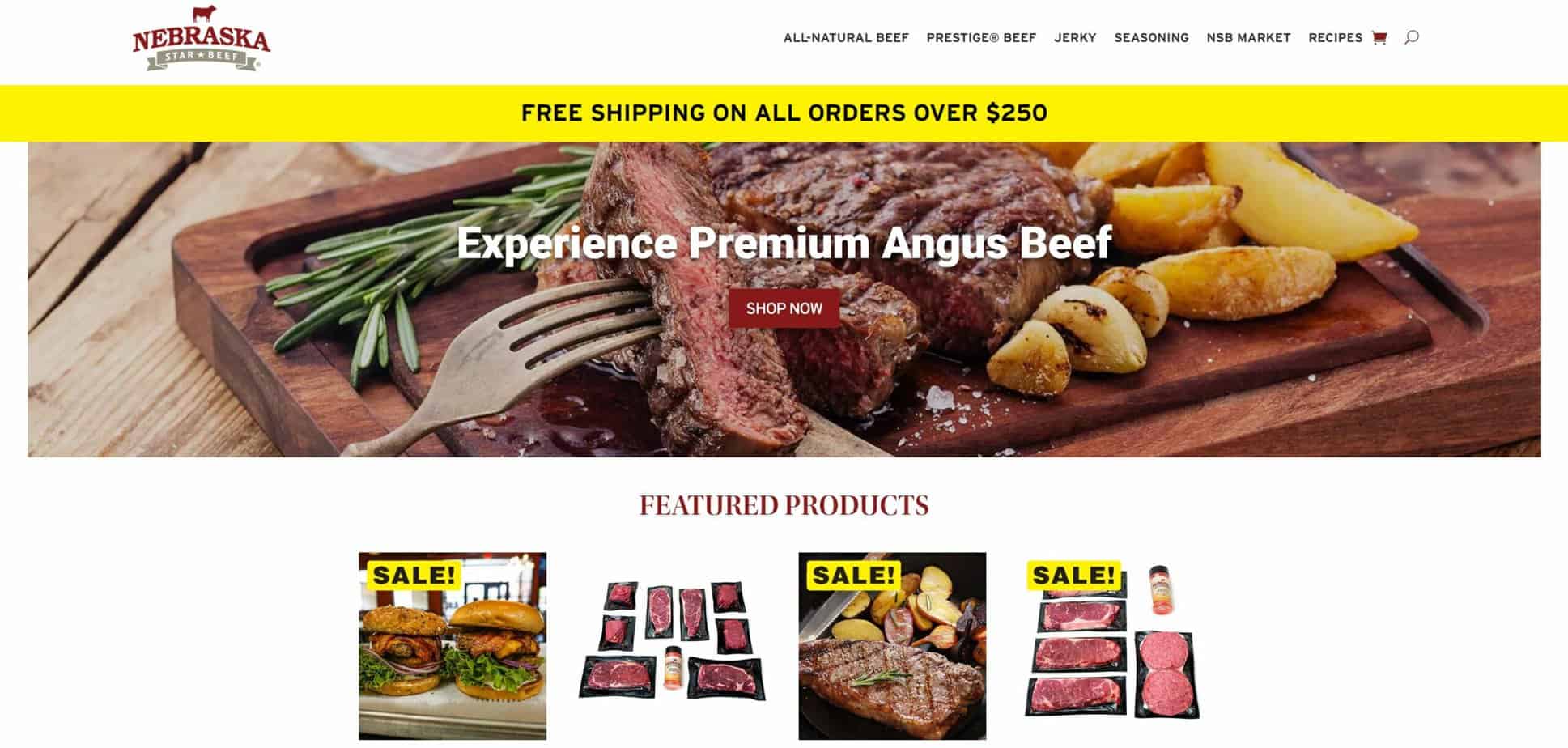 Nebraska Star Beef is a company that's all-in their steak game; they only offer beef. You won't find any lamb, poultry, or fish with this company! Nebraska Star Beef works alongside ranchers located in North Dakota, South Dakota, Wyoming, and Montana to do everything it takes to make steaks. I know very little about cattle, but Nebraska Star beef only works with specific cattle breeds for their steaks too.
If you've bought natural beef from Whole Foods before, you'll love the steaks you get from Nebraska Star Beef. Nebraska Star worked with Whole Foods for ten years to improve the marketing of its natural beef selection. All of their meats are steroid, antibiotic, and hormone-free.
I'm not always a big fan of NY Strips, but the strips I've tried from Nebraska Star Beef changed my mind. Plus, many of their other beef products are out of this world, too (like their Angus and wagyu hamburger patties).
Pros
It's cool they offer their signature seasoning to go with their amazing steaks

Offer beef bundles for people who want to save a little and try a variety of different cuts

Nebraska Star Beef offers good sales pretty frequently, so you can save a little while trying out their excellent steaks
Cons
The free shipping minimum is super high; you have to spend $250 to get free shipping

They don't have a vast selection of different cuts
Other Honorable Mentions
There are some other steak delivery services that were considered, but not formally included in our top ranking.
Kansas City Steaks (Kansas City Steak Company): lack of sourcing information.
Allen Brothers: delivery time issues.
Fossil Farm Steaks: Better for organ and game meats.
FAQs
Question: Are online butchers worth it?
Answer: I do think online butchers are worth it. I noticed a huge improvement in the taste and quality of delivered steaks compared to steaks that I buy at the supermarket. The steaks that I get in my deliveries taste a lot fresher and don't contain as much waste compared to grocery store steaks. I also love that the money that I spend on the delivered steaks goes to a small farm and butcher shop rather than supporting a large company to pay for a butcher who isn't necessarily passionate about their job.
Question: Is it cheaper to order steaks online?
Answer: This really depends on what you consider cheap. Upfront, you're paying a lot more than what you normally may pay at the grocery store. However, I do think that there are a lot of aspects of paying for a steak delivery service that pays off compared to buying steak at the grocery store. For example, you won't be paying for soaked pads, excessive fat caps, or any other sneaky ways grocery store butchers can add weight to the package to make you pay more for less meat. Up front, you are paying more money, but I like to think of it like you're buying steak in bulk. You're saving money in the long run.
Question: Is steak good when delivered?
Answer: Yes, it's absolutely delicious. There is definitely a huge difference in the quality of meat when compared to grocery store steak. You can tell the difference in the overall flavor and tenderness of the meat; the steak you get from a steak delivery service is very comparable to high-end restaurant quality meet.
My Final Recommendation
If this list still feels too overwhelming to go through and make a selection for yourself, I would highly recommend Good Chop. I trust Good Chop for all of my steak needs, but I love using their delivery service to show off to my friends and family.
I can pop a few steaks on the grill with a little bit of salt and pepper; in a few minutes, I have a restaurant-quality meal with no real skill. Yet, all of the people I host think I can grill up a storm! Thanks, Good Chop.
You need to check out Good Chop if you need quality (and delicious) steak you can trust for consistency and overall amazingness. There isn't any other company on this list that beats them out for pricing, quality customer service that cares, and excellent steaks!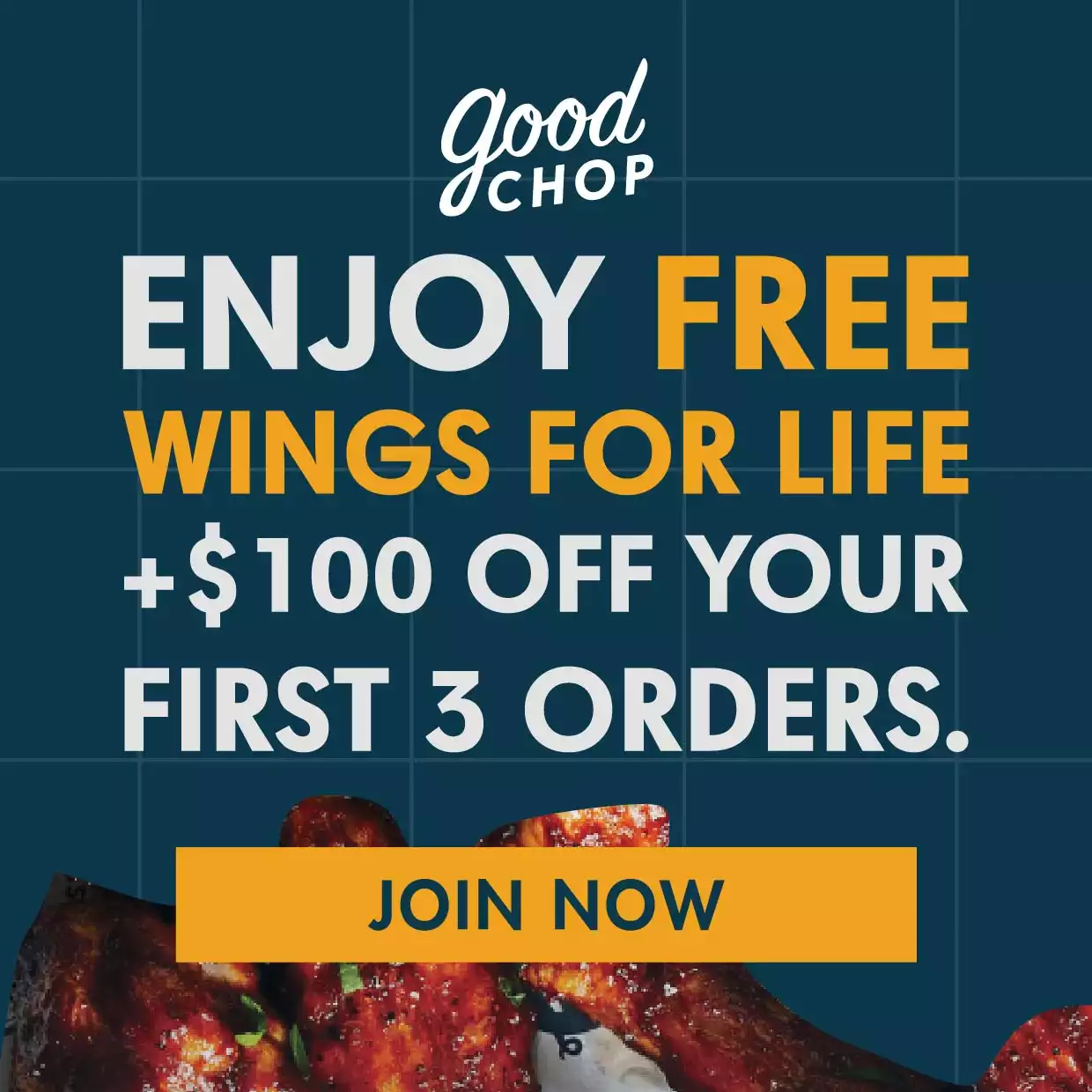 Enjoy FREE Wings for Life
Good Chop is a flexible meat subscription service that brings high-quality, American meat and seafood right to your door. Join Good Chop today to get FREE wings for life and $100 OFF your first 3 orders.
Good Chop Promo Offer
We earn a commission if you click this link and make a purchase at no additional cost to you.
Related Reading on Meat Delivery & High Quality Meat